50's Prime Time Café is an opening day restaurant at Disney's Hollywood Studios (then known as Disney's MGM Studios).  Very little has changed in thirty years of the restaurant operating, but nothing really needs to.  50's Prime Time Café transports you to a kitchen found in homes in the 1950s, complete with all of the kitschy décor that was used to decorate a house back then.  Here in our 50's Prime Time Cafe review, we'll examine the restaurant's theme, atmosphere, and food.  As per usual, it will include a healthy dose of pictures of it all too!
Part of the restaurant's appeal is that the cast members act as if they are your family members, complete with the banter and slight to not-so-slight sarcasm that you may use with your family.    Even with the "attitude," service is still top-notch.
50's Prime Time Café requires one table service credit on the Disney Dining plan.  Most entrees will cost you between $17 and $27 for lunch or dinner (the menu is the same), which makes it an okay value for your table service credit.   They do feature a lot of fun and nostalgic homestyle desserts, so if you plan on ordering one with your meal, then the value of your credit improves as the desserts are $7-10 each.  If you have a cocktail too, then you are at a place where you can recoup the price Disney charges for your table service credit.  50's Prime Time Café does accept the Tables in Wonderland card.
We've eaten here a couple of times now, so you'll find a few dishes from each visit in our review.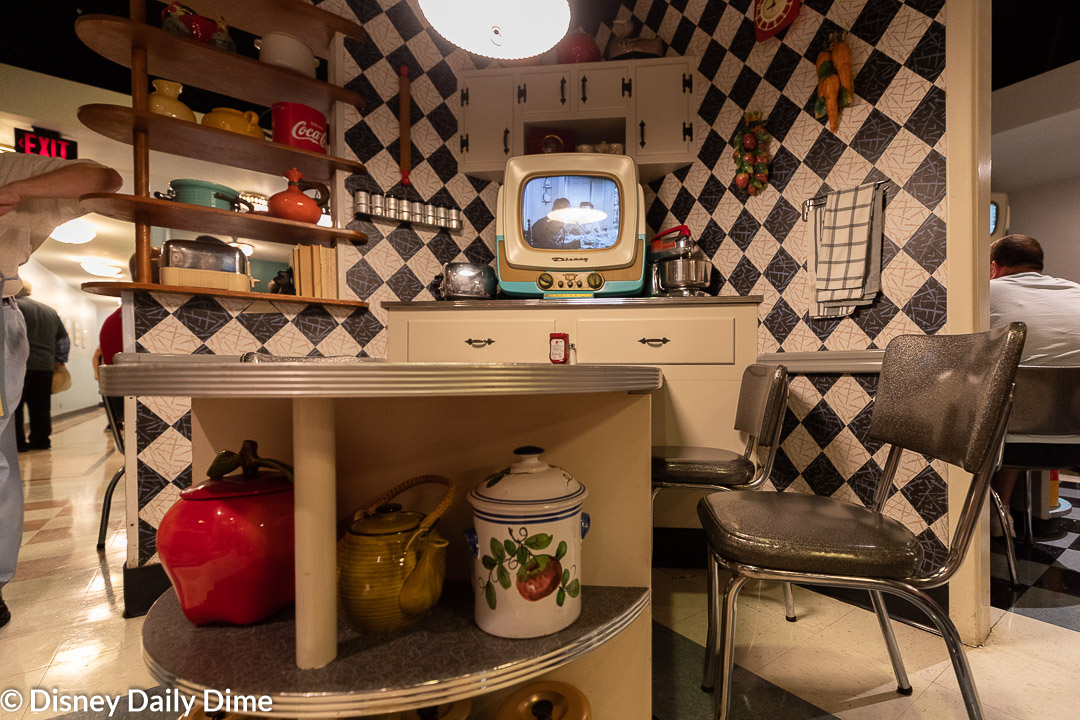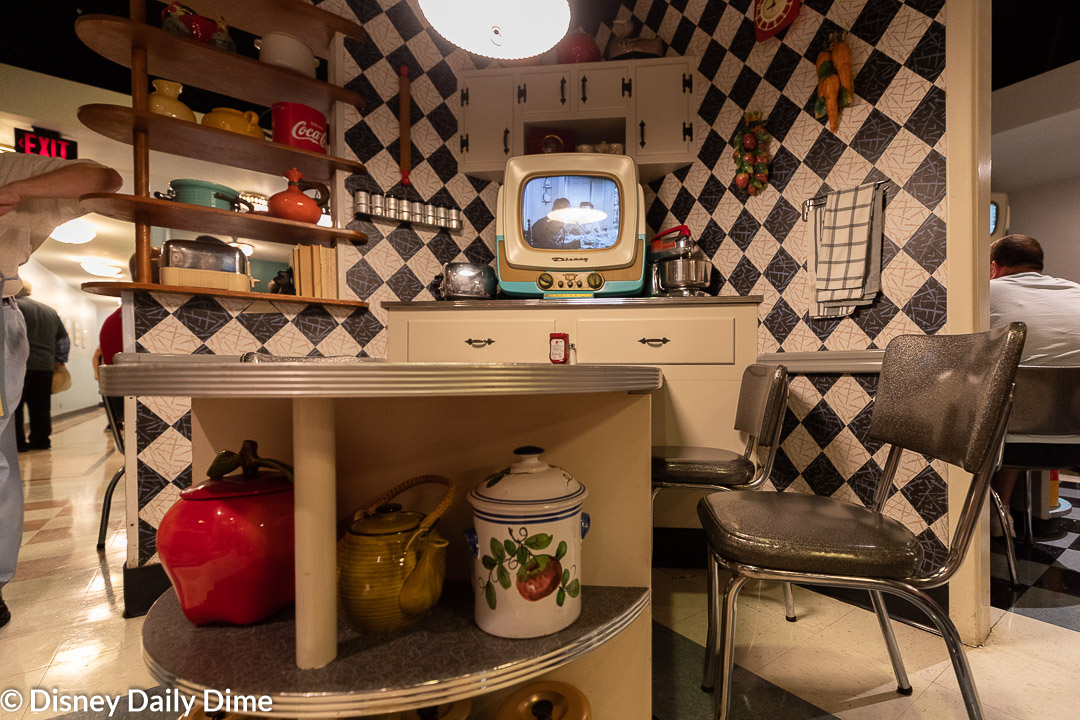 50's Prime Time Café Theming and Service Creates a Fun Meal for All
If you ever wanted to go back in time to the 1950s, the 50's Prime Time Café can take you there in an instant.  From the minute you walk into the lobby of the restaurant, you will feel like you walked into someone's home from that era.  You'll immediately find a "full" kitchen directly in front of you, while the attached Tune-In Lounge and waiting area creating the living room space.
The waiting area and much of the restaurant features decorative staples of the 1950s, like wood paneling, black and white tube TVs, tons of animal related décor, and of course wallpaper.  Lots of wallpaper.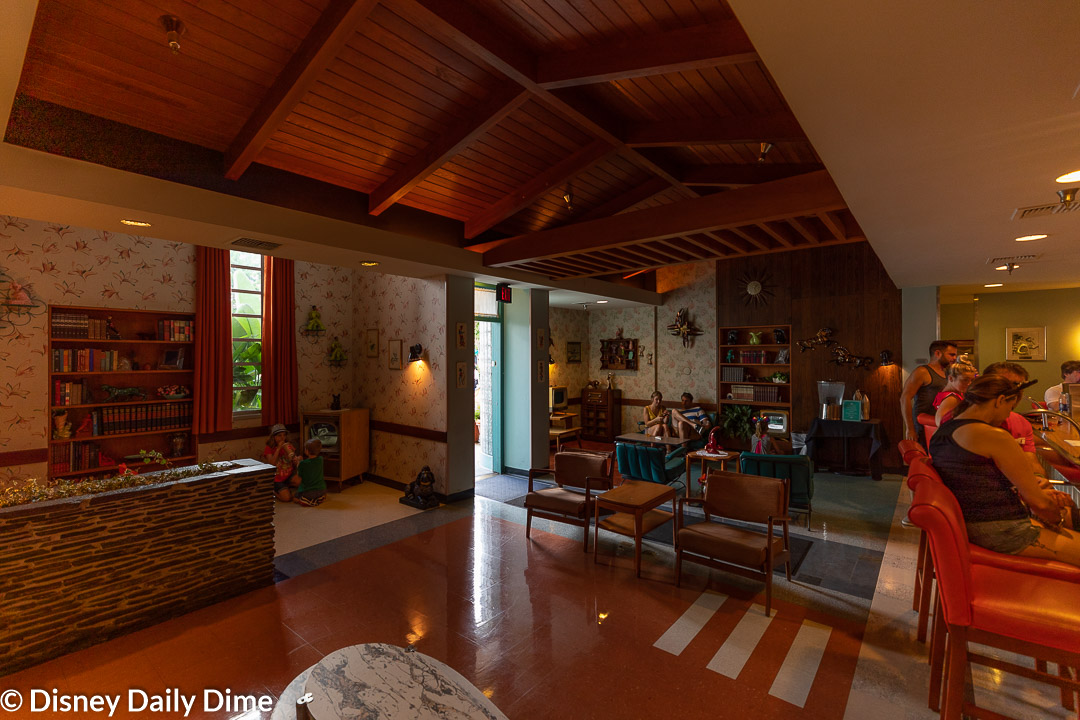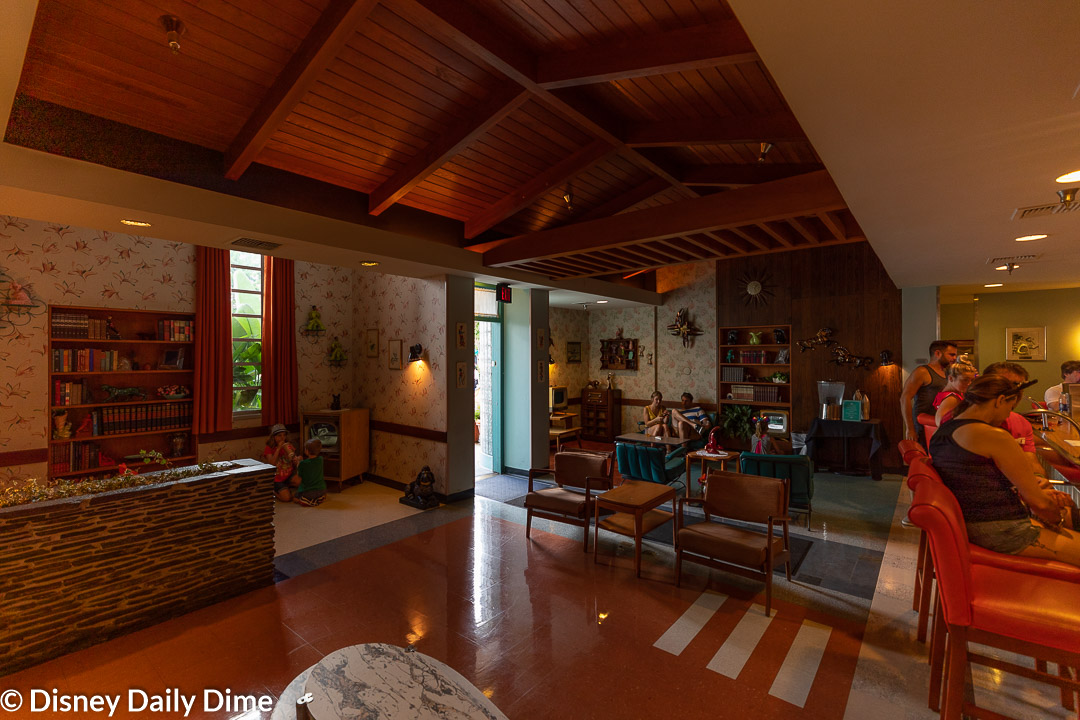 The dining area features "TV tables" with a TV playing clips of shows from and about the 50s, all showing scenes somehow related to food.   If you do not get a TV table, don't fret, as there are TVs mounted throughout the dining areas so everyone will have a view of a TV.   Requesting a TV table could be worth an extra wait as they definitely create a fun atmosphere.   Note that there is no sound, so it doesn't hinder tableside conversation.
The tables and chairs are period-appropriate utilizing chrome, Formica, and vinyl.  Littered throughout the dining areas and TV tables are all sorts of fun kitchen décor that we can best describe at pure 1950s kitsch.  Many adults will recognize a lot of items from their parents or grandparents house.    While our girls couldn't directly relate, they loved looking at all of the pieces and talking about how different or alike things were to what they are used to now.  We had a fun "back in our day" conversation about how TVs didn't always have a remote when the girls noticed the knobs on the TV at our table (and no, these knobs don't turn, and you can't change the channel!).
As we mentioned above, part of the appeal of the 50's Prime Time is the service.  The cast members take on the roles of the diners' "cousins" or other family members.   They will remind you to wash your hands, keep your elbows off the table, quiz you on the color of the bathroom soap, and tell you that there is no dessert if you don't eat your vegetables (not really, but it creates for fun banter).   The girls LOVED this and Mike, and I played along with it and had a lot of fun in the process.  We enjoyed seeing a poor dad walking by our table with one of his sons while wearing a paper hat that said "trouble."  You better make sure you are on your best behavior at 50's Prime Time Café!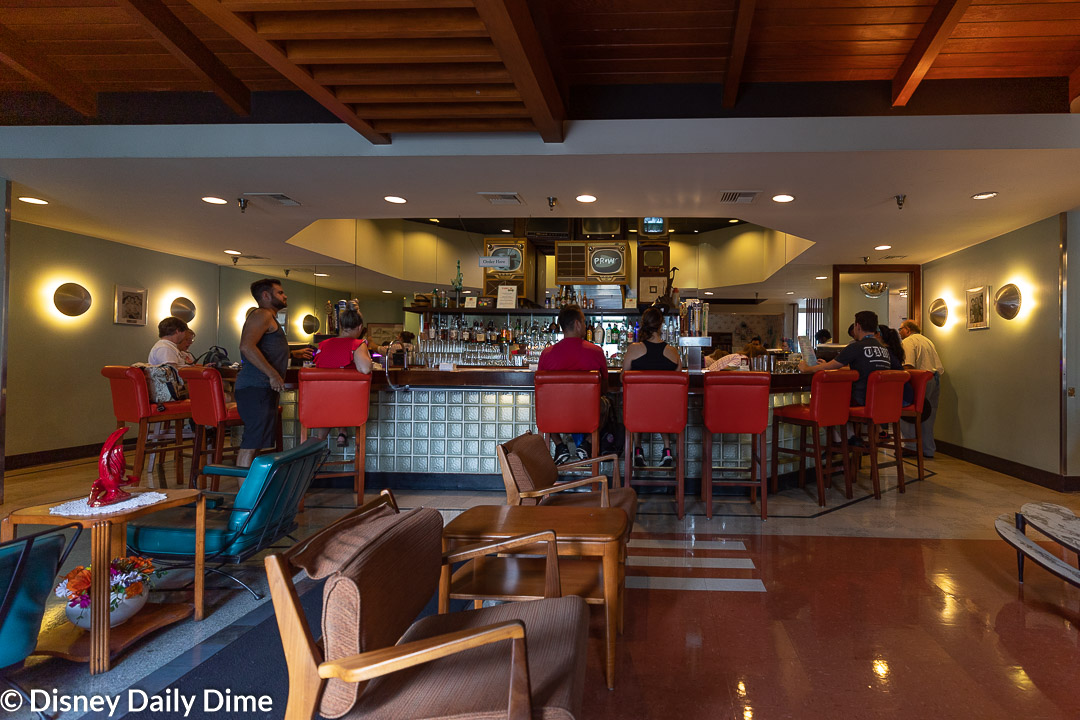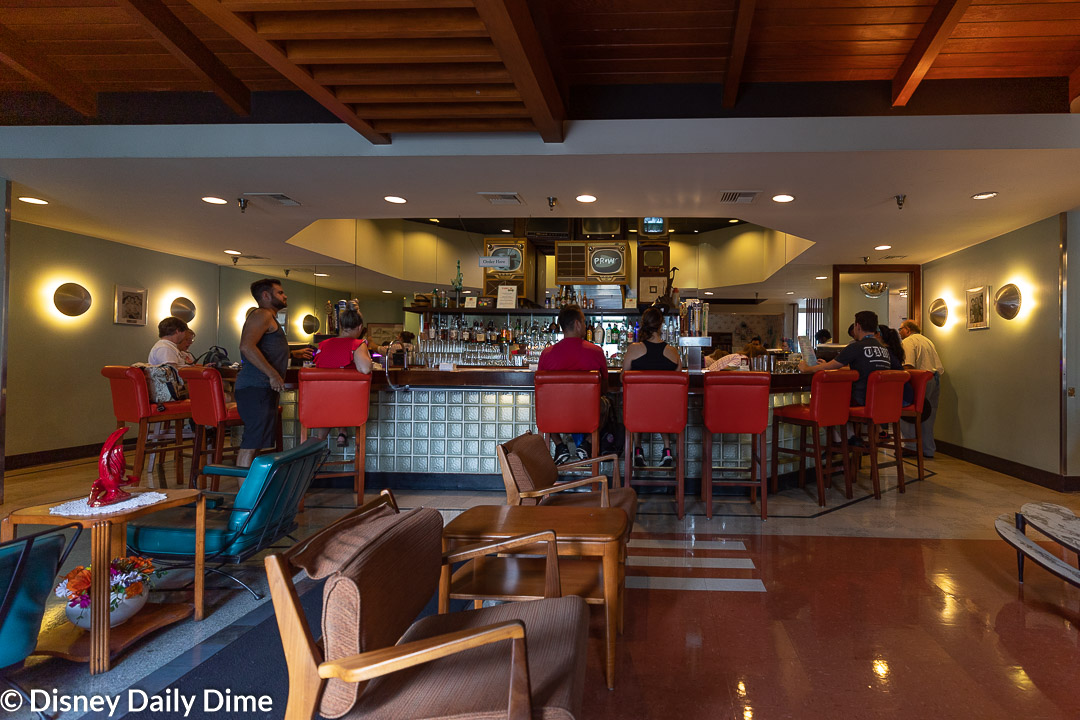 Of course, there is always the option not to participate if this isn't your thing, just tell your server.   It wasn't too over the top in our opinion or embarrassing.
Our server was Tara and she was terrific.  She gave us excellent service while being incredibly funny in her dry, sarcastic demeanor.   We also had some great "regular" conversation with her.   She was excellent with Anna and Elsa, and they loved talking to her and having fun with the playful banter.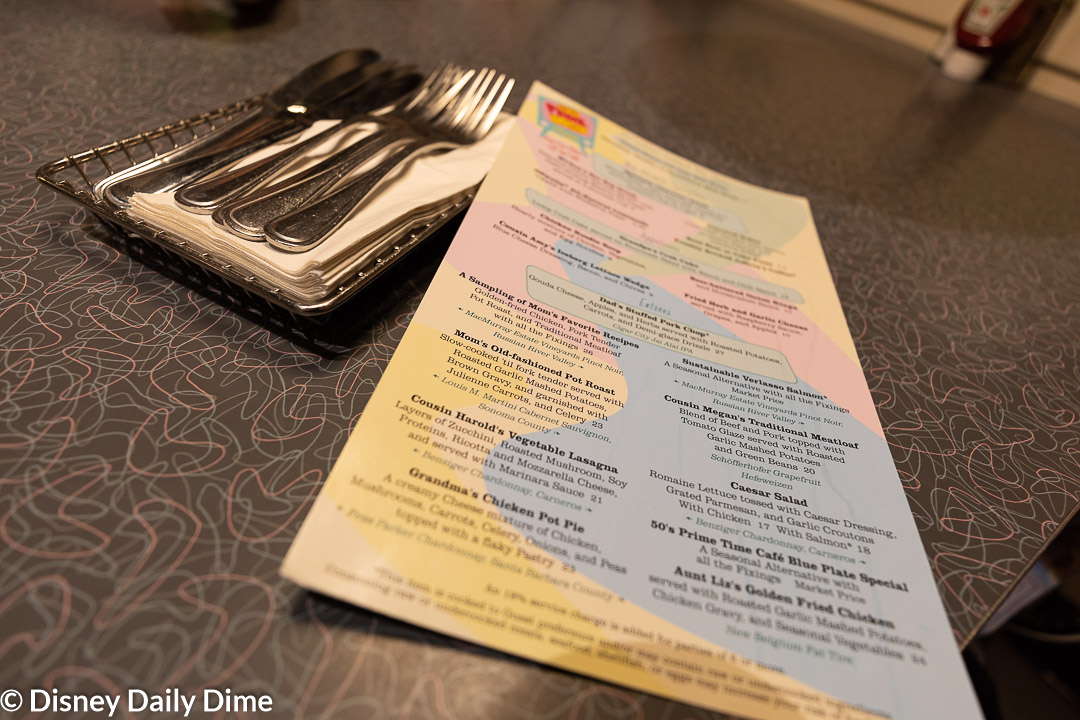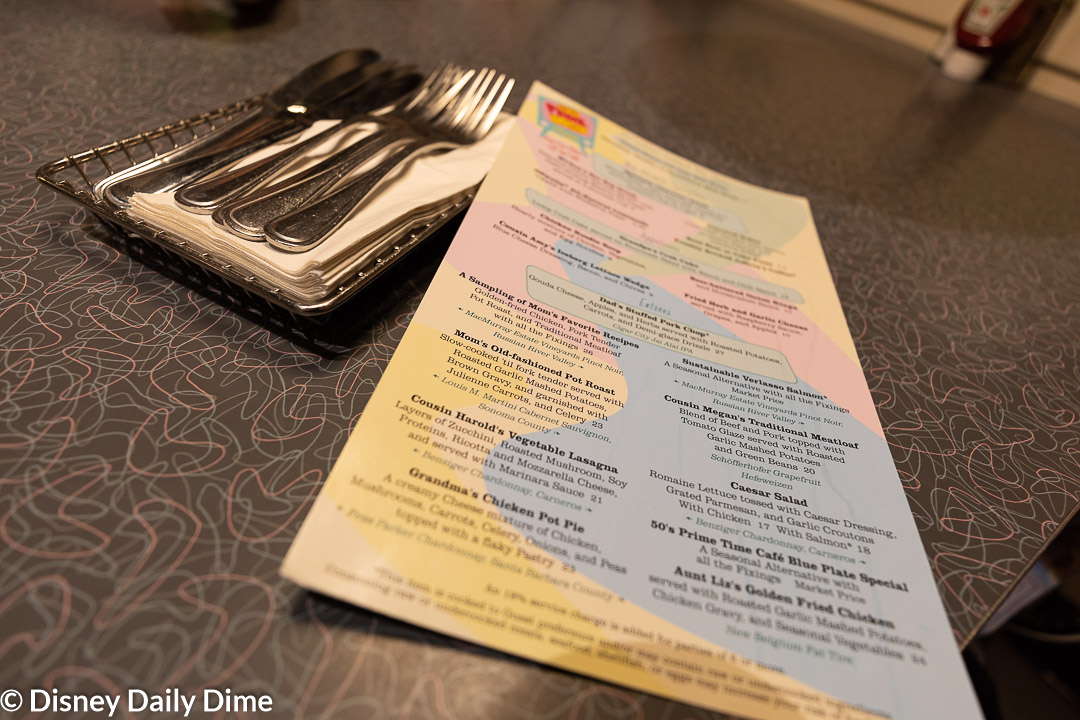 50's Prime Time Café Serves Quality Classic American Food
The menu at 50's Prime Time Café may not be extensive, but there are plenty of options that should appeal to almost everyone.   Their menu features classic, American homestyle food that you would cook at home.   But do not expect any bland versions of classic recipes.  50's Prime Time Café uses quality ingredients and adds extra touches to elevate their dishes beyond what most home cooks would serve.  Entrees such as Fried Chicken, Meatloaf, Pot Roast, Chicken Pot Pie, and Vegetable Lasagna are featured.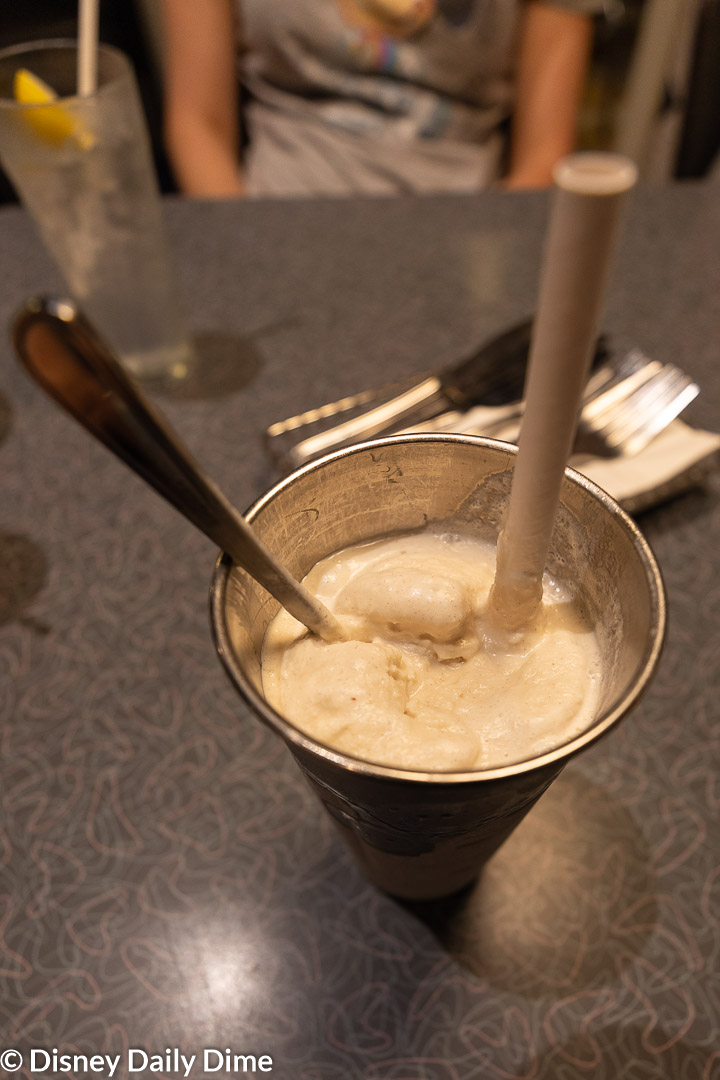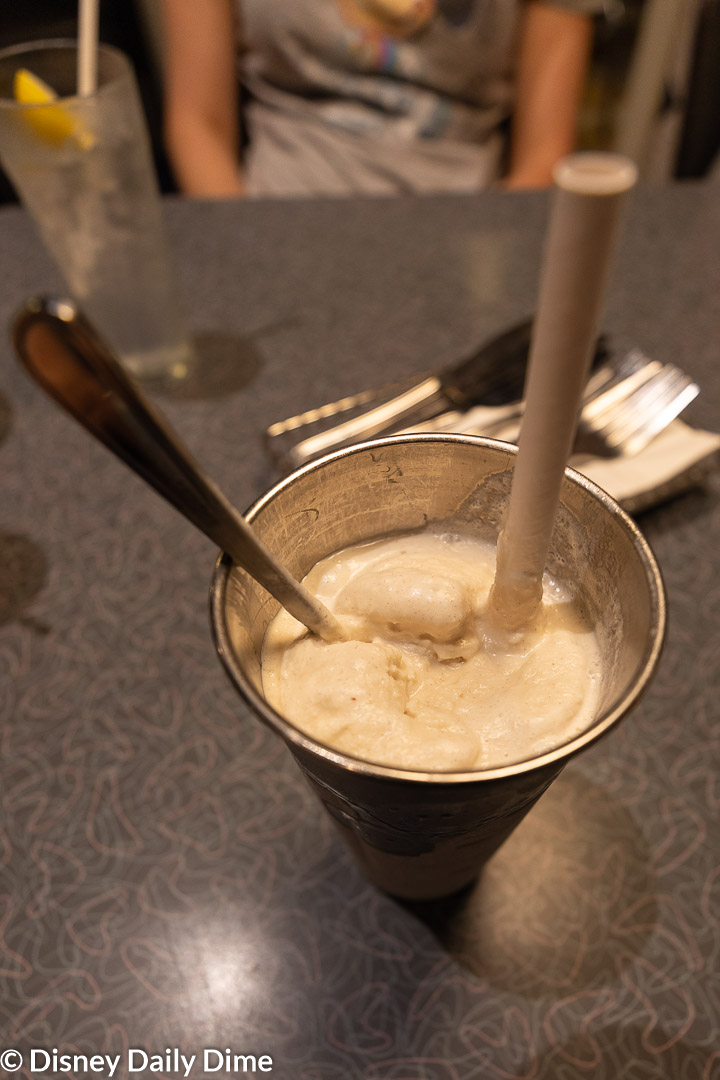 Drinks
The drink menu features a variety of specialty alcoholic and non-alcoholic drinks.   One of 50's Prime Time Café's noted items is their milkshakes and malts.   Mike ordered the Peanut Butter and Jelly Milkshake to enjoy with this meal (hey, its vacation).   This promptly turned into the four of us passing it around the table to share and some mild protesting from Mike that we were stealing all of his shake.  
All four of us could not get enough of this shake.  It was freshly made with real ice cream and served in the silver mixing cup used for making the shake.  The peanut butter and jelly were blended in perfectly and provided such a fantastic flavor.  We completely understood the hype behind this shake as we had read it about it frequently in reviews before our visit.  If this is up your flavor alley, we highly recommend this fun treat.  It was amazing!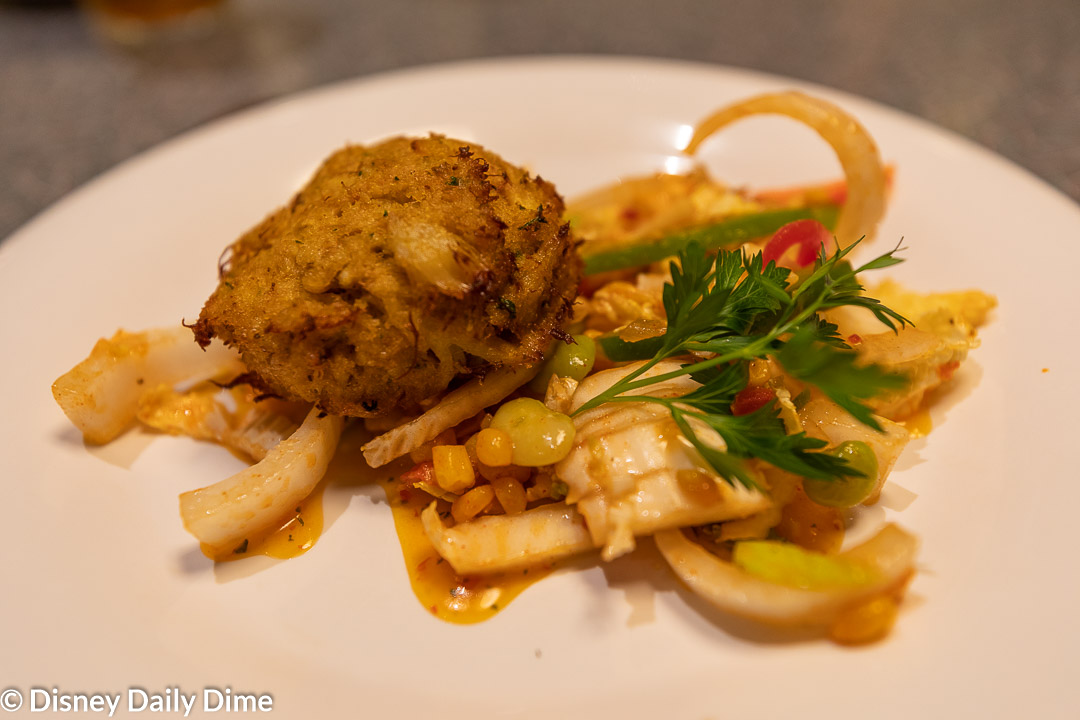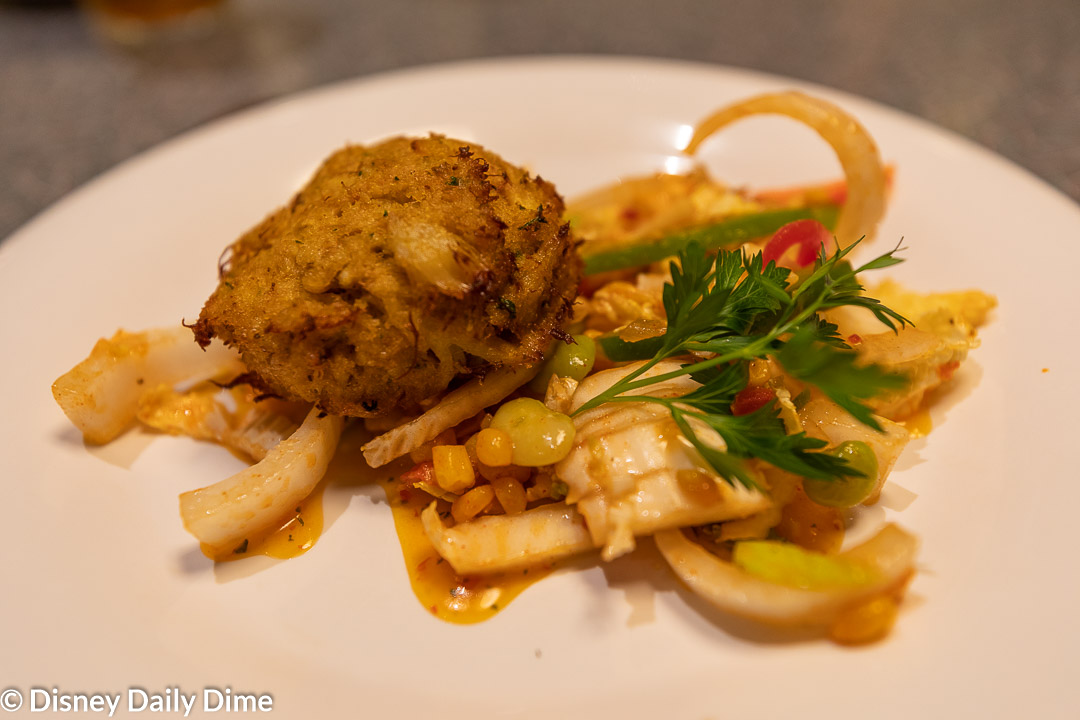 Appetizers
The appetizer selections include Chicken Noodle Soup, Wedge Salad, Onion Rings and Fried Herb and Garlic Cheese.   We selected "Grandpa's Crab Cake" for Mike and I to share.   It was a gluten free selection, so it was perfect for him and me to enjoy together.
Instead of just being a plain crab cake on a plate, it is served on top of a delicious succotash salad with a bacon and chili sauce.  This crab cake was filled with crab and had very little filler.  The succotash salad added some spice and texture to the dish.  We would definitely order the crab cake again.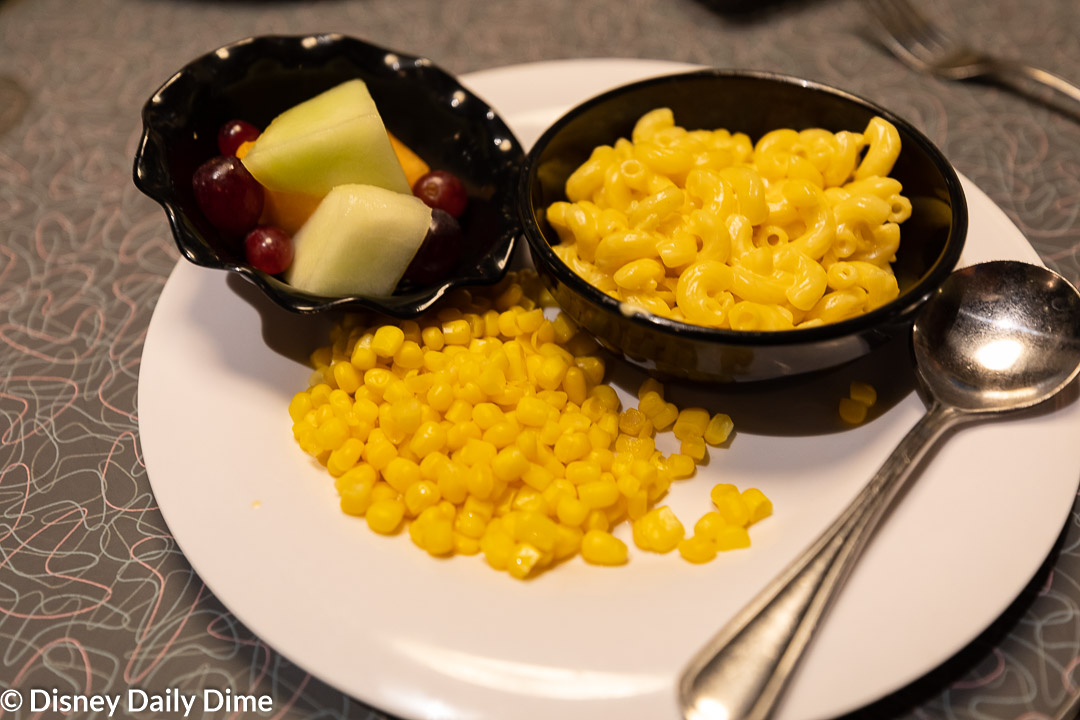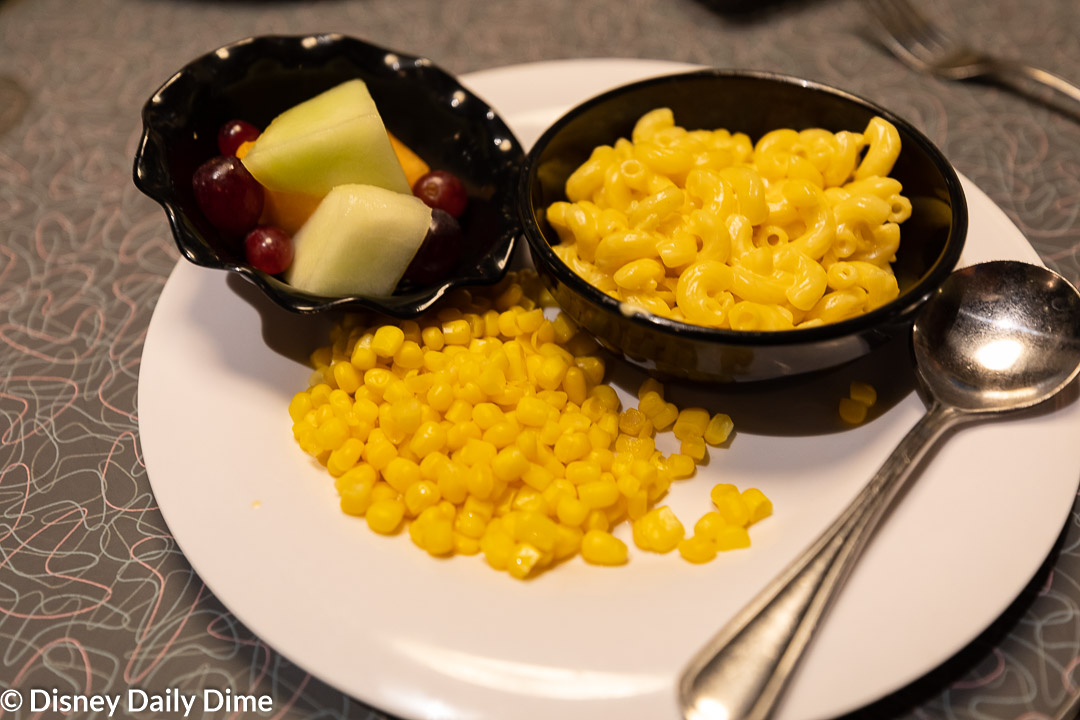 Kids Entrées
Anna and Elsa were both a little torn on what to order, so they selected two entrees and split them.  They both started with a fruit salad and shared the kids grilled chicken and macaroni and cheese meals.   They chose two different sides to share – corn and the green beans with carrots.   This was a great solution as they both were able to join a plate with protein, carbs, and some fruit and veggies.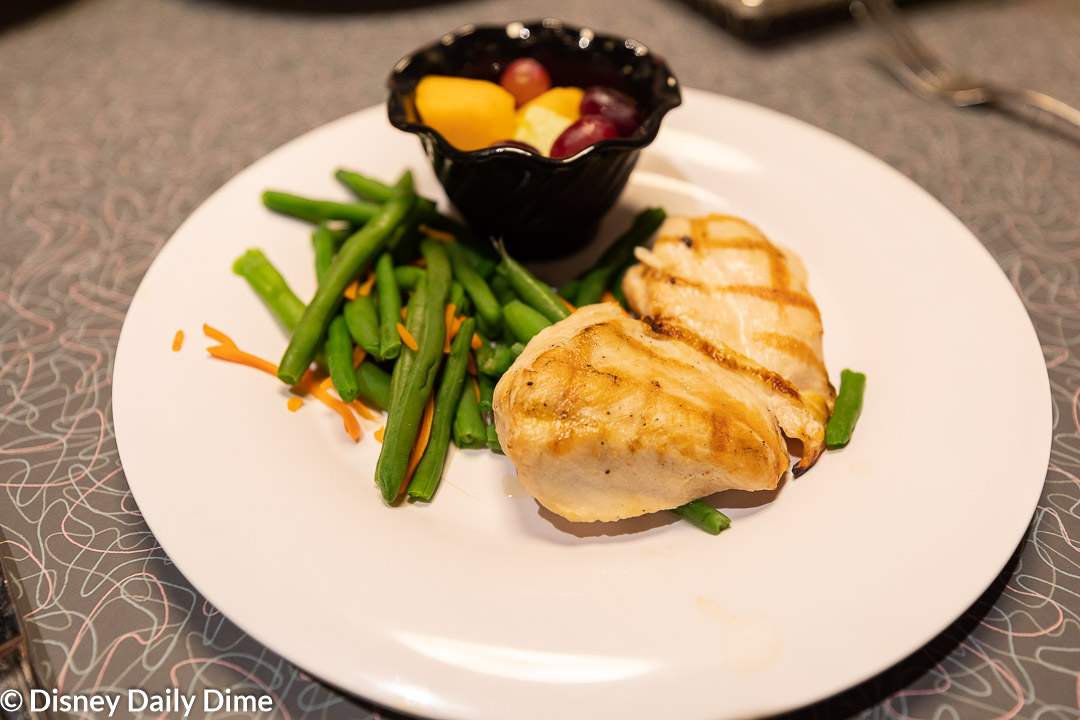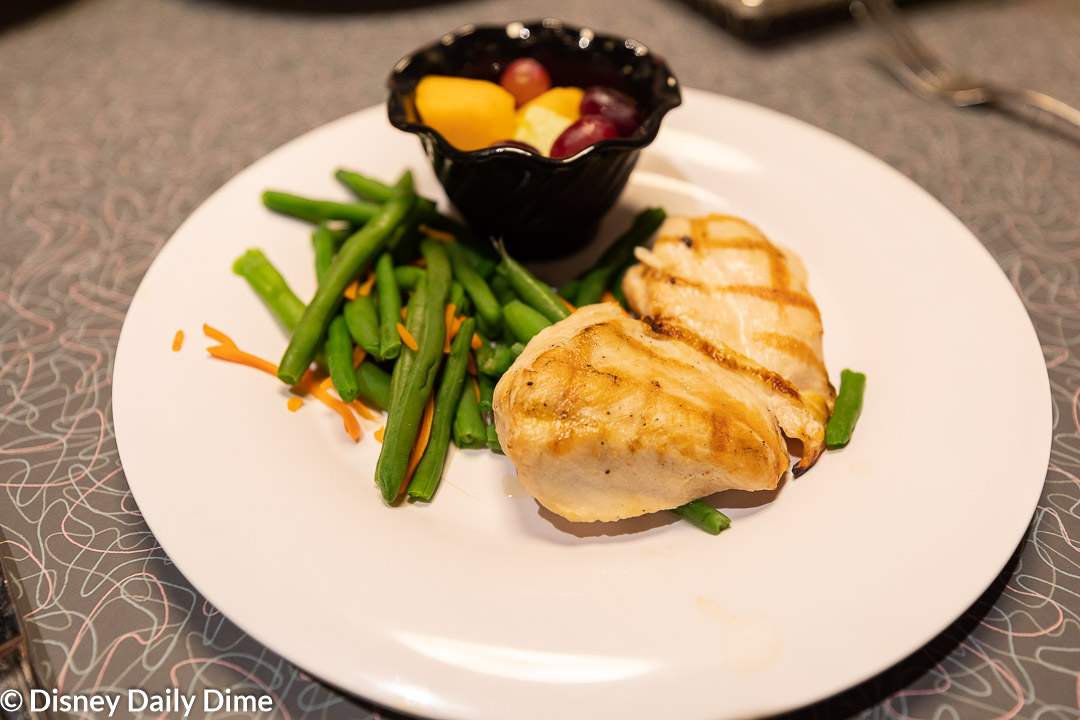 There wasn't anything overly notable about these meals, but the girls were pleased and were proud to receive "clean plate club" stickers from Tara.  (Mike and I also received these stickers!).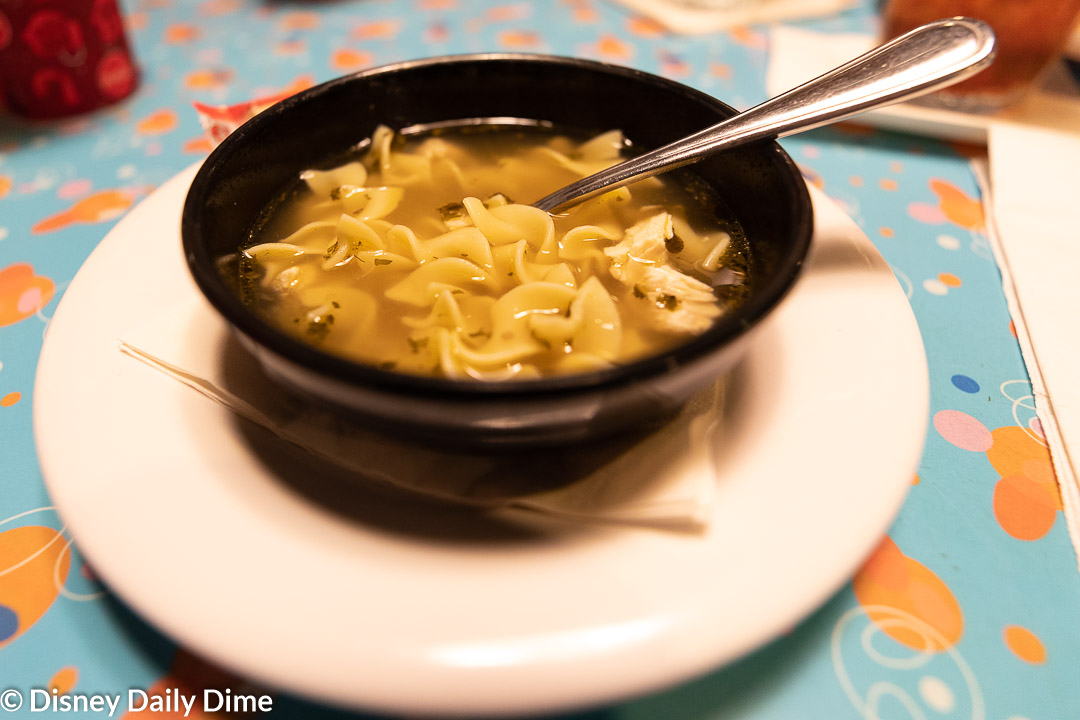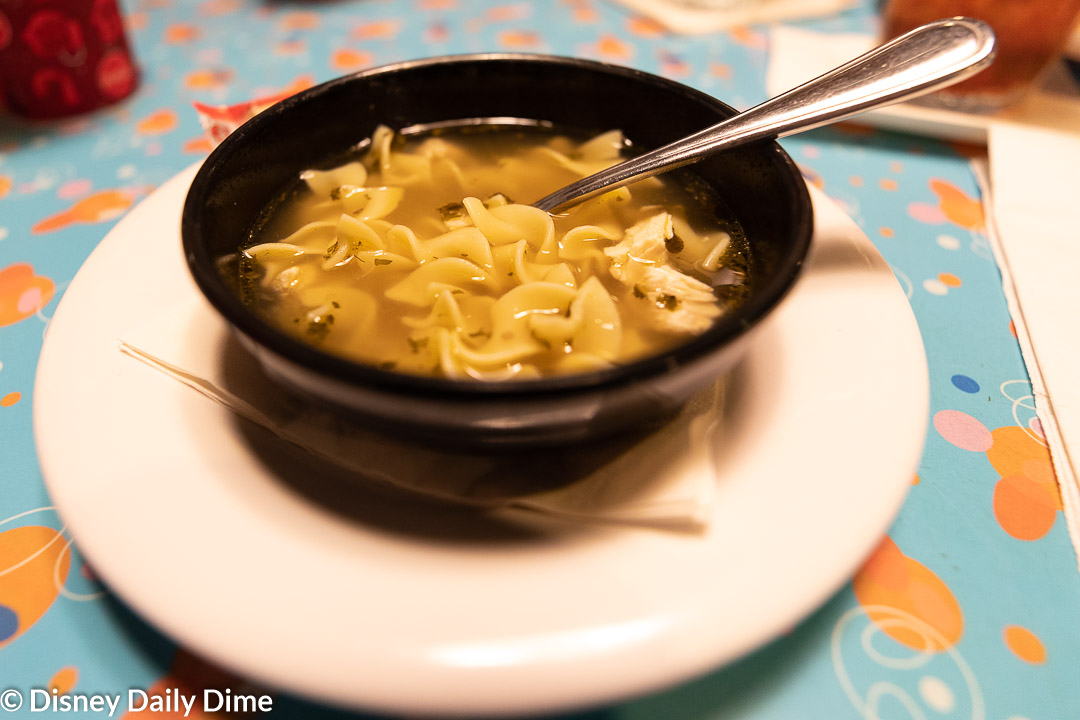 One of the appetizers that Elsa ordered with her kid's meal was the chicken noodle soup.  She loved it!  So much so that Mike couldn't even sample it.  Yes, she ate it all and wanted more.  I will say that it seemed to lack chicken.  That didn't bother Elsa though.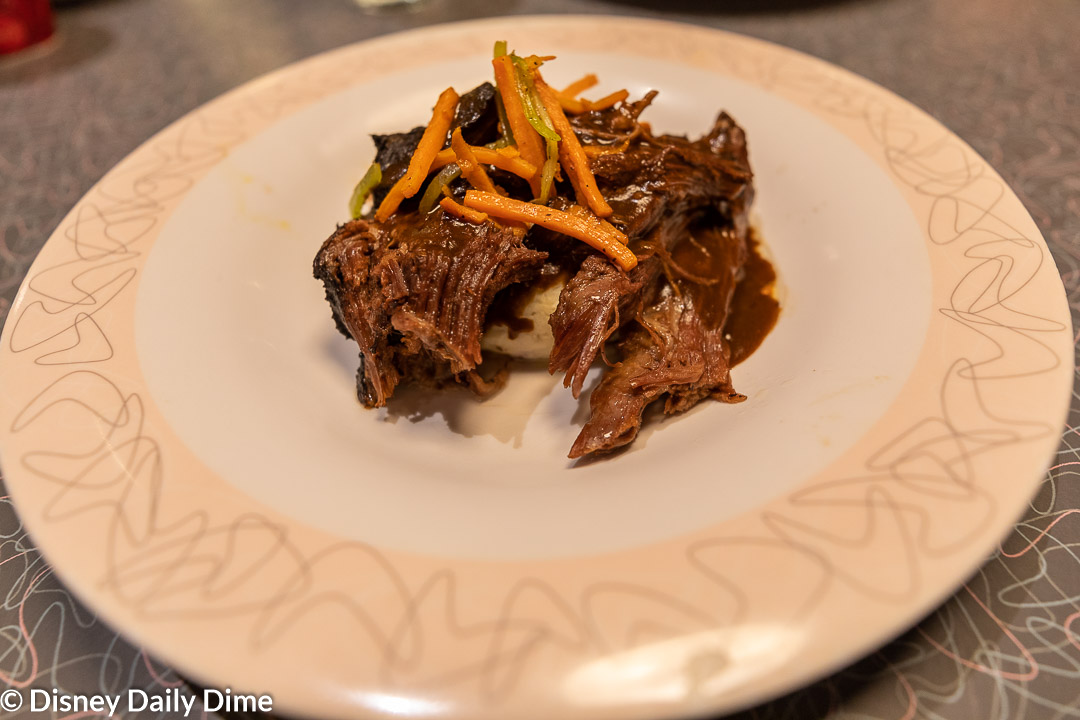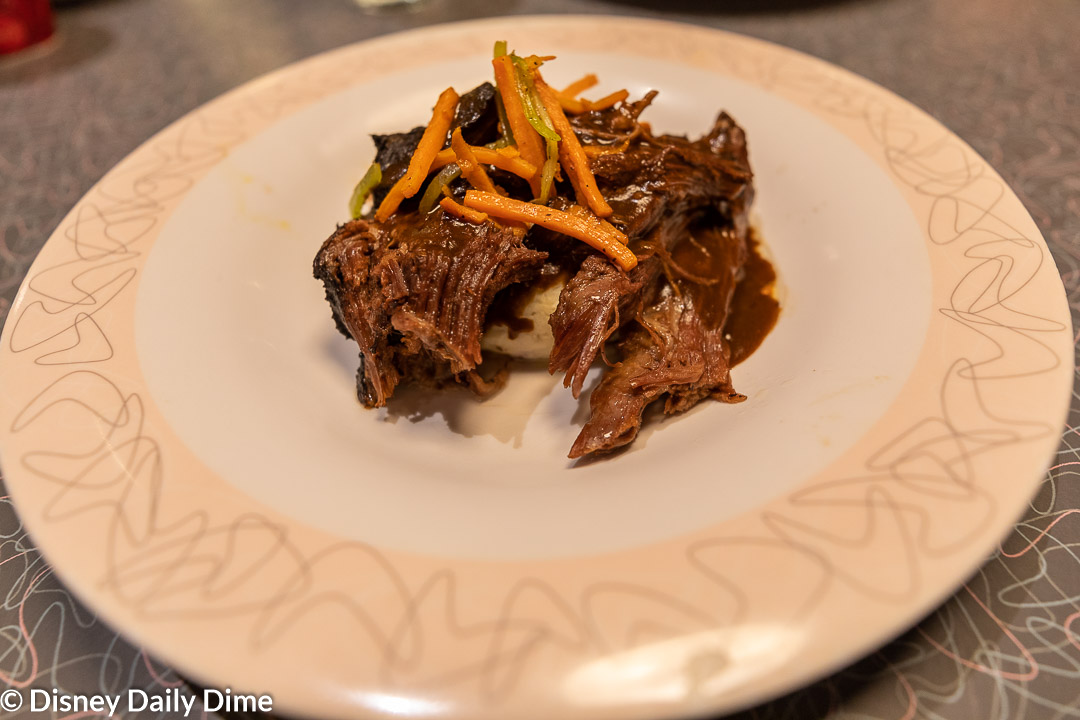 Adult Entrées
Mike's first time eating here he ordered "Mom's Old-Fashioned Pot Roast."   The pot roast was served with mashed potatoes with brown gravy.   He declared it pot roast perfection.  The meat was fork-tender and well-seasoned.   The gravy was rich without being overly salty, and the potatoes were the perfect accompaniment.    He selected it on Tara's recommendation, and she definitely did not steer him wrong.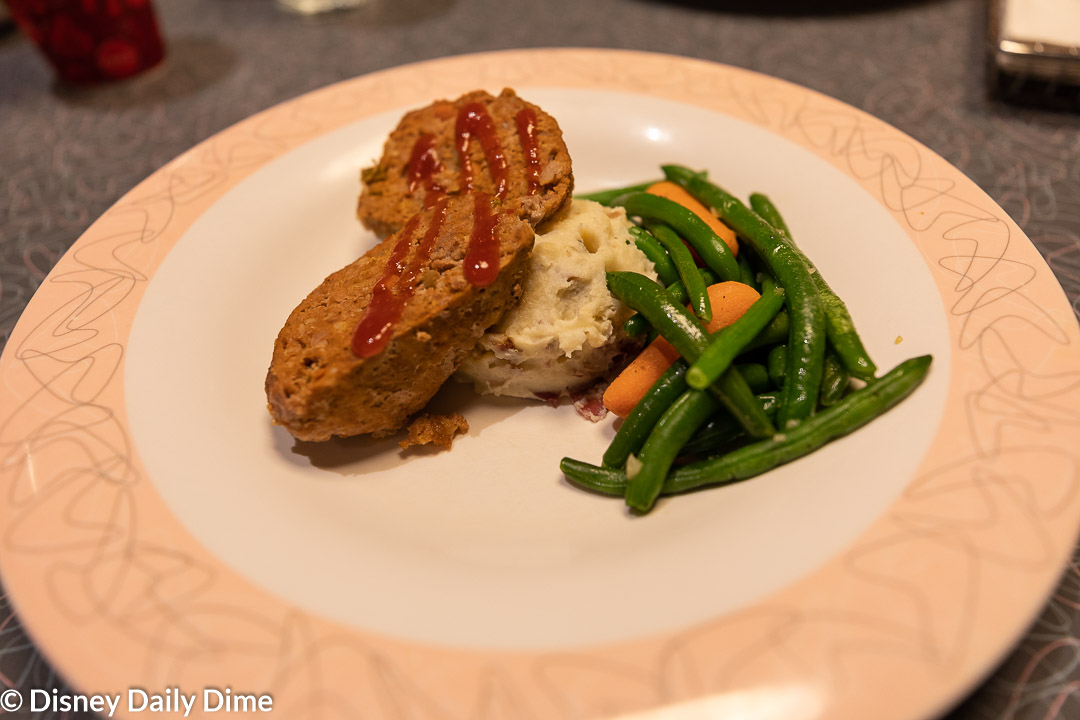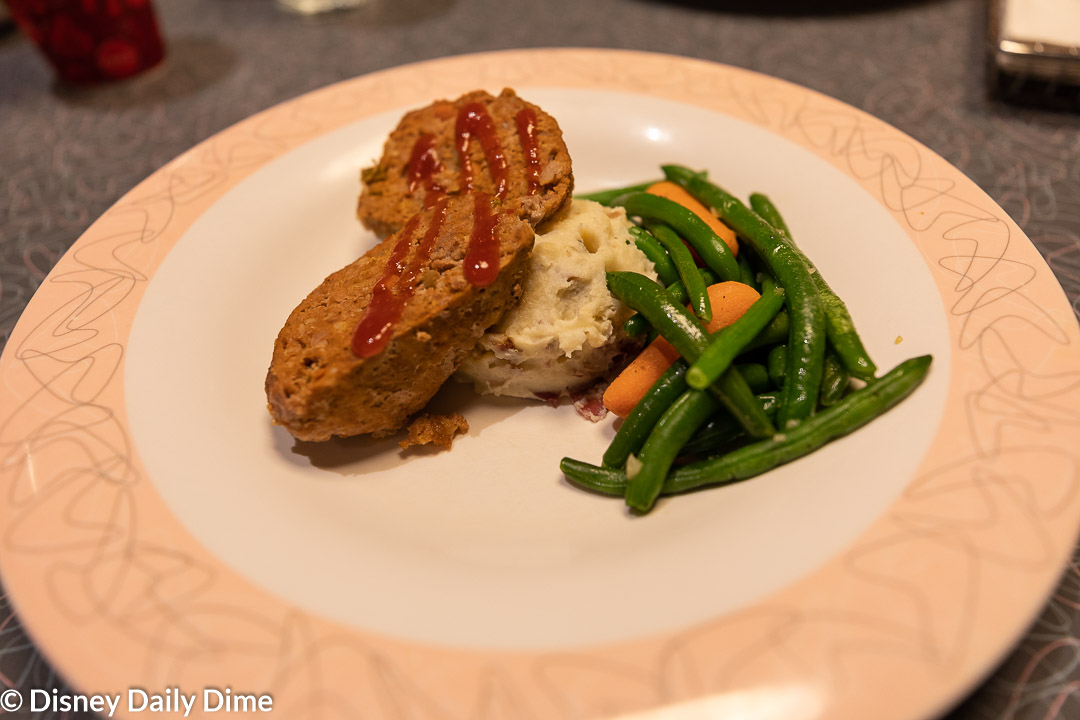 I ordered off the gluten friendly allergy menu, so I selected "Cousin Megan's Traditional Meatloaf."  I was delighted to have this choice, as most meatloaf dishes are not gluten free.   The meatloaf was topped with a tomato glaze that was similar to ketchup but was lighter.  It was delicious, but as I enjoy a lot of ketchup with my meatloaf, I did add some ketchup.   The meatloaf itself had a lot of flavor and wasn't just a bland, plain meatloaf.   I could see the black pepper mixed in the loaf, and it almost reminded me of the flavors of a quality meatball.  I was very impressed with this.  The meatloaf was served with mashed potatoes and green beans.  The mashed potatoes were homestyle and not instant with many potato chunks and pieces.  I found the side of green beans cooked to crisp-tender.   Mike is not a meatloaf fan, and he noted when trying mine that it was one of the best meatloaves he had ever tasted.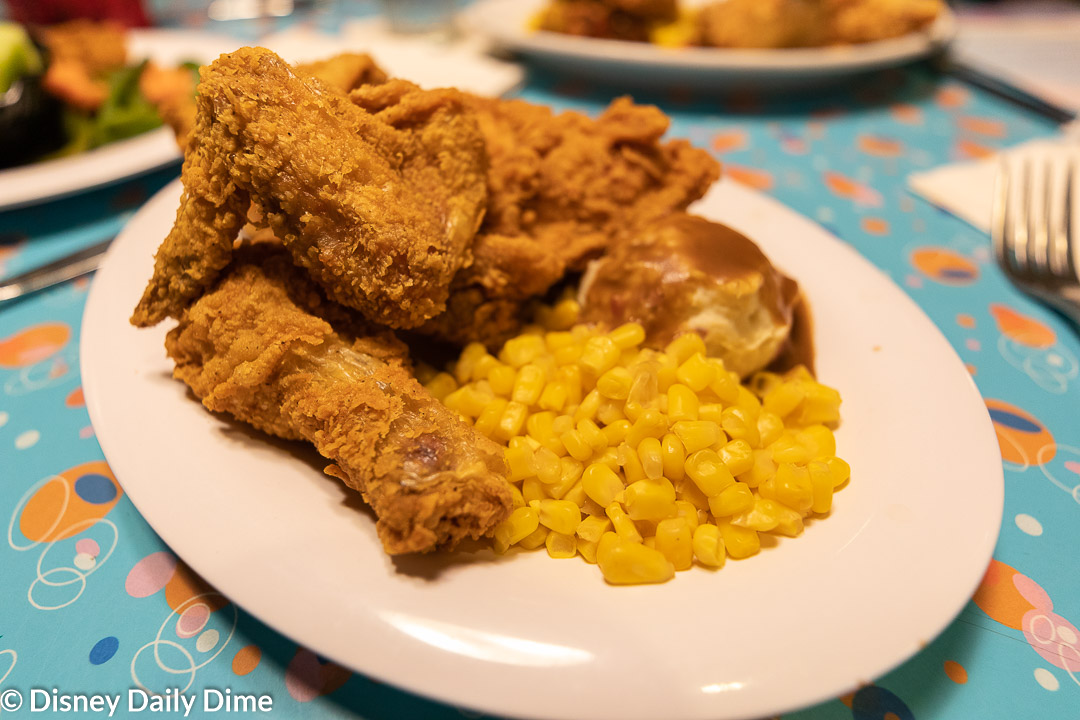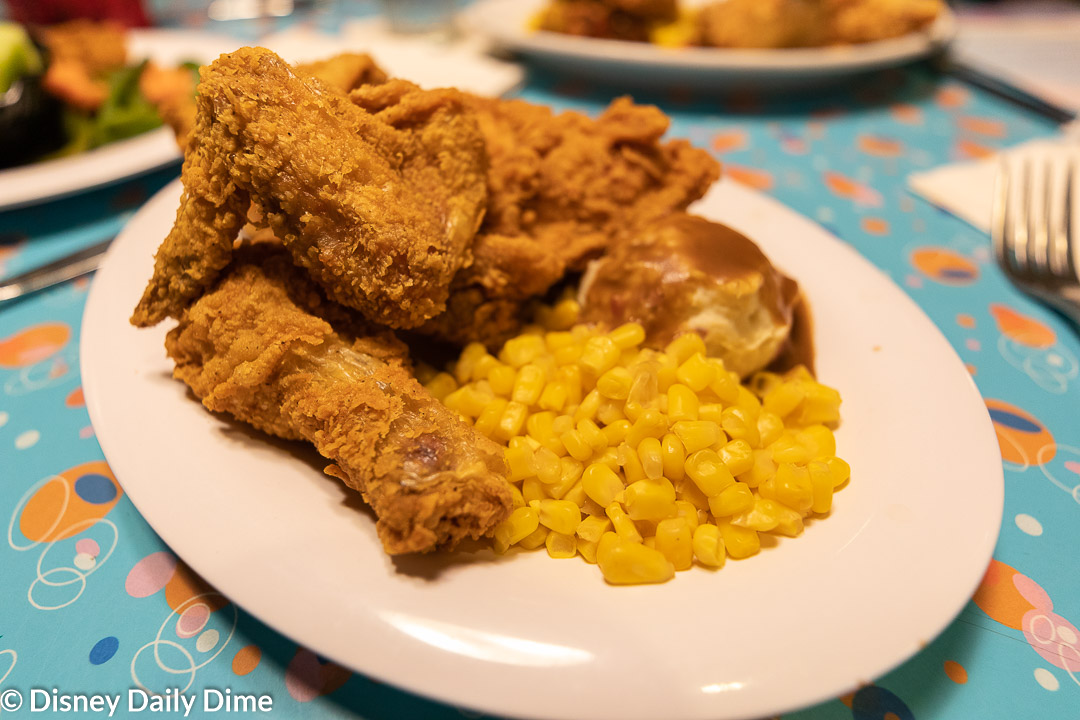 Mike has also ordered Aunt Liz's Golden Fried Chicken from 50's Prime Time Cafe.  He describes it as "amazing".  The fried chicken had a wonderful light, but crisp outer skin.  When he bit into the chicken, Mike found it moist and tender.  The amount of chicken you get is significant, but that didn't stop Mike from eating it all.  As for the sides, the mashed potatoes and gravy were good, but Mike wouldn't say great.  If it had a white cream gravy, he would have been higher on it.  In any case, this is a dish you must absolutely have if you like fried chicken that is.


Dessert
Even though we were comfortably full, we wanted to try some of the 50's Prime Time Café desserts.  And before you say it, no the milkshake is not a dessert!  The menu even says so!  It's a non-alcoholic specialty.  There, I feel better.
We ordered the cheesecake and the s'mores.  We got a gluten allergy friendly version of the s'mores that uses gluten free cookies in the place of the graham crackers.  Note this if you order the regular version because it will look different than what we have pictured here.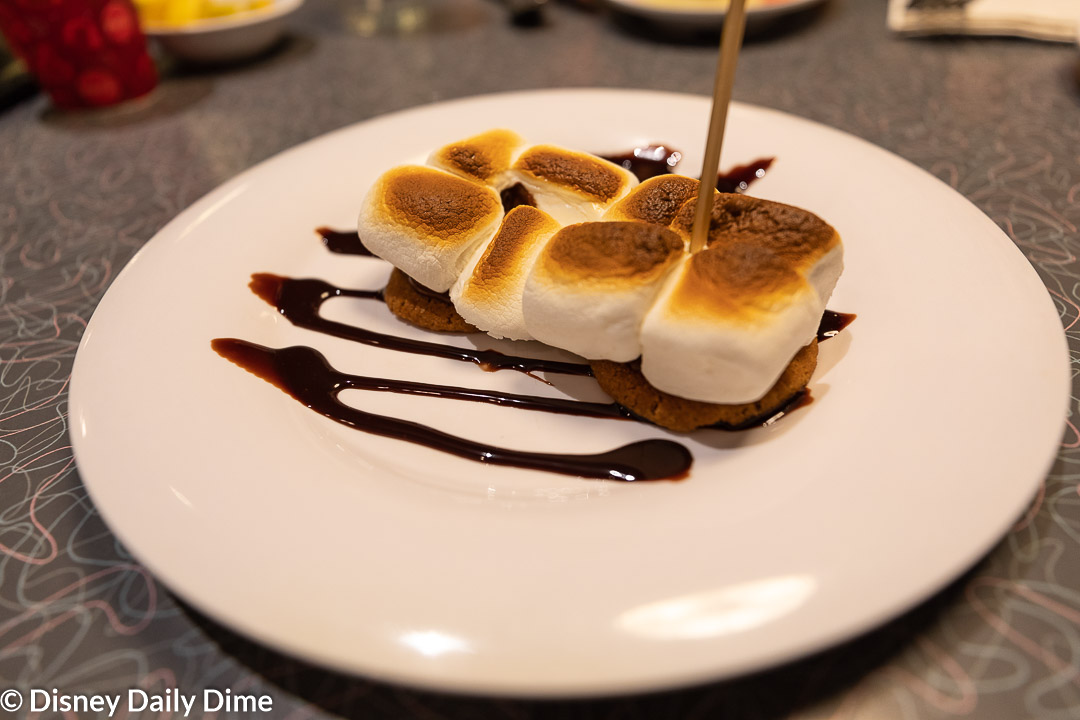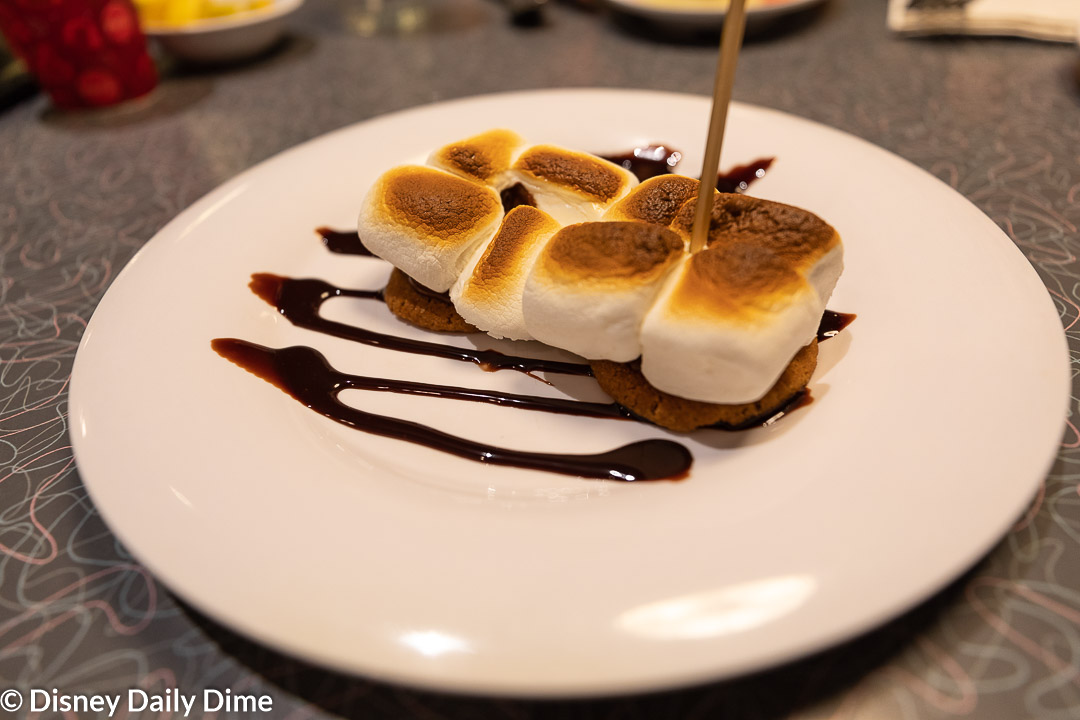 All four of us enjoyed the two desserts.   The s'mores would have been better with the actual graham crackers, but we all still enjoyed the freshly toasted marshmallows and melting chocolate.
The cheesecake was served on top of a strawberry sauce.  It was light and creamy and not too heavy or filling.  It was the perfect sweet ending to the meal.


50's Prime Time Cafe Overall
Mike and I were so looking forward to taking the girls to 50s Prime Time Café.  I had been there once when the Disney MGM Studios had first opened with Donald and Daisy (my parents), but Mike has never been.  We knew we would enjoy the kitchen seating and the concept of the restaurant, but we were pleasantly surprised as to how much we genuinely enjoyed our meal here.   In fact, we enjoyed it so much we are planning on going back again soon so Mike can try that fried chicken!  The food was much better than what we were expecting, and we were very impressed with the quality. 
It is an excellent place for kids to enjoy the playful atmosphere and see the grownups getting nicely picked on.  We also think it would be great for a larger group to enjoy all the fun and antics together.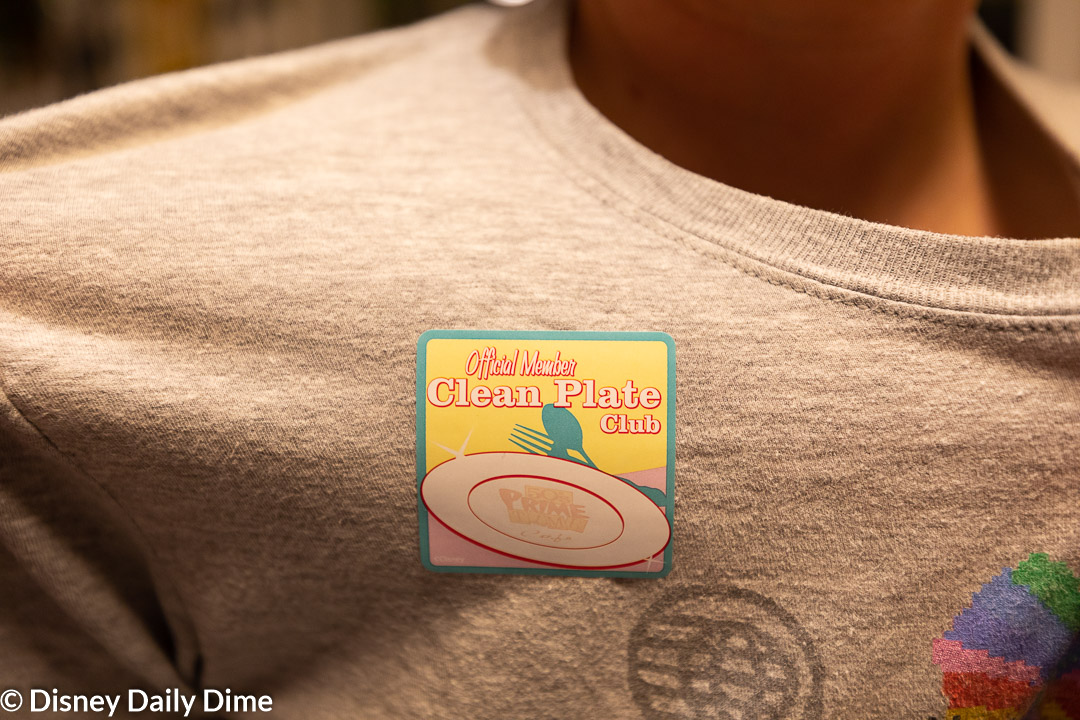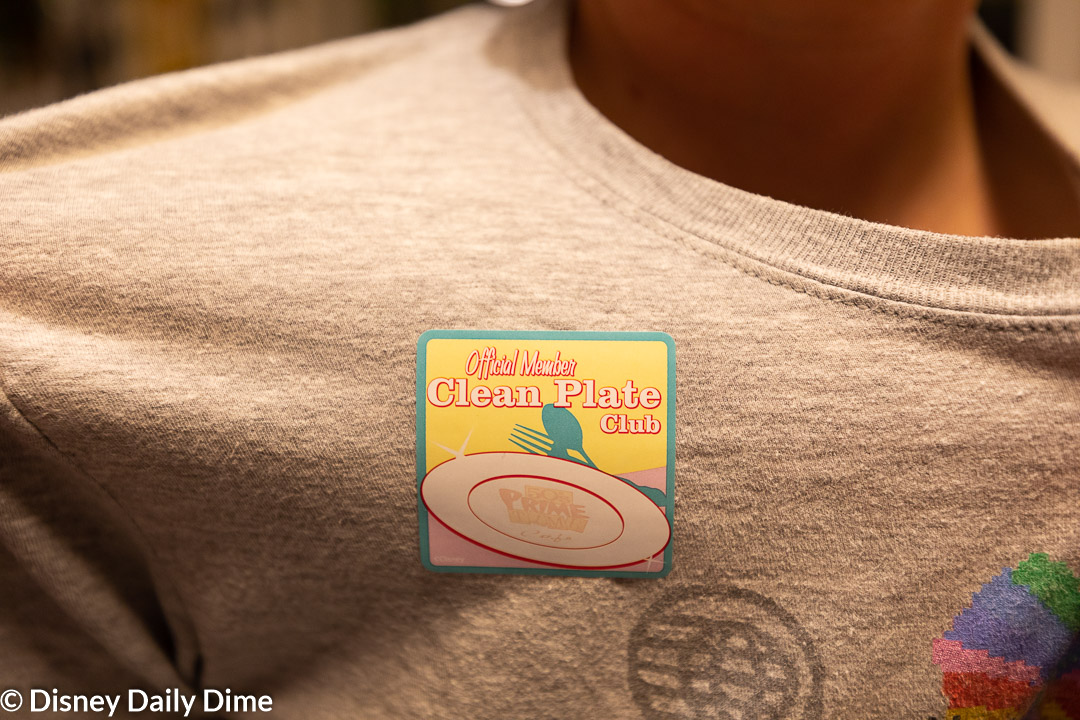 Wrapping Up
With that, we'll wrap up our 50's Prime Time Cafe review.   An excellent choice for a comforting meal that also provides some fun in a unique atmosphere.  We think the hardest thing about this meal may be picking between eating here and the Sci-Fi Dine-In Theater, another table service restaurant in Hollywood Studios that we love.
If our 50's Prime Time Cafe review was helpful, or at least entertaining, please like and share this with your friends or anyone you think will find it useful.  Just use the sharing buttons on the page.  We always appreciate it when you share our posts, as it allows us to spread the word about our blog and hopefully will enable us to help others.