Today, Disney announced that Disney World is changing to date-based ticket pricing.  This is a huge change that could be a good thing for some, or very bad for others.  At least as far as your wallet is concerned.
While there are still lots of things to be announced, the general parameters are now published.  We'll cover what we know and speculate on some things Disney isn't saying.
A New Booking Portal
Disney sort of buried the lead when they issued their blog post announcing the change.  They led with a story saying that effective October 16th, guests will get a "new online vacation-planning destination".  Disney positions it as what we would call a "quality of experience" change, which happens to "give guests an enhanced way to purchase theme park tickets".
Now, we're not stupid.  What this is ultimately going to do is drive ticket prices up.  Anyone that thinks otherwise is being naïve or sticking their head in the ground.
Disney went on to say that "the new online vacation-planning destination features park offering overviews, travel tips from Disney Parks Moms Panelists and customized suggestions based on each guest's personal preferences – helping guests make more informed decisions."  More features; probably a good thing assuming that Disney can get the technology aspects worked out.
There isn't a new website location coming, rather it is just a redesign of the existing site.
Why Move to Date-Based Ticket Pricing?
A few words.  Increase revenue and manage crowds.  You want people to come at certain times of the year and not others.  There are few incentives like the all mighty dollar (or euro, pound or whatever you might be spending).  Disney is going to use date-based ticket pricing to move crowds around to some of the slower times of year.
They are also going to use it to increase prices to those who are less price sensitive.  If you desperately want to go to Disney World at Christmas or New Years, you can be sure you are going to pay for it.
How Will Disney World's Date-Based Pricing Work?
Setting Ticket Prices
Disney's new date-based ticket pricing will assign a specific ticket price to every day of the year.  Things impacting the ticket price will include:
Day of the week

Time of the year (is it peak time or non-peak)

Number of days you need tickets for
That's at a minimum.  If we were guessing, the ticket price will change.  It will work like airline pricing, as the number of tickets purchased for a particular day increase, the price increases.  Disney World can use date-based ticket pricing to control crowd levels and charge more to people who are less sensitive to price.  This will make booking in advance more important.  If you aren't able to book well in advance, then you need to be flexible on your park dates.  That is, if you want to keep your ticket cost down.
Note that this is our personal opinion, but we'll monitor the booking portal once it is up and running.  We'll track prices and see how they change.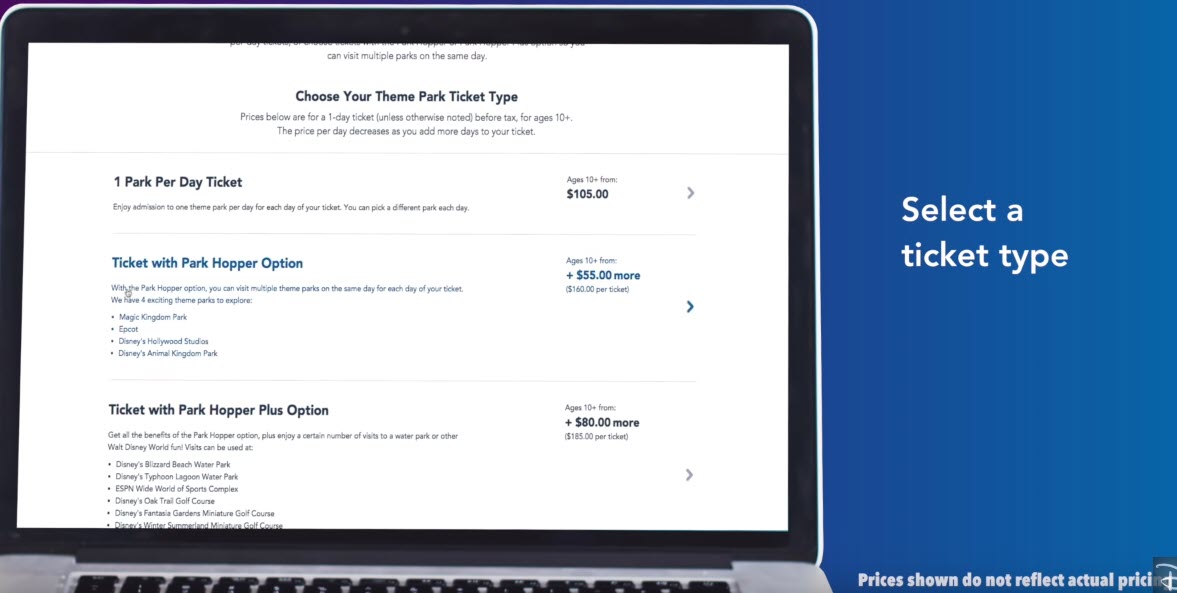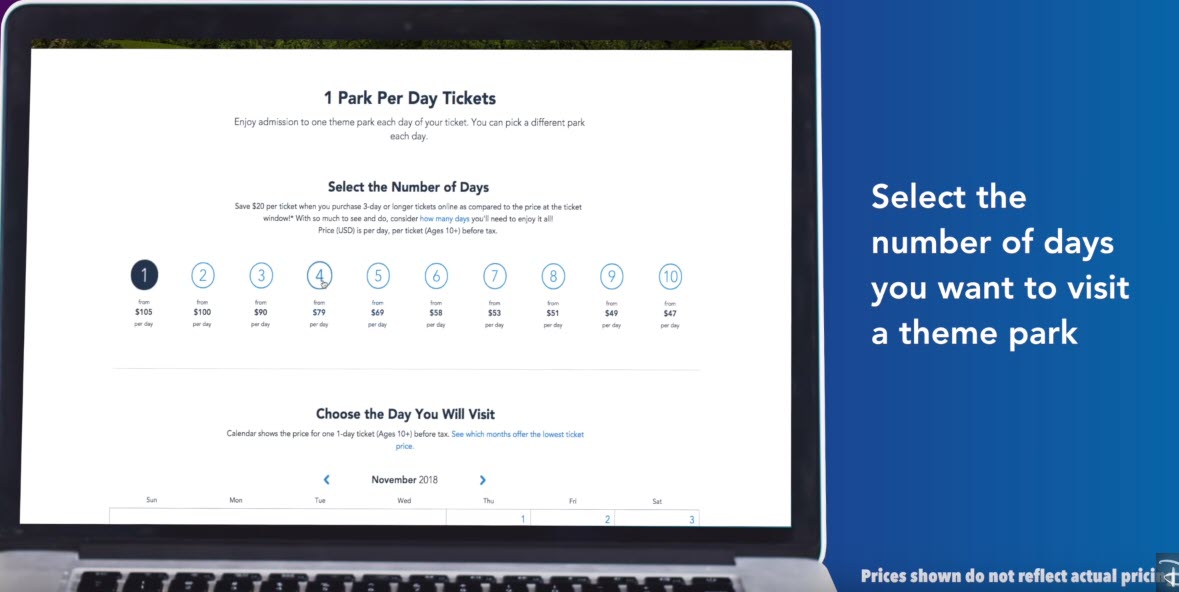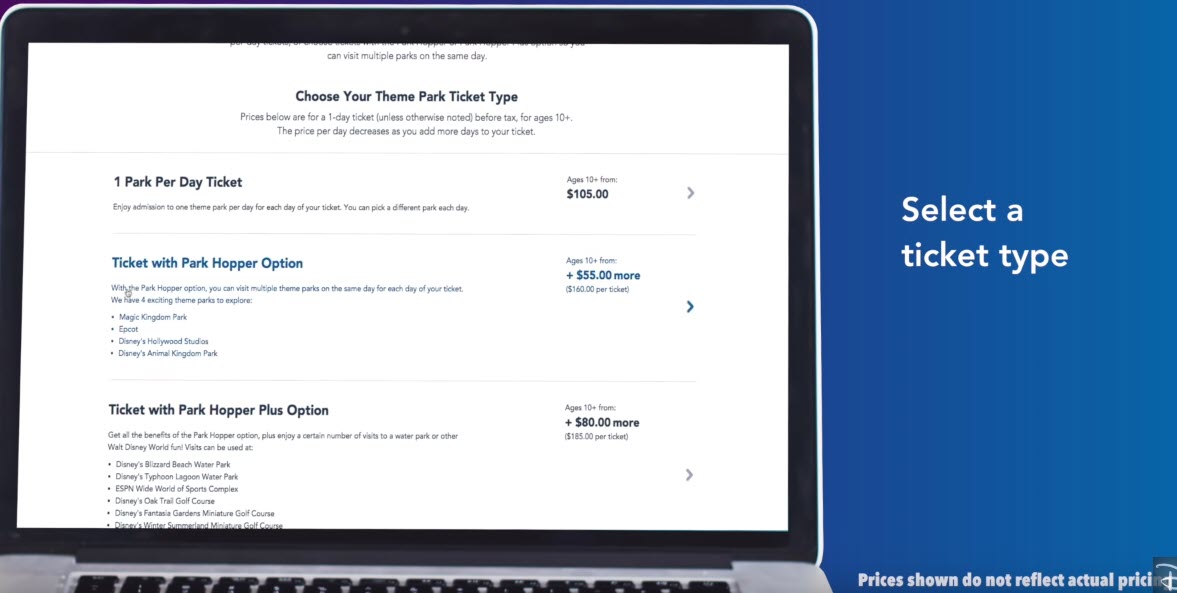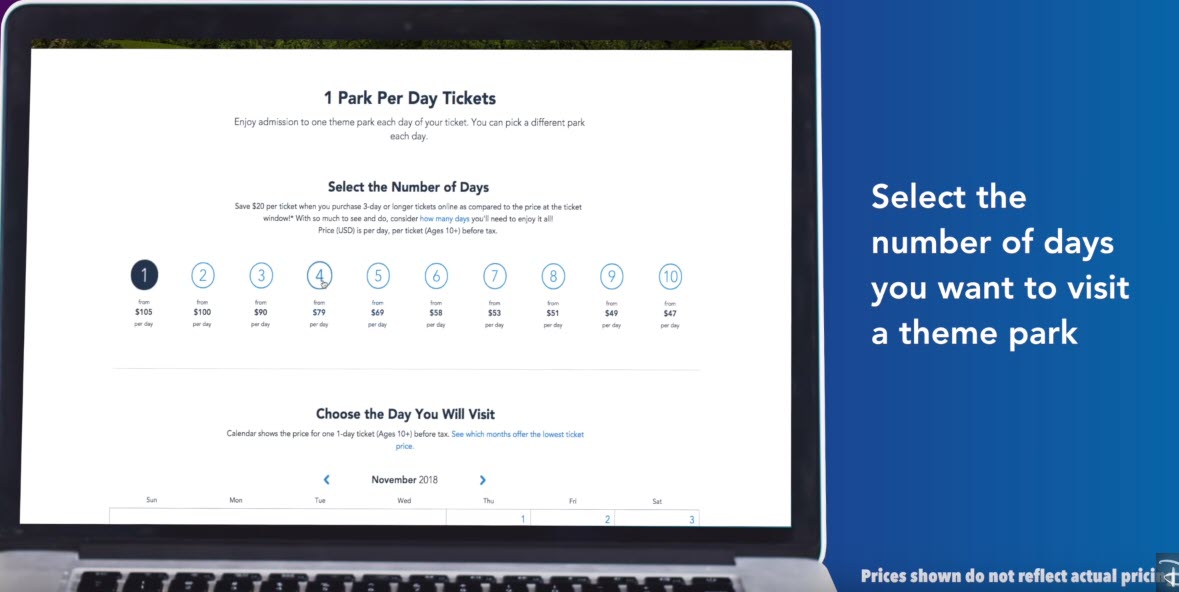 Booking Tickets
Here are the basics of booking your Disney World tickets under the new system.
To start, go to the Disney website.  From there, select the type of ticket you will buy.  As of now, it does not appear that Disney will implement any new ticket formats.  You'll still have a basic ticket, a ticket with the park hopper option and finally a ticket with park hopper plus.
Before we get into the next few screen shots, it's important to note the giant disclaimer put on the screen by Disney.  It says "Prices shown do not reflect actual pricing".  So, everything we are going to talk about next is illustrative.
Next, select the number of days you need a ticket.  You'll notice in the screen shot above that much like current Disney pricing, the more days you buy tickets for, the cheaper they get.  Whether the level of discount lines up with what is ultimately offered is to be determined.  We'll check back once the website is live.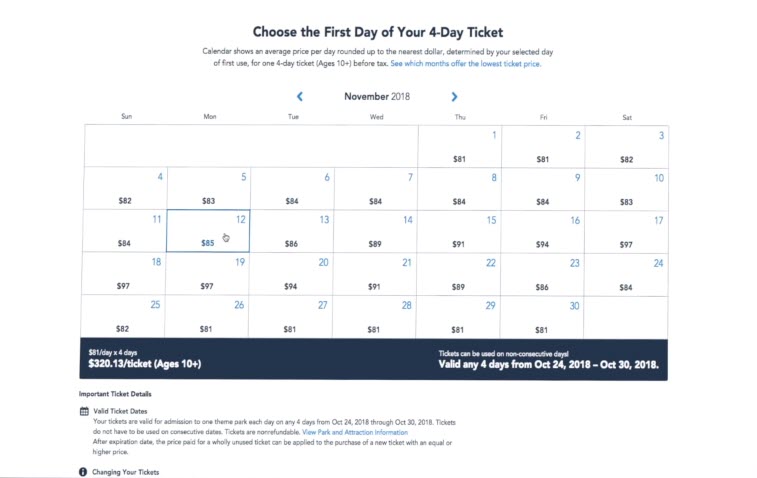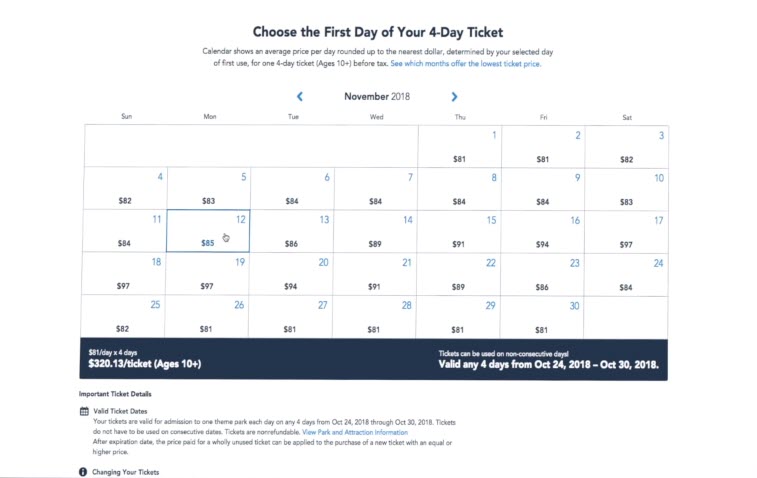 This next part is where things get interesting.  You'll be shown a calendar with date options.  You're going to pick the first day of your trip where you'll use your ticket.
Notice that on any given day it gives you a price per day.  This is not the ticket price for just the day you pick.  Rather it is the ticket price per day for the entire length of your ticket selection.  In the screen capture we took below, the $85 you see is the price per day of a four-day ticket.  $85 over four days and you get a $338 total cost for one ticket.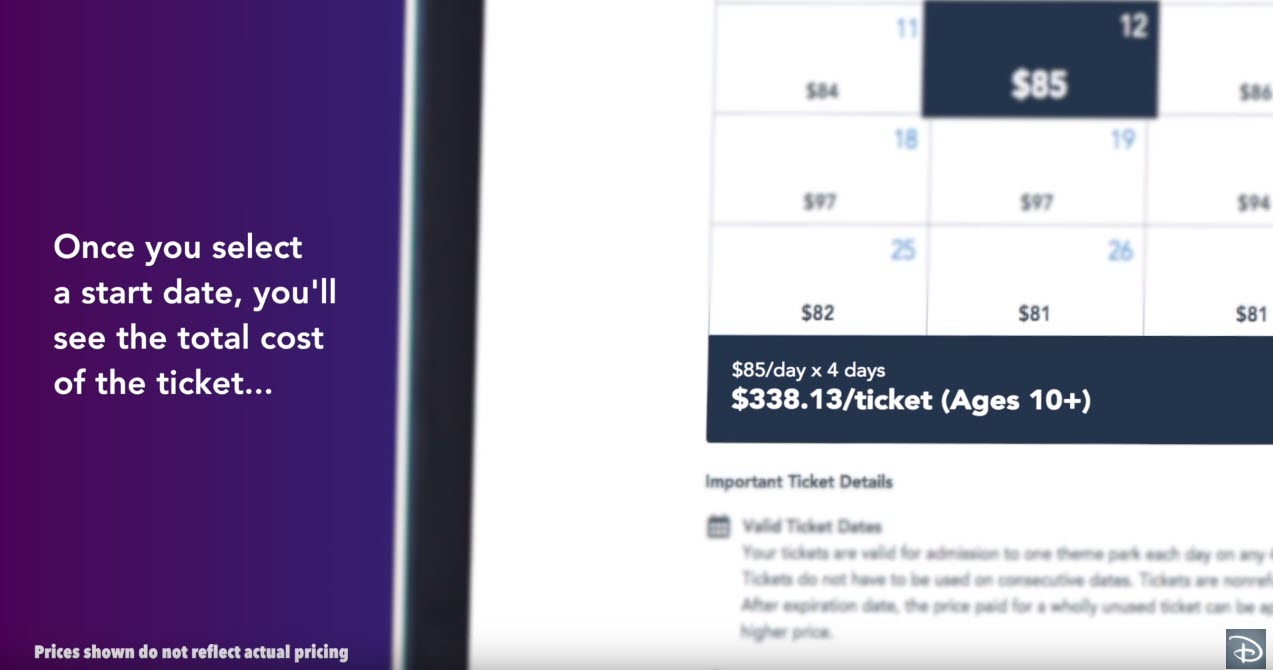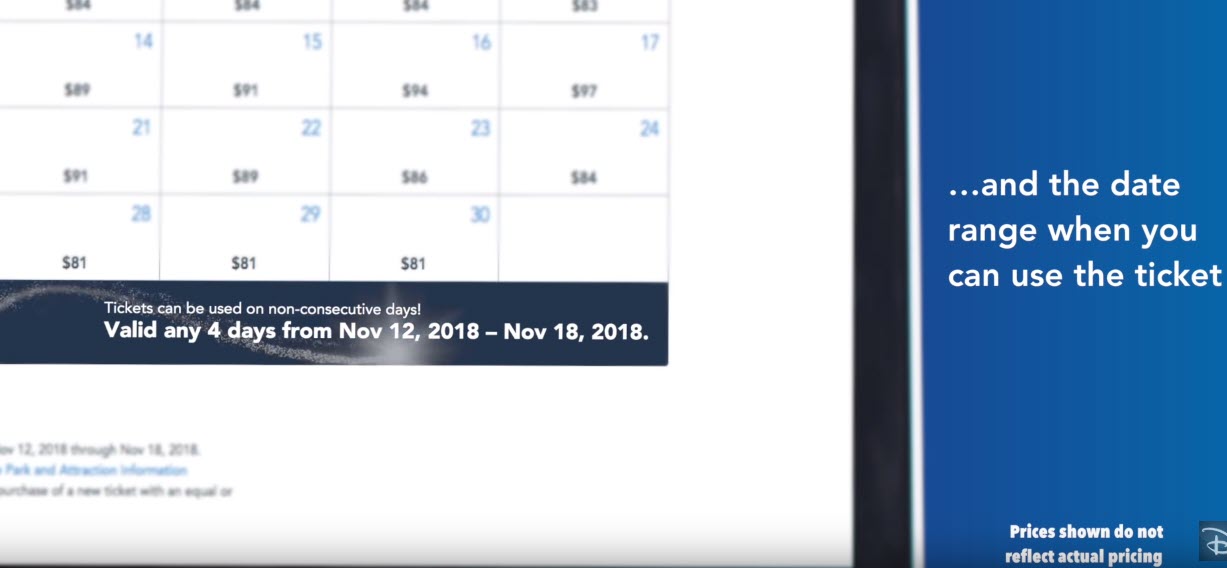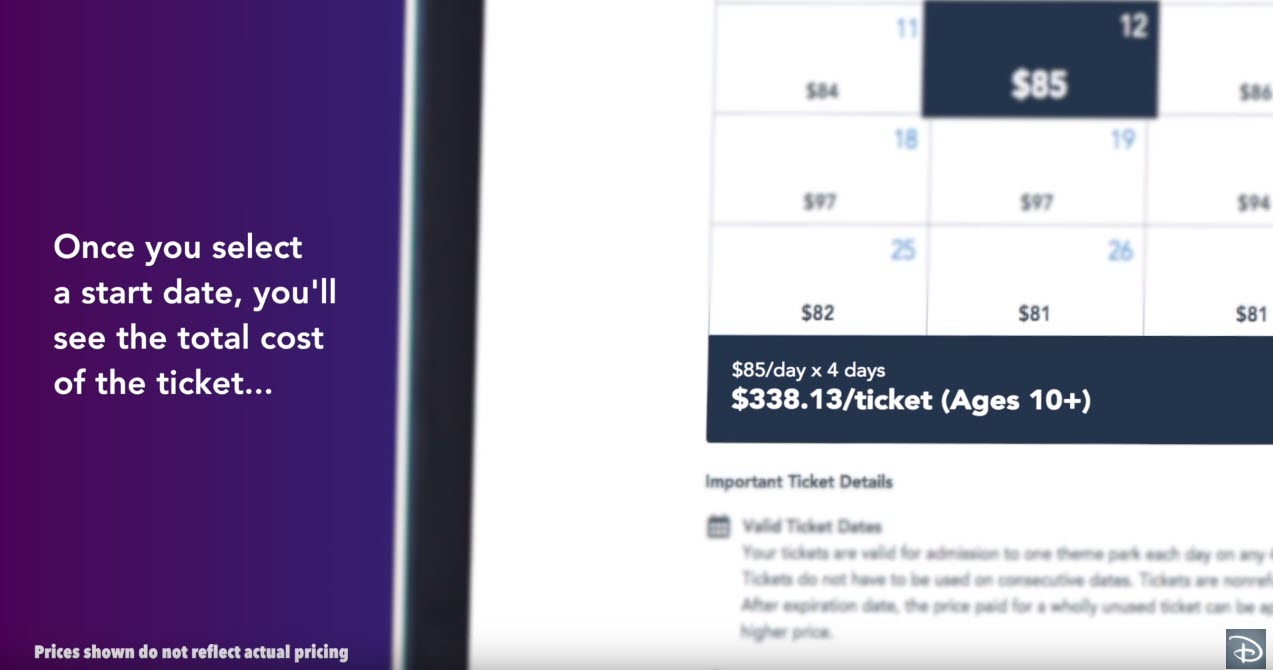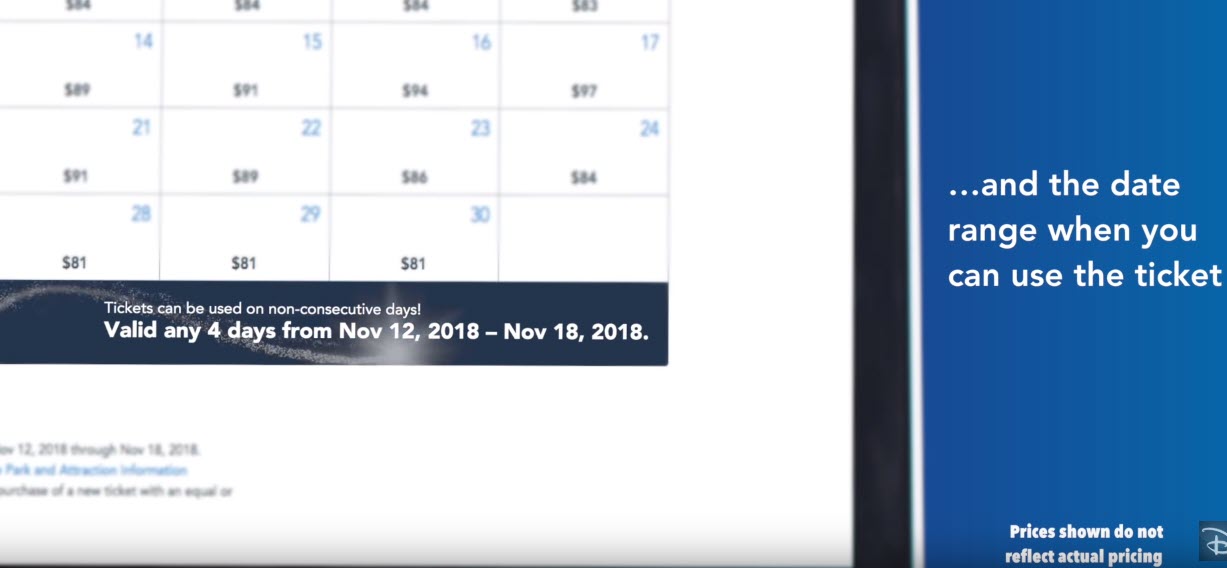 Next, the system will tell you how long you have to use your tickets.  In this case you have seven days to use a four-day ticket.
What if you want the cheapest Disney World Date-Based Ticket Pricing?
So, you're looking to save a few bucks and want to know the absolute rock bottom ticket prices for the year.  Well Disney will actually show you this.
On the calendar view we showed you above, you'll see a hyperlink that will show you a popup.  This popup will tell you what month the lowest priced tickets you are looking for are in.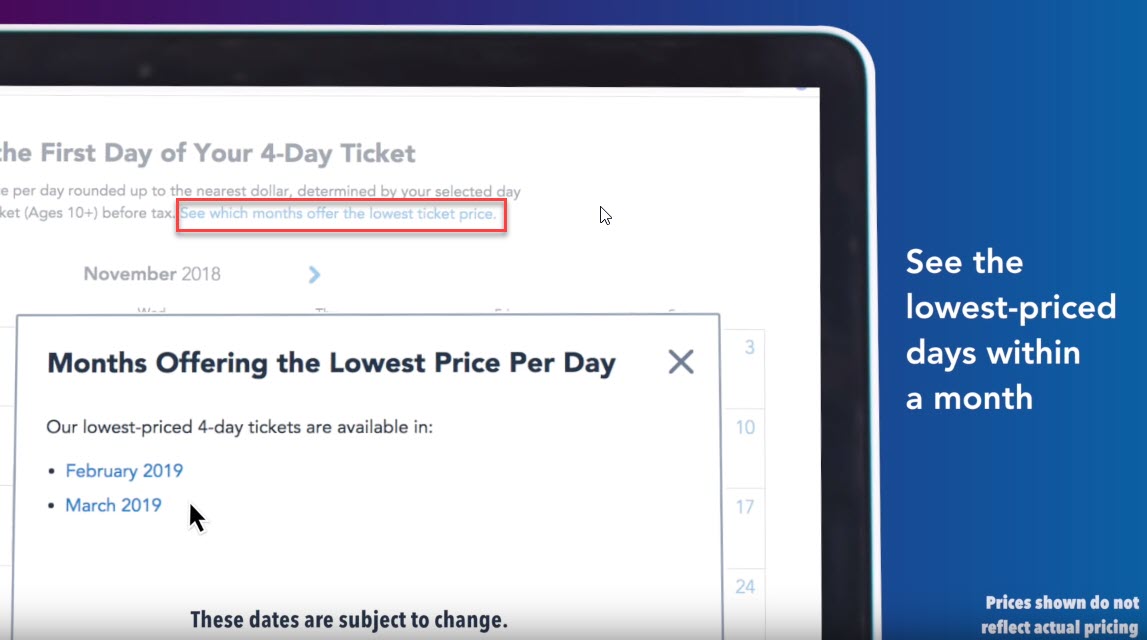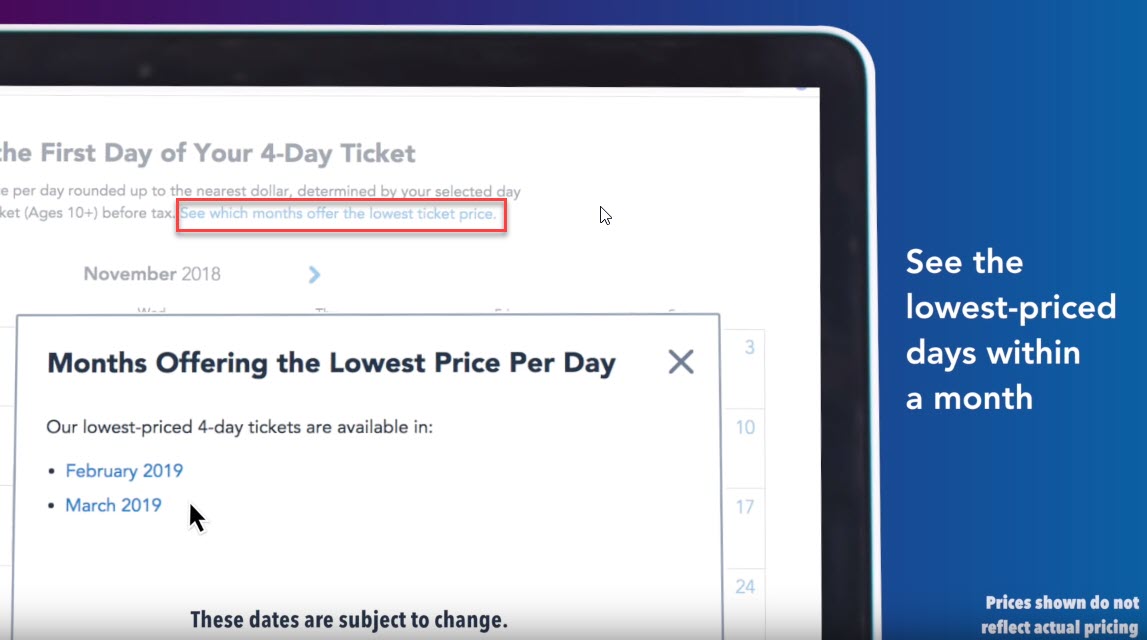 Why would Disney tell you this?  Simple, they are trying to manage crowds.  That and just because the tickets are cheap, doesn't mean resorts and or food will be.  Make sure you consider the total cost of the stay.  How resort pricing works with this is still yet to be seen.
Back to Buying Disney World Date-Based Tickets
Once you've settled on your dates, you'll simply select the number of tickets that you want.  Notice you can pick children or adults.  It does appear child pricing will be less than adult.  How much less remains to be seen.  We'll let you know what we find when the system goes live.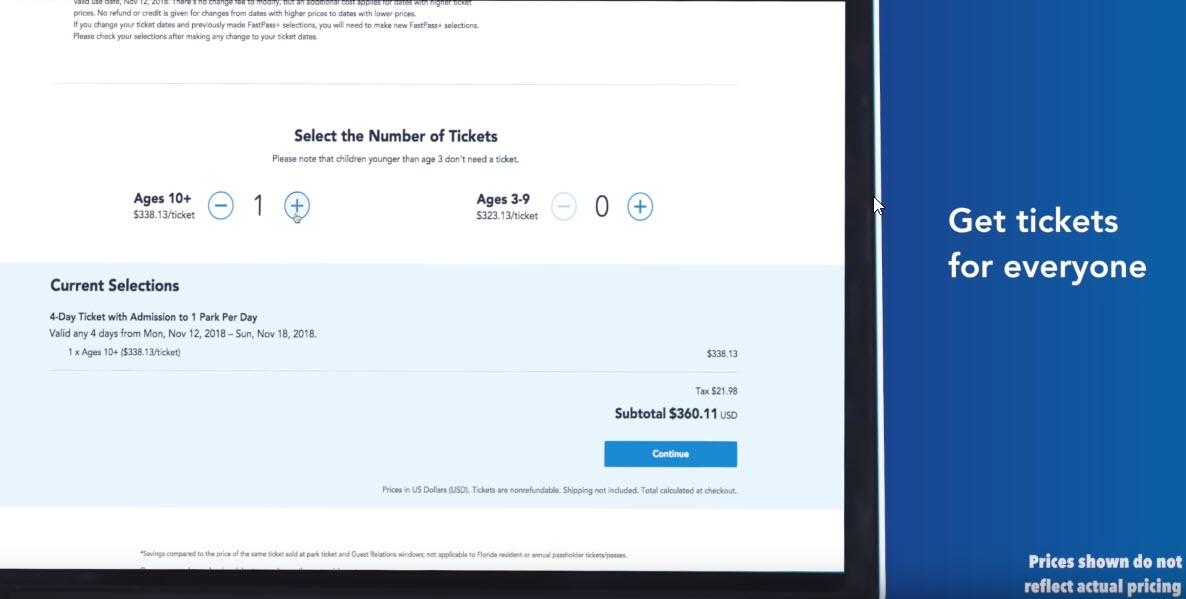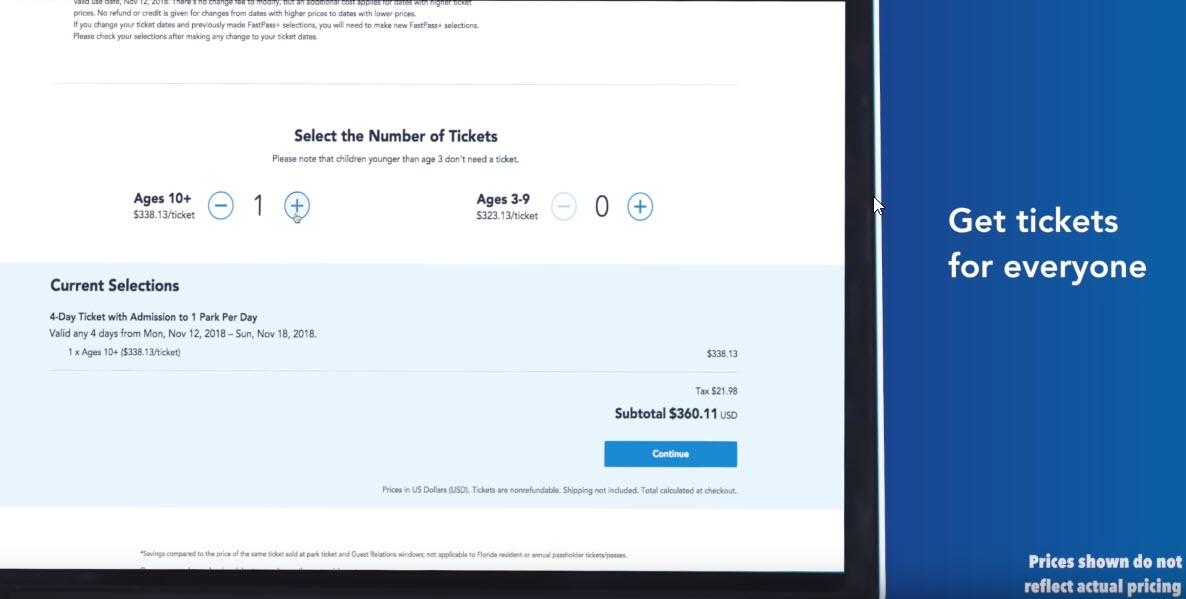 Flexible Dates with your Disney World Date-Based Tickets
If you don't want to be locked into a specific set of dates with your Disney World date-based pricing tickets you can select the "flexible dates" option at the end.  Essentially Disney will charge you more for the flexibility.  Exactly how much more is to be determined.
With this option, you also get more time to use your tickets.  In the example Disney showed, our seven days becomes 14.  It appears 14 is the standard time window to use your tickets under this option.  We'll look more once the system is live.
From there you simply pay and you're done.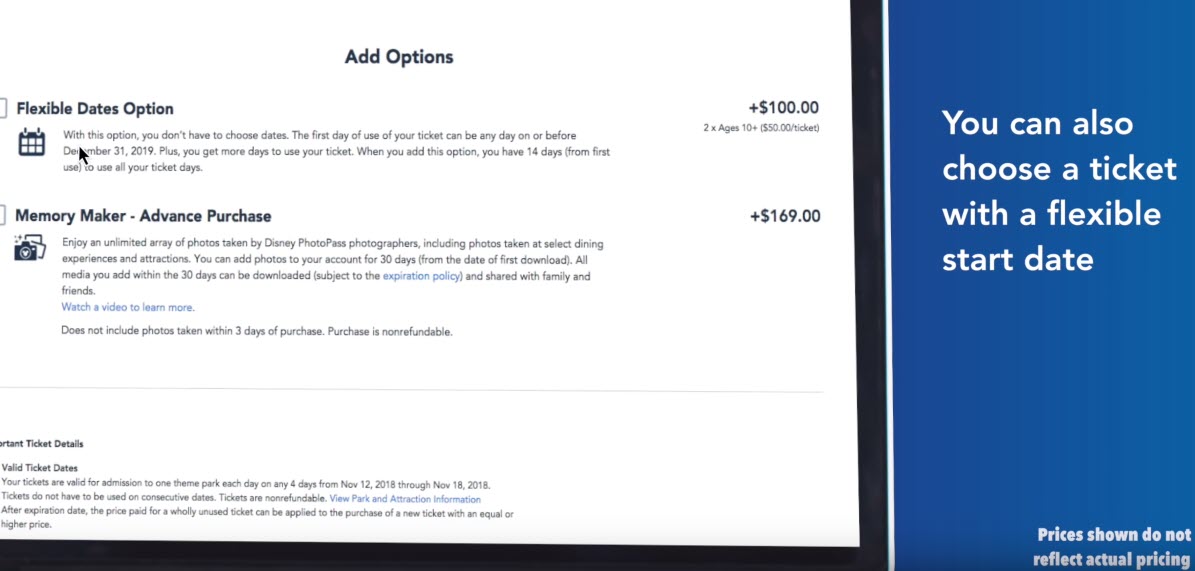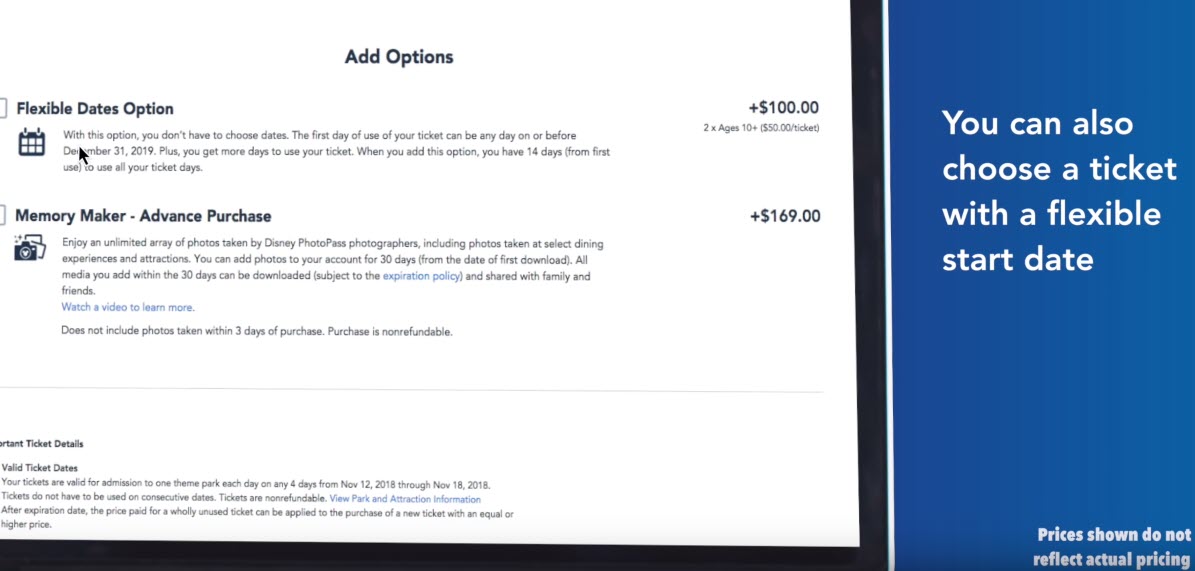 What Else Should You Expect with Disney World's Date-Based Pricing System?
Disney isn't going to come out and just tell you what they are doing on pricing, but there are some safe assumptions here.
First, nestled quietly in here is a price increase.  While it may provide more flexibility to the end customer, people are ultimately going to pay more to go to Disney World with date-base pricing tickets.  Book it.
Second, prices will change regularly.  Like we said earlier, this is going to work like airline pricing.  Dates with more demand will cost more.  And as ticket sales go up and up and availability becomes less and less, Disney will raise the ticket prices for those days.  This is what airlines refer to as revenue management.  Think of it as the process by which Disney tries to extract ever last dollar from each willing customer.
Third, this will make comparing tickets with brokers and the like more complicated.  Making an apples to apples comparison will take more time and effort, which will again yield more money going to Disney.  We're not saying it can't be done, it will just take more work.
Odds and Ends
A few things Disney did note in their blog post.
As we said, this system will go into place on October 16th. If you want to buy a traditional ticket, you have until then to do so

At this point, there have been no indications of any impact to annual pass holders

It appears that all parks will cost the same

If you have previously booked tickets, those tickets are still valid and will be honored and there is no price change for them

It does not appear water park pricing is impacted at this point.
Wrapping Up
This change has been rumored for a while and now it is upon us.  We'll see what Disney World changing to date-based ticket pricing ultimately means.  Make sure you check back on or shortly after October 16th to see what we find.  Mike's an analytics guy so he'll be digging into it to see what he can find.
Have any thoughts on Disney World changing to a date-based ticket pricing system?  Drop down in the comments and let us know you're thoughts.