One of the great aspects of dining at Disney World is the ability to eat foods and experience flavors that you wouldn't normally find where you live and eat day to day.  I'm not sure about you, but we certainly get into food ruts in our daily lives and find Disney to be a place where we can branch out.  Here in our Tusker House review, we'll talk about a meal that fits that bill nicely.
Tusker House is a character buffet within Animal Kingdom.  In addition to the food, here in our Tusker House review we'll cover the atmosphere, décor and character interactions.  We'll provide plenty of photos of the food from the buffet line and of course, the characters.
Tusker House is situated in the Africa section of Animal Kingdom.  You'll find it just as you come into Africa from Discovery Island.  Given that it is Animal Kingdom's version of Africa, many of the dishes here will sport African flavors.  I'm not sure I would call them distinctly African dishes, but I've never been to Africa so it's hard to say.
For the purposes of this Tusker House character meal review, we are talking about dinner.  Lunch is for all intents and purposes the same meal.  They do offer a breakfast version of this character meal, but we won't be covering that here.  However, I will say we have done that meal before and it was enjoyable.  Much like most Disney breakfasts, I would not call it groundbreaking though.  It's also a great way to get back into the park early, however it would be better if it was closer to Pandora.
The character meal will run you one table service credit, but the meal is relatively inexpensive by Disney standards.  That means you might be better off paying out of pocket here and saving your dining credit for another meal.  Tusker House does take the Tables in Wonderland card.  Do make your reservations here as early as possible as reservations here can fill up.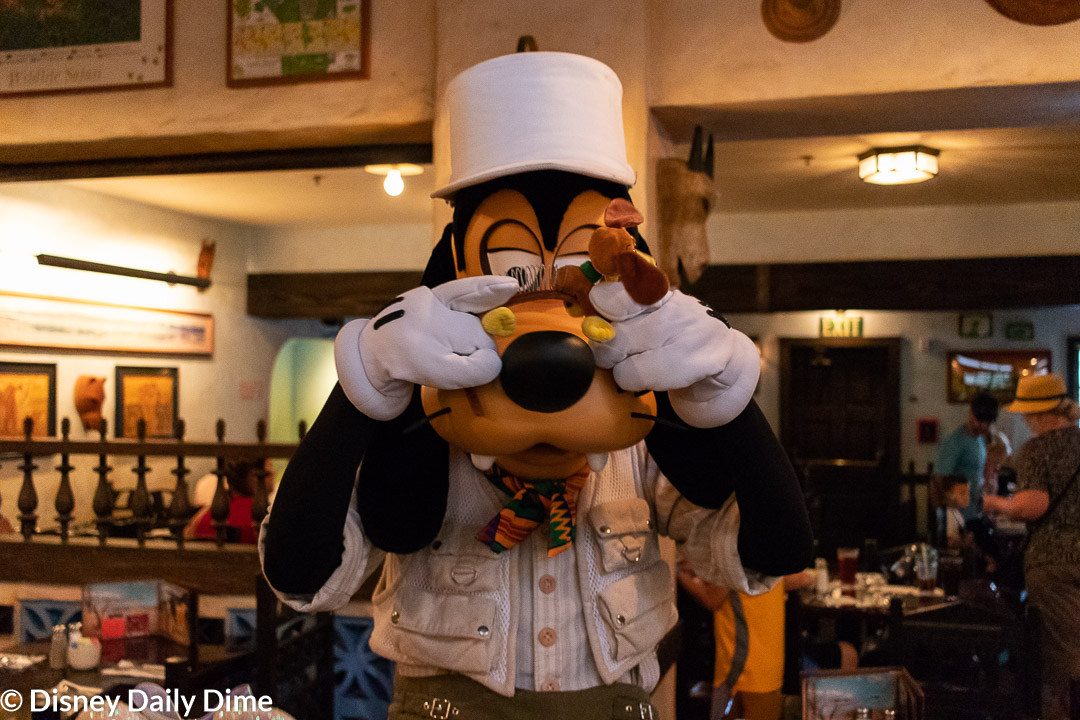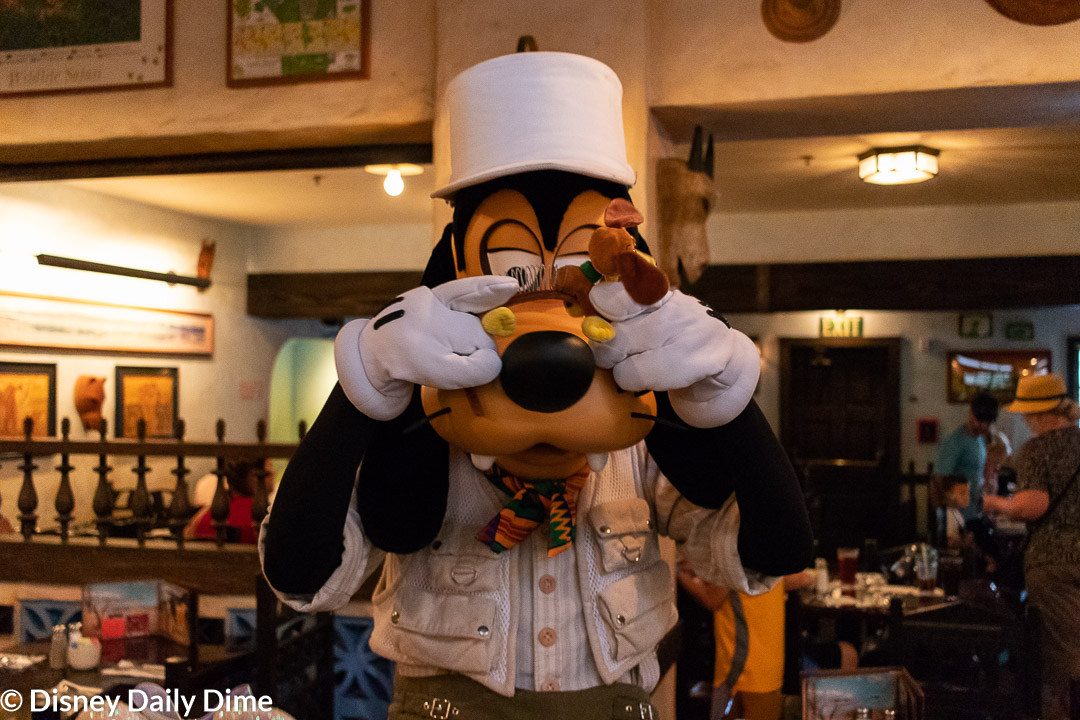 You Get Classic Characters at Tusker House
As we said, characters reign here at Tusker House in Animal Kingdom.  But not just any characters.  Disney goes "OG", with Mickey, Donald, Daisy, and Goofy.  Technically Donald is the main host of this character meal, but there isn't much these days that would tell you that.
Several years ago, Donald used to actually greet guests outside of the restaurant for a photo op.  However, these days he just wanders the restaurant meeting guests at their table like the other characters.  The characters will sign autograph books, so make sure you have them handy.
Since you are in Africa, Donald and his friends are all dressed in variations of Safari themed outfits.  It's nice to have appropriately themed dress to match the setting.  It makes the experience feel a little more unique compared to a normal meet and greet.
Here you can see Goofy having some fun with Anna's Slinky Dog ears.  This encounter with Goofy was pretty tame for the most part.  The girls of course loved seeing him, but the interaction wasn't anything I would consider unique.  We've seen the ear thing many times.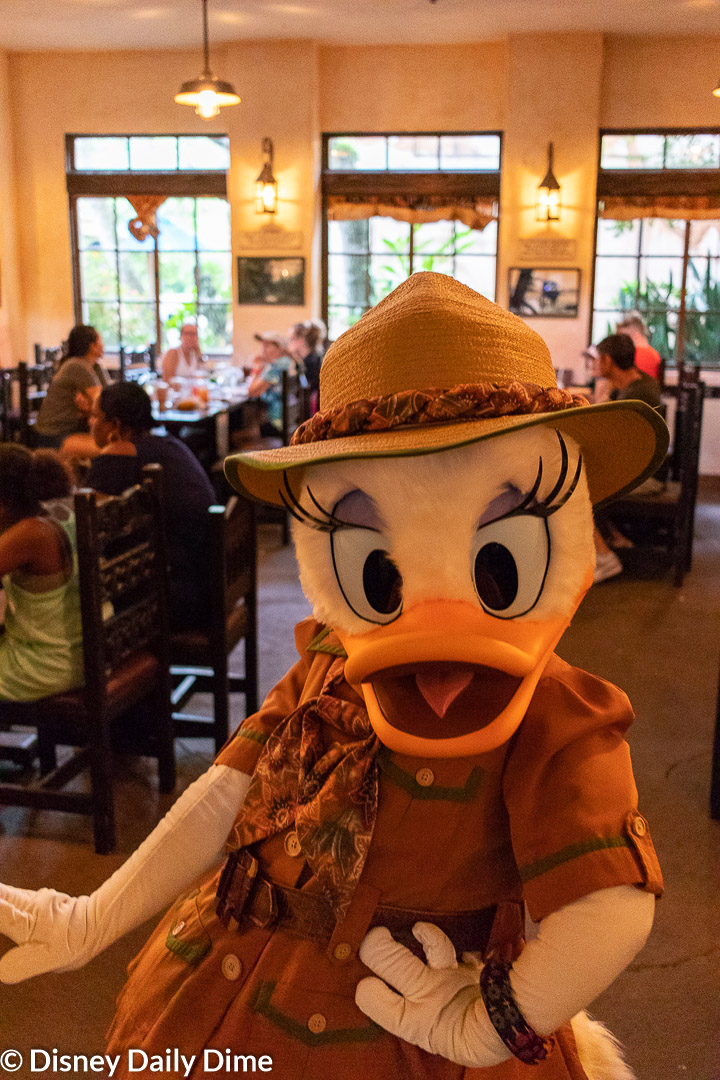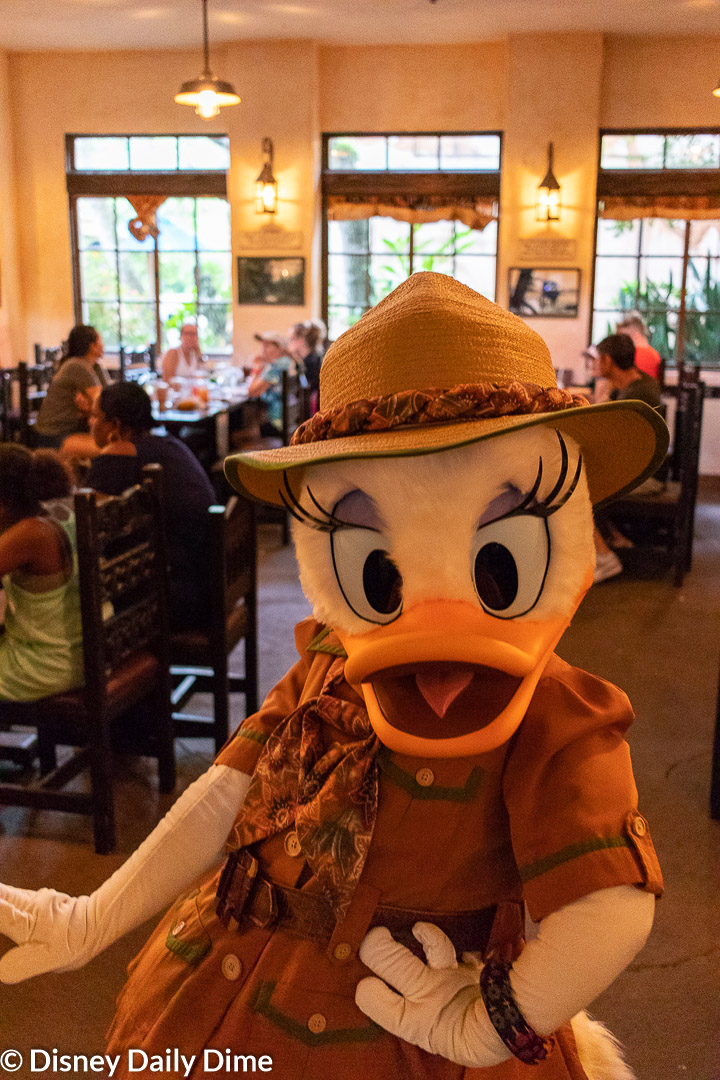 Daisy looks fabulous in her Safari best and was equally fabulous with the girls.  She's not a character we generally see a lot of, so it is great to have some time with her.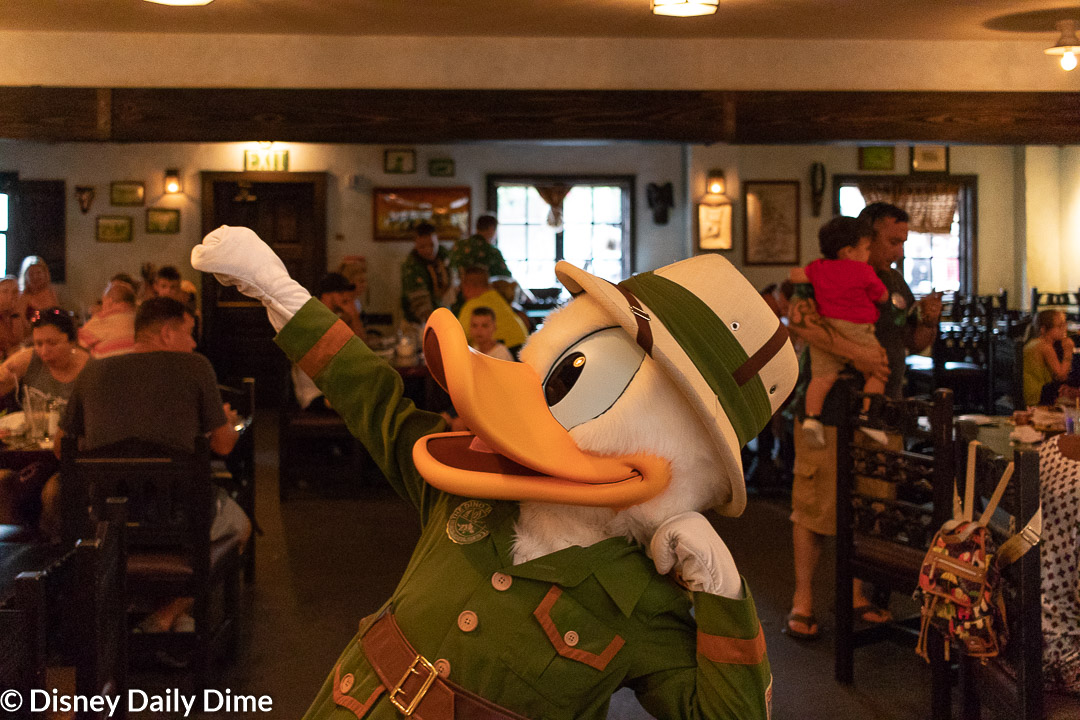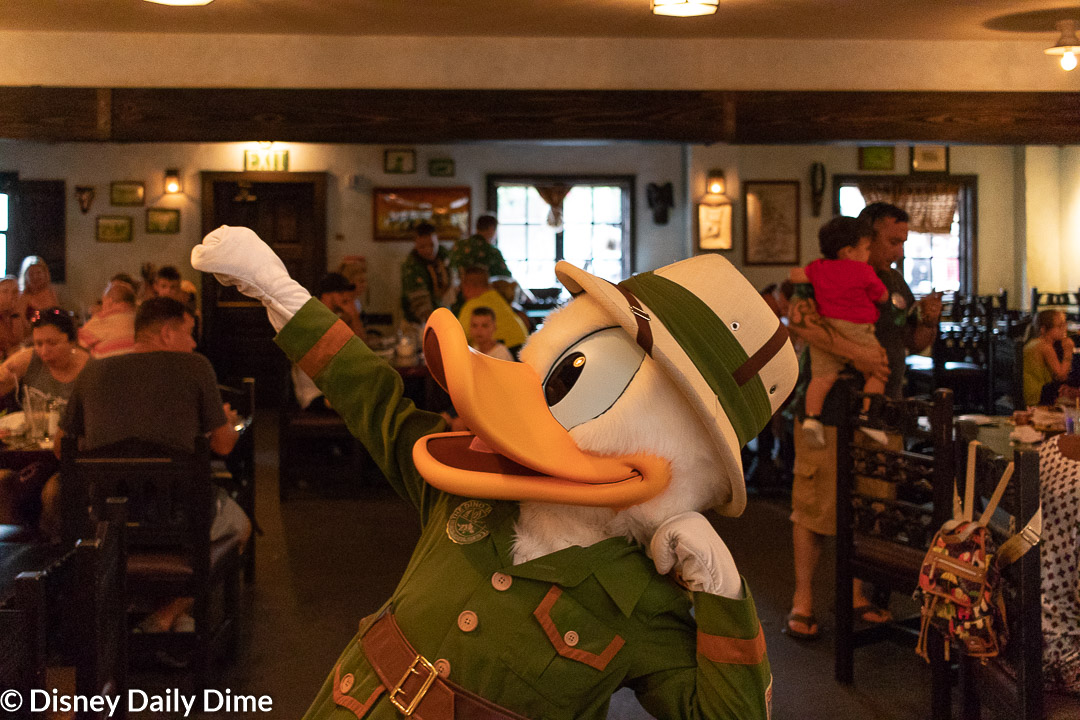 Donald was definitely the character highlight of the meal.  He was hamming it up the whole time with the girls.  And then when they were done and I asked to get a picture of him, he went on a posing routine that would make Hulk Hogan proud.  Here you can see him trying to show off his "guns".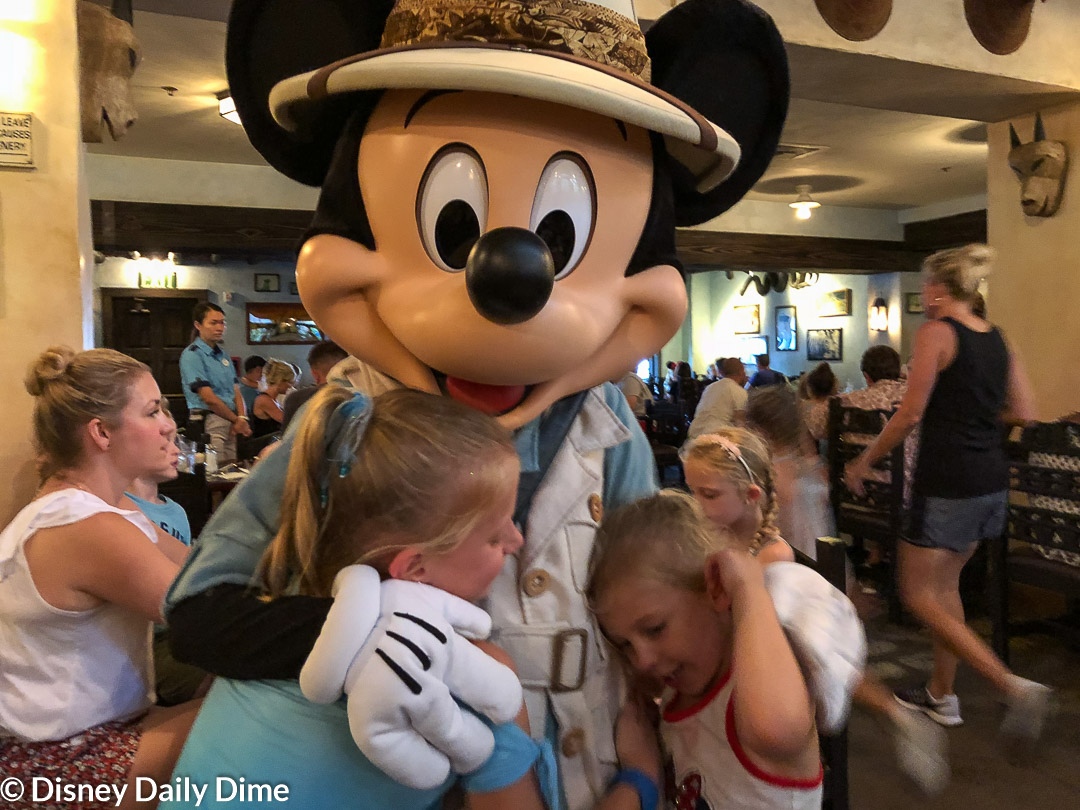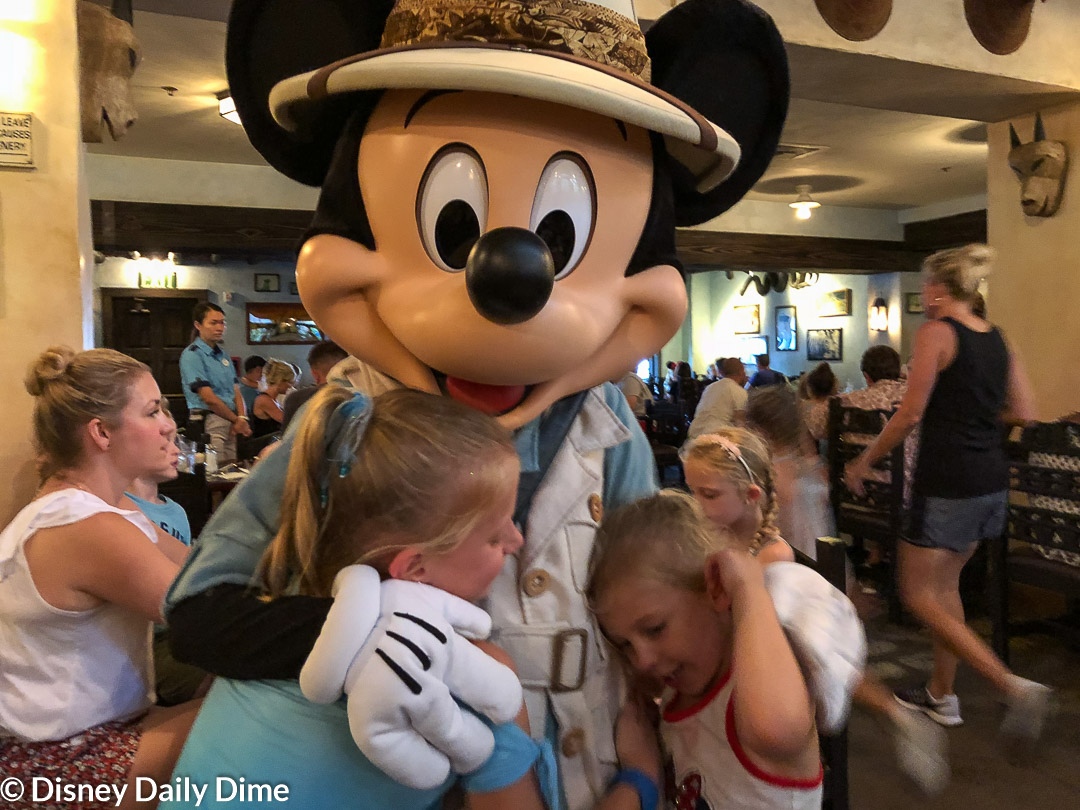 Lastly, we were visited by Mickey.  I wasn't sure if the girls were going to let him go.  We had a first here, where we got Mickey to take a selfie with Anna, Elsa and me.  Beyond that, the interaction was pretty basic.
One thing we will say about the character rotation around the restaurant here.  It is pretty slow.  I think part of that has to do with the layout of the restaurant and it being chopped up into four different rooms.  Another factor is also the crowd.  Tusker House is usually pretty busy, which means more guests for the characters to meet.
All in all, I'd say the character interactions were fun, but I don't feel like you get anything unique here that really differentiates the interactions from something you would find in the park.  You do however save the time waiting in line.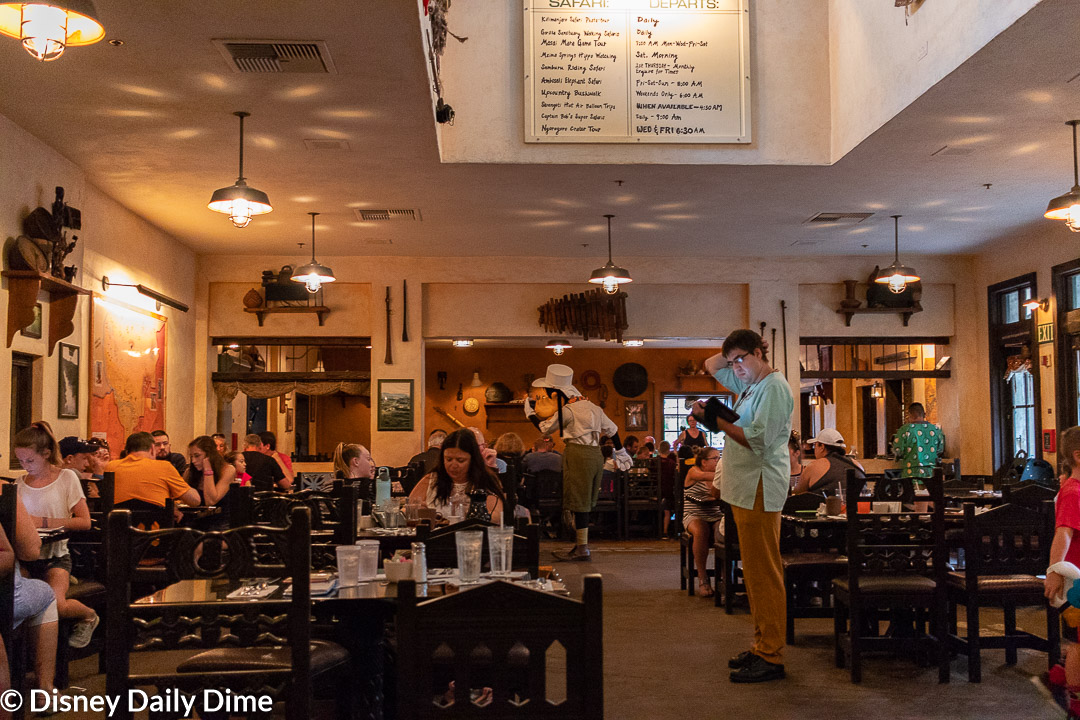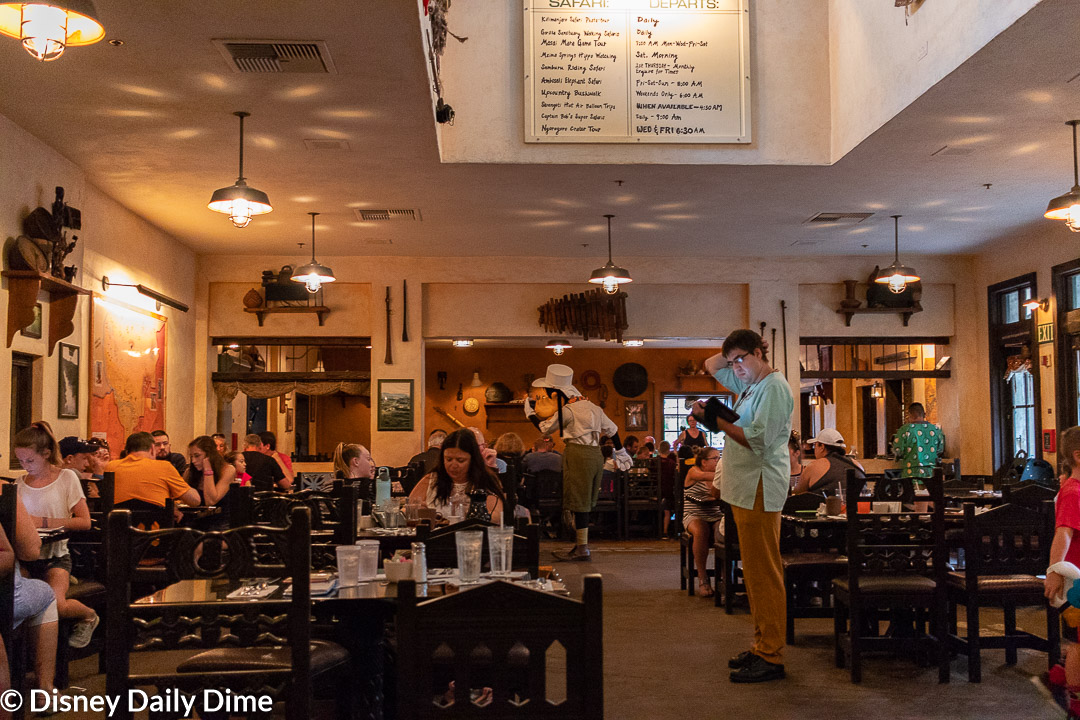 The Tusker House Theme Ties into Animal Kingdom Wonderfully
Animal Kingdom's Africa land is wonderfully themed throughout.  Tusker House is no exception to that.
Tusker House is set within the city of Harambe in Africa.  The buffet area feels like it is part of an open-air marketplace that you might encounter in Africa.  The buffet area is actually one of my preferred set-ups within all of Disney World.  Unlike most buffets that tend to be crowded and jammed into small areas, it doesn't feel that way here.  There's ample room to walk around and see all the food that you can have on your first plate or your fourth plate!
You'll find great touches that pull you into Africa.  Some of them are very noticeable, while you need to look for others.  It always pays to be aware and looking for the little things at Disney World.  If you're just looking for the next ride or listening to your kids' complaints, you can miss some of the great theming.
Here I'd point out the African masks that are outside of the restaurant in the area where Donald used to meet guests.  Of course, I don't have a picture of that area because you know…why would I want a picture of something I describe in a blog post.  I'll get it on our next trip!
When you're in the buffet area, make sure you look up.  The ceiling is this beautifully designed tapestry of fabrics that make you feel like you are indeed in an open-air market place, with shade provided by the fabric.  During the daylight hours, the fabric is flush with light from above.
As you get back into the restaurant's dining areas, you'll see more African artwork, masks and signs for the marketplace that extend the theming.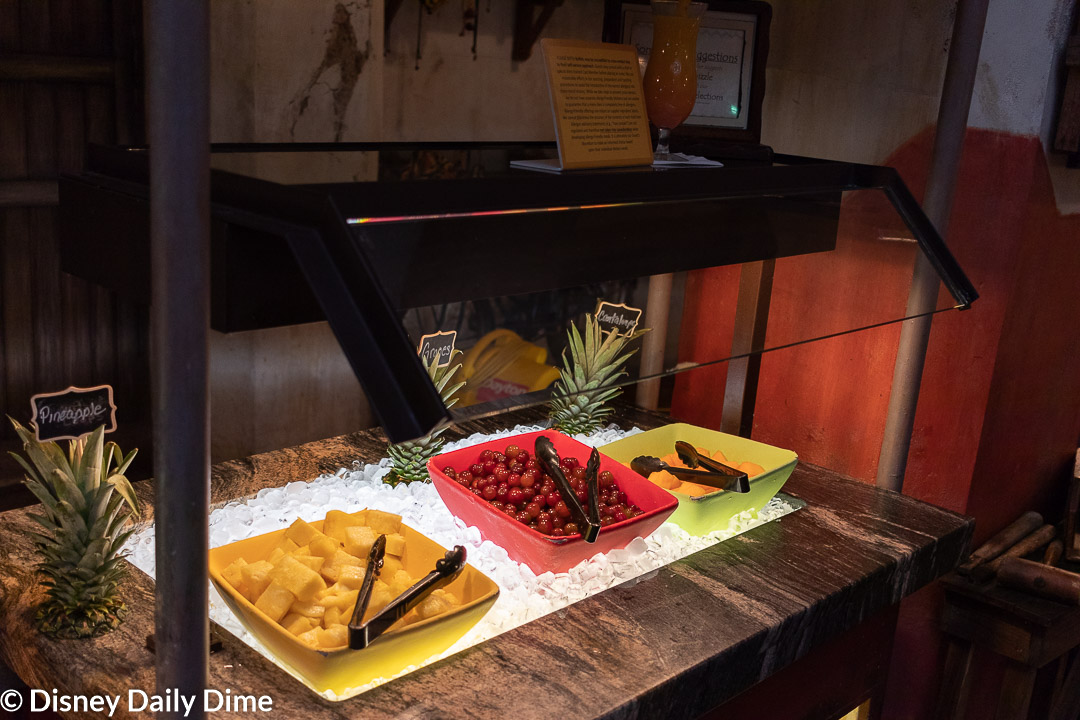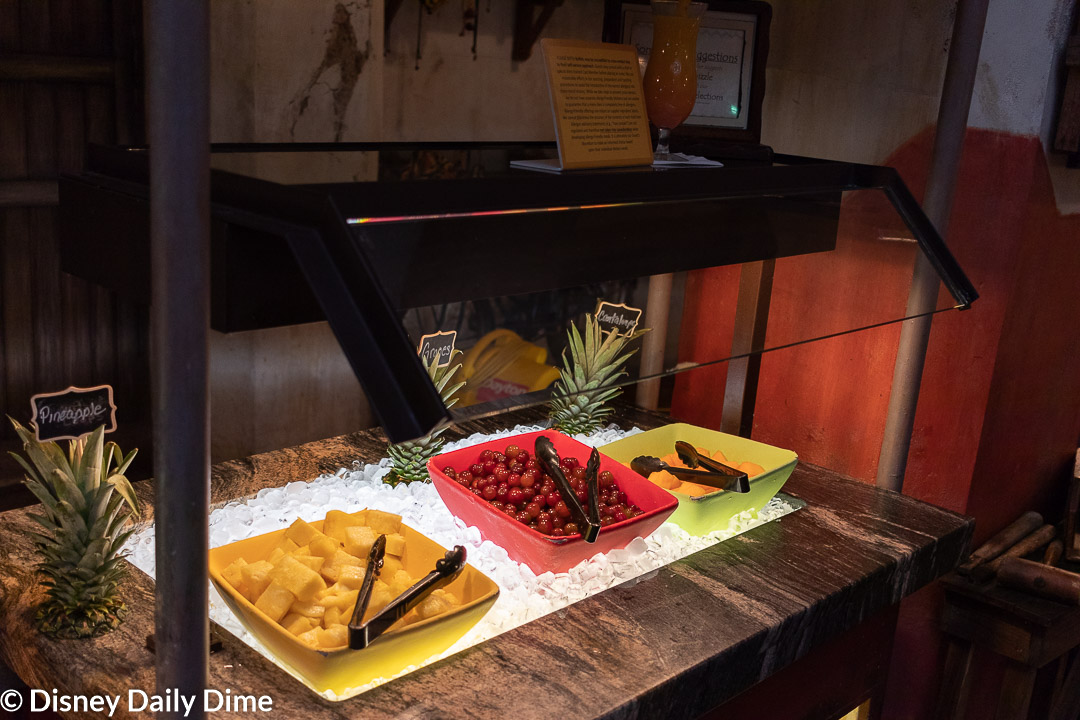 The Dishes at Tusker House are a Good Balance of African, but Accessible
As we said earlier, the buffet at Tusker House features lots of African flavors.
There are several stations throughout the buffet so we'll walk through some of them here.
You'll find fresh fruit and vegetable stations if you want to start your meal with something somewhat healthy.  The options here are all fairly basic, but provides some foundational items should you be looking for them.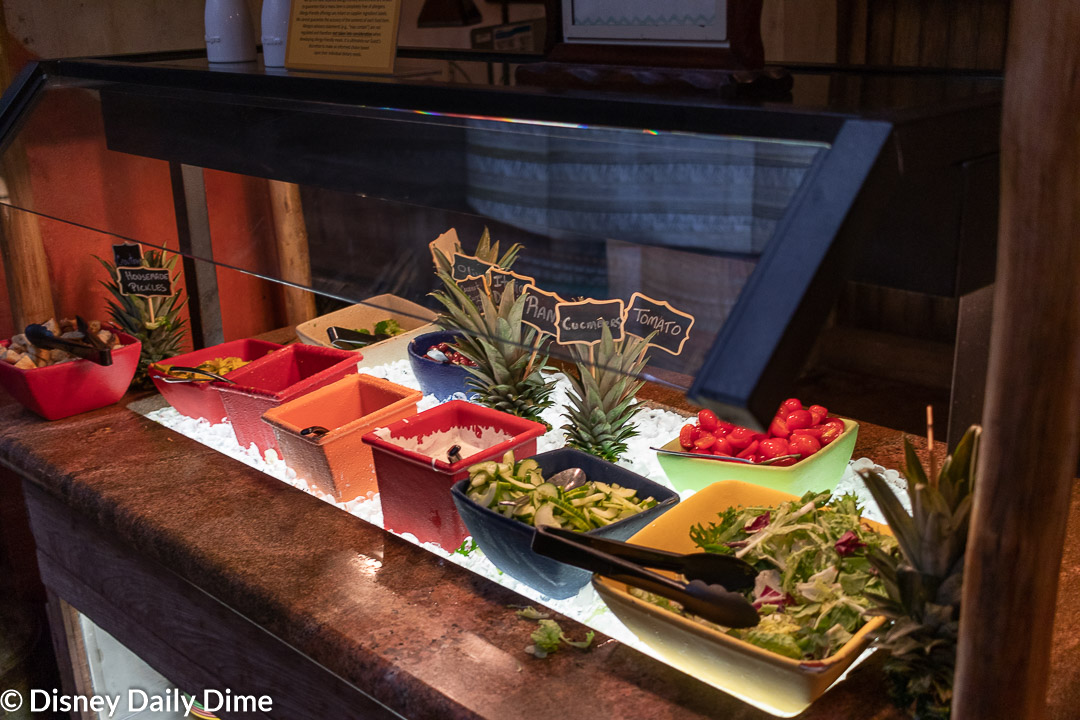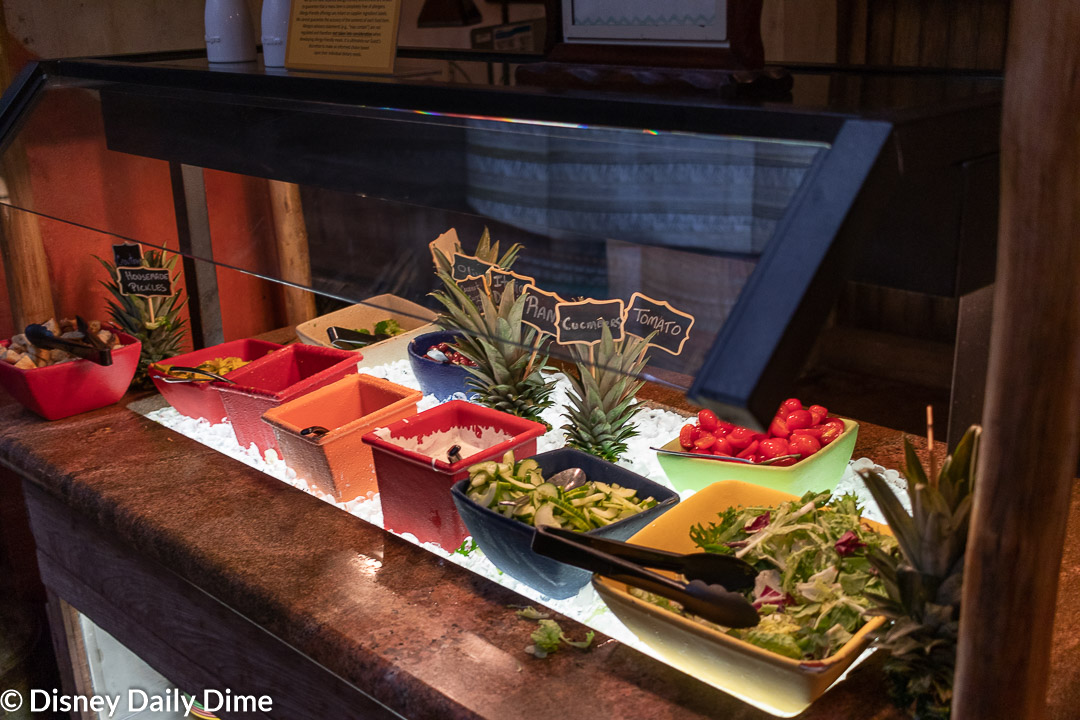 Next up there is a bread station with a wide assortment of sauces and spreads that you can pair with the bread.  The bread features the likes of pita bread, a few variations of corn bread and some generic rolls.  The jalapeno corn bread was excellent.  It was moist and most importantly for me, it didn't fall apart when I took my first bite out of it.
For the spreads you will find anything from basic butter to hummus all the way to something called blatjangs, which is a chutney.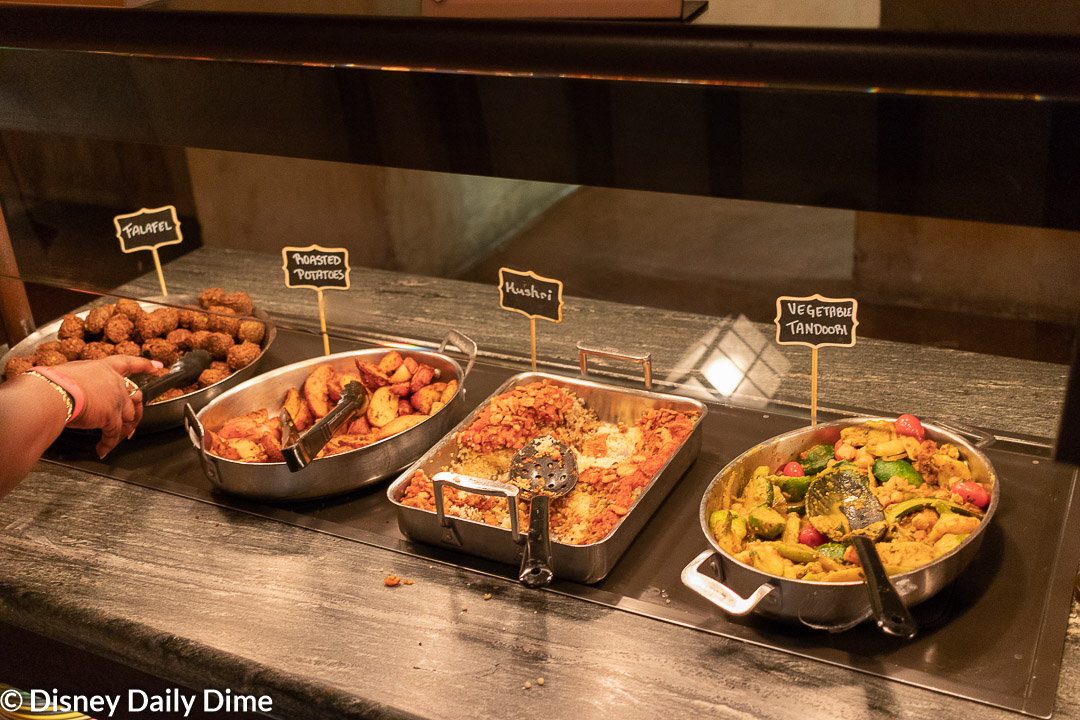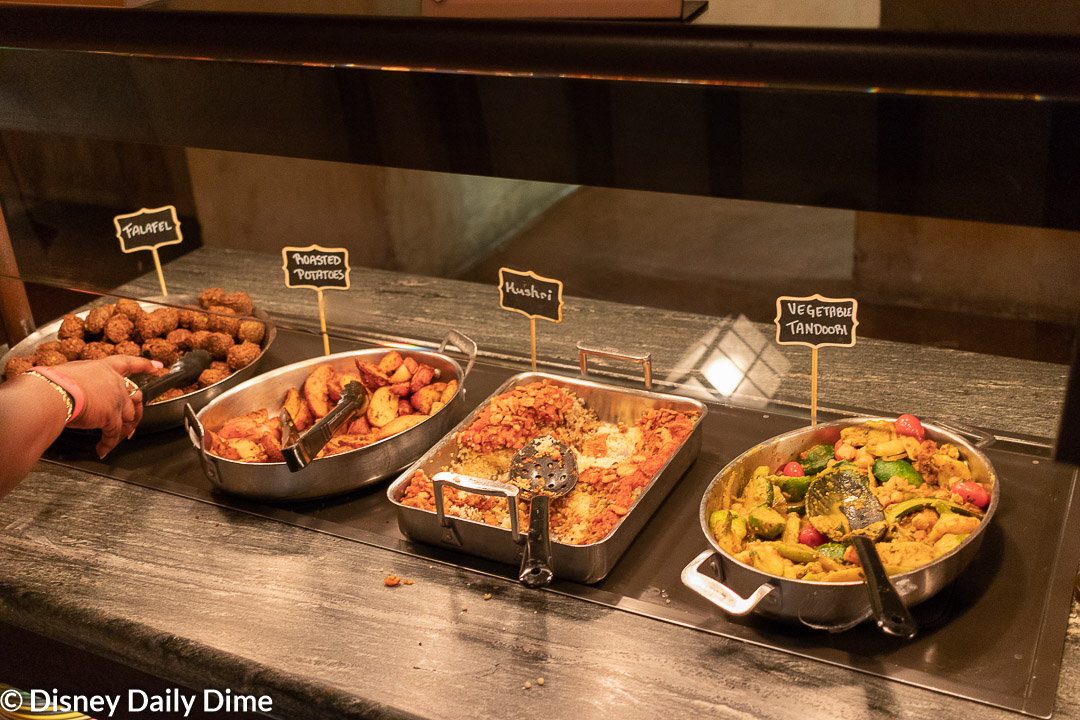 There is another stop featuring some vegetarian options, featuring falafel, roasted potatoes, vegetable tandoori, and kushri.  Some of it could probably be a meal, while things like the roasted potatoes are just an accompaniment.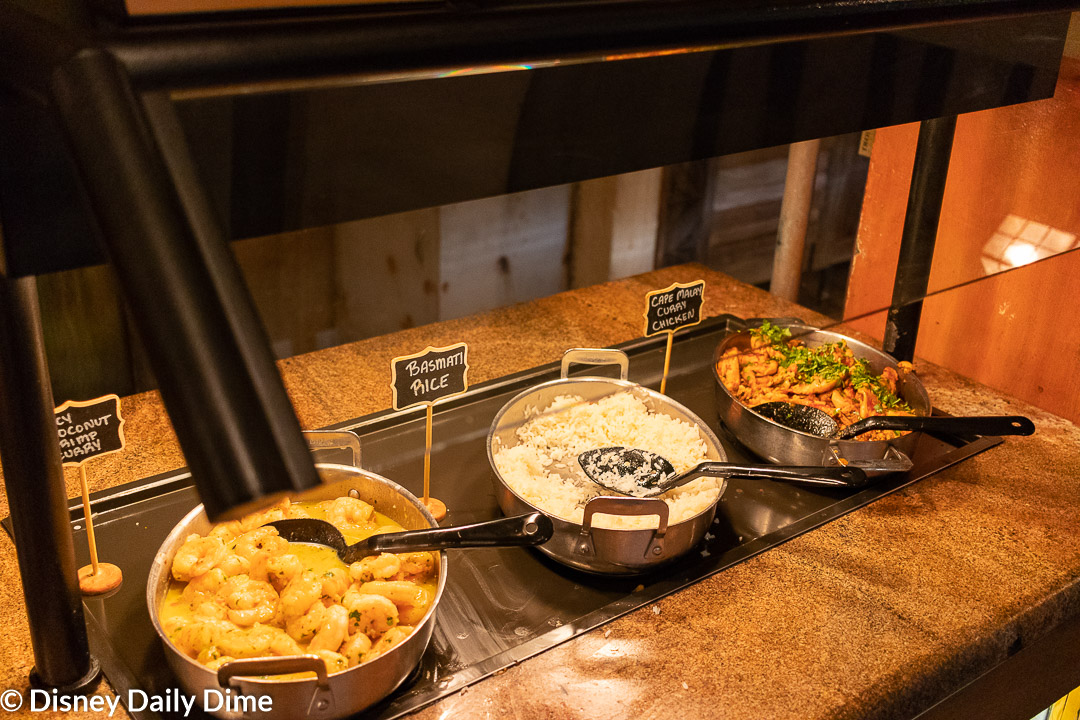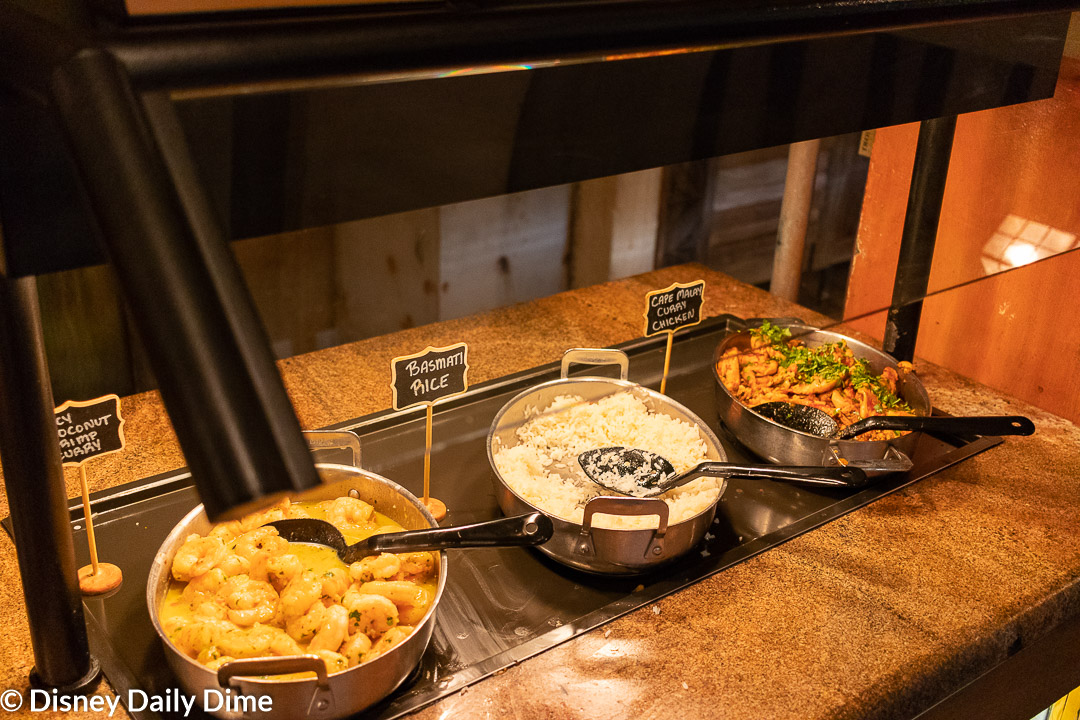 For the more adventurous, you may be interested in trying a couple of the curry dishes that were on the buffet.  There was a spicy coconut shrimp curry, along with a Cape Malay chicken curry.  The Cape Malay is a South African dish, with roots in the Malaysian populations living in the Bo-Kaap neighborhood of Cape Town.  The curry has a serving platter of rice that can be paired with each main entrée.
I opted for the spicy coconut shrimp, which is a bit surprising for me because I don't generally like coconut flavors.  I have to say I was rewarded for my choice.  The shrimp was plump and well cooked and the coconut flavors didn't overpower me.  I found it to be a nice and subtle flavor, with an underlying spiciness that would probably work for most people.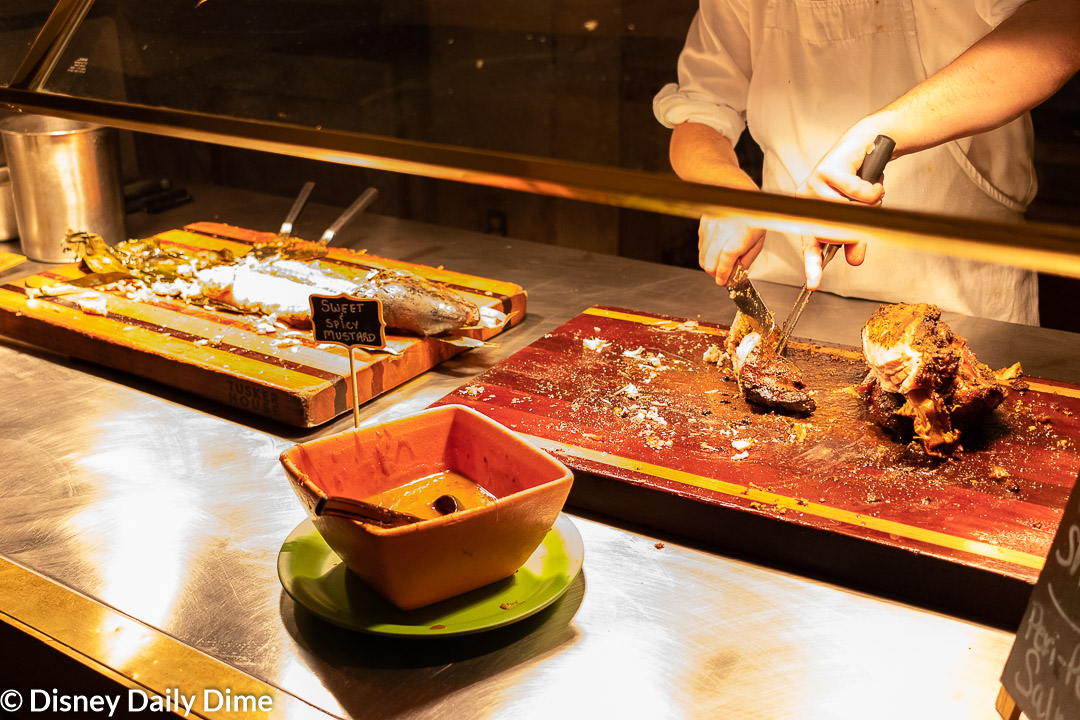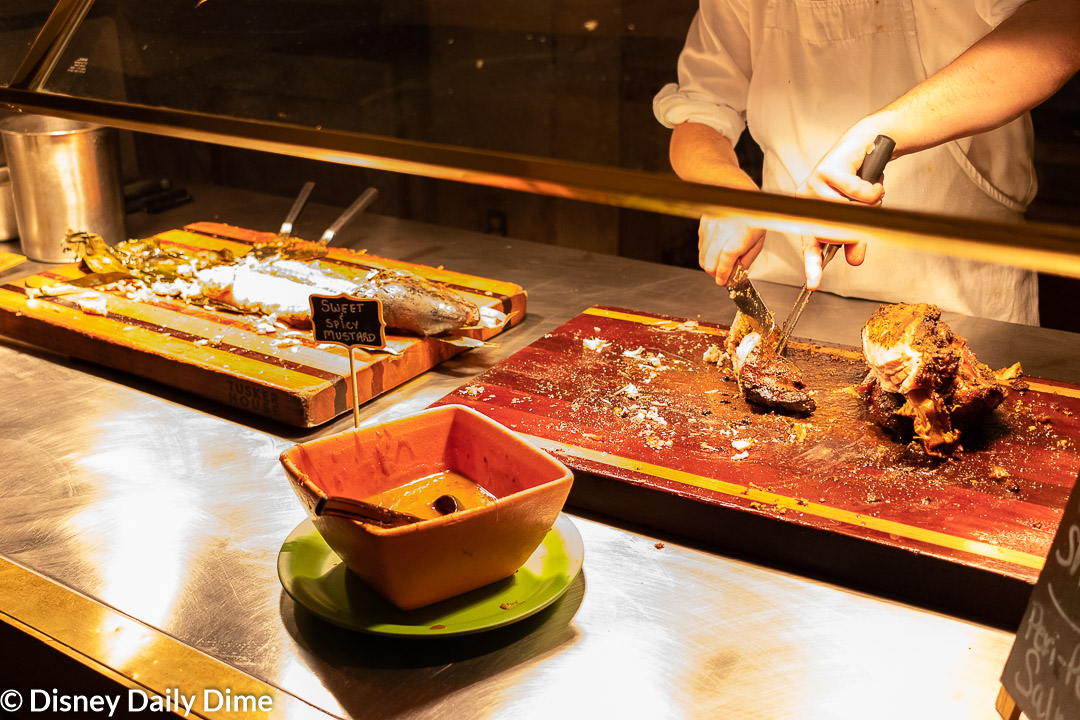 The real headliner entrée serving area though is the carving station.  Here you'll usually find a fish option and one meat option.  We have seen other reports of two meats, no fish, so you'll have to roll with whatever you get.
The fish is called Peri Peri salmon.  It is seasoned and roasted.  The seasoning is pretty basic, but very effective.  It's a mix of sambal chili sauce, olive oil, paprika, Old Bay seasoning, Italian seasoning, salt and pepper.  It was marvelous!  The salmon was cooked well.  I was a little concerned it might be a bit fishy, since it is roasted whole, but there was none to be found.  Just wonderful salmon flakiness.
I have seen some reviews that complain about the sight of a whole fish that is being carved right there on the station.  Some find it off-putting or downright disgusting.  For me, I grew up fishing, so this didn't bother me.  You know what bothers you; make your own choice here.  To me it adds more to the authenticity of how you may be served this dish in an African market, so I didn't have any issues with it.  The carving station is in back right corner of the buffet area, if you want to avoid it.
The meat that was at the carving station was pork on this day.  Unfortunately, I found the pork to be just okay.  It was a bit dry and didn't have a lot of the flavor.  The lack of flavor was a bit odd to me, considering the diverse flavors I found in most of the other dishes on the buffet this day.  Do note that the meat does seem to change from time to time, so you may have a different option from the pork.  We've seen beef, pork, and ham options from time to time.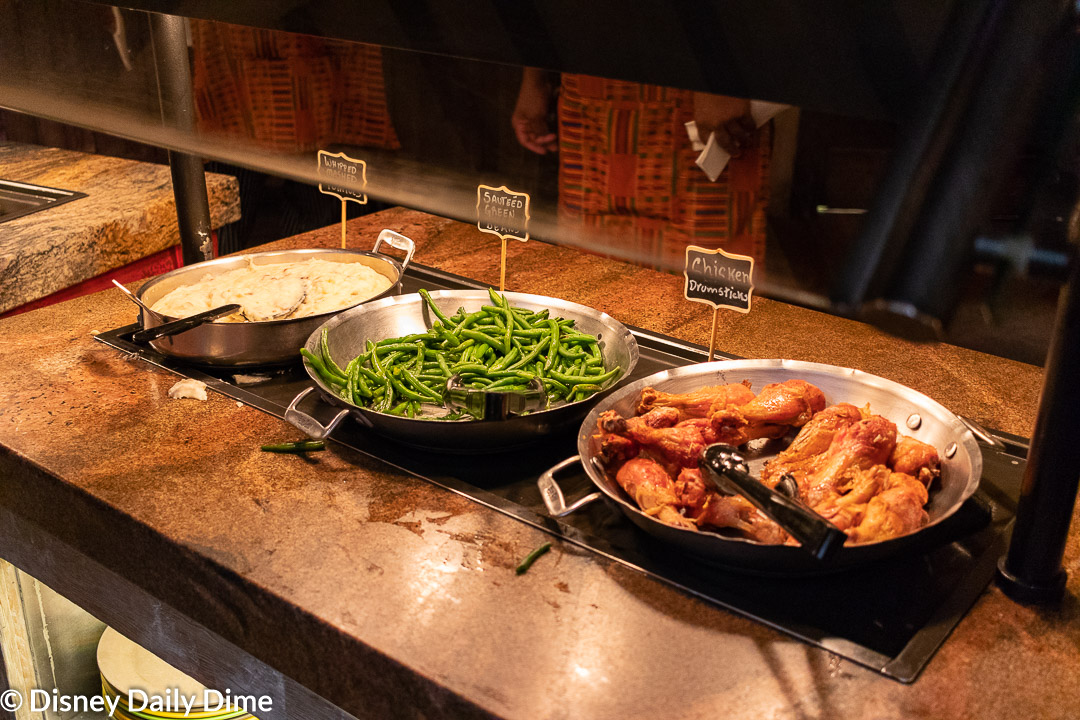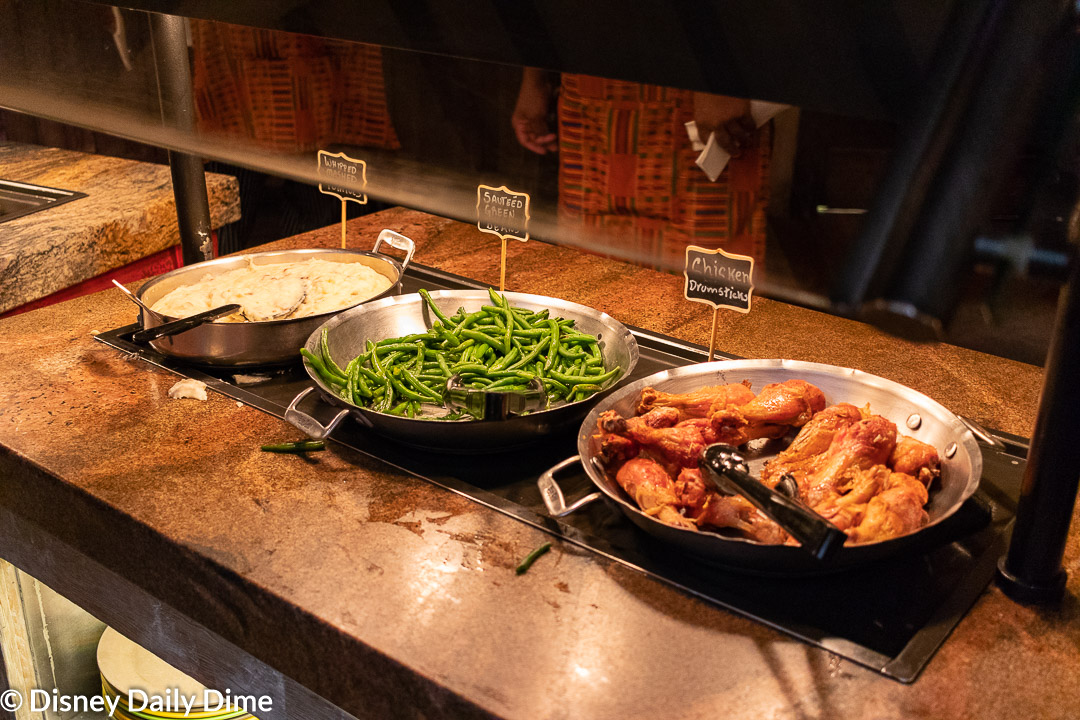 Now, this is a character meal, which is bound to attract kids.  Disney, being ever the thoughtful planners has a section of the buffet that is more geared to the palates of kids.  At the kid's buffet section, you'll find basic staples like mashed potatoes, roasted vegetables, coupled with some more adventurous items like couscous.  They also had offerings of chicken drumsticks, green beans, corn dogs, mac and cheese and corn.  Anna and Elsa sampled from most of these items, with the exceptions of the couscous.  The mac and cheese and chicken drumsticks were the clear winners here.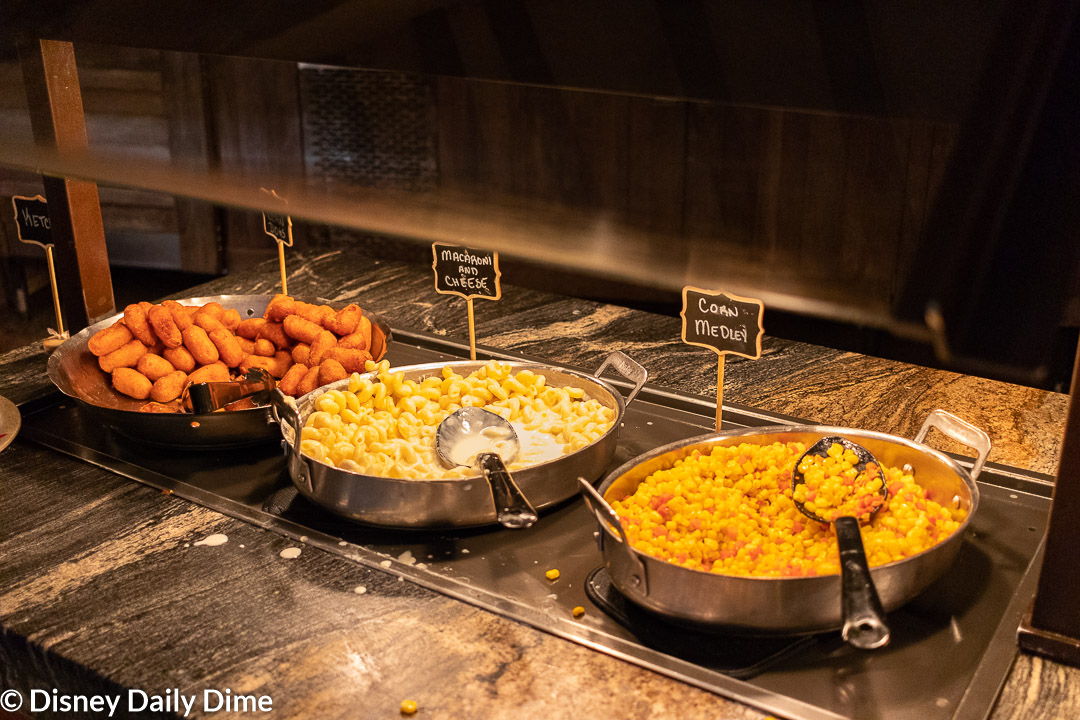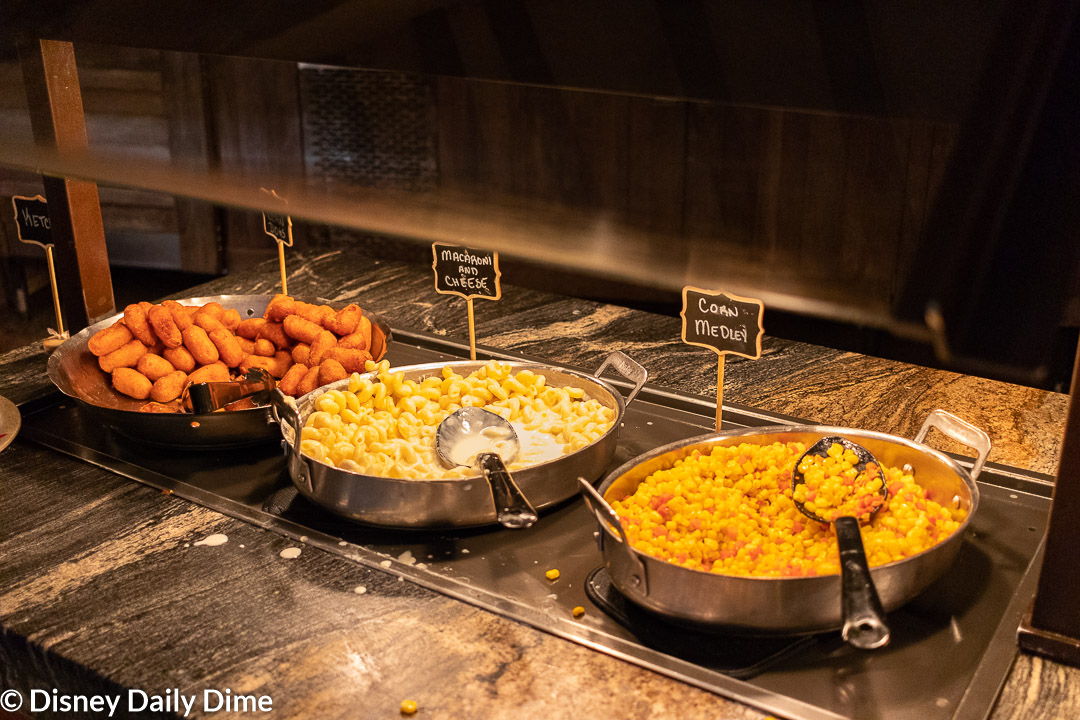 For dessert, there is large section for those of you with a sweet tooth.  You'll find it right in the center of the buffet area.  We'll start with the parts of dessert I don't have pictures for.  They have a section of cookies, that are all pretty standard Disney fare.  I'd spend my calories elsewhere.
Not pictured is the lava cake that I have seen raved about other places.  Not because of my photography ineptitude (shocking I know), but because it was nowhere to be found this particular evening.
Some of the desserts that I enjoyed were the banana bread pudding (not pictured because of my ineptitude), the blueberry bread, and mini-turtle brownies.  If I had to pick one though, get the banana bread pudding.  It is leaps and bounds ahead of everything else on the dessert bar.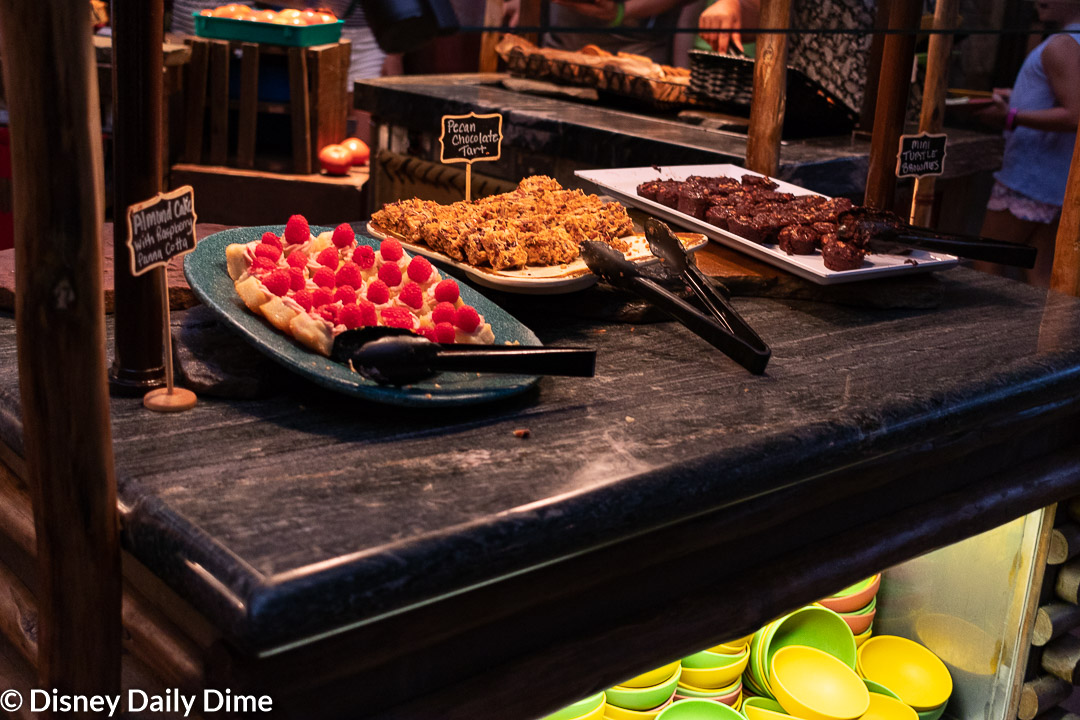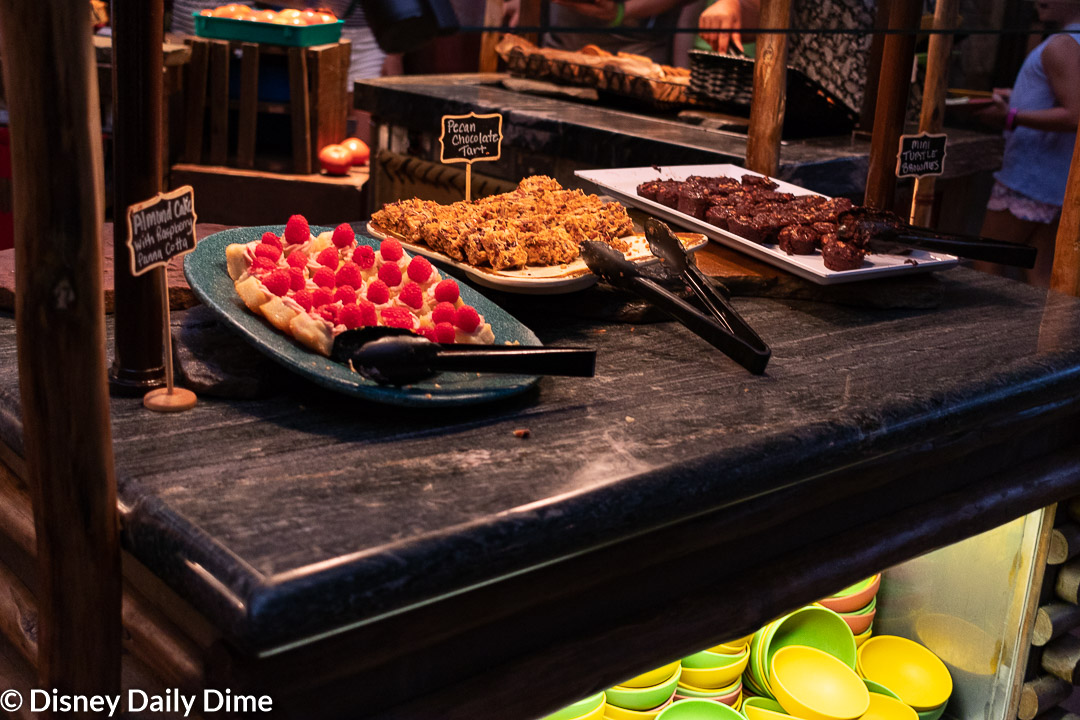 In the picture above, you have an almond cake with raspberry panna cotta, pecan chocolate tart and the aforementioned mini turtle brownies.
Pictured below you'll find raspberry chocolate chip bread, blueberry bread, strawberry cake and some form of chocolate cake.  Maybe that's what they had in place of the lava cake this day.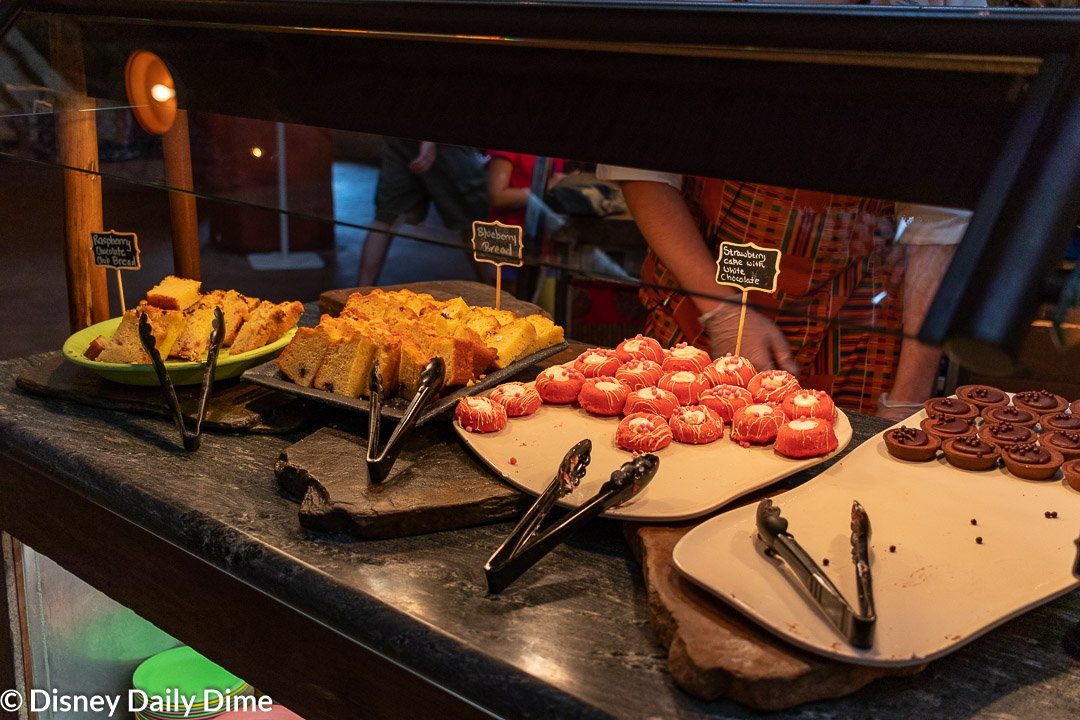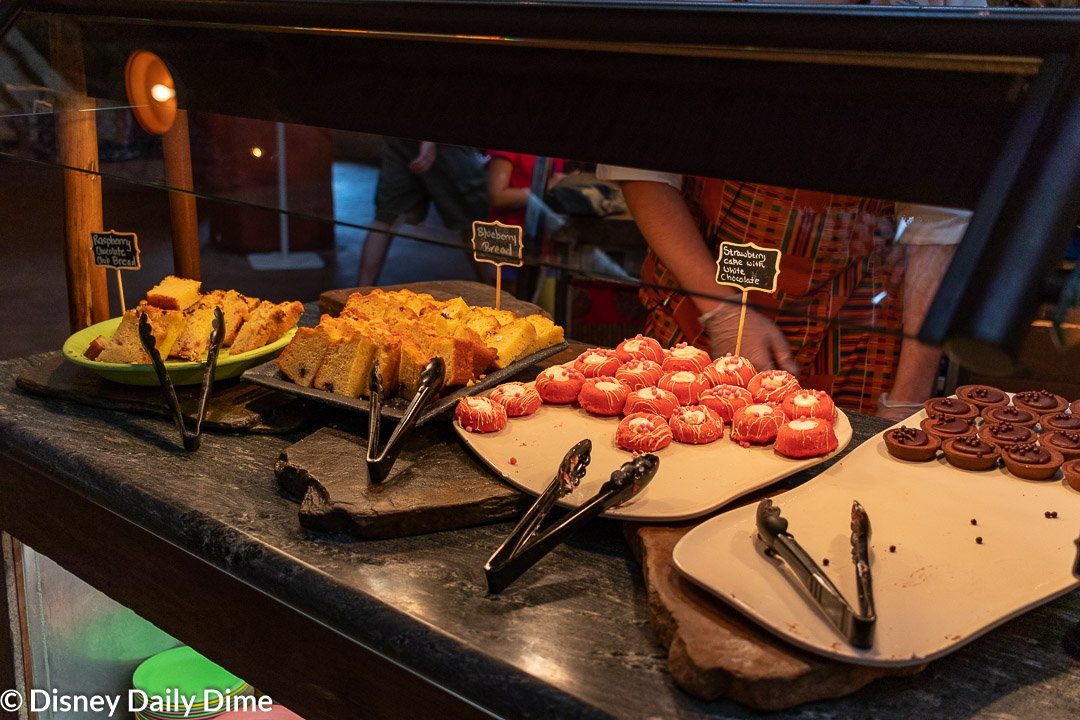 Whatever your personal preferences are, I think you'll find a dessert that suits you and your kids.  Anna and Elsa had a field day trying lots of the desserts.  The good thing here is that most of the desserts are relatively small portions, so they don't waste a lot of food.
Overall Thoughts on the Tusker House
Tusker House provides an interesting comparison to some of the character meals that we've reviewed lately, like Hollywood & Vine or the Bon Voyage Breakfast.  Those are meals where the characters are what really made it worth visiting.  Well, that and the compelling value of a lower cost character dining experience.
At Tusker House, it feels like the opposite to me.  Yes, we had some good interactions with Donald, Daisy and Mickey (sorry Goof), but they weren't anything I found unique (other than the selfie with Mickey and Donald's posing).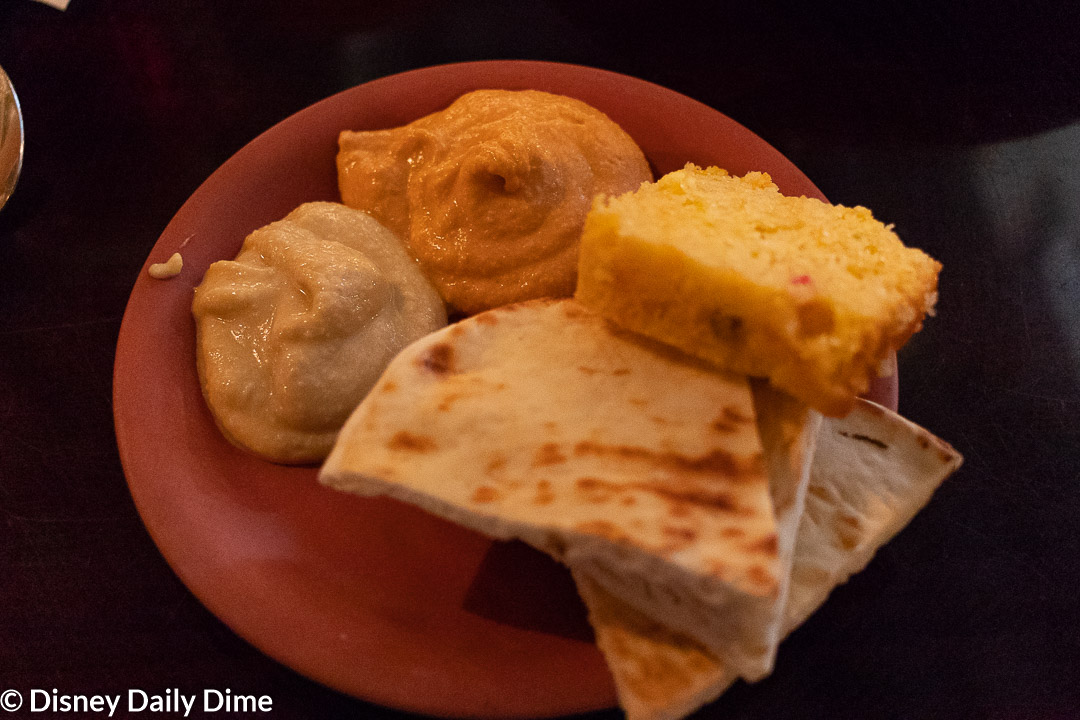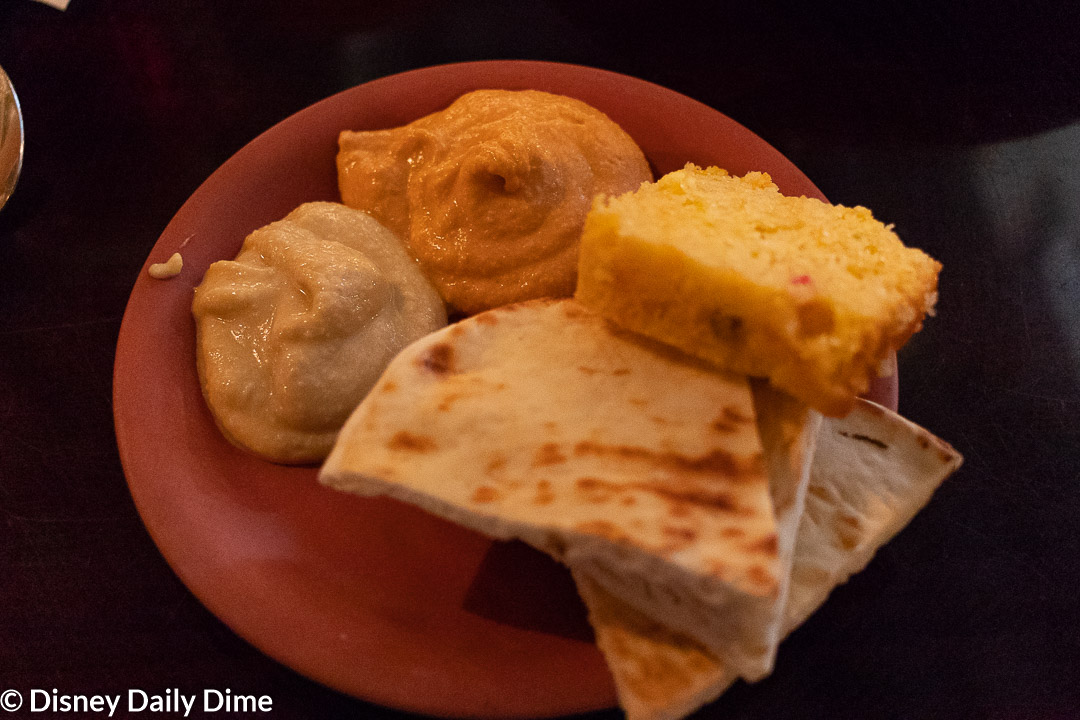 The food however is something you don't just stumble upon at Disney World.  It's unique and excellent almost across the board.  You'll find flavor profiles that will appeal to most people, while also providing food that is accessible to kids.
The theming within the restaurant is well done.  I'd encourage anyone to get up and just walk around and look at the artwork, signs, masks and anything else on the walls.  You'll find tons of hidden gems.  Just don't cram right next to someone's table while gazing at the motif.  Nobody likes that guy!
For Tusker House, I'd say if you're going for the food and theming, it is well worth it.  If you're going for the characters, you're probably better off somewhere else.  However, if you're trying to balance the food for the adults and characters for the kids, then Tusker House threads that needle very well.
Wrapping Up
With that said, we'll wrap up our Tusker House review.  Great food featuring diverse flavors, excellent theming, with fun but typical character experiences is how I would sum it up.  If this fits the bill for what you're looking for on a trip, then it's a place you should make a dining reservation at.
If our Tusker House review was helpful, or at least entertaining, please like and share this with your friends or anyone you think will find it useful.  Just use the sharing buttons on the page.  We always appreciate it when you share our posts, as it allows us to spread the word about our blog and hopefully allows us to help others.