After you take a spin on Expedition Everest, you may be interested in grabbing a bite to eat, or maybe you'll need a drink!  Or perhaps you are soaked after getting off of Kali River Rapids, and you want to sit a minute and dry off?  You can accomplish either of these if you grab a bite at Yak and Yeti Local Food Cafés while touring Disney's Animal Kingdom.  It's situated right next to the entrance of Kali River Rapids in the Asia section of the park.  Here in our Yak and Yeti Local Food Cafés review, we'll tell you about our dining experience at this counter service restaurant.
Don't confuse this restaurant with the Yak and Yeti Restaurant, which is actually the table service restaurant in this part of the Animal Kingdom park.  To add more confusion to the matter, we have seen some people call it Yak and Yeti Counter Service, and the name on the building actually says Anandapur Local Food Cafés.  Anandapur is the community name where the Asia area of Disney's Animal Kingdom is located.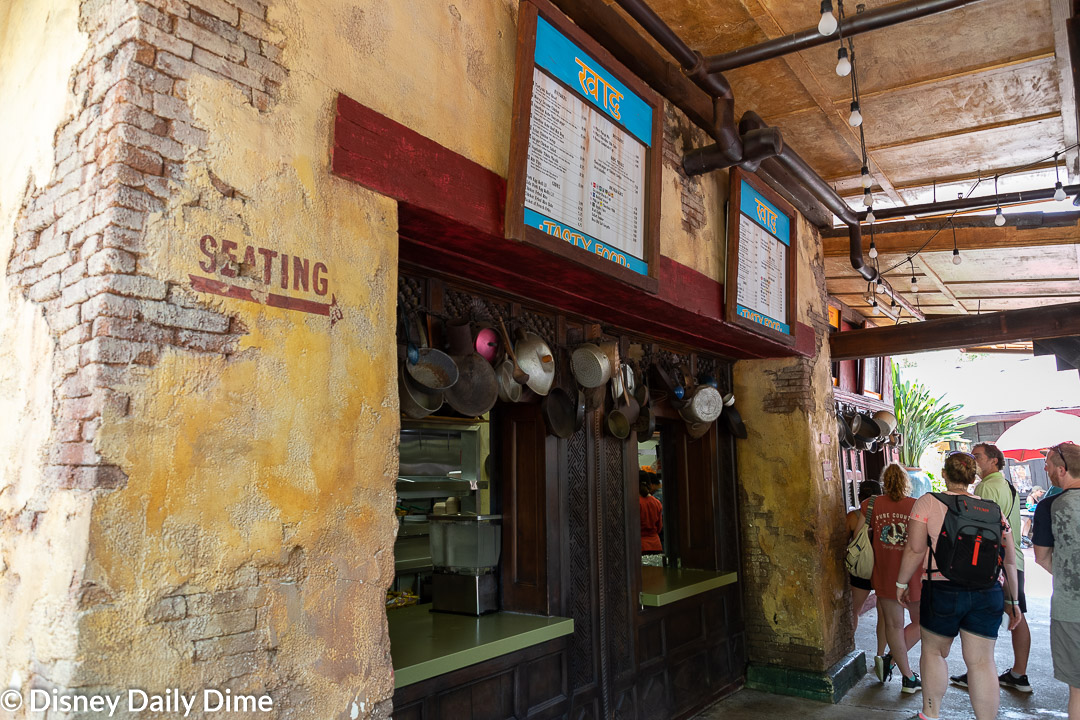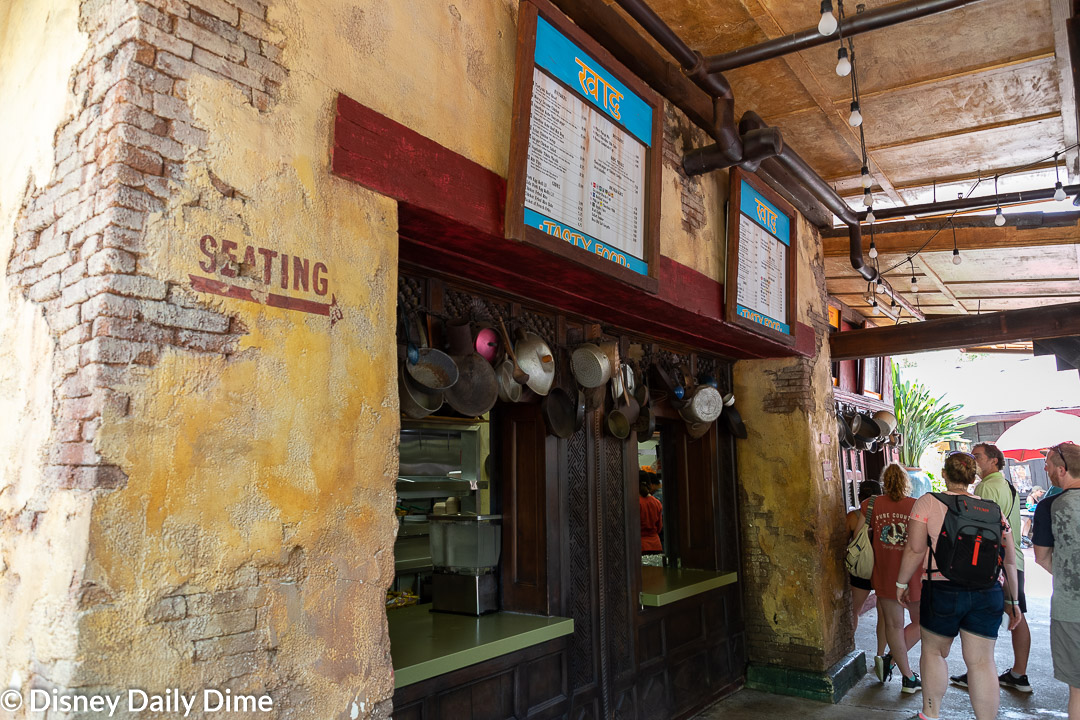 If you're using the Disney Dining Plan, the counter service credit it takes to eat here is at best a push on value, but likely a waste of your credit.  As you look through the Yak and Yeti Local Food Cafés menu, you'll notice that the entrees run between $12 and $16.  Even when combined with a drink, you likely won't recoup the full value of your dining plan credit.  For this reason, we recommend that you pay out of pocket here and save your dining plan credit.  If you're looking for a good use of a counter service credit in Animal Kingdom, we highly recommend you look at Flame Tree Barbeque.
Yak and Yeti Local Food Cafés does not accept Tables in Wonderland.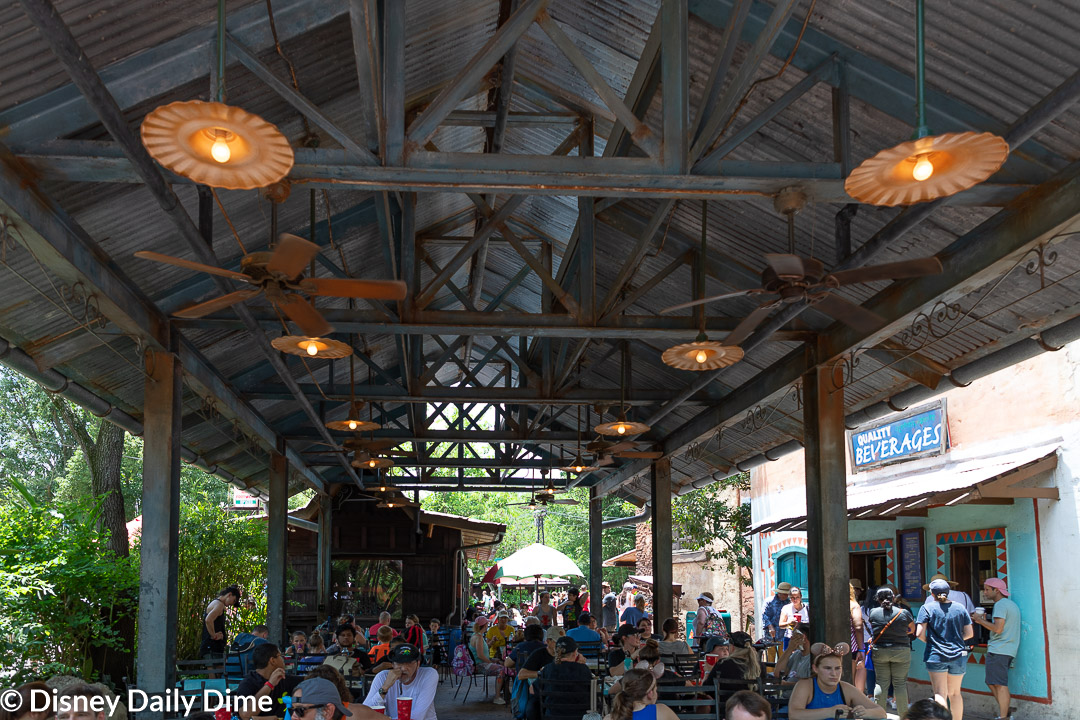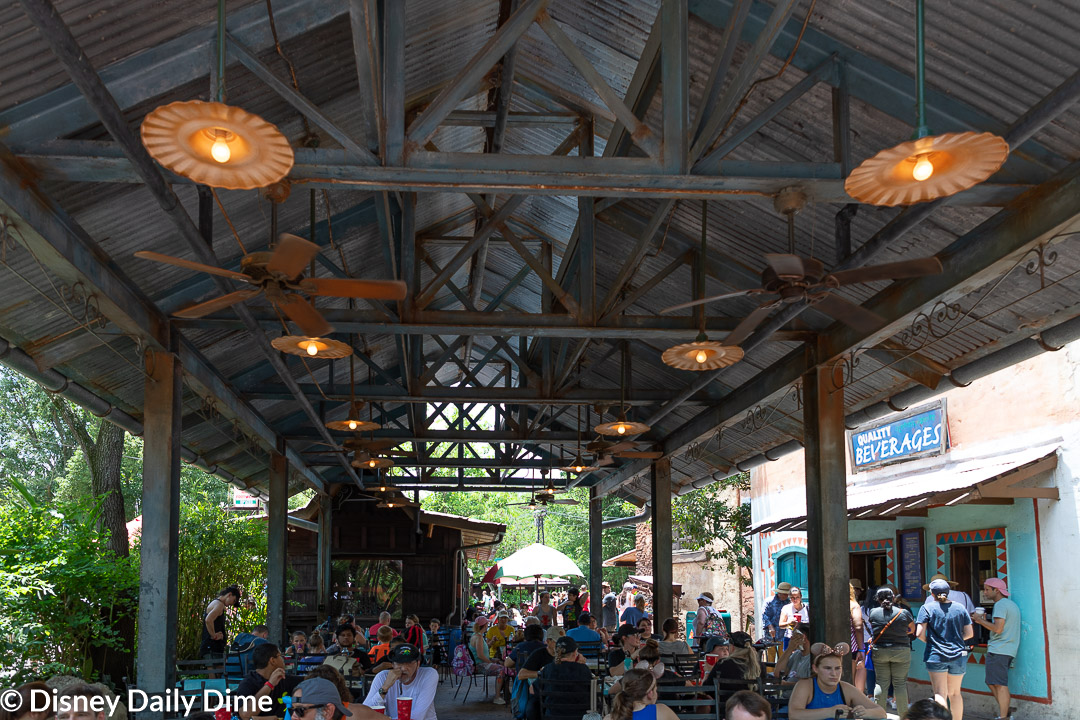 Yak and Yeti Local Food Cafés Continues the Feel of the Expedition Everest Based Rural Area of Anandapur
As we said, Yak and Yeti Local Food Cafés reside in the Asia area of Animal Kingdom.  The restaurant doesn't have a specific theme; instead, it is constructed to look like a local dining establishment within the community of Anandapur.  On that front, it works well.
This counter service spot consists of ordering from a window and then finding some seating in the back.  The general design of the pickup window and the seating area is of a semi-run down, out-of-the-way outpost.  It's all fairly generic, but I think it blends very well with the land.
The seating area itself is where I think it shines the most, but it isn't without a few issues.  As you get back into the seating area, you'll find several covered seating areas, along with some uncovered ones.  What you won't find is any indoor seating.  I guess it keeps with the theme of the area, but having a place to find a respite from the summer heat of Florida would have been nice.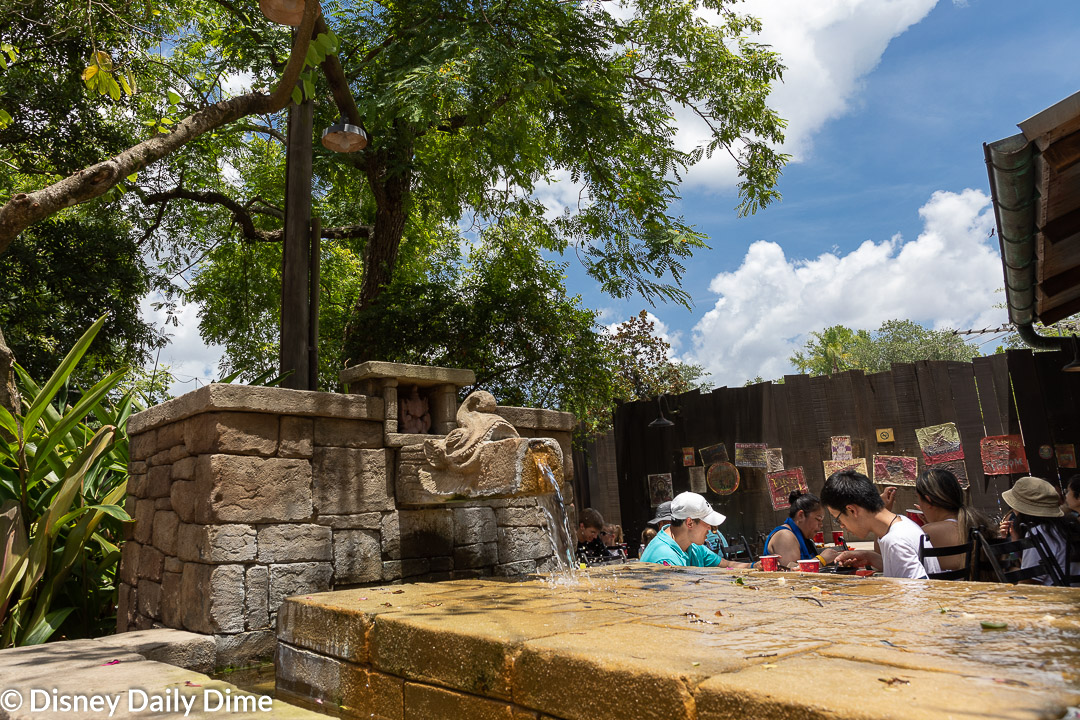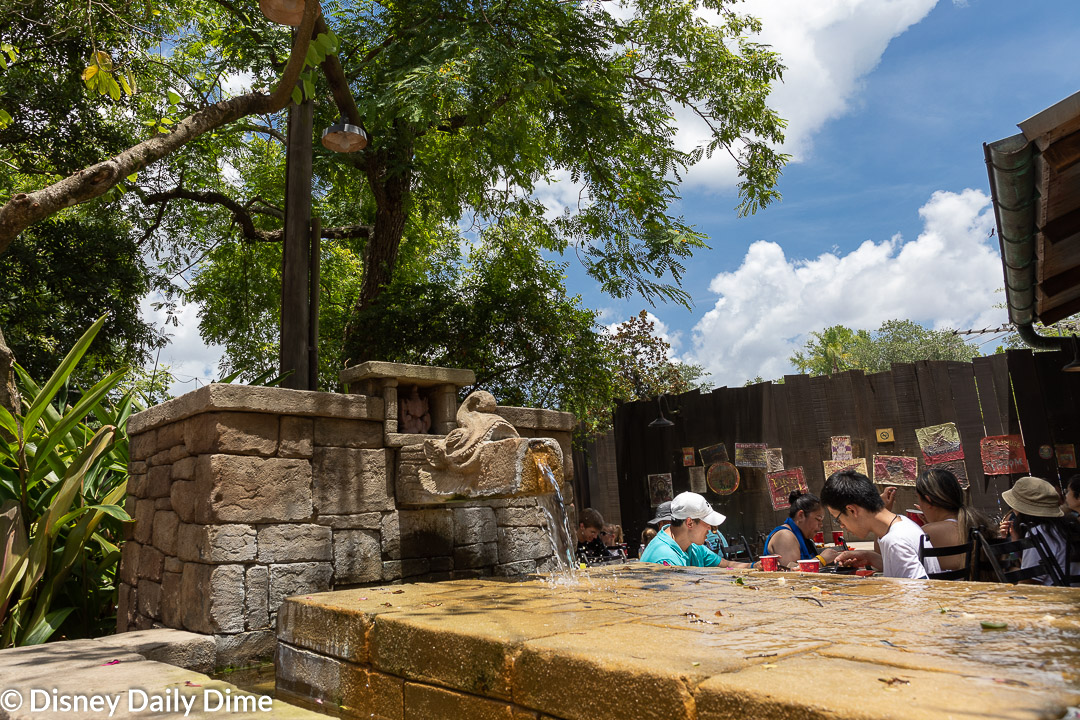 We happened to eat here in a summer month, and were not able to find an available seat under the covered seating area, which meant we were out in the open.  For 80% of the open-air area that would not be too much of an issue, as there are still trees and other cover available.  We, of course, couldn't get that either and wound up sitting in the direct sun.  It wasn't fun, but that's the luck of the draw.
I would also add that for a counter service location, Yak and Yeti Local Food Cafés has ample seating, which is sometimes hard to find in other Disney World counter service locations.  We'll use Woody's Lunch Box as the prime example of that problem.
On the plus side, when you sit in the uncovered area, there is a lovely little courtyard and fountain that provide a bit of a break from the busyness of the park.  It's a beautiful courtyard that is well done.  It's also nice that there are bathrooms right there that you can use, however it does bring some general traffic from the park into the area, but we didn't find it overly bothersome.
All in all, the restaurant isn't the most amazing theming and atmosphere around Disney World, but I would say it still works well.
Now let's get on to the food section of our Yak and Yeti Local Food Cafés review.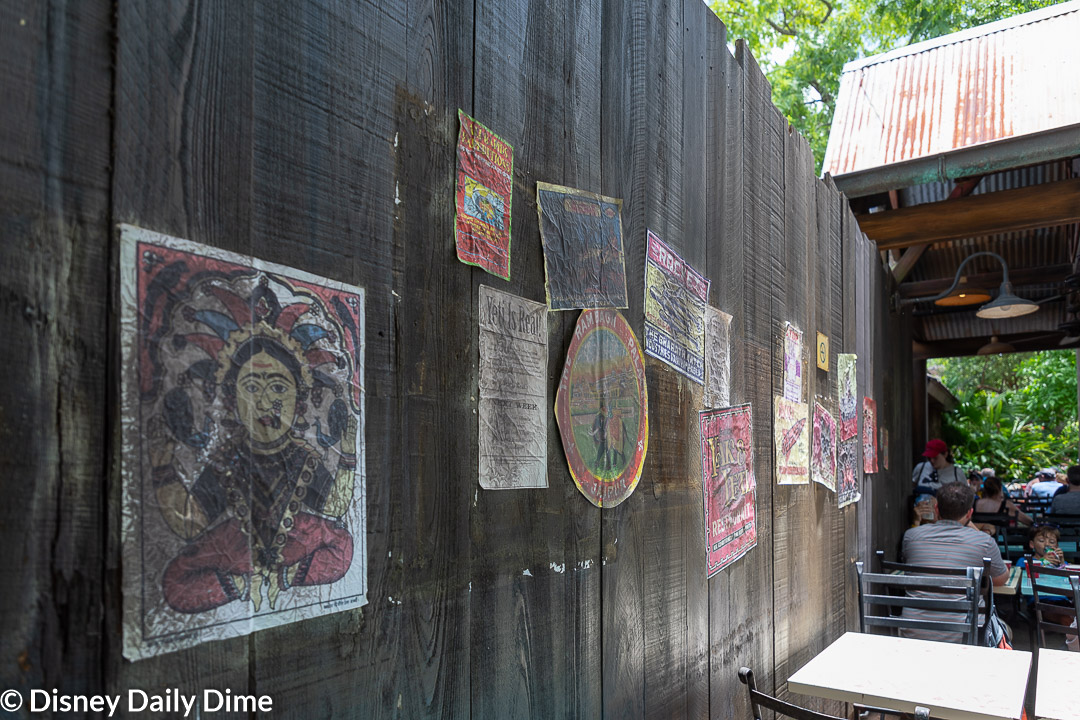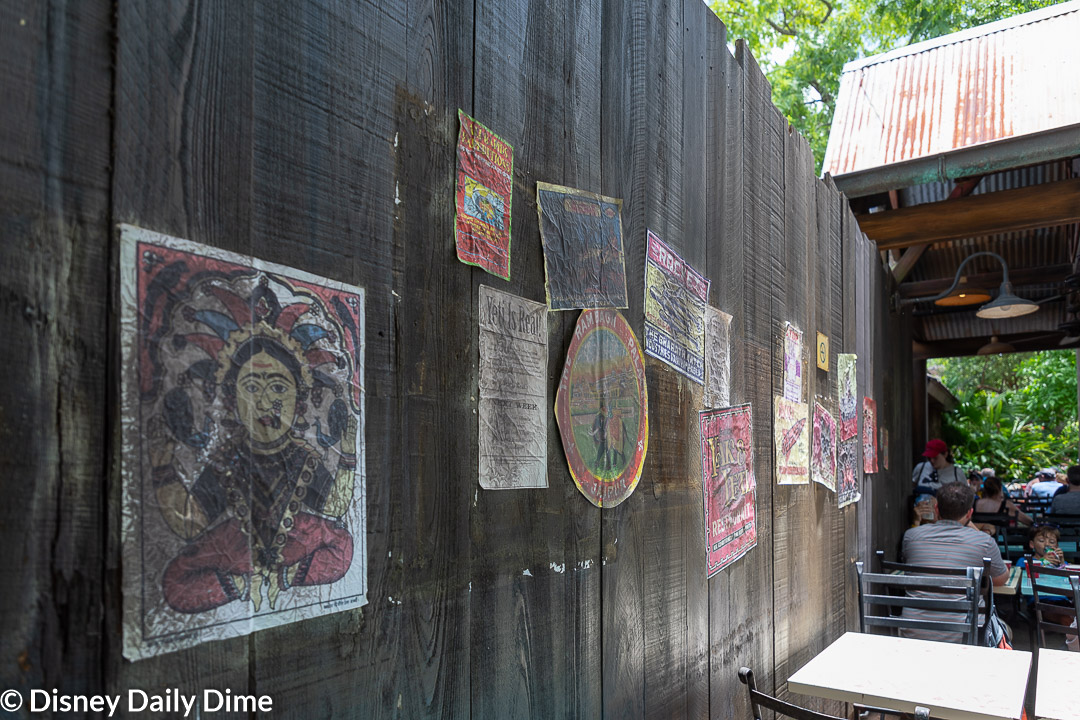 Yak and Yeti Local Food Cafés Features Food Options with Eclectic Flavors
As you look at the menu for Yak and Yeti Local Food Cafés, you'll find a diverse set of flavors and foods.  The restaurant features flavors that are indicative of foods from China, India, and Nepal.  The menu does tend to change out items regularly, so make sure you check it out before you go to Disney World.  The menu does have a few less adventurous options that can suit most pallets.  Those would be a hamburger and an "adult" hotdog. 
As it relates to kids eating here, some kids may not be willing to venture out and taste these flavors.  We experienced this with Anna first hand, which was a bit odd considering she will eat certain Asian based fare when we are at home.  She is relatively picky about it though.  The kid's menu does have basic food options for them to select from.
On the adult menu, there are also twists on traditional food that may entice kids to be a little more adventurous.  Things like the Kobe Beef Hotdog could be interesting, but be thoughtful about what your kids put on top of it.  I'm not sure our girls at their ages would like a hot dog topped with Kimchi, and I'm not sure I would want to pay $15 to hear them say they don't like it.
As for the kid's food itself, Anna went with an Uncrustable sandwich.  Prepacked peanut butter and jelly!  Yummy….  I'll spare you the picture.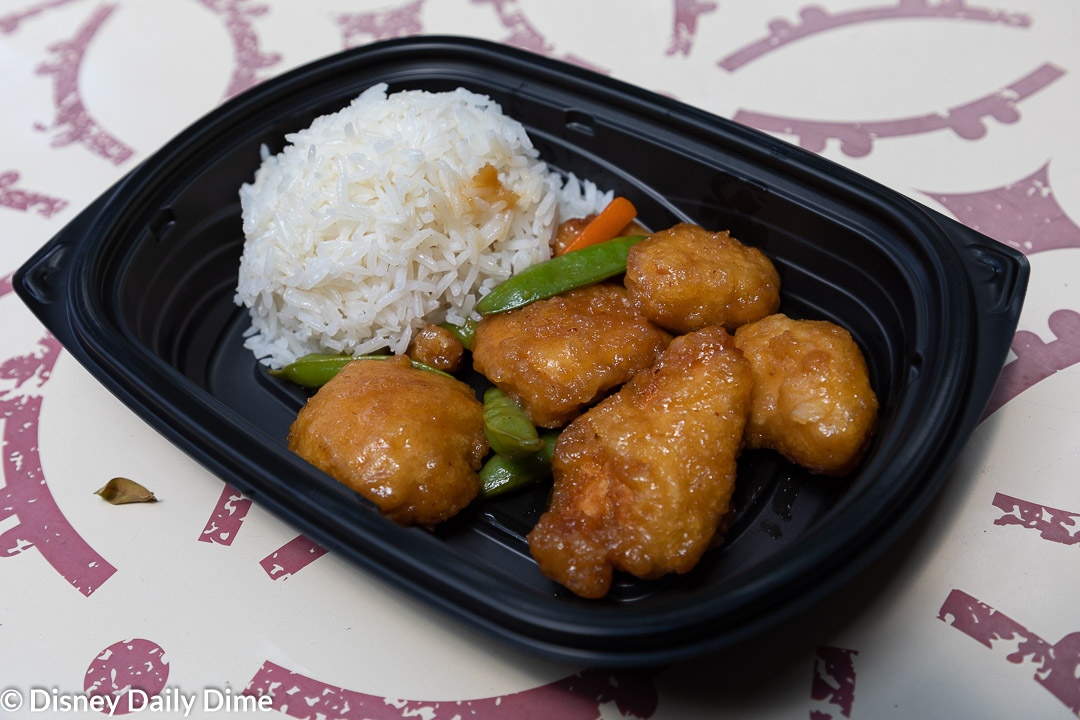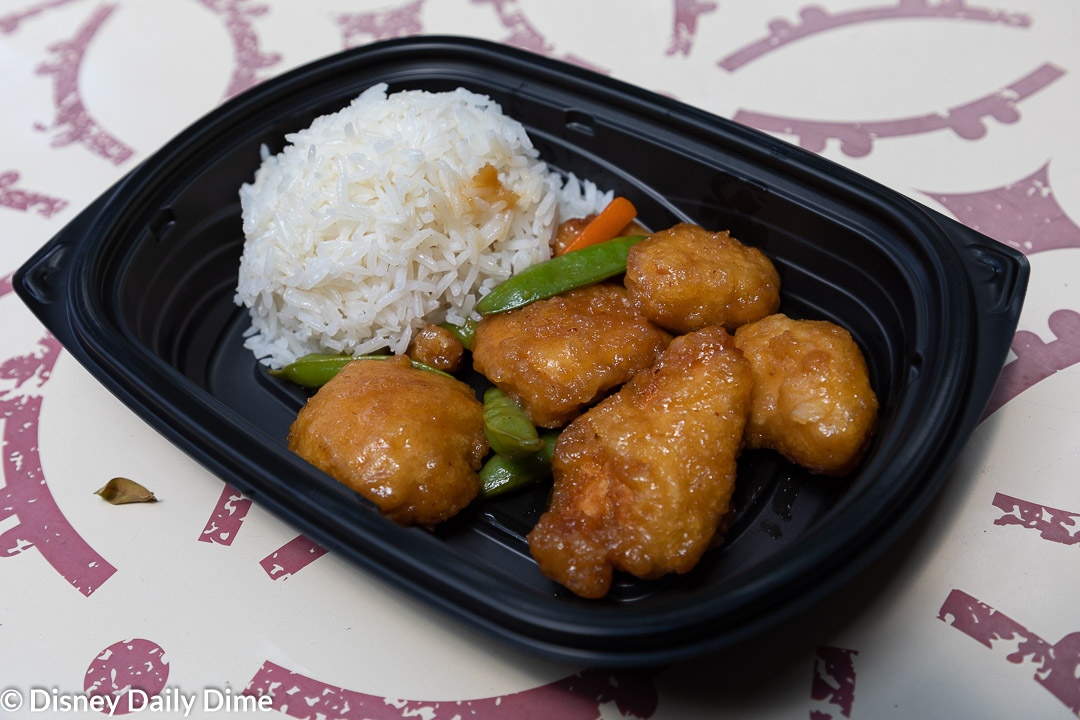 Elsa is much more open to eating Asian food, so she ordered off the adult menu.  There wasn't a doubt in my mind that she would order the Honey Chicken entrée when I saw it on the menu, and I was right.  Featuring tempura chicken, carrots, snap peas, honey sauce and white rice, this was a perfect dish for her.  She enjoyed it alot and devoured it.  I will say she isn't a fan of snap peas and didn't eat those, but other than that it was an excellent meal for her.  I did take a bite of the tempura chicken and would say it wasn't the best I've had, but this is a counter service location in a theme park.  As you can see in the picture the tempura looks more like a breading you'd find on chicken nuggets and less like traditional tempura.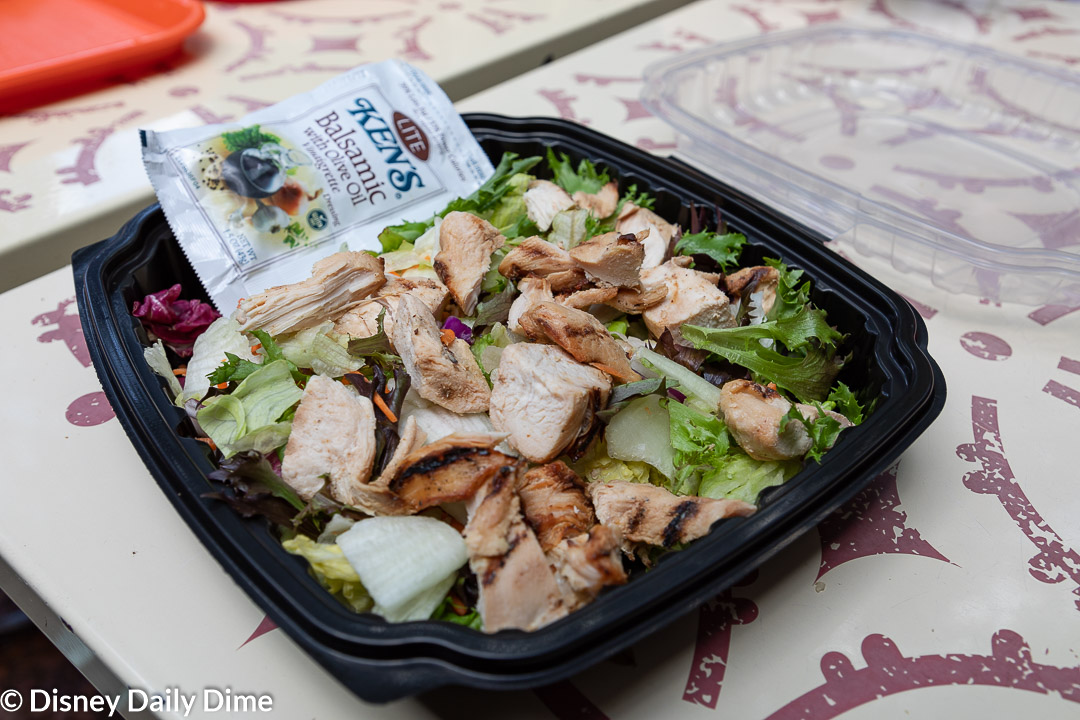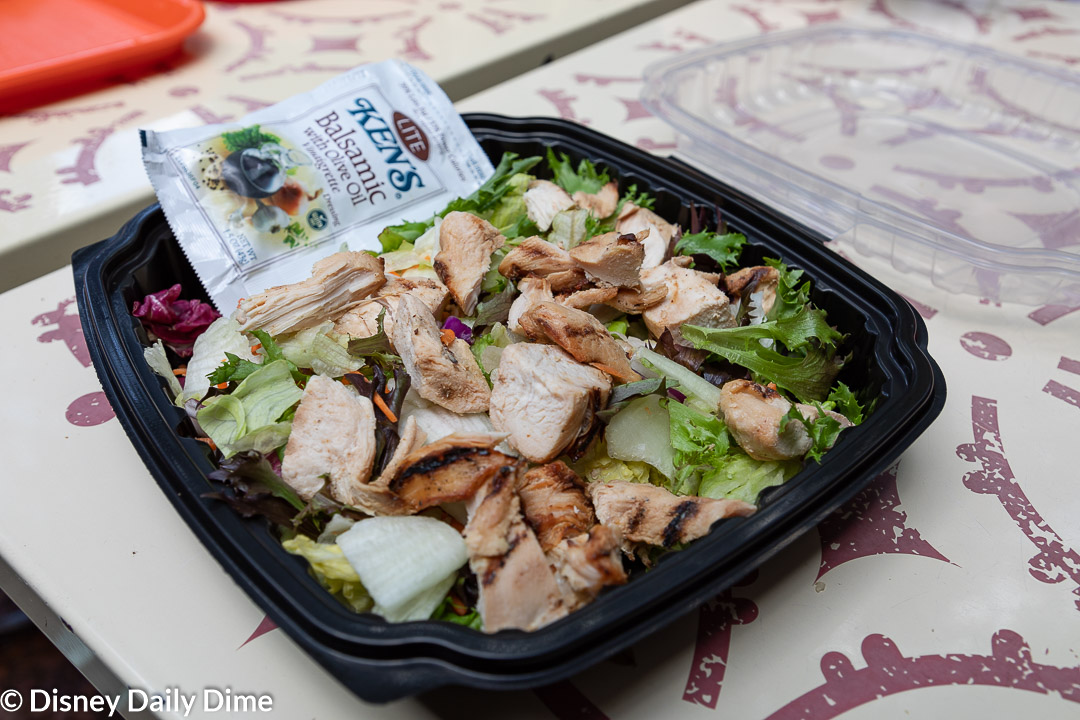 Carla was a little more limited in what she could pick from as she eats gluten free.  For her, the perfect option was the Ginger Chicken Salad.  Unfortunately, to make it gluten free, she couldn't have the ginger dressing.  Instead she had to have the balsamic dressing that you can see in the picture above.  By taking the ginger dressing off the salad, it made it a basic counter service salad.  Chicken, lettuce, etc, like I said basic.  Carla did find the chicken well cooked and the lettuce fresh, but this isn't a reason to eat here.  Maybe next time I'll have it with the ginger sauce.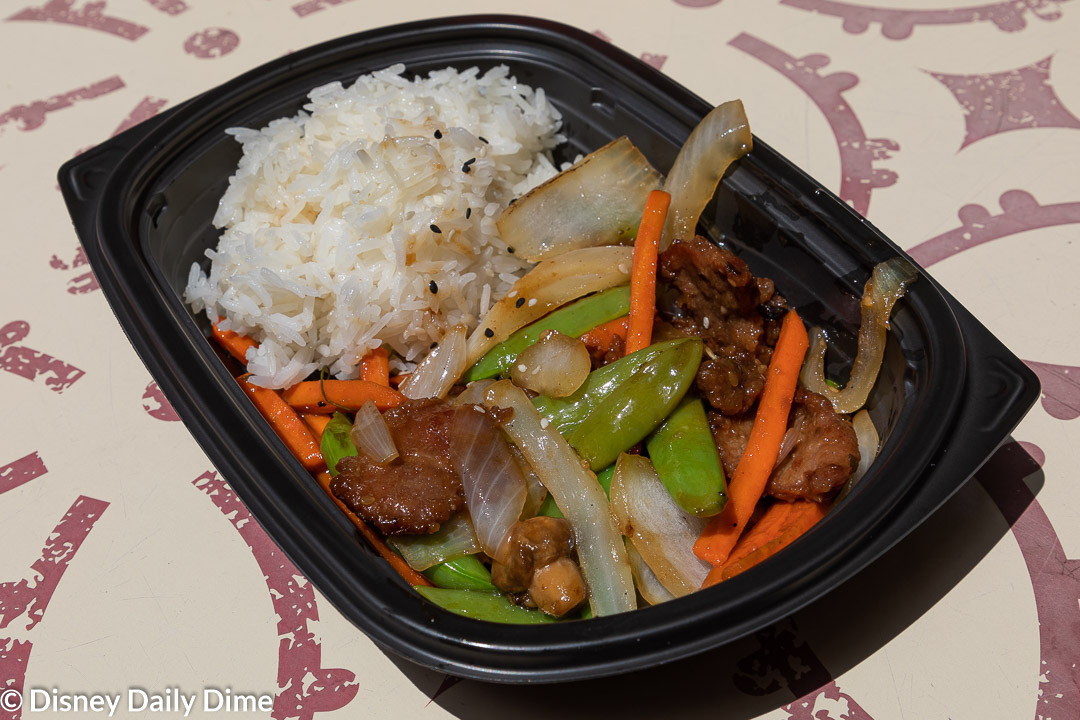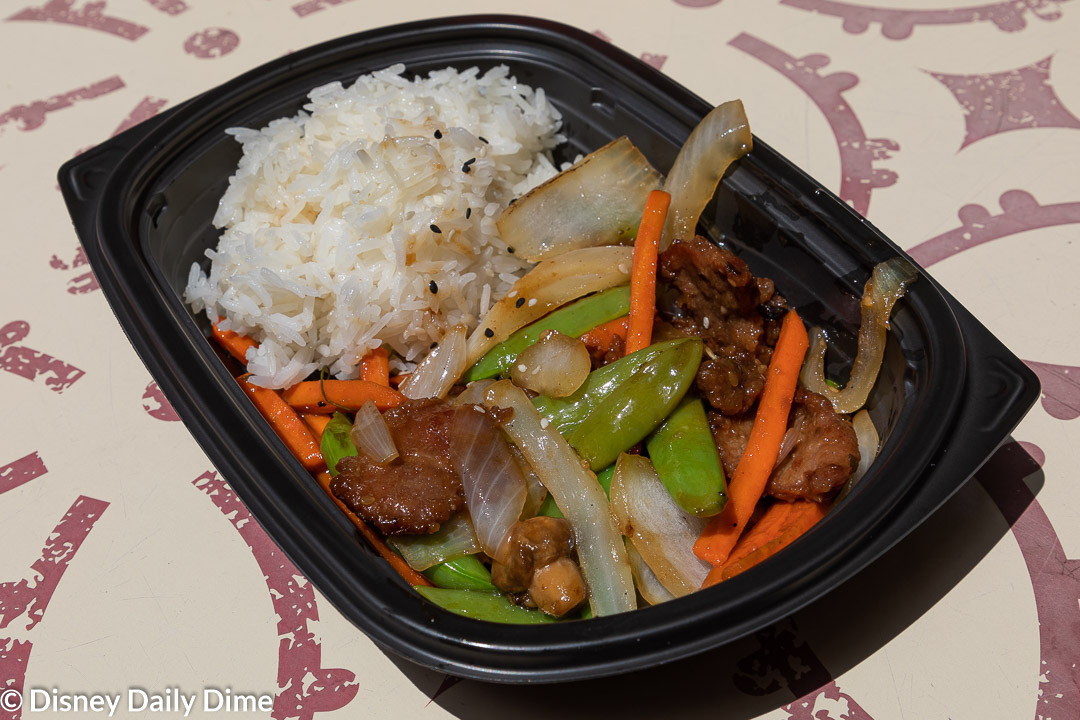 For my entrée, I ordered the Teriyaki Beef Bowl, which comes with marinated beef, carrots, snap peas, onions, and mushrooms in sweet teriyaki sauce with white rice.  For a counter service meal, I enjoyed this bowl.  The flavors were good and the vegetables cooked well.  The sweetness in the teriyaki blended very well with the beef.  Speaking of, I was really pleased with the vegetables that come with the bowl.  They had a great flavor from the teriyaki sauce and still had a nice crispness to them.  In my opinion, this was the best dish we had as part of our Yak and Yeti Local Food Cafés review meals.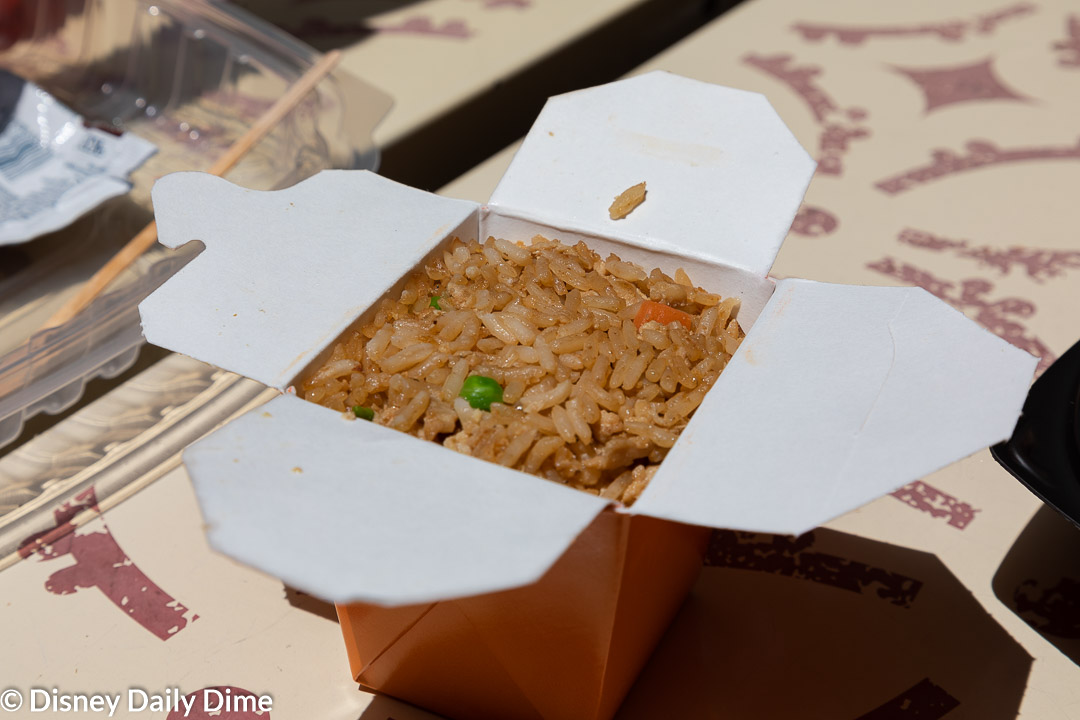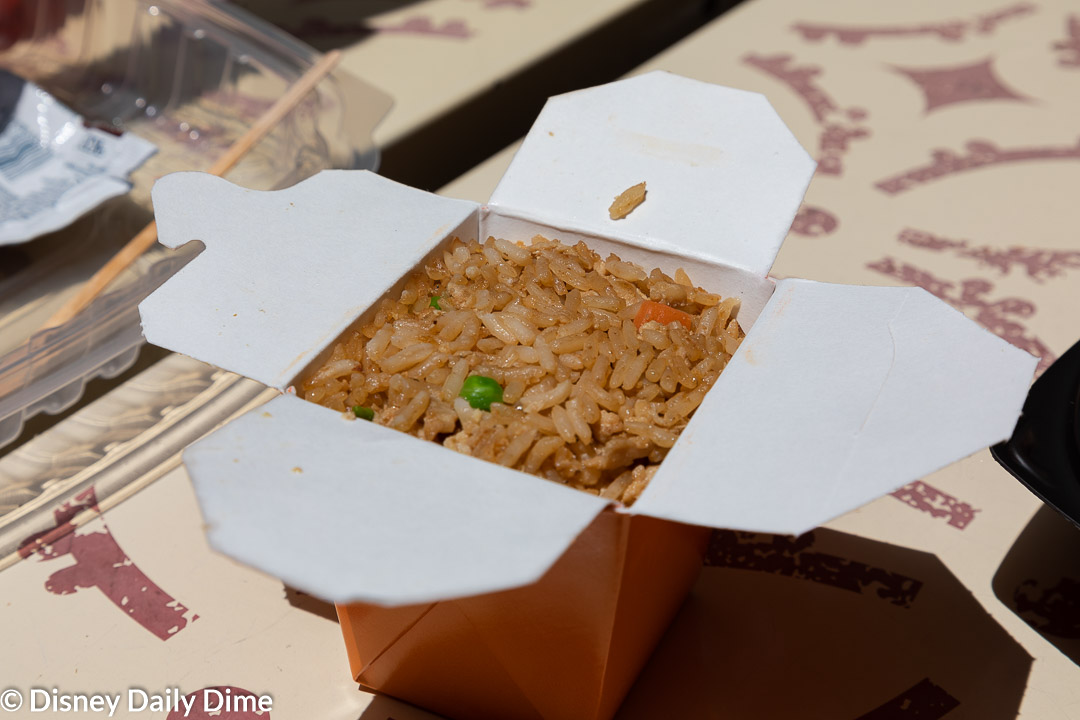 In addition to this, I wanted to try the fried rice side here.  It came in the fun little rice box, but don't let the picture fool you.  It may look big, but it is a relatively small portion.  It's probably about the size of a fist.  The rice itself was good for what I would expect at a counter service restaurant, but I wouldn't call it unbelievable.
Yak and Yeti Local Food Cafés Overall Impressions
Overall, I'd say that Yak and Yeti Local Food Cafés is a reliable counter service location.  The décor and atmosphere are well done.  Sitting in the courtyard area is a wonderfully relaxing experience.
From a food perspective, they provide a relatively good quality set of dining options.  What probably differentiates them from other counter service locations is that the menu isn't dominated by typical food options for counter service meals.  Yak and Yeti Local Food Cafés allows you to branch out some while providing pickier eaters options that can probably suit their taste preferences.
Wrapping Up Our Yak and Yeti Local Food Cafés Review
With that, we'll wrap up our Yak and Yeti Local Food Cafés review.  If we were picking a favorite counter service restaurant location with Animal Kingdom, I would still say that Flame Tree Barbeque is the best counter service option.  Carla would say Satu'li Canteen is the best coutner service.  Either way, there are better counter service locations to eat at in the park.  That said, Yak and Yeti Local Food Cafés is still a solid option.
If you're looking for more dining options, make sure you check out our main Disney World restaurant reviews page.  You'll find links to every restaurant we have reviewed there.
If our Yak and Yeti Local Food Cafés review was helpful or at least entertaining, please like and share this with your friends or anyone you think will find it useful.  Just use the sharing buttons on the page.  We always appreciate it when you share our posts, as it allows us to spread the word about our blog and hopefully will enable us to help others.