Flame Tree Barbecue is a counter service location at Disney's Animal Kingdom that serves up various barbecue dishes for lunch and dinner.  The meat on most entrées will be smoked, rather than grilled.  You'll find the restaurant located in the Discovery Island area of Animal Kingdom.  Here in our Flame Tree Barbecue review, we'll cover our dining experience.  The review will include our thoughts on the restaurant's theme, food, and that great view you can get of Expedition Everest!  As usual, we'll have plenty of pictures to go along with the review.
If you're using the Disney Dining Plan, the counter service credit it takes to eat here has the potential to be an excellent value.  There are two entrées on the Flame Tree Barbecue menu that push $19 each.  If you're ordering one of those entrées the value is outstanding on the dining plan.  The value of the dining plan becomes less clear as you pick from other available entrées.  Make sure you review the menu and see what suits you.  Paying out of pocket could be the better choice.
Flame Tree Barbecue is another of the rare counter service locations that accept Tables in Wonderland.  Oddly there are three counter service locations in Animal Kingdom that take the discount card.  There are no counter service locations that accept the card in the other three parks.
Mobile ordering is available here and can be a great time saver that helps shorten the amount of time that you wait for your food.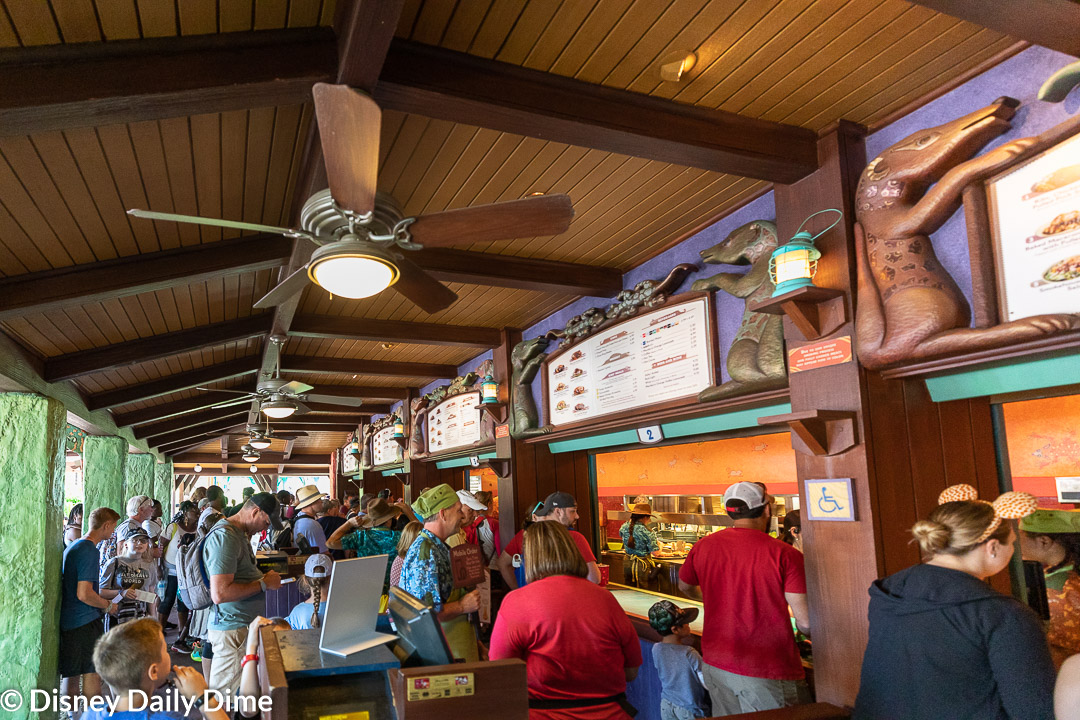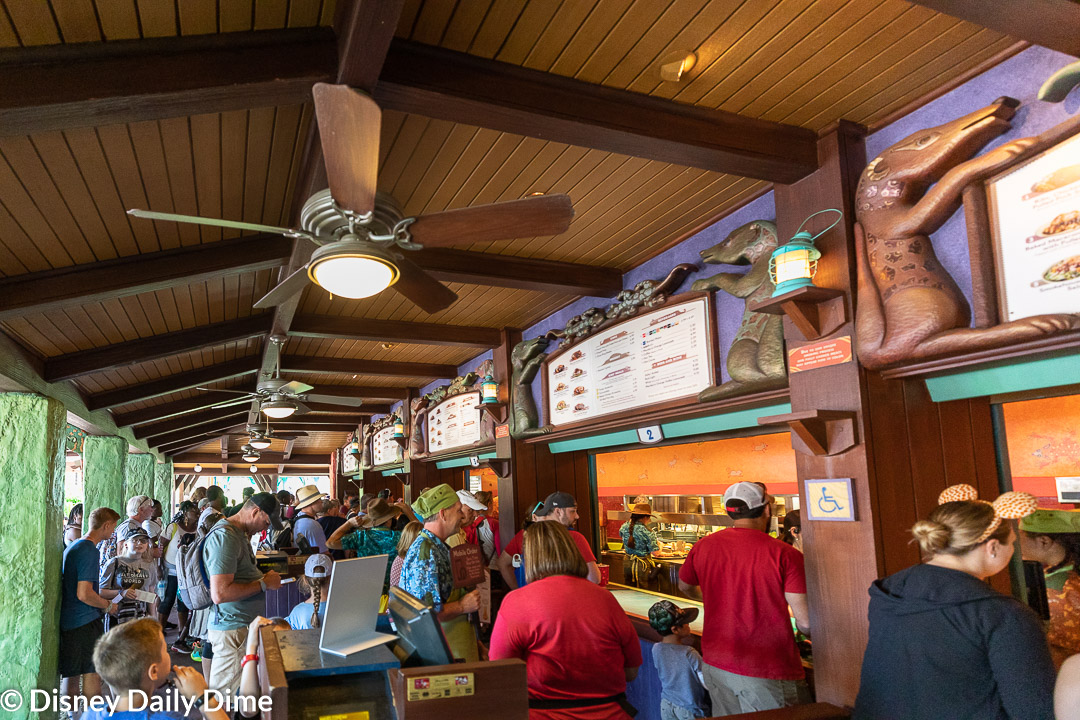 At Flame Tree Barbecue, You'll Find Most Décor in the Seating Area, But There Isn't a Theme to Speak of
When you get to the front of Flame Tree Barbecue, you may find it to be a relatively unassuming place.  The counter service restaurant looks like a large covered serving station.  This is more pronounced than other counter service restaurants because there is no interior seating here.  So, what you see at the front of the restaurant is just what we described, a set of lines to order, pick up your food and scurry away to the seating area that resides in the vegetation to the left and behind of the ordering area.
You will find some limited décor in the ordering area, but it's pretty no-frills.  We'd characterize it as kind of a generic wild kingdom feel.  When looking for more substance around décor, you'll find it back in the seating area, but there isn't a discernable back story for the restaurant we can find.  Because of that, when I say substance around the décor, I don't mean theme.  Again, there isn't a discernable one.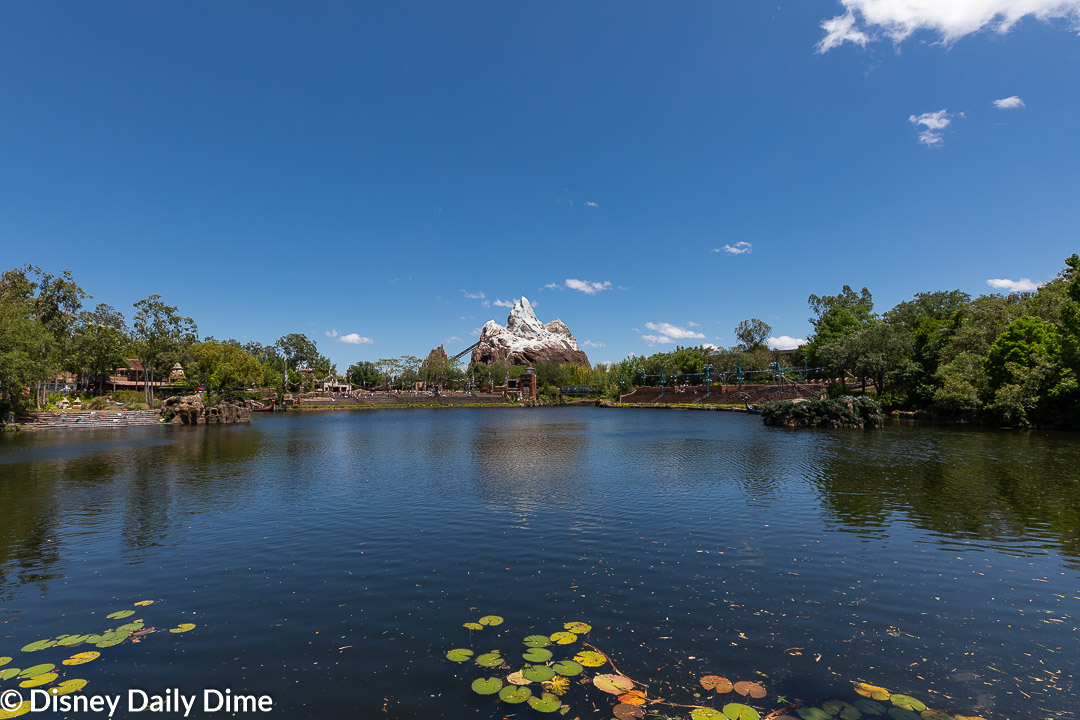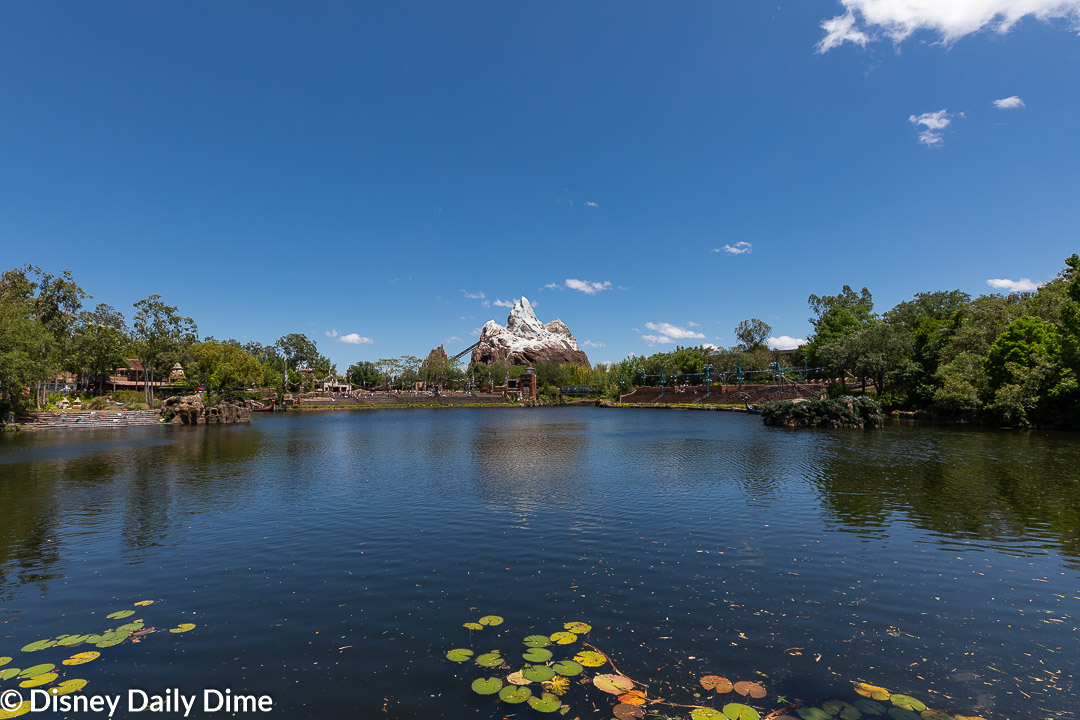 As far as the décor goes, when you get into the seating area, you'll find some beautiful water features situated amongst the vegetation.  This décor and the vegetation are what makes Flame Tree Barbecue shine to us.  Not because it is some revolutionary design, but because it does a fabulous job of removing you from the park.  When we found our spot to sit, it made me feel removed from the hustle and bustle of everything going on outside in the park.  There was time just to relax and be.
Simple, but fun covered seating areas are plentiful.  As we pointed out earlier, though, there is no indoor seating.  The covered areas are entirely open air.  There are some uncovered seating options too.  Be mindful of where you sit, as the uncovered areas can be pretty hot in the warmer times of the year.  I know, you're probably saying "No duh.  I'm glad I read the last 500 words for that nugget".
In the seating area, we do highly recommend you try to snag a spot in the covered seating area that has a view of Expedition Everest.  To get to this seating area, stay to the right on the walking path at most every chance you get.  It will feel like you are curling behind the ordering station.  You'll eventually see the blue-covered seating area that we have a picture of below.  That's where you want to be.  As you can see, seating here is minimal.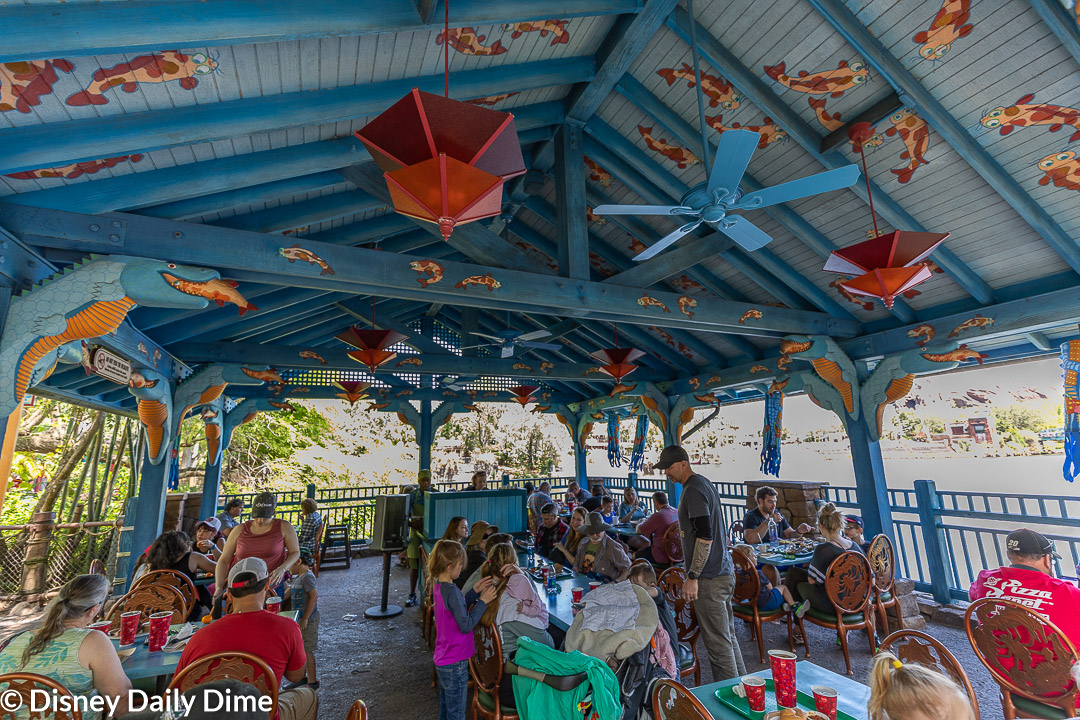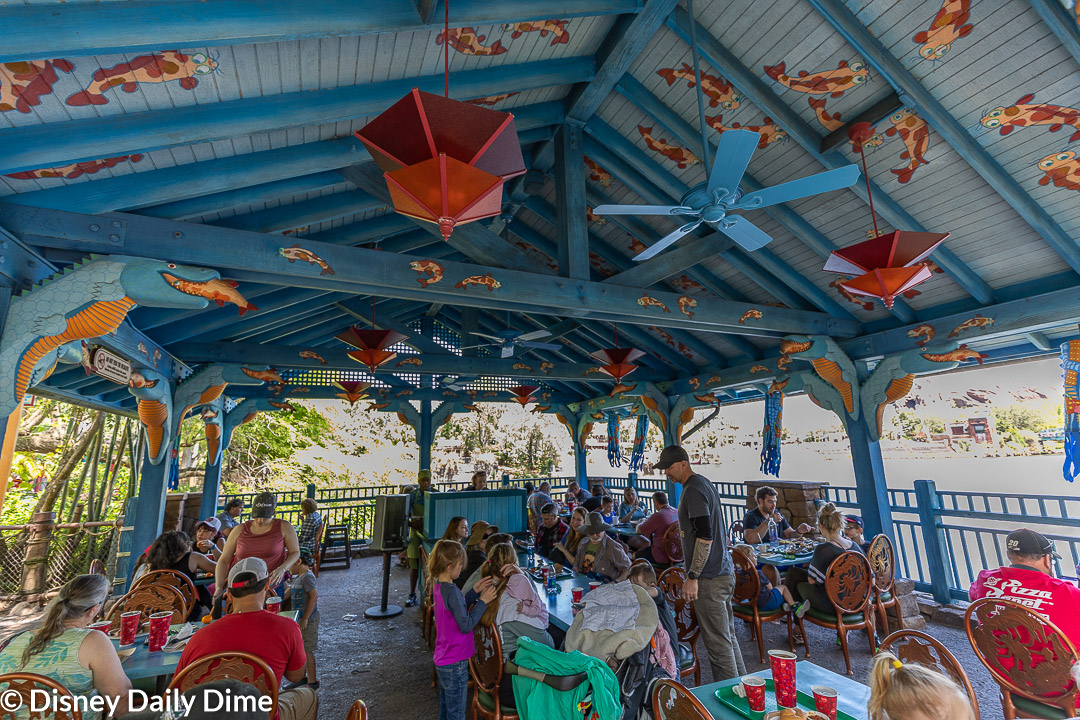 If we're being honest, a well-themed barbecue joint in the middle of Africa/Asia themed lands would be a bit awkward.  Where Satu'li Canteen made plenty of sense in Pandora because of the story, wedging a BBQ joint into these lands would feel very weird to us.  Because of that, the lack of a real theme doesn't bother us.  At the end of the day, it's all about the food.  Speaking of…
Flame Tree Barbecue is Arguably the Best Counter Service Food at Animal Kingdom
Not to spoil the headline (I guess we already did that with the heading), but I want to opine on how much we enjoyed Flame Tree Barbecue.  The food was fantastic.  All around, Flame Tree is one of the few restaurants where Carla and I enjoyed our food, as well as the girls.  That was with Anna and Elsa not ordering a peanut butter and jelly sandwich or some other generic theme park food.  I would call this my favorite counter service location in Animal Kingdom, but Carla still likes Satu'li Canteen better.  It's a close call for both of us, though.  Flame Tree Barbecue will be a go-to barbecue joint at Disney World.  I'm not sure you could go wrong dining at either place.  Either would be far superior choices to the blah meal we had Restaurantosaurus.  It wasn't just terrible, but these other options are far superior.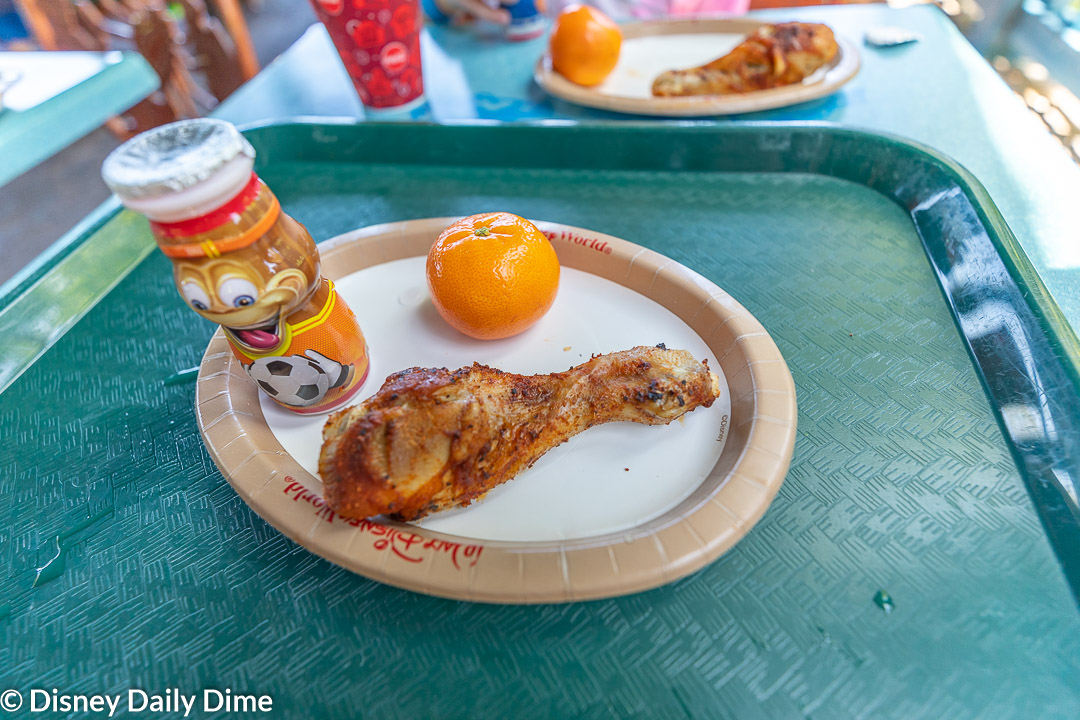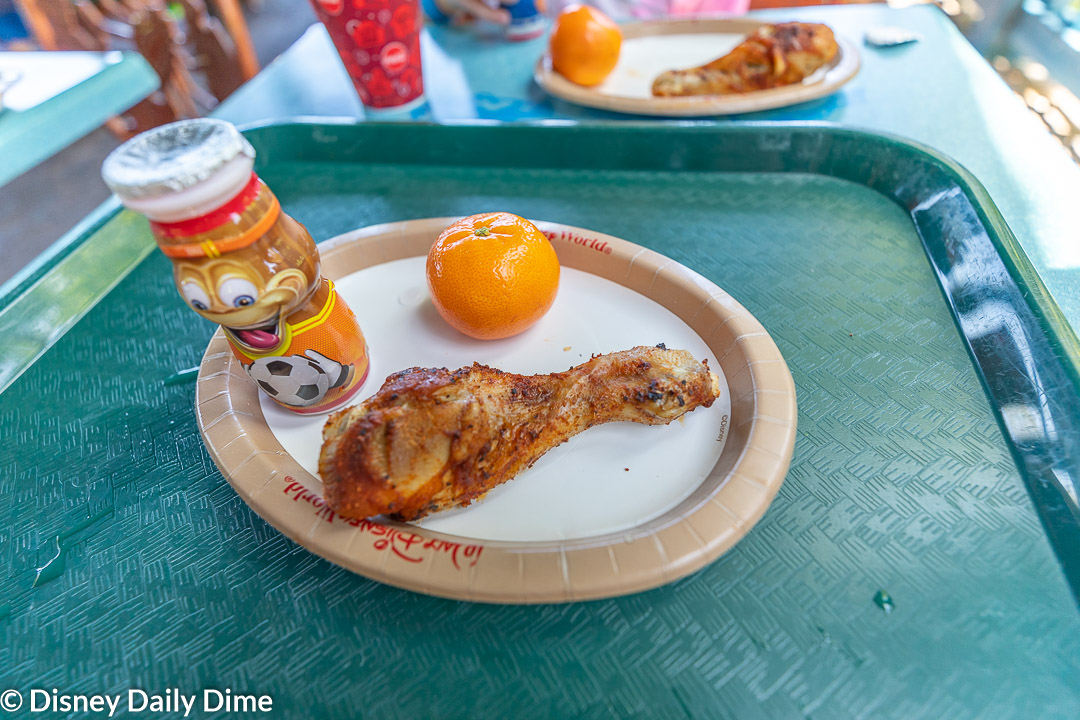 Kids Entrées
The kids' menu at Flame Tree Barbecue currently features three items.  They are a basic hot dog, turkey sandwich, or a baked chicken drumstick.  As parents, we were appreciative that the food options that weren't just chicken nuggets or hockey puck hamburgers.
At this particular meal, both Anna and Elsa went with the baked chicken drumstick.  The meal comes with a Mandarin orange and your choice of drinkable yogurt or apple sauce.
While basic, the girls loved the drumstick.  In fact, they loved it so much they wanted a second one, but unfortunately, that was not to be at $7 a plate.  Portion size on this may be a problem, depending on your kid's appetite.  The drumstick was juicy and plump and didn't have an overpowering barbecue flavor, which made it excellent for the girls.  It is one of the rare meals where there was zero complaining or waffling by one of the girls after they ordered an entrée.  All in all, they were delighted with the chicken.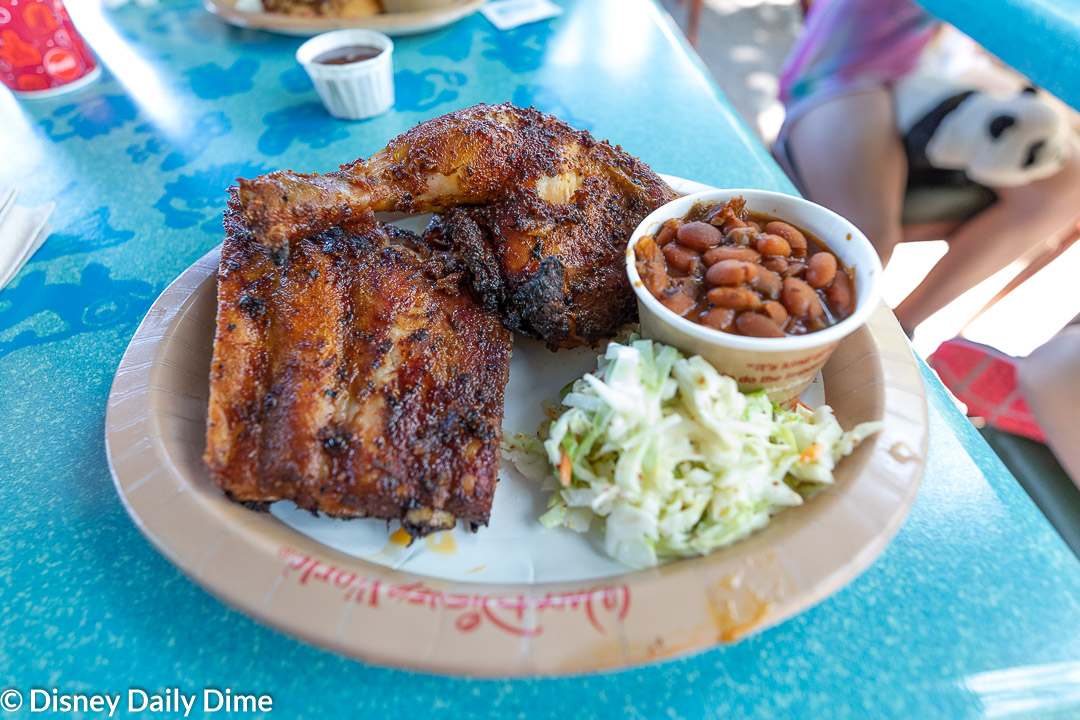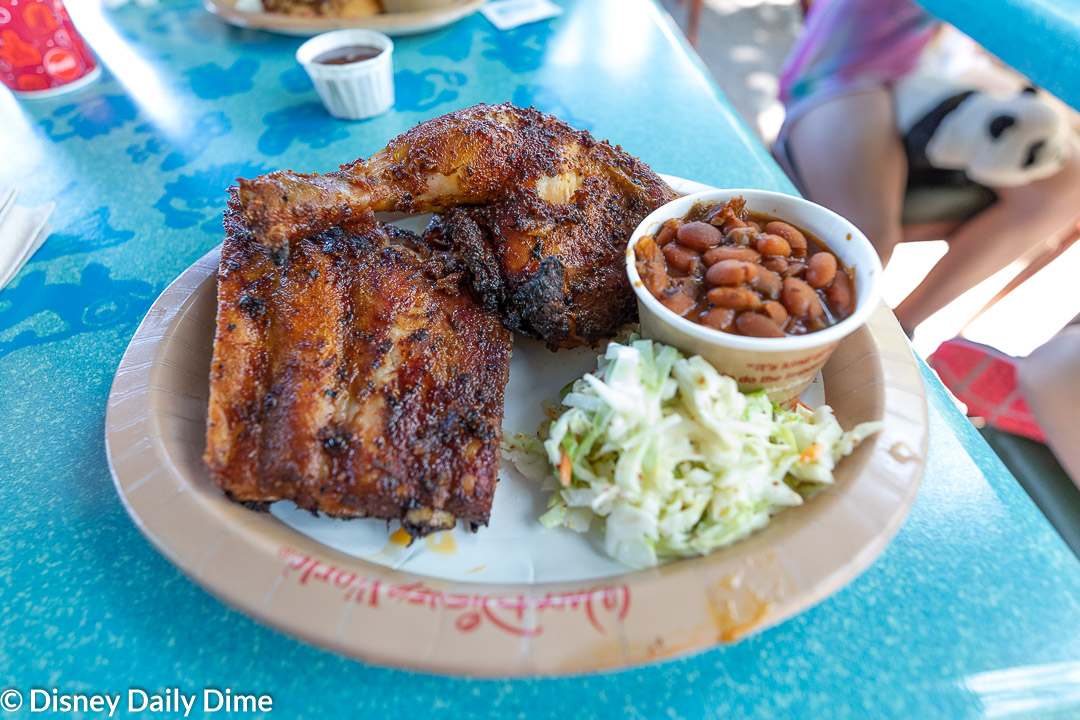 Adult Entrées
For my meal, I ordered the Ribs and Chicken Combo.  Once you stop drooling, the first thing you will notice in the picture is the small portion size of each of the ribs and chicken.  I was assuming it would be a half rack of ribs, but it was only three ribs.  Fortunately, that was my only real disappointment of the meal.
The ribs themselves had a great smoked flavor, and the spices on it were excellent.  It reminded me of something that I would make on the smoker at our house, with all the work of smoking them for 2+ hours.  The meat fell off the bone and reflected how they are cooked to tender perfection.
The chicken had the same excellent smoked flavor that I found with the ribs.  Like the girls' drumstick, the chicken was plump and very moist.  I always worry that smoked food, especially from theme parks, will be all dried out.  That was definitely not an issue here.
I did try some of the barbecue sauce they serve at Flame Tree Barbecue, but I don't think the ribs or chicken need it.  The barbecue sauces themselves were tasty, but I don't think you need to mask the natural flavors of the ribs or chicken.
The baked beans that came with the meal was far better than what you might find elsewhere in the parks.  I was pleasantly surprised by this.  For me, the coleslaw that came with the meal wasn't very good, but I don't like coleslaw in general, so you may have a different point of view.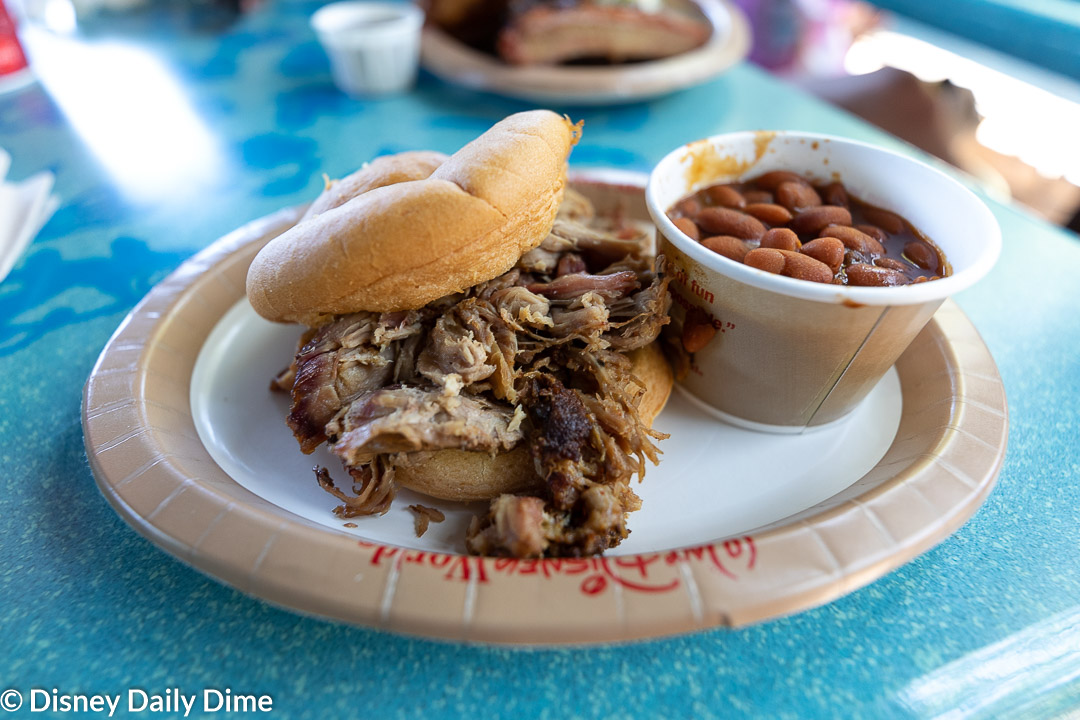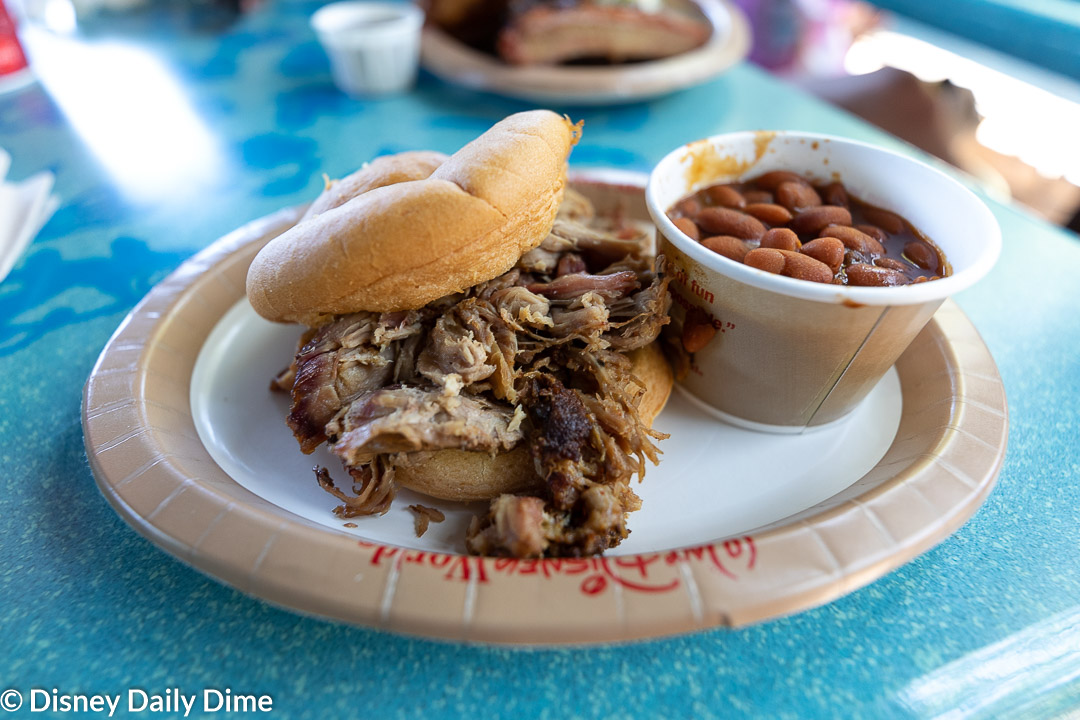 Carla ordered the Smoked Pulled Pork Sandwich but had to adjust it to be gluten free.  That involved swapping out the bread for a gluten free bun and removing the coleslaw that usually sits atop the pulled pork.  Carla was very disappointed in this as she loves coleslaw. 
As for the sandwich itself, Carla was pleased with the gluten free bun.  It didn't fall apart as she bit into it, the way many gluten free breads tend to fall apart.  The pulled pork was tender and featured the same great smoked flavor as the chicken and ribs.  Carla noted that the pork was not fatty; instead it appeared to consist of good quality meat.
Carla did use the barbecue sauce on her sandwich and found it helped with some slight dryness in the pork.  She enjoyed the barbecue sauce more than I did, noting that she thought it reminded her of an excellent homemade style sauce.  Carla also really enjoyed the beans.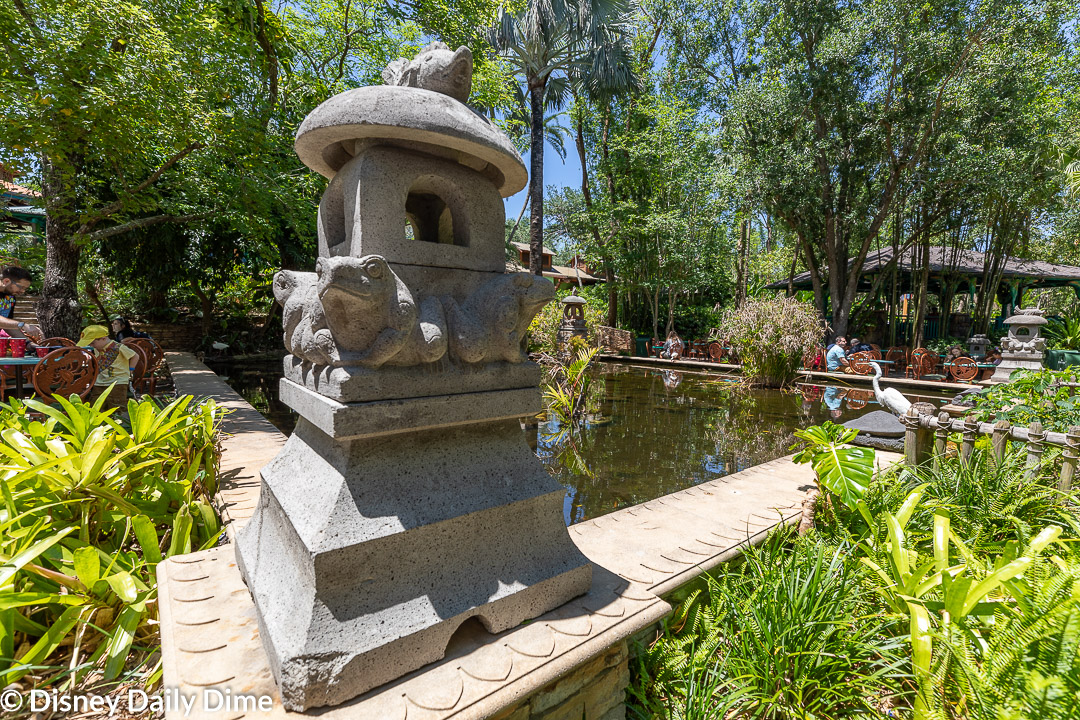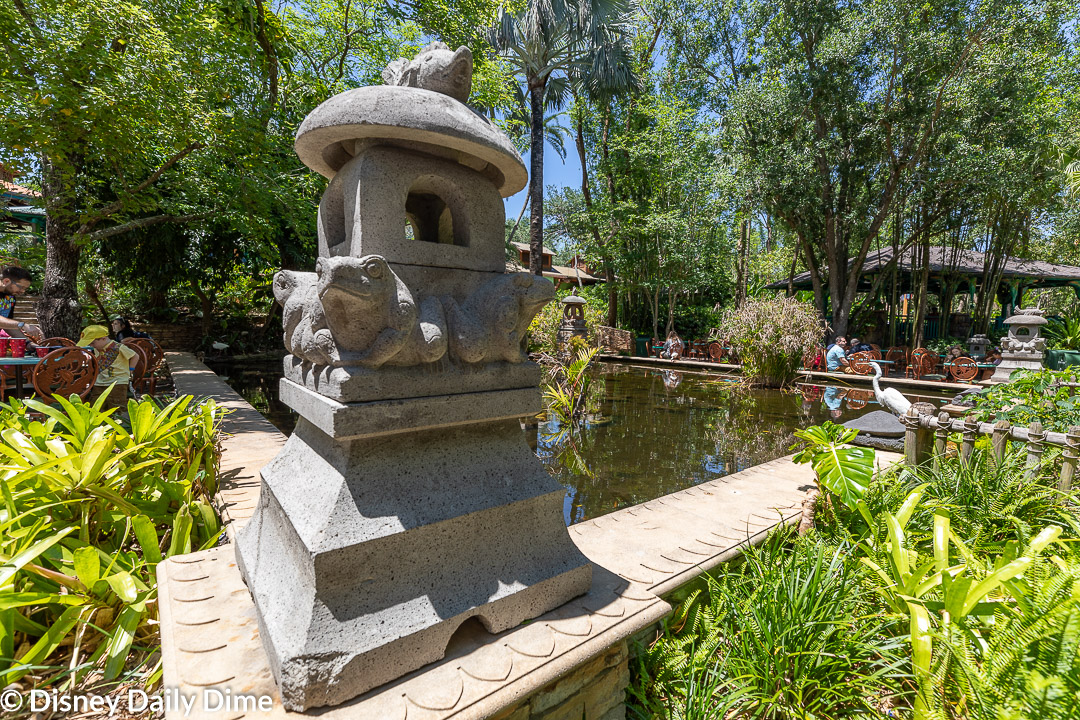 Flame Tree Barbecue Review Overall Impressions
To say we enjoyed Flame Tree Barbecue may be a significant understatement.  It was one of the better counter service meals we've had at a Disney World park.  In some ways, it is unfortunate that Flame Tree Barbecue and Satu'li Canteen are in the same park.  It would be nice if they could spread out the high-quality counter service restaurants.  We haven't made a top 10 list of counter service restaurants yet, but I imagine when we do, this will be a contender.
Is the theme the most immersive or well thought out?  No, not even close.  As we said, there really isn't any clear theme at all.  But the peace and tranquility we found while dining was fabulous and a welcome respite from a busy day at Animal Kingdom.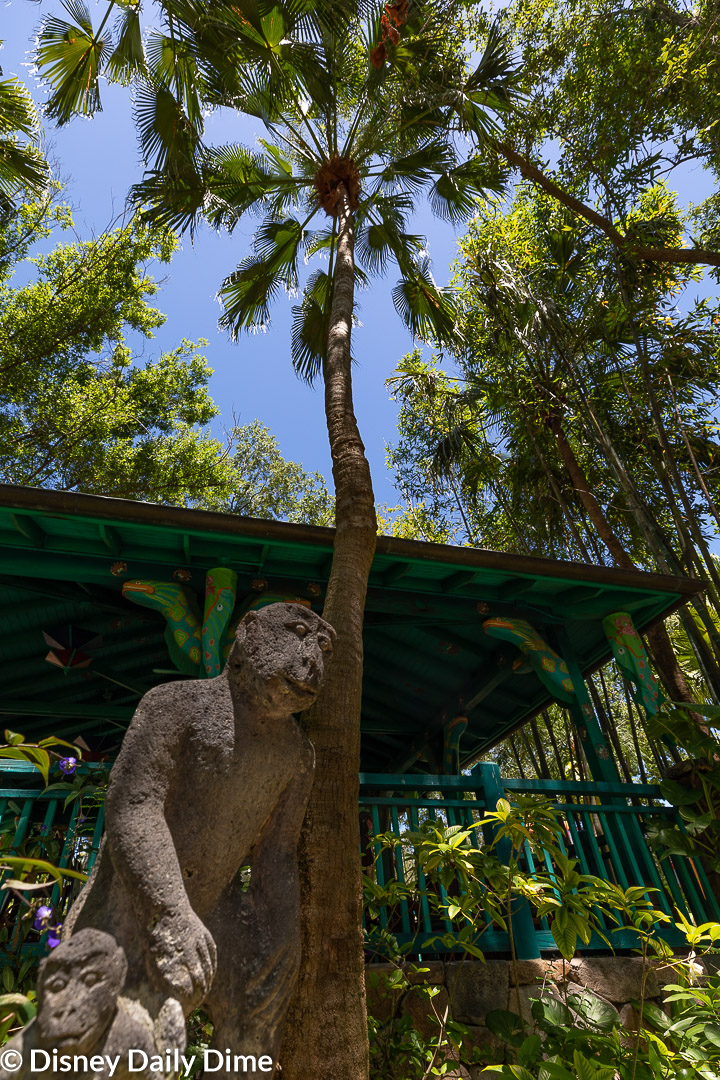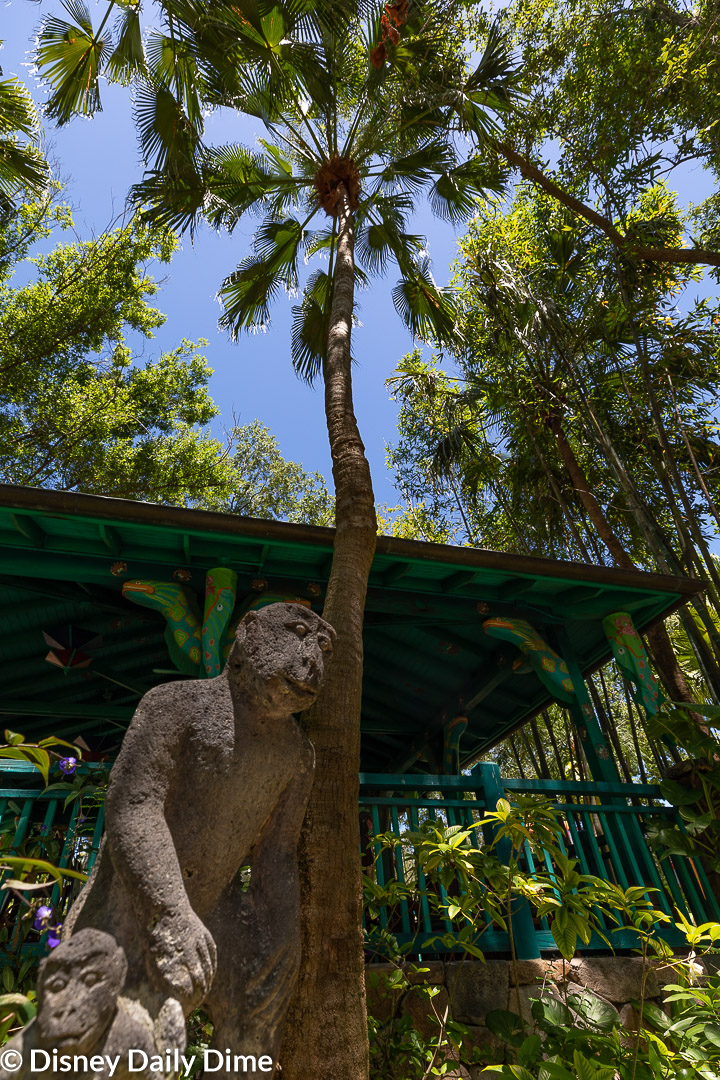 If you have time, we'd definitely suggest roaming through the seating area to see some of the more intricate décor around the seating area.  It's interesting in its own right and worth just taking in.  Oh, and do try to get the seating area near Expedition Everest.  It's the best view around.
The food is excellent, and I really want to come back and try some more of the other meals here.  I'm really intrigued by the Baked Macaroni & Cheese with Pulled Pork.  So that is what I will order next!  Once we get through with all the other dining options at Animal Kingdom, that is.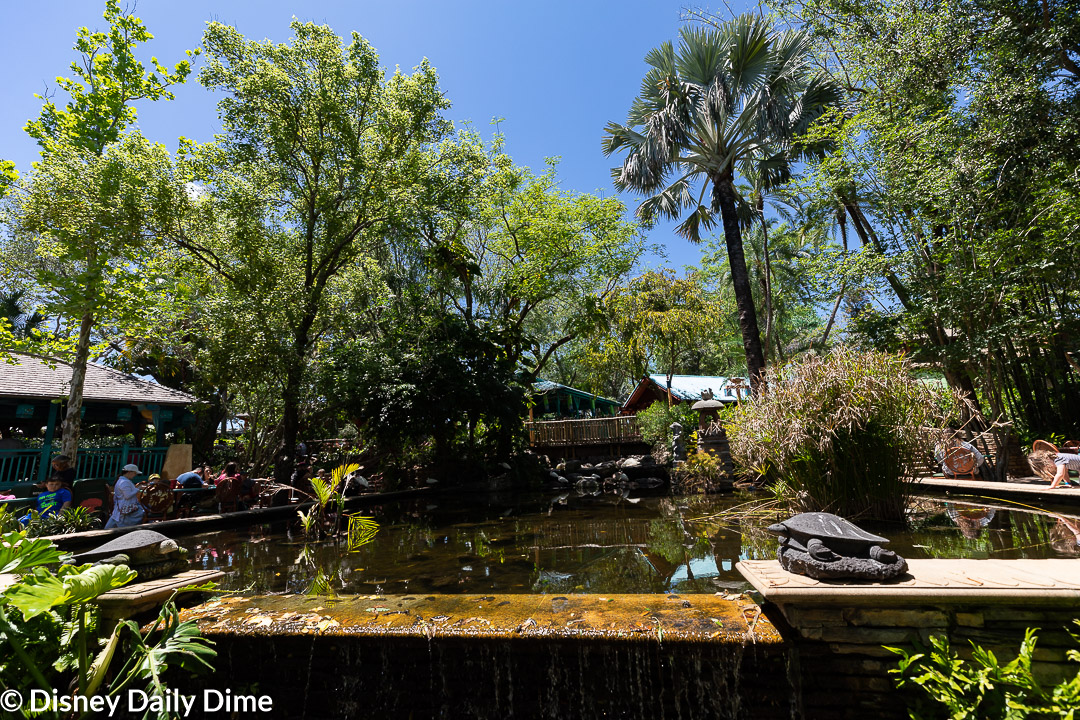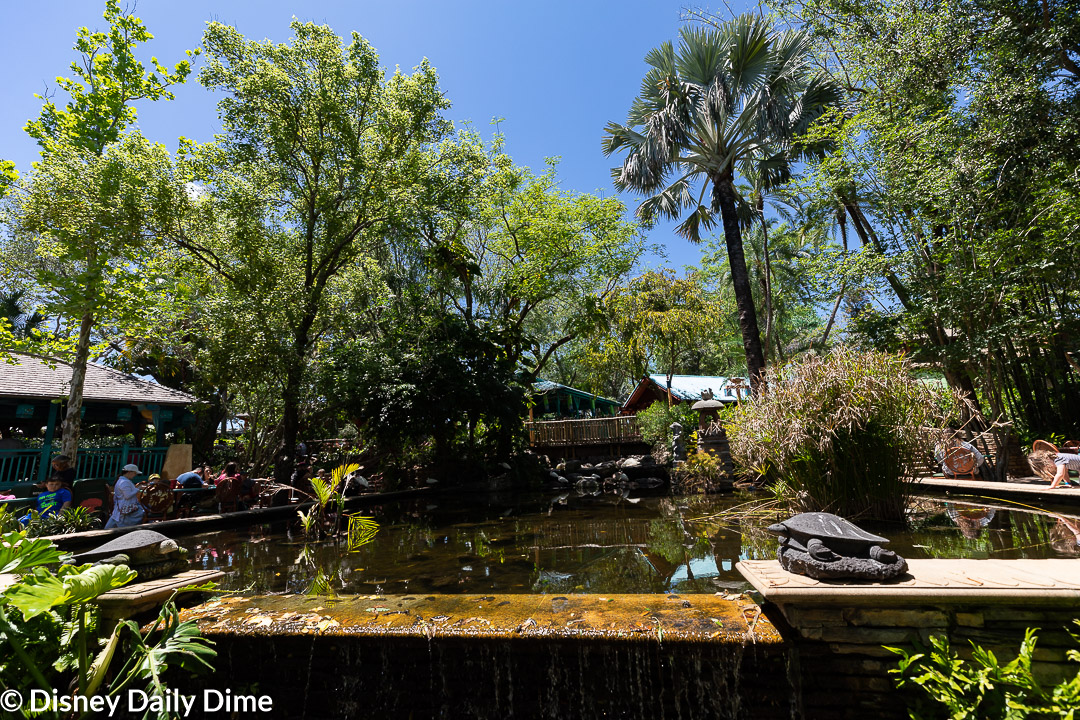 Wrapping Up
With that, we'll wrap up our Flame Tree Barbecue review.  This is a counter service restaurant that you seriously need to check out, especially if you have a craving for some barbecue. 
If you're looking for more dining options, make sure you check out our main Disney World restaurant reviews page.  You'll find links to every restaurant we have reviewed there.
If our Flame Tree Barbecue review was helpful, or at least entertaining, please like and share this with your friends or anyone you think will find it useful.  Just use the sharing buttons on the page.  We always appreciate it when you share our posts, as it allows us to spread the word about our blog and hopefully will enable us to help others.