During our visit to the Hollywood Studios in the summer of 2018, we jokingly referred it to it as "the end of an era" for our family.  Our girls grew up watching Disney Junior and some of the shows and characters endeared themselves to our family.   We have many memories of Anna and Elsa's early childhoods tied to the characters, stories and songs of Mickey Mouse Clubhouse, Doc McStuffins, Jake and the Neverland Pirates and Sofia the First.
We knew that the Disney Junior Show was changing later that year, and we assumed that the characters at this breakfast would probably start changing soon too.  Sure enough, Jake is no longer at the Hollywood Studios in this meal or in the show.  As a family that meant we had to enjoy the Disney Junior Play 'n Dine at Hollywood & Vine one last time (we had been twice already on previous trips).   We also went to the Disney Junior show later that day to "end the Disney Junior era" for our family.
Here in our Disney Junior Play 'n Dine at Hollywood & Vine review, we'll talk primarily about the meal and character interactions.   Note that the characters change at Hollywood & Vine for lunch and dinner.  "Minnie's Seasonal Dining" takes over lunch and dinner at the restaurant, with Minnie and pals appearing in seasonal appropriate attire.   We'll cover that in a future post, once we eat at one of those meals.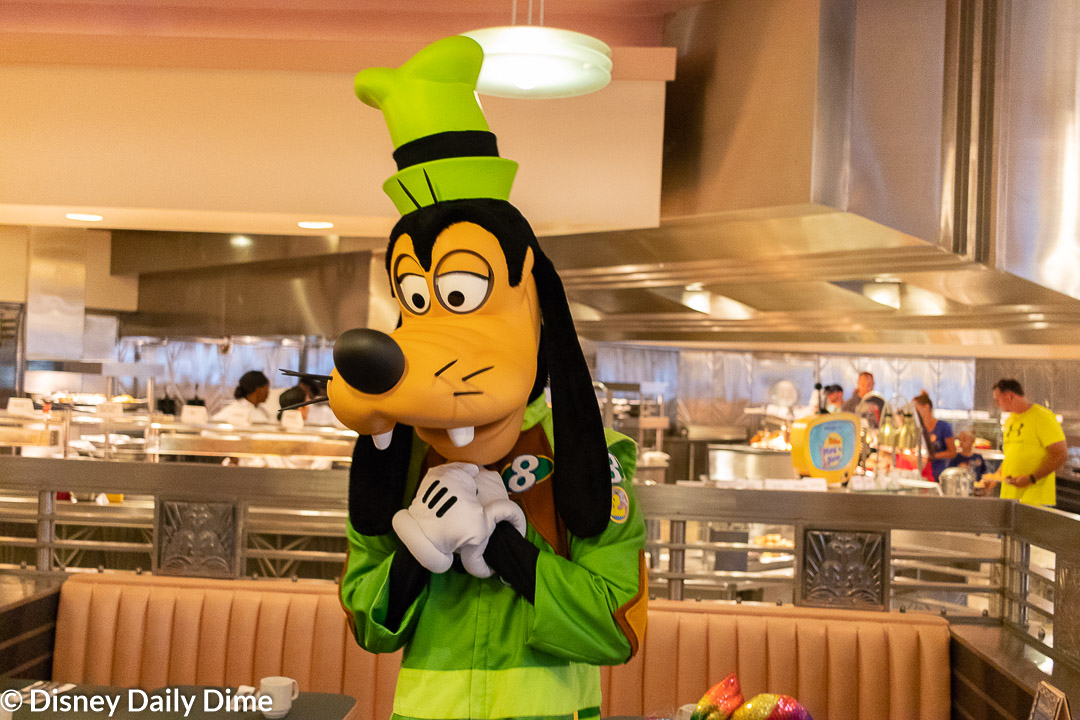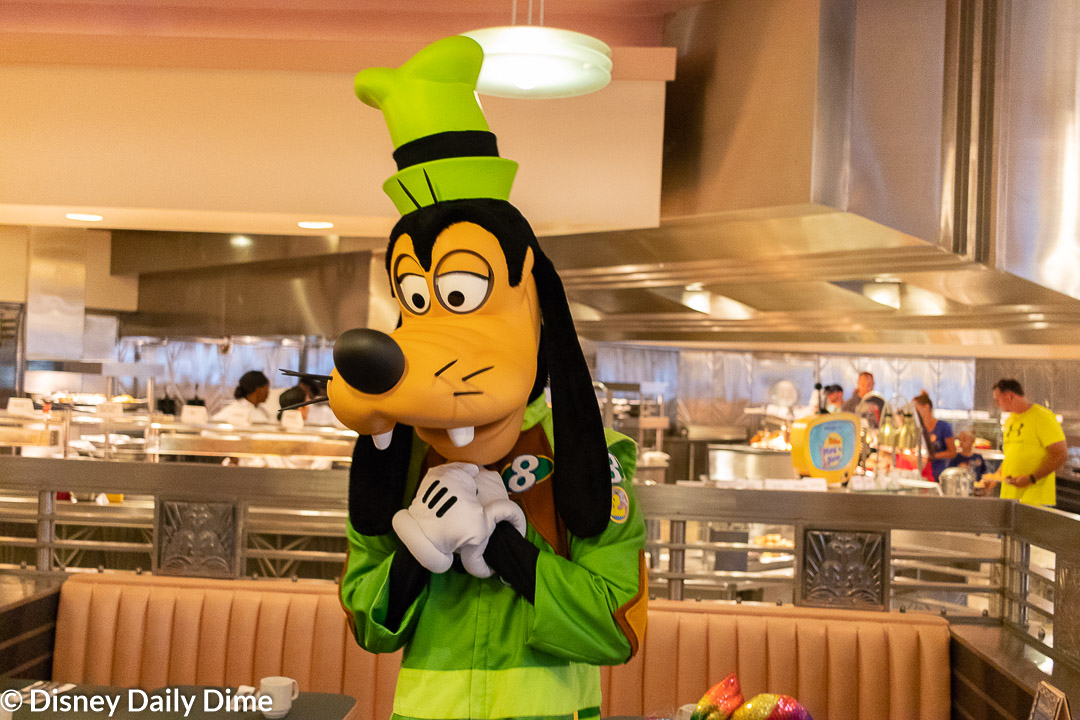 Characters for the Disney Junior Play 'n Dine at Hollywood & Vine
One quick note here before we get into the details on the characters at the Disney Junior Play 'n Dine.  Since the time we dined here, the character line up has changed slightly.   Vampirina replaced Jake from Jake and the Neverland Pirates in the fall of 2018.  Otherwise the lineup is unchanged and also features Sofia the First, Doc McStuffins and Goofy in his Roadster Racers outfit.
This meal is thoroughly and completely designed for the toddler through early elementary-aged set that the Disney Junior shows are created for.   A giant photo backdrop at the entrance features the characters that the diners will be meeting.  There is a complementary Disney Junior themed décor throughout.  The music loop features all Disney Junior music of current and "old".  So be forewarned that some of those songs could get stuck in your head for quite a while after breakfast.   Mike and I often caught ourselves mouthing along to some of the words as we heard many of the songs we used to hear when the girls were little over and over again ad nauseum.  (Parents reading this will know exactly what we mean).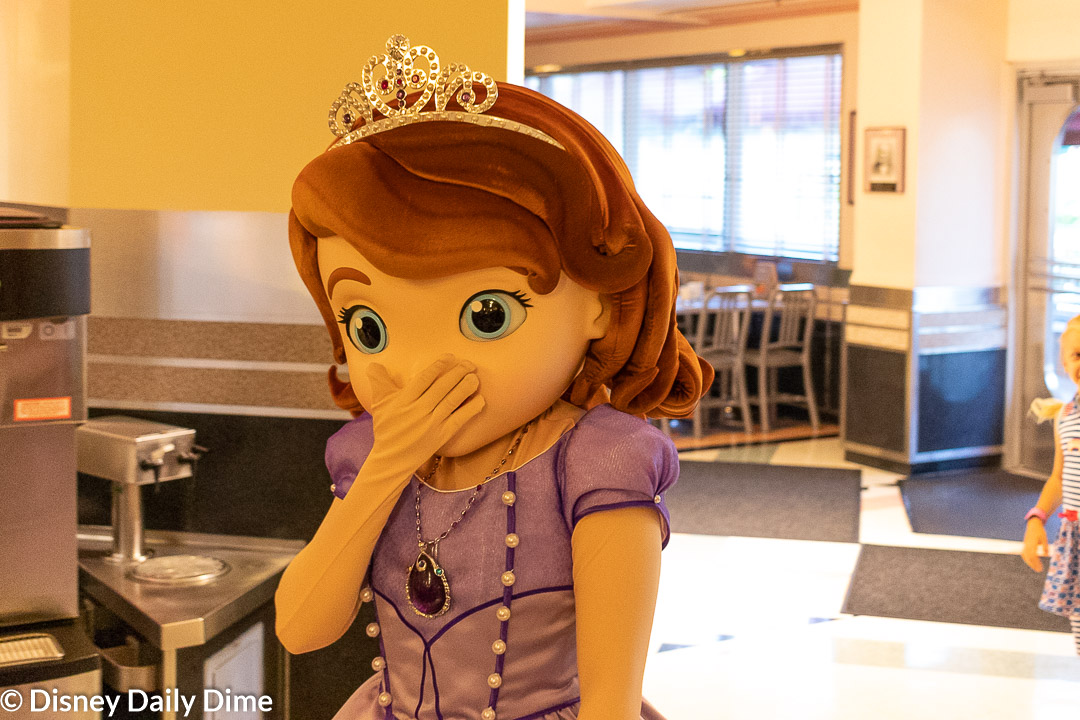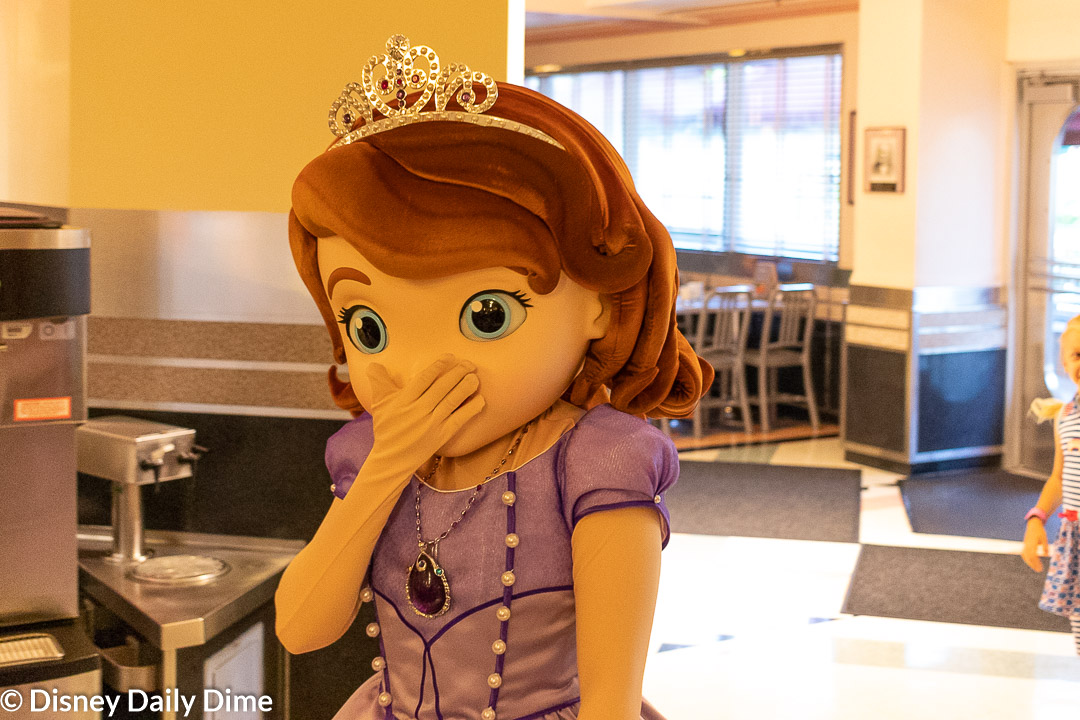 While our Anna is in the higher end of the target age range, she is outgrowing these shows quickly as Elsa stopped watching these shows a couple of years ago. (#littlesisterproblems) From time to time though, we will catch the girls re-watching favorite episodes.  We have no doubt that these characters provide a little nostalgic comfort to them.  You could see it as the girls lit up when each of the characters made their way to our table.
We had the pleasure of dining here on a morning with extremely light attendance in the restaurant.  (Thank you Toy Story Land!!)  We truly lost count of how many times the four characters came to our table.   This provided some unbelievably special interactions.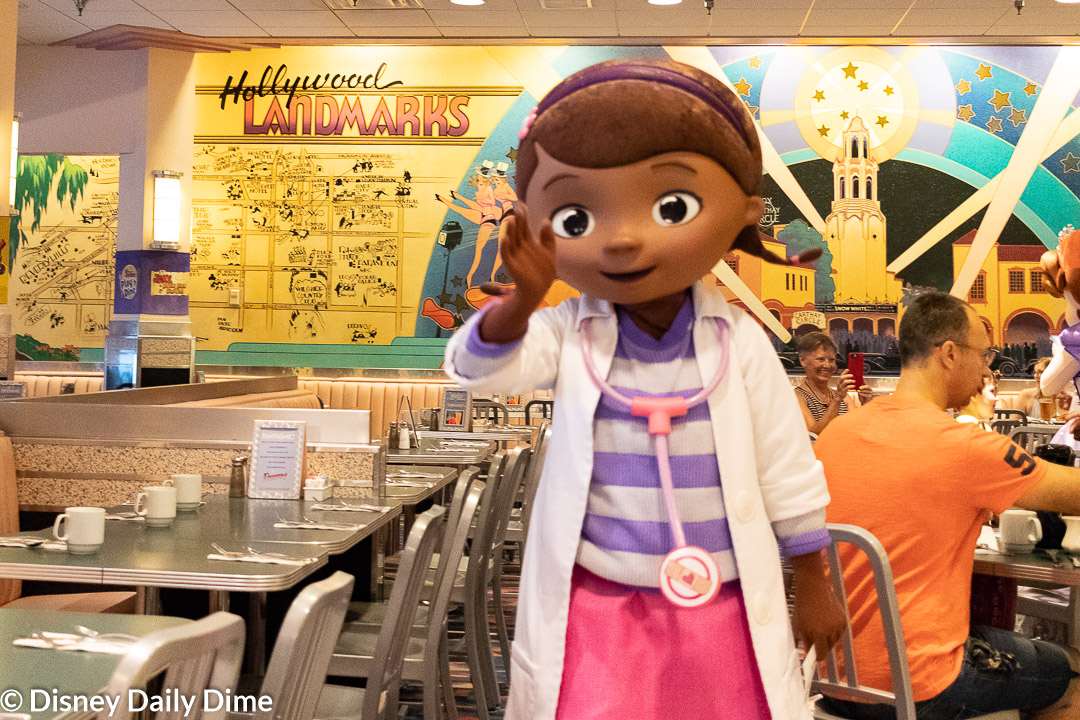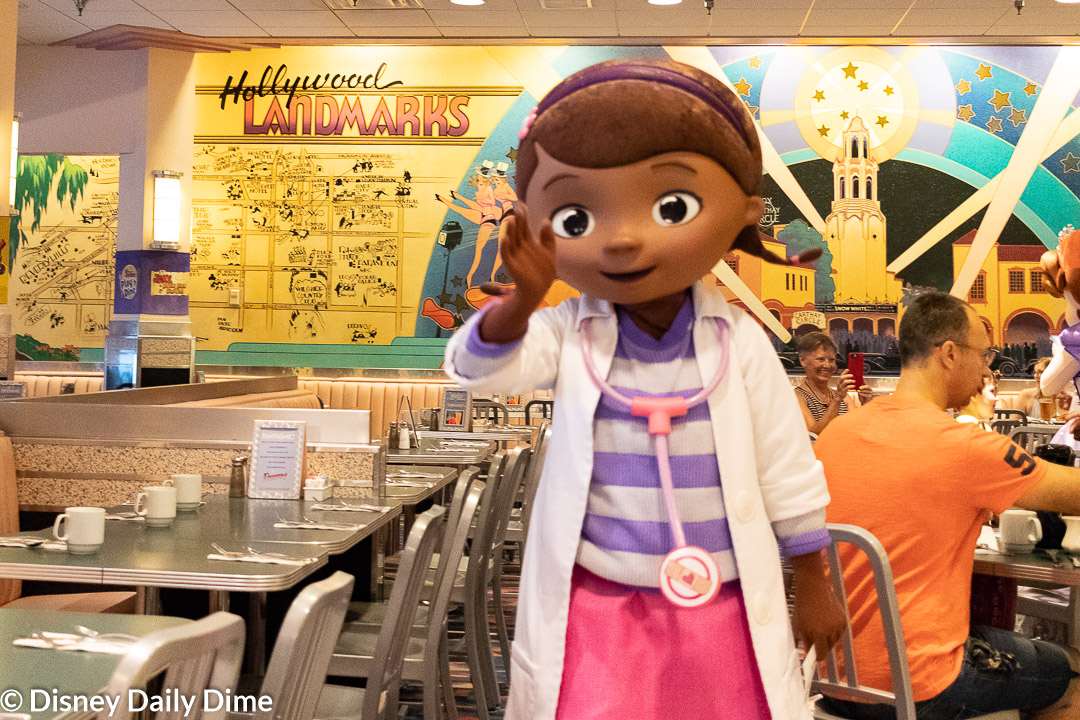 Goofy gave Mike a hard time because he didn't have his own mouse ears like Carla and the girls.  Since we were all wearing Star Wars shirts, the girls told Goofy that Mike should get R2-D2 Mouse Ears to which Goofy wholeheartedly agreed.  That resulted in the picture you see at the bottom of this section!
After numerous visits at our table, Jake surprised us by popping up on the other side of our table from behind the half wall the table was against, eliciting a lot of laughter from all of us.  Sofia and Doc doted upon the girls, giving them lots of hugs and carrying on "conversations" as we had more time than normal at character meals to ask about  the characters' friends from the shows and tell the characters how much they meant to the girls.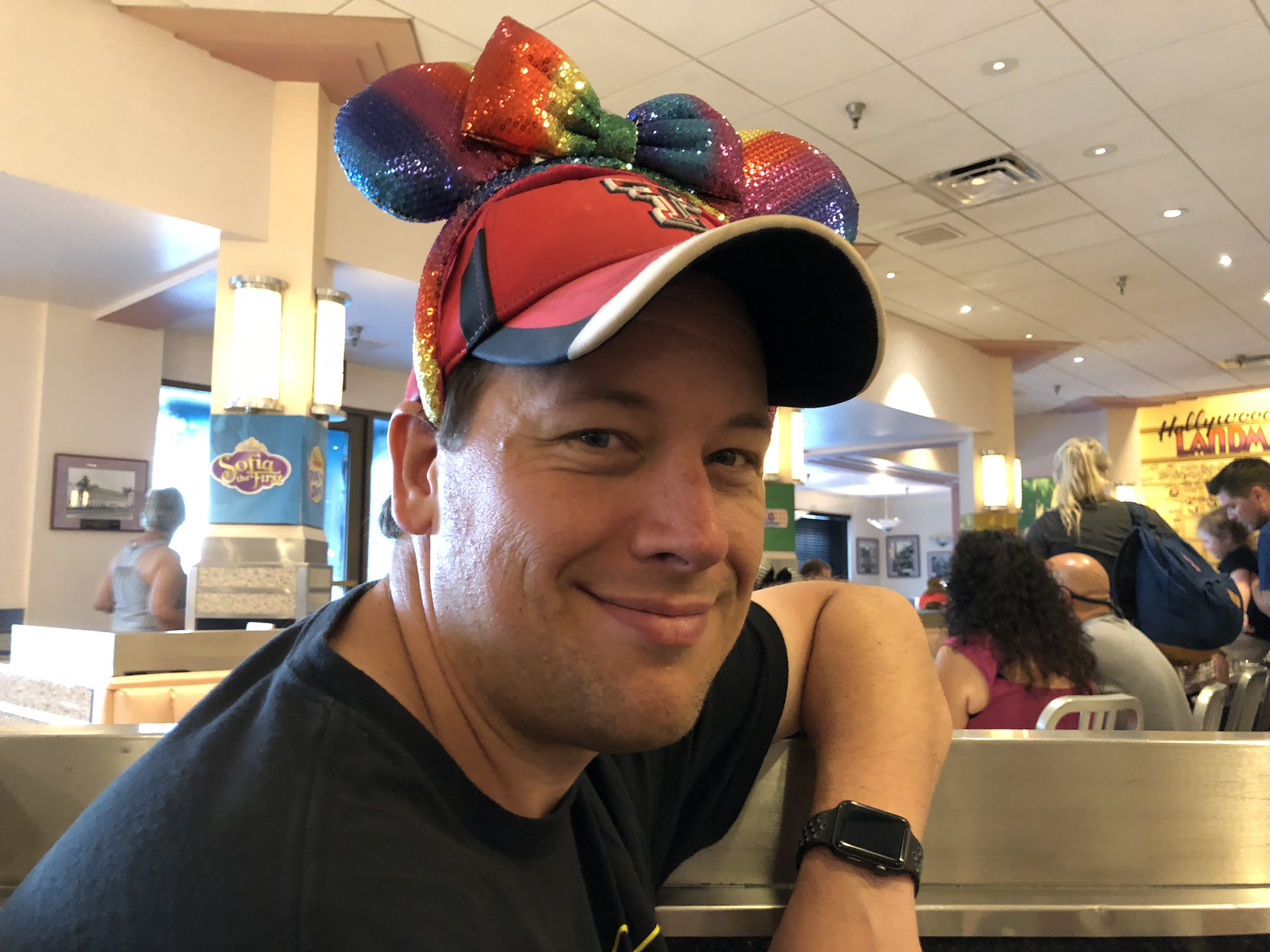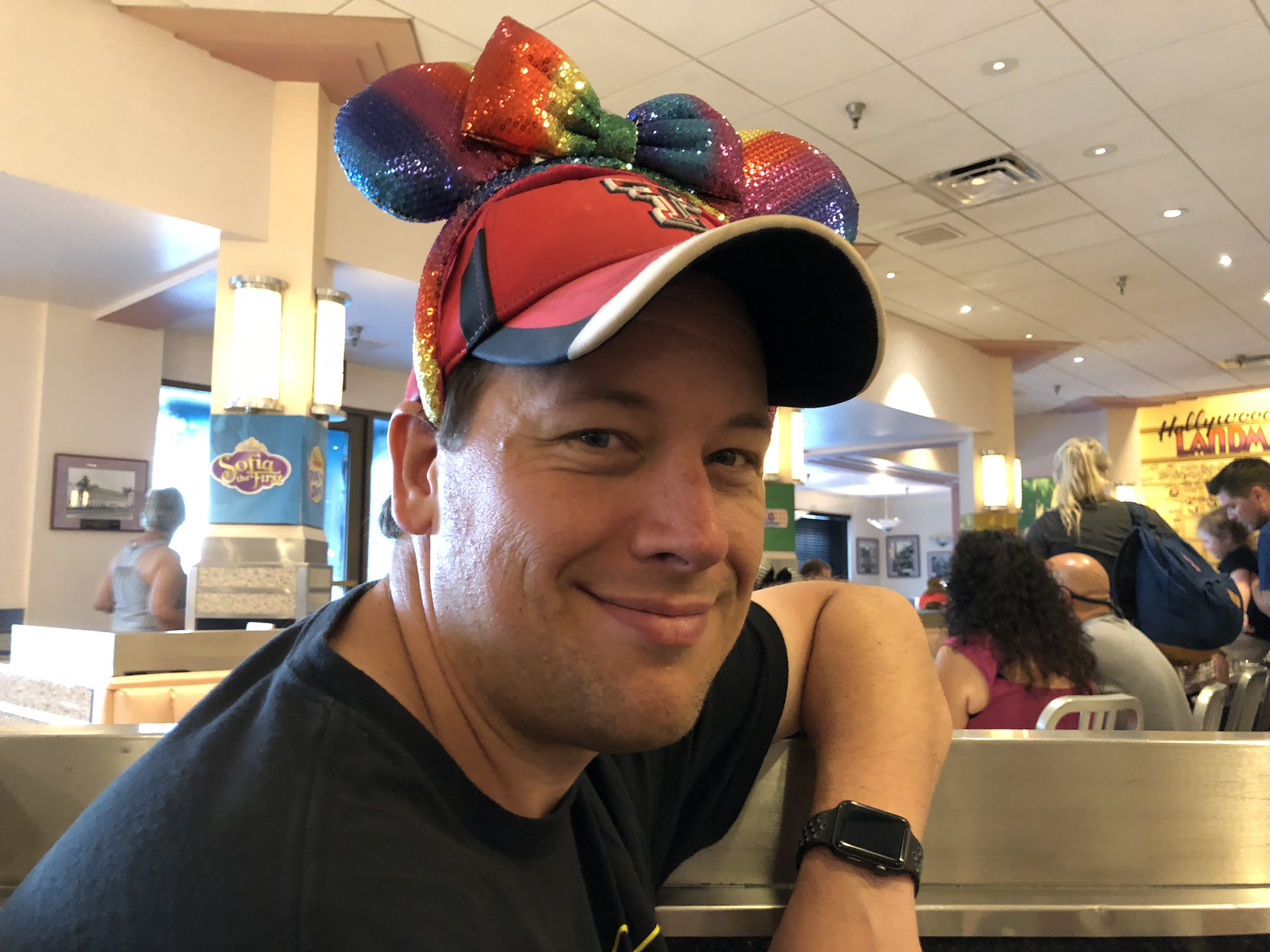 The Disney Junior Play 'n Dine Breakfast Food provides a hearty meal to start the day
As we have discussed in other reviews, breakfasts around the Walt Disney World resort are not particularly inventive or creative.   The Disney Junior Play 'n Dine at Hollywood & Vine is no exception.  
It's a breakfast buffet setup and provides all of the standard breakfast fare one would expect.  Outside of the typical fruits, eggs, breakfast meats and pastries, a seasonal breakfast casserole was offered along with corned beef hash and large tureens of oatmeal and cheese grits.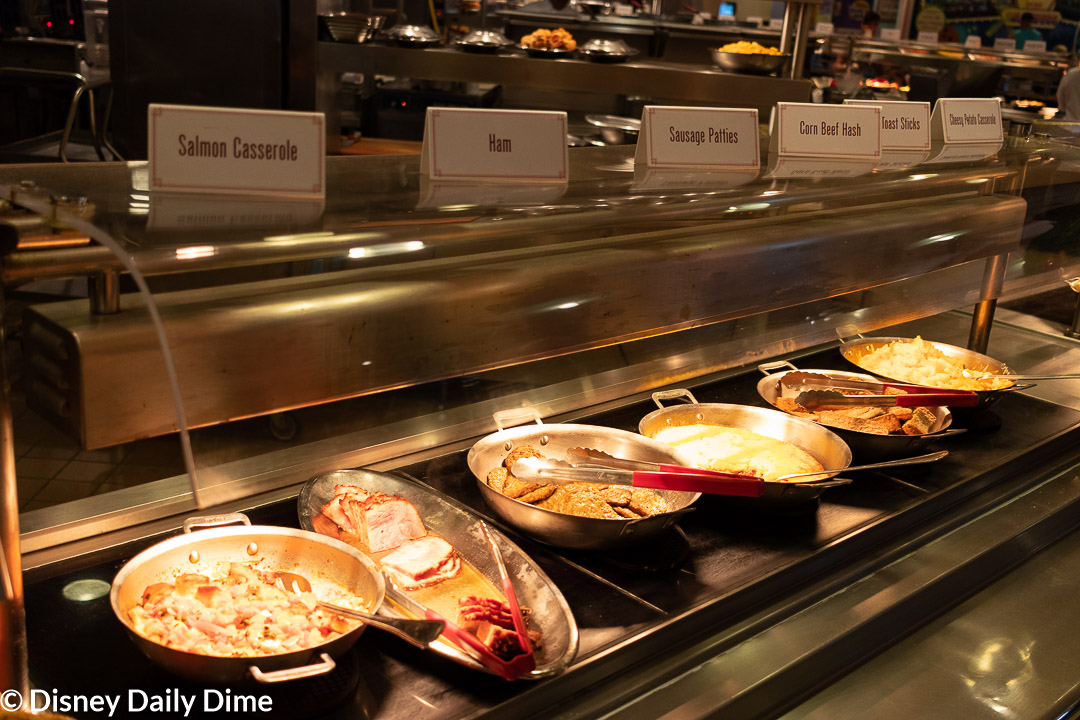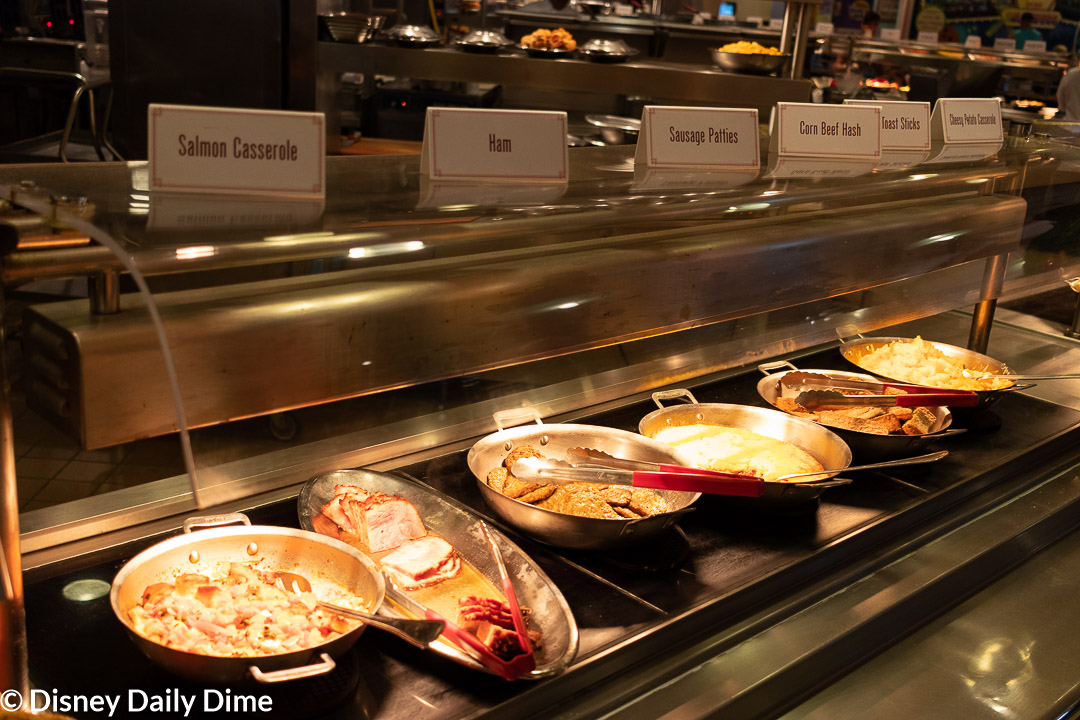 Mike was pleased to see eggs, bacon, and flour tortillas on the buffet so he could build a breakfast taco.    The kids have their own kid-sized buffet with pancakes, waffles, and tater tots.  (Note for the adults, you will wish you were a couple of feet shorter as you bend over to help your kids with their selections.  This portion of the buffet is very low to the ground!)   A chocolate sauce and a warm berry sauce are provided as options outside of maple syrup to top the pancakes and waffles.  At the exit of the buffet area is a build-your-own yogurt parfait bar with a wide array of toppings.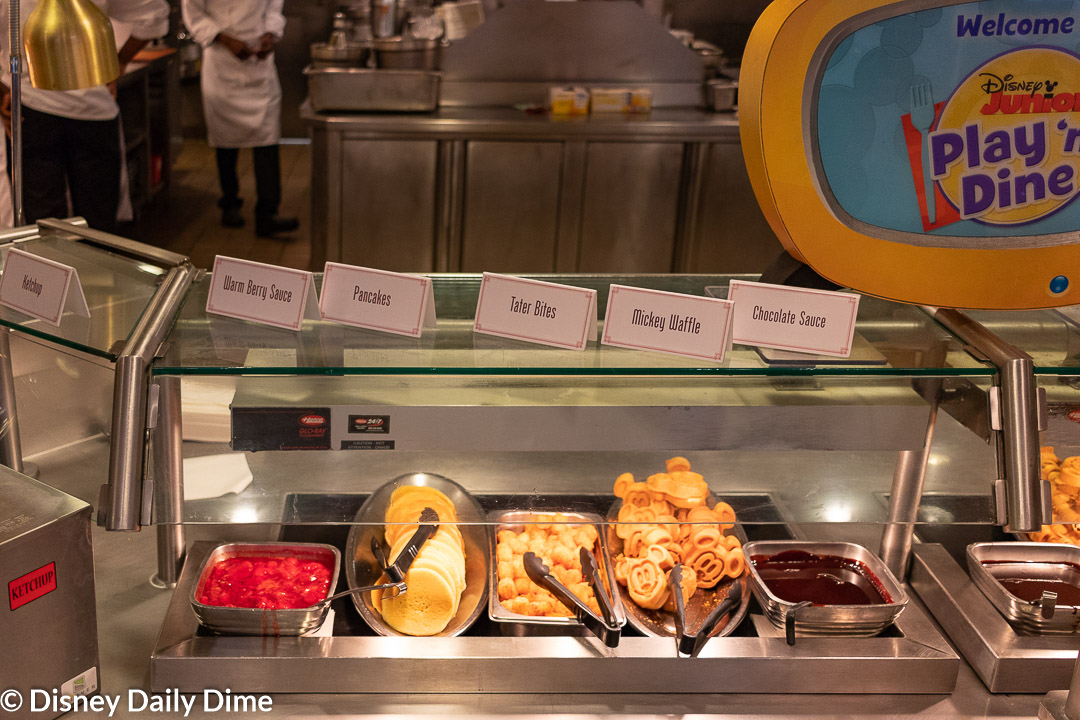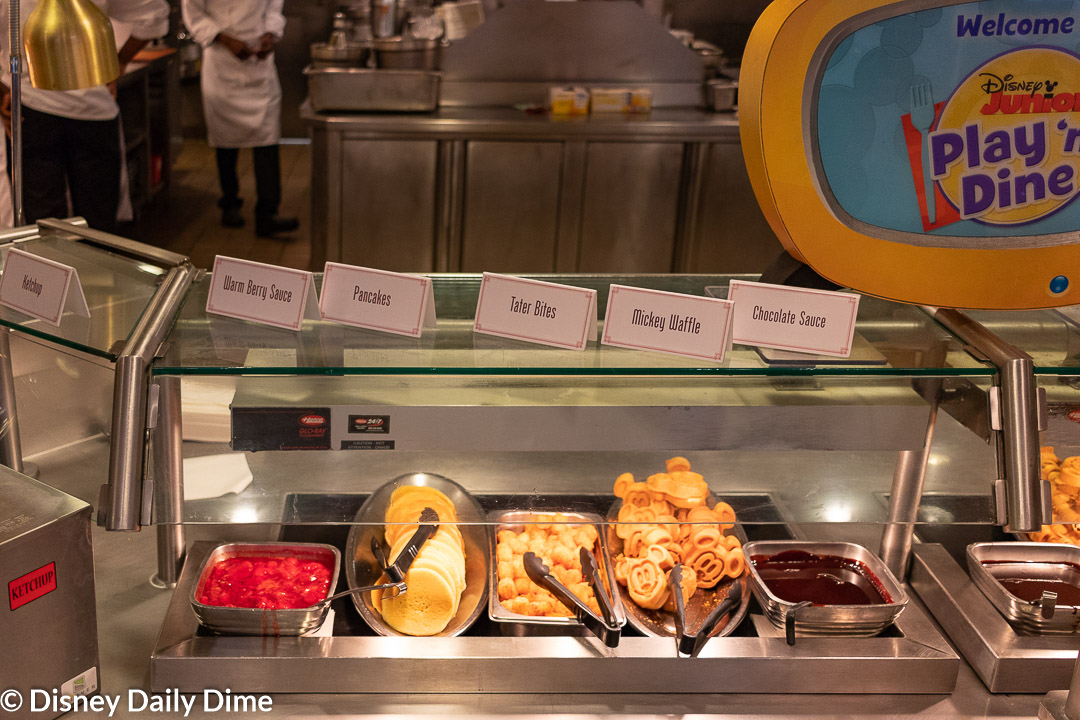 The girls gravitated towards the ample fruit selections, the pancakes and waffles, and copious amounts of bacon.  Mike enjoyed his aforementioned taco, and also treated himself to a biscuit topped with sausage gravy.
We could review all of the food in great detail, but at the end of the day it was all just standard and predictable breakfast fare.  Anna and Elsa agree with this too.  It isn't a breakfast that is going to blow you away with a unique assortment of food.  This meal is all about the characters.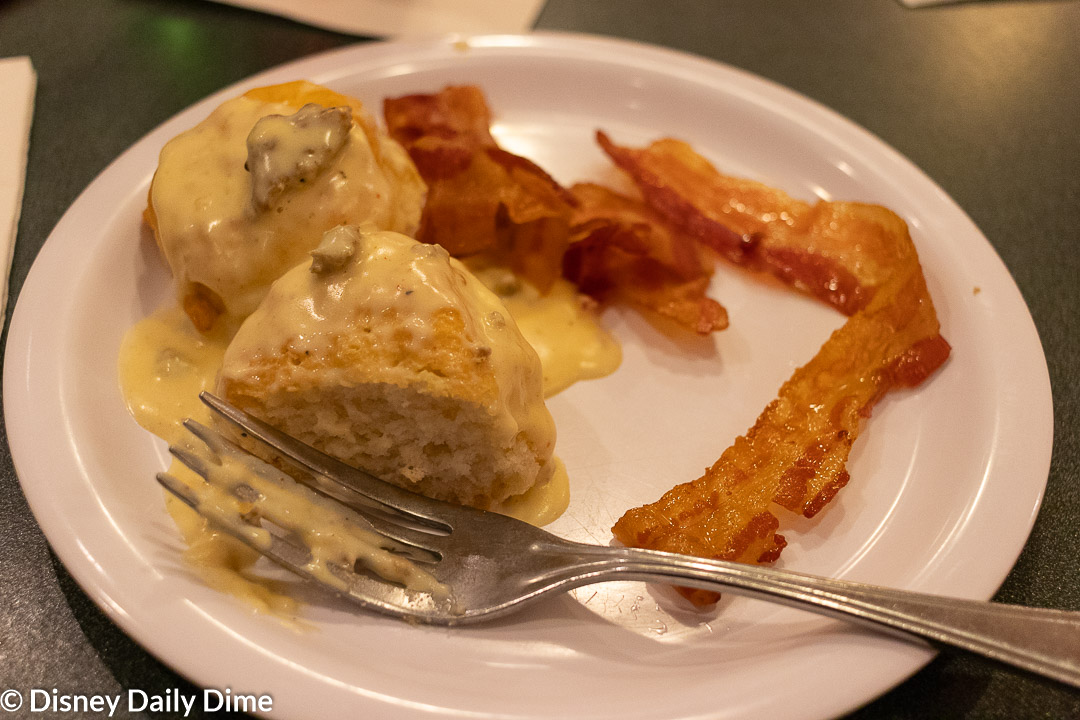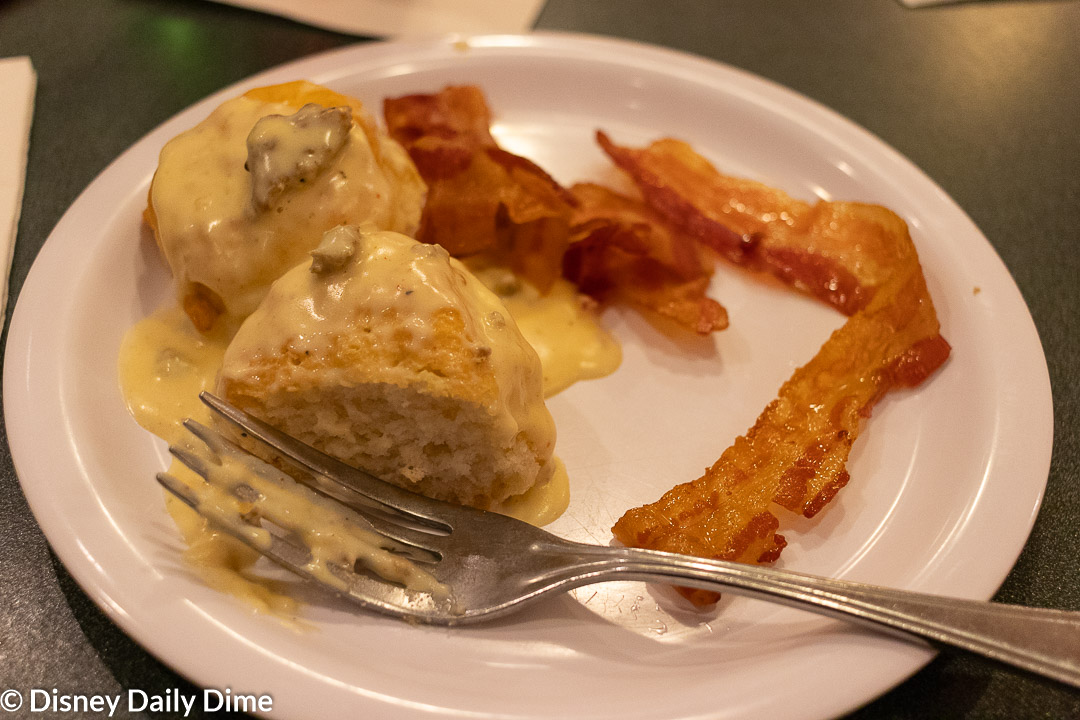 I of course could only partake in the gluten free items. I will discuss that experience in my gluten free review of the restaurant. Overall, I'll say I was pleased that fresh allergy friendly Mickey waffles could be made to order.
Despite the lower crowd in the restaurant this morning, the food was refilled continuously.  Upon our couple of visits to the buffet, everything was fresh and plentiful.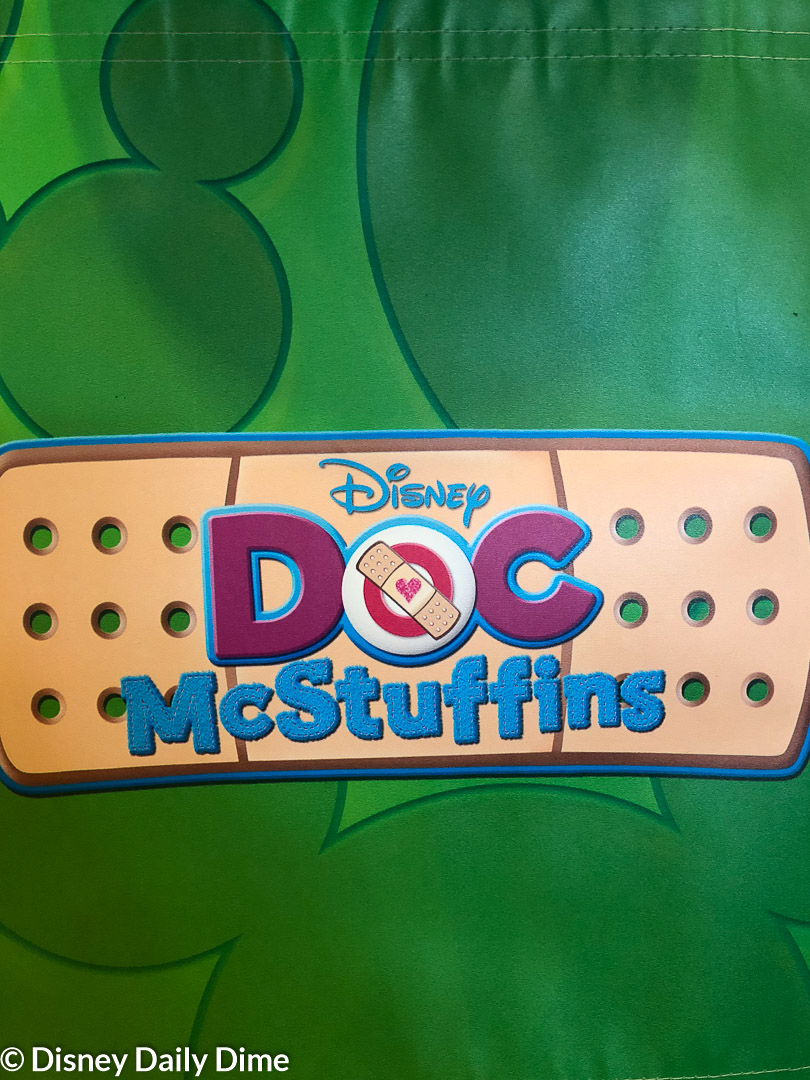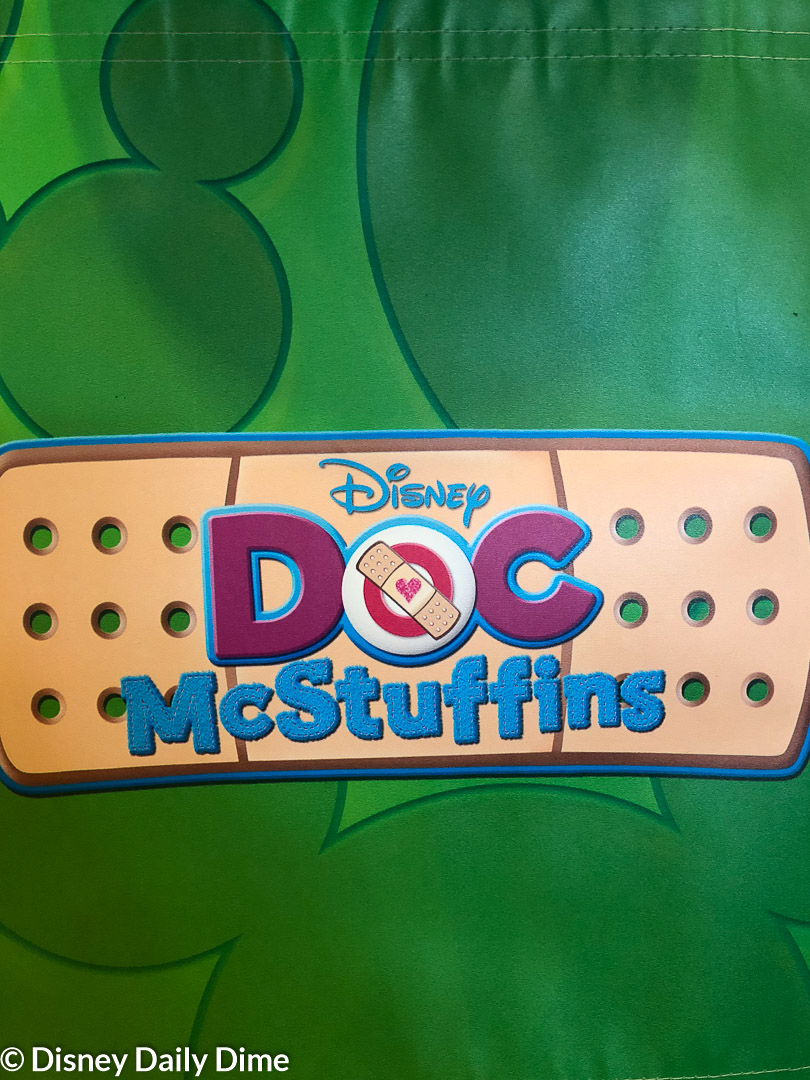 Overall Thoughts on the Disney Junior Play 'n Dine at Hollywood & Vine Breakfast
You know the saying "when in Rome, do as the Romans do"?   That saying can be applied to Disney World too.  When you are in Disney World, even an eight-year-old who says at home she is too old for Disney Junior can let down her guard and embrace her favorite Doc McStuffins with as much excitement as she did the first time she met her when she was four.  The magic of little (and not-as-little) children meeting beloved characters never fails to put a smile on our faces.
If there are little ones in your traveling group who are fans of these characters, it is a great way to visit with them without having to wait in the lines that build up outside of the Disney Junior show in the park.   The buffet will provide an average yet tasty breakfast.  The food may not be anything special, but the overall experience of the meal and characters should still provide a memorable experience for your group.
From a cost perspective, the Disney Junior Play 'n Dine at Hollywood & Vine is a relatively good value.  I'm not sure I'd consider it as a good a value as the Bon Voyage Breakfast, however it's still more affordable than lunch or dinner at Cinderella's Royal Table.  The difference for me between the Play 'n Dine and Bon Voyage is the quality of the food options.  I'd say the character interactions were on par with each other.  Although I'd call it a slight advantage to Bon Voyage.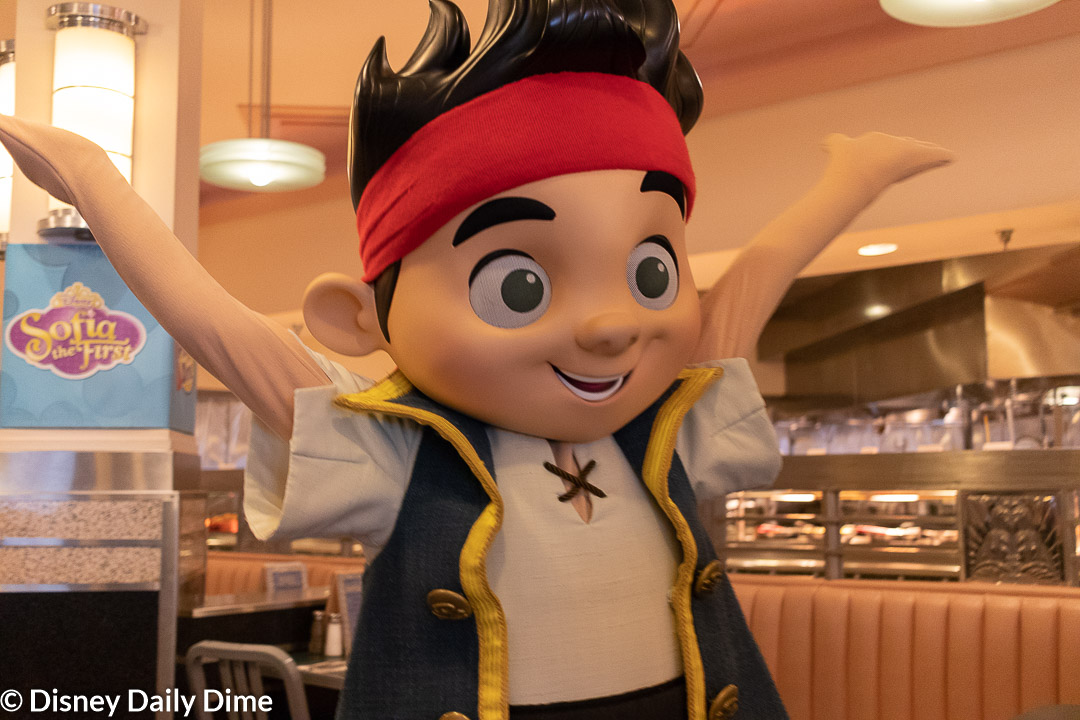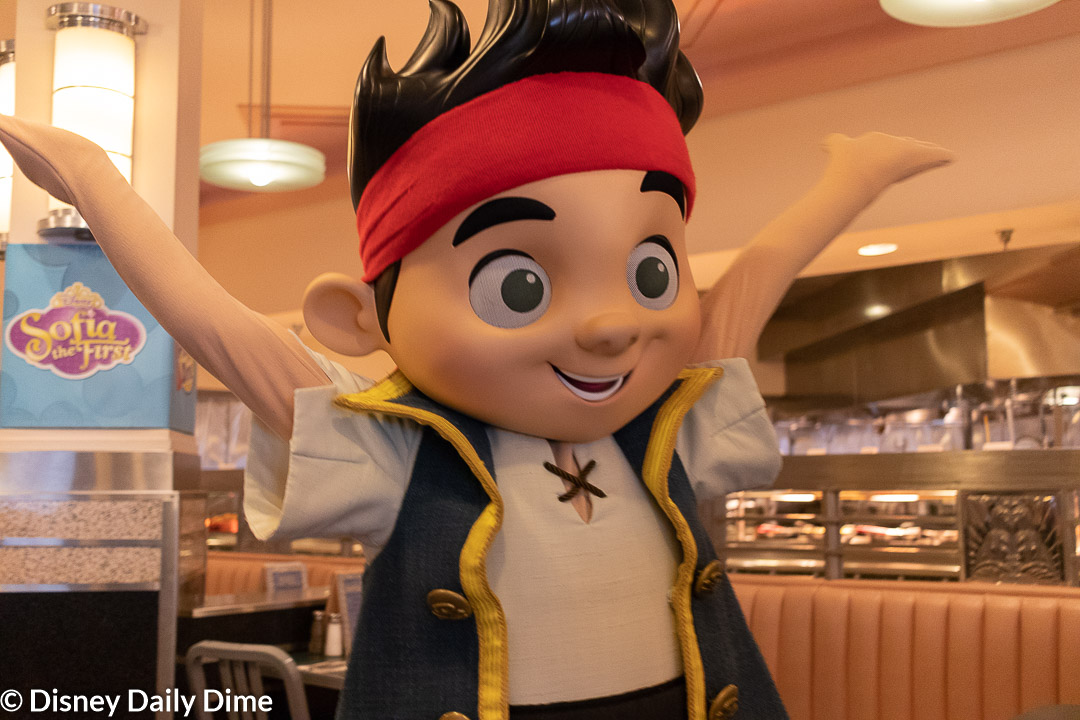 The characters are such that you get some really great experiences for the younger kid set.  That may be a difference maker for your group.  All in all, we definitely think having a breakfast here is worth your time.  Especially if you have kids in the right demographic for the Disney Junior characters.
Wrapping Up
With that, we'll wrap up our Disney Junior Play 'n Dine at Hollywood & Vine review.  It's a fun meal, especially for the kids, where you can have some great interactions with four characters featured on Disney Junior shows.
If our Disney Junior Play 'n Dine review was helpful, or at least entertaining, please like and share this with your friends or anyone you think will find it useful.  Just use the sharing buttons on the page.  We always appreciate it when you share our posts, as it allows us to spread the word about our blog and hopefully allows us to help others.