Nestled on the BoardWalk of Disney World's Crescent Lake is a fun little creamery that boasts some unique flavors of ice cream.  Here in our Ample Hills Creamery review, we'll walk through some of the interesting aspects of this dessert shop that make it a little more unique.  We'll cover Carla's gluten free experience at Ample Hills and of course, we'll have a few pictures of ice cream.
Sadly, this was a wedding anniversary trip for Carla and I, so you won't get to see how Anna and Elsa felt about Ample Hills.  We'll take them there on a future trip and update this post after that.
Ample Hills Creamery isn't actually just some randomly named and themed ice cream shop within Disney World.  It's actually part of Brooklyn, NY based Ample Hills Creamery shop.  The different flavors with lots of fun inclusions, two founders, and an ice cream shop in the northeast.  Who does that remind me of?  Of yeah, these two guys. We haven't discussed much of my background, but I've worked in the ice cream industry before and know tons about Ben and Jerry's.  Anytime I walk into an ice cream shop like these I probably spend far too much time analyzing the flavors, texture, wondering about butterfat levels, and more…but enough about me, you're here for the ice cream.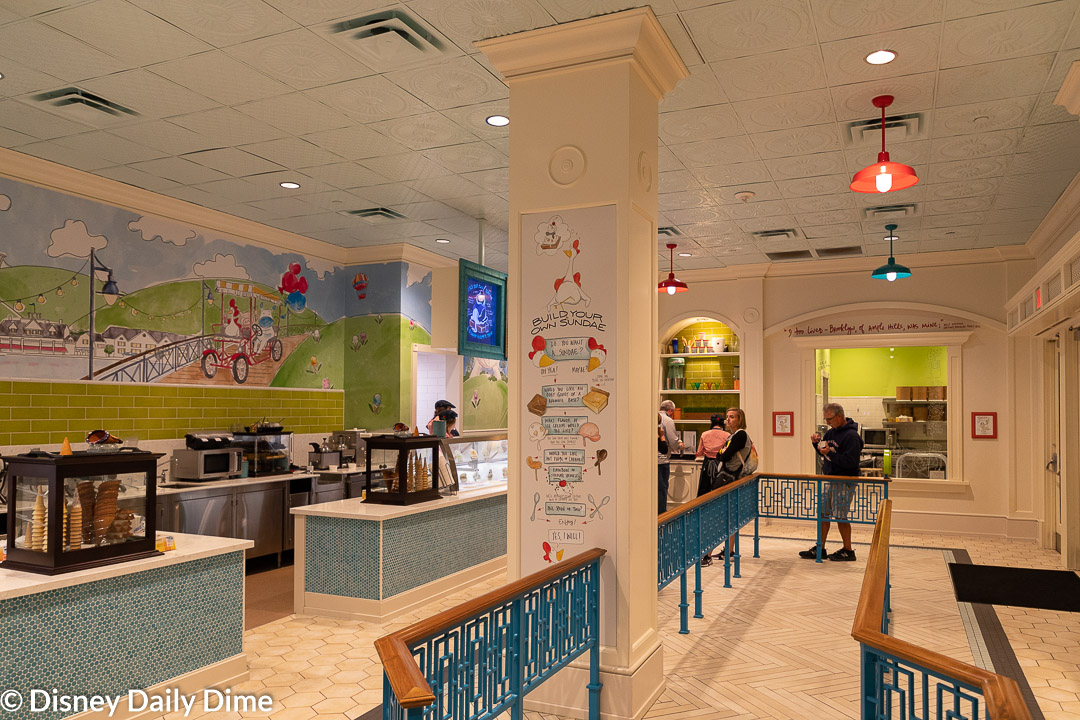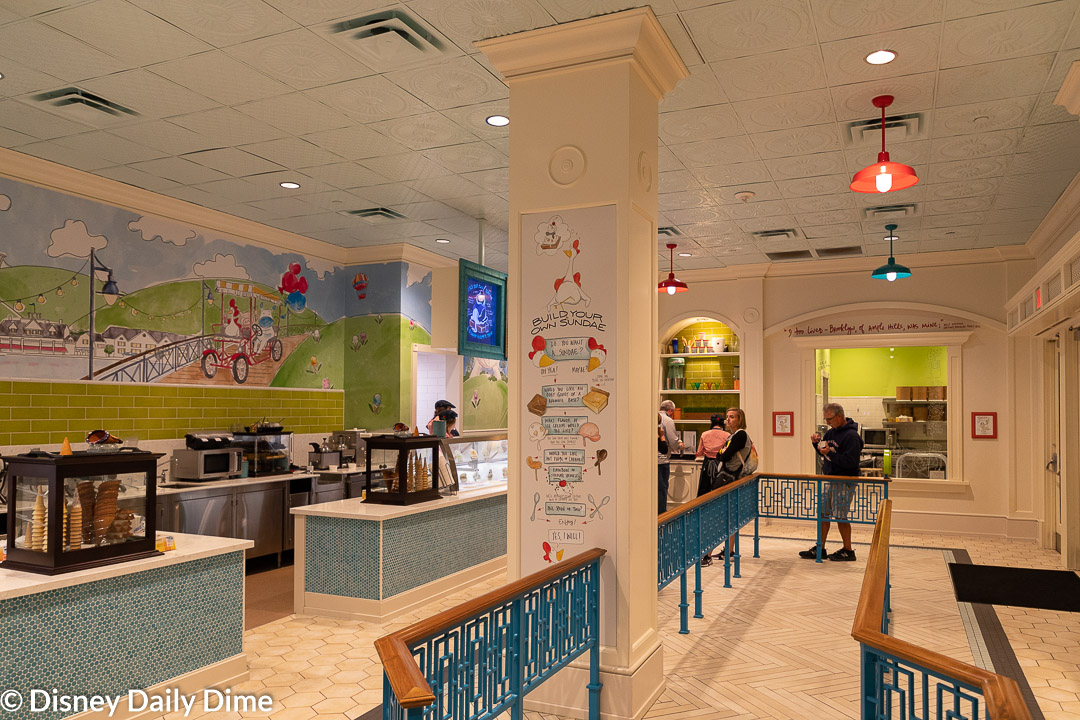 The Location and Feel of Ample Hills Creamery is Perfection
For a shop from New York, I don't think Disney could have picked a better place to set up this ice cream shop.  Placing it on Disney's BoardWalk perfectly fits the vibe of the shop.  It's almost like the BoardWalk and Ample Hills are good on their own, but combining them together makes them both better.  I guess you could say it's a symbiotic relationship.
In our particular instance, we stopped by Ample Hills one night on the way back to our unbelievably awesome room at the BoardWalk Inn.  Late in the day as it might have been, the night time feel of the BoardWalk was worth staying up later to experience.  Getting a scoop (or three) of some sweet ice cream was just what the doctor ordered.  Taking that ice cream and sitting out on the BoardWalk to relax was awesome.
Now, it wasn't so great that my ice cream melted before Carla got hers, but hold that thought.
One thing I will say is that this was in mid-October and the weather was substantially cooler than a summer day.  If we had to sit outside in the heat of July, I may not have this same opinion.  You may not have noticed it in the interior pictures, but there is no inside seating here.  You've got to take your scoop with you and either sit on the BoardWalk or just walk with it.  That may not be so fun in the heat, but hey at least you've got some ice cream.  Mid-October was a great time to sit outside though!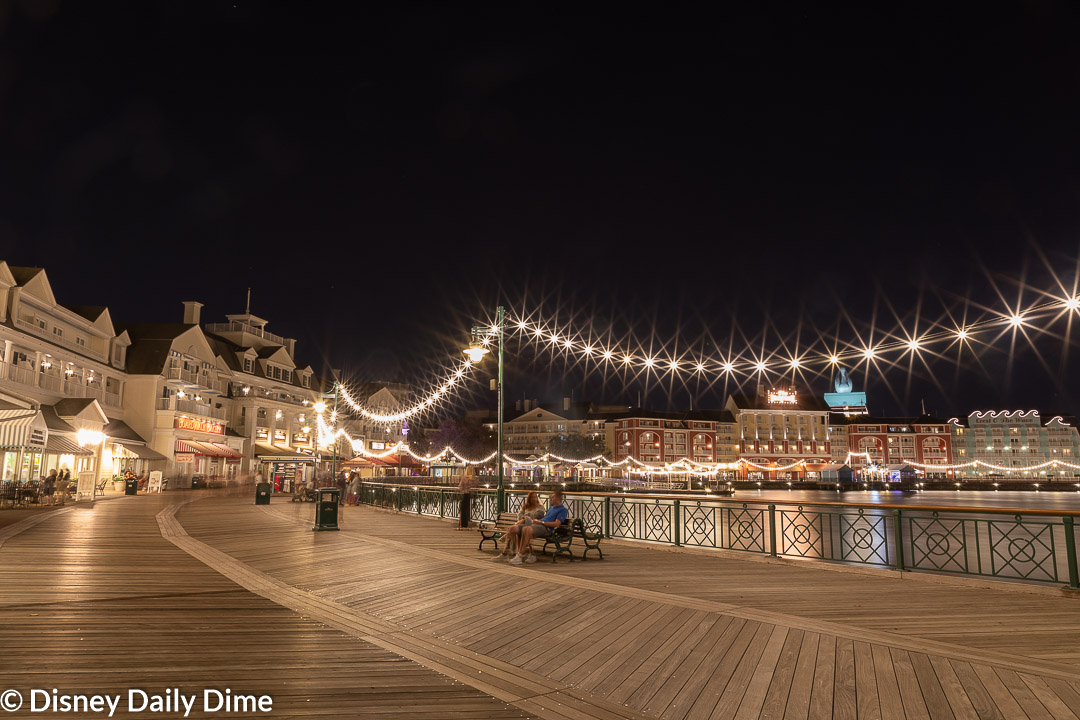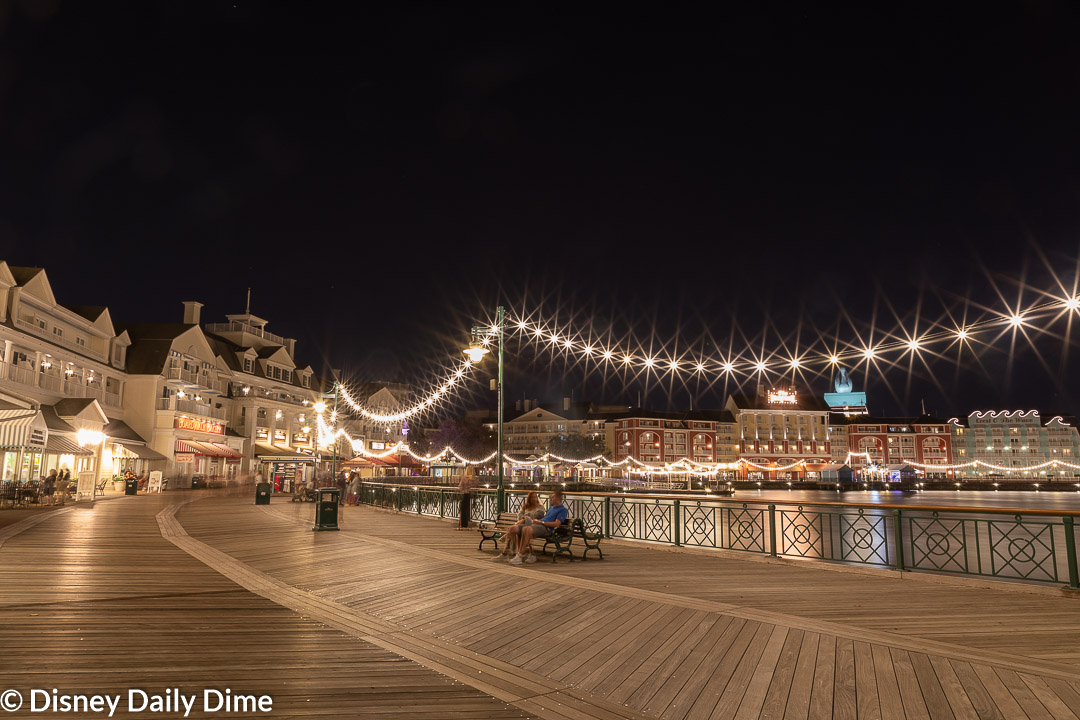 This High-End Ice Cream Isn't Cheap
Before we get to the ice cream itself, we should probably talk about what it costs.  While most people have probably not eaten at an Ample Hills Creamery location before, our comparison to Ben and Jerry's holds true in one more facet.  That would be cost.
Most people know Ben and Jerry's is some of the more expensive ice cream you might find in a grocery store or at a dipping shop.  Ample Hills isn't much different.  That is probably somewhat exacerbated by the fact that this particular shop is at Disney World.  But nonetheless, it is still pricey ice cream.  As you'll see in a minute, it's a price we're willing to pay for a substantially better product.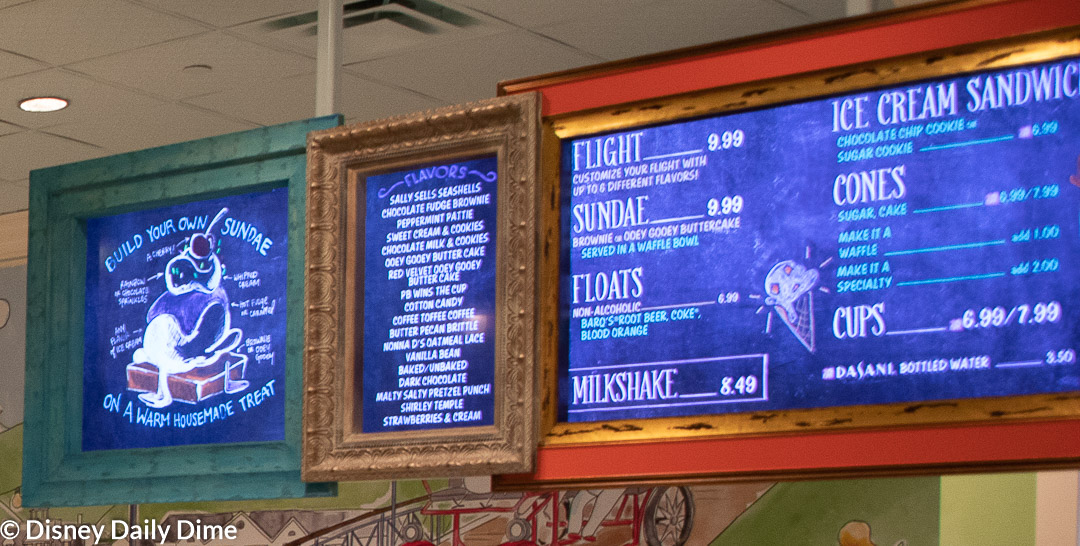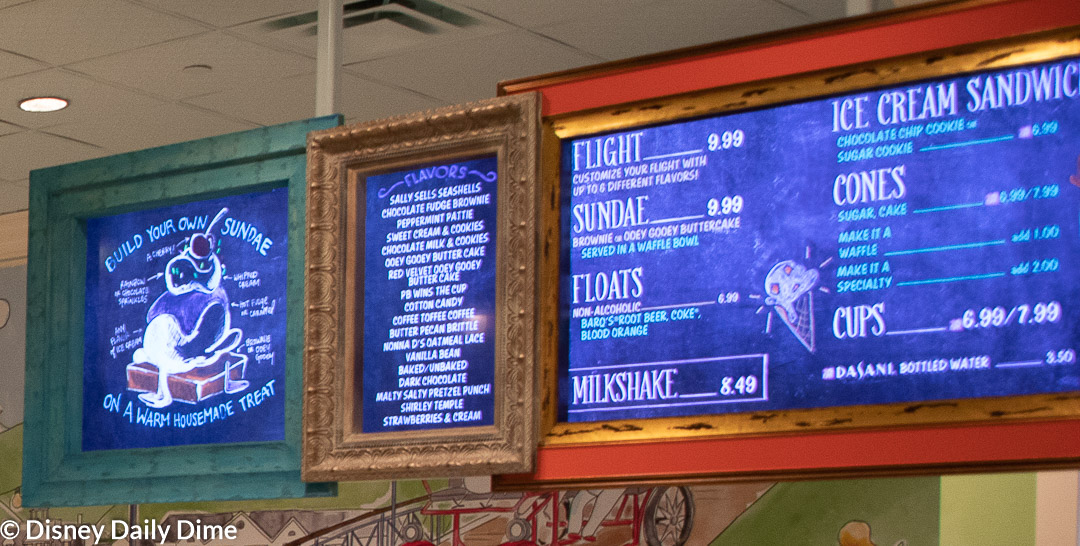 We didn't have the best photo of the menu, but you can see what it looks like right here.  You'll be looking at $7.00 for a (large) scoop of ice cream and it goes up from there.  Note that you can see the flavors in the photo above too.
One plus is that you can use a snack credit from the dining plan to get a cup or cone.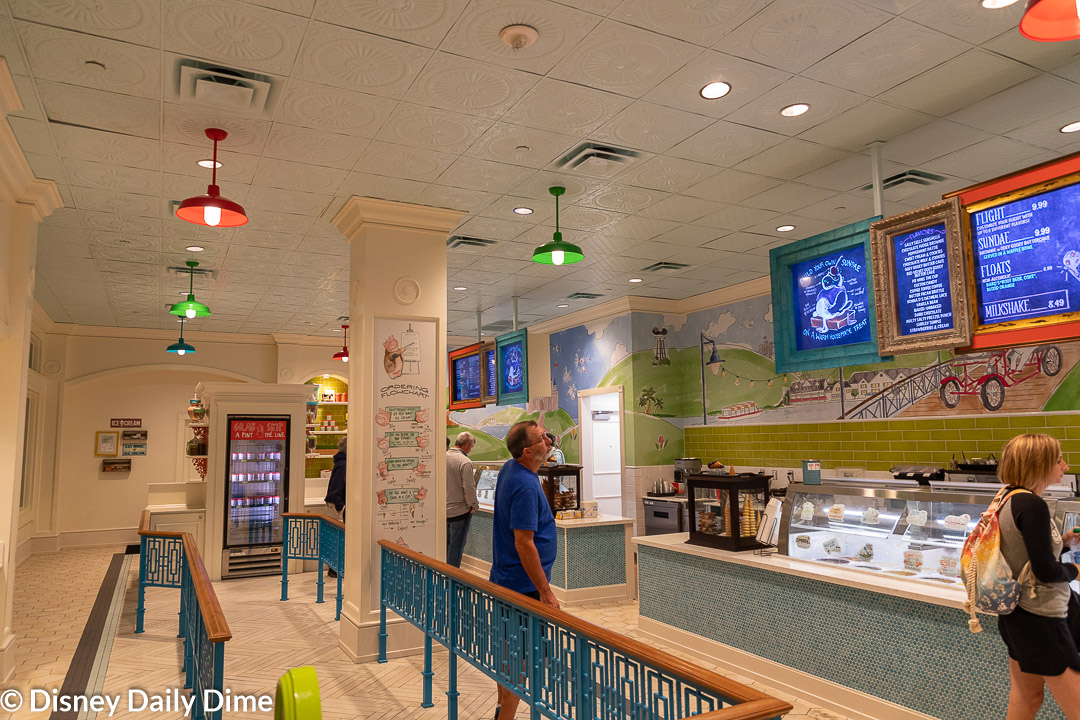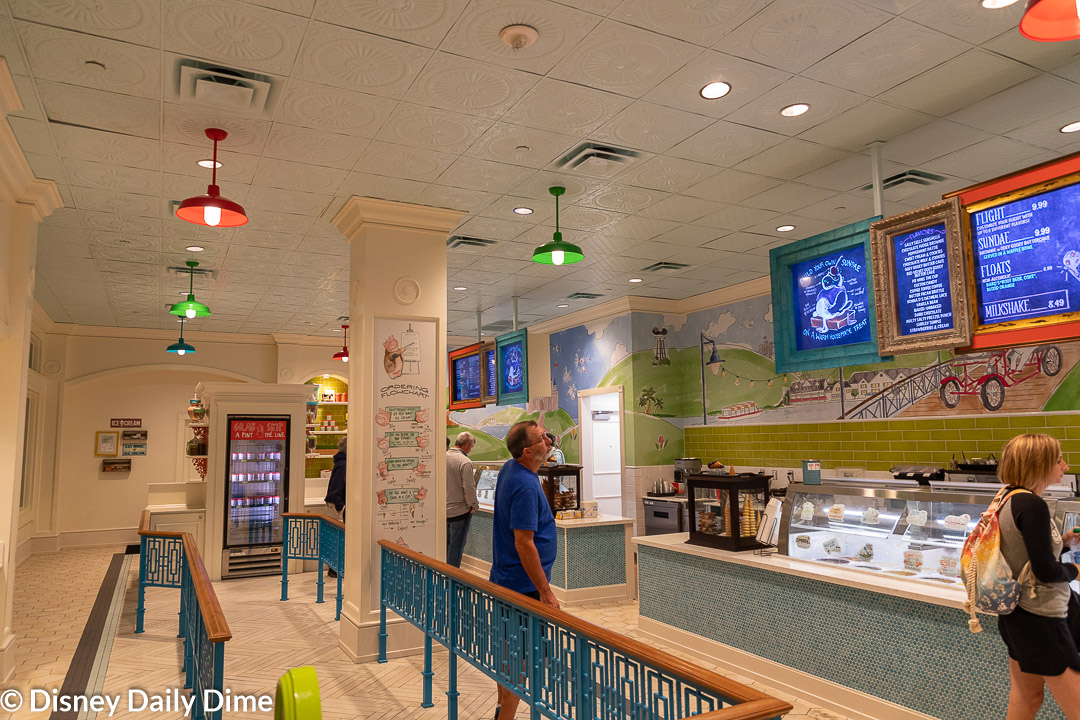 This Ice Cream is Made on Site and it Shows
One of the things that makes Ample Hills a bit of a step up to us is the fact that all of the inclusions are made in house.  In case you don't know, an inclusion is the stuff they stick in the ice cream.  Cookie dough, butter pecan brittle, brownies, you name it, they are all forms of inclusions.  That will conclude my ice cream lesson for the day.  Promise to not do that again!
All of these different ingredients are made in house and added to the base ice cream.  As they say on the Ample Hills website, these are all "made by hand and from scratch".  And I would say it shows given how well I liked some of them.
At the free-standing stores, they actually pasteurize the milk and make the ice cream on site too.  We aren't clear if they do that at this Disney World Ample Hills location, but we assume that they do.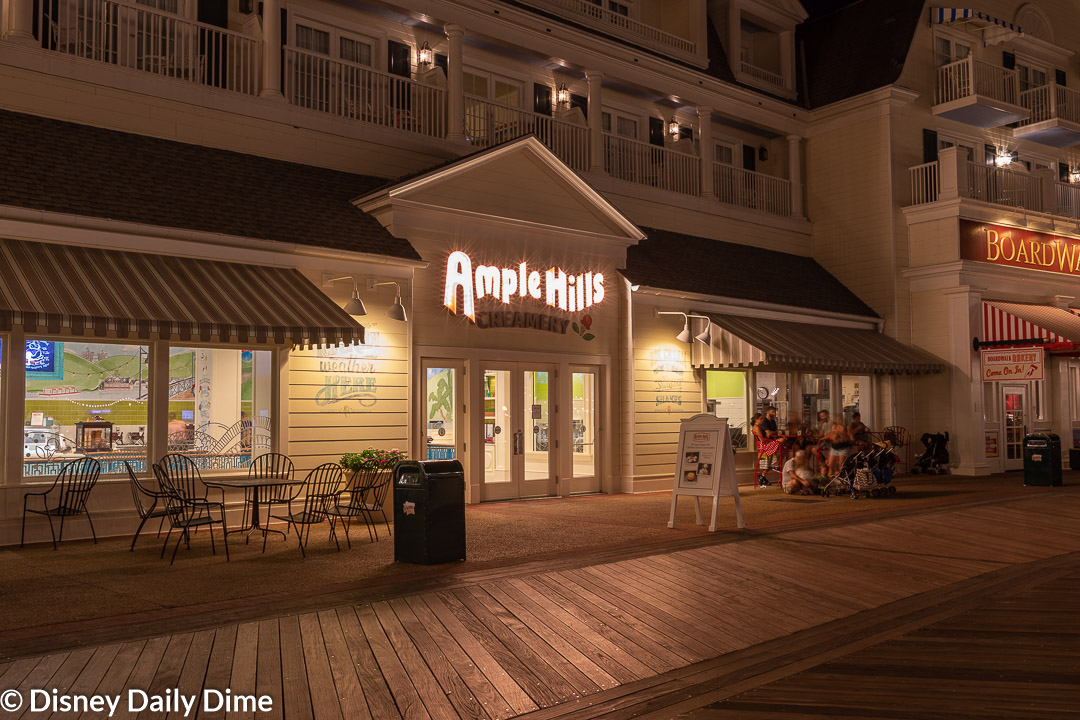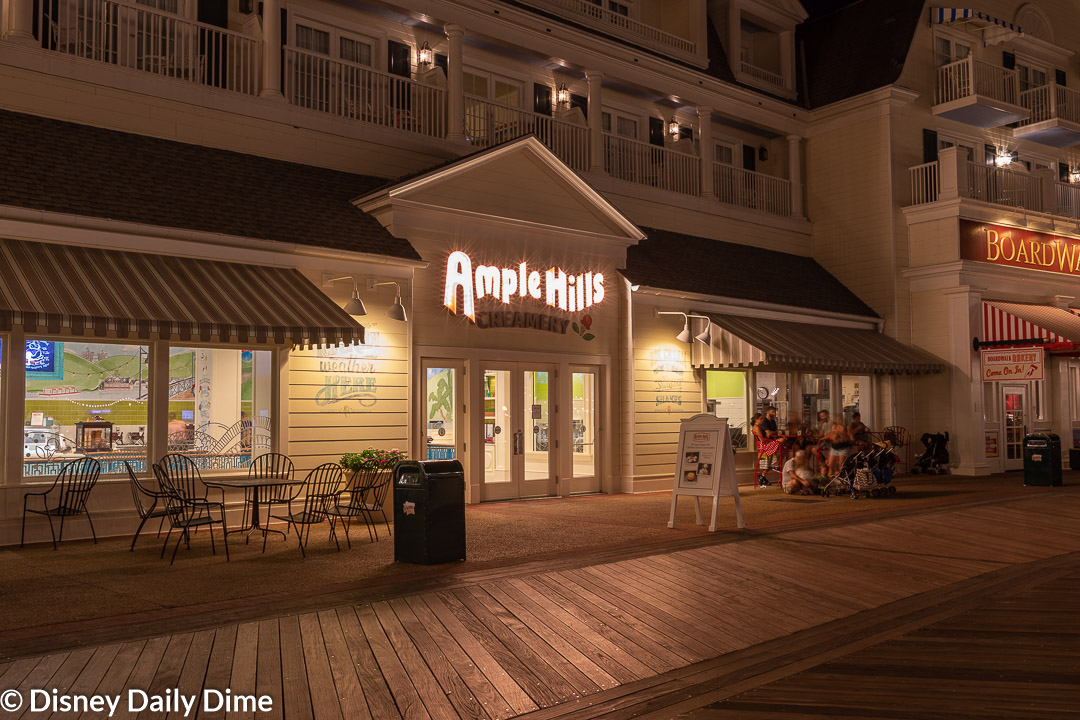 All of this adds up, to a high-end ice cream that isn't like just eating some Great Value ice cream from your local Walmart.  If you're looking for comparable ice creams within Disney World, the two places that come to mind are L'Artisan des Glaces in the France pavilion of Future World and Beaches & Cream Soda Shop at Disney's Beach Club Resort.  We think it is more comparable to the former of those two.  For those of you wondering about the Plaza Ice Cream Parlor in Magic Kingdom, it's not close to Ample Hills in my opinion.
Okay, so let's move on to what you came for, the ice cream…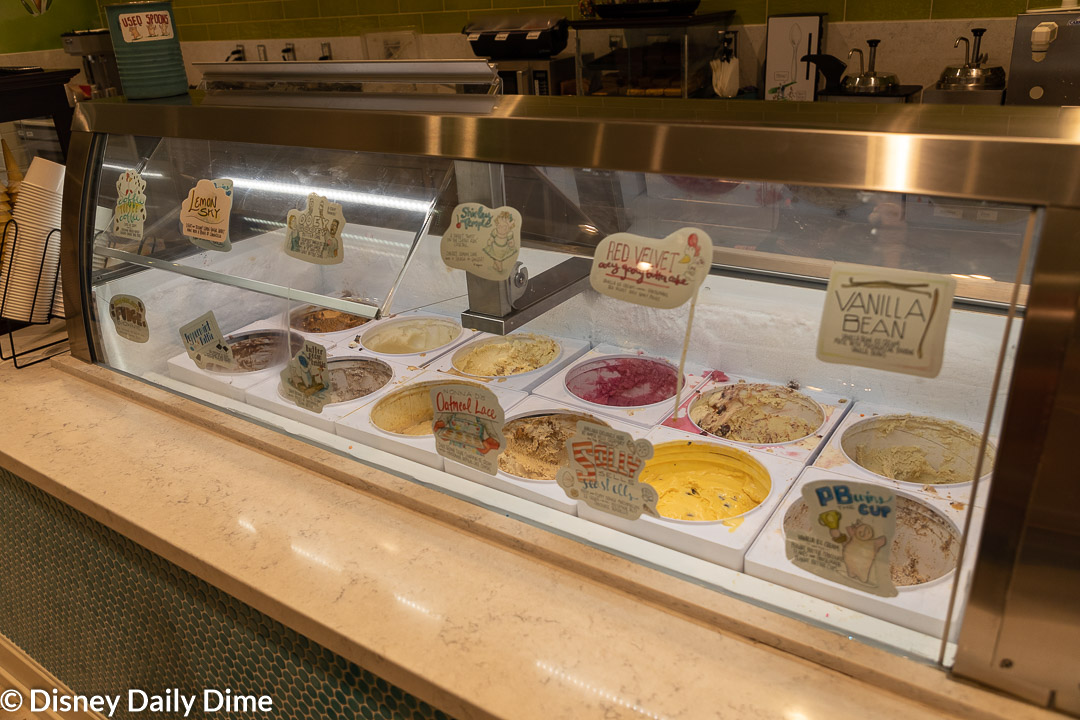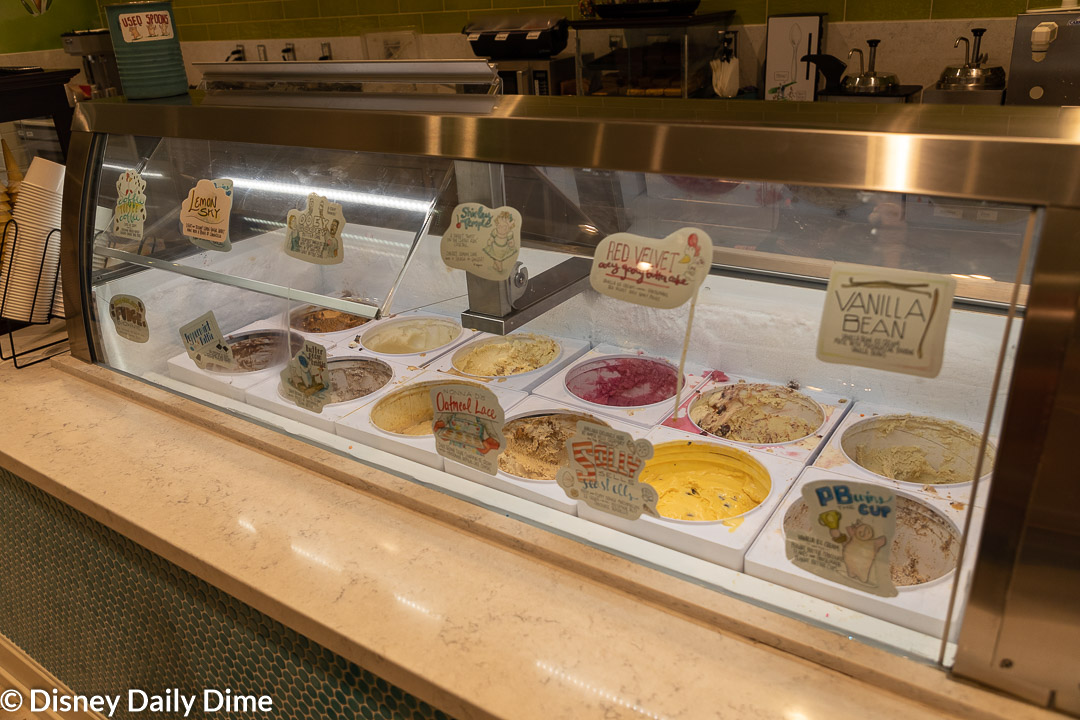 It's Real Ice Cream and It's Spectacular
Thank you Jerry Seinfeld, if you get that reference.
So we're going to break the ice cream review up a little bit here because I had free reign to choose any flavor ice cream while Carla ordered some of the flavors that were gluten free.   We'll cover her ice cream and overall experience eating gluten free in the next section.
We ordered the ice cream flight and decided to split it.  The flight gives you the ability to select up to six ice cream flavors.  Since we were looking for variety, the flight was a no brainer.  The flight, which consists of six "small" scoops cost $9.99 versus a single regular scoop of one flavor costing $6.99, seemed like the best value and choice for us.  I took three of the scoops and Carla used the other three for her gluten free order.
For my three selections, I ordered the Sweet Cream n' Cookies, Ooey Gooey Butter Cake, and the Baked/Unbaked ice creams.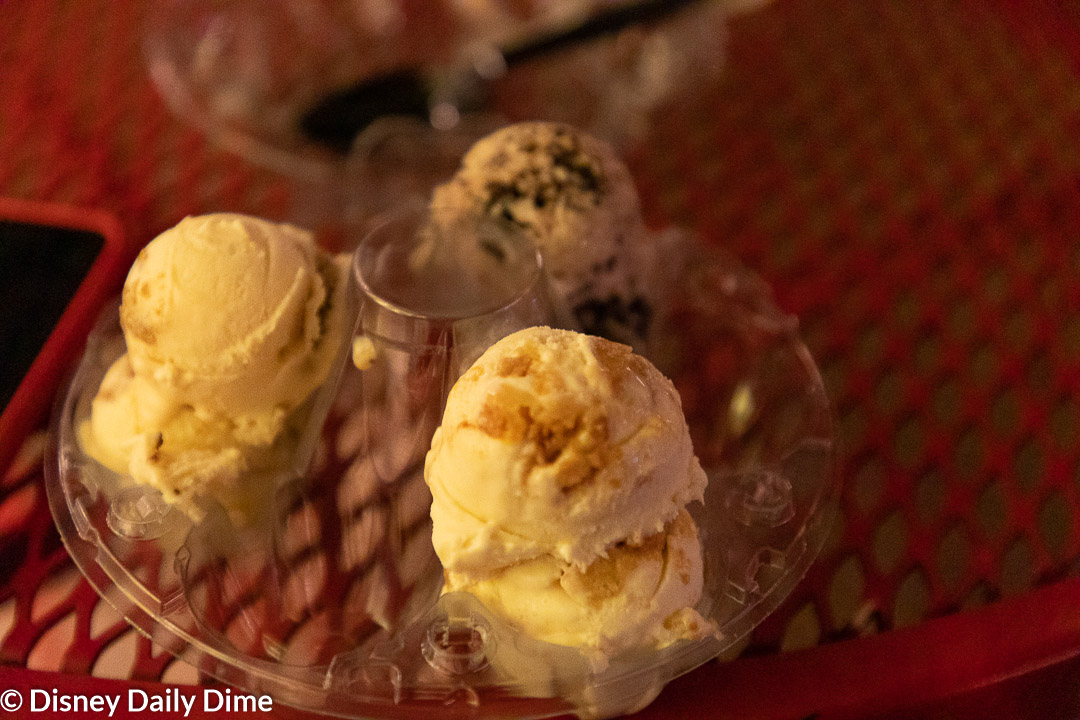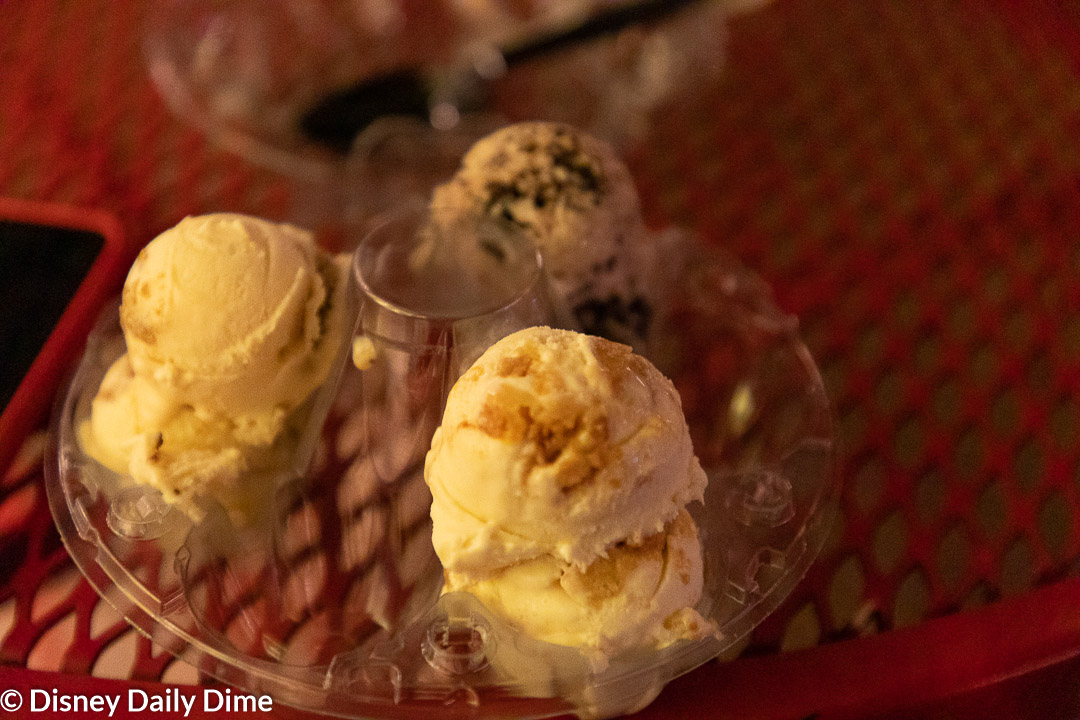 We'll work from least favorite to favorite.  I actually did not like the Sweet Cream n' Cookies ice cream here.  Made with sweet cream ice cream with pieces of Back-To-Nature sandwich creme cookies, it just wasn't for me.  The sweet cream ice cream was too sweet, and the cookies didn't taste enough like the Oreos that are typically in this type of ice cream.  Maybe there's a little confirmation bias here, as it was the flavor I was least excited about of the three I chose. 
The other two ice creams were delicious.  Now, I'll be the first person to say I'm biased toward vanilla ice cream based treats.  I'm the kid that used to throw my chocolate milk out of my crib, if that gives you any idea how I feel about chocolate milk as a proxy for chocolate ice cream.
The Ooey Gooey Butter Cake ice cream was really good.  I preferred the vanilla ice cream to the sweet cream.  This is a quality vanilla ice cream that tasted like true vanilla and not the processed, artificial vanilla that sometimes occurs in grocery store ice cream.  The butter cake was delicious but my personal dessert preferences lean more towards cookies and brownies to cake, so I can't speak to the quality of the cake.
The baked/unbaked ice cream was perfection for me.  Featuring chocolate chip cookies and brown butter cookie dough with the same vanilla ice cream base, it showcases two of my favorite sweet treats.  I could have bought a whole pint in the store and taken it back to our room.
Now, there are lots of flavors so unfortunately we couldn't try them all.  However, we tasted enough to firmly believe this is a top-notch ice cream shop.  You don't actually have to order by guessing what you will like though.  Much like many of the high-end ice cream places around these days, you can actually get a sample.  Sample as much as you like and then pick what you want.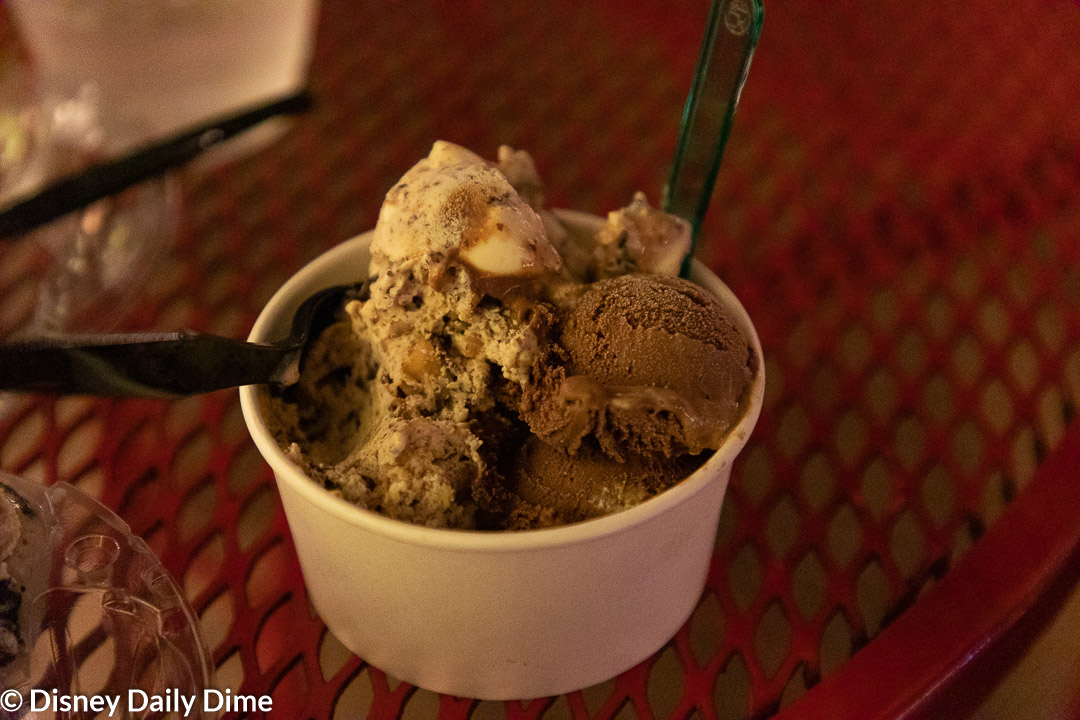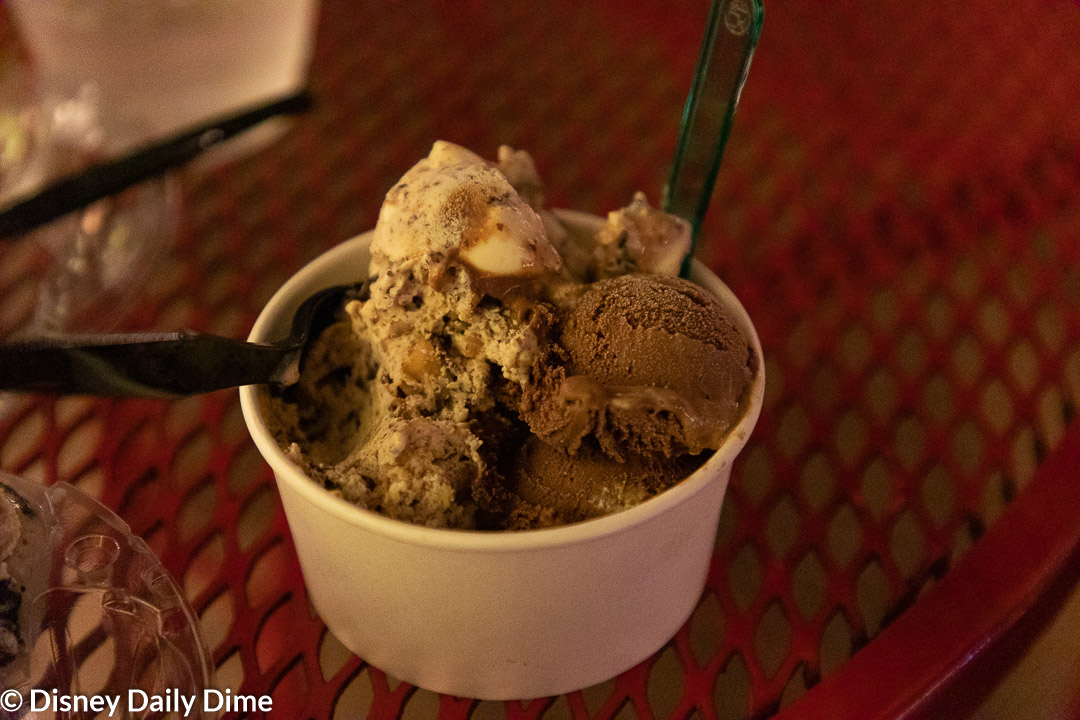 Ample Hills Creamery Gluten Free Ice Cream Was Also Spectacular, But Getting it Was a Challenge
When Carla asked if there was an allergy menu and told the cast member that she needed to choose from flavors that were gluten free, it felt a little like we set off a fire alarm.  The cast member helping her said they would scoop hers from new bins in the back to avoid cross-contamination.  However, only a manager could do this.  One note, they do have this very helpful allergy guide to their ice cream flavors.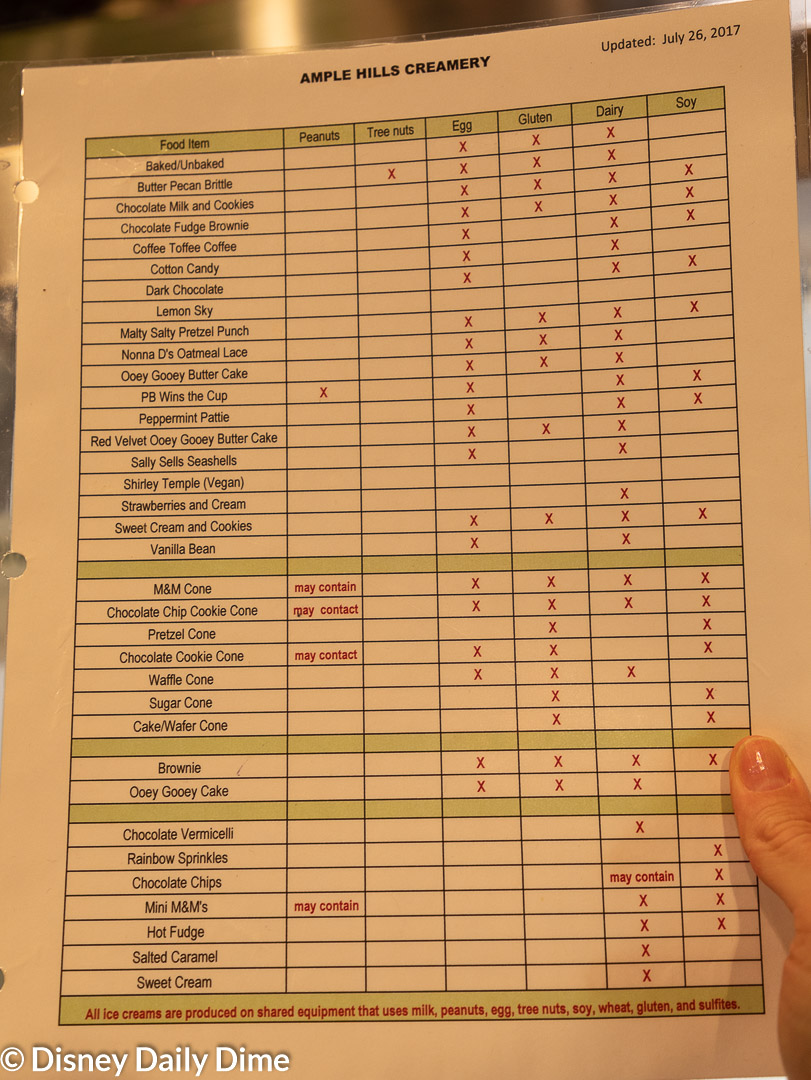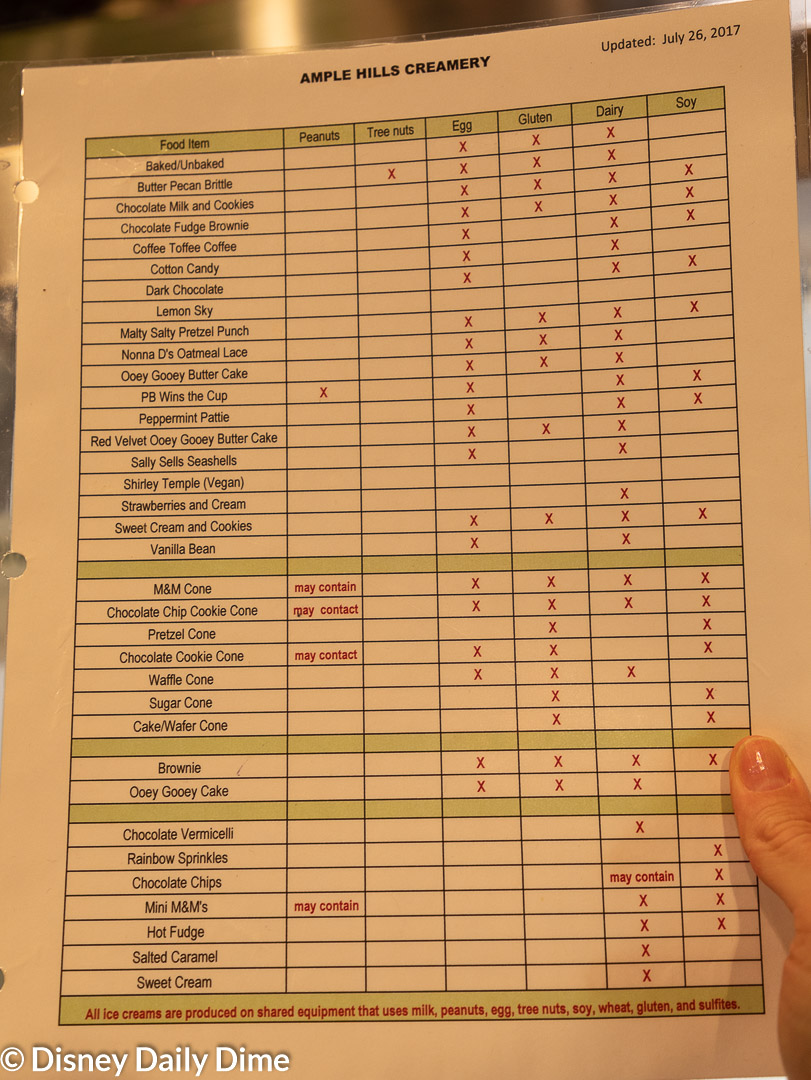 Well, apparently the manager was tied up in one of the BoardWalk Inn Lounges which we totally can understand.  Ample Hills isn't exactly hopping at 10:00 at night in late October.  That meant that we had to wait a solid 15 minutes for him to get there.  While we were waiting, they had already scooped my ice cream and it melted.  I was trying to wait for Carla so we could eat together.  Fortunately, the cast members at Ample Hills were more than willing to just replace my scoops once Carla had hers.
The team of cast members here were great this night.  Helpful and friendly, I couldn't ask for anything more.
The manager eventually arrived and personally made her ice cream for her in the back of the shop.  Great service on his part.
Carla decided to go with PB Wins the Cup, Dark Chocolate and Peppermint Pattie.   Carla is a huge fan of dark chocolate, and this ice cream was rich and flavorful.  The small scoop of the flight was the perfect size as a larger scoop could be too much richness.   We both thoroughly enjoyed PB Wins the Cup (yes, I had to try that one of hers!).   Their house-made peanut butter cups were so delicious that we didn't miss the Reese's flavors that we are used to.   What really stood out is that the ice cream was full of peanut butter and chocolate, much more than you typically get with these kinds of ice cream.
Finally, the Peppermint Pattie was cool and refreshing.   Like their peanut butter cups, their house-made patties were high quality and had an amazing real peppermint flavor.  Again, the chocolate and peppermint patty pieces were plentiful in the delicious peppermint ice cream.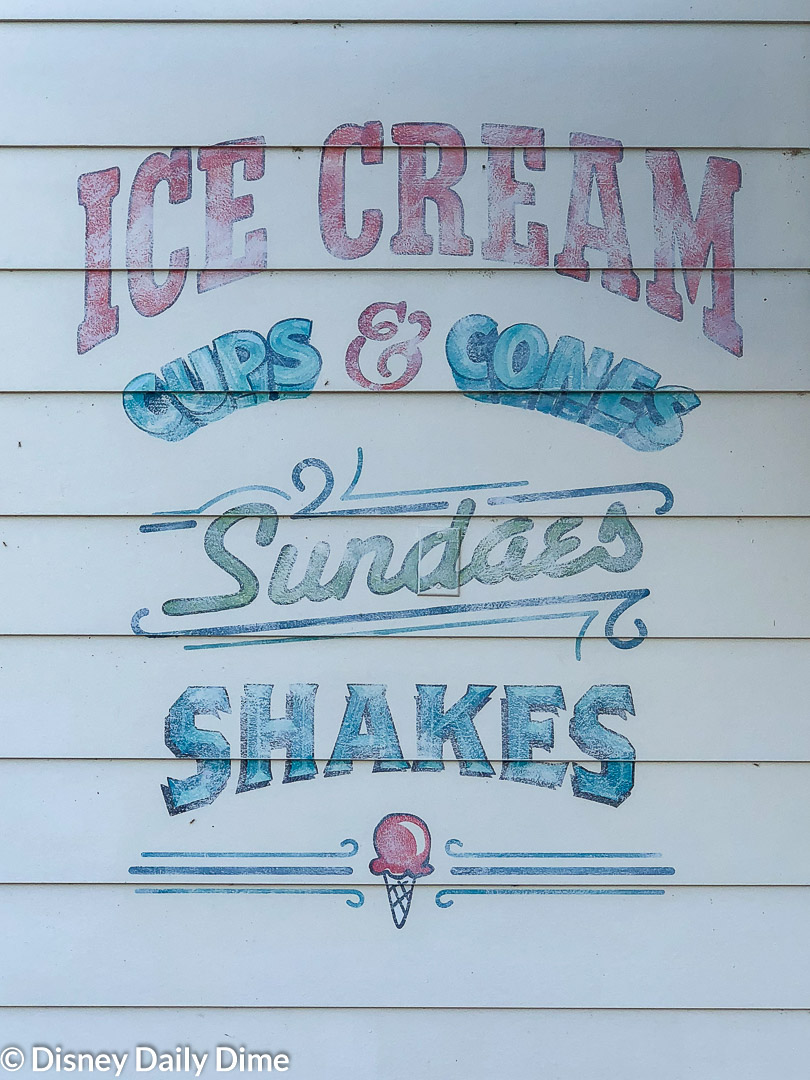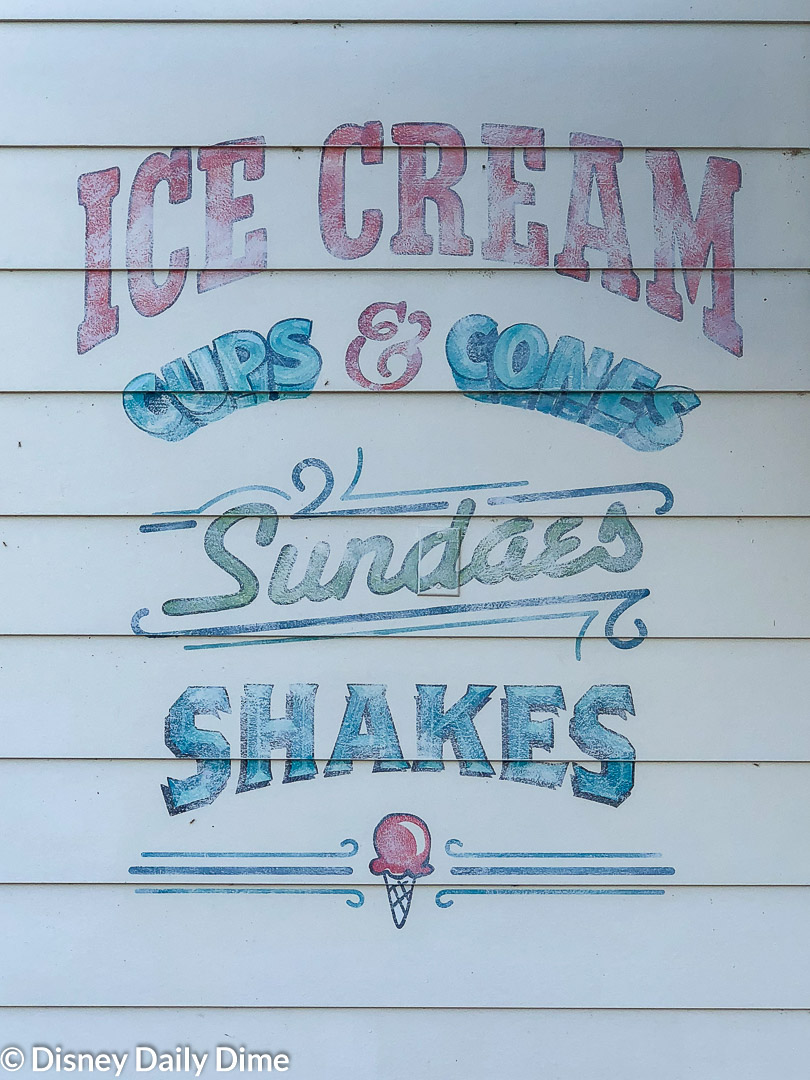 Ample Hills Creamery is a Great High-End Ice Cream Option at Disney World
We'll keep this summary fairly short.  Ample Hills Creamery is a great place for ice cream at Disney World.  While a little pricey, we think the quality is there.  Paying roughly 2 times more than some other places in Disney World, but getting ice cream that is probably 4 times better is a tradeoff we'll make any day.  You'd be wise to have this place on your list of ice cream destinations if you're looking for a sweet treat.  It's convenient to Epcot (just a short walk after exiting through the International Gateway), so stop on by even if you aren't staying on Crescent Lake.
Wrapping Up
With that said, we'll wrap up our Ample Hills Creamery review.  While you may not agree with the flavors we liked, we are sure you will find something that caters to your preferences.  Don't hesitate to get the ice cream flight and try several flavors.  For only a few bucks more, it's a better option.
We hope you enjoyed our Ample Hills Creamery review.  If you did, we'd love it if you would share it with your friend or other people that my find it helpful.  Just don't share it with your enemies.  We are always appreciative when you share our posts on Facebook, Twitter, Pinterest, and pretty much anywhere else.  It helps spread the word about our little blog and makes us feel like we're doing something right.  Just use the sharing buttons on this page to share!  It's super quick and easy.