If you have ever purchased one of the cheap toy lightsabers at your local Target or maybe on Amazon, you were probably somewhat disappointed by what you got.  Well, with the opening of Star Wars Galaxy's Edge at Disney World and Disneyland, there is a new experience that may help rectify that.  Yes, you can now build a lightsaber at Disney World in Savi's Workshop.  In this post, we'll review my experience building a lightsaber on a recent trip.  We'll include photos of the whole thing, and we even have a video of it that we'll embed in the post below!
As a bonus, we'll even do a little comparison of this experience to the one we had building droids at Droid Depot.
Before we get to the experience, let's cover some of the basics related to building a lightsaber at Savi's Workshop.  This will include pricing, reservations, what you get to select from, and anything else we think of along the way.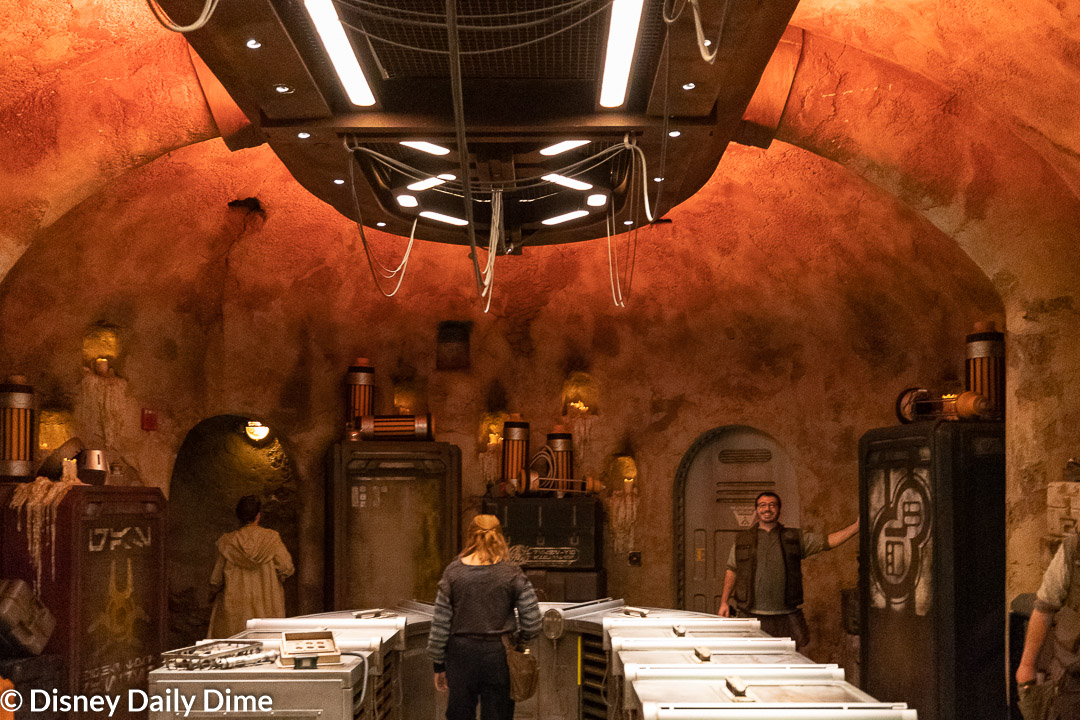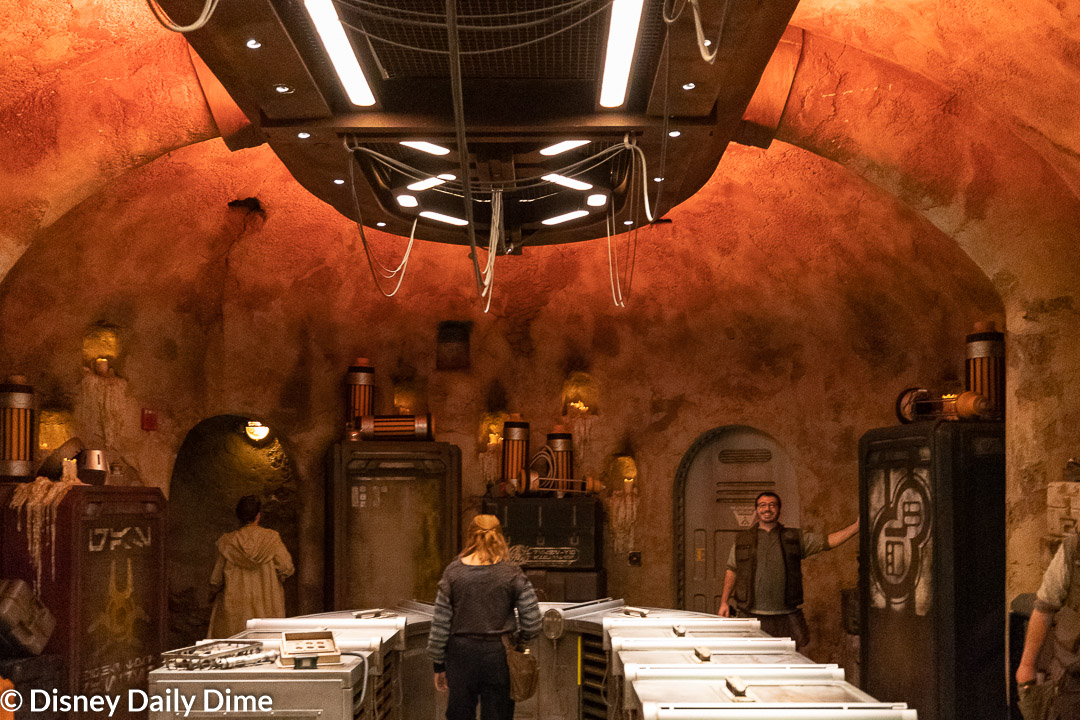 Where do I go to Build a Lightsaber?
The actual lightsaber building experience takes place at Savi's Workshop, which is tucked away as part of Galaxy's Edge in Hollywood Studios.  The back story is that Savi's is operated by a bunch of junk collectors known as the "Gatherers."  Other people's junk equals their gain or maybe yours.  It probably depends on how you feel after your done building your lightsaber!
Under the guidance of the "Gatherers," you will construct your very own lightsaber and bring it to life through the power of kyber crystals.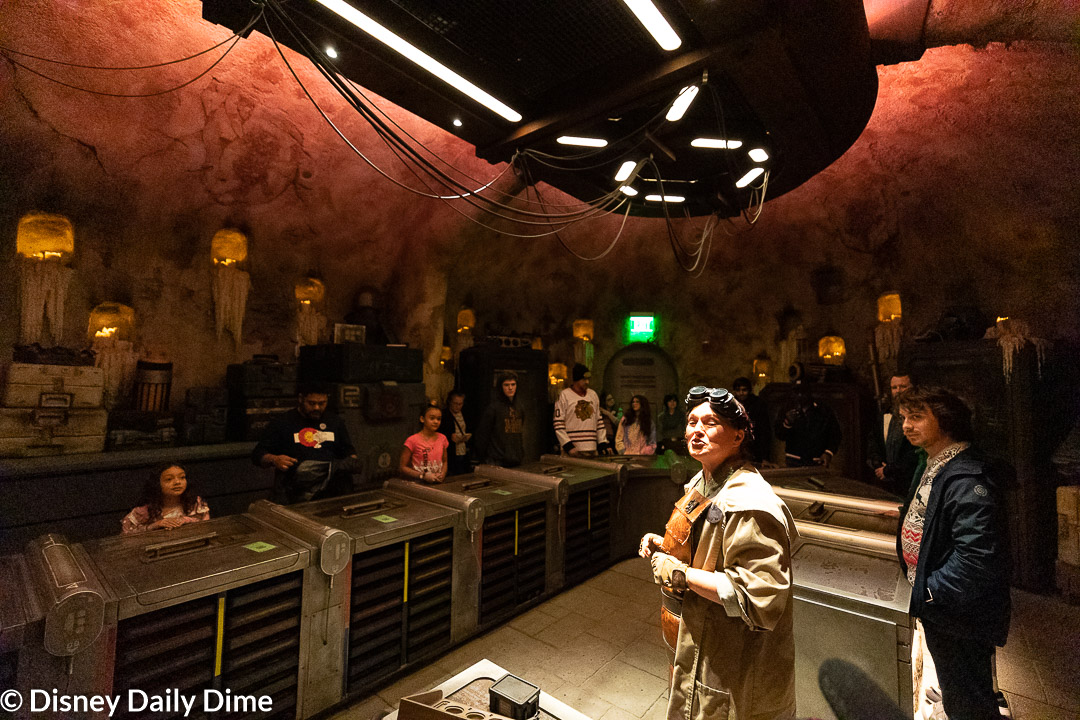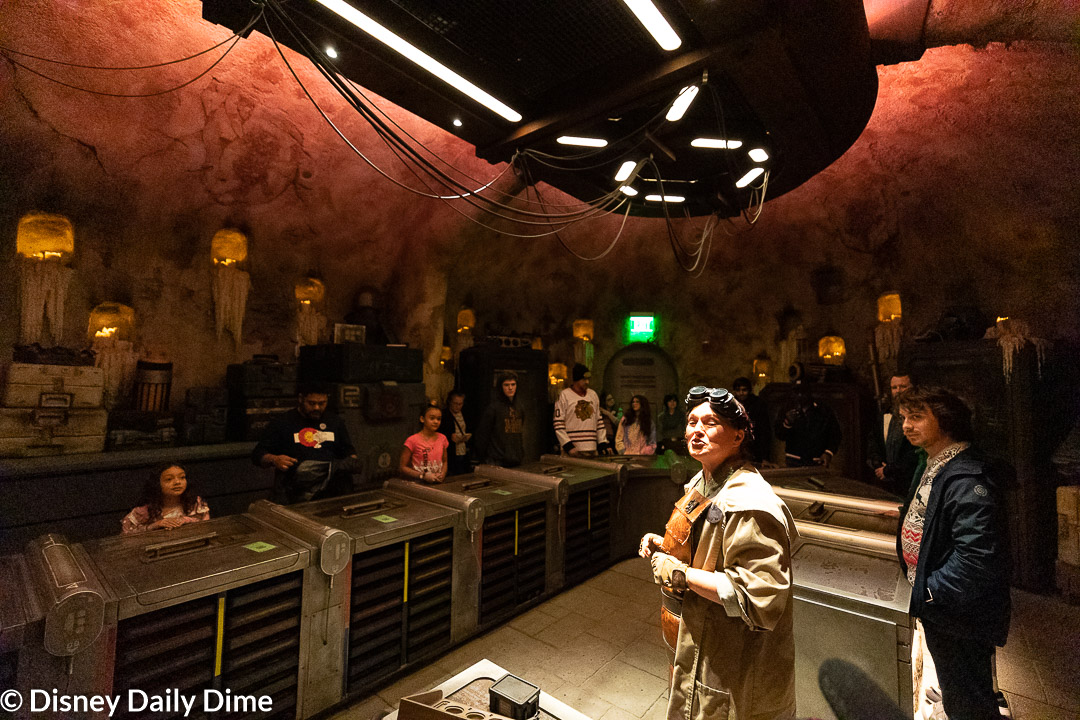 How Much Does It Cost to Build A Lightsaber at Disney World?
Price always matters when it comes to the experiences you can have when visiting the land of the Mouse.  So, you're rightfully wondering how much does it cost to build a lightsaber at Disney World?  Well, it's expensive.  Make no bones about it.
In exact terms, it costs $199, plus tax, to build a lightsaber at Disney World.  It's not a cheap date, for sure.  Now is it worth it?  We'll get to that in a bit.
One thing I would note is that beyond the lightsaber, you do get a nice and helpful sheath for carrying your lightsaber around the park.  It's also far more convenient for taking it on an airplane to get home.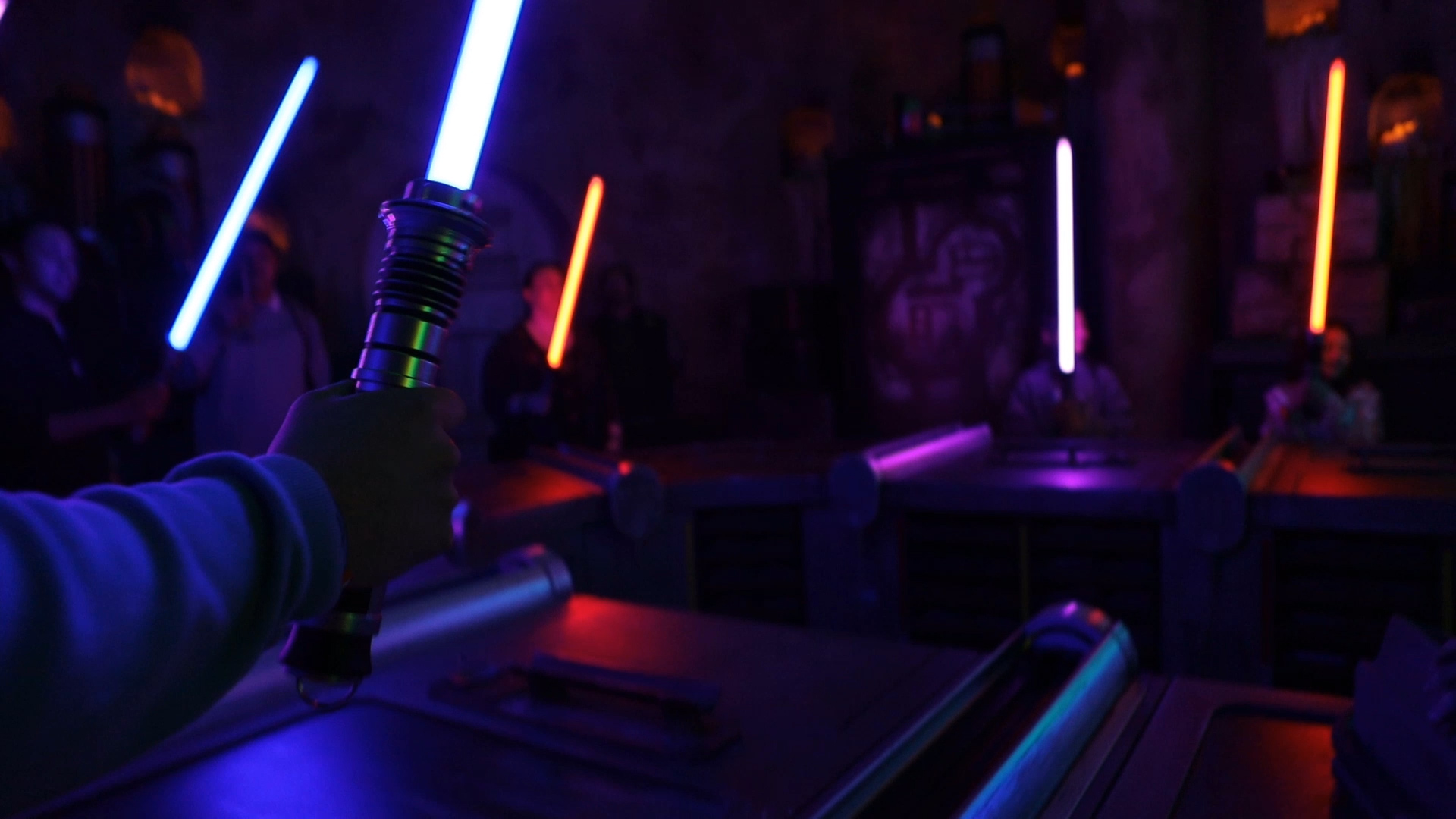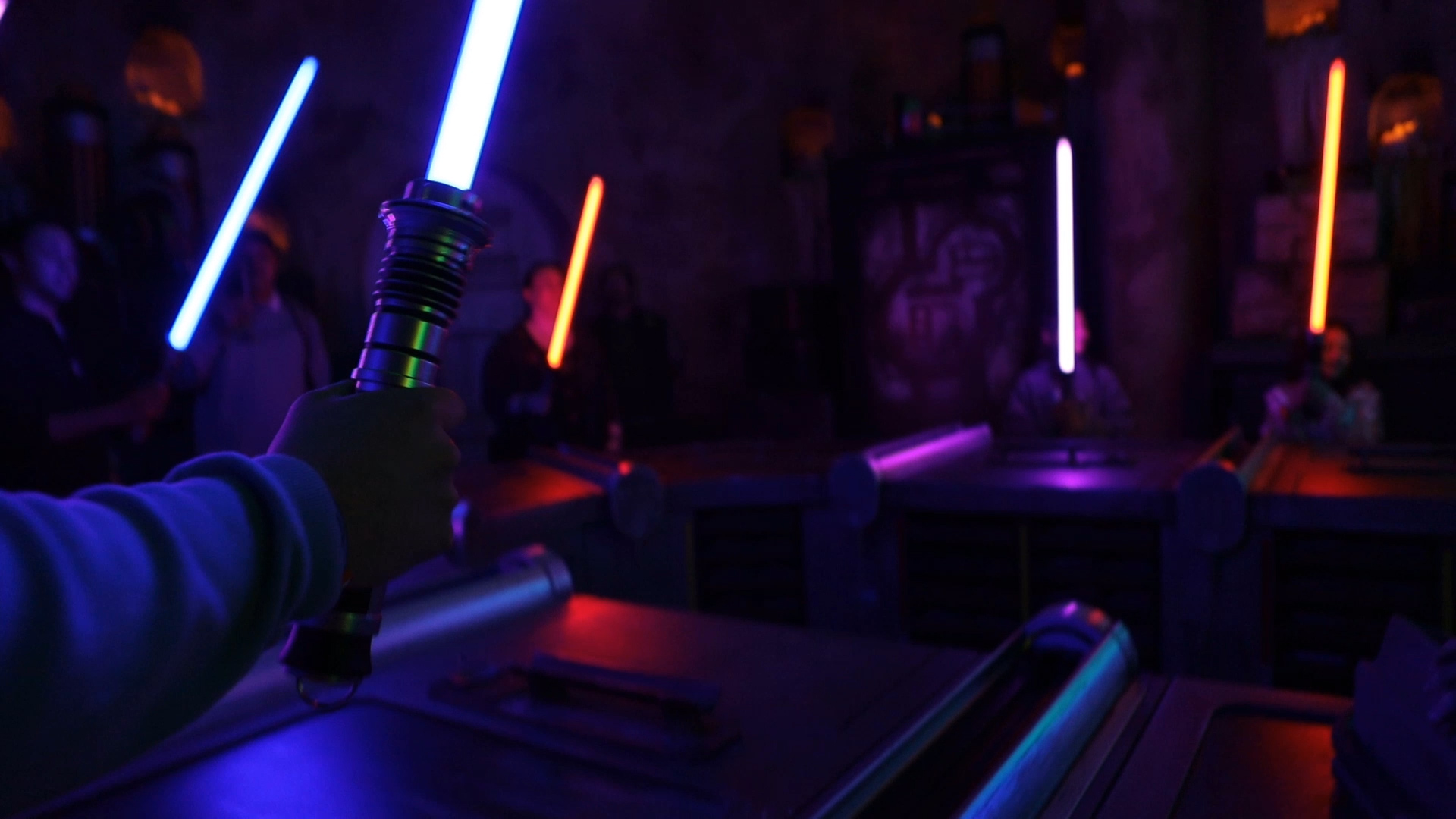 Do You Need Reservations to Build a Lightsaber?
 Need?  No.  Should you?  Absolutely.  The reality is that Savi's Workshop is very popular, and that means it is high demand.  If you have a busy park day and want to score a specific time to build a lightsaber at Disney World, you need to make a reservation.  Fortunately, Disney has made it very easy for you to do this online.  Just follow this link to the Disney World Savi's Workshop page.
Reservations can be made 180 days in advance and highly suggest you make one.  Fail to do this at your own peril.  You may totally miss out if they are booked and cannot take walkups.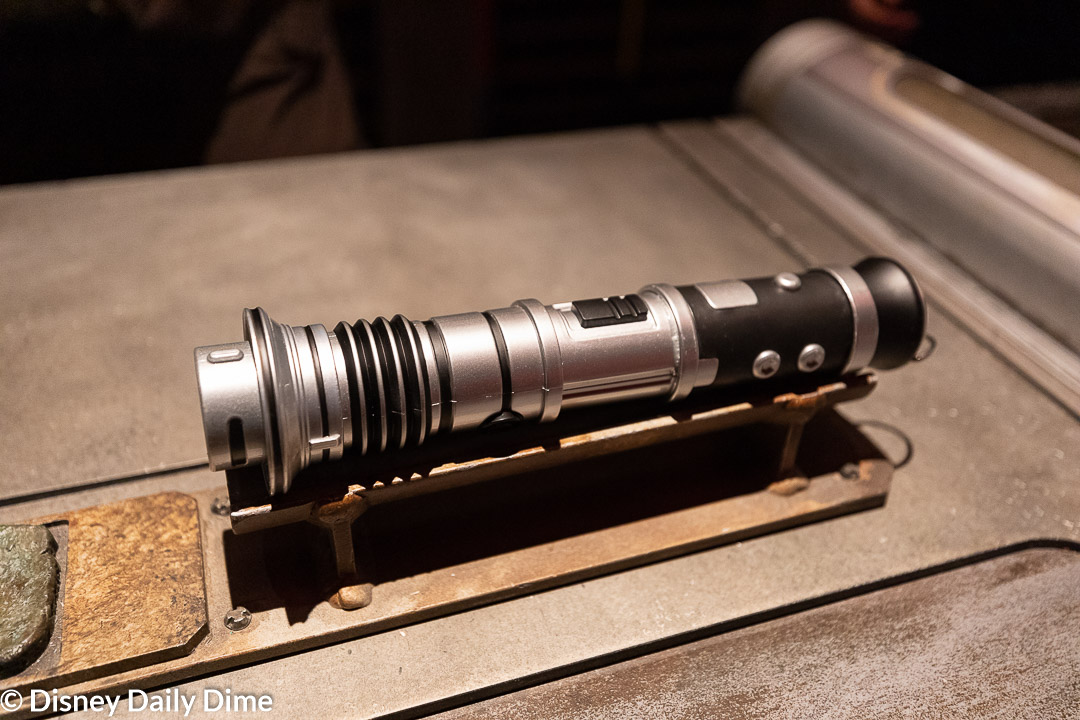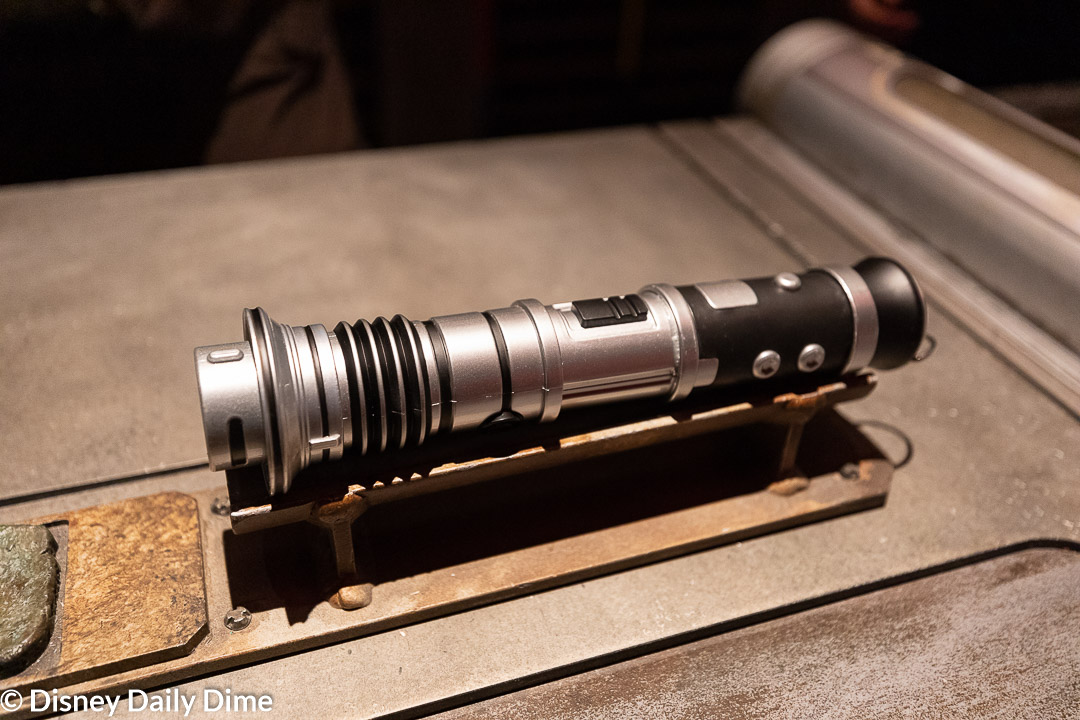 What Options do you Have to Choose from at Savi's Workshop?
Before you build your lightsaber, you do have to make one choice.  That would be what style of hilt you want to construct.  Currently, there are four types of hilts available.  They are as follows:
Peace and Justice
Salvaged scraps from fallen Jedi temples and crashed starships in these Republic-era designs honor the galaxy's former guardians.
Power and Control
Originally forged by dark side warriors, this style features rumored remnants from the Sith homeworld and abandoned temples.
Elemental Nature
This theme embodies the Force—an energy created by all living things, like Brylark trees, Cartusion whale bones, and Rancor teeth.
Protection and Defense
Hilt materials bear mysterious motifs and inscriptions that reconnect users with the ancient wellspring of the Force.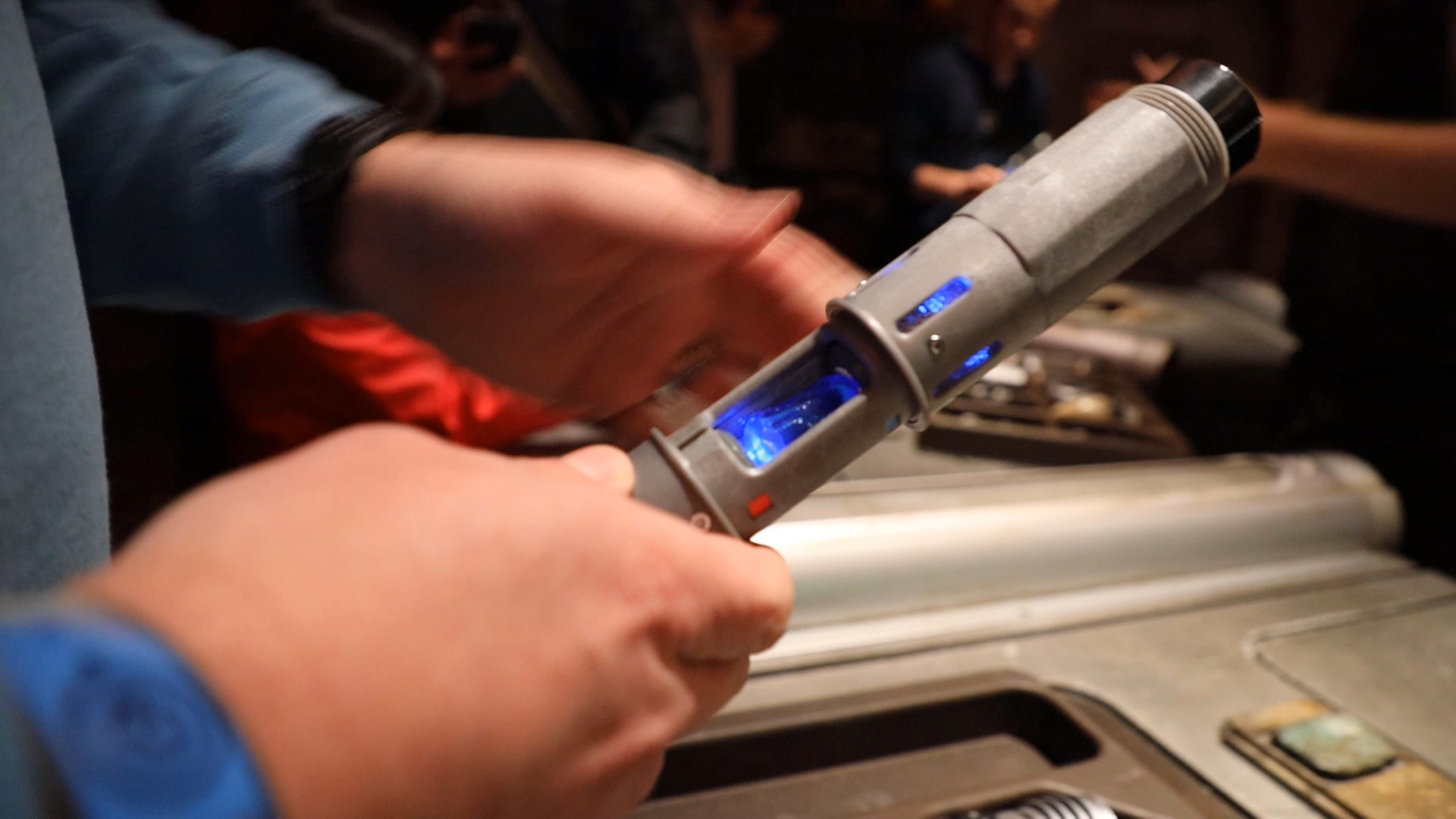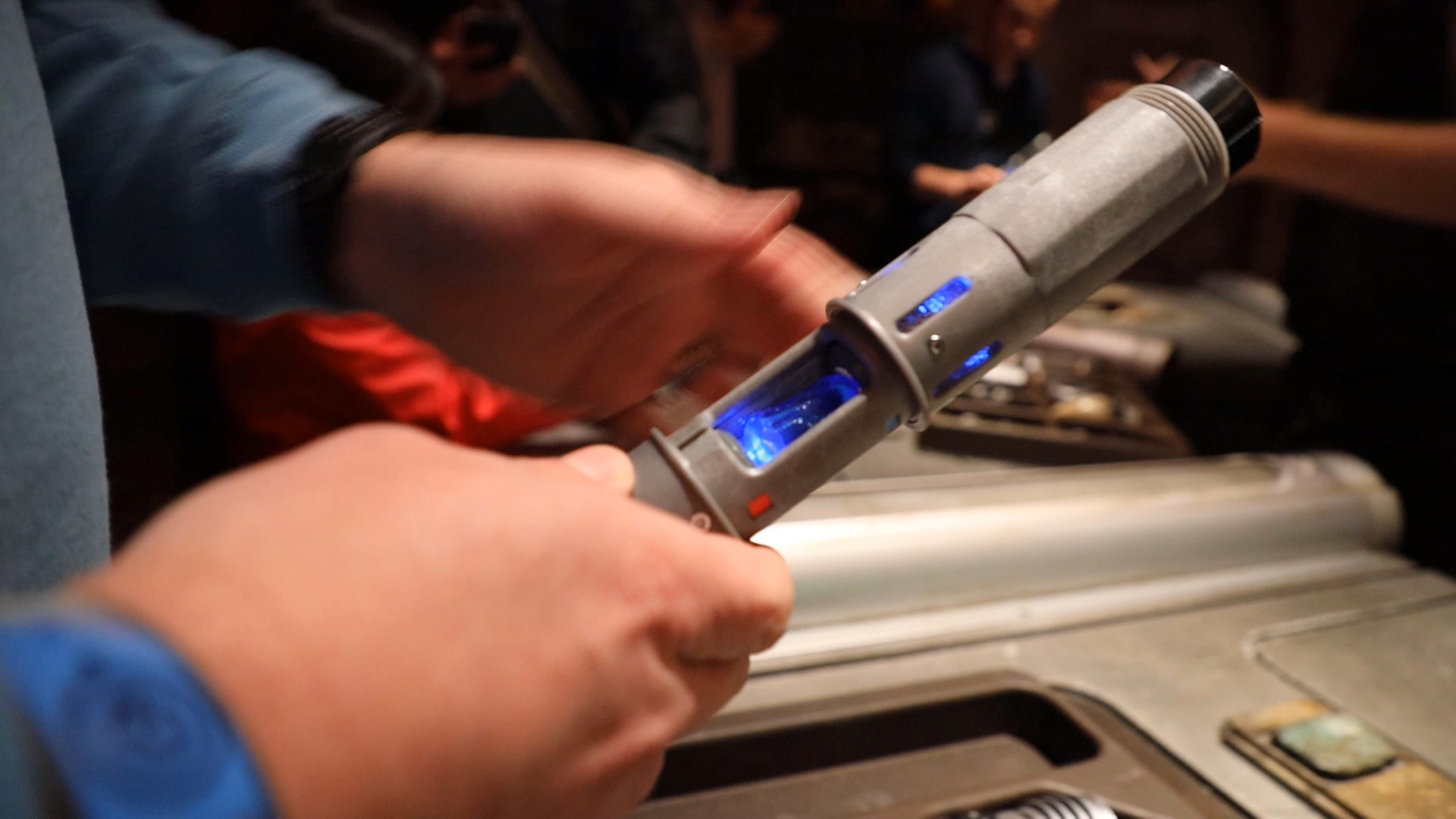 As you look at the different styles of hilts available, you will notice there are way more parts available than what you need.  That's because Disney err…the "Gatherers" want to give you some ability to customize your lightsaber.  The parts you don't use will be saved for another Jedi in waiting.
Outside of the hilt, the only thing you have to select while building your lightsaber is the color of the kyber crystal.  If you're not a Star Wars geek like me, you may not know what a kyber crystal is.  I won't bore you with a bunch of Star Wars lore, so let's just say that a kyber crystal gives the lightsaber blade its color.  You can select amongst a handful of colors for yours.  The available colors right now are blue, green, violet, and red.


What's the Experience Like When You Build a Lightsaber at Savi's Workshop?
Okay, so we're not big on spoiling extraordinary experiences at Disney World on the blog.  We save a lot of that for our YouTube channel.  No, seriously, you can get a lot more information there.  Because of that, we're going to cover the experience in generalities to avoid spoiling the experience.  For those of you that want to actually see the experience, we have a complete video of when I built my lightsaber.  I have to give video credit to Elsa for holding the camera the whole time.  We'll embed that video a little bit further down the page.
As you would expect with all things Disney World, you don't just wander in and throw a lightsaber together and walk out.  Oh no, there is some great production value that comes with this.
I would describe the experience as magical and nostalgic for me.  During the course of building my lightsaber, I probably had the hair stand up on the back of my neck two or three times.  As a forty-something guy, Star Wars was the prime of my childhood.  I'm talking about the original trilogy, not the prequels.  This experience brought to light a dream of mine from when I was a child, and it was wonderful.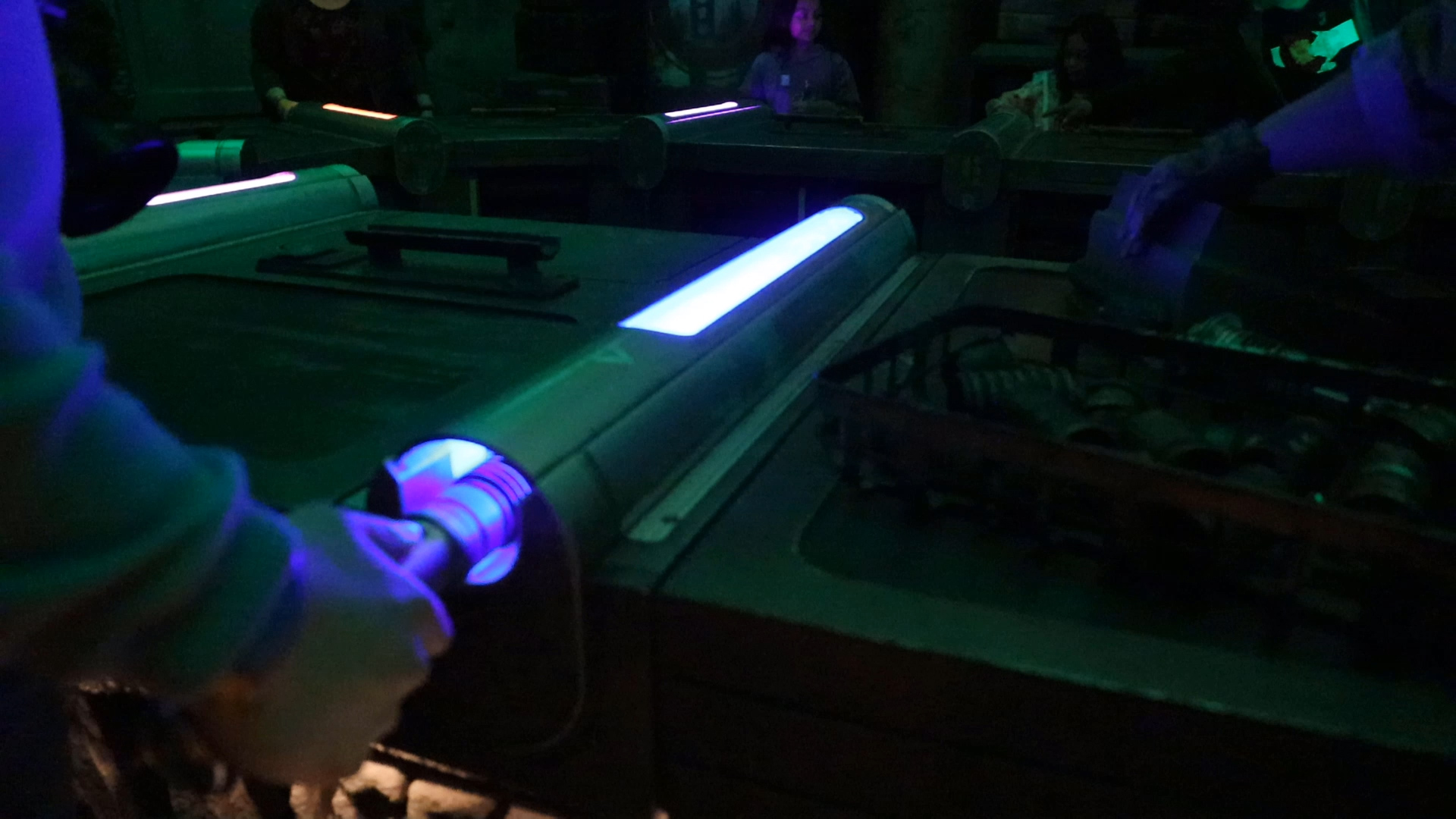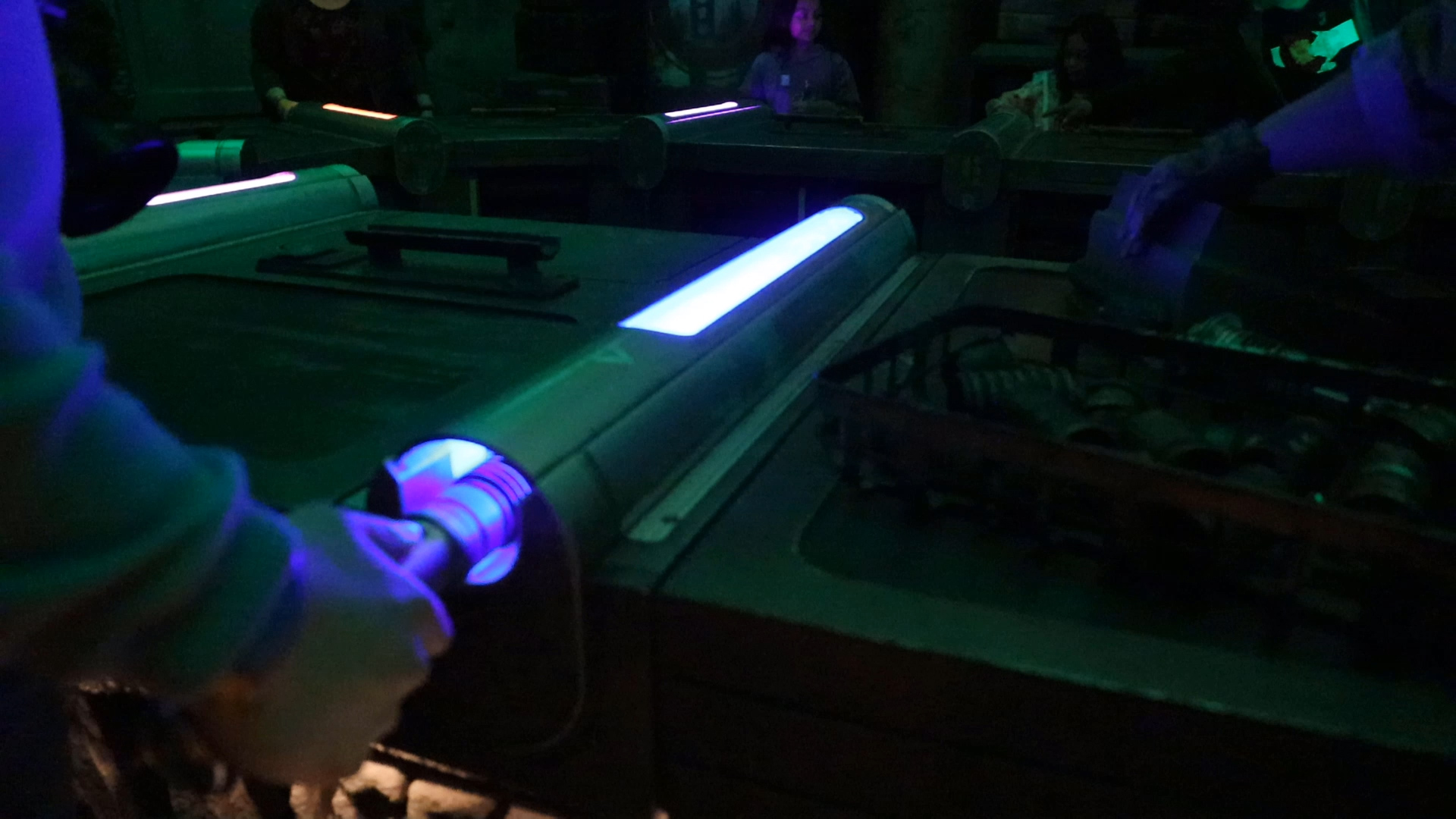 You'll find excellent touches that will hit you right in your Star Wars "feels."  Lights, audio, the voice of special characters.  It all works well.  Surprisingly, the "gatherers" work in the whole experience very well.  The narrative and how they string together the experience is well crafted and enjoyable.
There were a few things that struck me about the lightsaber you build.  The first thing is the substantial feel that you of the lightsaber in your hand.  The weight and feel give you a sense that you are wielding something of substance.  I also thoughts the sound quality of the lightsaber igniting is far better than anything I have found on the toy store versions of the lightsaber.  Lastly, the blade is much better than what you see in store-bought lightsabers.  While I wouldn't take the blade and fight someone else with it, it makes you feel like it could hold up in a fight.  But don't do that, just to be safe.  The blade is a solid piece of clear plastic that beautifully channels the color of your lightsaber.
If you want to see the experience, you can find it below.  But be warned, it will spoil the experience.
Is Building a Lightsaber at Disney World Worth It?
You probably can already tell from this review, but I am a huge fan of this experience.  If you are a big fan of Star Wars, I think it is about as must-do as you can get at Disney World.  Well, maybe next to Rise of the Resistance.  After all, that's part of your park admission, and it is very cool.
As a family, Carla and the kids are all extremely jealous that I have this lightsaber now.  They all want to get their own.  The kids all say they will save up the $200 needed to make one, but we'll see if they actually do it.
My positive feeling is even stronger when I compare it with the kids' experience building a droid at Droid Depot.  Honestly, there is no comparison between the two.  Droid Depot was fun for the kids but didn't hold much appeal for us as the parents.  Building a lightsaber at Savi's Workshop has a broader appeal to young and old(er) audiences.  In my view, the experiences are night and day different, and building a lightsaber is far superior.
If you are a Star Wars fan, I can't recommend building a lightsaber at Disney World enough.  It may be one of the best things you do during your stay here.
If you found our review of Savi's Workshop lightsaber building helpful, please share it with anyone that you think will find it useful.  It's simple to do, just use the sharing buttons on the page.  Have you built a lightsaber at Disney World?  We'd love to hear what you thought of the experience!  We only ask that you avoid spoilers.