As you will see on the "Our Story" page of our website, I've developed a gluten sensitivity that is pretty strong so I eat entirely gluten and wheat free.  This is the first in what will be a series of my experiences eating gluten free around all of Disney World.
These reviews won't be just about the food.  I'll also talk about the experience I had, service, options and anything else I think others trying to eat gluten free may care about.
Somehow in all of my trips to Disney World over my life, we never made it to Cinderella's Royal Table (or King Stefan's Banquet Hall as it was called way back in the day).  My parents (code name Donald and Daisy) and I often talked about trying it when I was a kid.  However we had our favorites that we always wanted to eat at (Pre-Princess Akershus….sigh, I still miss you) and we just never made it there.  For one of our recent trips, we decided to take Anna and Elsa to Bibbidi Bobbidi Boutique and have a princess-themed afternoon.  It only seemed logical to dine at Cinderella's for a princess meal to round out the experience.
Before I get to the details of my Cinderella's Royal Table gluten free review, I wanted to let you know that we did a more fulsome review of the restaurant.  We talk about theme, character, ambiance, and more in that article.  If you're interested in those details just click that link to read more.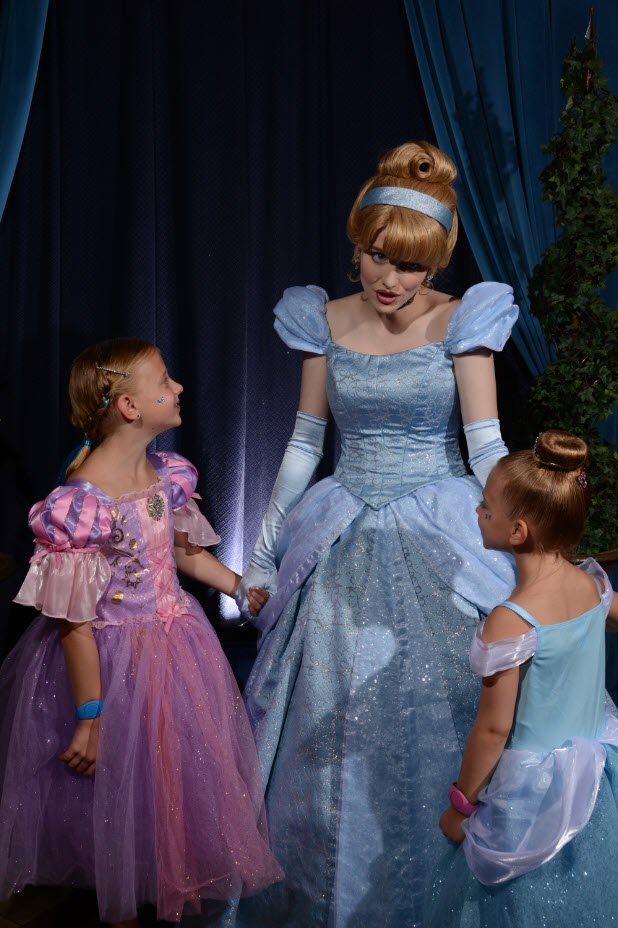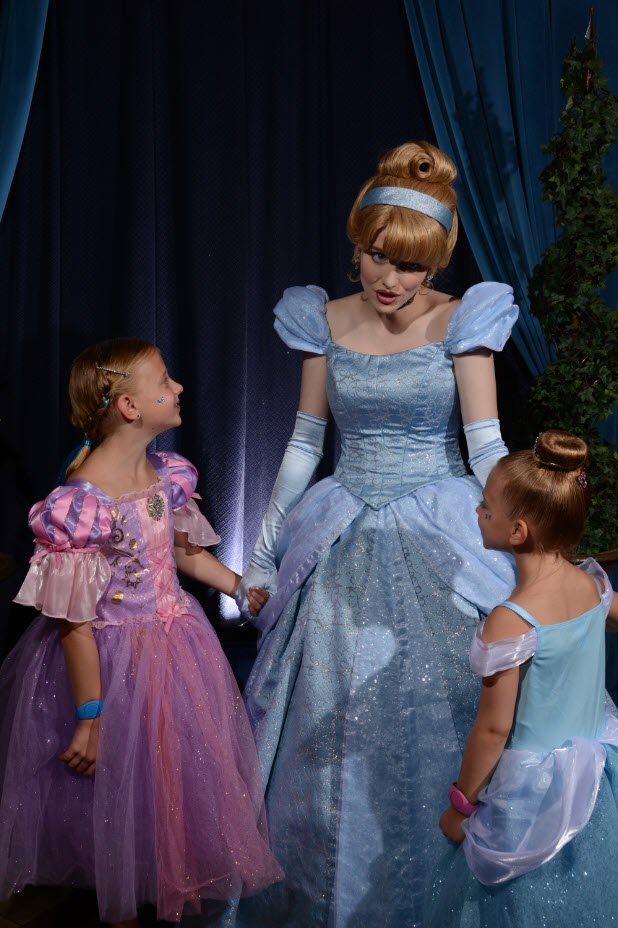 Cinderella's Royal Table Gluten Free Menu
The menu as it was given to me covered all the major allergens but it was seriously lacking in gluten free options.  There wasn't even an appetizer listed that I could eat.   However, our server said that almost anything could be modified to gluten free.   I was able to order a modified Castle Salad which was a simple salad of greens, cheese, tomatoes and red onions with a balsamic dressing.  
The entrée selection was lacking as well.  Only one entrée, the beef and shrimp, was listed as gluten friendly.  (There were many options for other food allergies).   I didn't want to test the modifications available and nothing was overly appealing to me so I chose the beef and shrimp for my meal.
The dessert section presented multiple options that were gluten friendly, including chocolate mousse, a cheesecake and lemon sorbet.  This was my first difficult decision of the meal as they all sounded good.  As I am a huge fan of the combination of dark chocolate and raspberry together, I chose the chocolate mousse. 
The regular menu doesn't have many choices to begin with, so it wasn't all that surprising that the allergy menu had very limited choices.   However, for such an expensive meal, I really would expect there to be more than one choice offered.  I appreciated that the server told me most dishes could be modified, but without knowing what those modifications were I felt like I would be ordering somewhat blindly.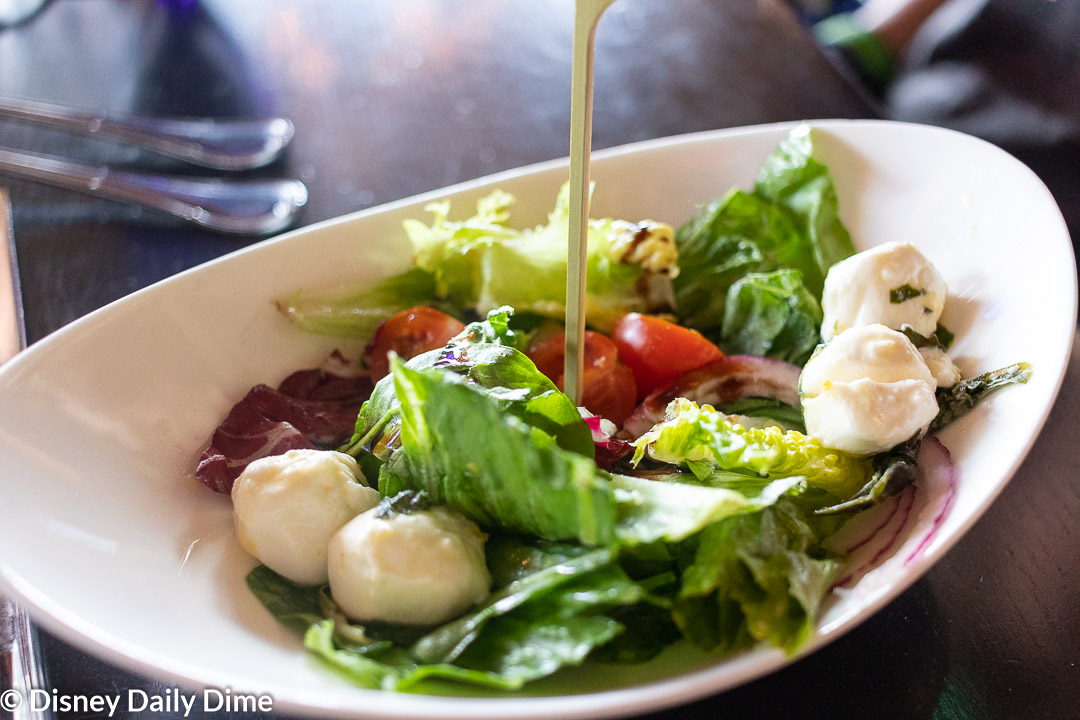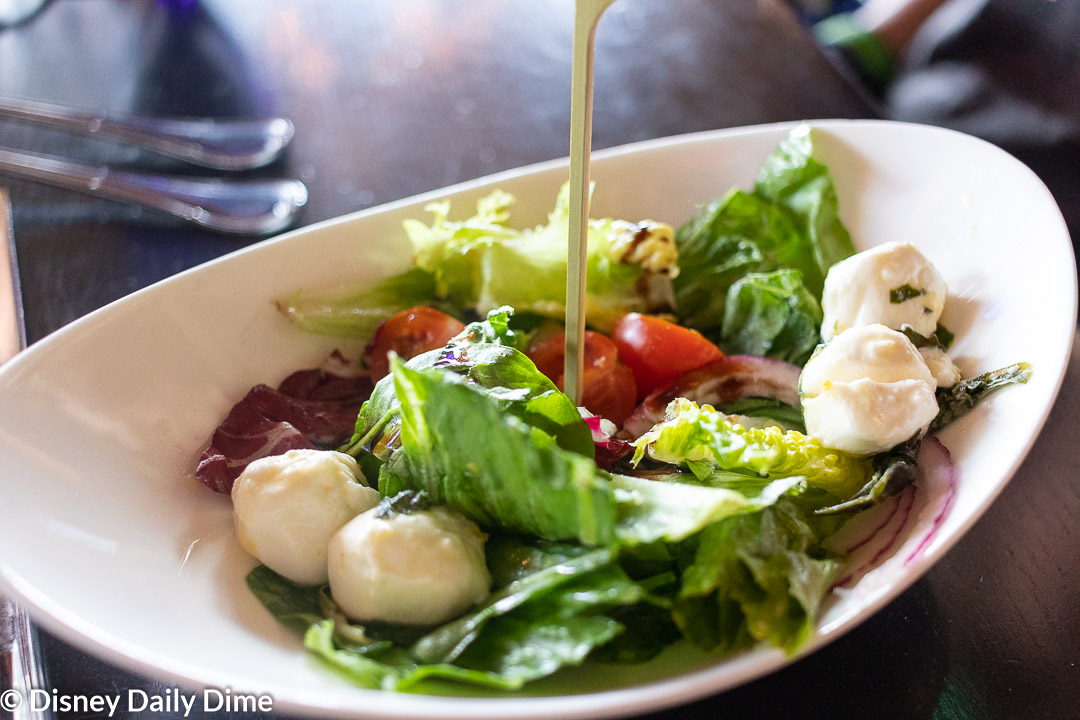 Cinderella's Royal Table Gluten Free Food
My gluten free salad was definitely a small serving.   I appreciate that a lot of the time as restaurant portions (both at Disney World and in the real world) are often entirely too big.  However, this serving seemed kind of paltry.   The salad was fresh but not particularly flavorful.  I have had many salads on property that were of much higher quality than this one.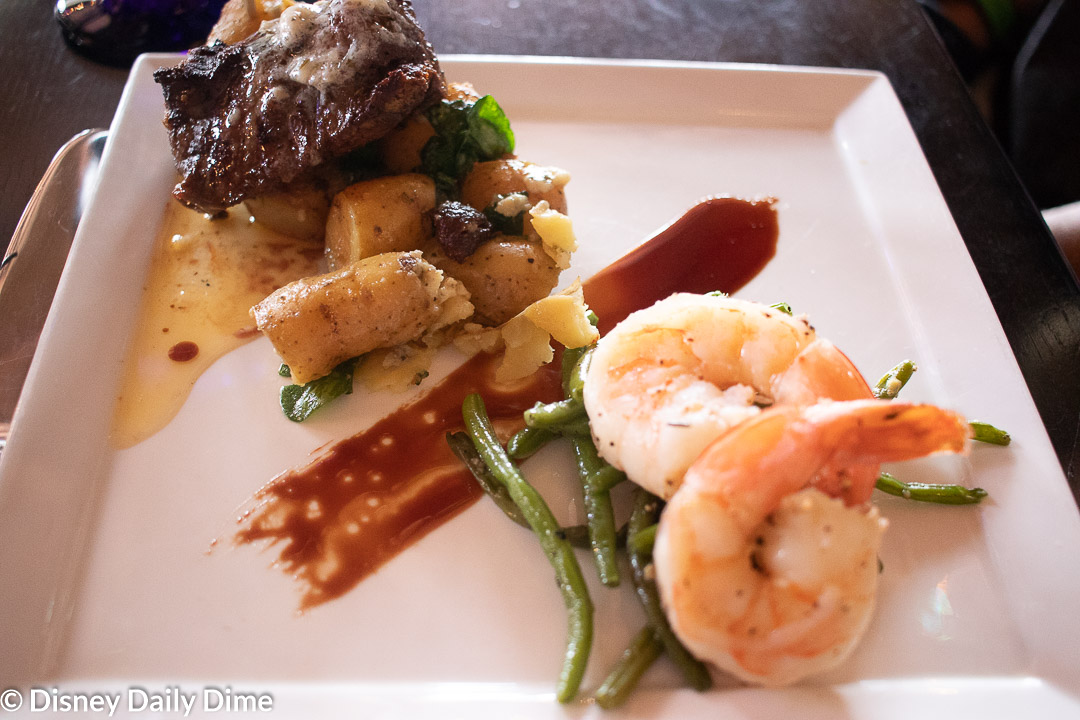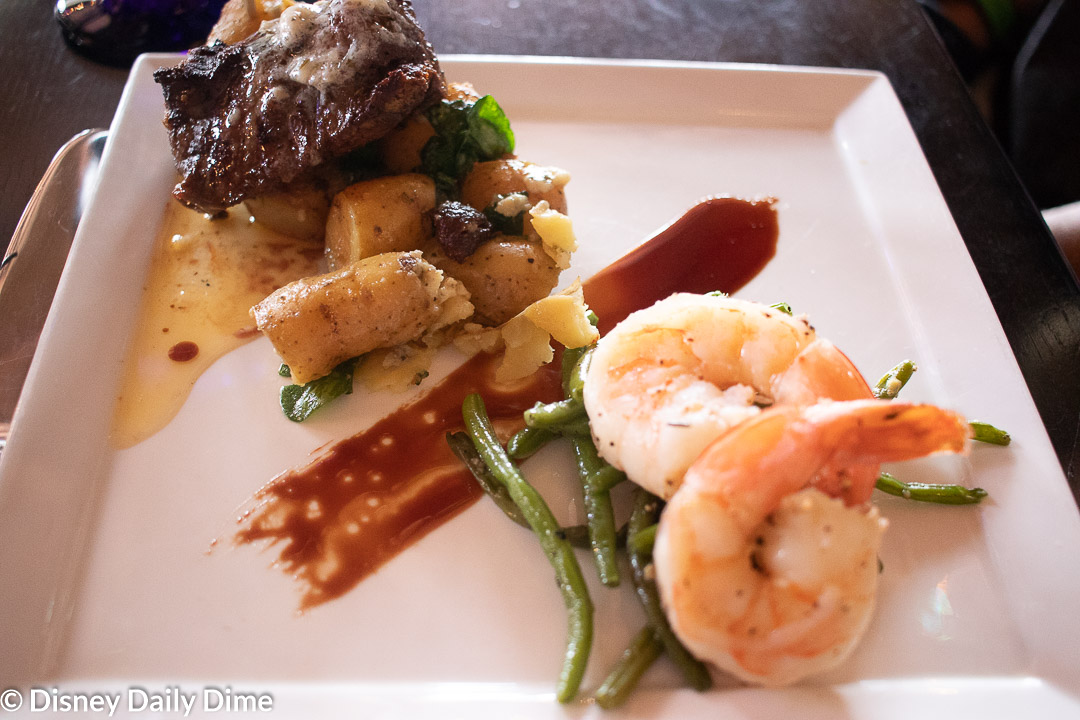 The entrée I chose, the beef and shrimp, also followed the same trend.  I received exactly two medium sized shrimp on my plate.  The shrimp themselves were pretty bland but buttery.   The steak portion was much more reasonable but still was on the smaller side.   It was clearly an average cut of meat, but it was enhanced by the shallot-butter sauce served on top.  The sides were fingerling potatoes and green beans.   They were both cooked well and added a lot to the dish despite being more run-of-the-mill sides.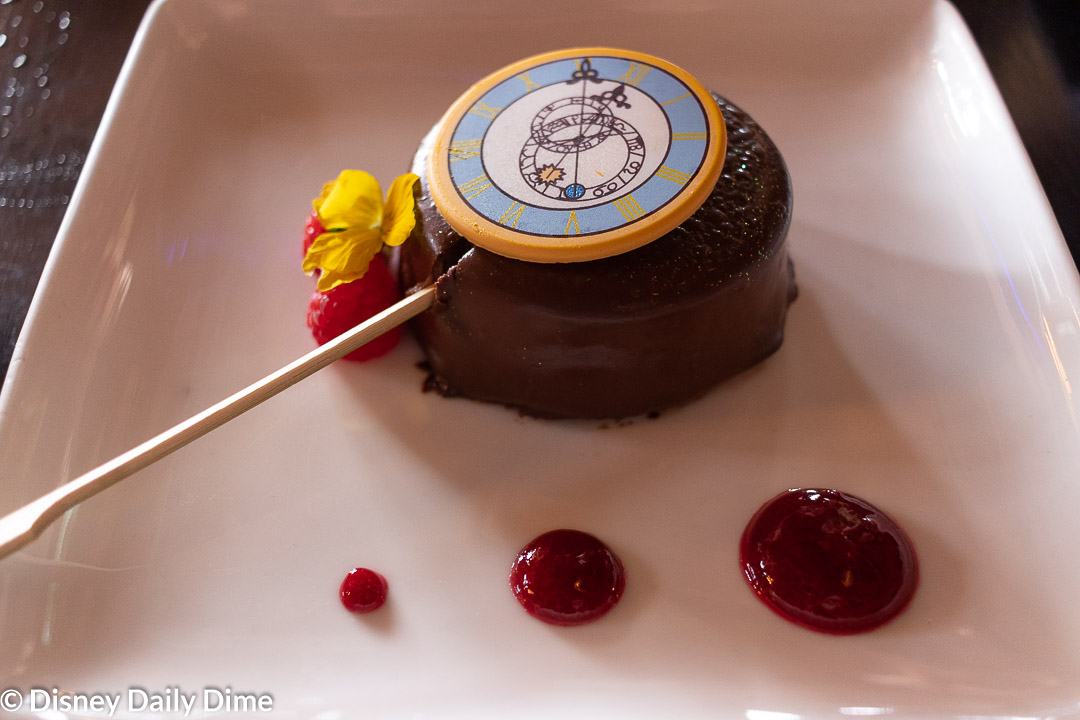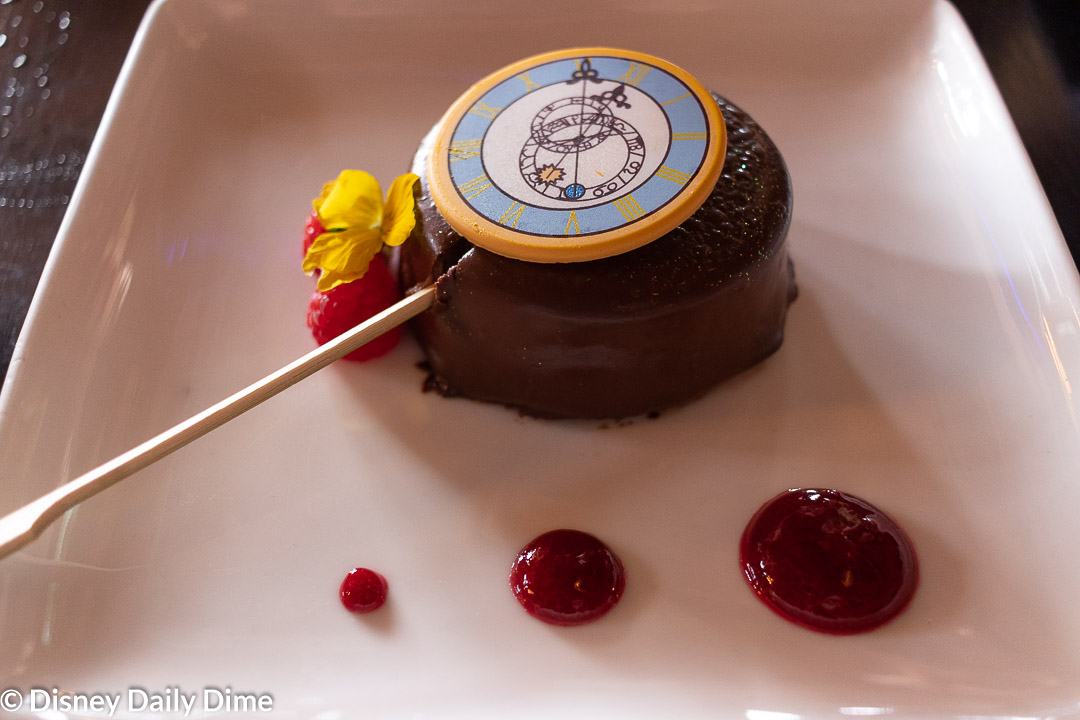 The dessert I chose, named "The Clock Strikes Twelve" was far and away the highlight of the meal.  Dark chocolate mousse covered in chocolate ganache served with decorative raspberry coulis.  The dark chocolate and raspberry combination was incredible together and I quickly ran out of the raspberry.  I wished I had more as it was the perfect compliment to the mousse.  The mousse and ganache were rich and full of flavor without being too sweet or cloying.   I thoroughly enjoyed this dessert.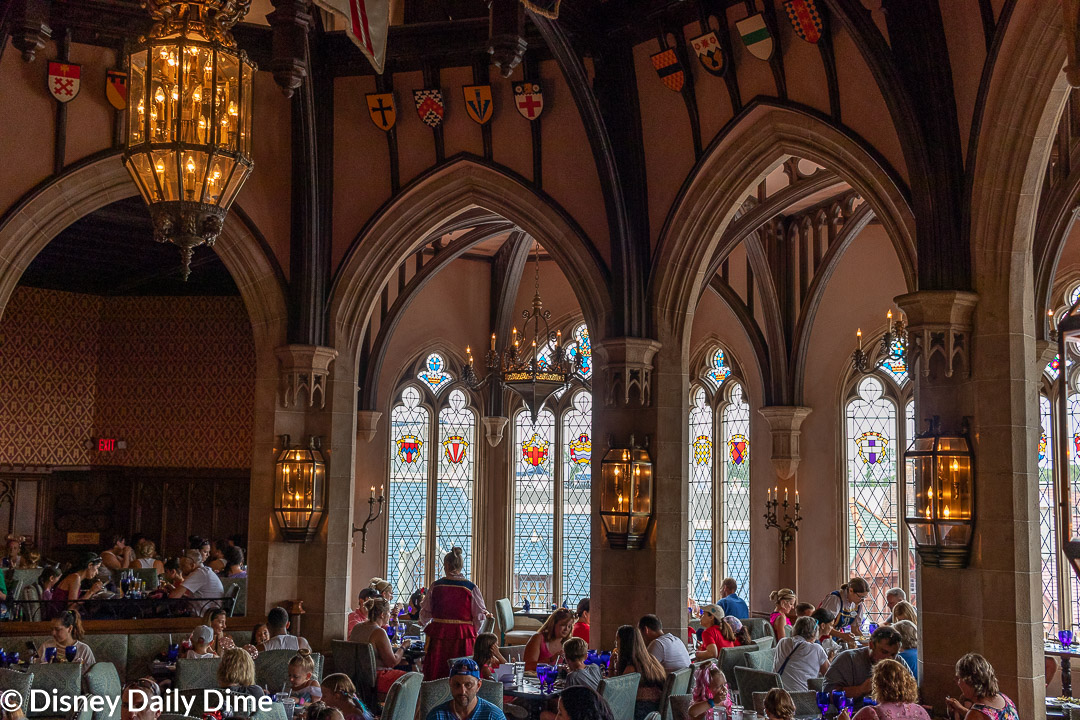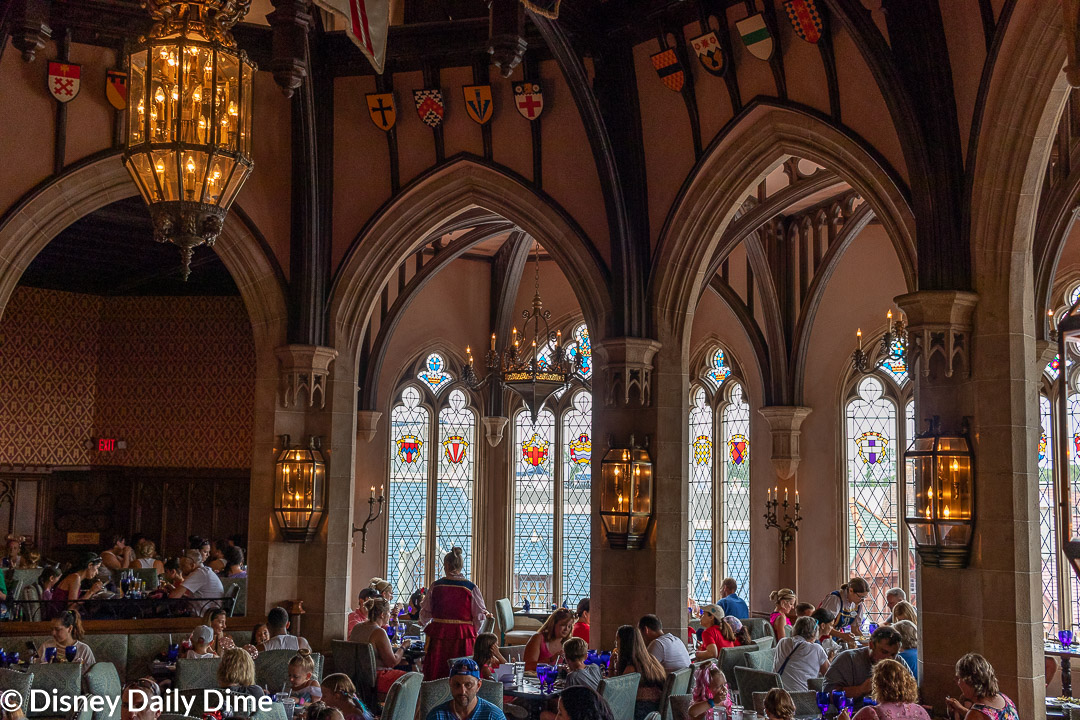 Overall Impression of Eating Gluten Free at Cinderella's Royal Table
As we say with pretty much all of the character meals, one doesn't necessarily go to a character meal for the food.  However, most of the character meals we have been to served surprisingly enjoyable food.  Unfortunately, Cinderella's Royal Table was the first character meal that I have been to that I was truly disappointed in the food.
While the fact that this experience is so expensive certainly plays into that feeling, even setting that aside I was still not impressed with my meal.   For what is considered a signature dining experience, the "signature" comes from eating inside the beautiful Cinderella Castle and certainly not from the food.    
All that said though, if eating in the castle is important to your family, I would still recommend that you dine here to have the experience.  It truly was special to dine in the castle and visit with the princesses in such a beautiful and regal setting.     
Wrapping Up
We hope you found our Cinderella's Royal Table gluten free review helpful.  If you did, please share it with others you think may find it useful.  Just hit the social media sharing buttons on the page!  We always appreciate it when our readers share our content with others, as it allows us to help more people and spreads the word about our blog.