Tucked inside of Liberty Square at Disney World's Magic Kingdom is a quaint, but not a quiet quick service location known as Sleepy Hollow.  Located just over the bridge to the left of Cinderella Castle, this "refreshment" stand sees lots of foot traffic.  Here in our Sleepy Hollow review, we'll give you our thoughts on the food and a little background on this Disney World restaurant.
While the quick service location sees lots of traffic, one thing it doesn't have is lots of seating.  This isn't your usual Disney World quick service location in that regard.  The Sleepy Hollow menu also features a more limited assortment of foods when compared to other quick service locations.
When it comes to the Disney Dining Plan, Sleepy Hollow serves a mixture of items that use snack credits and counter service credits.  As far as snack credits go, the value is pretty good on the dining plan, as most snacks will run you enough to recoup the value of your credit.  If you are buying one of the few items that require a counter service credit on the dining plan, the value is pretty bad.  Do not use counter service credits here.
Sleepy Hollow does not accept Tables in Wonderland.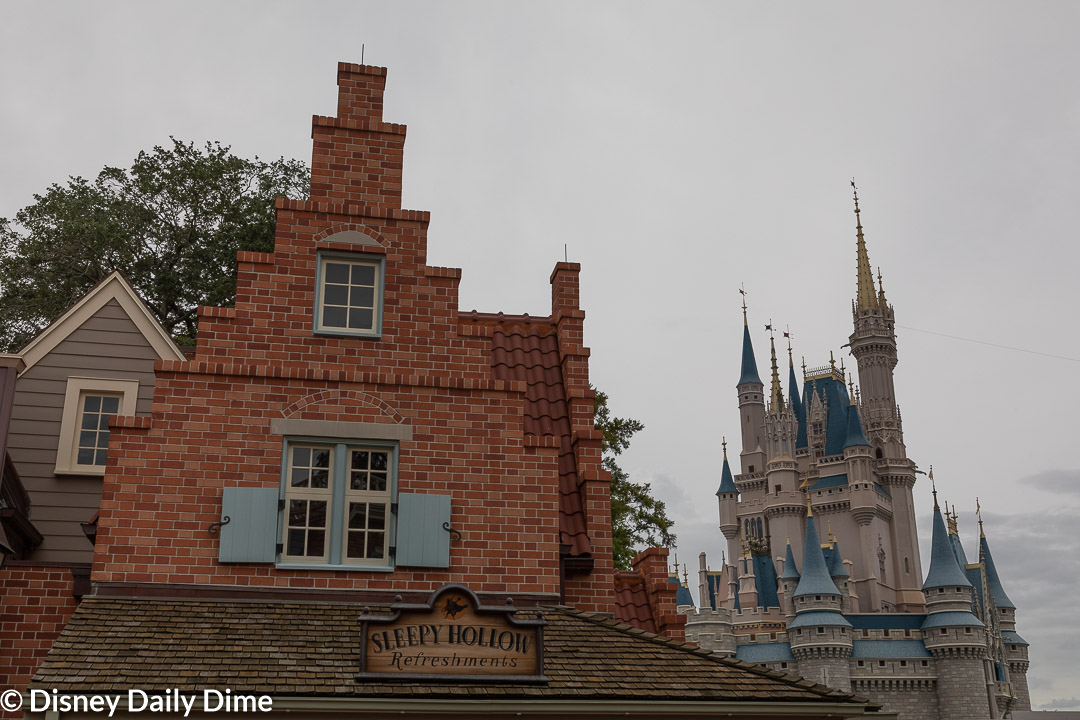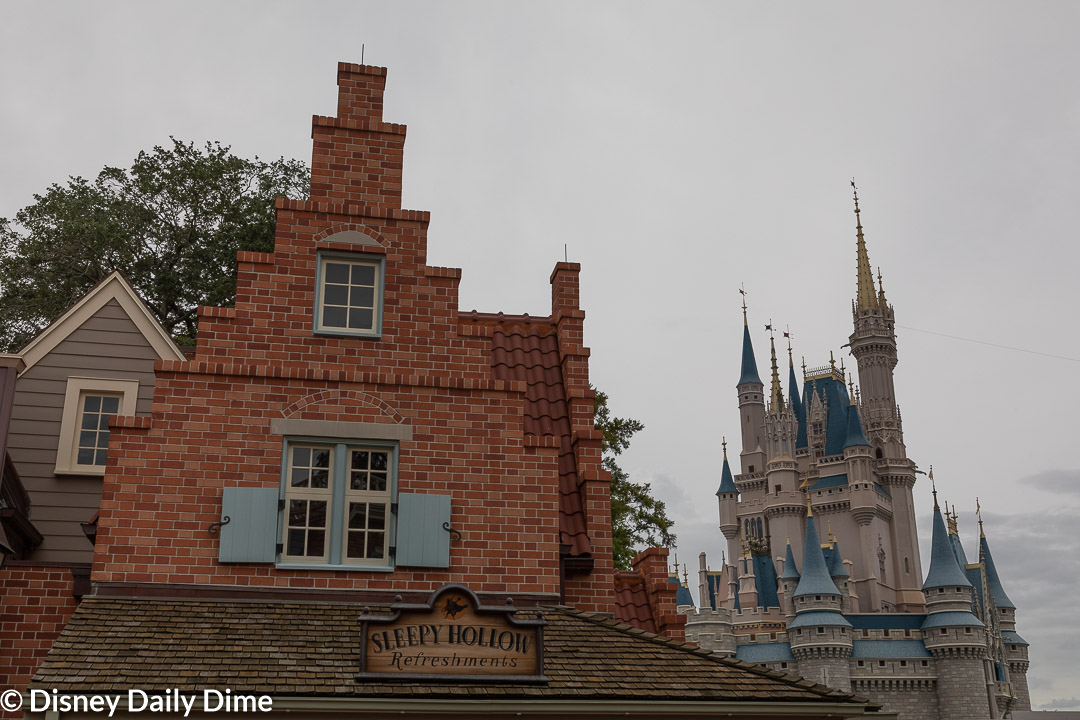 Sleepy Hollow's Theme Harkens Back to Washington Irving
Because Sleepy Hollow doesn't have indoor seating, the theming and ambiance of it are a bit more muted, however, there is still more to it than meets the eye.
The exterior look of Sleepy Hollow dates back to the mid-1800s and Washington Irving.  If you aren't familiar with his name, you are likely familiar with his work.  Irving is the author of many books, including "The Legend of Sleepy Hollow."  The exterior of the Sleepy Hollow building at Magic Kingdom is meant to resemble the exterior of Irving's house.  If you want to read more about this story, Disney Parks Blog posted a story about it several years ago. 
While the exterior of Sleepy Hollow is interesting, from a décor perspective, I really like the inside of the building.  Even if you can't get inside, you can see in from the quick service pickup and ordering windows.  You'll see some of the lovely stained-glass work in the background of this picture, along with many 1800s-era décor items.  It's not like you can get up close and personal with these items, but I thought they were fun.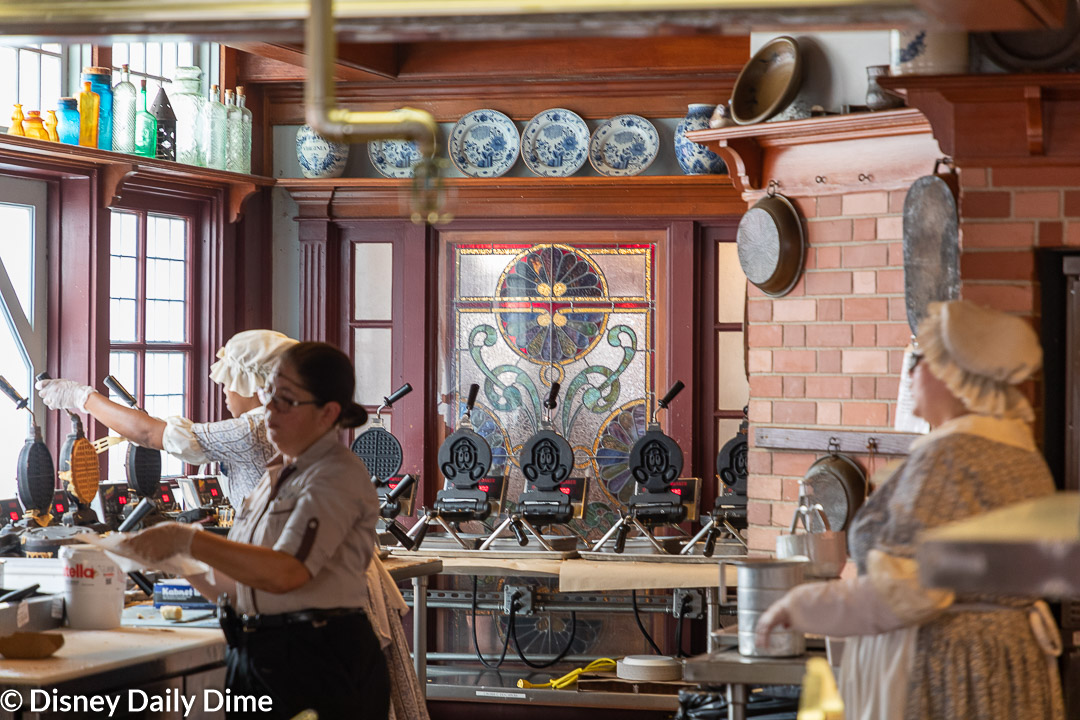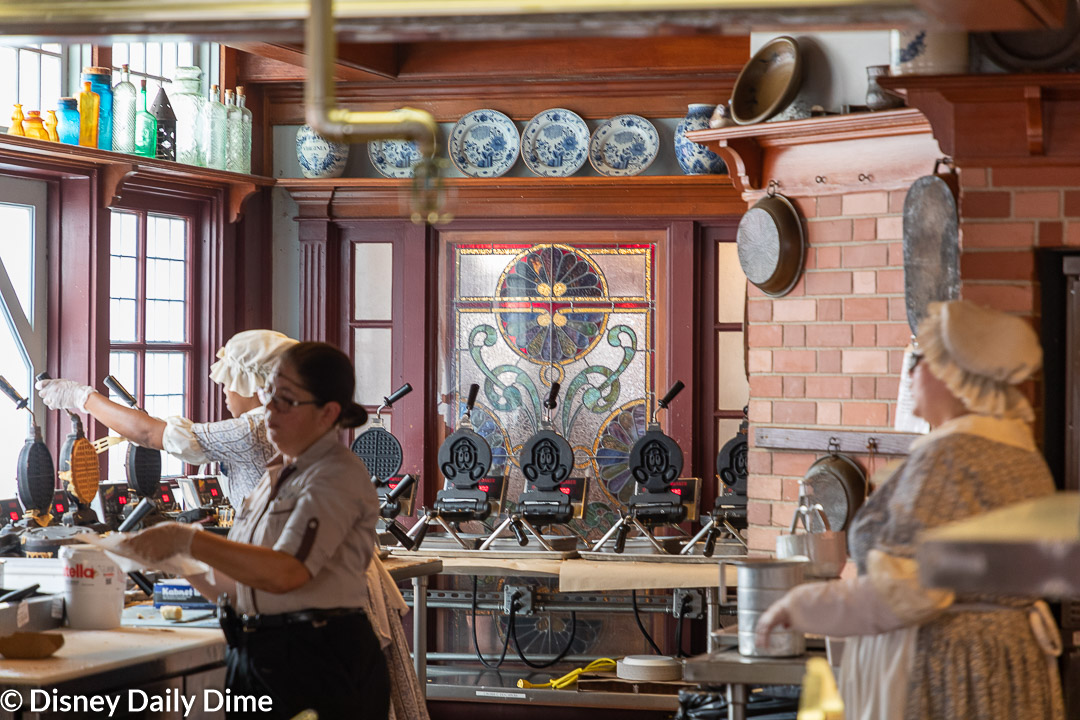 I also tried to count all of the waffle irons they had inside the restaurant.  I believe I counted 12 of them.  If you didn't know, waffles are one of the main food components at Sleepy Hollow.  You'll notice that trend in the food section of our Sleepy Hollow review.
Service is Slow…
We usually don't comment on service at restaurants because it can have such day to day variation.  However, we did want to mention that service tends to be pretty slow at Sleepy Hollow.  You actually have to wait twice when you eat here.  First, you'll wait in a line to order your food, which can sometimes take a while.  Once your order, you'll go to the food pickup window, where you'll have to wait for your food.  It's not a terrible wait, but it's enough that you may start checking your watch a few times.  Don't get in line here if you are in a rush to get to a Magic Kingdom FastPass.  (link)
Sleepy Hollow Features Fun Treats, but I Wouldn't Call it Your Normal Meal
As you look at the Sleepy Hollow menu, you'll notice waffle-based snacks and entrées dominate the menu.  There are a few other items like a corn dog, funnel cake, and ice cream churro sandwich, but otherwise, it is waffles galore.  I should note that they also serve a breakfast sandwich here up until noon, but we were not able to try it.  What makes Sleepy Hollow great is that the waffles are made fresh, in house, and they are excellent.
You won't find typical full meals here since it is more of a limited menu, which is actually just fine in our mind.  The only problem here is that you won't find any gluten-friendly items, so Carla couldn't eat with us.  That left everything for the girls and me!  The girls and I split our assorted foods, so we won't divide the food reviews into kid and adult sections like we usually do.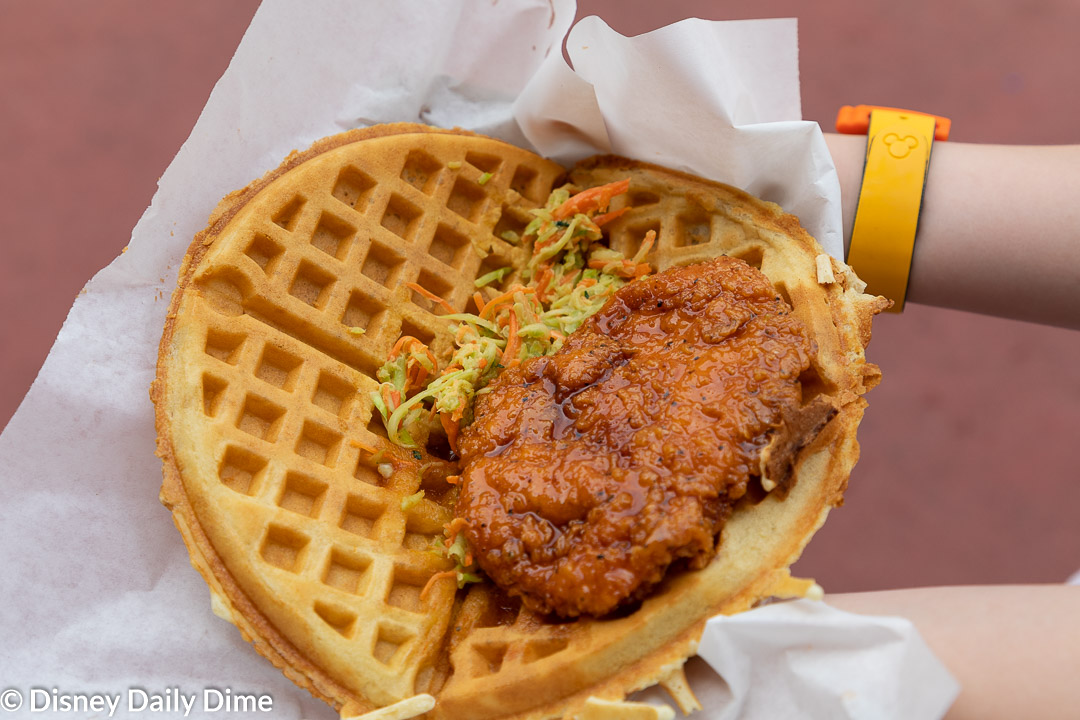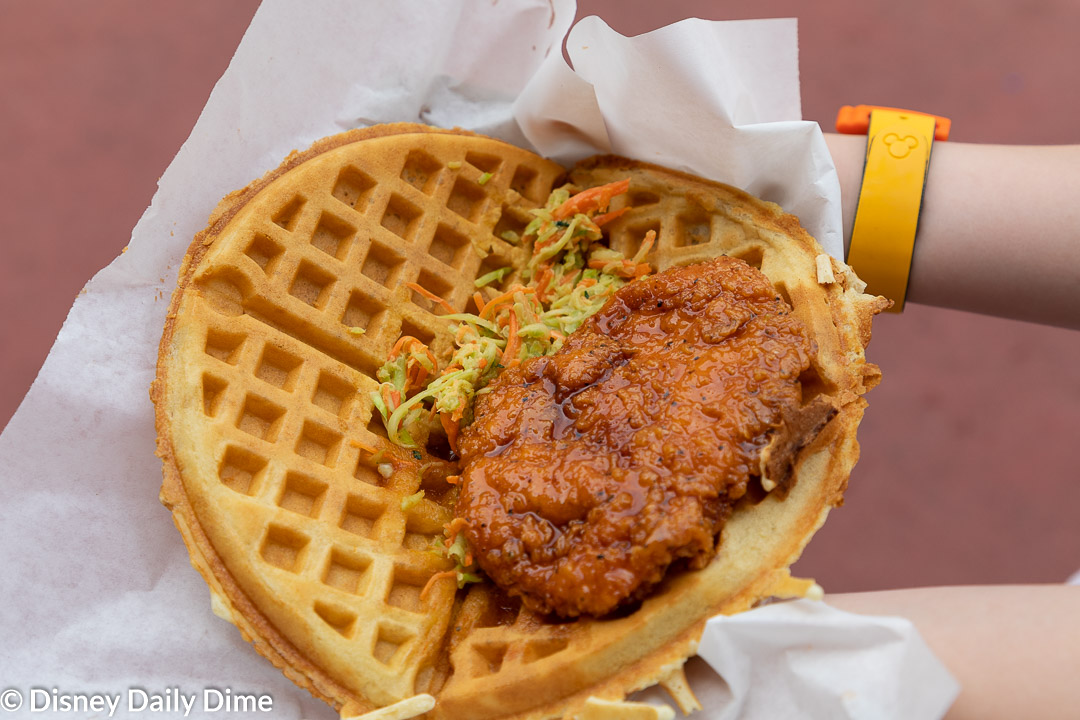 The first food item we tried at Sleepy Hollow was the Sweet and Spicy Chicken Waffle Sandwich.  Having had the excellent chicken and waffles over at Roaring Fork, I had high hopes for this item, and just from the name I knew it would be unique.
This incarnation of chicken and waffles was good, but not great, in my view.  The waffle was excellent, but I was hoping for more from the chicken.  It had a lightly sweet flavor, but I didn't find it spicy.  It's not like it was minorly spicy.  I couldn't detect a hint of heat.  I've seen other reviews where people said they found the spice mild, so maybe I just had a more muted batch.  On a positive note, the slaw was a pleasant surprise.  It added a nice crunch to what was an overall soft texture of the sandwich, giving it a good balance.
As for Anna and Elsa, they were not fans of this sandwich.  The chicken's flavor wasn't something they weren't overly fond of.  What they really wanted was the next item in our Sleepy Hollow review…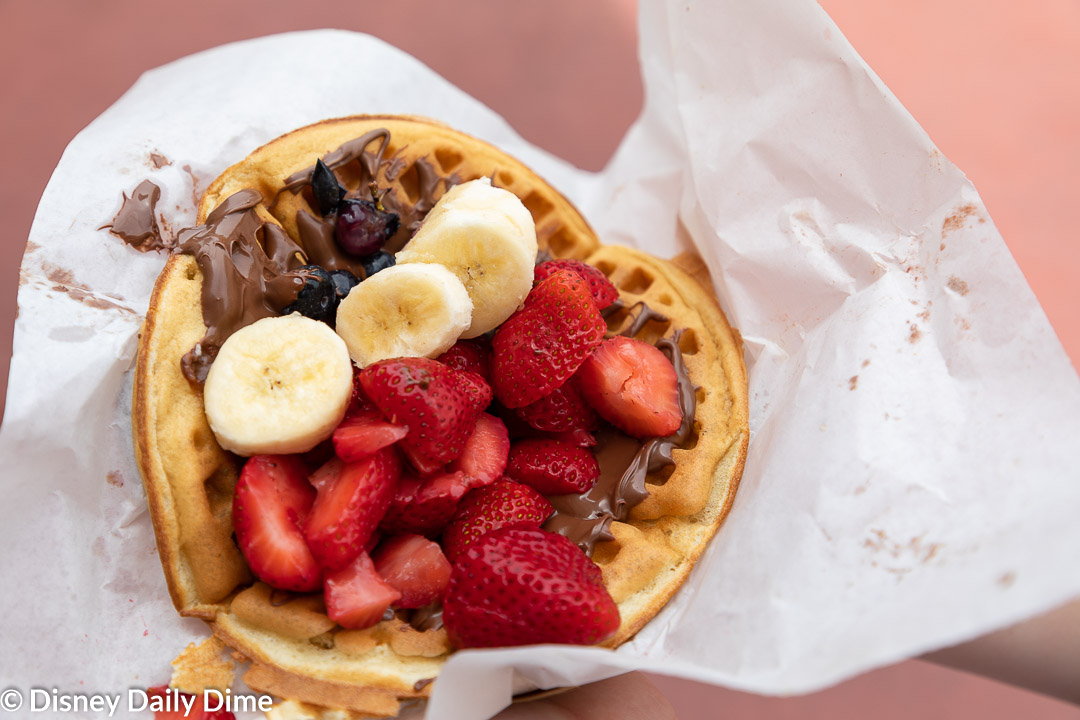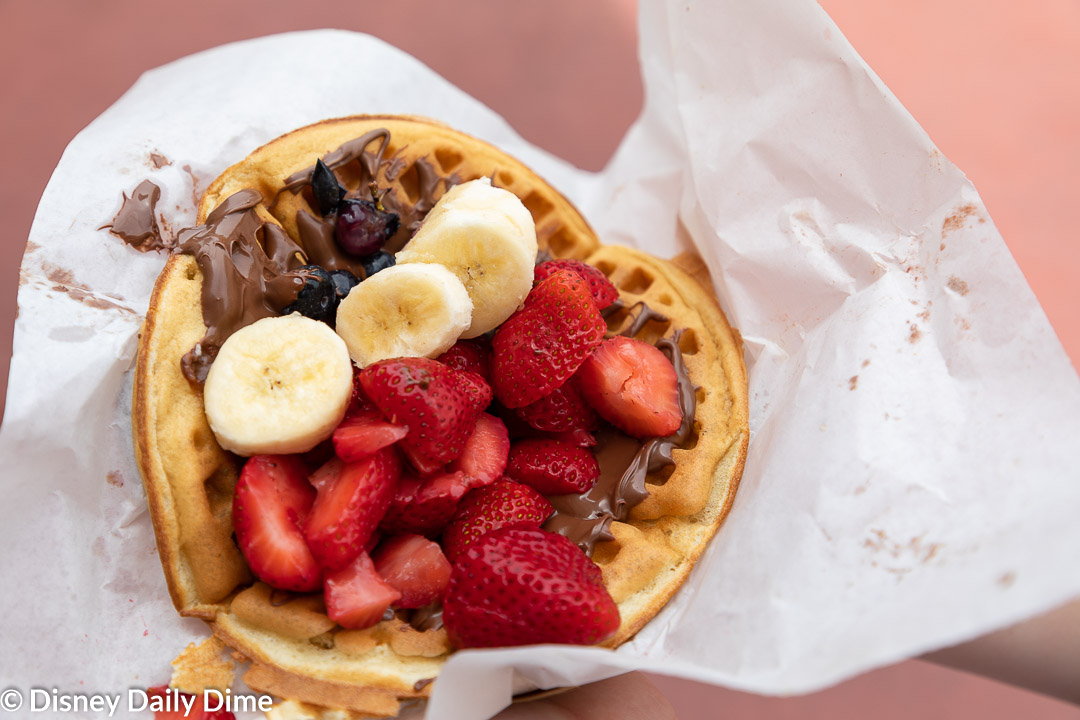 That would be the Nutella and Fresh Fruit Waffle Sandwich.  As you can see in the picture above, this waffle sandwich is stuffed with strawberries and bananas, with Nutella stuffed in the middle of it all.  This is a sandwich that was made for our girls.  They LOVED it!  As a parent, I appreciated that at least there was some fresh fruit stuffed into this sandwich.  It made me feel slightly less bad about the girls eating this treat.  And that's really what I think it is, a treat. 
As for my view on this, I took two bites, and that was enough.  I'm not a Nutella fan, so it was pretty much a forgone conclusion I wouldn't enjoy this.  I will say, if you like Nutella, you will probably be a big fan of this because the waffle is excellent, and the fruit is a good balancing item.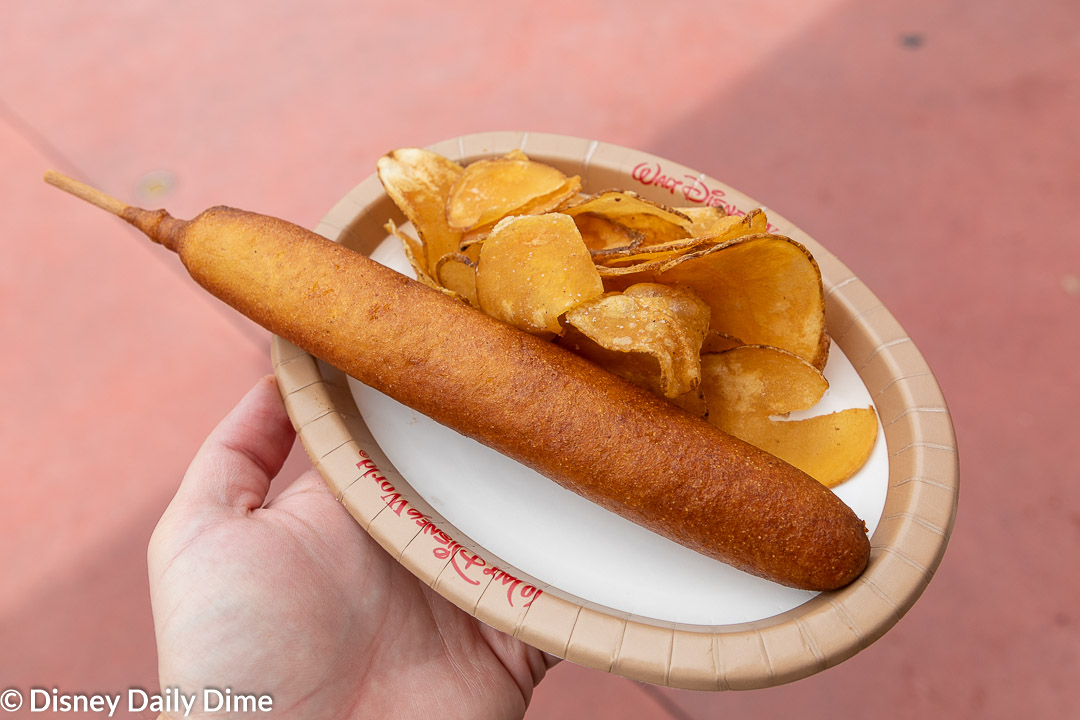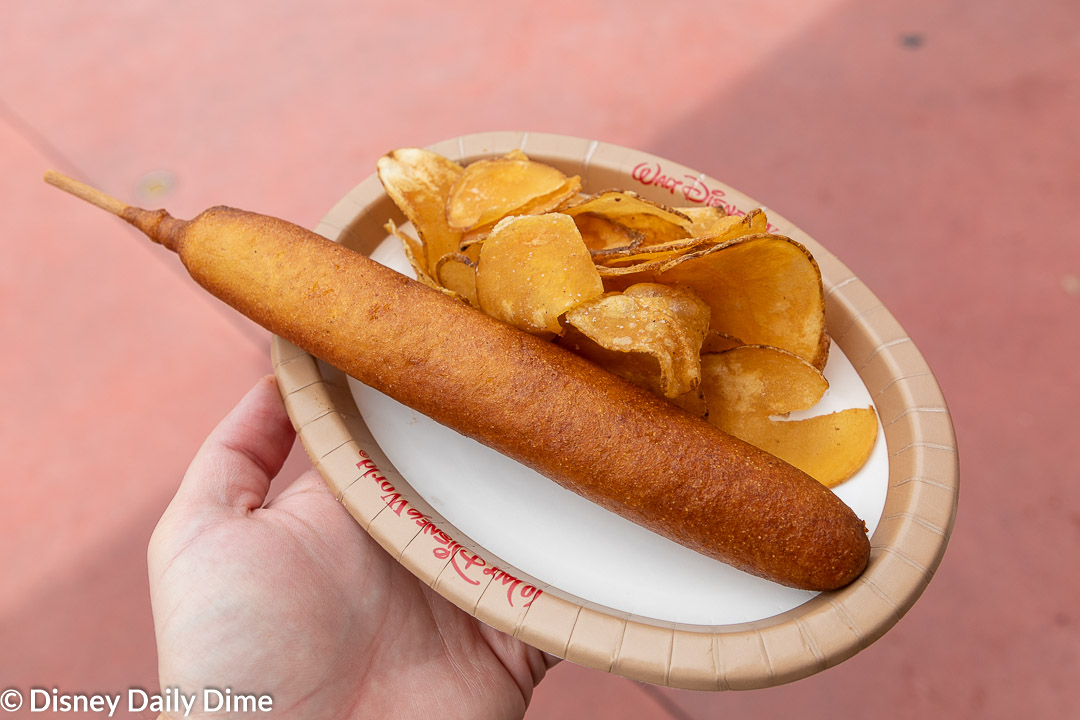 One of the non-waffle based items at Sleepy Hollow is the Foot-Long Corn Dog.  It's served with house-made chips.  This corn dog isn't like any of the other ones that you will find at Disney World.  It is freshly prepared and fried in house.  This is probably the best corn dog we've had at Disney World.  Granted, we've got lots of places to eat at still, but so far this is the best.  If corn dogs are something you like, then this is the place to get one.  Anna and Elsa both enjoyed this too.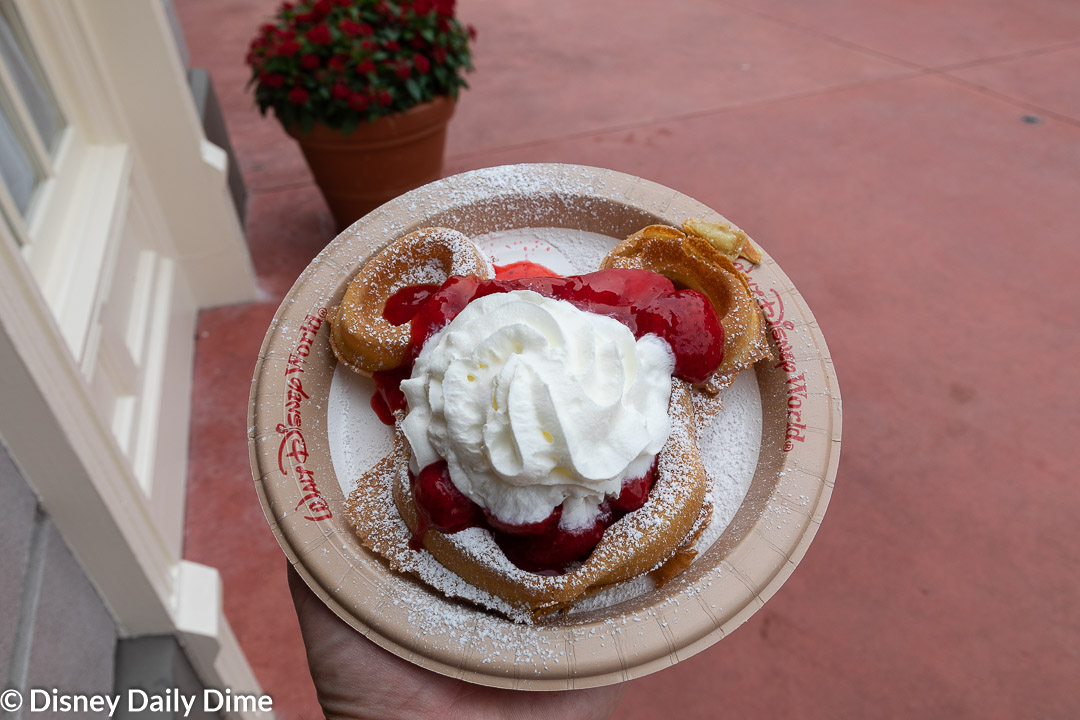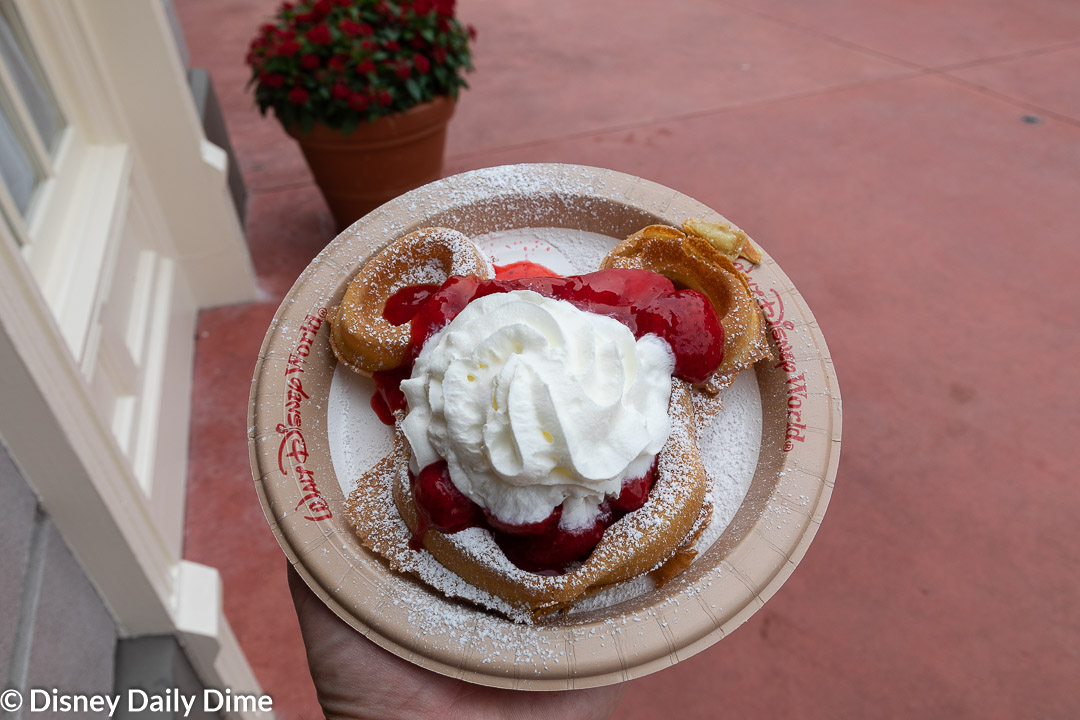 Of course, the girls insisted that we sample some of the sweet treats here!  They had to twist my arm on this request, as you can imagine.  The first one we tried was the Mickey Waffle served with Strawberries and Whipped Cream.  The fact that it is a Mickey Waffle is almost indiscernible because of the amount of whipped cream that was piled on the face of the waffle.  That didn't prevent the girls from scarfing this down in record time.
Have I ever mentioned how sometimes I wonder where these two tiny girls put all the food?  Yes, Anna often eats like a bird, but this was not one of those meals.  They loved eating here.  The sheer size of the waffle alone was gigantic, let alone all the other food that they consumed with me during this meal.
I was actually not a huge fan of this.  The amount of whipped cream and strawberries just sort of overwhelmed the waffle for me.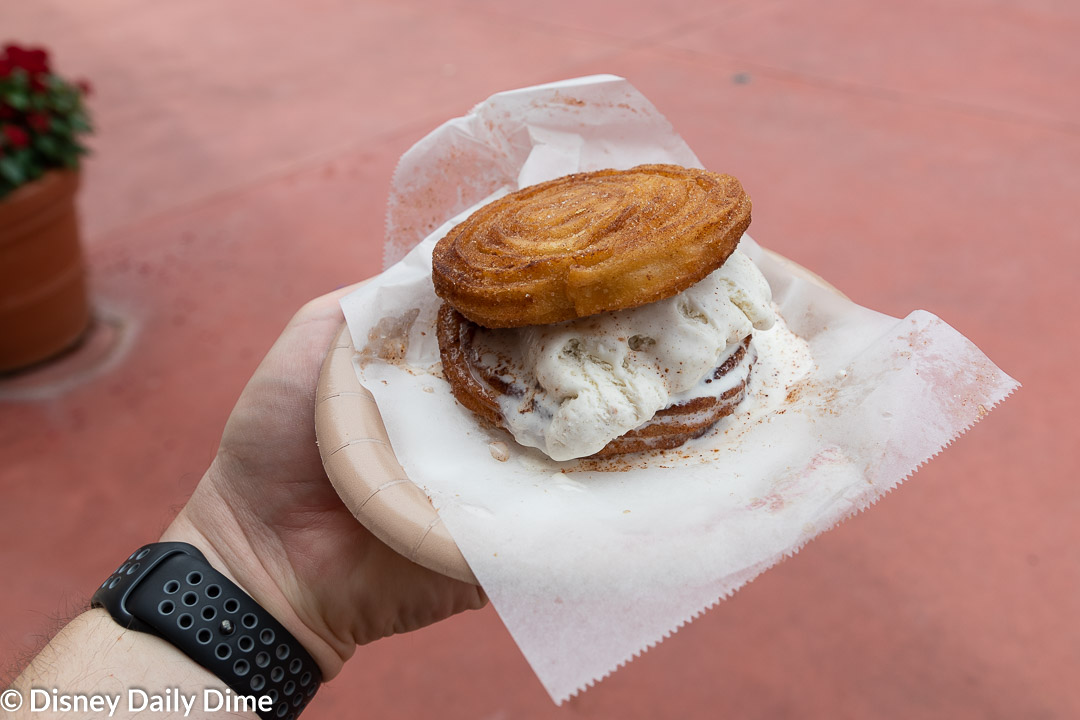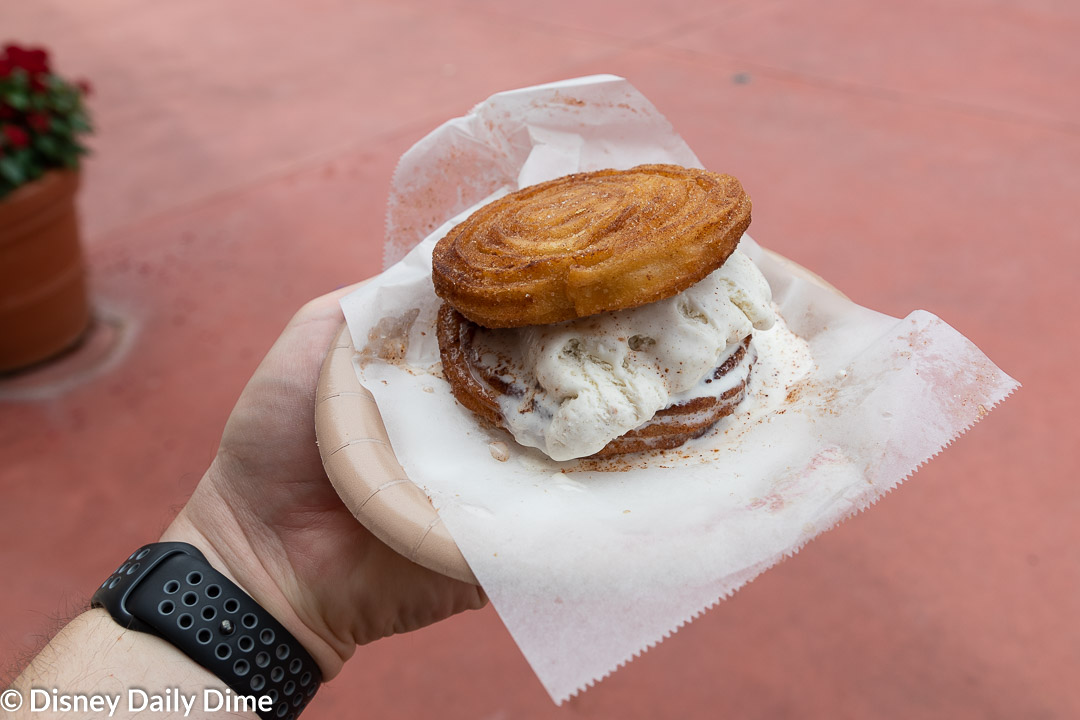 The sweet treat that I loved having at Sleepy Hollow was the Vanilla Ice Cream Churro Sandwich.  Even though it is slightly melted in the picture above, it was still awesome.  The cinnamon of the churro and the creamy vanilla of the ice cream worked together so well.  The churro had a great crispy texture, and it didn't get soggy as the ice cream melted.  Just make sure you eat this quickly because it will melt fast.  Well, at least if you are eating it on a 90-degree day in the summer at Disney World.  This is a dessert that I would get again, for sure.
Anna and Elsa loved this dessert too.  They would take turns alternating between the Mickey Waffle and the churro.  Most kids will probably like either of them.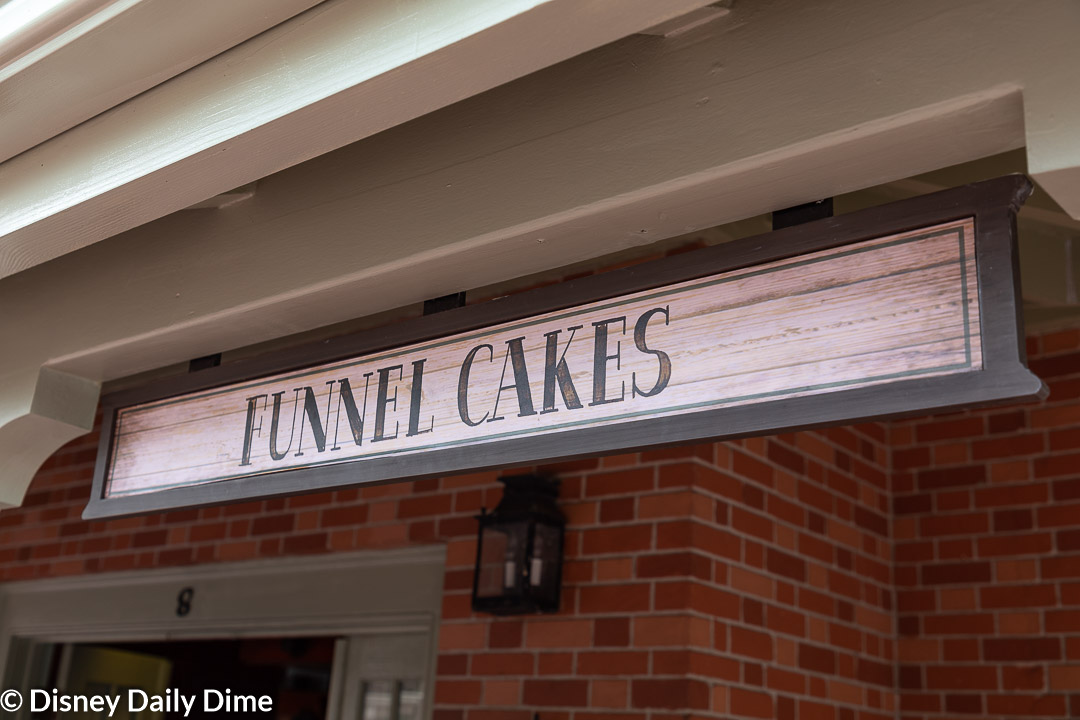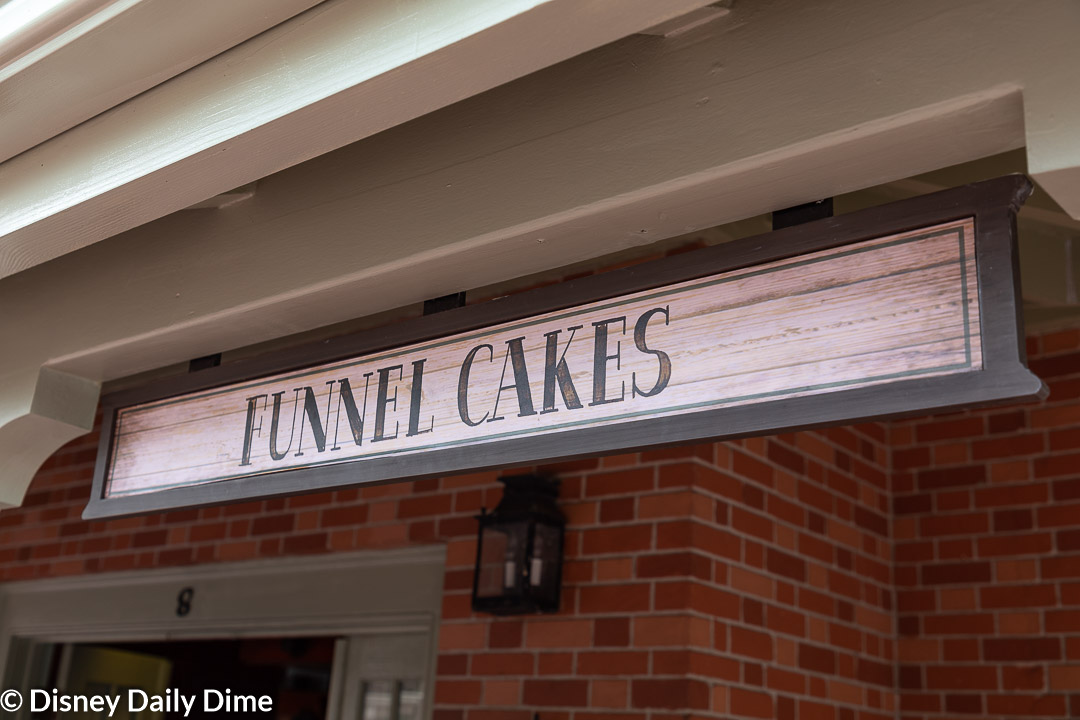 Sleepy Hollow Review Overall Impressions
Sleepy Hollow was actually a pleasant surprise for me.  For a small little quick service location, I wasn't sure what to expect.  The waffle-based foods are good, and there are some great sweet treats here.  If you're looking for something you can have on the go or relatively quick bite, then Sleepy Hollow is a place you may want to check out.  We'd encourage you to think about how long the line is, so you don't spend 20 or 30 minutes waiting to get your food.
The added plus we didn't even discuss is the prices at Sleepy Hollow.  Most of everything you can get here is less than $11, which is pretty cheap for a Disney World quick service restaurant.
Oh, and one other quick tip.  Make sure you get lots of napkins or have wet wipes when you eat here!  Between the whipped cream, Nutella, and spicy chicken sauce and melting ice cream, it was a VERY messy meal.  Carla always carries wet wipes in our park bag, which came in very handy when cleaning up.
Wrapping Up
With that, we'll wrap up our Sleepy Hollow review.  This Magic Kingdom Quick service restaurant is a great option to eat at if you're okay with a more limited menu.
If you're looking for more dining options, make sure you check out our main Disney World restaurant reviews page.  You'll find links to every restaurant we have reviewed there.
If our Sleepy Hollow review was helpful or at least entertaining, please like and share this with your friends or anyone you think will find it useful.  Just use the sharing buttons on the page.  We always appreciate it when you share our posts, as it allows us to spread the word about our blog and hopefully will enable us to help others.