Dining at Epcot can be a challenge, but in the best possible way.  There are so many delicious choices to pick from that we often have a hard time narrowing down where want to eat at on any given trip.  Mike and I have a goal of eventually eating at every World Showcase restaurant, however it is hard to abandon some of our favorites like Akershus and Biergarten.
Canada's Le Cellier has been high on our list to try out.  I haven't eaten there since I was a kid in the 80s and it was a "buffeteria" (does anyone remember that??? If so, please comment!)  Even though it has a signature dining status, with it being located in the theme park we had no hesitation bringing the girls as we knew it would be a relaxed family-friendly meal with hopefully signature-level food.
Here in our Le Cellier review, we'll take a look at the restaurants theming, atmosphere and of course the food.  We've also got a post detailing my gluten free dining experience at Le Cellier.   Let's get to it!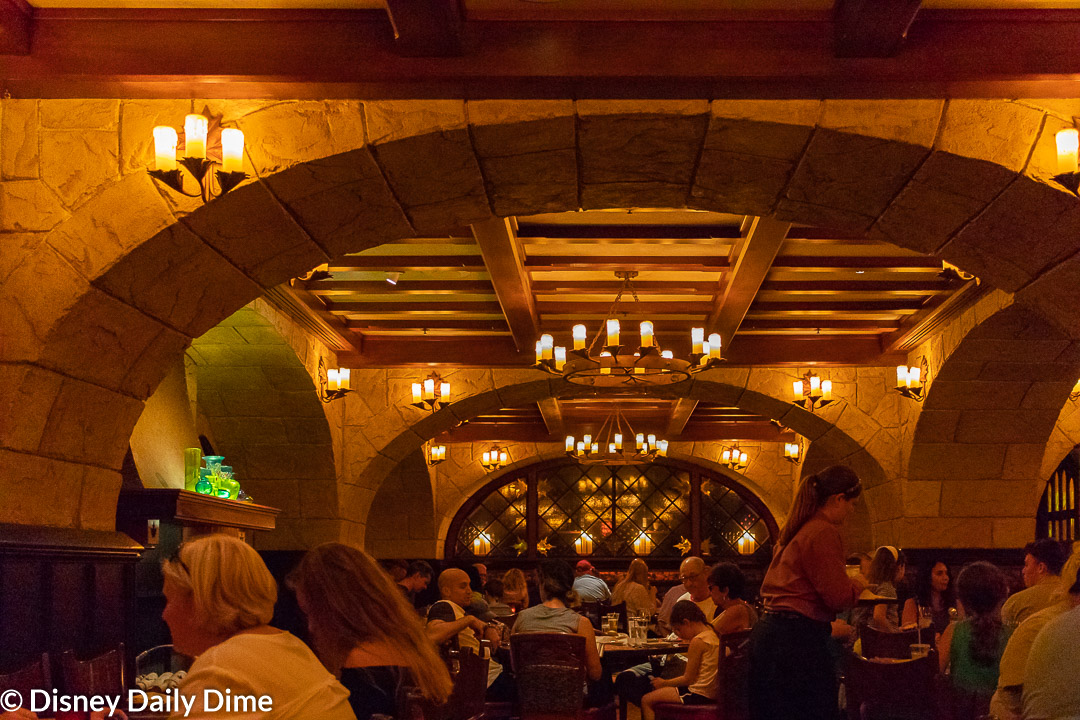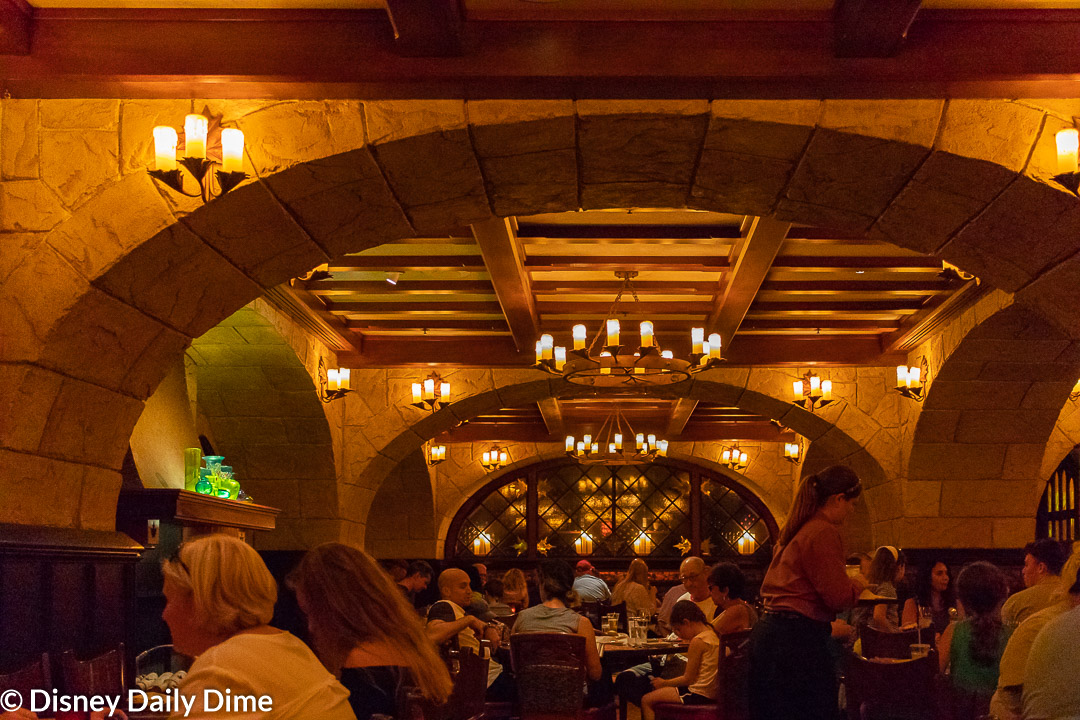 Le Cellier's Atmosphere Lives Up to Its Name
Le Cellier is located in Epcot's Canada pavilion.   Signs will lead you to the entrance which is located in the lowest level of the Hotel Du Canada, the main building in the Canada pavilion.  To get to the restaurant entrance, you will take a path past the gorgeous recreation of the Butchart Gardens in Victoria, British Columbia.  
The restaurant is meant to invoke a wine cellar.  It is certainly on the smaller side compared to other Epcot restaurants.  Low ceilings and low lighting enhanced with candles and sconces creates a setting that feels a long way from the Florida sunshine.
Le Cellier's atmosphere is cozy and intimate, but almost too cozy!  The small size of the restaurant means that the tables are extremely close to one another.   We were seated in one of the rows of tables that is along the perimeter of the room and I felt we were uncomfortably close to the couple sitting at the table next to us.  I have no doubt they could hear our conversation.   On our other side was the doorway to the bathrooms so that actually gave us some space.  Normally that would be a downside but I wasn't bothered at all by the "traffic" and it was darn convenient for taking the girls!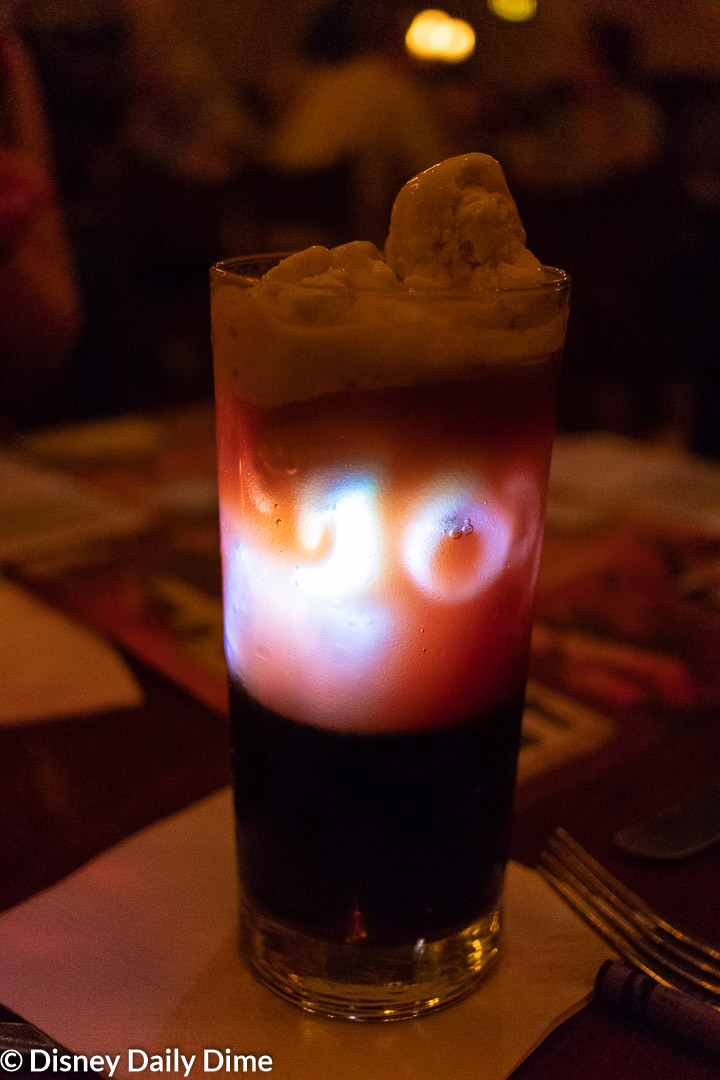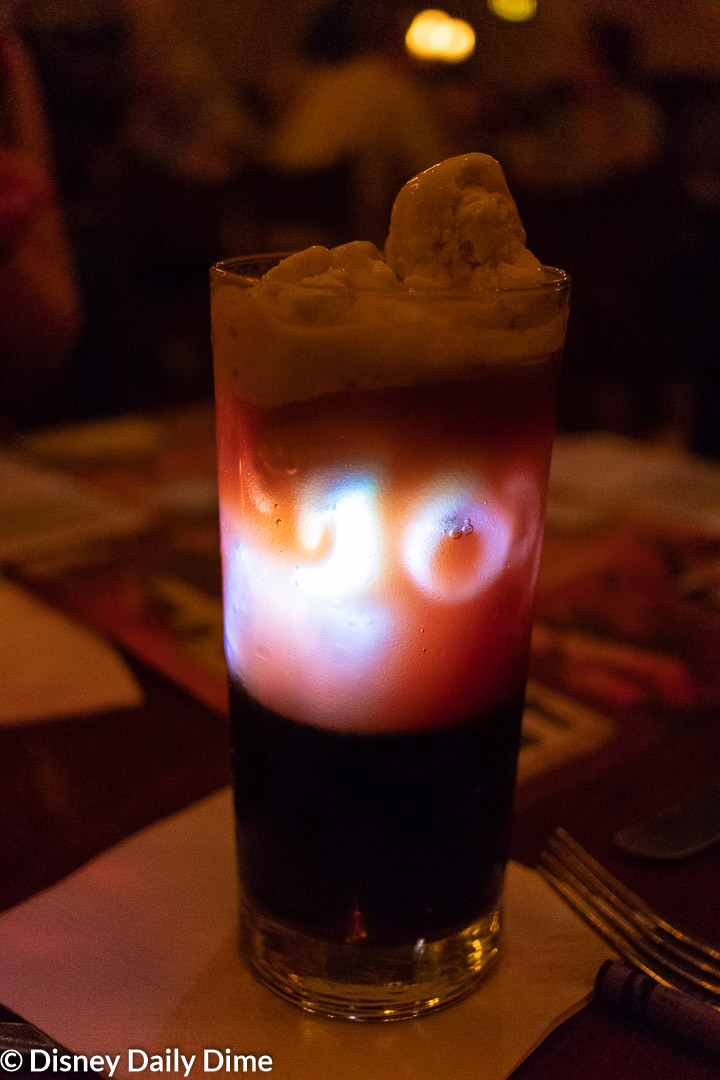 Aside from the close tables, we loved the atmosphere.  The stone walls, arches and low lighting are an inviting steakhouse atmosphere and certainly represent "the cellar" as it is named.  The fireplace and art work were nice touches that make it feel a little more Canadian.
Advance dining reservations (ADRs) are highly recommended as Le Cellier is very popular.  The small size we discussed above means there are less tables to go around.  Due to these factors, it is important to try to book Le Cellier as quickly as possible in your trip planning and if possible, right at the 180-day mark when dining for your trip opens. 
Lunch or dinner both require two credits on the Disney Dining Plan.  Even though it is a signature restaurant, it does not adhere to the signature restaurant dress code like the resort restaurants due to its location in the theme park.
Le Cellier Provided Warm and Friendly Service
When we visit any Disney restaurant that carries the "signature" designation, we hope that the service is a taken up a notch from the typical Disney quality service.  Our server, Candice, lived up to our expectation.  Warm, personable and great with the girls, she delivered the level of service we expect at a signature restaurant.
She had wonderful recommendations for our meals and our courses were spaced perfectly.  She earned some extra brownie points when Elsa ordered a drink that came with a glow cube.  When she served our drinks, she brought out a glow cube for Anna too free of charge.  That is one of the Disney touches that we as parents appreciate so much and shows how they go out of their way to keep all guests, even the little ones, happy.   Anna was so excited and thanked Candice for her special treat.
The Food at Le Cellier Called to Mind High Quality Steakhouses
All four of us had a three-course meal this particular evening.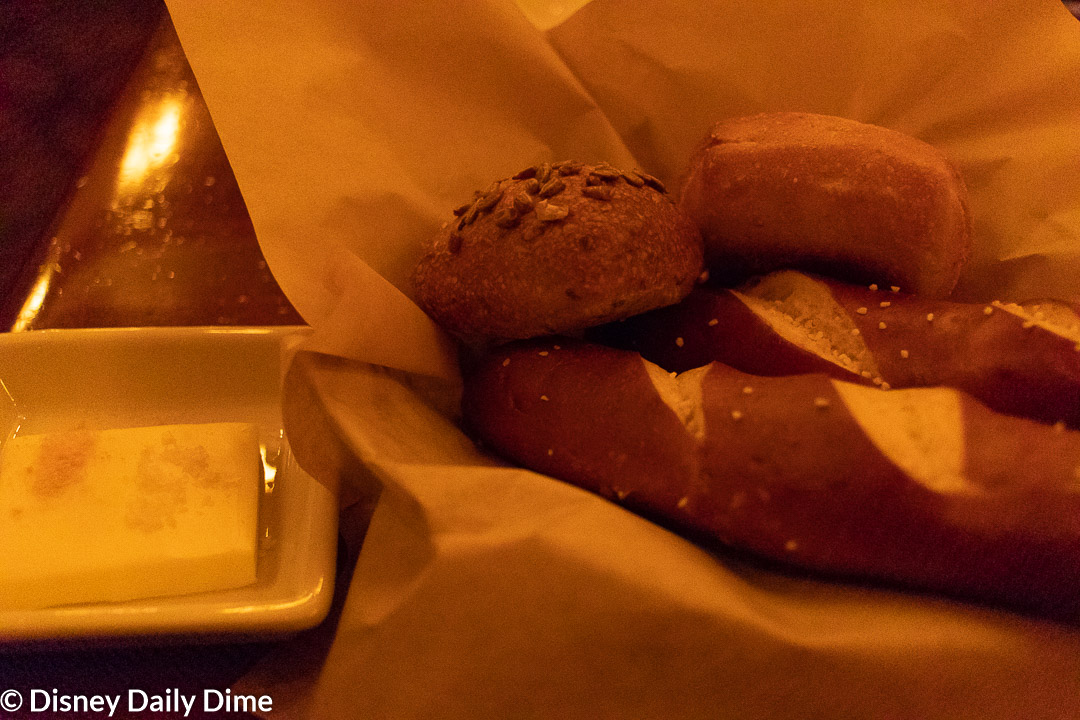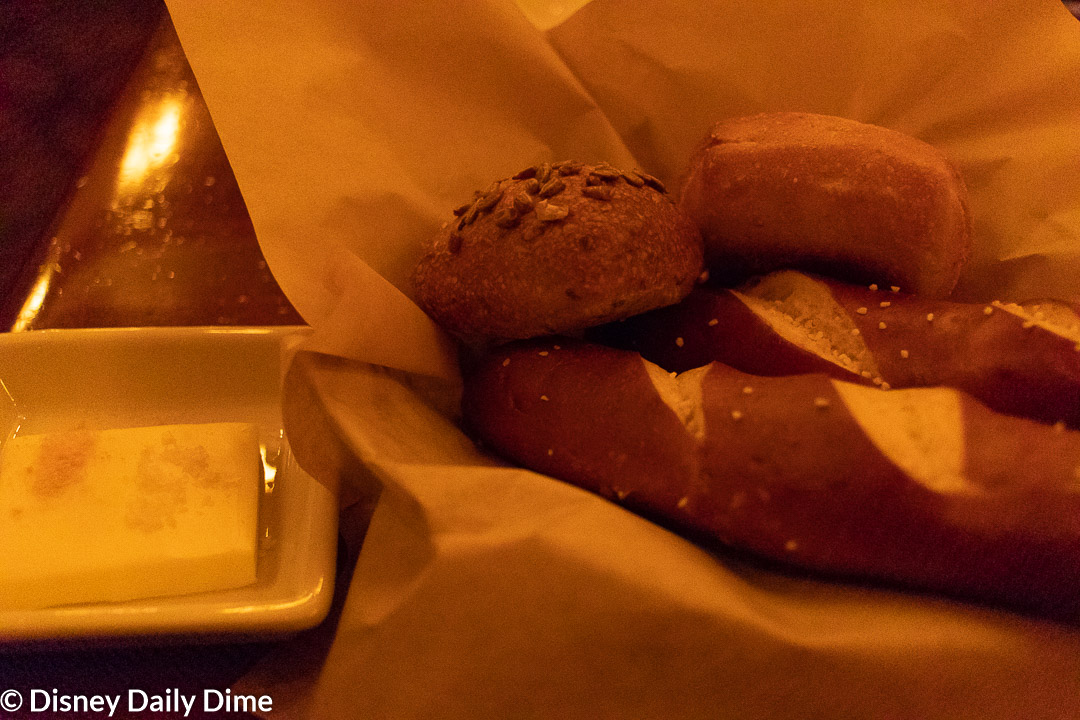 Appetizers
Before the appetizers came out, we were served the Le Cellier bread service.  The pretzel bread was great for Mike and the girls.  It was also a perfect pair with Mike's Canadian Cheddar cheese soup.  Oh, about that…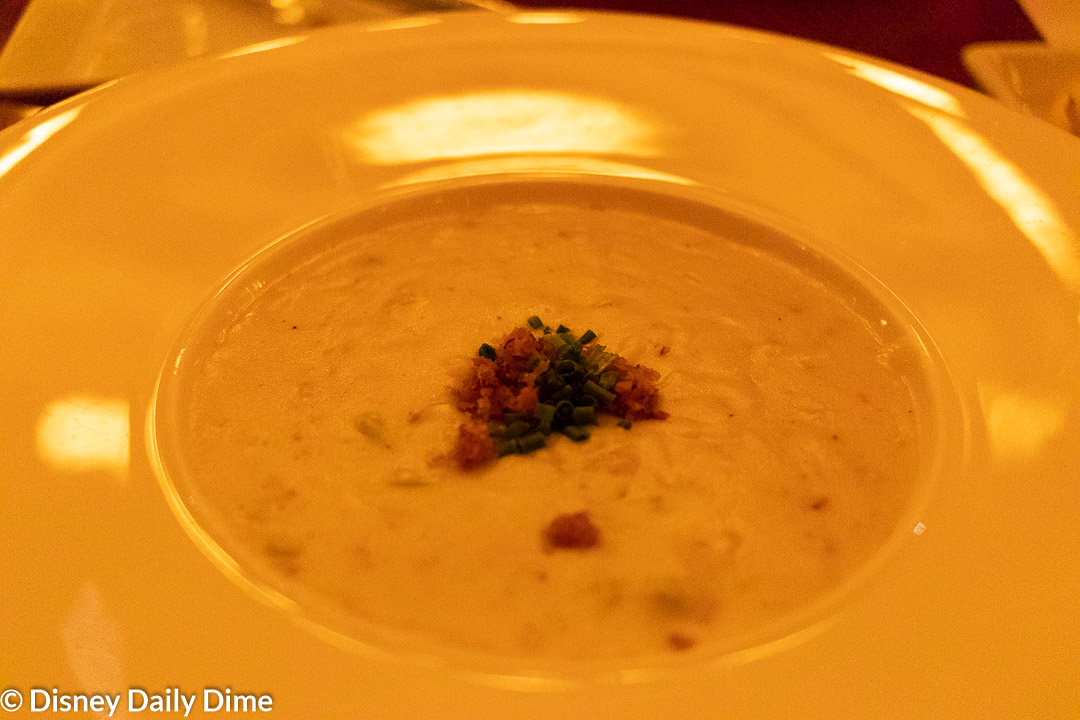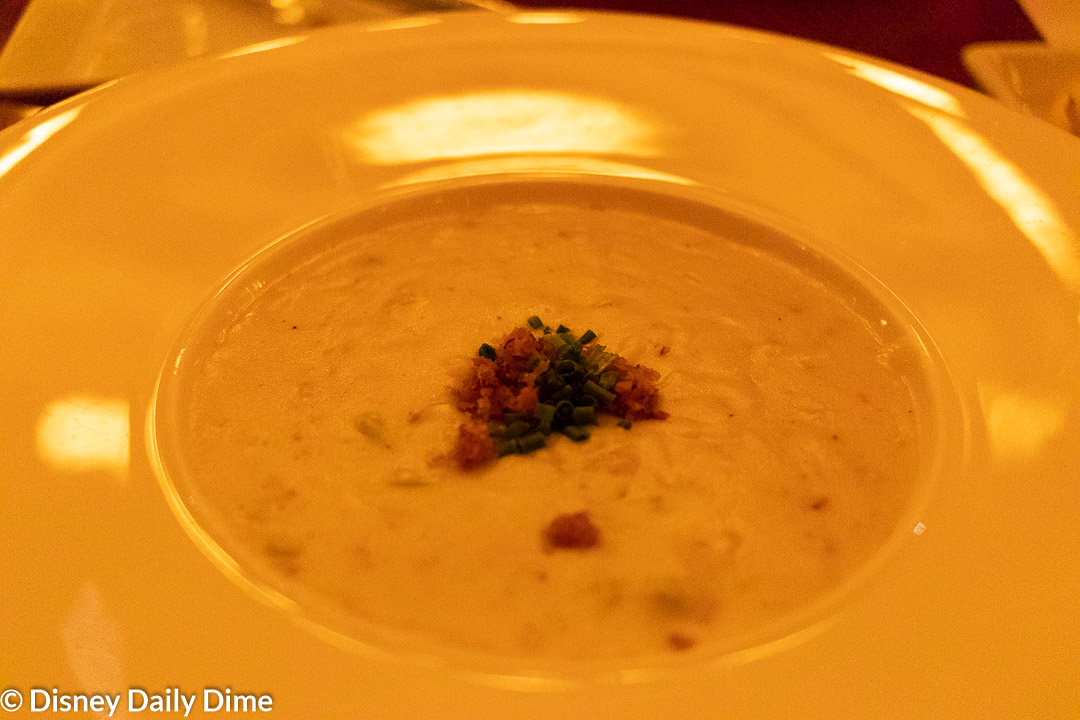 There was no question in Mike's mind which appetizer he was ordering – the Canadian Cheddar Cheese Soup.   This classic dish is one that Le Cellier is known for and is so popular it is offered in the Canadian booth at the Food and Wine Festival.   I strongly believe this is why Mike wanted to come here!  He is a big fan of cheese soup in general.  Mike thought the soup lived up to the hype.  It was rich and flavorful and the slight hint of Moosehead Pale Ale was great, but he wishes it was stronger.  Despite the hot temperatures outside, he thoroughly enjoyed this piping hot bowl of soup.


I chose the Tomato, Peach and Burrata Salad.   As a fan of caprese salads, I was intrigued by this tomato-based salad that offered peaches which is not something I would typically put together.    The salad also included jamon serrano, mache lettuce, vanilla-peach vinaigrette, ice wine gastrique and chocolate granola.  This interesting combination of flavors worked amazingly well together.  This was a delight and certainly not something you would find just anywhere.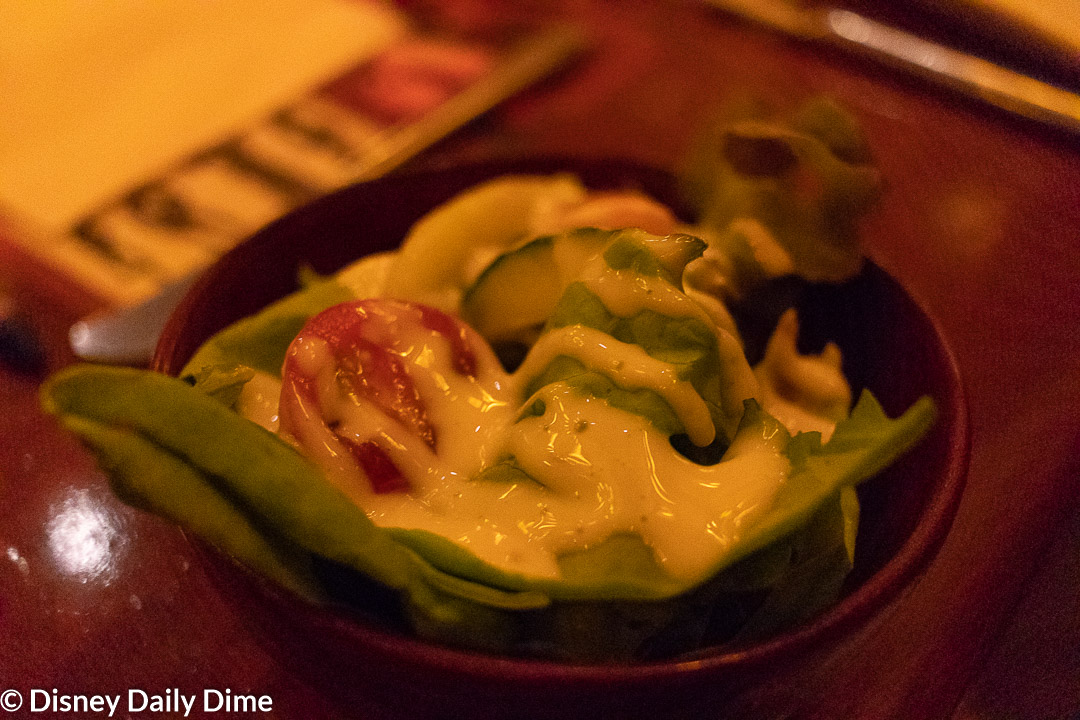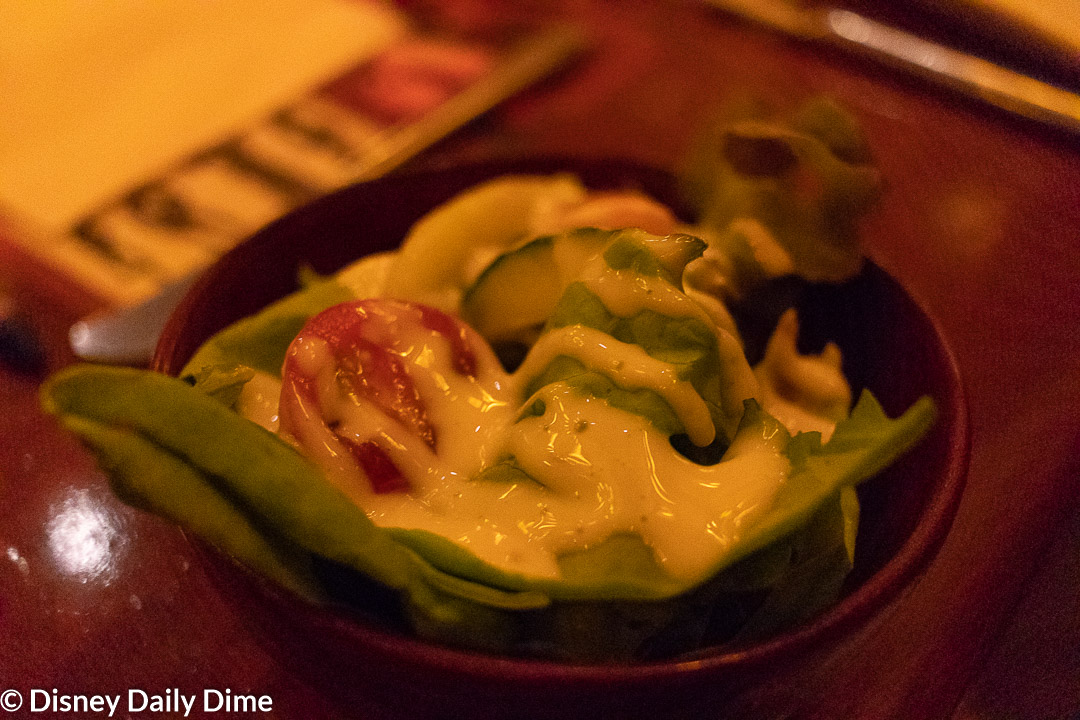 The girls both chose the house salad off the children's menu.  Their other option was the cheddar soup but neither one wanted to commit to it for their appetizer.  The salad was a straightforward lettuce with tomato and cucumbers served with ranch dressing.  It was fine, but nothing memorable.
One quick point about the dining plan and kids eating at Le Cellier.  As you look at what Anna and Elsa ate, you will probably quickly figure out that it isn't worth two table service credits for kids.  You will probably be better off paying out of pocket for your kids meals here.  That's what we did.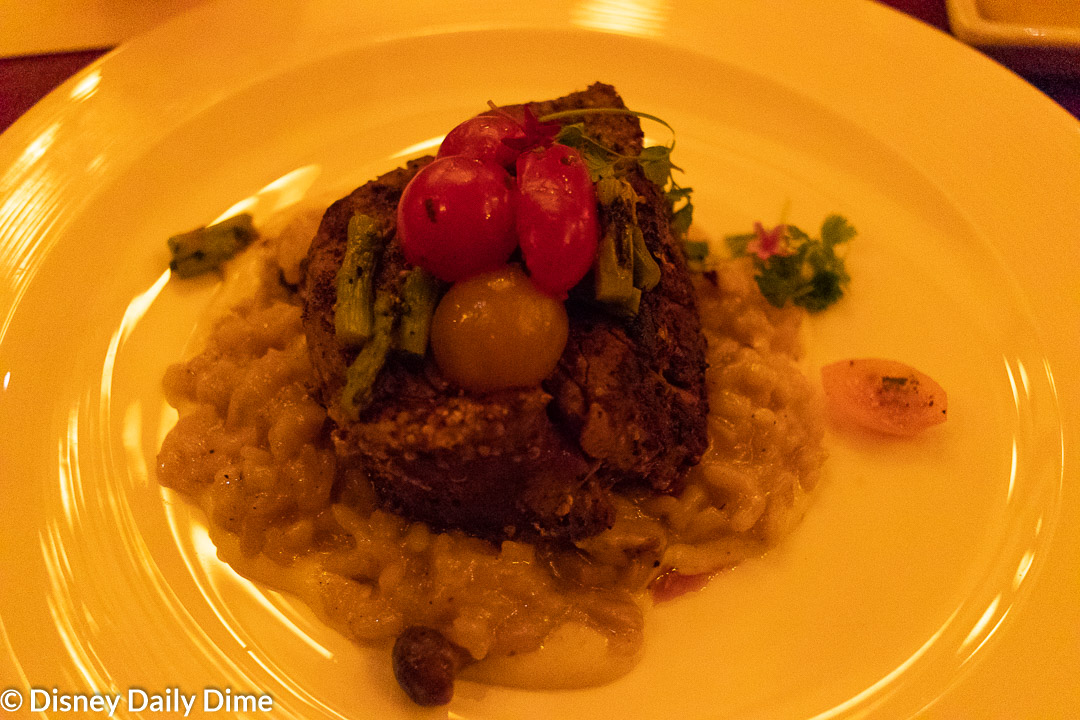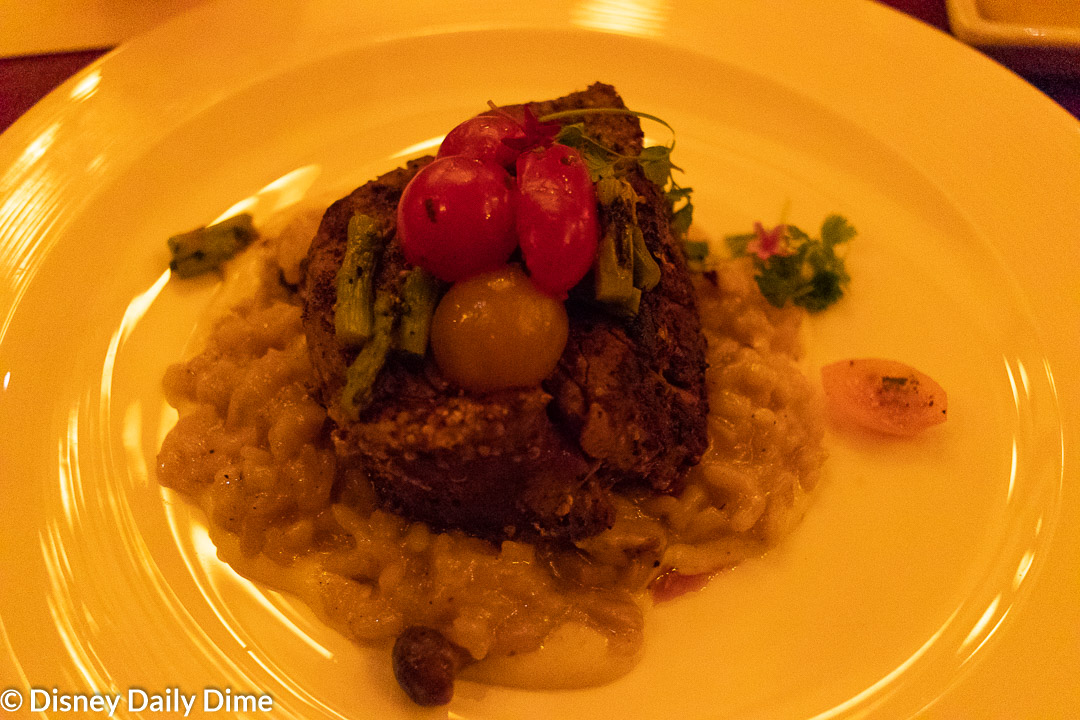 Entrees
Mike and I both selected the Filet Mignon as our main course.   As we are both huge fans of risotto, we were both eager to try the popular mushroom risotto accompaniment.   This is another dish that Le Cellier is known for.  We were both impressed with our filets.  These were high quality cuts of beef and cooked perfectly to our liking.  The mushroom risotto was creamy, rich and bursting with flavor.  The presentation was beautiful as the risotto was the bottom layer with the filet lying on top.  Asparagus and tomato topped the filet, which balanced the rich flavors of the steak and risotto.  It also provided some needed texture to the dish.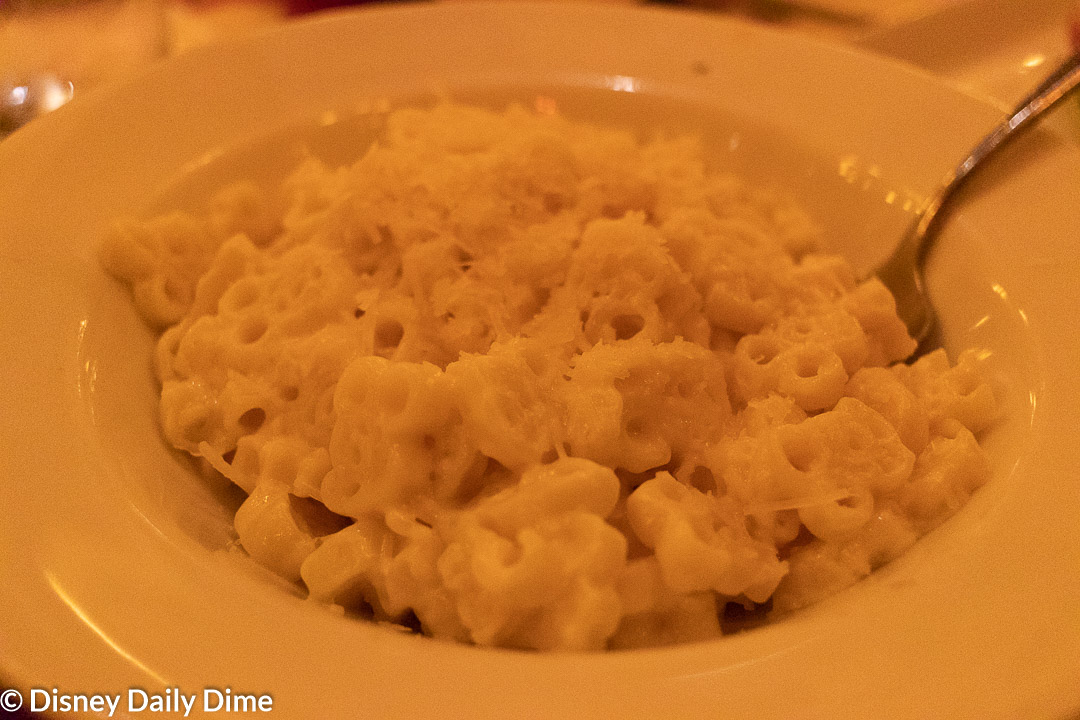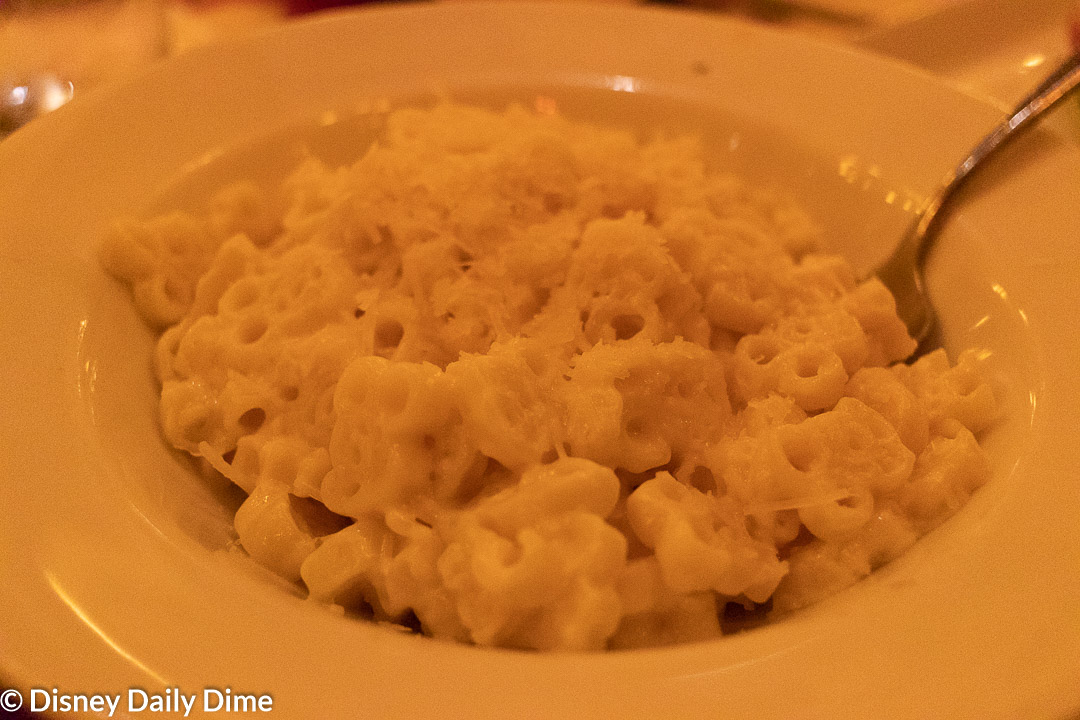 Elsa selected the Mickey Macaroni and Cheese made with White Cheddar Cheese.   She enjoyed it, however the portion was so large she couldn't make a "happy plate" and finish the bowl.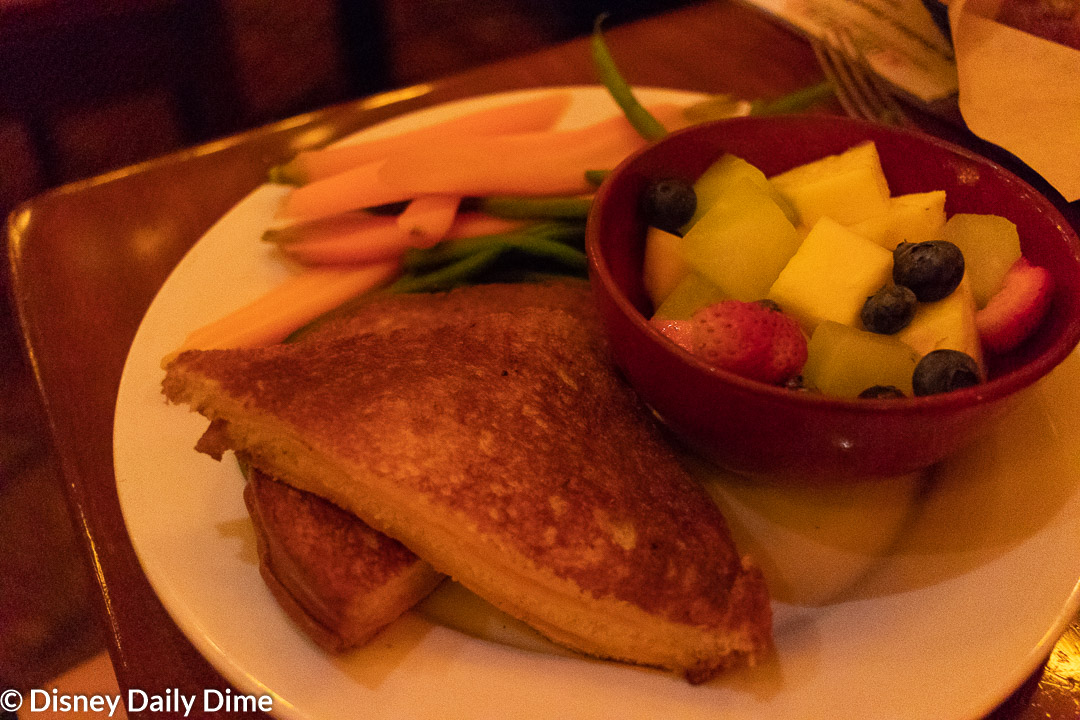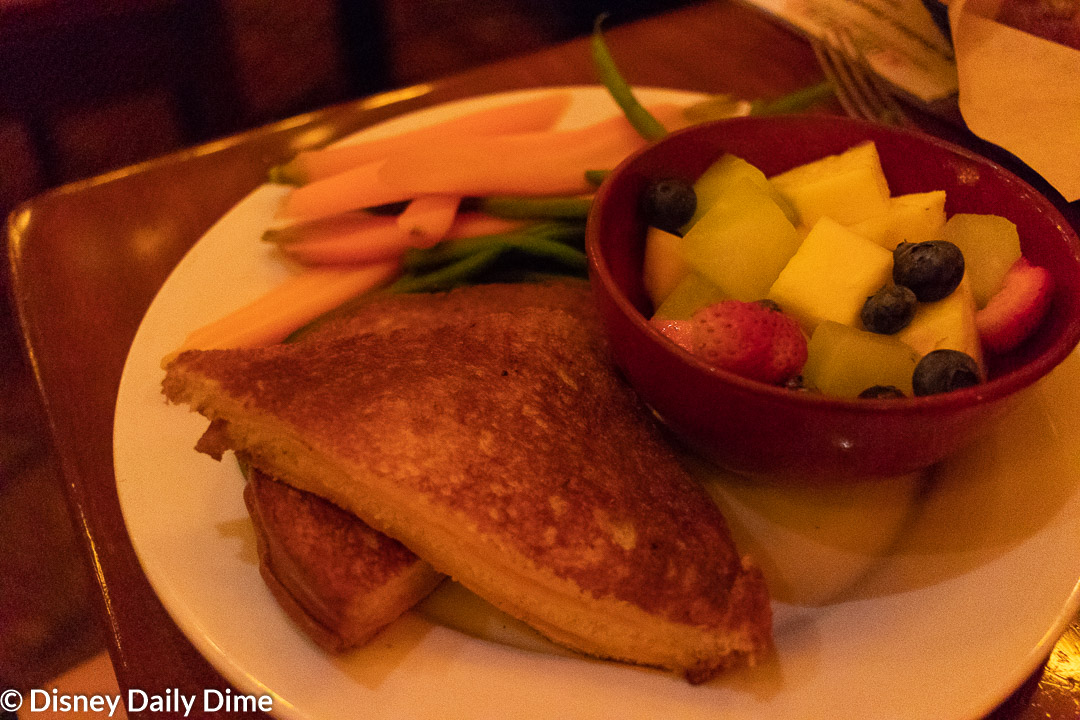 Anna was not as hungry tonight and ordered the simple grilled cheese sandwich.  Per the menu, it is served with fries and vegetables.    Anna is not really into fries and loves fruit with every meal.  Candice was eager to help and substituted a substantial fruit cup in place of the fries.  (In doing so, she scored even more brownie points with us!)  This made the plate idea for Anna and she happily at it up.  Sans the crust on the grilled cheese.  That's a no-no for her.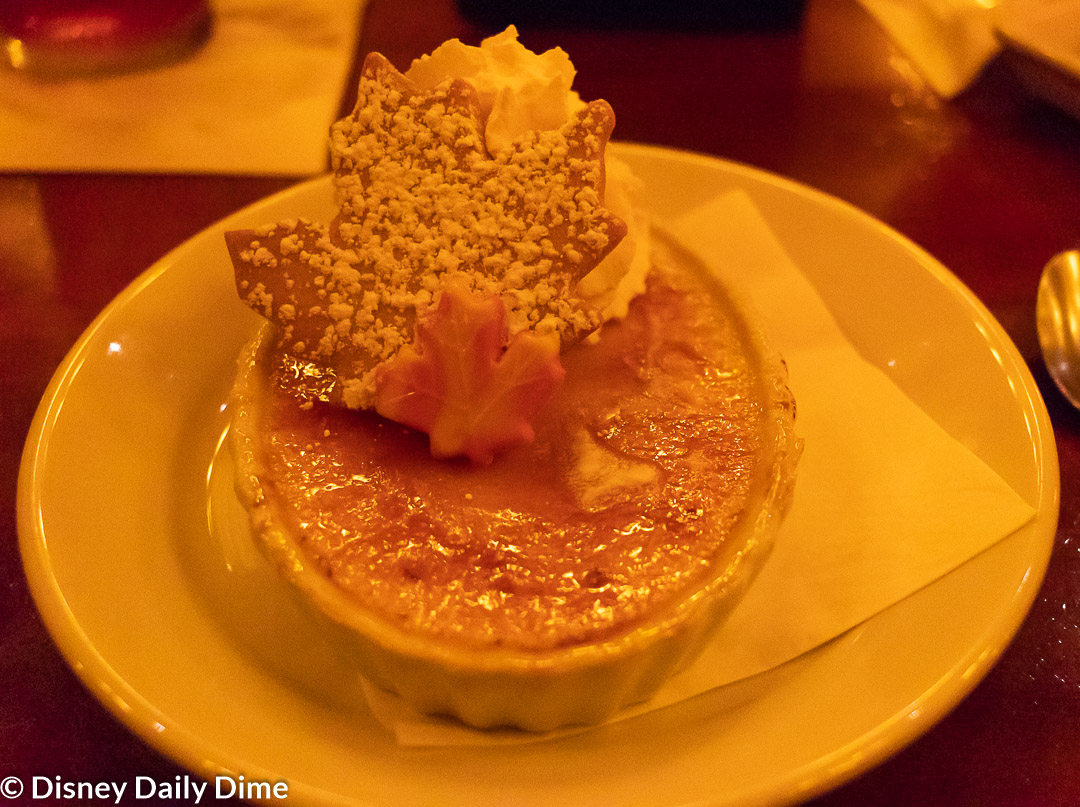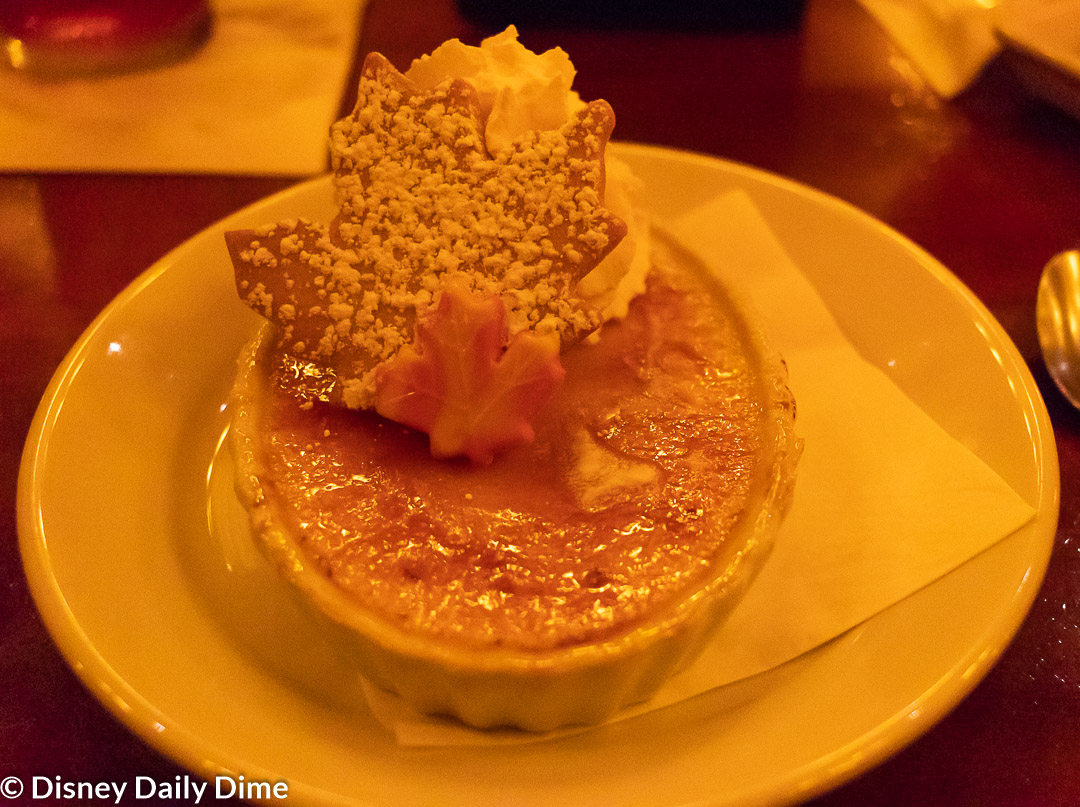 Dessert
After such an incredible meal, we weren't left with much room for dessert.  However, Mike and I are both crème brulee fans and Candice convinced us that we couldn't leave without trying the Maple Crème Brulee.  She even offered to box it up for us to take, but we decided to go for it right then.  I have been fortunate to try many flavors of crème brulee outside of the standard vanilla bean so I was excited to try a new flavor.   Oh my.  This crème brulee was outstanding!  Sweet, rich and creamy, the maple flavor was blended perfectly into the custard.
Anna and Elsa skipped dessert in lieu of one more Mickey Premium bar.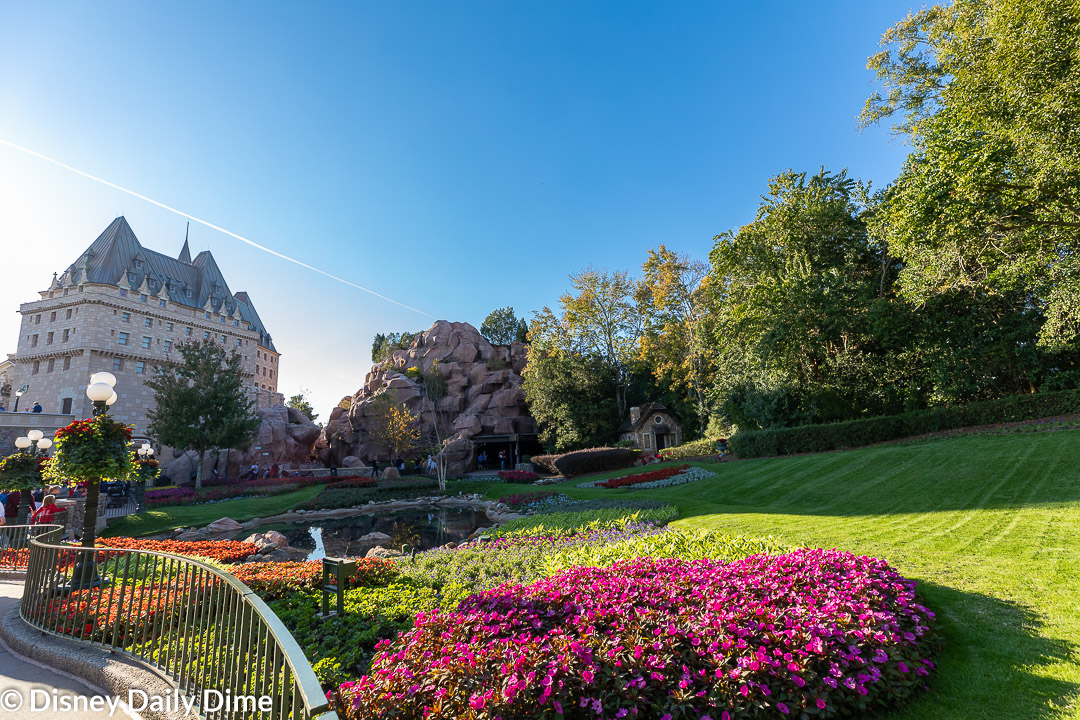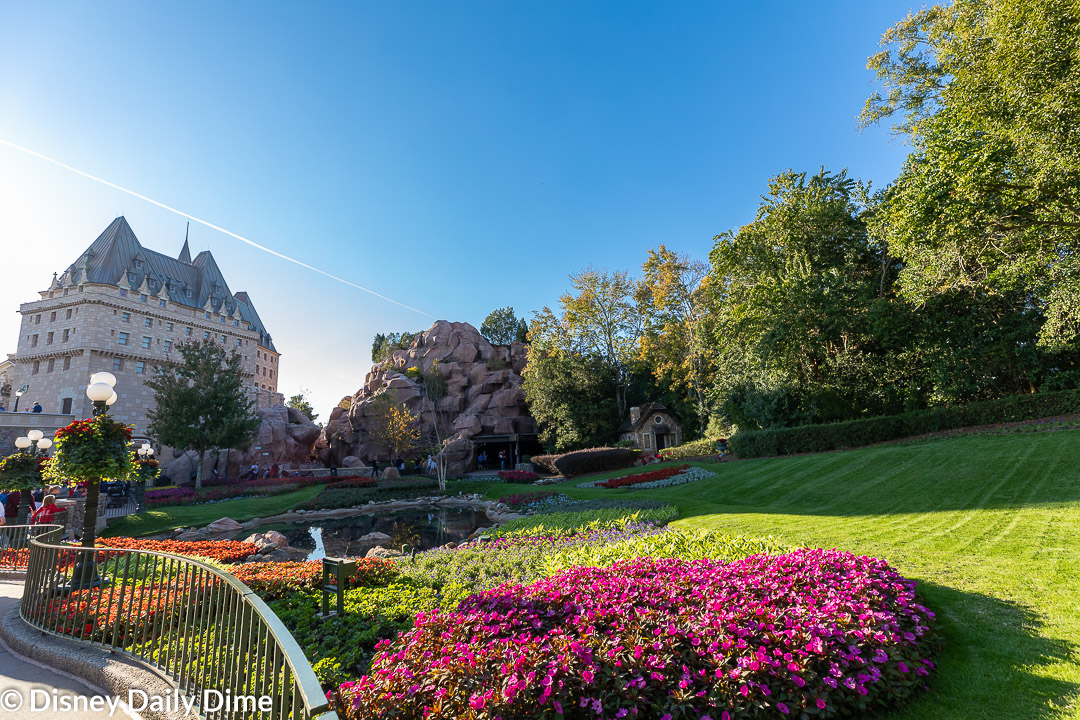 Le Cellier Overall
We thoroughly enjoyed this meal as evidenced above.  The quality of the food was outstanding and we loved the creative twists on steakhouse standards, particularly in the appetizers and side dishes offered.  The steaks were great standard steakhouse fare and that is where our issue comes from.
Le Cellier is very similar to any high-end steakhouse back home, but with the Disney premium price.  We're talking over $50 for filet mignon.  Now it was a sizable cut of meat and included some sides that are normally a la carte but there is still a healthy premium being charged here.
While we delighted in our meal at Le Cellier, we probably won't return for this reason.  We felt it was too close to something we could get at home for the same (or better) quality and slightly less expensive.  Epcot has so many dining choices that it is hard to pass up opportunities to eat cuisine that is different from what we can get at home.  You could even go to a place like Morimoto Asia in Disney Springs for something we found truly unique and amazing.
If you are seeking a high-end steakhouse type meal on your Disney World vacation though, we highly recommend Le Cellier as an option if you want to stay in the theme park and not head to one of the steakhouses located in one of the resorts.
Wrapping Up
With that, we'll wrap up our Le Cellier review.  A great restaurant with a well-executed theme.  It just isn't an overly unique experience from a food perspective.  And don't look at the prices on the menu.
If our Le Cellier review was helpful, or at least entertaining, please like and share this with your friends or anyone you think will find it useful.  Just use the sharing buttons on the page.  We always appreciate it when you share our posts, as it allows us to spread the word about our blog and hopefully allows us to help others.