Tony's Town Square Restaurant is located in Town Square, which is the first area you encounter when you enter the Magic Kingdom under the train station.   Tony's is located to the right, near the Town Square Theater, where Mickey and Tinkerbell have their regular meet and greets.  This restaurant has existed since the Magic Kingdom opened in 1971, even though it has gone through many name changes and iterations until it became Tony's in 1989.  Here in our Tony's Town Square Restaurant review, we'll talk about our dining experience, including the food and ambiance.
In case you are wondering who Tony is, he is the proprietor of the Italian restaurant from Disney's The Lady and the Tramp, where the beloved main characters shared a plate of spaghetti.   There is light and tasteful theming to the Lady and the Tramp throughout the restaurant.
Both lunch and dinner are served at Tony's, and those meals will cost you one table service credit on the Disney Dining Plan.  If you look at the menu for Tony's Town Square Restaurant you will see that most entrees cost anywhere from $20-$36 with desserts running from $7-$10.   Throw in an adult cocktail and it isn't a bad use of a table service credit but depending on the restaurants you plan on visiting over the course of your trip, it might worth doing the math to see if this is the best use of your credit.   And as you will see from our review, we feel it is not a good use of your credit or your valuable vacation time because, unfortunately, this meal wasn't very good.
Tony's does accept Tables in Wonderland. 


Tony's Town Square Restaurant is Iconic and Charming
As I mentioned above, while it hasn't always been known as Tony's Town Square Restaurant, the location has been there since the opening of the Magic Kingdom.  Somehow in my 35+ years of visiting Disney World, I have never eaten at Tony's.   I was looking forward to eating here, simply because I love being in some of the original buildings of the Magic Kingdom.
The entrance is to the left of the Town Square Theater, but you can also enter through the theater entrance.  The check-in desk is surrounded by high back red velvet couches and a TV area for kids playing, of course, The Lady and the Tramp.   This whole area carries the Main Street USA theming.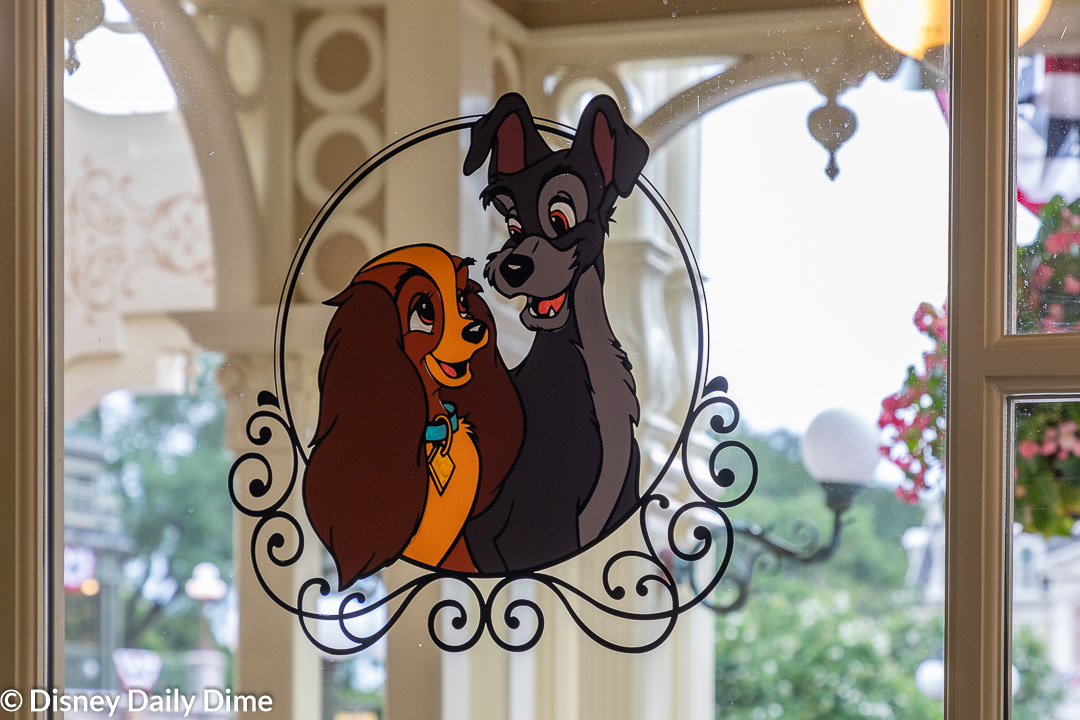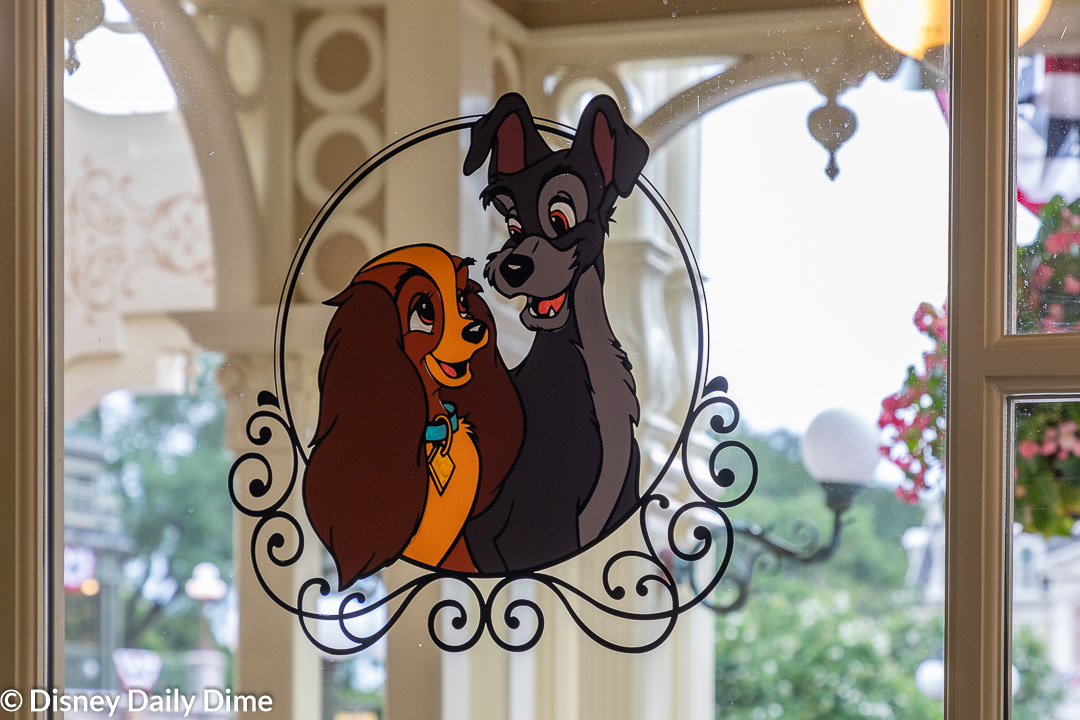 The restaurant itself is made of primarily one large dining room with a patio area also available.  This patio area is popular for parade viewing if you time your meal between lunch and dinner when the parade runs down Main Street at 3:00 PM on most days (always check park schedules and calendars). 
The dining room has a beautiful Lady and the Tramp fountain in the center.   Framed art depicting scenes from the movie are on display throughout the room.  We really enjoyed the subtle and tasteful salute to this Disney classic movie.  It isn't over the top at all, but it gives the restaurant a "Disney feel" while still conveying the turn of the century theming of Main Street USA.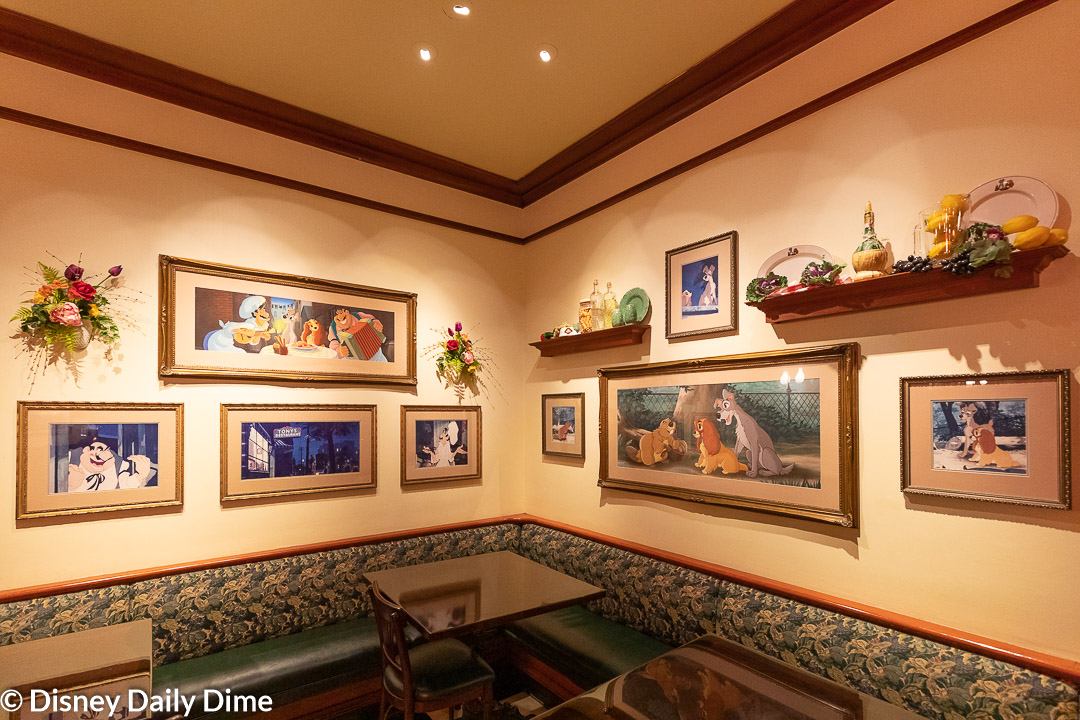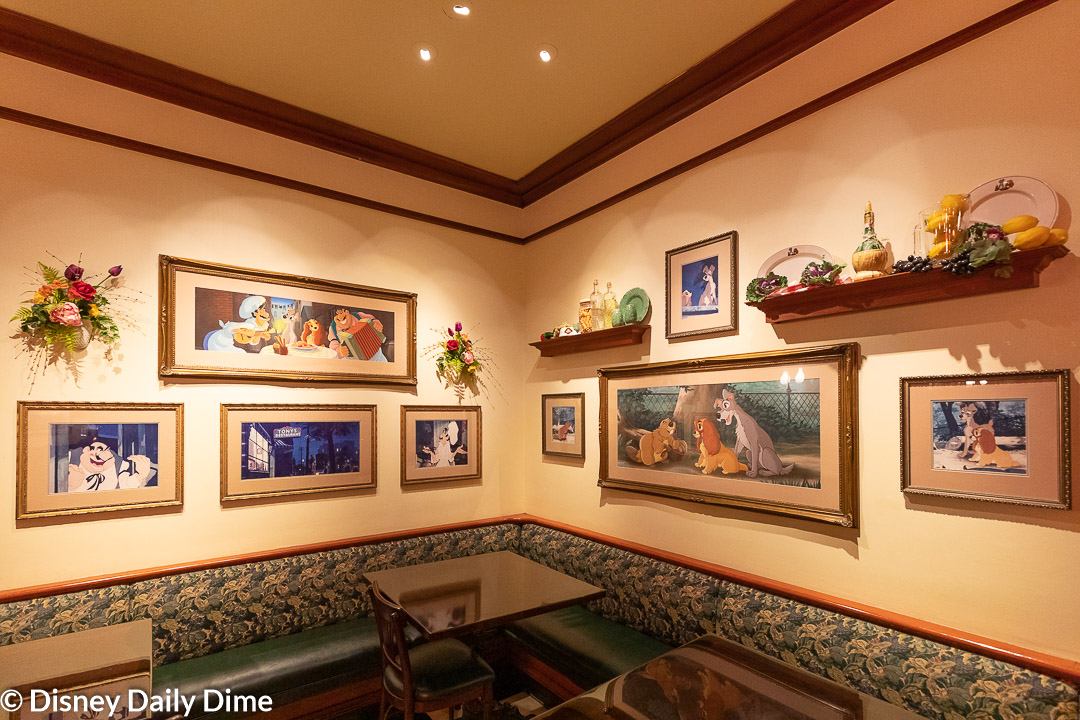 Beyond the art, you'll find touches throughout the main dining area, which give the restaurant a higher-end feel like the wood beams in the ceiling or the black and white checker floor.  In many ways, it is the antithesis of Mama Melrose's Ristorante Italiano over in Hollywood Studios.  Both provide Italian food dining, but the settings are very different; however the theming in both are of high quality in our opinion.
Overall, we greatly enjoyed the theming of the restaurant.  But…
Unfortunately, Tony's Food Didn't Deliver
If you have read any of our other Disney World restaurant reviews, we try to be positive but also "real" about eating around Disney World.   We fully recognize that these are only our opinions, and food is extremely subjective.
We know there are many fans of Tony's out there, and I don't want to offend anyone who has eaten here, but I can say after years of vacationing at Disney, that this was hands down the most disappointing food I have had at a table service restaurant.  Mike would say it was beyond disappointing.  In fact, he would call the food from our Tony's Town Square Restaurant review downright bad.  This frankly breaks my heart because the restaurant itself is so charming and filled with the splendor and nostalgia of Main Street USA.  All I can say is that I enjoyed "being there," but not "eating there."
With that being said, let's go through our meal.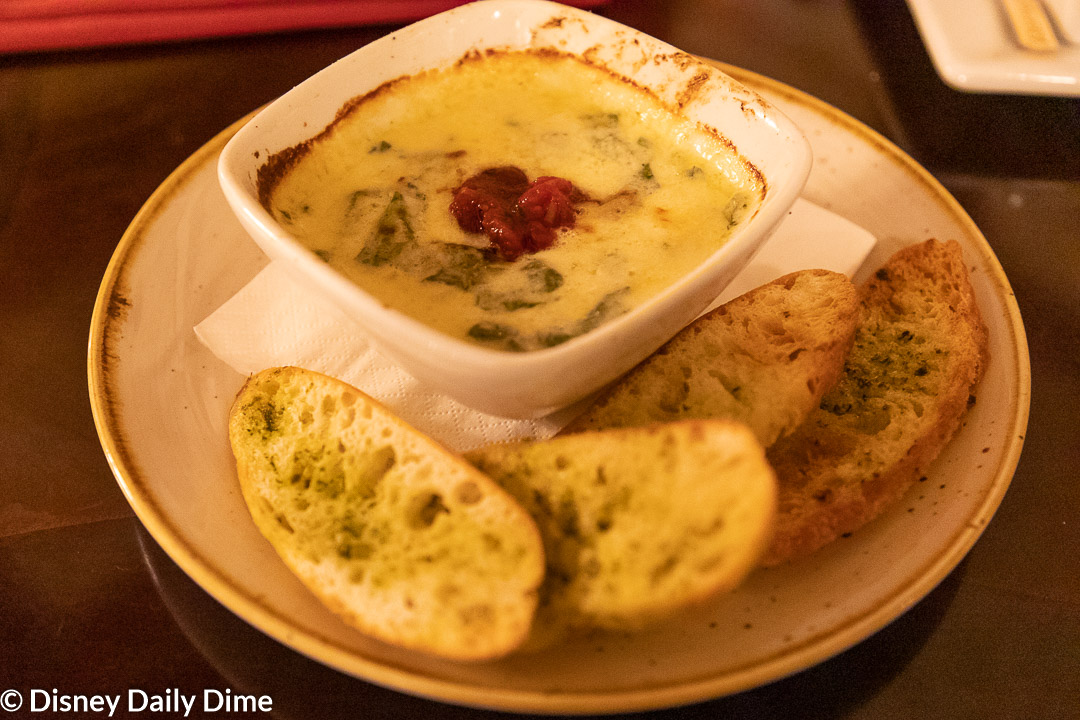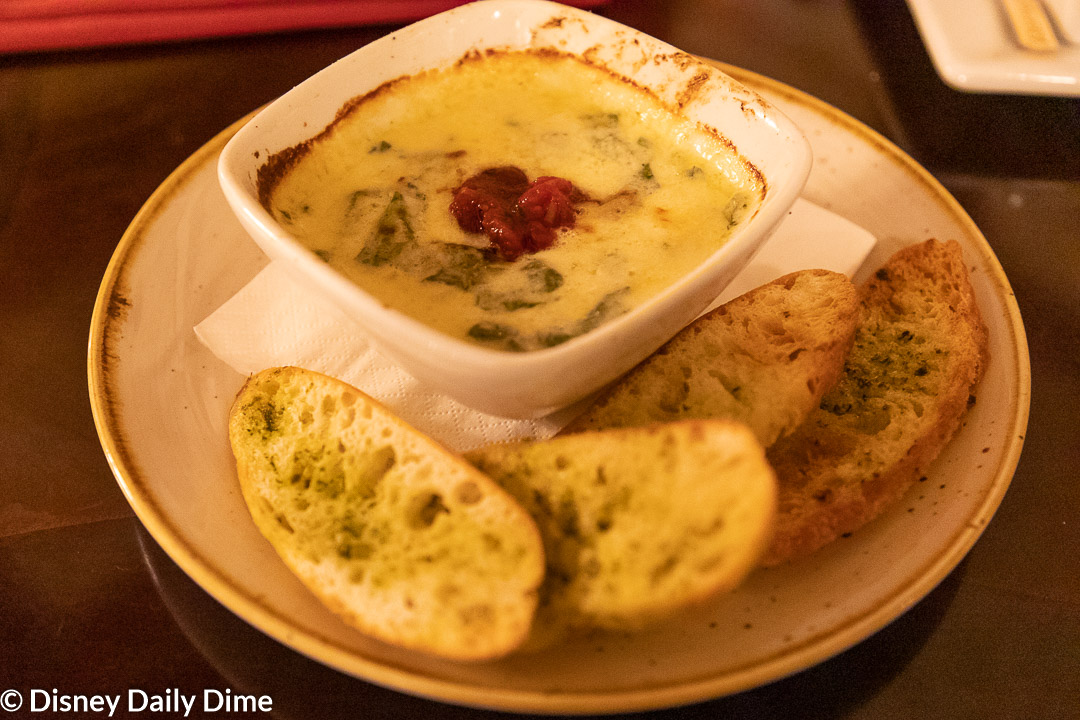 Appetizers
We don't always choose appetizers, but this particular night we were all starving and ready to eat.  Plus, a couple of the appetizers were appealing to us, so we wanted to try them out.
Mike started with the Spinach Dip, which the menu describes as a "trio of oven-roasted cheeses blended with fresh herbs and spinach."   It is served with toasted ciabatta bread.   In general, Mike loves ordering spinach and artichoke dip as an appetizer.  He was disappointed though as this one had a strong, overpowering parmesan flavor to him.  He admits this is a personal preference and not indicative of the quality of the dish as a whole.   So, while it was a miss for him, it may be worth trying if you are a fan of spinach dips.  Unfortunately, I wasn't able to try it to give a second opinion as it wasn't deemed gluten-friendly (I have been gluten free for a few years due to a gluten sensitivity I have developed).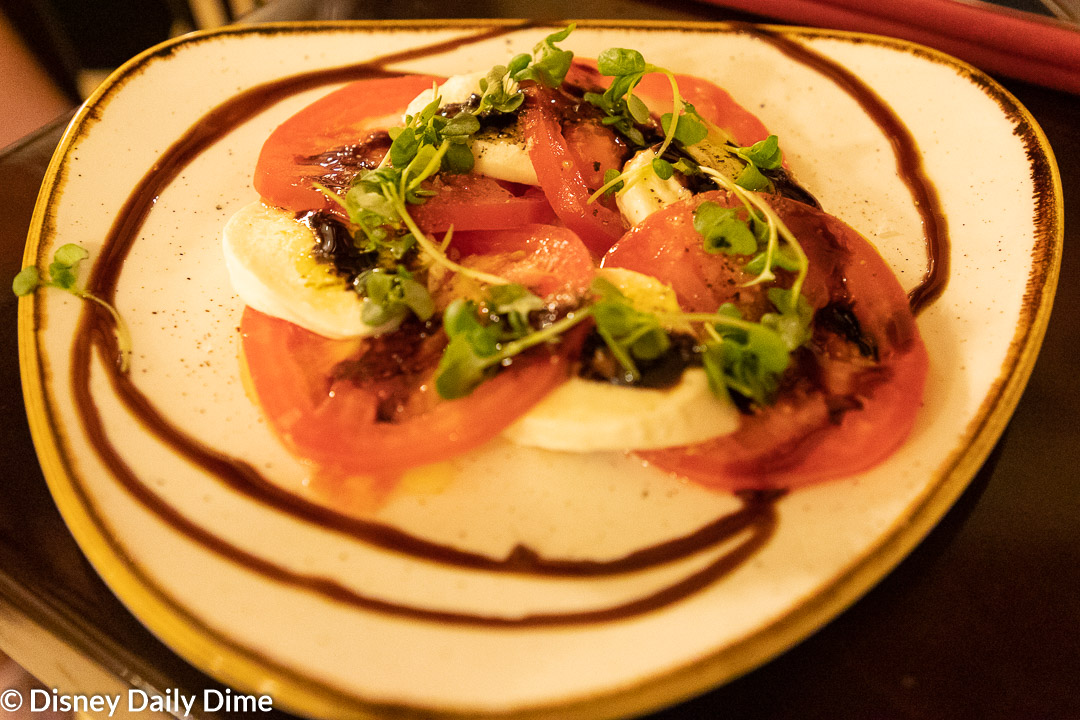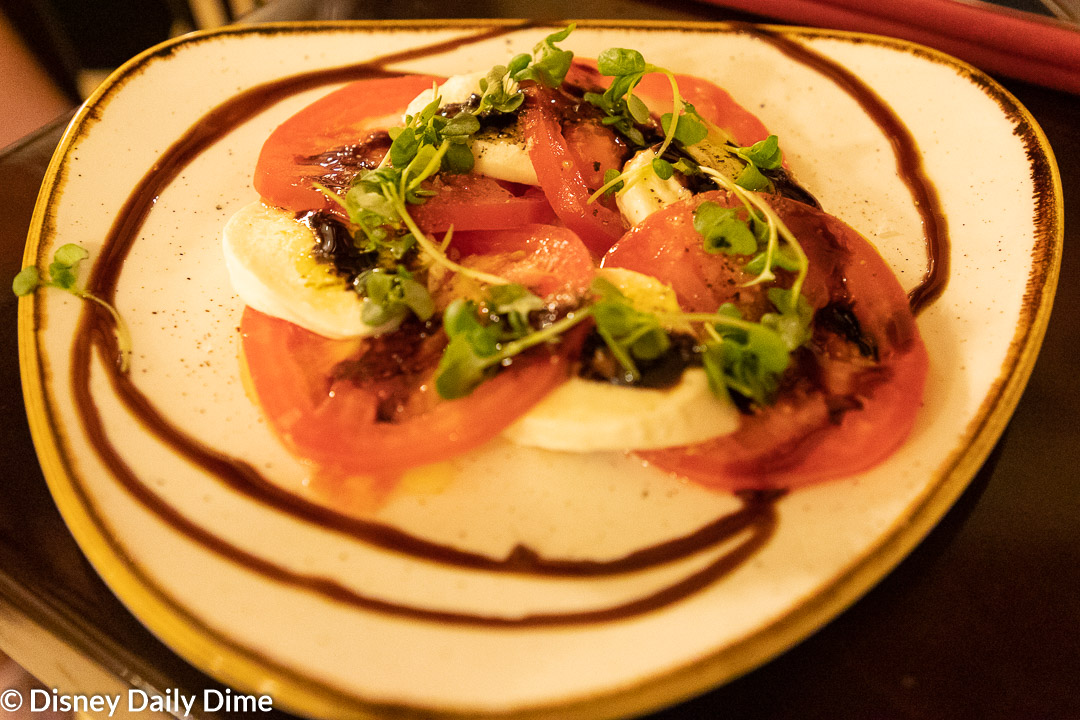 I selected the Caprese salad, which is always a favorite of mine to order.  The tomato and mozzarella slices were good quality and typical of what you would expect from a Caprese.   However, the salad had a blend of coarse salt and pepper spread over it.  While I appreciate the flavor and texture it would provide, it was completely overpowering and provided an odd "crunch" with each bite that was very off-putting.   I am not sure if mine was applied with too heavy a hand or this is truly how they prepare the salad but unfortunately, that salt and pepper texture turned me off from the salad.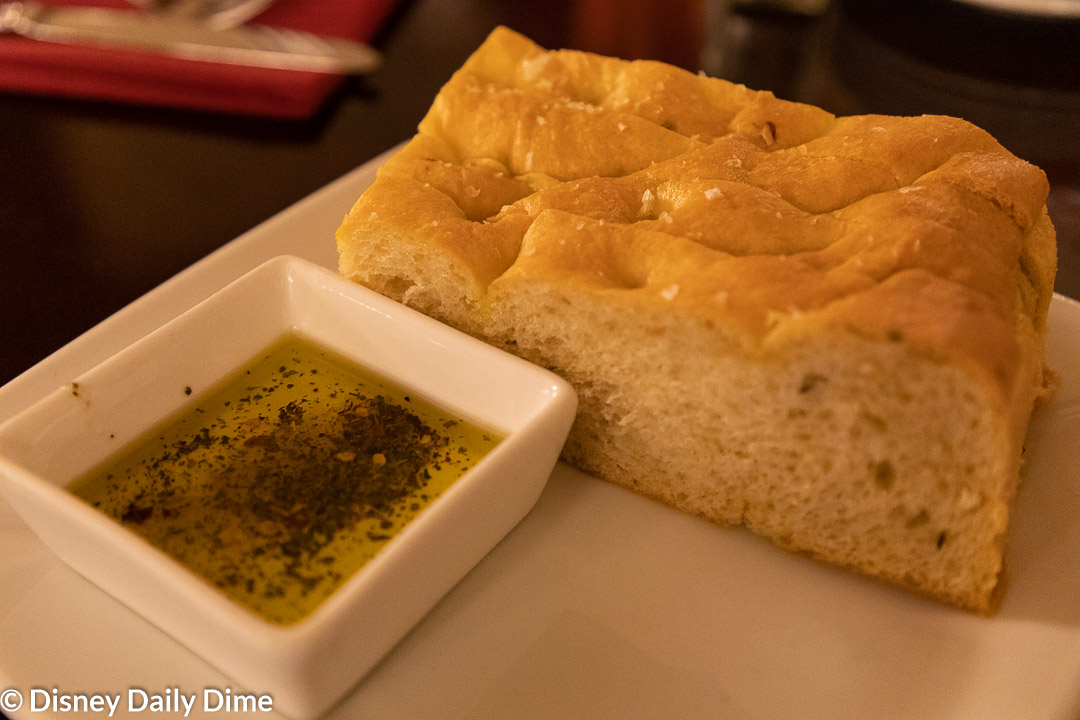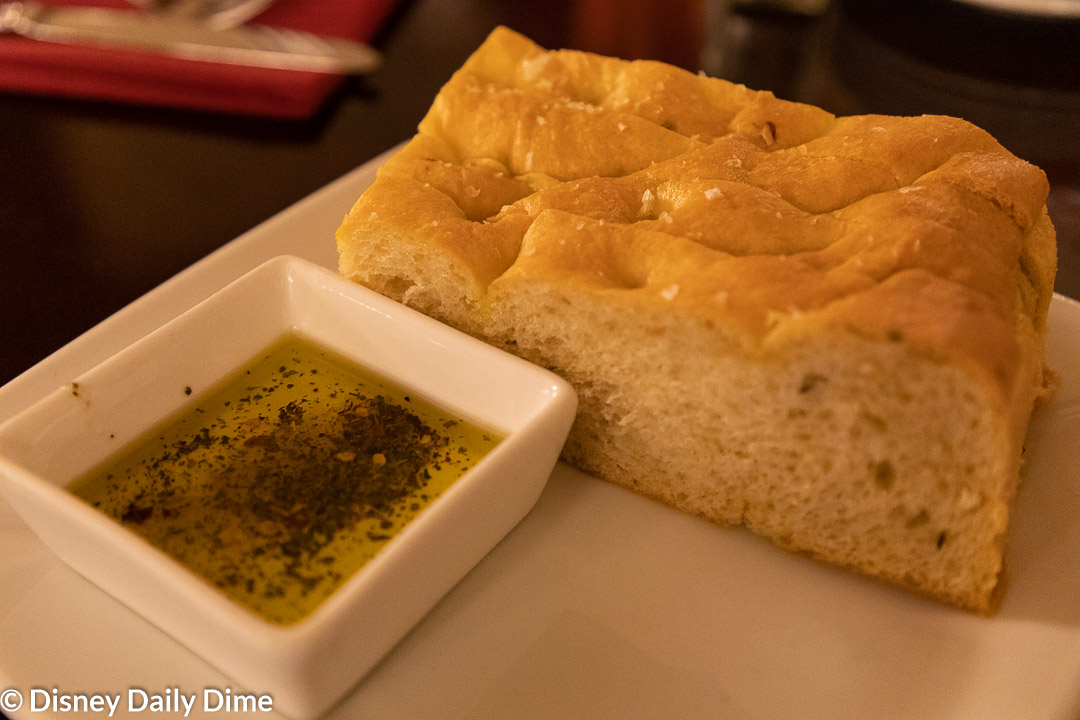 We also received bread service with olive oil and herbs to dip the bread in.   I received the standard allergy friendly rolls served around the World.  They were served warm with my own oil to dip in.  Mike and girls found their bread lacking any real flavor, with a texture that was not good.  The bread was also dry if that is possible!  Unfortunately, the dipping oil was incredibly bland, despite the herbs.  The herbs did not do much at all to season the oil and we couldn't detect much flavor when we scooped it on our bread.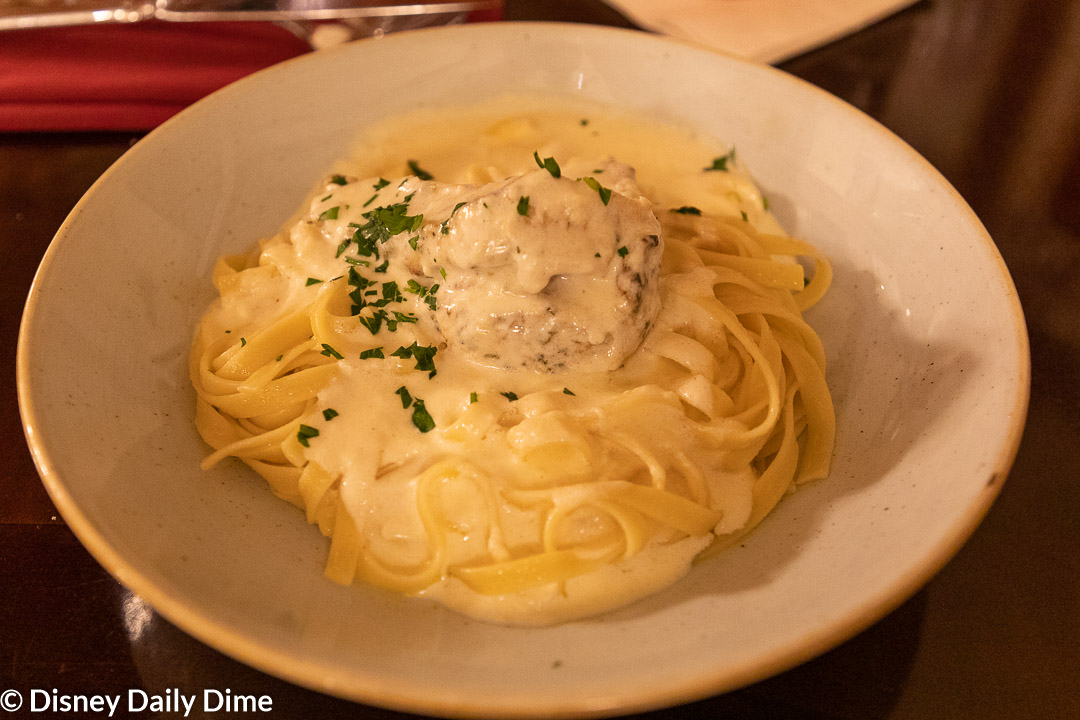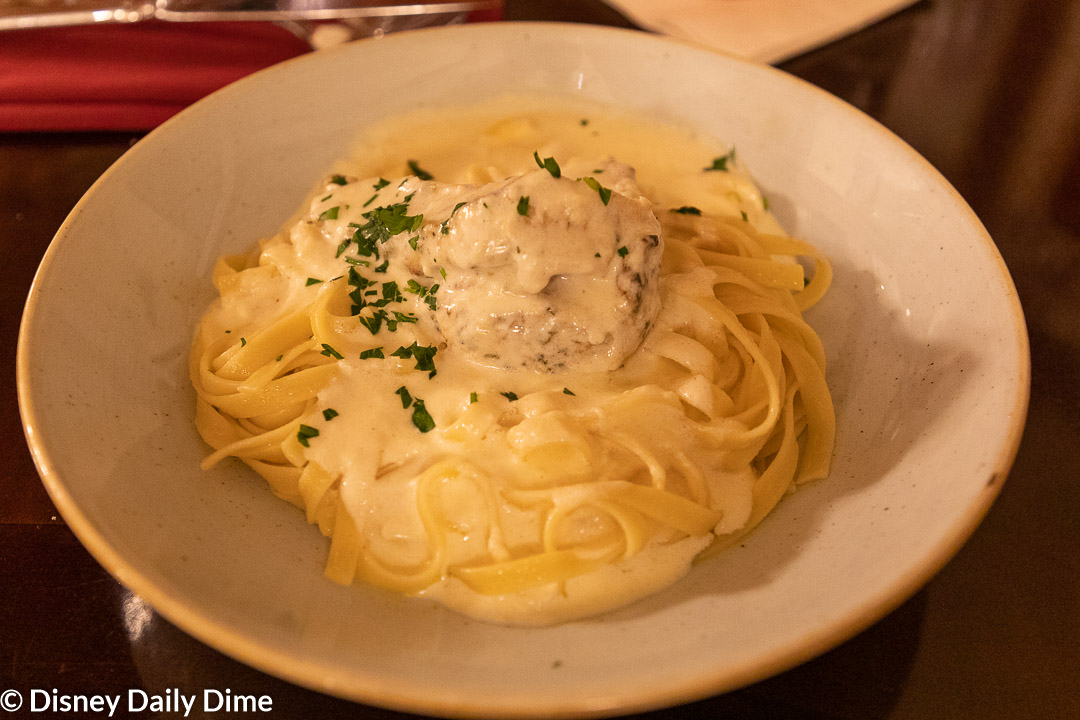 Entrées
Mike chose an indulgent favorite of his, Fettucine Alfredo with chicken.   He justified the treat due to all the walking we do while at Disney World!  Without mincing words, he didn't like it all.  The chicken was dry, and the sauce was bland and watery.   He couldn't even finish it.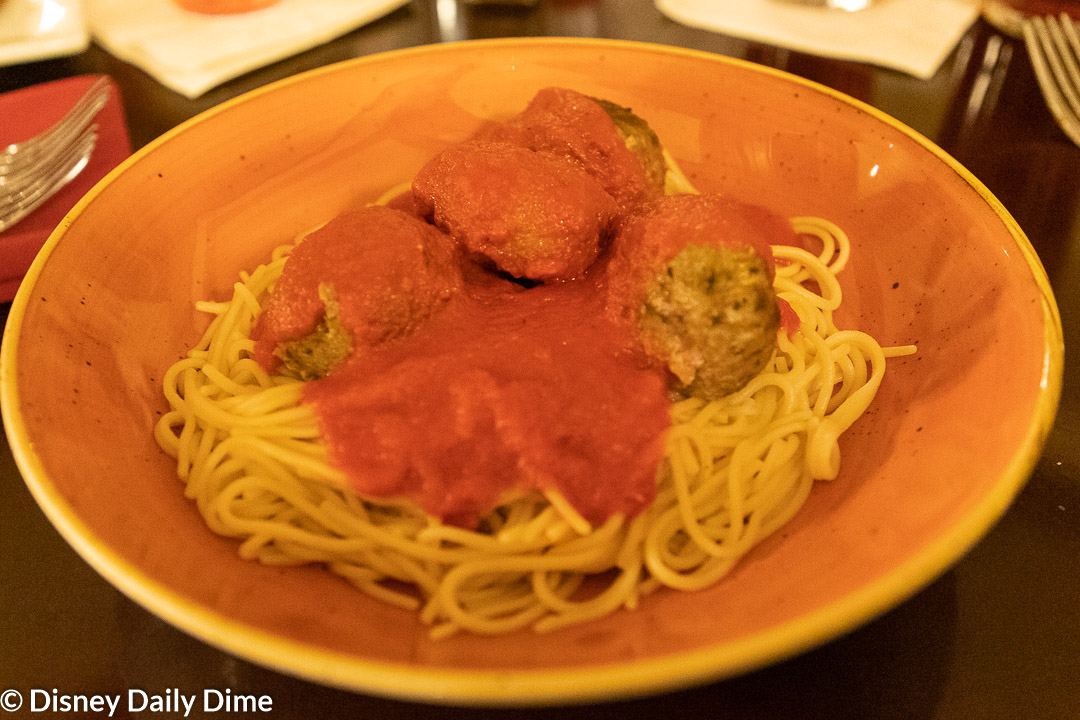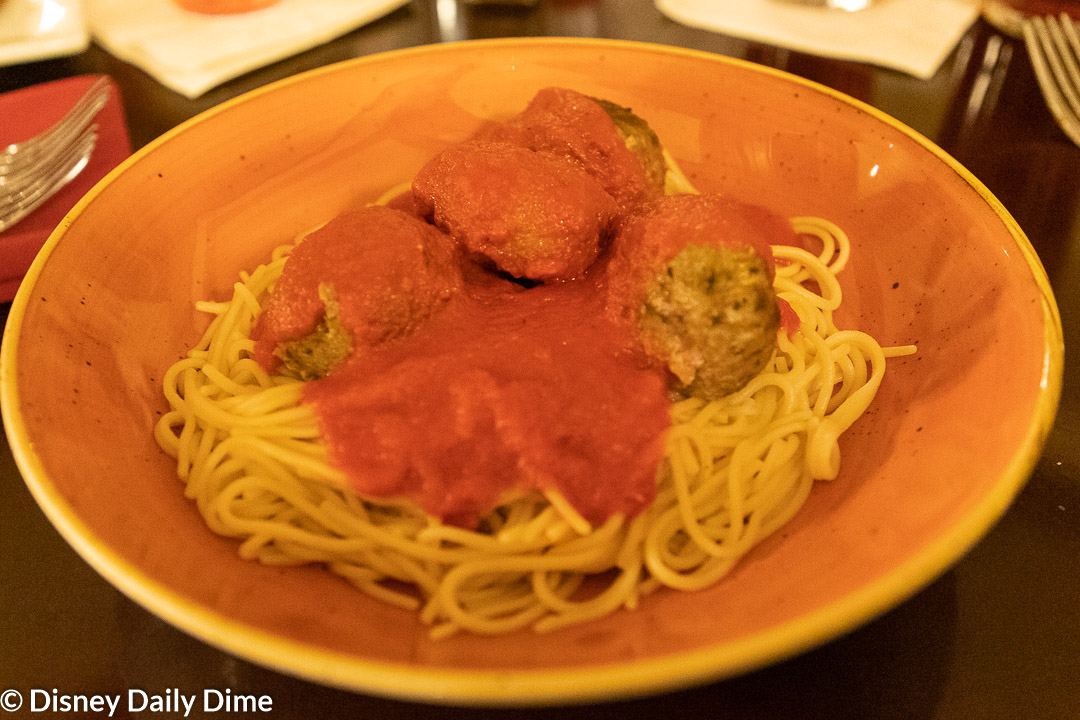 Ordering off the allergy friendly menu, I chose the spaghetti with turkey meatballs.  Wow.  The tomato sauce had little to no seasoning…all I could taste was tomato.  Think of a slightly chunky canned tomato soup – that's basically what it tasted like.  I was kind of shocked at the lack of flavor.  The pasta was itself was fine and was typical gluten-free pasta like what you can find in grocery stores at home.
Unfortunately, the meatballs also carried the "no flavor" consistency with the sauce.  They just tasted like plain, unseasoned meat.  I even had Mike try them just to confirm that I wasn't losing my mind, and he agreed that they were terribly bland with no flavor.   The entrée overall was extremely disappointing.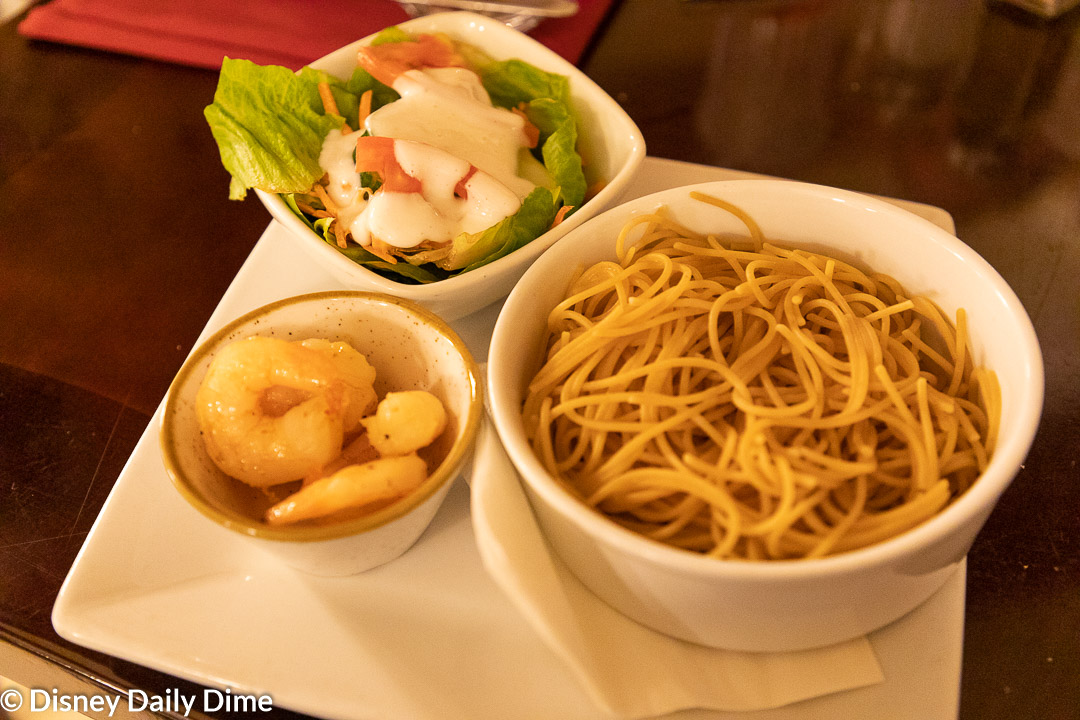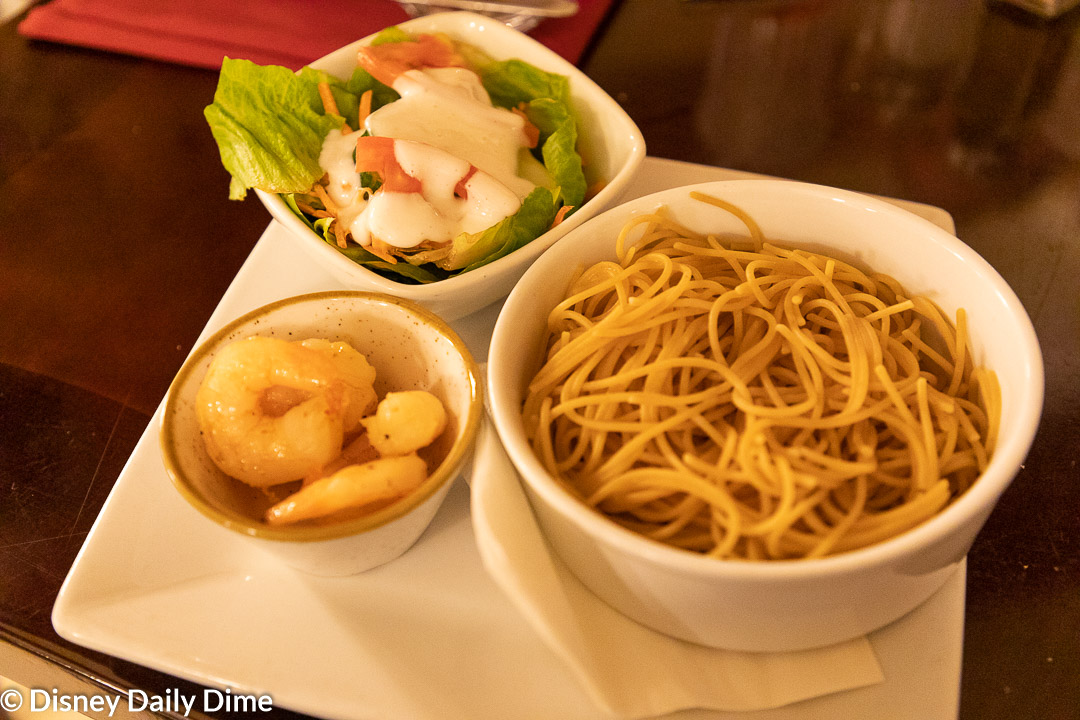 Elsa chose the kid's sautéed shrimp and whole wheat pasta with a salad as her side.  The salad was the typical lettuce salad but it was topped with a tomato/cucumber blend.  Note if you have a picky vegetable eater or a child who likes a lettuce only salad to request that to be left off. 
She enjoyed the shrimp. Unfortunately, there was only a small portion of shrimp compared to the giant kids' portion of spaghetti.  However, we were all surprised that the pasta was literally a plain bowl of noodles.  It may have been buttered but Elsa couldn't tell for sure.  She said the pasta was really dry. Her overall impression is that she liked the shrimp but was disappointed with the pasta.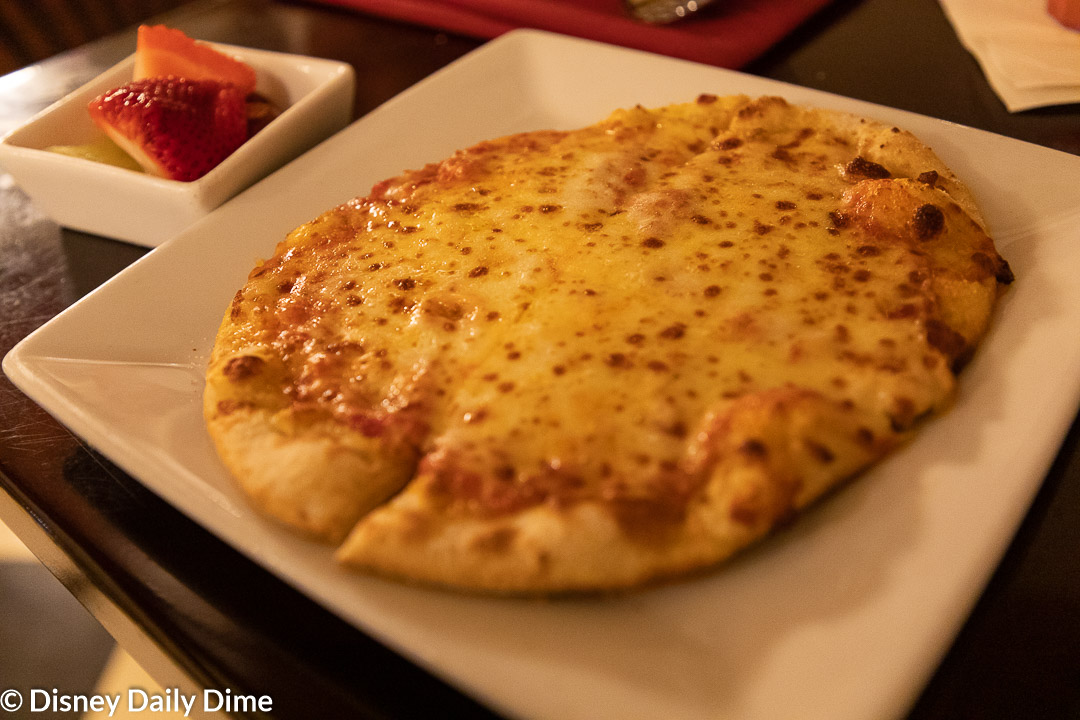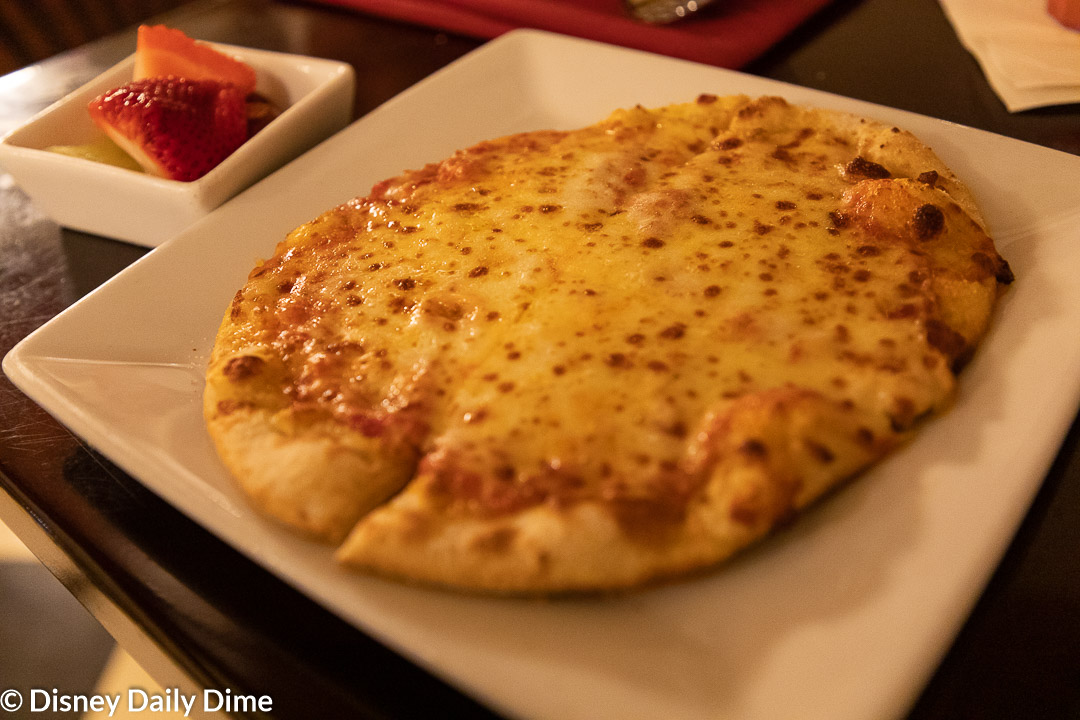 Anna chose the kid's cheese pizza with a fruit cup.  She immediately told us that her pizza was "a lot of cheese and no sauce."   It did have sauce on it, but it was an extremely thin layer.  She is not a picky pizza eater so it was surprising to hear her be critical of the pizza.  She ate about half and that was a struggle.  Mike took a bite of it and said it was one of the worst pizzas he has had at Disney World.
Tony's Town Square Restaurant Overall
By this point, we were all so disappointed we opted not to get dessert.  The girls had both saved their second side that came with their kid's meals for their dessert but they surprisingly wanted to skip it.  When they were even vocal about not enjoying their meal, it really stood out to Mike and me that it wasn't just our "adult perspectives," leading us to be unhappy.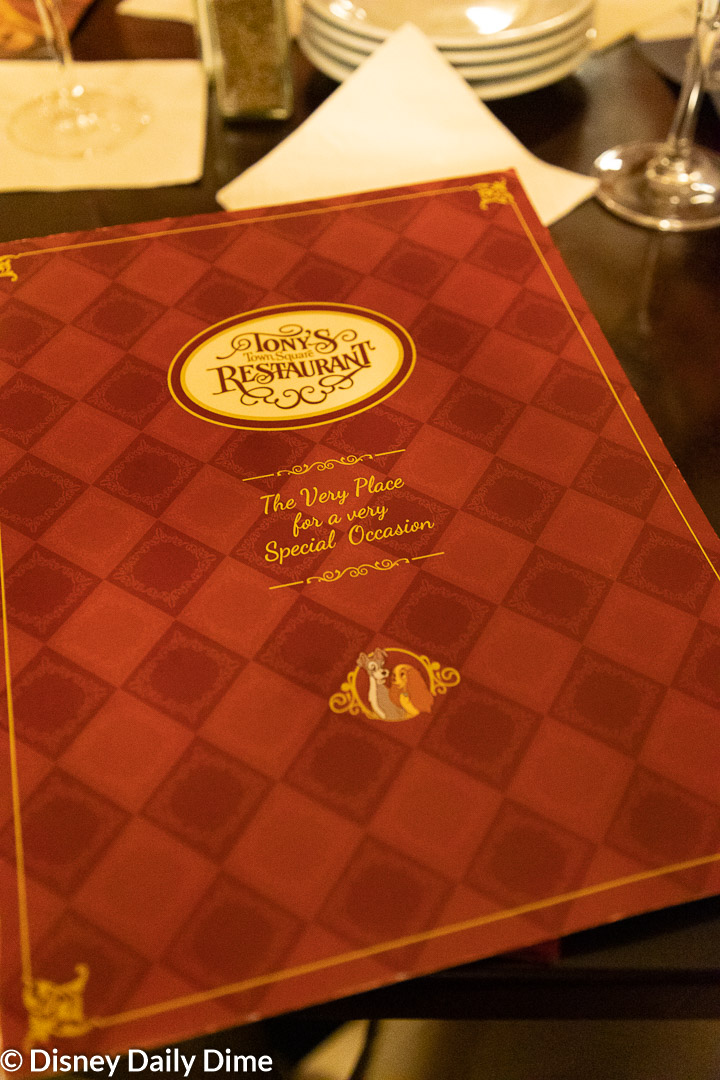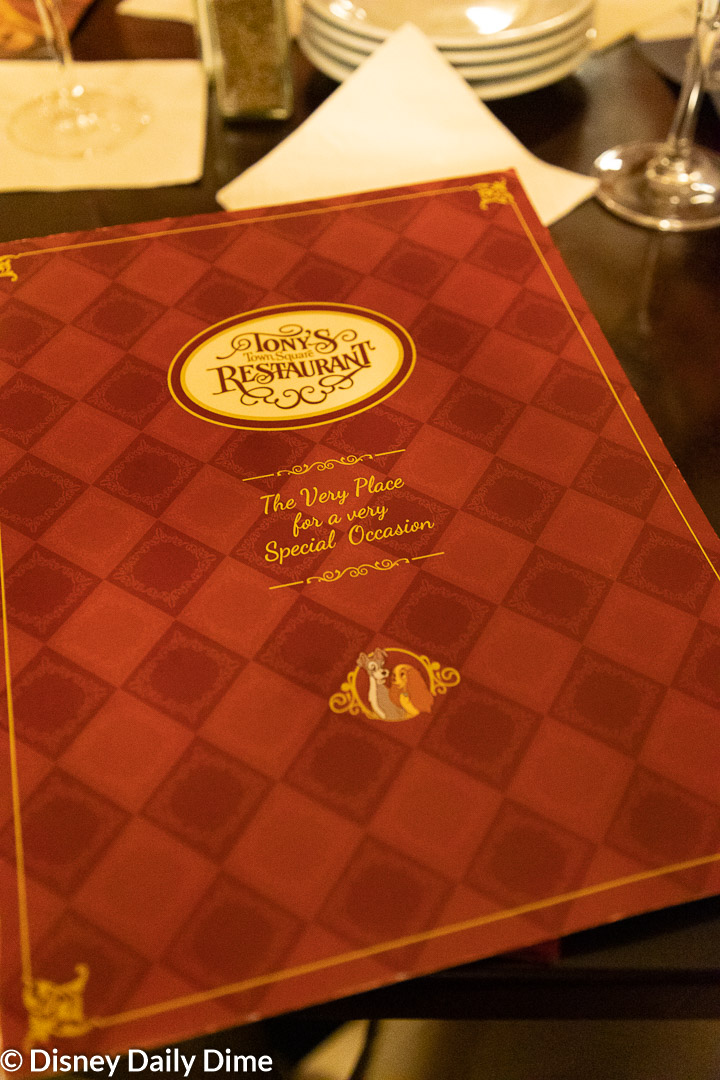 We were all in agreement that the restaurant itself was so delightful.  We all loved the Lady and the Tramp theme and references.  That just isn't enough for us to get past the disappointing food.   While we would like to eat there again for the location and décor, we can't imagine going back unless Tony's does a major overhaul on their food.
It pains me to write such a negative review, but I have read quite a few other reviews of Tony's similar to ours since our meal so I know ours isn't a minority opinion.   We can recommend other Magic Kingdom restaurants without hesitation, like Skipper Canteen, Liberty Tree Tavern and Be Our Guest, but this is the first (and hopefully one of only a few) restaurant that we can't in good faith recommend.   I would even recommend visiting some of the Magic Kingdom counter service restaurants like Columbia Harbor House over Tony's Town Square Restaurant.
I sincerely hope that the food quality improves and if it does, we wouldn't hesitate to give it another shot.
Wrapping Up
With that, we'll wrap up our Tony's Town Square Restaurant review.  This is a restaurant we think you should actively avoid.  I can't be any clearer than that.
If our Tony's Town Square Restaurant review was helpful or at least entertaining, please like and share this with your friends or anyone you think will find it useful.  Just use the sharing buttons on the page.  We always appreciate it when you share our posts, as it allows us to spread the word about our young blog and hopefully allows us to help others.