Topolino's Terrace Overview
Topolino's Terrace is located on the 10th floor of Disney's Riviera Resort.   The restaurant carries the upscale European theming of the resort, but it doesn't feel stuffy or overly opulent.   The restaurant is well laid out, with comfortable spacing between the tables.  This is kind of funny to point out, but many Disney World restaurants have tables set way too close to each other.   We appreciated the space and breathing room, particularly once the characters were at the table.
The showpiece of the restaurant is its beautiful view from three walls of windows.   Overlooking Barefoot Bay and the Caribbean Beach resort, the skylines of Epcot and Hollywood Studios are within sight.  The Skyliner provides some kinetic energy to the view.  While I am always a little anxious during breakfasts to get to the parks to enjoy as much of the early morning touring time as possible, Topolino's comfortable seating and beautiful views allowed me to relax. I was actually a little sad when it was time to leave.
We were visited by artist Mickey, author/poet Minnie, sculptor Donald, and dancer Daisy.   The characters spent a notable amount of time with us and with every table.  The interactions were personal and so much fun.   We also enjoyed the characters interacting with each other, which added another level of entertainment to the meal.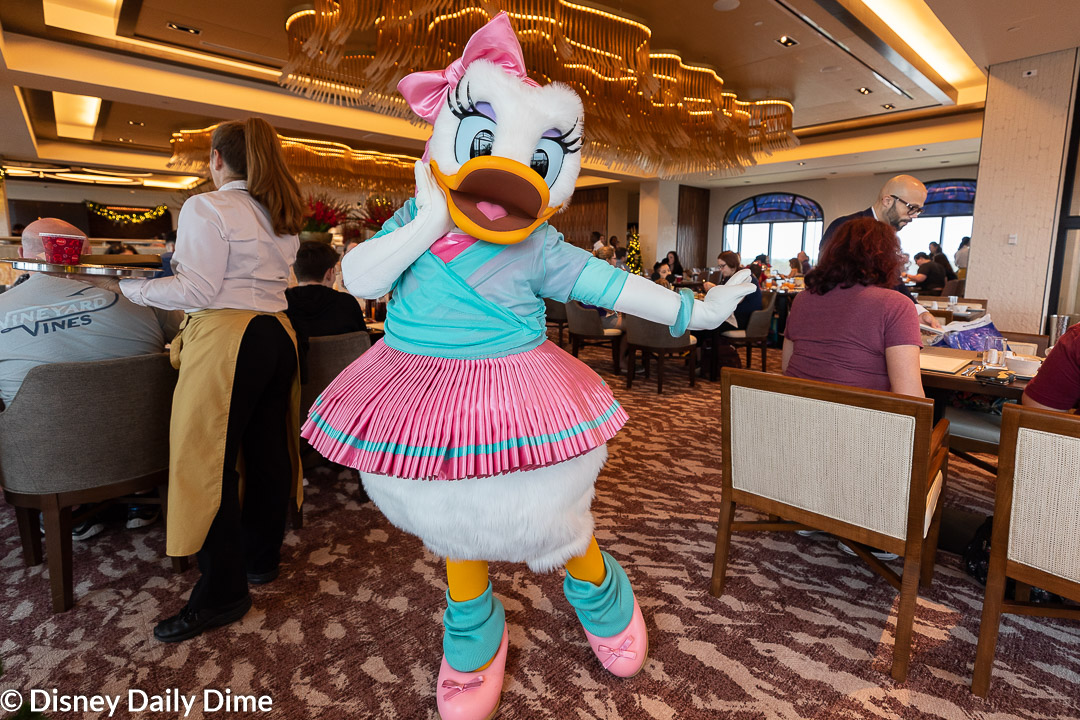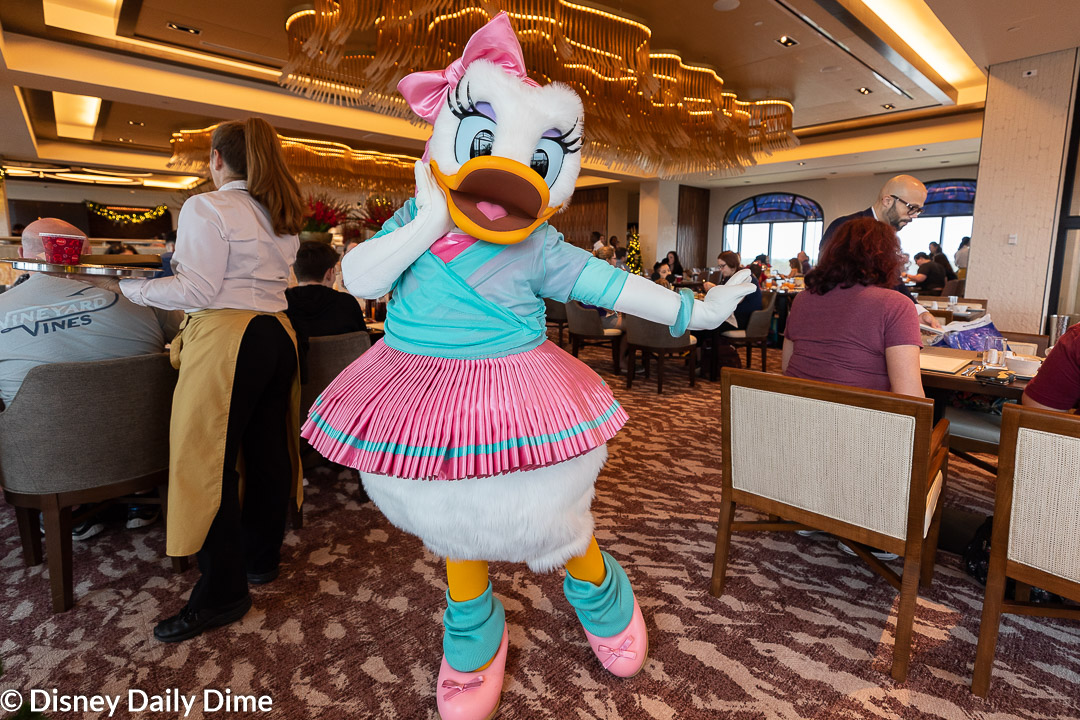 As you will see on the "Our Story" page of our website, I've developed a gluten sensitivity that is pretty strong, so I eat entirely gluten and wheat free.  This is the next installment in what is our ongoing series of my experiences eating gluten free around all of Disney World.  Here in our Topolino's Terrace Character Breakfast a la Art Gluten Free review, I'll cover the food and other topics related to the restaurant as well.  This will include my experience, service, options and anything else I think others trying to eat gluten free may care about.
We were all looking forward to our stay at the new Riviera Resort and of course, to check out Topolino's Terrace.  The "Breakfast a la Art" sounded like so much fun, especially with Mickey and friends wearing outfits unique to this meal.   I went in with high expectations, but those expectations were more than surpassed with the fantastic character interactions and the delicious food offerings.    If you want to read more about the restaurant and our overall experience (including a Magical Moment that brought three of the four of us to tears), please read Mike's full Topolino's Terrace Character Breakfast review.  We won't rehash all the character interactions here.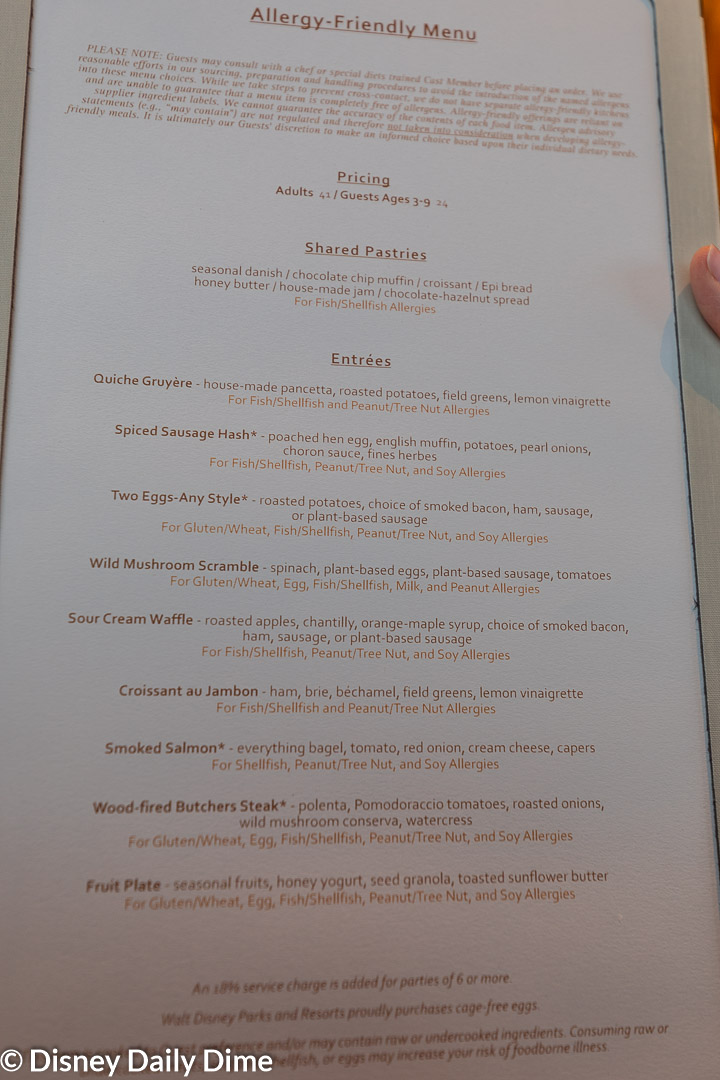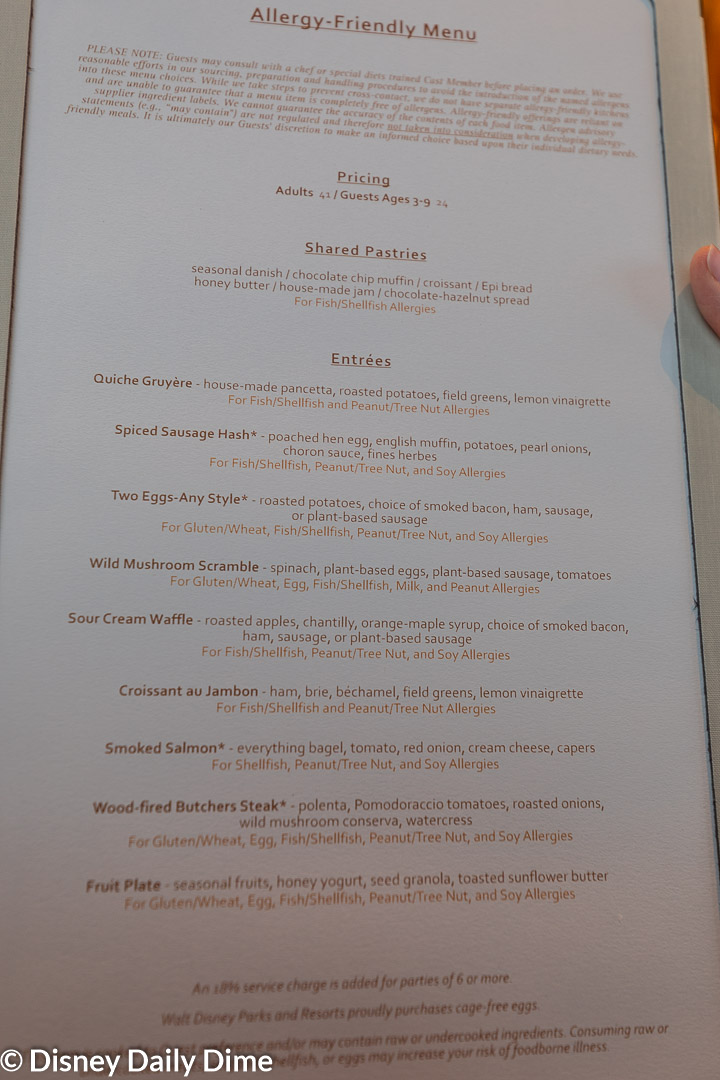 Topolino's Terrace Breakfast Gluten Free Menu
The allergy menu for the Breakfast a la Art at Topolino's Terrace listed each entrée selection, noting which food allergies/intolerances it is safe for.  I was pleased to see that there were multiple gluten free options available.  I didn't ask if anything else could be modified. 
Given the price of the meal and the selection of inventive and creative breakfast options, I wanted to get something more than eggs/potatoes/meat options.  I asked our delightful server for advice, and she recommended the Wood-fired butchers steak (I was deciding between that and the Wild Mushroom Scramble).  As I am a huge fan of polenta, I selected this indulgent option.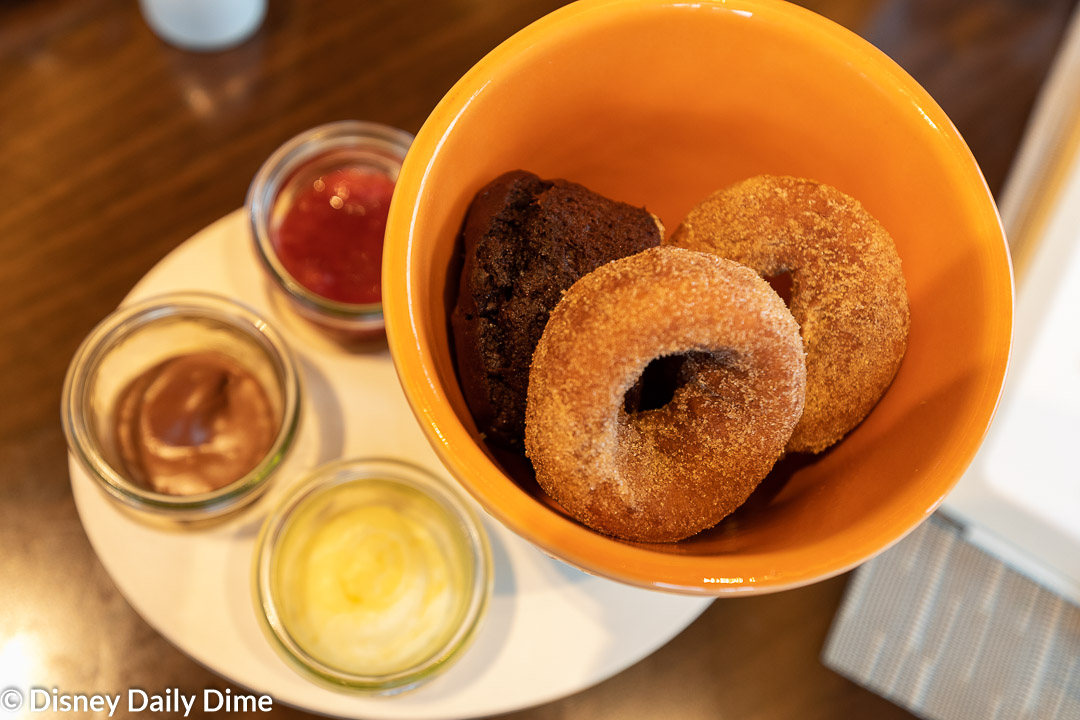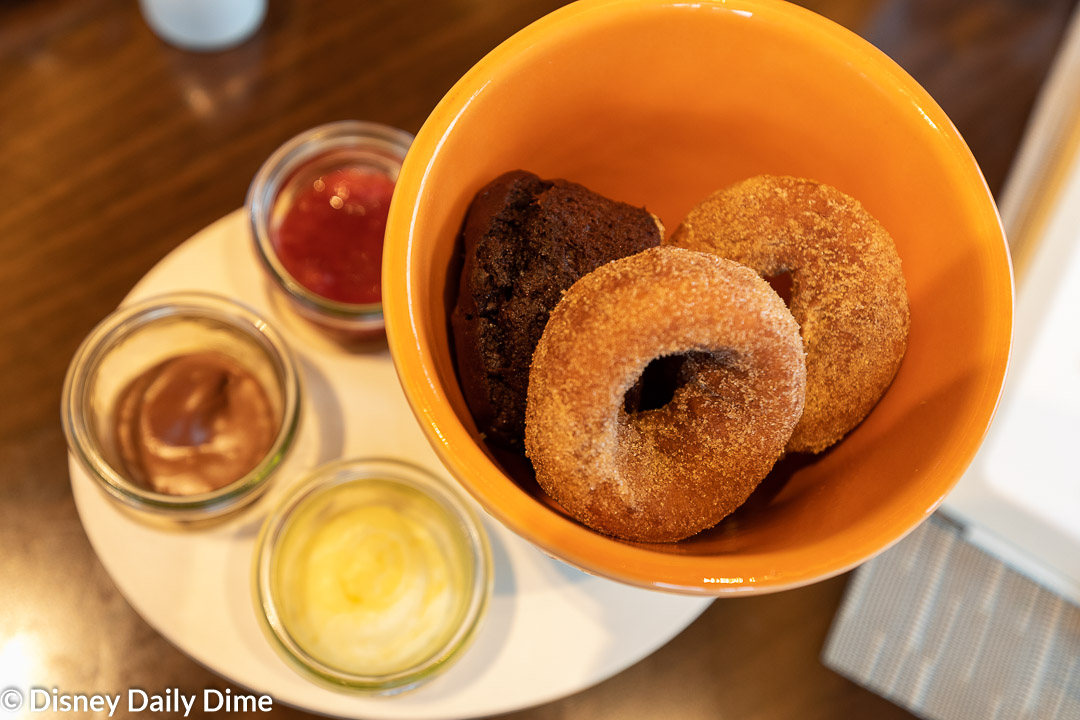 Topolino's Terrace Breakfast Gluten Free Food
The meal started off with Mickey's paint pail filled with breakfast breads and pastries, served with honey butter, house-made jam and chocolate-hazelnut spread.  To my absolute delight, I was served my own pail and spreads.  As always, I love getting my family's opinions on the gluten free fare, and they were in agreement that the offerings I was given were absolutely delicious.   I was given two cinnamon sugar donuts, a chocolate chip muffin and a blueberry muffin. 
Mike promptly stole a donut and declared it excellent, stating he wouldn't have been able to tell that it is gluten free.  Anna wanted to split the chocolate muffin with me, and she and I both agreed it was fabulous.  It was light and not overly sweet, but with a rich chocolate flavor.  Anna put the chocolate-hazelnut spread on her half while I opted for the house-made jam.  The berry and chocolate flavors complimented each other to perfection.  The house-made jam was delicious, light and fresh.
 I saved the other donut and blueberry muffin for "dessert" after my entrée, and both were equally delicious.  The honey butter was excellent on the blueberry muffin.  I gave Mike a bite and he gave the muffin equal praise.  I was of course, in "gluten free heaven" enjoying these high-quality breakfast pastries, but I think hearing from my gluten-eating family how delicious they were speaks to how exceptional these treats genuinely are.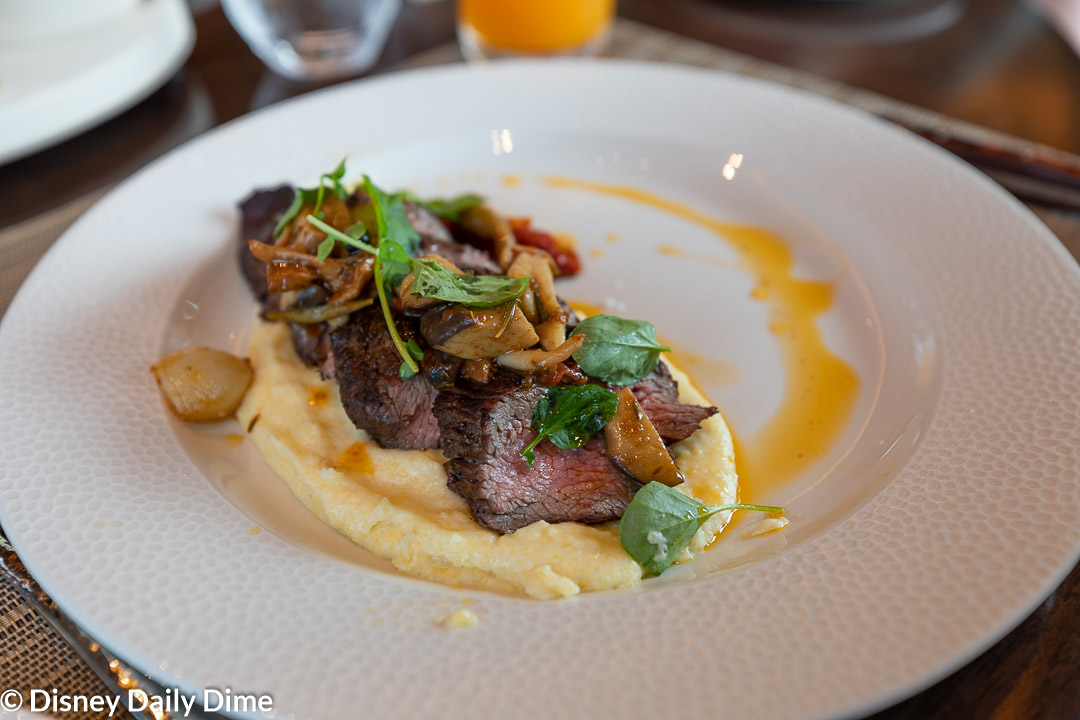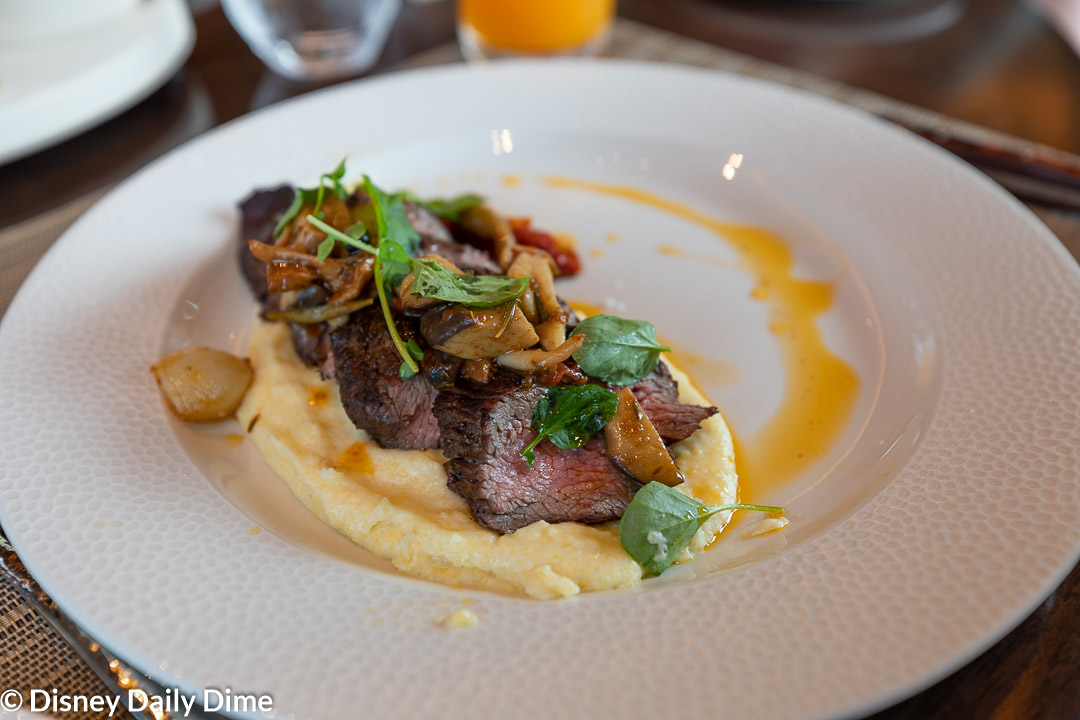 At first glance, the wood-fired butchers steak looked like a small serving on the oversized, beautiful plate it was served on, but the portion size was truly perfect.  The well-seasoned steak was cooked medium.  The meat carried a lot of flavor from both the wood grill.  It was served over creamy polenta with wild mushrooms, roasted onions and pomodoraccio tomatoes.  Everything served as an excellent accompaniment to the steak – seasoned but not too salty and overpowering.  I almost wish there was more of the polenta, mushrooms and tomatoes as I was enjoying them so much.   I can't say enough how much I enjoyed this – and I am not a steak-for-breakfast girl at all.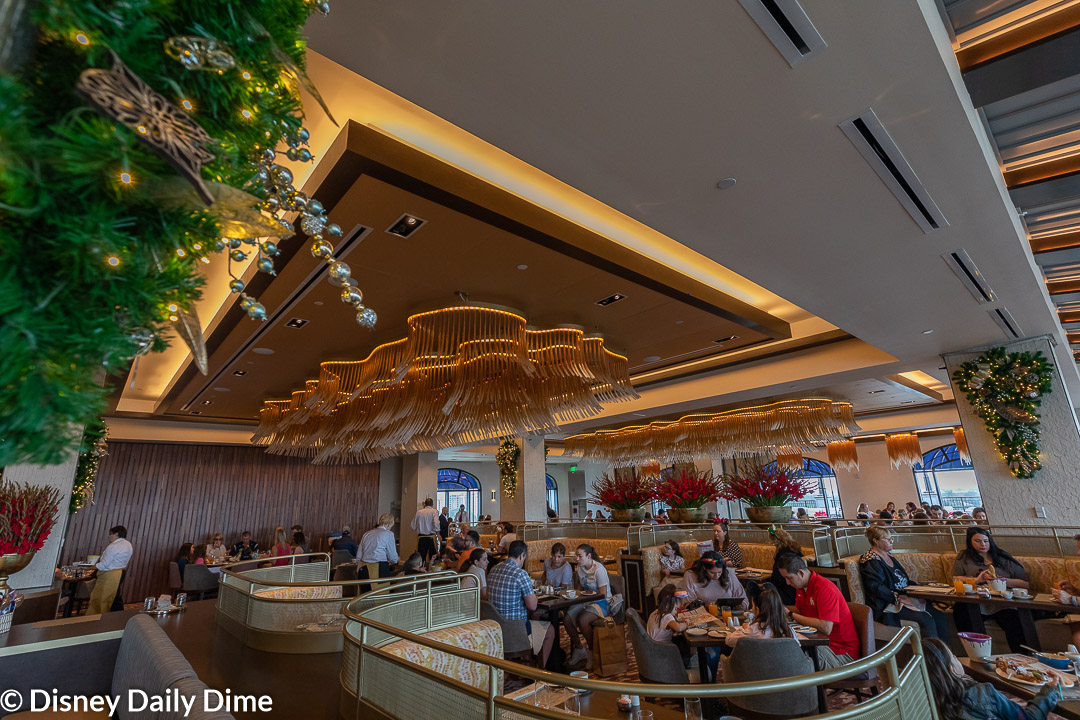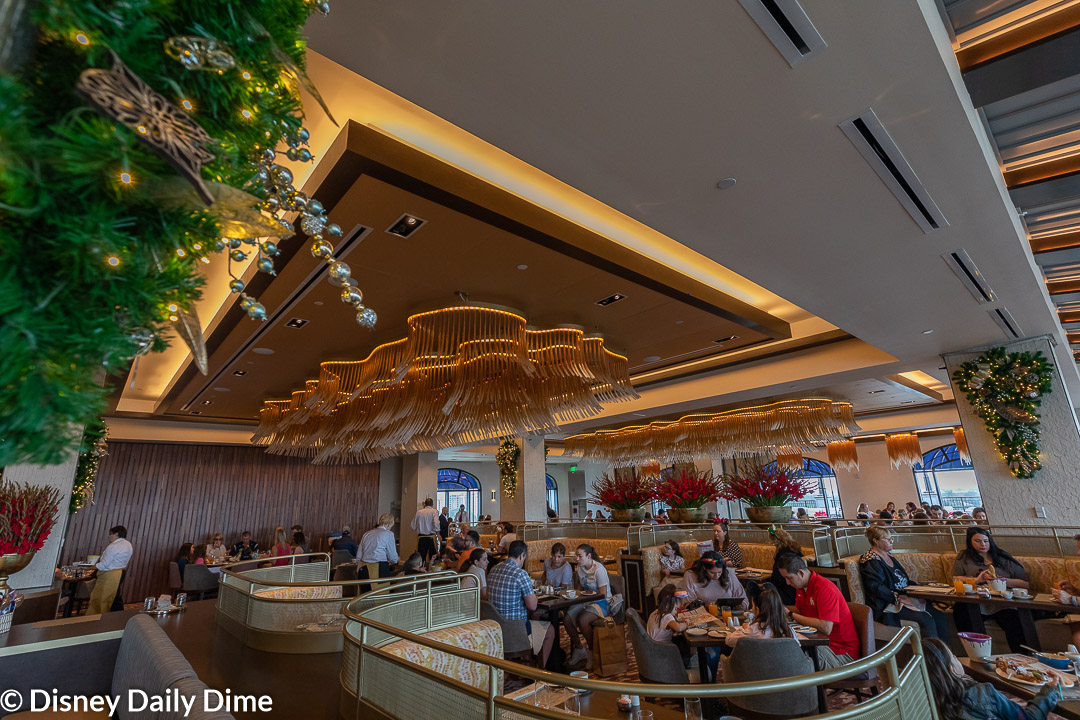 Overall Impression of Eating Gluten Free at the Topolino's Terrace Character Breakfast
I went in expecting and hoping for an excellent meal, but Topolino's Terrace's Breakfast a la Art completely blew me away.  Between a menu with some creative and unique options and the absolutely astounding character interactions, this meal quickly became one of my favorite meals I have ever had on property.  Those are strong words and ones that I don't use loosely.
The quality of food and the presentation was a relief and joy after many typical quick service and even table service breakfasts on property.  This is undoubtedly an indulgent meal given the high price point, but I think this meal lives up to it when compared with the prices of other character breakfasts on property.   If you are on the dining plan, this is a no-brainer use of a credit.   I honestly can't wait to go back. 
Wrapping Up Our Topolino's Terrace Character Breakfast a la Art Gluten Free Review
If there's more information on gluten free dining you would find helpful in these reviews, feel free to drop down in the comments and tell us.  Alternatively, you can email us from the contact us page. 
We hope you found our Topolino's Terrace Character Breakfast a la Art gluten free review helpful.  If you did, please share it with others you think may find it useful.  Just hit the social media sharing buttons on the page!  We always appreciate it when our readers share our content with others, as it allows us to help more people and spreads the word about our blog.