Nestled back in the Grand Avenue area of Hollywood Studios, you'll find an Italian restaurant that blends old Italy and California.  At least that's its claim.  Here in our Mama Melrose's Ristorante Italiano review we'll walk you through this hidden away culinary experience.
Our review will include our thoughts on the atmosphere of the restaurant, the food, and its theme.  As usual, it will also include lots of pictures.
Within the pantheon of Hollywood Studios restaurants, Mama Melrose's Ristorante Italiano is one of the more low-key table service restaurants you can dine in.  It's not near as stuffy (or costly) as Hollywood Brown Derby, and doesn't feature some of the antics found at 50's Prime Time Café or the unique setting of the Sci-Fi Dine-In Theater Restaurant.  It's a restaurant where you can unwind and just "be" for a bit.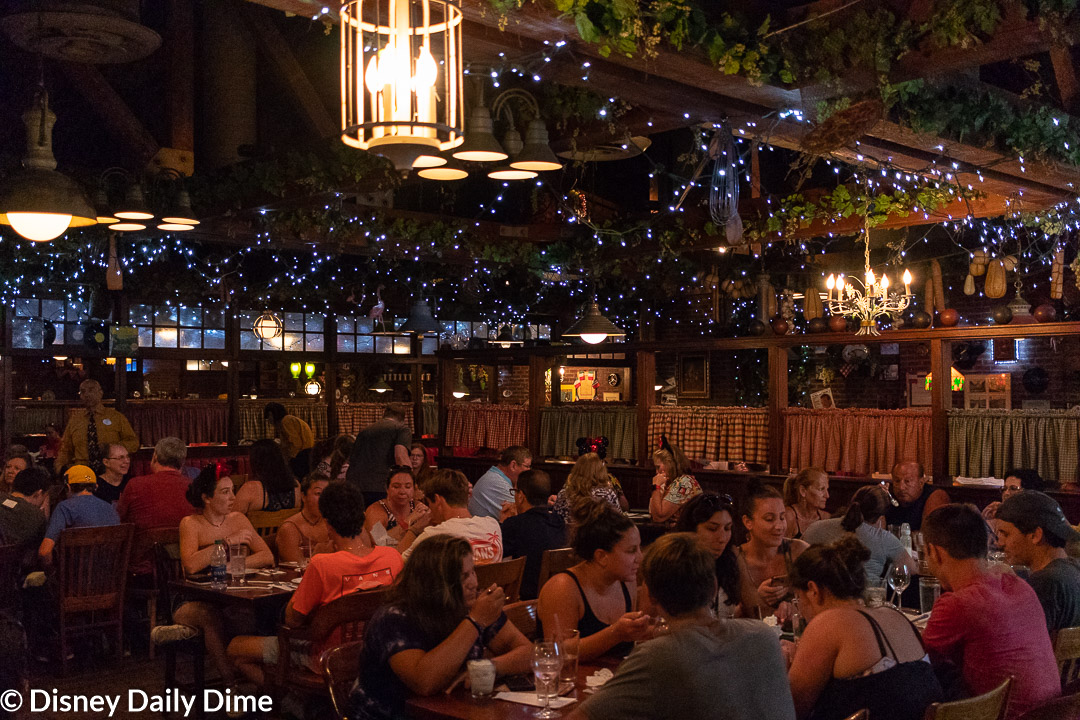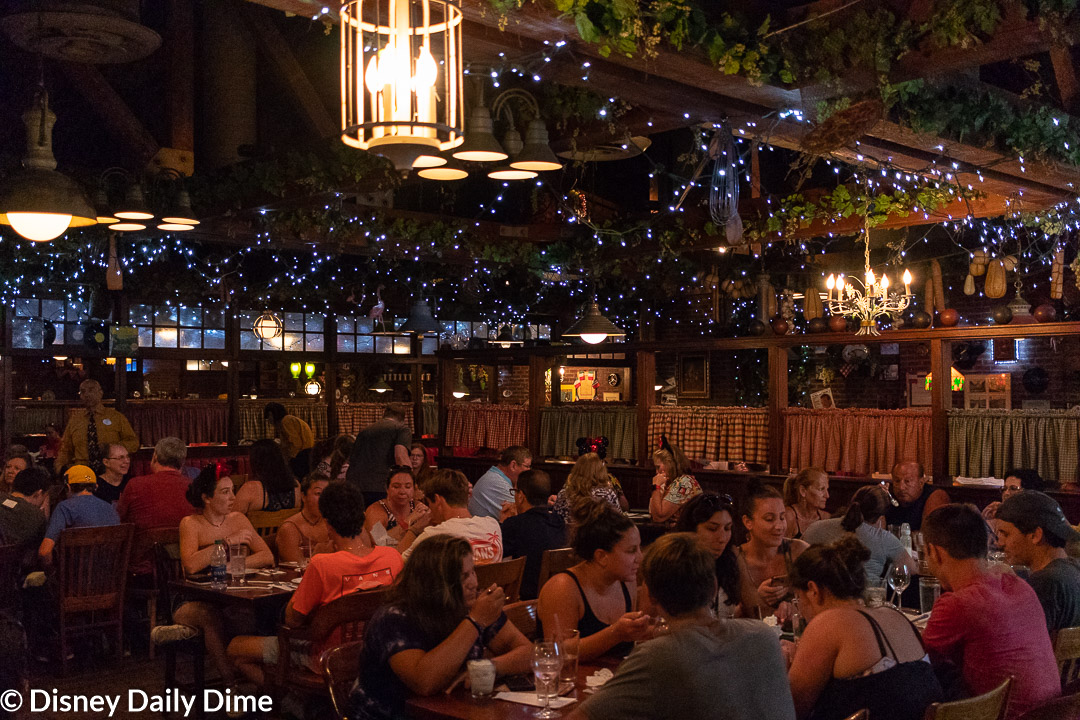 Mama Melrose's Ristorante Italiano Features a Theme That is a Bit Confused
Before we dive too deep into our discussion of the theme at Mama Melrose's Ristorante Italiano, it's probably worth a primer on the restaurant's premise.  Per the Disney website, the story goes something like this…
"Once upon a time, a young girl from a small Sicilian village moved to Hollywood to become a star. However, she soon found that cooking was her true calling as she recreated her papa's secret recipes for her starving actor friends."
"Her establishment became known as the place "where Italy meets California in the heart of the Backlot," and the rest, as they say, is history."
The restaurant's décor is a bit of a mixed bag of styles.  Some of it ties into this story; some doesn't.
When I think of Italian and California, I don't really think of a restaurant with wood floors, dark wood tabletops, booths with red benches, checkered drapes and exposed beams.  But as you can see in the pictures, that is precisely what you get.  The restaurant's décor feels more to me like some of the places I've eaten at in New York City.  Not a place in Tinseltown.


The wall decorations are where you will find touches of the California connection.  There you'll see an assortment of different signs, pictures, records, and artwork.
The part that's most designed to tie into the theme are pictures of 1980's Hollywood actors.  If you're wondering why it would be 1980s pictures, well the late 80s is when Hollywood Studios opened up.  Did we mention Disney isn't really great about updating décor?
There are also several street signs meant to memorialize famous roads in the Los Angeles area.  Together they feel more like random light touches to us, as opposed to the central theme of the restaurant.  The dominance of the New York feel is far stronger in our opinion.


One little interesting tidbit if your kids are into the Descendants movies on The Disney Channel.  If you look closely in the picture above, you'll find Dove Cameron and Cameron Boyce pictures on the wall.  This may be of interest to your kids…it certainly was to Anna and Elsa.  The pictures may also be some of the most recent Hollywood "stars" added to the restaurant.  Now back to our Mama Melrose's Ristorante Italiano review.  Sorry for the tangent!
Beyond the weird way the style of the restaurant ties into the story, this restaurant is actually cozy and comfortable.  The dividing walls found throughout the restaurant make it feel much more intimate than almost any other table service restaurant in Hollywood Studios.  Just another way it feels more New York Italian.
I will say that the restaurant is a little dark for my liking.  That's especially true if you're dining after dark and there's no daylight coming in through some of the limited external windows.


Service Here Was Really Good…When We Got Attention From Our Server
We always want you to take some of our commentary on service in these reviews with a little grain of salt.  We readily admit that any restaurant can have service issues on any given day, due to a number of factors that may not repeat on the day you happen to visit.  And we always feel like Disney is really trying to take care of their customers, so anything less than good service is not the norm.
That said, the service on this day was not great.  Our server was working very hard, trying to serve us and what looked to be about 8 other tables.  She was constantly trying to juggle everyone's needs and requests, but was clearly overwhelmed.
In spite of being outnumbered, her attitude was great and she never let it show if it was affecting her.  She was a personal delight and very friendly to Anna and Elsa.  When we got her attention, she was great.  Getting her attention was a challenge though.


Good Italian Food Can Be Found at Mama Melrose's Ristorante Italiano
We ate a good-sized meal at Mama Melrose's Ristorante Italiano, so you're going to see a number of dishes.  I will say in advance, sorry for the picture quality in some instances.  It was dark and I was still working my way through how to take better low light pictures.
I learned my lesson here, much to Carla's disapproval.  You can't imagine the look of disgust I get now when I put a small tripod on our table when I need longer exposure pictures…  But enough of our photographic exploits around Disney World, you want to see food!  So here it is.
(Note from Carla: It's for a good reason, but OMG it's hard for Anna, Elsa and I to stare at our food and wait to eat it until after Mike takes his photos!!)


Appetizers
The first "appetizer" isn't exactly one.  It's the bread service that comes with a meal at Mama Melrose's Ristorante Italiano.  You'll find some of the standard bread rolls that are featured in Hollywood Studios served along with olive oil mixed with herbs and spices.  The bread was served warm and it was soft and chewy on the inside, while having a nice crunchy outside.  It was a great way to start the meal.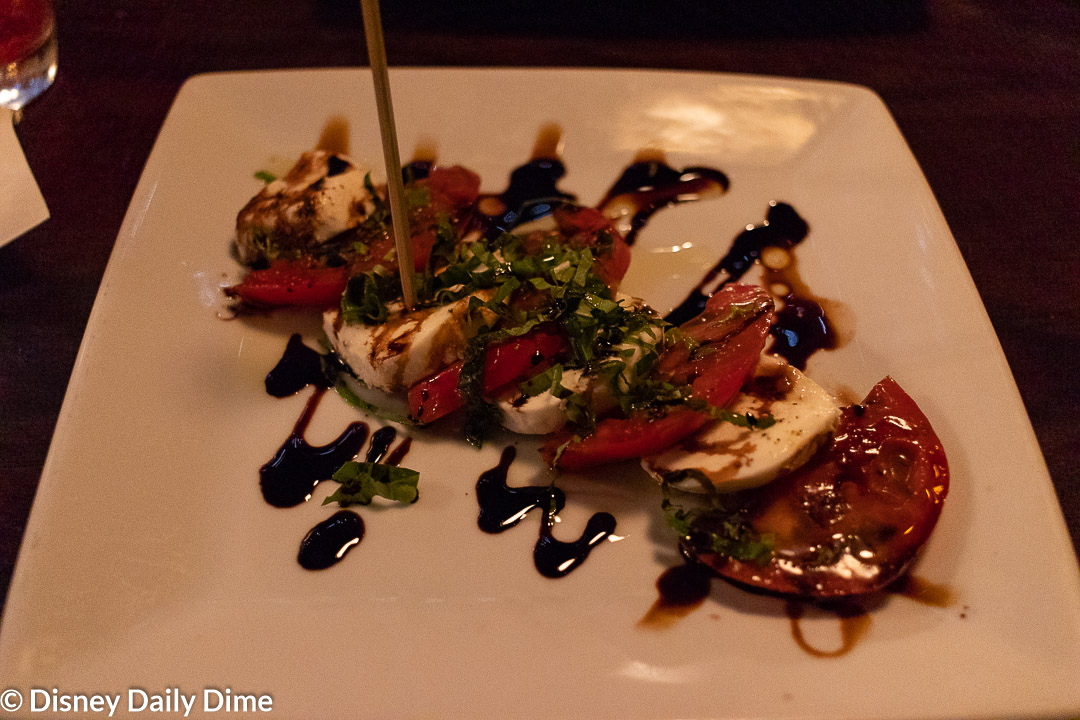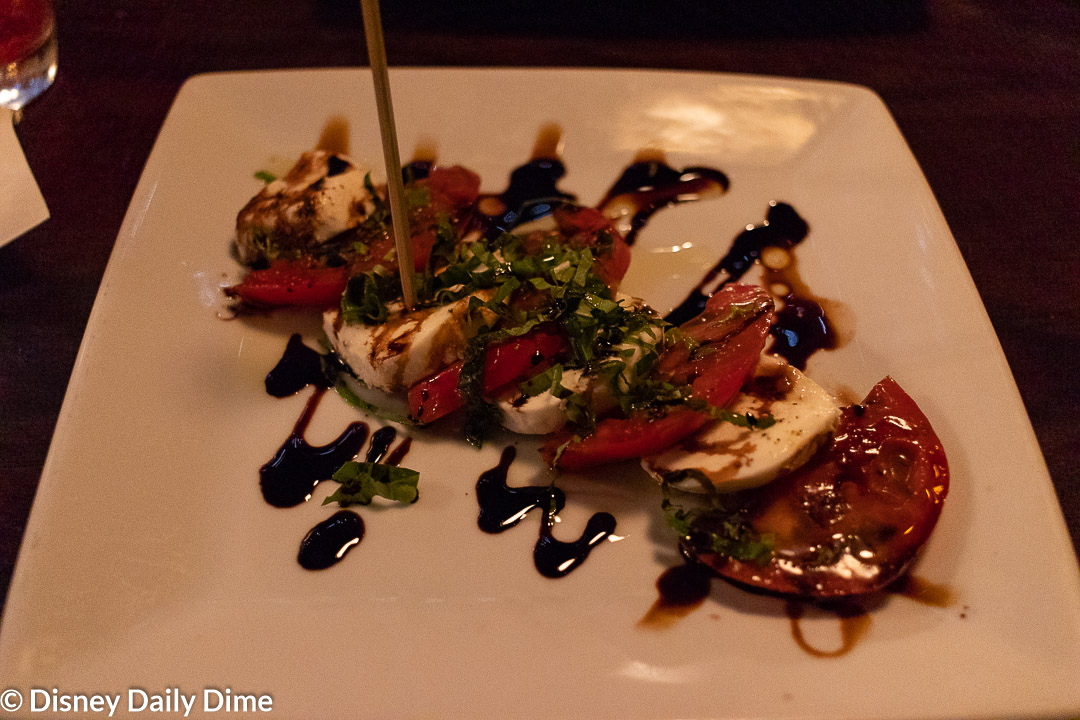 We ordered a couple of real appetizers to start.  Carla chose the fresh mozzarella and vine-ripened tomatoes as her gluten free appetizer.  This is a standard menu item, it just happens to fit the gluten free bill.  As far as mozzarella and tomato plates go, we'd say the tomatoes were fresh and the mozzarella was flavorful, however they went a little heavy on the balsamic drizzle.


I ordered the calamari for myself and the girls.  It is tossed with red peppers and served with spicy aïoli and a charred lemon.  The calamari was alright, but not something I was blown away by.  The breading was nice and light, which I prefer, however it was very bland.  Dipping it in the spicy aïoli provided some flavor to it but not much spice.  Especially for something called spicy aioli.
The girls did not like the calamari.  They were very put off by the rubbery texture of it.  I will say they aren't generally big fans of many fried foods, especially battered ones, so that could have been part of the problem as well.  They refused to dip the calamari in the aioli because I happened to tell them is was "spicy" aioli.  Oh, the horror!  Mental note for you parents.


Kids Entrees
For the kids' entrees, Anna ordered the penne pasta with meatballs and house-made marinara sauce.  I gave it a small taste and the pasta was cooked well, although I would say the meatball was pretty boring and the marina was nothing overly interesting.  However, that is perfect for our girls, especially Anna.  That is probably why she devoured it.  At least as much as she can devour anything.  She's definitely a lite eater.
One thing to note here, kids can get this entrée with penne pasta or spaghetti.  Getting the penne helped prevent a big mess.  Anna could use her fork to essentially thread it through the holes of the penne to eat it.  A spaghetti mess from Mama Melrose's was not something we were looking for before heading back into the park.


Elsa went with the kid's cheese pizza.  The pizza at Mama Melrose's Ristorante Italiano isn't the puffy quick service style pizza you find down the walkway at PizzeRizzo.  Rather you'll get a flatbread style pizza that they cook in their woodburning oven.  This makes the pizza crisp, unique and better than what you might find at most (but not all) pizza locations in Disney World.
Elsa really liked the crispness of the pizza, but would have preferred more sauce on it.  If I were guessing, I'd say the topping was one-part sauce and two parts cheese.  Reverse that and she would have been content.  It didn't stop her from eating the entire pizza.


Adult Entrees
For the adult entrees at Mama Melrose's Ristorante Italiano, Carla of course ordered a gluten free entrée.  For her meal she picked the gluten free spaghetti and meat sauce.  We'll have a complete review of it in her gluten free review.
When we sat down, I didn't even have to think about what I was going to order.  I read and watched a lot of reviews online before we ate here, so I knew I was going with the charred strip steak.
The steak itself is a nice cut of meat, but it certainly isn't the highest quality you will find.  What makes it great, in my opinion, is the aged balsamic-shallot butter and chianti wine reduction that comes over it.  Take one bite and the flavors will explode in your mouth.  I found the steak had retained tons of juices inside, making the flavors fuller.  That is probably a function of the charring process, but I'm not a food expert so don't quote me on this.  The size of the steak here at Mama Melrose's Ristorante Italiano is HUGE!  This is no 6-ounce petite filet.
The steak comes with baked mac and cheese.  It has a perfect light crust on it from the baking process.  I found the cheese to be rich and thick.  What really takes the mac and cheese up a notch is the crispy bits of pancetta that are mixed into it.  It's a fabulous adult style mac and cheese to compliment to the steak.
Do note that this steak is the most expensive item on the menu at Mama Melrose's Ristorante Italiano.  I'm not sure I would call it a great value, given the price, but it is still a great dish.  If you're on the dining plan, this is an excellent use of a table service credit and really maximizes the value you can get from the plan.
I know the picture of the charred strip steak isn't great, so you may have to just trust me on how good this is.  The plating by the kitchen staff was not very good as evidenced by the sauce splattered all over the plate.  Combine that with the dark light conditions and the shininess of the chianti wine reduction and it was a tough photograph to take.


Dessert
For dessert, Anna got the spaghetti & meatball cupcake.  This was actually part of our Cupcake Challenge.  It's a pretty ingenious design, where the top of the cupcake is meant to mimic…spaghetti & meatballs.  The meatball is made of chocolate cake.  It sits atop a "bed of spaghetti" which is made by the frosting.  Finally, it's topped with a strawberry "marinara sauce" and white chocolate "cheese".
As ingenious as the design is, Anna was pretty blah about it.  In fact, she barely ate any of it.  She essentially ate the meatball and most of the icing and stopped there.  I'm not overly surprised though, as Anna doesn't eat a lot of sweets to begin with.  I did take a few bites of it and found the cupcake to be moist, but the icing was devoid of much flavor.  The strawberry sauce on it was too sweet for me.  It was disappointing for something we have seen raved about other places.  It wasn't bad, I just expected more.


Elsa, not being a big chocolate fan, passed on the cupcake.  She instead opted for the kid's ice cream sundae.  The name is a bit misleading to me, as when I think sundae, I think of ice cream topped with sauces and maybe some fruit.  This was not that.  As you can see in the picture, it is just ice cream with some Mickey Mouse sprinkles and a small dab of chocolate sauce on it.
Despite my criticism of it, Elsa didn't care.  She ate the whole thing up without batting an eye.  Let's say we have different expectations.  She enjoyed it greatly, but it's pretty hard to mess up ice cream, chocolate sauce and sprinkles.


After having that large, but delicious steak for my meal, I opted for the lemon sorbet dessert.  I needed something a little lighter.  The sorbet portion was small compared to what I was expecting, but the flavors were great.  I love the tartness of lemon and this fit the bill.
Mama Melrose's Ristorante Italiano Overall
So yes, the theming of Mama Melrose's Ristorante Italiano is a bit scatterbrained in our opinion.  It ties in very loosely to the overall theme of Hollywood Studios, but we're not theme purists.  So, we'll give it a pass on that front.
In some ways I'm actually glad it doesn't fit the story all that well.  For Mama to open a restaurant in a "backlot warehouse", I would have imagined a cavernous interior where you can see 20 tables away and lots of noise bouncing off the ceiling.  Not too different from many of the cafeteria-style seating areas you find in many Disney World counter service locations.
Instead you get a surprisingly intimate environment, where you feel like you're in a small family restaurant.  You can cozy up in a booth and disappear from a theme park for an hour.  It's also one of your only options for a lower key, relaxed table service option in Hollywood Studios.
We found the food to be good, but not great.  Eventually we will come back here and try the adult pizzas, as they look amazing.  And since they have a woodburning oven, they'll be something very different from what you'll find in most of Disney World, save a few other pizza locations.
Speaking of location, we will say that it is a bit out of the way right now.  Because of its location, you have to go looking for the restaurant.  Once Galaxy's Edge opens in the fall of 2019, that will change as more foot traffic will be on that side of the park.
Wrapping Up
With that, we'll wrap up our Mama Melrose's Ristorante Italiano review.  It's a good table service option in Hollywood Studios, where you can unwind and relax for a bit.  Is it the best?  No, we still prefer the Sci-Fi Dine-In Theater Restaurant, but that doesn't mean you should skip out on Mama Melrose's.
If our Mama Melrose's Ristorante Italiano review was helpful, or at least entertaining, please like and share this with your friends or anyone you think will find it useful.  Just use the sharing buttons on the page.  We always appreciate it when you share our posts, as it allows us to spread the word about our young blog and hopefully allows us to help others.