If you're one of those people that storm into a venue and head straight for the headlining attractions, then places like The Plaza Restaurant at Disney World may get overlooked.  It's location, just off of Main Street, U.S.A. next to the Main Street Ice Cream Parlor makes it easy to miss.  However, it might be a place you need to stop by.  Today, we have a dinner review of The Plaza Restaurant at Disney World.  We ate there on a recent trip for the first time to see what all the hype is about.  In this review, we'll tell you about our experience dining at this Disney World favorite, including our thoughts on the food, including the milkshakes, as well as our thoughts on the ambiance and feel of the restaurant.  We, of course, have photos of it all!
If you are looking to dine at The Plaza Restaurant on the Disney Dining Plan, dinner will cost you one table service credit.  When looking at The Plaza Restaurant dinner menu you'll find most entrees will run $20-25, with a few exceptions.  Couple that with a cocktail, and we think it is just an okay value on the dining plan.  Most people will want to pay for this meal out of pocket.  If you happen to order the most expensive entrée on the menu (currently the $29 Herb-marinated Steak), then it's a little better value.  Otherwise, you should pay out of pocket.  As with most Disney World eateries, The Plaza Restaurant is a reasonably good value for kids on the dining plan.
We do have to say, the prices here are very reasonable for Disney World table service restaurant standards.  While they aren't quite counter service type prices, they aren't that far from it.  There's compelling value here if the food is good.  More on that in a bit!
They do take the Tables in Wonderland card here if you have access to that dining discount.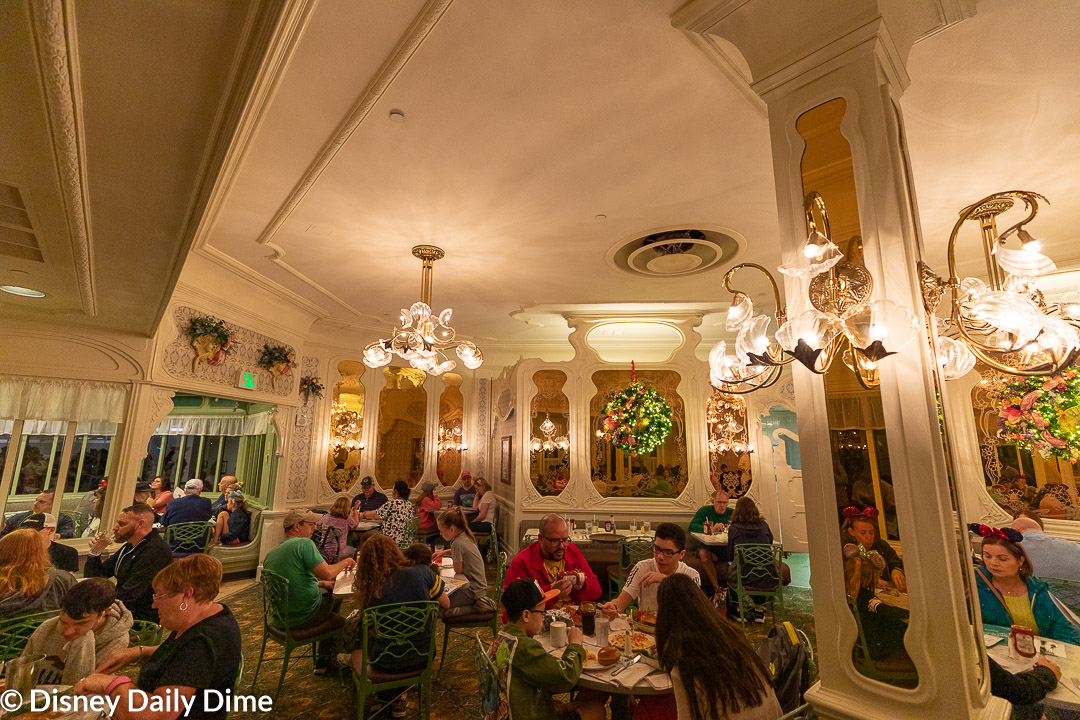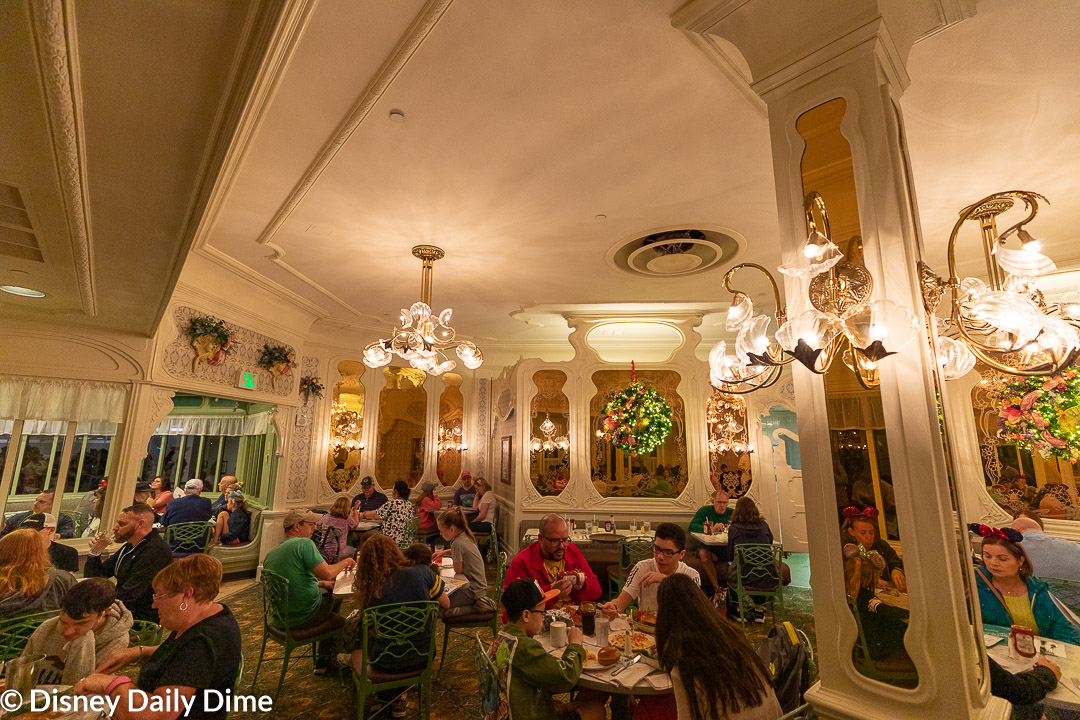 The Plaza Restaurant at Disney World Takes You Back To A Time Gone By
When it comes to theming and feel, The Plaza Restaurant builds off of its location along Main Street, U.S.A.  It maintains the turn of the century charm that Walt Disney wanted this part of the park to reflect.  The interior is adorned with brass light fixtures and molding throughout the room that carries a Victorian feel.  In that regard, you'll find many similarities between this restaurant and The Grand Floridian Café.  We found a lot of the theming ornate, and it gives the restaurant a pleasant feel.
The mirrors found throughout the restaurant give it a sense of depth and space that is needed.  If it weren't for them, I think the restaurant might feel small.  As it is, it's a great symbiotic partner to Main Street, U.S.A.  The fact that it is attached to the backside of the ice cream parlor makes it all the better.  The feel works well with it, but it is also a bonus when it comes to the milkshakes.  We'll discuss that more when we talk about the food.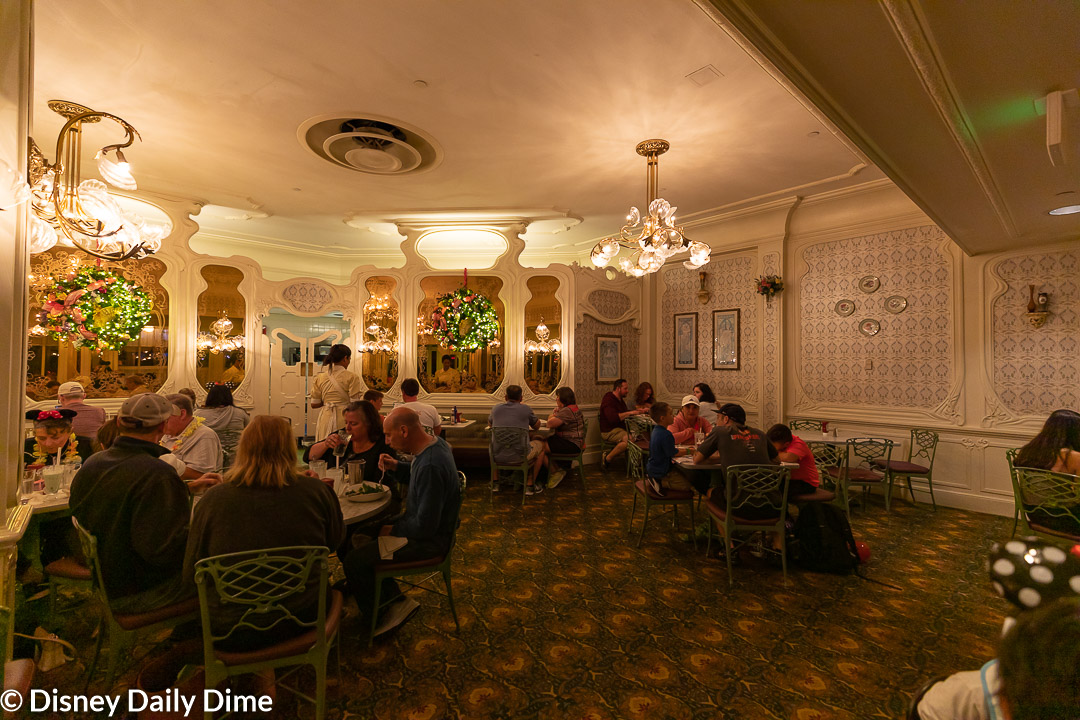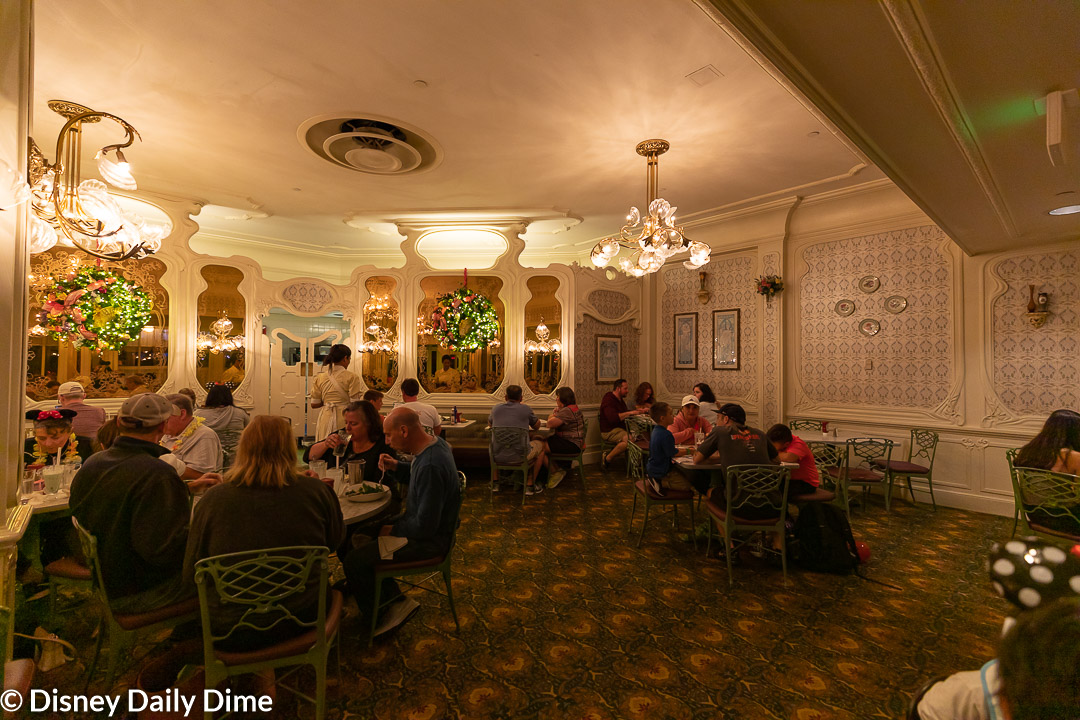 All in all, it's a fun theme that we enjoyed.  Is it the best-themed restaurant at Disney World?  No, not by a long shot, but that is okay.
We should note that during lunch, the Citizens of Mainstreet routinely stop by and interact with the guests during the day.  Unfortunately, we ate dinner here, and they were nowhere to be found during our meal.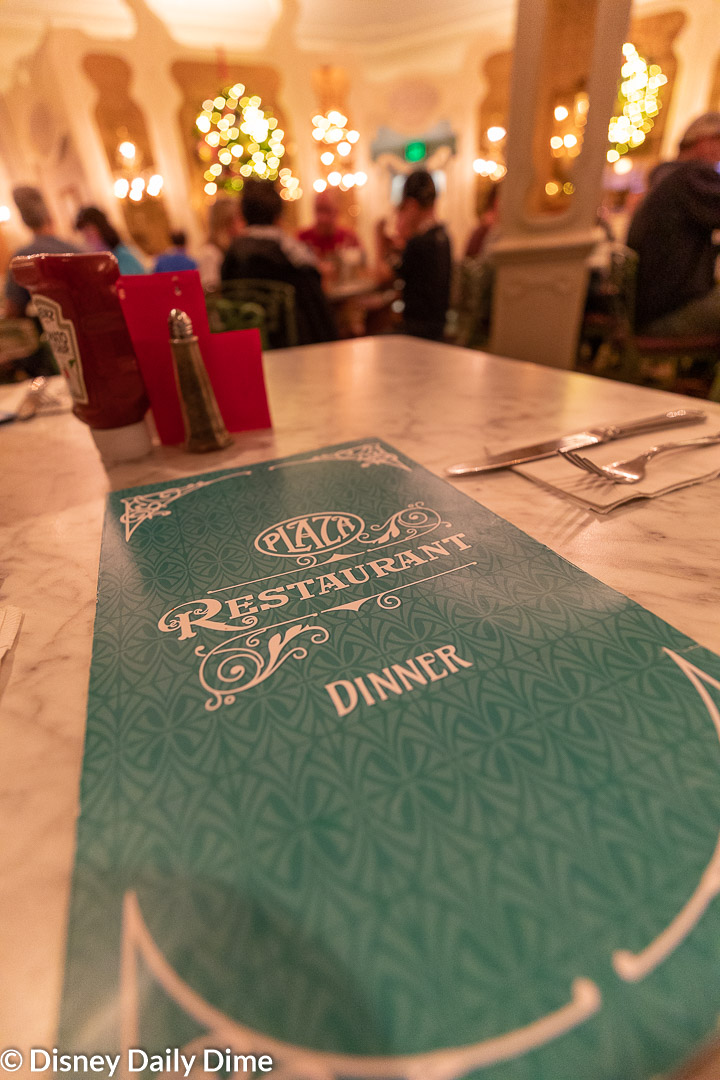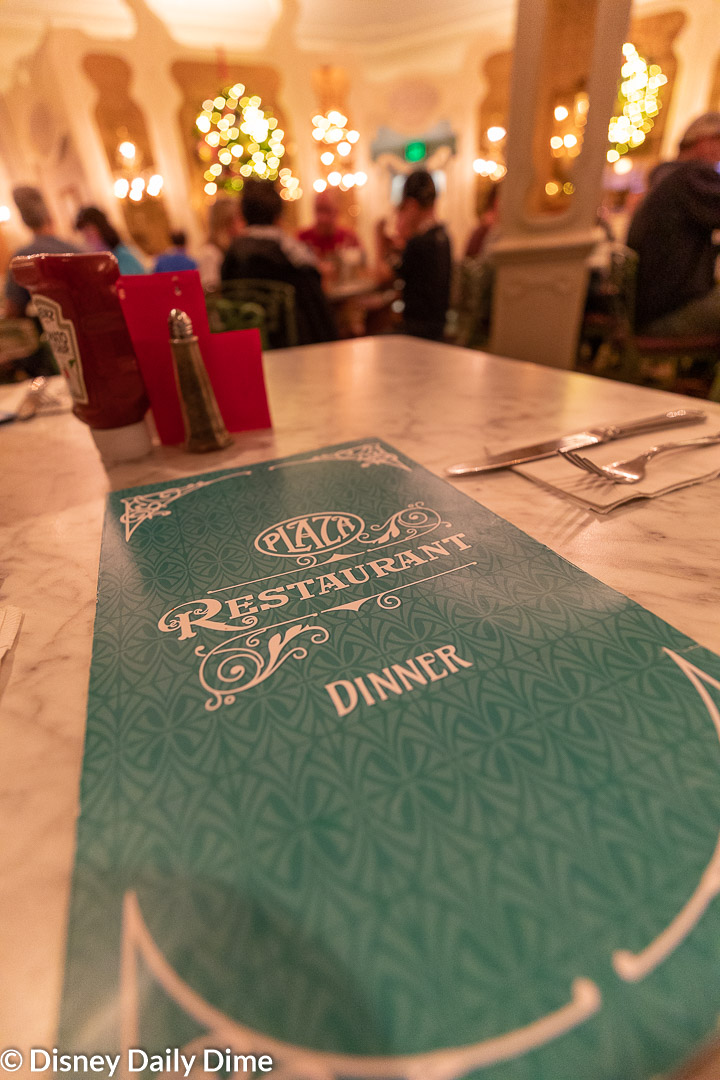 While Much of the Food is Simple, The Plaza Restaurant Excels
The Plaza menu underwent a bit of a refurbishment shortly after we ate here.  Fortunately, nothing we ate was removed from the menu!  It would be a shame if we had to go back here…well not really, but I'd like the time spent writing these articles to count for something.  We had a pretty full meal here, so you'll see lots of items in our review.  Bon appétit!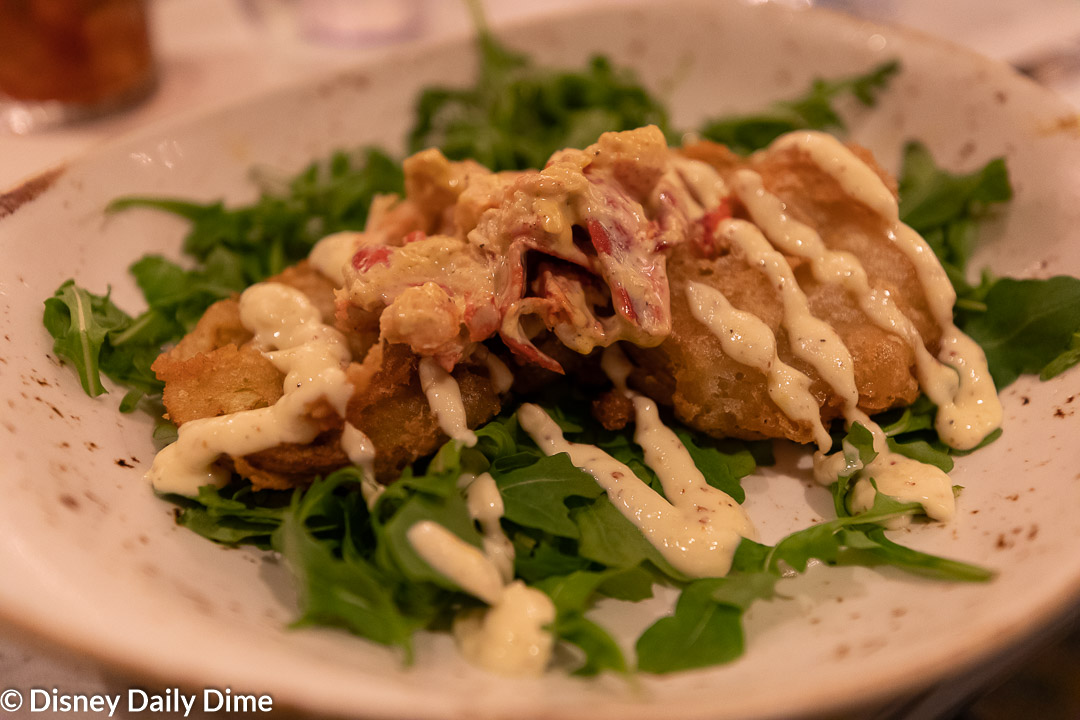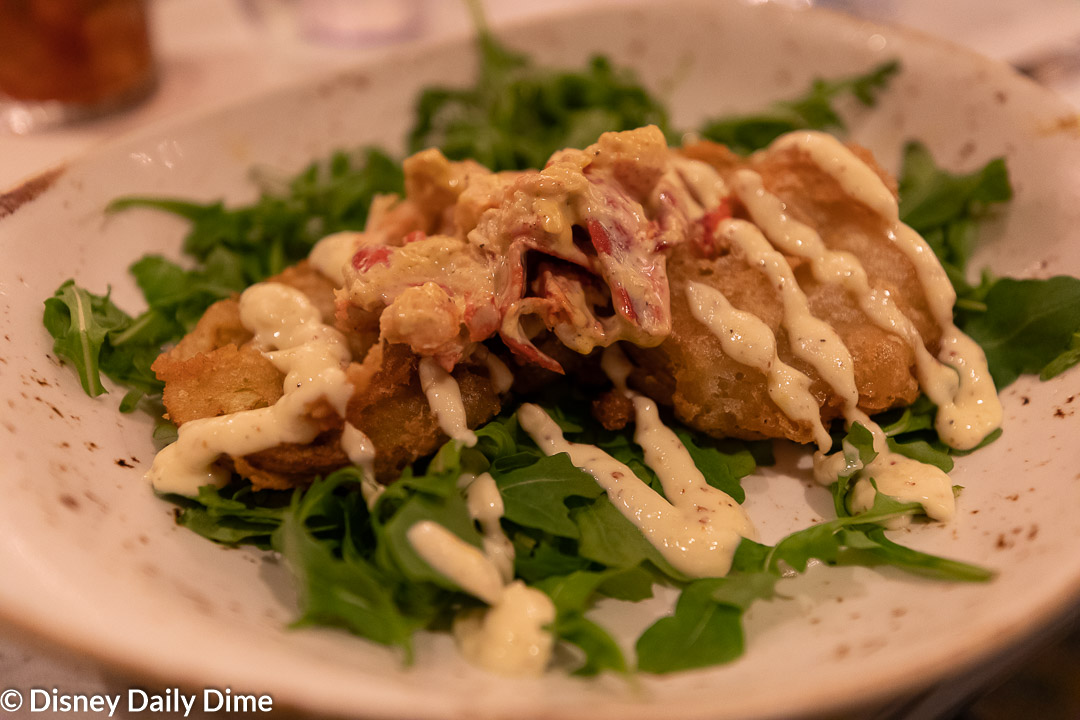 Appetizers
We did start our meal with an appetizer.  We all love fried green tomatoes, but when we saw the Lobster-Fried Green Tomatoes on the menu, there was no question about what we were getting.  Fortunately, it did not disappoint.  The dish came with three sizable fried green tomatoes, topped with a more lobster than I anticipated.  It all sat on a bed of arugula topped by a creamy herb vinaigrette.
We loved the fried green tomatoes and found them to have a soft sweetness to them that was complimented by the saltiness of the batter.  The crispy fried batter added a great crunchy texture to the dish, and we were glad the batter wasn't too thick.  We prefer a lighter coating of batter.  If you like a thicker one, it may not be as good in your eyes.  The lobster topping was excellent.  In addition to the quantity of lobster, we were pleased by the fact that the lobster came in healthy-sized chunks.  It wasn't shredded little bits of lobster.  To be honest, Carla or I could have had this as our meal.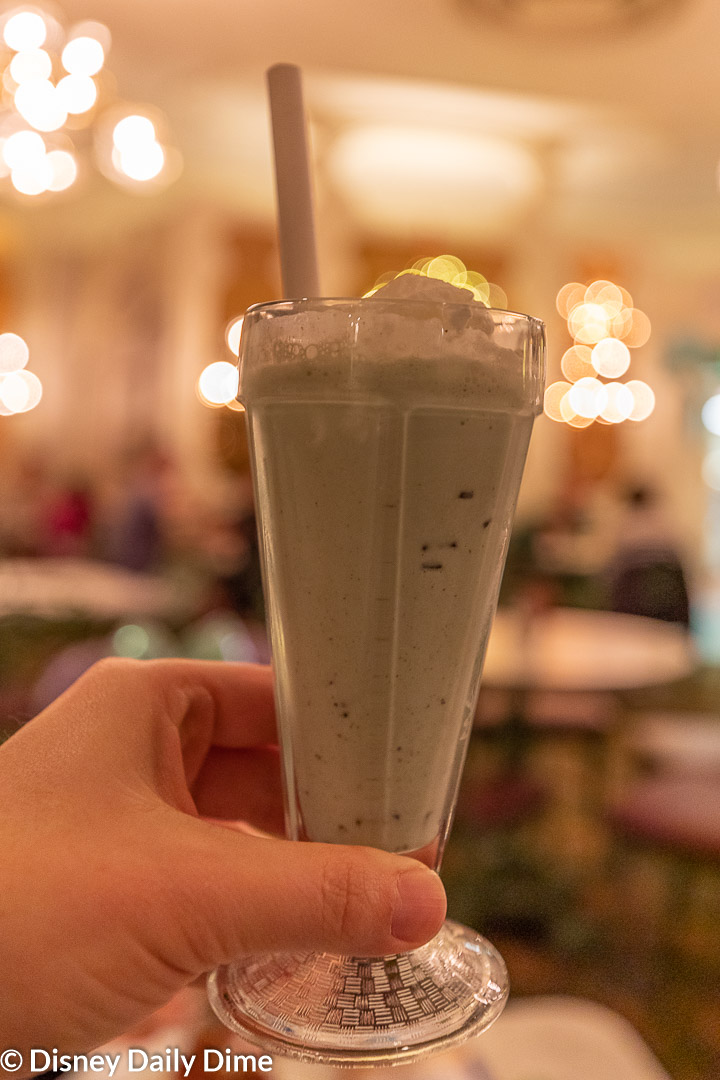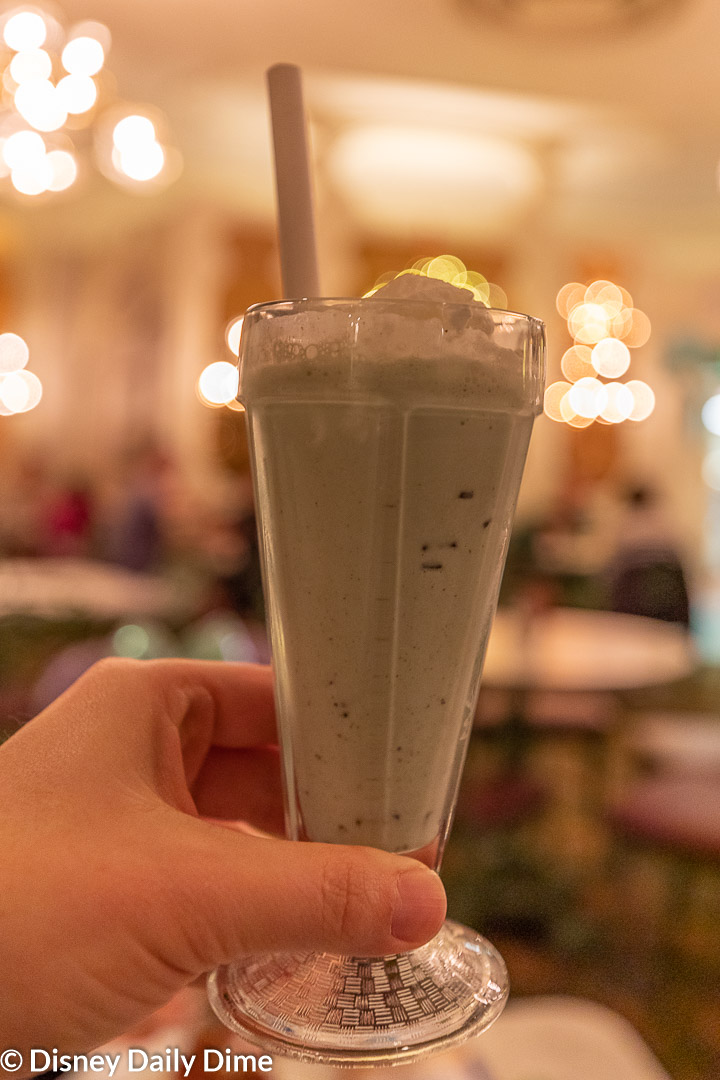 While a milkshake probably might sound more like dessert, we ordered the all you care to enjoy milkshake to start our dinner at The Plaza Restaurant.  If we were going to drink as much as possible, we needed all the time we could get, right?  And yes, that is correct, the shakes are all you can drink!
We asked our server if that meant each of us had to order our own shake or if we could order one shake for the table and share it.  Fortunately, the answer was the latter.  If not, it could have been an expensive proposition, as the shake cost us $9.  It's not clear to us if this is the true policy dictated by management at The Plaza Restaurant, so you may have a different experience than us.
There are several flavors of shake you can select from, as they get the ice cream from the parlor next door.  We elected to have the mint chocolate chip shake and the peanut butter shake.  If you read the menu that we linked to earlier in this post, you will note the Disney World website says the only available flavors are chocolate, vanilla, strawberry, or mint chocolate chip, however that was not our experience.  Not sure where the disconnect comes from, but there are more options available.
As for taste, we loved these milkshakes.  Which one we liked best depended on who you ask.  Carla and I preferred the peanut butter, while Elsa and Anna liked the mint chocolate chip.  In either case, they were excellent.  The use of real ice cream was noticeable in the texture and flavor of the milkshakes.  There was no soft serve with flavoring to be found here.  Both shakes had a delightfully creamy texture that made us devour them.  Unfortunately, it made us fill quickly, which meant we only tasted the two flavors.  We can't recommend having this enough.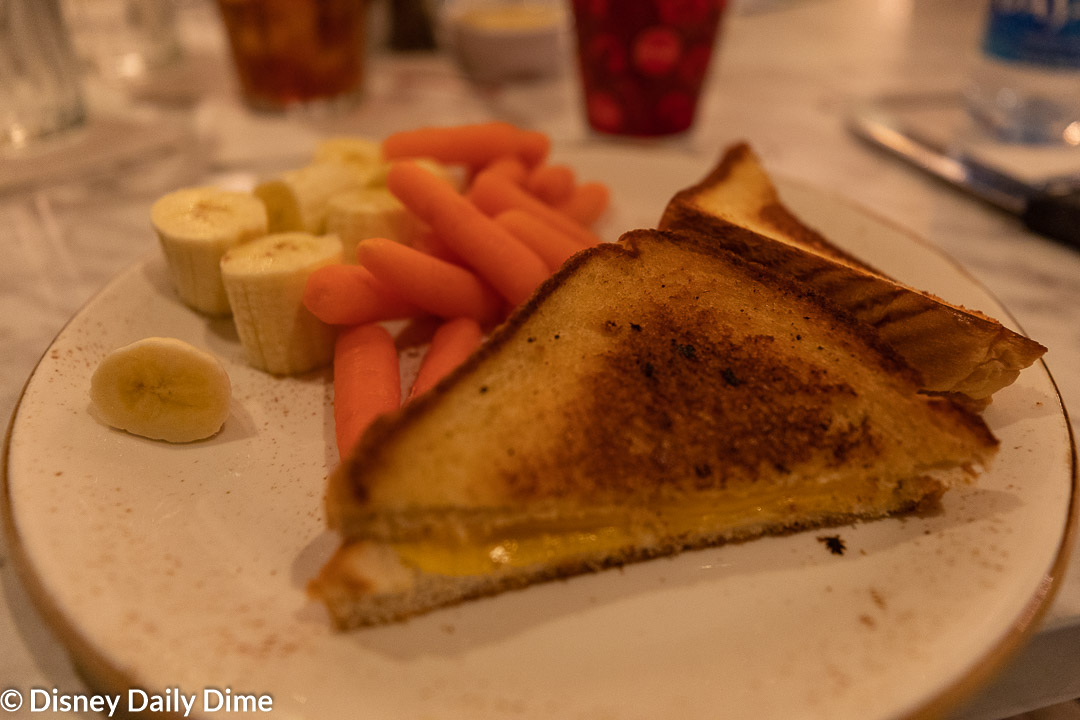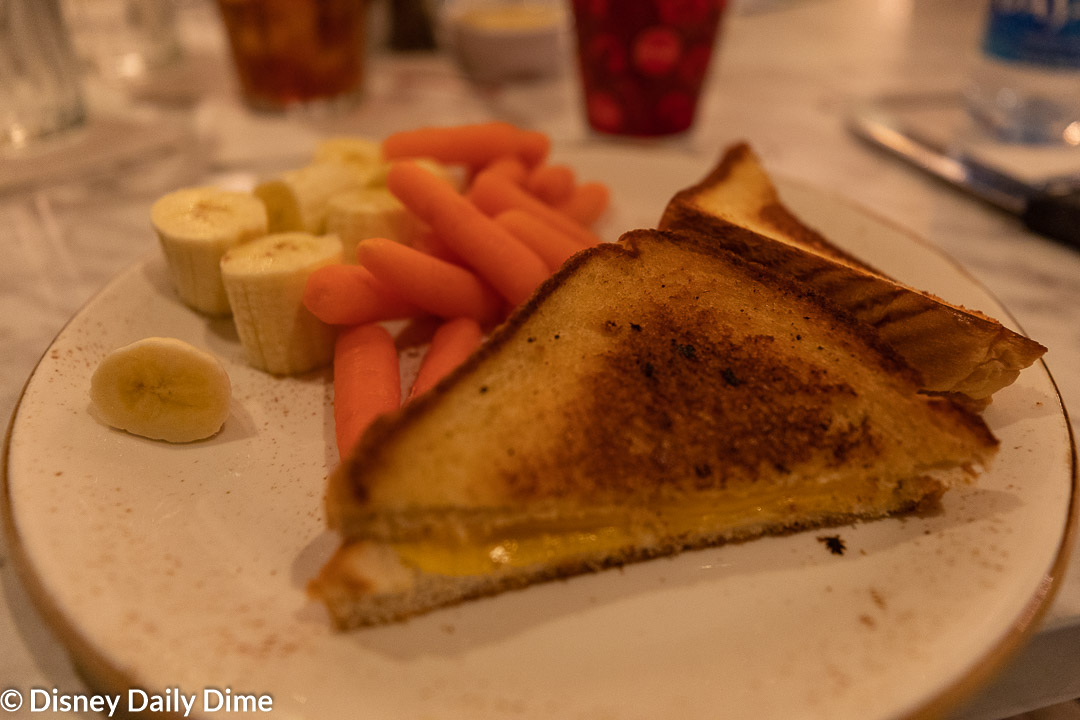 Kids Entrees
We'll start our review of the entrées at The Plaza Restaurant with what our kids ordered.  Elsa elected to have the kid's grilled cheese sandwich.  She enjoyed the grilled cheese as she always does.  I had a bite of it and liked how the bread was perfectly grilled, with an excellent crisp touch.  Elsa thought the cheese had a great flavor, but it was simple, which is perfect for kids.  You can order the grilled cheese sandwich with your choice of sides.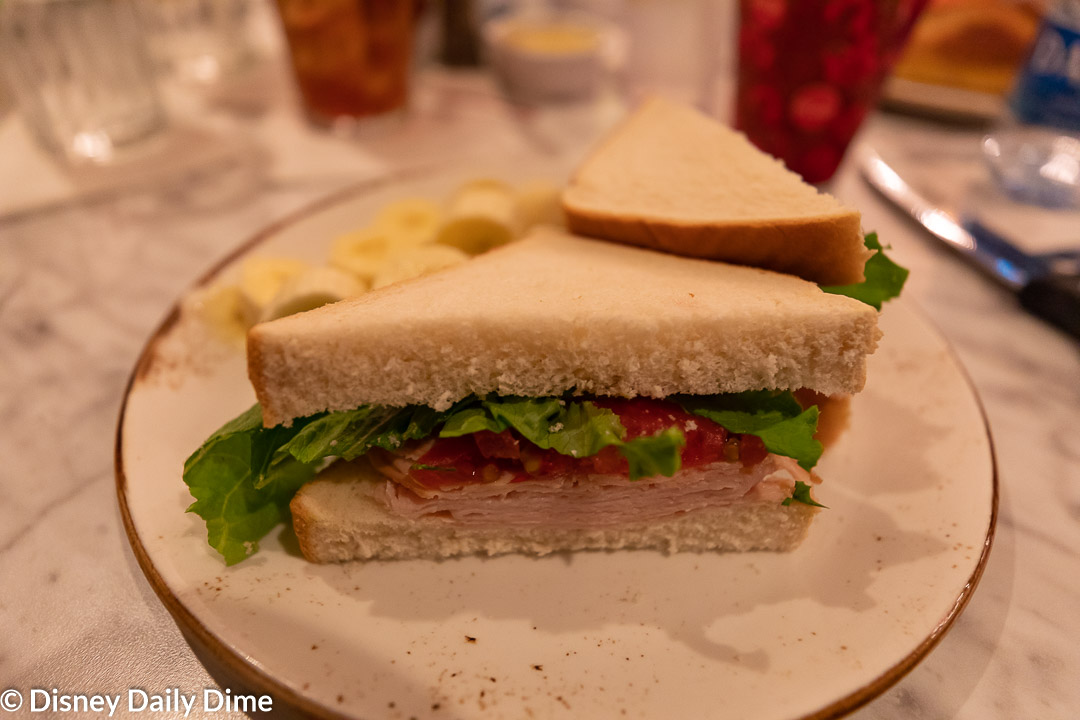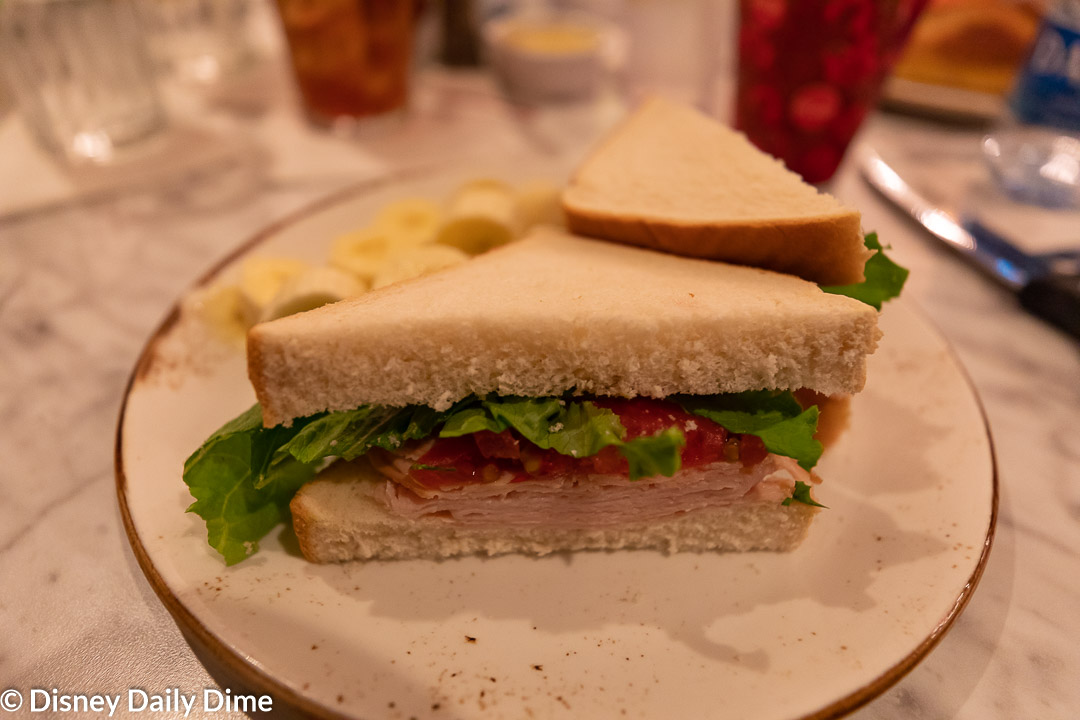 For her dinner, Anna ordered the kid's turkey sandwich.  Made with two pieces of honey-wheat bread, her sandwich is far superior to some of the mediocre turkey sandwiches we've found across Disney World, like the one Anna ordered at World Premiere Food Court.  Anna loved the sandwich and ate almost all of it.  The turkey may have been regular cold cuts, but it didn't strike us like that.  The bread was fresh and tasty, which helped with the taste.  If your kid likes sandwiches, you could do much worse.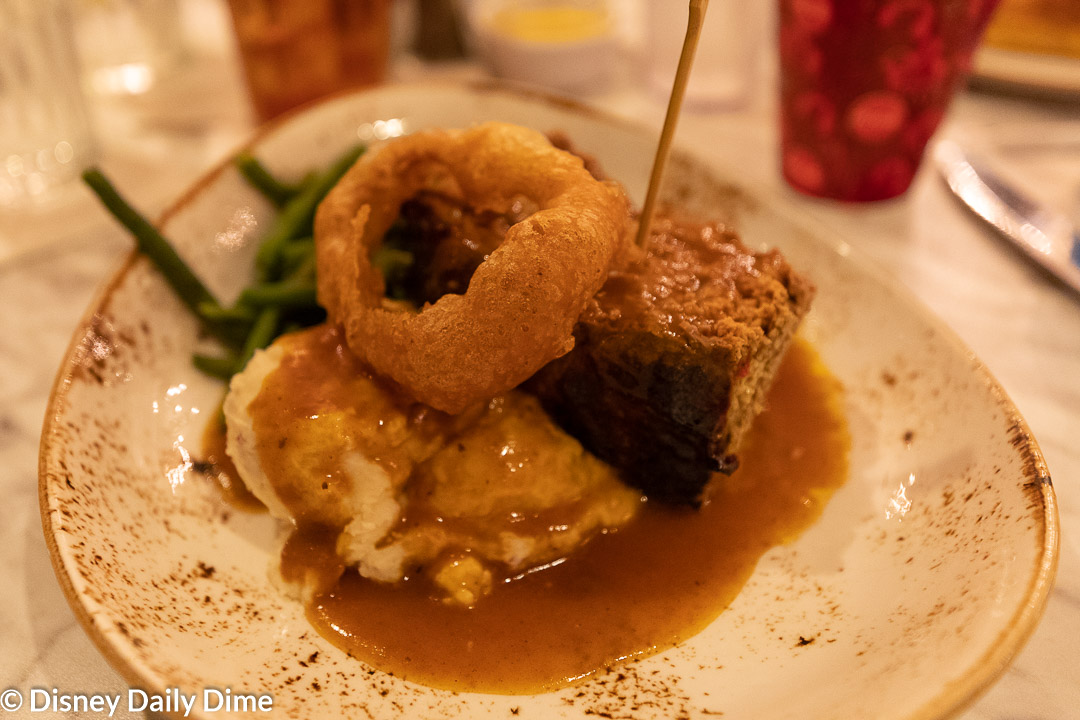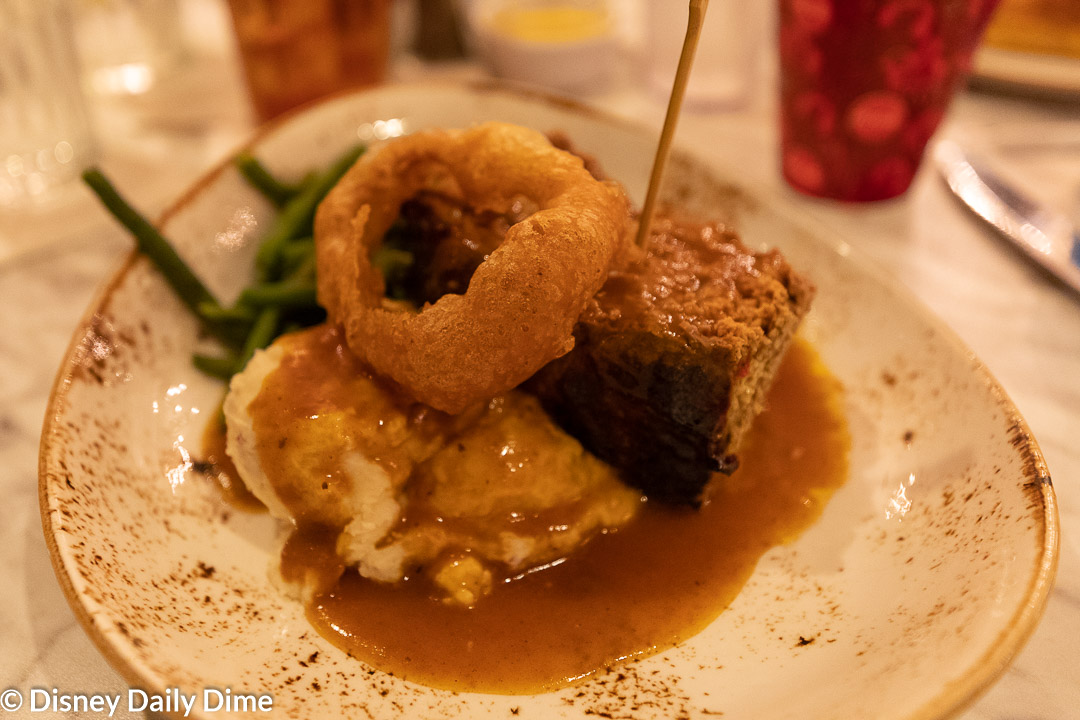 Adult Entrees
When it came to the adult entrées, Carla was dying to try the meatloaf at The Plaza Restaurant.  The plate came with a hearty portion of meatloaf, covered in a delicious brown gravy.  Carla detected an excellent green bell pepper flavor to the meatloaf.  If you like bell peppers, that will be a good thing; if you don't, it won't be.  In Carla's case, she loved the meatloaf.
The meatloaf sits on a mound of mashed potatoes and vegetables.  In our case, the vegetables were green beans, but they do vary seasonally.  The mashed potatoes were tasty and didn't strike Carla as something that came from a box.  Overall, she described the meal as good comfort food.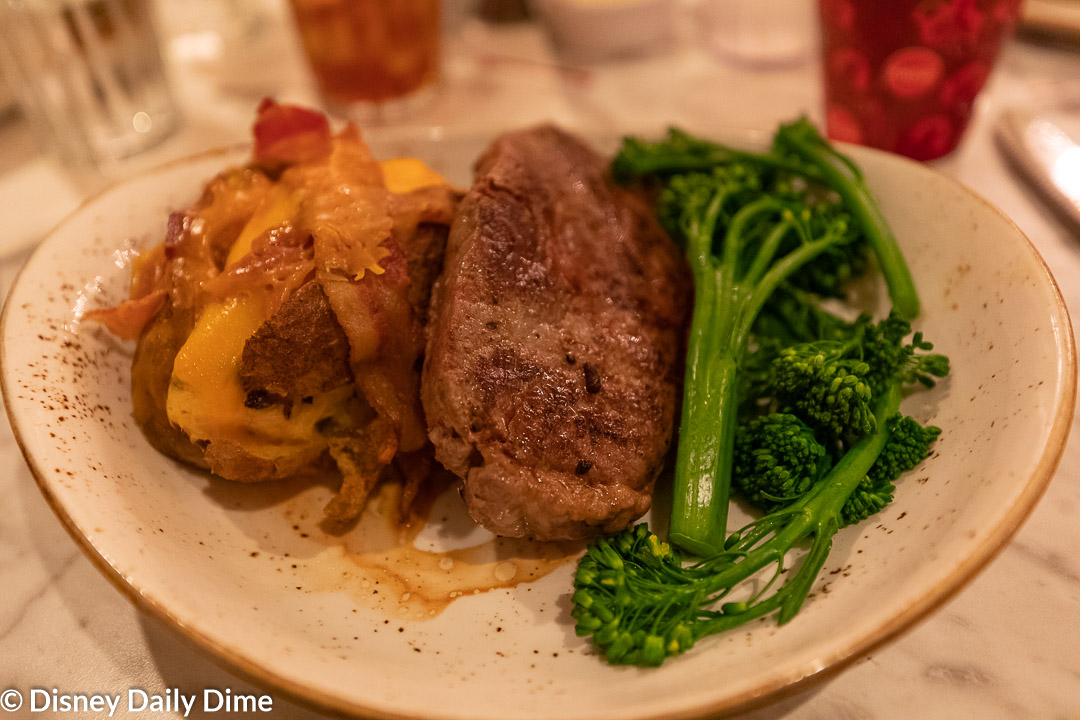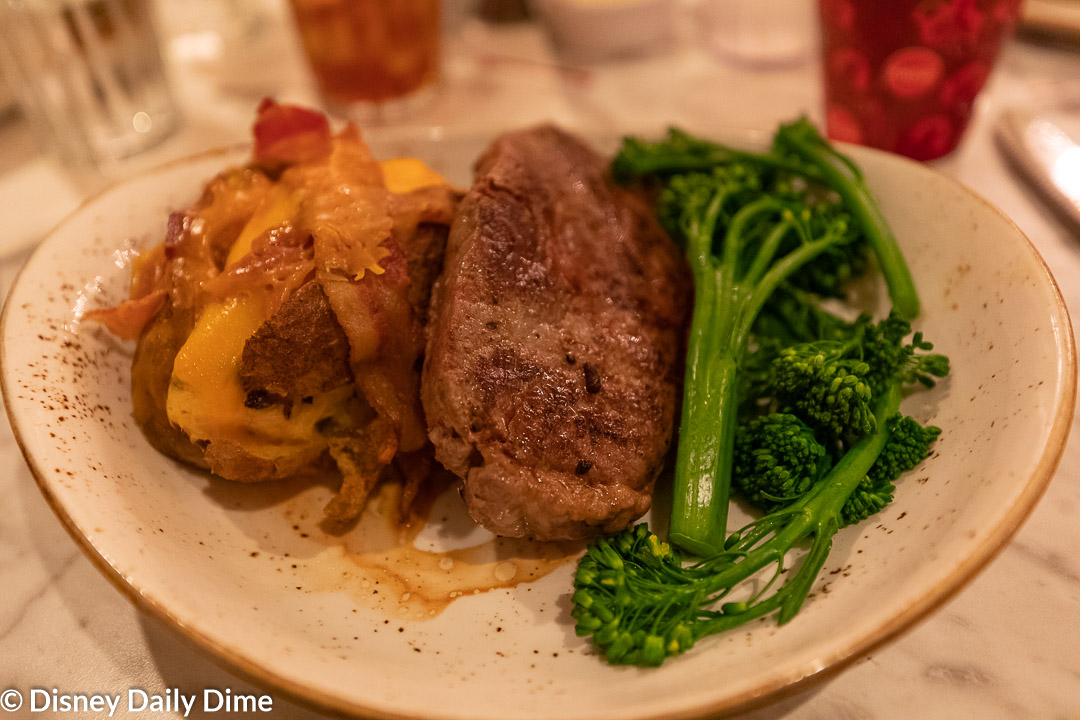 For my dinner, I ordered the strip steak.  I was hungry for something a little meatier thought it would be a great option.  I'd describe the steak good, but it is certainly not the best I've had at Disney World.  For now, that honor goes to Yachtsman Steakhouse.  It was cooked just how I like my steak, but it didn't wow me because the flavor wasn't as robust as I had hoped.
I ordered a baked potato and broccoli with my steak.  Both were good, but nothing I consider unique or memorable.  It's a solid entrée if you're a meat and potatoes type person, but there are probably better options at The Plaza Restaurant.  Given how we were very positive about the meal overall, we'll be back for me to try more entrées.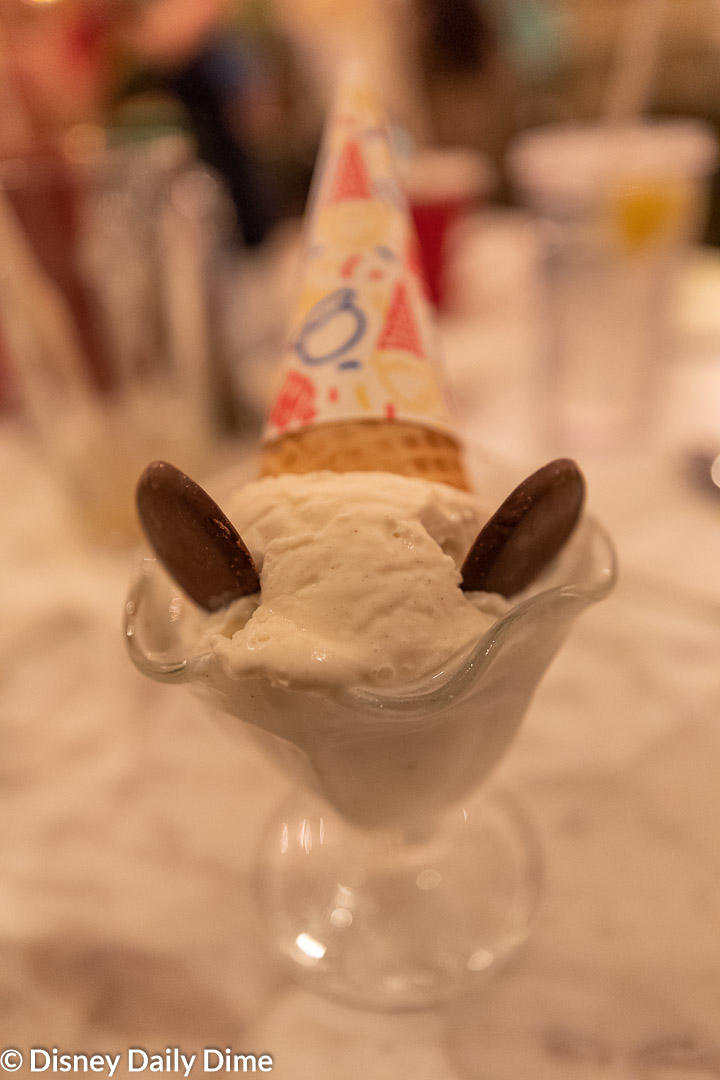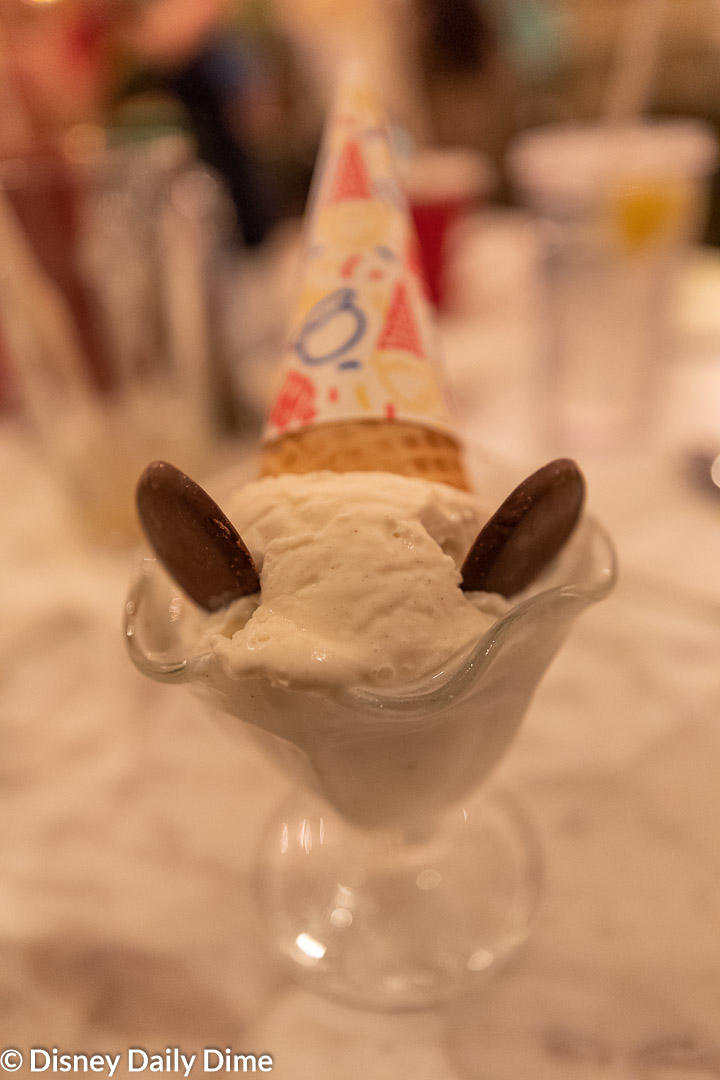 Dessert
At dessert time, Carla and I were stuffed, so we elected to pass on more sweet treats.  The milkshakes were more than enough.  However, the girls weren't ready to stop.  This was where things got fun and a little silly!
While Anna ordered the Mickeylodeon our server asked if we were up for a more interesting dessert.  He listed out all the ice cream flavors, including broccoli.  This, of course, caused a lot of giggles and banter between the girls and our server.  I think several people at the tables around The Plaza Restaurant wondered what was going on at our table.  When he brought out Anna's ice cream, we were surprised to see the broccoli ice cream, but low and behold there it was.  Anna eventually tried a small bite of it after much prodding from me (dad of the year, right).  She said it was terrible, but we had a ton of laughs about it.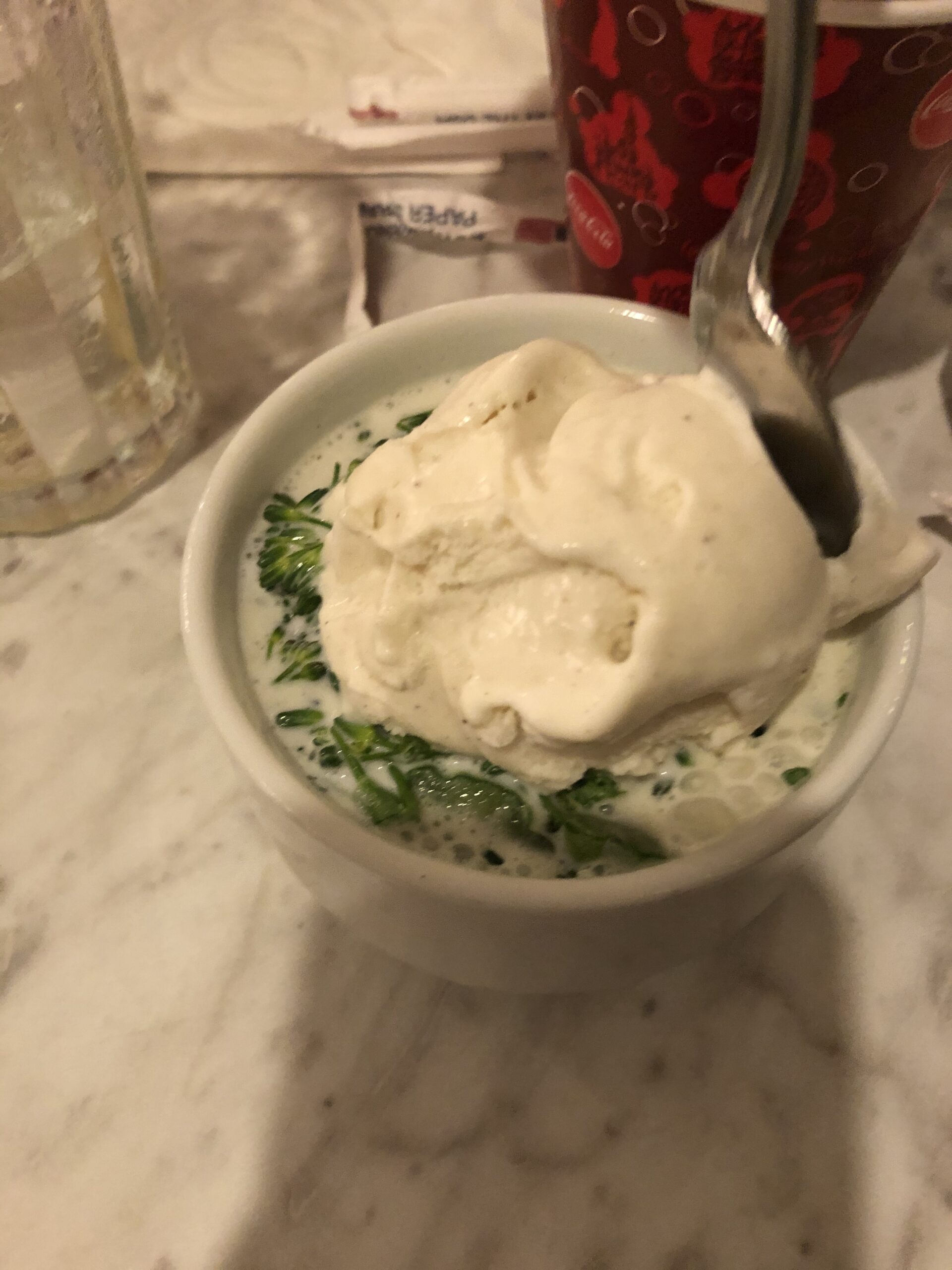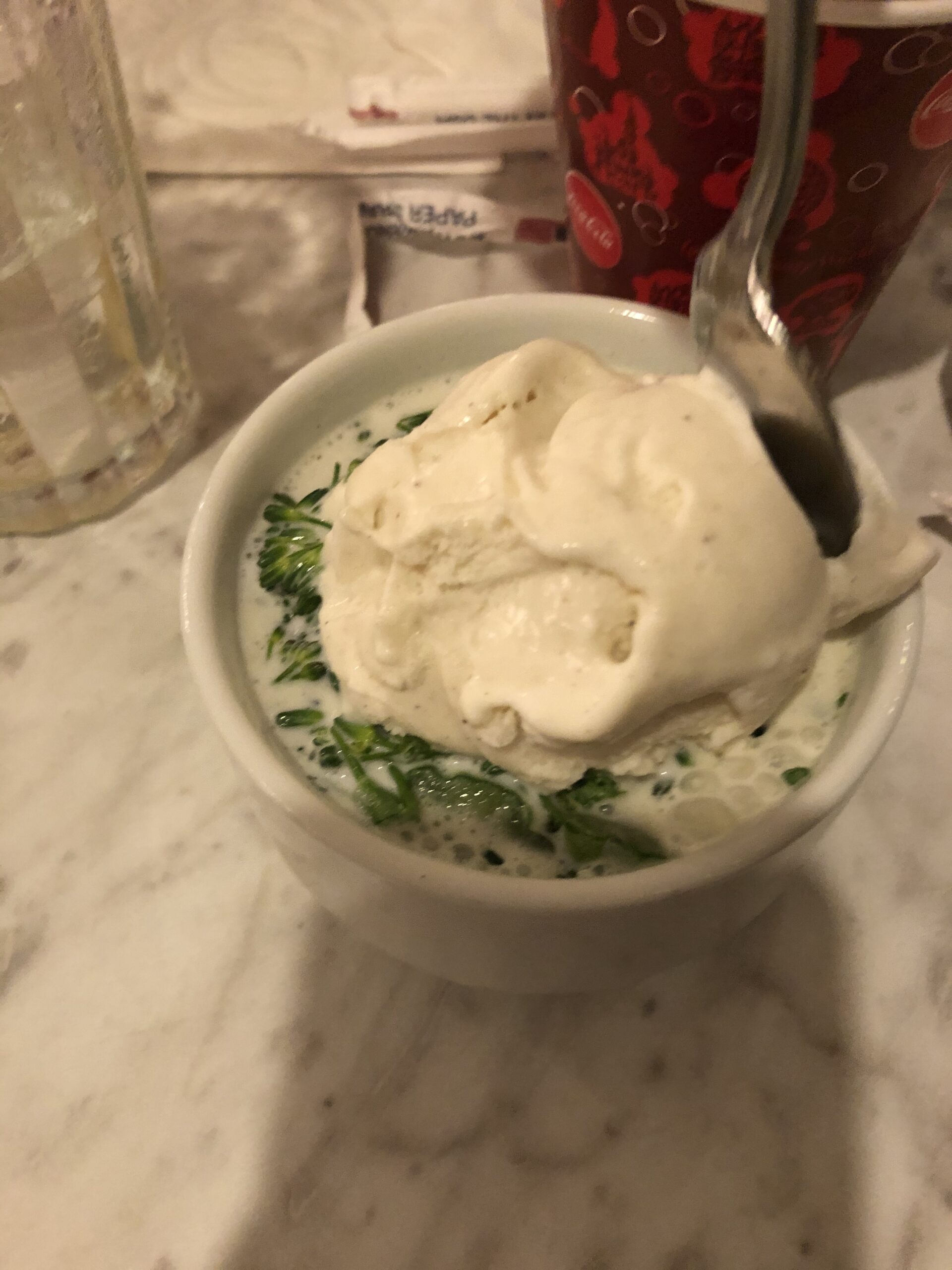 After the laughs, our server did bring out Anna's Mickeylodeon.  The kid's Mickeylodeon consists of a scoop of ice cream, Mickey-ear cookies, and a hat made out of an ice cream cone.  It's a fun treat that Anna adored.  I'm not sure it is overly unique, but for kids, it will likely be a huge hit.
Our server was great and made it an excellent experience.  I probably would not recommend you order broccoli ice cream though.  It isn't the best dessert at The Plaza Restaurant at Disney World.  Stick to the milkshakes!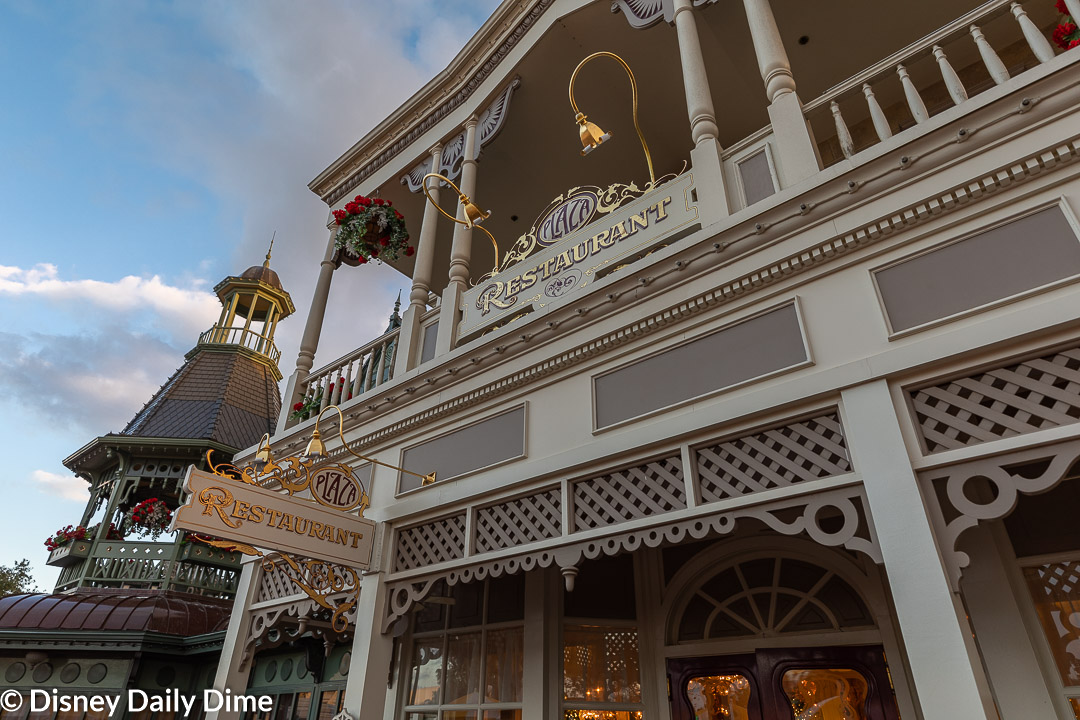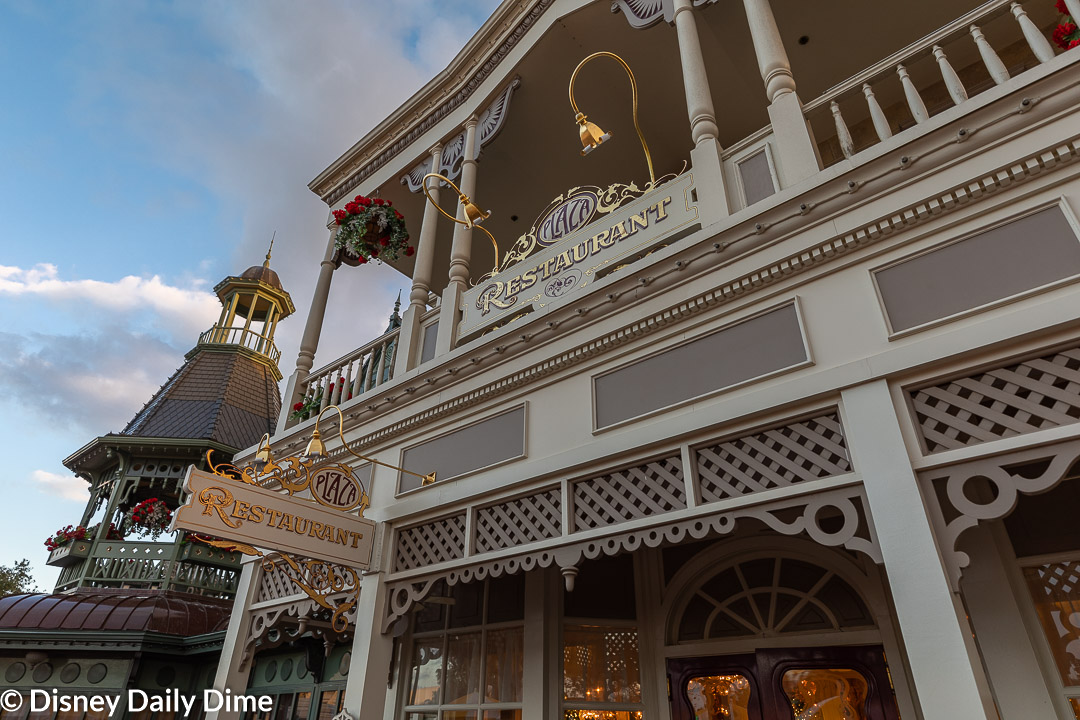 The Plaza Restaurant at Disney World Was a Welcome Meal and a Great Value
I have to say, we were pleasantly surprised by The Plaza Restaurant.  When it comes to eating at Magic Kingdom, it wasn't a place I was eager to try.  It's cute exterior always made me wonder what the fuss was about, but the menu never called to me.  Now we are believers, and we think you should be too!
The charming interior is wonderful.  When coupled with the delicious food, it becomes a place we think is worth checking out.
However, if you look at the price of the food compared with the fairly bland counter service options at Magic Kingdom, it makes The Plaza Restaurant an even more compelling value.  You pay a slightly higher price for food that is infinitely better.  I would even rank The Plaza Restaurant as one of the top table service restaurants in Magic Kingdom.  It's easily better than Cinderella's Royal Table, while they are admittedly very different experiences.  It's on par with Skipper Canteen, which is a restaurant we love.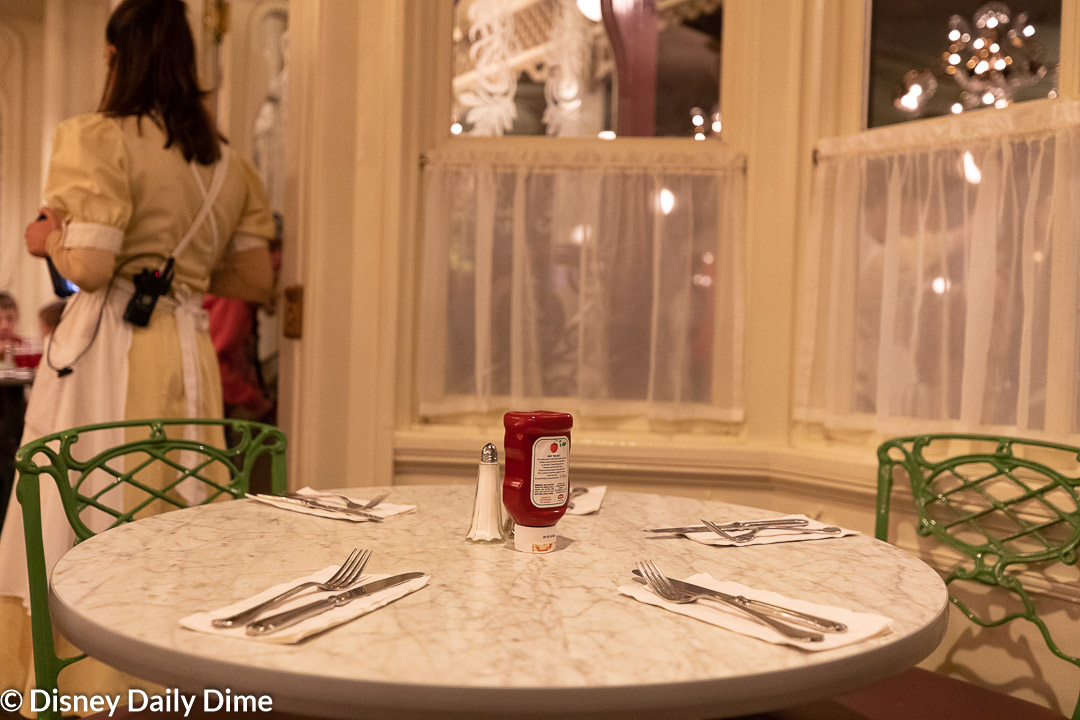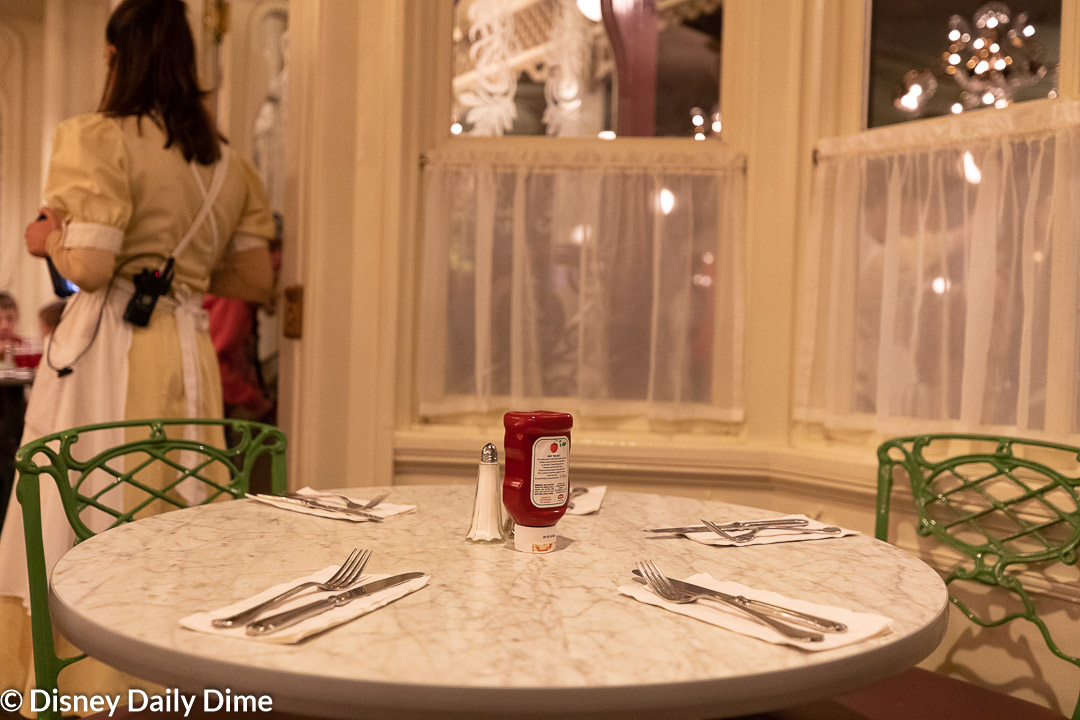 Wrapping Up Our Plaza Restaurant at Disney World Review
With that, we'll wrap up our Plaza Restaurant at Disney World review.  If you need a meal at Magic Kingdom, you absolutely must consider eating here.
If our Plaza Restaurant at Disney World review was helpful or at least entertaining, please like and share this with your friends or anyone you think will find it useful.  Just use the sharing buttons on the page.  We always appreciate it when you share our posts, as it allows us to spread the word about our blog and hopefully will enable us to help others.  For more Disney World related food reviews, you can check out our Disney World Restaurant reviews page.
If you are planning a trip to Disney World, make sure you check out our Disney World trip planning guide.  We cover everything you need to know about there parks and planning a great trip.