We've completed 10 outdoor kitchen reviews from this year's Epcot Flower & Garden Festival.  However, there were some festival specific sweet treats that we got from the booths we didn't review.  So we decided to take all those items and round them up in this sweet treat review from the festival.
If you are wondering, the miscellaneous desserts from the Epcot Flower & Garden Festival come from the following outdoor kitchens:
Pineapple Promenade
Funnel Cake Stand
Refreshment Port
Refreshment Outpost
Each of these locations has at least one dessert item.  However, as you'll see in our sweet treats review, not all desserts are made equal.
Let's look at these various sweet treats that you'll find around the Epcot Flower & Garden Festival.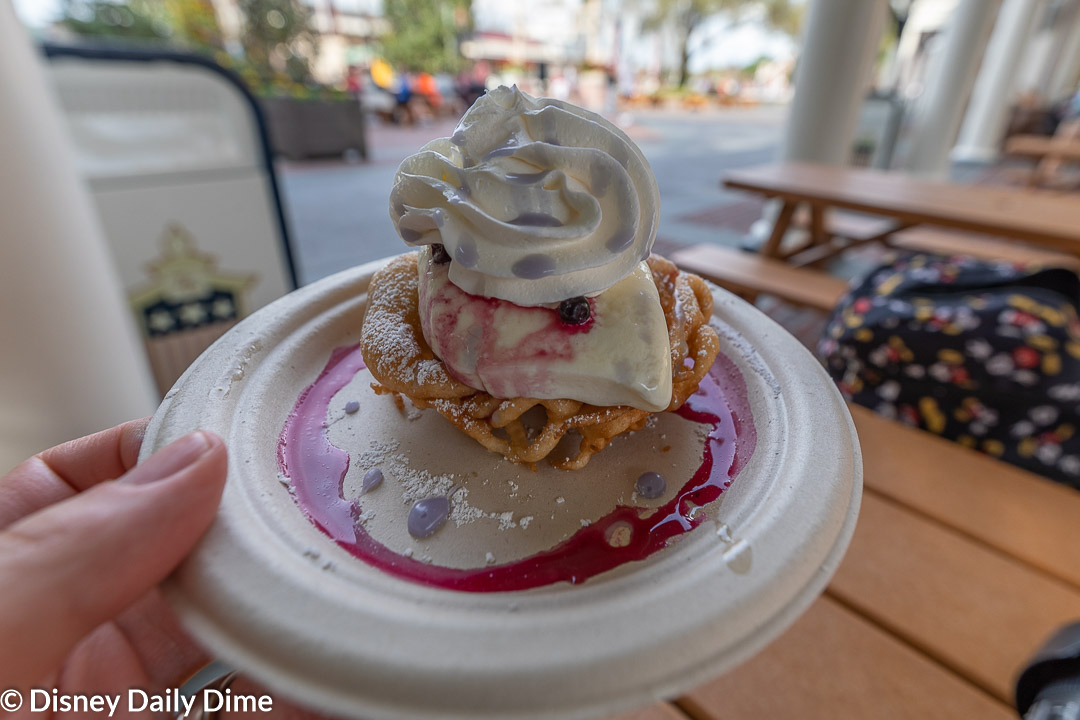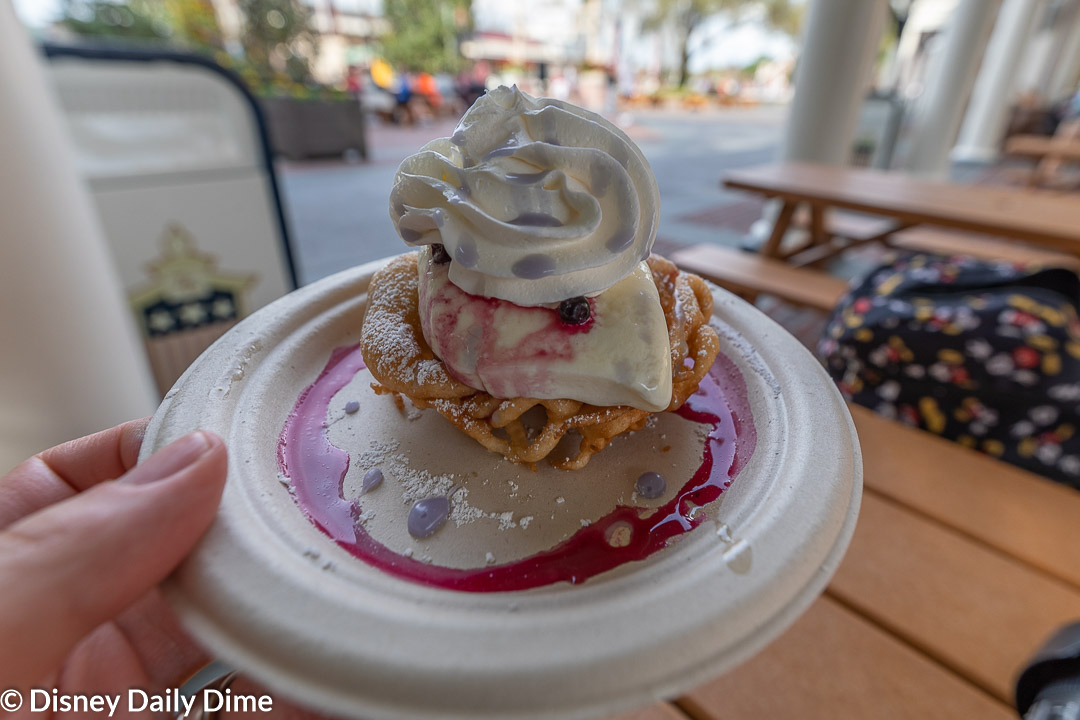 Mini Funnel Cake (KA) — $7.00
You'll find this festival specific mini funnel cake at the Funnel Cake Stand in the American Adventure Pavilion.  If you've ever had a funnel cake here before, I think it's worthwhile noting that this is a much smaller portion than what you see with the regular funnel cakes.  However, it is topped with some yummy goodness.
Sitting on the funnel cake bed, you will find Lemon Cheesecake Ice Cream, Blueberries, and Powdered Sugar. You'll find this dessert is freshly made as they cook the cake right there on the spot.  Pre-plating the ice cream would lead to a melted mess.  The ice cream served on top of the funnel cake is delicious.  It's also a healthy-sized scoop of the ice cream.  The tart flavor of the lemon was an excellent contrast to the sweetness of everything else on the plate.  Unfortunately, we didn't get many blueberries.  They were an excellent addition, but I wanted more.
Overall, the funnel cake was one of the best desserts we had at the Epcot Flower & Garden Festival.  Anna, Elsa, and I loved it.  It's rich, but it didn't make me feel stuffed or overwhelmed.  We will get this again when we go back to the festival and think it should be on your must-eat dessert list!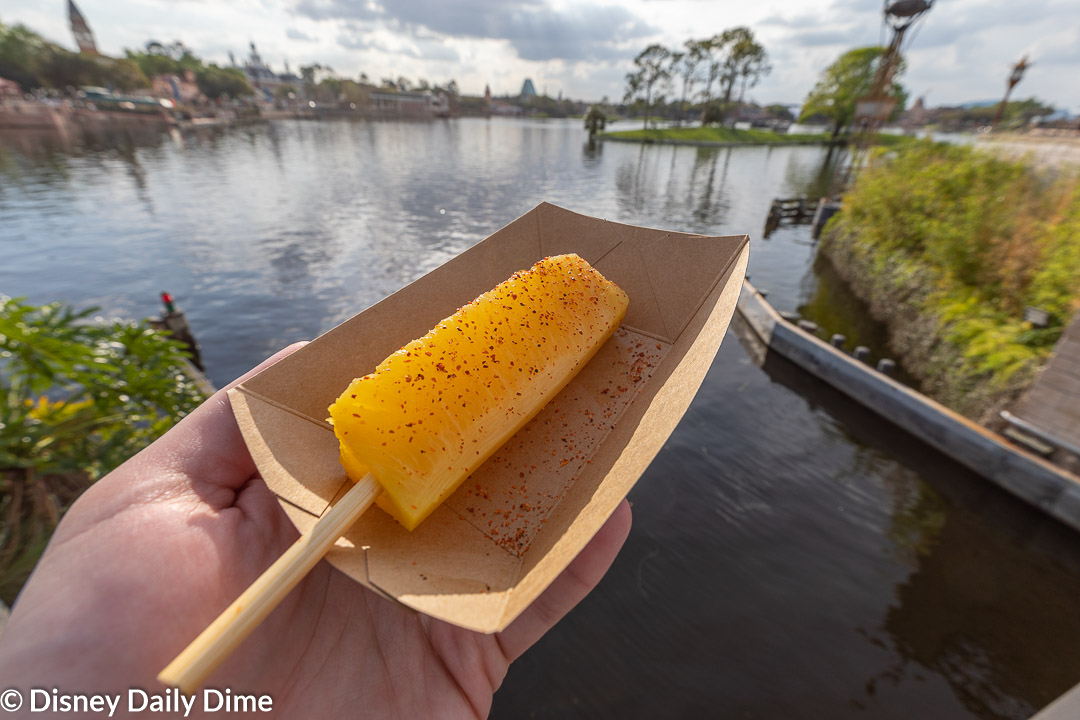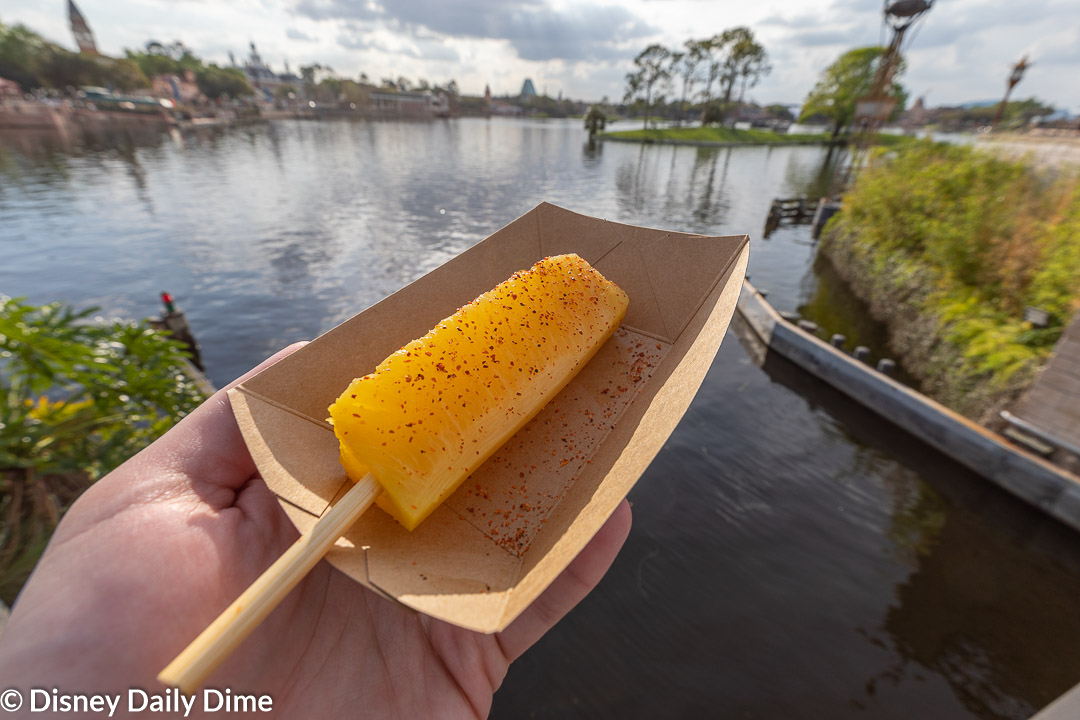 Pineapple Skewer – $4.75
Next up, we head over to Refreshment Outpost for the pineapple skewer.  At its core, this is just a slice of pineapple with some Tajin Seasoning sprinkled on it.  The pineapple was juicy and refreshing; however, the Tajin Seasoning wasn't something I enjoyed.  It gave the pineapple an odd, almost spicy, and bitter taste.  I didn't enjoy that part of it.
Besides the flavor, our particular piece of pineapple had a sliver of the core still intact, which made it hard to eat.  That's true literally and figuratively.
This was something that we are divided on as a family.  Carla loved the pineapple skewer, while the girls and I were not fans.  Your view will probably depend on what slide of pineapple you get and if you like the Tajin seasoning.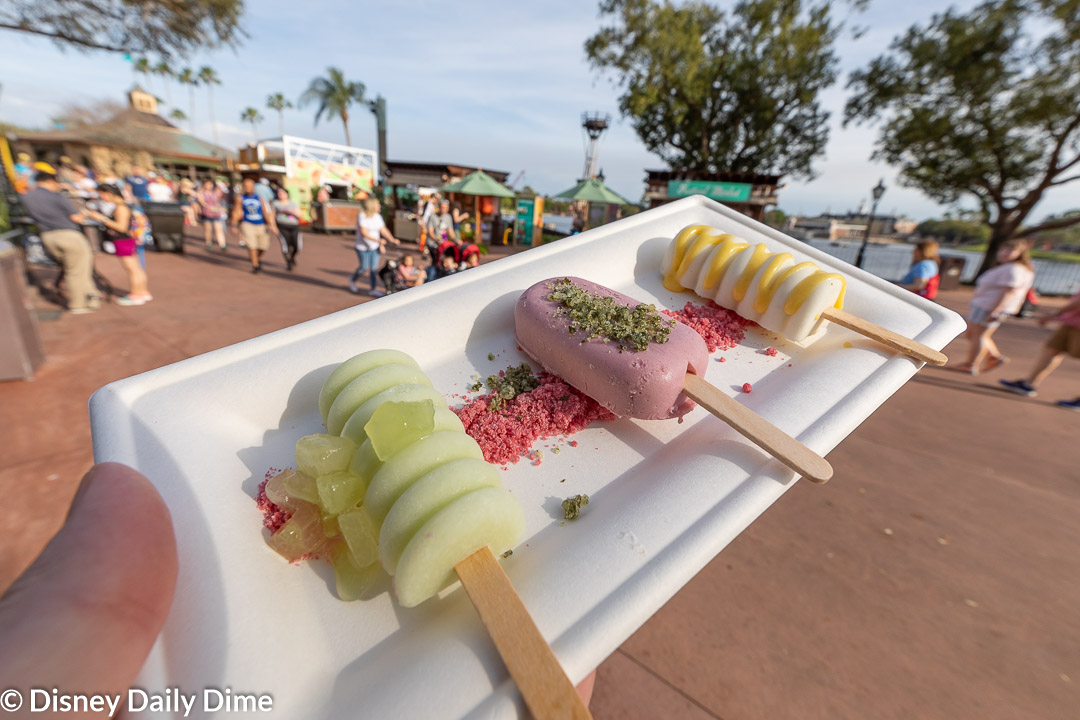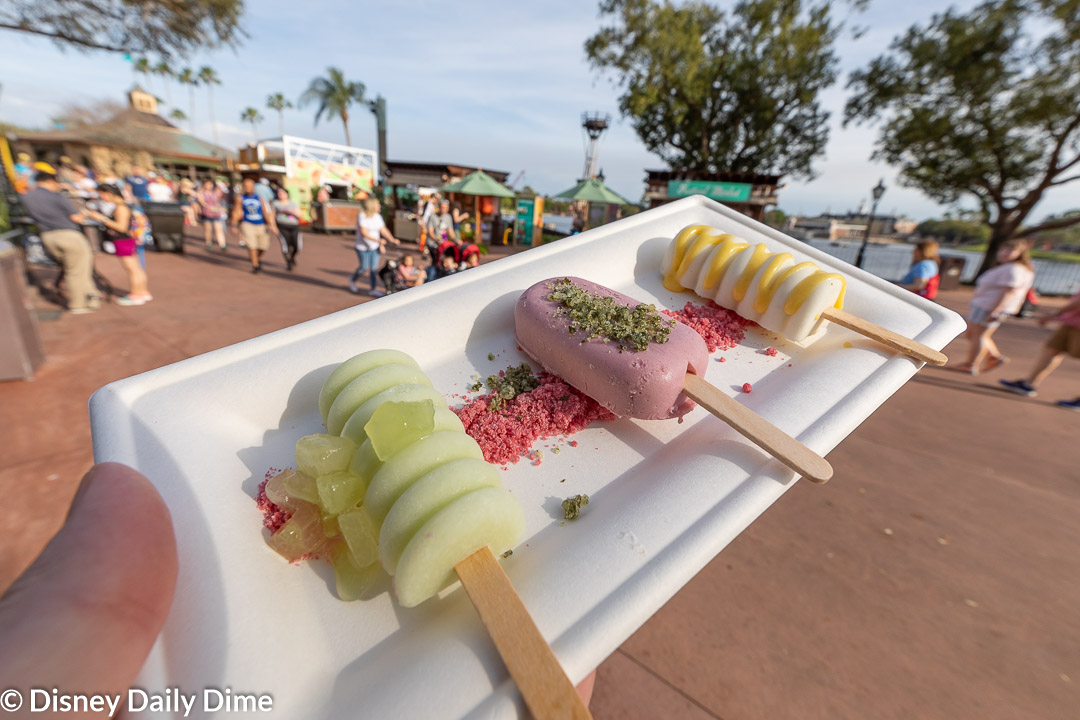 Popsicle Trio: Honeydew, Raspberry-Mint, and Coconut-Lime – $5.00
Let's move along to Refreshment Port.  If you don't know where this is, you'll find it on the walkway that leads to the Canada and United Kingdom pavilions from Future World.
As you can see in the picture above, there are three popsicles on the plate.  The green one in the foreground is the honeydew flavored one, in the middle is raspberry-mint, and at the end is coconut-lime. 
This is an interesting dish, as we found the flavors a little polarizing and it highlighted our differing tastes.  Elsa and I only liked the coconut-lime popsicle.  However, Anna was a fan of the raspberry-mint.  Nobody cared for the honeydew.  So if you don't like everything it has to offer, consider sharing it with a friend.
As for the popsicles themselves, they are each rich and creamy.  The texture is fabulous, and not the icy hard texture that you might think of when a popsicle comes to mind.  On flavor, it's a mixed bag, like I said.  Your opinion will depend on what tastes you prefer.
I will say, these melt quickly.  Make sure you eat these right away. Otherwise, your popsicle trio may turn into a melted mess.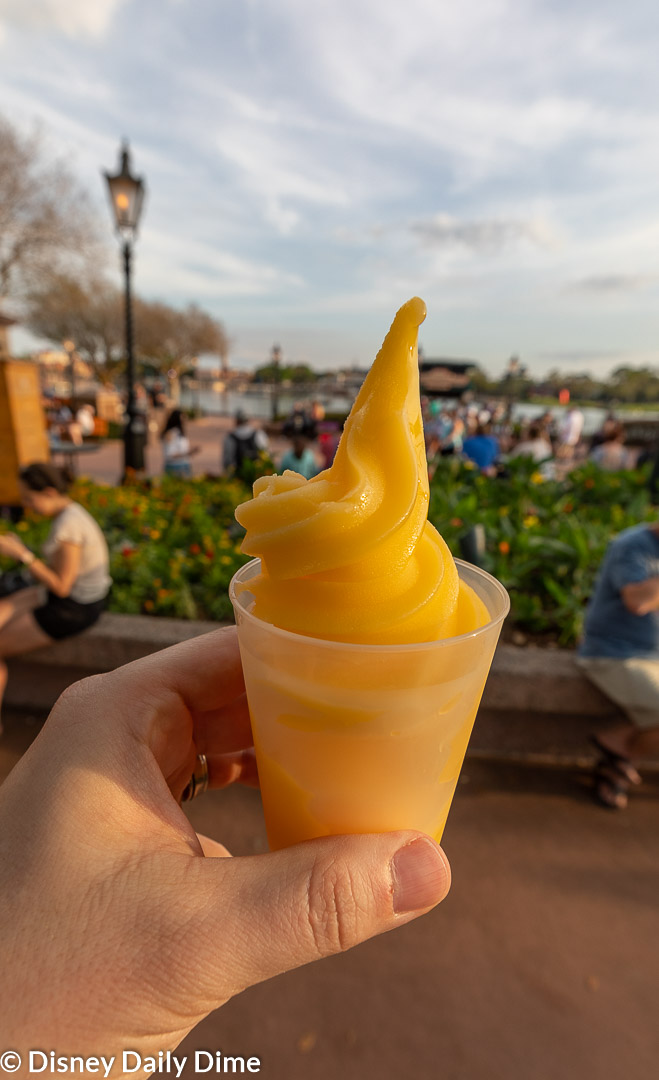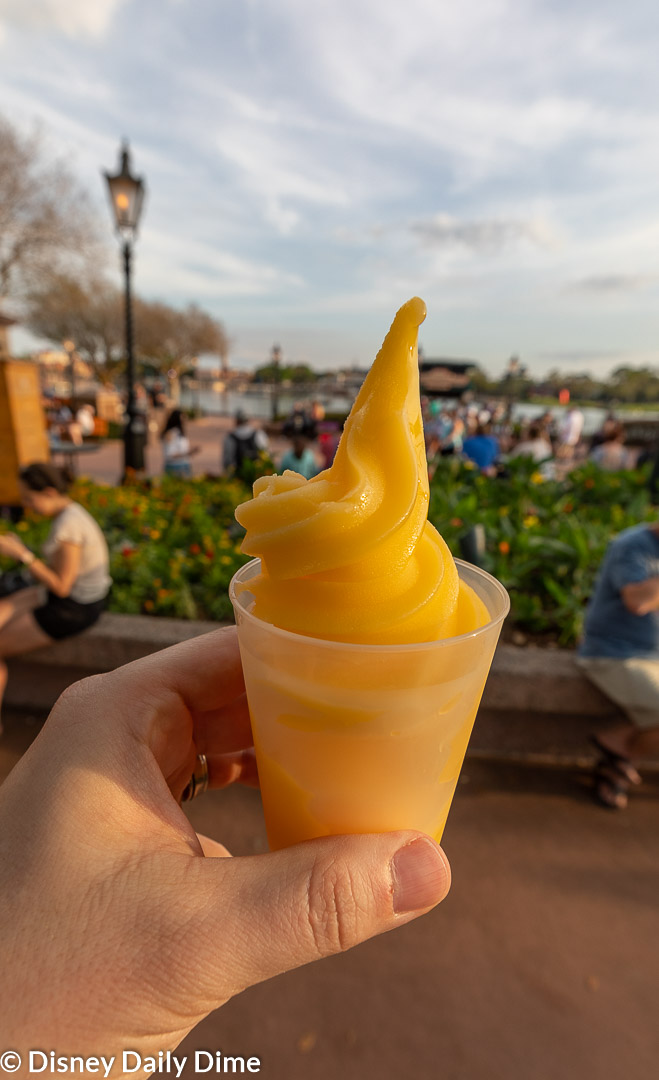 Dole Whip (KA) – $5.25
This is the regular Dole Whip that you'll find around Disney World.  It's pineapple flavored, gluten free, dairy free, and yummy good.  It's refreshing in the hot Florida Disney World weather without being heavy on the stomach like ice cream.  We love Dole Whip and get it almost every trip we take.  However, you can get a bigger serving and a slightly lower price at Magic Kingdom or Polynesian Village Resort.  For that reason, we don't recommend getting this here, but if you just have to have Dole Whip, it's available.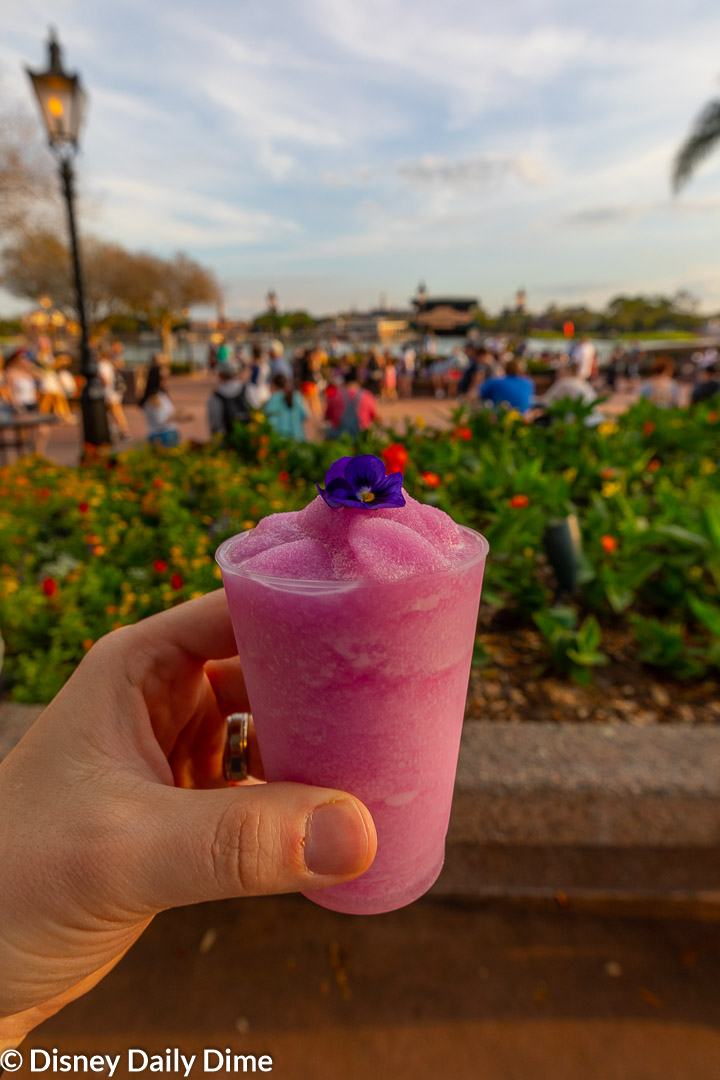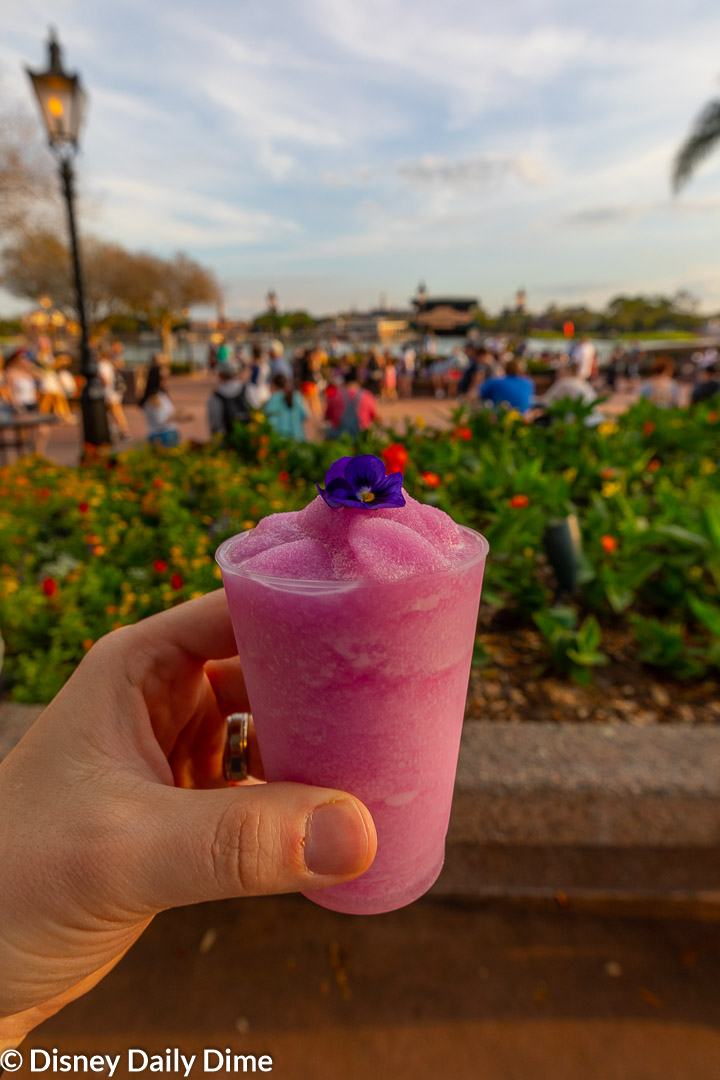 Frozen Desert Violet Lemonade (KA) – $4.50
The Frozen Desert Violet Lemonade was a drink that we all loved.  It combines a tart lemonade flavor with a hint of what I think is lavender.  Not 100% sure on that, but in any case, it was a refreshing variation of a frozen lemonade.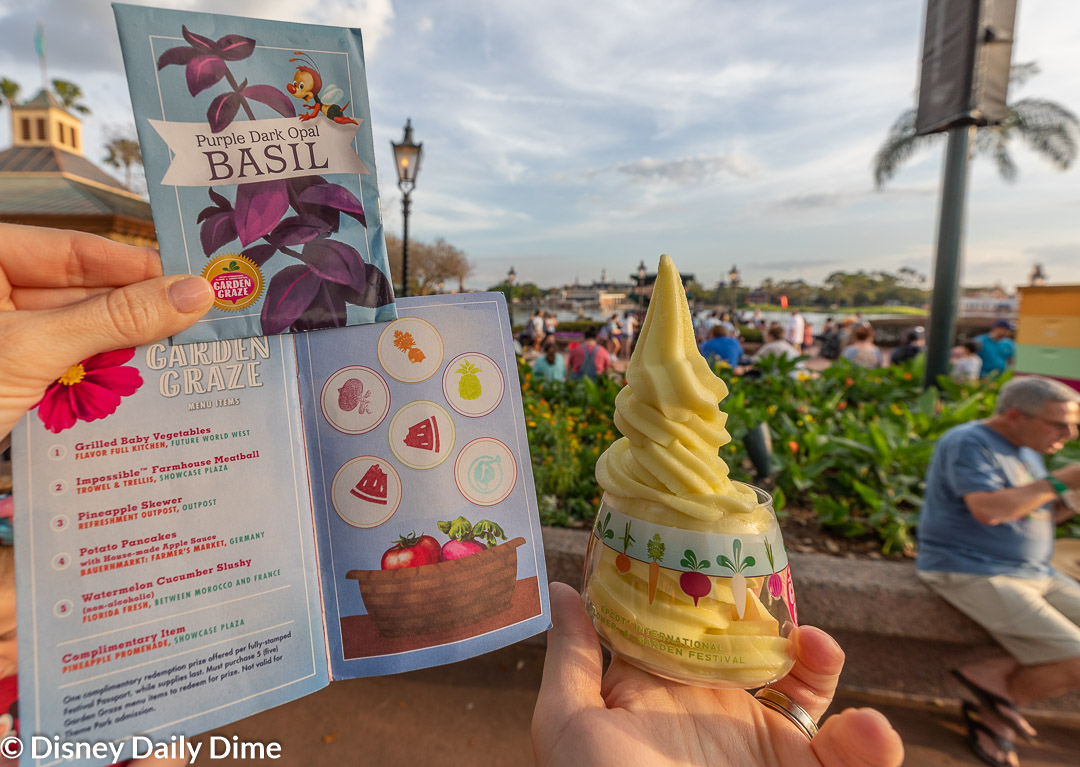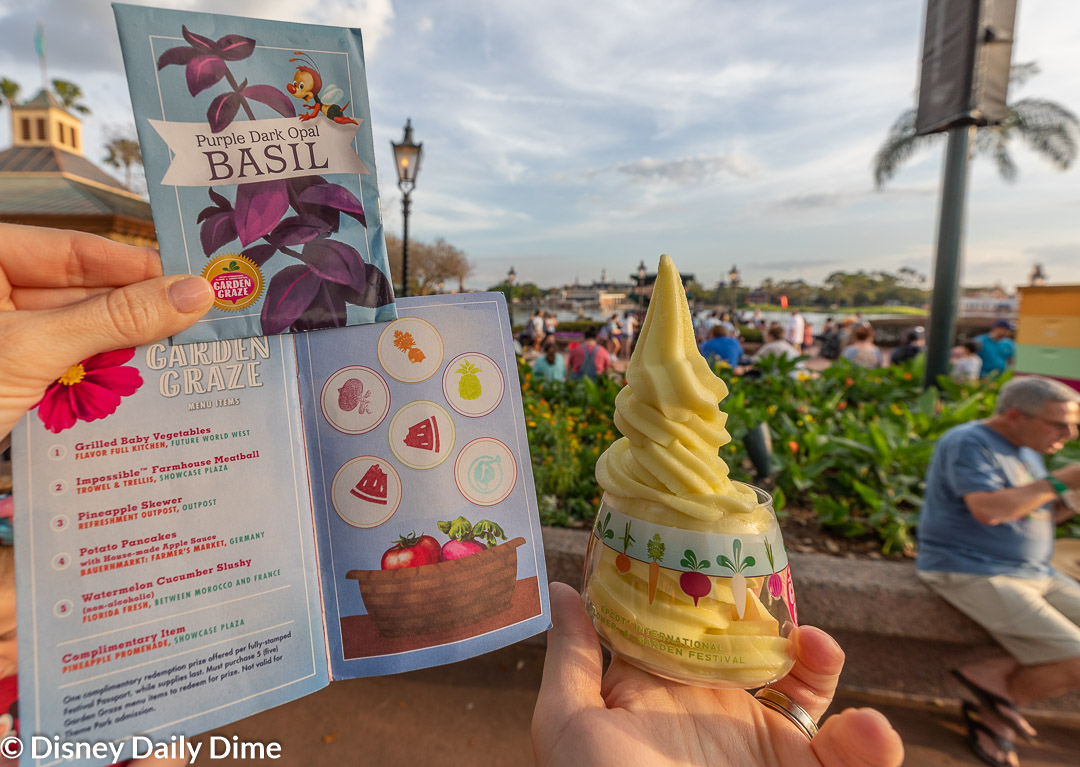 Garden Graze Treat
In addition to all the sweet treats that you can buy during the Epcot Flower & Garden Festival, there is one you have to earn.  Well, maybe not earn, so much as buy a bunch of other stuff to get.  This is called the Garden Graze.
Here's the deal.  You must purchase five items off the Garden Graze list.  They are as follows:
If you are interested in hearing our thoughts on these dishes, we've linked to our outdoor kitchen reviews for the items we ate.
Now, you don't have to buy each item.  You can actually buy five of the same one, and that counts.  Notice on our stamped passport in the picture above we have two of the watermelon slushies.  When you buy the items from the list, make sure the cast member at the outdoor kitchen stamps your passport.
Once you complete getting five items, you will take your passport to Pineapple Promenade and show it to the cast member there.  The cast member will give you the Garden Graze treat, which looks like the item above.  They also will provide you with a small packet of seeds, which you can use to grow a plant in the cup that the treat comes in.
As far as the Garden Graze treat itself, this is a mango-lime Dole Whip.  It was fabulous!  We all loved it.  Had we known this was the treat, we would have skipped the regular Dole Whip that we reviewed above.  Oh well.  It was a fun treat that we enjoyed.  The approximate cost to complete the Garden Graze is about $25, depending on what items you order from the list.
Wrapping Up Our Flower & Garden Festival Sweet Treats Review
With that, we'll wrap up our sweet treats review from the Epcot Flower & Garden Festival.  There are some hits and misses here for sure, but we think you'll find something to enjoy.
If you are interested in more of our Epcot Flower & Garden Festival outdoor kitchen reviews, we'll link to them down here as we finish them!  We hope you enjoy the food and the reviews!