At this year's Epcot Flower & Garden Festival, we only have one new outdoor kitchen.  That is Magnolia Terrace, which is situated over in the American Adventure pavilion in World Showcase.  Magnolia Terrace replaces The Smokehouse, which we assume departed because of the recent opening of The Regal Eagle Smokehouse counter service restaurant in the pavilion.  Here in our Magnolia Terrace review, we'll talk about the food and if we think it is worth the price.  We'll have pictures of everything too.
From a food perspective, Magnolia Terrace focuses on southern comfort food that is inspired by the Gulf region.  There are five food items on the Magnolia Terrace menu.  They are as follows:
Southern Seafood Boil: Shrimp, Mussels, Crawfish, Potatoes, Corn and Andouille Sausage
Grilled Oysters with Cajun Butter
House-made Boudin Two Ways with Spicy Mustard
Pecan Cake with Maple Whipped Cream featuring Burton's Maple Syrup
Pecan Praline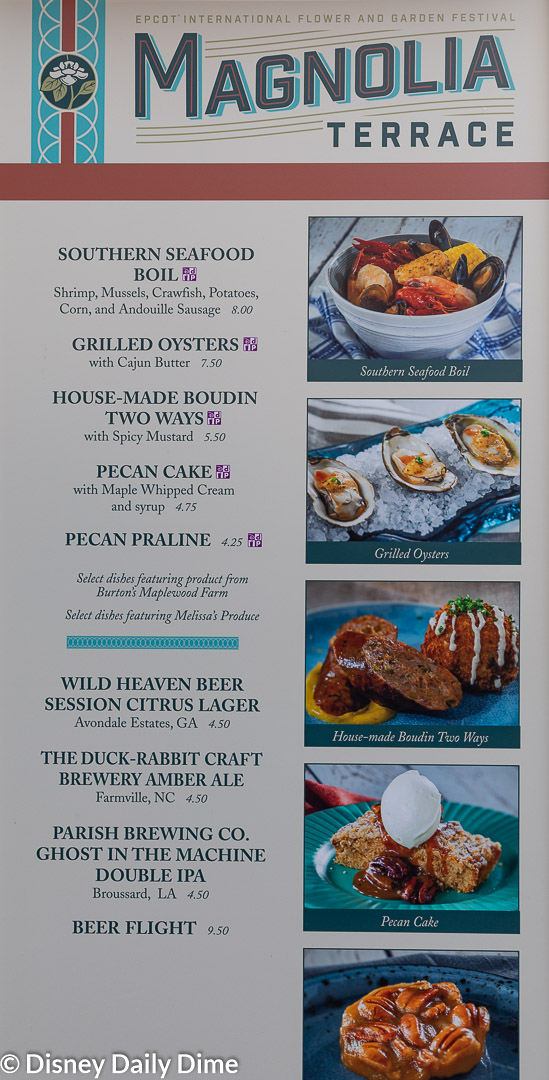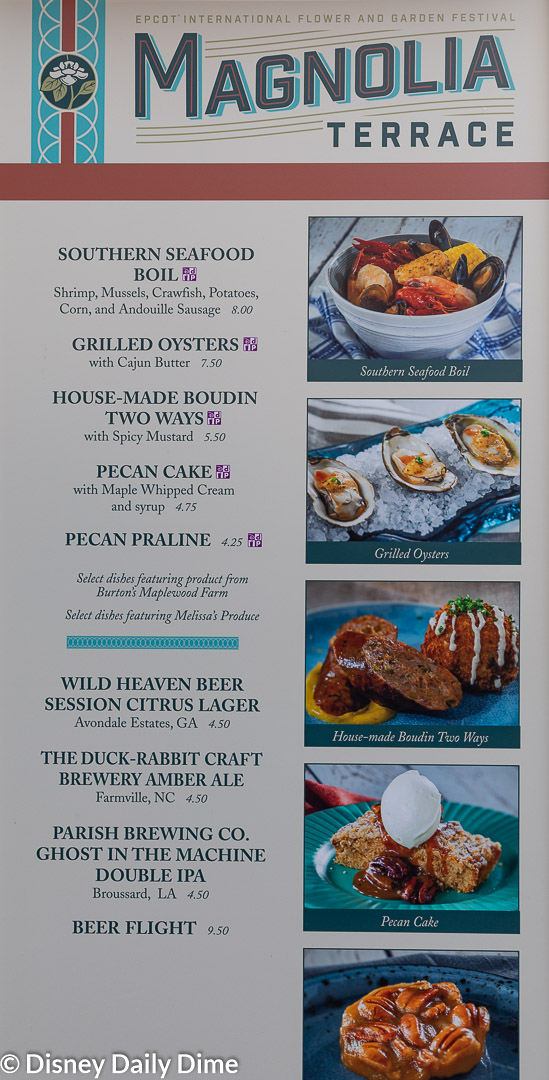 This is one of a few Flower & Garden outdoor kitchens that doesn't have a non-alcoholic drink on the menu.  Anna and Elsa were disappointed by that, but we got the special festival funnel cake from the Funnel Cake Stand, which appeased them.  You can find the drinks on the menu pictured above.  We have a post if you are interested in the outdoor kitchen menus at the Flower & Garden Festival.   We should also mention that we have a Guide to the 2020 Epcot Flower & Garden Festival.
Let's look at the food at Magnolia Terrace.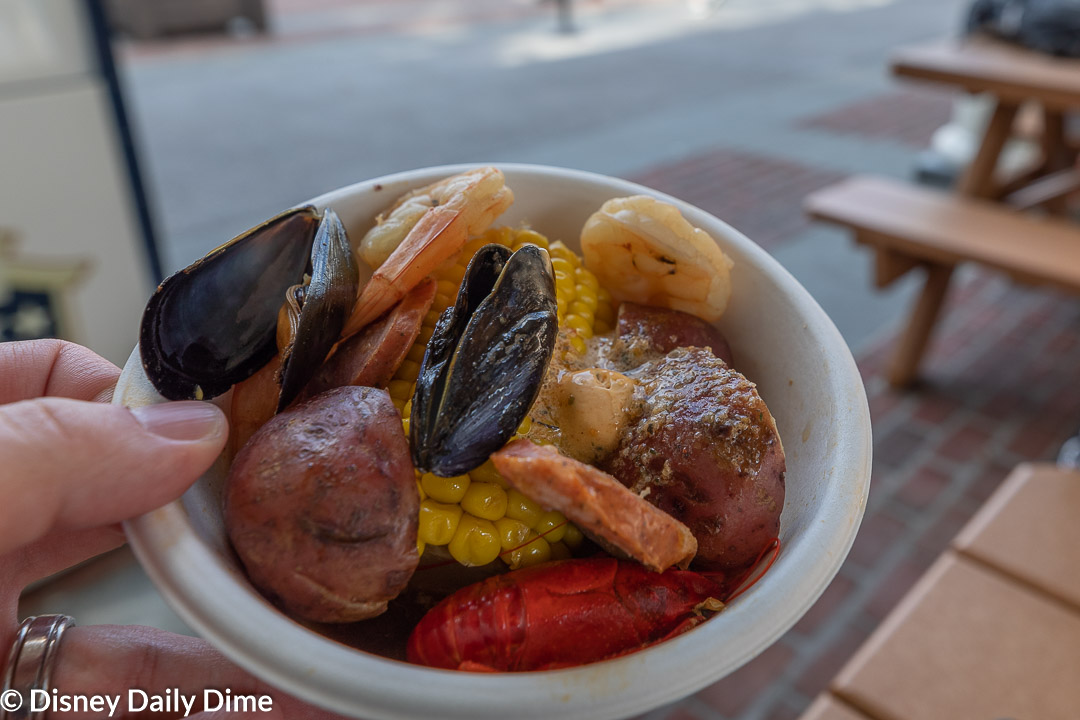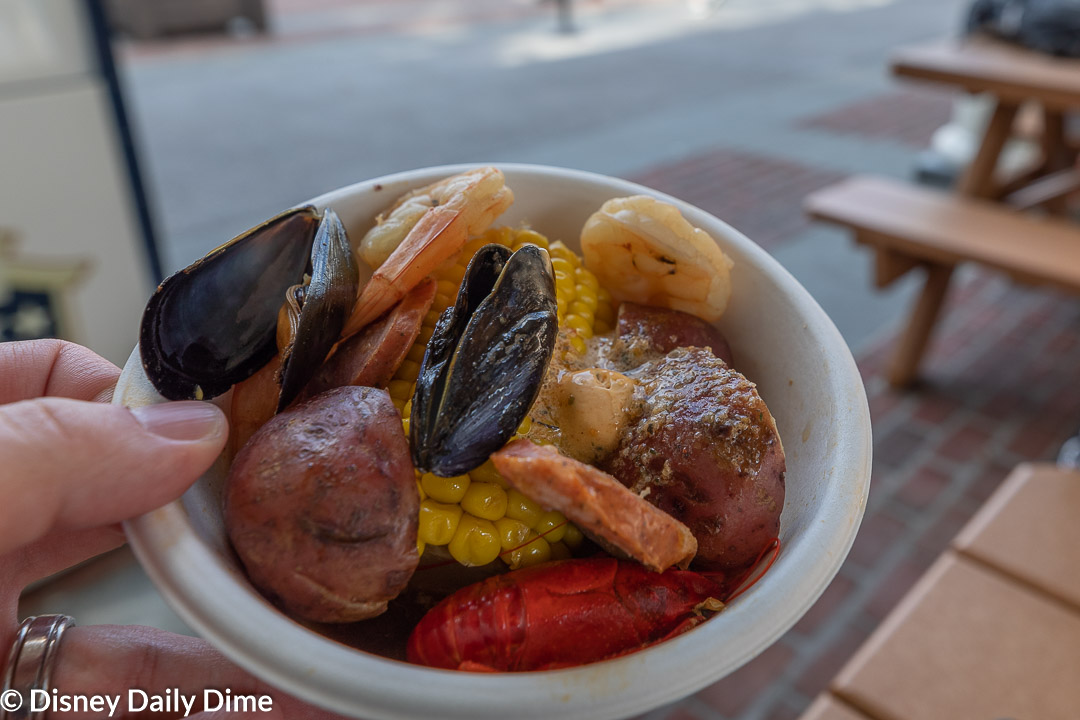 Southern Seafood Boil: Shrimp, Mussels, Crawfish, Potatoes, Corn and Andouille Sausage — $8.00
The first item we tried at Magnolia Terrace was the Southern Seafood Boil.  When we got it, I was pleasantly surprised by the portion and the various components of the bowl.  In the seafood boil, we found three shrimp, two mussels, a crawfish, three slices of sausage, about a third an ear of corn, and several wedges of red potatoes.  It all sat in a broth, which was very hard to get to, given all the food in the bowl.  I've seen several other pictures of this dish, and it feels like we received far less broth than others, which is my biggest issue with the dish, but we'll get to that in a second.
We thought that the seafood boil was well cooked.  The potatoes were perfect, corn crisp and flavorful, and shrimp plump.  The andouille sausage had a great spicy flavor.  Each item worked well individually, but it felt like I was eating five different dishes because the broth should be the thing that binds the flavors together.  However, I couldn't get broth with many bites because of how little there was.  When I did, I found the flavors even better.  Because of that, I'm a bit mixed on this dish.  If you get it, ask for more broth if it looks like you didn't get much.
While the seafood boil at Magnolia Terrace is pricey with its $8.00 price tag, it is well worth it.  The size of the bowl is substantial, and numerous seafood components present a compelling value.  You can practically make a meal out of this.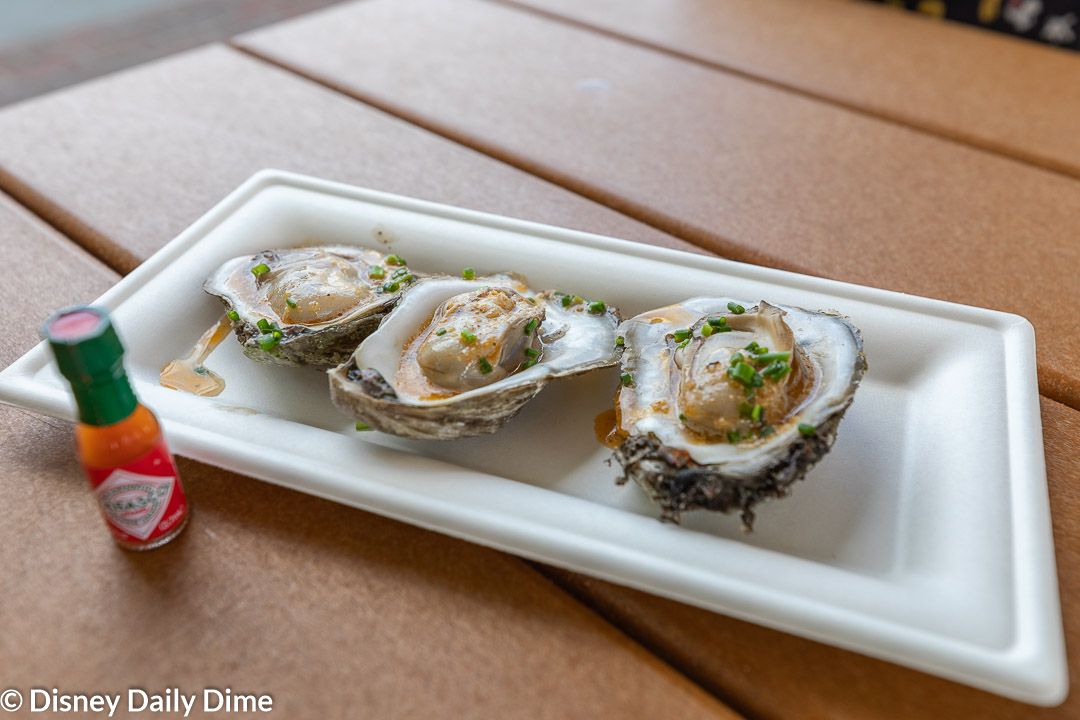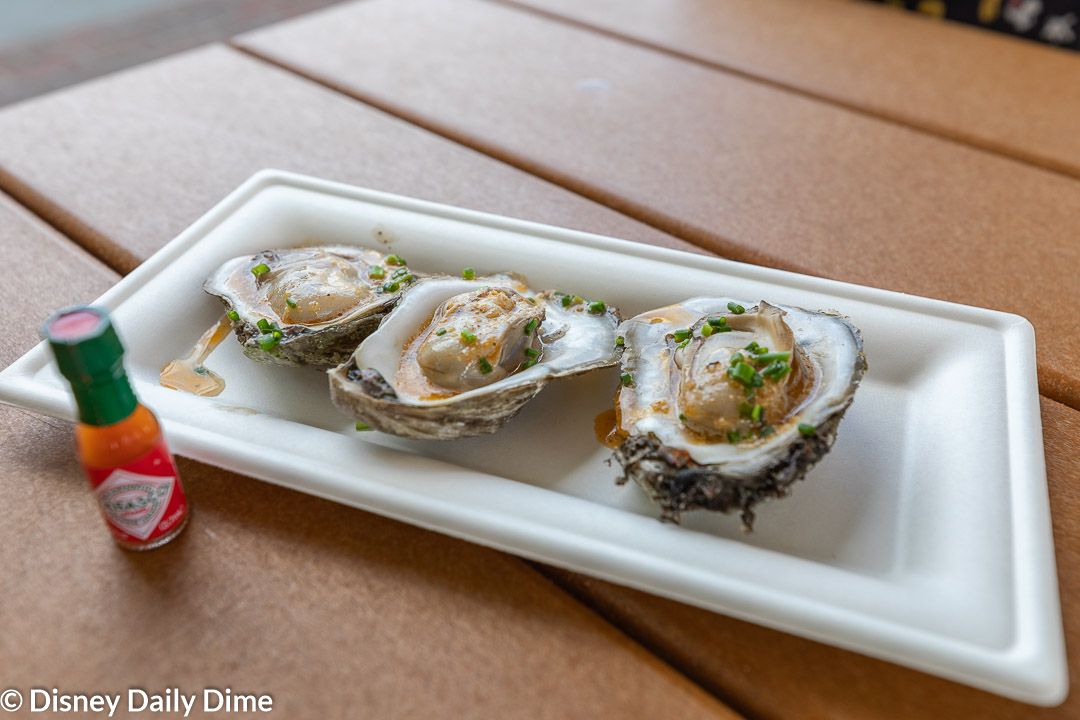 Grilled Oysters with Cajun Butter – $7.50
I was amazed that these oysters were shucked right there in the outdoor kitchen.  Wrongly, I assumed these would be made somewhere offsite and then shipped in for the festival.  Freshly shucked oysters are a great touch at this new booth.  They were grilled to order and topped with butter which also upped the presentation level.
Oysters have a unique texture.  If you aren't a fan of the mouthfeel of oysters, then you should go ahead and pass on these.  They aren't any different.  From a flavor perspective, I expected the Cajun butter to have a bit of heat and spice but didn't find any.  That was disappointing.  Otherwise, they are buttery oysters and just okay.  You can get a tiny bottle of tabasco to turn up the heat if you like.  On a side note, Carla confirmed the oysters at Magnolia Terrace are gluten free.
The value is good (but not great) here, but this is probably true on an order by order basis.  All of our oysters were plump and a nice size, but we have seen others who have had a mixed experience.  Because the oysters are shucked right in the kitchen, there is no way to know before you order.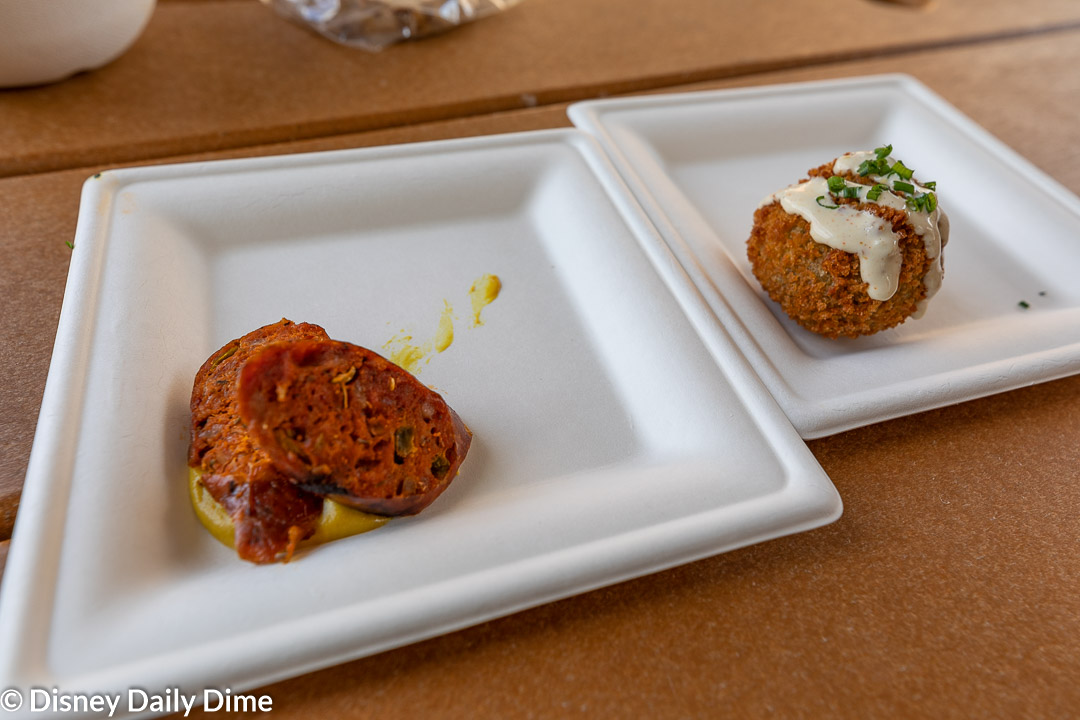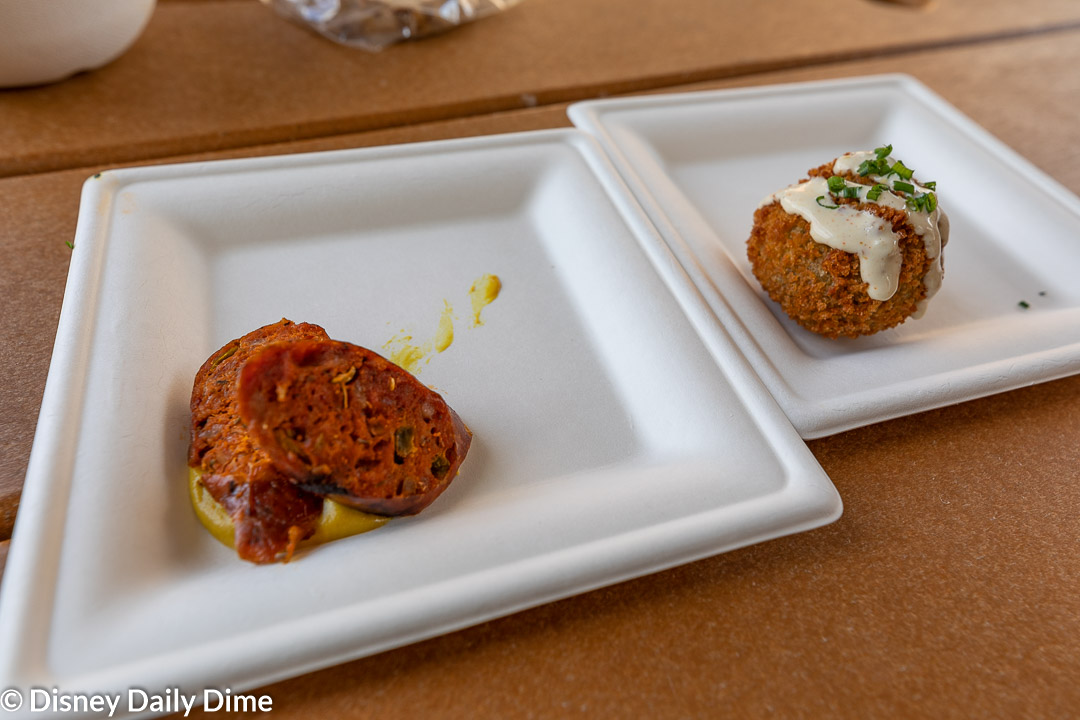 House-made Boudin Two Ways with Spicy Mustard – $5.50
The house-made boudin two ways features two slivers of link sausage, along with a sausage ball.  If you are wondering why they are on two plates, we had them separated for Carla.  The sausage links are gluten-free so she could eat them; however, the sausage ball is not. They usually do come on a plate together.
As for the food itself, I thought the link sausage was excellent.  It had an excellent spice to it.  When combined with the spicy mustard, the flavors pop.  Unfortunately, I didn't like the sausage ball.  It has a fried exterior batter, which gives way to an interior of rice and spicy sausage.  I found the entire thing very dry.  I also wish the sausage flavor was more prevalent as I had a hard time picking up those flavors.
The value of the boudin two ways was just okay for me.  Three relatively small servings of sausage for over $5.00 was just alright.
Pecan Praline (GF) – $4.25
Apparently, I didn't get an individual picture of the pecan praline.  Sorry about that.  As you can see in the photo at the heading of this post, the praline comes pre-packaged.  Carla ordered this because it is actually gluten free.  She found it a bit sweet but did enjoy it as one of the few desserts that she could have at the Flower & Garden Festival.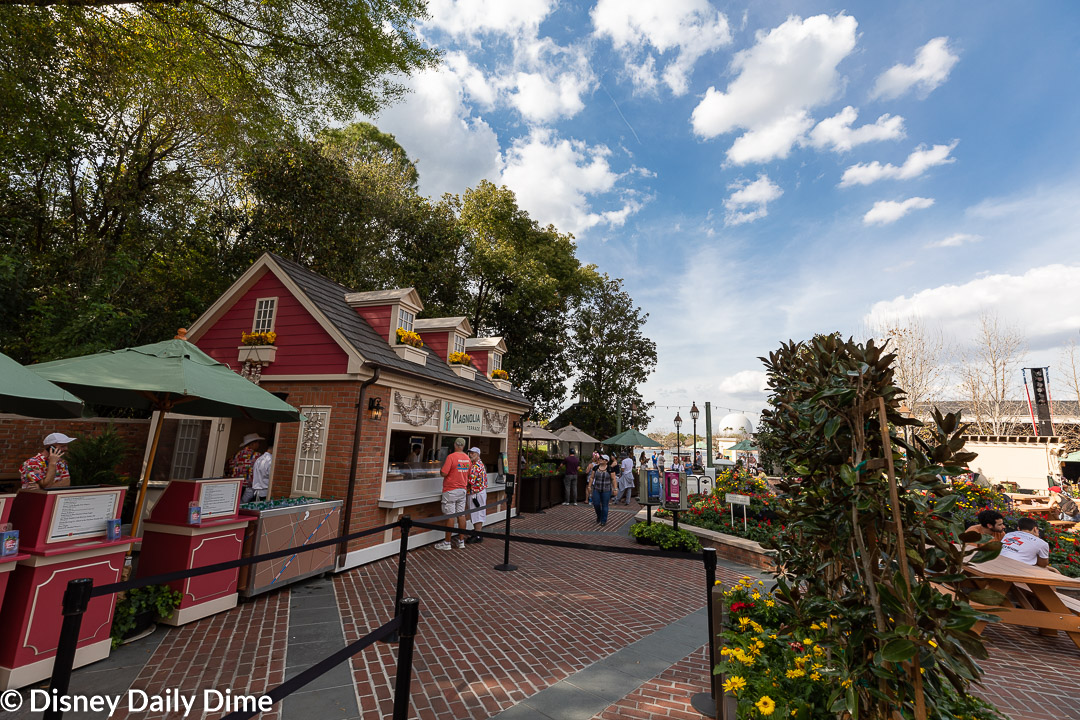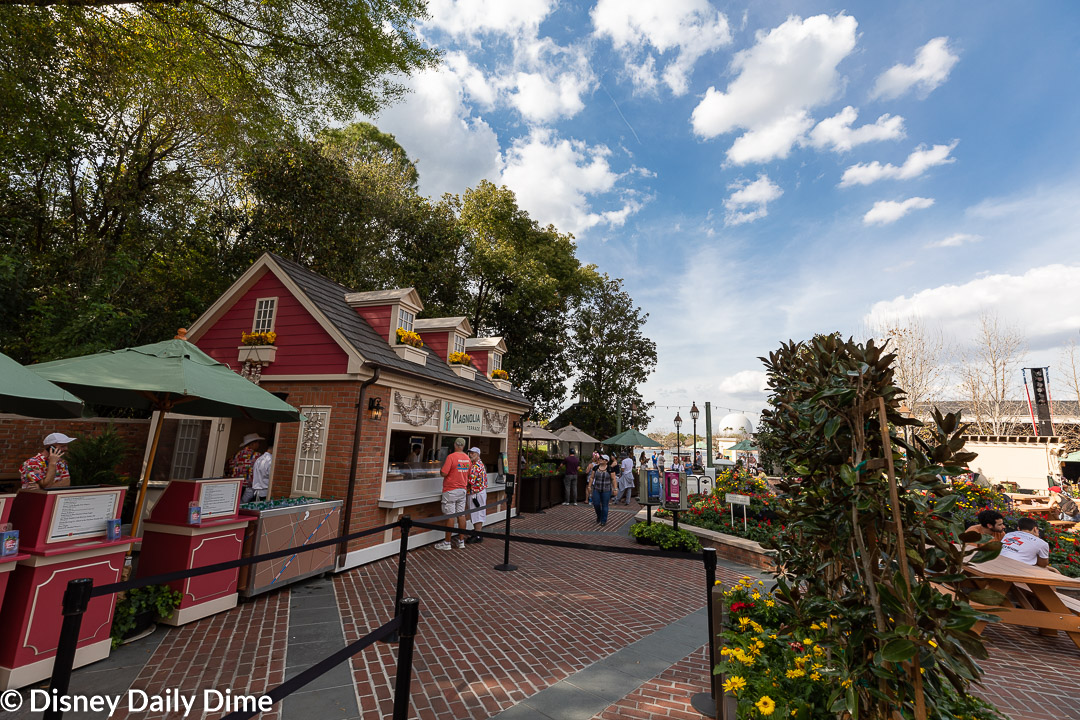 Drinks at Magnolia Terrace
Beyond the food we had, you can also get a few different beers at Magnolia Terrace.  They are as follows:
Wild Heaven Beer Session Citrus Lager, Avondale Estates, GA
The Duck-Rabbit Craft Brewery Amber Ale, Farmville, NC
Parish Brewing Co. Ghost in the Machine Double IPA, Broussard, LA
Beer Flight
Wrapping Up Our Magnolia Terrace Review
While we found some issues as part of our Magnolia Terrace review, we think Magnolia Terrace has some great potential.  The seafood boil is the closest thing to a star that the outdoor kitchen serves up.  It just needs more broth to hold it together.
If you are interested in more of our Epcot Flower & Garden Festival outdoor kitchen reviews, we'll link to them down here as we finish them!  We hope you enjoy the food and the reviews!