Flavor Full Kitchen makes a return appearance at this year's Epcot Flower & Garden Festival.  This is its second year at the festival, so it must have done reasonably well last year.  We have not eaten at this outdoor kitchen before, so this year is a first for us.  You can find the booth along the path from Innoventions heading into World Showcase.  Here in our Flavor Full Kitchen review, we'll talk about the food, if we think it is worth the price.  We'll have pictures of it all too.
This booth is unique in that it focuses on healthier food.  You will find a decadent treat, but besides that, all the offerings are health conscious.
Let's take a look at the Flavor Full Kitchen menu.  This year the outdoor kitchen features the following foods:
Grilled Baby Vegetables with Hummus Cream and Red Pepper Coulis (V)
Seared Verlasso Salmon with Farro Risotto and Micro-herbs
Strawberry Mousse with Chocolate Crisp Pearls (KA)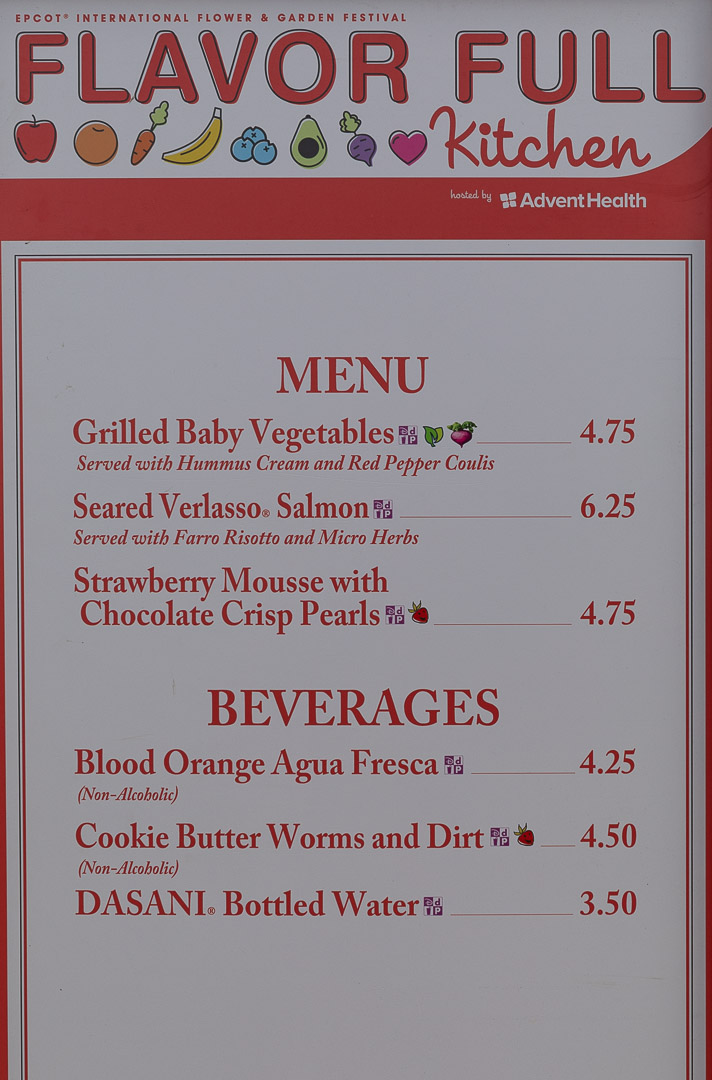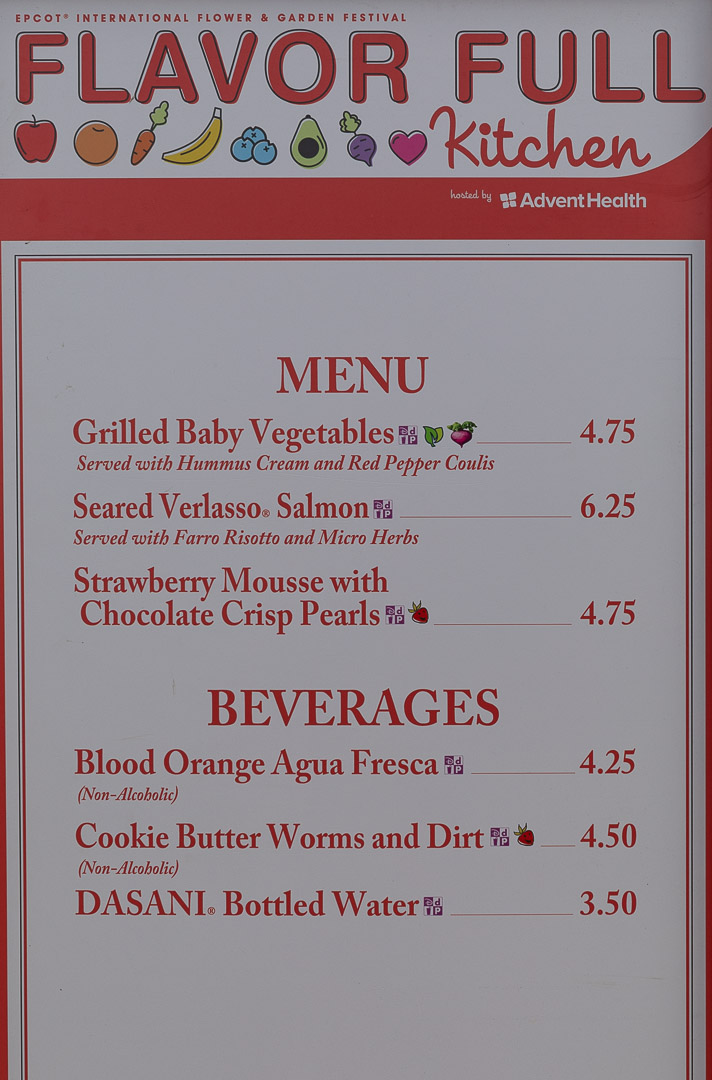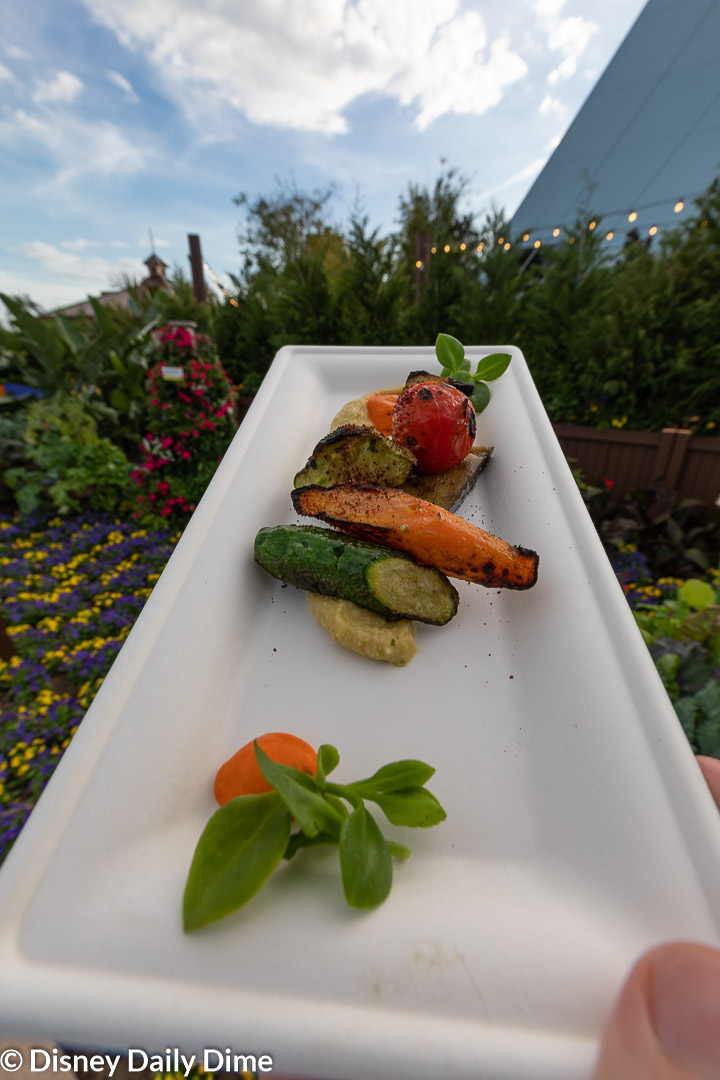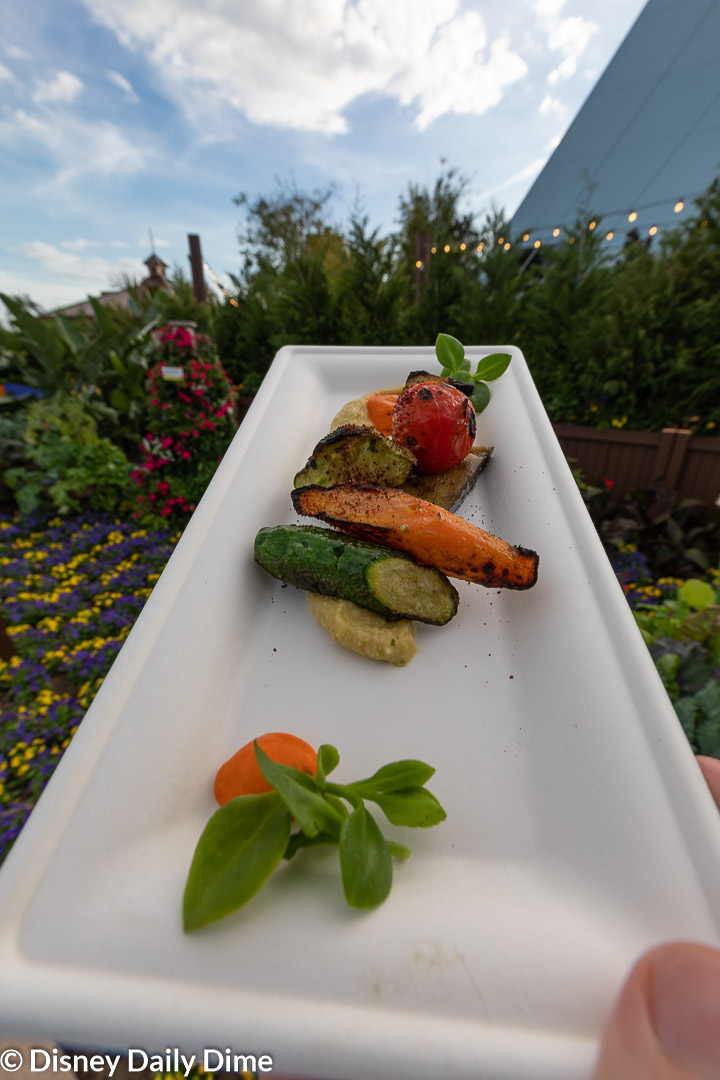 Grilled Baby Vegetables with Hummus Cream and Red Pepper Coulis (V) — $4.75
The vegetables for this dish are charred on a grill that sits right next to the outdoor kitchen.  They are grilled to perfection, with a nice smokey flavor.  The vegetables also retail a bit of crispness, which we liked.  Unfortunately, this was the best picture that I have of the plate, so you can't really see the paltry serving of hummus that came with it.  The hummus itself had a great flavor and blended with the red pepper coulis very well.  All in all, the execution was excellent.
My biggest problem with this dish is the value of it.  At almost $5.00 for the plate, you only get seven small pieces of vegetables along with the hummus.  It doesn't feel like a good deal.  However, if you are looking for a tasty, light dish, this is an excellent option.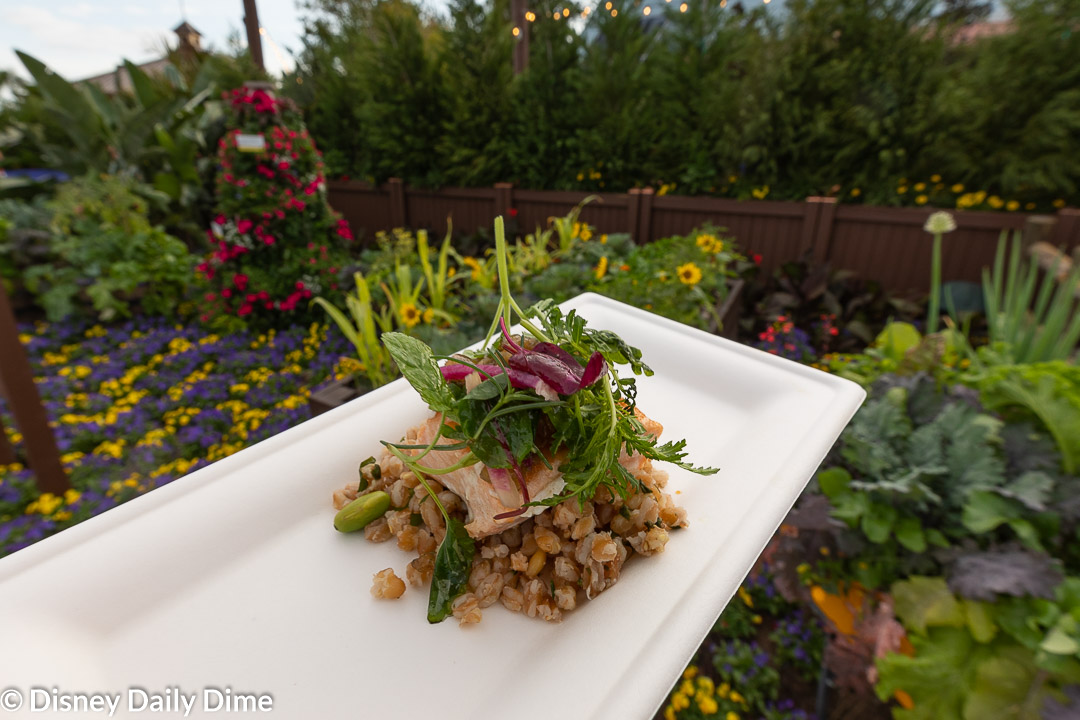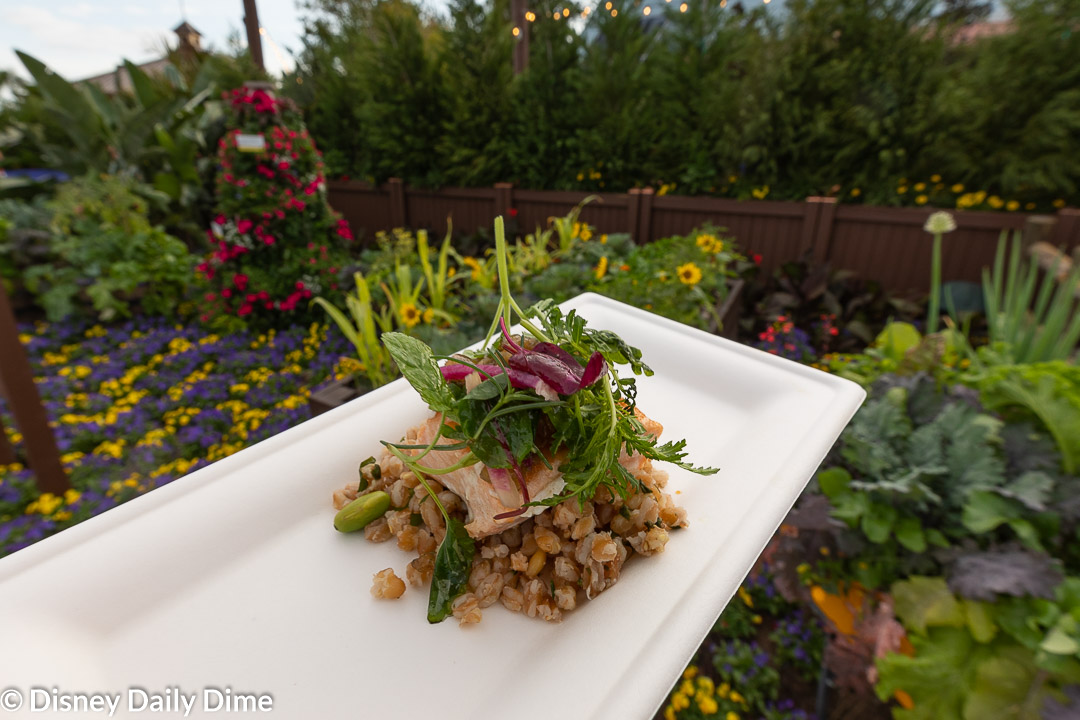 Seared Verlasso Salmon with Farro Risotto and Micro-herbs – $6.25
The salmon that you'll find at Flavor Full Kitchen sits on a bed of farro risotto which is an excellent complement to the fish.  I found the risotto creamy and full of flavor.  As for the salmon itself, it was flakey, light, and wonderfully prepared.  The salmon had a light citrus taste to it that added a little acidic note that I liked.  This was a fabulous dish that I would eat repeatedly.
For $6.25, you get a sizable piece of salmon and a good helping of risotto.  This is something that, when combined with one other dish at the festival, you could fill up on.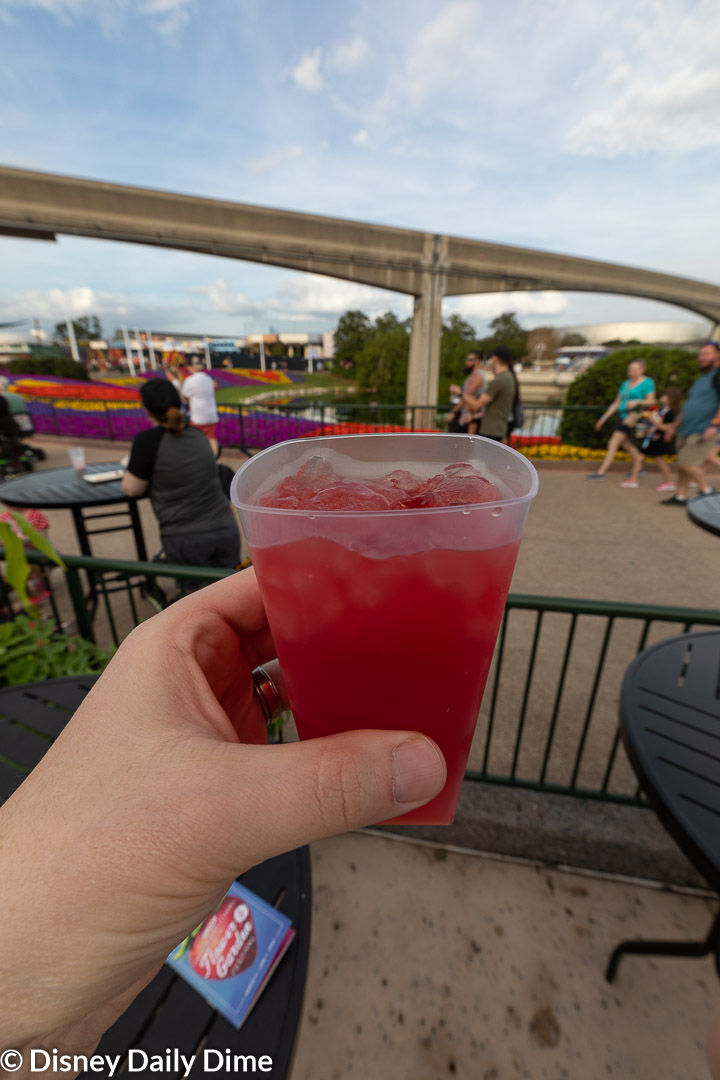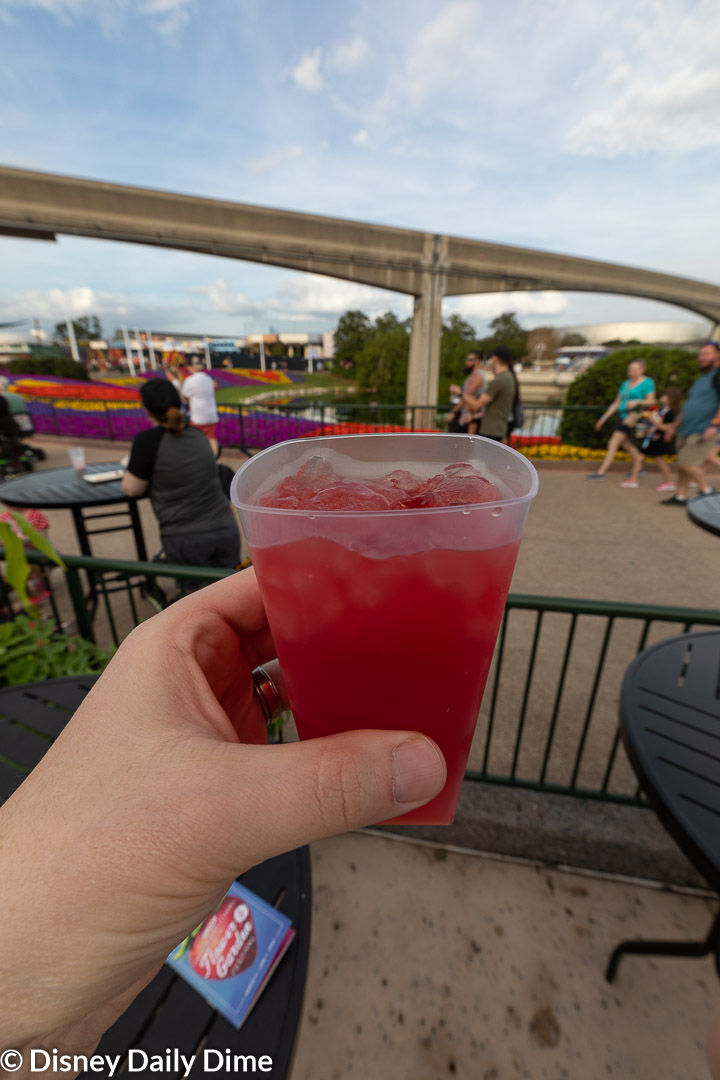 Blood Orange Agua Fresca – $4.25
We loved this refreshing but sweet drink.  It's not something that we think someone may be able to drink on their own because it is so sweet, but in small spurts, it works well.  Even Anna and Elsa enjoyed the Agua Fresca.  We think it is worth ordering to share with others.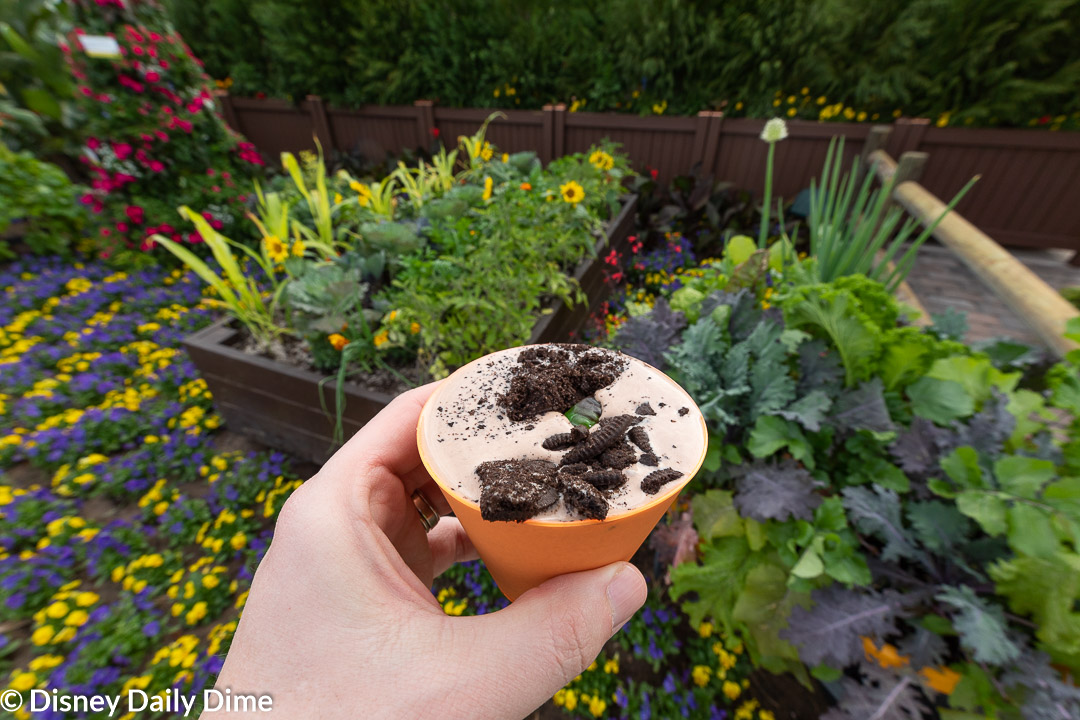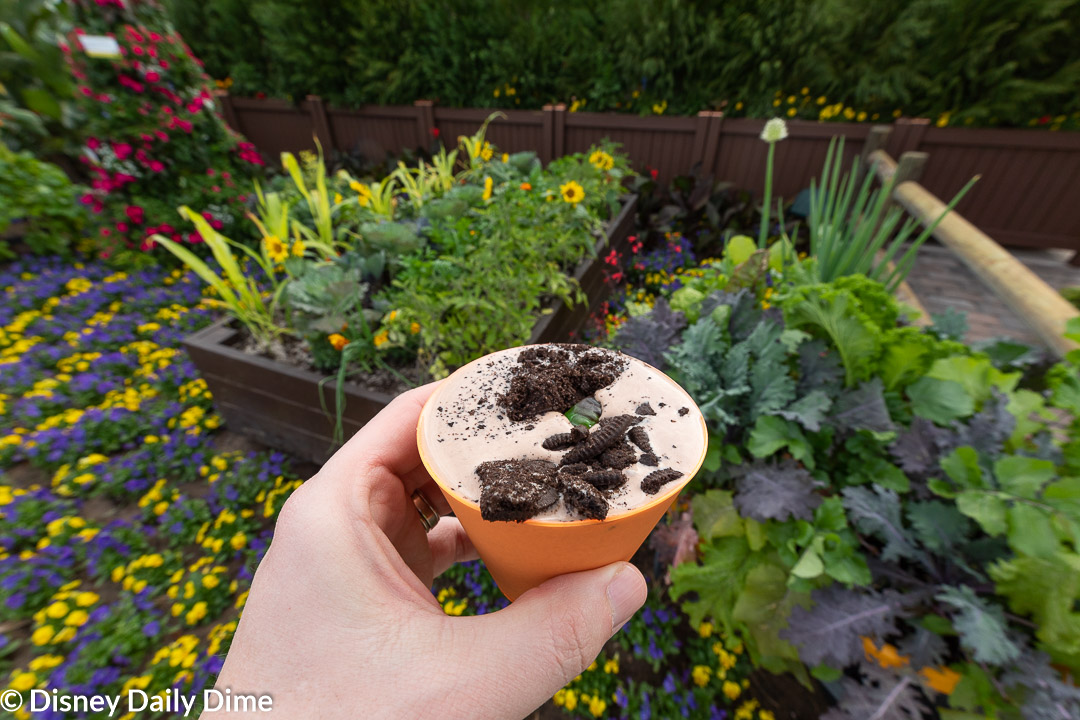 Cookie Butter Worms and Dirt (KA) – $4.50
I'm not going to mince words here.  This was terrible.  It was like a half-melted Wendy's Frosty, but with the sweetness taken to a whole other level.  Crazy sweet.  Anna didn't like this either.  Elsa liked it initially and ate about half of the worms and dirt, but even she eventually said it was too sweet.  She was only able to eat about half of this treat before she gave up.  Some may call it "rich," but that's a matter of perception probably.
The size is reasonable for the price, so there is some value here.
Wrapping Up Our Flavor Full Kitchen Review
Outside of the Worms and Dirt, I think we get why Disney brought the Flavor Full Kitchen back this year.  They serve up some light, healthy, and most importantly, tasty food items here.
If you are interested in more of our Epcot Flower & Garden Festival outdoor kitchen reviews, we'll link to them down here as we finish them!  We hope you enjoy the food and the reviews!