Citrus Blossom may be the first outdoor kitchen that you come across at the Epcot Flower & Garden Festival.  If you take a right from the main walkway from Future World into World Showcase, you'll quickly get to it.  Well, at least in normal years, when you don't have all the ongoing construction in Epcot.  Here in our Citrus Blossom review, we'll talk about the food, if we think it is worth the price.  We'll have pictures of it all too.
While Citrus Blossom has several good food options, it is probably most well known for las year's Orange Bird Sipper Cup.  It was a massive hit amongst the Disney fandom, including Carla.  Because of the location and popularity of the booth, long lines are not uncommon here.  If you get to this outdoor kitchen and it has a long line, we'd say try again later.  You will likely find the lines longest right after it opens and for the next few hours, as guests start to move into World Showcase around 11:00.  Crowds will thin out and vacillate throughout the day.  Once the initial rush wanes, the lines should be much more reasonable.
Let's take a look at the Citrus Blossom menu.  This year the outdoor kitchen features the following foods:
Lobster Tail with Meyer Lemon Emulsion and Grilled Lemon (GF)
Tuna Tataki Bowl with Spicy Yuzu Glaze, Mango, Avocado and Pappadam Crisp
Crispy Citrus Chicken with Orange Aïoli and Baby Greens (KA) (GF)
Citrus Shortcake: Orange Chiffon Cake, Lemon Curd, Mandarins, Whipped Cream, and Citrus Crumble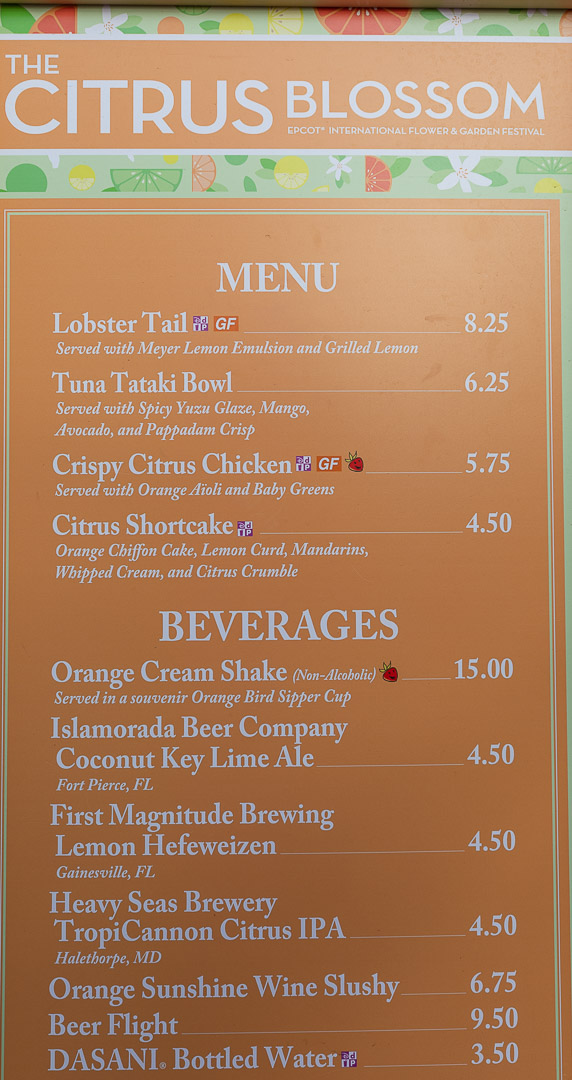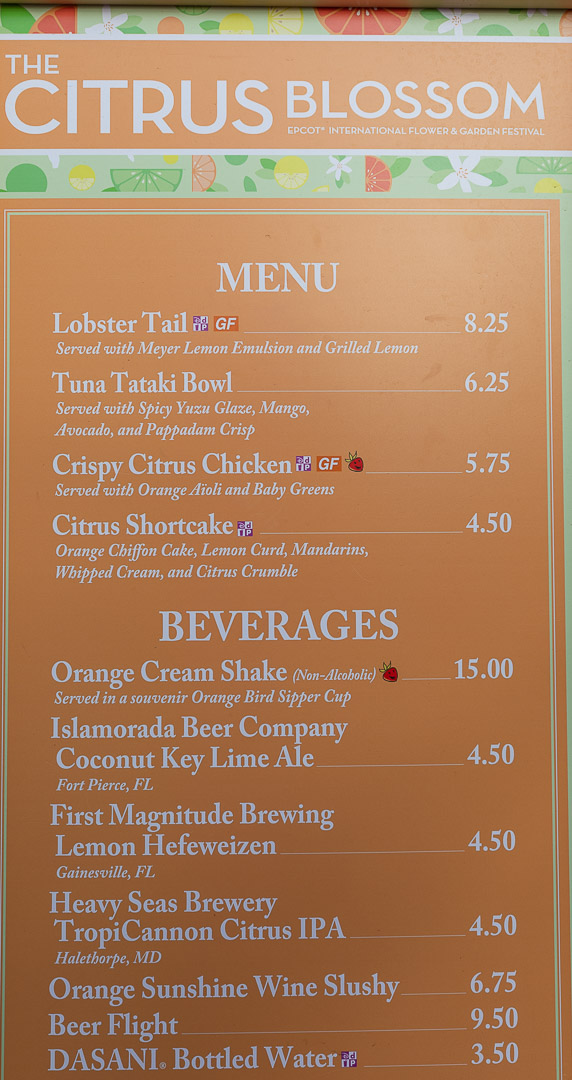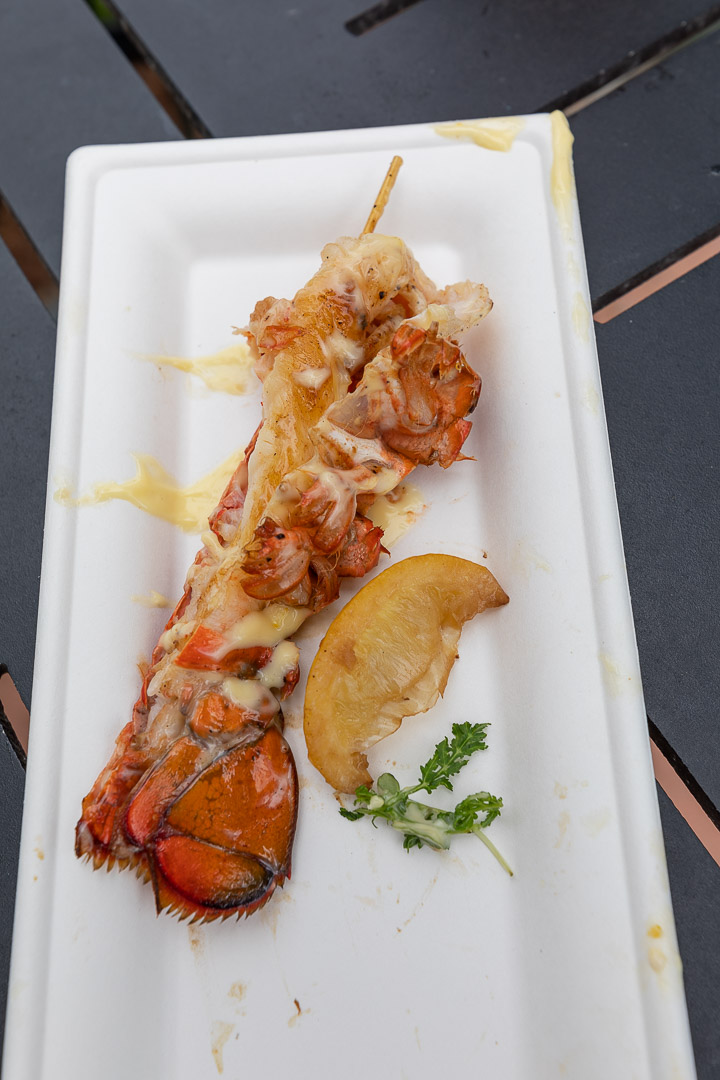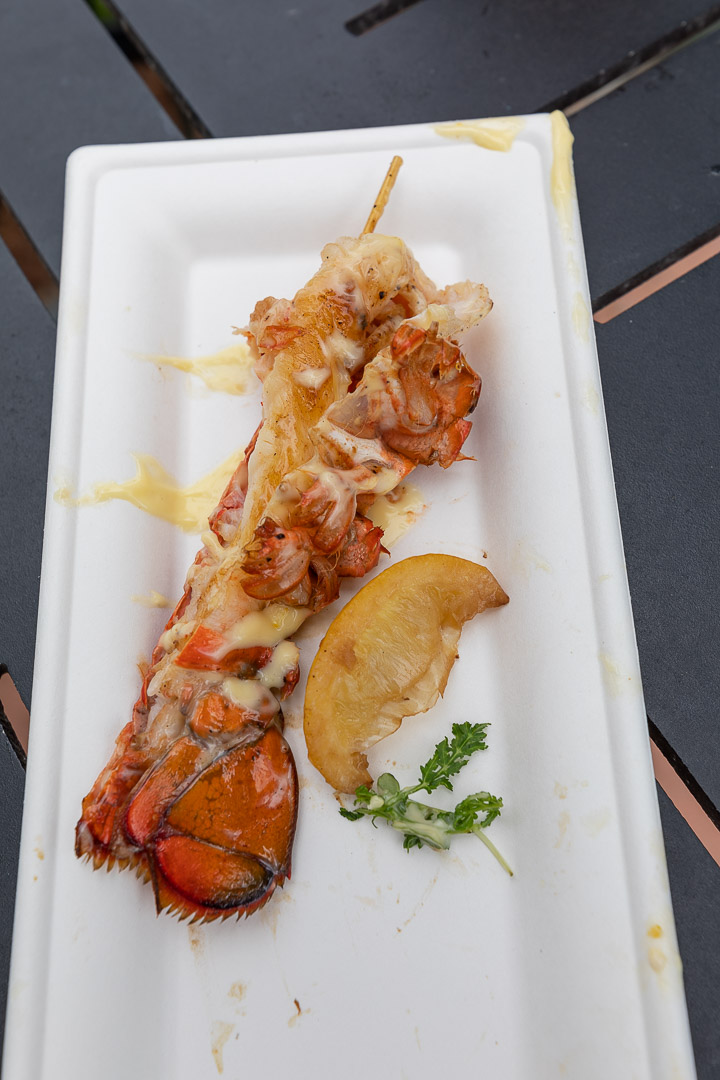 Lobster Tail with Meyer Lemon Emulsion and Grilled Lemon (GF) — $8.25
The lobster tail is a returning item from last year's festival.  Because of that, we actually didn't get it again this year.  That may tell you something about how we felt about the lobster tail.  As you can see above, the tail is already cracked open, and the tail is skewered, making it is pretty easy to take out.  All that said, it is a fairly plain lobster tail.  The lemon emulsion adds some zest to the tail, but it isn't something we felt that you must have.  It's enjoyable, and having straight lobster is pretty unique for any festival item, so it has that going for it.
Because it is a real (albeit smaller) lobster tail, the value here is very good.  If you are using one of your Disney Dining Plan snack credits on this item, you are recouping your cost.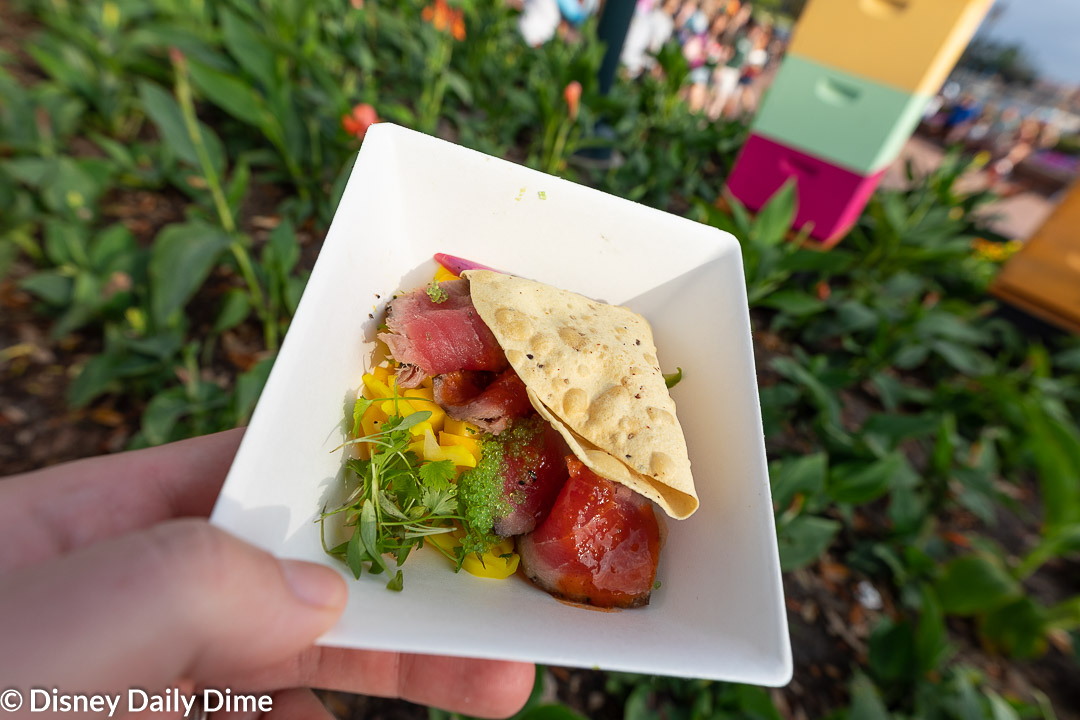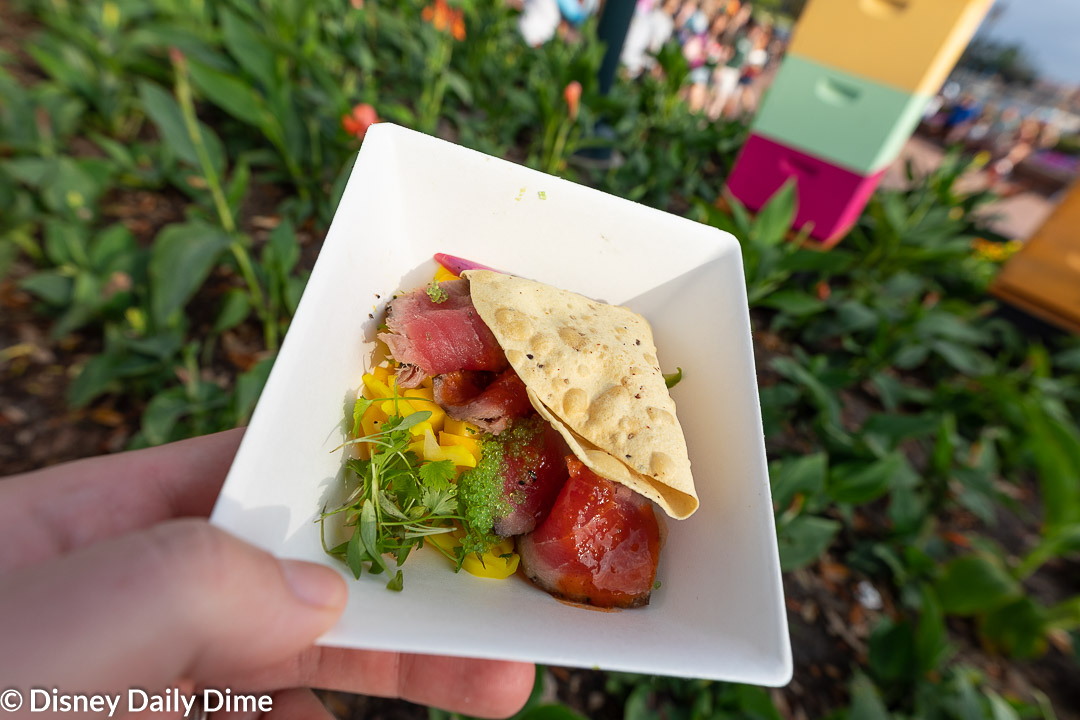 Tuna Tataki Bowl with Spicy Yuzu Glaze, Mango, Avocado and Pappadam Crisp – $6.25
While the Tuna Tataki Bowl is a returning item, this is our first year sampling it.  Not sure how we missed it last year, nonetheless we were excited to try it this year.
The Tuna Tataki Bowl says it features a spicy yuzu glaze, mango, and avocado, but we think only one of them is noticeable or memorable.  As you can see in the picture above, there is no avocado to be seen.  There was indeed a tiny slice of avocado buried under the Tuna, but it was hardly noticeable.  The yuzu glaze overtook all of the Tuna, to the point where I didn't get a hint of Tuna.  If you tried to get a bite that included the mango, the yuzu sauce also overtook that.  Overall, this dish was just okay.  I did actually enjoy the yuzu sauce.  The Tuna just needed less of that and more avocado.
For $6.25, this is a decent value.  I got five good-sized pieces of Tuna in my bowl, which made the dish substantial.  Regardless of the value, I'm not sure I would get this again, but if this is something that strikes your fancy, the price is reasonable.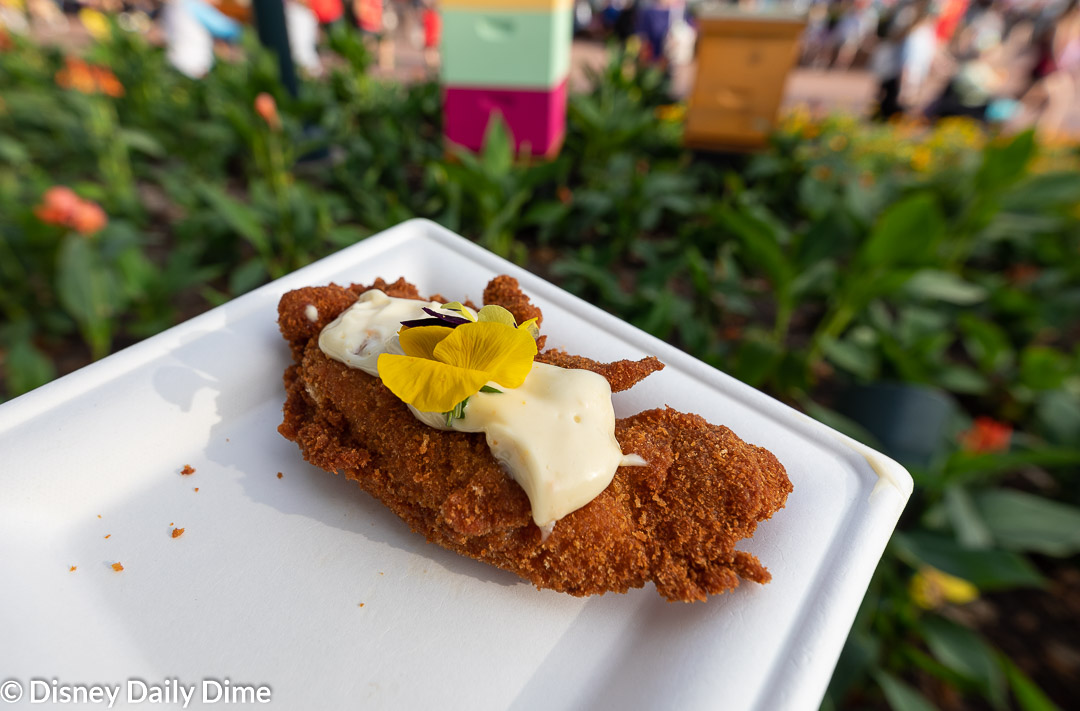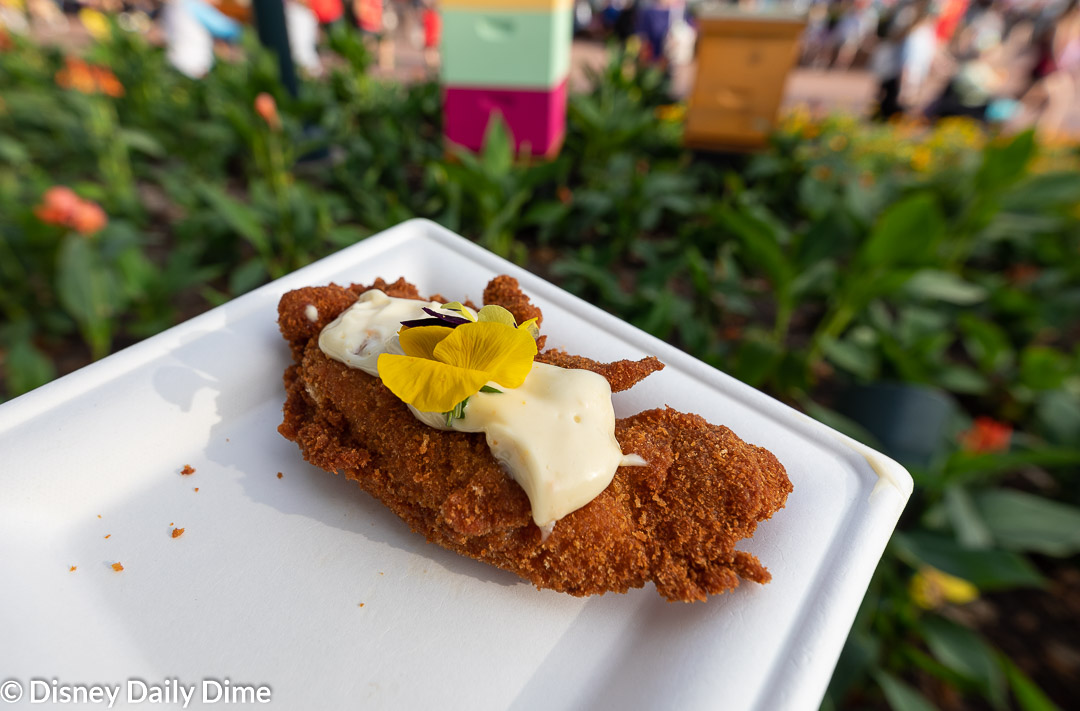 Crispy Citrus Chicken with Orange Aïoli and Baby Greens (KA) (GF) – $5.75
The crispy chicken this year is supposed to be the same as last year.  However, our reaction could not be more different.  Last year's chicken was light and tender, with a wonderful flavor.  This year, the chicken was dry and hard, and the Orange Aïoli overtakes everything if you get a bit of it.  We were served one that was under a heat lamp, so it may have just dried out while waiting to be served.  Last year this was Carla's favorite dish of the festival.  Don't let our bed experience this year turn you off from trying out the chicken.
For the price, the chicken is a decent value.  It is a large chicken strip, which you can share amongst your group if you like.  It's not a screaming buy here, but it doesn't feel like the poor value we have seen in some other Epcot Flower & Garden festival items.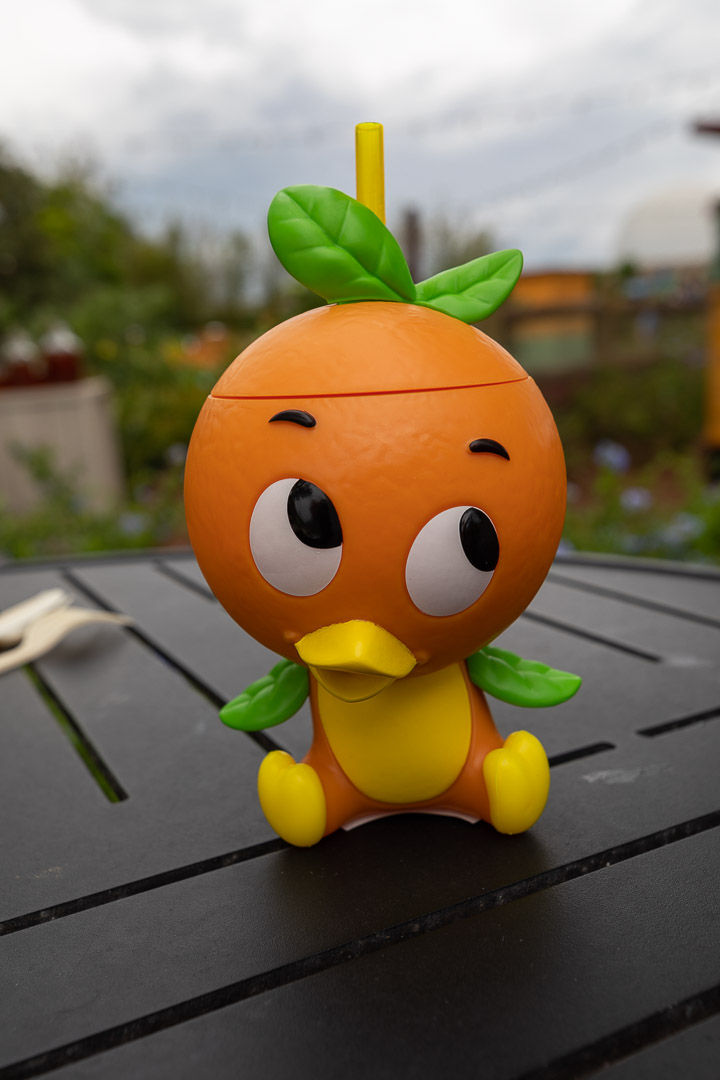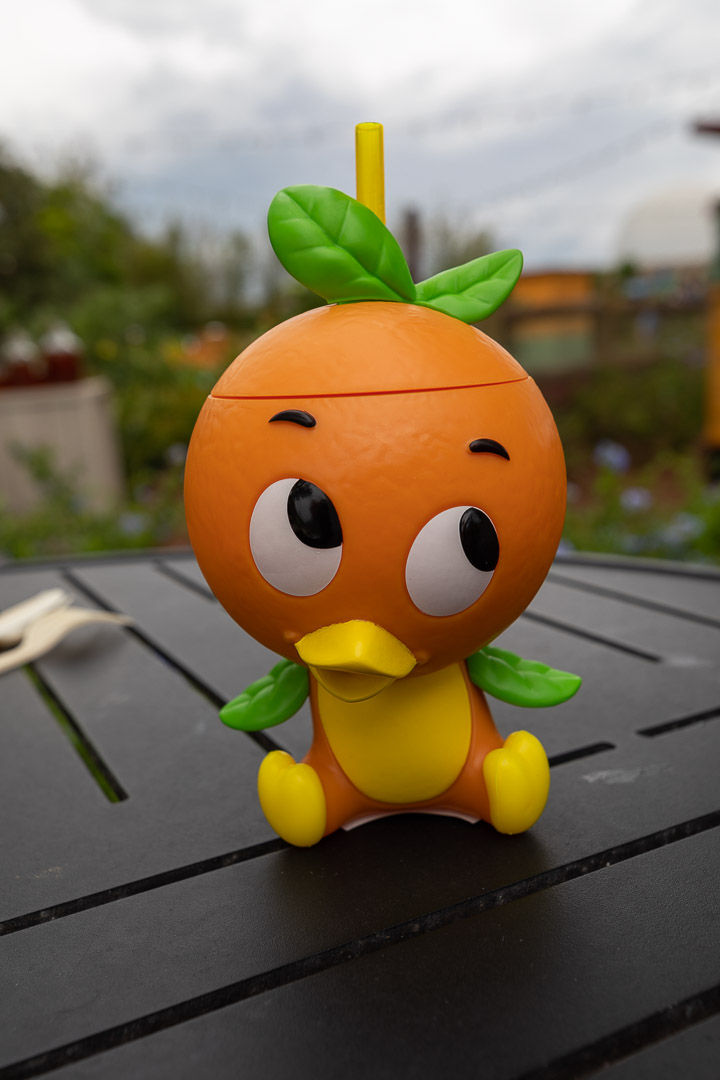 Drinks at Citrus Blossom
That is everything we sampled at Citrus Blossom.  The other drinks you can have here are:
Islamorada Beer Company Coconut Key Lime Ale, Fort Pierce, FL
First Magnitude Brewing Lemon Hefeweizen, Gainesville, FL
Heavy Seas Brewery TropiCannon Citrus IPA, Halethorpe, MD
Beer Flight
Orange Sunshine Wine Slushy
Wrapping Up Our Citrus Blossom Review
After a very upbeat dining experience at Citrus Blossom last year, we were a bit disappointed this year. We want to think the chicken was an aberration, and we just got a bad batch.  Between the chicken and adorable Orange Bird sipper, we believe there is ample reason to stop here.  However, we certainly wouldn't stay in line 30 minutes for anything here.
If you are interested in more of our Epcot Flower & Garden Festival outdoor kitchen reviews, we'll link to them down here as we finish them!  We hope you enjoy the food and the reviews!