Another one of our favorite booths from last year's Epcot Flower & Garden Festival was Florida Fresh.  You can find this booth in the back of World Showcase between the France and Morocco pavilions.    Here in our Florida Fresh review, we'll talk about the food and if we think it is worth the price.  We'll have pictures of it all too.
All of the dishes from last year's outdoor kitchen return, making it a prime contender to be one of our favorites again this year. 
Let's take a look at the Florida Fresh menu.  This year the outdoor kitchen features the following foods:
Carne Guisada with Black Bean Cake and Cilantro Lime Sour Cream
Spicy Blackened Shrimp and Stone-ground Cheddar Cheese Grits with Brown Gravy and Local Sweet Corn Relish
Key Lime Tart with Toasted Meringue (KA)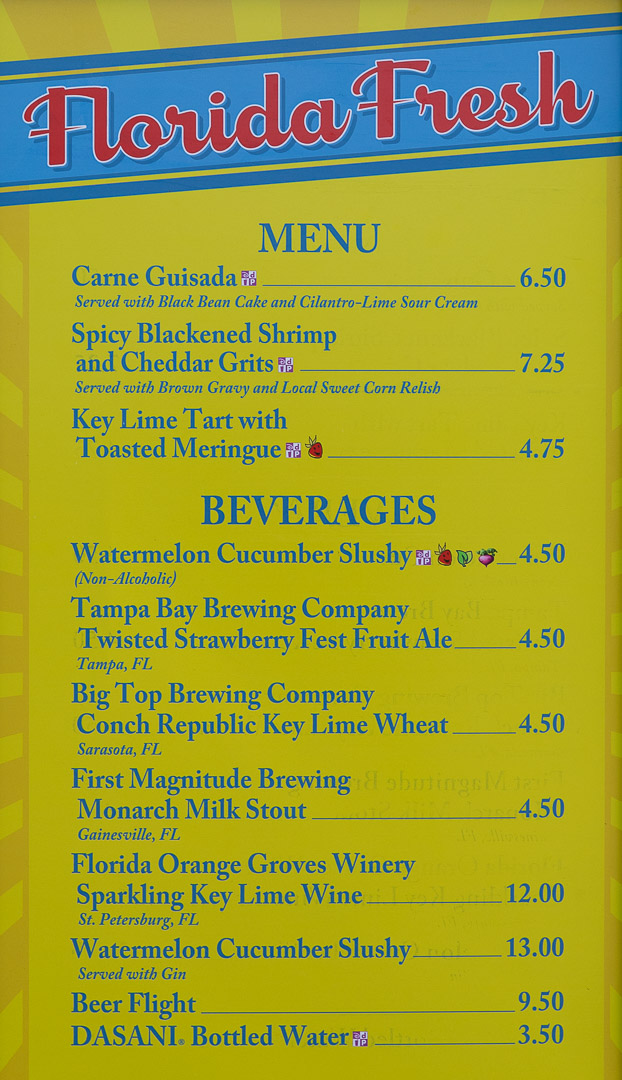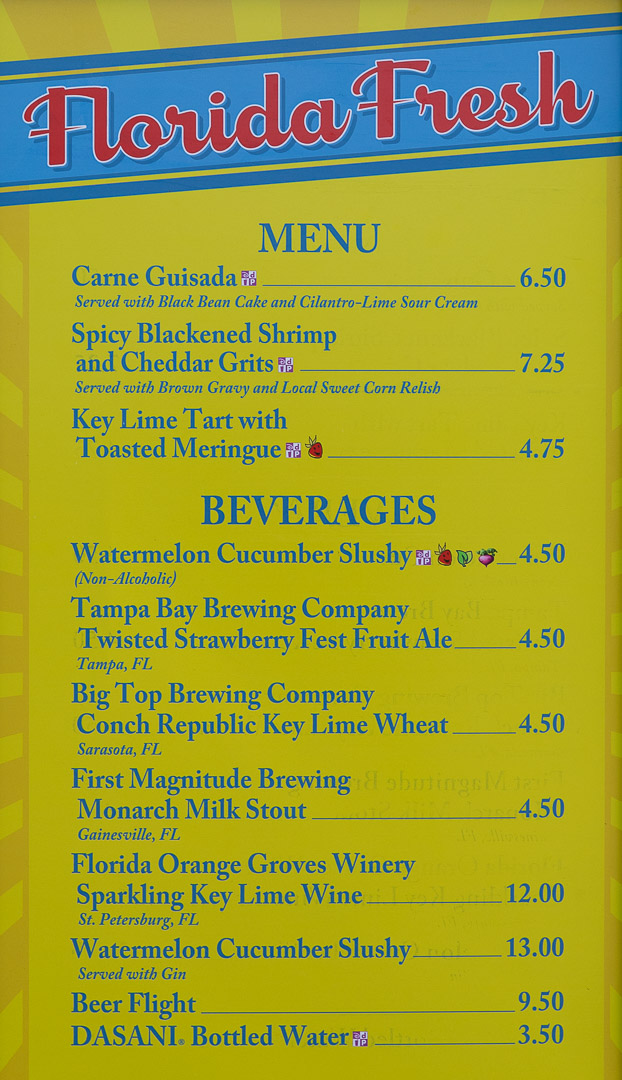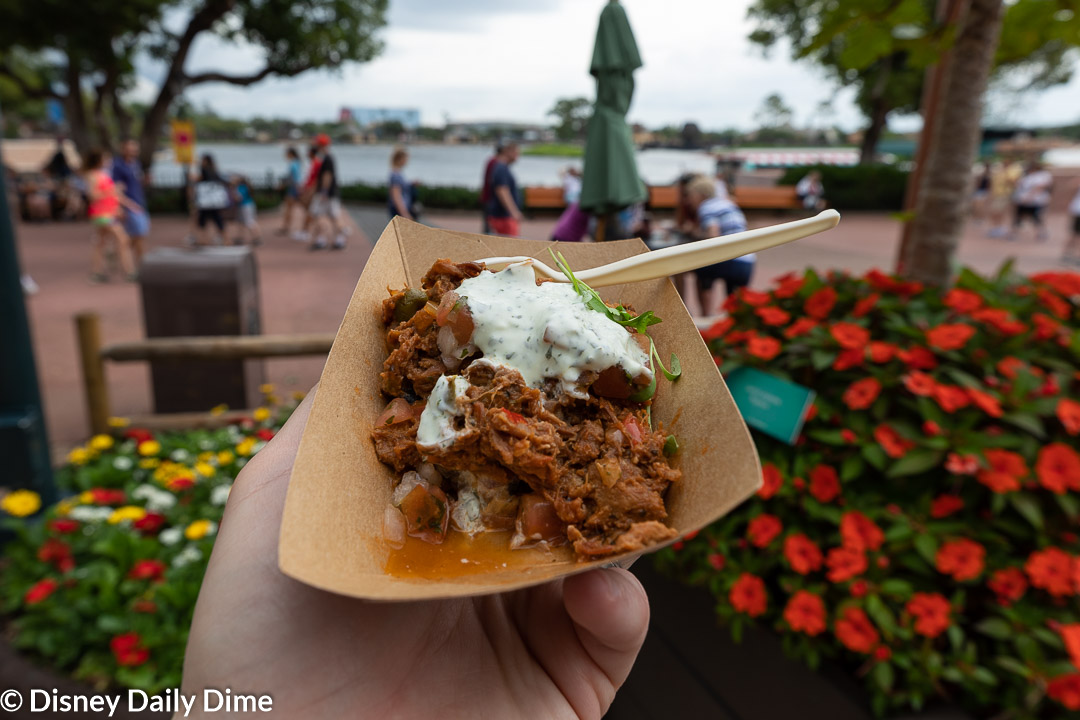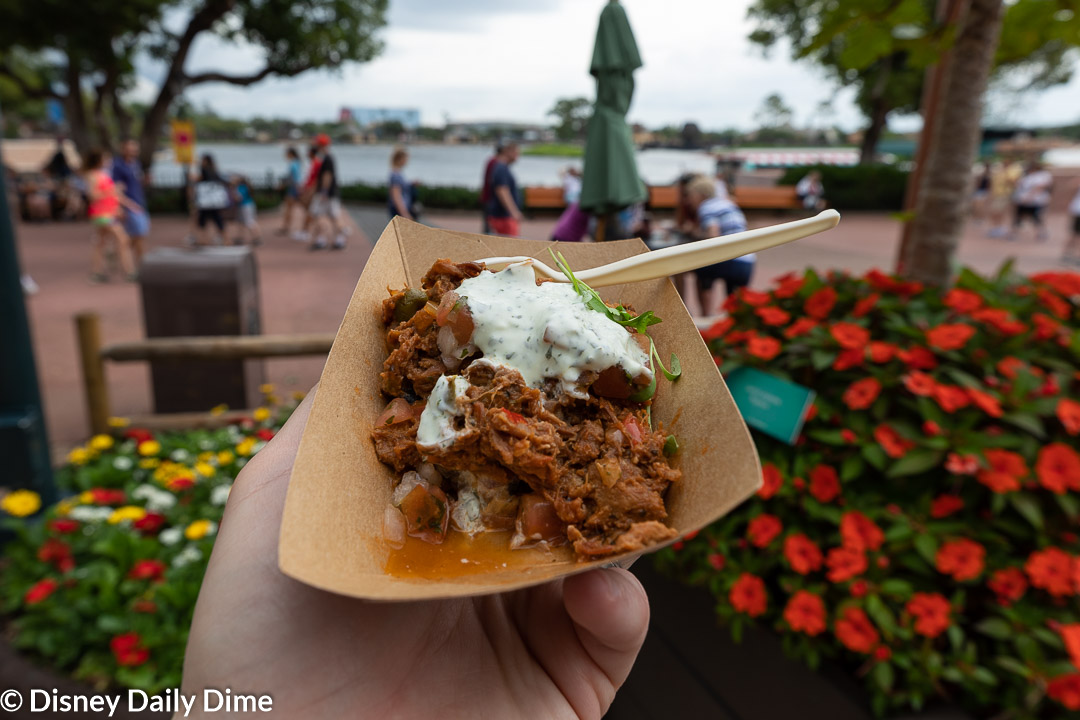 Carne Guisada with Black Bean Cake and Cilantro Lime Sour Cream — $6.50
The Carne Guisada is back and as good as ever.   Well, at least as last year!  The smoky flavor of the shredded beef is only enhanced by the black bean cake and cilantro lime sour cream.  The black bean cake provides a nice contrast to the texture of the beef, while the sour cream helps give a lighter flavor.  While not mentioned on the menu, there is a great tomato salsa on top of this Carne Guisada that was a great addition.  It provided a needed light sweet flavor that helped cut the savory elements of the dish.  This continues to be one of our favorite dishes in all of the Epcot Flower & Garden Festival.
With a $6.50 price, this dish is a reasonably compelling value.  Great flavors, coupled with a good portion size, make it something you should get.  At least in our minds.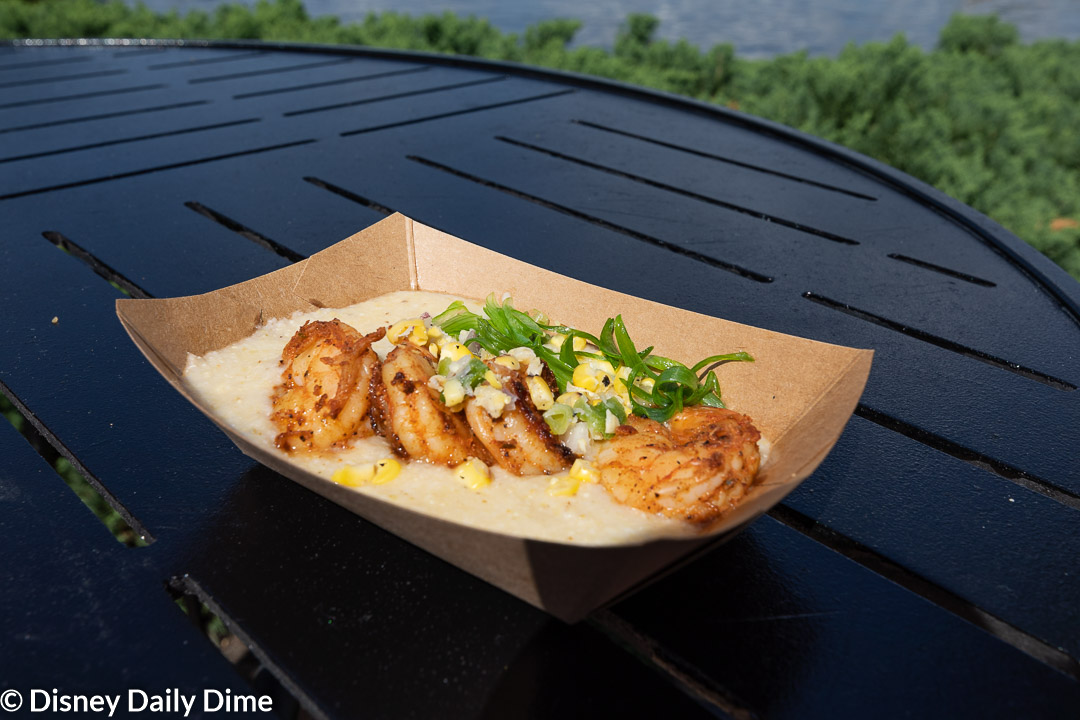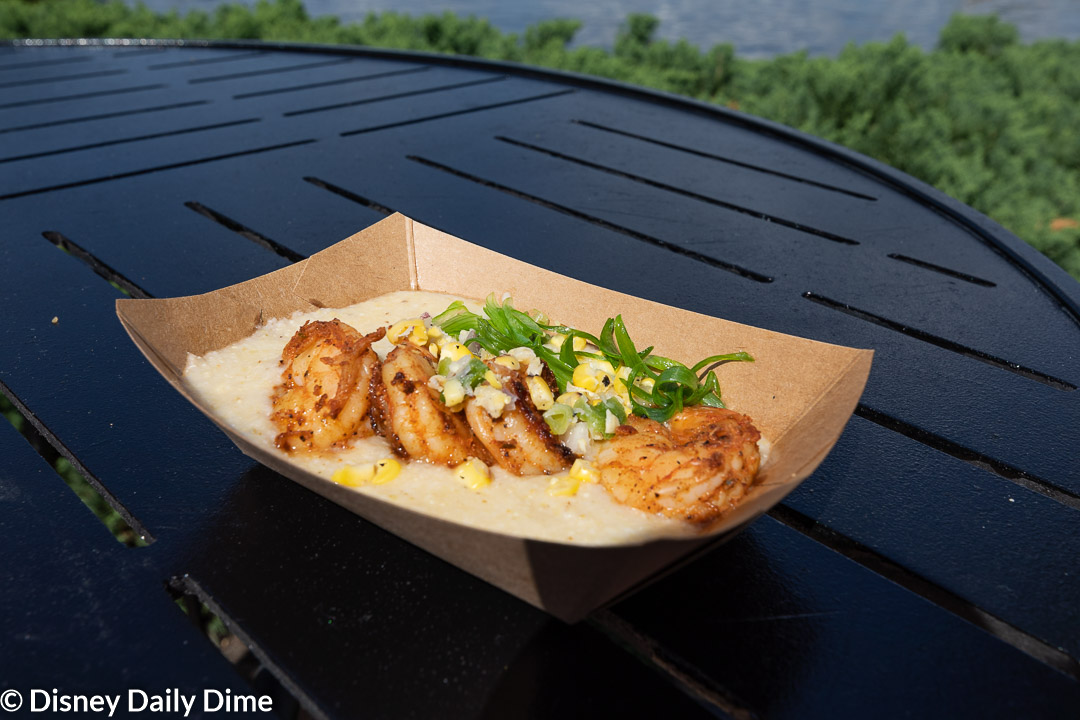 Spicy Blackened Shrimp and Stone-ground Cheddar Cheese Grits with Brown Gravy and Local Sweet Corn Relish – $7.25
Before we start our review here, we should note that the shrimp and grits that we ordered were modified from what they usually serve.  To make it gluten free for Carla, we had it made without the brown gravy.  Other than that, this is the standard shrimp and grits at the Florida Fresh outdoor kitchen.
That said, this dish was a huge hit with Carla and the girls.  The shrimp were cooked well, but I wouldn't call them spicy.  There were hints of spice, but nothing crazy.  Even our kids loved this, and Anna is prone to call butter spicy from time to time if that gives you an idea about how spicy the shrimp were.  They didn't have any issues.  The grits were cheesy, and the corn relish added some good flavor to the dish.
The portion size here was considerable, and we got four shrimp as part of our serving.  For that, we think the value here is notable and makes this worth ordering.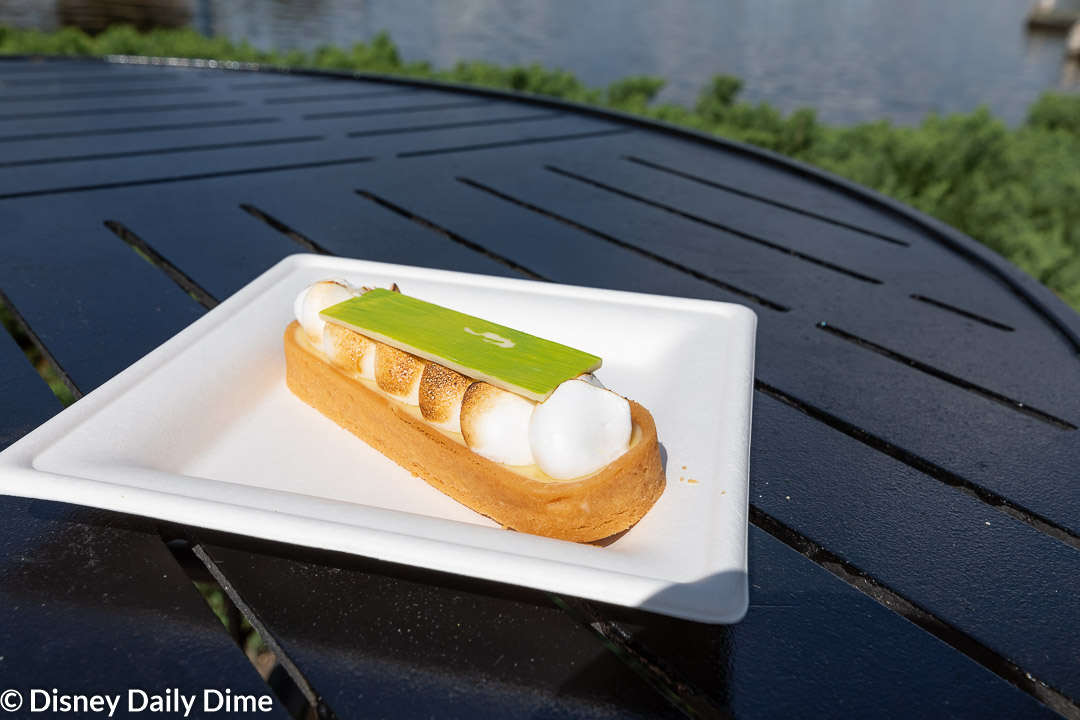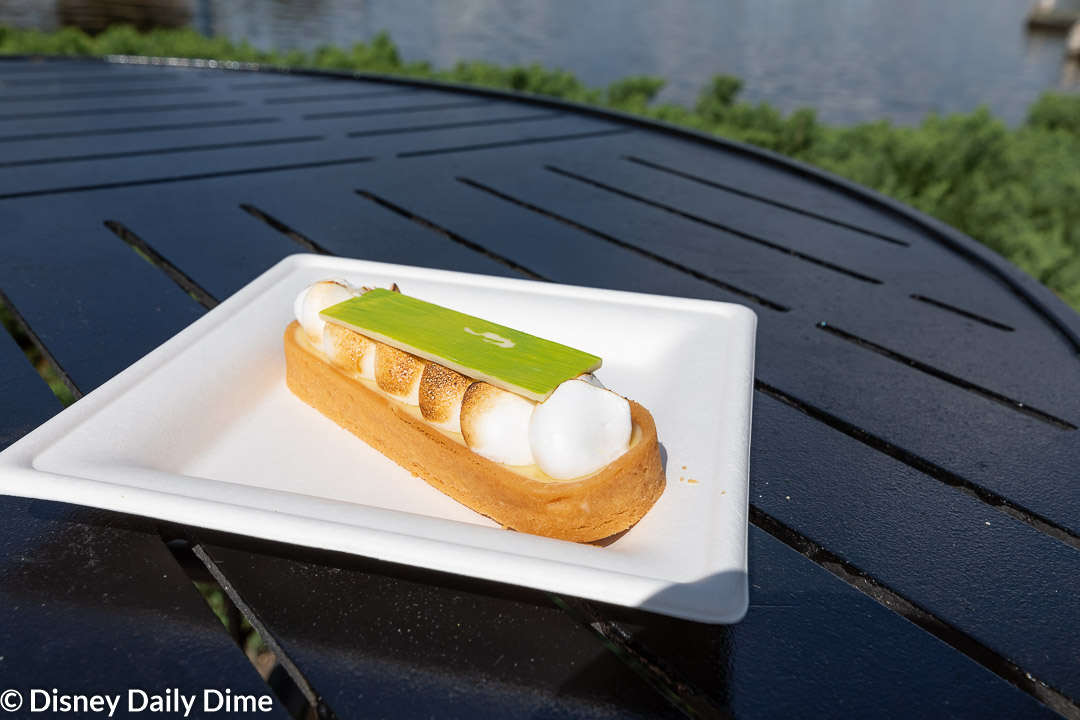 Key Lime Tart with Toasted Meringue (KA) – $4.75
The key lime tart was a big hit with our girls.  While I would say I enjoyed it, this would not make my top desserts at the festival.  That partly owes to the fact that I'm not a huge key lime fan.  If you are, I think you'll feel more like Anna and Elsa did.  The key lime custard that lies beneath the perfectly toasted meringue has a nice sweet, but tart flavor to it.  The bottom crust of the tart is a nice compliment to add some firm texture to it.  Like I said, if you are a fan of key lime, I think you'll like this dish.
From a value perspective, the price is reasonable for a Disney World festival.  There's enough here for a group of four to each get a bite and maybe have a bit leftover.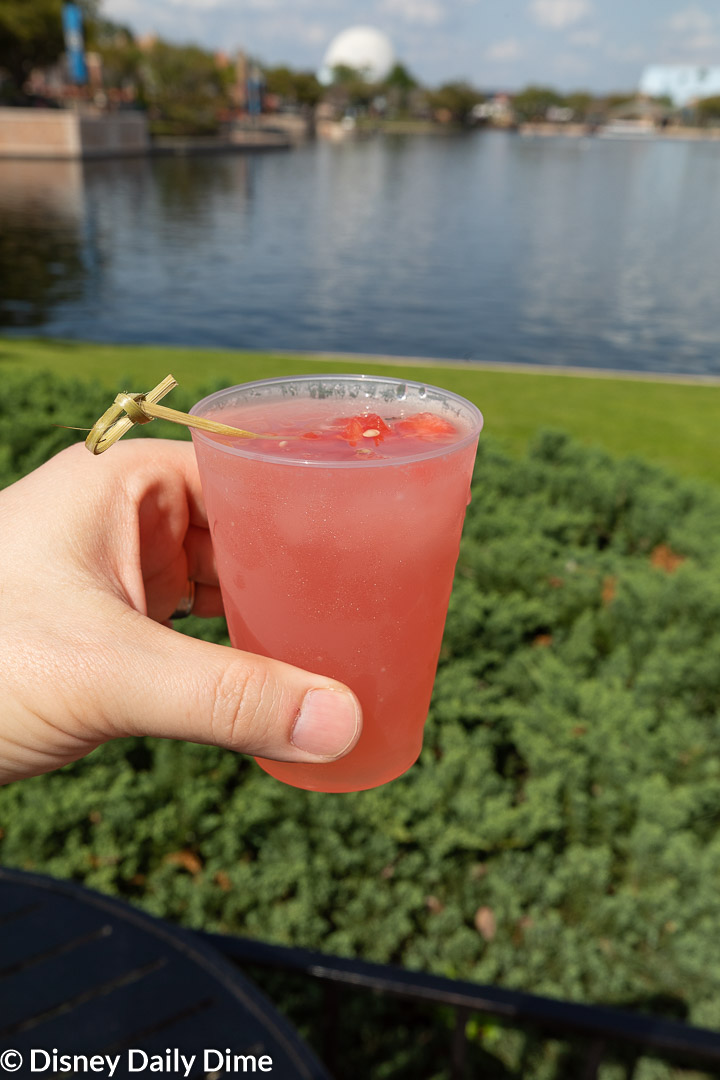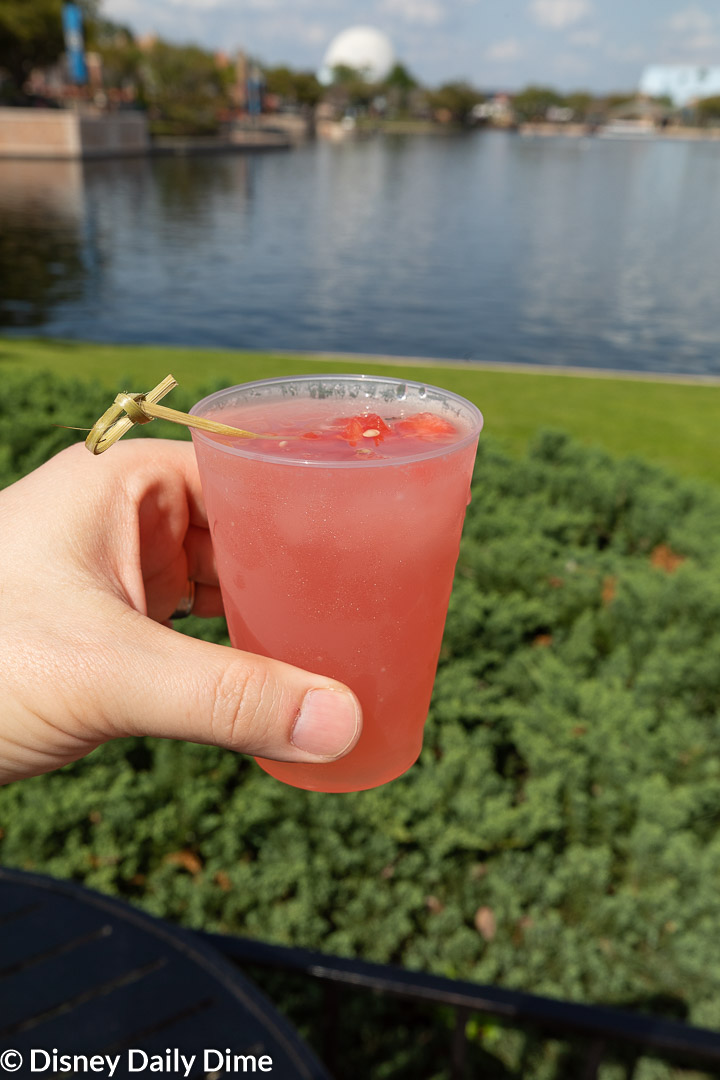 Watermelon Cucumber Slushy (KA) (V)  – $4.50
The Watermelon Cucumber Slushy is one of the drinks from last year's festival that we vividly remembered when planning for this year.  All of us knew we wanted to go back and get it again!  It was that memorable and enjoyable.
You can get the slushy with or without alcohol.  Unfortunately, Anna and Elsa were insistent on having some of the slushy, so I had to opt for the non-alcoholic version.  This is one of, if not the, most refreshing drink of the Epcot Flower & Garden Festival.  Heck, it may be of any festival held at Epcot.  Sweet and cold, this slushy wonderfully blended watermelon and cucumber flavors.  As the temperatures warm up, this will be a drink you must seek out.
We should note, if you choose to get the slushy with alcohol, it comes with gin.
It's a bit small for the price, considering there is no alcohol in it, but not everything has to be a screaming buy.  We think you should get this drink!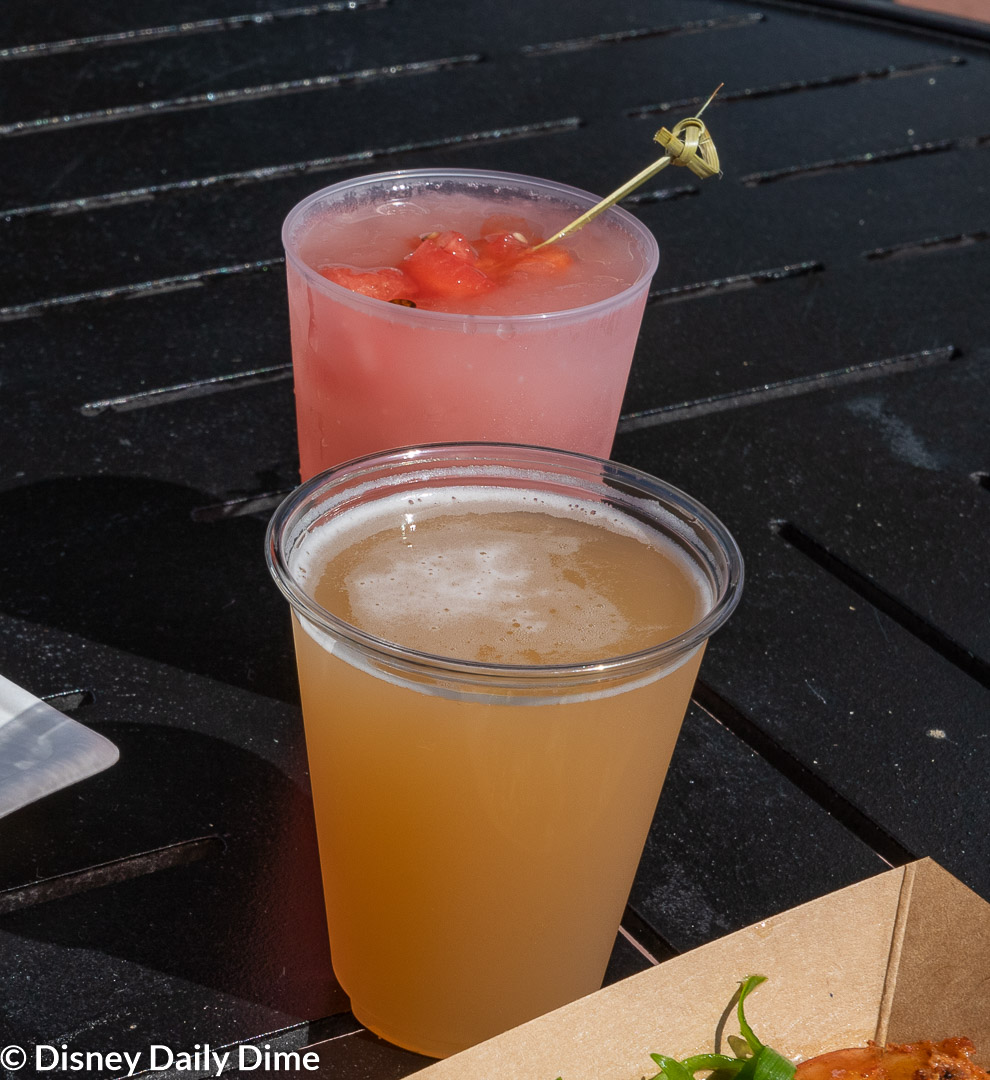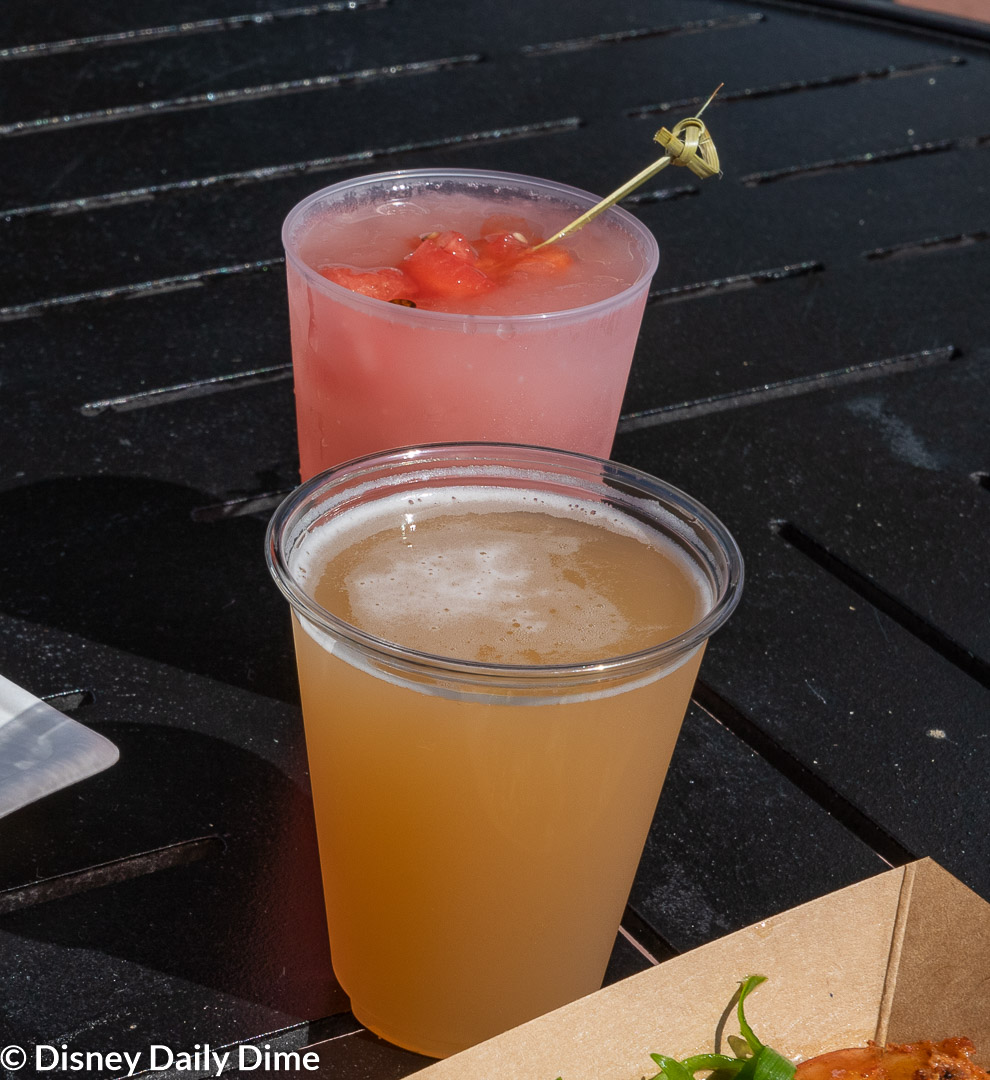 Tampa Bay Brewing Company Twisted Strawberry Fest Fruit Ale – $4.50
The Twisted Strawberry Fest Fruit Ale was surprisingly refreshing.  I got it as a last-minute thought while ordering, and couldn't have been more pleased.  The ale has a lovely strawberry hint to it, but more than that, there are citrusy notes to it.  It washed down smoothly and was perfect for a warm March day.  If you like fruity beers, you'll enjoy this one.
Considering this was in a cup that is almost as big as the slushy, I found it to be a good value.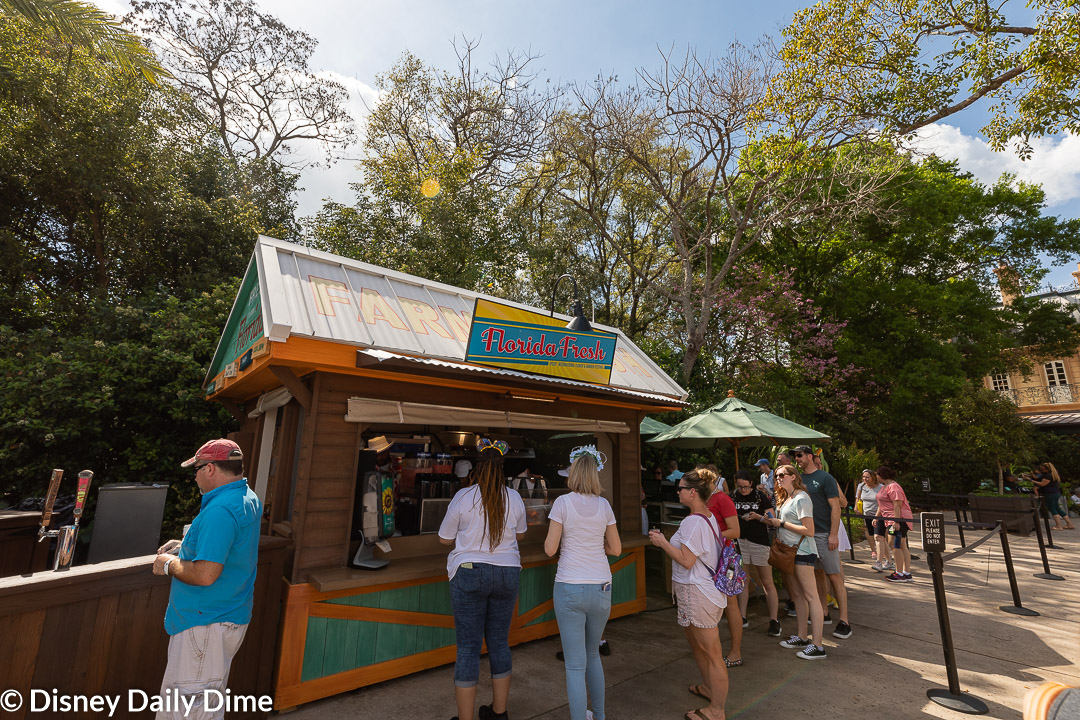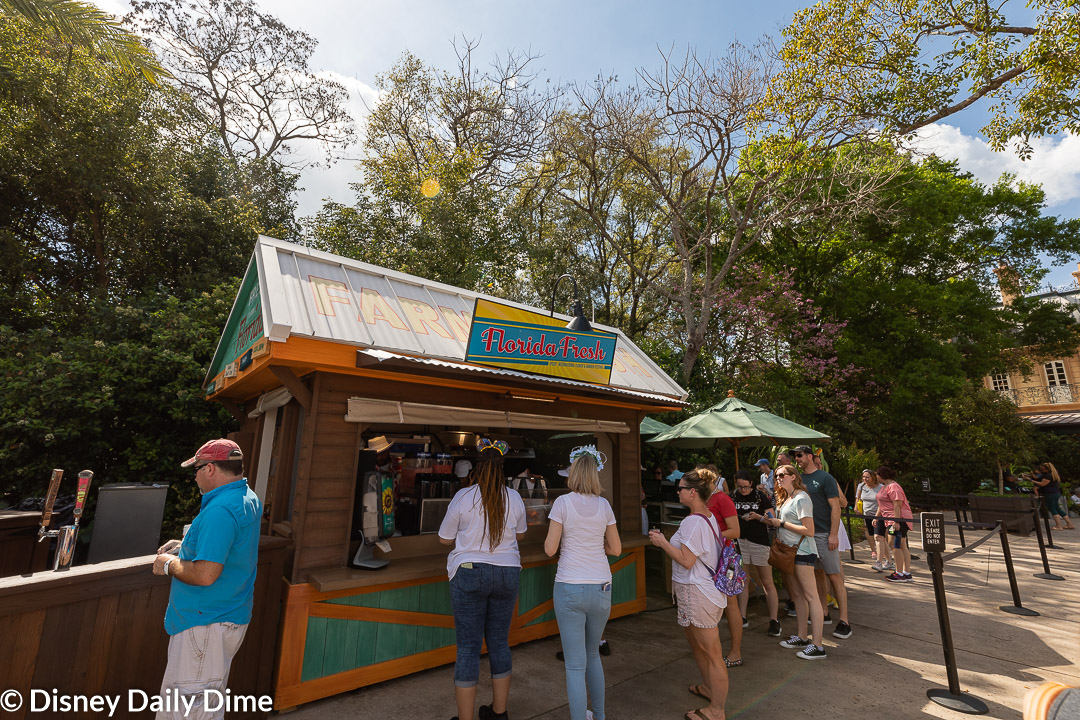 Drinks at Florida Fresh
That is everything we sampled at Florida Fresh.  The other drinks you can have here are:
First Magnitude Brewing Company Monarch Milk Stout
Big Top Brewing Company Conch Republic Key Lime Wheat
Beer Flight
Florida Orange Groves Winery Key Lime Sparkling Wine
Wrapping Up Our Florida Fresh Review
All in all, we are still huge fans of Florida Fresh.  They have some of our favorite dishes and drinks to go with it.  We think most people will find at least one thing they like here, maybe even two or three.
If you are interested in more of our Epcot Flower & Garden Festival outdoor kitchen reviews, we'll link to them down here as we finish them!  We hope you enjoy the food and the reviews!