The My Disney Experience program was introduced at Disney World in 2014.  Because of the breadth of what My Disney Experience covers, it can sometimes create confusions as to what it is and how it relates to certain things like FastPass+ or your MagicBands.
We'll try to demystify how it all works together here.  Let's get started!
What Is My Disney Experience?
At its core, My Disney Experience is Disney's trip planning and in park vacation management technology platform.  It comes in the form of a website called MyDisneyExperience.com and a mobile app that you can use.  The app is available for free on Android and Apple devices.  If you're curious about other apps you should take to the parks with you, read our best Disney World apps article.
In order to use My Disney Experience, you must set up an account.  We recommend doing that on the website, it's a little easier there when compared to the mobile app.
For trip planning, My Disney Experience allows you to book your reservations for most of the important things at Disney World.  Maybe more importantly, this is where you can gather information to make these decisions.  We'll talk about what all you can see and learn about in the relevant sections below.
In addition to making reservations, My Disney Experience works in concert with your MagicBands.  By linking your My Disney Experience account to your MagicBands, it allows the bands to function as your keys to the kingdom.  We have a whole article dedicated to Disney World MagicBands, so we won't rehash everything they do here.  If you didn't buy your tickets through Disney directly, make sure you link them to your My Disney Experience account.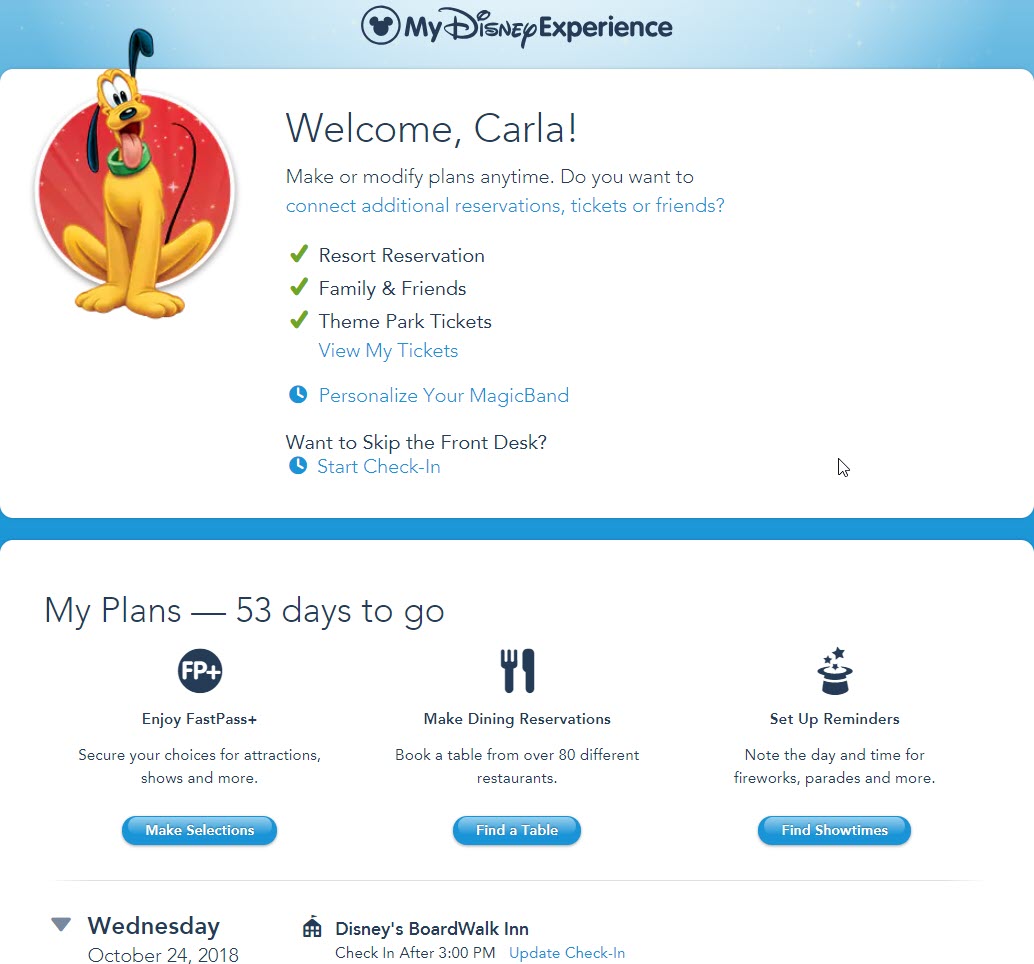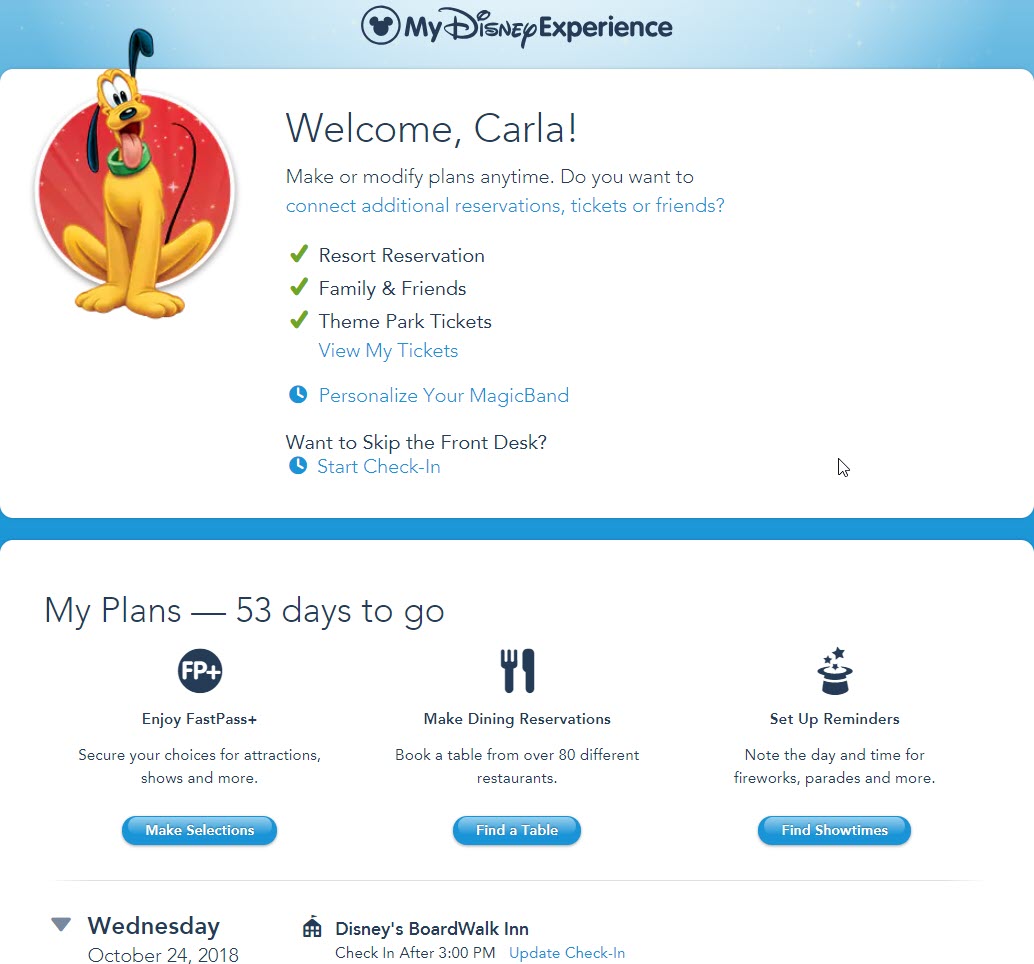 Disney World Trip Planning Uses for My Disney Experience
Booking FastPass+ Reservations
You can use My Disney Experience to book your FastPass+ reservations for eligible attractions.  You can read more on the FastPass+ program and how to make a FastPass+ reservation in those articles.  Don't forget the day you are able to book!  60 days out for Disney World resort guests and 30 days out for non-resort guests.
Disney World Dining Planning
When it comes to Disney World dining, My Disney Experience allows you to do a few things.  First off, you can use it to research and book dining reservations at any Disney World table service restaurant.  Quick service restaurants don't take reservations, as they are more like fast food.
With My Disney Experience, you can find lots of information, like hours of operation, menus with prices, Disney Dining plans accepted, maps with location and more.  As we discuss in our page on booking Disney dining reservations, you can use the numerous filters to help you narrow down your meal options.  This is most helpful, so you don't get overwhelmed by all the choices.
Once you've selected a restaurant, you can then book it right in My Disney Experience.  Remember, dining reservations are accepted up to 180 days in advance.
Disney World Resorts Planning
The My Disney Experience platform has a host of information available for you to look at related to Disney World resorts.  You can use it to find the right resort for you based upon a number of criteria.  Much like the dining search features, there are several filters available for you to use when in search of a resort.  These include price range, location, resort category and other resort characteristics.  You can of course select the dates of your stay and number of people traveling.
Once you find a resort of interest, you can dig deeper into it by simply selecting it from the list.  As you can see in the screen shot below, you can find pricing for the different rooms available, along with information on the resort itself.  This information will include a general resort overview, room rates, dining options within the resort, recreation and amenities.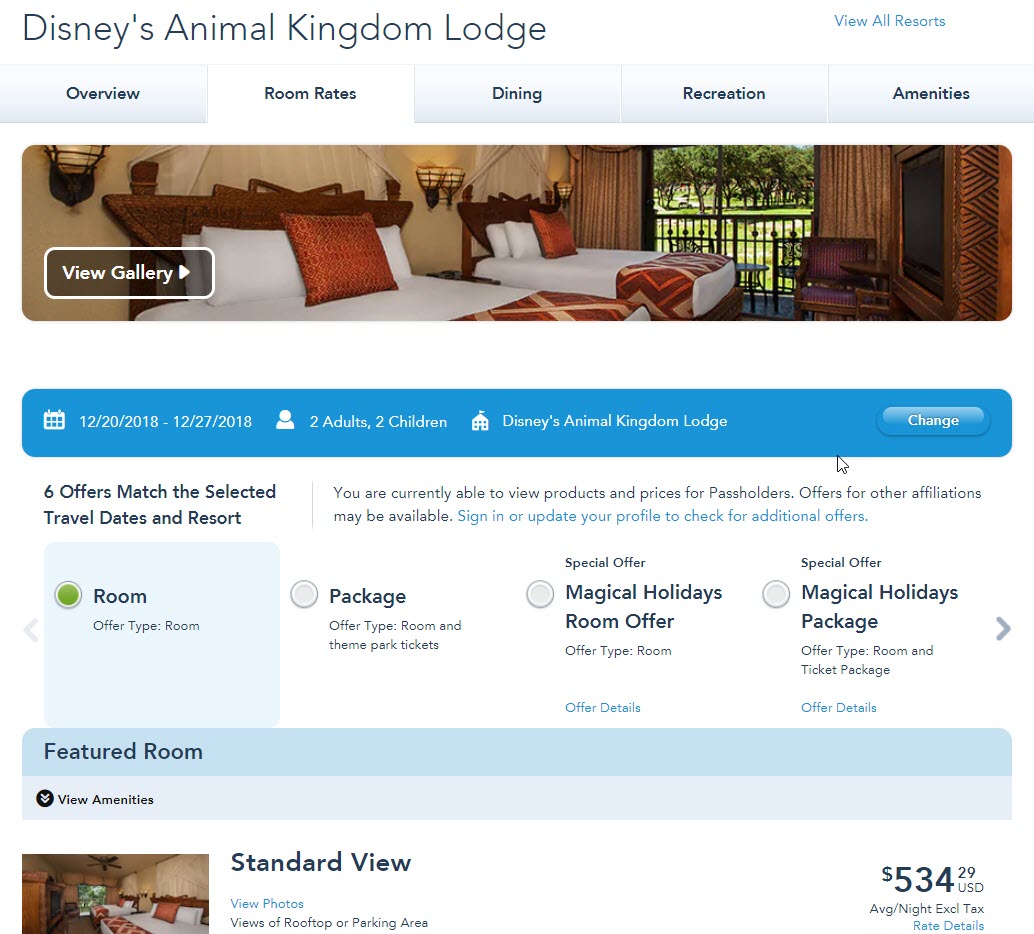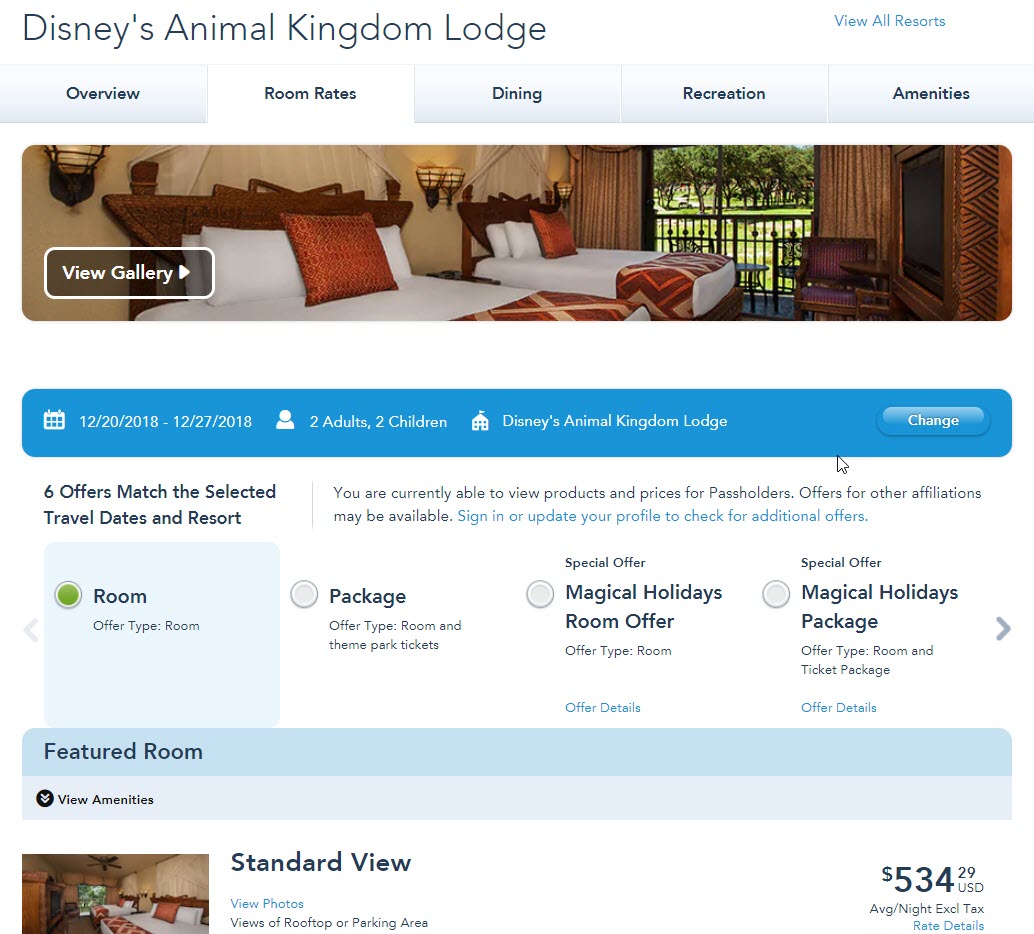 When shopping room rates, you'll notice that you can see room only rate, but there are radio buttons available to see different package offers available too.  These packages are sometimes just for discounted room rates.  Other times they will include some combination of resort room along with park tickets and/or dining plans.
Disney World Resort Check In
Before you head to Disney World, you can log into MyDisneyExperience.com and check into your resort room.  This allow you to provide all the necessary information the hotel needs, allowing you to skip the check in desk.  This assumes you have MagicBands.  If you do, just head to your room and use your MagicBand to unlock the door.
If you don't have MagicBands, you'll still need to head to the front desk to complete your check in.
Wish Lists
One of the less noted, but very useful features of My Disney Experience is the ability to create a "Wish List".  As you look at attractions, resorts, dining options and all the other things you are researching, you can add them to your wish list.  Just press the heart button.  This is useful in the early stages of your trip planning as you can effectively bookmark all the things you are interested in and then come back to them later.
Disney World in Park Uses for My Disney Experience
Activities
Looking for activities to do at Disney World?  Anything from attractions, to shows, restaurants and more; you can find it here.
Attraction Wait Times
Want to know what wait times look like across the parks.  My Disney Experience can tell you that too.  It will help you know where to go or not go, as you navigate your way around the parks.
Times Guide
Don't want to keep up with the paper Times Guide in the park?  Just look up the show times in the My Disney Experience app.  It will tell you when things are happening.  From attractions to parades or fireworks shows, the app has got you covered.
Mobile Ordering
In 2017, Disney introduced mobile ordering for meals.  This allows you to place your meal order before you get to the restaurant.  It eliminates you waiting in line to place your order, however you will still have to wait for them to make it.  The way it works is this.  You place the order and then when you get to the restaurant, you go to the mobile order line.  Give them your name and then they will prepare your food.
It works this way for a few interrelated reasons.  First, the app doesn't allow you to specify your time of arrival.  So, you have to tell them when you get there.  We think the primary reason for this is that people may order and then get distracted and held up somewhere in the park.  If you're 10-20 minutes delayed getting to the restaurant, you get cold or soggy food upon arrival.  Who want's that?  So you'll have to wait for your meal to be prepared, but skipping the ordering line is still a great perk!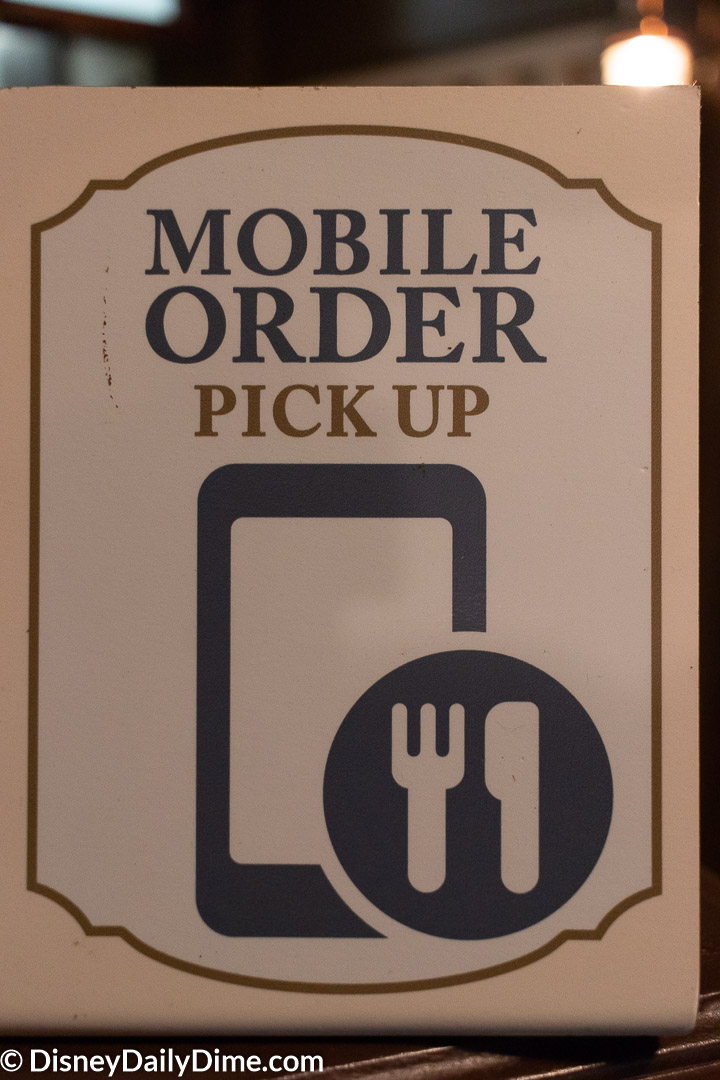 Mobile order is for quick service restaurants only.  No table service restaurants.  It is also currently only available at a limited number of restaurants, so make sure you check availability.  Disney is in the process of expanding mobile order throughout the parks.
Book Additional FastPass+ Reservations
When you are actually in the park, you can book extra FastPass+ reservations once you used up your first three.  You can do this via the My Disney Experience app and save yourself time tracking down a FastPass+ kiosk.
Book Late Dining Reservation
Decided you want to make a last-minute dining reservation when you are at a park?  The mobile app is your friend.  Use it to find restaurants with availability.  With a few taps of your screen, you'll have your next meal lined up.
Resort Bus Schedule
Looking to go from a resort to a park via bus?  The My Disney Experience app will show you what time the next bus is coming?  This way you can get their right on time, without wasting time sitting around at the bus stop.
A schedule of the next bus from the park to resorts is not available at this time.
Photos
If you're using the Disney PhotoPass program, you can see your pictures within My Disney Experience.  Where you see them, depends on if you are using the Memory Maker package.  If you have this package, you will be able to see your pictures right in the My Disney Experience app on your phone.  Not using it, you'll have to go to the website to see your photos.
Maps
Looking for a map of the parks or your resort?  You can find them here.  We will say that finding the resort map takes a little more work than it should, but they are there.  You can also find maps showing you where to find restrooms, events, characters and more!
Shopping
See something in the park you want, but would prefer it be shipped to your home?  You can scan the bar code on the item and it will find it for you on the Disney Parks store section of the app.


My Disney Experience Platform Stability
One quick note about the technological stability of the My Disney Experience platform.  It's not the best.  Especially when it comes to making FastPass+ reservations.  It is not uncommon to get error messages while using the platform, so be prepared for that.  Generally, we have found these issues more prevalent on the website, less so on the mobile app.
Wrapping Up
Whether on mobile or the website, the My Disney Experience platform provides you with many great tools for planning your vacation.  Once you get to Disney World, you'll probably be on the app 99% of the time.  It's we'll worth your time to get familiar with both instances of My Disney Experience and what they offer.  They'll make your Disney World planning and in park experience much better.