The Disney World MagicBand functions as your proverbial key to the kingdom.  You will see almost every person wearing something on their wrist that looks like a Fitbit, iWatch or whatever you think of as a fitness tracker.  These are the MagicBands.  See our picture above for they look like.
You will notice the wider center part of the MagicBand. This houses the electronics in the band that make it work.  In the last few years, Disney has made it where you can remove that center part of the band and attach it to other things so you don't have to wear the band on your wrist.  Some people like to carry it in a bag or attach it to their key ring.  This also allows you to customize your MagicBand if you want.  You can even buy Disney World MagicBands on Amazon if you want to see what options are out there.  We love this Tinker Bell one.
Read below to see what you should know about them, as they do have many purposes, but there are also some "Big Brother" like features to them.
How does the Disney World MagicBand Work?
This is a multifaceted question.  There's the technical aspect of it and then the more generic discussion of the conceptual ways it works.  Let's start with the conceptual.
When you get your MagicBand, it is linked to your My Disney Experience (MDE) account.  By linking it to your account is provides a gateway to track everything about your trip.  It can access information about the following:
Park Tickets
Resort Reservations
Dining Reservations
Meal Plans
FastPass+ Reservations
Photopass/Memory Maker
By linking to this information, the Disney World MagicBand will allow you to do the things we will talk about in the sections below.
On the technical side, the center part of the MagicBand contains an RF (radio frequency) chip and transmitter in it.  It transmits a HF radio signal that can then be read by RF readers throughout Walt Disney World.  You don't have to hold the MagicBand up to a reader for it to pick up the radio signal.  Disney uses both short and long-range devices to read signals on MagicBands.
Disney says that they do not use the RF signals to continuously monitor where guests are, but they can use it to track intermittent stops along the way.  Those stops don't necessarily have to be at attractions.  Disney can collect data at the Resorts, Disney Springs, along with the parks.  We haven't ever seen clear evidence of Disney tracking people, but they have the capability.
If you shop using your MagicBand, it will also allow Disney to see your specific purchases.  With that data they could potentially cross sell you on items later or use it to model what other customers might like.  Think of what you see on Amazon when looking at an item.  They have that section that says, "Customers who viewed this item also viewed".  The MagicBand provides Disney lots of data for Disney to mine through and potentially use to sell you more things.
The MagicBands do not store your personal information on them, rather they contain a random code that is associated with your profile on an encrypted database.
Who Gets a MagicBand at Disney World?
Anyone can get a MagicBand while at Disney World, however it might not be free.  Annual pass holders and resort guests get MagicBands for free.  However, if you are staying off property you will have to pay to purchase a MagicBand.  If you want a more customized set of MagicBands you can shop at both disneystore.com or on Amazon.  There's also a wide array of bands for sale at Disney World, but we wouldn't recommend using valuable park time shopping for a band.
When do You Get Your MagicBand?
If you live in the United States and booked a stay at a Disney World resort, your Disney World MagicBands will be automatically shipped to you.  Usually 2-3 weeks prior to your arrival date.  We have seen reports that the bands can show up closer to your arrival date if you don't customize them.   We have not experienced that ourselves, but be aware it is possible.  To be safe, go ahead and customize them.  You will get a notice via your MDE account that the bands have been shipped.  The notice will provide you with a USPS tracking number.
If you live outside of the United States, you may not get your MagicBand before your trip.  Disney says it is country specific.  When you book your trip, Disney will tell you if they will ship your MagicBand to you before your trip.  If not, you will pick up your MagicBand at the front desk when you check into your resort.  Disney also says they can also arrange to have your MagicBand sent to a non-Disney Resort hotel with a valid shipping address prior to the start of your vacation.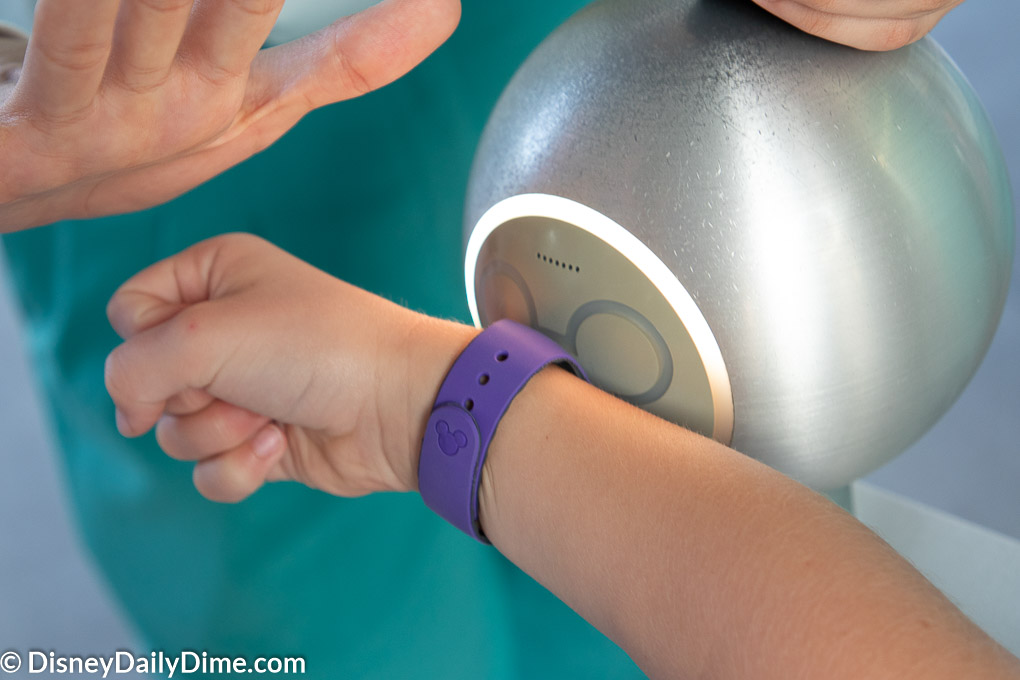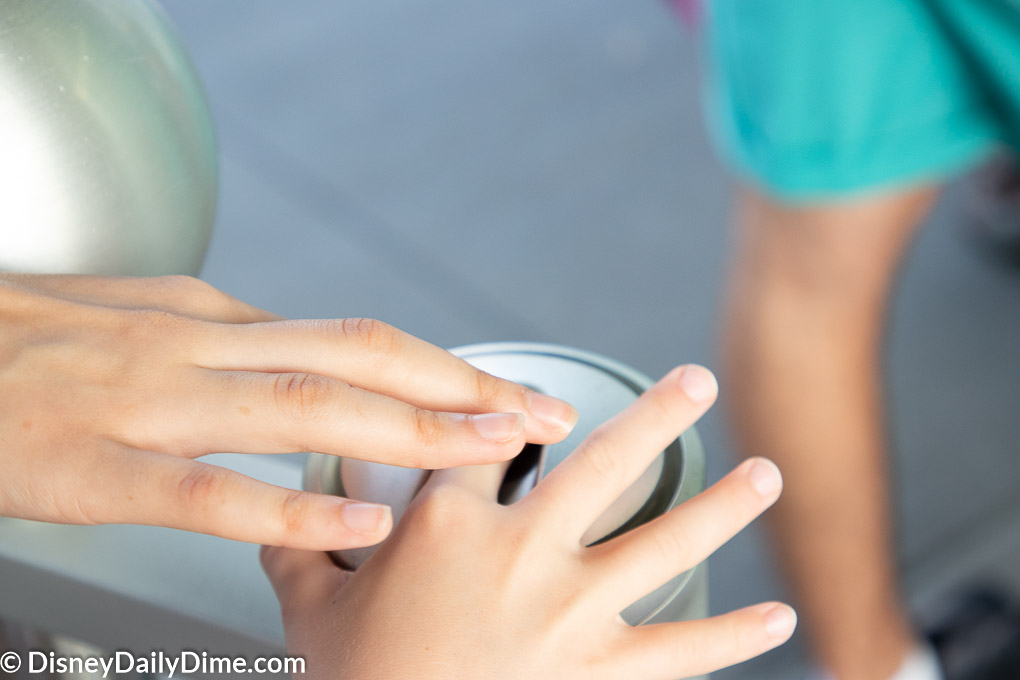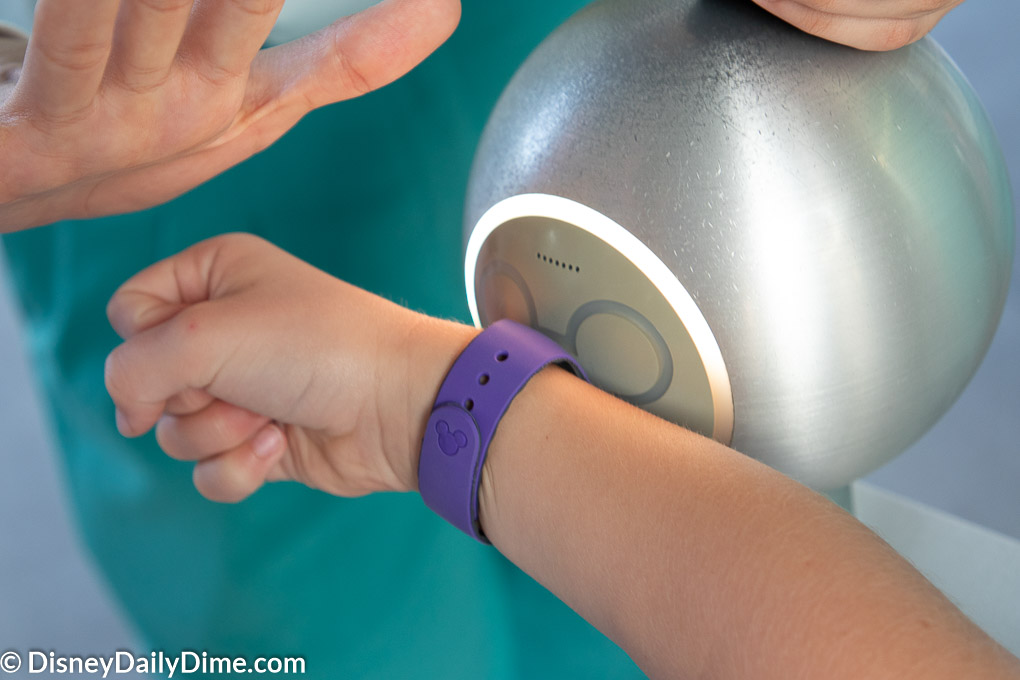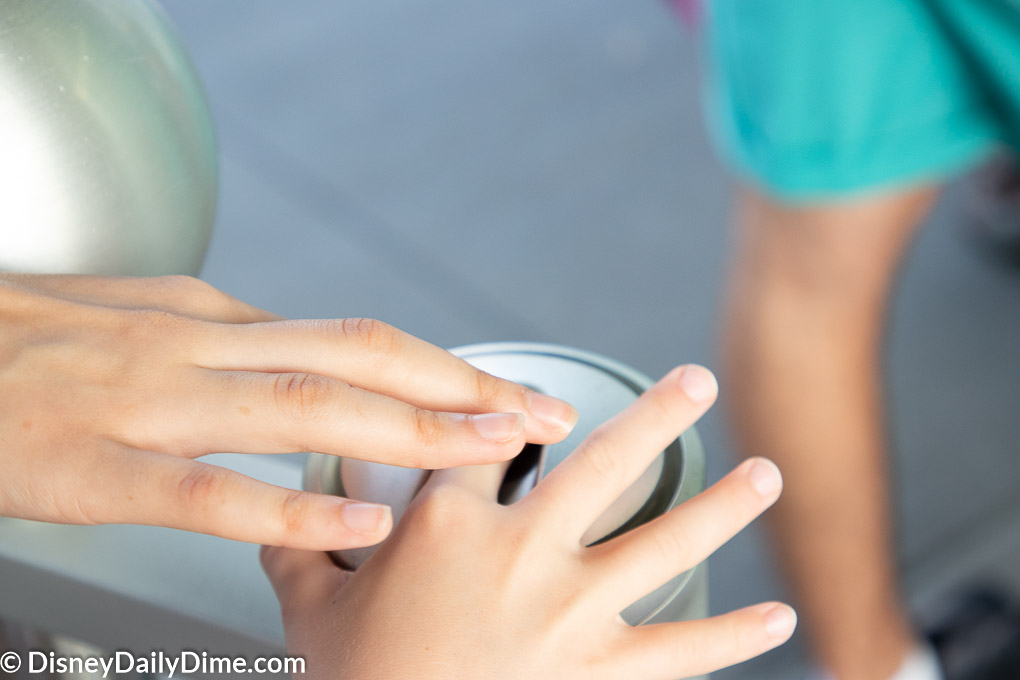 The MagicBand as a Park Ticket
The Disney World MagicBand serves as an electronic ticket to the park for you.  When you get to the park, you will touch your MagicBand to the electronic Mickey turnstile touchpoint.  The very first trip you make to a park will required to provide a fingerprint for one finger.  Biometric screening like this is the way Disney prevents you from giving your MagicBand to someone else.  You can't have people getting into the park for free!
Each subsequent time you enter a park you will be required to match your band with the fingerprint associated with the MagicBand.  Place your finger on the scanner and touch your band to the Mickey turnstile reader, when it lights up green you are good to enter the park.  Nice and easy, usually.  Every once in a while, we've had a few issues that were quickly resolved.  Make sure you remember which finger you used to give the fingerprint!
When you go with small kids, help them do the first finger print.  Our girls sometimes used their left hand for their fingerprint.  Each time we enter the park confusion usually ensues if it was done oddly.
The MagicBand as Your Disney World Resort Room Key
If you choose to stay at a Disney World resort, your MagicBand will also serve as your room key.  It works, pretty much the same way your park ticket does.  Touch the MagicBand to the reader located near your room's door handle.  When it accepts the match, you will hear the door unlock.  There is no finger print verification to enter the room.
The MagicBand as Your FastPass+ Ticket
When the FastPass+ system came out a few years ago, it was a paper ticket system.  It meant you had to carry physical tickets around the park to be able to use them at your appointed time.  Fortunately, Disney moved out of the stone ages and has now linked your FastPass+ reservations to your My Disney Experience account.
By doing this, your MagicBand functions as your FastPass+ ticket.  Simply show up to the attraction you have a FastPass+ reservation for, touch the MagicBand to the Mickey turnstile reader, watch it turn green and go.  Make sure you only go to the attraction during your allotted time.  If you show up early or late, you won't get in!  There is a grace period around that though.  You can read more about the FastPass+ system in that section of our guide.
The Disney World MagicBand as a Payment Method
If you are staying at a Disney World resort, your MagicBand can function as a pseudo credit card for all of Disney World.  When you want to buy something, simply touch the MagicBand to the payment terminal, like the one you see to the right.  No finger print is required; however, you do have to provide a Personal Identification Number (PIN).  You will set up your PIN code when you check in to your resort.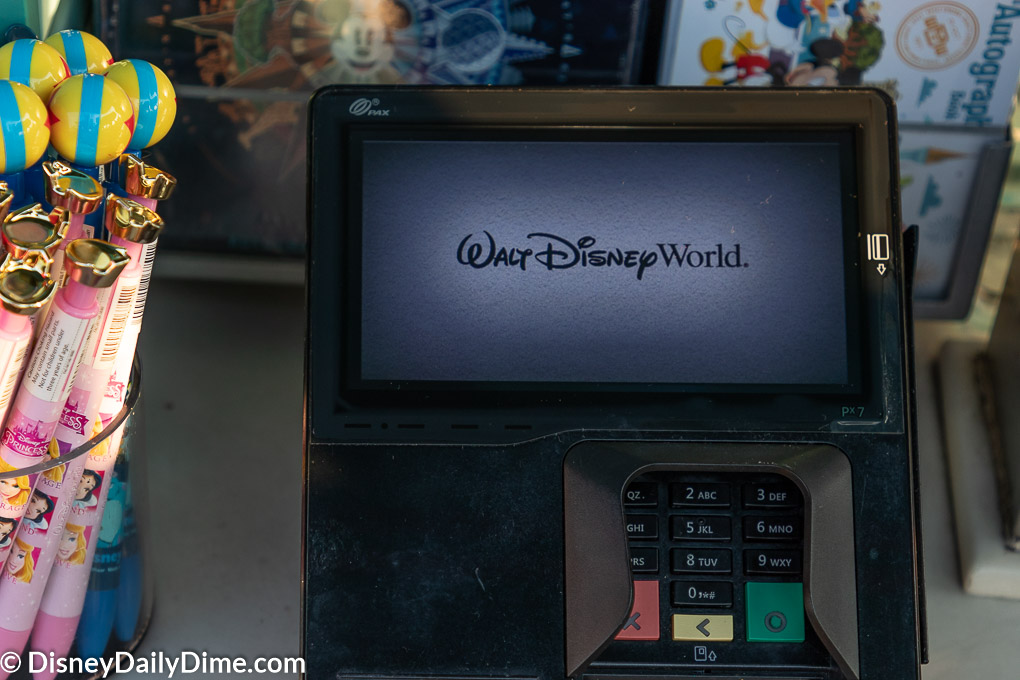 The cast member that checks you in will ask you if you want it set up to use for payments.  It does not automatically allow for it.  Again, this option is only available if you are staying at a Disney World Resort.  This is because what you are effectively doing is charging your purchases to your room.  No room, nowhere to charge the purchases.
Also, note that there are a few locations that still don't accept MagicBands as payment within Disney World or credit cards for that matter.  It's always good to have a little cash on you.
The other way you can use you Disney World MagicBand for payments is your dining plan.  When you are at a Disney restaurant they will scan your MagicBand to capture your dining plan meal credits.
Is There a Limit to How Much You Can Charge to Your MagicBand?
Yes, there are limits to the amount you can charge to your Disney World MagicBand; however, it isn't a hard limit.  Why is it not a hard cap, you ask?  Well, if you exceed the limit set for you, the credit card you have on file is automatically charged for your spending to that point.  This essentially resets your spending to zero and you can continue spending using the MagicBand.  The amount of the limit is set based upon if you are staying at a Deluxe ($1,500), Moderate ($1,000) or Value ($500) resort.
MagicBands at the Water Parks
Some of you may be looking to take a day and head over to Typhoon Lagoon or Blizzard Beach.  No worries, as the MagicBand is waterproof.  So, feel free to take it along.  You'll need it anyway to get into the water parks.  It's also a great way to avoid having to take too much with you if you don't want to keep up with all sorts of stuff while you splash around all day.
MagicBand and PhotoPass/Memory Maker
If you have access to the PhotoPass or Memory Maker programs on your trip, your MagicBand will also connect your photos to your MDE account.  Whenever one of Disney's litany of photographers takes a photo of you and your group, they will simply scan your MagicBand and that will associate the pictures they took with you.  The photos usually show up in your account quickly, but we have seen some photos take a few hours to show up.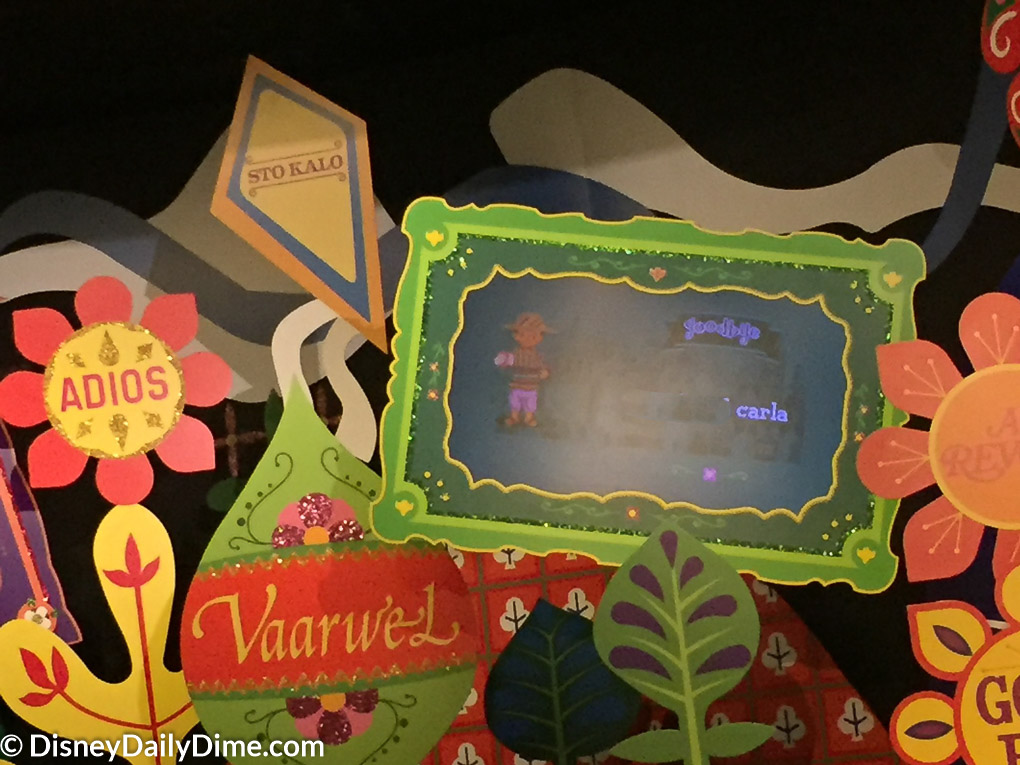 In addition to the photographers, many of the rides at Disney World have in ride cameras.  They snap pictures of you and your group at opportune times.  While it snaps the pictures it also scans for MagicBands so it knows what group of people are in the picture.  There are a few attractions where you have to find the ride photo and touch your MagicBand to the scanner to associate it with your account.  Look for the picture displays with the Mickey plate just below it after you exit the ride.
There are some rides like "It's a Small World" that use the MagicBand to display your name on a monitor at the end of the ride.
What if You Don't Want a Magic Band?
You don't actually have to use the MagicBand.  If you would prefer not to, you are allowed to use a plastic card that Disney can provide for a substitute.  You can request the card when you check in to your Disney Resort or at a ticket booth if you are not staying at a Disney Resort.  These cards still have the RF chip in them, however Disney says that they are not able to be read by their long-range scanners.
What to Do If You Lose Your MagicBand at Disney World?
Accidents happen, things get lost, it happens every day at Disney World.  It doesn't mean Disney security is going to descend on you like Jaffar on Aladdin and cast you out of the park.  It will be just fine.
So, what should you do if you lose your MagicBand while at Disney World?  If you are in a park, go to the guest relations desk in the park.  Ask a Cast Member if you don't know where it is and they will be able to point you in the right direction.  If you are at a resort, go to the Lobby Concierge at your resort and they can assist you in deactivating the old card.
Do this ASAP when you realize that your MagicBand has been lost.  While the MagicBand requires a PIN to use it to buy something, better safe than sorry.  If you had a customized MagicBand, they won't be able to replace it while at Disney World.  Instead you will get a standard issue one, usually grey.  There may be a fee to replace a lost band.
The Disney World MagicBand Does a Lot
As you can tell, the Disney World MagicBand is much more than just a ticket.  Its one of the most important things you have to bring with you and allows you to greatly simplify what you take to the park each day.  We highly recommend you get one if it is available to you.