Throughout the year, Hollywood & Vine at Disney's Hollywood Studios hosts special character meals for lunch and dinner.  The theme of the meal changes depending on the time of year.  At Christmas, the character meal is known as Minnie's Holiday Dine.  As you might guess, it is a Christmas themed meal.  Here in our Minnie's Holiday Dine review, we'll tell you what you can expect at this special character meal, including our thoughts on the quality of the experience, character interactions, and of course, the food.  We'll include pictures of it all along the way.
As we said, Minnie's Holiday Dine only takes place during the holidays.  Generally, it starts in early November and ends in early January.  If you are booking a meal here and want a specific theme, you need to make sure that it is happening on the particular date of your reservation.  To be safe, it may be worth calling Disney World to confirm if you are on the fringes of these dates.
If you want to have breakfast at Hollywood & Vine, you can enjoy the Disney Junior Play 'n' Dine character meal.
From a Disney Dining Plan perspective, eating here requires one table service credit.  Given the cost to eat here, this is an excellent use of that table service credit.
All meals at Hollywood and Vine are eligible for the Tables in Wonderland discount.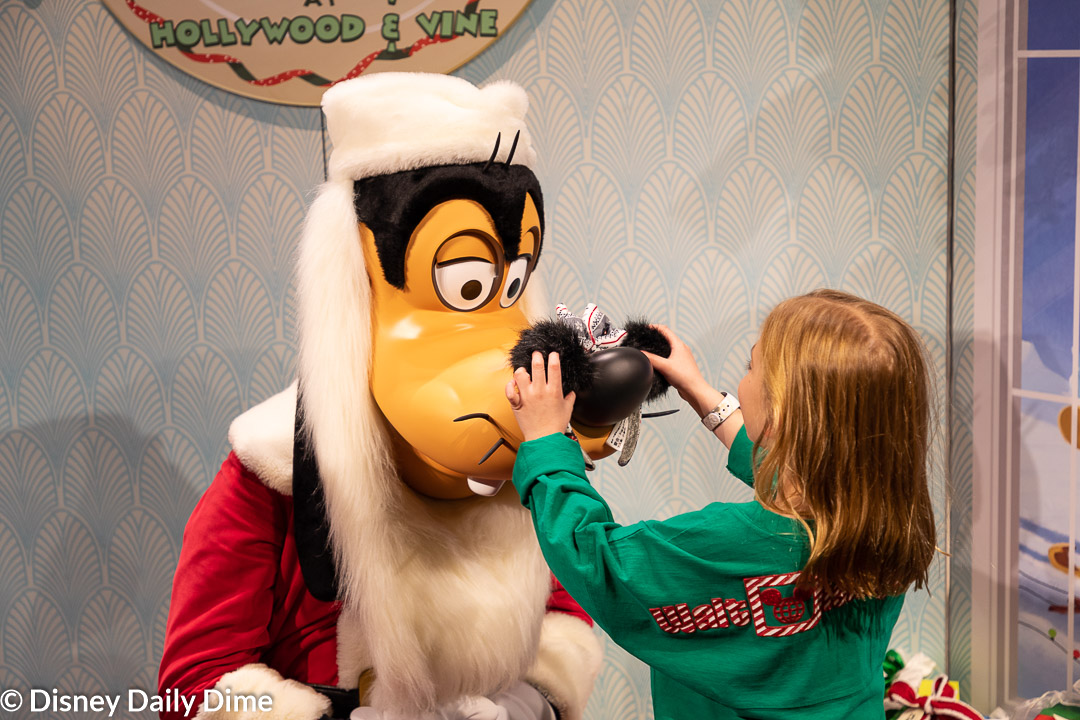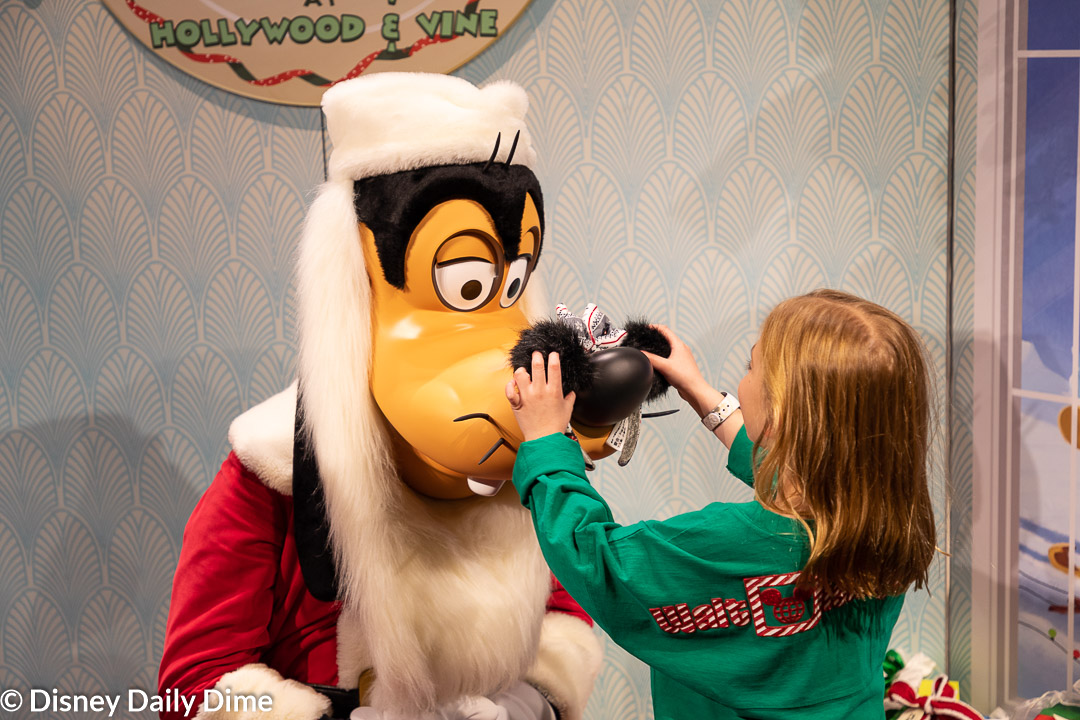 Minnie's Holiday Dine Characters Feature Fun Christmas Outfits and Quality Interactions
In most cases, we find the quality of a character meal directly correlated to the quality of the character interactions and, to some degree, the uniqueness of the clothes they wear.
When you walk into Hollywood and Vine, the character interactions start automatically.  Goofy is standing in the front of the restaurant, waiting for you.  But this isn't just any Goofy!  Oh no, this is Santa Goofy and he's ready to have a good time.
He seemed to be especially smitten with Anna and spent a lot of time playing with her.  At one point, he was on his knees, begging her to stay and not go to the table.  Anna loved the attention.
After meeting Goofy, you are then escorted to your table.  That is where all the other character interactions take place.  Mickey, Minnie, Daisy, and Donald all roam the restaurant going from table to table.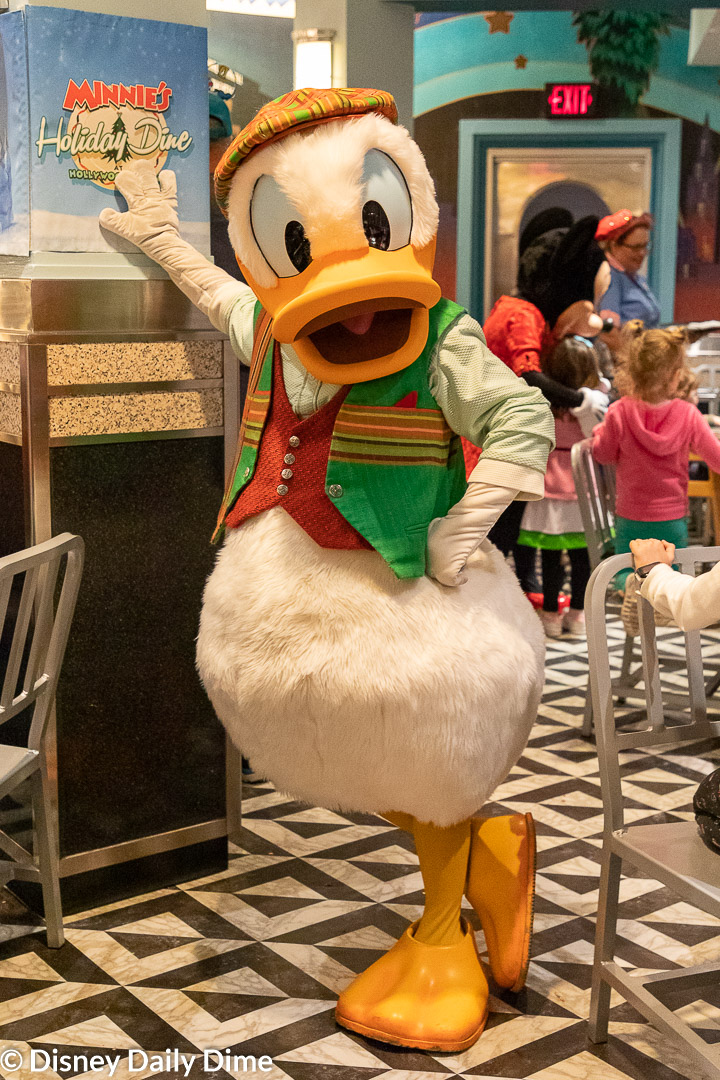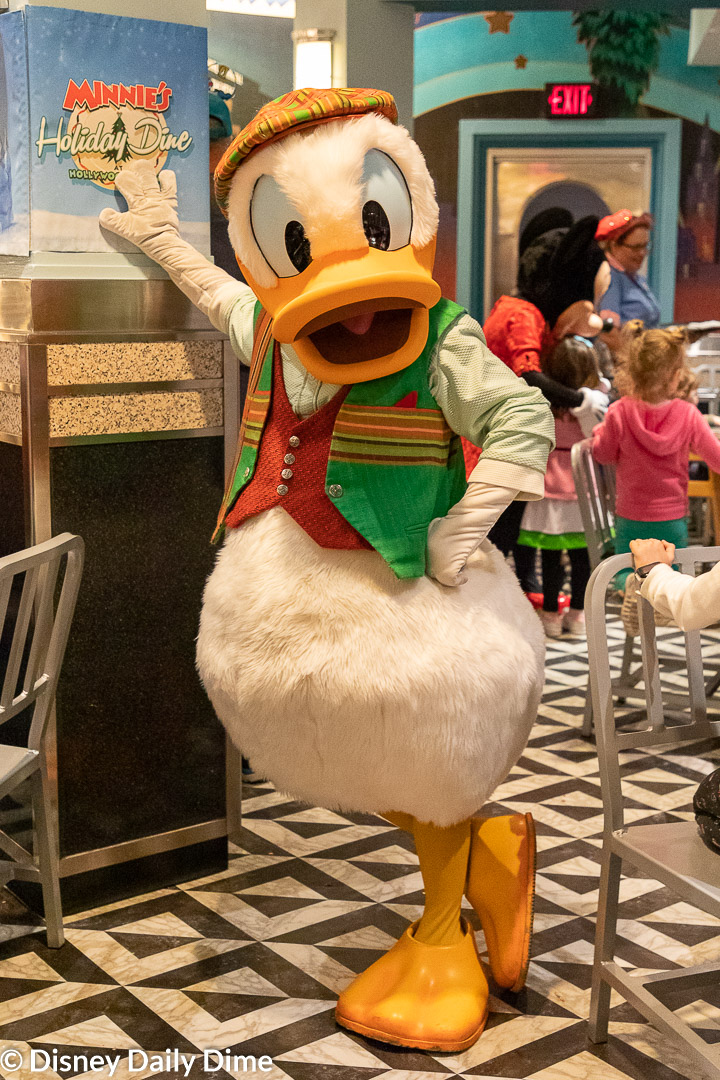 Before I talk about the individual characters, I did want to mention the seating space in the restaurant.  There are certain places in the dining area that don't have a lot of room.  To some degree, we found this limiting the quality of interaction.  Since we just ate at the Topolino's Terrace character breakfast, we saw firsthand how having space to operate can significantly enhance the character experience.  There wasn't much room to dance with Daisy at Minnie's Holiday Dine.
That said, I think this was more a function of where we sat, as opposed to a restaurant-wide issue.  If you get a table that seems cramped, you may want to ask if you can have a different one.  Of course, that assumes that the restaurant has space.  It was jam packed the night we ate here.
The first character we met once we got to the table was Donald.  Dressed in a festive green vest and flat cap, it's one of the more unique outfits you'll find him in.  Donald was great with Anna and Elsa, taking the time to engage with them collectively and individually.  He wasn't rushed, and it felt like we had good quality time with him.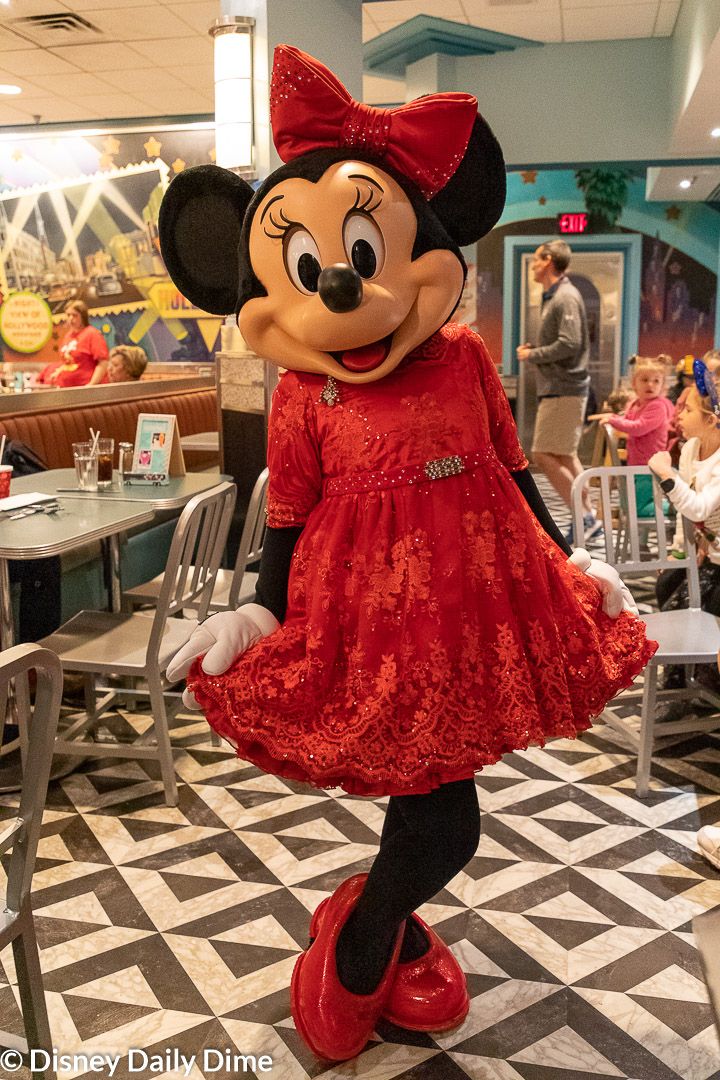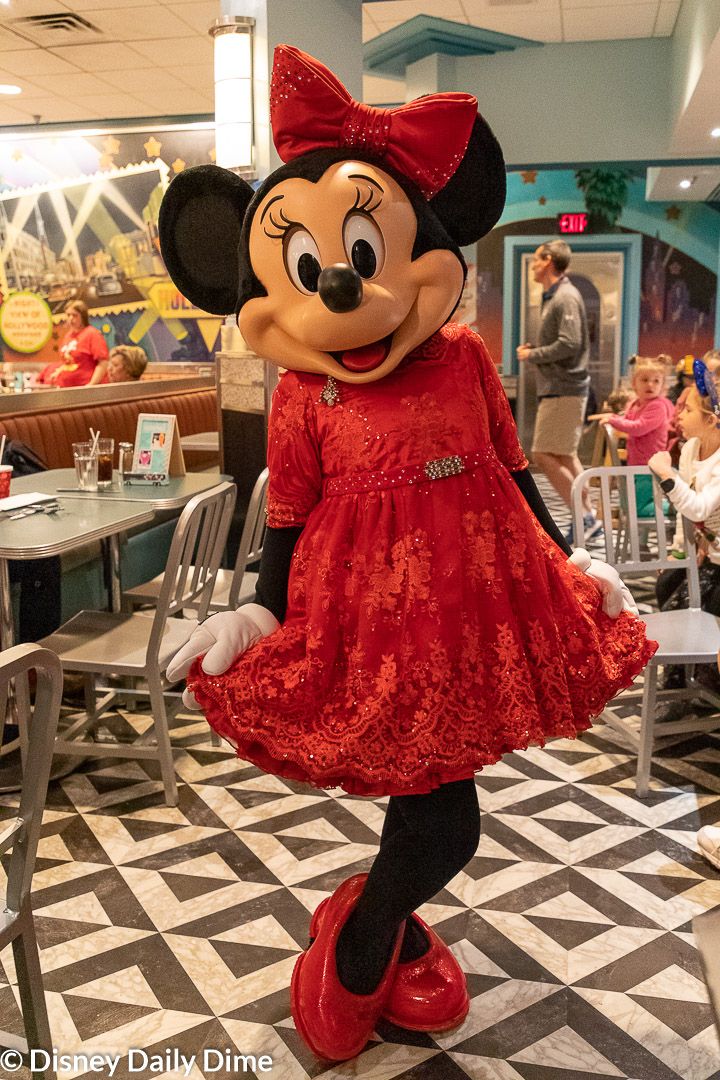 After that, Minnie showed up at our table.  She was dressed in a lovely red dress that looked elegant and ready for a Christmas party.  Minnie took numerous pictures with the girls and Carla.  She gave them a substantial amount of attention before she went on to the next table.  The girls kept talking about their time with them and how friendly she was.
It is a little odd to us that Minnie isn't who greets you at the front if the restaurant.  You know, it is called Minnie's Holiday Dine.  But that's a minor issue.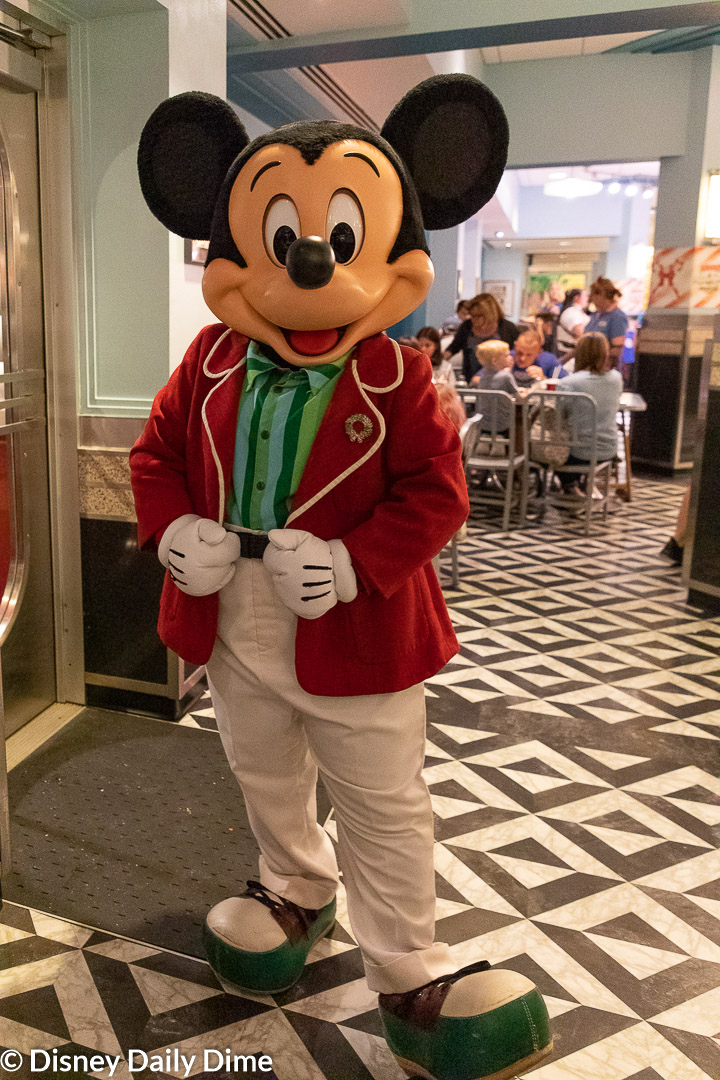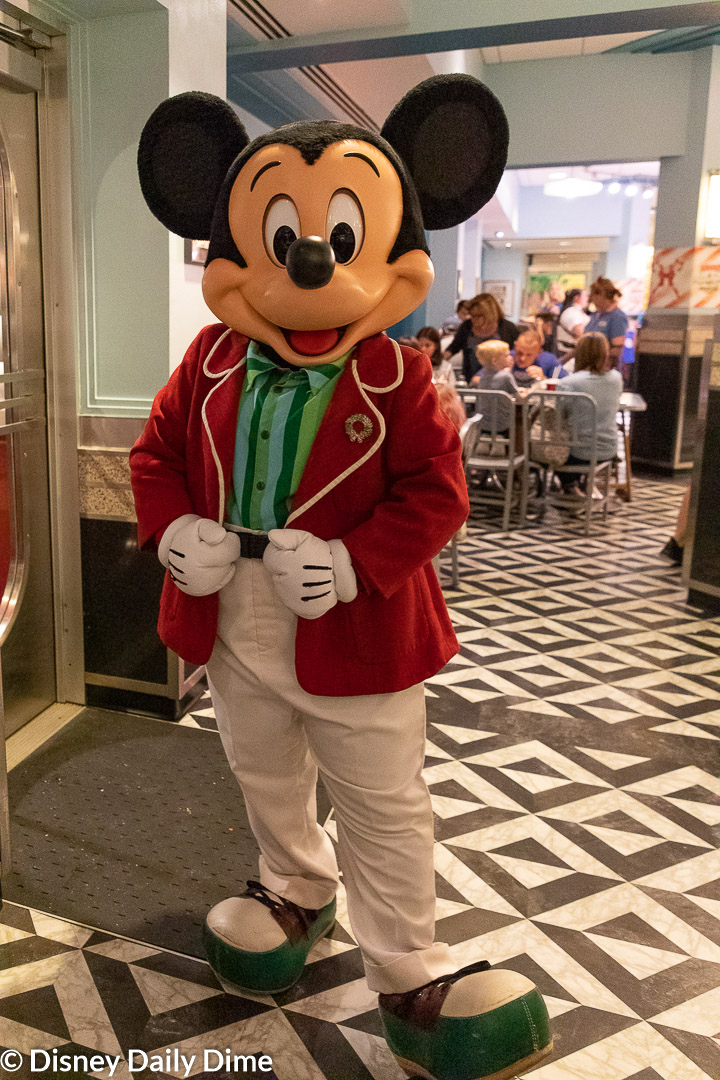 Alas, Minnie had to move on, but her beau Mickey made his way to the table shortly after.  Dressed in a red Christmas jacket and a green button-up shirt, Mickey looked very dapper.  Once again, he took his time with the girls.  They "talked" about the holidays and what we were doing at Disney World.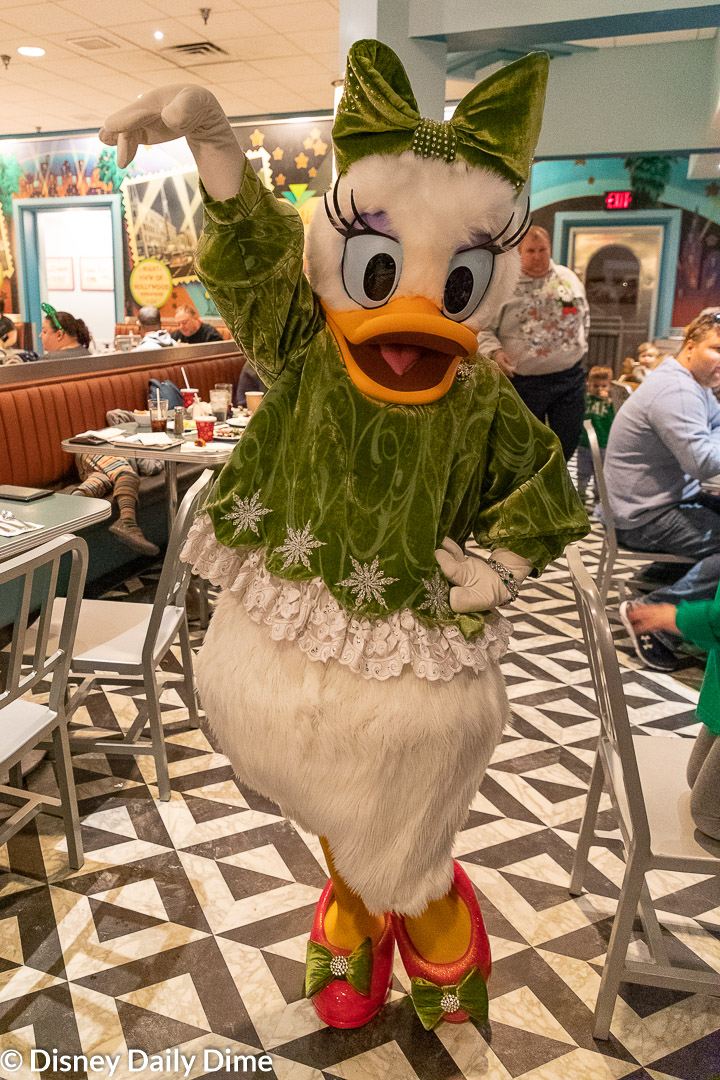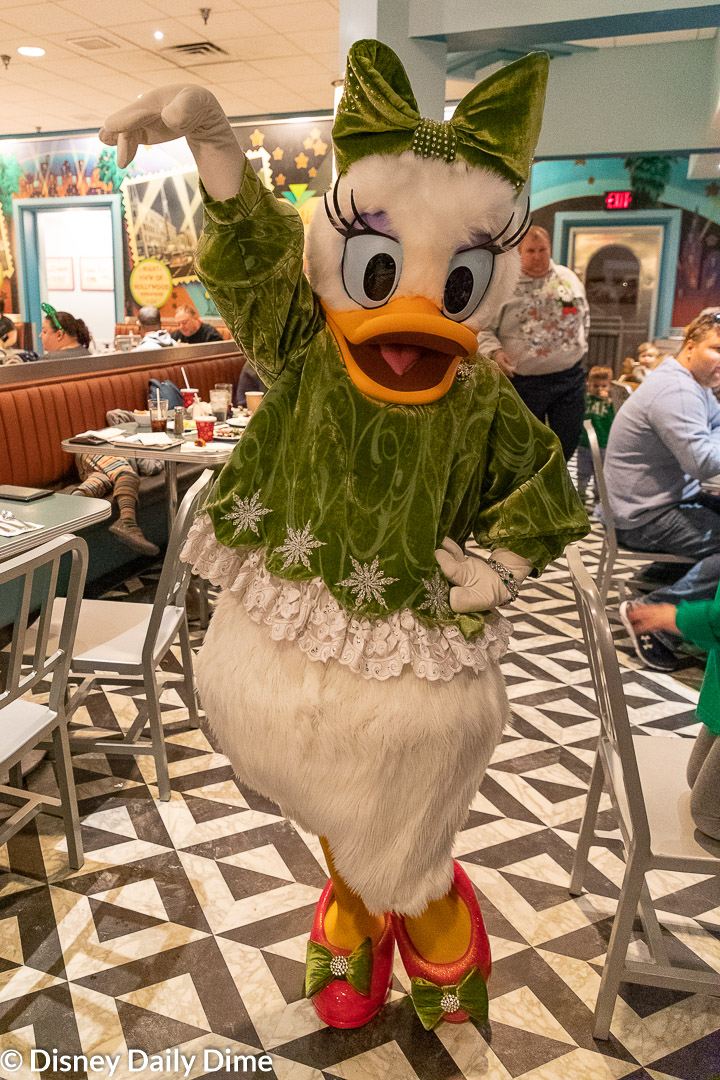 The last character to make the rounds was Daisy.  The girls had a long interaction with her swooning over her outfit, bow, and shoes.  For some reason, Daisy seemed particularly taken with Anna's Minnie ears and bow.  After doting over the girls, Daisy moved on to the next table.
All in all, the character interactions were unique, thoughtful, and lasted a while.  If there is one thing that clearly separated the character interactions at Minnie's Holiday Dine from things like Topolino's Terrace character breakfast or even the Bon Voyage Adventure Breakfast, it would be the interaction of the characters with each other.
Not one time did they ever really interact or even acknowledge each other.  And there was ample opportunity as they seemed to roam the restaurant in proximity to each other.  I even have a few pictures where characters were walking right past each other, and they didn't do anything.  These types of interactions can lead to some of the best moments in a character meal and it was a bit disappointing that they were nowhere to be found.  Maybe it was because Hollywood & Vine was busy this evening and they needed to keep turning tables.  In any case, we'd like to see more interaction between the characters.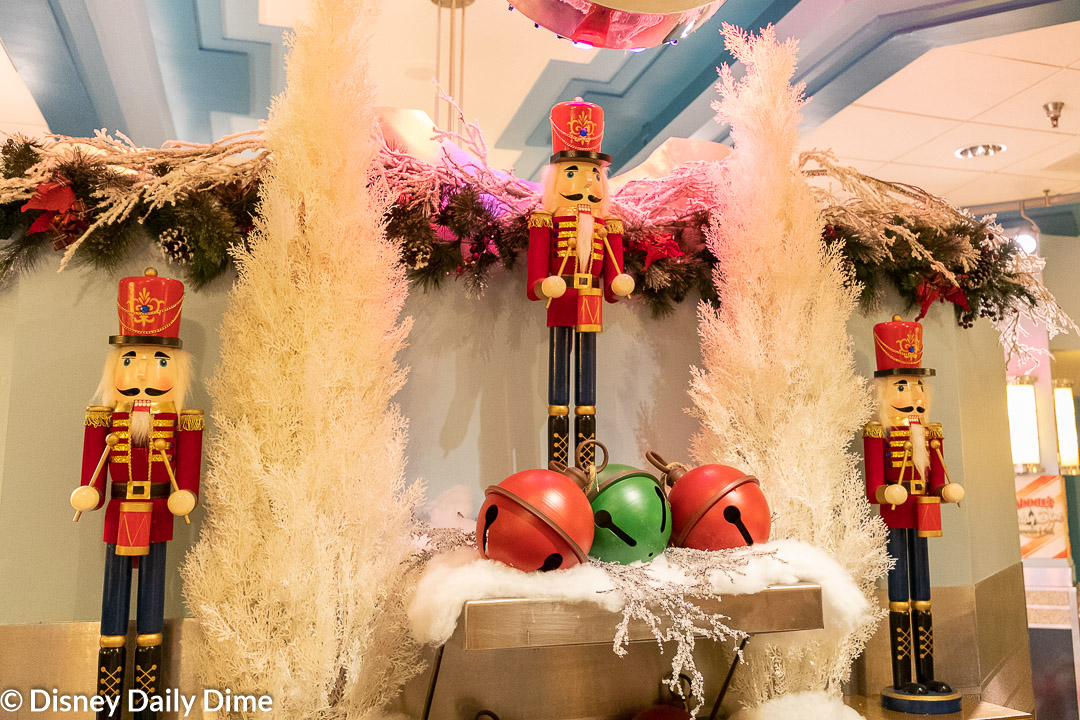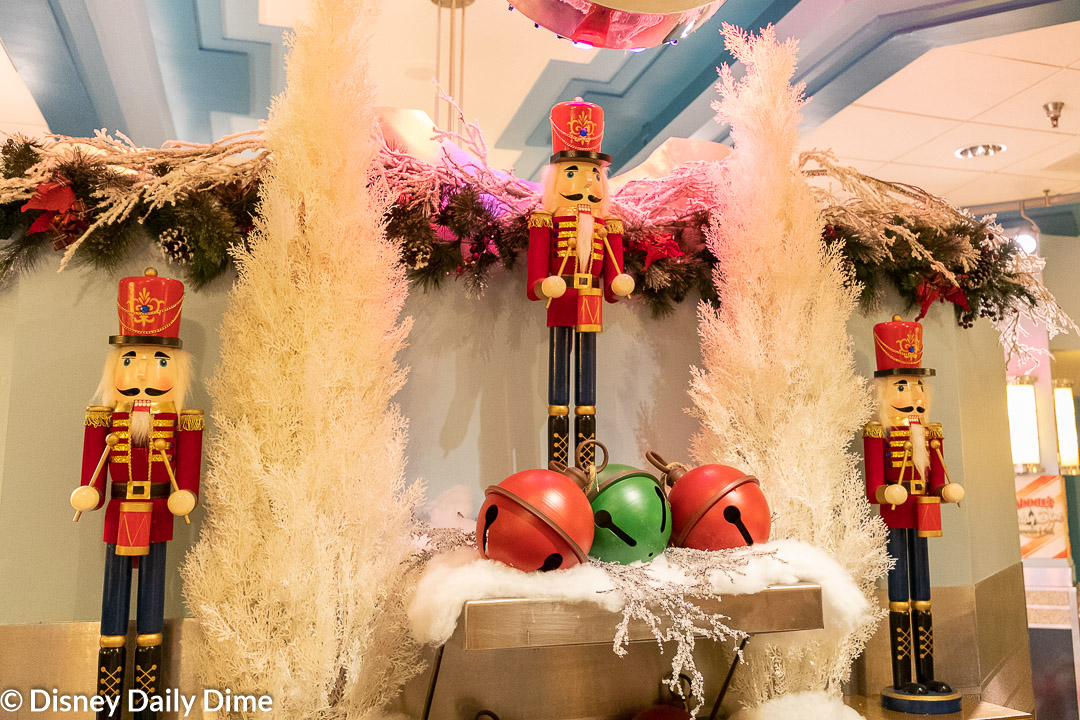 The Theming is Pretty Light at Minnie's Holiday Dine
Given the fact that the character meal theme changes throughout the year at Hollywood & Vine, the theme of the restaurant doesn't really fit with anything other than within Hollywood Blvd itself.  It is themed as a Hollywood based cafeteria, and the décor still runs with that.  Because you have all the various character meals, there is no reason to change the main physical attributes of the restaurant.
So that means they only update the décor, which is very much seasonally appropriate.  As you can see, you'll find Christmas décor throughout the center of the restaurant. It features touches like a Christmas tree, nutcrackers, and the like.  I do wish that the Christmas touches extended to the seating area more than it does.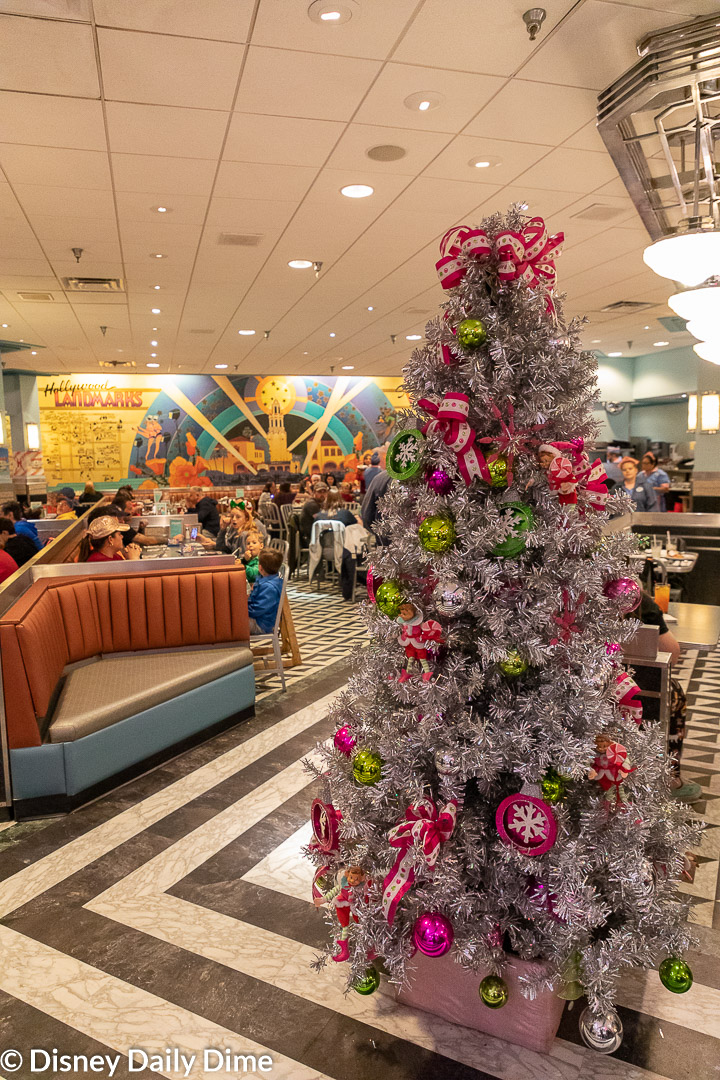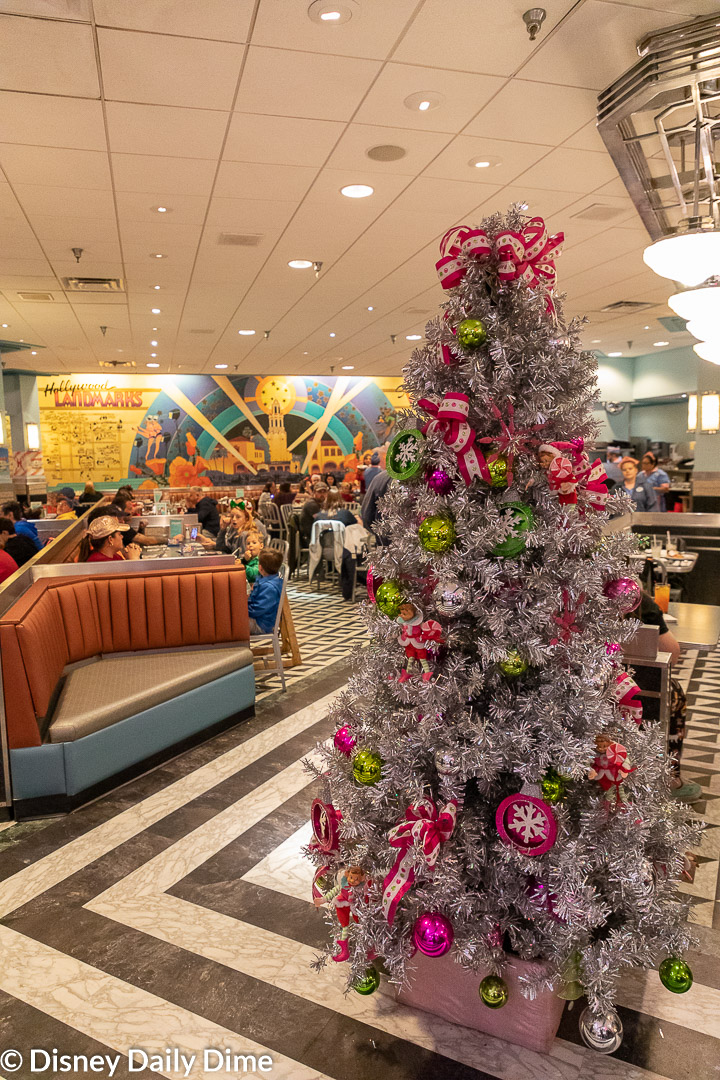 Given this, it's not the best theming of a character meal, but I wouldn't suggest skipping the meal for that reason alone.
I will say if theming is important to you and characters are less important, then you may want to look at Sci-Fi Dine-In Theater or 50's Prime Time Café in Hollywood Studios.  They both have great food, but the theme is significantly better.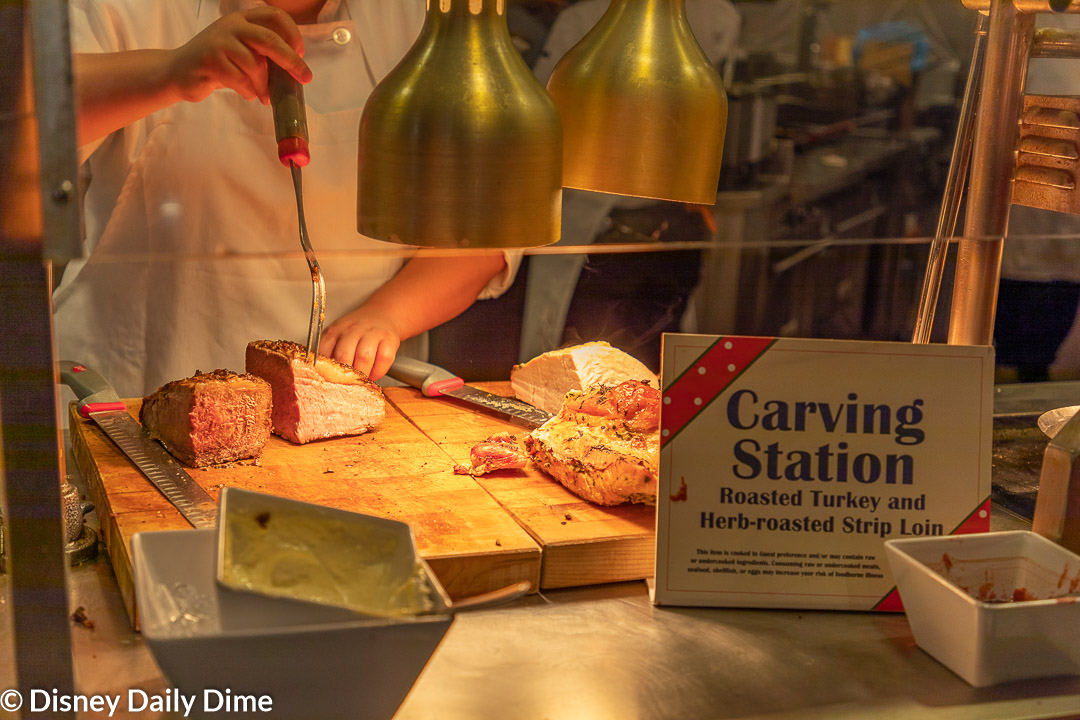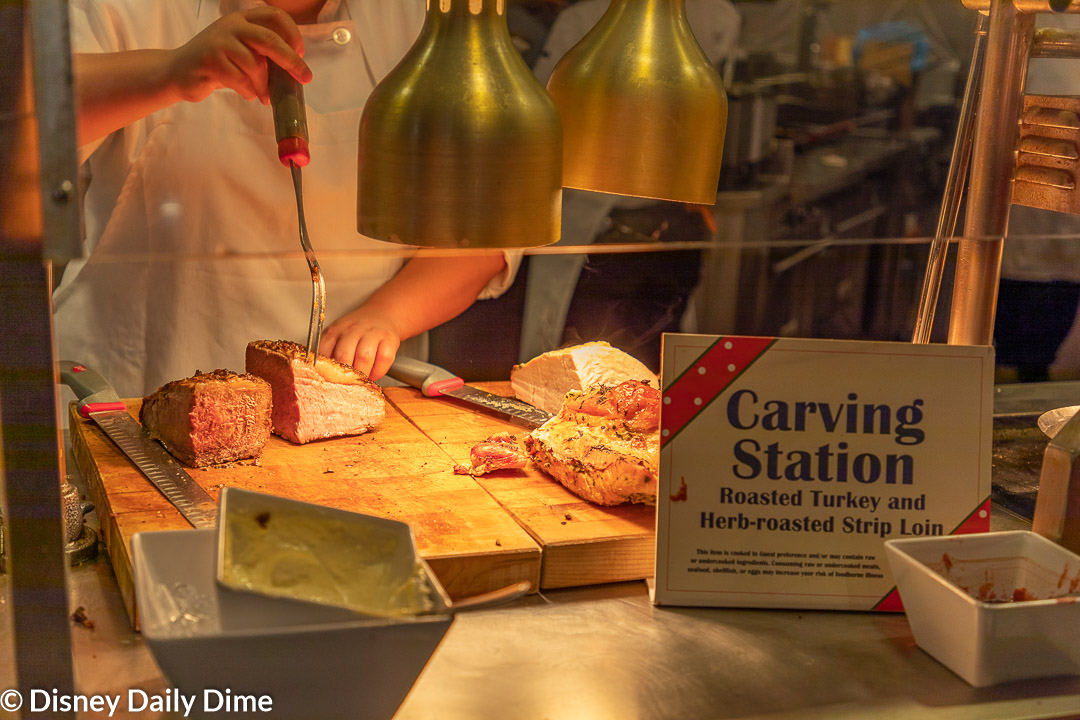 For a Buffet, This Holiday Character Meal is Surprisingly Good
Whenever I think of buffets at Disney World, there is always a level of trepidation that creeps over me.  To say the quality of the food at Disney buffets is inconsistent would probably an understatement.  Yes, there are some good ones like the dinner we enjoyed at Tusker House, but there are also plenty of mediocre ones too.
Overall I'd say there is an excellent mixture of food that will appeal to kids and adults.  The picture below is what Anna went with, which I'd say is a little more traditional food for kids.  Chicken nuggets, some salad, and a dinner roll are as basic as it can probably get.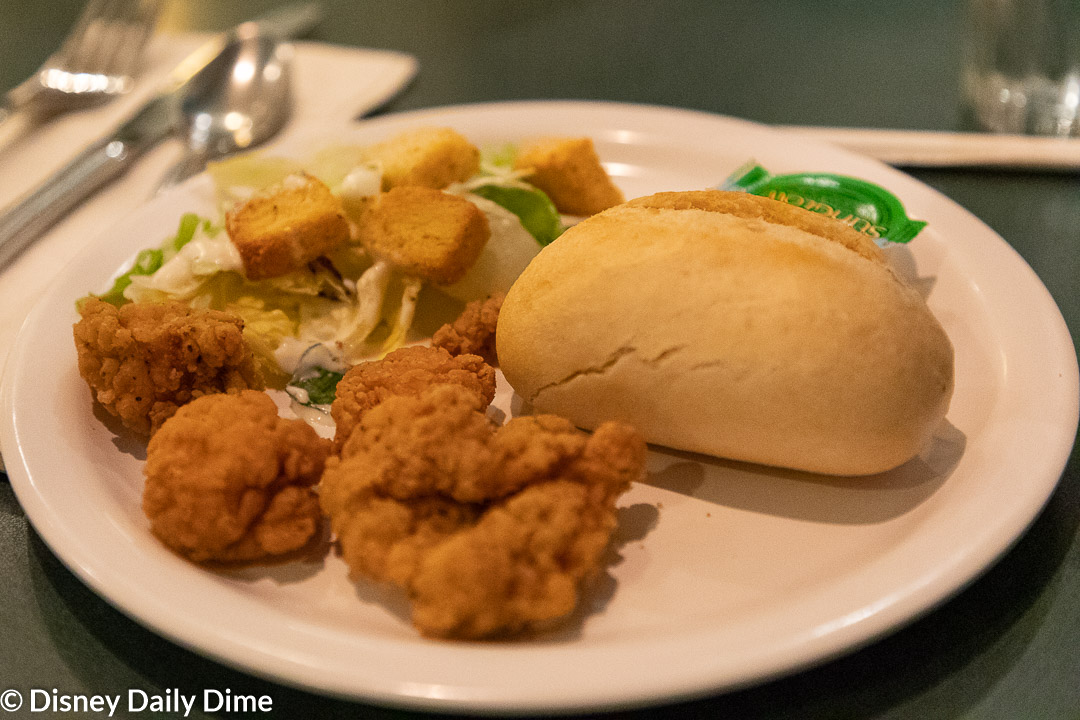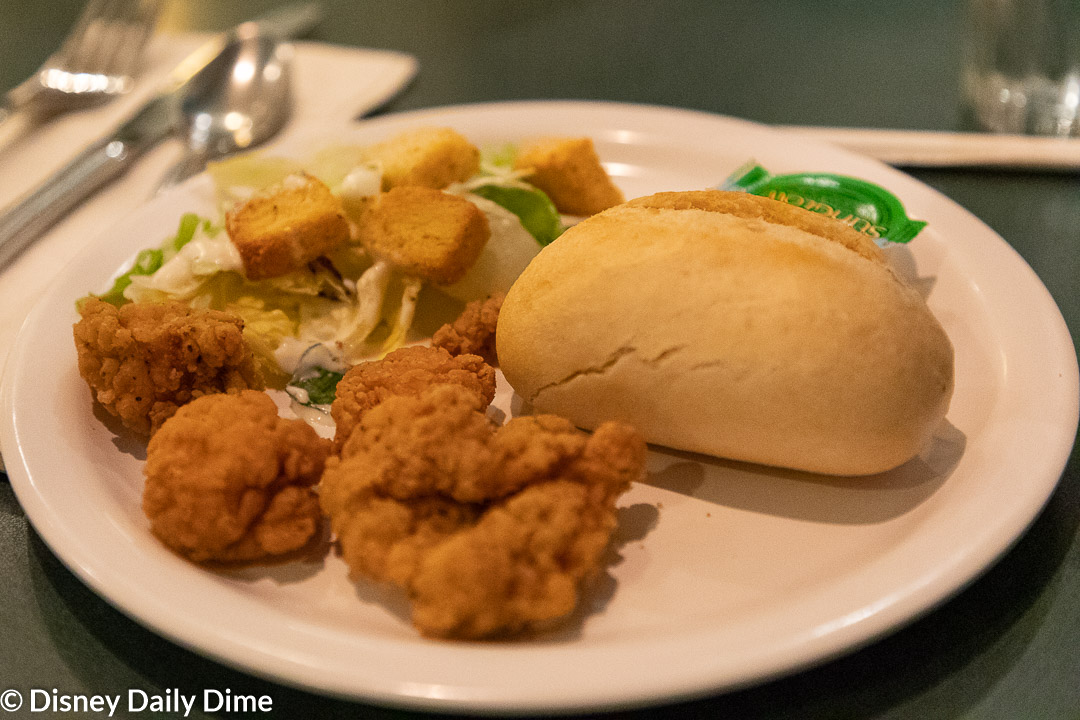 Unfortunately, the Hollywood & Vine menu doesn't tell you a ton about what is actually available.  So we took pictures of almost the entire buffet.  We won't review every item, but it should give you a good sense of what is available.  There was definitely a theme to the food as many dishes were typical holiday fare or a variation on traditional holiday food.
Starters/Salad
If you walk through the buffet line, you start with a soup and salad bar that I'd describe as typical salad selections.  Because of that, I didn't take a picture of it.  At least that is what I'm telling myself as I write this.  It can't be another one of my missed photos??!  How exciting is lettuce, really?  This is also where the bread station is, which features a delicious pretzel roll.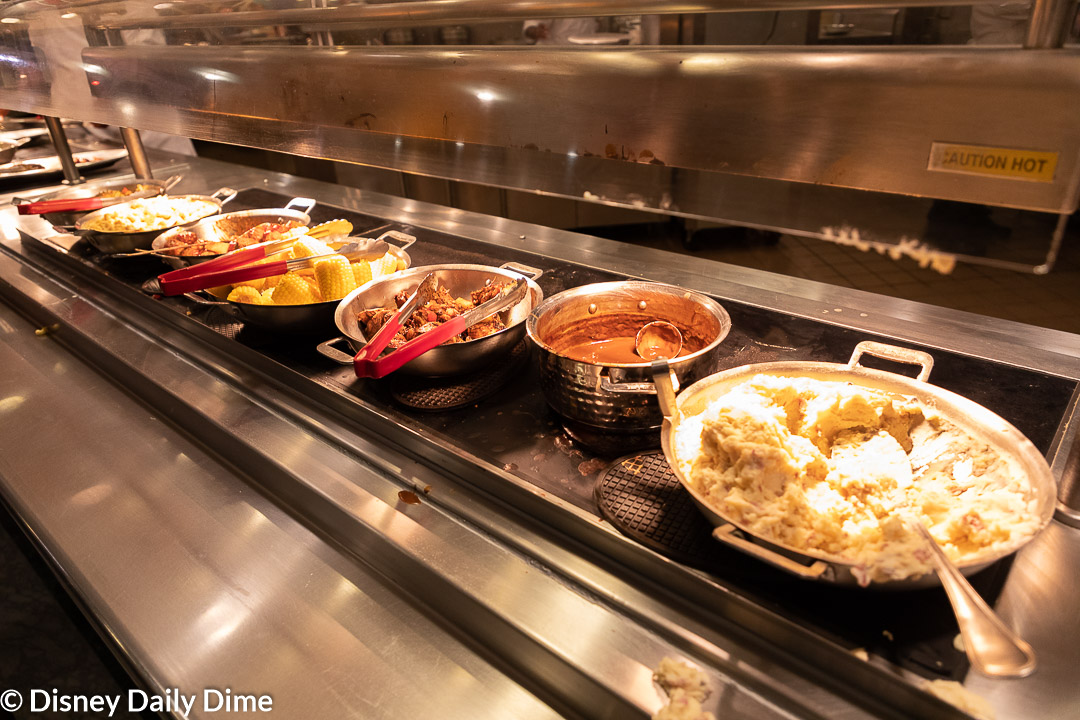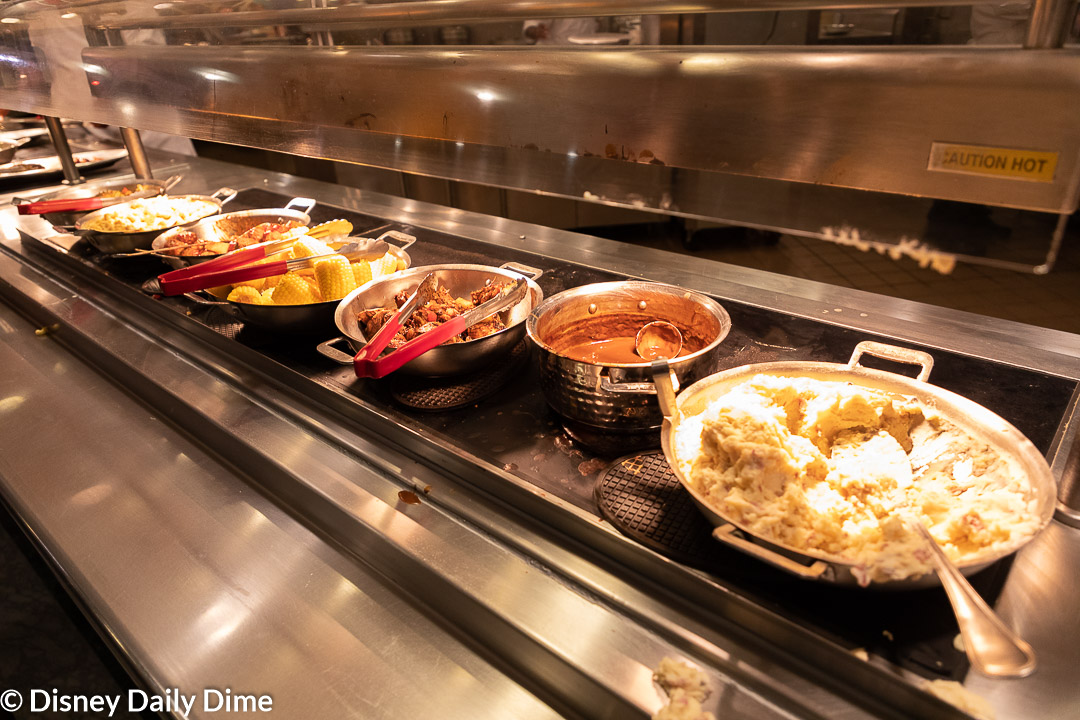 Main Course
After that, you'll come to the hot foods.  One of the sections is what I refer to as the comfort food sides.  As you can see above, it features classic side dishes like mashed potatoes, corn on the cob, mac and cheese, and more.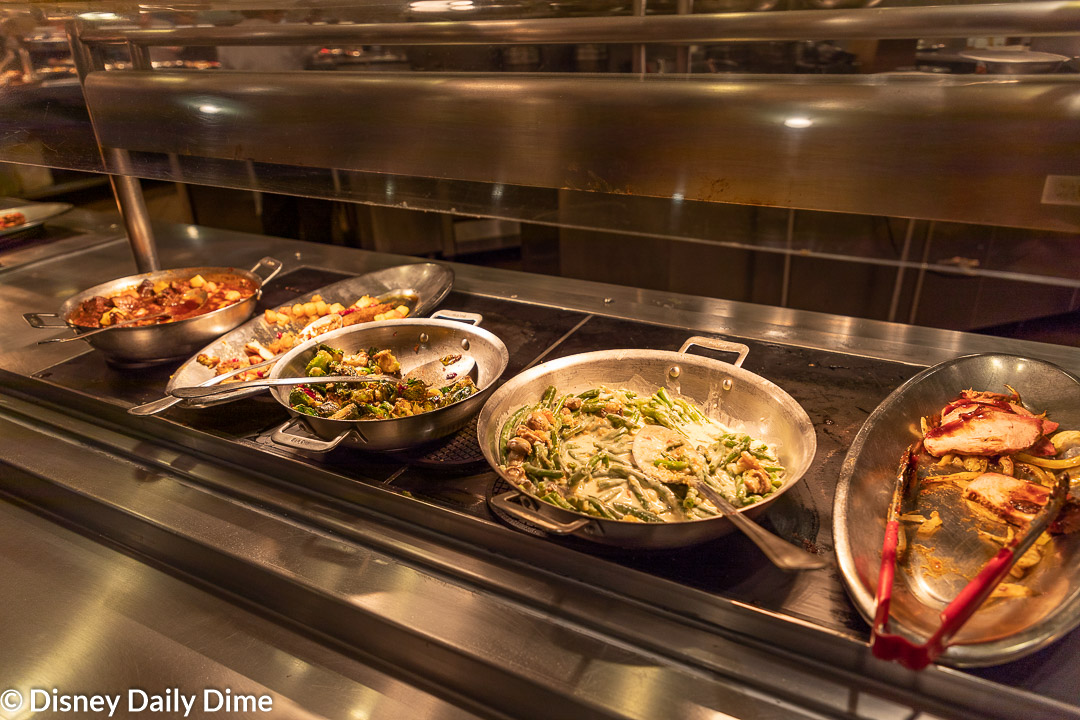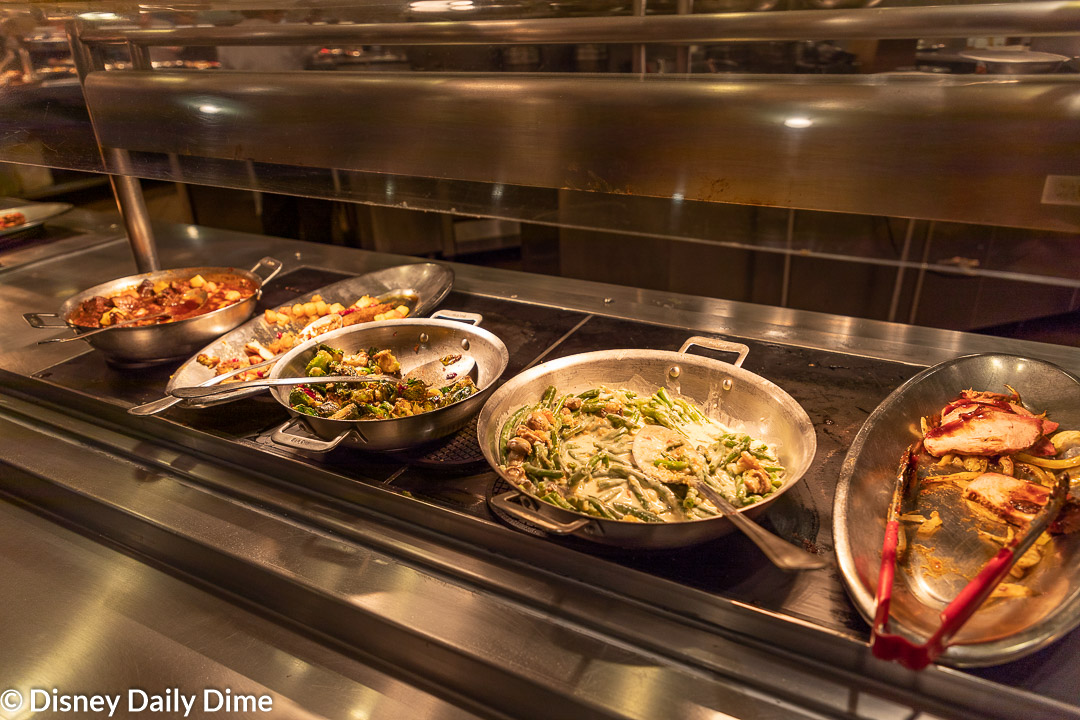 Continuing some of the more comfort food offerings, there is a pork entrée with green bean casserole and Brussel sprouts.  The pork was delicious with the sauce that was on it.  I've never been a huge green bean casserole fan but thought it was reasonably good.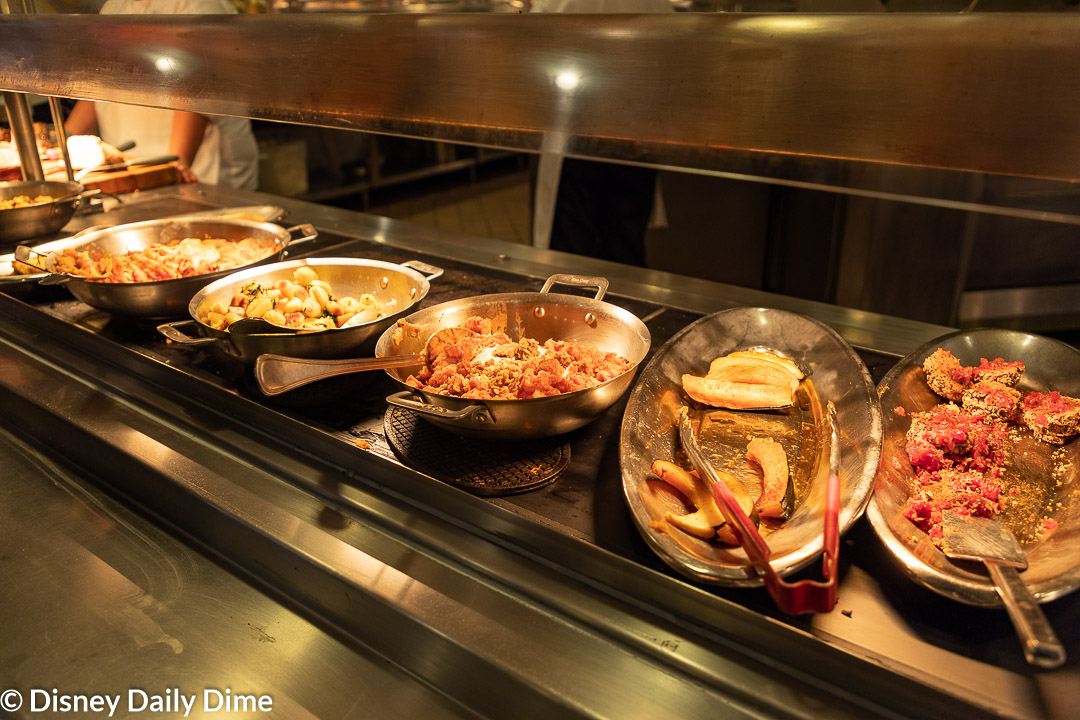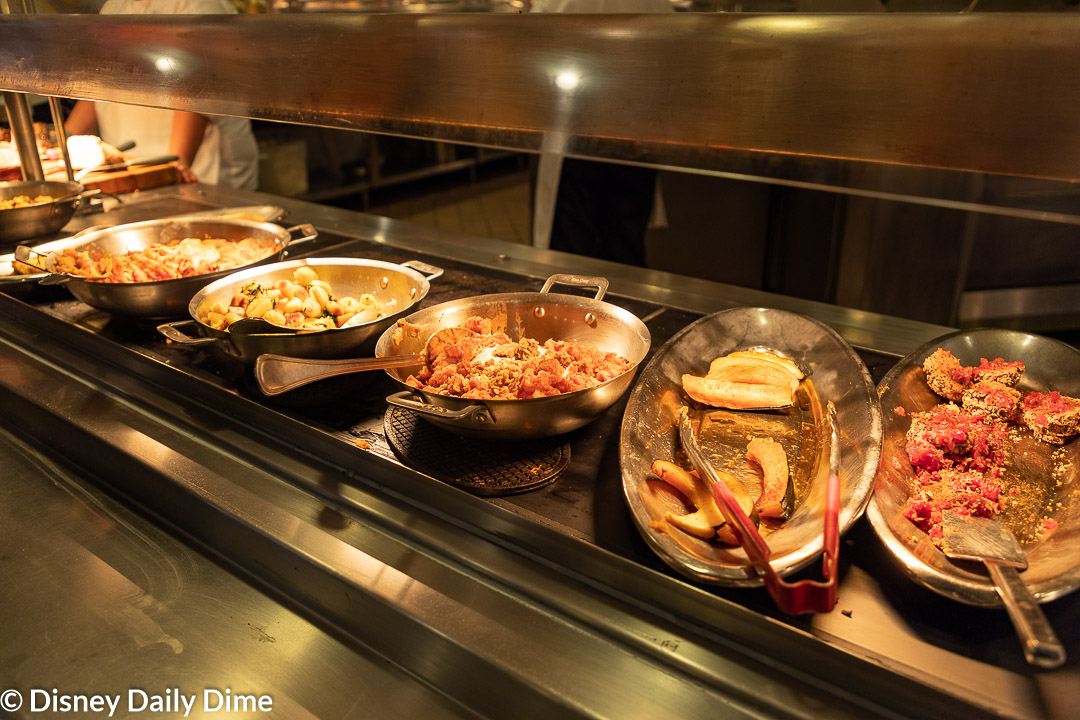 Next up, you'll find an assortment of meatballs, a sweet potato casserole, and gnocchi.  All in all, this section of the buffet was probably the biggest disappointment of our Minnie's Holiday Dine review.  Nothing on here stood out particularly, and the meatballs were really dried out.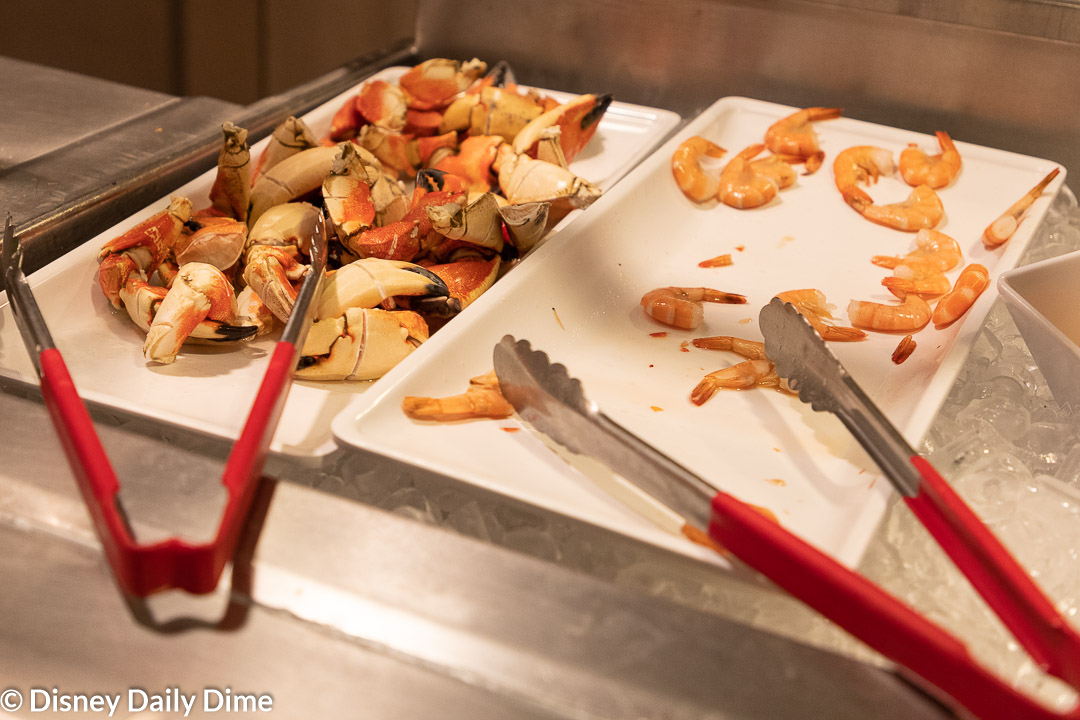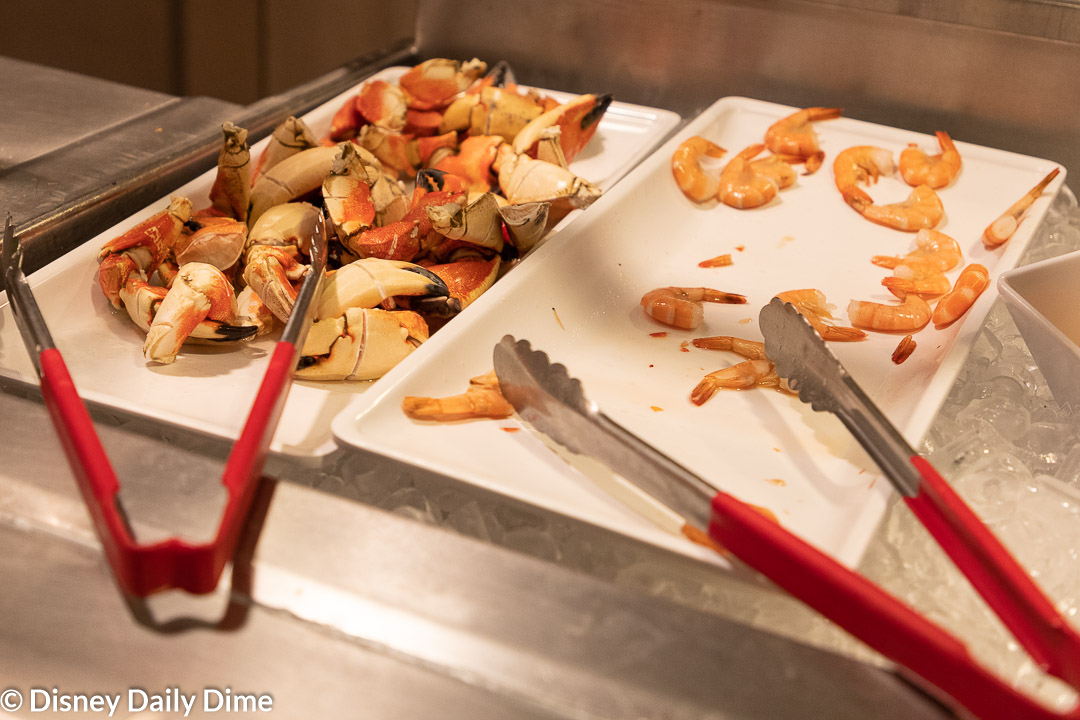 On the cold side of the bar, there are also some chilled seafood options.  You'll find crab claws and peel-n-eat shrimp.  While the shrimp are on the small side, having unlimited crab claws and shrimp is not something you will find on every buffet around.  Elsa devoured a whole plate of the shrimp herself.
At the very end of the buffet, you will find the carving station.  Here you can get a roasted turkey and Herb Roasted Strip Loin.  Both were very good, although I do with the turkey had a bit more flavor.  They were both moist and tender.
While I don't have a clear picture of it, there is also a nightly fish offering available.  On our particular night is was salmon.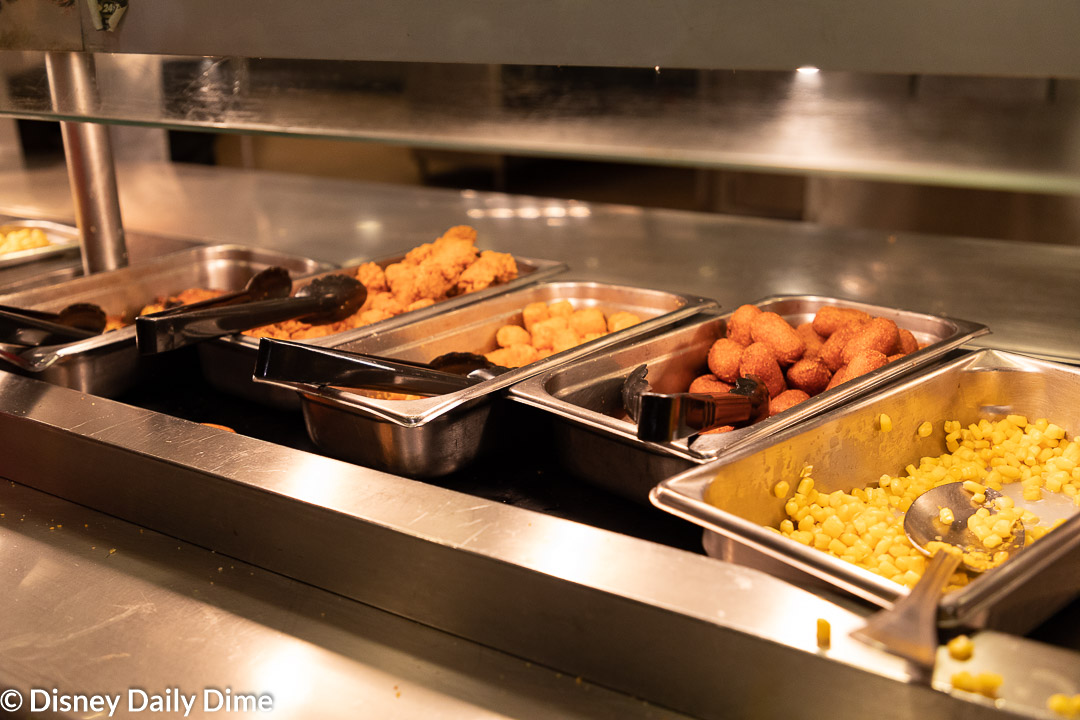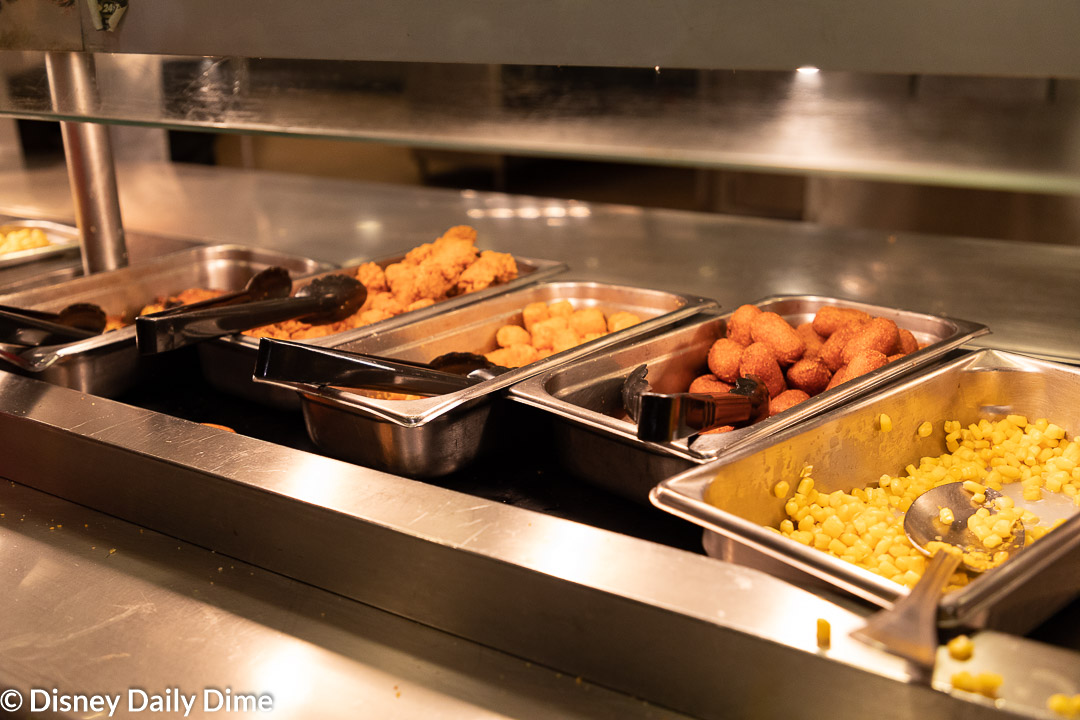 For kids, you'll find a station that is more geared to their palates.  Here you can see chicken nuggets, tater tots, corndog nuggets, and corn.  While not overly exciting, it helps give less adventurous kids something that they might prefer.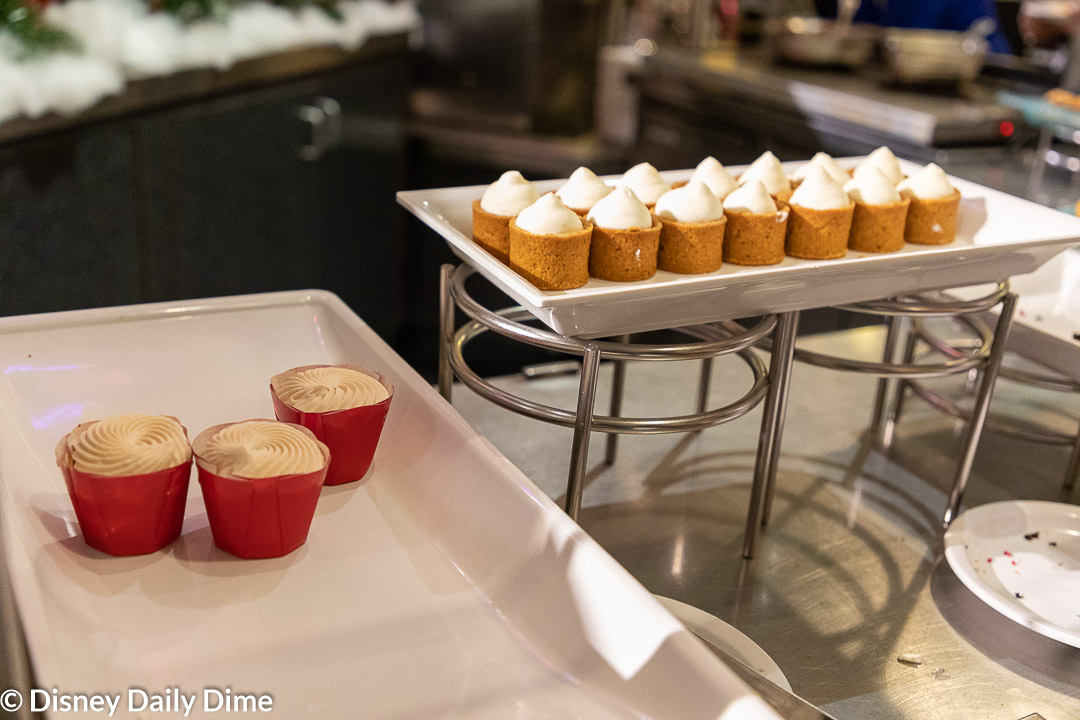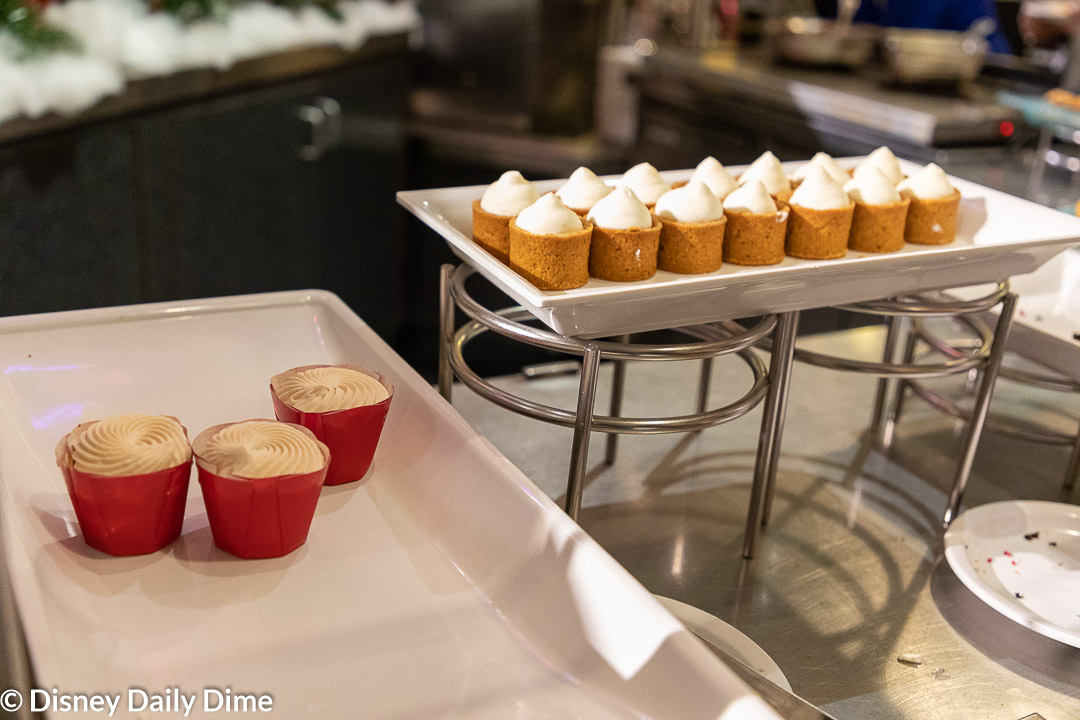 Desserts
For desserts, there are a few different choices.  They are served as what I would call bite-sized options.  There you will find the Eggnog Cheesecake (left) and Apple Cranberry Tart (right) in the picture above.  Let me tell you; the Eggnog Cheesecake was fantastic!  I ate three of them and could have had more.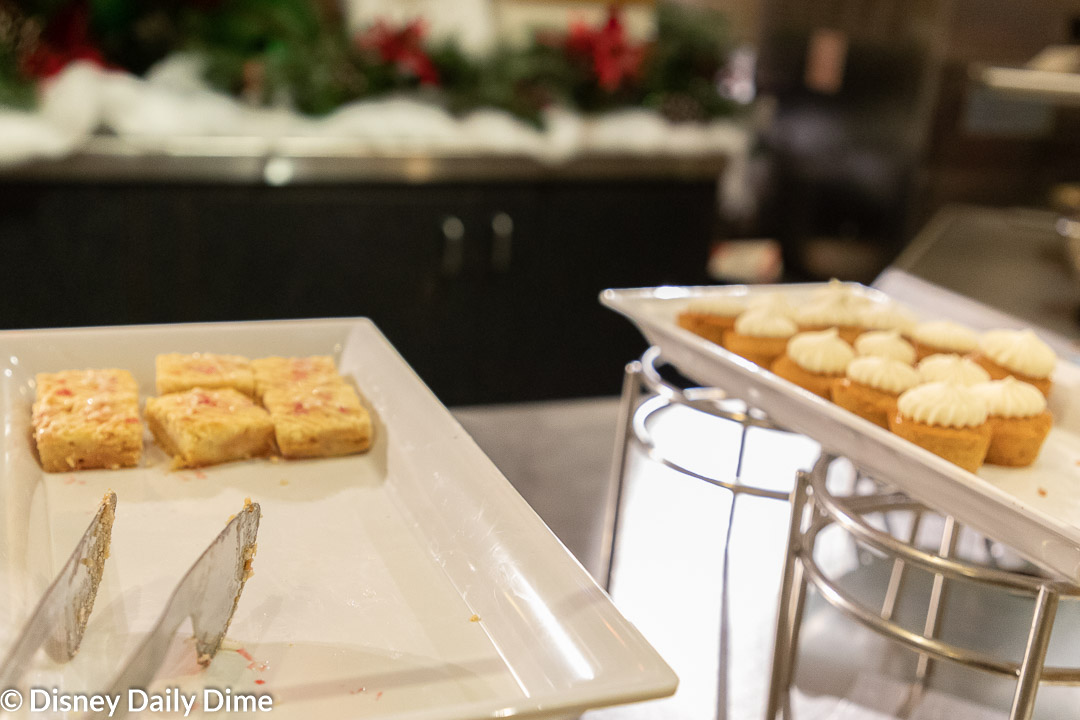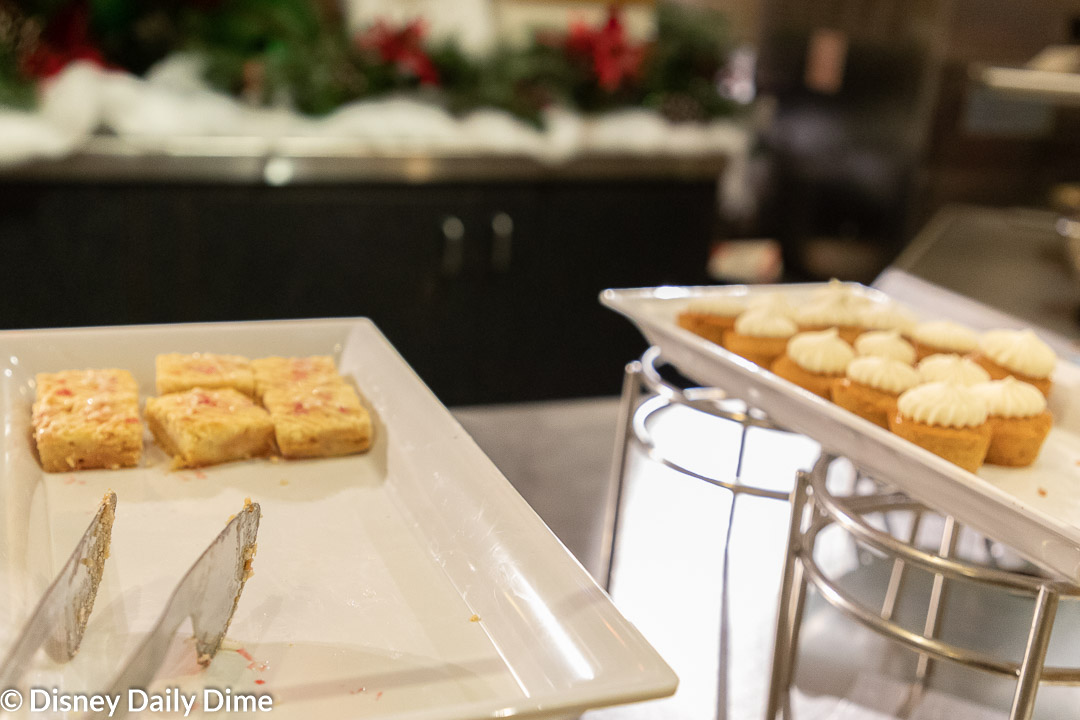 The other two desserts are the Peppermint Blondie and Gingerbread Cupcake.  The clear winner of these two was the Peppermint Blondie.  The refreshing taste of it was the perfect way to finish off this meal, if you like peppermint, that is!
There is also a soft serve machine available if you want a more basic dessert.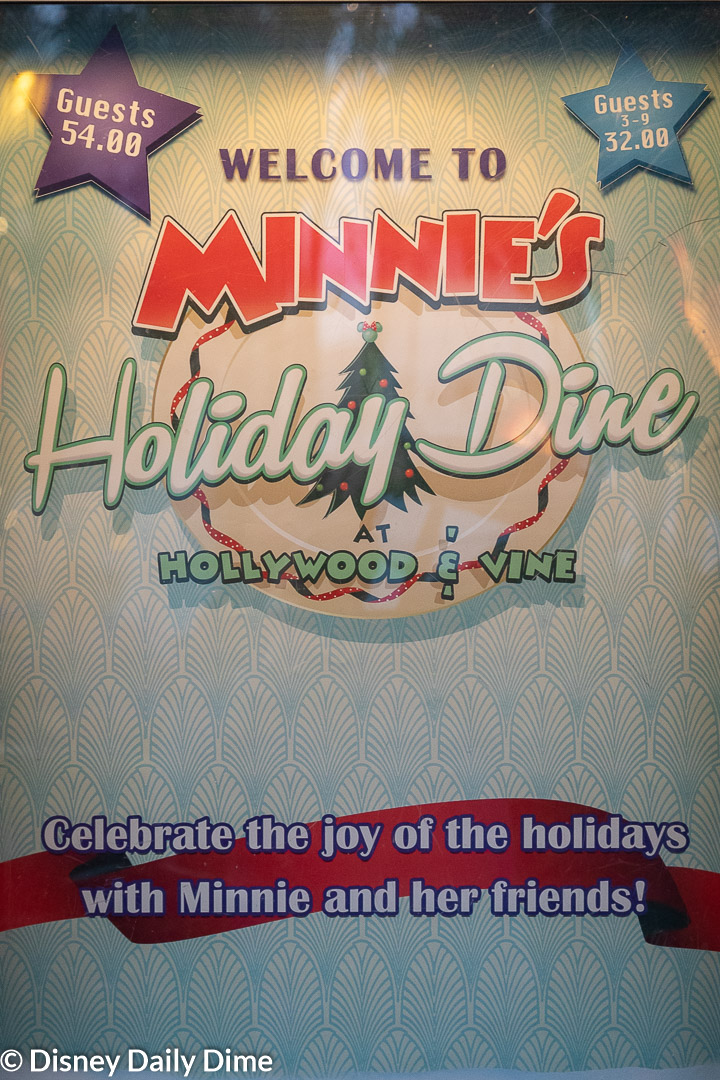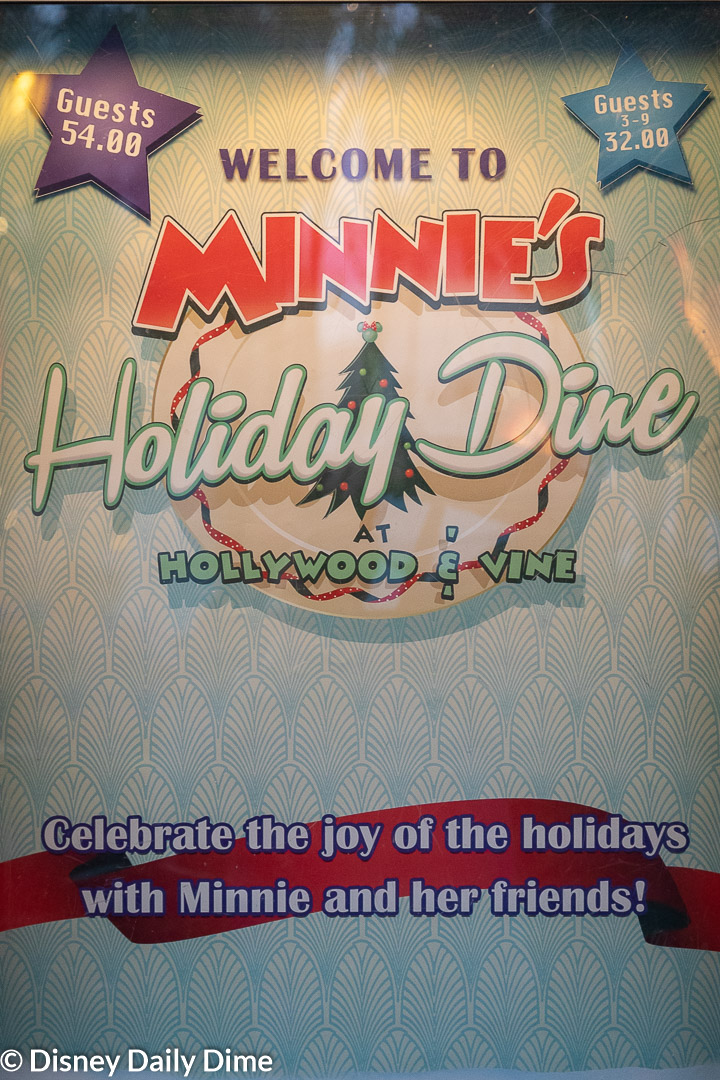 Overall Thoughts on Minnie's Holiday Dine
While I wouldn't put Minnie's Holiday Dine at the very top of our character meals, there is still a lot to like here.  You'll find Minnie and her friends decked out in some fun Christmas outfits.  The interactions are fun and not overly rushed.  I will say that over the course of our research, we have seen numerous reports that the interactions between the characters have been prevalent.  So maybe we just caught it on a bad night.  If we had seen more interaction between the characters, this meal would move up in our eyes.
The food is surprisingly good for a buffet, with the protein offerings being a standout to us.  The meat at the carving station, crab claws, and the peel-n-eat shrimp were all excellent touches that made the meal higher-end than a typical buffet.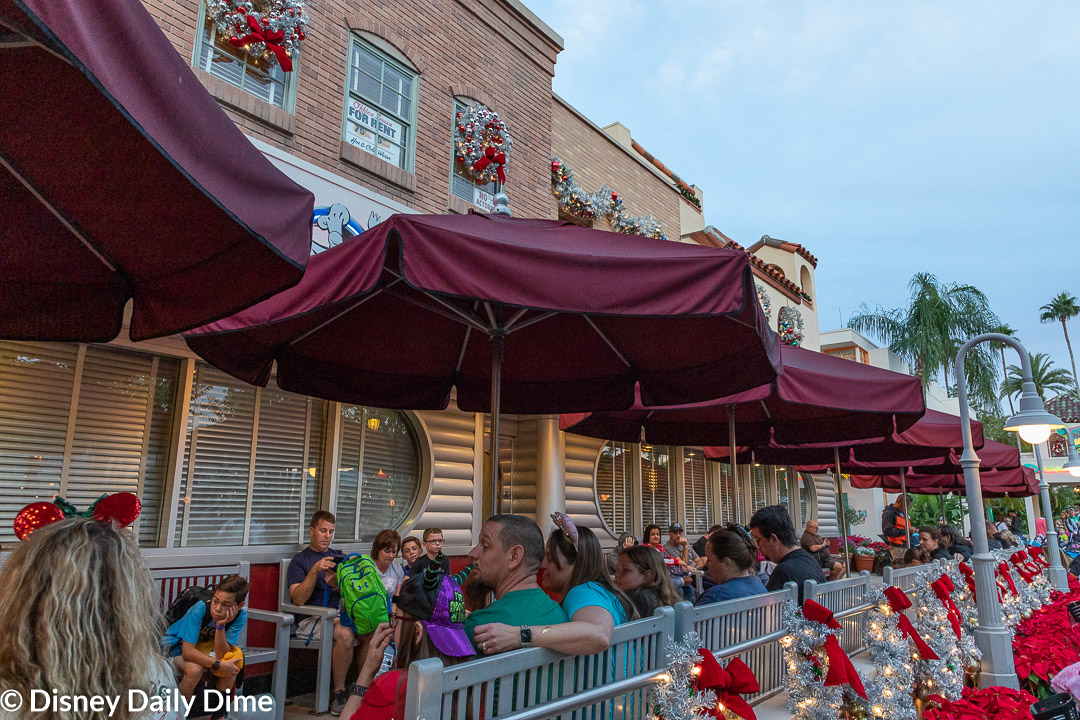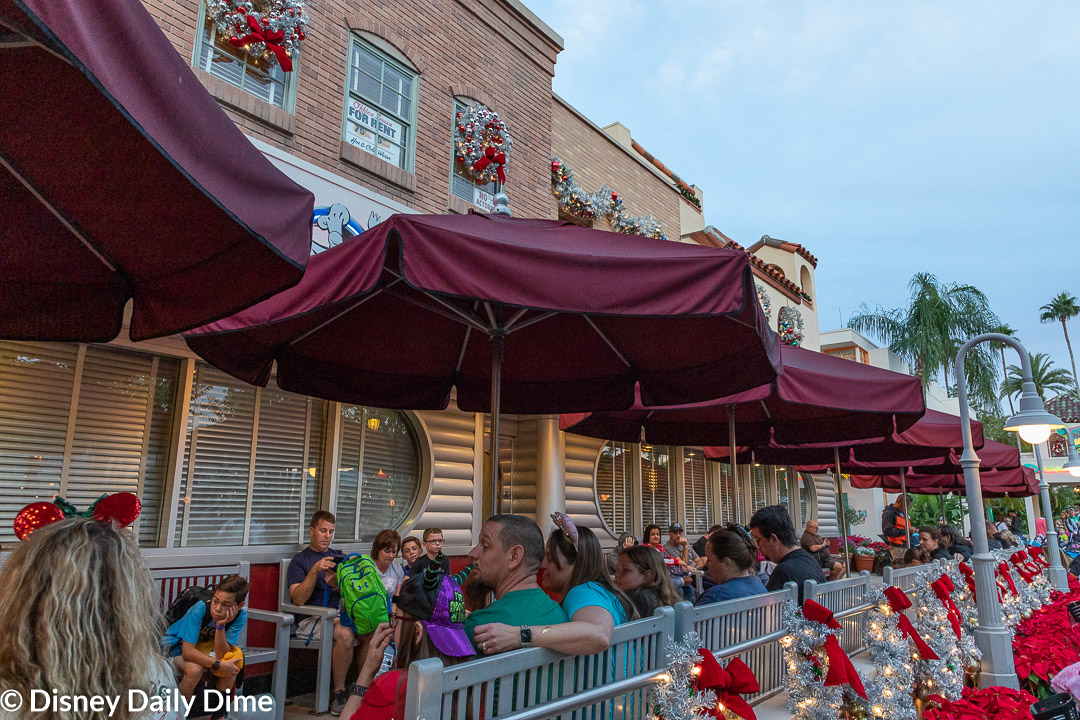 Wrapping Up Our Minnie's Holiday Dine Review
With that, we'll wrap up our Minnie's Holiday Dine review.  It's a solid character meal at Disney World and worth your consideration.
If our Minnie's Holiday Dine review was helpful or at least entertaining, please like and share this with your friends or anyone you think will find it useful.  Just use the sharing buttons on the page.  If you're interested in more of our dining reviews, we have a complete list on our Disney World Restaurant Reviews page.
We always appreciate it when you share our posts, as it allows us to spread the word about our blog and hopefully will enable us to help others.