When Disney's Riviera Resort opened up, we gained some new dining options with it.  Primo Piatto is the counter service location that can be found on the first floor of the resort.  Here in our review of Primo Piatto, we'll give you our thoughts on the theming, atmosphere, and food of the restaurant.  We'll cover both breakfast and dinner in the restaurant in this post.
Primo Piatto does participate in the Disney Dining Plan and requires one counter service credit to eat here.  Whether the use of that credit is good or not truly depends on what you order.  If you take a look at the Primo Piatto breakfast menu, you'll notice the cost of entrées are relatively low, so we wouldn't recommend using a dining plan credit for breakfast.  However, at dinner, the value is better.  There are items like the Grilled Hangar Steak on the dinner menu that are an excellent value for a credit.  Even some of the burgers and shrimp pasta are very good values on the dining plan.  If you order one of the $10-12 entrees, they are not as good a use of your dining plan credit.
Primo Piatto does not participate in the Tables in Wonderland discount program.  Oddly it does not take the DVC discount currently.  We assume that will change after the resort has been open for a while.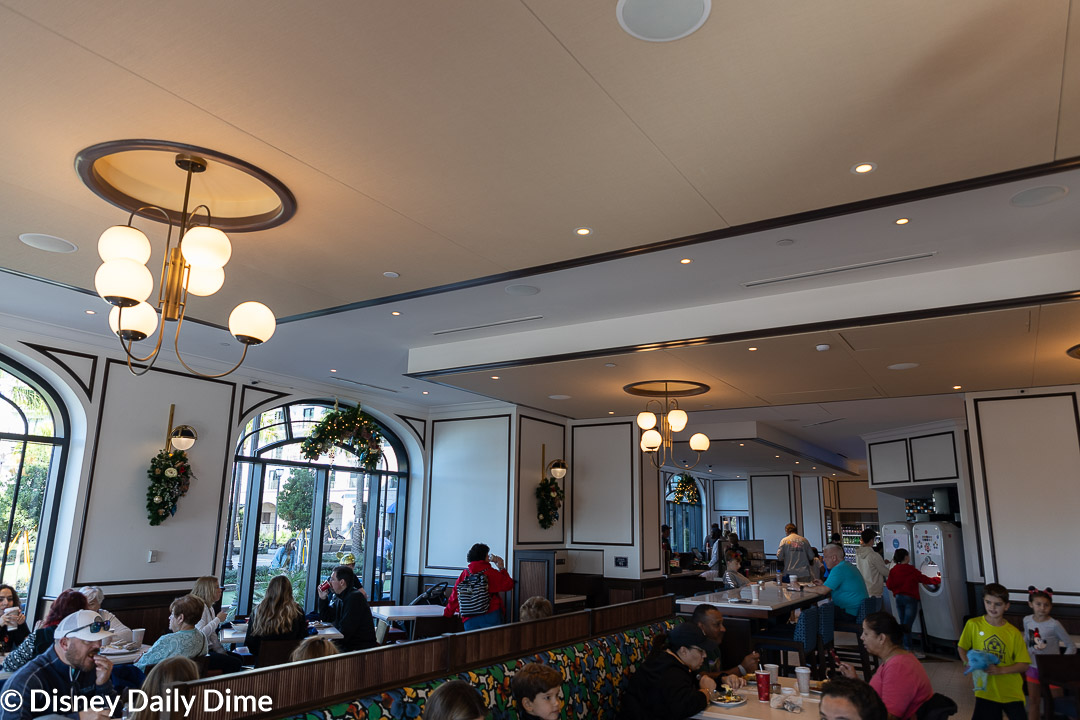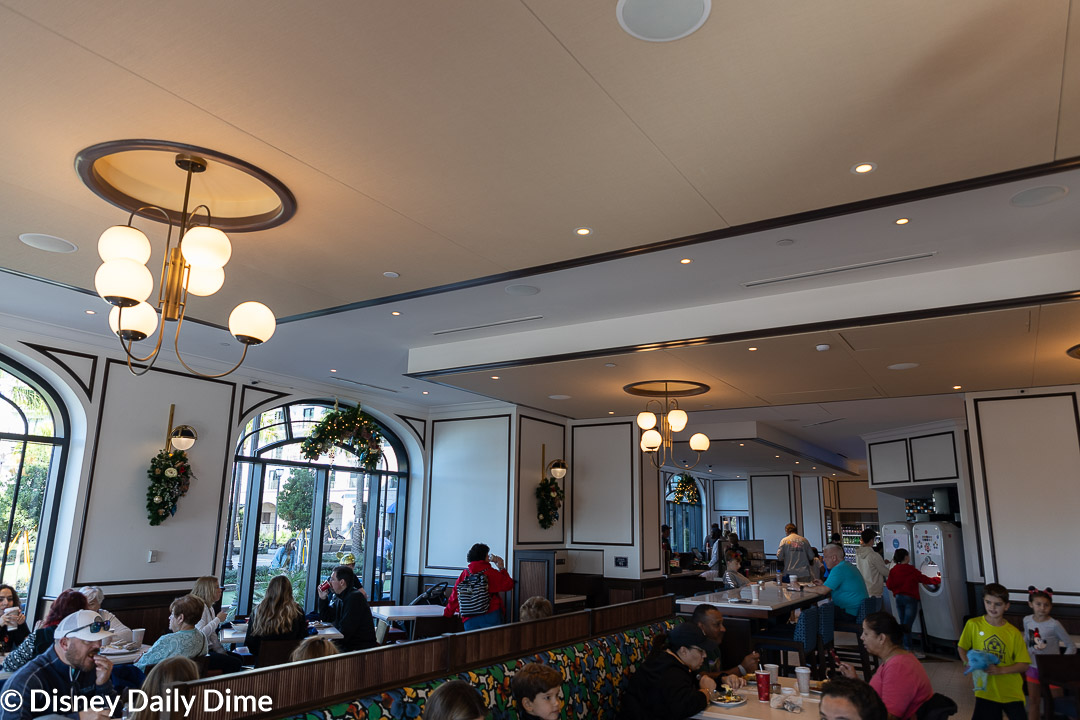 Primo Piatto's Theme May Not Scream Riviera, but It's Still Well Done
When it comes to counter service restaurants at Disney World resorts, to say that theming and ambiance are not the first priority would probably be an understatement.  Even when you look at some of our favorite resort-based counter service restaurants like Roaring Fork, you'll still find the theming somewhat light.  And for a counter service location, we can live with that.  Just give us some touches that make it unique, fit within the overall resort them, and make sure the food is good. 
If you were to walk into the restaurant, I would venture to guess you would say that it is a very nice-looking restaurant that continues the clean lines and design that you find in the resort.  But there isn't anything that jumps out at you and says the restaurant is meant to be "reminiscent of chic dining venues found along Riviera promenades," which is how Disney pitched the restaurant when they announced it back in January 2019.  And that's okay.  With the black and white floors, I'd say the restaurant feels like a well-designed European café.
To us, it felt like the restaurant had two different vibes.  During the day, it's bright and airy.  Light radiates in from the numerous windows around the restaurant.  This makes it feel like a bit of a more casual breakfast and lunch spot.  As Carla said, she'd feel okay wearing a swimsuit and cover-up during this time; it felt that casual.  The more casual café feel is accentuated by the wardrobe of the cast members in the restaurant.  It all works together very well.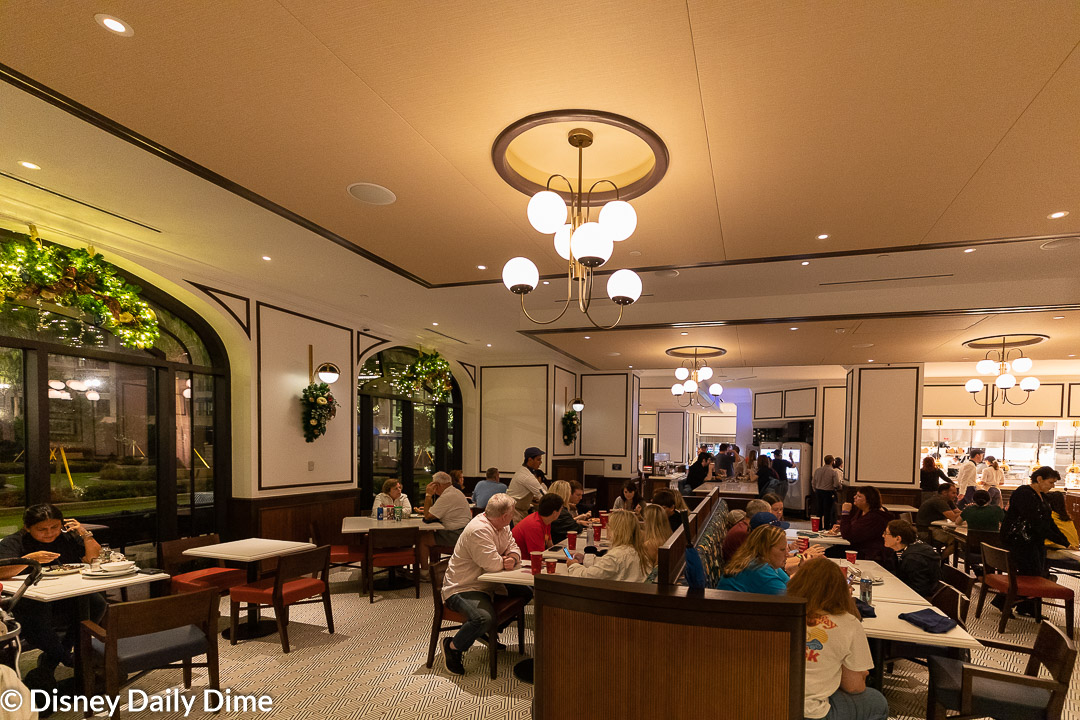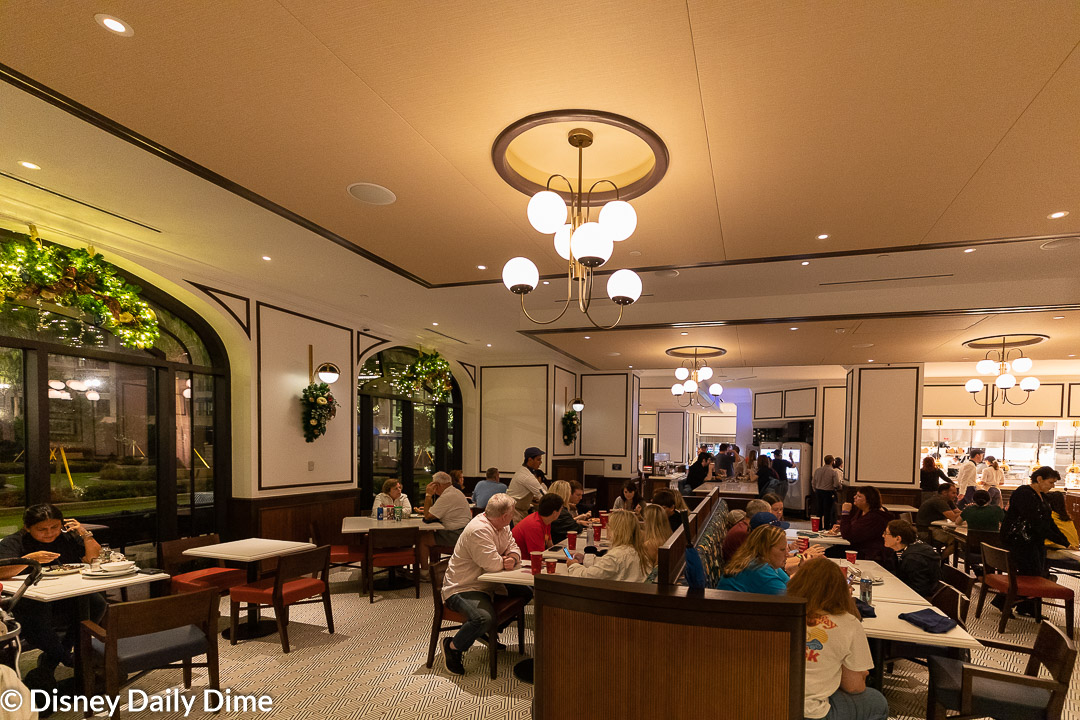 When the sun goes down, the restaurant takes on a more sophisticated feel.  As the lights dim, the restaurant's red bench seats and dark wood tones make it feel like a place for grown-ups.  The swimsuit and coverup Carla was okay with during the day did not feel appropriate at night.  It turns Primo Piatto into an upscale counter service location where you can hang out and dine for a while.
There is some outdoor seating available too, which is helpful because the interior of the restaurant is actually somewhat small.  You can sit out near the activity lawn and Bocce Ball Court.  That seating builds on the European vibe of Primo Piatto and gives you a unique experience that you won't find just anywhere.
Beyond the décor, the other thing that gives the restaurant a bit of an upscale feel is the plates, silverware, and cloth napkins.  As you'll see in the food pictures below, Primo Piatto features real and lovely plates.  In many counter service restaurants at other resorts, you'll find plastic baskets, pre-wrapped food and things that scream a cheap meal.  Here, you find all the touches that say a quality meal at an affordable price.  As an added bonus, your food is brought to you and tables are bussed for you — no cleaning up after yourself here.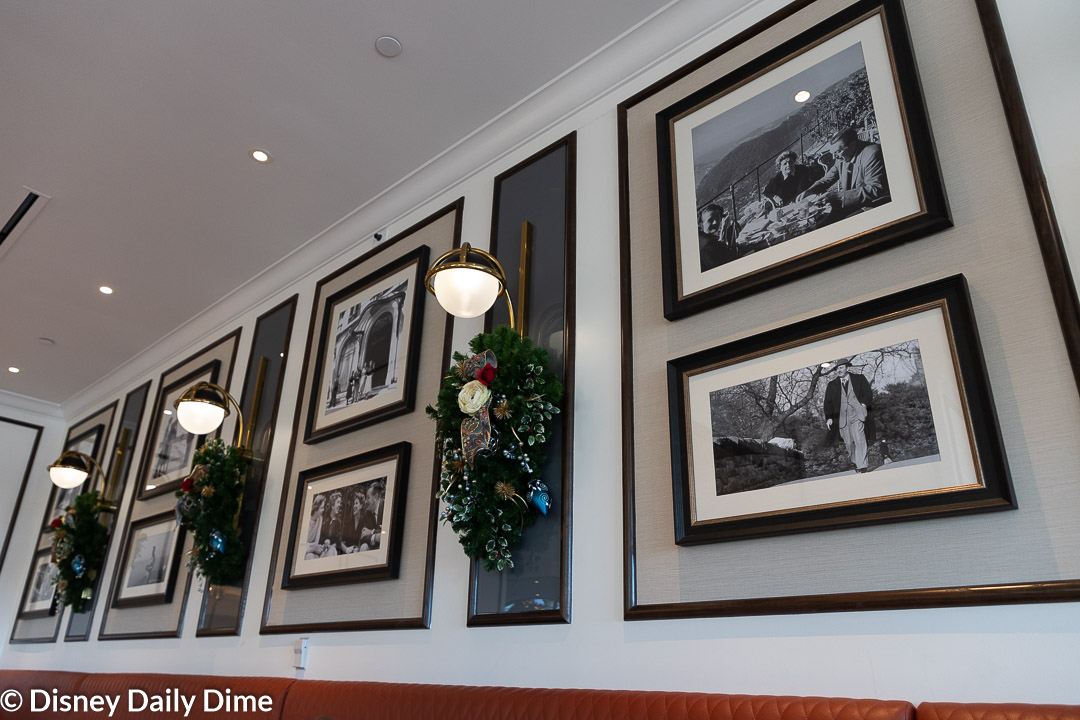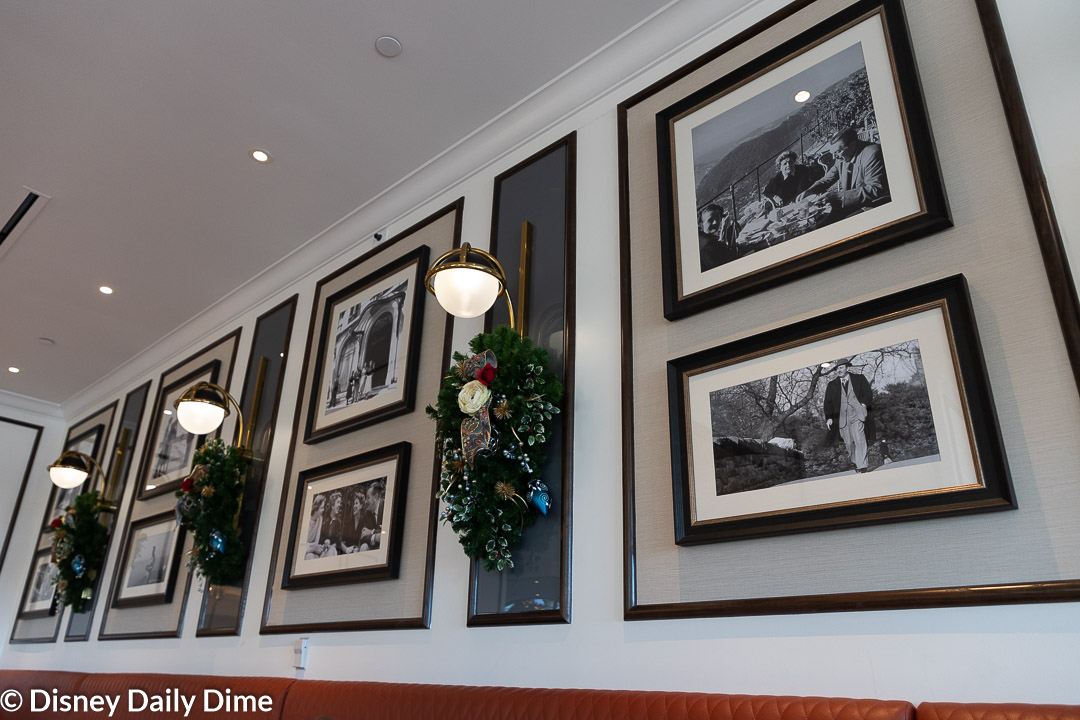 The other great touch in the restaurant that we enjoyed is the numerous black and white photos of Walt Disney and his wife Lillian.  The pictures appear to be of their time in the Riviera and around Europe, but can't swear they are all from there.  In any case, they are a lovely subtle touch that adds to the café vibe but also reminds you that you are at Disney World.  That's the balance at Disney World that we love to see!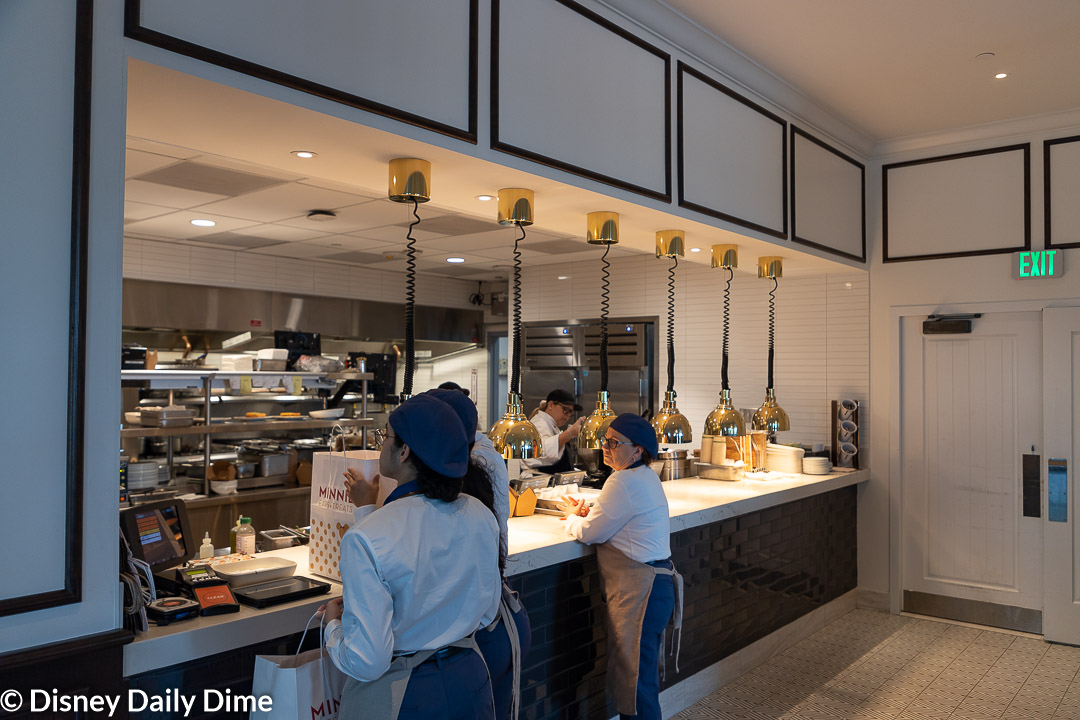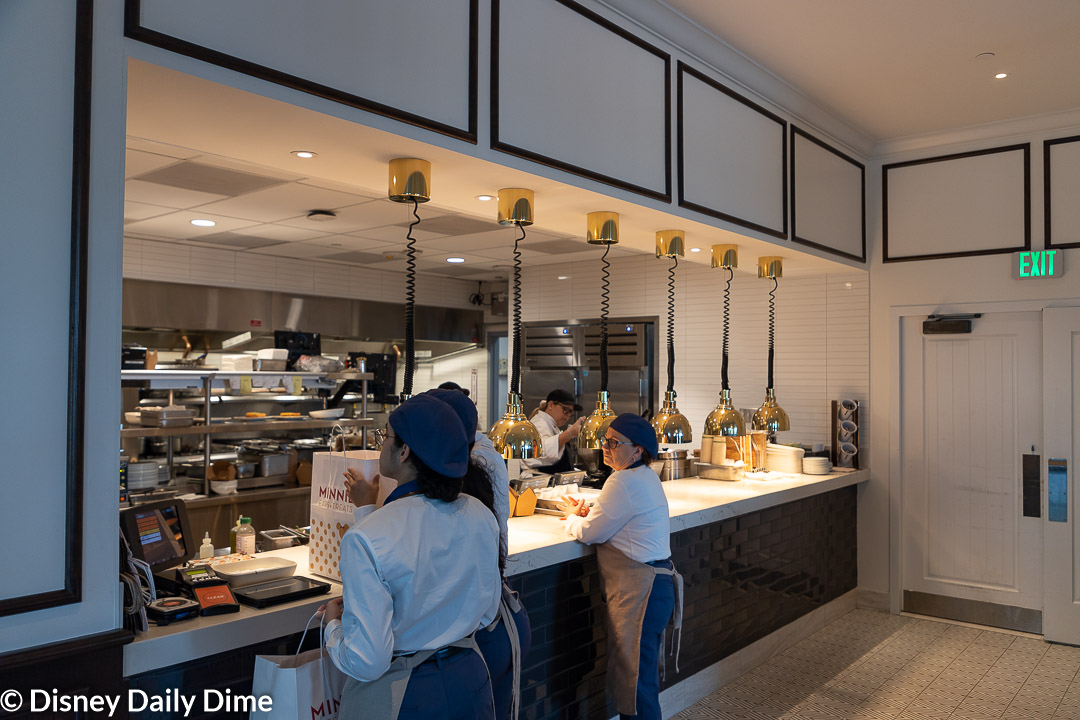 You'll also find an almost open kitchen, where you can see where the food is prepared for your meal.  While there is a lot of foot traffic here, this is more open than you'll find at other counter service locations at most of Disney World.
So, while the theming is light, Primo Piatto may be one of the most upscale quick service restaurants you will find at Disney World.  And for what it does have, it is very effective.  If the food is good, this could be one of the best resort counter service locales.  Let's get to that part of our Primo Piatto review!
Fortunately, the Food at Primo Piatto Largely Excels
If you put Primo Piatto into Google translate, it will tell you that in Italian Primo Piatto means "First Couse."  On a food level, I think of eating here as a first course dining experience, with eating at Topolino's Terrace serving as the feature meal.  Primo Piatto whets your appetite with a nice delicious meal, but you know the second course is going to be go above and beyond.
Like I said to start, we ate both breakfast and dinner at Primo Piatto.  So we'll cover both here in our review.  Not to spoil it, but the food was generally great here.  It even features a few dishes that are unique from most anything you'll find around Disney World.  We'll start with our review of the breakfast at Primo Piatto and then move on to dinner.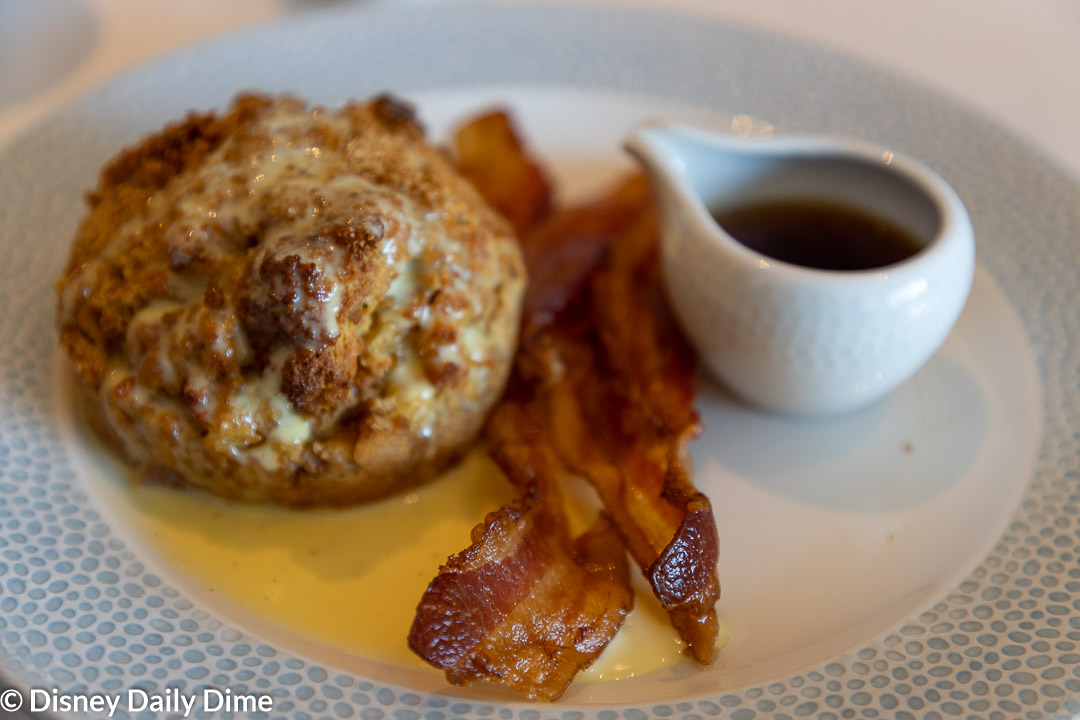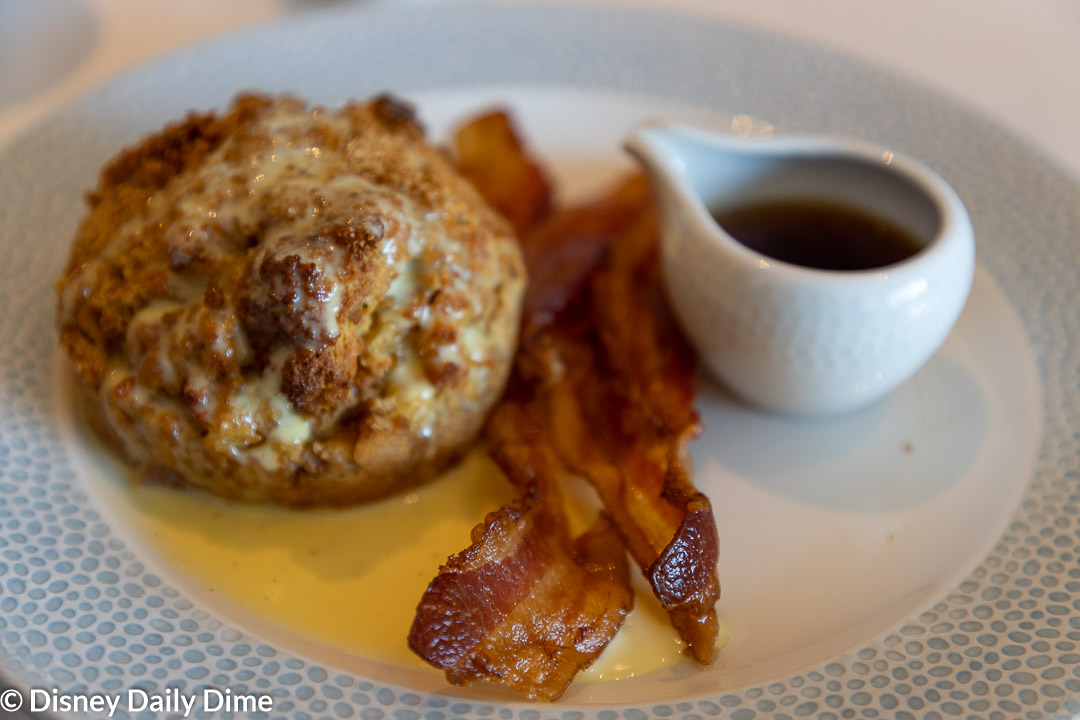 Breakfast
When I got in line to order breakfast, if I'm honest, there wasn't a lot that stood out to me.  This was partly due to the fact that it was the last day of this trip and we had eaten really well on it.  I briefly even thought about skipping eating, but man am I glad I didn't.
I ended up ordering the Cinnamon Crumble 'French Toast' Bread Pudding for breakfast at Primo Piatto.  The combination of the cinnamon and the warm vanilla-bean custard was terrific.  The bread pudding was warm, soft and delicious.  I thought the cinnamon crumble gave it a perfect bit of texture that helped firm up the bread pudding.  For someone that was a feeling a little done with food for the trip, I devoured this entrée in record time.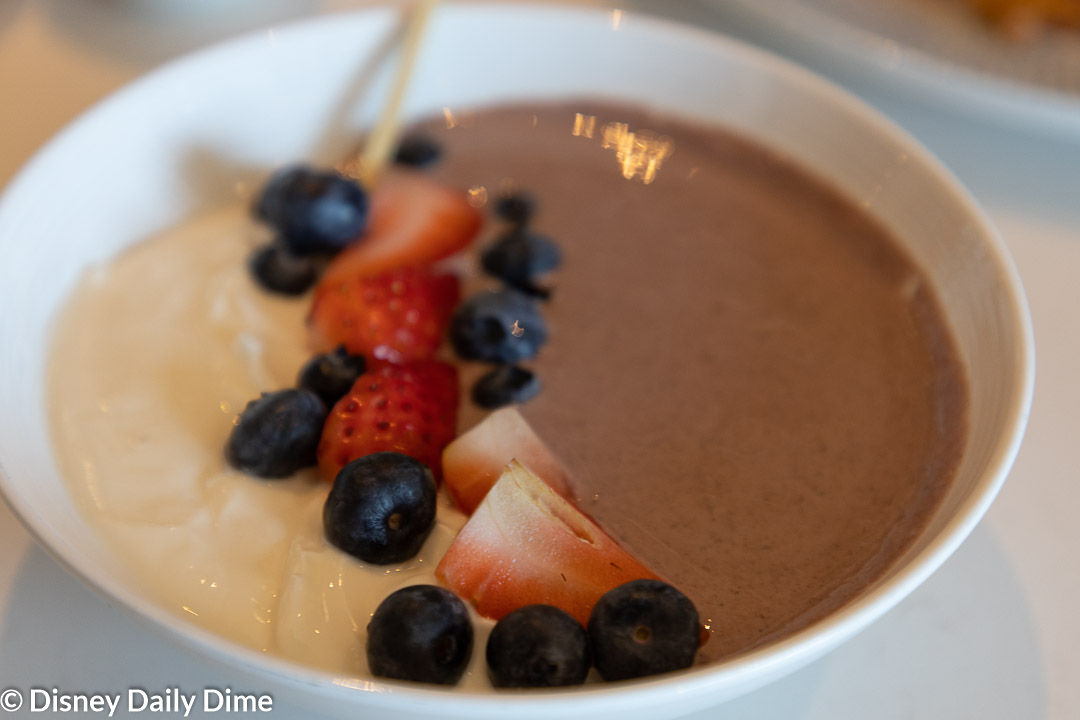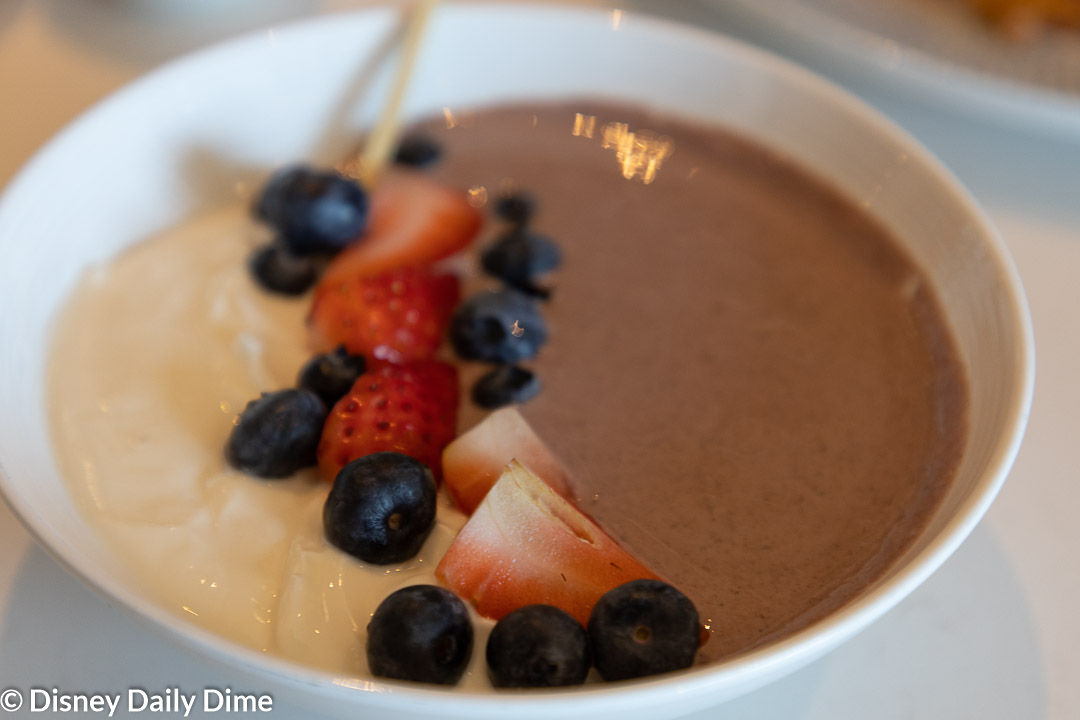 Carla loves breakfast.  If she finds something she likes, she is more than willing to order it.  If she finds two things that she likes, she'll order both!  That's precisely what happened at our Primo Piatto breakfast.
First, Carla went with the Açaí and Honey Yogurt Parfait.  Carla loved eating this.  As told me, in her ongoing quest to find healthy options to eat at Disney World, this is something she would get every time!  The left side of the bowl is the honey yogurt and the right side is the Açaí.  They blended together wonderfully.
The parfait is topped with seasonal fresh fruit, which was strawberries and blueberries.  Carla found the fruit fresh and well proportioned for the bowl.  The chocolate granola that comes with it was an excellent topping.  It is served on the side, which is why you don't see it in the picture above.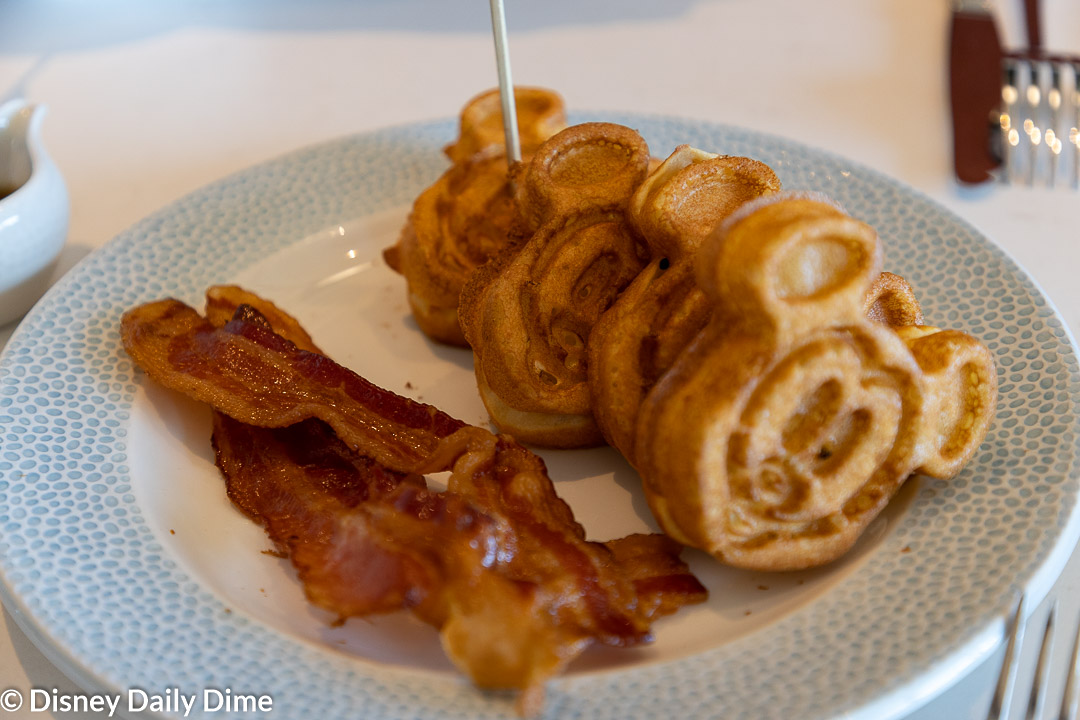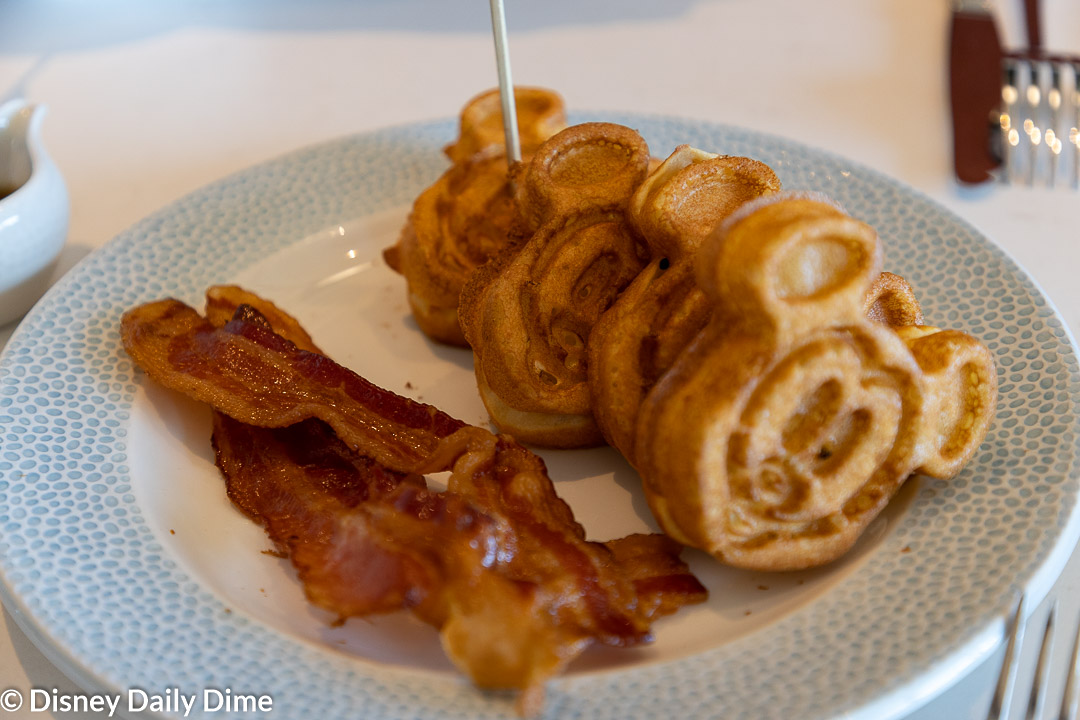 The second item Carla ordered was the gluten free Mickey Waffles.  She's going to write a gluten free review of Primo Piatto, so I won't rehash all that here.  I'll say they are standard gluten-friendly waffles that she found cooked to perfection.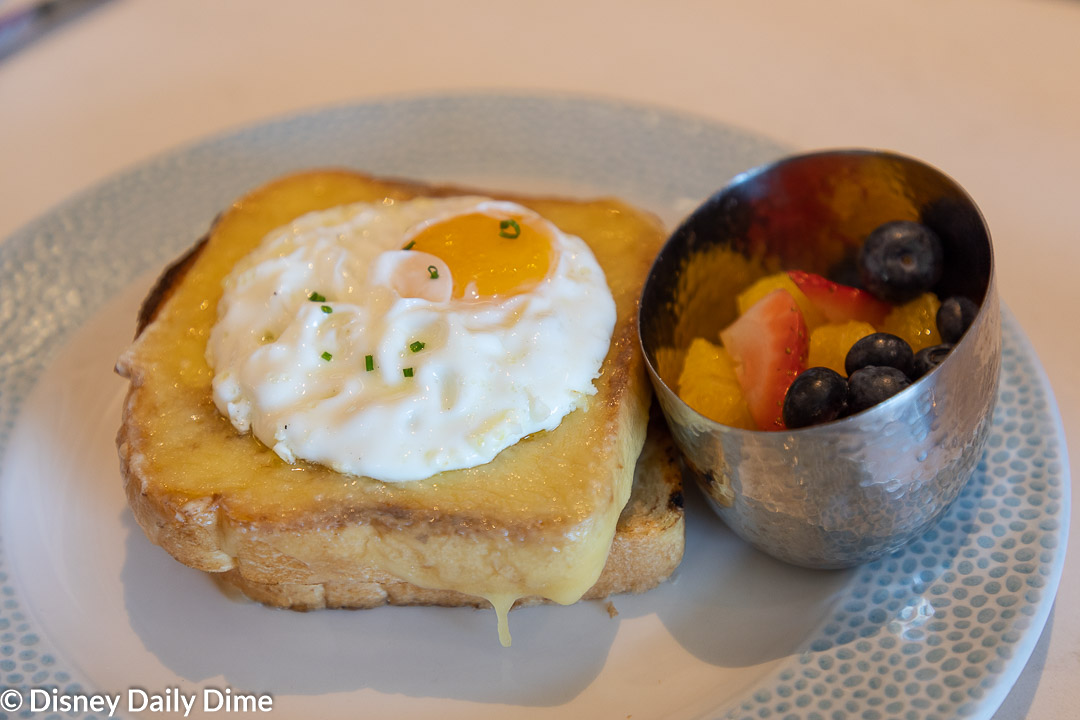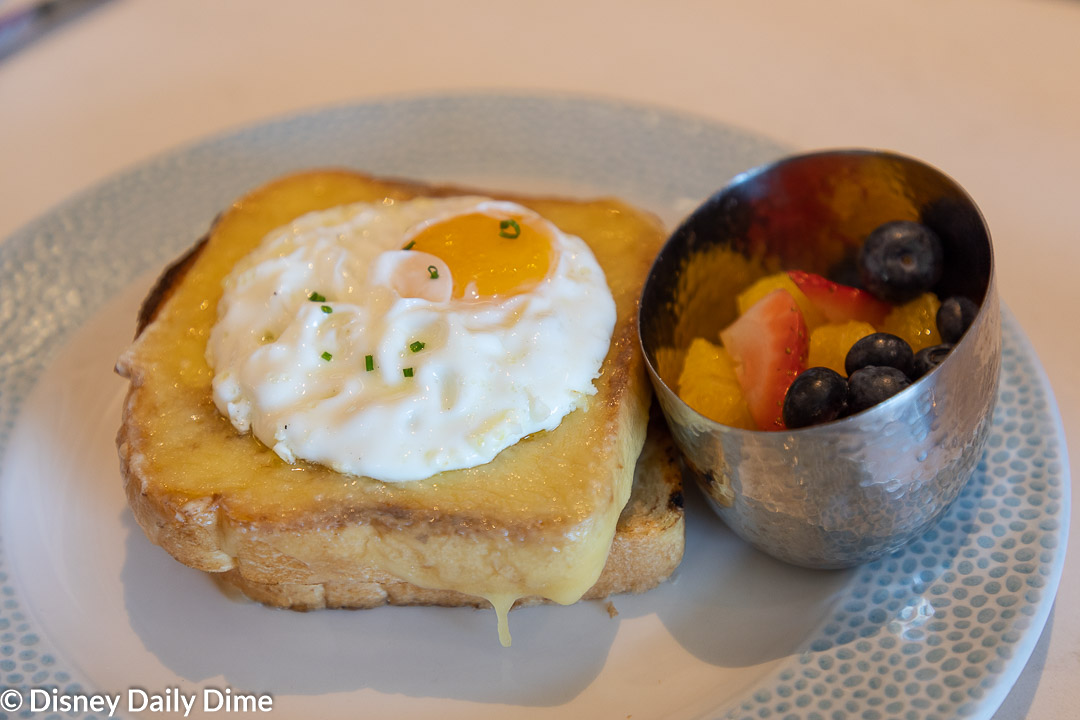 Elsa decided she wanted to venture out a bit and saw something with ingredients she loves, in a non-traditional presentation.  She ordered the Croque Madame because of the ham, swiss, and egg components.  Ham and swiss is a classic combination and worked very well, but we weren't sure how Elsa would feel about the egg on top of it.  She hasn't really eaten runny yolk before.  Fortunately, she loved it and how the entire dish worked together.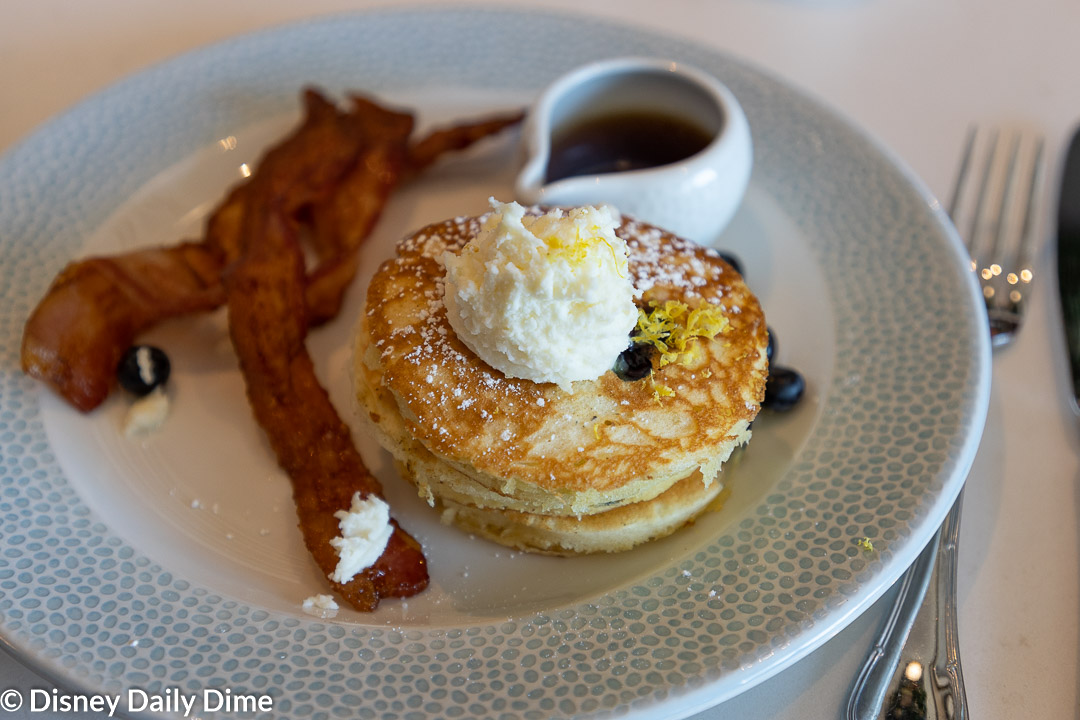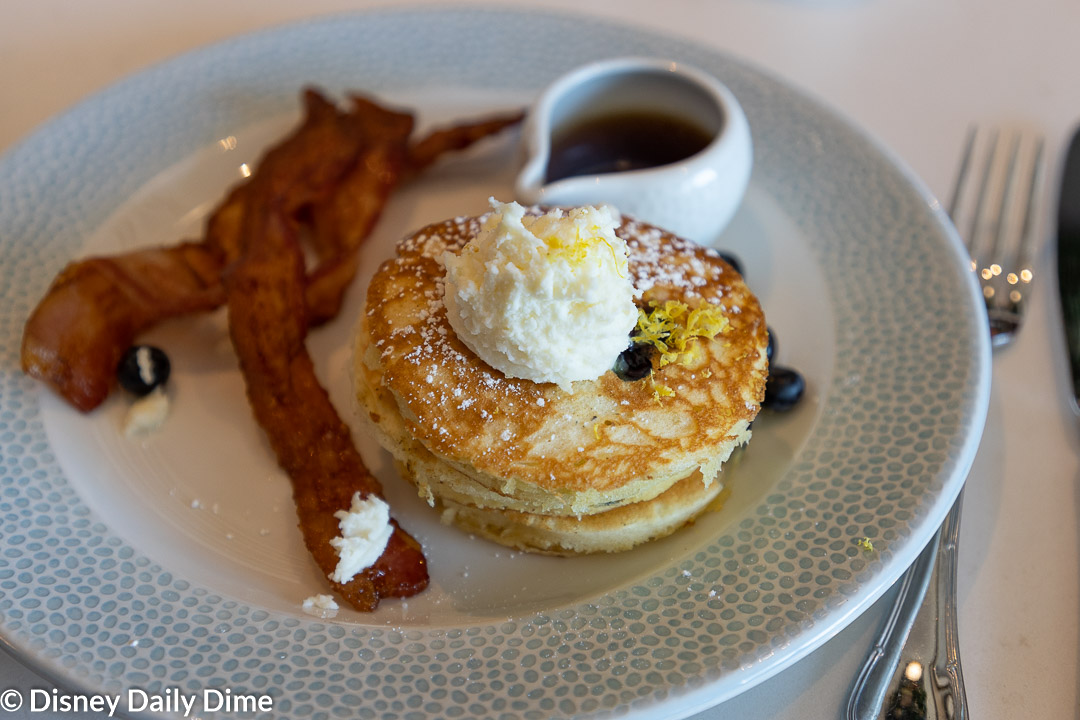 Lastly, Anna went with the more traditional Blueberry-Lemon Pancakes.  She enjoyed the pancakes but didn't love them.  Her biggest issue was that there was too much blueberry in the pancakes.  She didn't get much of the lemon flavor.  Her comment on the blueberries is a bit odd, given that she loves blueberries.
So those were all our meals at our Primo Piatto breakfast.  All in all, there were some really great and unique items.  I want to come back here to try some of the other items on the breakfast menu.  The Ciabatta Breakfast Sandwich and Smoked Salmon and Everything Bagel both looked really good.
Let's move on to the dinner section of our Primo Piatto review!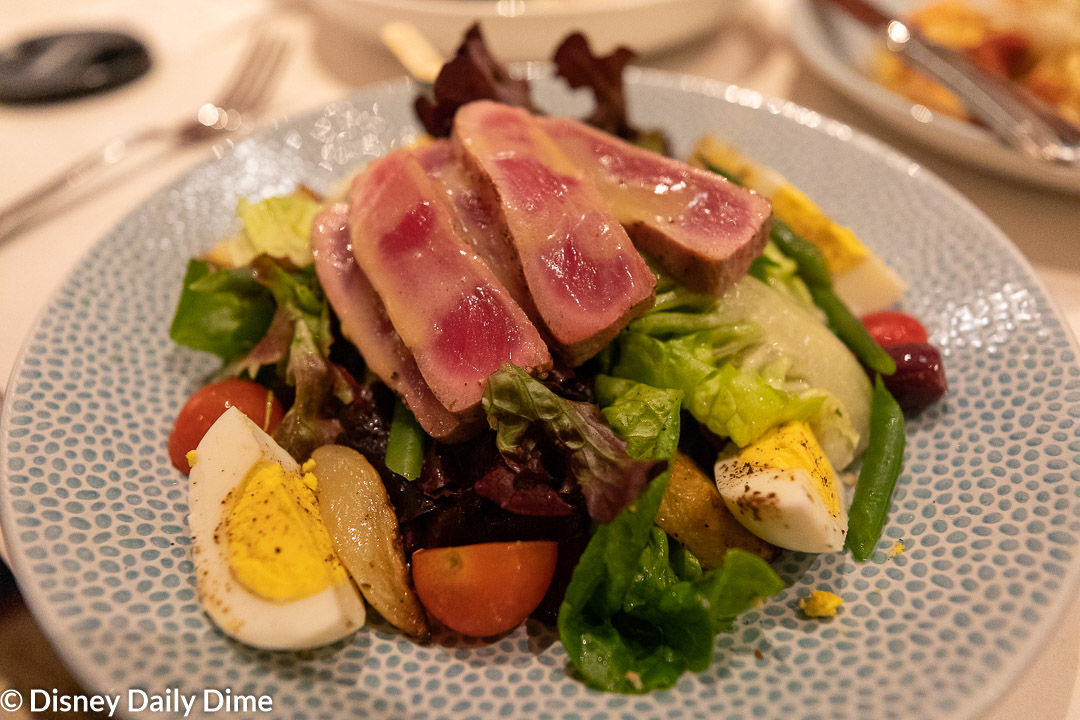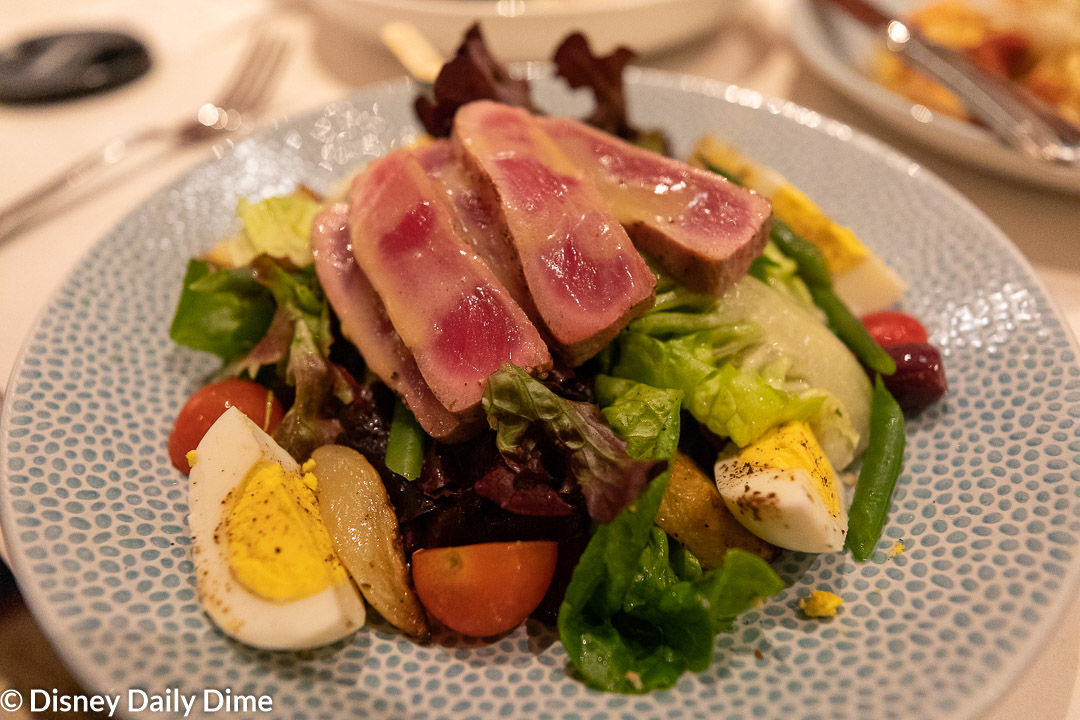 Dinner
As we mentioned, when the sun goes down, the atmosphere at Primo Piatto changes.  It feels a little more sophisticated, but it is still a counter service restaurant.  Because of that, I felt like the food needed to match that change in the atmosphere.  Fortunately, it does!  The menu steps up with items like steak, risotto, roasted half chicken, shrimp pasta, and more.  To make it accessible (and affordable), Primo Piatto still features burgers and cold sandwiches.
When it came to our own meals, Carla ordered the Tuna Niçoise Salad.  Featuring seared rare tuna on crispy greens tossed with potatoes, hard-boiled egg, and a Dijon vinaigrette, Carla loved this salad!  The tuna was cooked perfectly and had great flavor.  As you can see in the picture, the salad greens are a great mixture of leafy greens and not just romaine.  All the produce was fresh and delicious.  She did find some olives hidden in the salad.  If you aren't a fan of them, make sure you ask to have them removed.  This is a salad Carla would absolutely get again!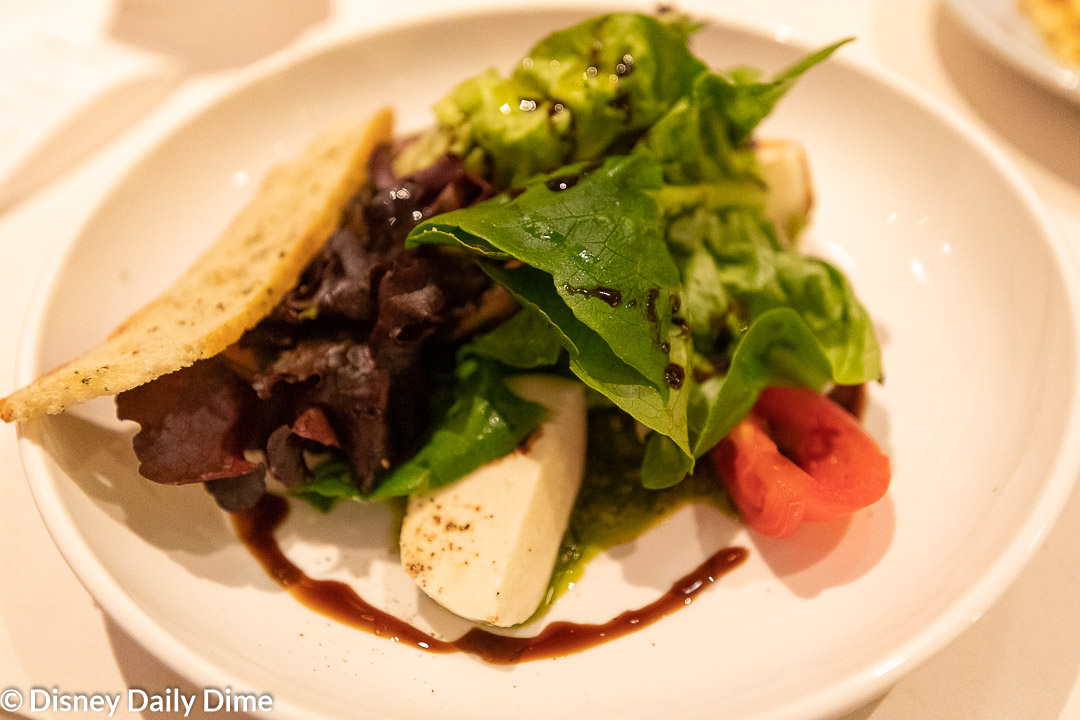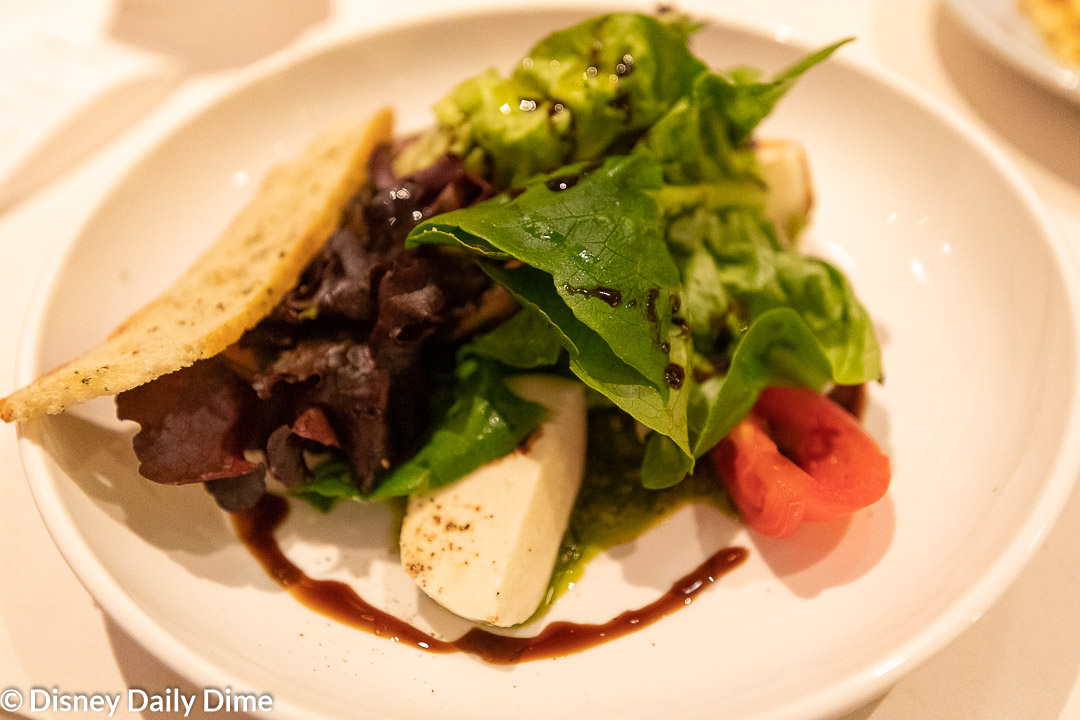 I sampled a couple of entrees, which started with the Fresh Mozzarella and Tomato Salad.  The salad is made up of mixed greens topped with fresh mozzarella slices and wedge tomatoes.  It's finished with a drizzle of extra virgin olive oil and balsamic vinegar.  Like Carla's salad, the greens are a mixture of leafy greens that were crisp and fresh.  I found the mozzarella creamy and delicious.  But for me, the real highlight was the balsamic vinegar.  It had an excellent flavor and really brought some life to the salad.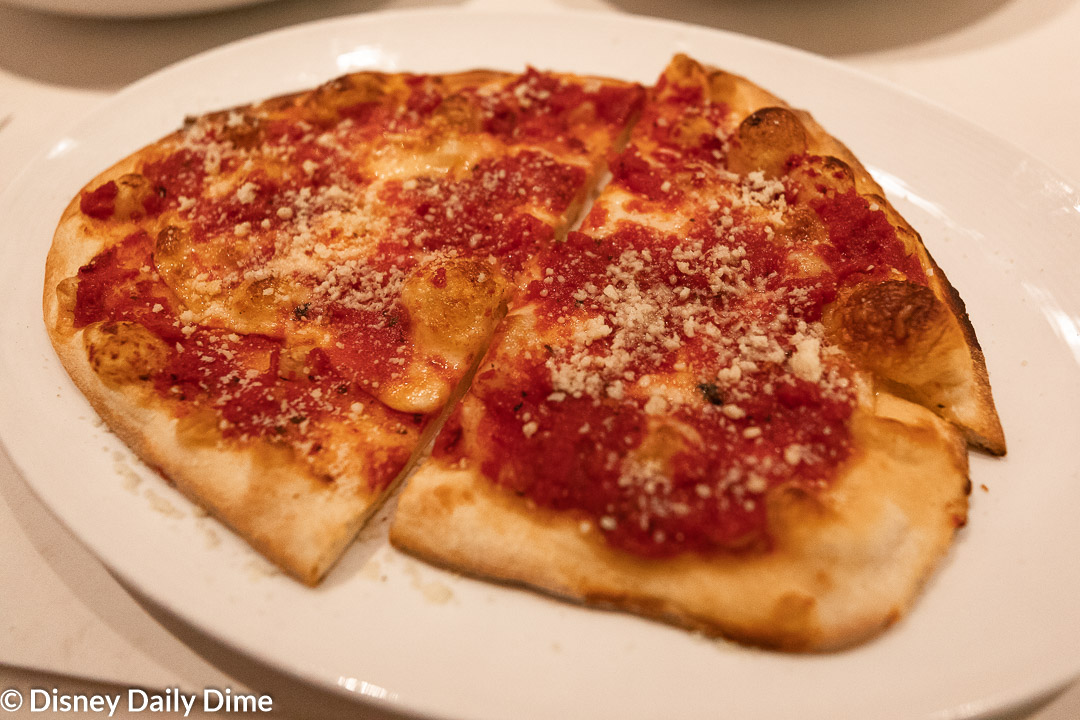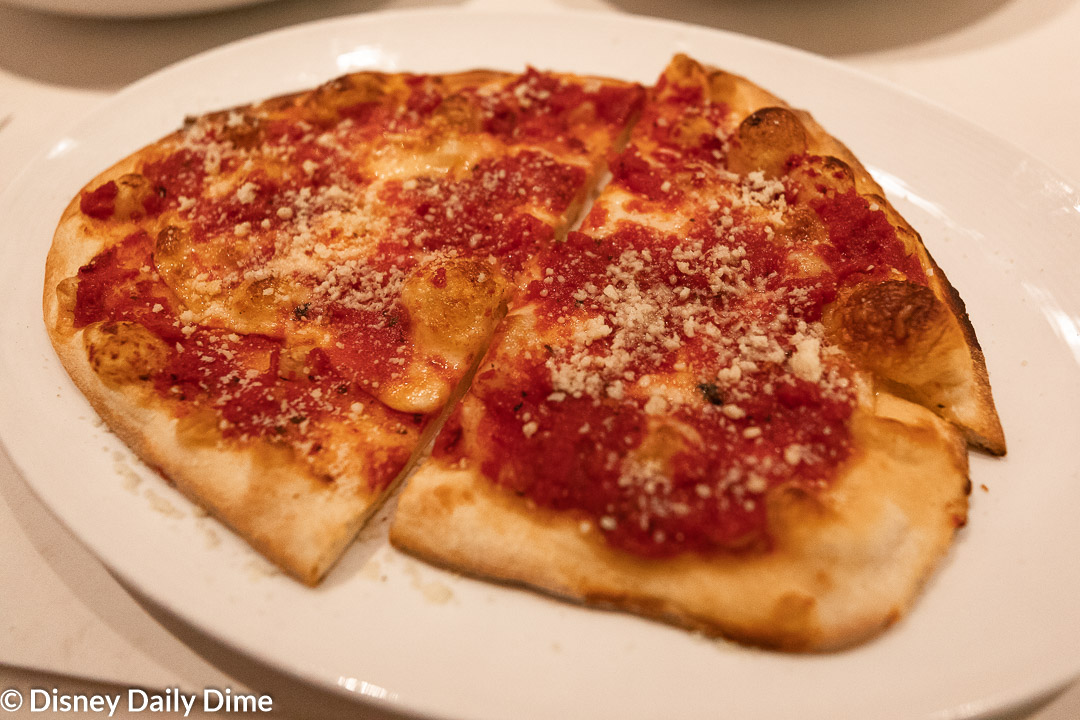 I also ordered the Margherita Pizza for dinner.  All of the pizzas at Primo Piatto are hearth-baked, which gives them a nice wood oven-baked texture.  That means the crust is crisp, but the interior of it was still fluffy.  Part of that may be due to the dough having a little more thickness to it.  The crust isn't nearly as thin as the pizza at Via Napoli, but it isn't puffy like most of the standard Disney World park pizza.  As for the toppings, I thought there was a good balance of cheese and sauce on the pizza.  I do wish there was a little more of the grated Romano on it, but that was a minor nitpick.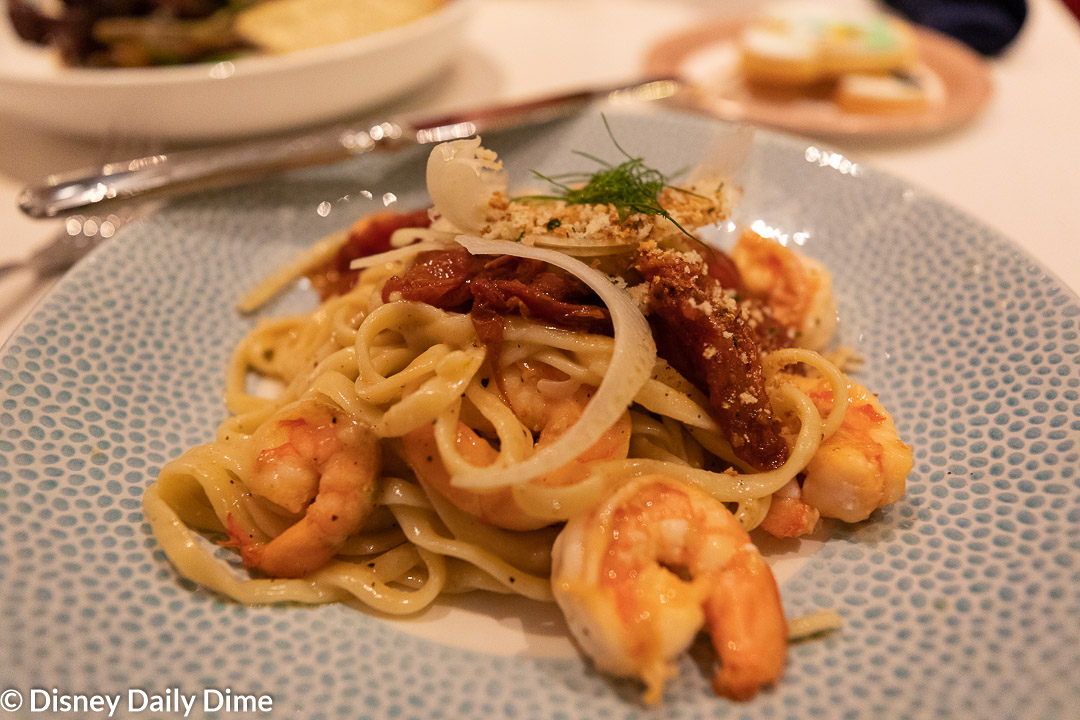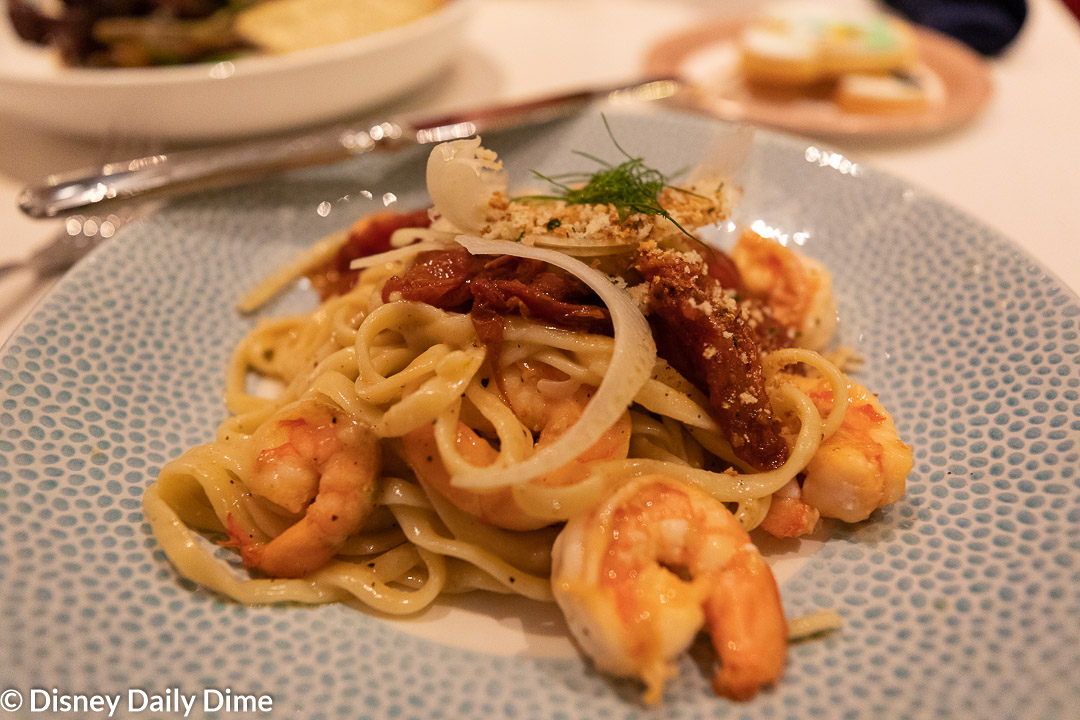 For the kids, Elsa ordered the Shrimp Pasta.  The pasta in this dish is linguini, and it is topped by sautéed shrimp, fennel, capers, and roasted garlic in a white wine lemon sauce.  Elsa was mixed on the dish.  She did enjoy the shrimp but was blah on the pasta.  She didn't find it to have much flavor, even noting that she found the pasta "dry."  Elsa generally doesn't have more adult versions of pasta; rather, they are usually covered in tons of sauce or other things.  I tasted her pasta and thought it was terrific.  It was cooked well, but I do wish they put little more of the white wine lemon sauce on it.  The sauce added a good flavor; I just needed more of it.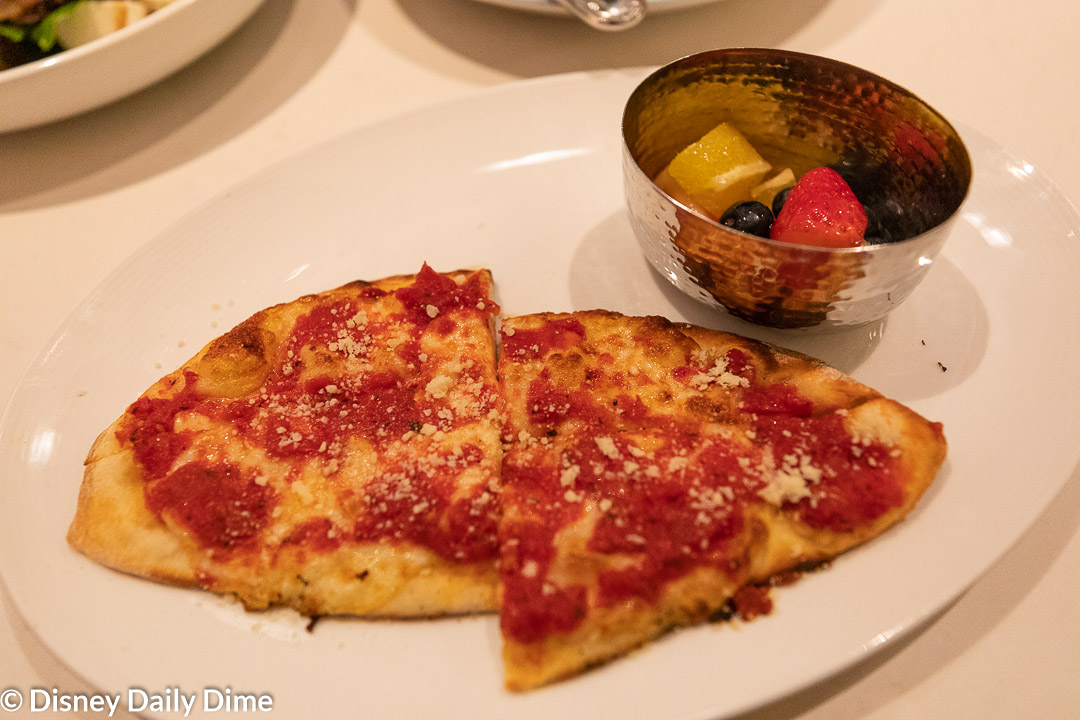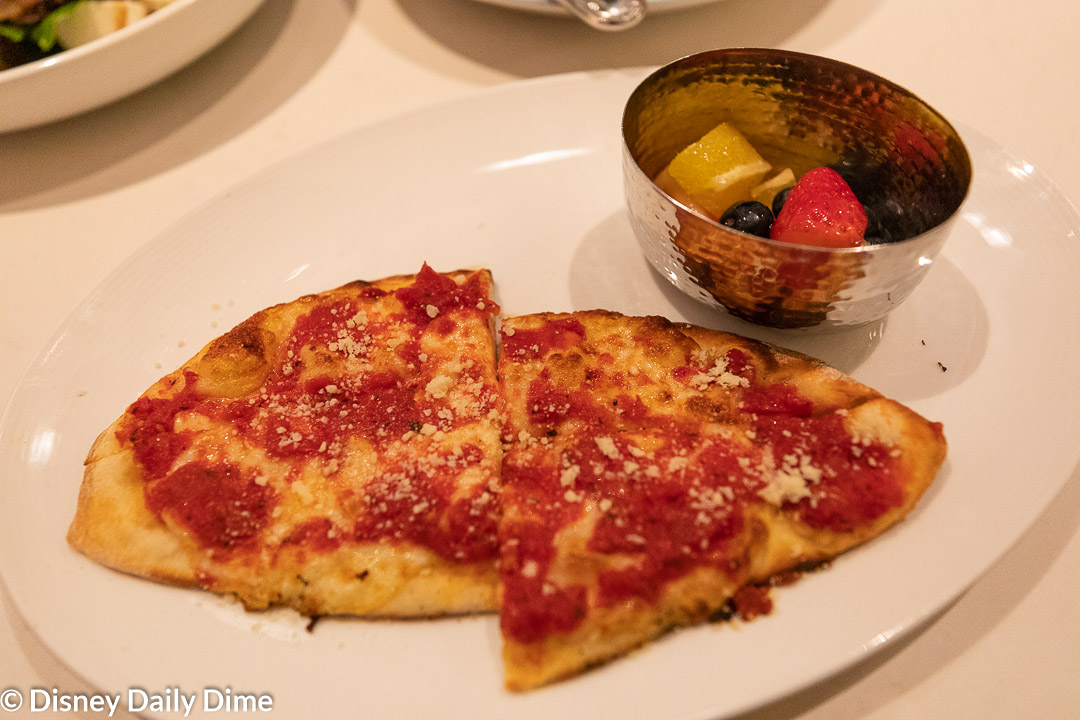 As for Anna, she had the kid's cheese pizza.  Not surprisingly, it looks a lot like my pizza, less a couple of pieces.  However, Anna had a different point of view than I did, noting that the pizza was just okay.  Now, keep in mind she is a big fan of the puffy pillow type pizza you will find at Pizzafari.  This pizza was not that.
Anna's chief dislikes were that there was too much sauce on the pizza.  As you can see in the picture, there is sauce all over the top of the pizza.  Anna wants a solid layer of cheese.  And remember that excellent crisp crust that I mentioned in my thoughts on the pizza I had?  Anna did not like that.  Again, she likes that soft puffy pizza.  How your kid might feel about this will depend on their own preferences.
One other comment I would make about the restaurant has to do with the drinks.  Primo Piatto features the Coca-Cola freestyle machines which are pretty rare around Disney World.  We love these machines because they open up a lot more options for drinks with flavors.  Hopefully we'll see more of them around Disney World in the future!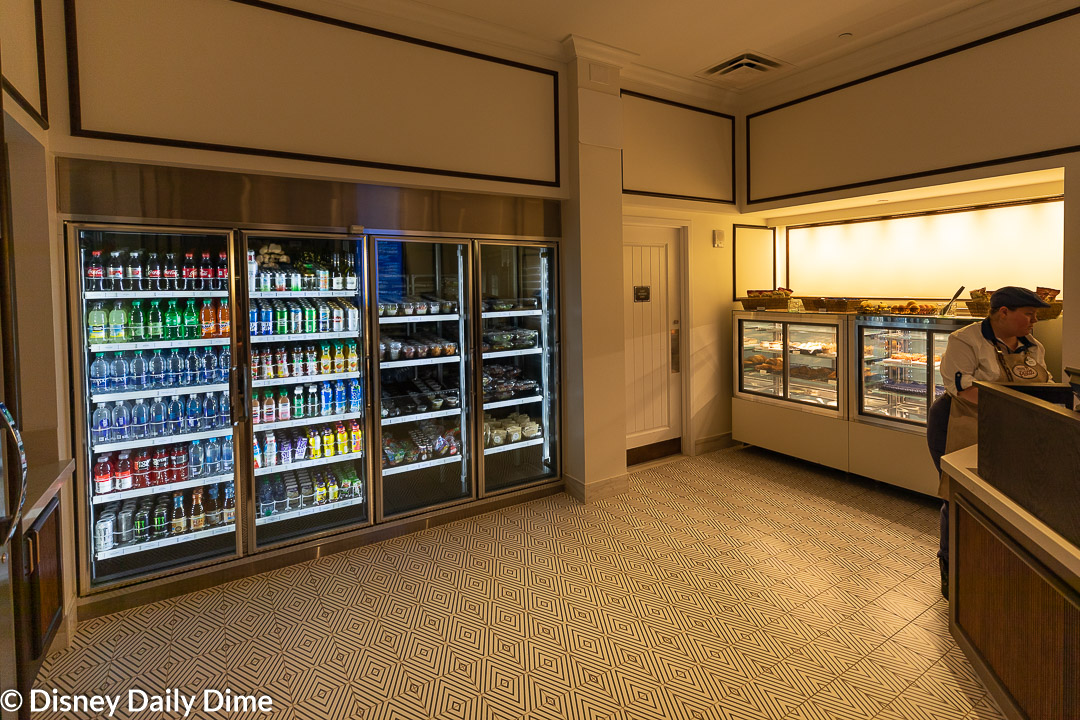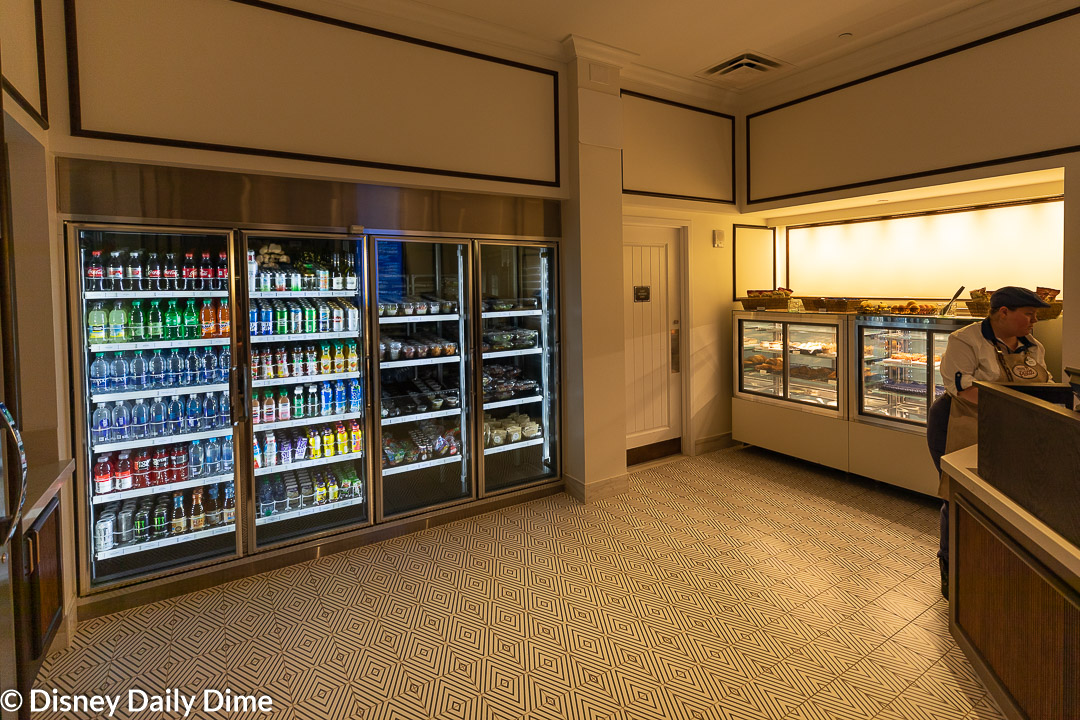 Wrapping Up Our Primo Piatto Review
With that, we'll wrap up our Primo Piatto review.
From a theming perspective, Primo Piatto is a reasonably light touch restaurant, but that's pretty much the norm for Disney World resort-based restaurants.  What it does feature for theming is done well.  Primo Piatto has a great ambiance, especially at night.
From a food perspective, this is one of the best counter service options in all of Disney World.  Both breakfast and dinner feature excellent options at fair prices, even by Disney World standards.  We'll come back here to sample more!
If our Primo Piatto review was helpful or at least entertaining, please like and share this with your friends or anyone you think will find it useful.  Just use the sharing buttons on the page.  If you're interested in more of our dining reviews, we have a complete list on our Disney World Restaurant Reviews page.
We always appreciate it when you share our posts, as it allows us to spread the word about our blog and hopefully will enable us to help others.