As temperatures start to climb and spring gets closer and closer, you can count on the start of the Epcot Flower & Garden Festival.  We think this is the most beautiful time of year at Epcot.  Yes, even better than Christmas.  Thousands of flowers and their wonderful fragrance, combined with the smells of the various food booths around Epcot, creates a stimulating experience for your eyes and nose!  Here in our 2020 Epcot Flower & Garden Festival guide, we'll tell you all about the various happenings and things you need to know.
The 2020 Epcot Flower & Garden Festival starts on March 4th and runs through June 1st.  That's a solid 90 days of the festival.  Yes, it takes up a full quarter of the year.  It has the longest duration of all the festivals in Epcot.  The Epcot Food & Wine Festival is the next closest, running 87 days last year.
If you are looking for Disney's official webpage for the Epcot Flower & Garden Festival, you can go here. We cover everything on that page and more here, so stick with this guide, and we'll steer you in the right direction.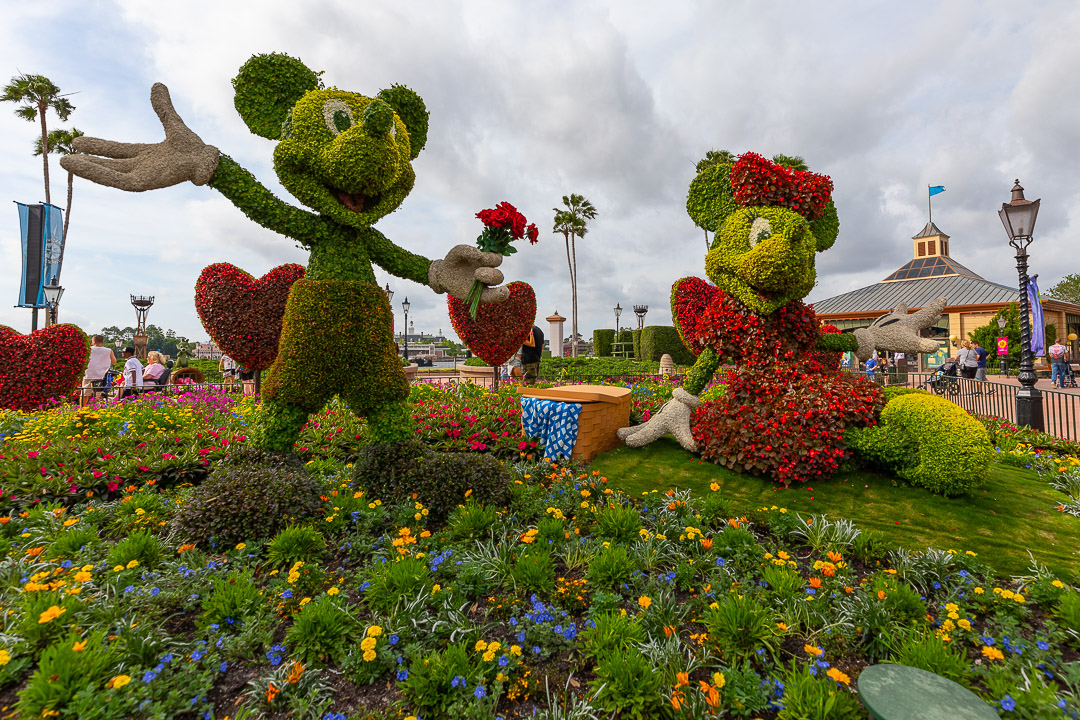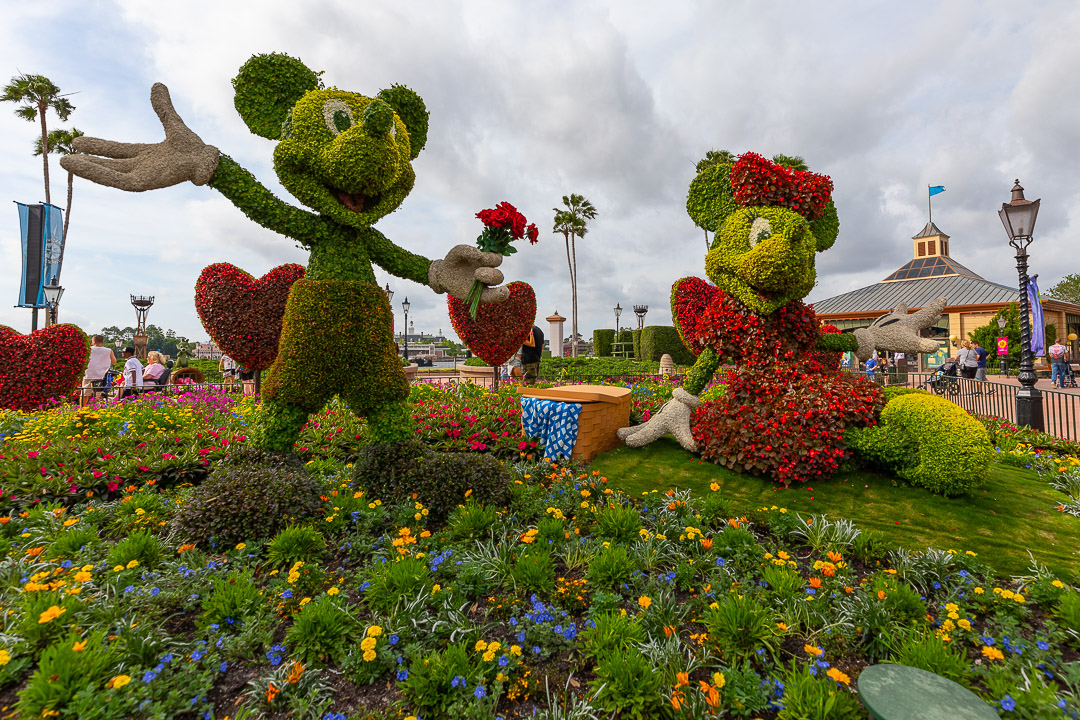 2020 Epcot Flower & Garden Festival Overview
Starting in 1994, this is the 27th year of the Epcot Flower & Garden Festival.  It is the longest-running festival at Epcot, narrowly beating out the Food and Wine Festival.  The various ponds around Epcot and World Showcase Lagoon make an excellent showcase for the different floral displays in the park, but this is more than just a flower show.
That said, we will readily admit that the 20+ topiaries in the park are the headliner attractions.  Disney's ability to bring some of our favorite characters to life with floral components is always amazing to us.  To pull this off, Disney has a team of hundreds of horticulturists that work basically year-round to design and execute it.
Beyond the topiaries, you'll find numerous gardens throughout Epcot that add lovely layers of color and make the park pop.  Frankly, that says something to us because Epcot naturally pops on its own to us.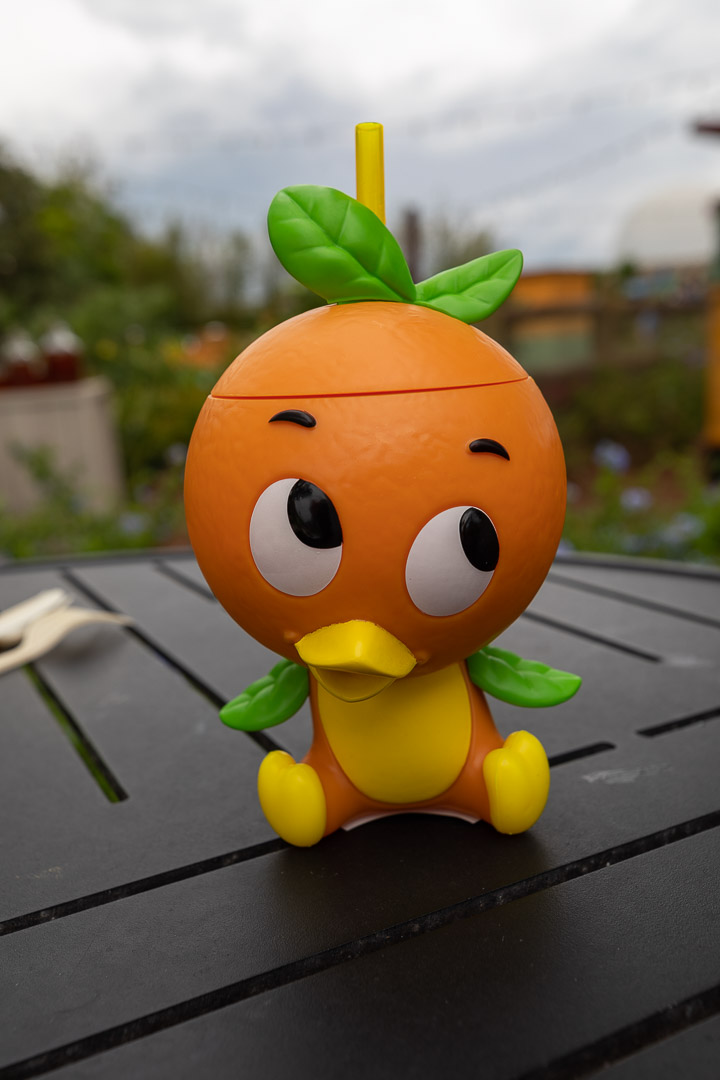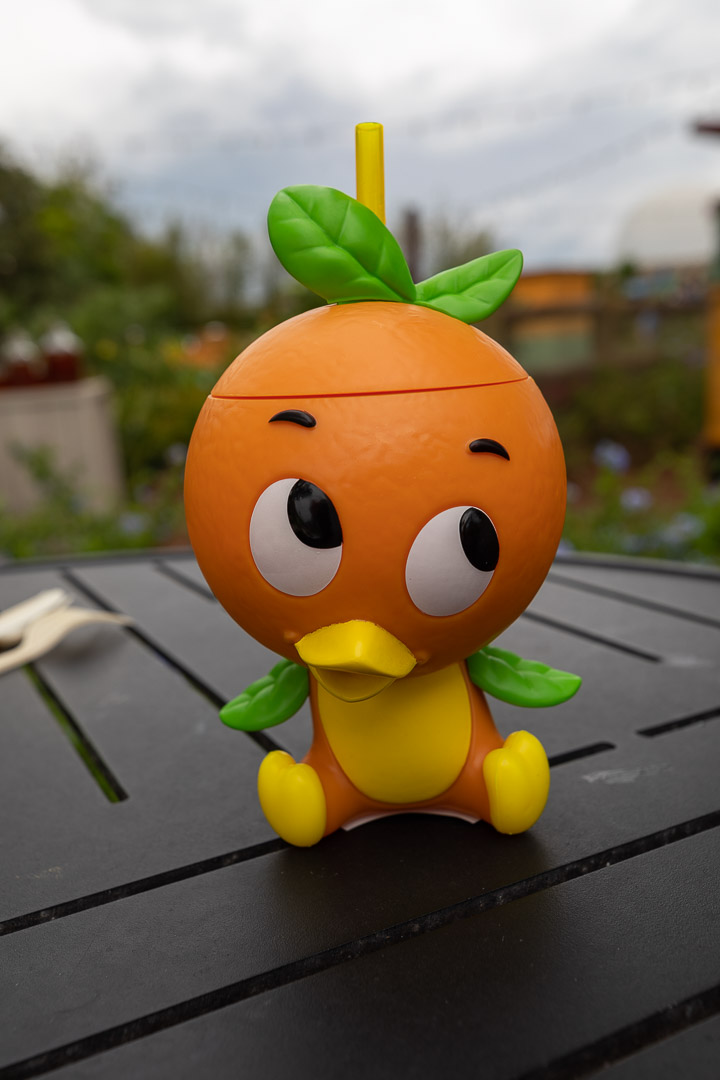 If you find yourself thinking that you're not a "flower person," which means the Epcot Flower & Garden Festival isn't for you, we encourage you to reconsider.  This isn't something where you have to come in and learn hardcore horticulture. Instead, you can just walk around the park and take in the beauty while enjoying the lovely spring weather.
Beyond the flowery aspects of the festival, there are also other things that you will likely find interesting.  There are food booths, tours, and live concerts to name a few options.  We'll cover each of these in more detail a bit later in our Epcot Flower & Garden Festival guide.
One thing we do want to point out is that most of what is available to see and do during the festival is free!  Yes, it won't cost a dime, outside of your standard park admission.  Now, there are major exceptions like the outdoor kitchens and tours, but there are plenty of free things around the park.
For the rest of our 2020 Epcot Flower & Garden Festival guide, we'll get into specifics on what all you can do.  After that, we'll give you some of our thoughts on tips and recommendations for your time at the festival.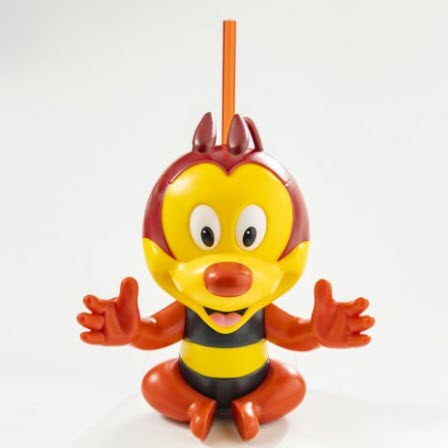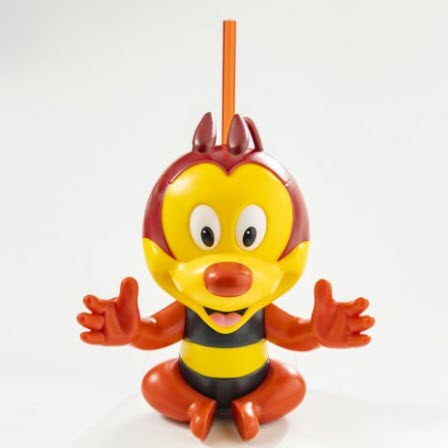 What's New at the 2020 Epcot Flower & Garden Festival?
At last year's Flower & Garden Festival, the break out hit was easily the Orange Bird Sipper.  If you don't know what that looks like, we have a picture of it in this post.  If you liked that sipper, then Disney World has another potential hit item for this year's festival!  That would be the above Spike the Bee sipper.  It's based upon the Spike character that you can hunt for around the different floral displays in the park.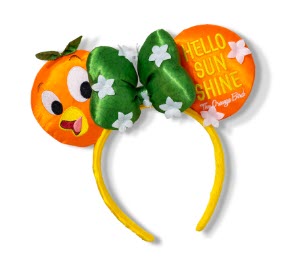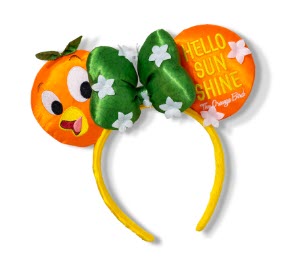 Now, if Spike isn't for you, but you're still a massive fan of the Orange Bird, don't fret!  Disney World will have the Orange Bird Sipper available this year.  That's not new, but these Orange Bird Minnie Ears are!  Yes, you can get these bad boys during the Flower & Garden Festival to go with your sipper.
If you are as enamored with the topiaries at Epcot, as we are, there is also something new for you!  You'll find a new Remy topiary this year.  His addition is a nod to the upcoming opening of the Ratatouille attraction that is based upon the movie of the same name.  That attraction is opening in the France pavilion, which is also where you can find the new topiary.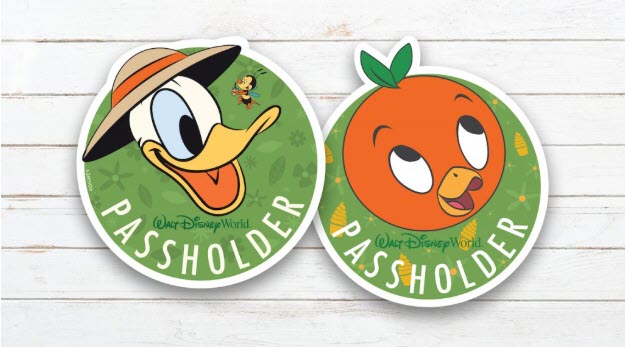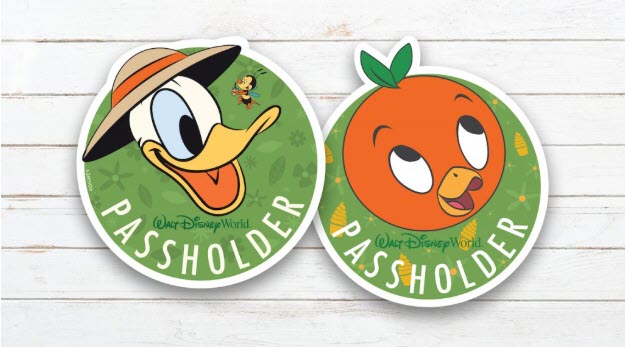 If you are an annual passholder, no festival is complete without the passholder magnets.  This year the two available magnets will feature Donald and the Orange Bird!
The Disney Channel Fan Fest has taken place at Disneyland for the last few years and is expanding to the Epcot Flower & Garden Festival this year.  This event only takes place on select weekends.  In its inaugural year at the festival, Fan Fest will take place on May 16-17, May 23-24, and May 30-31.
With this year's Flower & Garden Festival we gained one new outdoor kitchen.  Known as Magnolia Terrace, this kitchen will feature comfort food inspired by the Gulf region.  As you would imagine, there is a heavy emphasis on seafood-based dishes here.  While not "new", we will point out that The Smokehouse and Arbor kitchens from last year are not returning.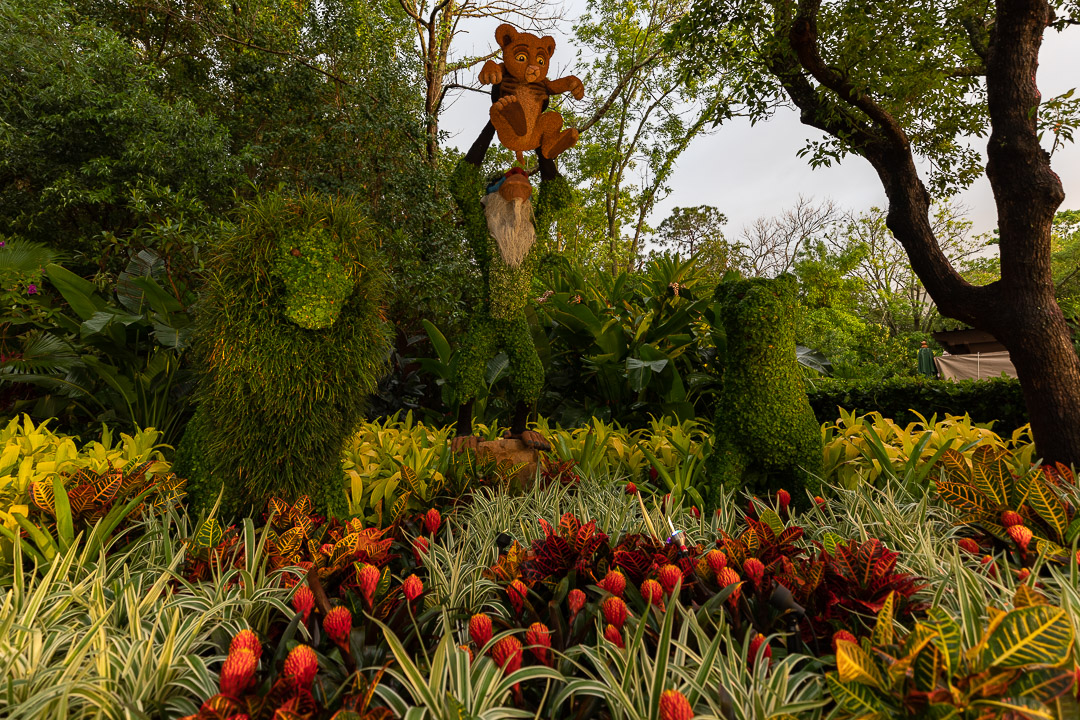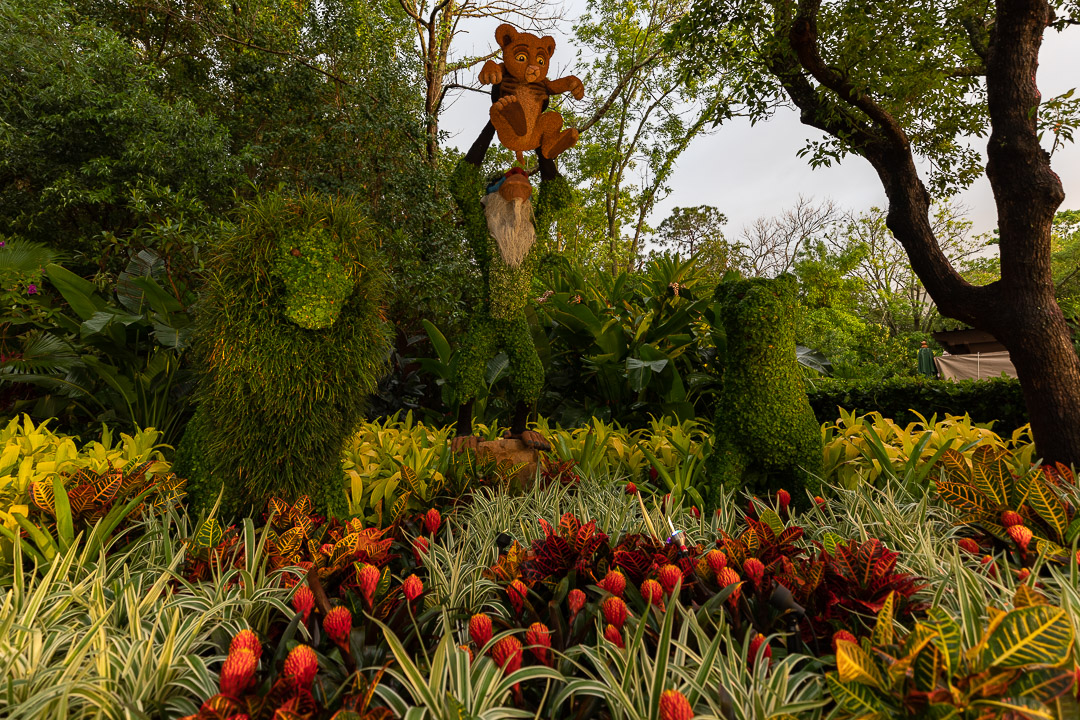 The Epcot Flower & Garden Festival Topiaries
Earlier, we said that the topiaries are the headliner of the festival, so it only seems appropriate that we start with them.  All told, the 2020 Epcot Flower & Garden Festival will feature 24 different topiaries.  Each topiary is its own piece of art.  Below is a listing of all the topiaries you will find this year at the festival and where they are located.
Anna and Elsa from Frozen
Located at the Norway Pavilion
Bambi & Friends
Featuring Flower, Bambi, and Thumper
Located at the Canada Pavilion
Beauty and the Beast
Located at the France Pavilion
Bo Peep and Her Sheep with Woody
Located at Future World East
Bold Bromeliads
Located near The Land at Future World East
Bromeliad Dragon
Located at the Japan Pavilion
Buzz Lightyear
Located near Mission: SPACE at Future World East
Captain Hook and Peter Pan
Located at the United Kingdom Pavilion
Construction Mickey and Minnie with Goofy, Pluto and Chip 'n' Dale
Located between Future World and World Showcase
Donald and Daisy with Huey, Dewey, and Louie
Located near Showcase Plaza
Fantasia – Sorcerer Mickey, Brooms, Ostriches and Hippo
Located near Imagination at Future World West
Lady and the Tramp
Located at the Italy Pavilion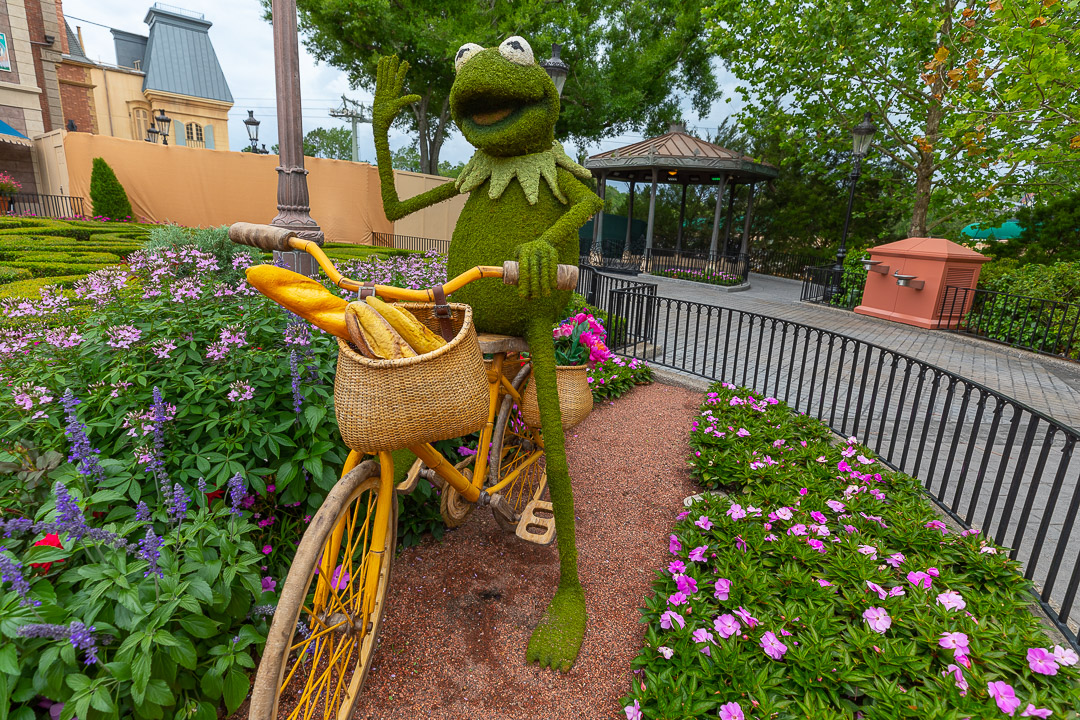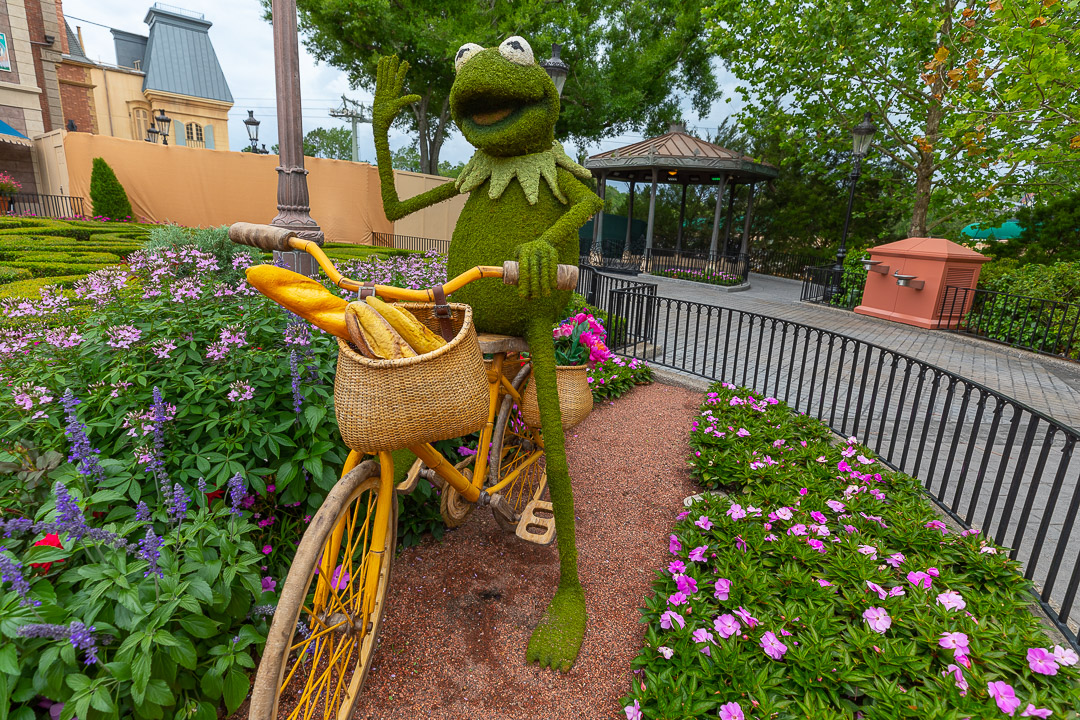 Miss Piggy and Kermit the Frog
Located between the United Kingdom and Canada Pavilions at the France Pavilions
Pandas
Located at the China Pavilion
Pluto and Goofy
Located between Future World and World Showcase
Remy
Located at the France Pavilion
Simba and Friends
Featuring Rafiki, Simba, Mufasa and Sarabi
Located at The Outpost Shop
Snow White and Dopey
Located at the Germany Pavilion
Tinker Bell and Fairy Houses
Located at the United Kingdom Pavilion
The Three Caballeros
Featuring Jose, Donald, and Panchito
Located at the Mexico Pavilion
Topiary Butterflies
Located at Future World West
Topiary Flowers
Located near the Main Entrance
Winnie-the-Pooh & Friends
Located at the United Kingdom Pavilion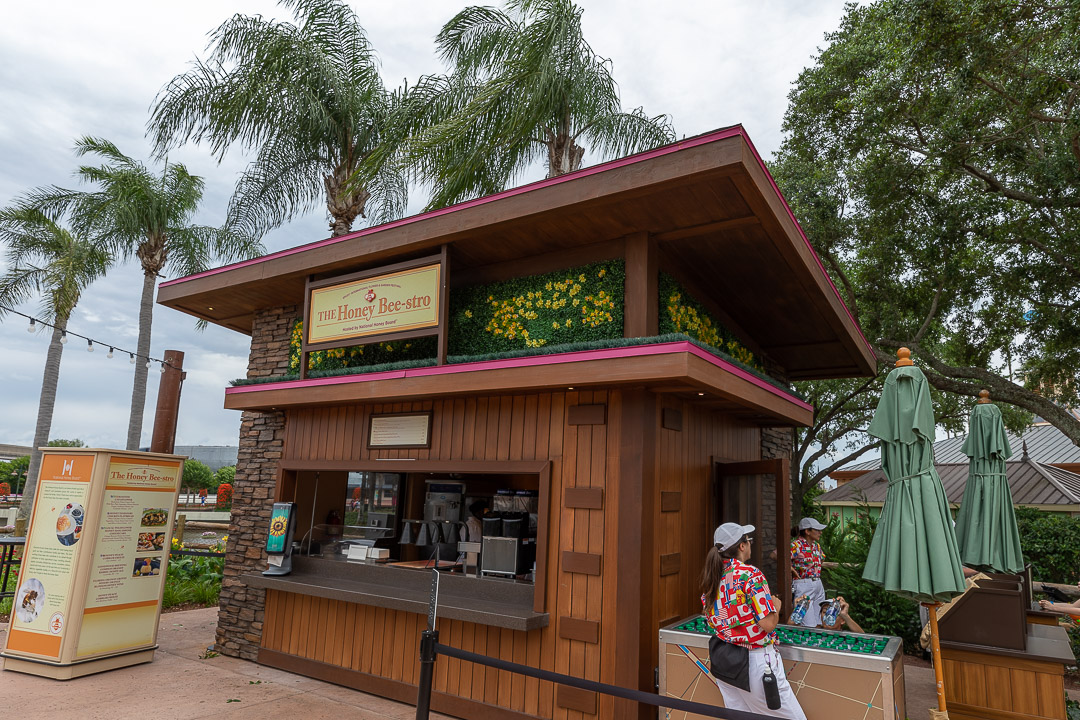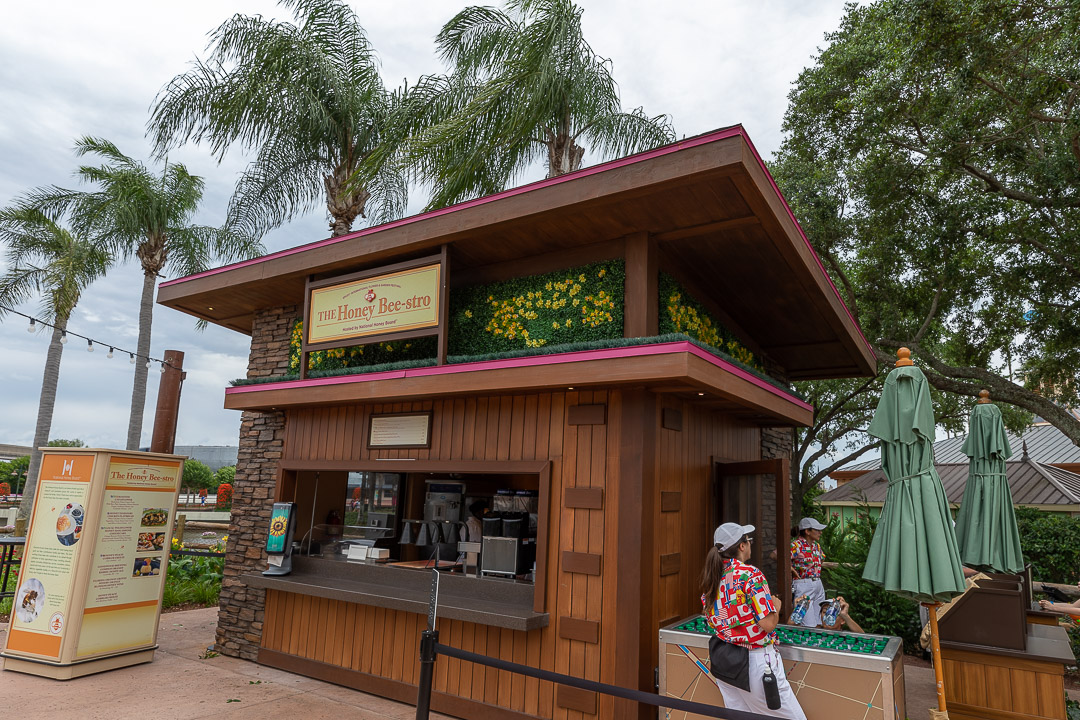 Epcot Flower & Garden Outdoor Kitchens from 2019 (2020 info still pending)
The Food & Wine Festival is what most people think of when eating food at an Epcot festival.  However, those who consider themselves food connoisseurs or just like to eat (like us) will have outdoor kitchens to satisfy their taste buds.  The outdoor kitchens feature samplings of food and drink that focus on a specific theme or food inspired by the country the booth features. 
To help you navigate your way around the outdoor kitchens, make sure you grab a Flower & Garden Festival passport.  It's a small book that you can get free of charge that services as your guide to all things related to the festival.  One of the key elements of the passport is a listing of all the outdoor kitchen and the food served at each of them.  Now, we'll have the booths listed out below in a second, but having the passport in the park can help you get around the park.  You can also check off all the items you eat, which makes for a nice little keepsake.
As you order different items, you will see that the outdoor kitchens serve smaller portions.  The food is like tapas so you can taste more things around the park.  Unfortunately, the decrease in the size of the food doesn't have an equally proportionate drop in price.  This may lead you to think the value isn't there and that is undoubtedly true for some items.  Food is such a subjective thing that it is hard to say what is a good value truly, but we strive to provide our own views on it in our food booth reviews.  We will say that the food we've eaten here in the past is generally of high quality.  Our food reviews of the 2020 Epcot Flower and Garden Festival will come shortly after our trip there in early March.  We should also note that the outdoor kitchens do serve alcohol during the festival.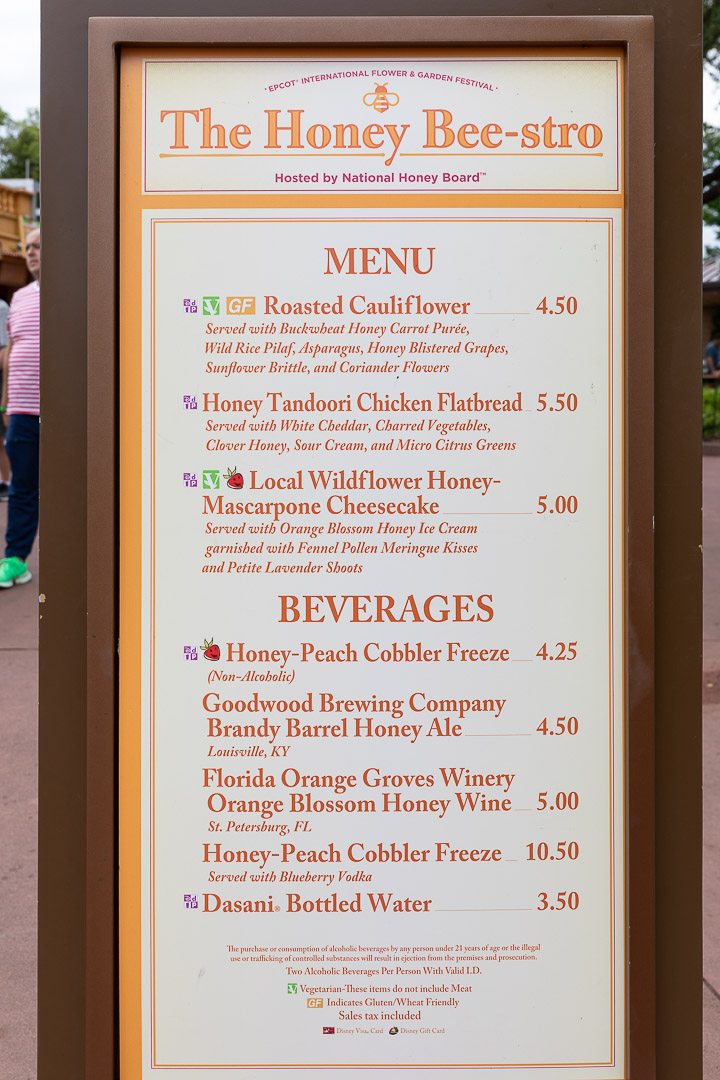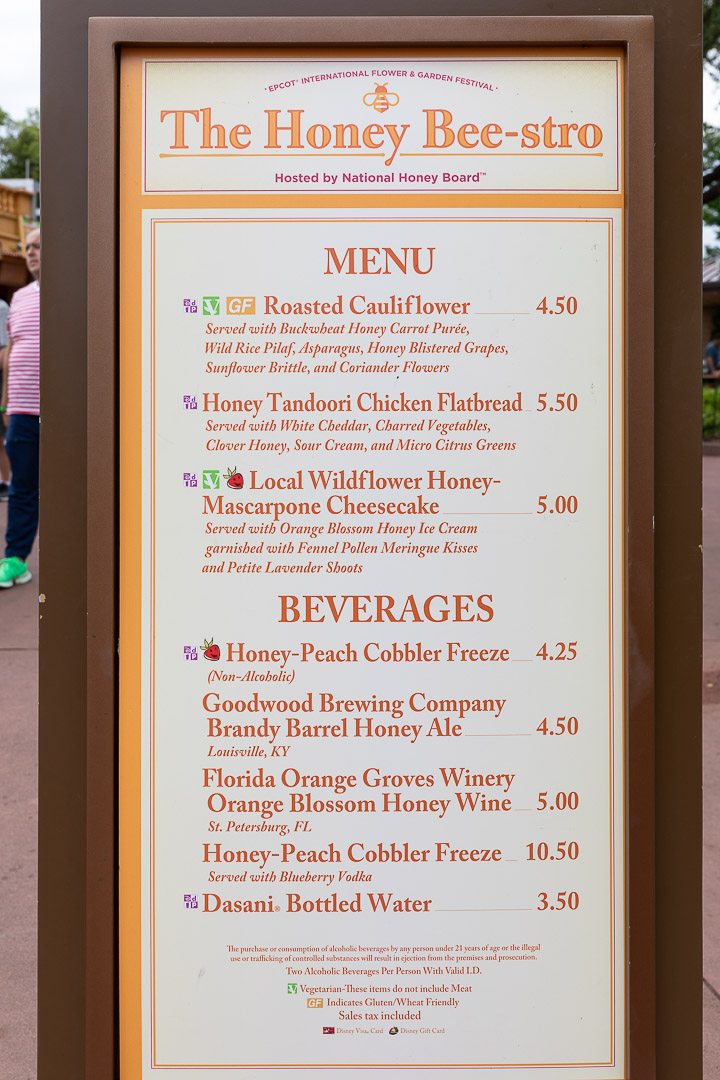 At the outdoor kitchens, there will be a standing menu in front of the booth.  You can see what a menu stand looks like in the picture above.  These stands are helpful because they tell you what items are gluten-friendly, vegan, eligible for the dining plan (as a snack credit), and kid-approved.  The legend at the bottom of the menu picture above shows you how to tell if items fit into these groupings.  You can also find those distinctions in the passport book.
Disney World finally released the outdoor kitchen lineup for 2020!  As we mentioned earlier in our Epcot Flower & Garden Festival Guide, there is one new booth this year.  Below is the entire outdoor kitchen lineup for this year:
Bauernmarkt: Farmer's Market
The Citrus Blossom
Florida Fresh
Flavor Full Kitchen
Fleur de Lys
Hanami
The Honey Bee-stro
Jardin de Fiestas
La Isla Fresca
Lotus House
Magnolia Terrace
Northern Bloom
Pineapple Promenade
Primavera Kitchen
Taste of Marrakesh
Taste Track
Trowel & Trellis
With the release of the outdoor kitchens, we also know what their menus are.  Many menu items are the same as last year, but some kitchens got large overhauls.  The most notable change occurred at Primavera Kitchen.  We have a whole post covering the full 2020 Epcot Flower & Garden Festival Menu list.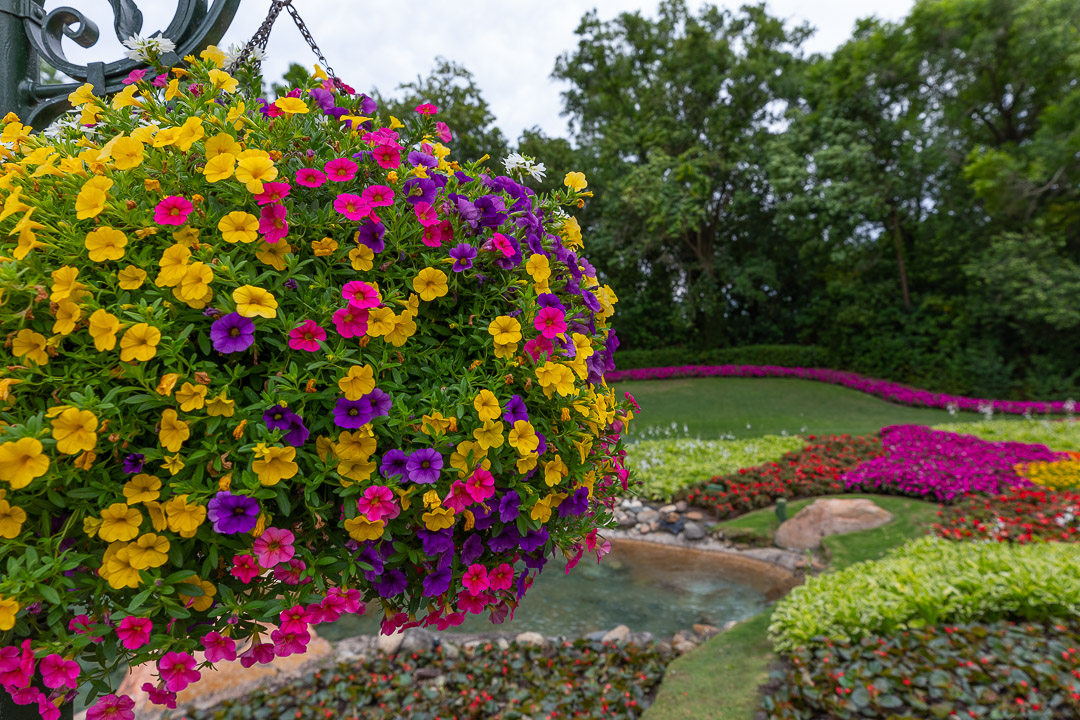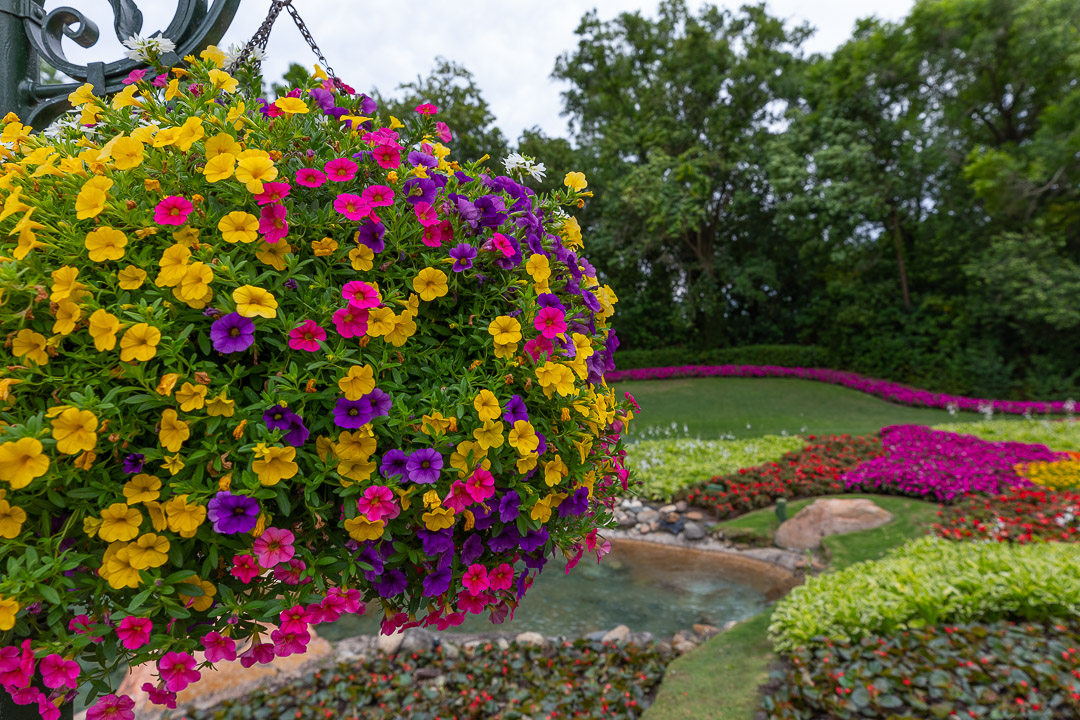 2020 Epcot Flower & Garden Festival Special Events
If you want to up-level your experience at the festival, there are some special tours that you can participate in for a fee.
Gardens of the World
If you have a serious interest in gardening or the flowery displays around Epcot, this may be a tour for you.  Gardens of the World is a three-hour-long journey around the park.  During this tour of the park, you and other tour guests are led by a Disney horticulturist who will impart facts and details about the flower designs around the park.  They'll also share gardening tips and more.
If you're interested in going on this tour, you can find out the cost, how to book it, and more on the 2020 Epcot Flower & Garden Festival – Events and Tours page. 
English Tea Garden Presented by Twinings of London
This tour feels like a bit of a circuitous event at the Flower & Garden Festival.  During the English Tea Garden guided tour, Disney says, "you'll learn more about the artistry behind the growing and blending of a variety of botanicals, which is vital for the creation of uniquely flavored brews."  The tour only lasts around 20 minutes.
Royal Tea Garden Tour
The last Flower & Garden Festival special event offered is the Royal Tea Garden Tour.  Here you'll embark on a guided tour of an English tea garden.  You'll wrap up the tour by sampling tea and scones.  This tour runs 45 minutes and takes place in the UK pavilion in Epcot.  It actually takes place before World Showcase opens, so you'll have a more intimate environment to experience the tea garden.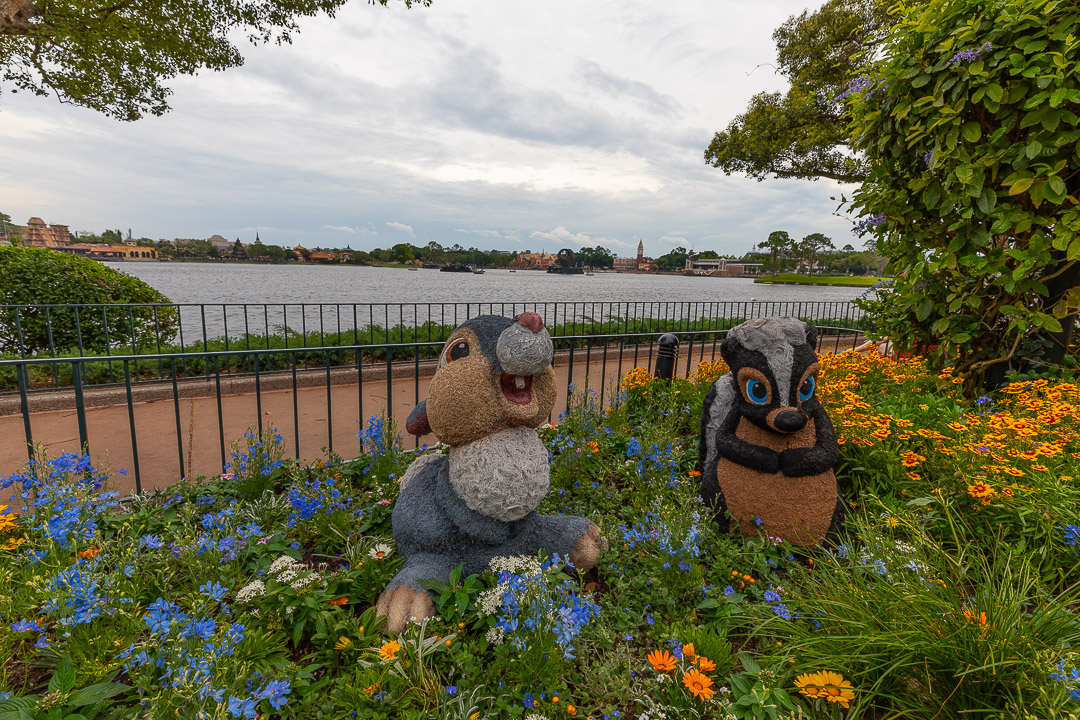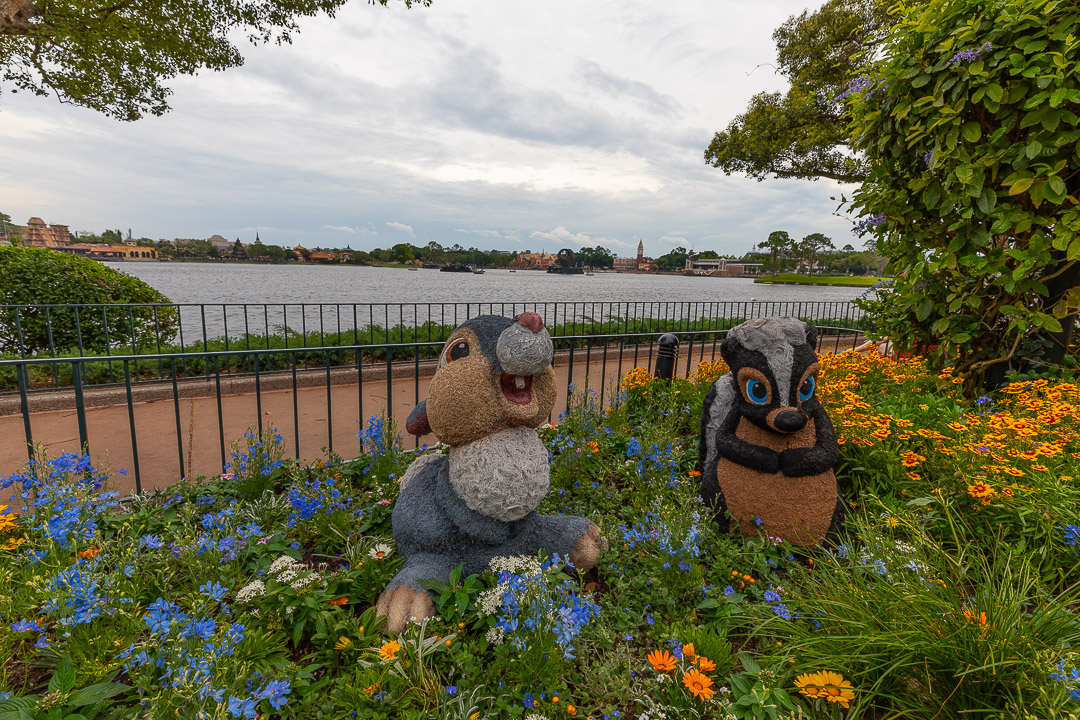 Garden Rocks Concert Series
If music is your thing, then there is actually something for you at the Epcot Flower & Garden Festival!  Grab a bite from one of the outdoor kitchens and head to the Garden Rocks Concert Series.  This is a free concert that is held daily during the Flower & Garden Festival.  There are multiple concerts each day.  Showtimes start at 5:30 PM, 6:45 PM, and 8:00 PM, but are subject to change, so make sure you check a times guide when you get to the park.
The concert lineup features a wide array of acts for all generations.  Don't expect to find top name bands on this list.  Sorry, no Taylor Swift or Meghan Trainor, much to the disappointment of Anna and Elsa.  Each show runs about 30 minutes.
If you've been to the Eat to the Beat Concert Series at the Food & Wine Festival, you'll recognize some of the acts this year.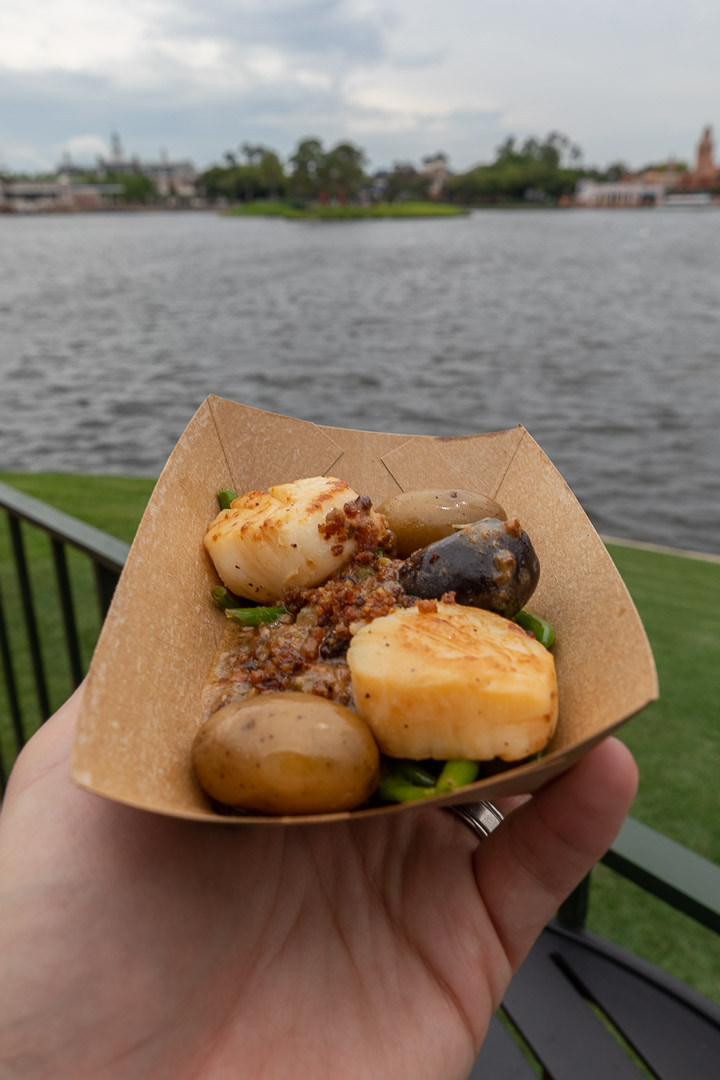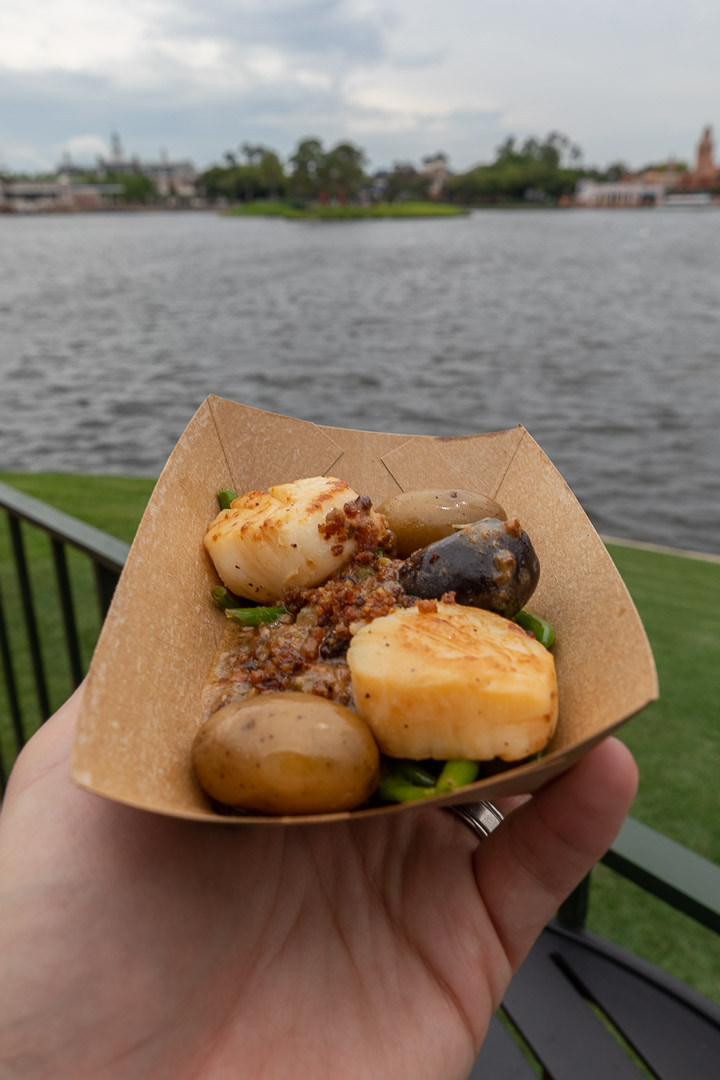 Most of this year's concert series acts have been announced, but there are still a few open dates.  We'll update this post as Disney finishes off the schedule.  So far, these are the announced concert acts:
March 4 to 5: Peabo Bryson
March 6 to 9: The Orchestra starring former members of ELO
March 10 to 12: The Guess Who
March 13 to 16: Simple Plan
March 17 to 19: STARSHIP featuring Mickey Thomas
March 20 to 23: Mark Wills
March 24 to 26: The Spinners
March 27 to 28: Sister Hazel
March 29 to 30: The Pointer Sisters
March 31 to April 2: Steve Augeri – Former Lead Vocalist of Journey
April 3 to 4: Blood, Sweat & Tears
April 5 to 6: Expose'
April 7 to 9: Berlin
April 10 to 11: A Flock of Seagulls
April 12 to 13: Atlantic Starr
April 14 to 16: Tony Orlando
April 17 to 18: High Valley
April 19 to 20: Rick Springfield
April 21 to 23: Christopher Cross
April 24 to 27: Plain White T's
April 28 to 30: Don Felder – Formerly of The Eagles
May 1 to 2: Don McLean
May 3 to 4: Casting Crowns
May 5 to 7: Ambrosia with Peter Beckett
May 8 to 9: Thelma Houston
May 10 to 11: The Allman Betts Band
May 12 to 14: Air Supply
May 15 to 18: Herman's Hermits starring Peter Noone
May 19 to 21: Mike DelGuidice & Big Shot
May 22 to 23: Claudia Leitte
May 24 to 25: Daughtry
May 26 to 28: Marshall Tucker Band
May 29 to 30: Crowder
May 31 to June 1: Survivor
The Garden Rocks Concert takes place in the America Gardens Theatre across from the American Adventure Pavilion.  Admission to the show is included as part of your Epcot park admission.  Seating is mostly on a first-come, first-serve basis with one exception.  That exception is the Garden Rocks Dining Package.  This package combines a dining reservation with preferred entry into the concert.
If you have a musical act you just have to see with great seats, then this package may make sense for you.  Otherwise, we'd say skip it and wait in line, but get there early.  You should be able to get a seat; it just may not be front and center.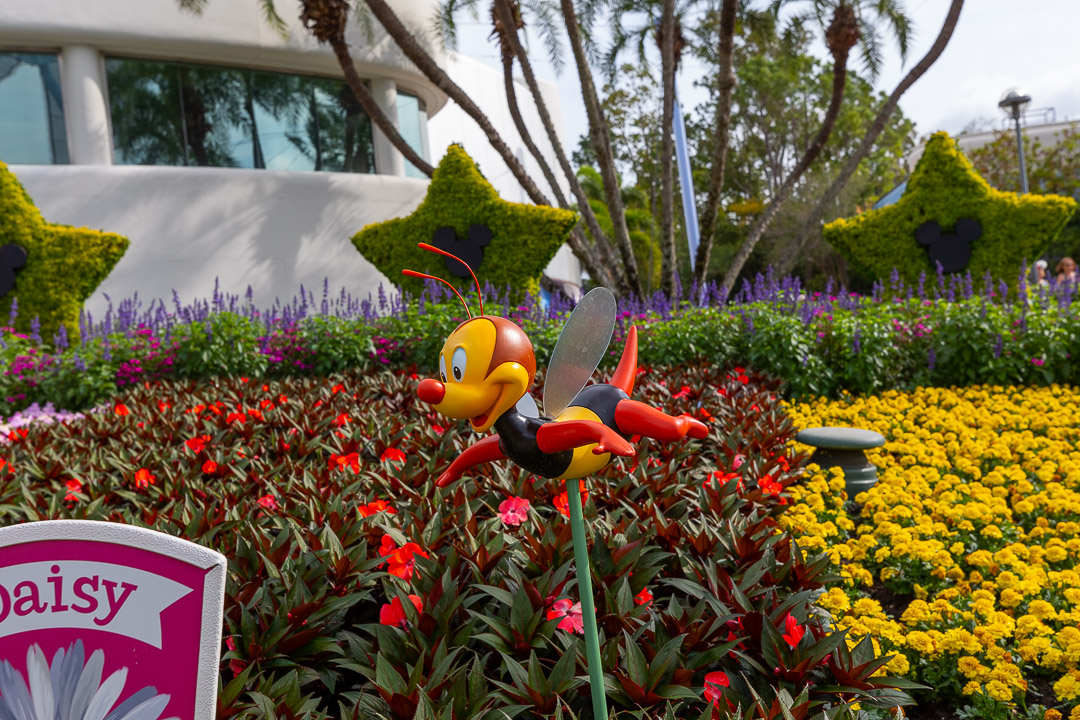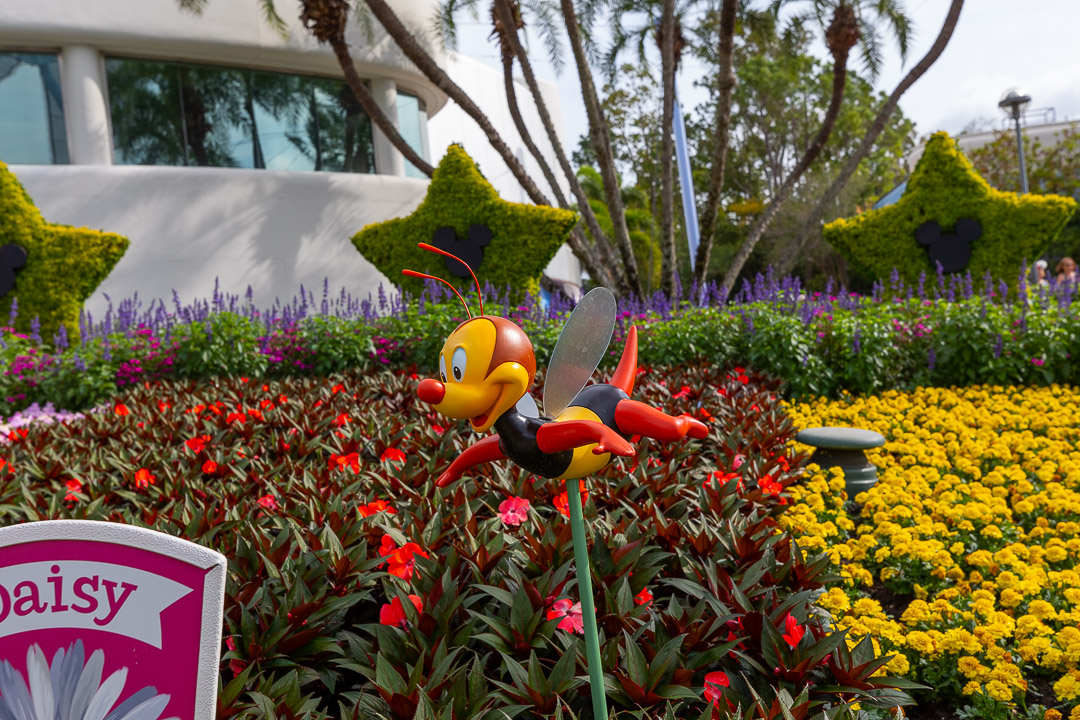 Epcot Flower & Garden Festival with Kids
If you look at the events, we listed above, you're possibly thinking to yourself that they feel very adult-centric.  Well, you're right, but believe it or not, there are some things that are designed with kids in mind!  This is Disney World, right?
There are a few things that Anna and Elsa have enjoyed in the past.  First off is Spike's Pollen-nation Exploration, which is a bit of a scavenger hunt.  Spike is the little bee you see in the picture above.  There are several "Spikes" scattered throughout the park in various flower displays.  See how many of them you can find.  Disney sells a map that will allow you to track your progress in tracking down Spike throughout the park.
You will receive a Flower and Garden Festival themed prize if you present your completed sheet at a couple of select locations.  Last year there were three sets of patches to choose from.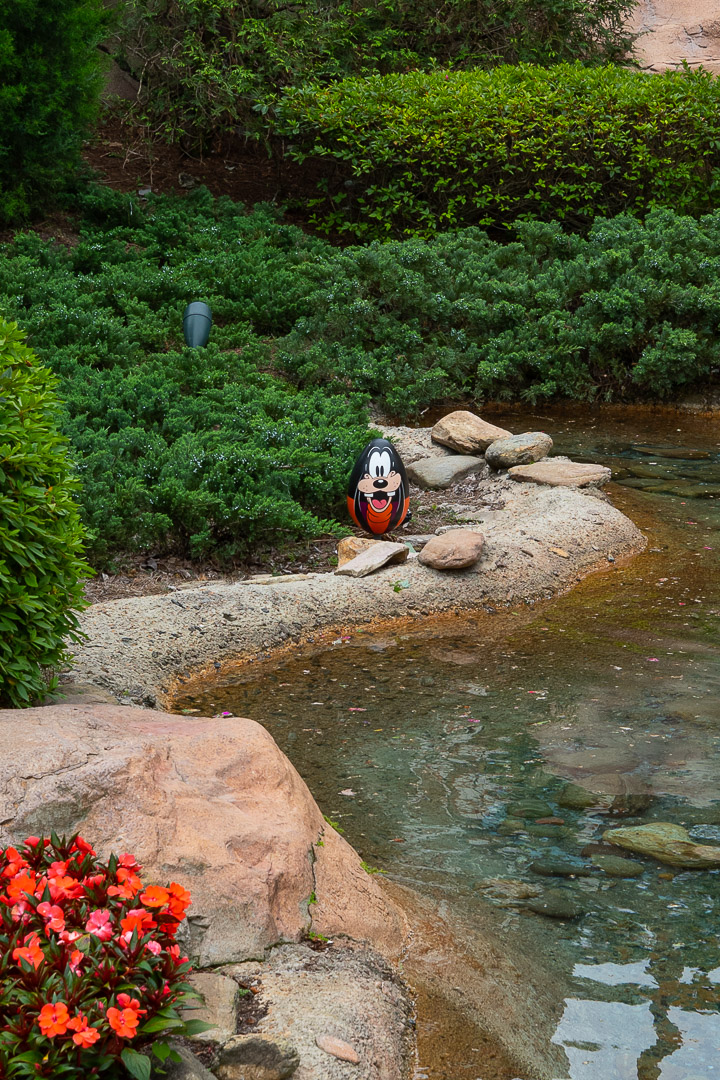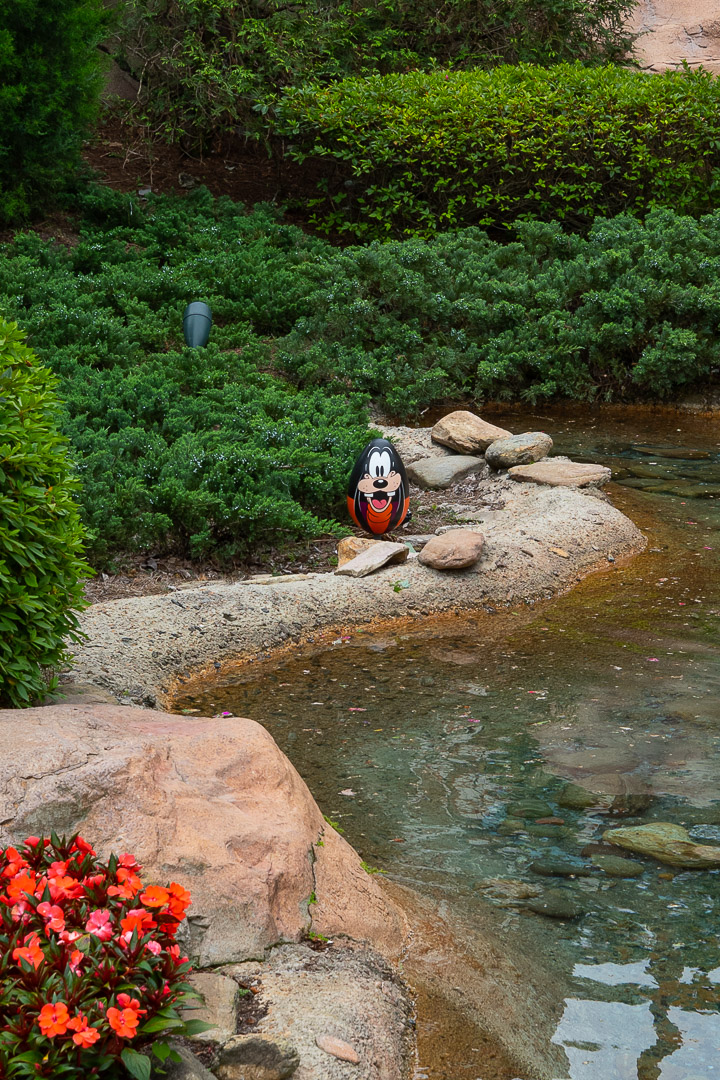 Next up is another scavenger hunt call the Egg-stravaganza Scavenger Hunt.  This is a limited-time activity that is meant to have an Easter tie in.  So you'll have to come to Disney World at Easter or around Easter.  You'll find large Easter Eggs scattered around the park.  The eggs are entirely located within World Showcase, but some are indoors and some are out.  You can also buy a map to track your progress.
Once you finish the Egg scavenger hunt, you can turn in your map and select from one of several smaller eggs.  It's a fun little keepsake that the girls enjoyed.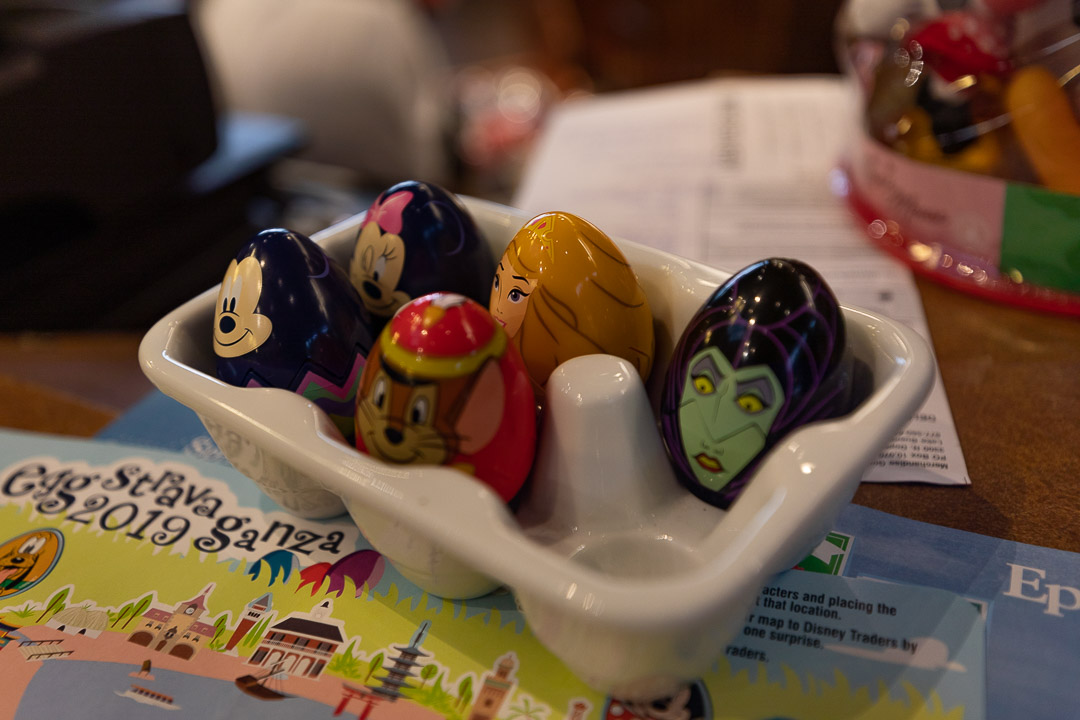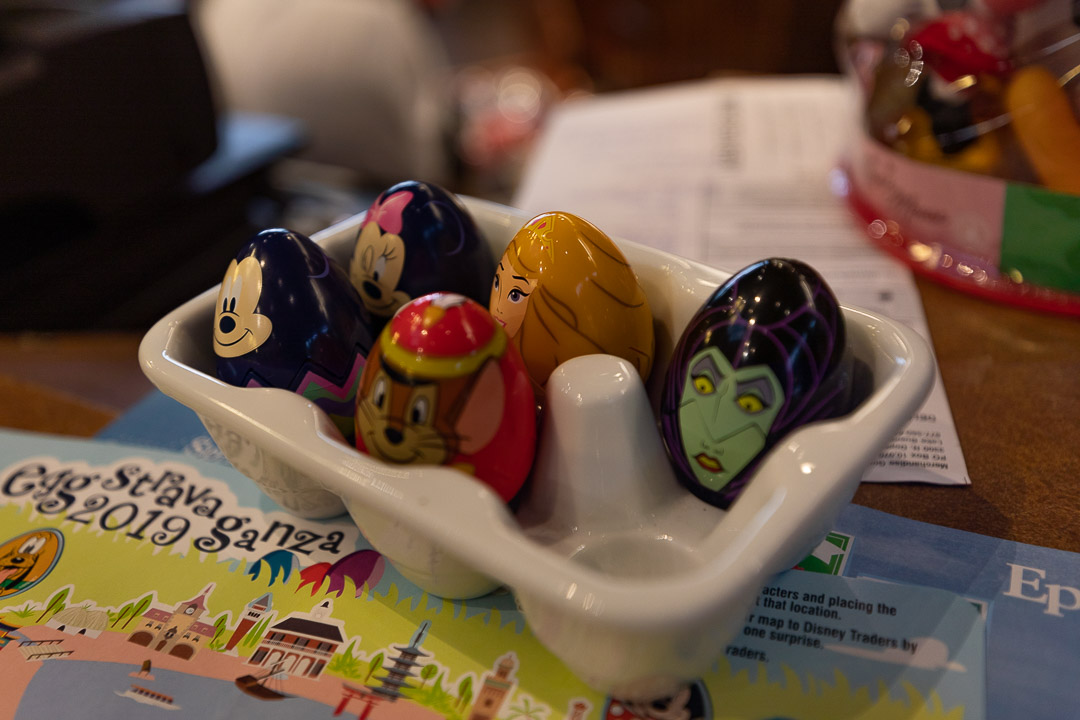 We found both of these scavenger hunts great things to pair with sampling food from the outdoor kitchens.  As we go from booth to booth, we hunt for Spike or Easter Eggs along the way.  It helps give both the adults and the kids something to do.  But don't just think of the scavenger hunts as just kid things.  Carla was uber-competitive when it came to finding the Easter Egg in the UK pavilion.  It was a hard one for us to find, but we did it eventually!  Carla wasn't going to let us leave without finding it.
There is also what Disney calls the "Play Gardens," which were new last year.  With all of the ongoing construction around Future World, it is not clear if this will be back.  Last year it was located near the Toy Story topiaries.  This area essentially had playscapes and similar items for kids to climb on and play around.  Anna and Elsa were a little meh about this.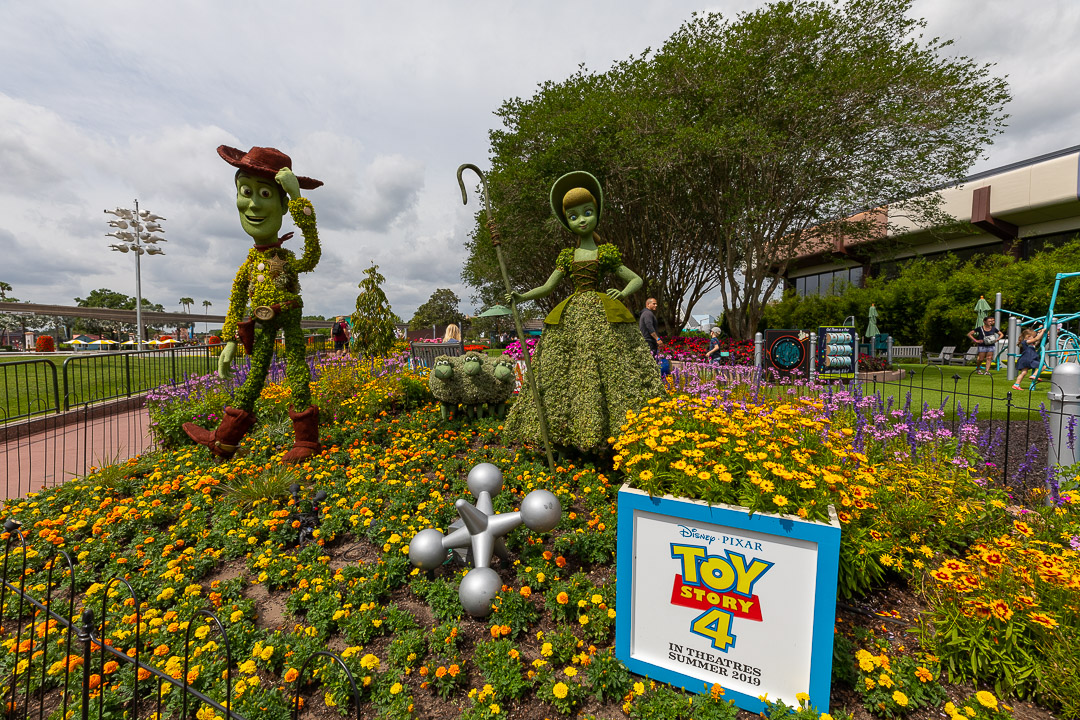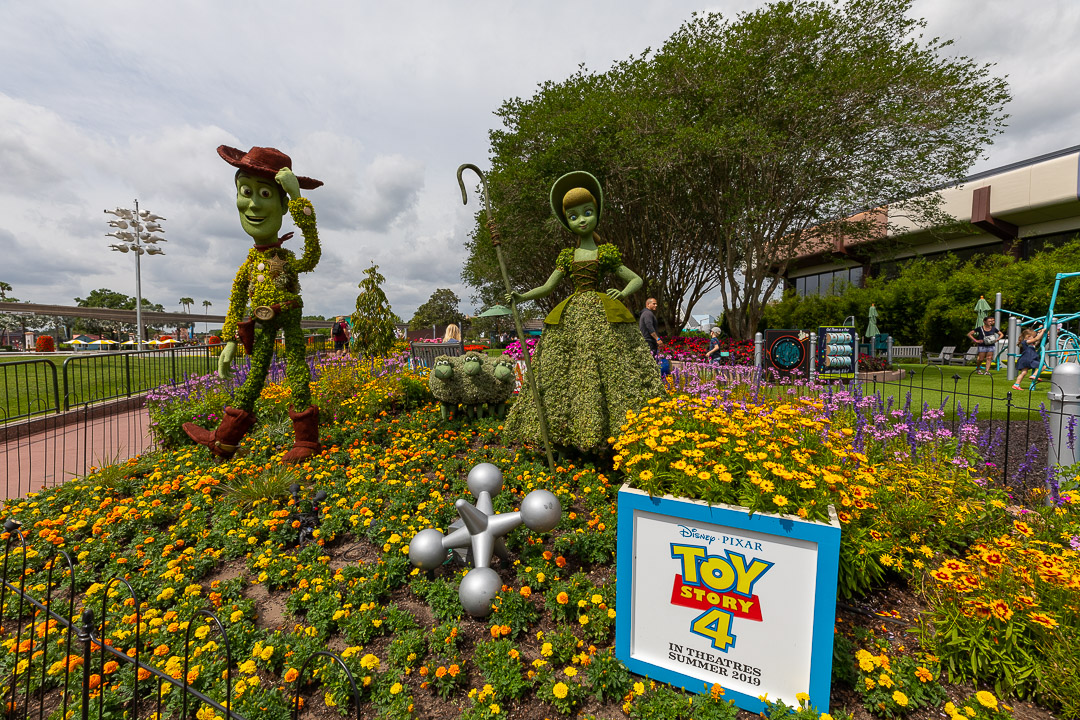 The butterfly house is always a hit with kids.  You can see a large group of butterflies here and even have some land right on you.
The Honey Bee-Stro is an outdoor kitchen, but it is also part exhibit.  Here you can learn about the importance of honeybees in horticulture.  Then you can get some food from the outdoor kitchen that the bees had a hand in creating.
Epcot Flower & Garden Festival Merchandise
Every festival at Epcot comes with its own set of specific merchandise.  Disney hasn't revealed too much so far of what will be available, but we do know that there will be Orange Bird Minnie Ears.  Carla has already said she is getting them to go with the Orange Bird sipper that she got at last year's festival.  Generally, you'll find an assortment of shirts, coffee mugs, ears, cups, and more that you can buy to remember this event.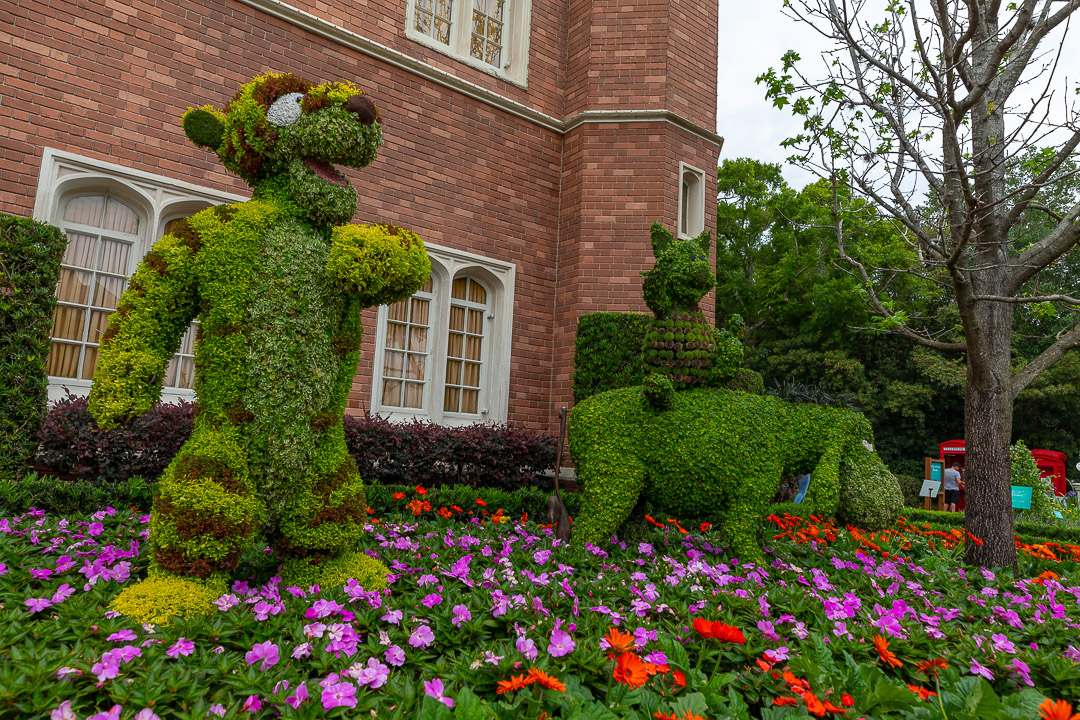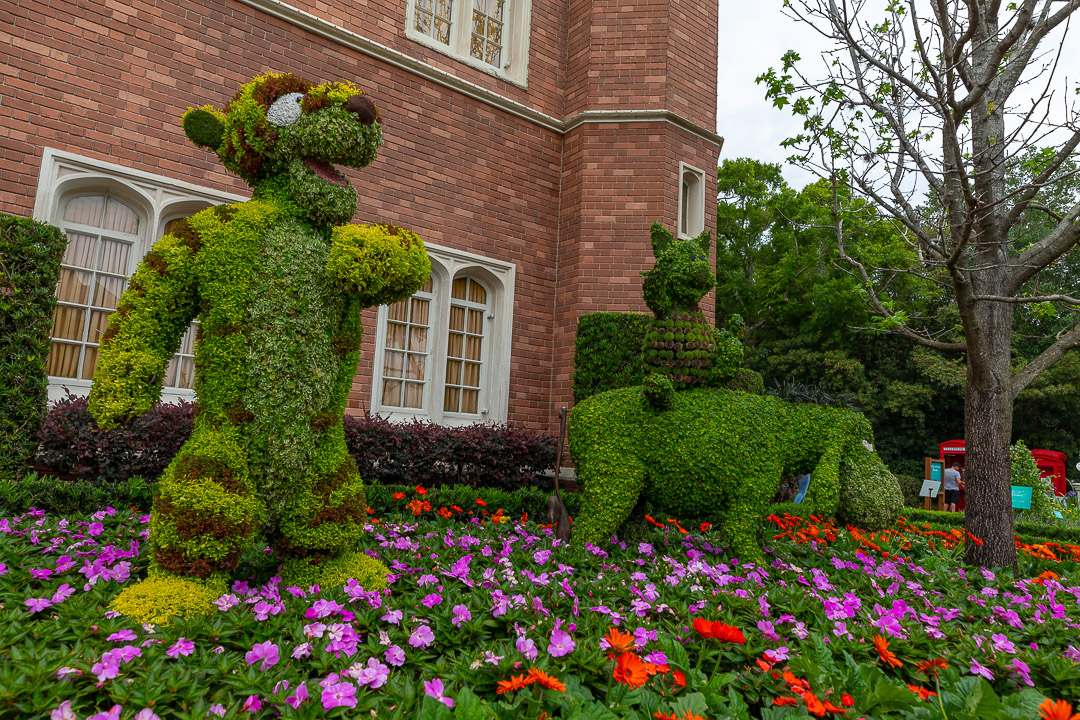 Epcot Flower & Garden Festival Tips and Planning
The thing we like about the Flower & Garden Festival is that it has a lot less going on compared to the Food & Wine Festival.  That makes it a little easier to take in.  That said, below are our tips and general strategy for the festival.  Use it as a guide and then customize it as needed.
Plan What Food to Get Before Heading to the Park
To get the most out of the food options in the outdoor kitchens, make sure you plan what booths you want to eat at and what food you want to sample.  As we said earlier, the outdoor kitchen menus aren't out yet, but when they are, we'll link to them here.  This little bit of planning helps as just showing up and wandering around is a sure-fire way to miss out on some dishes that you may love.
Set A Budget
If you want to blow a sizeable chunk of cash, don't listen to this tip.  It is entirely possible for one person to spend an afternoon or whole day just snacking around the food booths and realize at the end of the day they spent $100-200 on food.  And that's just for one person!  This is especially true if you're having drinks.
Portion sizes are small, and there's tons of eye candy out there to tempt you.  Make sure you know how much you want to spend at the Flower & Garden Festival and then stick to it.   One way to achieve this is to purchase a gift card in the amount of your budget.  This will allow you to track your spending and limit your purchases to your budgeted amount.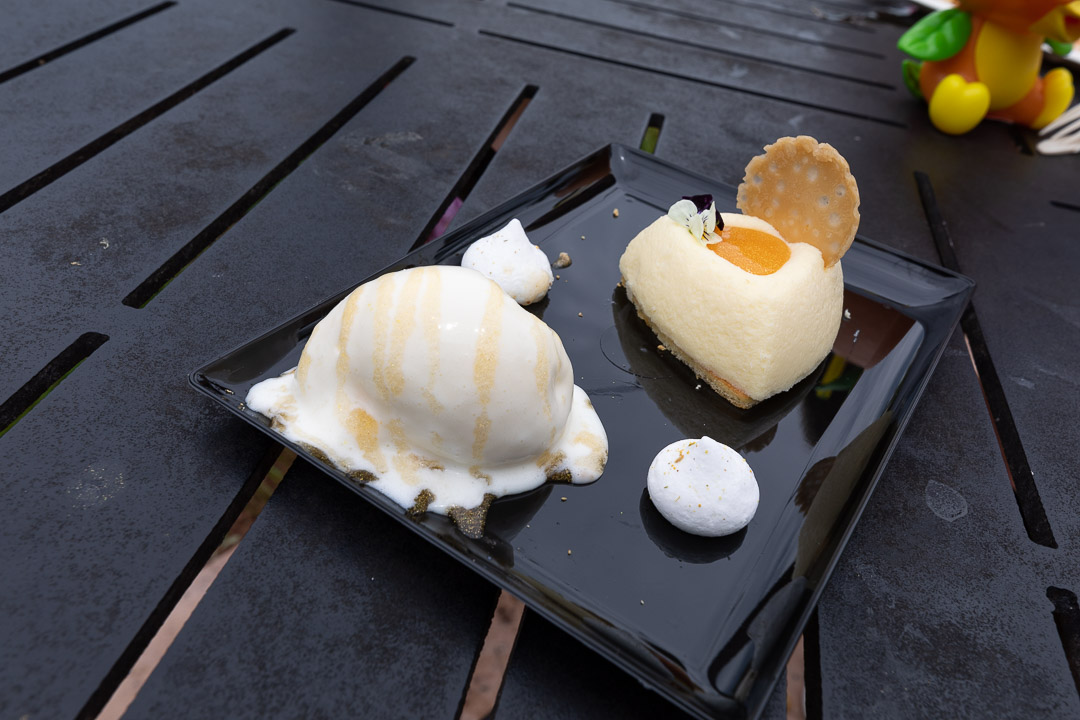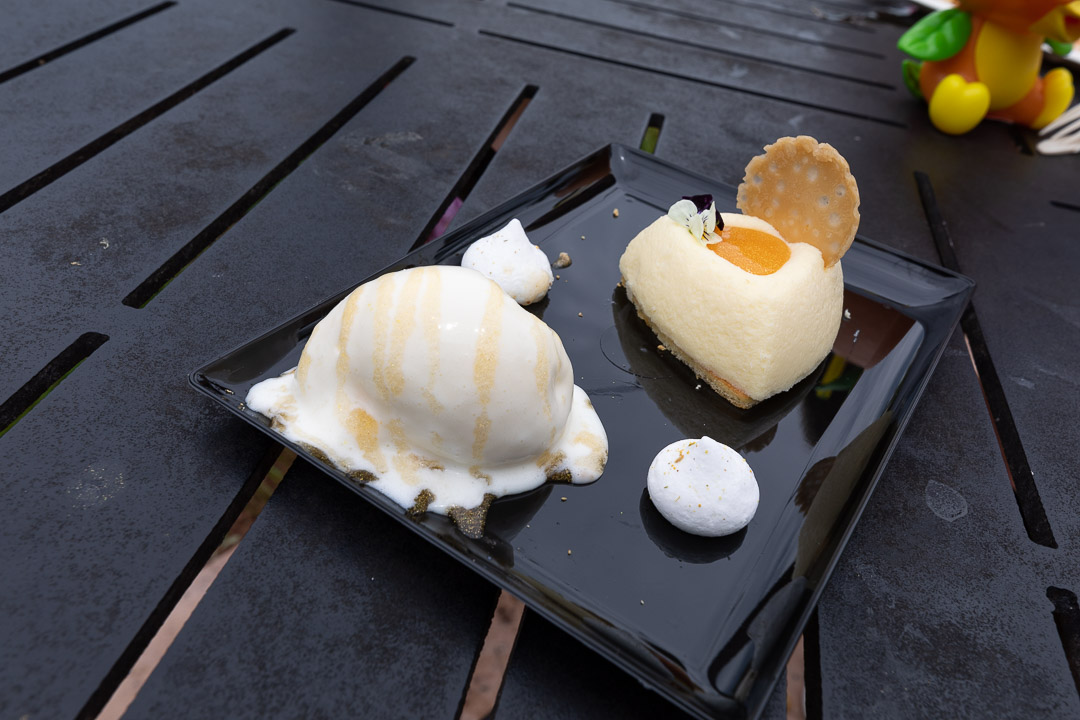 Make it an Experience for the Kids Too!
We recognize the list of kid-specific things to do is somewhat limited.  That said, the things we mentioned are great entertainment for kids.  I'd also say to make sure that you let kids sample items from the outdoor kitchens.  When we do this with the girls, we're always surprised by what they like and what they don't!  It helps expose them to new foods, and who knows, maybe it helps them be slightly less picky eaters.
Of course, they could be like Anna who has declared she will eat shrimp, but only at Epcot, because she likes the festival food.  She still won't touch it at home.  Hey, it's a start.
Go During the Week and Earlier in the Day
If you want to avoid crowds, then go during the week, preferably during the daytime hours.  You'll find weekends and evenings busier times with more massive crowds.  Also, keep in mind when holidays are.  Generally, you should be mindful of Memorial Day, Easter, and the various Spring Break days off that happen across the US.
Wrapping up our Epcot Flower & Garden Festival Guide
In our view, the Epcot Flower & Garden Festival is a fun time and a worthwhile festival to attend.  If you're prioritizing, we'd still rank the Food & Wine Festival above it, but that doesn't mean Flower & Garden is terrible.  By no means!
It is the absolute most stunning time visually to take in Epcot.  The visuals that the extensive gardens provide are amazing, especially if you get a beautiful blue sky day!  If you are headed to Disney World in the spring, we think that heading to the festival is an absolute must.  It's also one of your last chances to see Epcot before the oppressive heat and humidity of the Florida summer set in.
We hope you found of Epcot Flower & Garden Festival guide helpful!  If you did, we always appreciate it if you share it with your friends on social media.  It allows us to help others and spreads the word about our blog.