One of the most popular holidays to visit Disney World is Easter.  In fact, if you look at ticket prices under Disney's relatively new date-based pricing system, you'll find the week around Easter to be one of the more expensive times of the year.  While Easter at Disney World is fun and there are some festive things that they do for the holiday, we certainly don't consider it anywhere close to what Disney World does for Halloween or Christmas.  Not even close.
Here in our guide to Easter at Disney World, we'll fill you in on what to expect from a crowd perspective, the special happenings, and any other random musings that come to mind.
Easter Crowds at Disney World
We already hinted at it in the intro, so we'll go ahead and finish this part of the conversation off.  It is going to be busy at Easter.  Make no mistake about.  While we would not describe it as Christmas Day crazy busy, it's definitely much busier than your normal holiday.
Part of the reason it is so busy is that Easter is a focal point for when some schools schedule their spring breaks.  Having kids out of school means that parents need to do something with them and a trip south to a warmer climate may be just what the doctor ordered!
Now, since Easter moves annually between March and April the crowd levels can vacillate somewhat.  An Easter holiday in March tends to bode poorly for crowd levels. That's because you have the regular (and heavier) March spring break crowd, plus the folks that have spring break scheduled around Easter all piled up into one month.  If spring break is in April, you at least weed out a sizable portion of spring break vacationers.
In any case, you should expect elevated wait times across all the parks.  When we were there this past Easter, we saw wait times climb significantly as we got closer to Easter Day.  Make sure you book your FastPass reservations right at the 60 mark.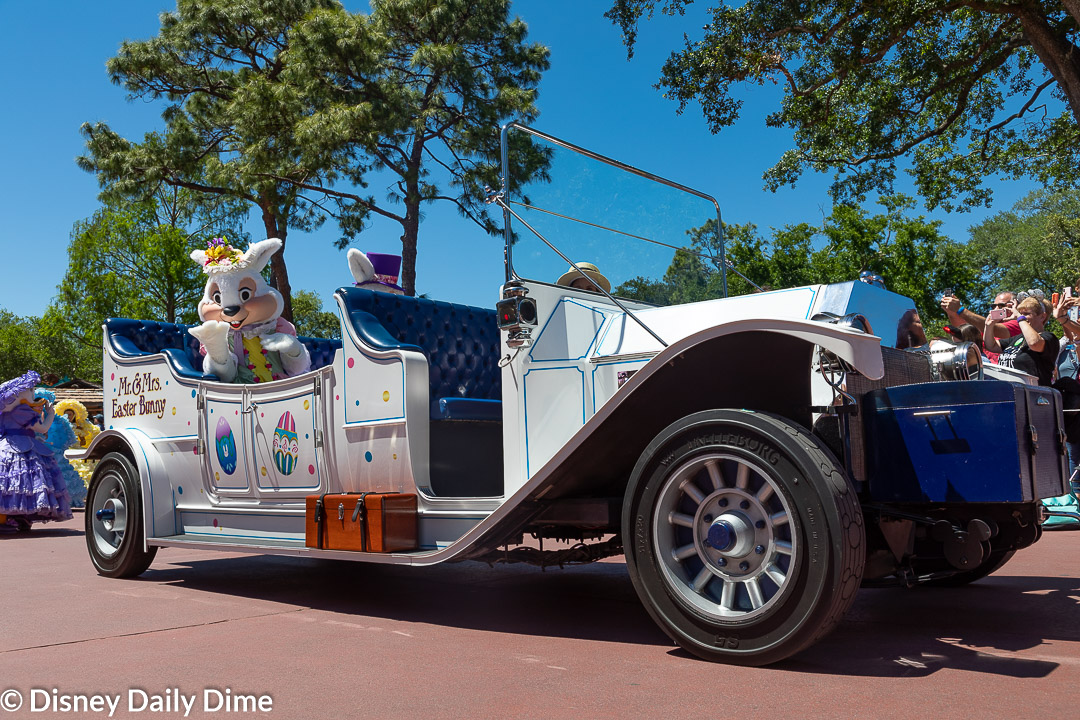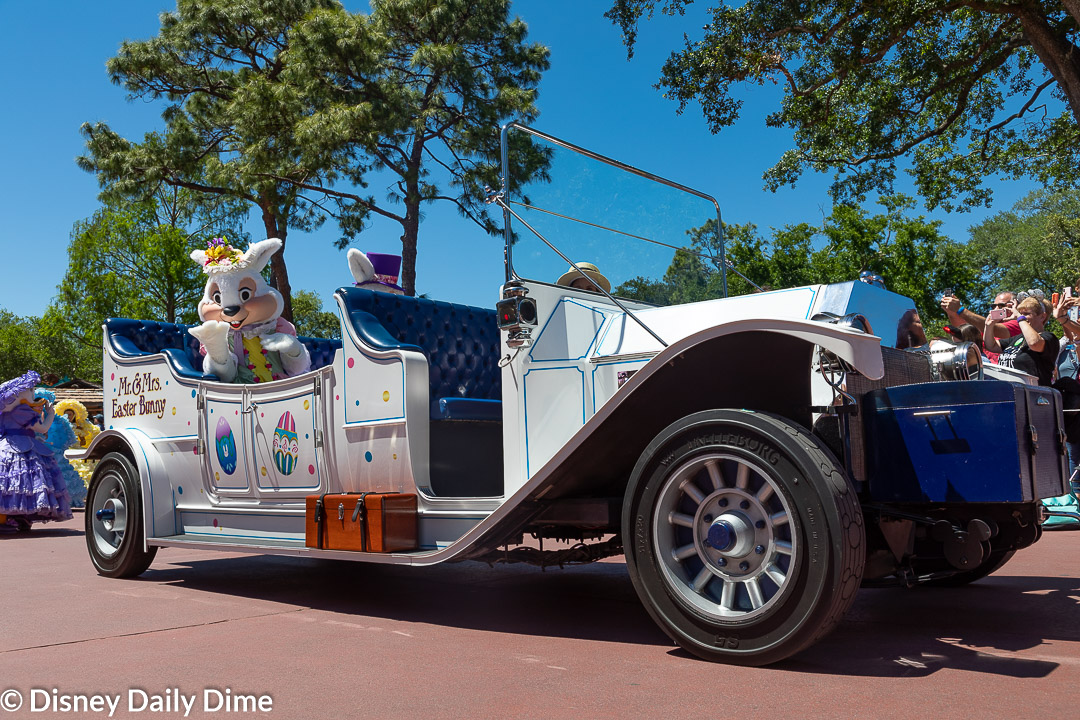 The Easter Parade at Disney World
On Easter weekend at Disney World, the Magic Kingdom offers a special Easter parade.  It's a short parade that goes for about four minutes.  This parade takes place right before the daily Festival of Fantasy Parade.  You should not expect anything that is remotely close in size and scale to what happens with the parades that are part of Mickey's Not So Scary Halloween Party or Mickey's Very Merry Christmas Parry.  In fact, we took a video of the parade this year that we've embed below.  You can watch to see if it is worth your time to stop by.
One of the things you will notice in the parade is the young ladies in the Easter pastel colored southern antebellum dresses.  These high school seniors, known as the Azalea Trail Maids, hail from the state of Alabama and represent the city of Mobile.  The Trail Maids are led in the Easter parade by one of the Fab 5, in a matching dress.  You have to watch the video to see who it is!
In addition to marching in the Easter parade itself, you'll find the Trail Maids throughout Main Street, U.S.A. in the Magic Kingdom on Easter weekend.  They are more than willing to take pictures with you if you want and they are unbelievably gracious.  Anna and Elsa loved getting to see these young ladies and pose for pictures with them.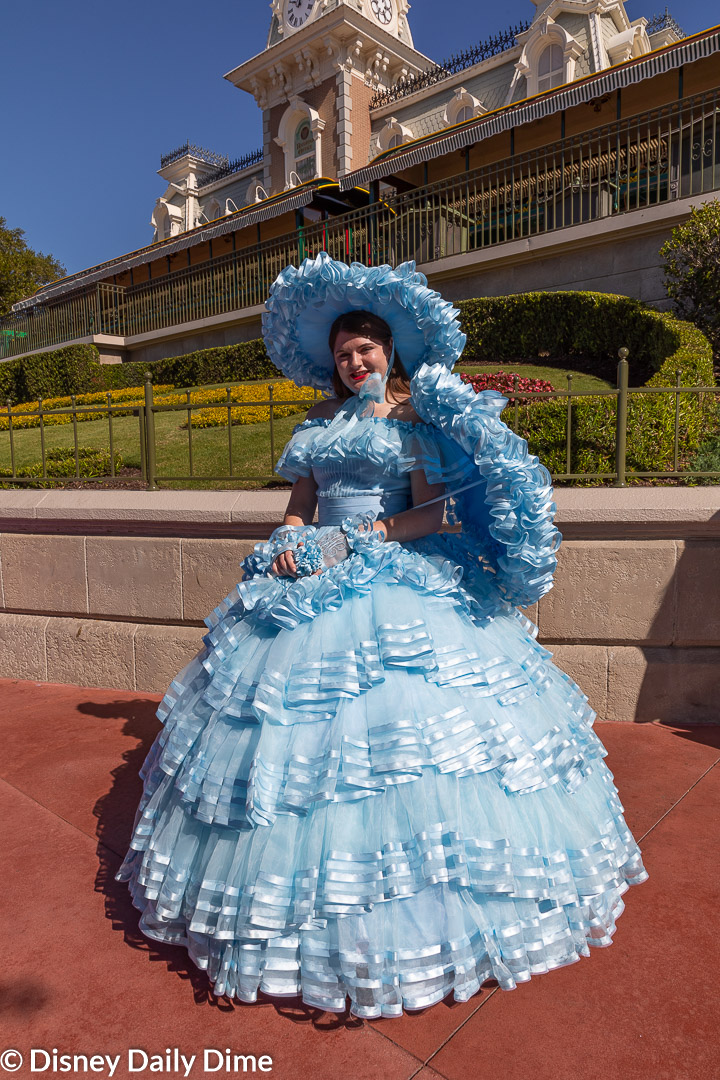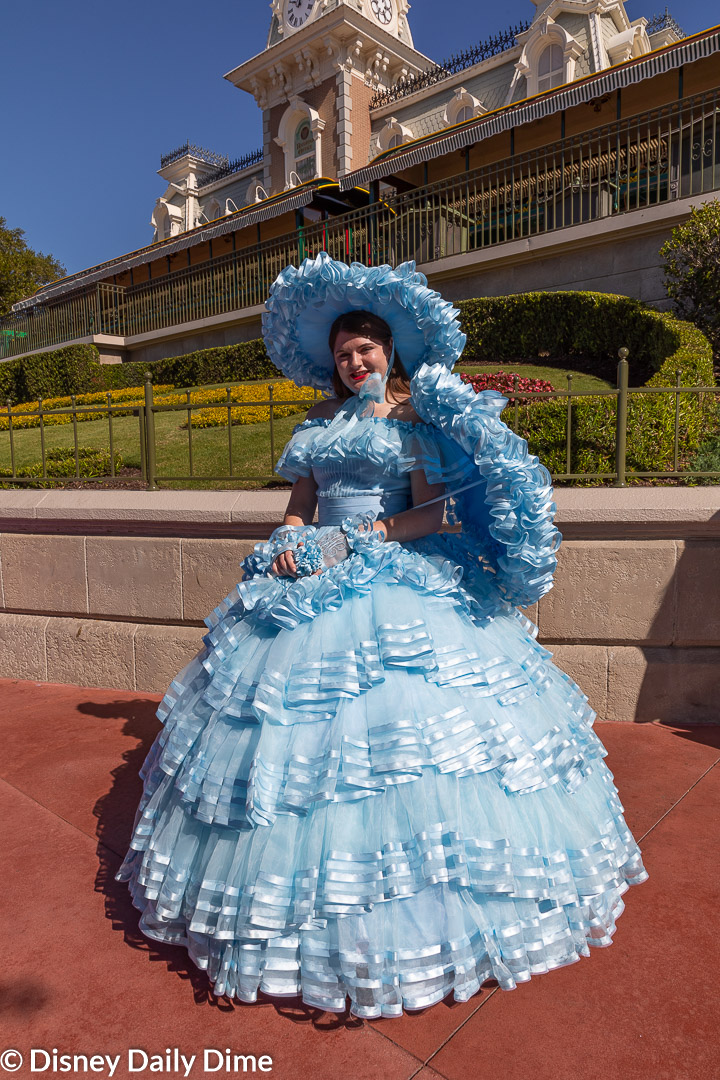 Meet Mr. and Mrs. Easter Bunny
In addition to the Easter parade at Disney World, you can actually meet Mr. and Mrs. Easter Bunny at the Magic Kingdom.  You'll find them in the "Bunny Lane Garden", which is located in the Town Square Courtyard of Main Street, U.S.A.  If you have ever gone to Christmas at Disney World, you'll know this as the place where Santa Claus meets.
Mr. and Mrs. Easter Bunny typically meet in the few weeks leading up to Easter at Disney World, rather than just the week or few days before.  They are usually available for meet and greets between 9:00 AM and 5:30 PM.  There is a PhotoPass photographer here.  We've seen conflicting reports on if they will sign autograph books.  Our experience was that they did not.  Anna and Elsa were given preprinted cards with both their signatures on it.  Your experience may be different.
We'd suggest doing this meet and greet before Easter if you can.  We met them on a Thursday in the middle of the afternoon and the wait was only about 10 minutes.  We walked past the line on Easter Sunday and would guess it was more like a 30-minute wait.  Still not bad, but you can save yourself valuable time by going before Easter Sunday.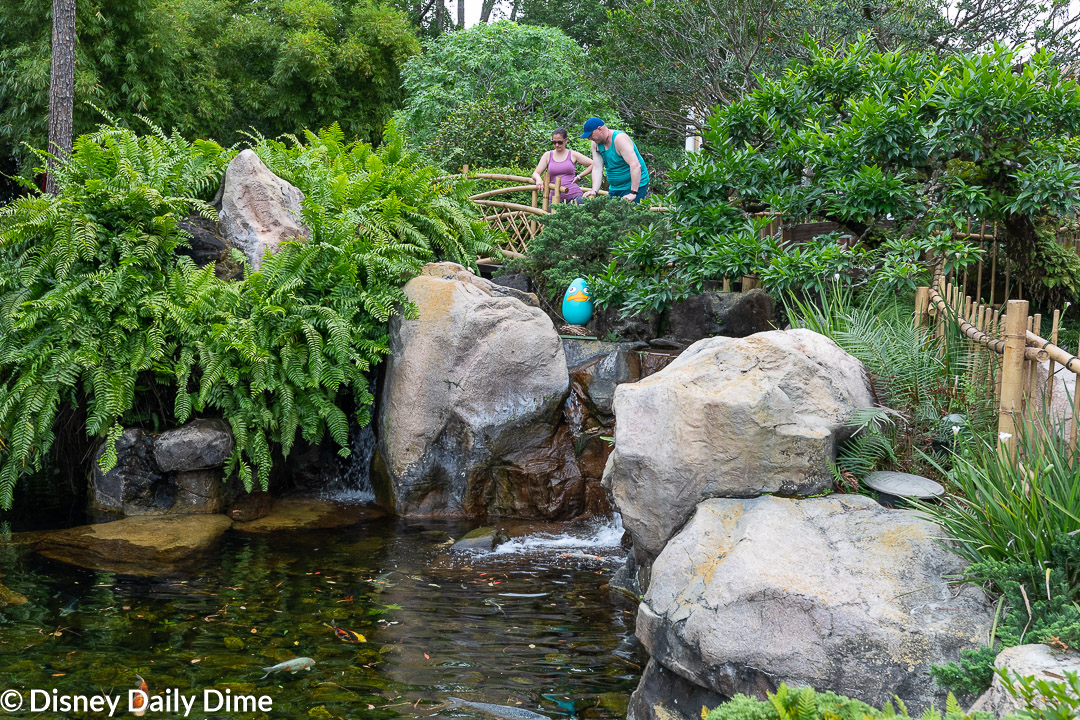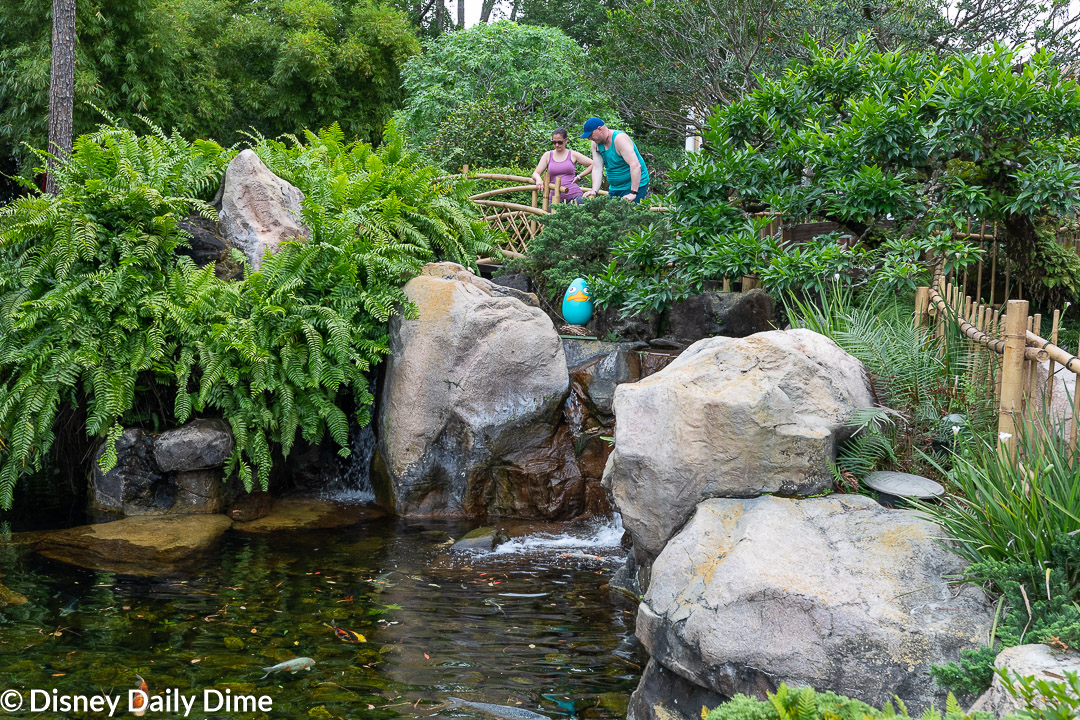 Epcot Easter Egg Hunt
Over in Epcot there is only one real sign of Easter at Disney World.  That sign comes in the form of characters painted on oversized Easter eggs.  You can buy an "Eggstravaganza" map and then go on an Easter egg hunt around World Showcase.  Don't let the map below confuse you, there are no eggs in Future World.
We actually did this with Anna and Elsa and they enjoyed it a lot more than I thought they would.  Easter is at the same time as the Flower and Garden Festival so we did a tour of the food booths while we were completing the Easter egg hunt.  Doing both of these together consumed pretty much the entire afternoon, but that was fine with us.  If you only do the Easter egg hunt then I'd say you could probably finish the hunt in about two hours.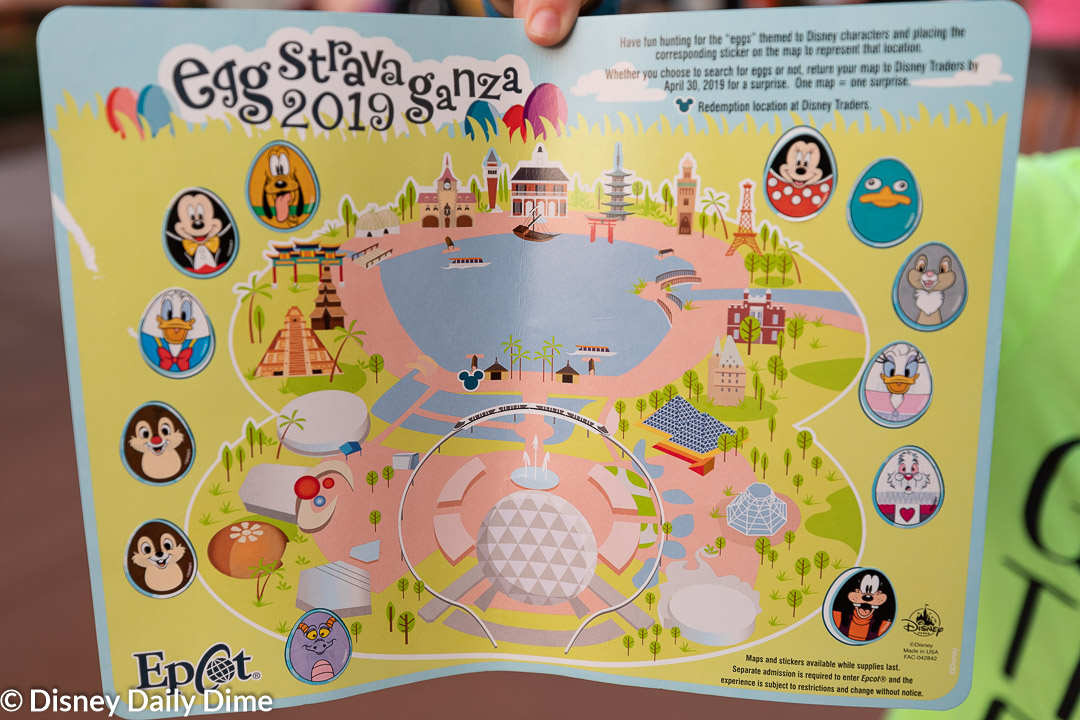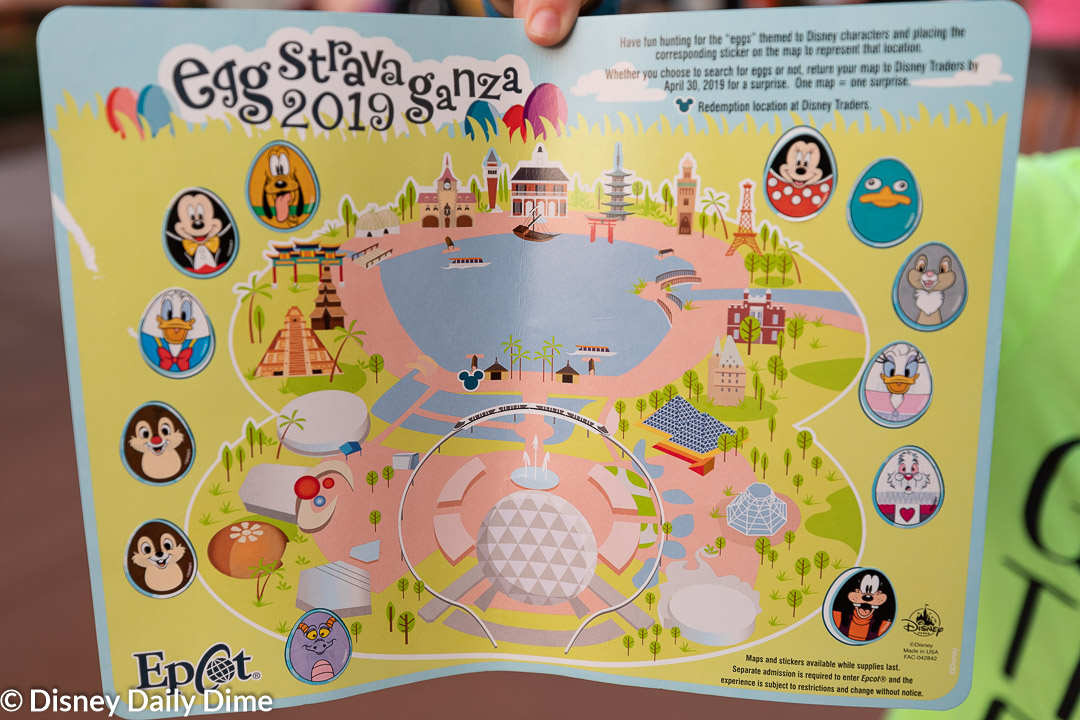 Once you complete the Easter egg hunt (or even of you don't), you can take your map to the Disney Traders shop in World Showcase and they will exchange your map for your own little plastic Easter egg.  The egg you get is decorated in a variety of Disney characters.  Elsa was quite excited to get the Maleficent egg.  I'm not sure if that speaks to her understanding the rarity of Maleficent items or some sort of parenting flaw on Carla's and my part.  We'll go with the former!
Easter Treats
While we just didn't have time to track them down, we do know that Disney World serves up some Easter treats.  You'll find cupcakes and a few other seasonal sweets in the parks and at the resorts.
Easter Brunch at Disney World
On Easter Sunday, many of the Disney World resort will serve an Easter brunch.  We've seen various reports of which resorts serve brunch, however we're not clear as to the completeness of the listings.  We found signs in the lobbies of both Pop Century and Art of Animation showing that they were serving Easter brunch.  However, we have not seen any blogs listing them as resorts that host a brunch.  My guess is their information is outdated and probably hasn't been updating a while.  Since it's a year to year proposition, I'd suggest calling Disney World directly to see if a particular resort will be having an Easter brunch.
There are some restaurants that offer special lunch meals within Disney Springs too.  You should call the restaurant you are interested in to confirm availability.
Special Easter Character Meet and Greets at Disney World Resorts
Each year Disney World resorts host special character meet and greets on Easter Sunday.  While we didn't get a chance to attend any of them, you can check with your resort to see if they offer special meet and greet.  We've seen reports and videos of many of the meet and greets and they appear to be a mix of the Fab 5, Chip 'n Dale, Mr. and Mrs. Easter Bunny, and the White Rabbit (from Alice in Wonderland).
The outfits that the characters wear appears to vary from resort to resort.  If you're interested in Disney World characters, you can look at our park specific character guides.  We'll link to our Magic Kingdom character guide here and you can get to the other park guides from it.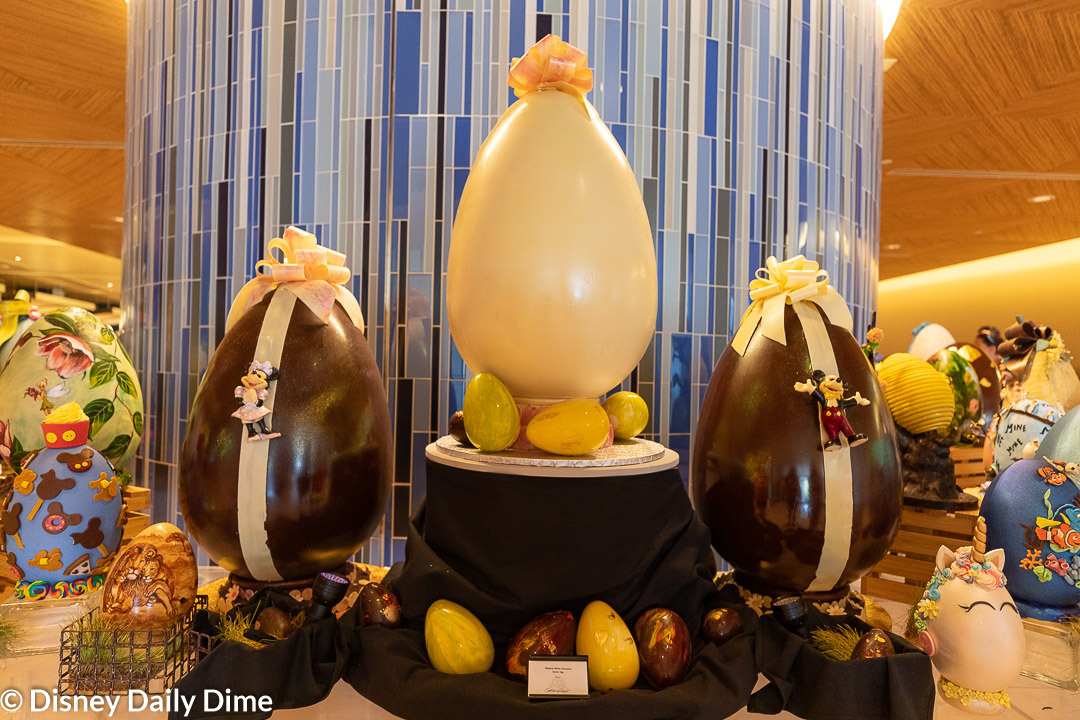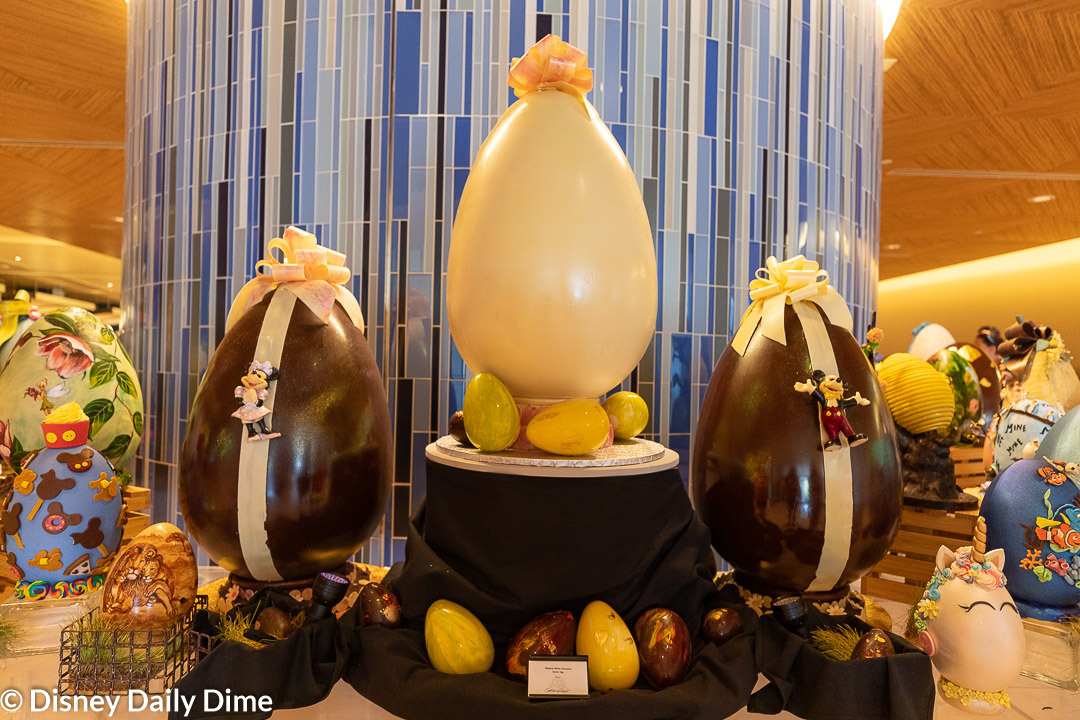 Disney World Resort Easter Egg Displays
At many, but not all, Disney World resorts you'll be able to find several Easter egg displays.  They range from professionally made eggs to cast member crafted designs.  You'll find the more professional looking displays at the Disney World deluxe resorts.  We've seen or read about the professional looking displays at the Grand Floridian, Contemporary Resort and Disney's Yacht & Beach Club Resorts.
We managed to make it by the Contemporary Resort to see the display there.  You can see a couple of photos below.  These Easter eggs are exquisite!  The level of detail in them has us in awe of the finesse it must take to create these beauties.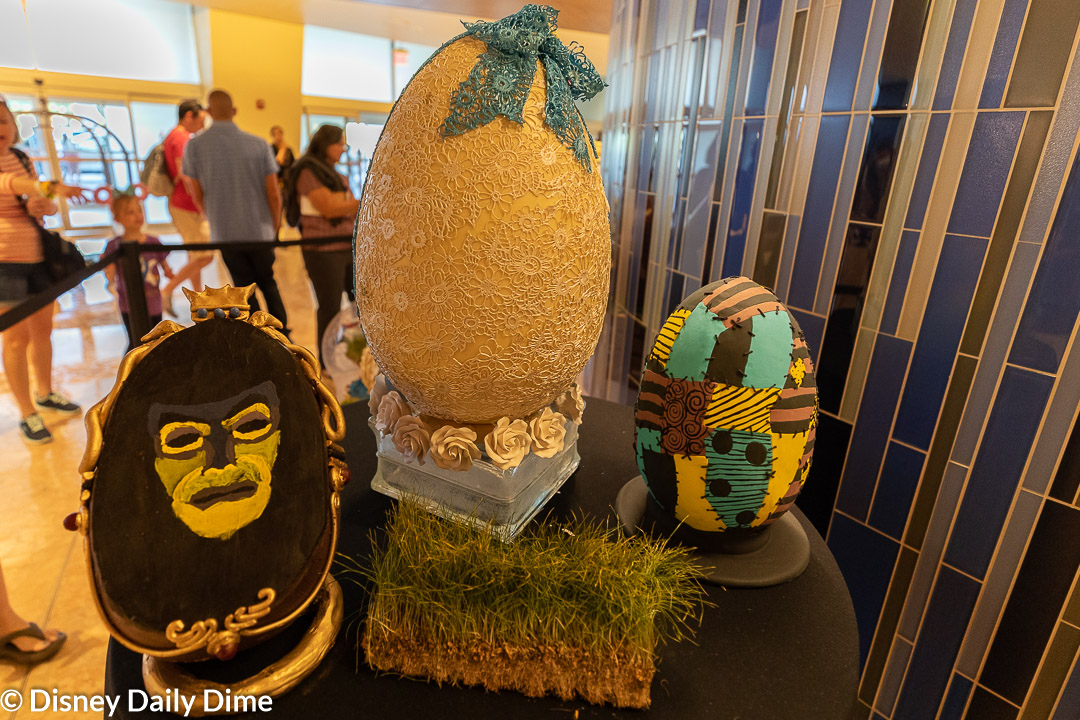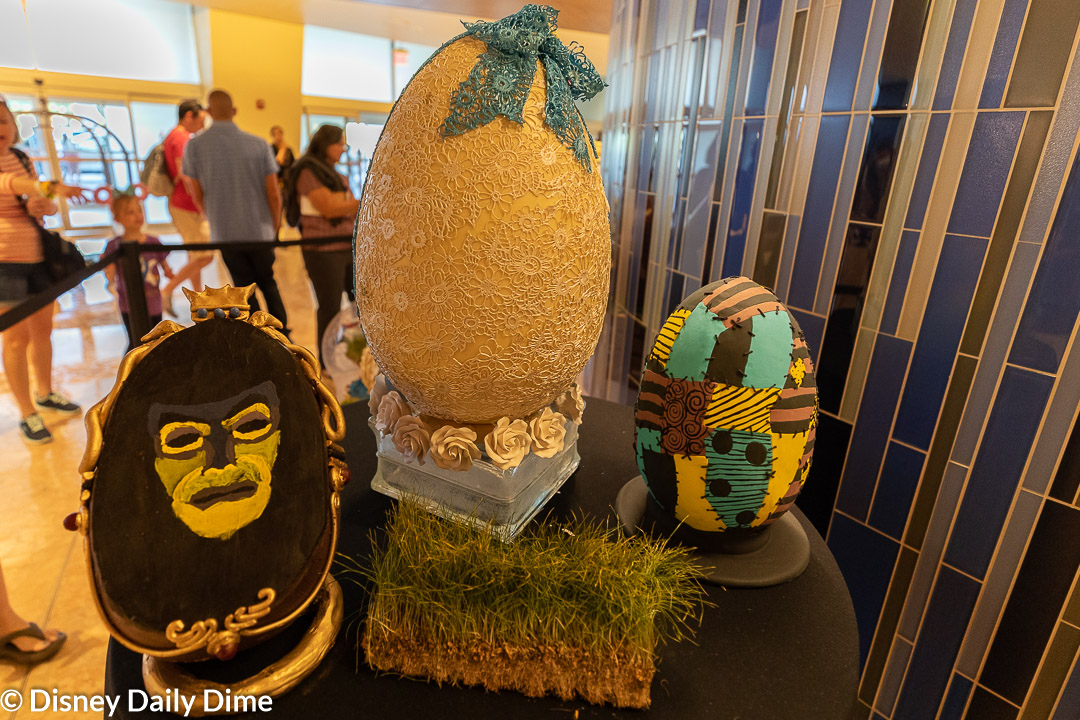 However, even if they aren't as refined, we'd encourage you to not skip out on some of the cast member inspired designs.  They can be equally fun, and Anna and Elsa really liked the display we found at Art of Animation below.  It featured the Avengers, Star Wars and UP! designed pieces.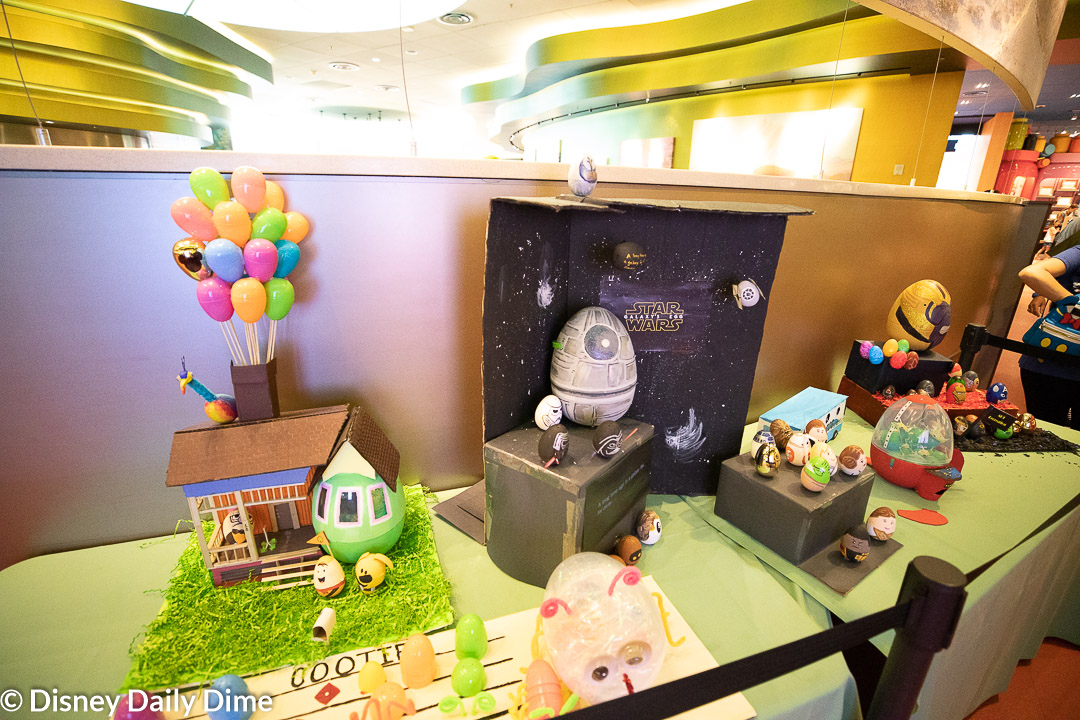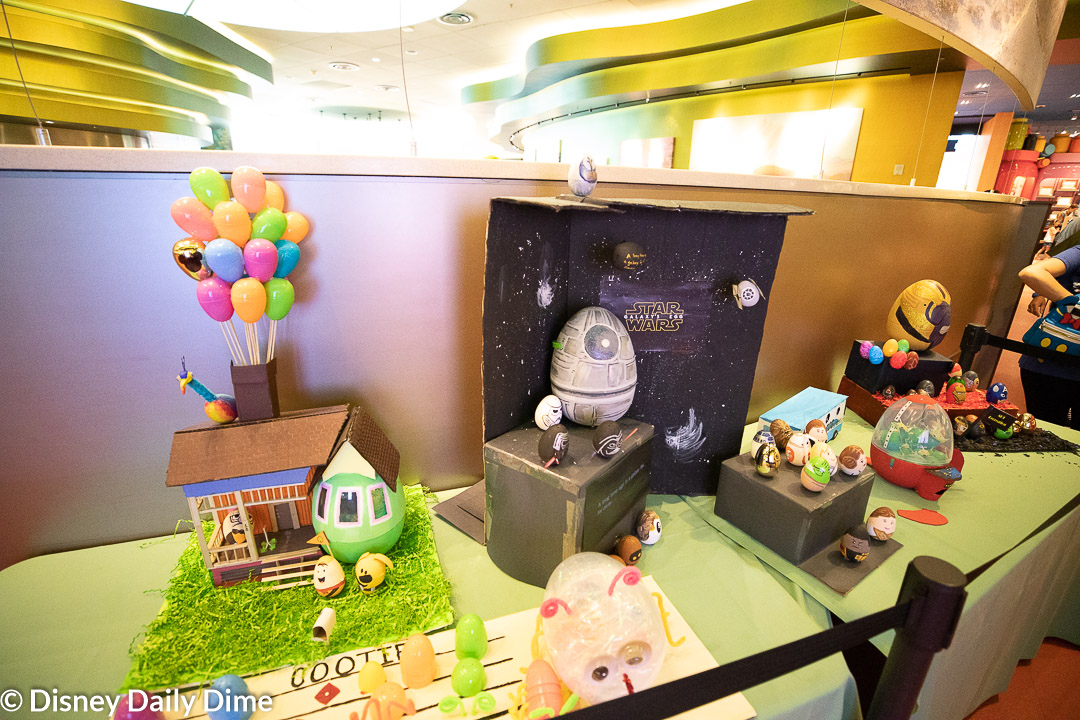 The timing on when these displays are set up appears to be a little hit and miss.  We've seen other bloggers report not seeing the displays, when other have.  It's safe to say, the closer you are to Easter at Disney World the more likely you are to find something.  If you don't see the display, ask a cast member and they can point you in the right direction.
Disney World Resort Easter Special Activities
Several of the resorts offer special Easter activities, such as Easter Egg hunts, an Easter cake walk and bunny bingo, among other things.  Check with your particular resort to see what Easter activities they offer.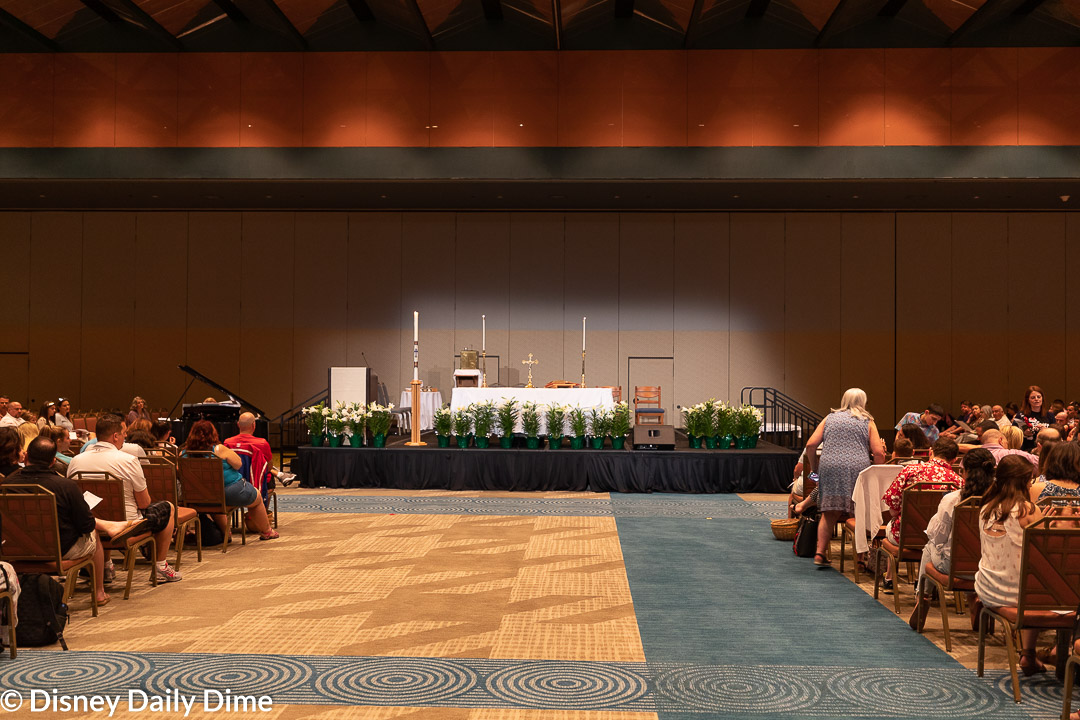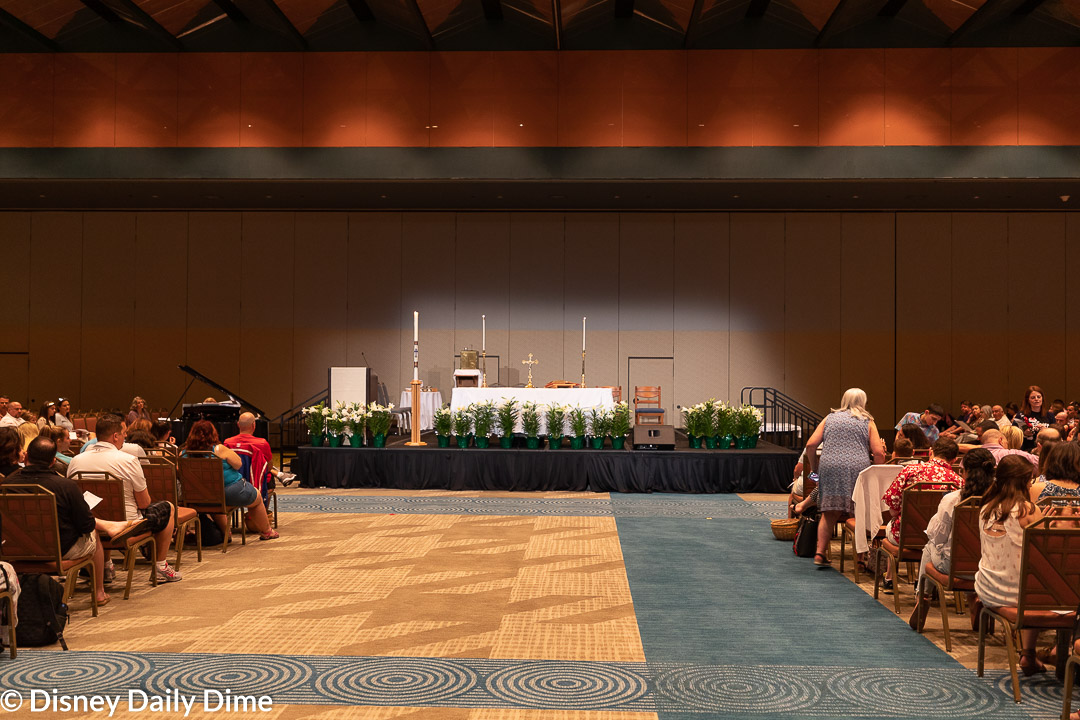 Easter Sunday Church Services at Disney World
Disney World does offer on-property church serves on Easter Sunday.  You'll find two Catholic masses, one at 8:00 AM and another at 10:30 AM.  Protestant services are offered at 9:15 AM.  These can change from year to year, so make sure you check with a cast member before showing up.
All services are held in the Fantasia Ballroom at the Contemporary Resort.
Wrapping Up
That's our summary of what all happens for Easter at Disney World.  There are lots of fun touches and activities, but it isn't nearly as ornate or thoroughly themed as Christmas or Halloween.  In spite of that, you'll find some excellent things for kids to do.  Just don't head to the parks at Easter expecting light crowds and short wait times.  You'll be sorely disappointed or downright angry.  If your express goal of going to Disney World at Easter is to avoid crowds, don't do it.
Have you done Easter at Disney World?  If so, what did you think?  Are there activities we missed or that you think are not to be missed?  Drop down in the comments section below and share it with the community!
If you found our post on Easter at Disney World helpful, please share it with others that may find it of interest.  We always appreciate it when you share our content as it helps us reach and help more people.  It also tell us that we're doing something right!