As you will see on the "Our Story" page of our website, I've developed a gluten sensitivity that is pretty strong so I eat entirely gluten and wheat free.  This is the next installment in what will be a long series of my experiences eating gluten free around all of Disney World.  Here in our Bon Voyage Breakfast Gluten Free review, I'll cover the food but other topics related to the restaurant as well.  This will include my experience, service, options and anything else I think others trying to eat gluten free may care about.
With two princess fans in our family, the Bon Voyage Breakfast was on our must do list.  For my first gluten free trip, I was really looking forward to trying the allergy friendly Mickey waffles.   As I soon found out, not all waffles are created the same! 
Gluten Free Bon Voyage Breakfast Overview
In case you aren't familiar with it, the Bon Voyage Breakfast is a plated prix-fixe breakfast served at the Trattoria Al Forno at Disney's Boardwalk.  There are three "courses": pastries on the table (which I would not be able to eat), fruit, and then the main entrée.
Now the food is interesting, but what really pulls people into the Bon Voyage Breakfast is this is a character meal at Trattoria al Forno.  The headliners are Ariel and Rapunzel, but you also get to meet their significant others.  Prince Eric and Flynn Rider are rare characters in the parks, they usually only meet at special events like the Halloween and Christmas parties.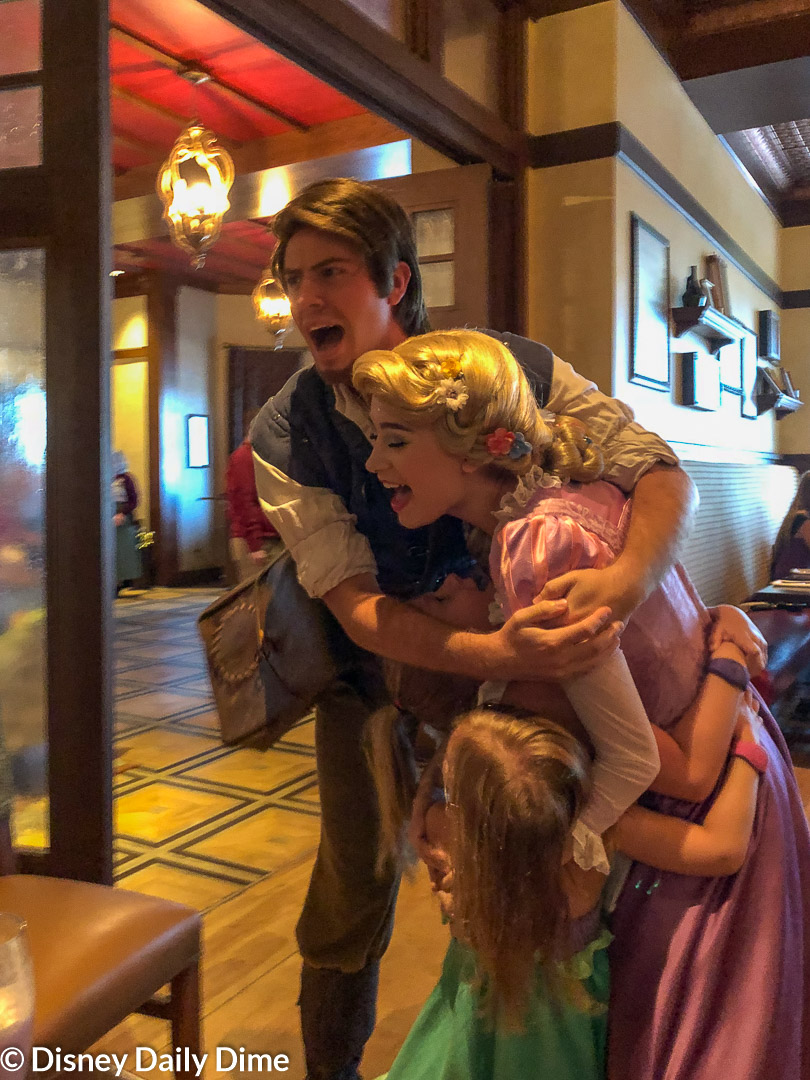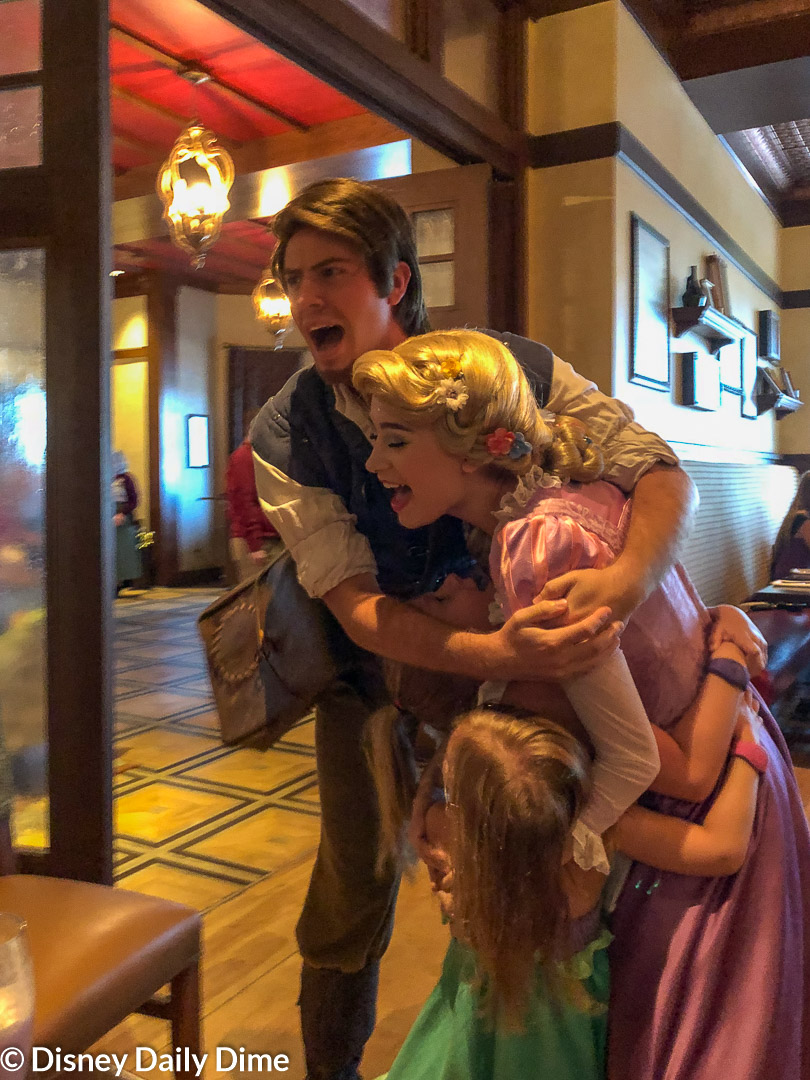 We've already done a more comprehensive review of this character breakfast at Trattoria al Forno.  In that post we talk about the characters and our overall experience, so we won't rehash that here.  I'll mainly focus on the food, service, etc. from a gluten free perspective in this post.
Bon Voyage Breakfast Gluten Free Menu
Before the trip, I used the resources on Glutenfreedairyfreewdw.com and reviewed the allergy menu.
I was impressed with the number of choices available outside of just a standard eggs/meat/potatoes plate.   There were plenty of savory options, but also a sweet option in the much-lauded allergy friendly Mickey waffles.  I often don't want sweets in the morning, but I am a big fan of waffles.  Especially when they are shaped like Mickey!  As I was very eager to try the allergy friendly waffles, I chose this for my meal.
Bon Voyage Breakfast Gluten Free Food
As always, the server confirmed my allergy when we sat down and asked if I had any questions or needed to speak to the chef.  I had already done plenty of research and knew what I was going to order, so I didn't ask to speak with the chef.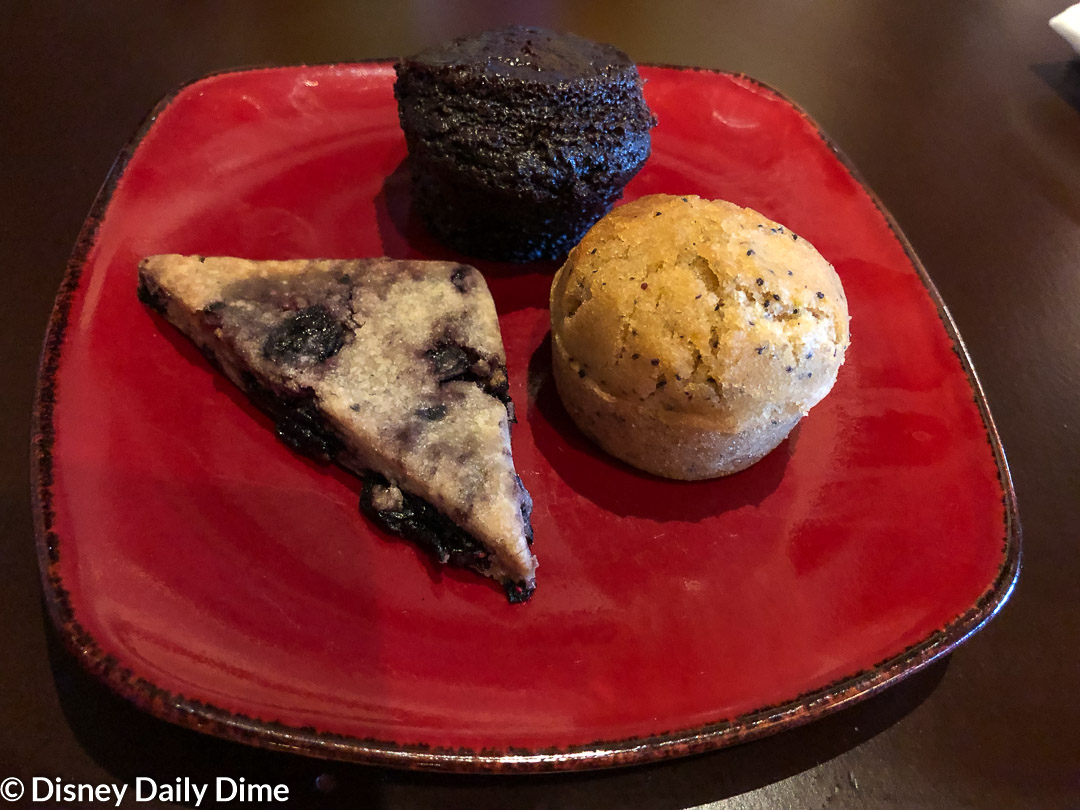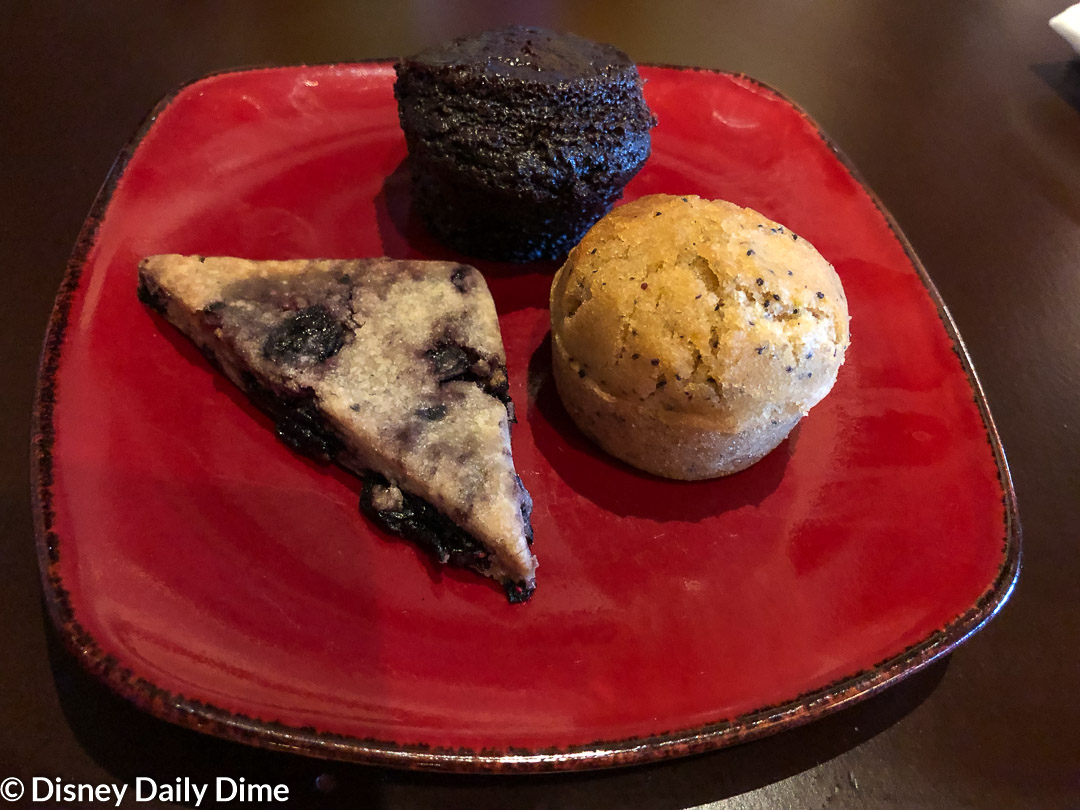 While my family enjoyed Rapunzel's frying pan full of fun pastries, I was given my own plate of baked goods to enjoy.   My plate held two muffins, one lemon poppy-seed and one chocolate, and I believe what was meant to be a blueberry scone.  The muffins were very tasty and not dry or crumbly.  I preferred the lemon poppy-seed as the chocolate one was a little too sweet.  I am generally not a big scone fan but I love blueberries so I was willing to give it a try.  Oh my goodness, I thoroughly enjoyed this little pastry.  It wasn't too sweet and it was filled with blueberries.  It had a texture similar to a shortbread cookie. 
The fruit was served with the pastries and I appreciated the fresh berries.   The fruit was fresh and we all enjoyed it.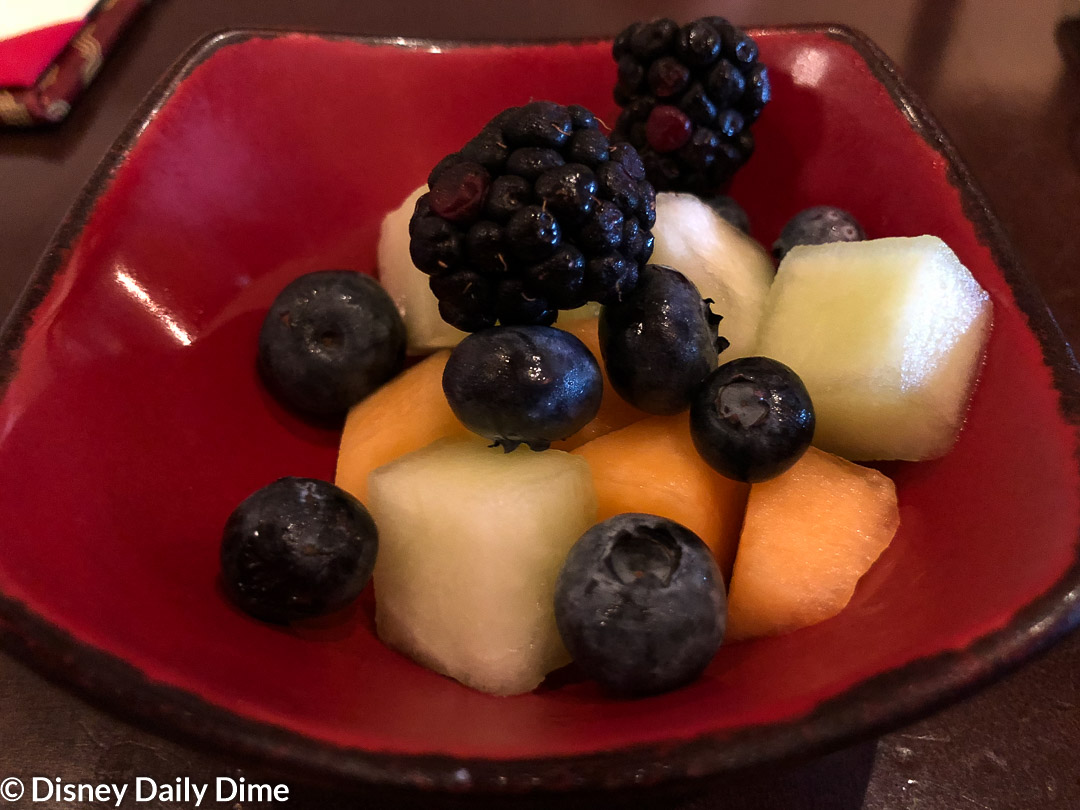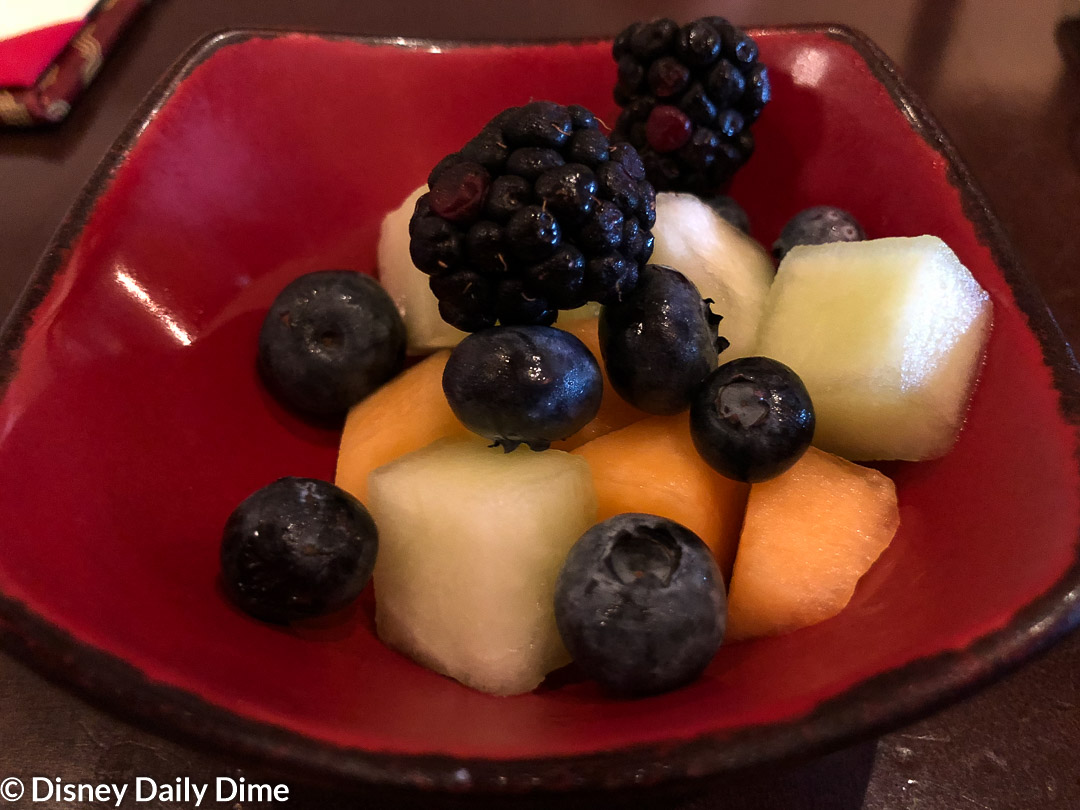 My entrée contained three Mickey waffles (the small ones, not the plate sized ones) and a few slices of bacon.   The waffles were delightfully crisp on the outside and soft on the inside.  As I worked my way towards the center of the waffles though, the insides were gooey and seemed almost under-cooked.   I continued to eat them and ate around the "mushier" insides.   This was so disappointed though!  The allergy friendly Mickey waffles I had earlier in the trip at Hollywood & Vine were cooked perfectly.  
I am not usually one to criticize and speak up at restaurants (I worked in the industry at one time and by nature I tend to give the benefit of the doubt) but I wanted to be helpful to the staff who maybe wouldn't know this unless diners spoke up.  When I told the server about it and she said she would tell the kitchen staff.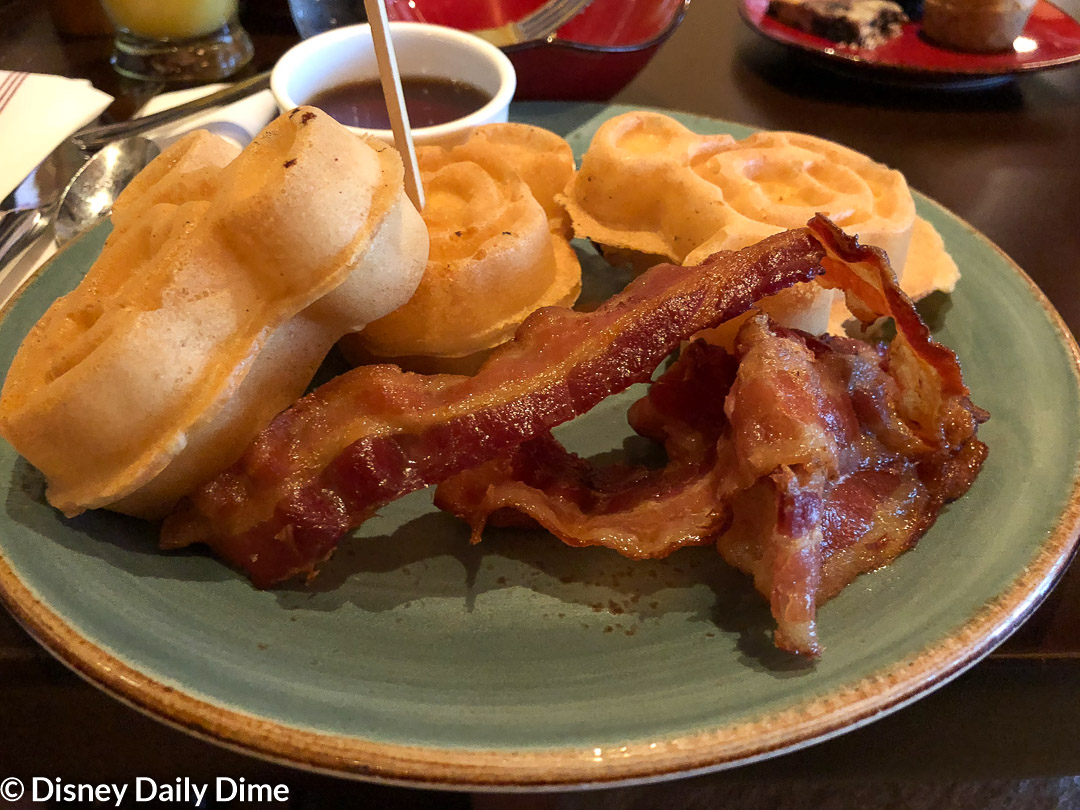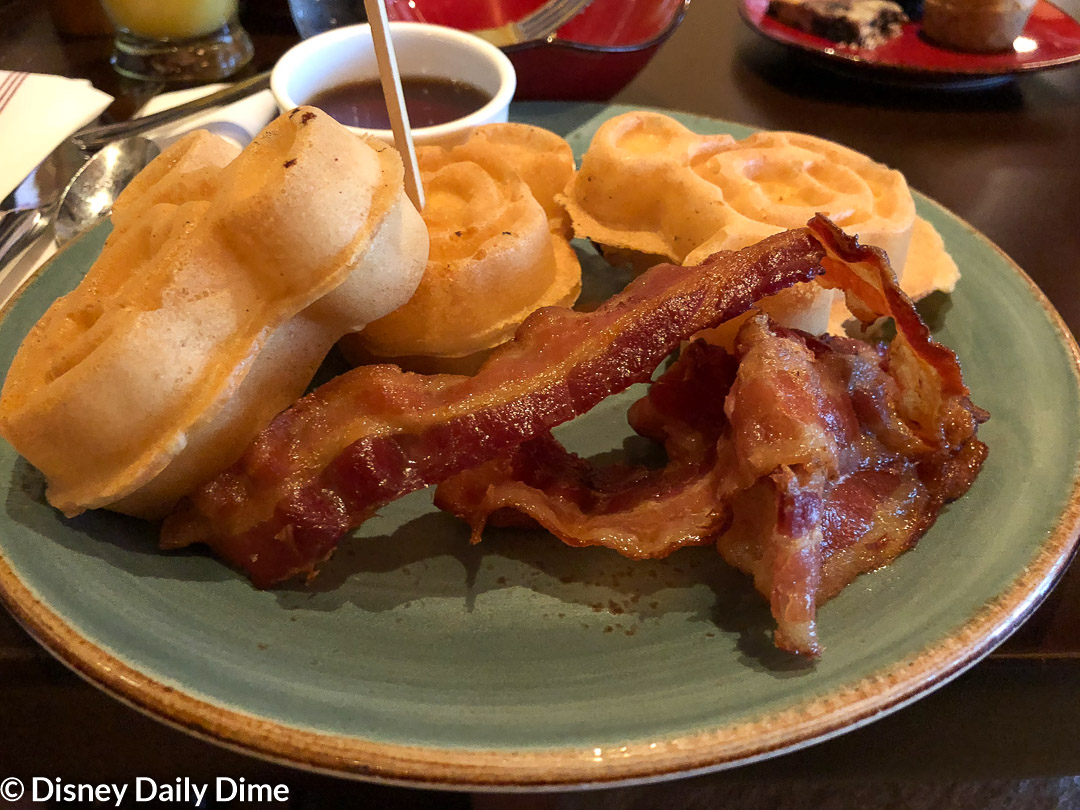 Once we were home, I did some research and read some social media comments that it depends on the type of waffle mix they use.  As I can't verify this myself as I didn't inquire at the different places I ate waffles, I don't want to say that this is a fact.  However, it does seem like a reasonable explanation.    
Overall Impression of Eating Gluten Free at the Bon Voyage Breakfast
Other than my disappointment with the mushy insides of my Mickey waffles, I enjoyed this meal.  Of course, the memories I walked away with weren't of the food but watching the interactions of my girls with the characters.  With most character meals, the highlight is the characters not the food.  I feel like this held true here but the food and menu options were overall a higher quality than many of the buffet type breakfasts.  I definitely would give this meal another chance and try the frittata or another of the creative savory options.
One thing that makes this compelling is the pricing of this character meal.  Gluten free or not, getting to meet four Disney characters for $35/adult and $20/kid is a pretty cheap way of getting some characters in.  Read our previously mentioned overall review and you'll see why this was such a great character experience.
Wrapping Up
If there's more information on gluten free dining you would find helpful in these reviews, feel free to drop down in the comments and tell us.  Alternatively, you can email us from the contact us page.
We hope you found our Bon Voyage Breakfast at Trattoria Al Forno gluten free review helpful.  If you did, please share it with others you think may find it useful.  Just hit the social media sharing buttons on the page!  We always appreciate it when our readers share our content with others, as it allows us to help more people and spreads the word about our blog.