Restaurantosaurus is a counter service location at Disney's Animal Kingdom that features some fairly standard American fare for lunch and dinner.  You'll find it located within the DinoLand U.S.A area of Animal Kingdom.  Here in our Restaurantosaurus review we'll cover our dining experience from a recent trip.  The review will include our thoughts on the restaurant's theming, food and anything else that comes to mind.  As usually, we'll have plenty of pictures to go along with the review.
From the perspective of the Disney Dining Plan, the counter service credit you would use to eat here can be a good value, depending on what you order.  Order the Bacon Cheeseburger Combo, which will run you $15.99 and it's a fantastic value on the dining plan.  Order the $9.99 Chicken Breast Nuggets, and you'll find it to be an average value for counter service credits, not to mention some really boring food.
In addition to the dining plan, one thing to note is this counter service location actually accepts Tables in Wonderland.  Getting another 20% off your meal is a nice upside and it is a rarity to find a counter service location that takes this discount.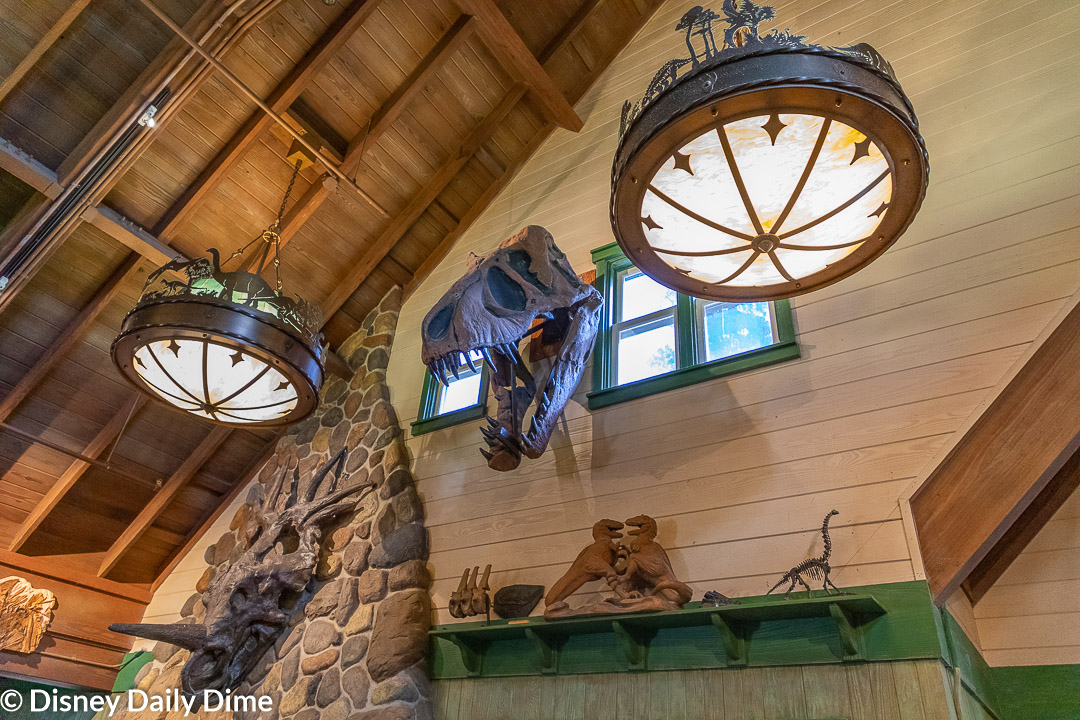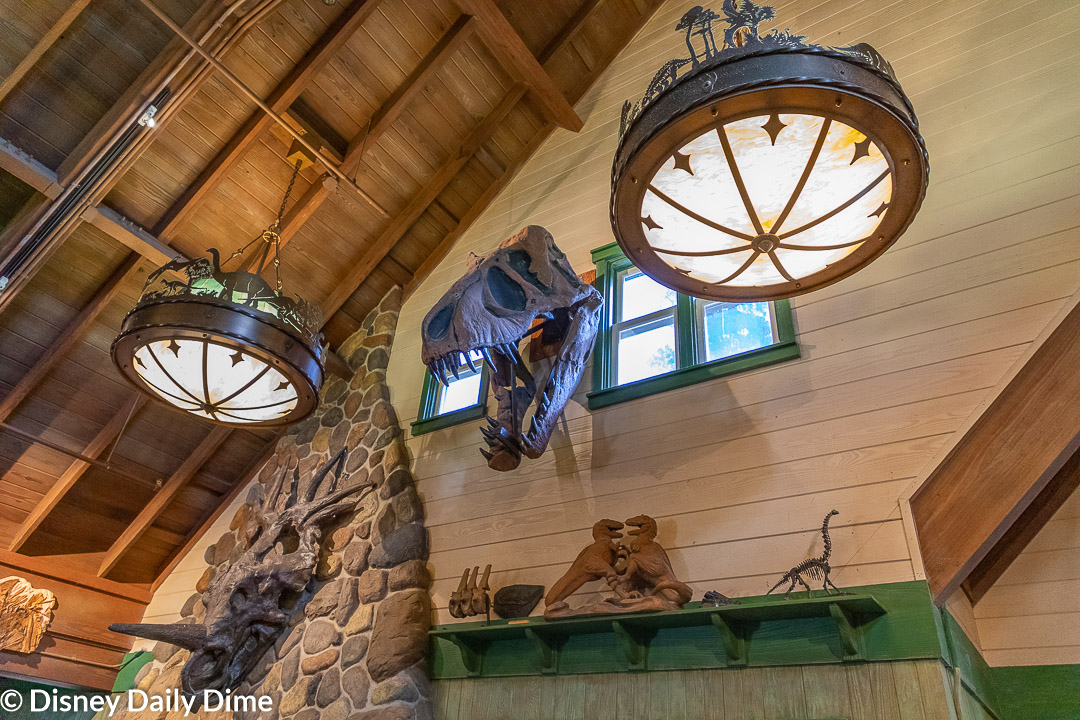 Based upon the name and the land that it is a part of, you'd expect Restaurantosaurus to feature some sort of dinosaur based them.  You would be correct.  How they pull it off is somewhat unexpected though.  As you can see from our main restaurant photo at the top of the post, the exterior of the restaurant looks like a house.  A bit of an odd look for something dinosaur related.  Here's why…
The story that underlies the theme of Restaurantosaurus is that a bunch of paleontology students turn their dorm rooms and labs into a restaurant.  However, these are buildings that don't look anything like a dorm room I would recognize.  It probably is more reflective of something you would find on at a dig site.  Because you know, I'm an expert on what a paleontology dig site would look like.  I have seen Jurassic Park 50 plus times!
Beyond the discombobulated nature of the back story, there is a lot of intricate thinking and design that has gone into Restaurantosaurus.  As you would expect with students, there are some fun touches like a badminton net hanging from the ceiling (have to pass the time somehow right?) to several dinosaur artifacts mounted on walls and the ceiling.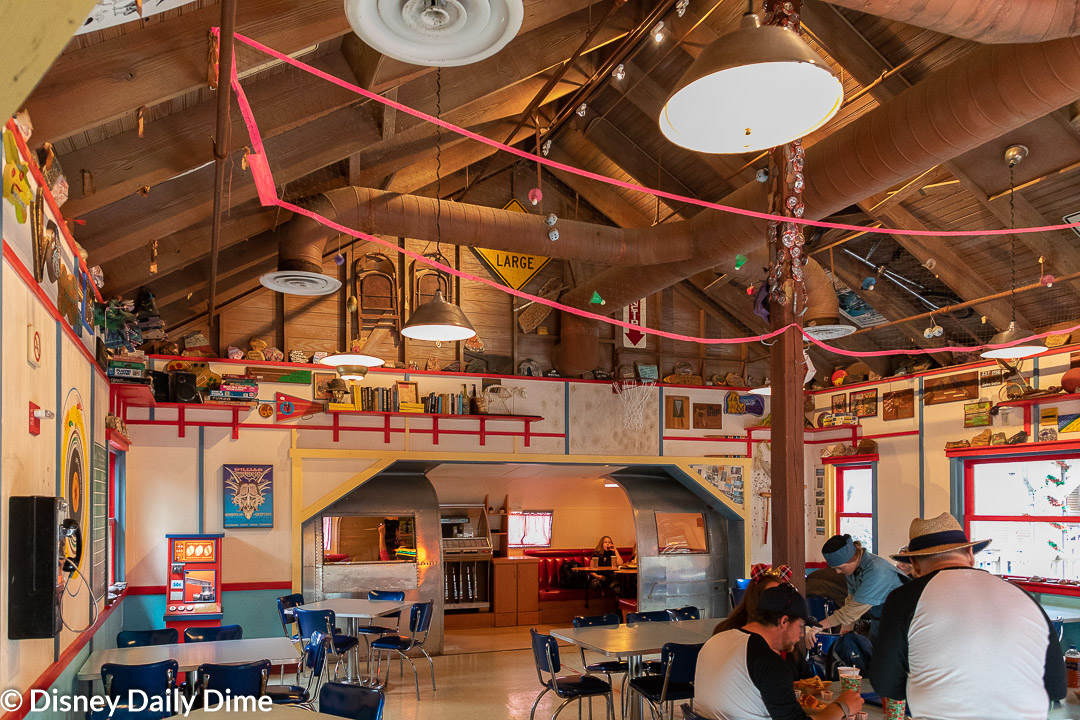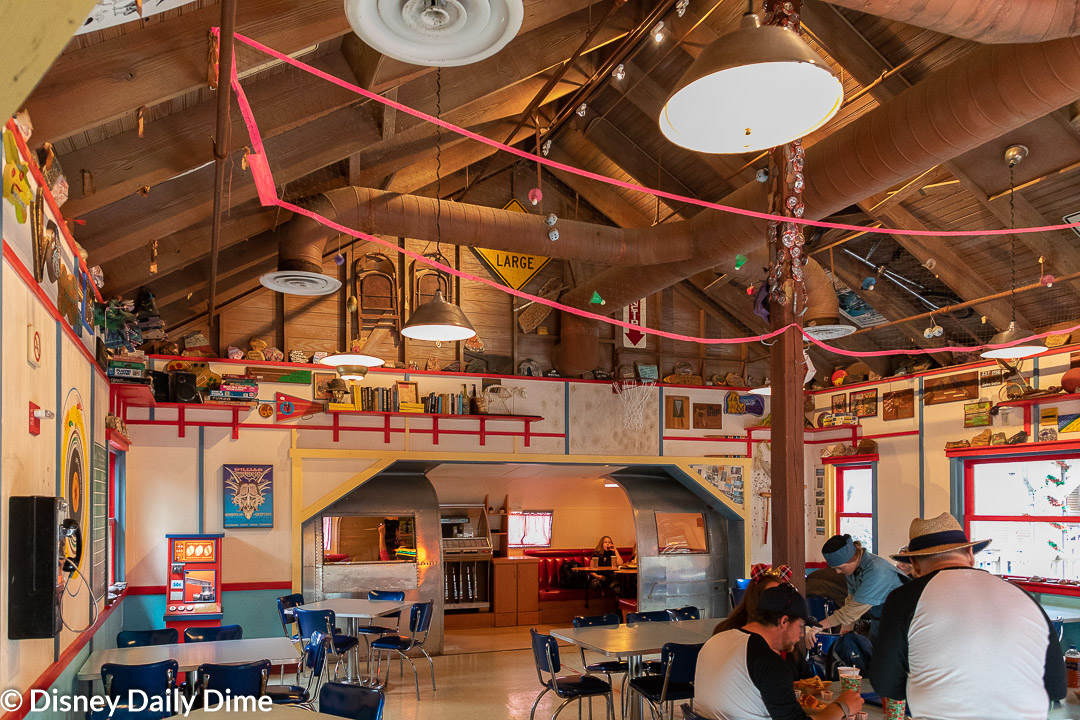 Now, don't get us wrong here, while the theming is a bit all over the place, it's supposed to be.  Restaurantosaurus goes out of its way to make sure it isn't so serious, rather it is a light hearted take on it's theme.  I mean, who builds a room out of an airstream trailer?  You'll find lots of fun little touches like rocks with funny phrases painted on them and other touches that really underscore that it is students that live here.
The kids found the theme very fun.  They spent a good amount of time exploring the restaurant and gawking at the various fossils and other dinosaur related décor.  They weren't so interested in the paleontology student aspects of the theme, but it didn't bother them either.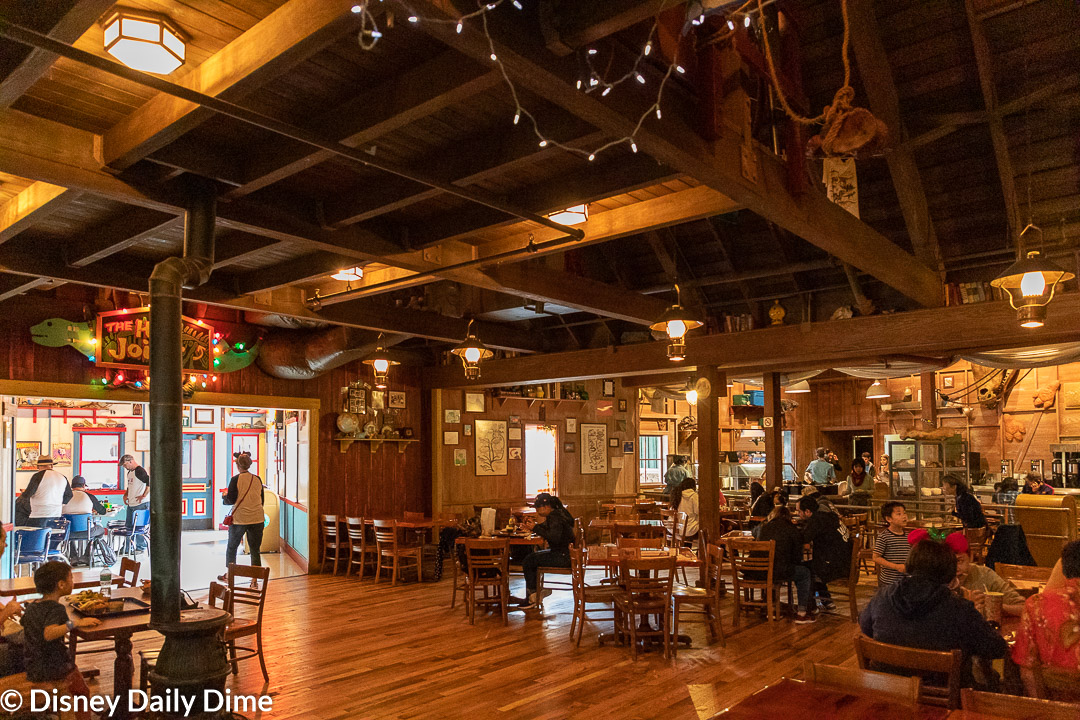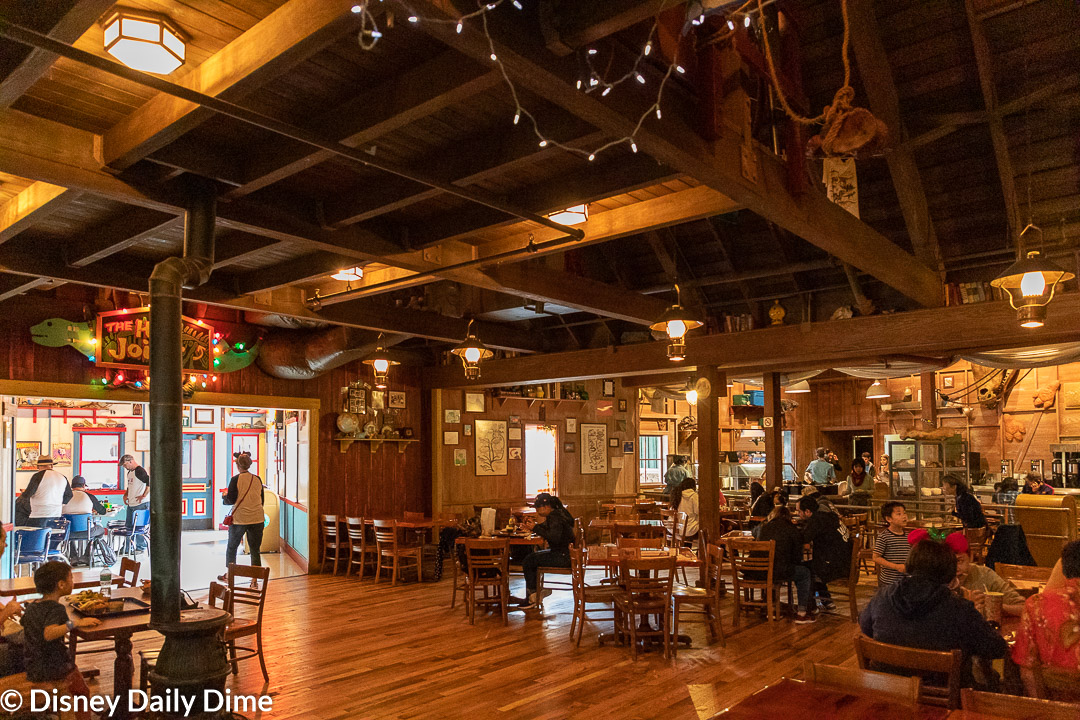 So, while the theme is all over the place, we found it fun and enjoyable.  It certainly isn't the best theme for a counter service restaurant at Disney World, however it works fine.
Oh, and the restaurant has ample in door air-conditioned seating which is a huge plus if you are here in the middle of the summer.  It makes me cringe to think of our experience dining at Woody's Lunch Box, where there was no air-conditioning to be found.  There is no such issue here.
You'll Find Good Food and Some Truly Boring Food at Restaurantosaurus
Before we dive into our thoughts on the food, I wanted to make a general comment on some of the reviews you might read about Restaurantosaurus.  Check the date on them.  Several of the more popular ones on the internet are fairly dated.  Many of them are critical of the food, but don't reflect the changes to the menu or enhancement to older dishes.
Because we read many of these reviews in preparation for our trip, I was expecting some truly terrible food.  While I won't say that the food is a culinary feat by any means, it was far better than I expected.  Maybe it's a lesson in taking some of these reviews with a grain of salt.
Now let's get into the food at Restaurantosaurus!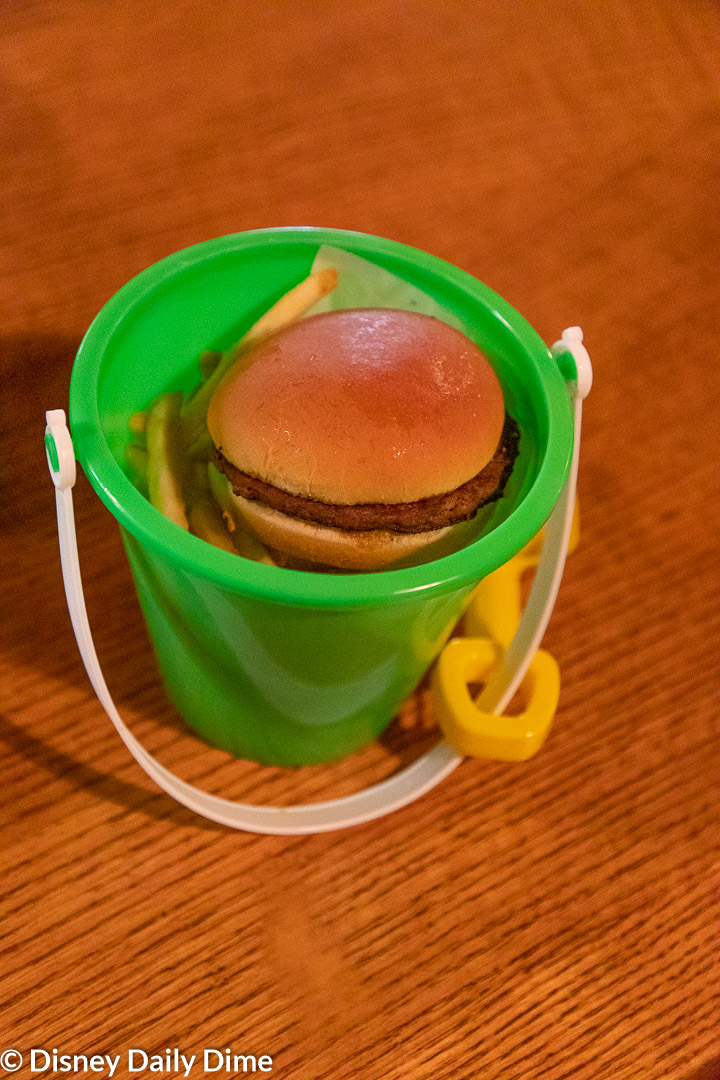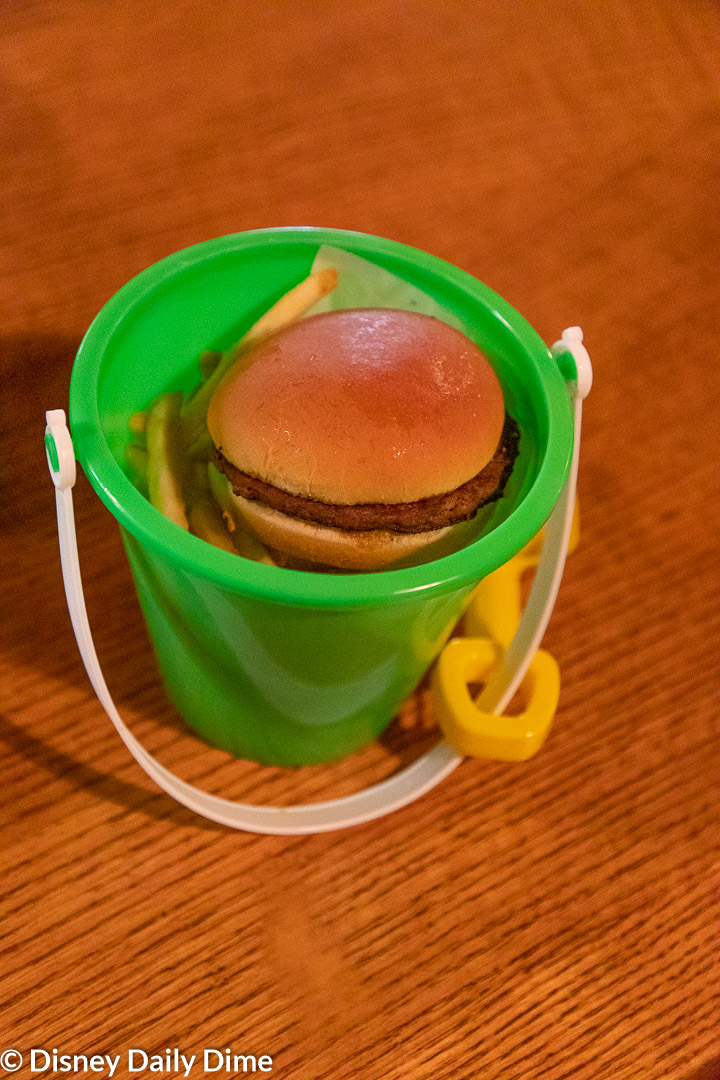 Kids Entrees
When you look at the menu, you'll notice that the kids menu is fairly limited and down right boring.  You'll find four kid staples of Disney World here.  Those would be Uncrustables, a hamburger, chicken nuggets and a turkey wrap.
On this particular day Elsa ordered the hamburger.  As you can see the hamburger looks down right blah.  And it was.  Elsa didn't mind it, but I took a small bite and it was your standard hockey puck hamburger.  Making it worse, the burger was slightly burnt.
The one other thing that you can see in the picture above is that the hamburger comes served in a pail with a shovel.  It isn't the most convenient thing for eating, but the real problem came after we finished. 
The pail is yours to take, which of course Elsa wanted to.  This presented two problems.  First, we didn't have a place to store the pail.  The days of using a stroller are finally gone for us, so all we had was our park bag and there is definitely not room to keep a small pail in it.  Beyond that issue, the pail has grease and food crumbs in it.  While you can clean it out, it just wasn't something we wanted to tote around.  If your kid puts ketchup in the pail, it becomes even more difficult to clean up.  So, we had to convince Elsa to leave it behind, which was a bit of a pain.
As a side note, the chicken nuggets also come with a pail and shovel.
Anna ordered the Uncrustable, which is as plain a PB&J as you can find.  We didn't even bother taking a picture of it.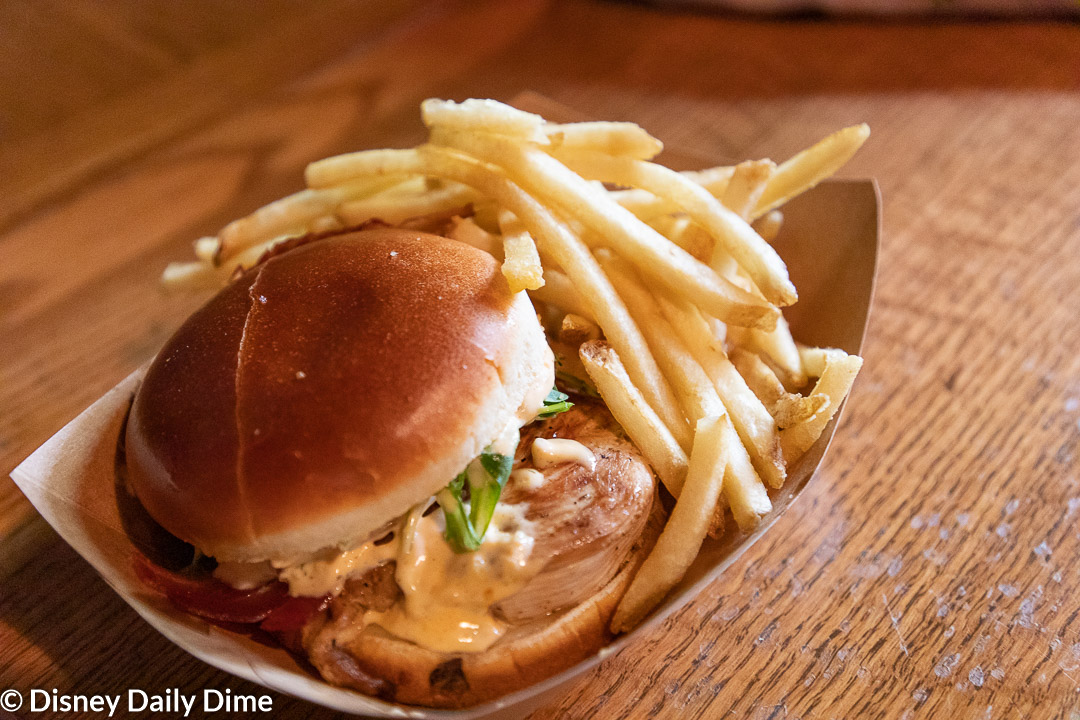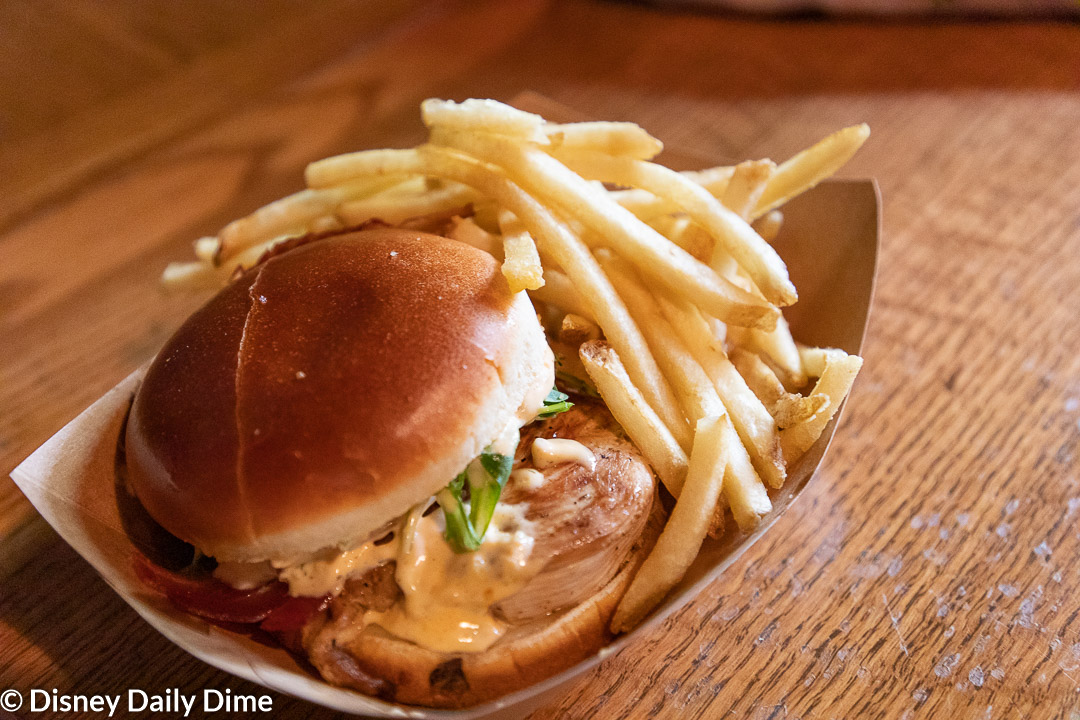 Adult Entrees
On this trip, we had Carla's parents and some family friends with us, so we have a few extra food pictures for our Restaurantosaurus review.
Before we get to the heart of the food reviews, we did want to point out that Restaurantosaurus features a fairly good toppings bar for your sandwiches and burgers.  You'll find banana peppers, jalapenos, mushrooms, grilled onions, bell peppers and more.  It's a good way to top off your burger or just eat some mushrooms…not that I would know anything about that.
We will start with my meal, which was the Grilled Chicken BLT Sandwich.  I wasn't sure what to expect when I ordered this having read some really bad reviews about the chicken sandwich.  Fortunately, I was pleasantly surprised.
Served on a Brioche roll, the chicken is topped with hickory smoked bacon, spicy aïoli, and toasted parmesan crumbles.  The sandwich had a nice flavor to it.  I did find the chicken to be somewhat dry.  It almost struck me as the chicken was cooked in advance and set out under a heating lamp waiting for someone to order a meal.  Then they took it and threw on the toppings.  The aioli helped combat some of the dryness of the chicken though.  In fact, the aioli is what really made the sandwich for me.  It had a great flavor; however, I would not characterize it as spicy.  The fries were nothing notable.
I should mention that Carla ordered the gluten free version of the Grilled Chicken BLT Sandwich.  We'll cover that in more detail during her gluten free review.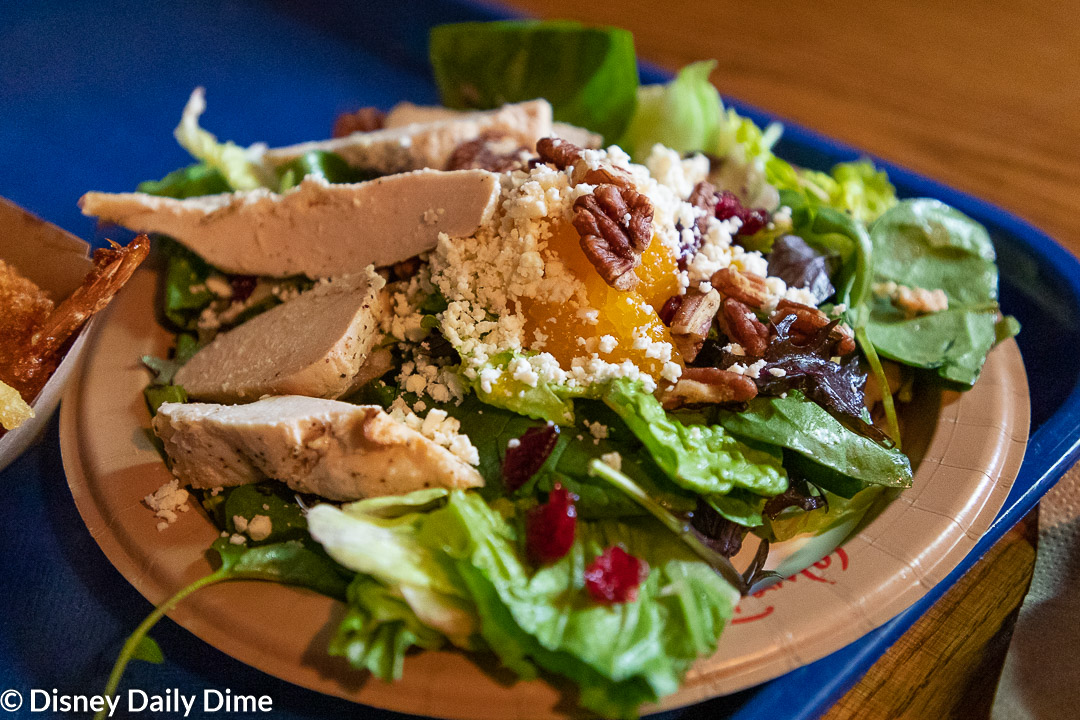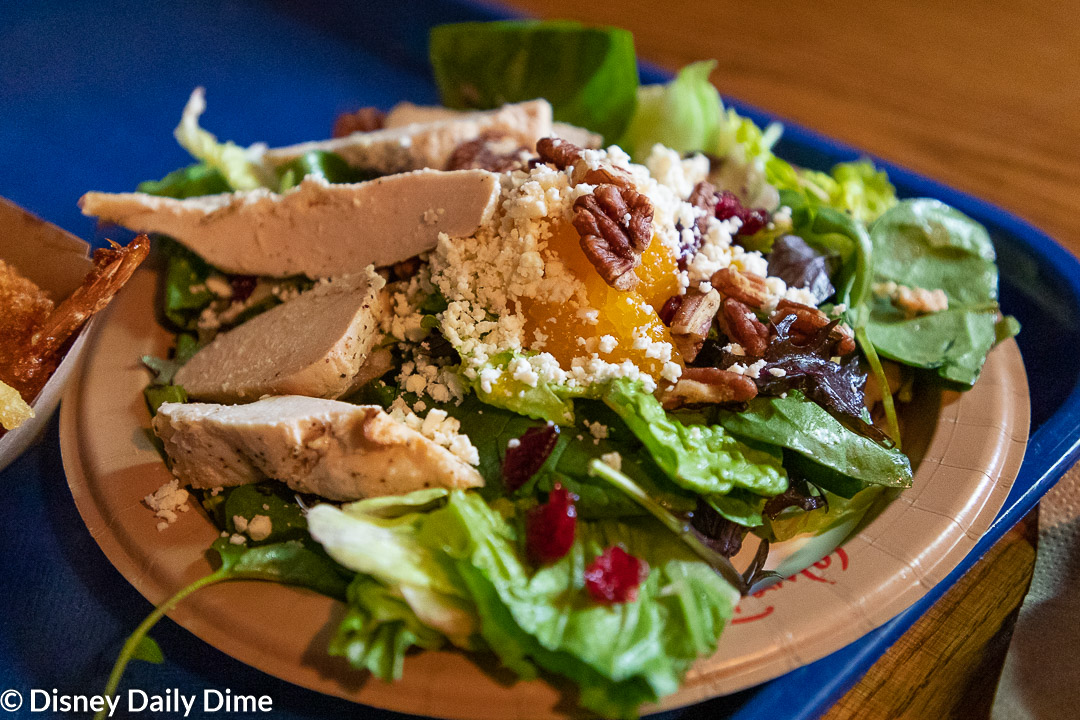 Next up is one of the lighter items you can get at Restaurantosaurus, the Grilled Chicken Salad with Mandarin Oranges and Cranberries.  It's a chicken salad, topped with feta cheese, pecans, mandarin oranges, dried cranberries and a raspberry-walnut vinaigrette.  While I didn't have a chance to sample it, our family friend found it to be very good.
On this trip, Carla's dad had the Bacon Cheeseburger Combo.  However, he was hungry and started eating it before I got to the table, so I don't have a picture of it.  The hamburger was good, not great.  Far better than the hockey puck that Elsa got.  The interesting part of this item is that it is served with a warm caramel chocolate brownie, which was pretty good.  At least for quick service brownies, I'd say.  Anytime you can get a truly warm brownie, with gooey chocolate or caramel, it immediately distinguishes itself from the other brownies you may find at Disney World.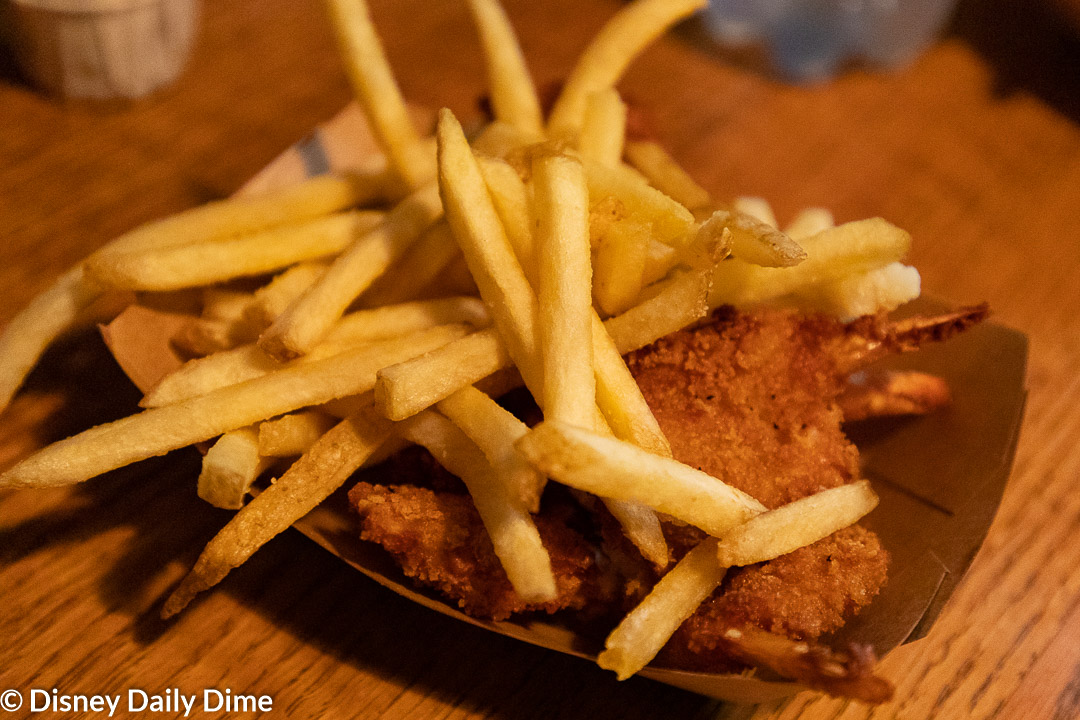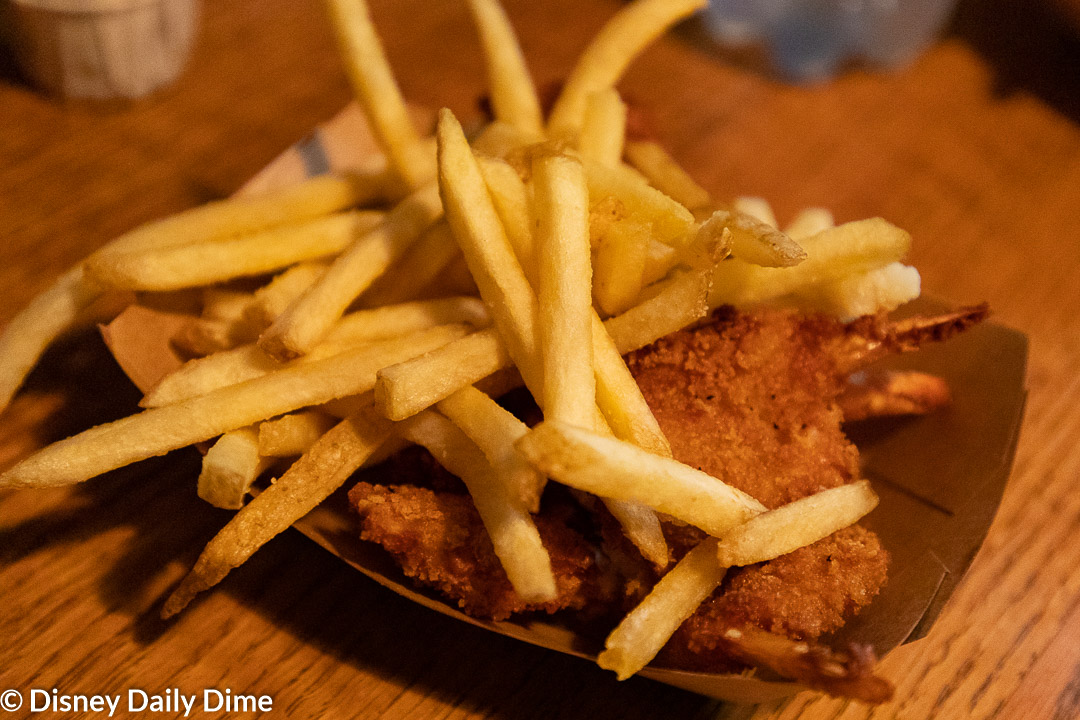 Lastly, our other family friend had the breaded shrimp.  It was pretty boring to be honest.  No real depth of flavor and maybe a bit too much breading on it.  This is something we'd pass on.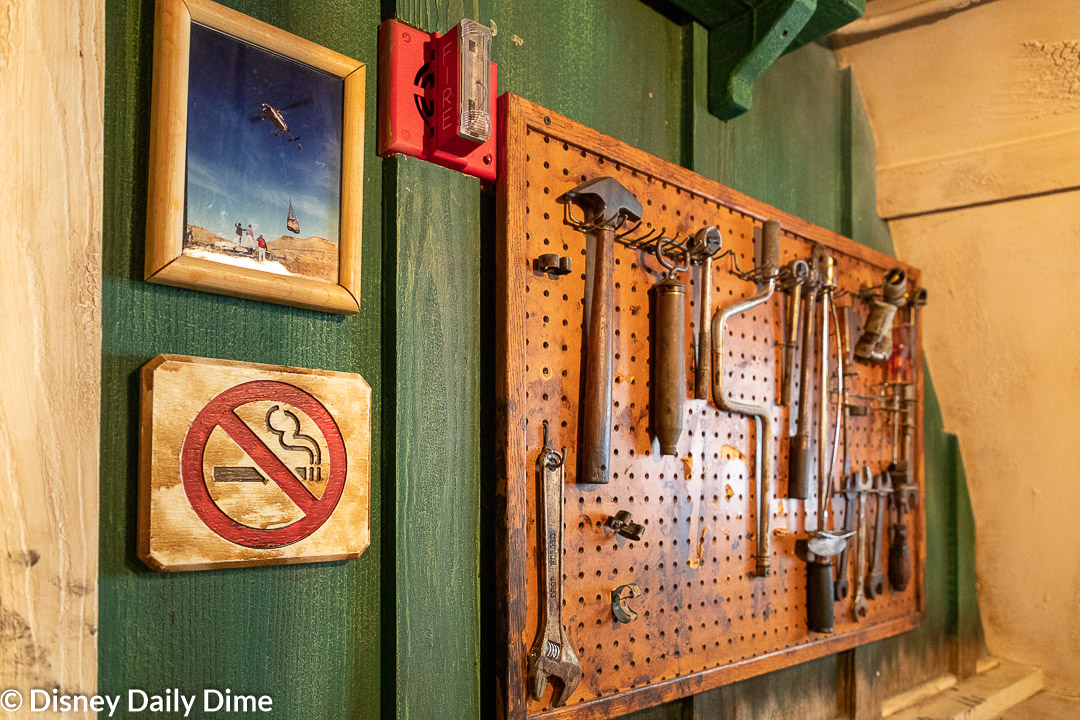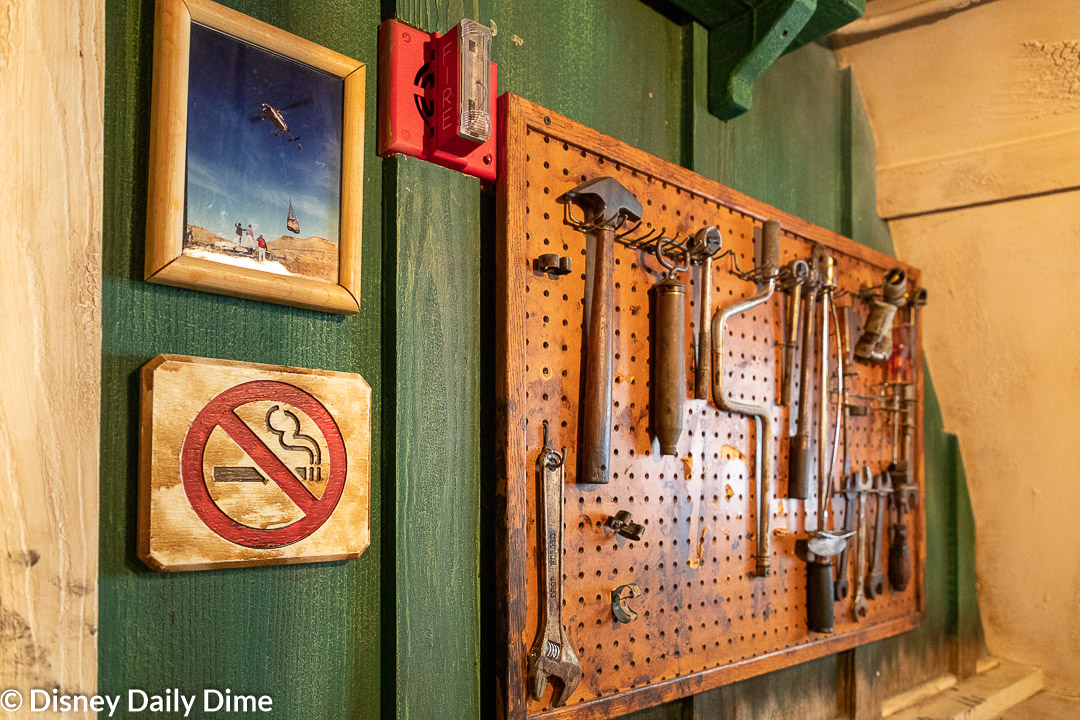 Restaurantosaurus Overall Impressions
Fortunately for some of us and hopefully for you, Restaurantosaurus was a better overall experience than what I was anticipating.  We say that within the context of this being a counter service restaurant with a lower price point.  I wouldn't postulate that the food is going to win any culinary awards by any means, but there are definitely some things that are worth your money here.  However, there are also some things we wouldn't waste a dime on.  We'd say stay away from anything that sounds like typical theme park food.
While Restaurantosaurus isn't something we would consider a favorite or even preferred counter service restaurant in Animal Kingdom (that distinction goes to Satu'li Canteen), we still think it can work if you are looking for some more standard American fare.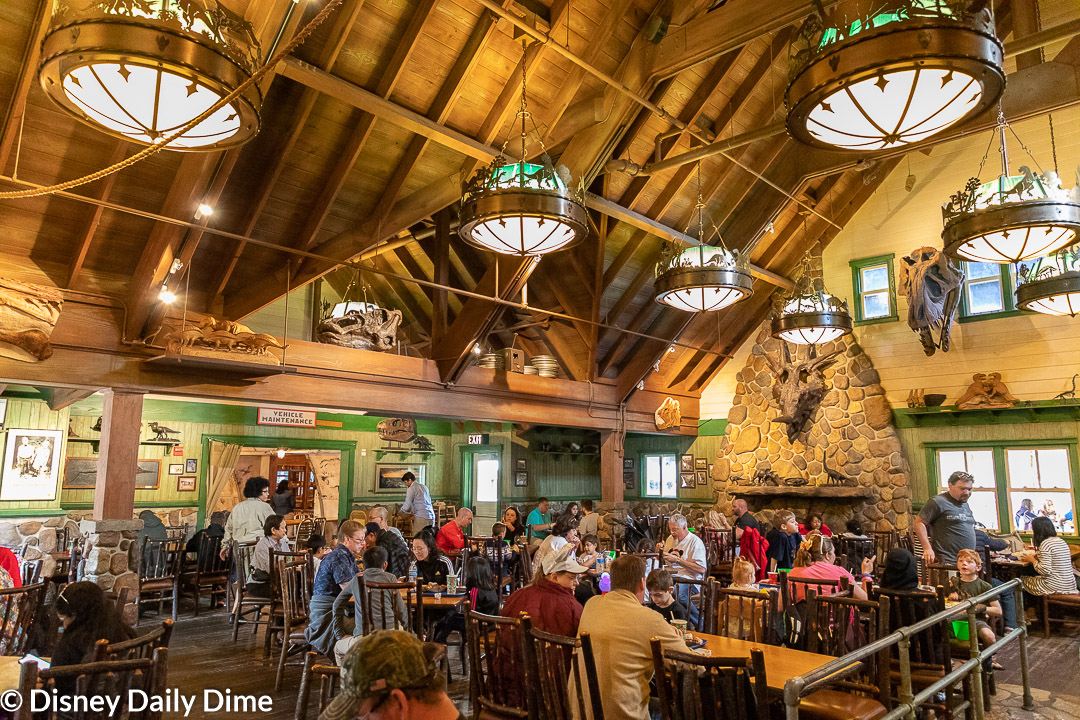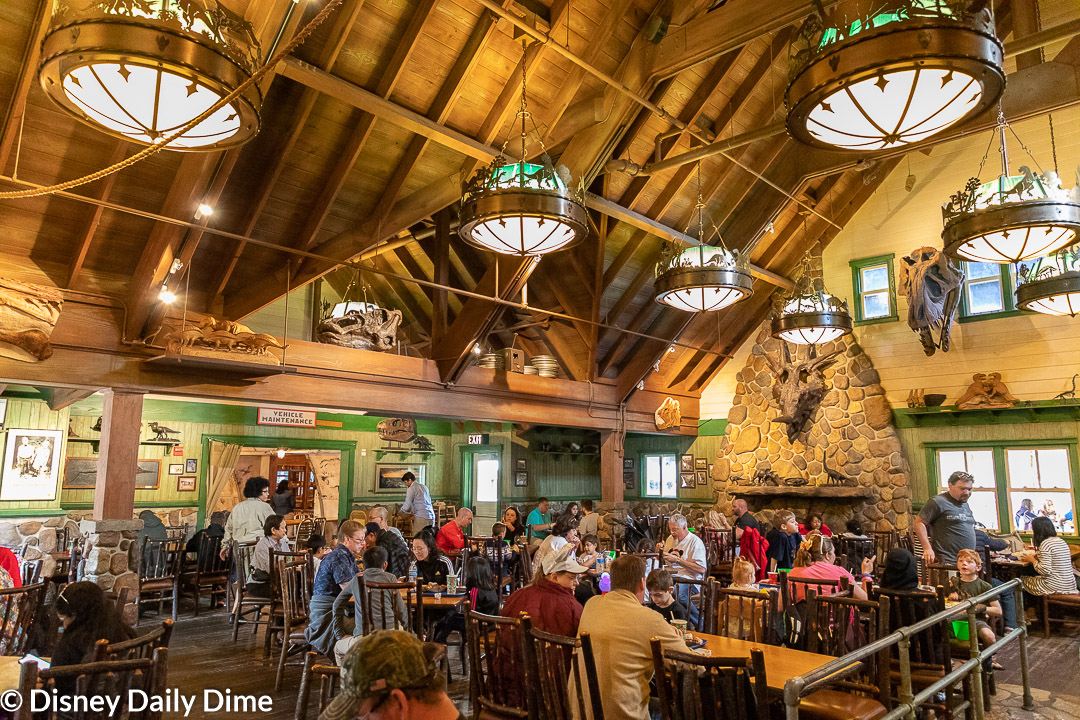 Yes, the theme at Restaurantosaurus is a bit all over the place to us.  However, we recognize that it doesn't take itself so seriously.  Because it features a healthy amount of dinosaur related décor, this can be a big hit with your kids.  The adults didn't generally give the theme a second thought here, positive or negative.
However, Carla says she really enjoyed the music loop here, as it features lots of "oldies" from the 80s.  It pains me to call something from the 80s an oldie.  That was the prime of my childhood.  I have to be honest though, I didn't even notice the music.  So, your mileage may vary.
We don't dedicate a section to service in our counter service reviews, but I thought we would briefly mention that the service here wasn't great.  First, we got an incorrect entrée that appeared to be a misunderstanding when ordering.  Also, Carla had a cast member pick a fight with her about whether we received our drink cups or not.  It was a little bizarre frankly.  Service can be a very day to day experience, so we wouldn't let it keep you away from Restaurantosaurus.  The food may do that on its own.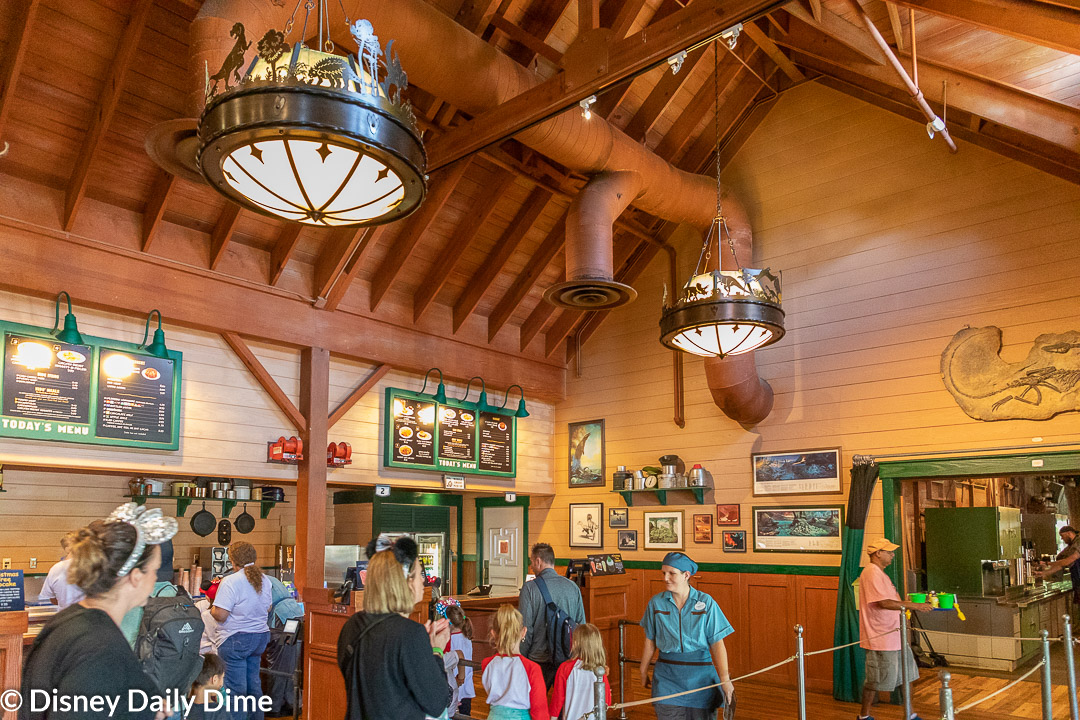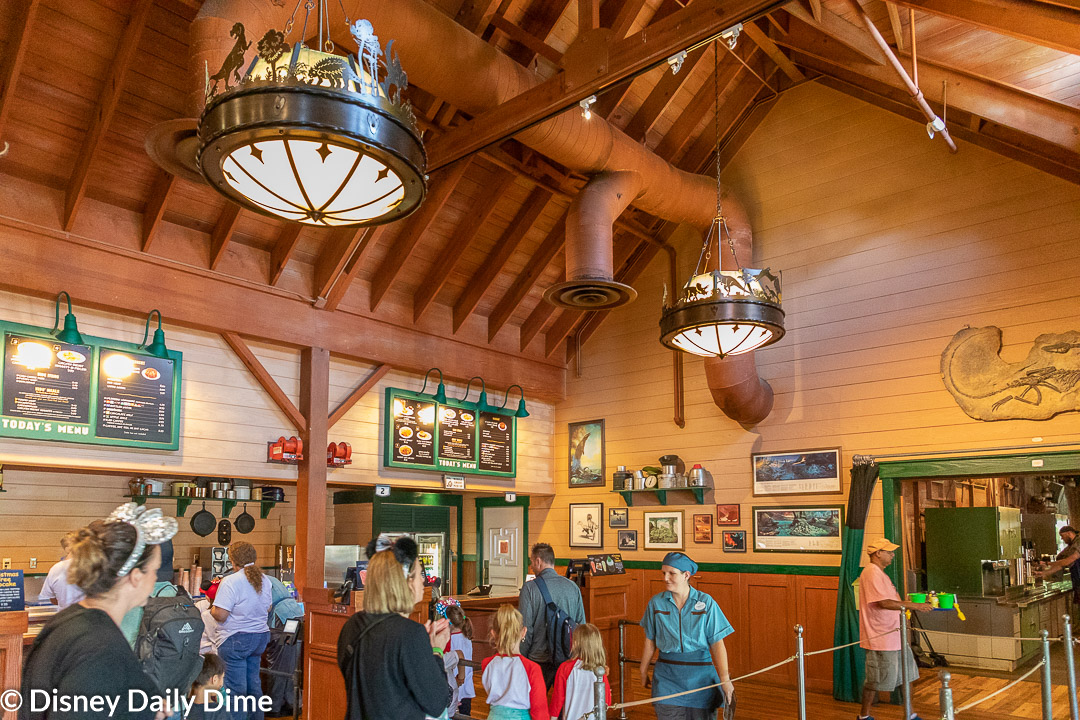 Wrapping Up
With that, we'll wrap up our Restaurantosaurus review.  If you're looking for a reasonably priced counter service location at Disney's Animal Kingdom it's a on okay option, but not our first (or probably second, third or fourth) choice.  Be mindful of what you select for your meal and you can navigate be just fine.
If you're looking for more dining options, make sure you check out our main Disney World restaurant reviews page.  You'll find links to every restaurant we have reviewed there.
If our Restaurantosaurus review was helpful, or at least entertaining, please like and share this with your friends or anyone you think will find it useful.  Just use the sharing buttons on the page.  We always appreciate it when you share our posts, as it allows us to spread the word about our blog and hopefully allows us to help others.