As you will see on the "Our Story" page of our website, I've developed a gluten sensitivity that is pretty strong so I eat entirely gluten and wheat free.  This is the next installment in what will be a long series of my experiences eating gluten free around all of Disney World.  Here in our California Grill Gluten Free review, I'll cover the food but other topics related to the restaurant as well.  This will include my experience, service, options and anything else I think others trying to eat gluten free may care about.
As I discussed in our "regular" California Grill dinner review, Mike and I first to came to California Grill many years ago when I "dragged" Mike to Disney World before we had the girls.  This restaurant became one of our favorites that we tried to visit on every trip.   We recently enjoyed another in our series of meals at California Grill, which happened to be my first gluten free meal there.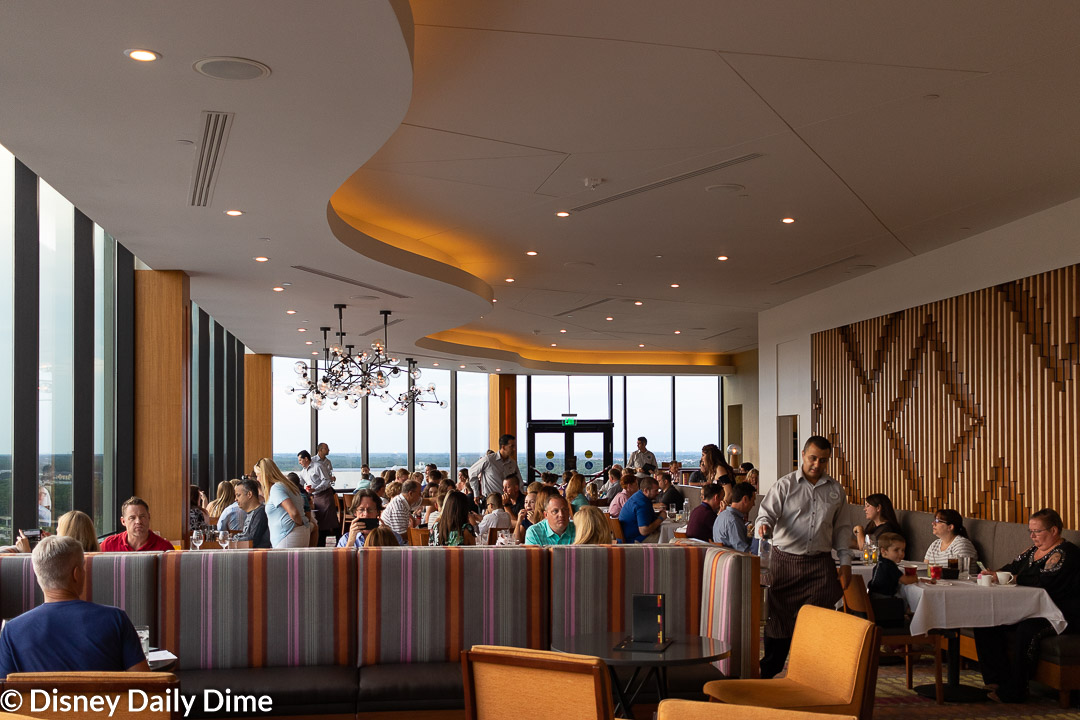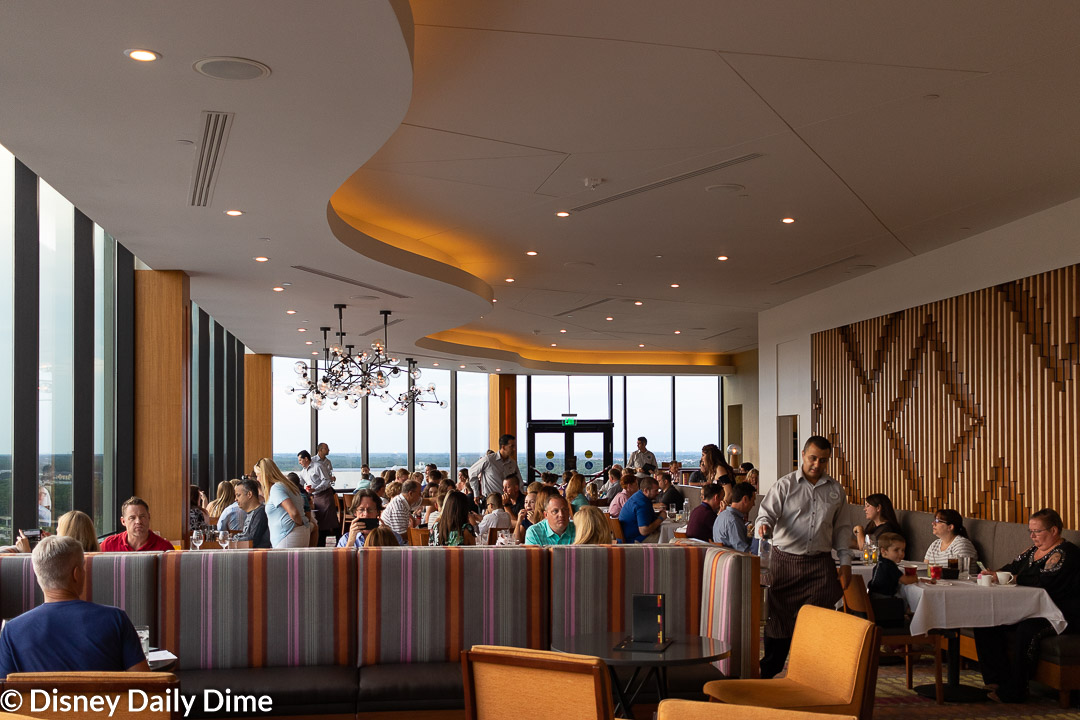 California Grill Overview
California Grill is a signature dining experience located on the 15th floor of the Contemporary Resort.   The restaurant's focus is seasonal and market fresh cuisine.   The floor to ceiling windows surrounding the restaurant and access to observation decks off the restaurant provide incredible views of the Magic Kingdom and the Seven Seas Lagoon.  When the Magic Kingdom fireworks show occurs, the lights are dimmed and the music is piped into so everyone can enjoy an exceptional viewing of the show.
Since this is a signature restaurant, it requires two credits on the Disney Dining Plan.
California Grill Gluten Free Menu
Because the menus at California Grill are seasonal and market-inspired, they change frequently.  Some tried and true favorites do remain on the menu year-round.   I was pleased to see that the allergy friendly menu was expansive and included many of the signature dishes that California Grill features.
All sections of the regular menu have allergy friendly options (sushi, flatbreads, appetizers, entrees and desserts).  
It was wonderful to have a meal with so many options to choose from.   It didn't feel much different from the days in which I could order off the regular menu.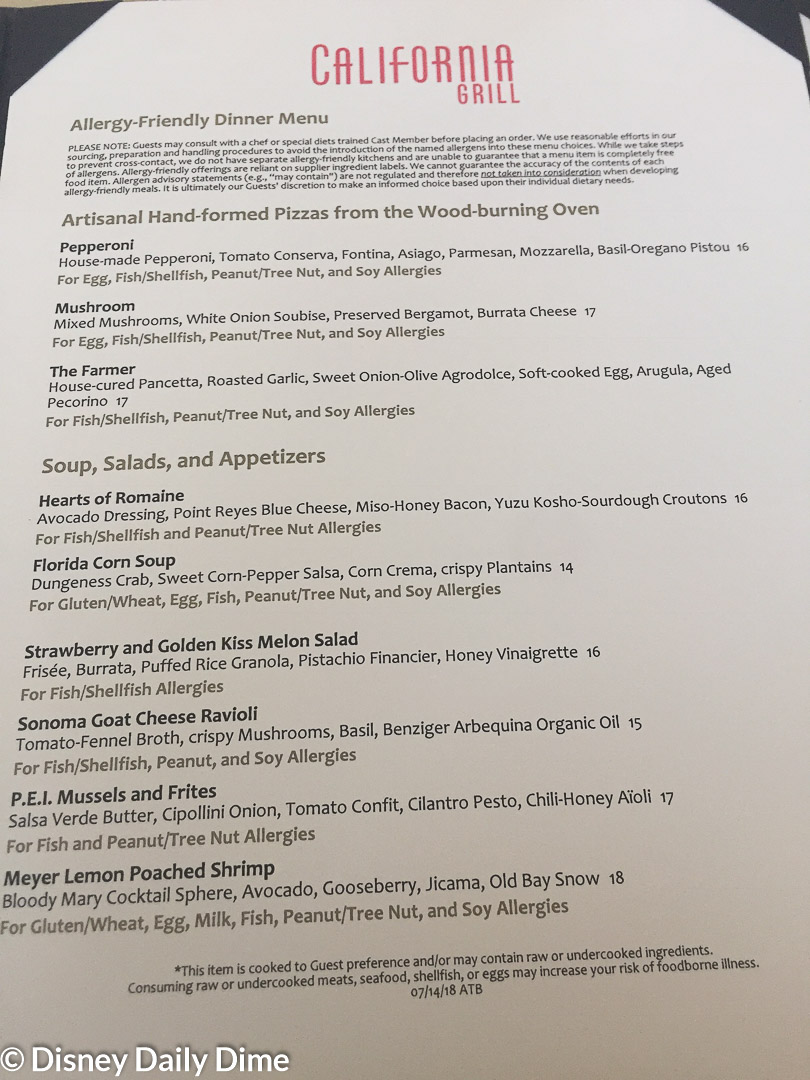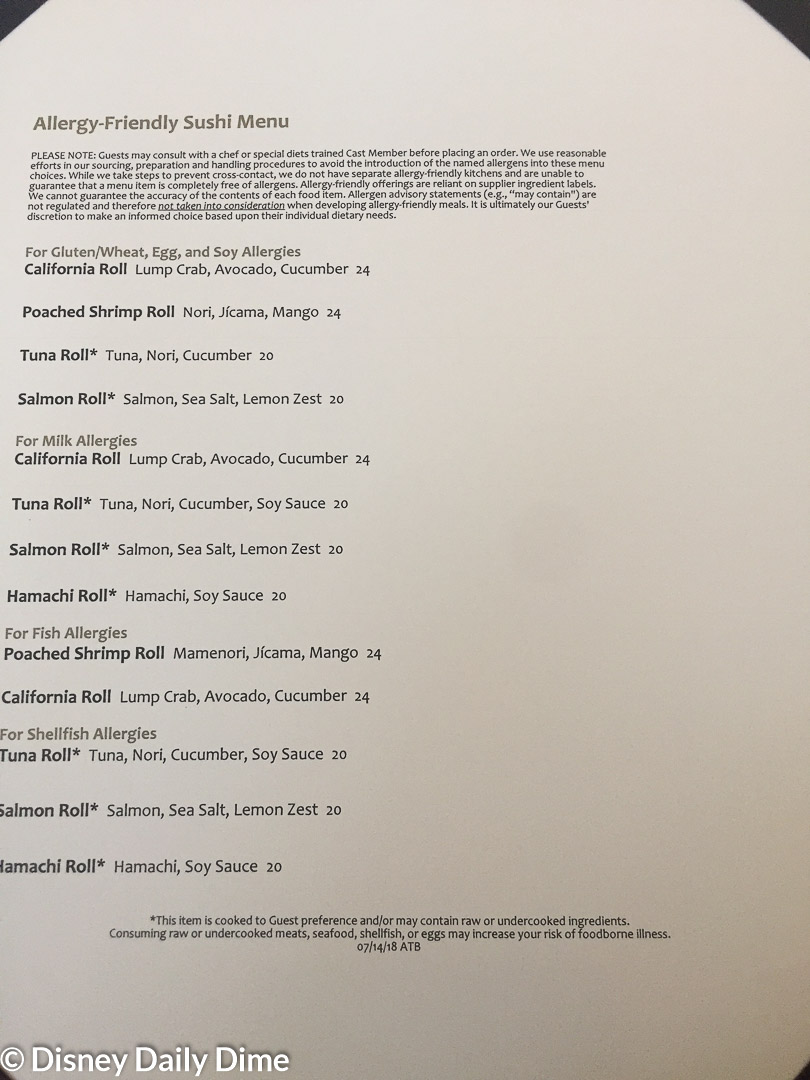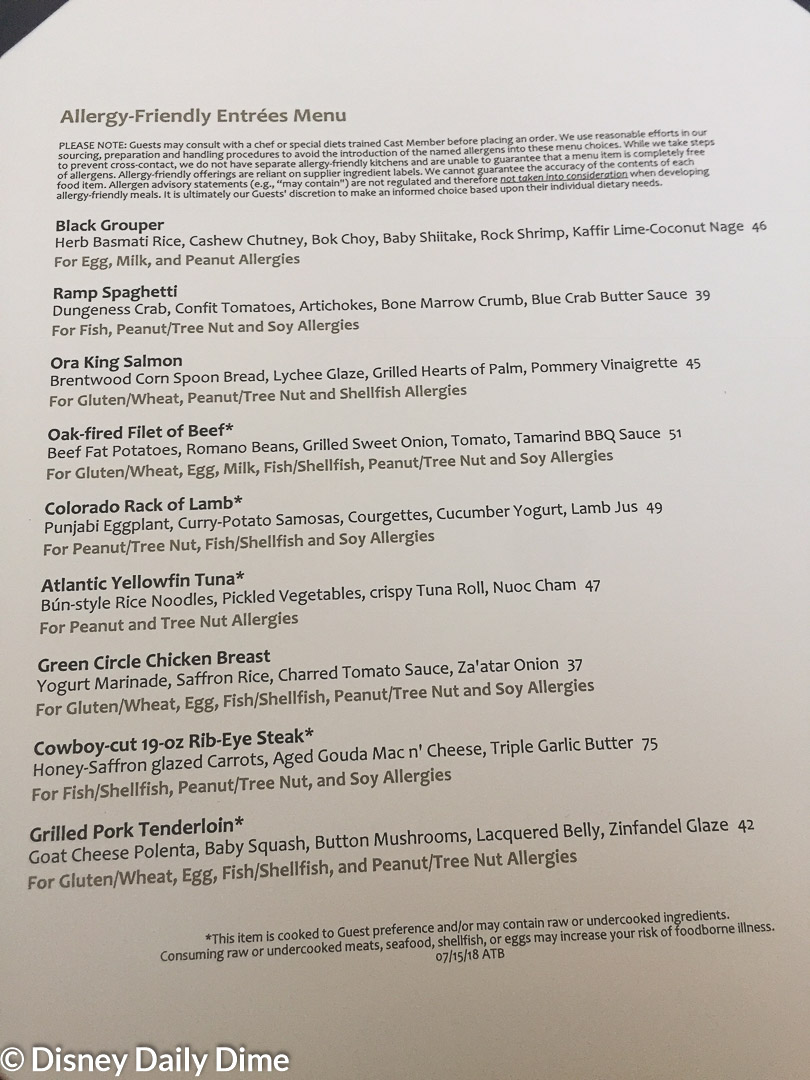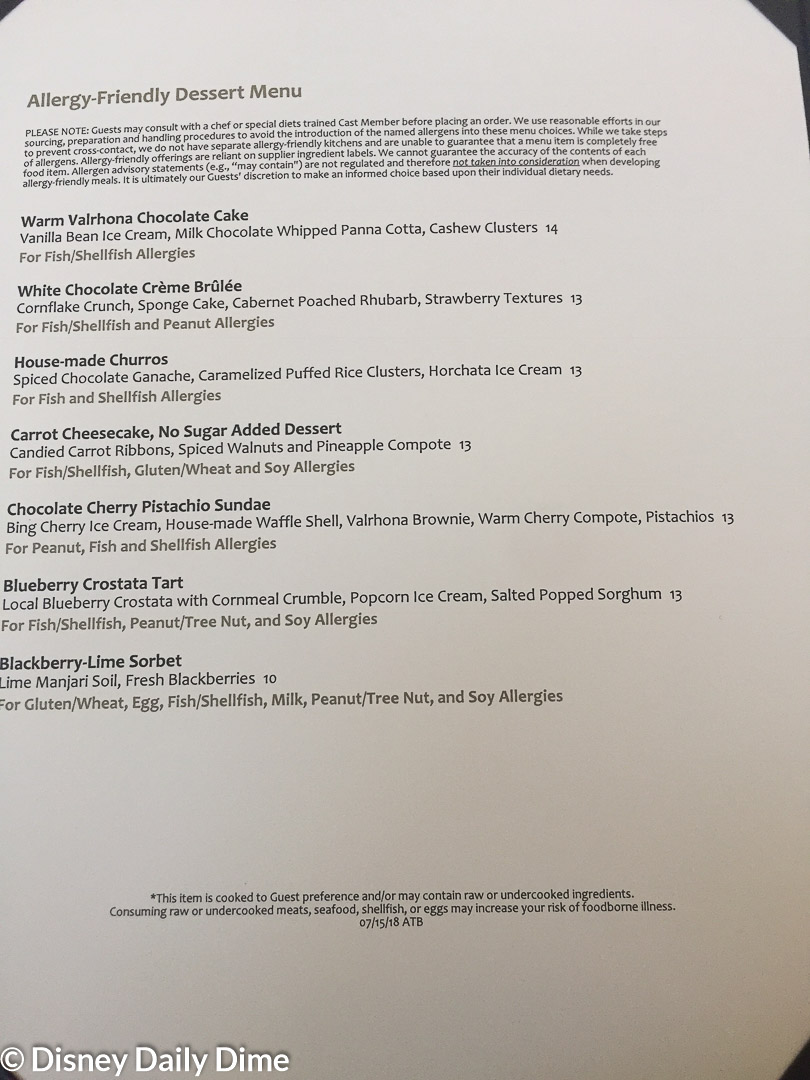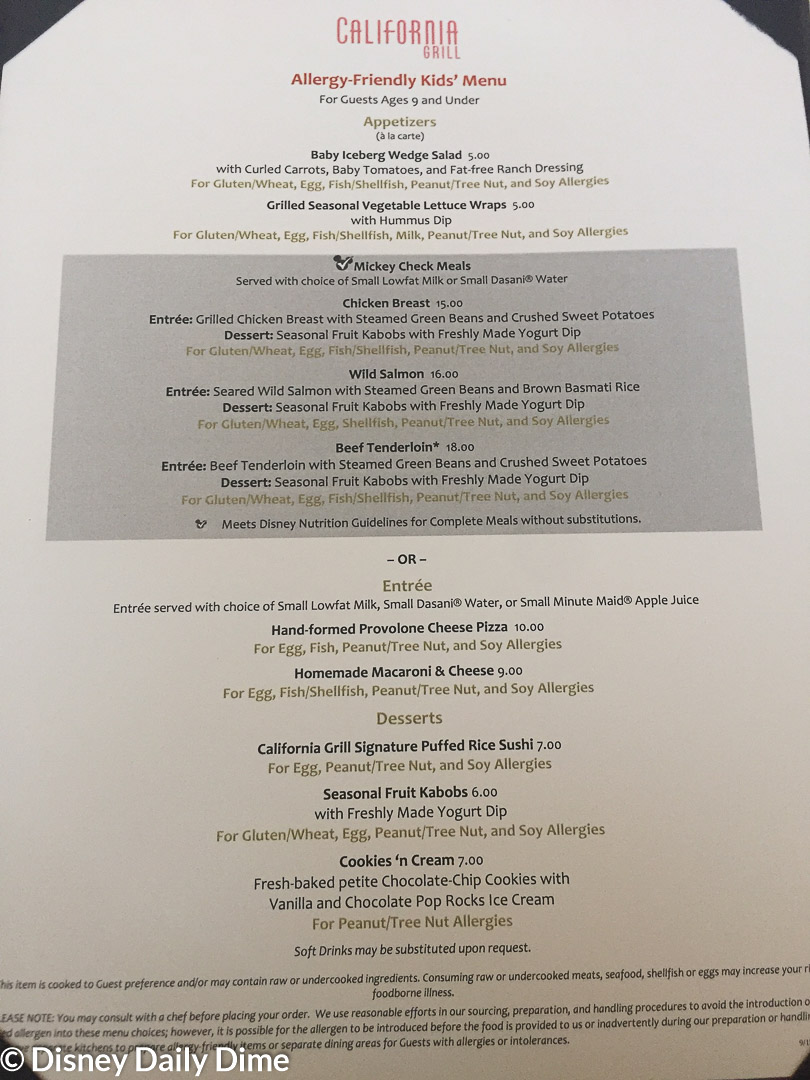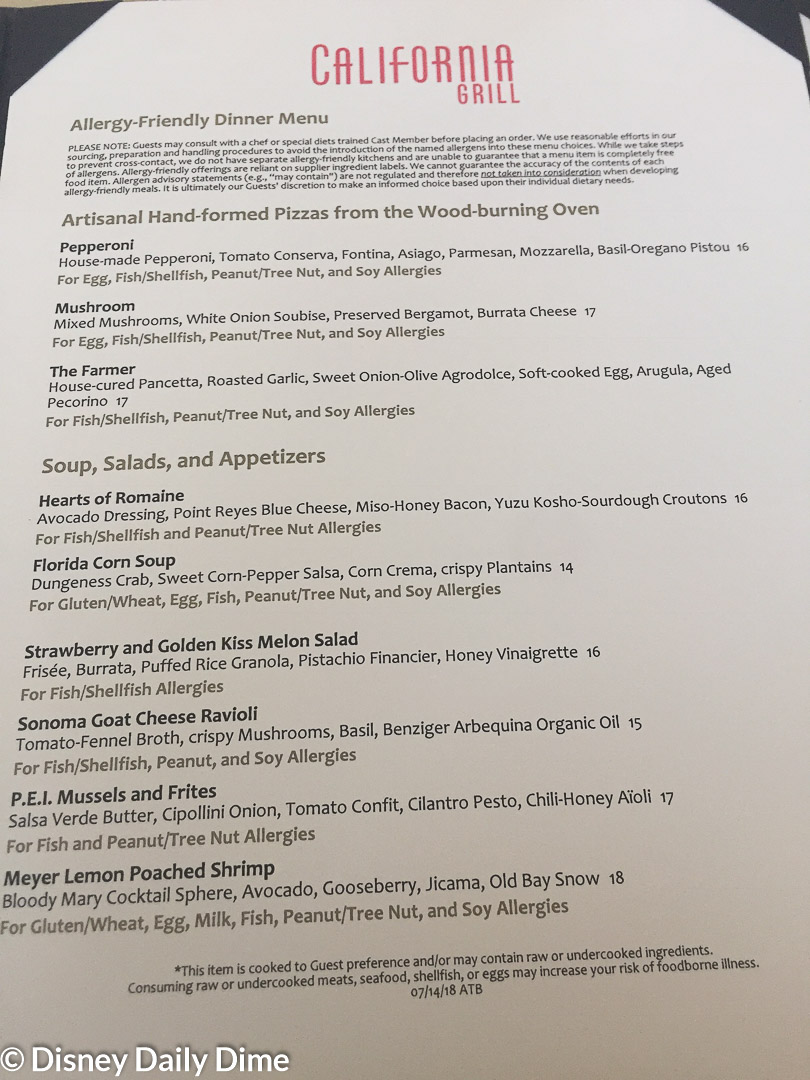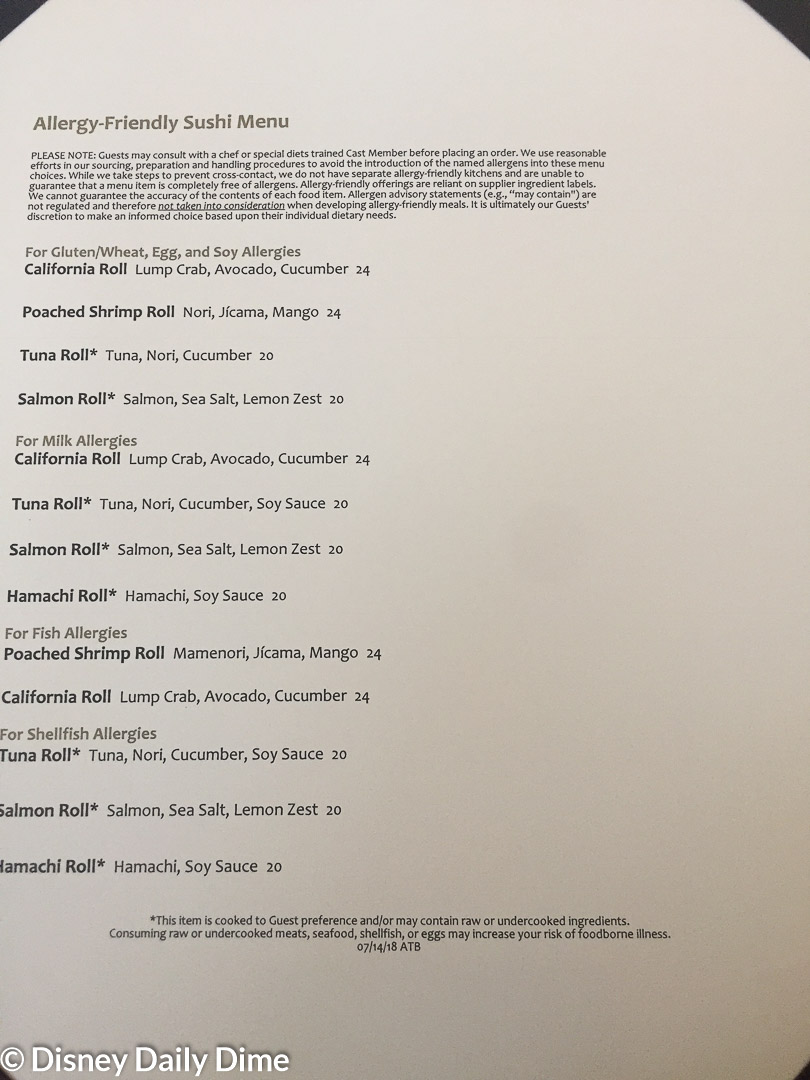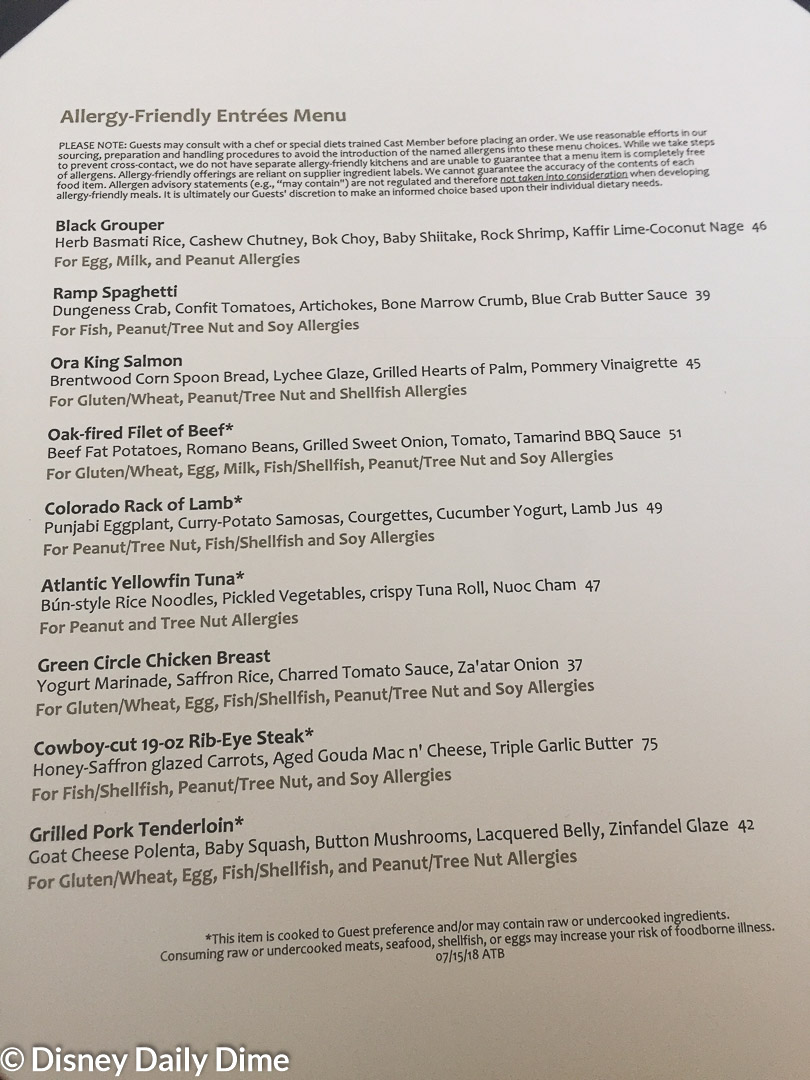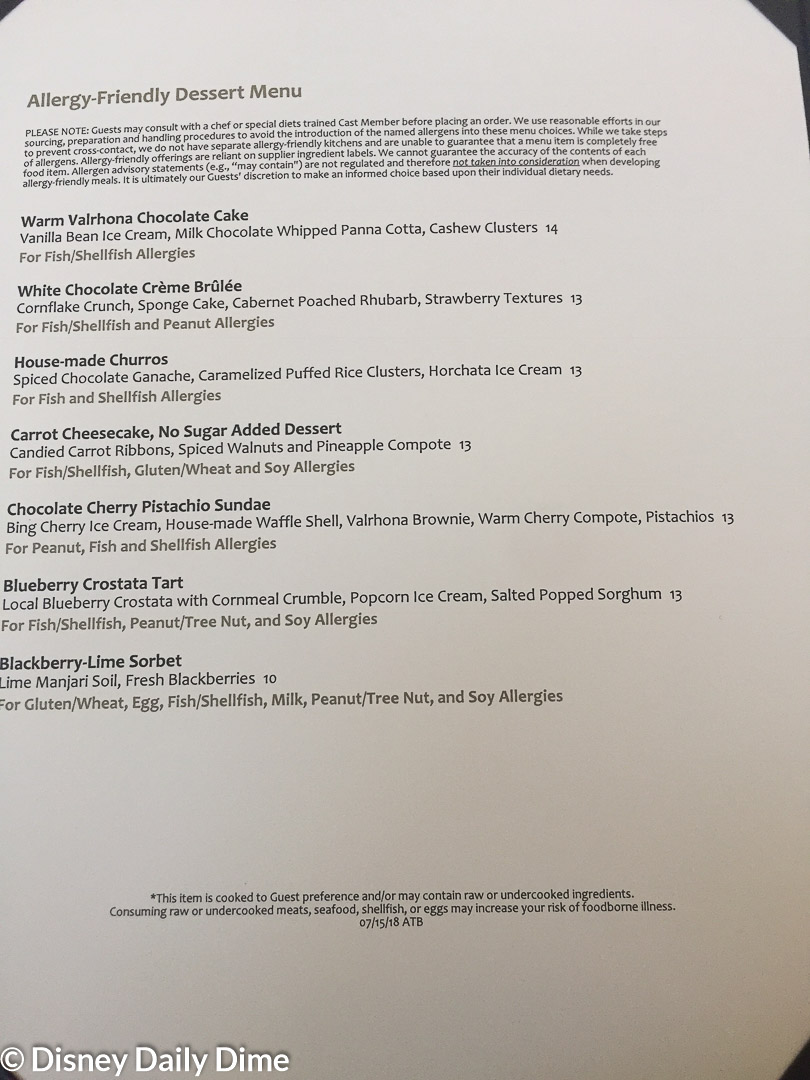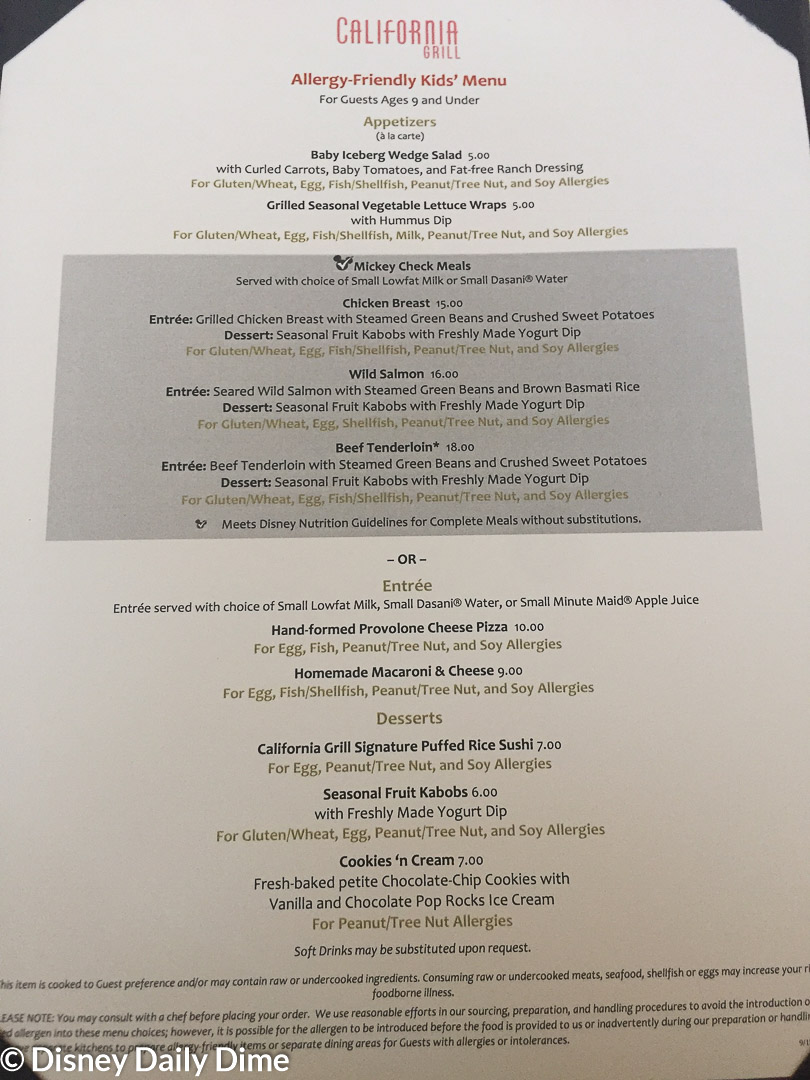 California Grill Gluten Free Food
As this restaurant is one of my favorites both in and out of the World, I ate very lightly through the day so I could indulge this evening.
Our meal started with their bread service, which for me was gluten free rolls that were freshly heated.
Mike and I were both were so intrigued by the Florida Corn Soup that we each ordered it (we usually strive to order different things so we can sample more).   Topped with Dungeness Crab, the soup was rich yet light.  I mourned the ending of my portion and could have made a bowl of it my meal.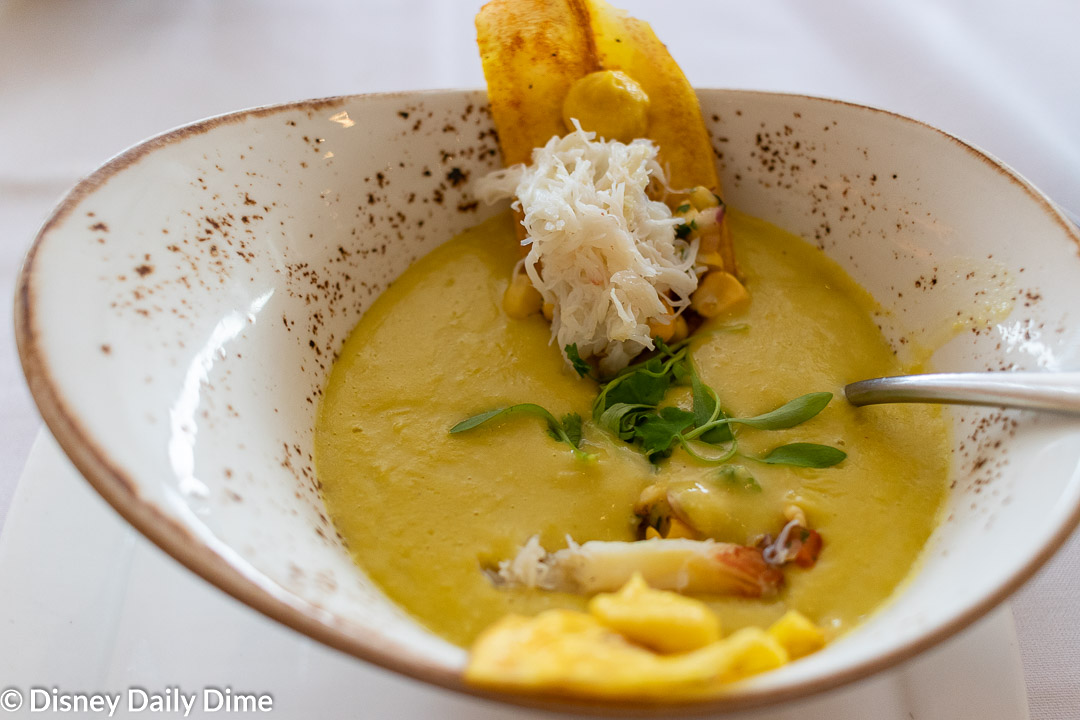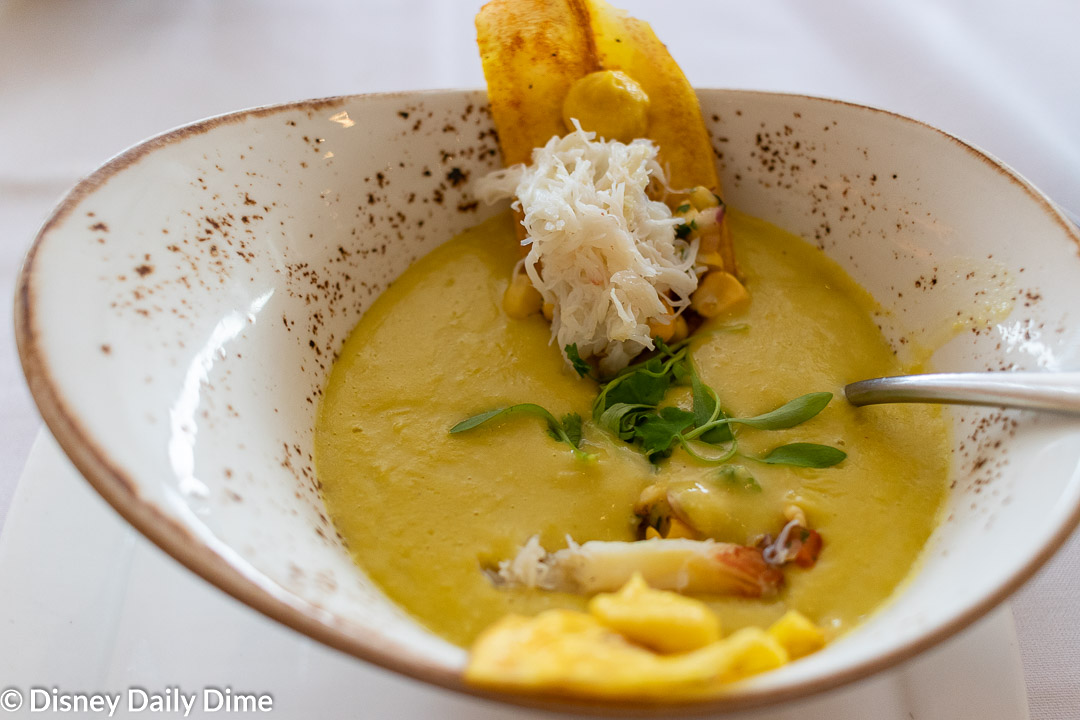 I also ordered a gluten-free Salmon roll.  Our old favorite Spicy Kazan Roll was not included as a gluten free option to my disappointment.  The salmon roll was fine but lacked the flavor and quality that I have come to expect from their excellent sushi we have had in the past.  It may be that the salmon roll was so simple compared to the complex rolls that they create in the onsite sushi kitchen.  I do not believe I would order it again.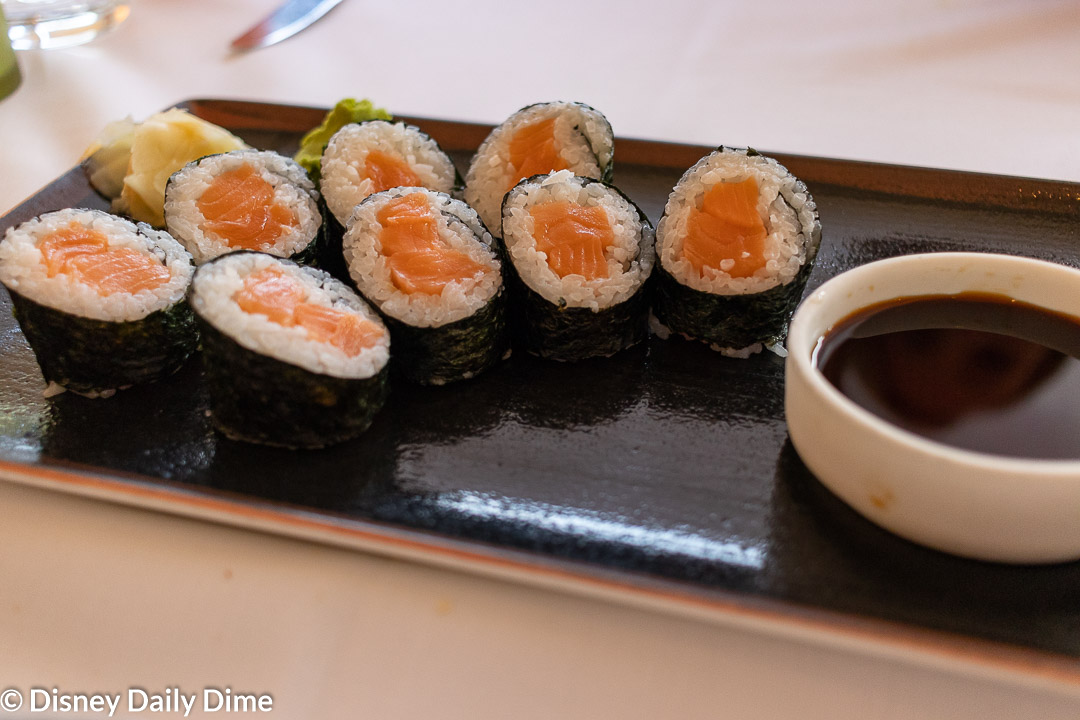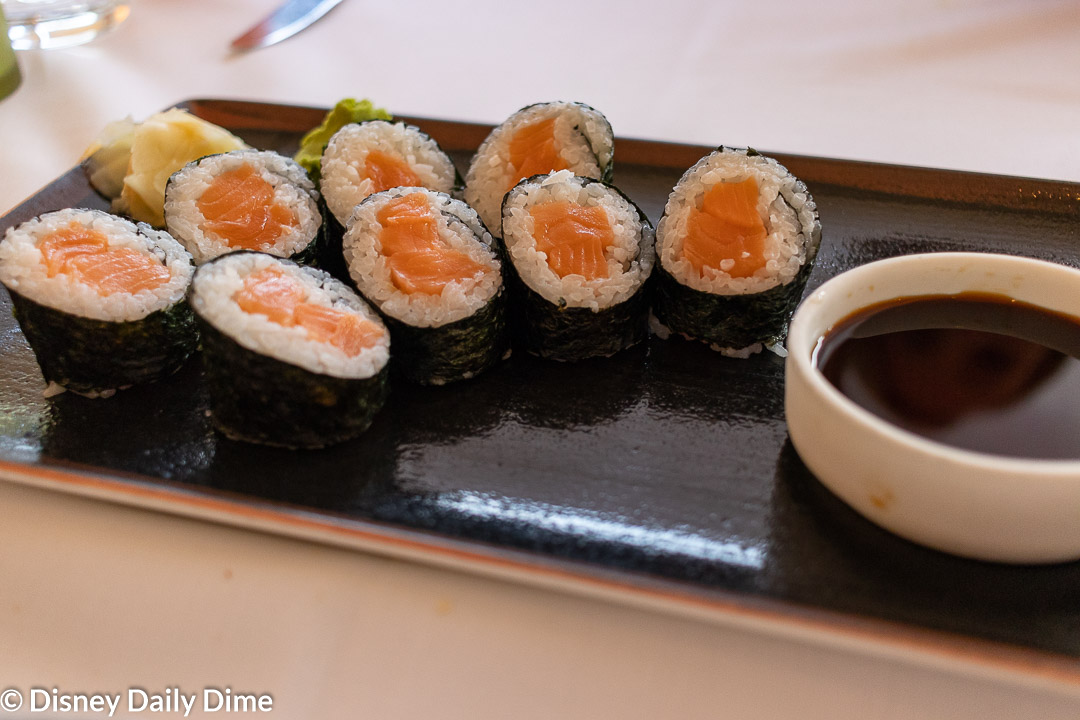 I chose my favorite entrée, the Grilled Pork Tenderloin.   While I do strive to order different items when revisiting favorite restaurants, sometimes a dish is so good that I can't break away from it.  Plus, I only have it about every two years or so, so you can't blame me entirely.  I was ecstatic that it could be prepared gluten free and the dish did not disappoint.  The pork is fork tender and the goat cheese polenta is a rich and flavorful side that compliments the pork to perfection.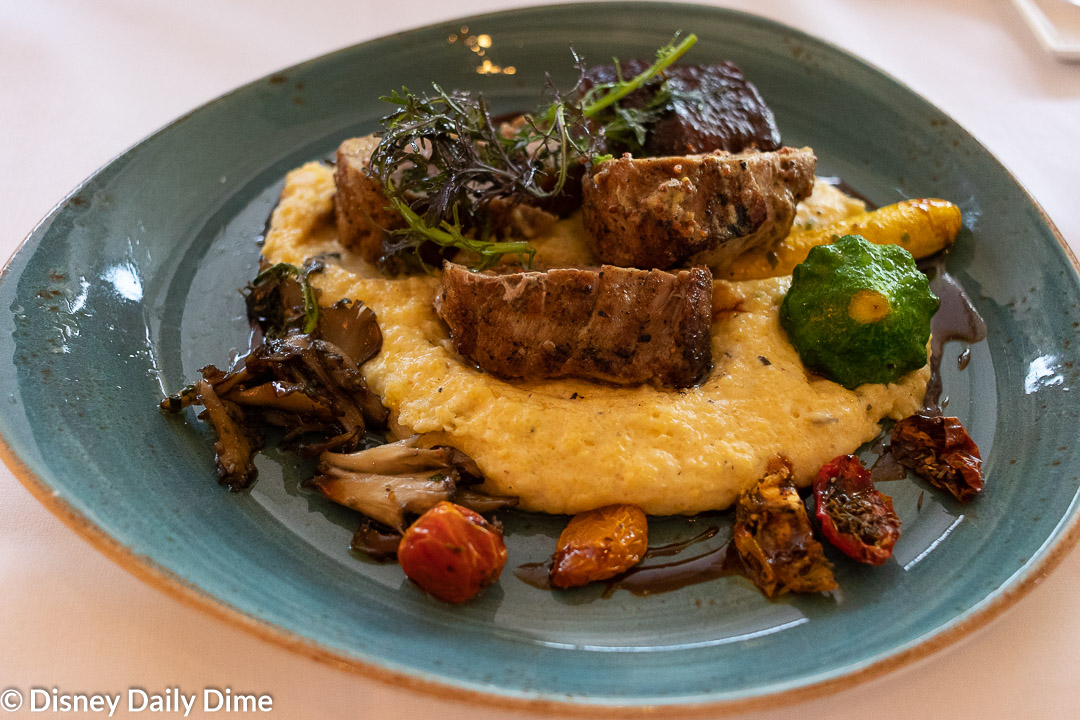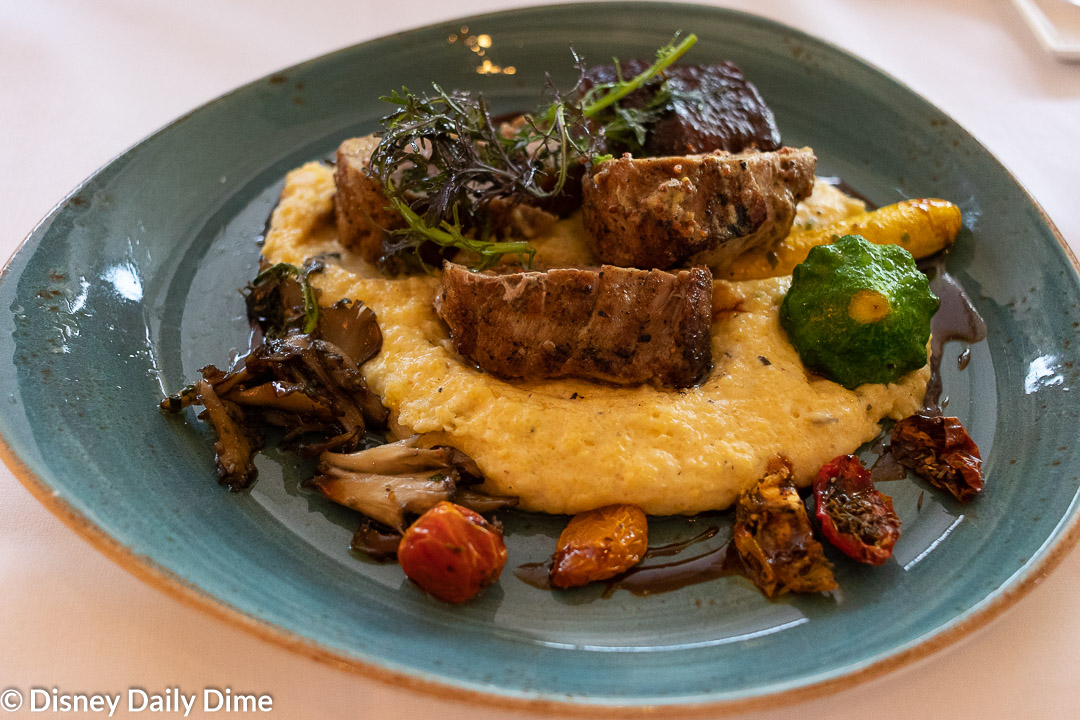 The zinfandel glaze provides an incredible layer of flavor over the meat and vegetables.  Squash is one of my favorites, and inclusion of it and mushrooms were the perfect vegetable addition to the plate.  The only part that wasn't to my liking was the lacquered pork belly.  That is a newer addition to the dish, and for me this is a case of "if it's not broke don't fix it".  It is just a personal preference, but the texture of pork belly is off-putting for me and I don't feel like it added anything.  The tenderloin is so delectable it can stand on its own.
For my dessert, I ordered the no-sugar-added and gluten friendly Carrot Cheesecake.  This is the first carrot cake I was able to enjoy since going gluten free almost two years prior.  The combination of the light cheesecake with the carrot cake "crumbles" and accompaniments created one of the best gluten free desserts I have ever had.  I still think of this dessert often and hope to have it again in the future if available.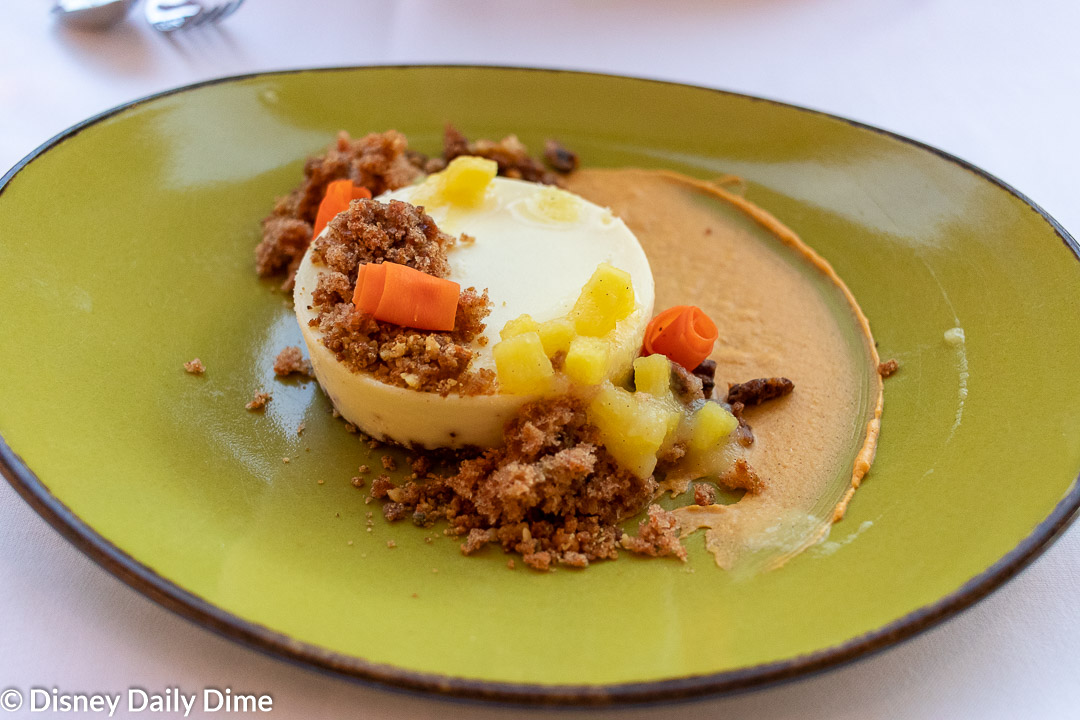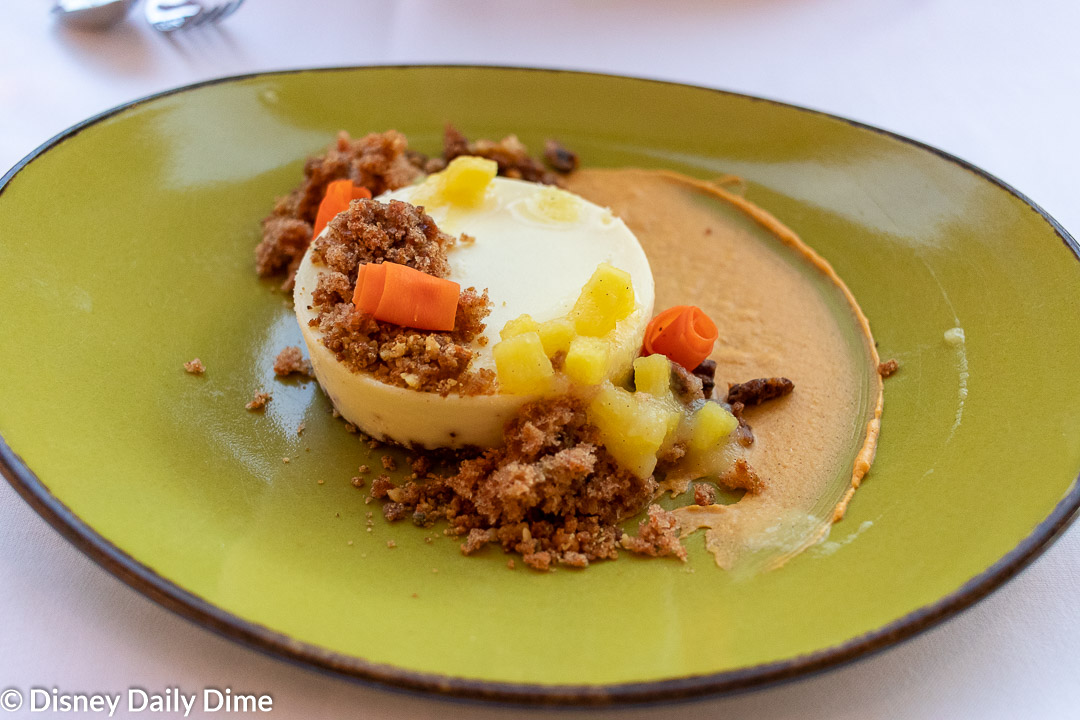 Overall Impression of Eating Gluten Free at California Grill
While I mourned not being able to enjoy two of my favorite appetizers (the Spicy Kazan Rolls and Sonoma Goat Cheese Ravioli), I completely enjoyed my first gluten free experience here as much I did my previous "non allergy" meals here.
The food was amazing as always and aside from my sushi selection did not disappoint at all.   Mike and I love the upscale yet comfortable atmosphere of the restaurant, and a dinner at California Grill provides the perfect respite from the theme parks (and the theme park food!).   Watching the sunset and fireworks from this amazing vantage point only enhances the meal.  I love taking in the incredible view of the World from here and delighting in a true signature dining experience.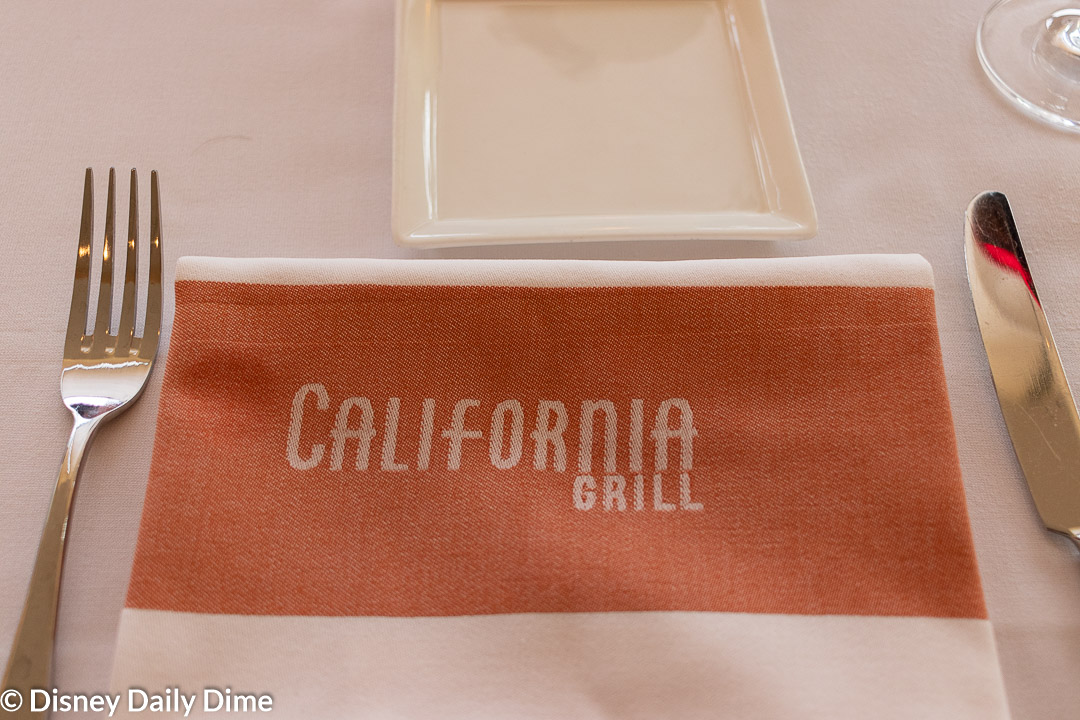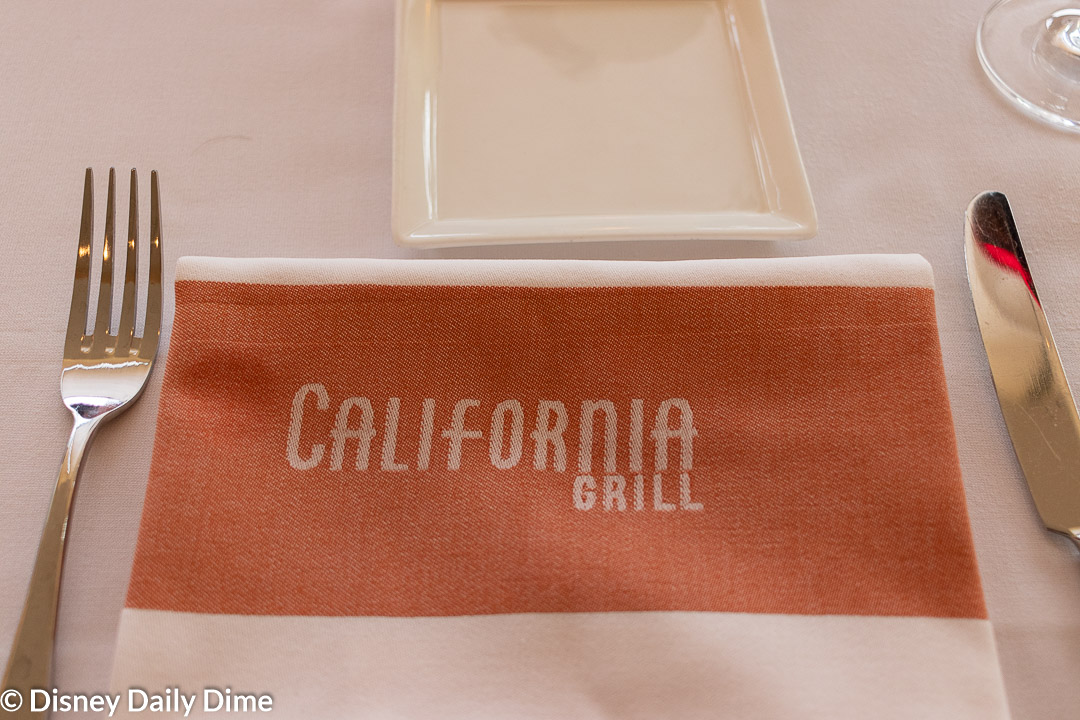 Wrapping Up
If there's more information on gluten free dining you would find helpful in these reviews, feel free to drop down in the comments and tell us.  Alternatively, you can email us from the contact us page.
We hope you found our California Grill gluten free review helpful.  If you did, please share it with others you think may find it useful.  Just hit the social media sharing buttons on the page!  We always appreciate it when our readers share our content with others, as it allows us to help more people and spreads the word about our blog.