Now that we've covered how to make Disney dining reservations, let's look at how to make Disney World resort reservations.  This is more of a step by step guide of how to use to the My Disney Experience website.  It isn't a review of resorts or the differences between resorts.  We'll cover that elsewhere in the guide.
You'll find this to be much simpler than booking you dining reservations, we think.  Let's get to it.
Navigate to the Resorts Page
In order to make Disney World resort reservations, start out by logging into mydisneyexperience.com.  Once you are there, you'll see a page like what you see to the right.  You'll want to click on the "Places to Stay" header.  We've boxed it in red here.
This will take you to the Disney World resorts page.  If can circumvent this step by just going to resorts page directly.  Remember you will have to log into your MDE account at some point.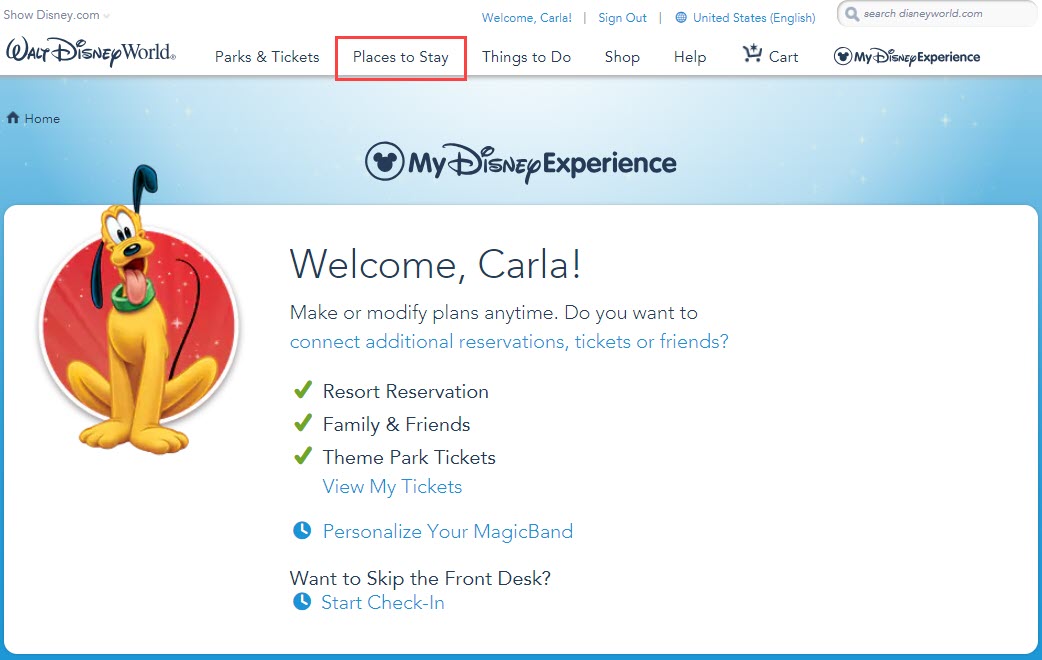 Pick Your Resort Filters
Once at the resort page, you'll find a navigation that looks very similar to the dining selection page.  You can seen a screen shot of the page below.  As you can see, it encompasses a few filters on top, with all the resorts that meet those filters below it.  Initially it shows you every resort.
If you already know the resort you want to stay at, these filters won't be overly relevant.  You can just click on the resort you want to make your Disney World resort reservation at.  You can skip to the next section below.  If you want to know more about the filters, read on.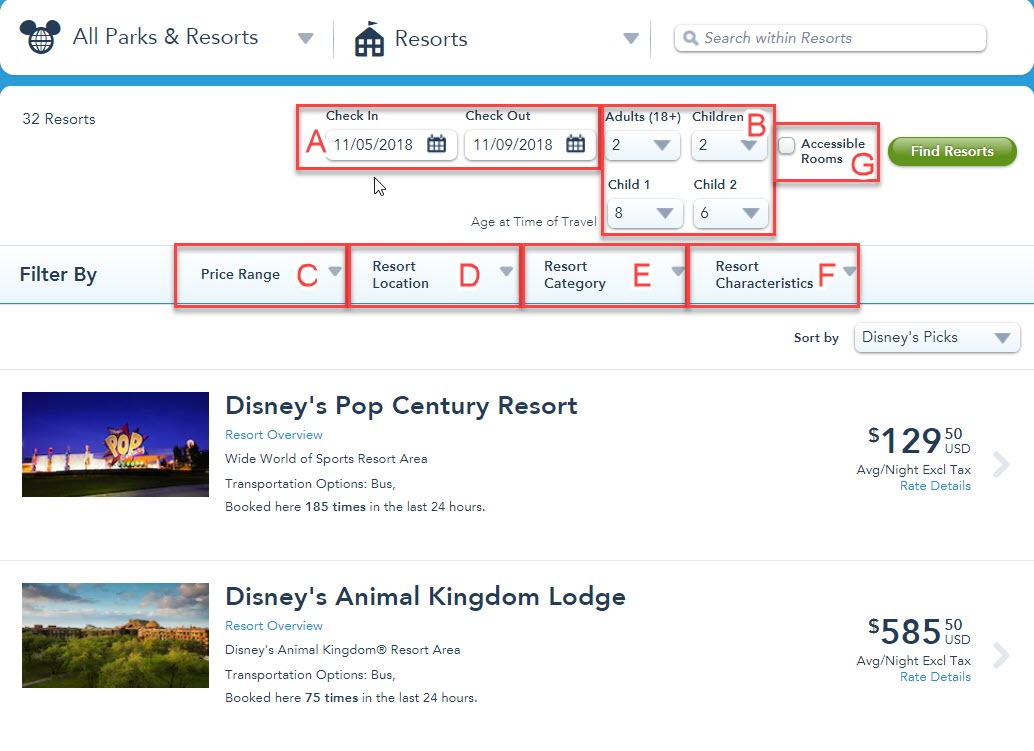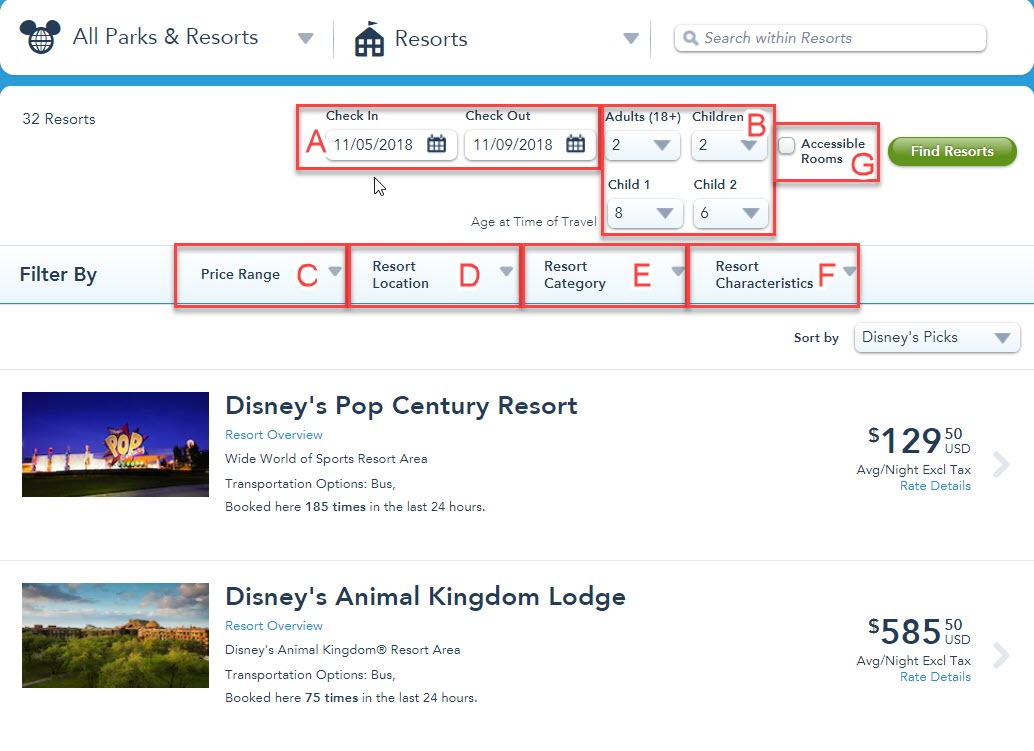 Check In and Check Out Dates – Pretty basic, we know. Tell Disney when you plan to arrive and depart.
Traveling Party Size and Age – To provide you with the right resort and room options, Disney need to know what your group size is. Specifically, how many adults and children you are traveling with.  For children that also want to know the age of then when you will be there.  You might ask why Disney needs to know the age of your kids.  Well, the want it to provide appropriate offers.  As you'll see in a bit here, Disney will give you package prices that encompass tickets and/or dining plans.  Most Disney pricing is related to ages for children.  Additionally, guest ages also determine the maximum number of occupants for some Disney Resort hotel rooms.
Price Range – Want to filter for a specific cost per night, use this filter. The options available are  under $175 per night, $176 – $250 per night and over $250 per night.
Resort Location – Looking to be near a specific park or area? This filter will help you get the resorts that fit your needs.  The options available are Magic Kingdom, Epcot, Animal Kingdom, Disney Springs and ESPN's Wide World of Sports.  You'll notice no option for Hollywood Studios.  Select the Epcot option.  These resorts are the closest options.  They are a 15 minute walk or short boat ride away from the Studios.
Resort Category – Looking for resorts level, use this filter. In addition to allowing you to see value, moderate and deluxe level resorts there are a few other options.  Specifically you can also search for villas, campgrounds.  There are a few other nebulous descriptions like, "Other Select Deluxe Hotels".  This is where the Swan and Dolphin hotels are hidden.  Since they are not owned and operated by Disney they show them here for some reason.  You can also pick the "More Great Accommodations" filter option.  This is where they have non-Disney World owned resorts.  You have to call Disney or the resort to book these hotels.  They are not available for booking on Disney's website.
Resort Characteristics – This filter allows you to sort on a few options that are fairly unrelated. It might as well be called miscellaneous.  Your options to search for here are Story Rooms, Suites & Villas, Club Level and Suites, or Monorail.  With the exception of Monorail, all the rest are different types of rooms.  Monorail just filters down to resorts on the Monorail line.
Accessible Rooms – This check box isn't a filter in line with the other ones. This is simply letting you tell Disney that you need an accessible room option.
As you put in any relevant filters, along with your travel dates and group size, the resort list will change.
Select Your Resort
The next step in how to make Disney World resort reservations is to pick your resort.  Simply click on the report name you want and it will take you to that Disney resorts home page.  In our example here, I'll select Disney's Contemporary Resort.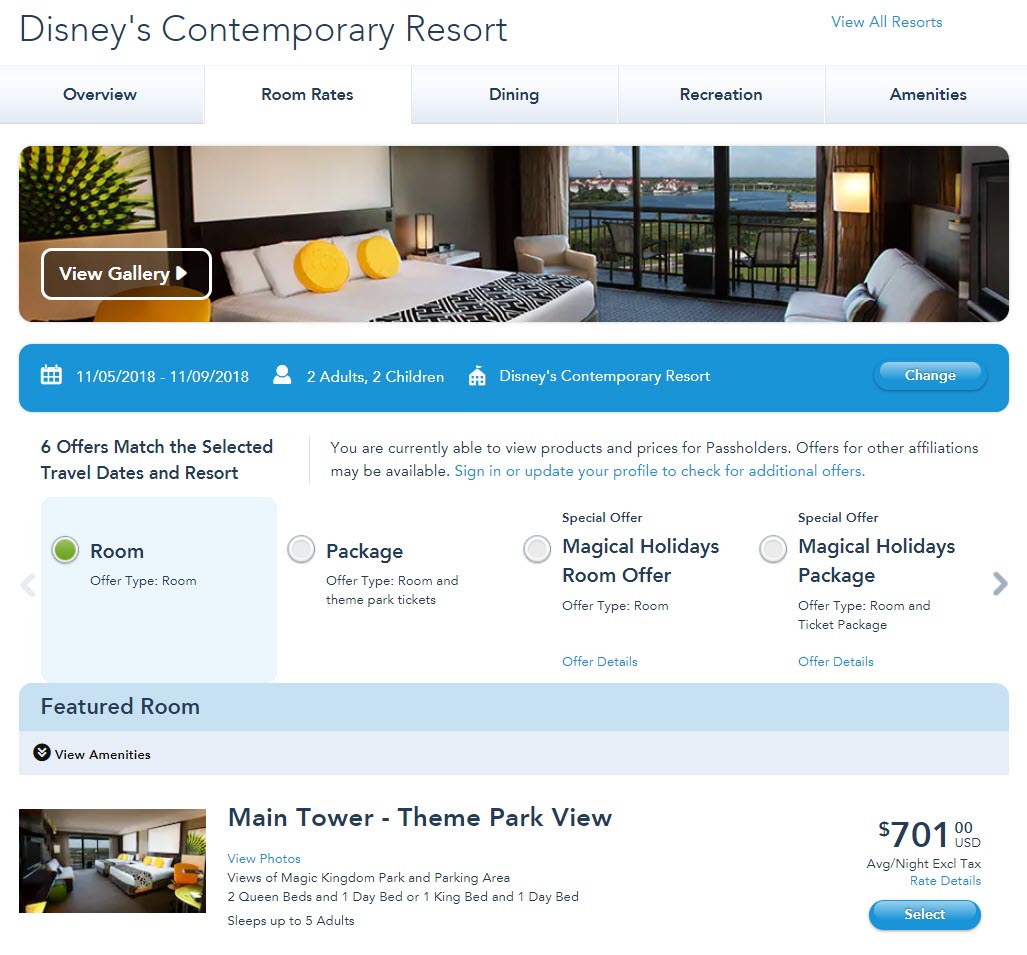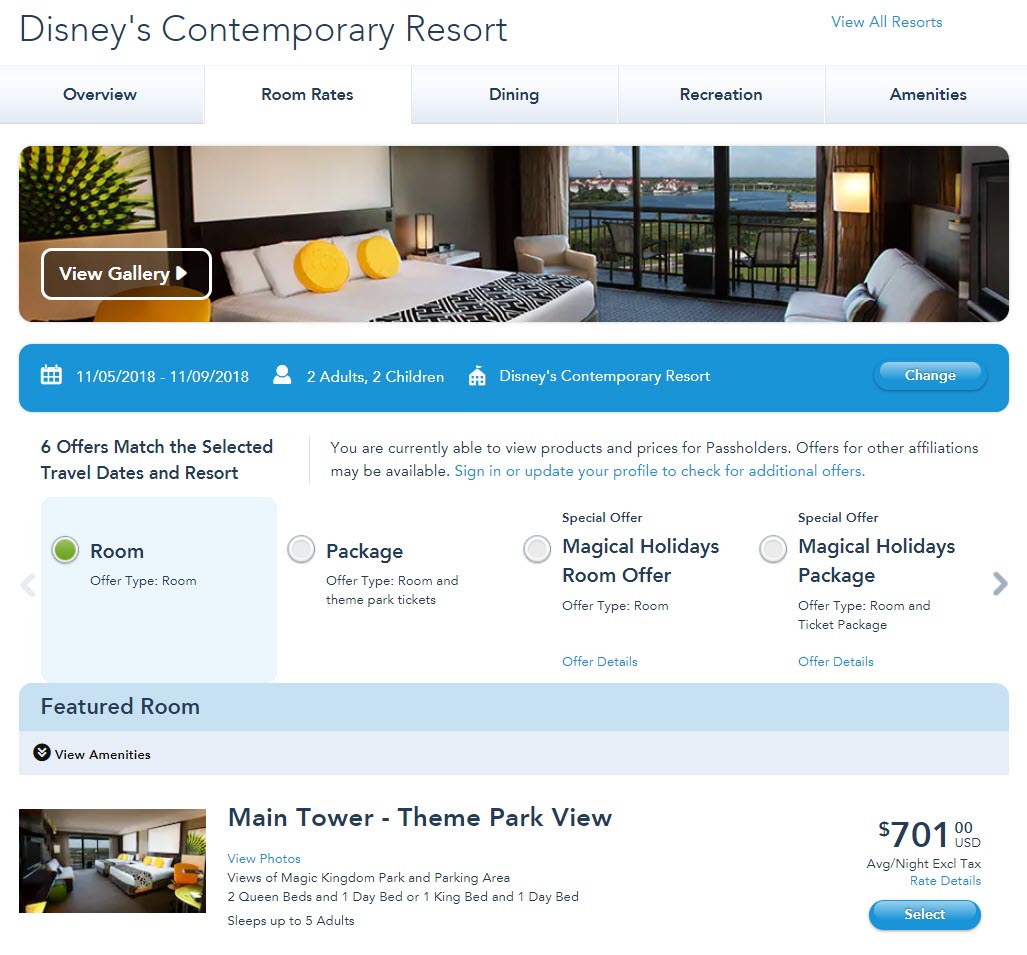 As you can see in the picture above, the home page has lots of information.  Starting at the top you can click on any of the tabs that say Overview, Room Rates, Dining, Recreation, or Amenities.  We won't go into great depth on this as the information you can get is self-explanatory and varies from resort to resort.
Select Your Package
The room rates tab will be the one you are most interested in, eventually.  This will show you all the pricing.  You'll notice radio buttons showing the different packages available.  The first one is a basic room rate.  This is your no-frills room only price.
The other radio buttons will vary depending on what deals Disney has going on at the time of year you are booking.  There are times of year where you will only see the room and package buttons.  Other times, like now, you'll get seasonal promotions.
Note the arrows to the left and right of the different offers.  This means there are more offers you can't see.  Use the arrows to scroll to the side and see what other deals are out there.
As you click the radio buttons of the different offers, the page will update with room availability and prices.  What a good deal is and how to compare the different packages is beyond the scope of this simple how to.  You have to do your own math on if a package deal makes sense for you and your group.  There is no one size fits all answer.
If you want information on the packages or room rates, you can click the little hyper links that say "Offer Details" or "Rate Details".
Reserve Your Room
Once you've decided on a package or basic room reservation, you simply click the "Select" button below the pricing shown.  In this instance, I'm going to only pick the basic room rate.
This is Disney, so you'll be immediately taken to another selling page.  In this instance, it is to add theme park tickets.  You can see the various options presented here.  As we talked about in our Money Saving Tips article, you shouldn't pay full value for theme park tickets.  You can book a package or find a ticket broker.  Don't use this option.
If for some reason, you do book your tickets here, you'll also be given additional options for the Park Hopper and Park Hopper Plus.  We don't see the value in these, so recommend you don't buy them.  We'll pick the "No Tickets" option.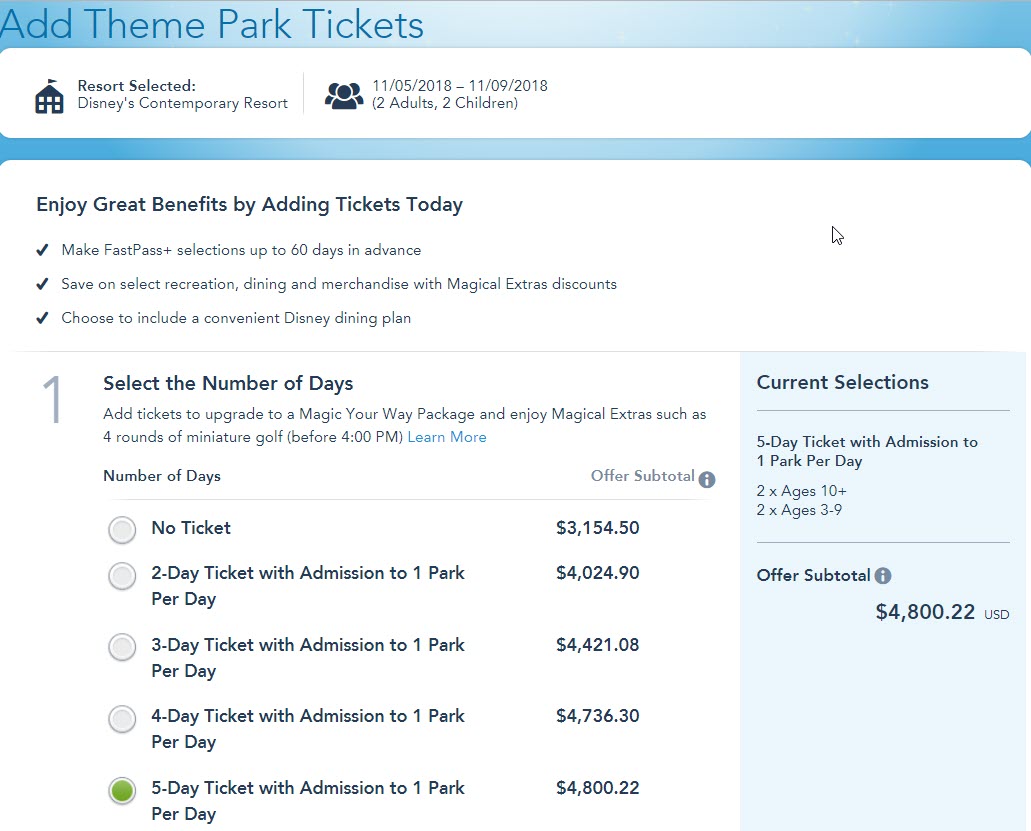 Package Additions
Once you have decided on tickets, you'll find another up-sell page.  This one looking to add the Disney dining plan, Memory Maker, flights and ground transportation options.  If you pick the no ticket option like we did, they are all grayed out.  This is because you have to have a Disney Magic Your Way package selected, which requires tickets.
This is no big deal, as you can come back and add these options at any time once you have purchased your tickets.  To give you an idea of what the page looks like with all the add-on options available, we added tickets to our reservation.  The screen shot is below.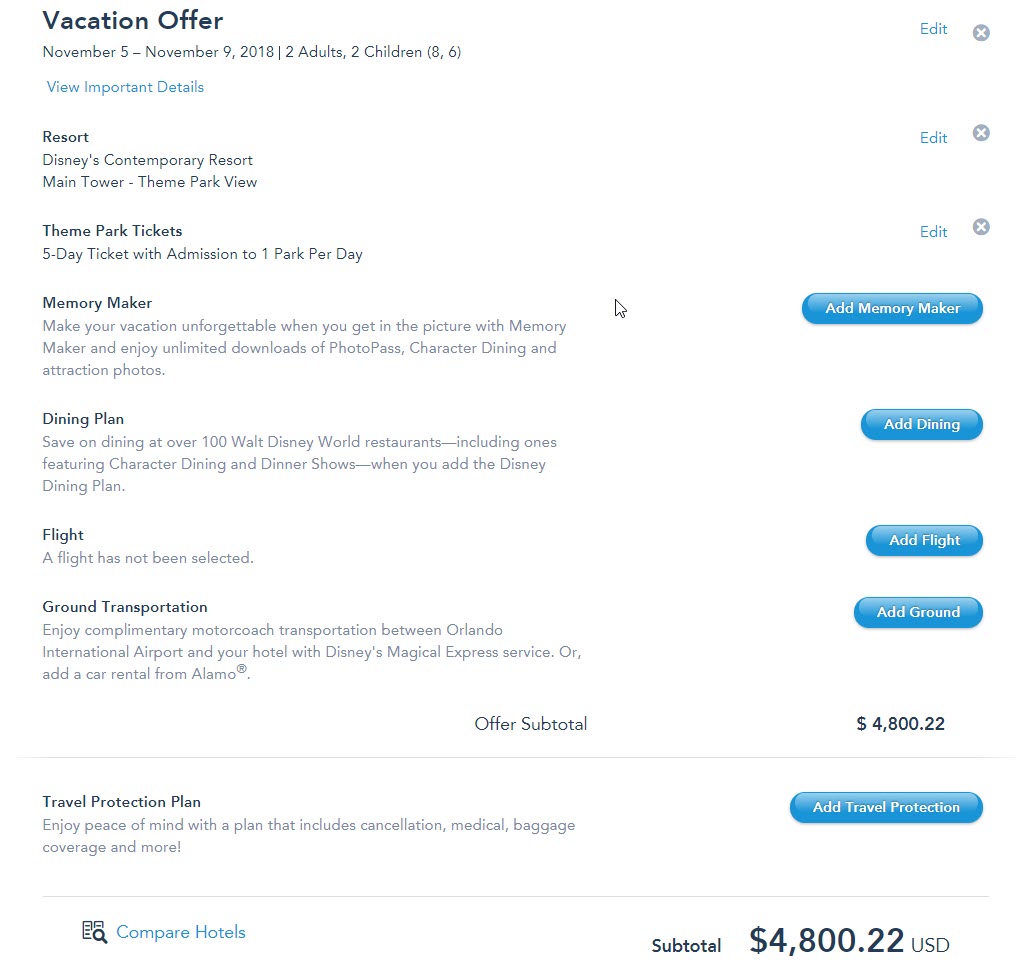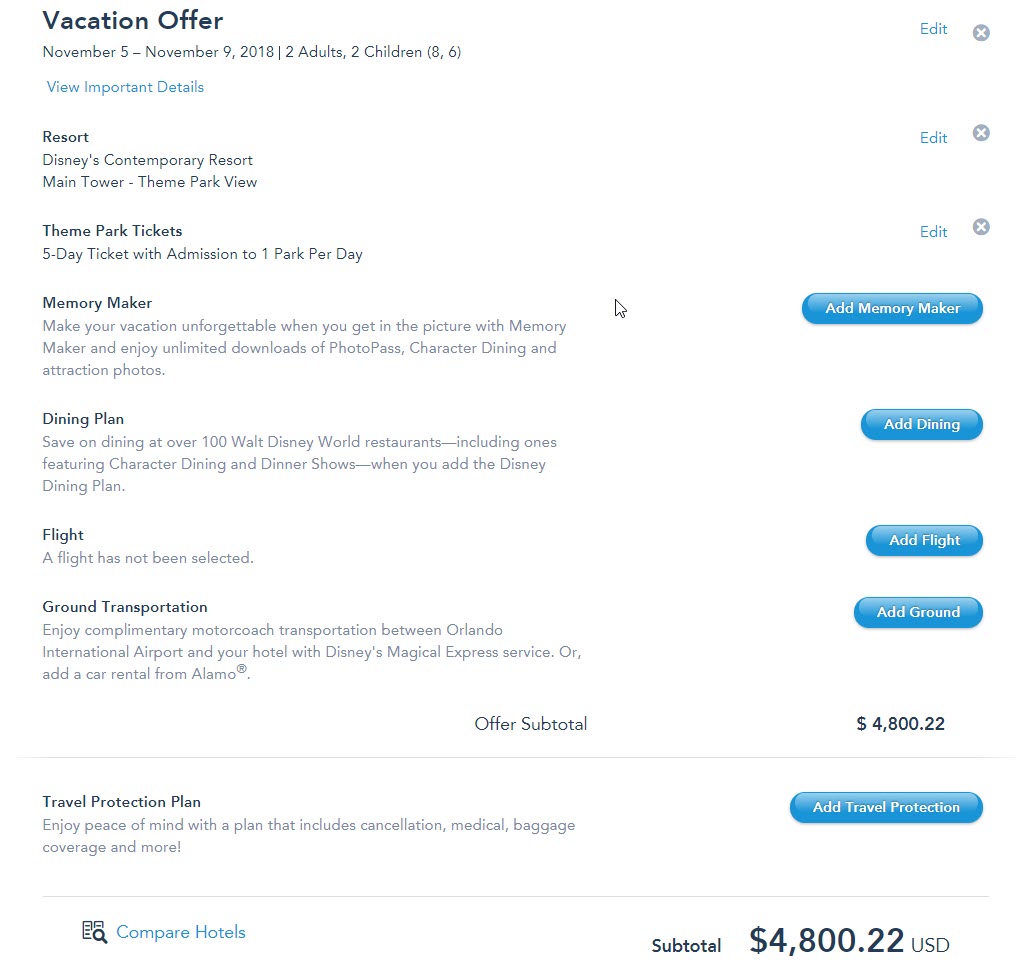 If you want to add any of these options, feel free to do so.  Otherwise, if you are just sticking to the room reservation then click "check out" button on the bottom of the screen.
Finalize Your Reservation
The last step of how to make a Disney World resort reservation to provide all the necessary information for your group.  You'll be asked to provide the names of all guests in your group, along with an address.
Disney will make one more upsell for trip insurance, which we don't recommend.
Then you need to provide a credit card for the reservation.  Remember, you must make a down payment for the room.  The down payment is usually around $200, or one night's stay, but can fluctuate depending on time of year and pricing.
Provide an email address for the reservation and click purchase and you're done.
Wrapping Up
The process of how to make Disney World resort reservations is a simple one.  The hardest part frankly is deciphering all the different offers.  Unfortunately, there is no simple way to do that.
Make sure you note the cancellation policy associated with your reservation.  It is usually one month in advance, but can be different depending on time of year and room.
We'll continue our "How To" series with a step by step tour of the mobile ordering part of the My Disney Experience app.