To quote Barney Stinson from How I Met Your Mother, "Challenge Accepted!".  What challenge is that, you ask?  In this case, it's the Disney Food Blog Cupcake Challenge.  We're big fans of AJ and the Disney Food Blog team, so when this came out we just had to do it.
Now, there were numerous cupcakes in this challenge.  By our count, we came up with 19 of them, but you could come up with more given some of her guidance.  We'll spare you the suspense, we did not eat all 19.  We got to what we could and even threw a couple that weren't originally on the list.
The only participants in the Disney Food Blog Cupcake Challenge were Mike, Anna and Elsa.  Carla didn't participate because of her gluten issues.
One other word here.  We aren't foodies.  We like food, but we aren't going to be able to tell you the finer points of difference between textures and flavor profiles.  Expect us to tell you what we like and why in simple basic terms.  If we say something incorrect, bear with us.  We aren't professional food critics.
Let's dive into all the cupcakes we had and our thoughts on them!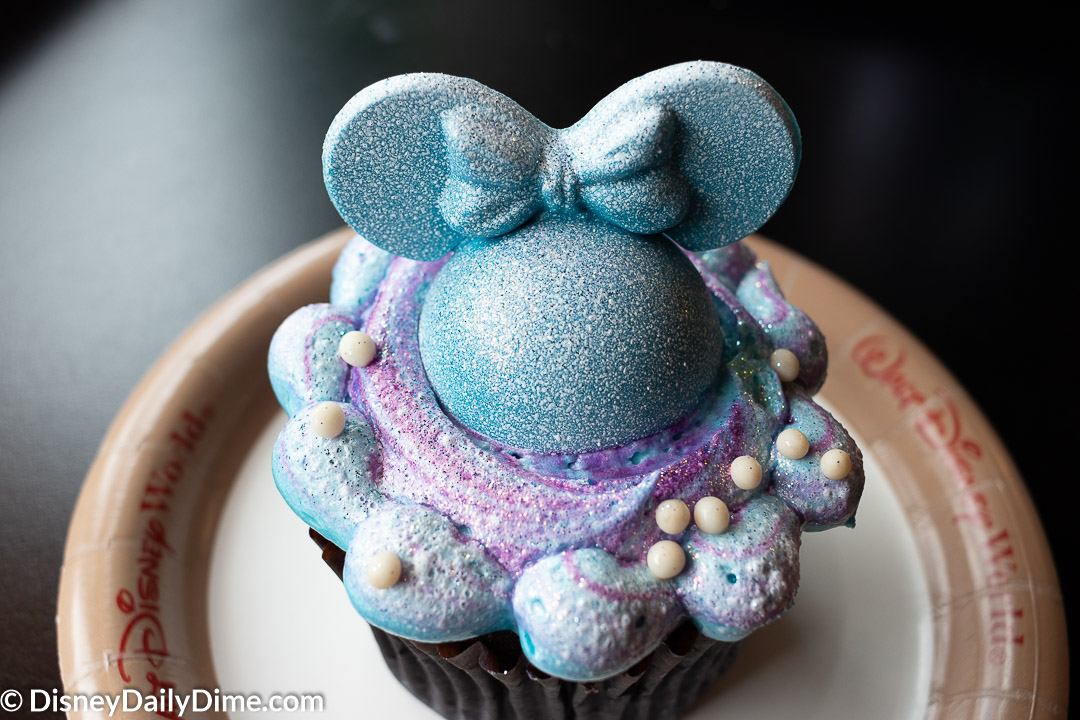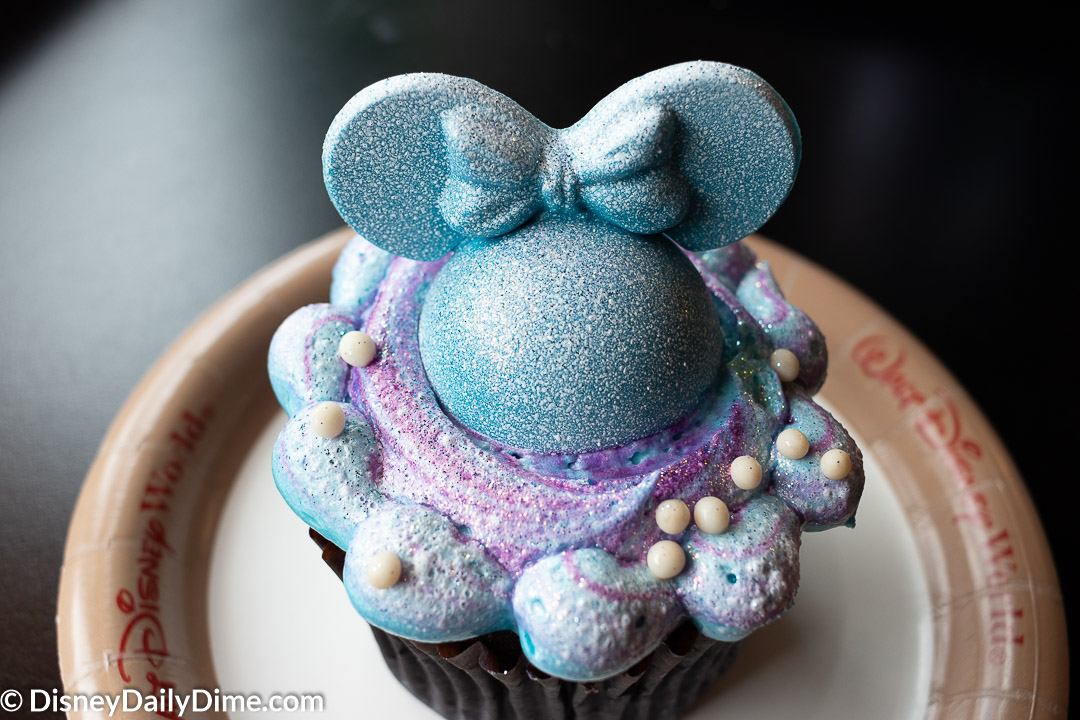 Iridescent Cupcake
The first treat we got as part of the Disney Food Blog Cupcake Challenge was the Iridescent Cupcake.  We found it at the All-Star Sports food court, End Zone.
It's a cupcake take on the fun new Minnie ears of the same name.  The cupcake base is chocolate, with a raspberry buttercream frosting.  The base of the cupcake is filled with what is called cotton candy marshmallow filling.  The frosting also has crispy pearls on top to give it a small bit of crunch.
The ears on the cupcake are edible!  They were frosting based ears.  We were kind of expecting a cookie, but it was not to be found.  Just straight sweet.
Overall, our group was pretty blah about this cupcake.  We found the cupcake itself to be fairly dry, and the filling was overwhelmed by the chocolate of the cake.
As you can imagine, Anna and Elsa loved the frosting.  Anna is a raspberry fiend, so it was right up her alley.  The ears were a hit too, however maybe a bit too sweet for the adult sampling.  It just would have been better if a cookie was inside of them.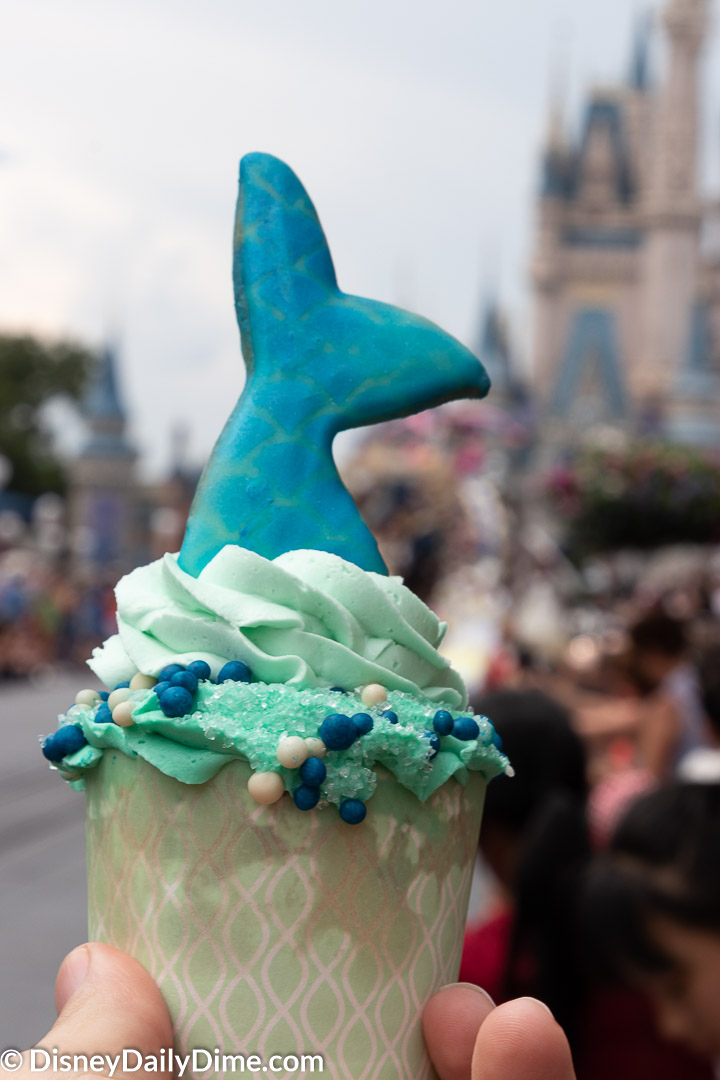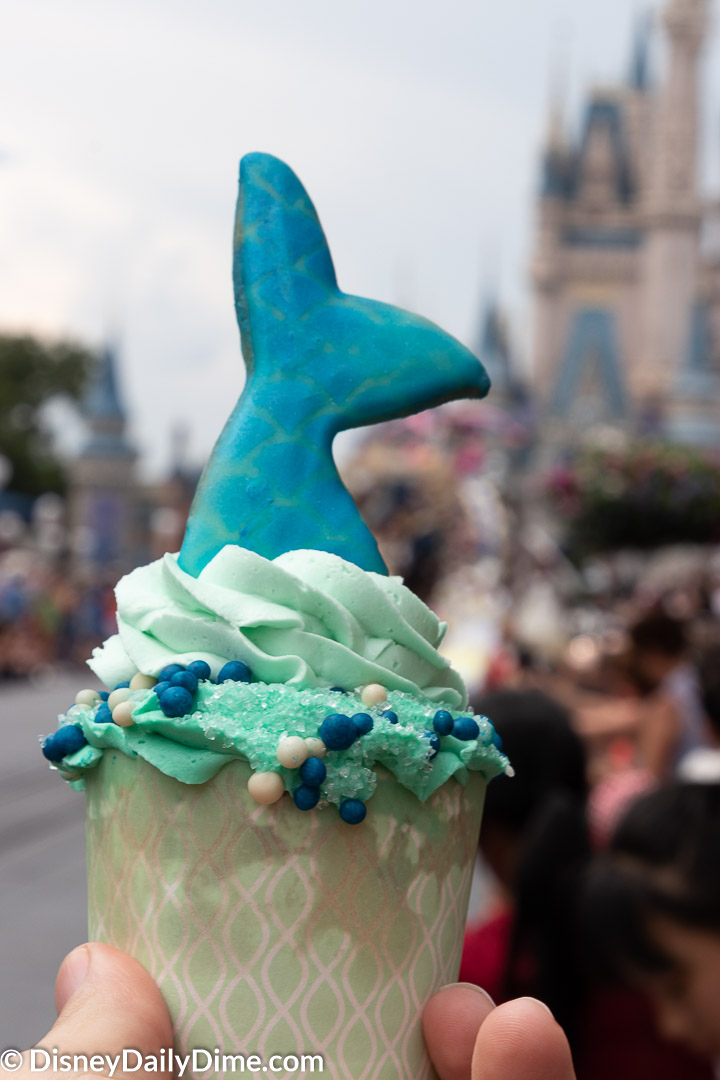 Mermaid Cupcake
For those of you that read, you either know or will come to know that Anna is a huge Ariel fan.  So of course, we had to stop and try the Mermaid Cupcake!  We know it isn't technically part of the Disney Food Blog Cupcake Challenge video, but we wedged it in.  And was it worth it!
The base of the cupcake is a yellow cake with a vanilla flavor.  The base has a colorful add in that we've seen referred to as confetti.  It looks good and tastes even better.  The base was moist and yummy!
But let's be real, the topping is what everyone is interested in.  The frosting is a sea foam green colored buttercream.  It's topped by crispy pearls that have a chocolate flavor.  They were nice and sweet, but we didn't find it overpowering.
The mermaid tail elevates it to "over the top" good.  As we hoped to have a cookie topping the Iridescent Cupcake we just talked about, we actually get that here.  The mermaid tail is a sugar cookie coated in similar frosting.  It's a nice lighter touch of sweet, compared to the overly sweet experience we had with the Iridescent Cupcake.
Anna and Elsa LOVED this cupcake.  They devoured it while watching Festival of Fantasy Parade.  Mike was fortunate to get a bit to eat.  There was nothing left, except some messy hands and slightly stained shirts.  Make sure you get plenty of napkins.
Salted Caramel Cupcake
We next stop off in Epcot at the Germany pavilion and hit up Karamell-Küche.  Our target here from the Disney Food Blog Cupcake Challenge is the Salted Caramel Cupcake.  We'll save you the suspense.  This was by far the best adult geared cupcake we had!  And it wasn't close.  Anna and Elsa don't share this point of view, but that's alright.  We've all got different tastes.  If you're wondering where the picture is, it's the cupcake at the very top header of the post.
The base of this cupcake is a dark chocolate.  However, it doesn't strike us as that.  Mike isn't a big dark chocolate fan and it didn't overpower him.  Part of that may be that we found the base less cake like and more like a brownie or fudge.  It held together well as we ate it and didn't just fall apart like most of the other cupcake bases.
The Salted Caramel Cupcake is then covered with a caramel buttercream icing, topped with a small drizzle of caramel.  We do have to say we wish there was more caramel drizzled over it, but we are big caramel fans.
If you look long enough at the picture up top, you may be wondering where the "salted" part of the cupcake is.  The salt isn't sprinkled on the cupcake, rather it is mixed into the icing.
The frosting is filled into the center of the cupcake, so you get more yummy icing as you continue eating.  That is if you don't eat it like our girls and just suck the frosting off first!
If you don't like the whole sweet and salty taste profile or brownies, this cupcake may not be for you.  If you are okay with this, we think you'll really like it too!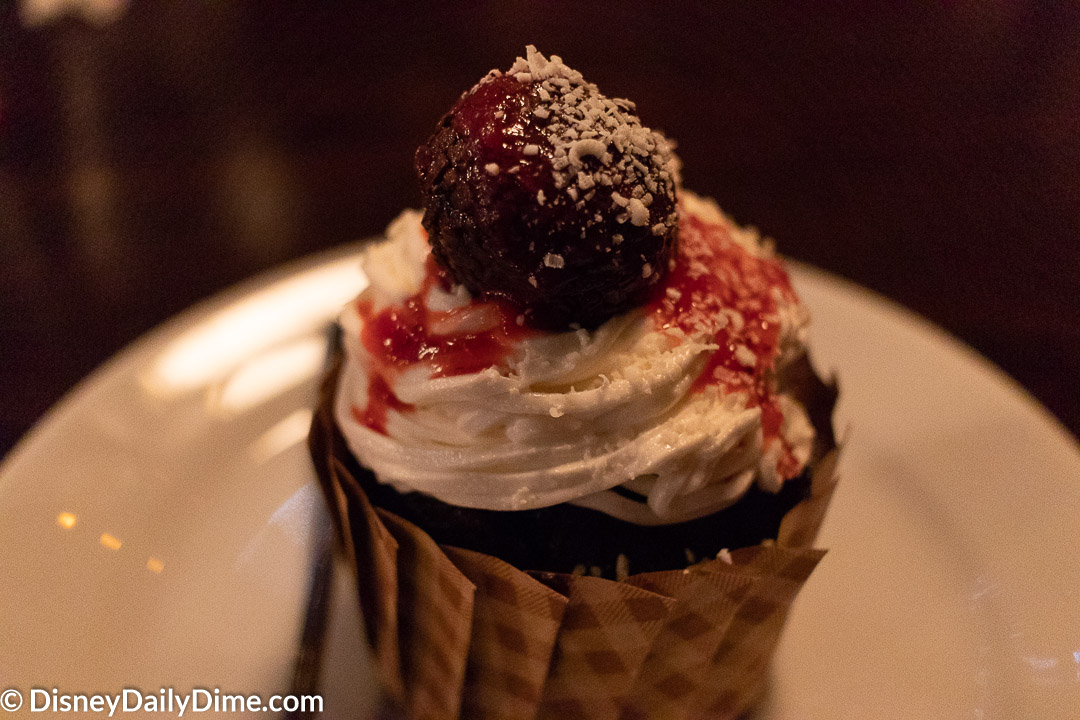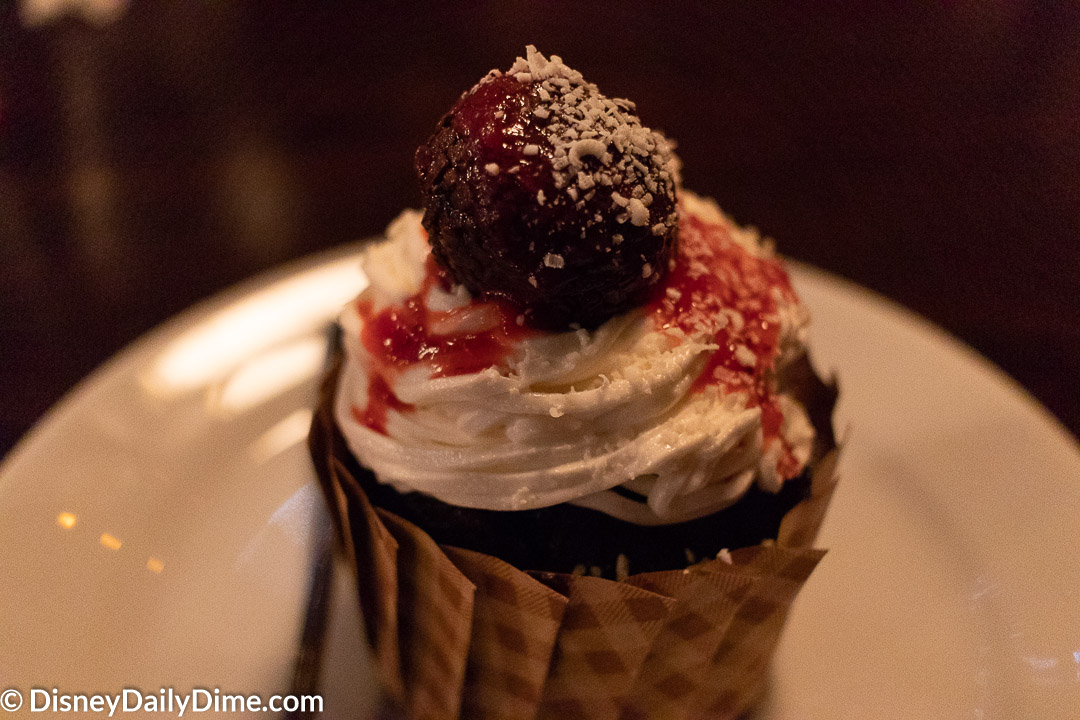 Spaghetti and Meatball Cupcake
Now, the Spaghetti and Meatball Cupcake is an interesting entry for the Disney Food Blog Cupcake Challenge.  This is technically a kid's dessert on the menu at Mama Melrose's.
We'll start at the bottom again, with the base.  It's a basic chocolate cake, nothing nearly as decadent as the base of the Salted Caramel Cupcake.  Since this was served after a delicious and filling dinner here, it was a good change to have a lighter cupcake base.
The icing, meant to represent spaghetti, is a basic buttercream.  Nothing overly complex or interesting, honestly.
Next was the meatball, which was basically a chocolate cake ball.  It had a good doughy texture and was nice and moist.  It was then topped with "sauce", in the form of strawberry flavored topping.
This is definitely a cupcake where Anna, Elsa, and Mike agreed the cake ball part was great.  The rest of it was pretty blah.  The icing and the sauce were not anything to write home about.  The cake, while light, was just cake.  Don't get us wrong, it wasn't a bad cupcake.  It just wasn't knock your socks off great.
When we finished, the top was gone and most of the base was still left.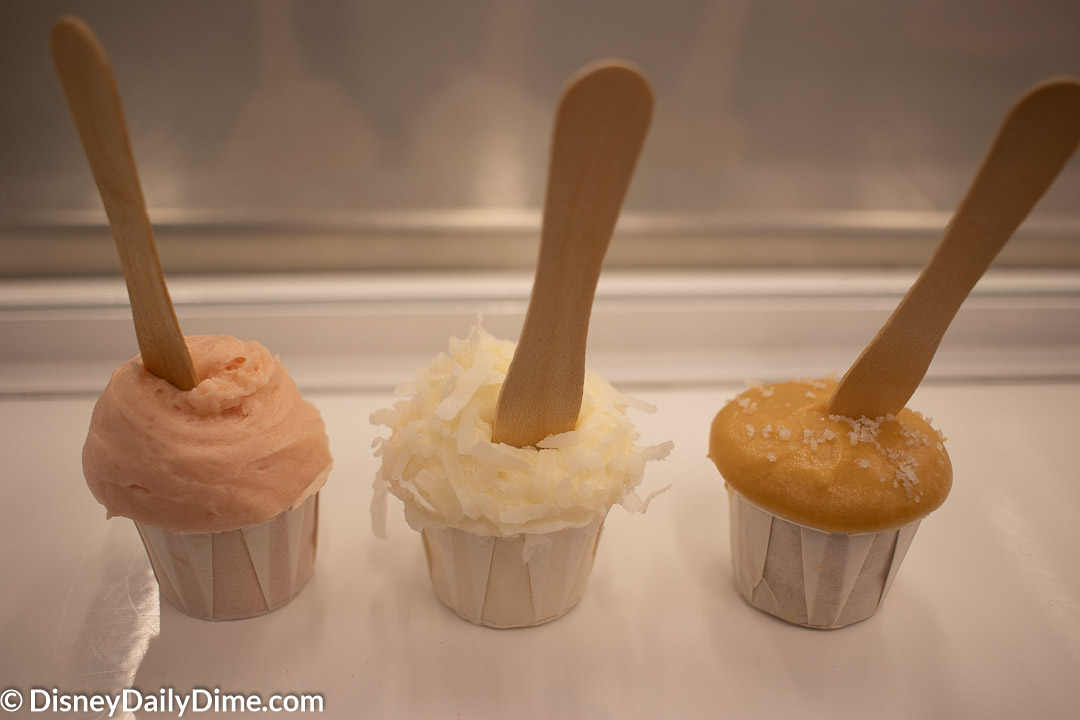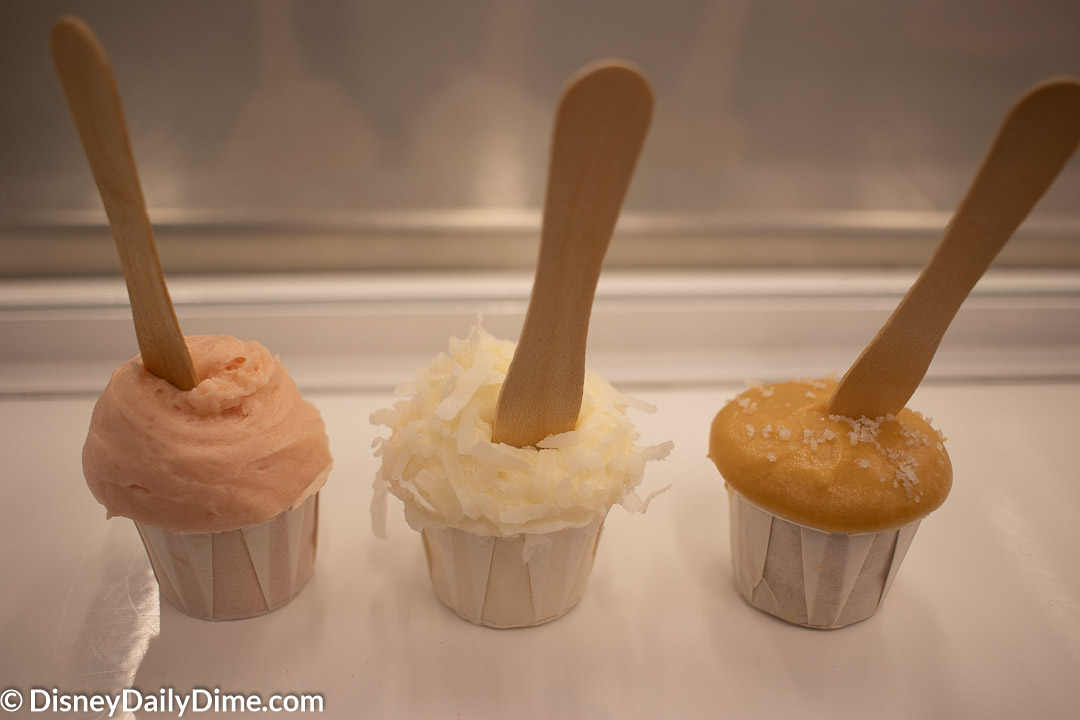 Sprinkles Frosting Shots
This was one of the more fun entries in the Disney Food Blog Cupcake Challenge for us.  It was also one of the tastiest!
This was the first time for any of us to have frosting shots, despite having Sprinkles every once in a while, at home.  It made us wonder why we hadn't ever done it before.
In case you are wondering, the Sprinkles Cupcakes location is in Disney Springs.  We hopped over there one night for dinner at Morimoto Asia and decided to follow it with dessert at Sprinkles.  If we are being honest, we actually had dessert at Morimoto, but felt the calling of the frosting shots!
As you can see, we got three shots, one for each of us.  Anna got the strawberry on the left.  Elsa claimed coconut in the center.  And Mike went with the salted caramel on the right.  We all agreed that they were pure heaven.  All the sweetness of frosting, but not heavy weighing on your stomach.  Nice and simple.  We enjoyed all the flavors.  Well except Mike.  He's not a big coconut fan, so that one didn't sit well with him.
If you're looking for a light little shot of sweetness and you're in Disney Springs, this is probably for you.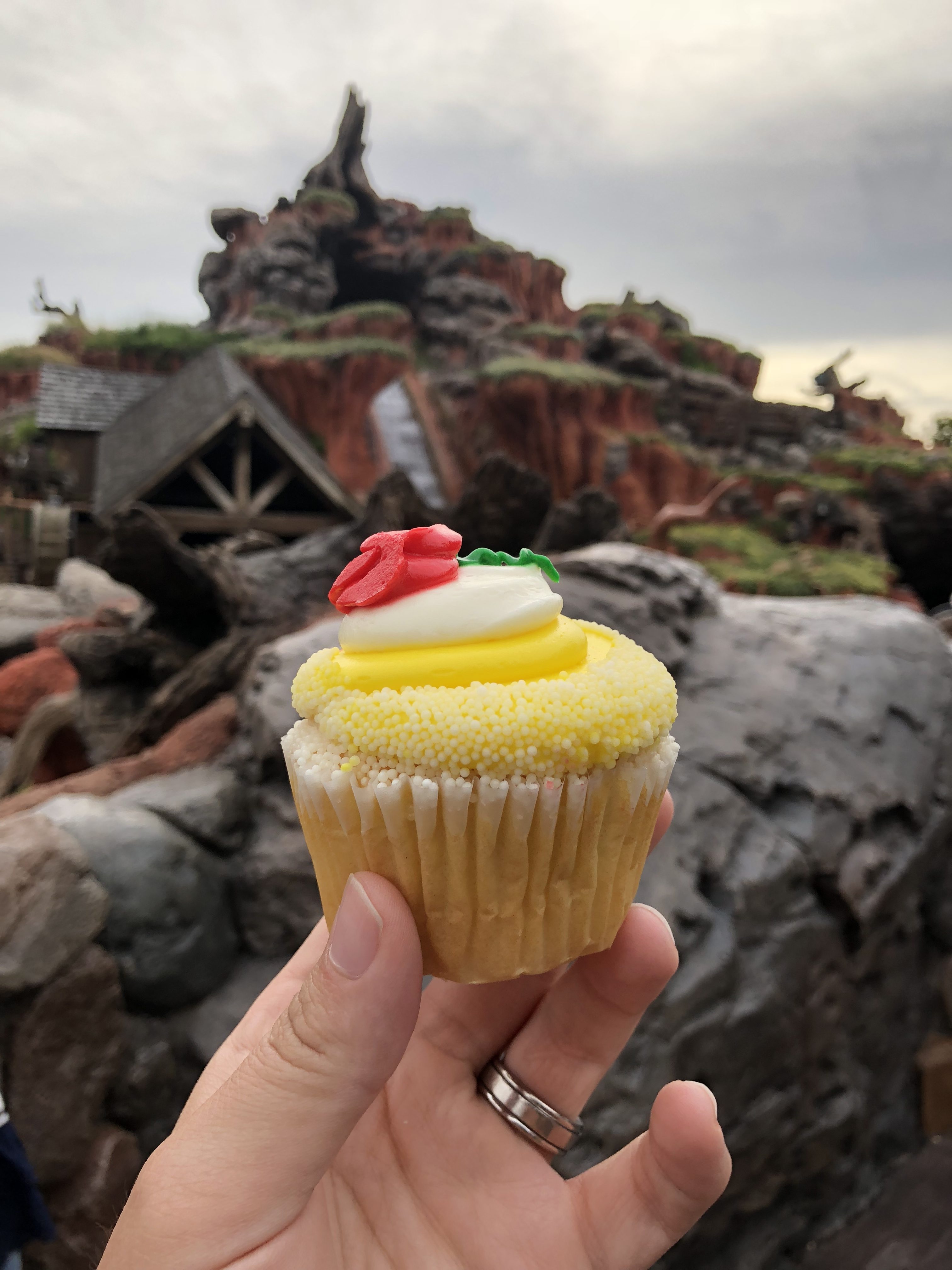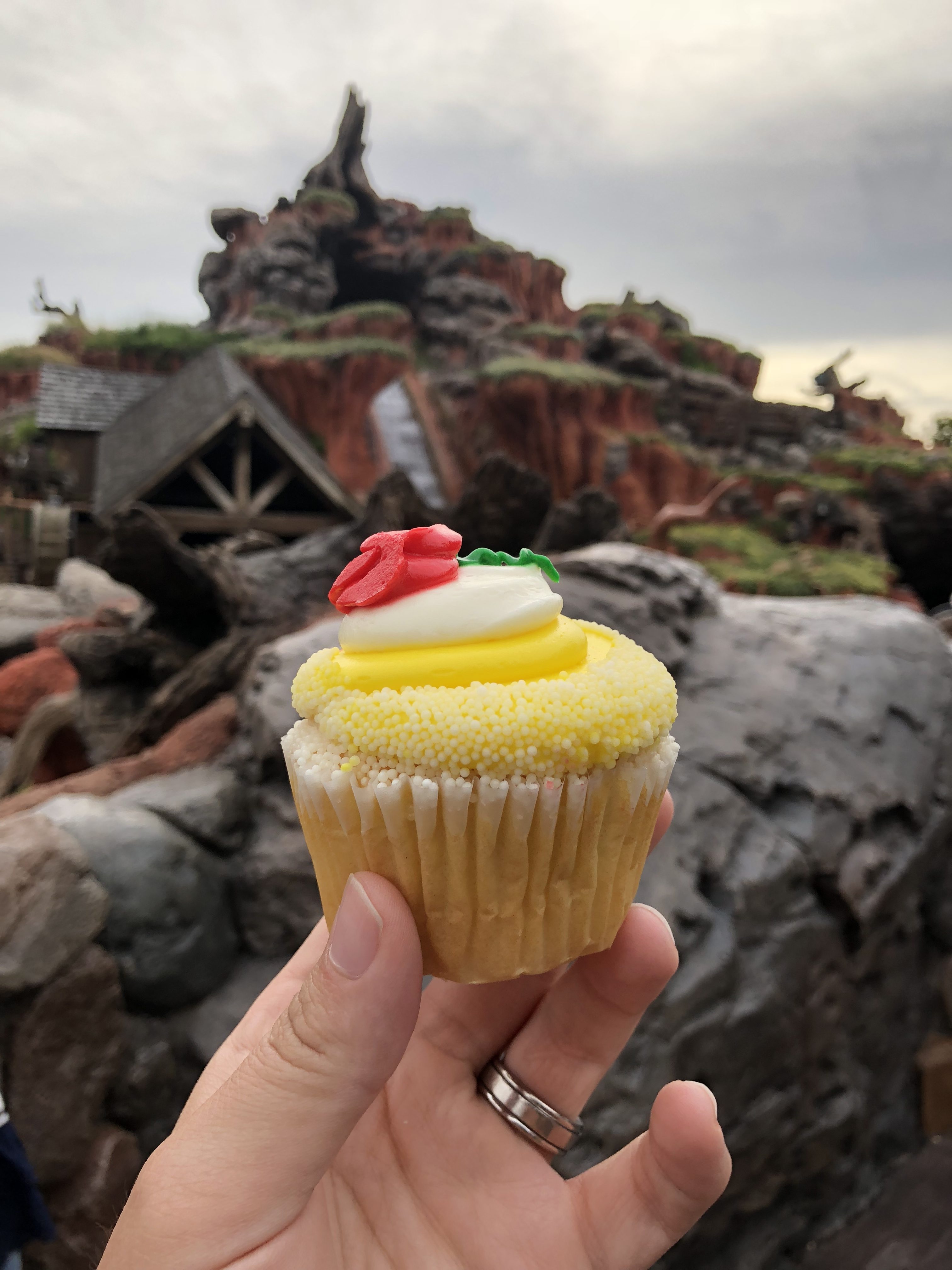 Belle Cupcake
One of the Disney Food Blog Cupcake Challenge cupcakes that we searched a good bit for was the Belle Cupcake.  We finally scored one in Frontierland at Prairie Outpost & Supply.
This is an understated cupcake that doesn't overpower you with sweetness.  The base is a nice yellow vanilla.  The icing has a healthy yellow base, topped with the white, green and red of the rose.  It looks fabulous.  Probably the most visually appealing cupcake of the group.
Mike would say he enjoyed this cupcake a lot.  Anna and Elsa would say it was just okay.  They didn't find it to be as sweet as they would have liked.  We found that comment from the girls odd as there is a very healthy layer of icing on the cupcake.  But like we said, it just wasn't overpoweringly sweet.
Maybe it's a cupcake for a more refined pallet.  Or someone who can appreciate the visual appeal of it.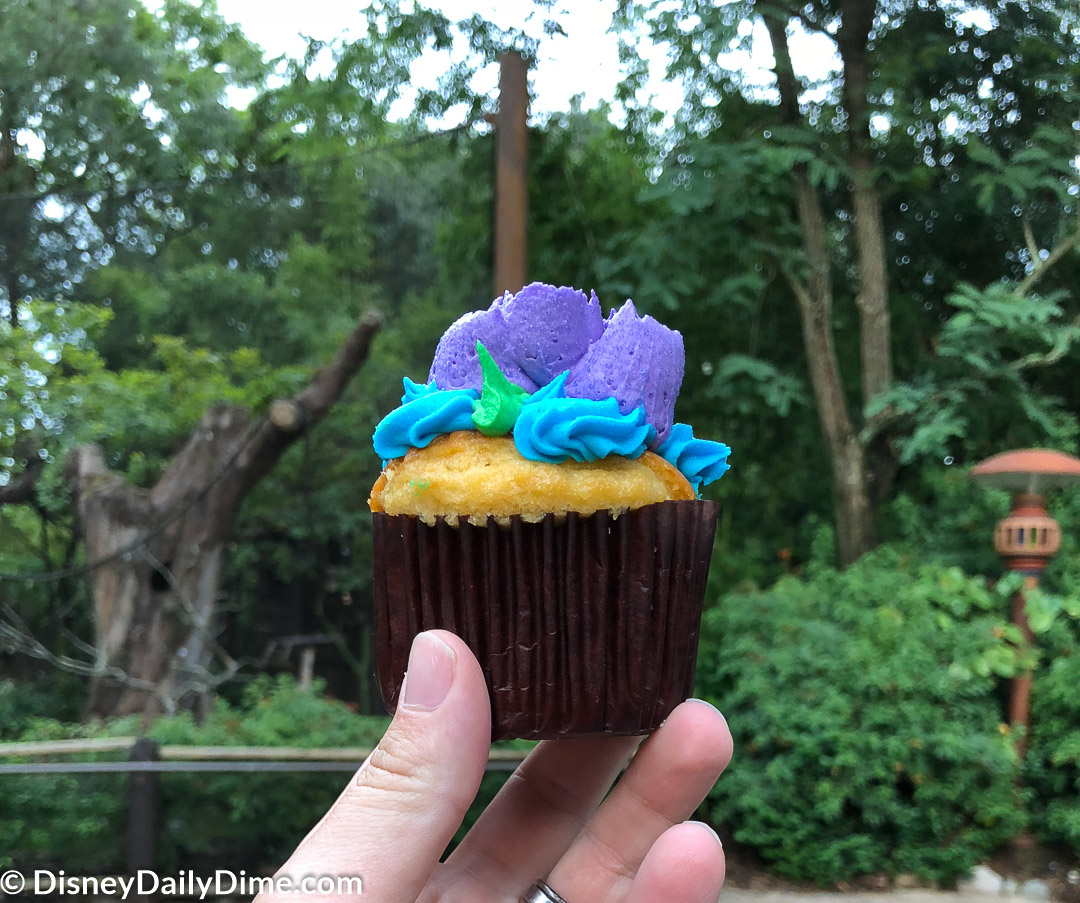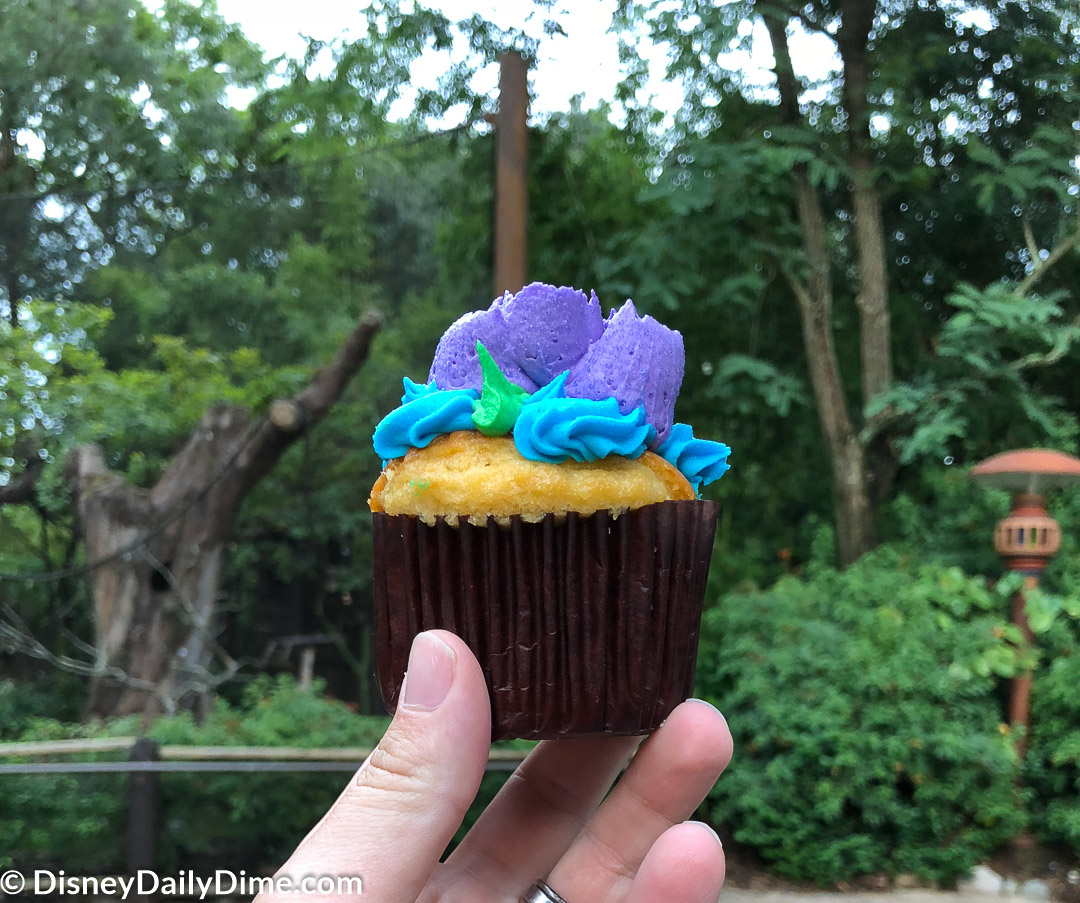 Rivers of Light Cupcake
We didn't set out to get the Rivers of Light cupcake originally as part of the Disney Food Blog Cupcake Challenge.  We stopped by Creature Comforts in Animal Kingdom looking for the Cotton Top Tamarin Cupcake.  However, we did it late in the day and sadly they were all gone.
So, we called an audible and went for the Rivers of Light Cupcake.  If this was football, we would have just thrown a pick-six to the defense and be questioning why we made the call.
Visually the cupcake looks nice, but isn't anything to write home about.  And that's about as nice as we can be to this cupcake.  Sadly, the yellow base was dried out and bland.  Not sure if the dry nature was due to us getting the cupcake so late in the day.  However, we got the Belle Cupcake late in the day too, and didn't have that experience.
There was pretty limited frosting, so it didn't give us the right proportions of frosting to cake either.  The frosting itself didn't have any discernible flavor to it.  You just tasted sweet.
It was probably the worst cupcake of the challenge.  We had this on our last day of the Disney World trip, so it was a disappointing end to our experience with the Disney Food Blog Cupcake Challenge.  It's not AJ's fault though, we're the ones who picked it as our substitution.
Wrapping It Up
And that's it for our attempt at the Disney Food Blog Cupcake Challenge.  That was seven cupcakes out of about 19.  Some would say a pretty poor effort.  We'd say it was real fun getting to do it.  Although the girls were getting a little burned out on cupcakes towards the end of the trip.  We'll come back and update this post from time to time if we can pick off a cupcake or two on our upcoming trips.  Mike really wants to get that Chocolate Peanut Butter Crunch Cupcake.
We hope you enjoyed our family's attempt at the Disney Food Blog Cupcake Challenge.  And we hope AJ and the Disney Food Blog team will keep handing out challenges.  We enjoyed doing it.  If you did like this, please take a minute to share it on social media with others who you think might enjoy it.  Just use the buttons on this page.