This is the next installment reviewing my experiences eating gluten free around Disney World.  Here in our Hollywood & Vine gluten free breakfast review, I'll cover the food but other topics related to the restaurant as well.  This will include my experience, service, options and anything else I think others trying to eat gluten free may care about.
During our visit to Hollywood Studios in the summer of 2018, we jokingly referred to it as the "end of an era".   Our girls are phasing out of the "Disney Junior" stage and some of the characters they adored watching (Jake and the Neverland Pirates, Doc McStuffins and Sofia the First) are also being slowly phased out of the Disney Junior experiences.
We knew the Disney Junior show was changing later in 2018 and that the characters at the Hollywood & Vine breakfast may change too (sure enough, Jake is no longer there).    So, we decided to visit this breakfast one more time to see some beloved characters.
Hollywood & Vine Gluten Free Breakfast Overview
Hollywood & Vine at Disney's Hollywood Studios offers character meals served buffet style for breakfast, lunch and dinner.    The breakfast meal is called the "Disney Junior Play 'n Dine" and features a selection of Disney Junior characters (currently Vampirina, Doc McStuffins, Sofia the First and Goofy in his Roadster Racers get up).    We won't get to into detail on the character interactions here, but you can see more details on it in our main Hollywood & Vine breakfast review.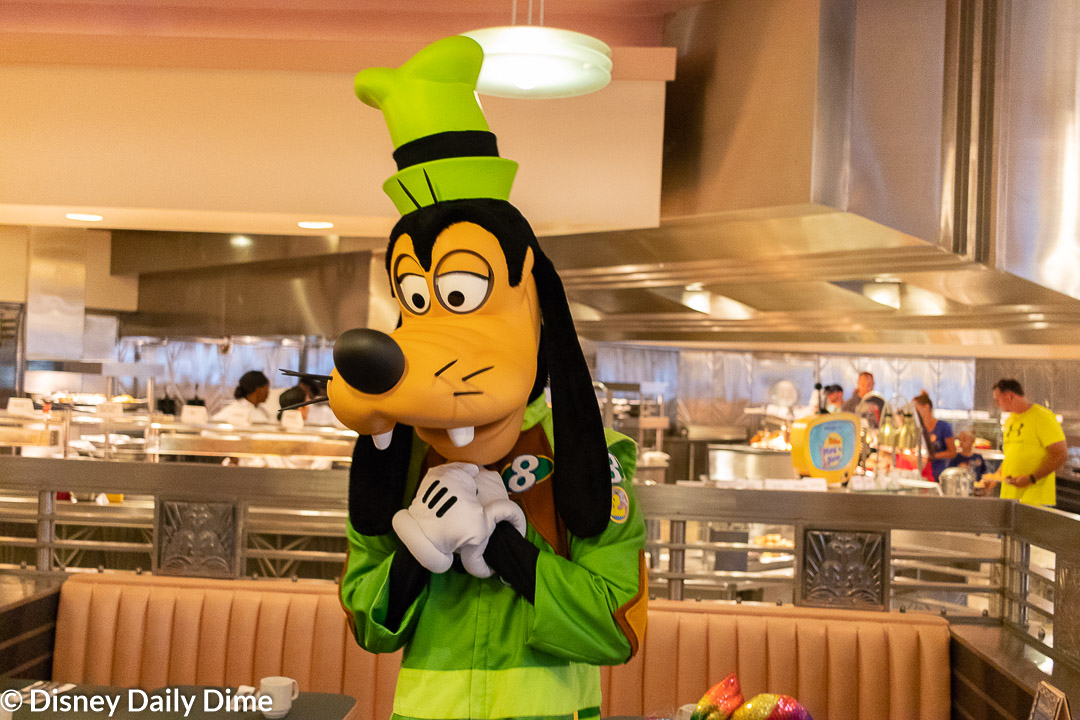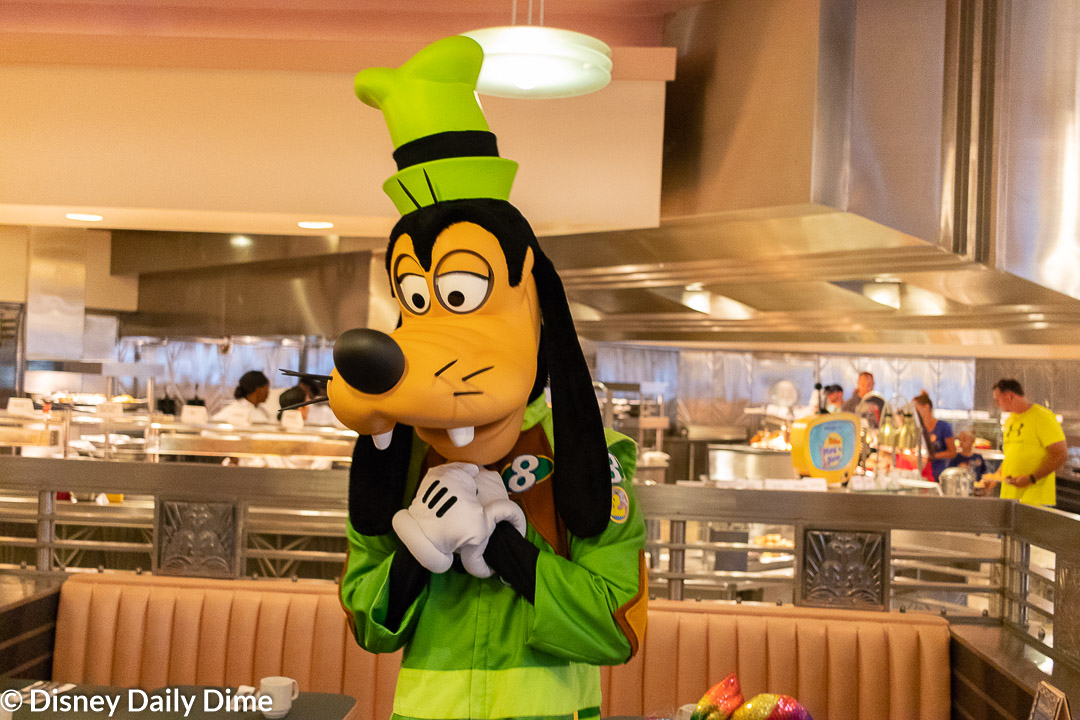 Hollywood & Vine Gluten Free Breakfast Menu
Buffets tend to be pretty straightforward for food allergy/sensitivity guests.  I was given a pamphlet at check-in that listed all of the items on the buffet and what was safe for each of the major allergens.    Our server offered a chef to walk me through the buffet, which I declined as I found the menu straightforward for my needs.  This is of course a wonderful service that I highly recommend for anyone with an allergy.  Of course, with buffets the issues of cross contamination do exist and guests are encouraged to speak with chefs.
In regards to the gluten free items, all of the obvious items (breads, pastries, some casseroles, pancakes, etc) were not safe to eat.  The menu noted that the allergy friendly Mickey waffles were available upon request so I definitely asked for a serving!
Hollywood & Vine Gluten Free Breakfast Food
The food at Hollywood & Vine can be described as solid, standard breakfast food.  As it is hard to "mess up" breakfast food, we recommend breakfast as a great way to take in a character meal if the idea of a lunch or dinner buffet does not appeal to you.
I enjoyed a plate with fruit, eggs, bacon, and potatoes and I filled a bowl with cheese grits.  The allergy friendly Mickey Waffles were delivered promptly.  They were made in the kitchen and came out hot and clearly freshly made.  I enjoyed every delectable bite.  Unlike my experience at the Bon Voyage Adventure breakfast, these waffles were cooked perfectly.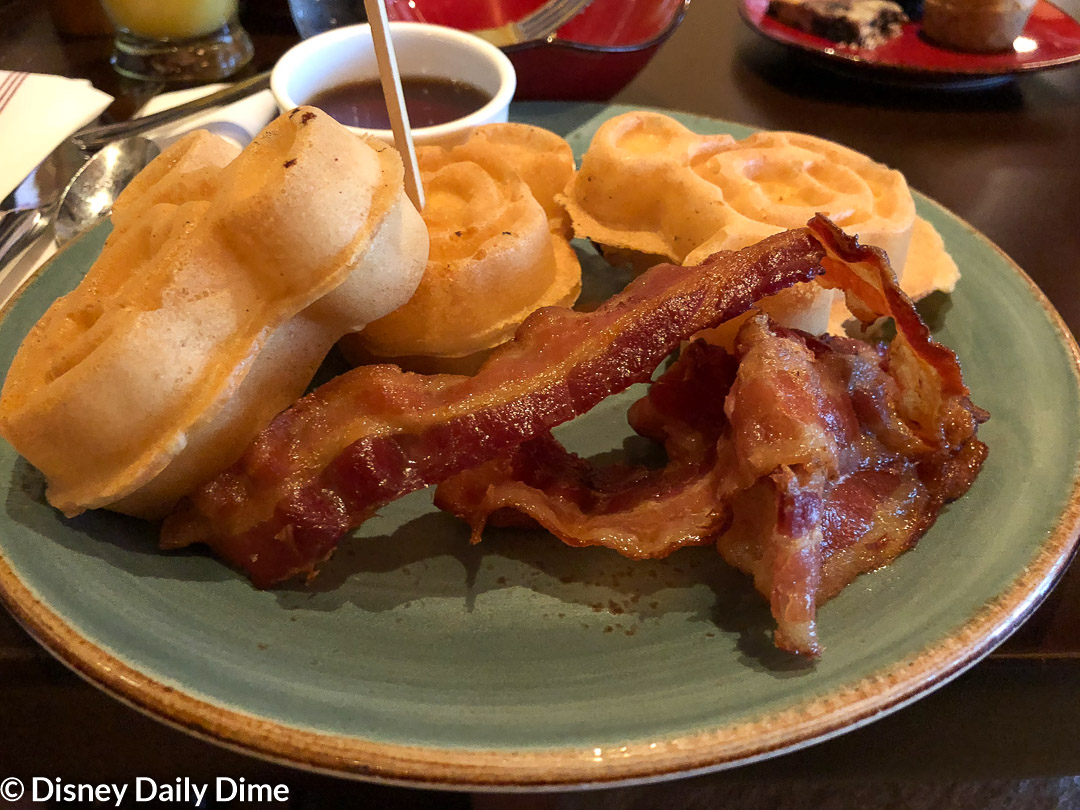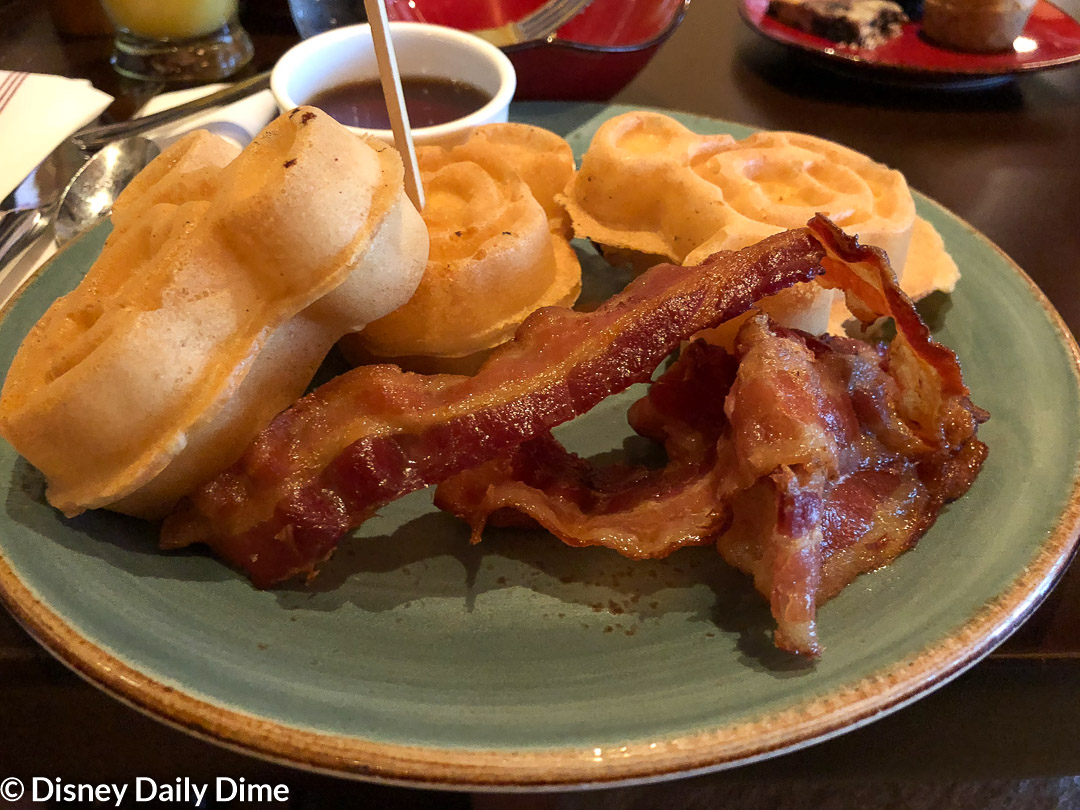 You can see a picture of what Mickey waffles look like above, however I have to confess that that we had all sorts of picture fails here.  We forgot to take a picture of the gluten free Mickey waffles while eating at Hollywood & Vine.  We want to give you a sense of what they look like, so this is the best we could do.  The picture above is from the Bon Voyage Adventure breakfast.  We'll work on improving, I promise.
Even my gluten-eating family wanted to try them and all agreed that they were impressed.  The waffles filled the void of the "sweet" treat to my breakfast, because outside of the fruit, the waffles were the only safe sweet item. 
Overall Impression of Eating Gluten Free at the Hollywood & Vine Breakfast Buffet
A recurring theme with our character meal reviews is that the true highlight is the characters and not necessarily the food.  On this particular morning, the restaurant was not crowded so we received exceptional service from our waitress and we had more than one interaction with each of the characters.
The food on the buffet was hot, fresh and while nothing stood out or was overly notable, we all enjoyed the standard breakfast fare offered at this meal.
The gluten free items were limited, but not so much that I couldn't enjoy a hearty and satisfying meal to start our day of fun.
Wrapping Up
If there's more information on gluten free dining you would find helpful in these reviews, feel free to drop down in the comments and tell us.  Alternatively, you can email us from the contact us page.
We hope you found our Hollywood & Vine gluten free breakfast review helpful.  If you did, please share it with others you think may find it useful.  Just hit the social media sharing buttons on the page!  We always appreciate it when our readers share our content with others, as it allows us to help more people and spreads the word about our blog.