Today we return to Garden Grill over in Epcot's The Land Pavilion.  This table service restaurant serves breakfast, lunch, and dinner in a family-style meal setting.  This time we are reviewing dinner at Garden Grill.  For all practical purposes, this is lunch too, as the meals are the same.  We just happened to have dinner at Garden Grill on this trip.  As we noted in our Garden Grill breakfast review, this Epcot restaurant is a notable venue for several reasons.  First is that it is the only rotating restaurant at Disney World.   Second, it is one of only a few restaurants that overlook a ride.  Third, it is an all you care to eat meal.   Finally, Garden Grill is a character meal!  We'll cover all of this here in our Garden Grill dinner review.
The Land is one of the original Future World pavilions at Epcot.  As the pavilion evolved and changed over time, so has this restaurant.  It was initially named "The Good Turn Restaurant," probably to draw attention to its rotating feature.  A few years later, in 1986, the restaurant was renamed "The Land Grille Room."  Finally, during the renovation to the Land Pavilion in the early 90s, the restaurant became the Garden Grill.  Due to the increasing demand and popularity for character meals, characters were added, which brings us to the iteration of the restaurant we have today.
Officially, the character meal is called Chip 'n' Dale's Harvest Feast.  It has this name regardless of whether you eat breakfast, lunch, or dinner here.
Garden Grill will cost one table service credit on the Disney Dining plan.  As it is a character meal, there is a "premium" price attached to this meal, which almost always makes it a good use of a credit.  That is definitely true here.  Dinner at the Garden Grill will cost you $52/adult and $31/child.  Garden Grill does accept Tables in Wonderland, so it can shave 20% off your bill if you have that discount card.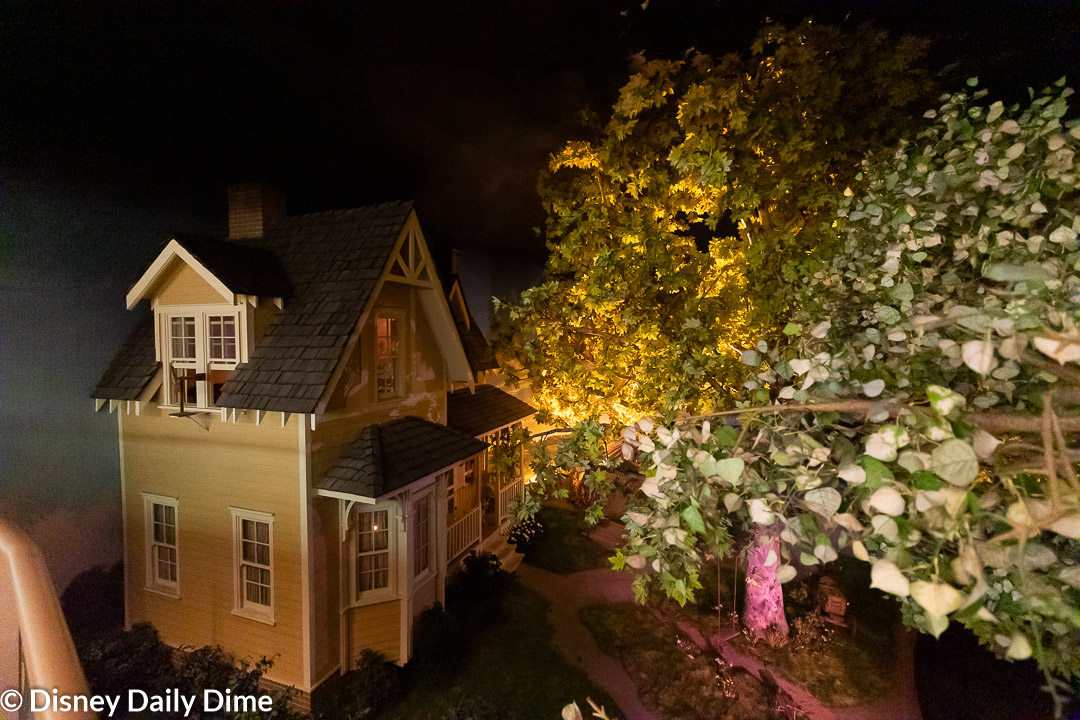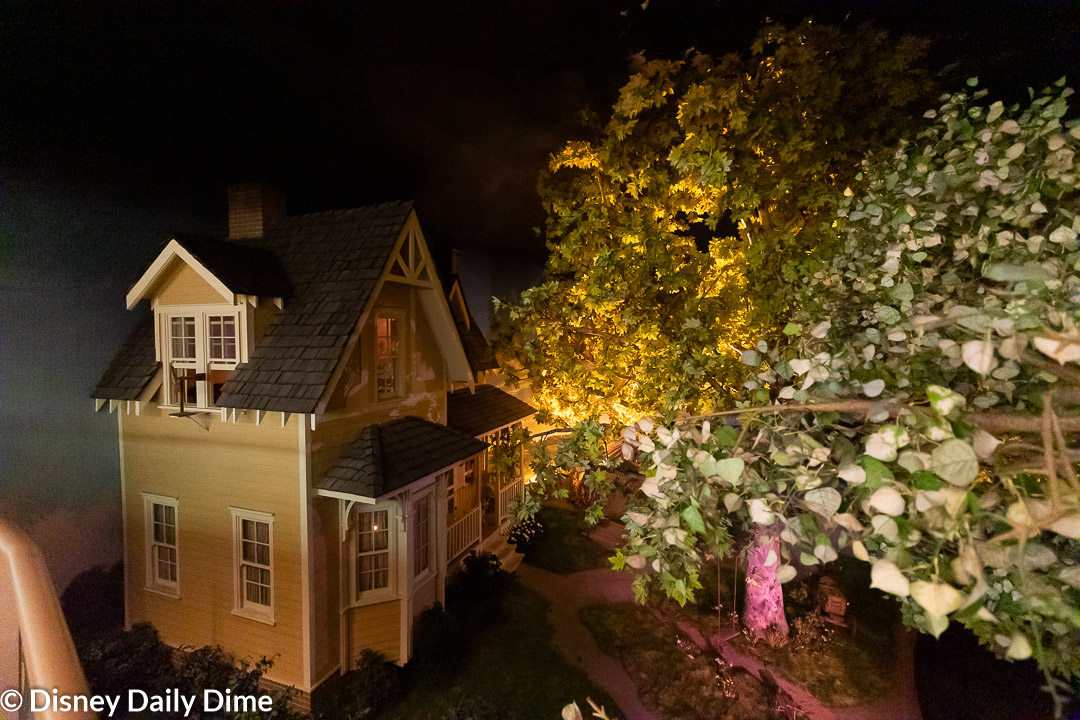 Yes, it Rotates, but That's Not What Makes the Ambiance at Garden Grill Great
As we said, Garden Grill does rotate.  If you are worried about motion sickness, you can set those fears aside.  The restaurant moves so slowly that you will barely feel it.
While the rotation is an interesting feature, the views the restaurant has are what we think makes the atmosphere.  Getting to see the Living with the Land attraction from a different perspective is terrific, in our opinion.  Anna and Elsa also really enjoy this aspect of the ride too.
Outside of these two aspects of Garden Grill, the theming and ambiance are pretty benign.  It still has a very 80s feel to it to us with its design, but we're okay with that.  We come here for the views and the characters.  Speaking of those characters…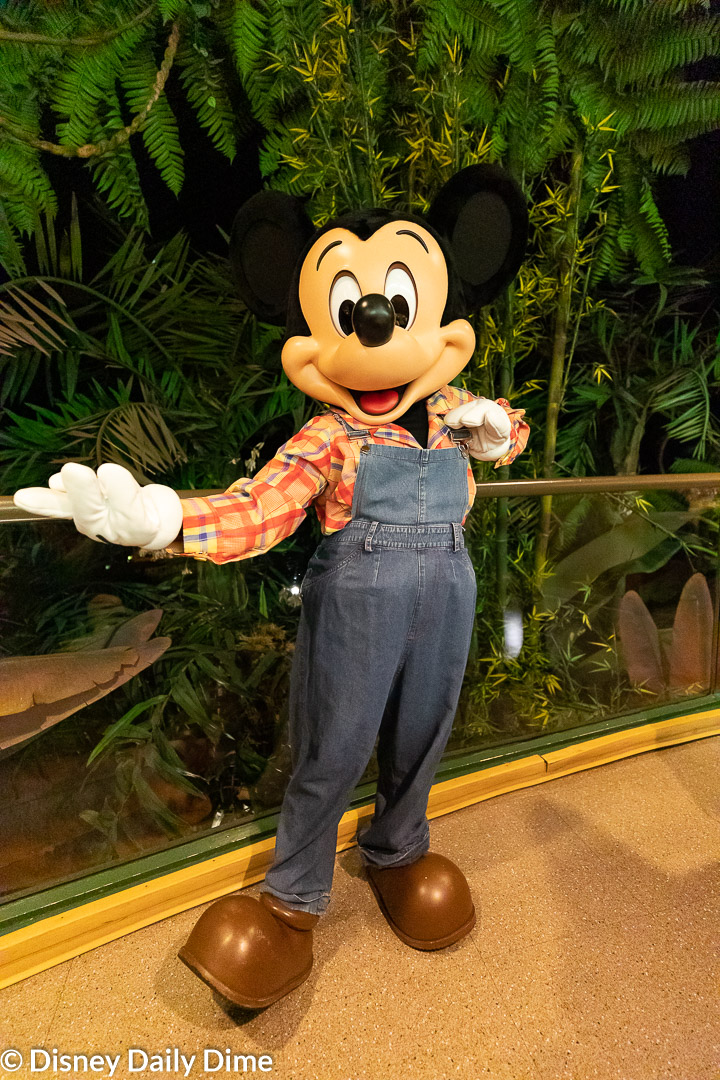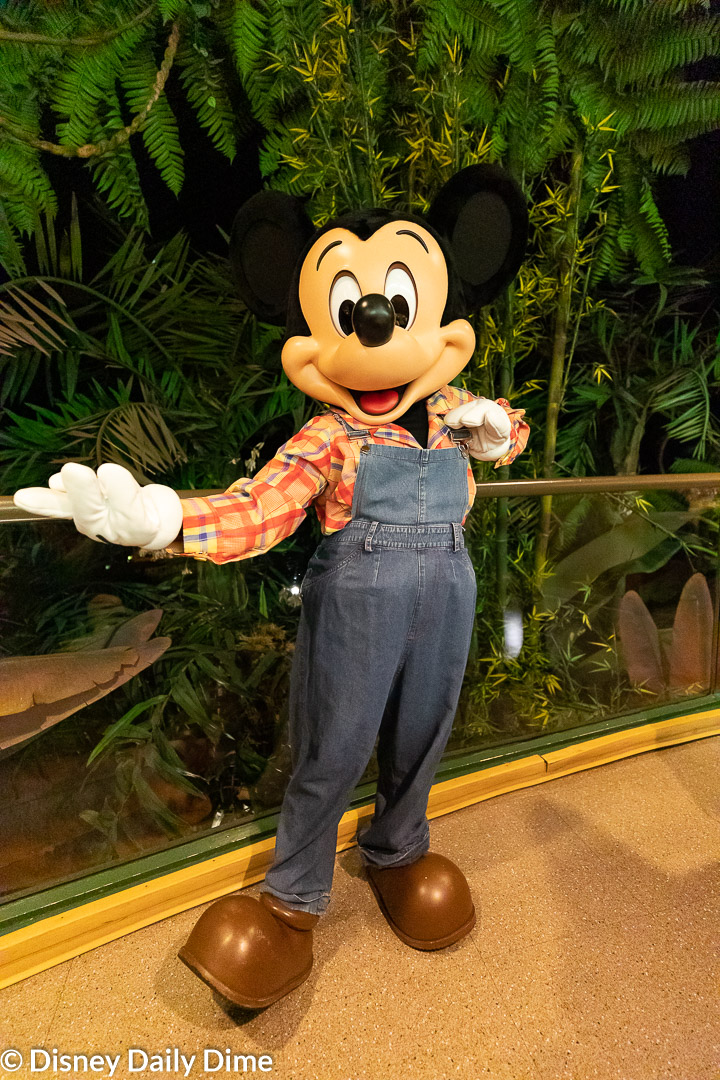 As part of Chip 'n' Dale's Harvest Feast, Garden Grill also features four beloved characters:  Mickey, Pluto, and your "hosts" Chip and Dale.  Mickey is even wearing a his "Farmer Mickey" attire which makes this a unique photo opportunity with him.  Pluto sports a blue and white checked bandana.  Chip 'n' Dale are sporting their traditional looks.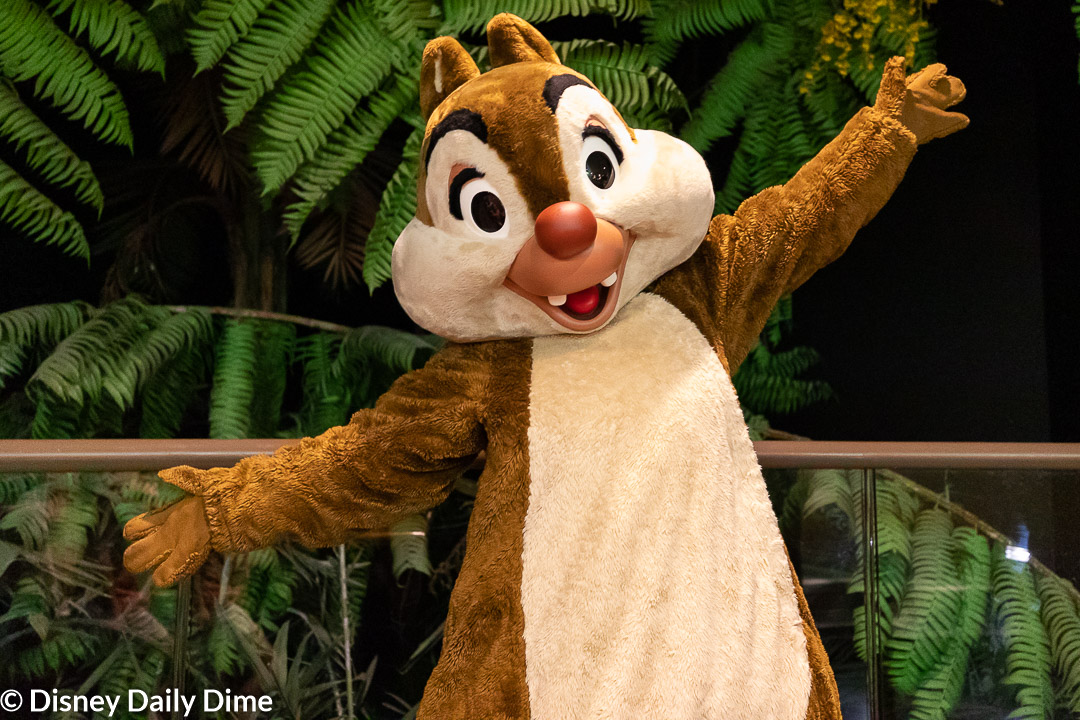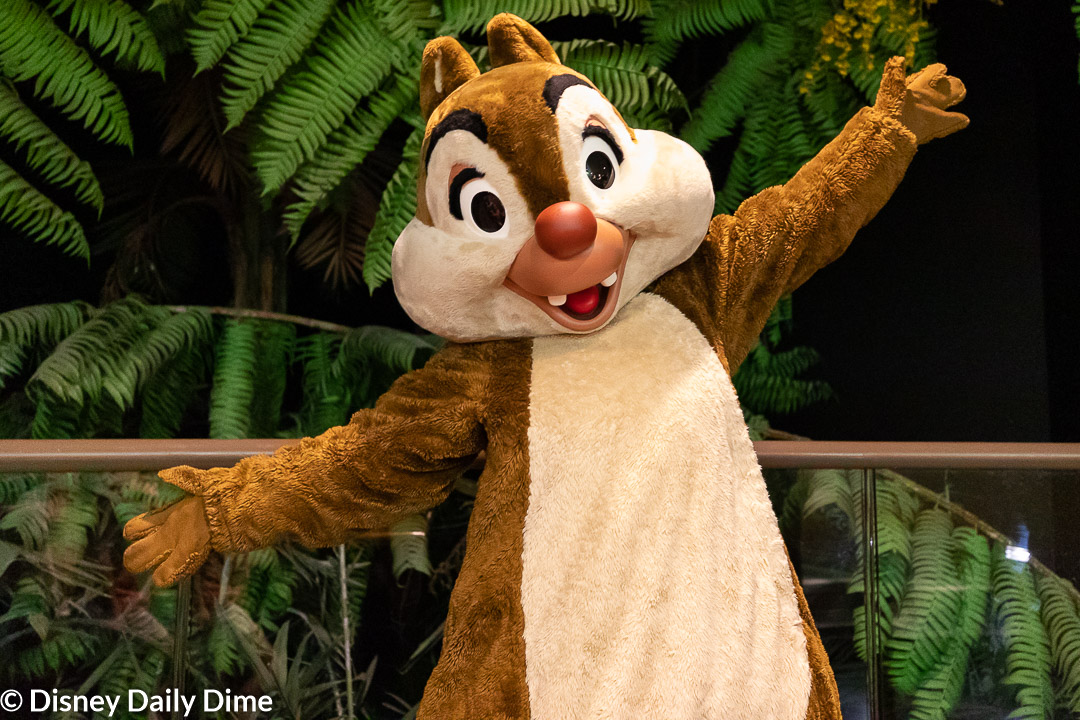 Due to the seating configuration and lack of a buffet, this is a character meal worth your consideration.  If you are sitting in the bottom tier, you don't even see the characters until they are at your table.   It provides a more personal experience with the characters as it is just you and them with no other tables surrounding you.  Even on the top tier, which is a single row of tables, you will still experience this more personal interaction.  You may have to dodge the cast members whisking by with food for other tables.  Sometimes at your meal, you may even get to see a character twice here.  It doesn't always happen, but we've seen it a few times.  Your best chance for this is the summer when Epcot crowds tend to be the lowest since there are no festivals going on like the Food and Wine Festival or the Flower and Garden Festival.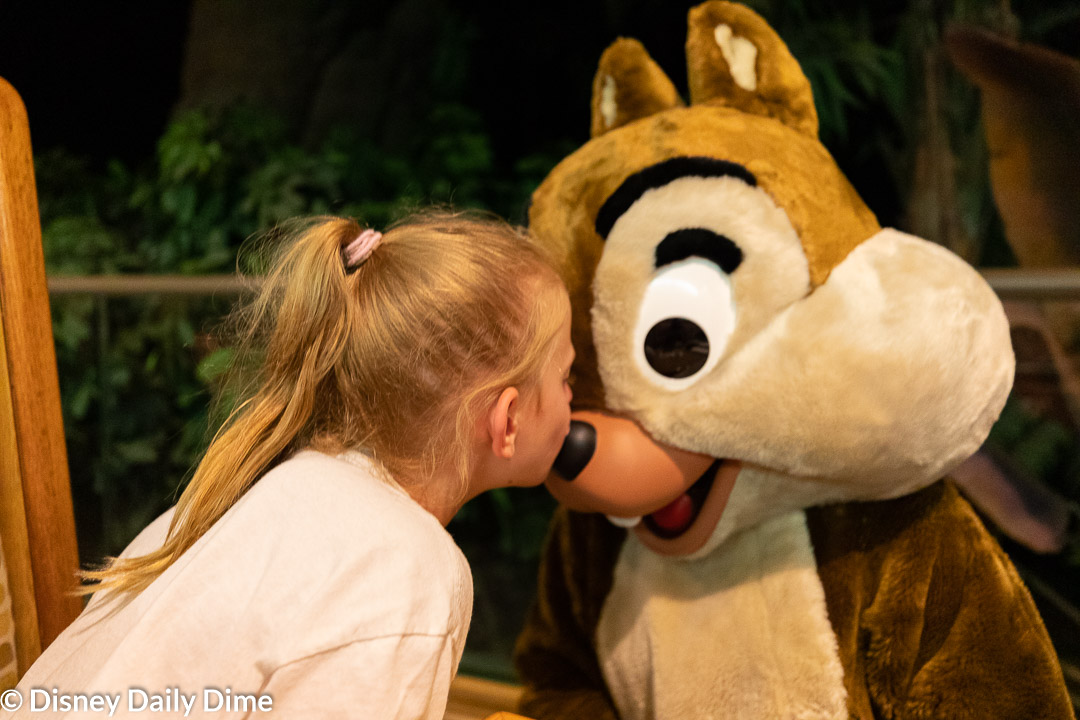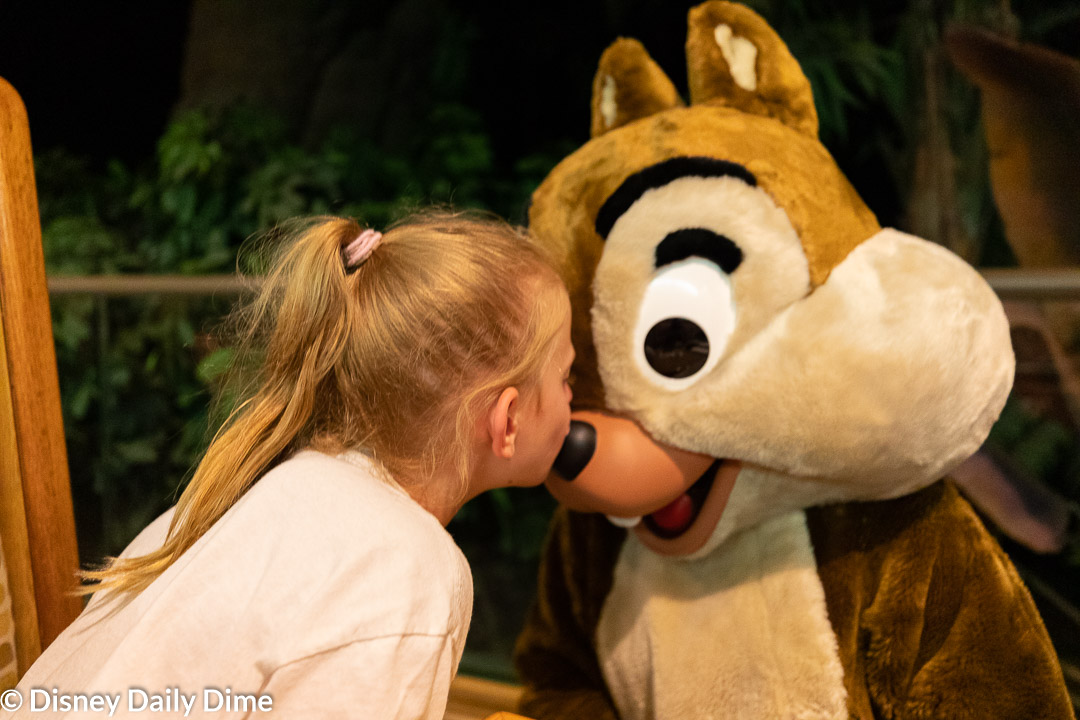 There is one other thing we will say about the two seating tiers here.  If you want a better view of the Living with the Land attraction, request to sit in the lower level.  The views are not nearly as good if you are in the upper dining tier.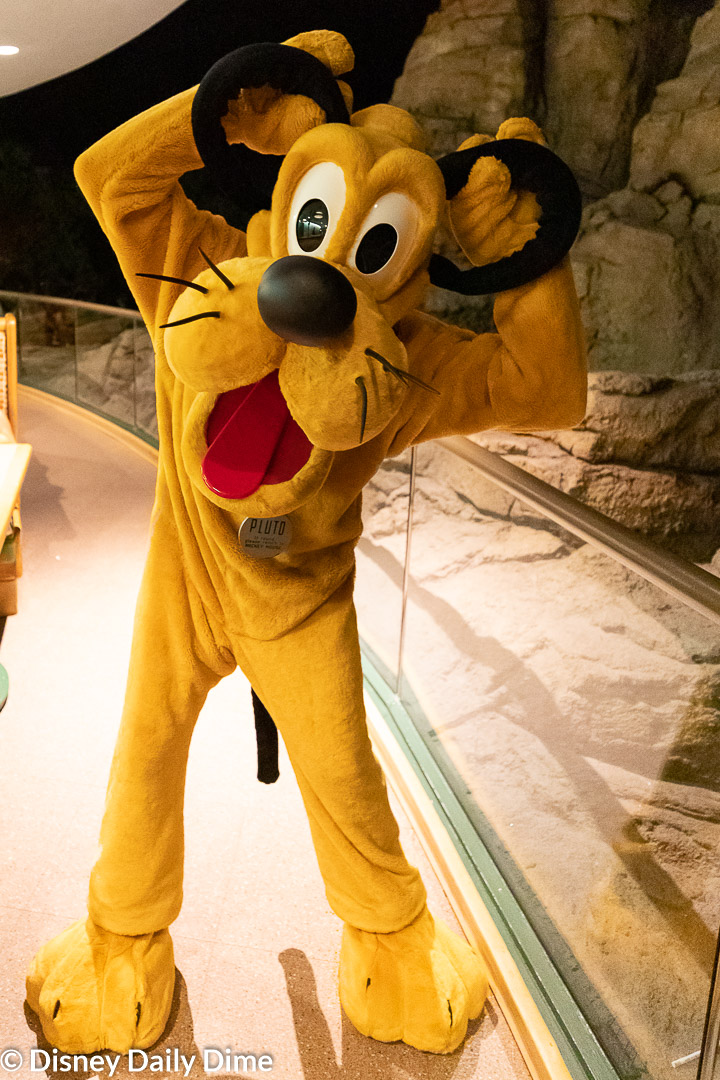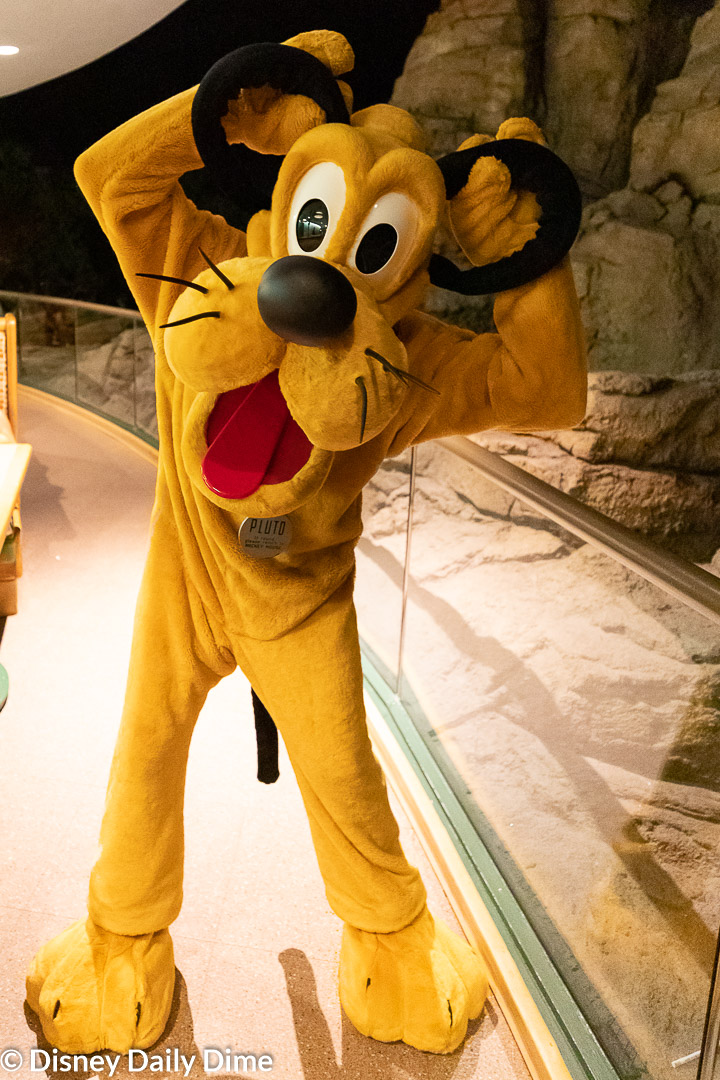 The Garden Grill Dinner Food is Generally Good, But Not Great
One of the things we appreciate about Garden Grill dinner (or breakfast for that matter) is that it is served family-style.  When Anna and Elsa were younger, having the food brought to you was a far better option than the typical buffet like you would find at the Disney Junior Play n Dine.  Not having to get up and navigate a true buffet with very little kids makes the whole experience easier.  It also allowed Carla and I to have a bit more downtime.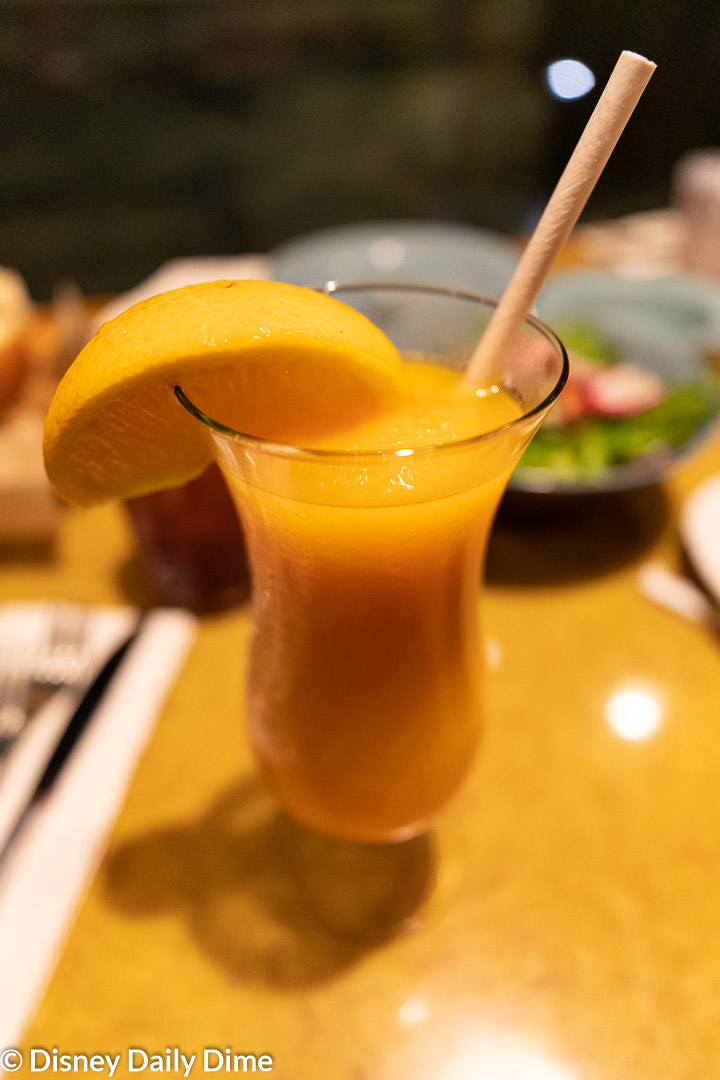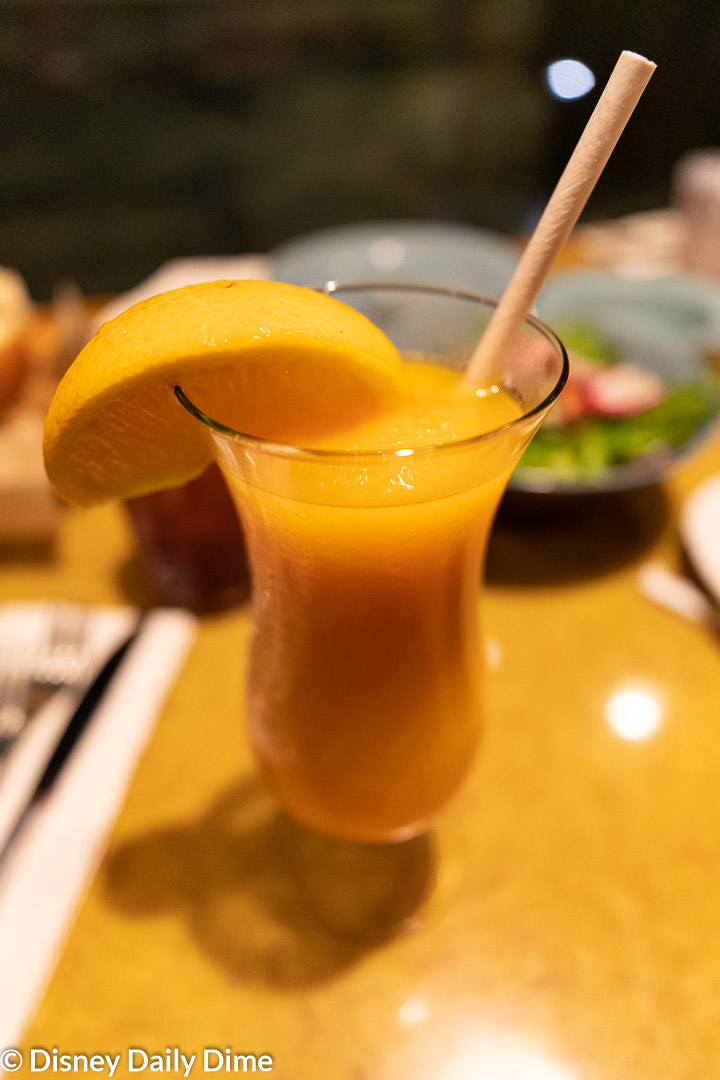 They do offer a selection of drinks at Garden Grill for dinner.  You have basic wines and beers, to more fun cocktails like the Citrus Freeze which I did order.  Featuring Florida Cane 'Orlando Orange' Vodka, Peach Schnapps, and Mango Purée, this drink was made for me.  I sucked it down quickly, however I didn't really feel any effect from the alcohol in it.  It was pretty hard to detect any of it as I was drinking, so that may have been my first sign of an issue.  That said it tasted fabulous.  Just don't get it for the booze.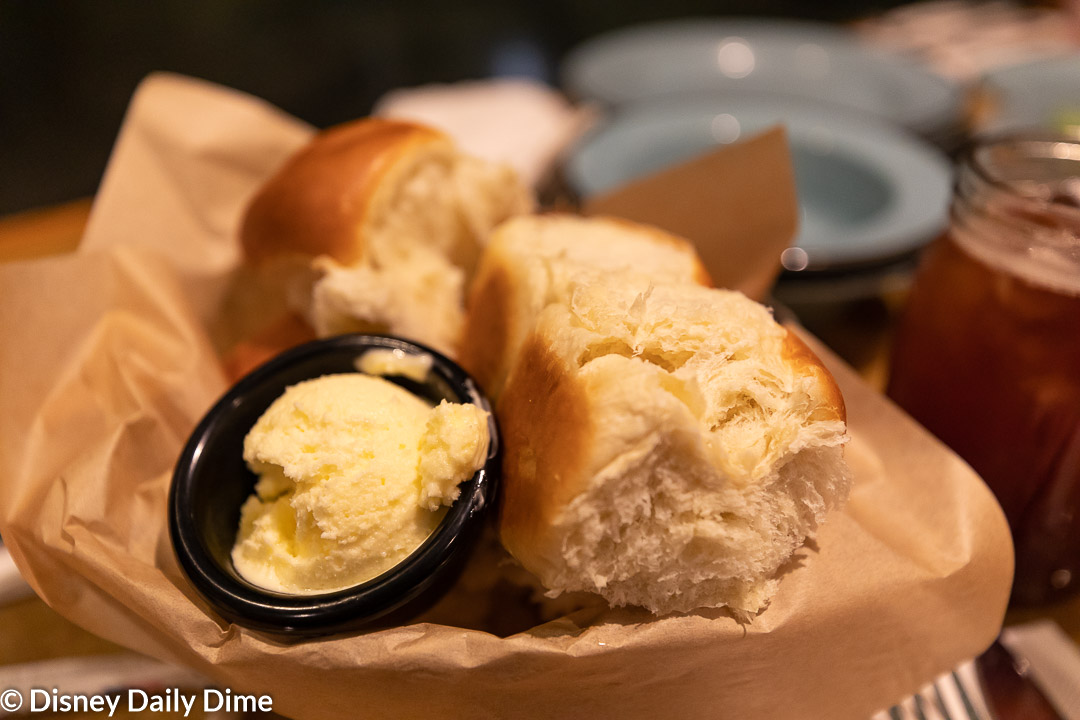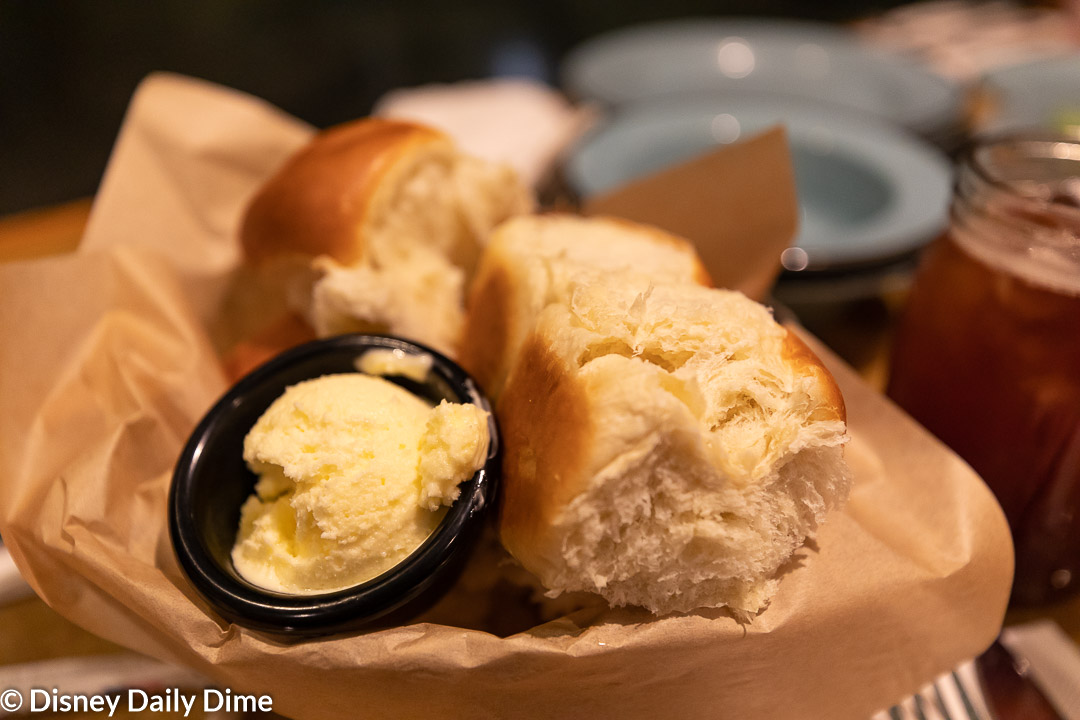 We found Chip and Dale's Harvest Feast serving up a potpourri of foods as part of our Garden Grill review.   After your server takes your drink order (non-alcoholic beverages are included with the price of your meal), you'll get a starter salad and basket of bread and butter…and that is it.  There are no other real options to pick from to start.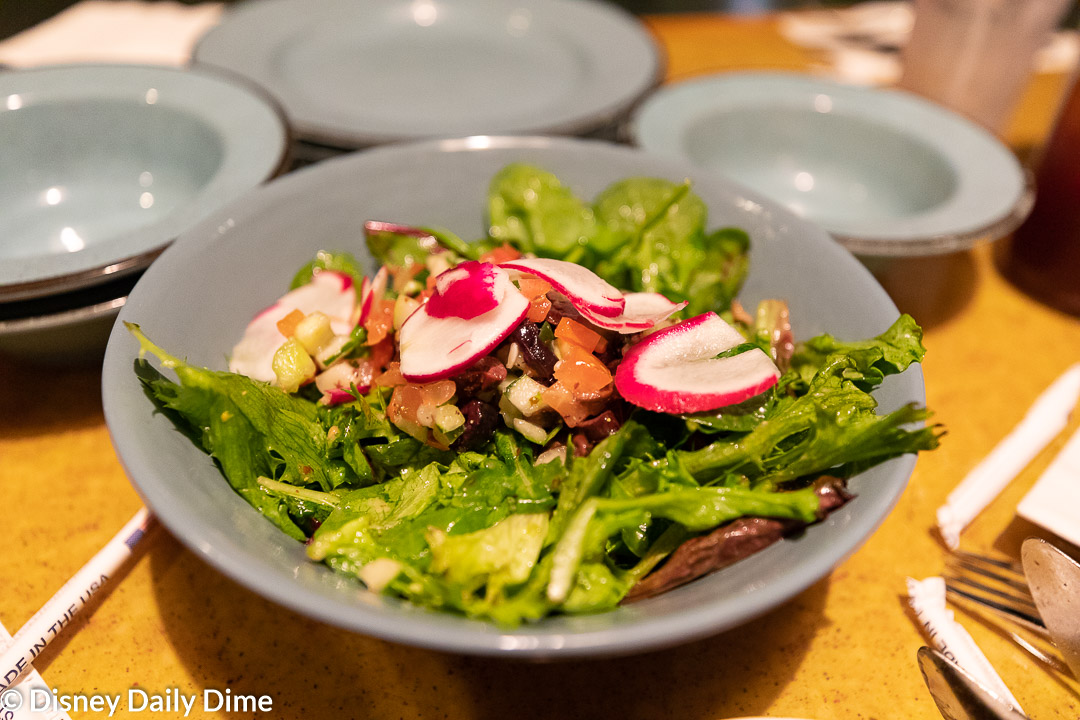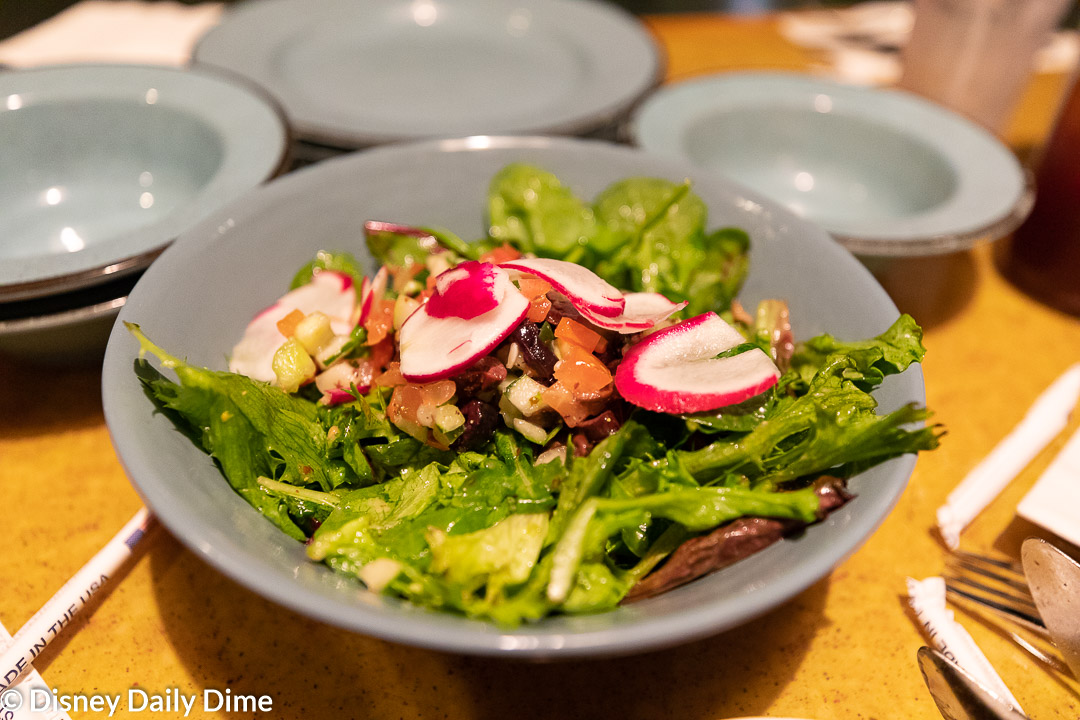 The salad is supposed to be "Harvest inspired," but outside of the fact that it contains vegetables that you will associate with The Land ride, I'm not sure what the exact connection it.  Honestly, that's fine because it was a good salad and I'm not necessarily here for a pure theme experience.  The kids actually enjoyed the salad, at least as much as our girls can.    I'd say the salad was just fine, which is probably to be expected for an all you can eat restaurant.  The rolls would fall into this camp too.  Just don't fill up on them because you need to save room for the main meal.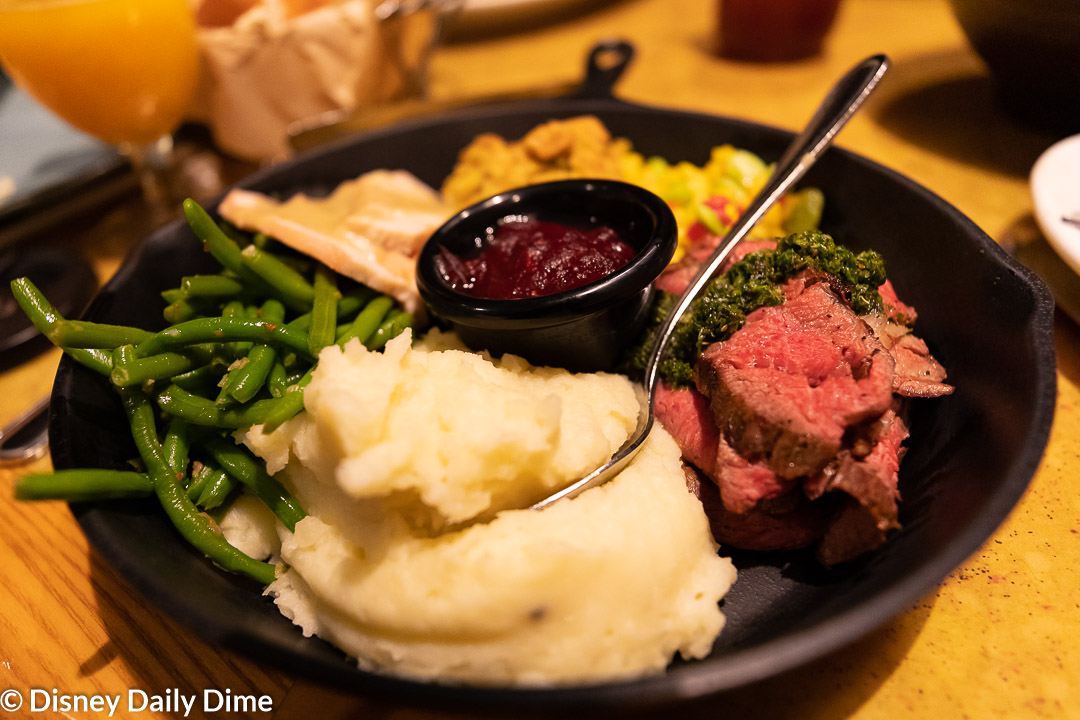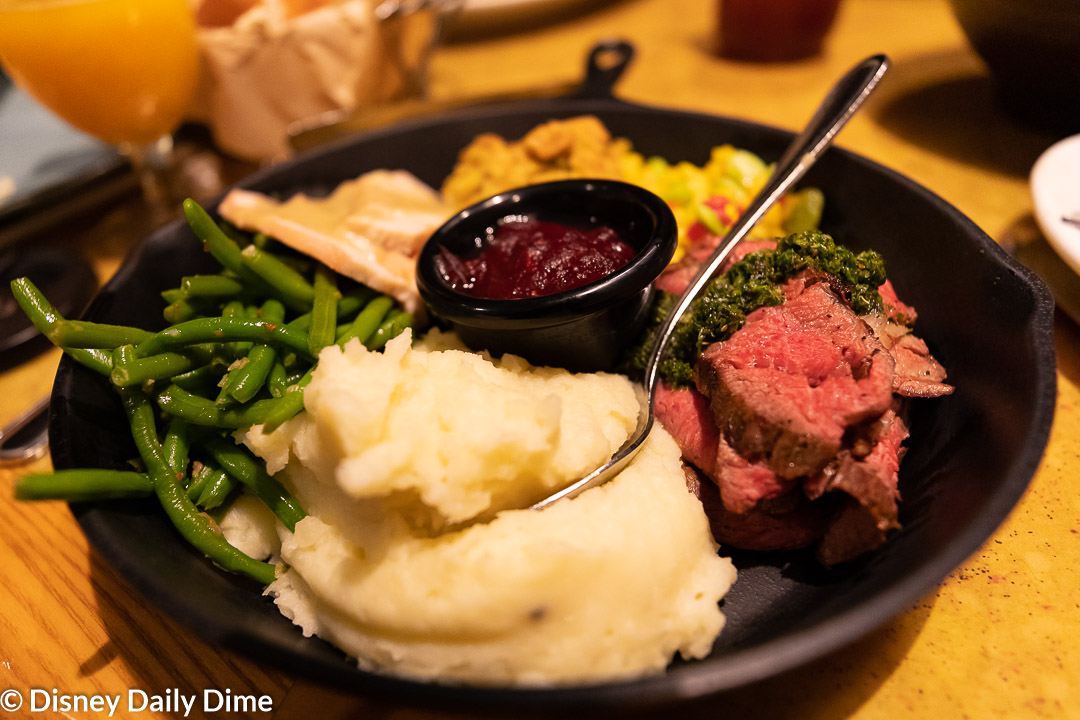 The main platter is comprised of two different types of meat and then four sides.  For the meats, we were served grilled beef with a chimichurri sauce and then sliced turkey with gravy.  The sides were green beans, herb and leek stuffing, mashed potatoes and corn.  There is a picture of one side of the platter above this paragraph, and then there is a picture of the other half of the platter below.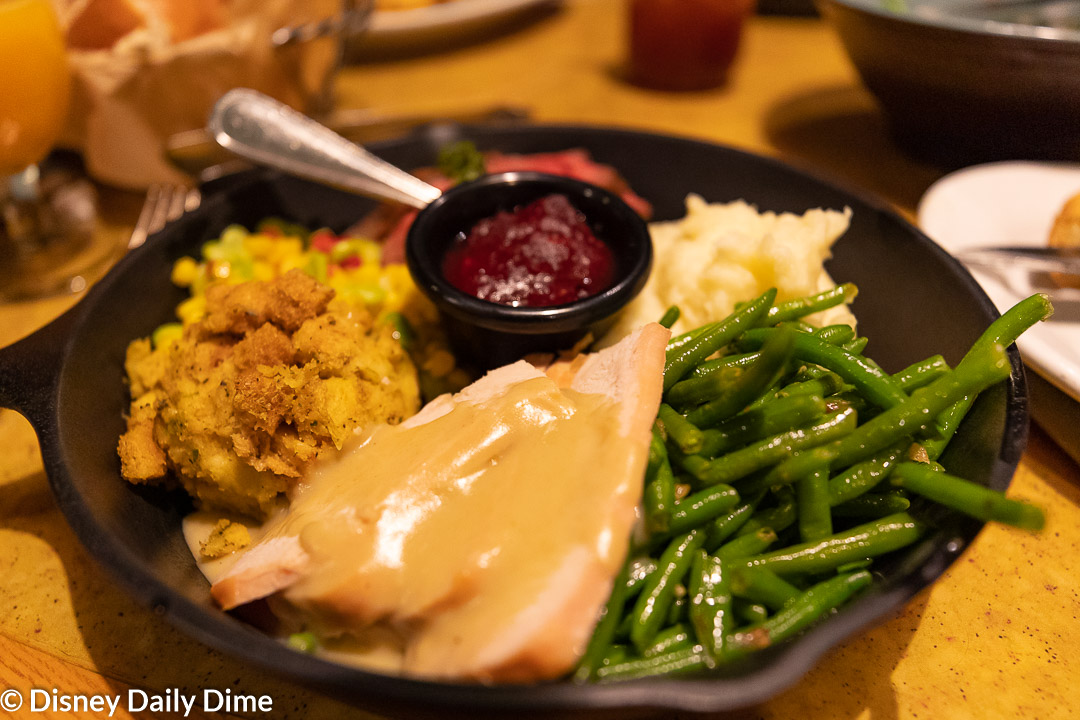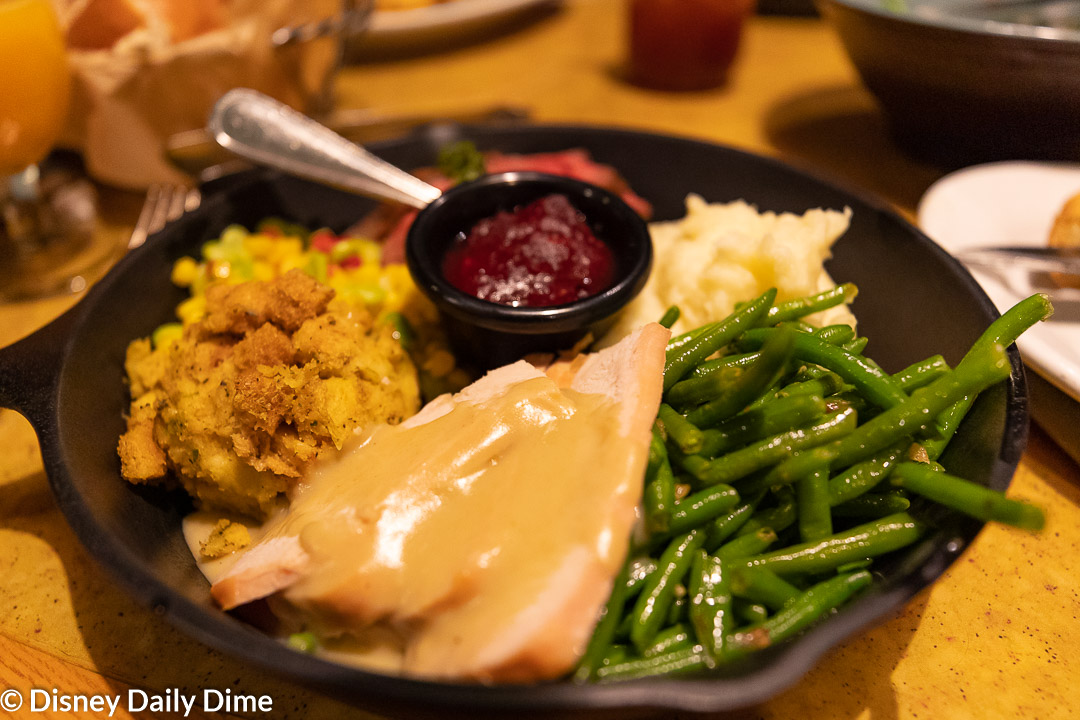 I think I can make the same comment about all the food that came on the main entrée platter.  It was just "fine" food.  Nothing overly inventive or unique, but it was good basic food.  There wasn't anything I had a visceral reaction to on the plate.  I enjoyed the chimichurri sauce on the filet more than the turkey, which I found to be a bit dry.  The sides were all very basic, but enjoyable as well.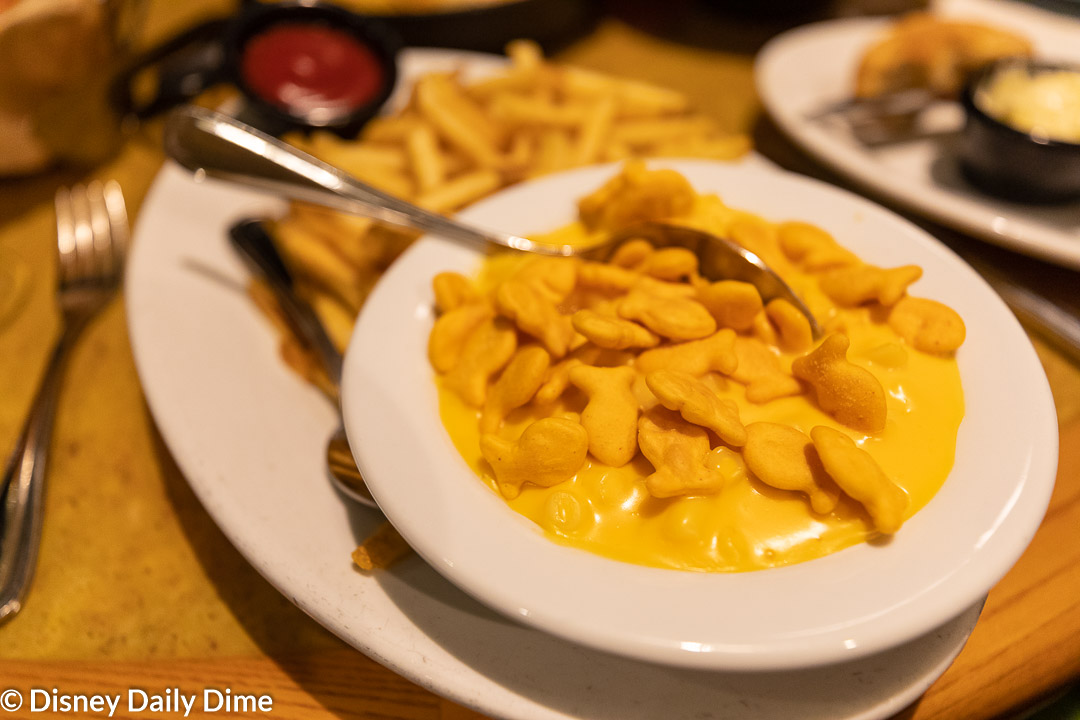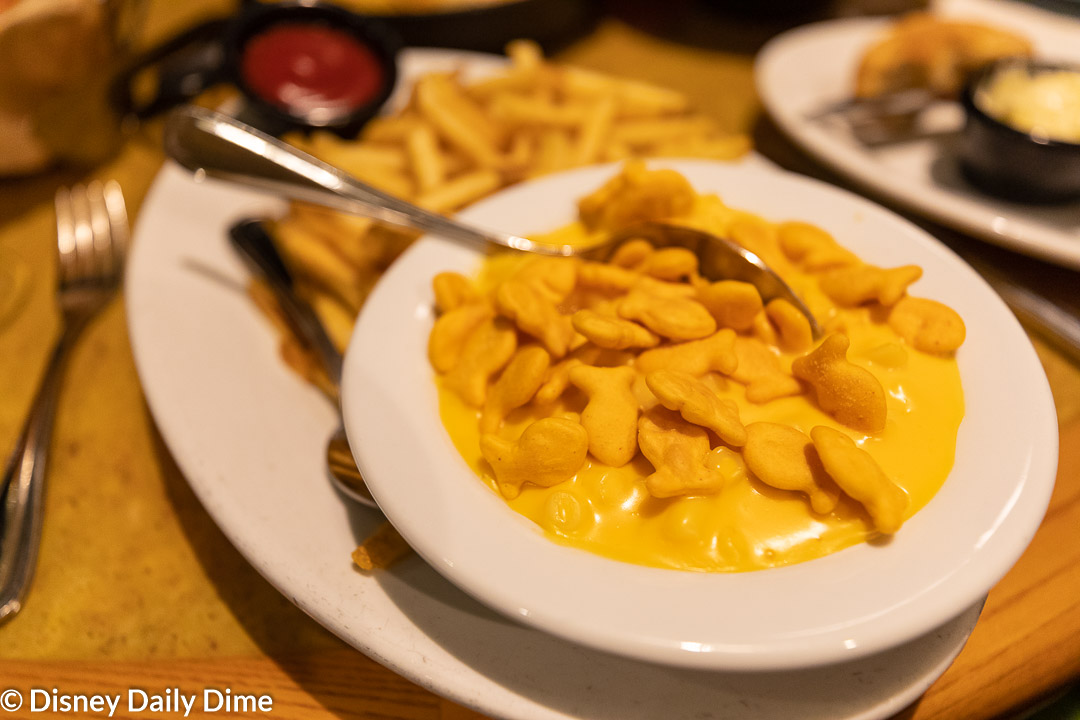 Kids get two additional sides to eat from, which were mac and cheese and french fries.  They were served family-style as well.  You can see the picture of them above.  Notice the mac and cheese is topped with Goldfish.  I tried a bite of it and was not impressed, but Anna and Elsa both ate it up.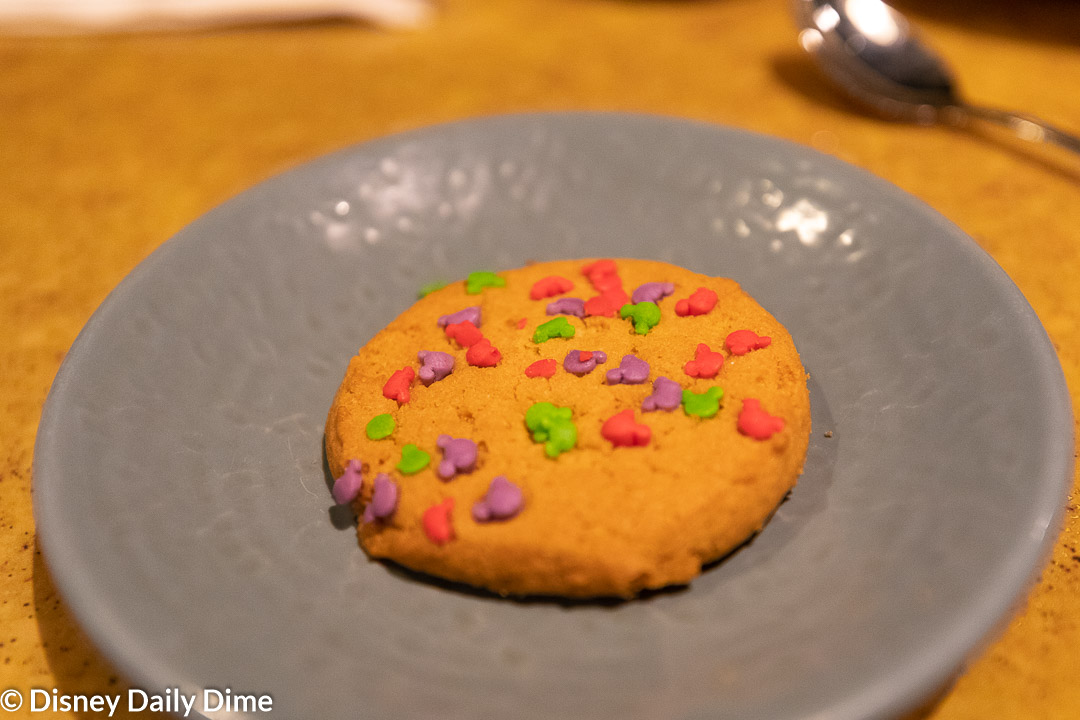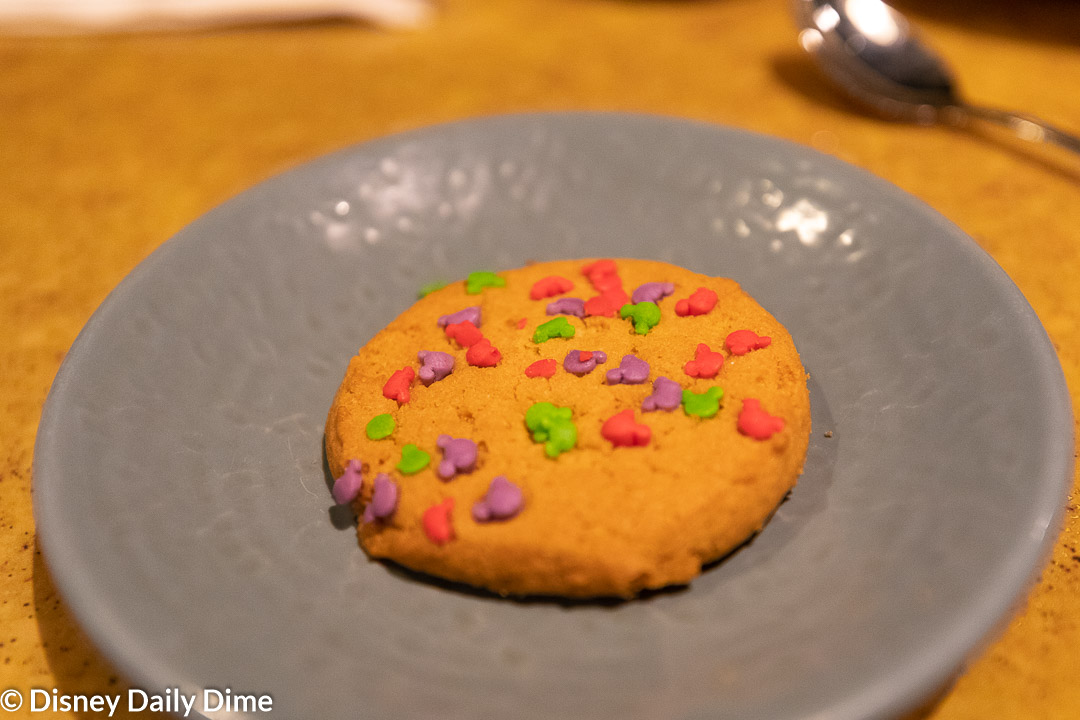 For dessert at Garden Grill dinner, kids each receive a cookie with Mickey sprinkles.  The cookie was very hard and not very good.  Anna and Elsa barely ate theirs, instead opting to focus on sharing my dessert.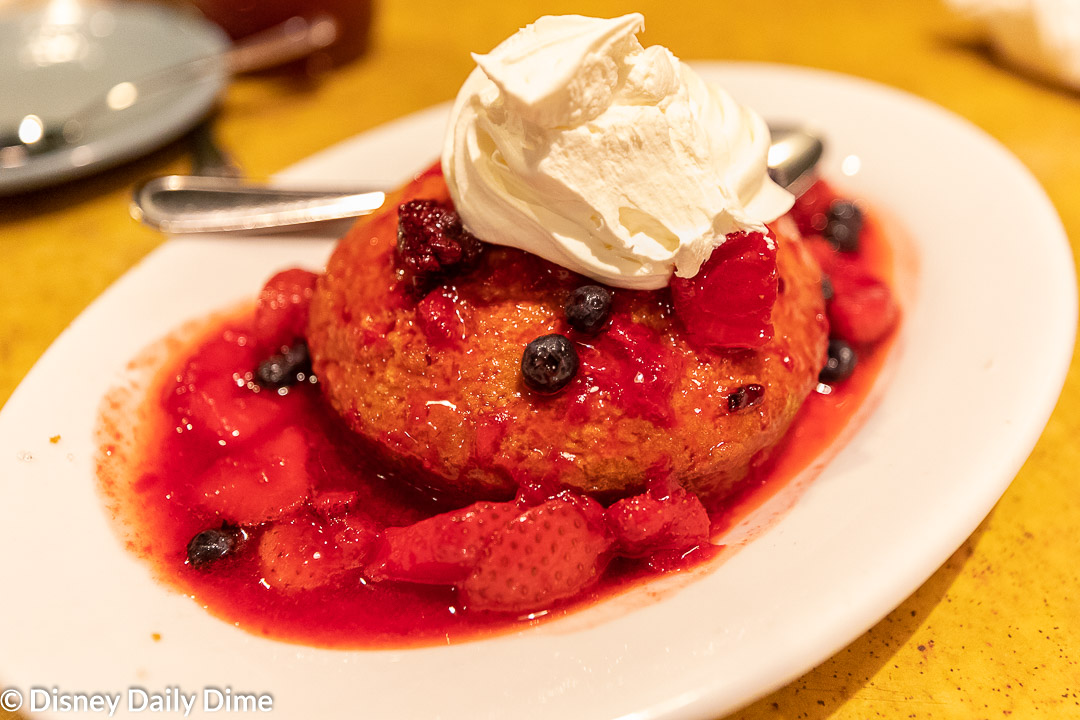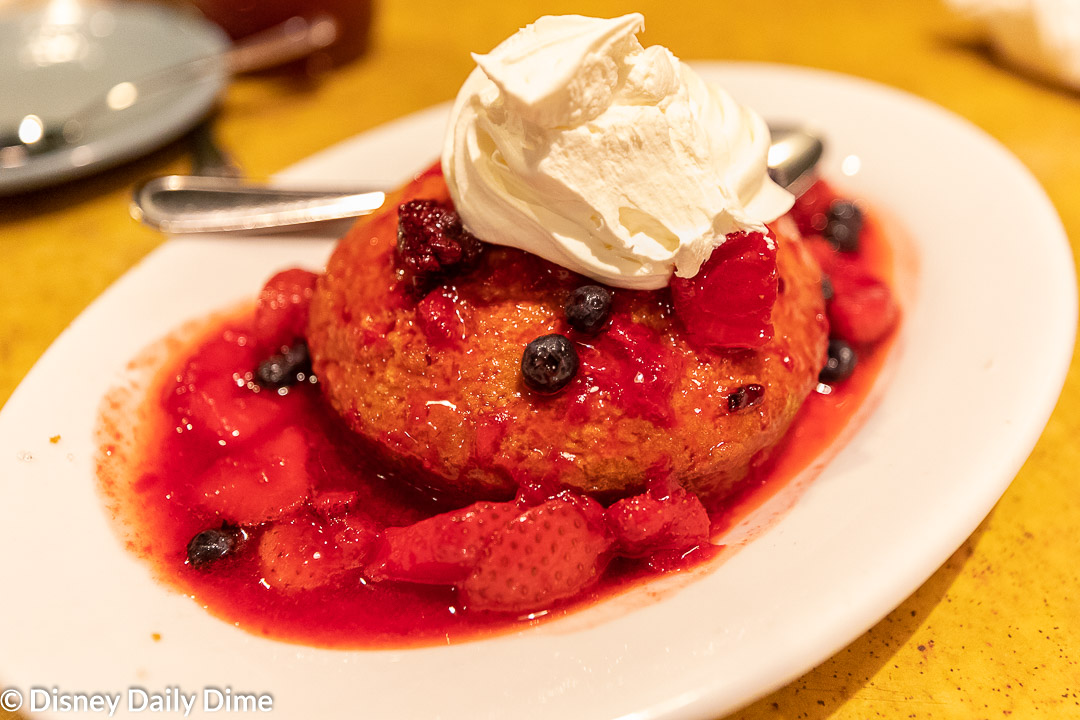 Adults are served a large (and to be shared) Berry Short Cake.  While the girls loved the shortcake, I disliked this the most of all the items I ate as part of our Garden Grill dinner review.  The cake was unbelievably dry. Usually, I might suggest that the berries and sauce on it would help fix that, but that just tasted like I was drinking sweet, sweet syrup.  I like mixed berries, but this wasn't my cup of tea.  It was honestly a bummer of a way to end this meal.
Garden Grill Dinner Overall
Great character interactions in an ambiance that we love contrasted against food that is just good, but not excellent or overly inventive are how I would sum up our Garden Grill dinner.  That makes it a bit of a conundrum to me on how to think about it.  I will say we have dined here multiple times over the years and every time the characters interactions have been some of the best we've experienced.  If you are really focused on characters and quality of time, then this is a must-do meal, in my opinion.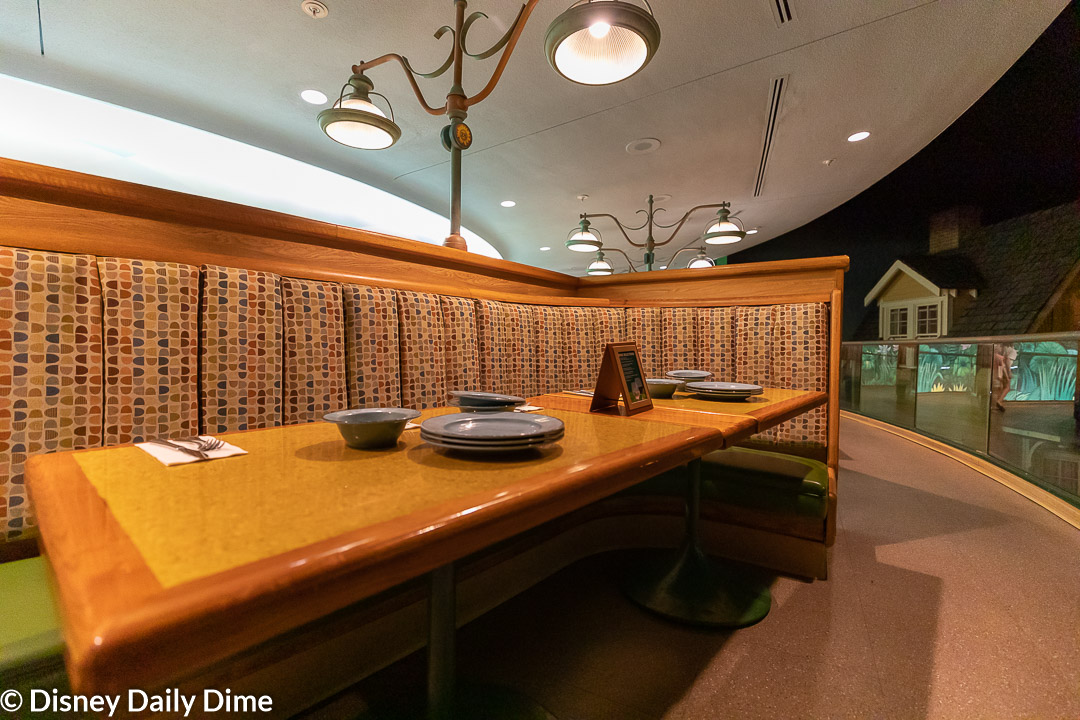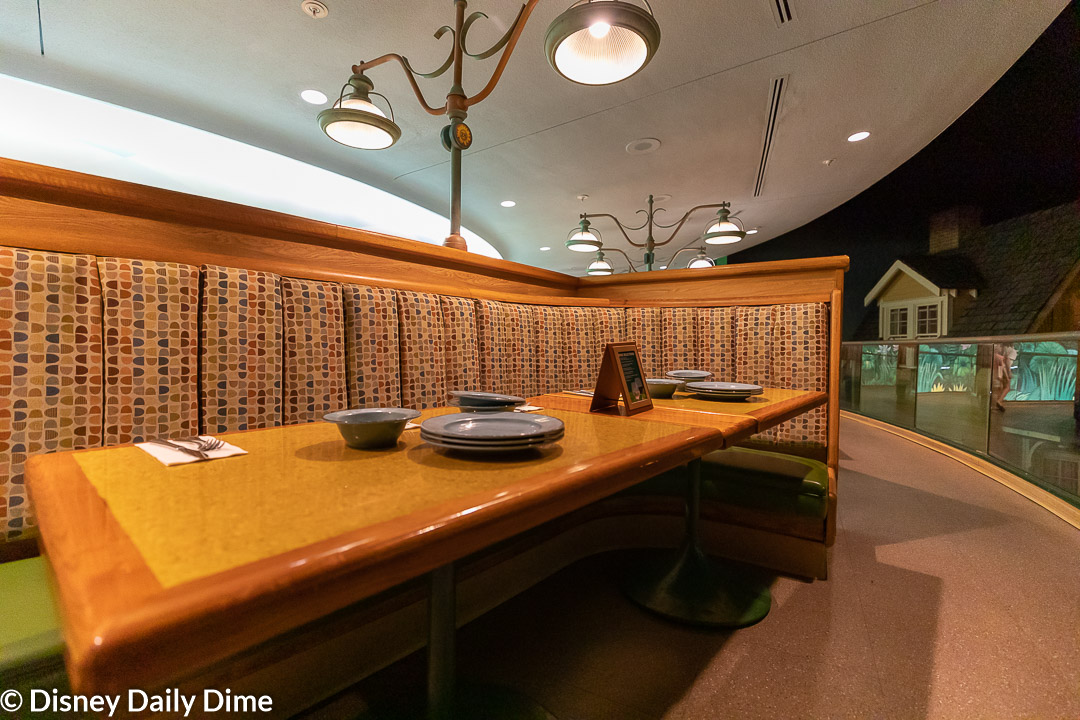 However, if the quality of food is more important, then I don't think I would pick this as my best choice for where to dine.  I would go with another option like Tusker House dinner.  It features a few different characters, but the food is far superior in our view.  The character interactions aren't as good at Tusker House though as you are in the middle of a crowded dining room and the characters move through at a faster pace.
To experience the characters and ambiance of Garden Grill, while keeping the financial investment down you should consider eating at Garden Grill for breakfast.  The price point is lower, the food is better at breakfast when compared to what you find at many other breakfast locations throughout Disney World, and you still get great character interactions in a unique setting.  Breakfast also can give you a touring advantage if you book an early meal and then head straight to Soarin' afterward to get in line.  That feels like the best of both worlds to me.
Wrapping Up
With that, we'll wrap up our Garden Grill dinner review.   It's a solid meal food-wise, with a magnificent setting to meet characters.  It's just not the best food you will find across Disney World.  If characters are your priority, this is a place we think you must eat.
If our Garden Grill dinner review was helpful, or at least entertaining, please like and share this with your friends or anyone you think will find it useful.  Just use the sharing buttons on the page.  We always appreciate it when you share our posts, as it allows us to spread the word about our blog and hopefully allows us to help others.