This summer Disney World started a new after hours hard ticket event.  Known as "Villains After Hours", this event features many similarities to Mickey's Not So Scary Halloween Party, but with notable (and generally better) differences.  I stayed for the party recently to see what it was all about, and in general I have to say I was pleasantly surprised!  Here in our Villains After Hours at Magic Kingdom review, I'll give you all the details on what is offered, the unique food available during the party, along with my thoughts on its strengths and weaknesses.
One thing you should note is that Carla, Anna and Elsa did not stay for the event.  They were all fairly tired and we didn't want the girls to turn into Gremlins by feeding them after midnight, which was sure to happen!  So they went back to our room, while I stayed and played like I was single and child free again.  Okay, maybe that last part is overstating it a bit, but I did attend this event on my own.
Before we get to the opinion part of our Villains After Hours review, we'll start will the basic logistics of the party…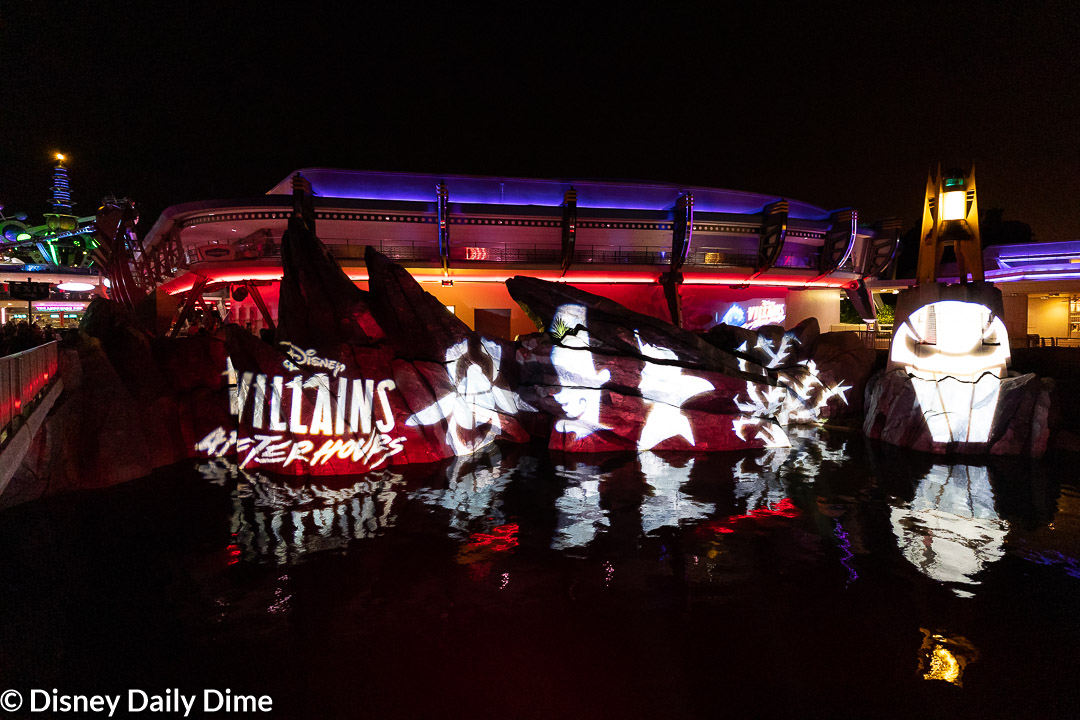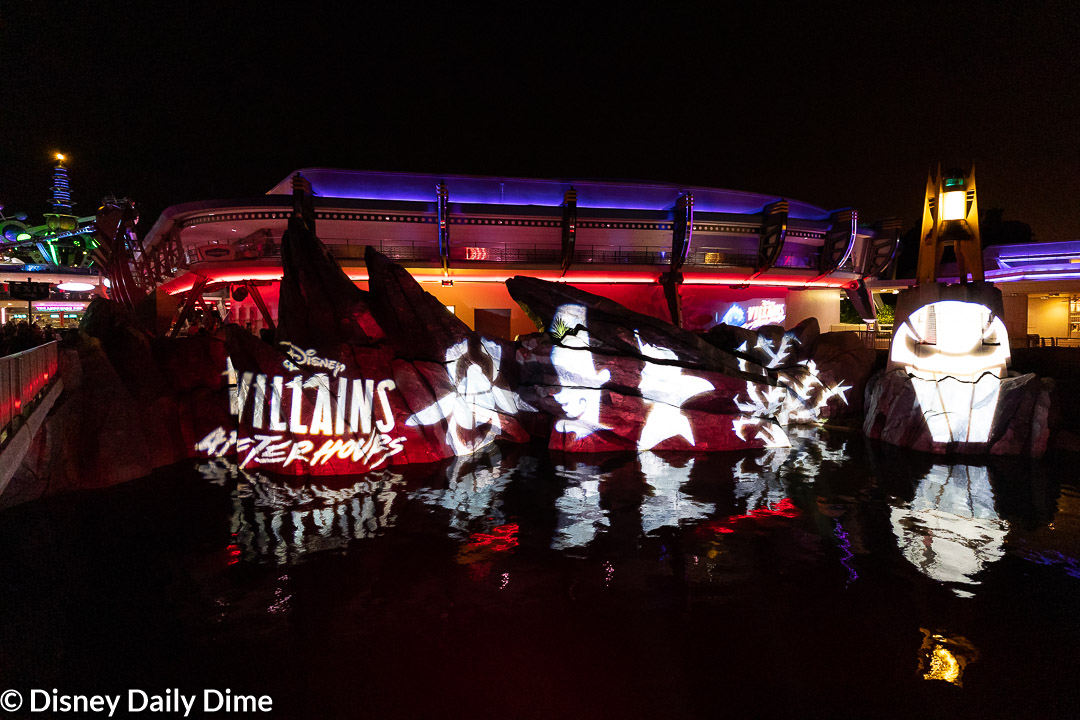 Villains After Hours at Magic Kingdom Orientation
Like we said, Villains After Hours is a hard ticket event held at Magic Kingdom.  The party technically starts at 10:00 PM, but you can pick your wristband up as early as 7:00 PM.  This allows you to enter the park at this time if you don't have a full day ticket.  Therefore, you could have 6 hours of park time with just the party ticket.  Now, three of those hours will be with the masses and undoubtedly feature elongated wait times, but the crowd will thin out considerably once 10:00 PM hits.
Regular theme park admission is not required for this event, which can be a big plus if you want to stretch your money or your time in different parks.  It's also in stark contrast to the hard ticket Early Morning Magic at the Magic Kingdom we attended earlier this year, which does require regular park admission to get into.
The Villains After Hours event costs $139 per person, plus tax, if you buy tickets in advance.  Same day tickets will run you $144 each.  You can buy tickets on the Disney World Website or by calling Disney directly.  Annual Passholders or DVC members can get tickets for $109 plus tax.
After the park closes to regular guests, the Villains After Hours event gives you three hours of access to almost every attraction within the Magic Kingdom.  Most every ride is open, however there are no character meet and greets running.  That includes any of the regular ones that happen during normal park hours.  There are no special character meet and greets like what you find at Mickey's Not So Scary Halloween Party or Mickey's Very Merry Christmas Party.  The complete list of attractions available is as follows:
Astor Orbiter
Barnstormer
Big Thunder Mountain Railroad
Buzz Lightyear Space Ranger Spin
Country Bear Jamboree
Dumbo
Enchanted Tiki Room
It's a Small World
Haunted Mansion
Jungle Cruise
Mad Tea Party
Magic Carpets of Aladdin
Mickey's PhilharMagic
The Many Adventures of Winnie the Pooh
Peter Pan's Flight
Pirates of the Caribbean
Prince Charming Regal Carrousel
Seven Dwarfs Mine Train
Space Mountain
Splash Mountain
Swiss Family Treehouse
Tomorrowland Speedway
Tomorrowland Transit Authority People Mover
Under the Sea – Journey of the Little Mermaid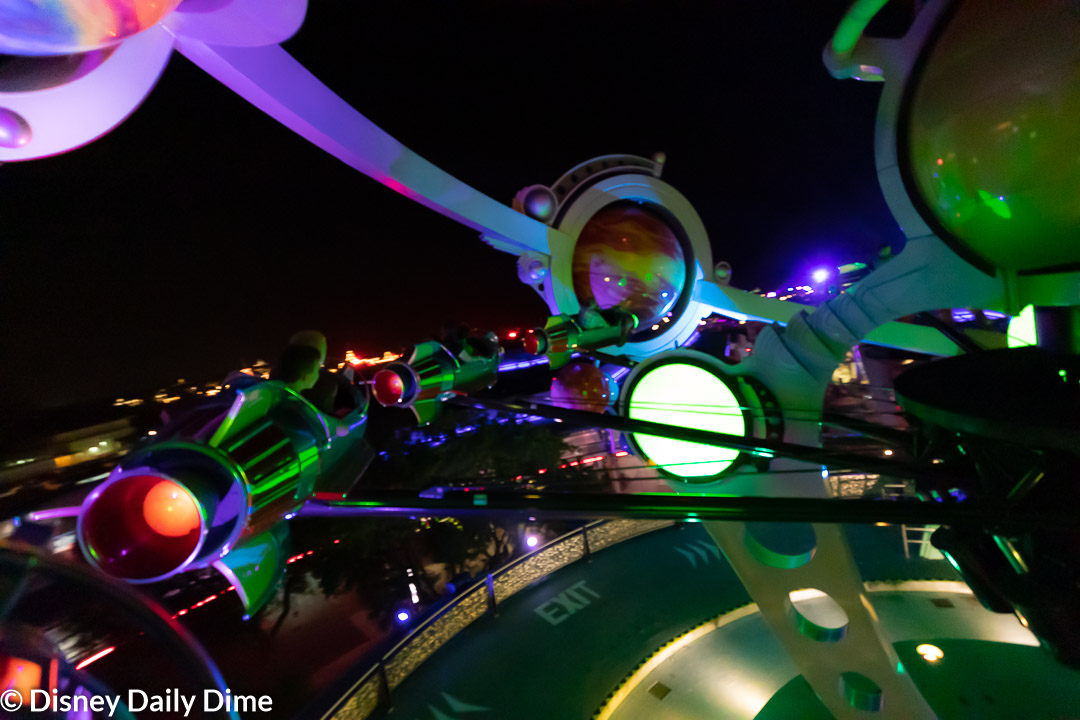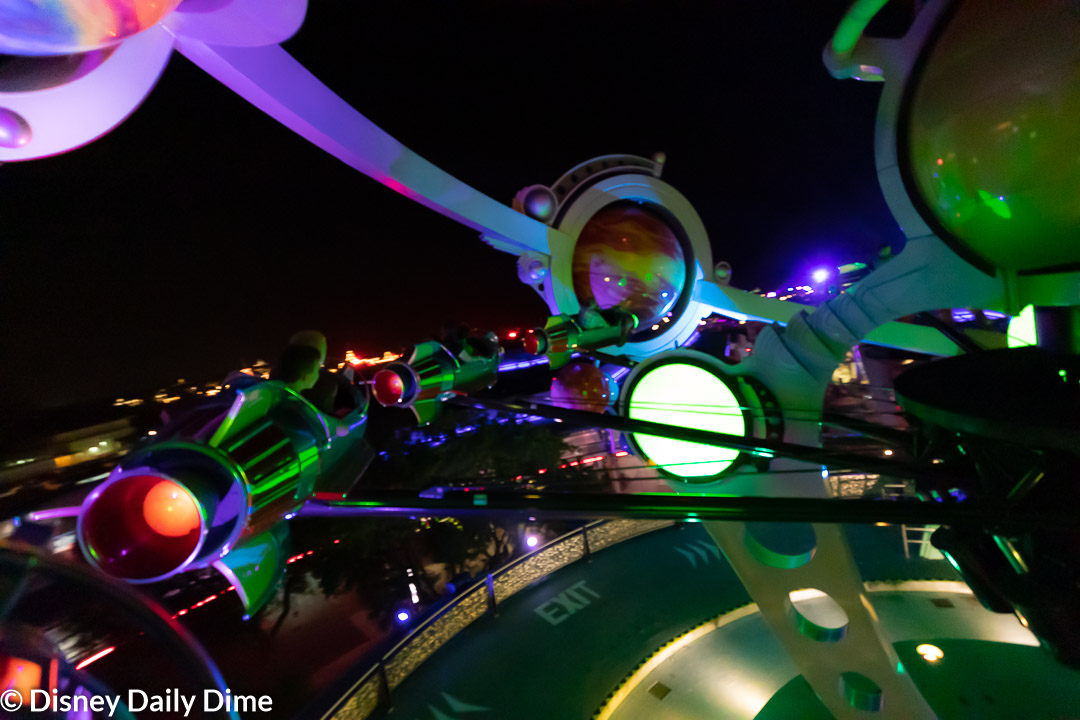 I'd show you a picture of the nice little park map they give you when you get your event wristband, but I was going to do take a picture of it the following day so I could keep trekking through the Magic Kingdom.  Well, of course I ended up crushing my map by the time the night was over…good planning, I know.
As far as food goes, you can eat select park snacks and drinks for free.  Just pick them up from any of the snack carts that are open around the park during the event.  The free drinks consisted of soda and bottled water.  The free snacks were Mickey's Premium Bar, Mickey Ice Cream Sandwich, a frozen fruit bar and popcorn.  You can get as many of these as you want throughout the night.
There are also some unique event only food and drink offerings for purchase, which I'll cover a bit later on.
You can find unique Villains After Hours merchandise available for purchase during the event.  Ultimately, I ran out of time to get to the merchandise during the event, so I didn't get any pictures of it.  You'll find various items like the below shirts, along with hats, mugs and Maleficent themed ears.  A picture I took off the Disney website is below.  If you want to see the full assortment of event merchandise Disney has you can go to the linked Disney blog post.


Why Villains?
This one is probably the easiest in my mind to answer…  It's one of the most sought after and wanted things for the parks.  Villains are fairly hard to find most of the time.  Given that, it makes a lot of sense for Disney to create a night event that showcases many of the most desired characters in the Disney intellectual property collection.  Don't get Carla started on the IP-ization of the Disney parks.  For now, though, this makes sense to me.
Now, Disney does fall short here in one regard.  That would be the fact that you can't actually meet any of the villains.  I will readily admit that if villain meet and greets were part of the Villains After Hours event, it would sell out much quicker and be more jammed packed.  It would also likely feel like more of a clone of MNSSHP.  So, I get why they don't meet, but I still wish they would.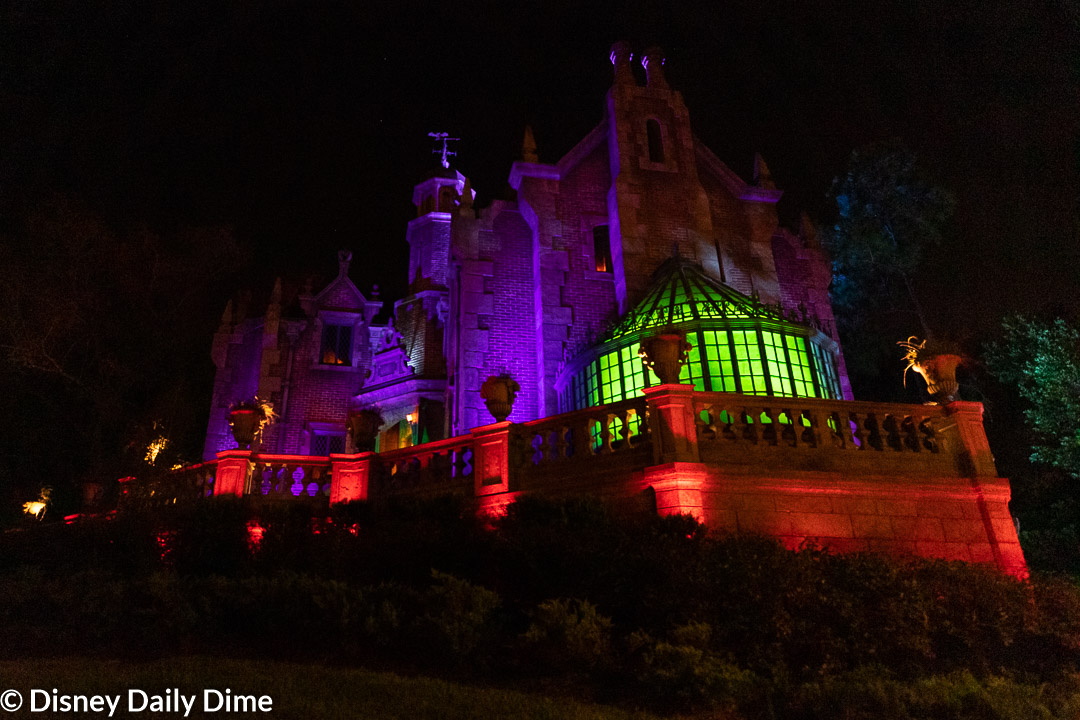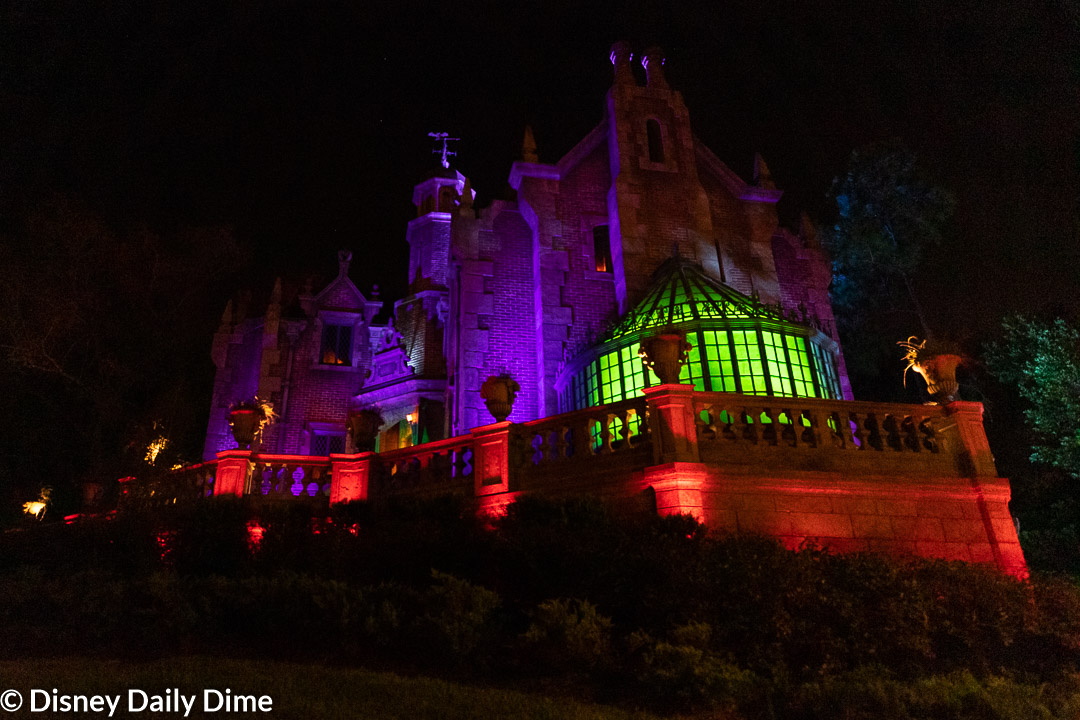 The Aesthetics of Villains After Hours
The first thing you'll notice when the clock strikes 10:00 PM is that the visual and audible aesthetic of the park changes.  It is transformed by unique lighting and silhouettes being put on buildings around the park.  As you would expect with a villains theme, much of the lighting takes on darker tones, like red, purple, and dark green.  To accompany the visual change, Disney also pipes in some unique, villainous music to add to the creepy vibe.  I think you could hear the music throughout the park.  At least I don't ever remember not being able to hear it.
Like MNSSHP, the event features some party specific ride overlays.  Space Mountain is completely in the dark and has the creepy music piped into it.  To tie into the event, they also play quotes from some of the famous Disney villains during the ride.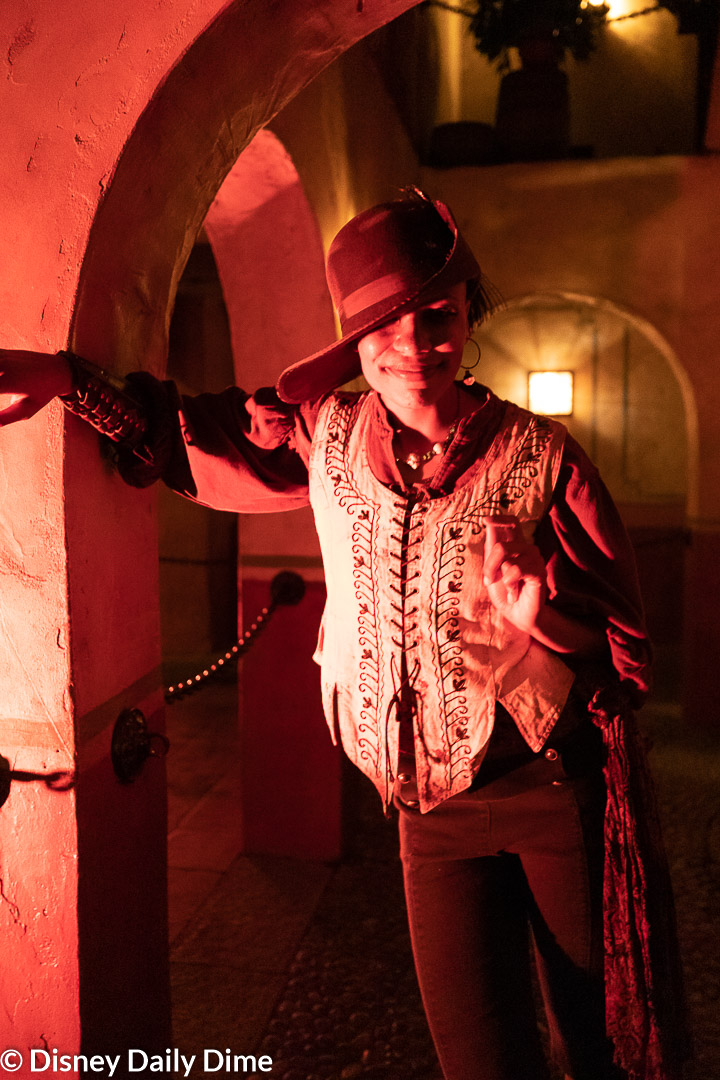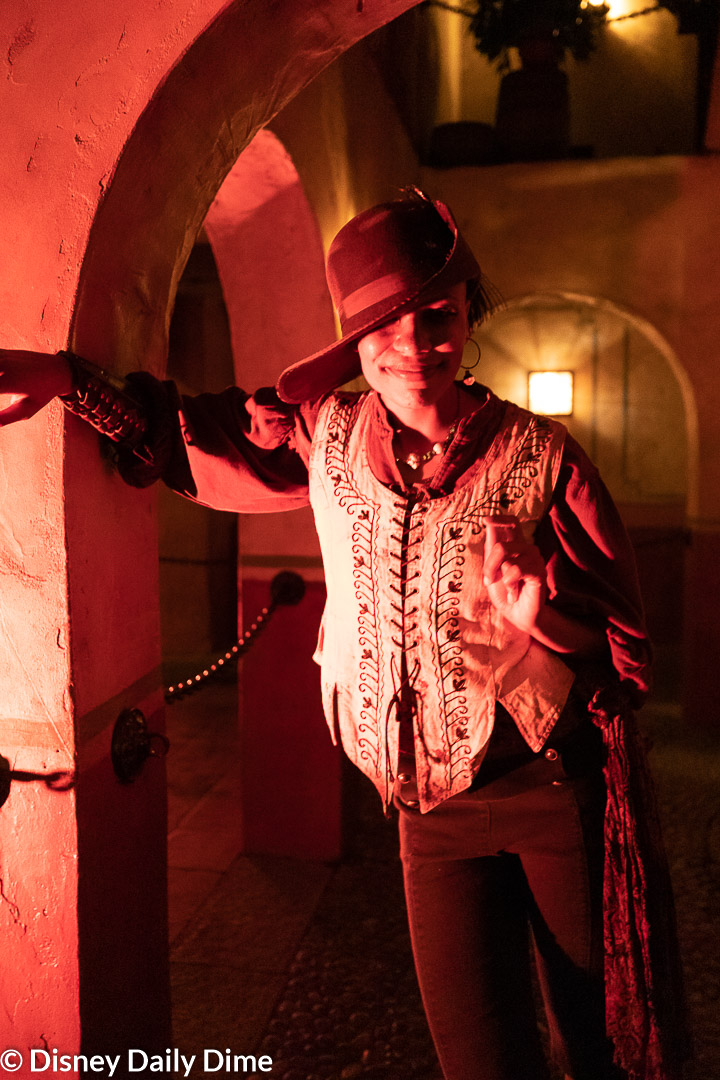 Pirates of the Caribbean has three live cast members in the attraction as pirates.  Okay, two of them are technically in the queue, but still it's another fun touch to add to the uniqueness of the night.  The two in the queue are warning you of a war that's coming.  The third one is actually in the ride itself, and he is playing Barbossa from the movies.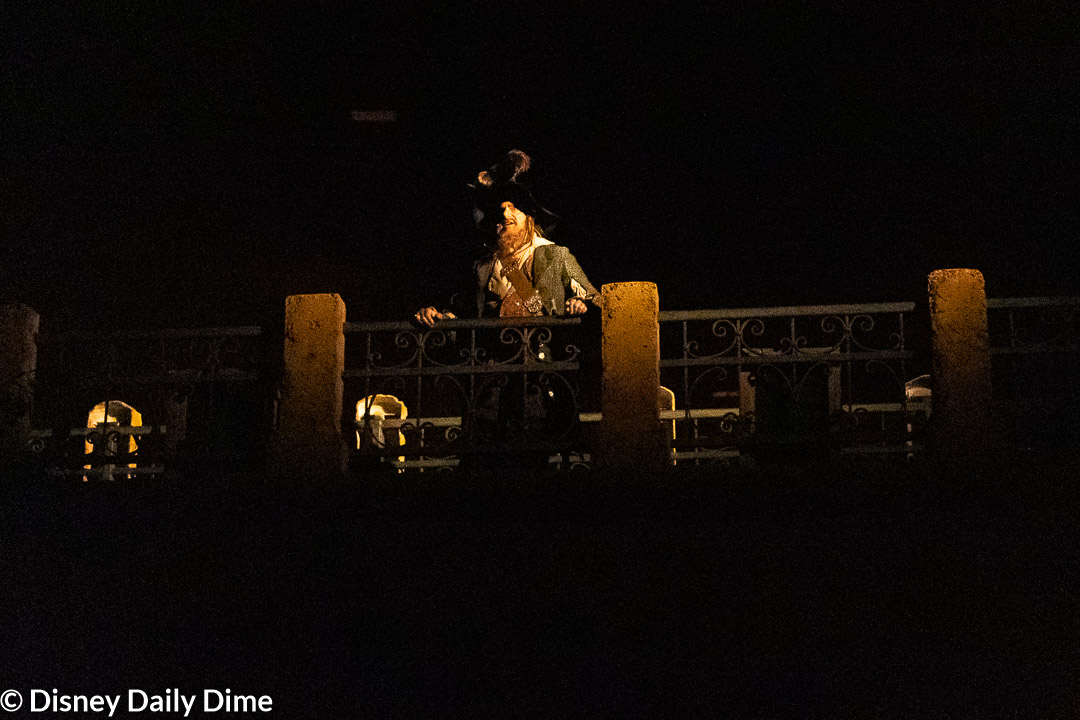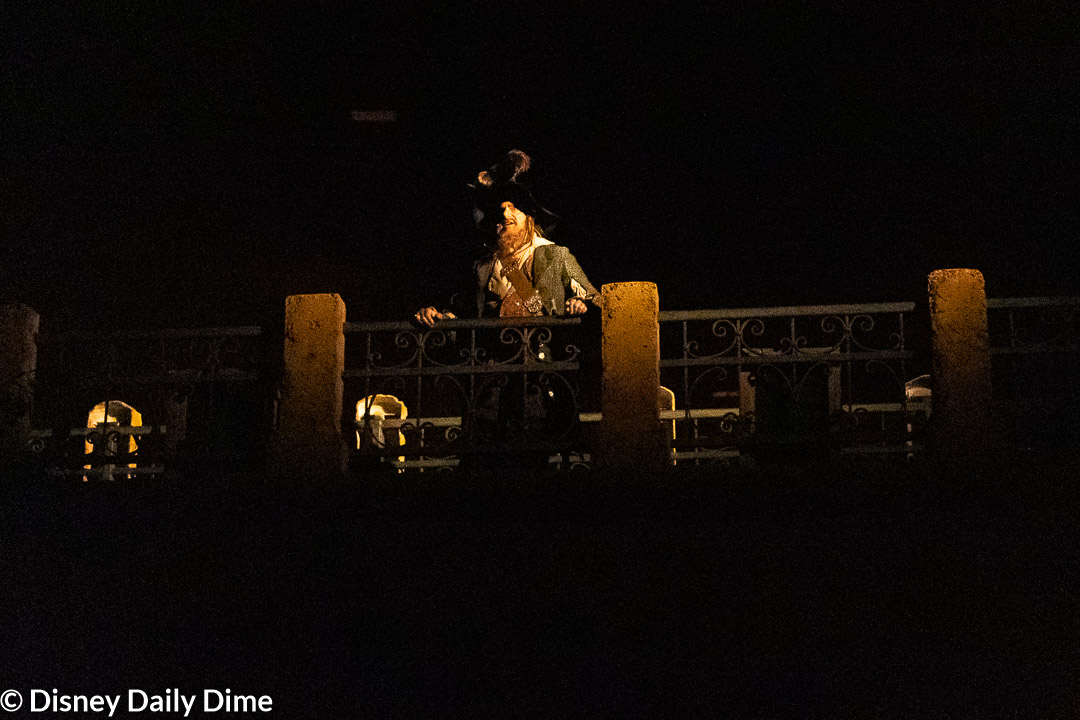 The night has an event specific show featuring Hades, Meg and some evil friends.  Known as Villains Unite the Night, this stage show's premise is that there is a prophecy about 5 planets aligning, which each villain believes will give them the ability to rule the universe.  Hades is joined in the show by fellow villains Jafar, The Queen, Dr. Facilier and Maleficent.  Each villain comes out to greet Hades and says the prophecy is about them, which of course Hades disagrees with.  There's then an act put on by each villain's respective henchmen, after which Hades invites them to stick around so they can see who gets to rule the universe.  Oddly, the show ends with all the villains needing each other to acquire this great power.  As Maleficent points out the prophecy is all about the 5 of them aligning.  Kind of weird, but I'm not looking for an Oscar caliber script.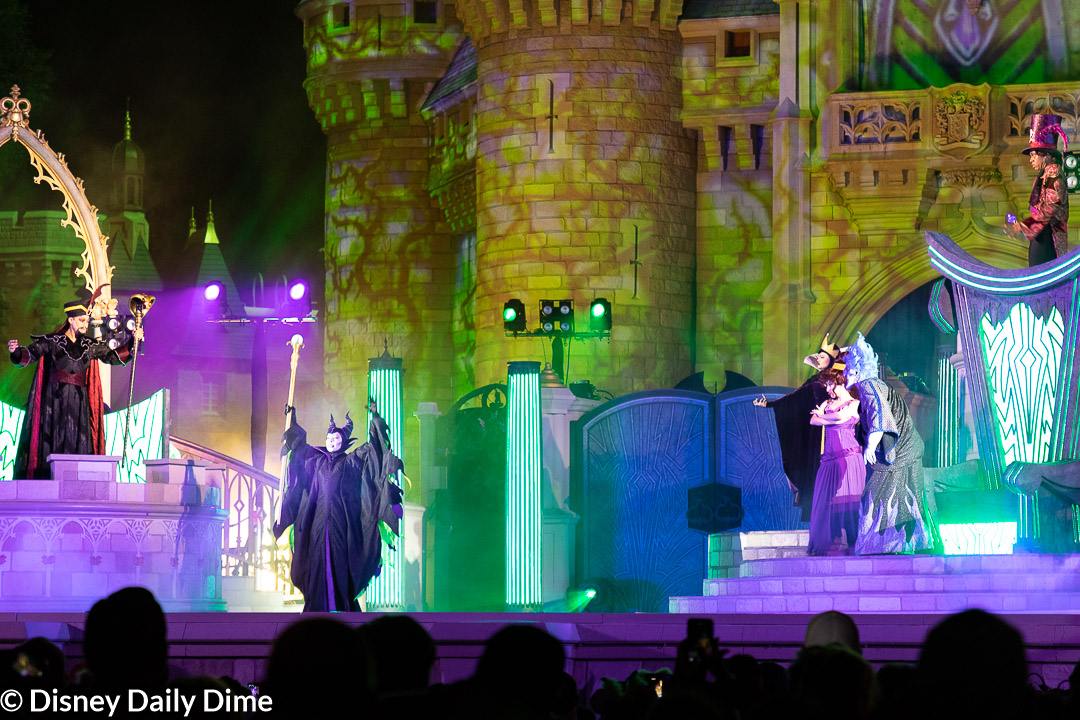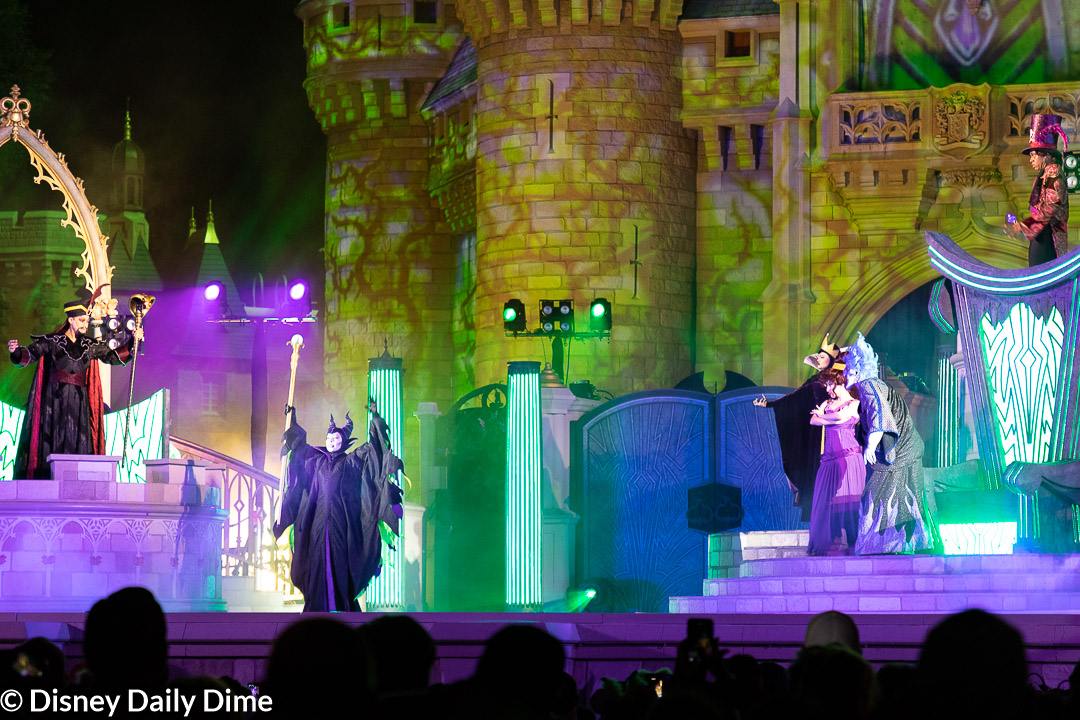 The show comes with some unique projections on Cinderella Castle and moments of pyrotechnics, but what stood out most to me were the displays put on by each Villain's henchmen.  Routines featuring, swords, axes, fire, and more were extremely impressive.  It's not a show that I'd buy a ticket to just see, but it adds enough of a special element to the night that I felt like I was getting something a little different.  The show happens three times throughout the night with start times of 11:00 PM, Midnight, and 1:00 AM.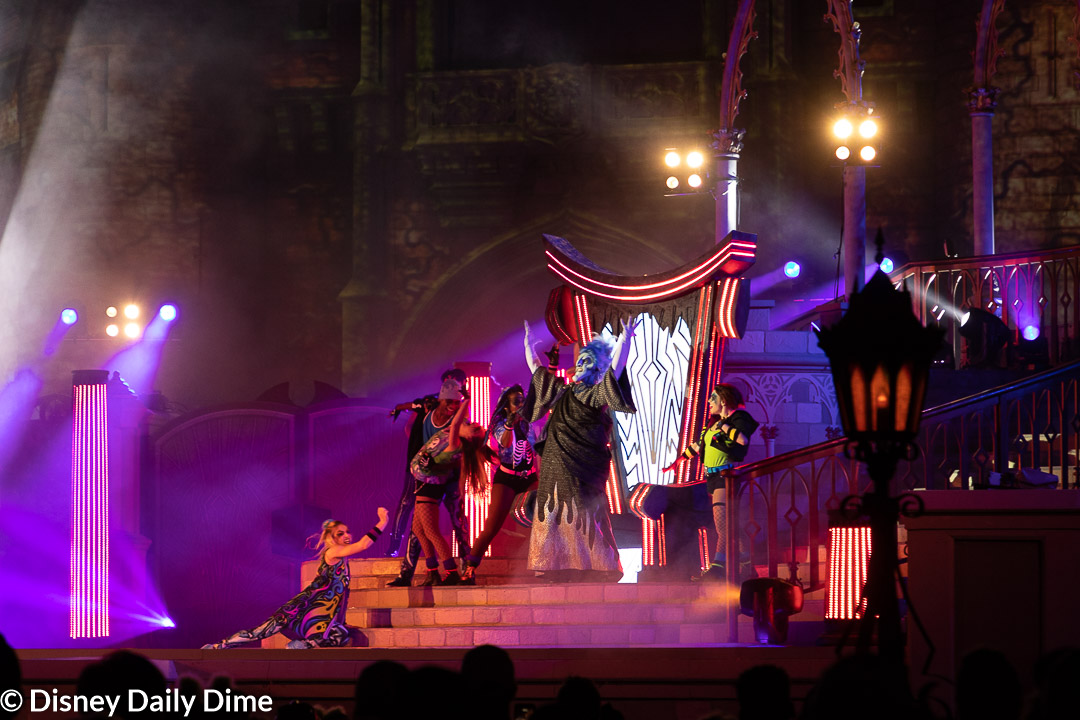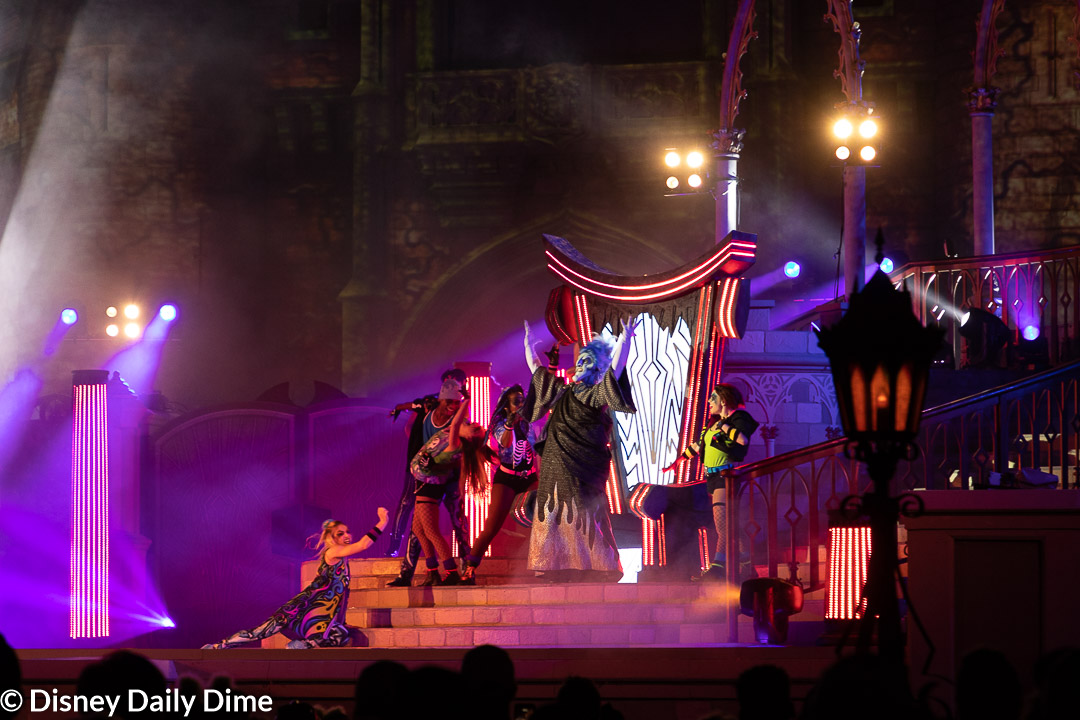 Lastly, you get to see Maleficent roam the park, in dragon form.  This is the same dragon used in the Festival of Fantasy parade during the day at the park.  The sight of Maleficent in the park at night is impressive.  From the glowing eyes to the flame shooting from her mouth, it was really cool to see.  There was also something ominous about it when you could see the flames casting a light on the buildings of Liberty Square, but you couldn't actually see her (I was near the Partners Statue).  It created this fun sense of anticipation which was fulfilled when she turned the corner.  It's well worth the time to see this.
Maleficent goes through the park three times throughout the night, but she only goes all the way down Main Street once.  The other two times she circles around in front of Cinderella's Castle and then goes back to Frontierland.  Maleficent's two shorter jaunts through the park take place at 10:40 PM and 11:40 PM, while here longer trek ends the night at the park at 1:20AM.
Yes, I did say 1:20 AM!  And yes, I did say that the event goes until 1:00 AM.  So technically, if you stay until Maleficent has made her way through the park, you're going to be there until 1:30 AM – 1:45 AM.  Catch that and the Villains farewell that takes place on the train station platform and you will have a lot of extra time in the park.
This time can be glorious because the crowds have really thinned out.  Now you have to want to stay out late, but you probably are thinking that before you buy the tickets.  However, that late night is a big reason why Anna and Elsa didn't come.  You better have some stamina.  But the payoff for that stamina is huge.  It's one of the few ways you can see an empty park, like the below picture.  This picture came in the wee hours of the morning.  I would have stayed longer if the security people weren't ushering me out of the park.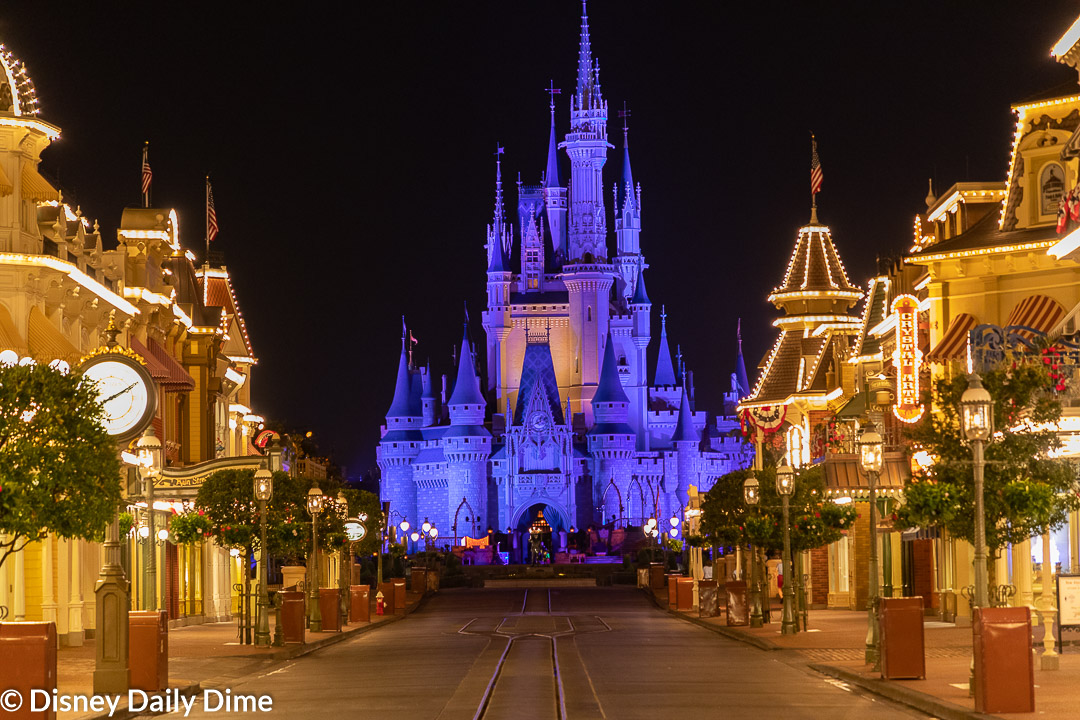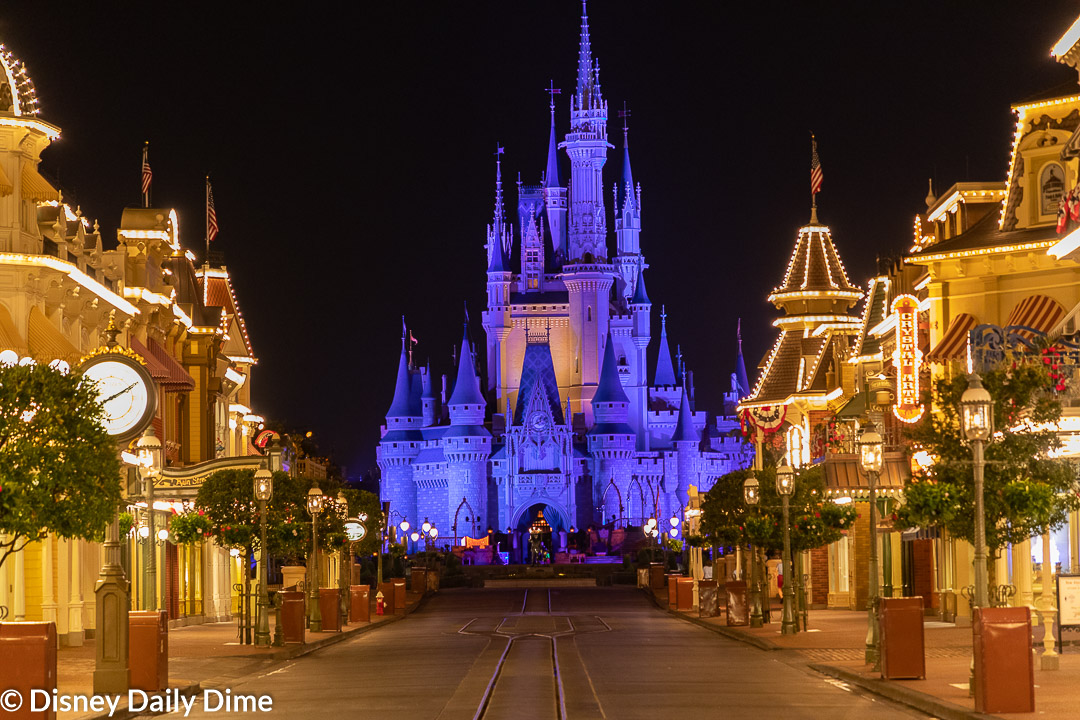 What About the Food?
I did stop by and try out some of the event specific special food offerings.  Well, not all of the drinks and desserts, but I did have the two special entrees.  Calling them entrees might be a bit of a stretch.  Snacks may be more appropriate given the portion size.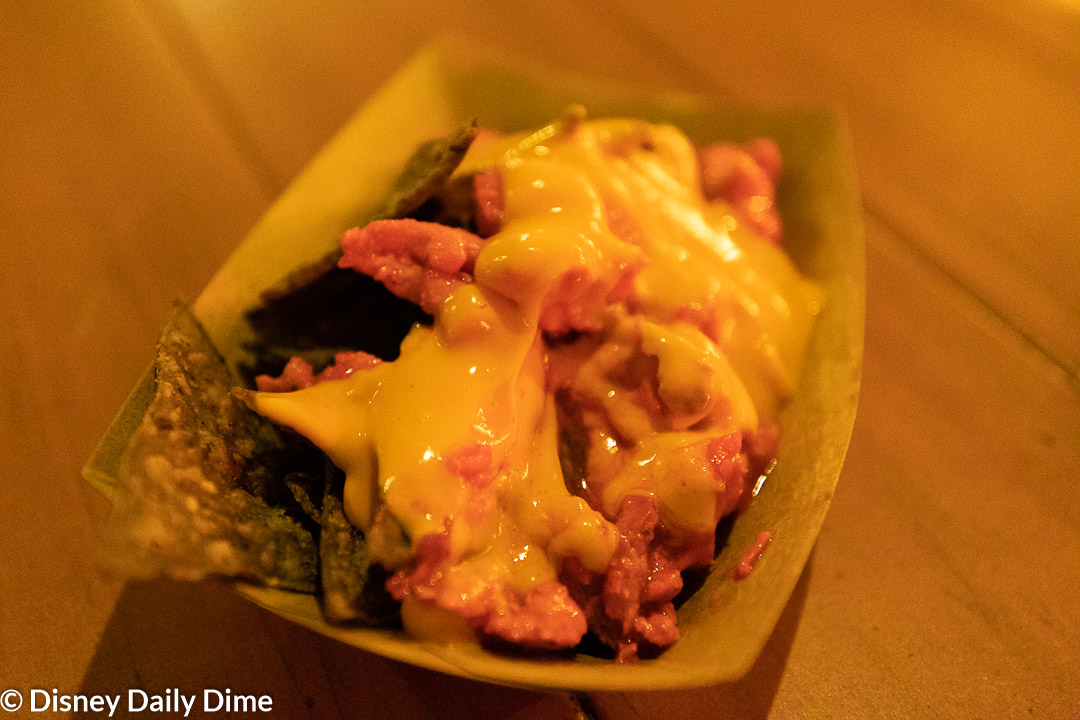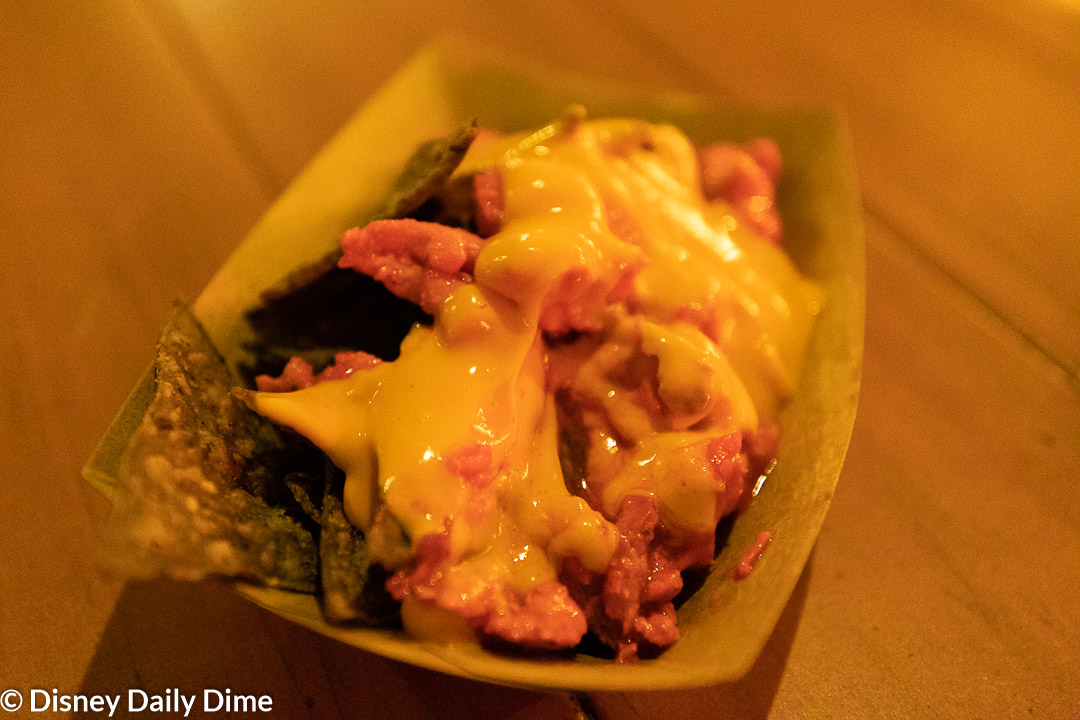 First up are the Hades Nachos, which are served at Tortuga Tavern in Adventureland.  Featuring black bean chips, nacho cheese and chicken in a buffalo sauce, the ingredients are fairly basic.  They are supposed to be spicy, but I don't find much heat with them.  That said, I'd say the results are surprisingly good for this dish.  Now I'm a fan of buffalo sauce, so your individual taste preferences may vary.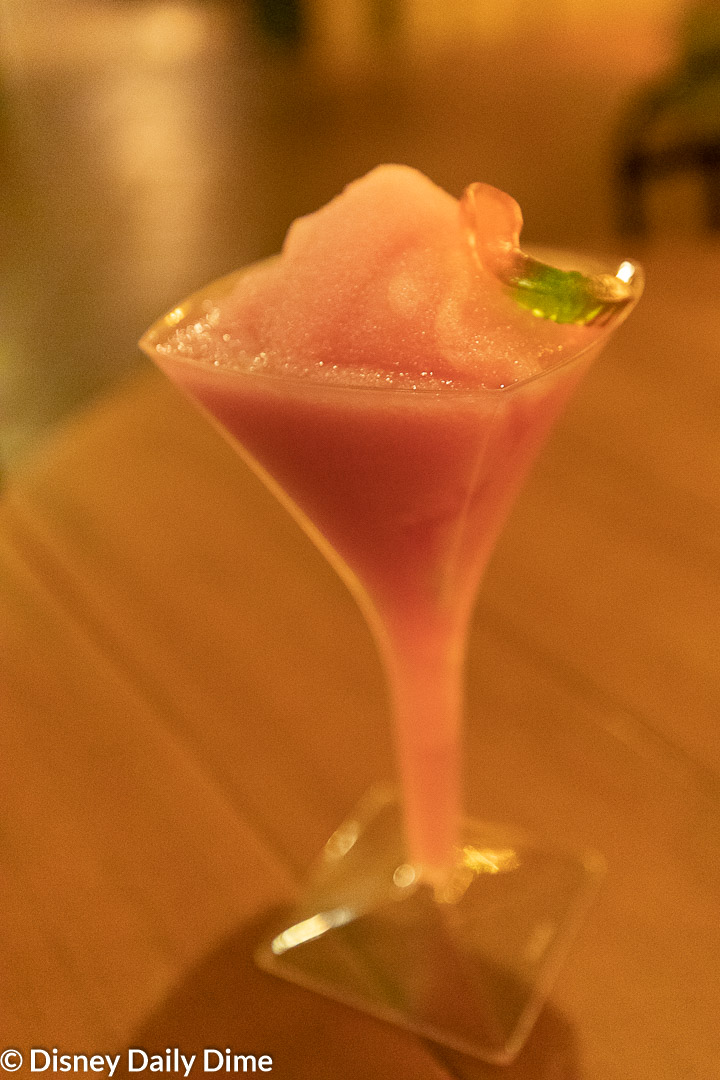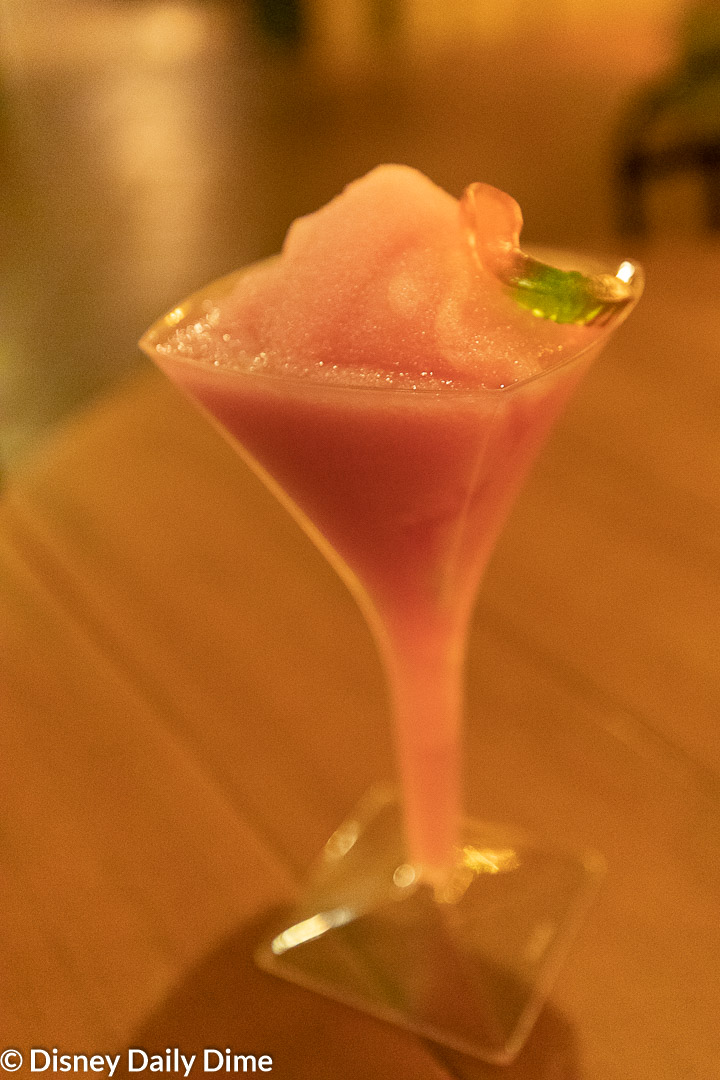 Also, at Tortuga Tavern is the Hades Temptation, which is a non-alcoholic drink that was wonderfully refreshing on a hot summer night.  Featuring a purple frozen mocktail "Cosmo" with lemonade, violet monin syrup, and a gummy worm, it wasn't too sweet which I feared when ordering.  The gummy worm seems like a waste, just give me the drink.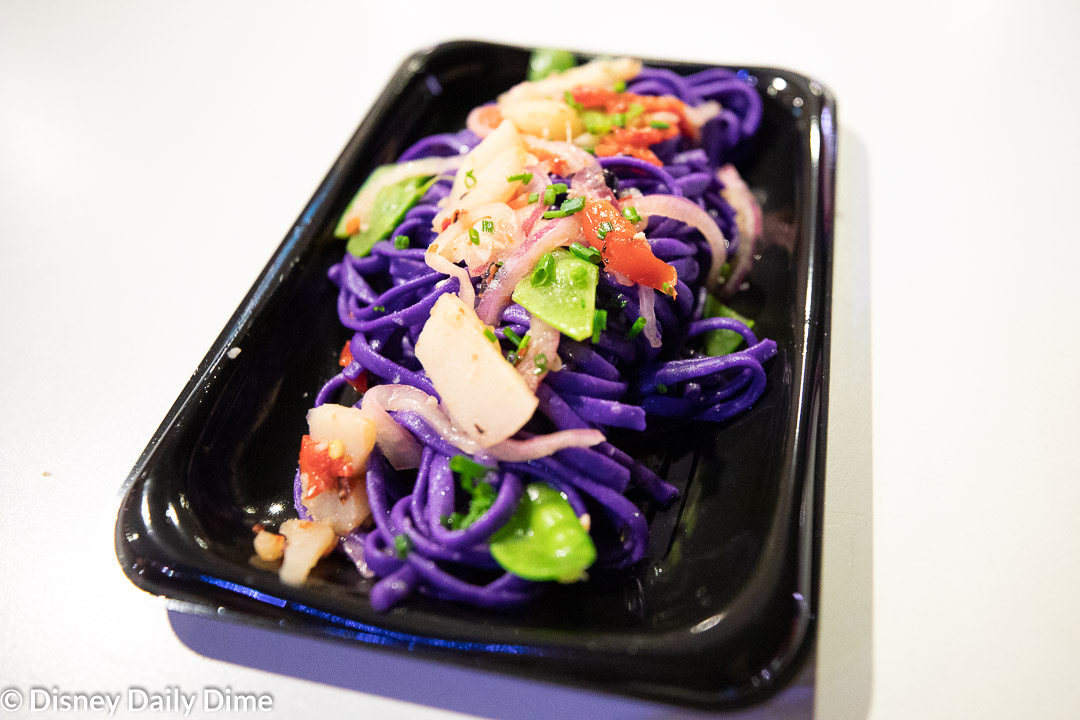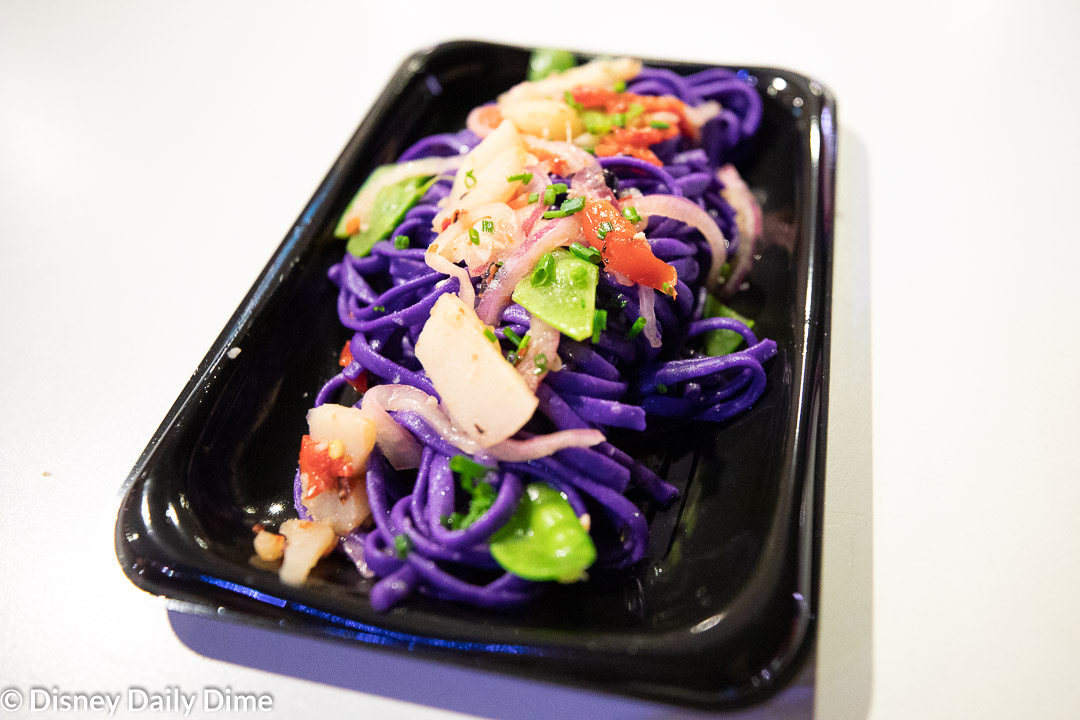 Another unique food item served as part of the Villains After Hours event at Magic Kingdom is the Intergalactic Noodles.  I wasn't a big fan of this dish, although the visual presentation was fun.  The noodles are served cold, which again was perfectly fine on a hot summer night, but I didn't find it to have much flavor.
There are several other special drinks and desserts available as part of the event.  You can read all about them on the Disney Parks Blog post about the event's food.  Buy all the drinks you want if you so choose, but with free ice cream I'm not sure why you'd buy the desserts….I didn't.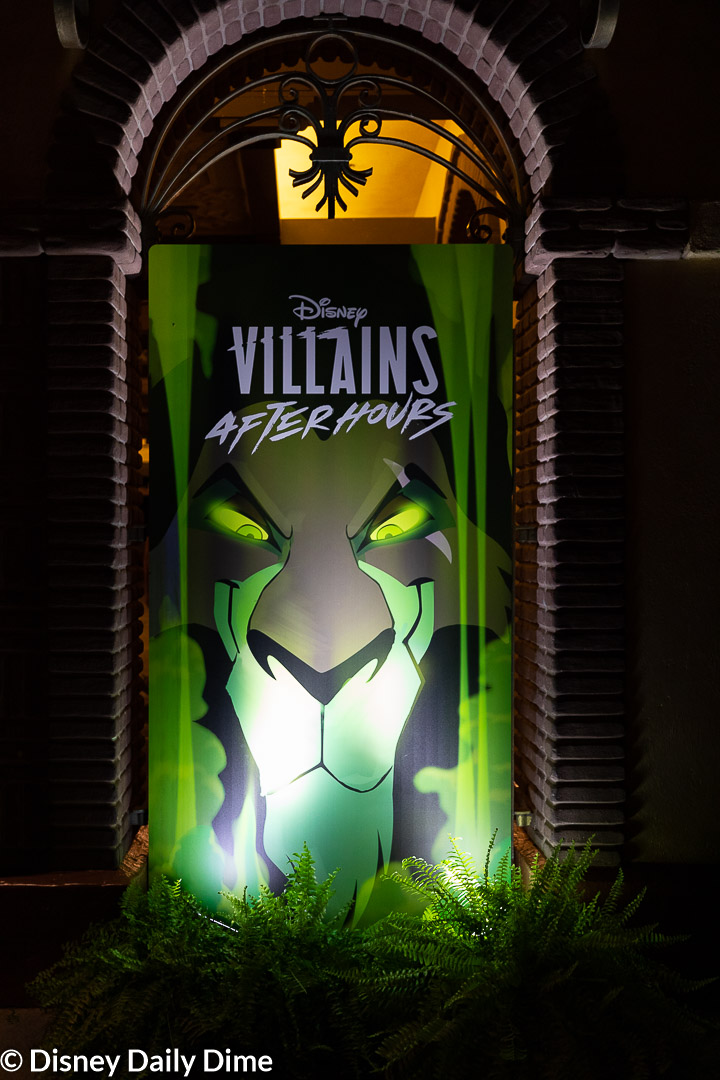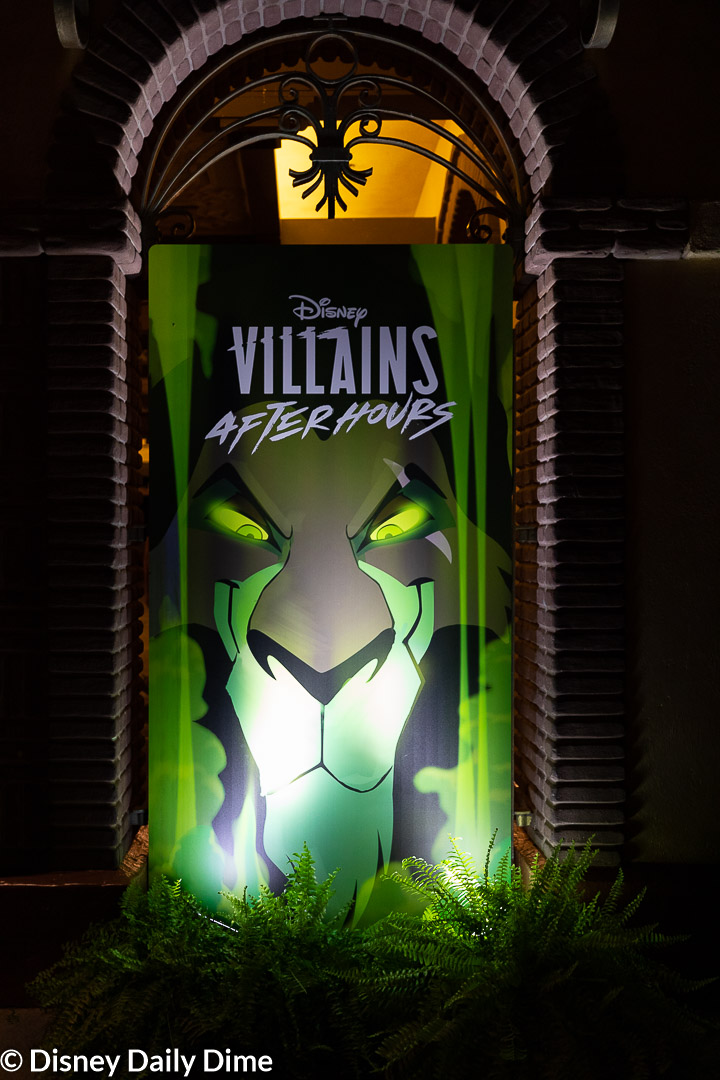 Villains After Hours is a Surprisingly Fun Event
Not to spoil the headline, but as far as hard ticket events go, I actually found Villains After Hours incredibly compelling.  I wouldn't go so far as to say it is the best "non-party" event at Disney World right now because I haven't been to all of them, but it's a great event nonetheless.  Why you ask?  Good question, let's get into it!
Probably the most important aspect of Villains After Hours is the crowd levels.  Unlike MNSSHP or MVMCP, the crowd levels are very low.  You could chalk this up to a one-night fluke, but we've read enough other reviews of the event that it seems like this is the norm.  Disney appears to understand that these events are meant to be "special" times in the parks and rewards people with better crowd levels.  Given you're paying more than the price of a one-day park ticket for three hours of this time, it needs to be.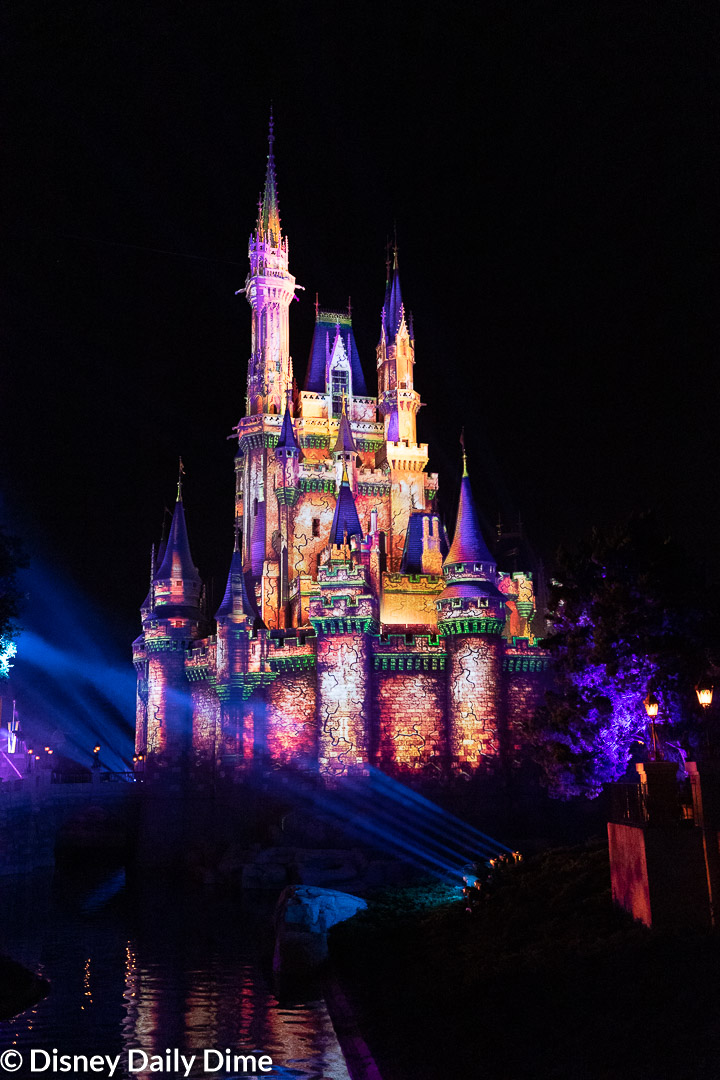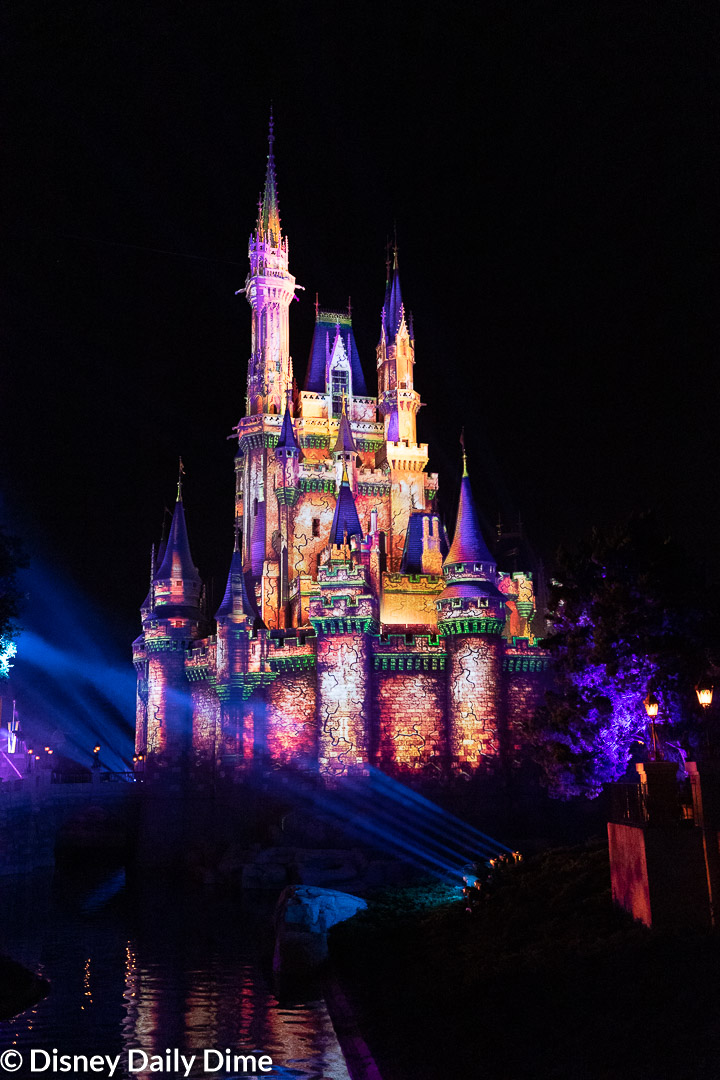 These lower crowd levels translate into greatly reduced wait times.  Outside of Seven Dwarfs Mine Train and Astro Orbiter, I never had to wait more than 5 minutes to get on any attraction.  For many of them I walked directly onto the ride with no wait.  On a couple of rides, I was the only person even in the queue line, like what you see in this picture of Buzz Lightyear's Space Ranger Spin.
To me, this is where the most compelling value is for Villains After Hours.  Magic Kingdom is rarely so empty.  While I'm not sure you could do all 25 attractions in the park in three hours, you could do most of them.  Get into the park at 7:00 when you are allowed and you can get really close if you pick your rides wisely.  All in all, I was able to do 10 rides between 10:00 PM and 1:00 AM.  That was while also doing photographs, eating food and checking wait times incessantly to see where crowds built out.  It also included me dealing with the fact that my tripod sadly lost a leg during the night.  Still not sure where that screw went…
The value of being able to ride almost every ride in the park with little to no wait, unlimited drinks, popcorn and desserts makes this event worth strong consideration.
These lower crowd levels translate into greatly reduced wait times.  Outside of Seven Dwarfs Mine Train and Astro Orbiter, I never had to wait more than 5 minutes to get on any attraction.  For many of them I walked directly onto the ride with no wait.  On a couple of rides, I was the only person even in the queue line, like what you see in this picture of Buzz Lightyear's Space Ranger Spin.


My only caveat on the rides is Seven Dwarfs Mine Train.  I did wait in line for this, spending about 20 minutes at the end of the night in the queue.  I couldn't ever find a shorter wait time.  If you're thinking this is a chance to ride Seven Dwarfs over and over, you may want to reconsider.  Yes, you'll be able to ride it 5-7 times, but it's not something where you'll get 12 plus rides in.  The queue wait time was consistently between 20 and 35 minutes all night.  There were several people who walked the other way past me while in line, complaining about the wait.  I'm not sure what to say to them other than, what would you expect?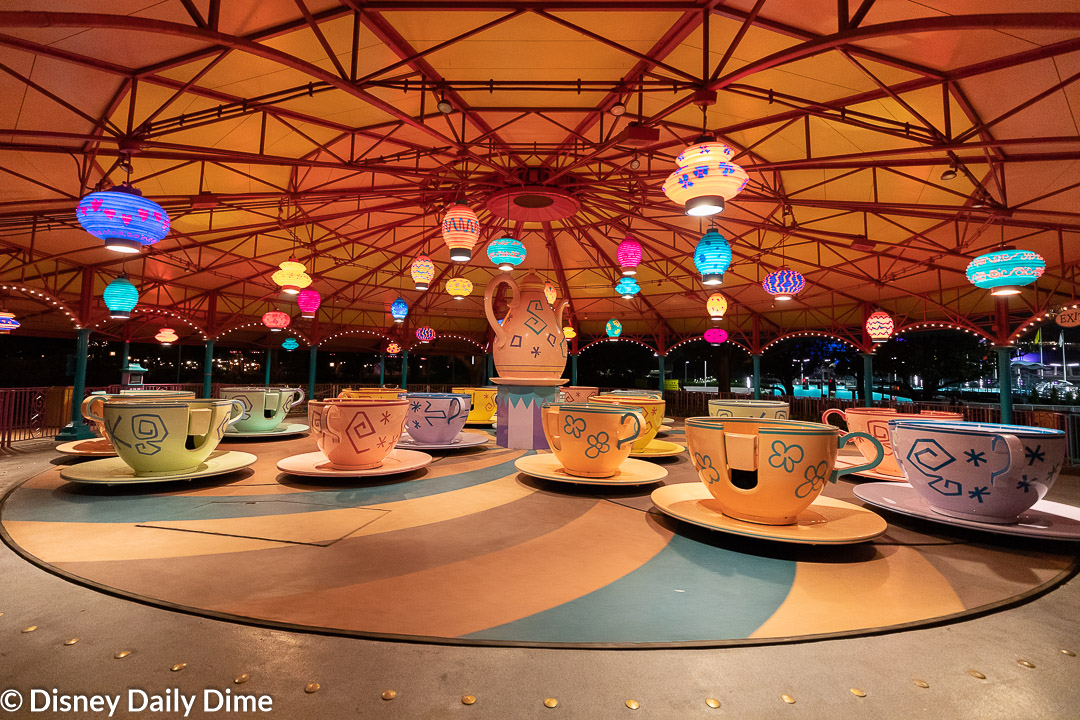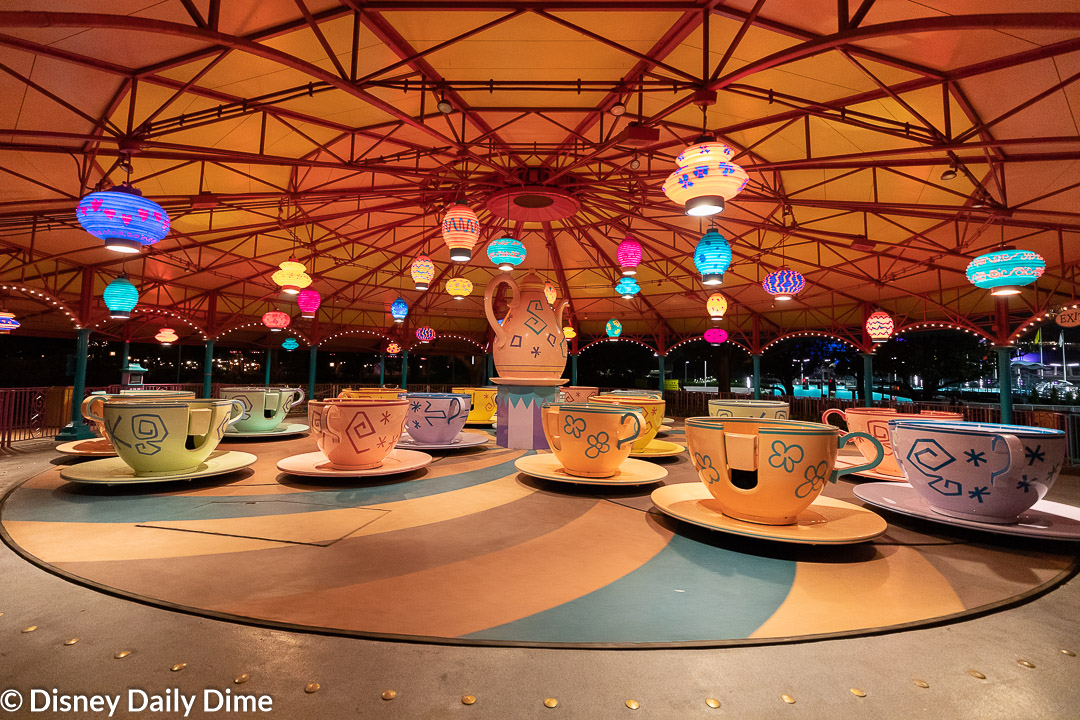 As far as touring goes, I'd say you should prioritize the rides.  Given the limited wait times, you're going to be able to get a lot done.  I wouldn't waste actual ride time by catching the earlier shows.  You can see them at the end of the night when the rides are no longer operating.
If you're intent on riding Seven Dwarfs, I'd save it for the end of the night.  It seemed to be the slowest time.  If you're going to catch the Villains show, be at Seven Dwarfs around 12:15 AM.  If you're skipping the show, you can get to Seven Dwarfs around 12:40 AM.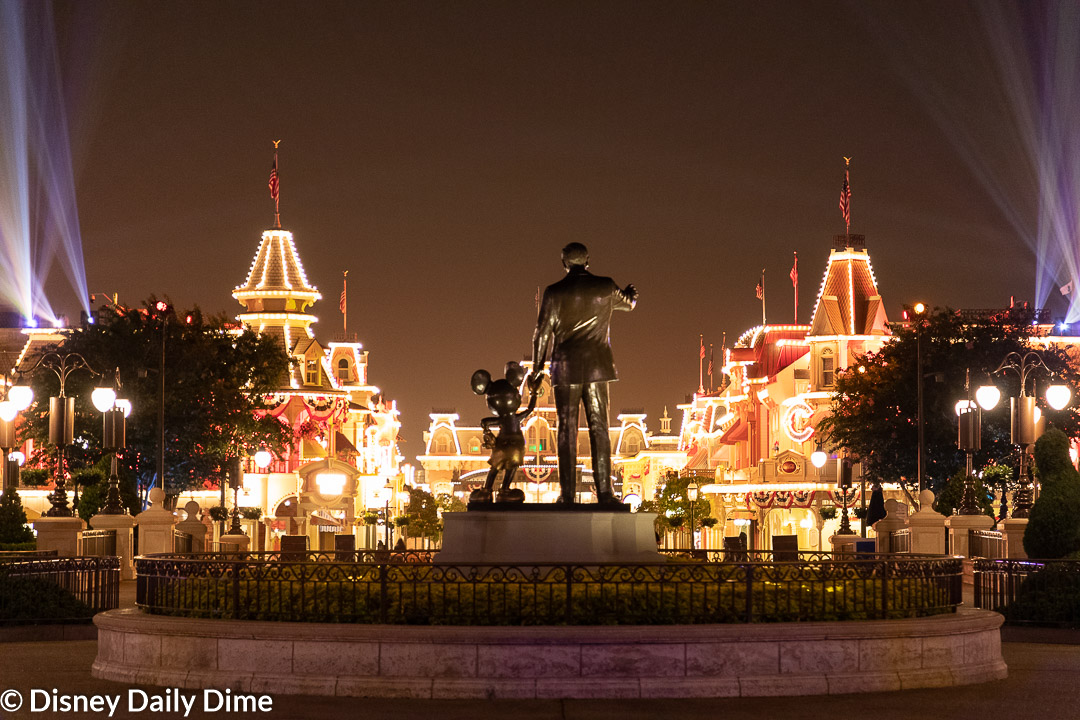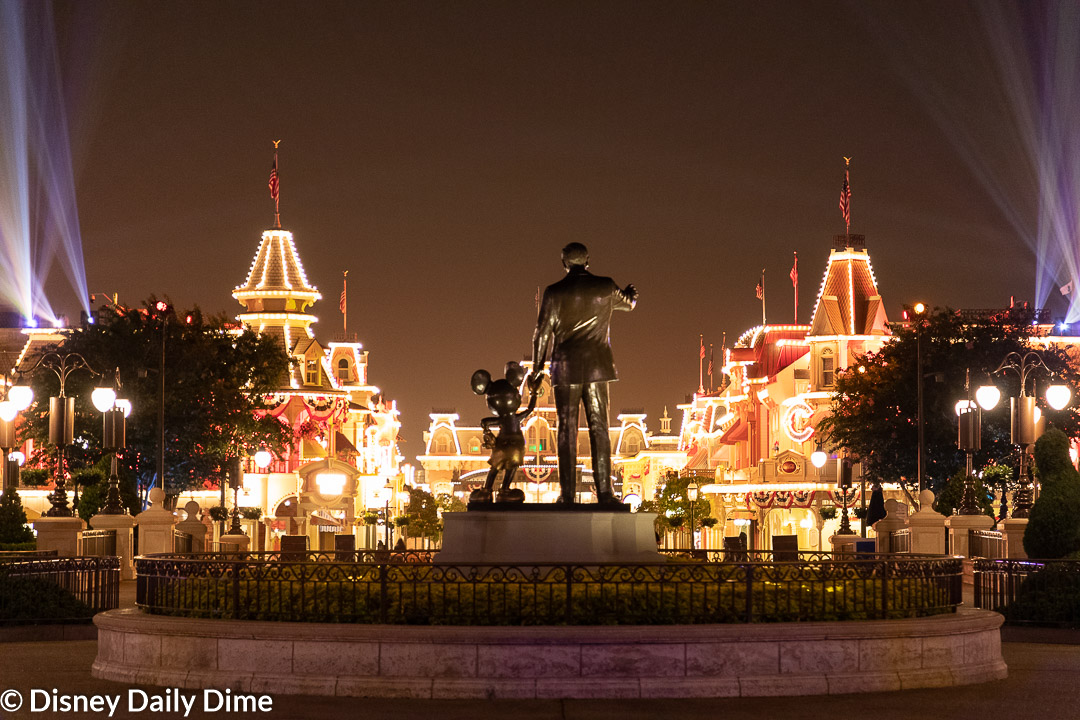 Wrapping Up
With that, we'll wrap up our Villains After Hours at Magic Kingdom review.  In my mind, it's a worthy way to spend you cash at Disney World.  You'll get some unique experiences and low crowd levels that make the time all the more valuable.  Free food and the shows are just added bonuses in my mind.
We hope you enjoyed our review.  If you did and found it helpful, please share it on social media.  It helps spread the word on the blog and allows us to help others.  It also lets us know that we're doing something right!