Each night, during Mickey's Not So Scary Halloween Party, Disney World offers an additional up charge event known as Cruella's Halloween Hide-A-Way Party.  During our recent trip to Disney World, we decided to stop by the event and check it out.  Or should I say, I decided to stop by.  Carla and I did not bring Anna and Elsa for reasons we'll discuss as we go through our Cruella's Halloween Hide-A-Way Party review.
The party takes place at Tony's Town Square Restaurant.  It starts at 9:30 PM and goes until 12:30 AM.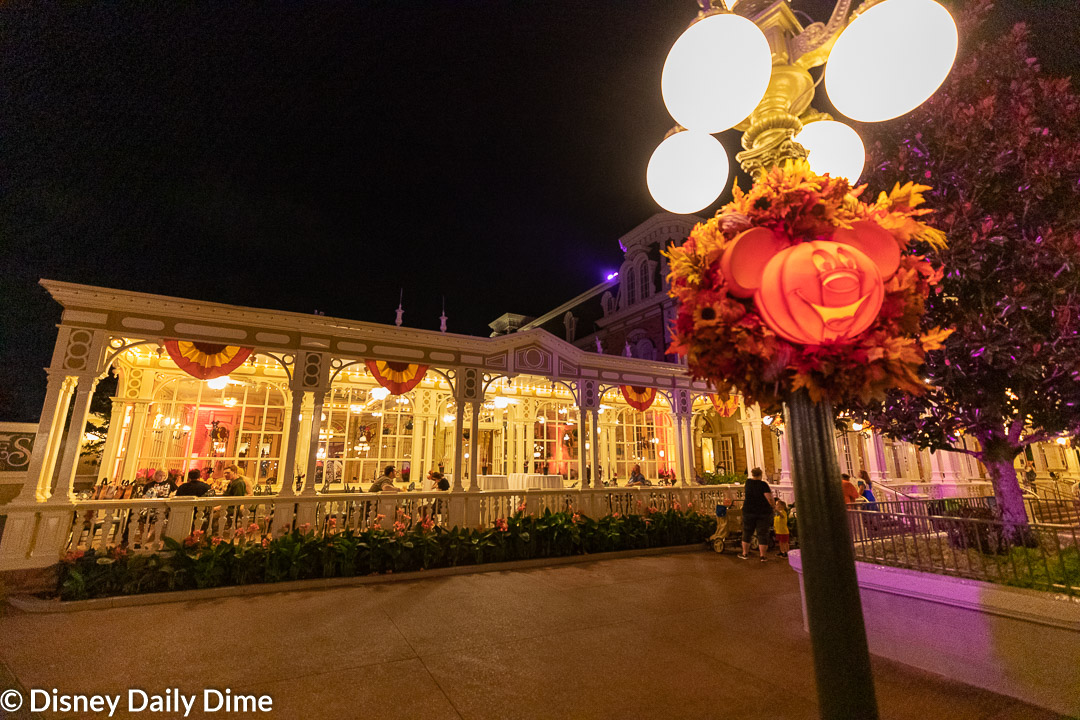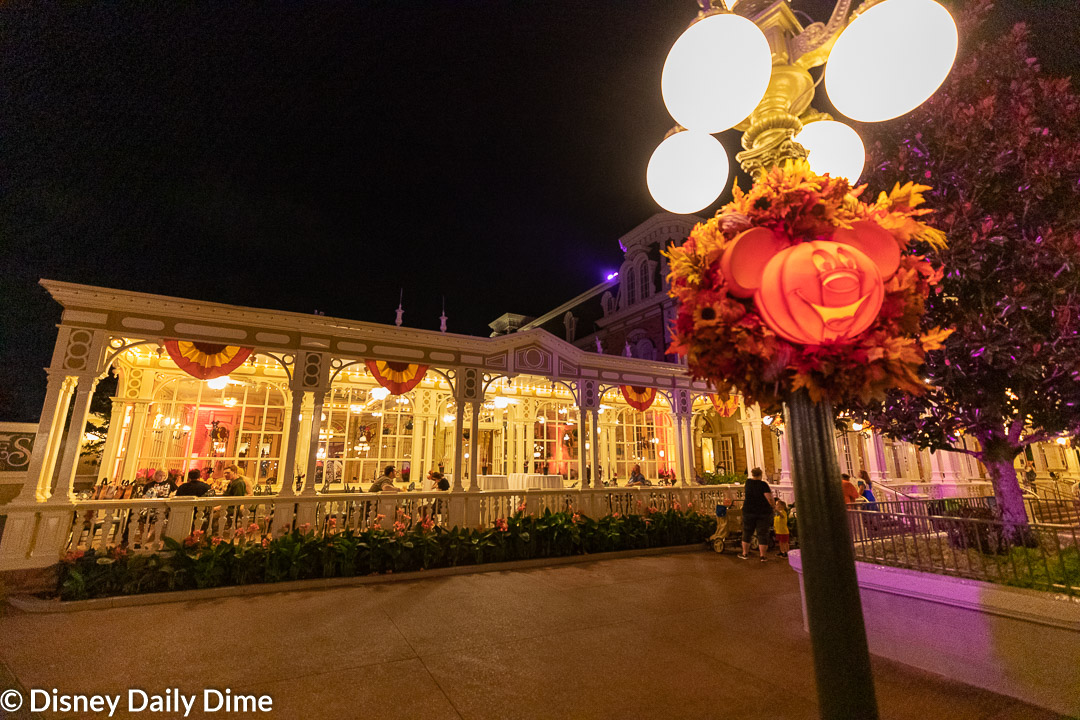 Cruella's Halloween Hide-A-Way Party Cost
Cruella's Halloween Hide-A-Way Party costs $99 per person, plus tax.  There is no kid's price for the event.  This was the primary reason we decided not to buy tickets for Anna and Elsa.
Do note that you do have to buy tickets for MNSSHP separately to be able to get to Cruella's Halloween Hide-A-Way Party.  You can't use it as a back door to get into the park.
The party can't be purchased with any of your credits on the Disney Dining Plan.
What do You Get as part of Cruella's Halloween Hide-A-Way Party?
As part of paying the $99 price it takes to get into Cruella's Halloween Hide-A-Way Party, you get the following "benefits":
Reserved viewing for the 11:15 PM Mickey's Boo-To-You Halloween Parade
First-come, first-served seating for guests within Tony's
All you can drink beverages, including select wines, hard cider, and one beer. It does also include a few sodas and bottled water (the small bottles)
All you can eat appetizers and bite-sized desserts
Meet and greet with Cruella De Vil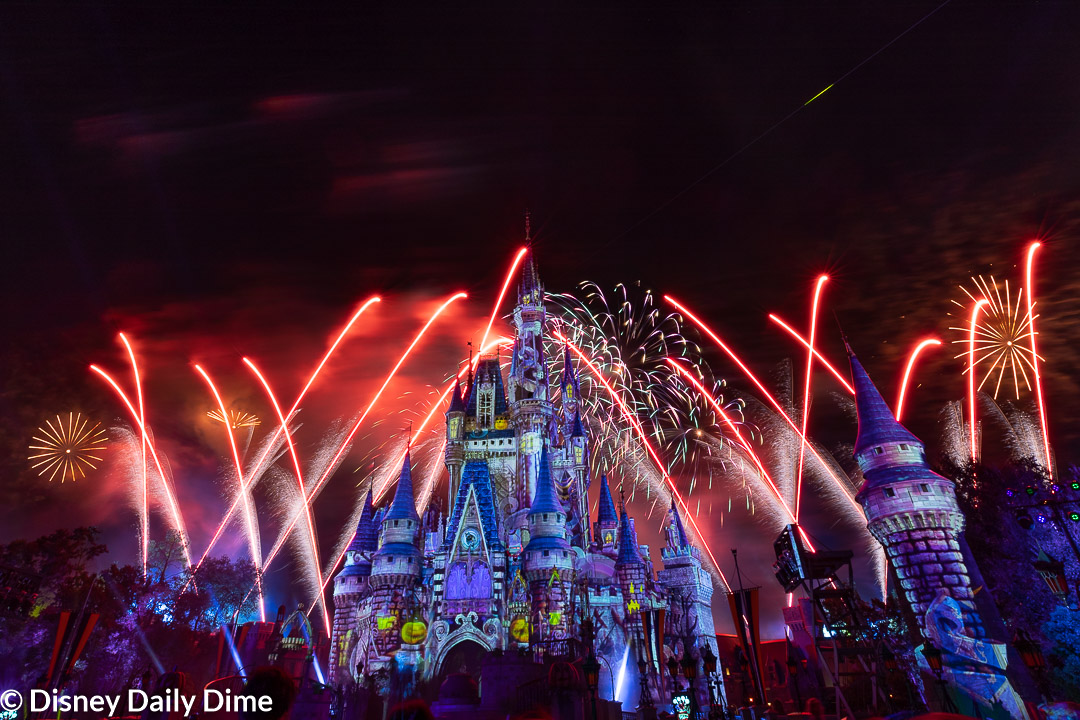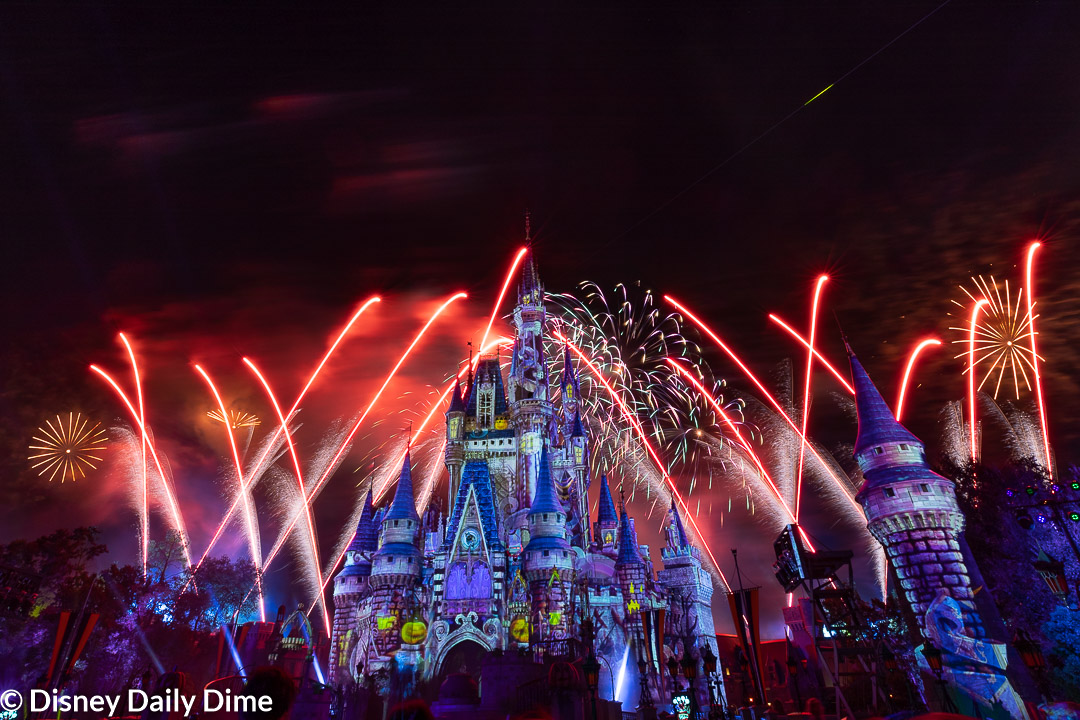 Cruella's Halloween Hide-A-Way Party and Touring for Mickey's Not So Scary Halloween Party
Before we talk about Cruella's Halloween Hide-A-Way Party, I think it is worth mentioning the conundrum it presents when trying to tour around for Mickey's Not So Scary Halloween Party.  You already have to pay $100+ to get into MNSSHP, so you want to maximize your time there right?  However, to maximize value at Cruella's party you need to be there.  So, you have to maximize time at one event at the expense of the other.  Not a good trade-off when your total cost is probably over $200.
In our case, we wanted to watch the 10:15 PM showing of Disney's Not So Spooky Spectacular.  You can see the show from Town Square with no problem, but you likely will want to be close to the castle so you can see the projections and Jack Skellington puppet.  If you do, you'll be lining up for a good spot around 9:00.  In our case, we actually lined up to watch a series of shows, including the Hocus Pocus Villain Spectacular and the 9:15 PM Mickey's Boo-To-You Halloween Parade.  Since they all happen in succession, we decided to set up near the castle and just hang out there.
What this all means is that I wasn't able to be at Cruella's Halloween Hide-A-Way Party until 10:40 or so.  Right away I've missed over an hour of the event or a full one-third of it.
If your kids (or you) want to meet characters or do other things that are party exclusives, then you may miss even more of Cruella's Halloween Hide-A-Way Party.
Cruella's Halloween Hide-A-Way Party Review Food and Drinks
As I said, I eventually made my way to Tony's Town Square Restaurant and checked in for Cruella's Halloween Hide-A-Way Party.  The wait to get in wasn't long, partly because the crowds for the Halloween party were unusually low.
Upon check-in, you will get a special wrist band for Cruella's party.  This is in addition to the wristband you get for MNSSHP.  Don't take the band off, as it is your admission to the reserved Halloween Parade viewing area, as well as the dining area inside of Tony's.
Once inside of Tony's you'll find the seating area open.  Feel free to sit wherever you would like.  On this night I had my pick of almost any table I wanted.  As I said, it was a crazy light crowd this particular day.  I put my camera bag down and immediately headed for the food.  What I found was a disappointment, to say the least.
The food at Cruella's Halloween Hide-A-Way Party is a combination of cold and hot appetizers.  You'll find the hot appetizers inside the entrance to Tony's Restaurant on a large set of tables they set up.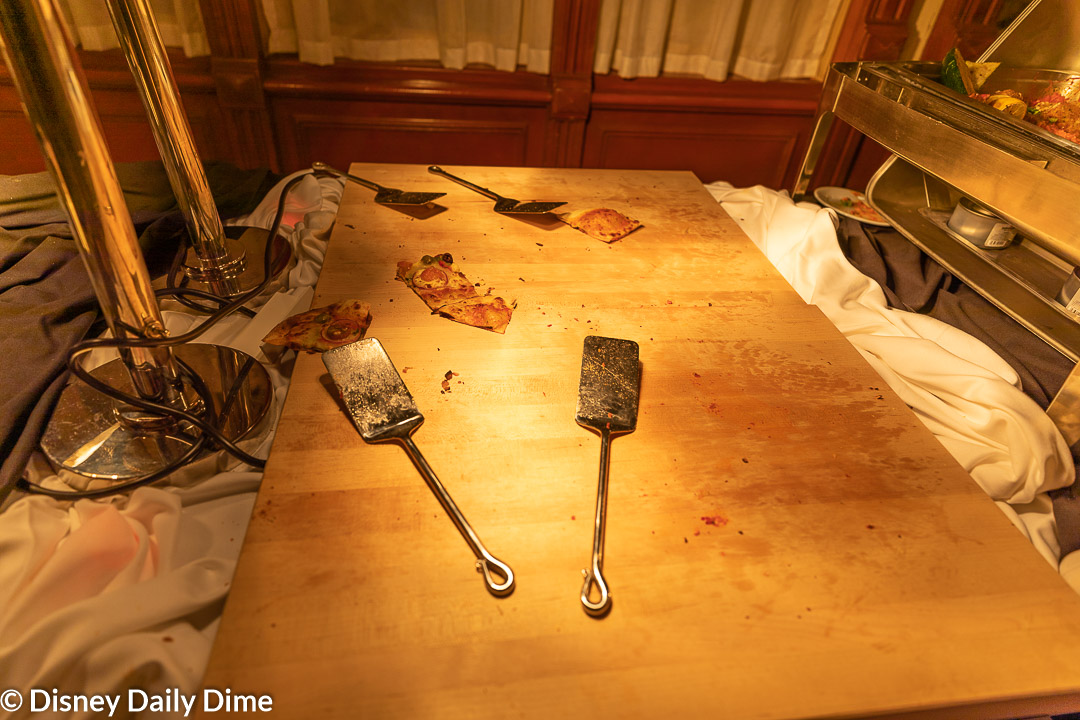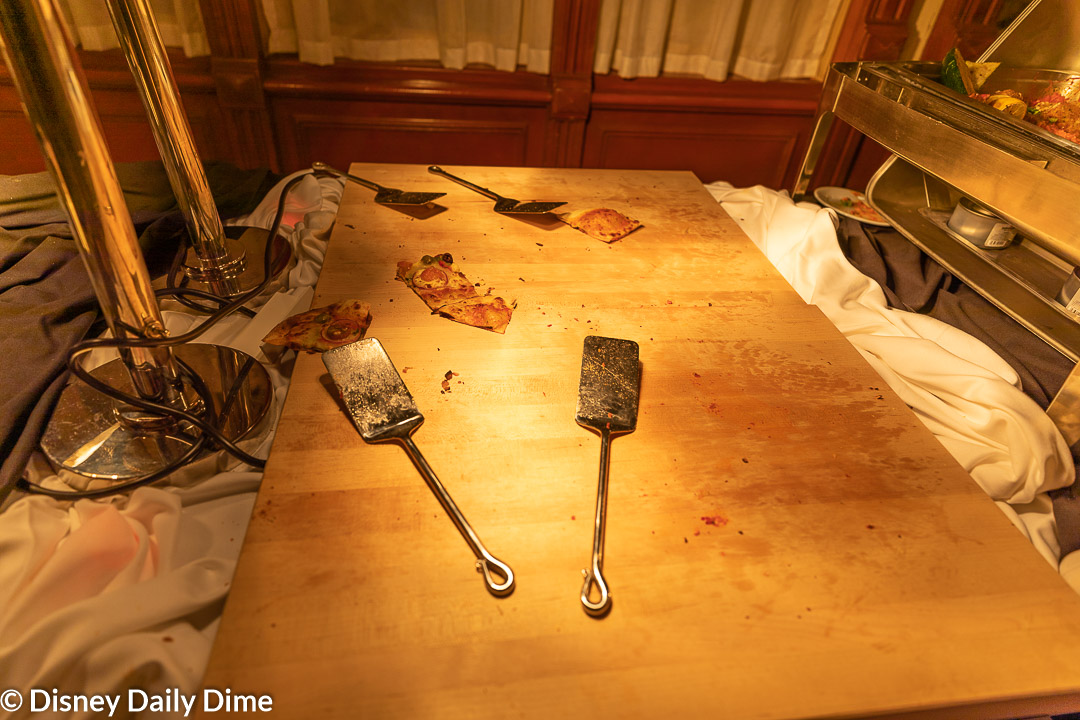 Upon approaching the food line, I found what you see in the few pictures above and below.  It was largely picked over.  You can see the pizza set up above, which looked fairly pathetic.  There wasn't a new pizza here for the entire time I waited before heading out to watch the parade, so I tried what was left.  It was hard and greasy.  I wouldn't recommend it unless you knew the pizza was fresh.  We'll revisit this at the end of this post.
Below is a picture of the "Goblin Bites," which are meatballs.  As far as meatballs go, I'd give them a big meh.  I didn't think much of them.  They did refill these with fresh ones shortly after I took this picture.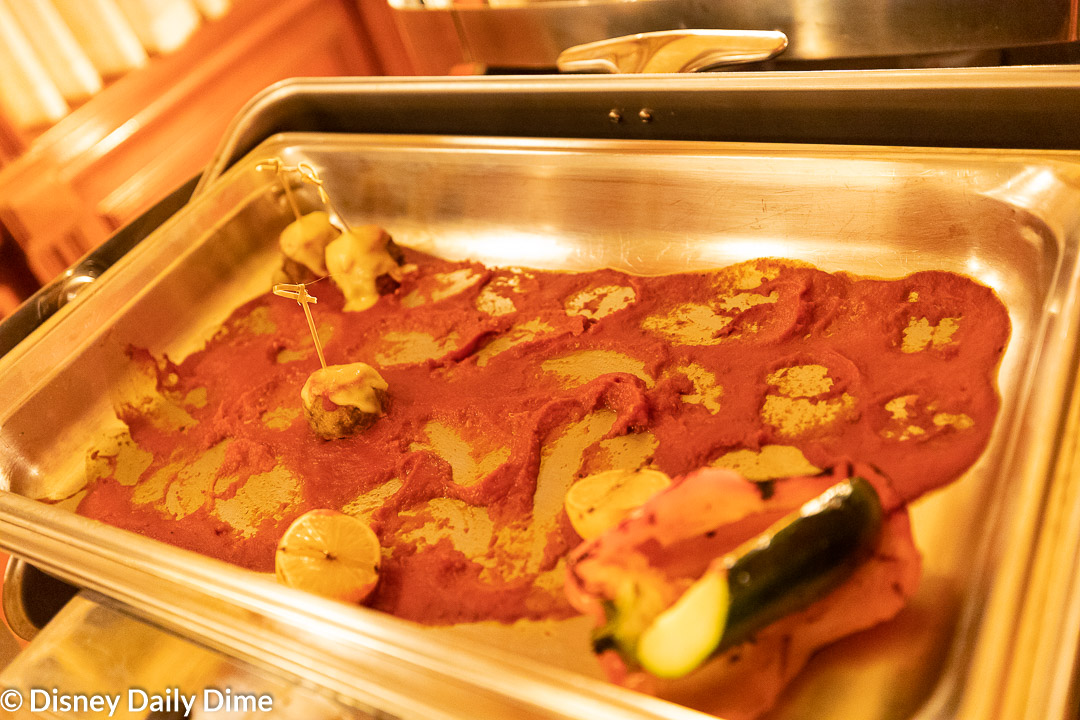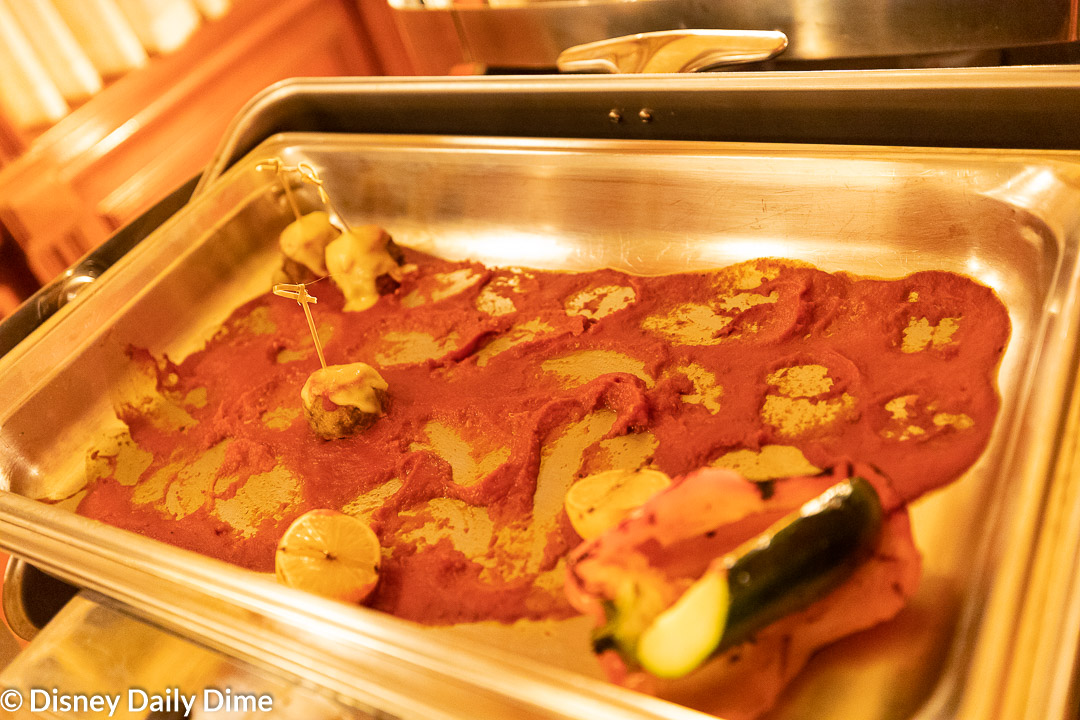 There was also a place for the Witches' Cauldron, which is a spinach dip.  However, there wasn't a single one of them to be found when I got in line.  There was also a place for other warm entrees, but they were utterly picked over, to the point a picture couldn't even tell you what they were.  So, to finish out my meal, I headed to the cold bar in the center of the room.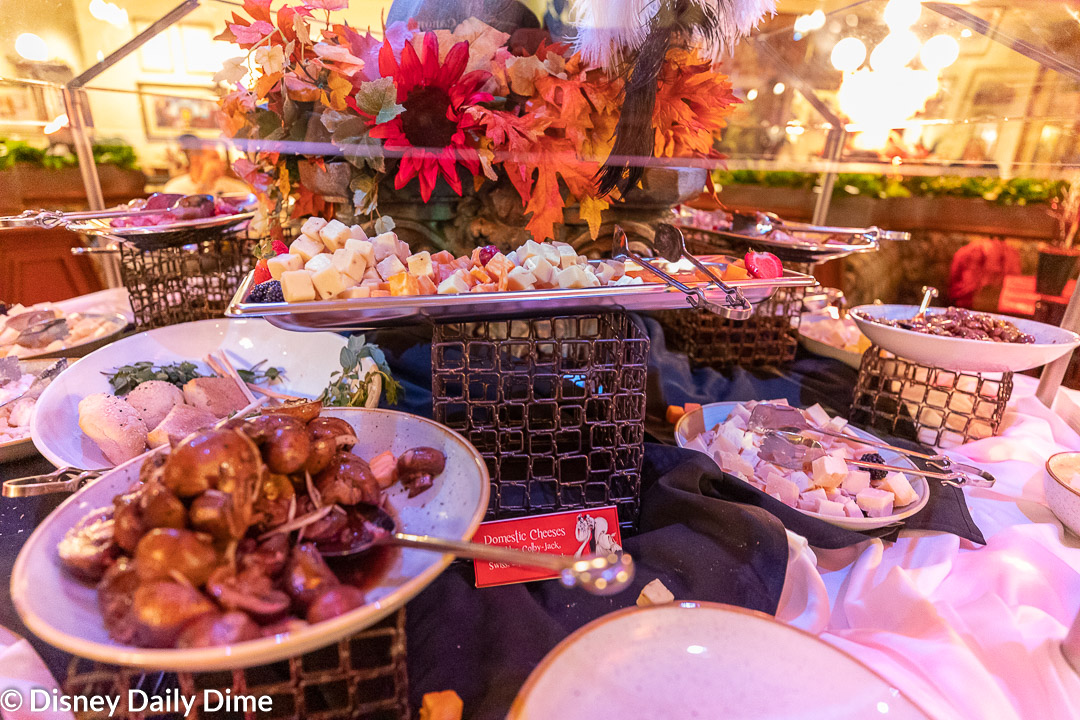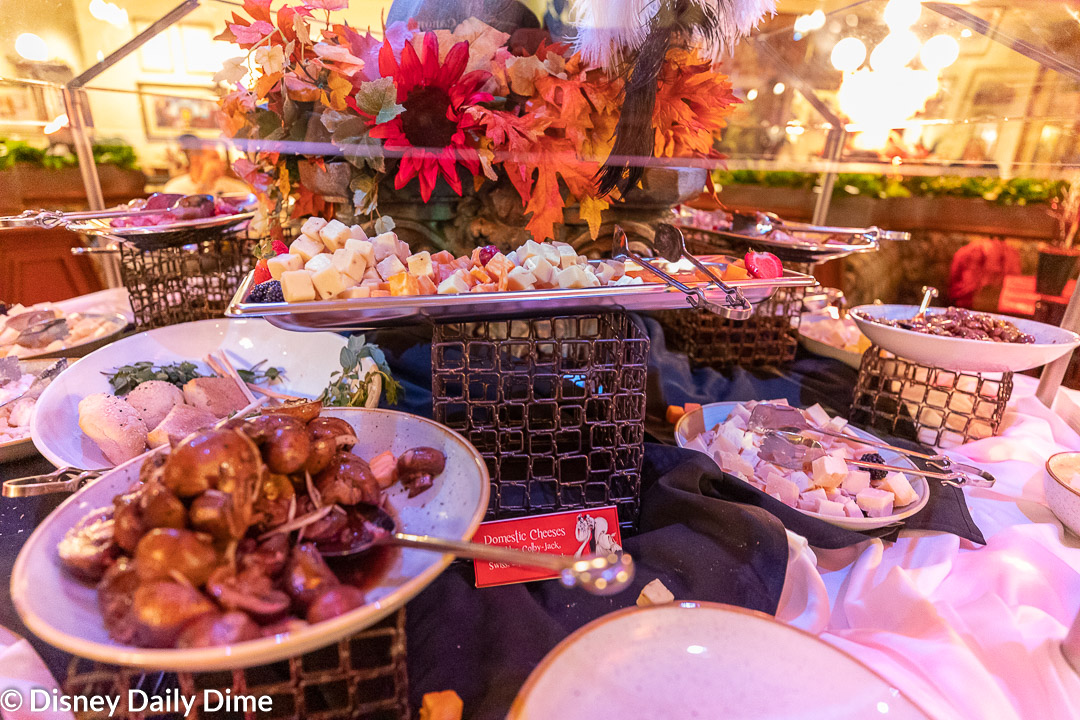 The cold food features an assortment of meats, cheese, olives, vegetables, bread, and more.  I'll throw some pictures in here for you to take a look at.  I didn't eat everything and didn't try to.  So, I won't go into the food in too much detail, but it was all basic and nothing I would write home about.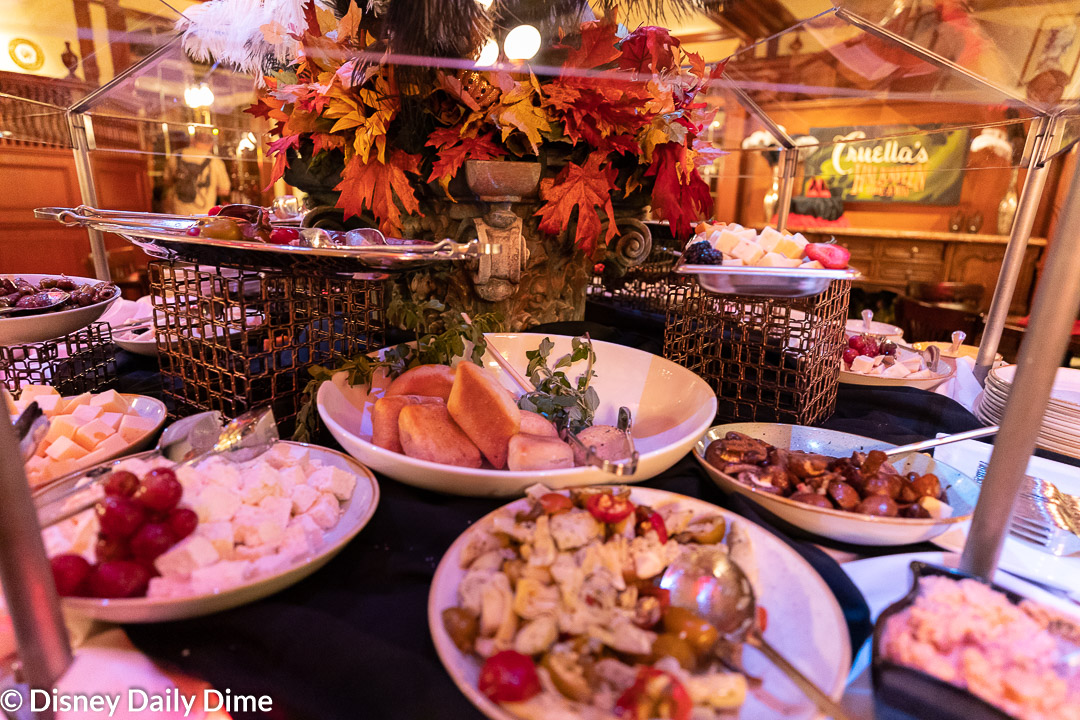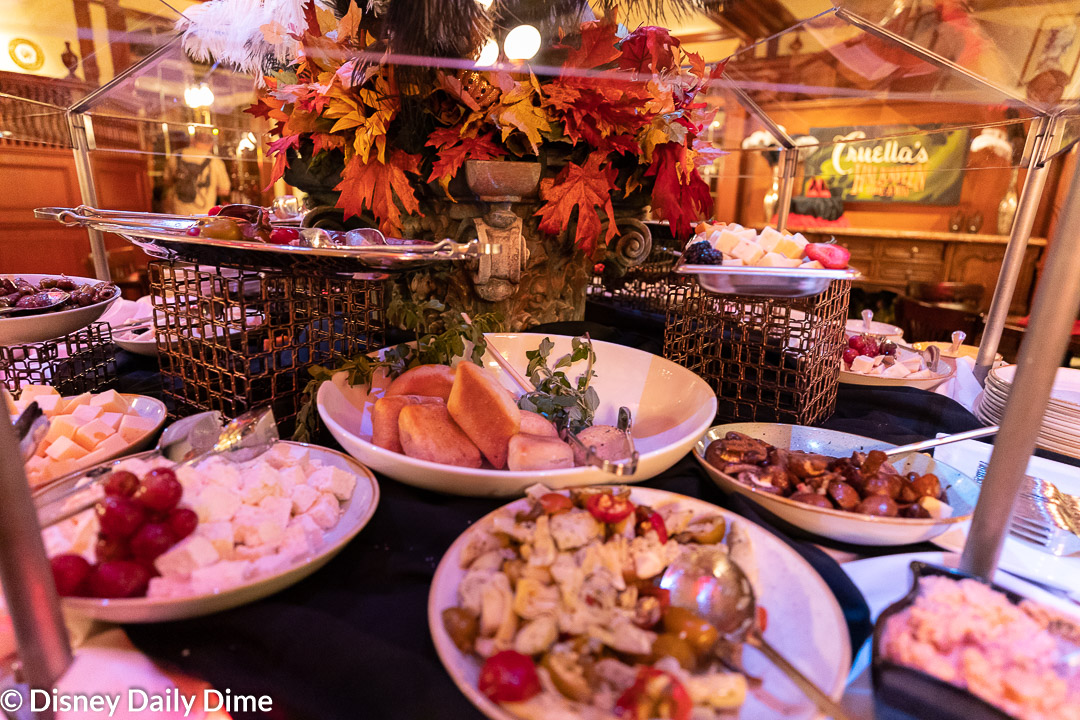 I then scurried over to grab a beer to suck down before rushing out to the parade.  The drink menu at Cruella's Halloween Hide-A-Way Party is somewhat limited, especially if you aren't looking for lower-end wines.  If you are looking for wine, however, you'll find a handful of options.  On this particular night, I found the bar stocked with:
Allegrini Valpolicella
Folonari Pinot Grigio
Ruffino Chianti
Rosemount Estate Shiraz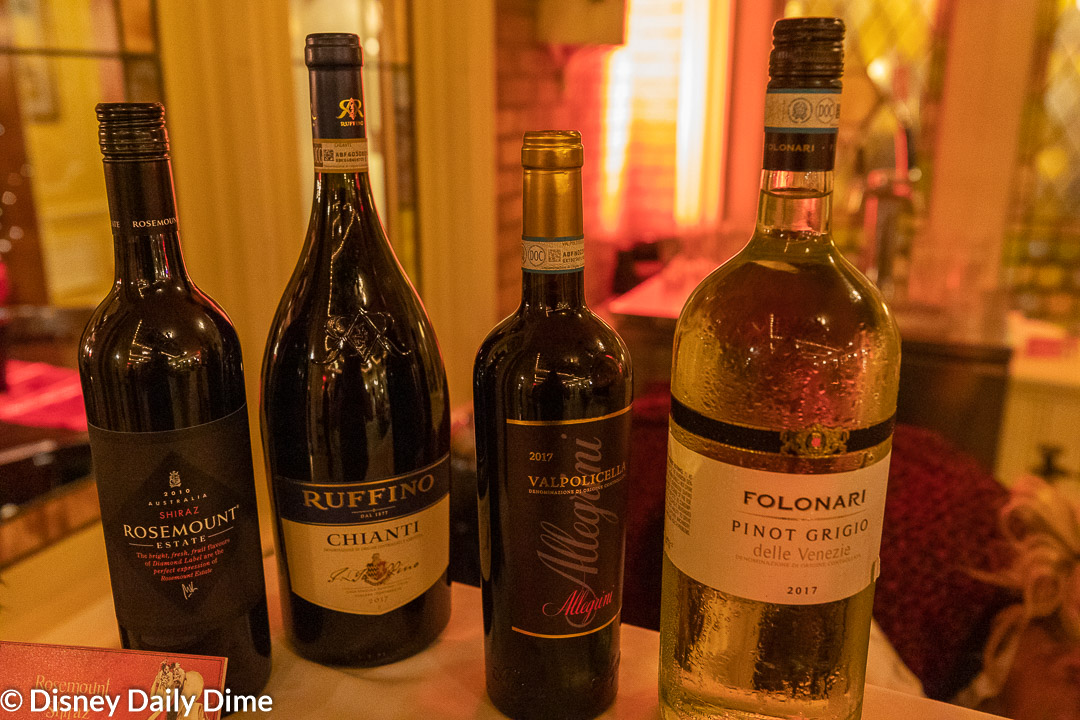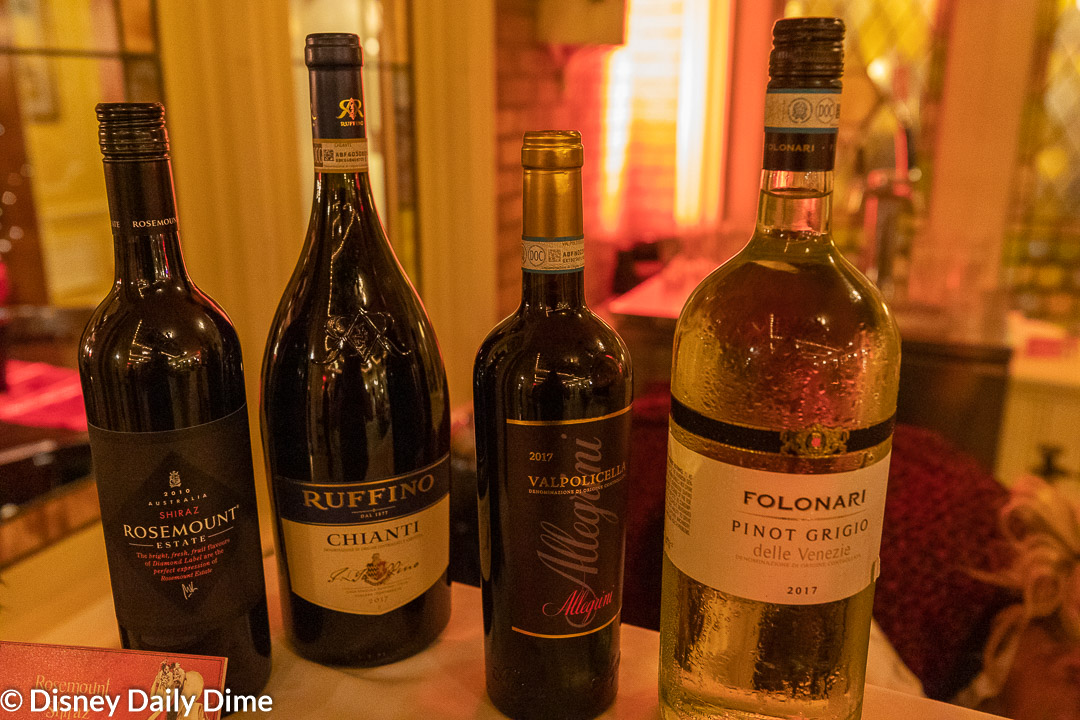 I have seen other reviews where the wines also feature a Maschio Prosecco and a Moncalvina Moscato d'Asti.  However, they were not here when I got to the bar.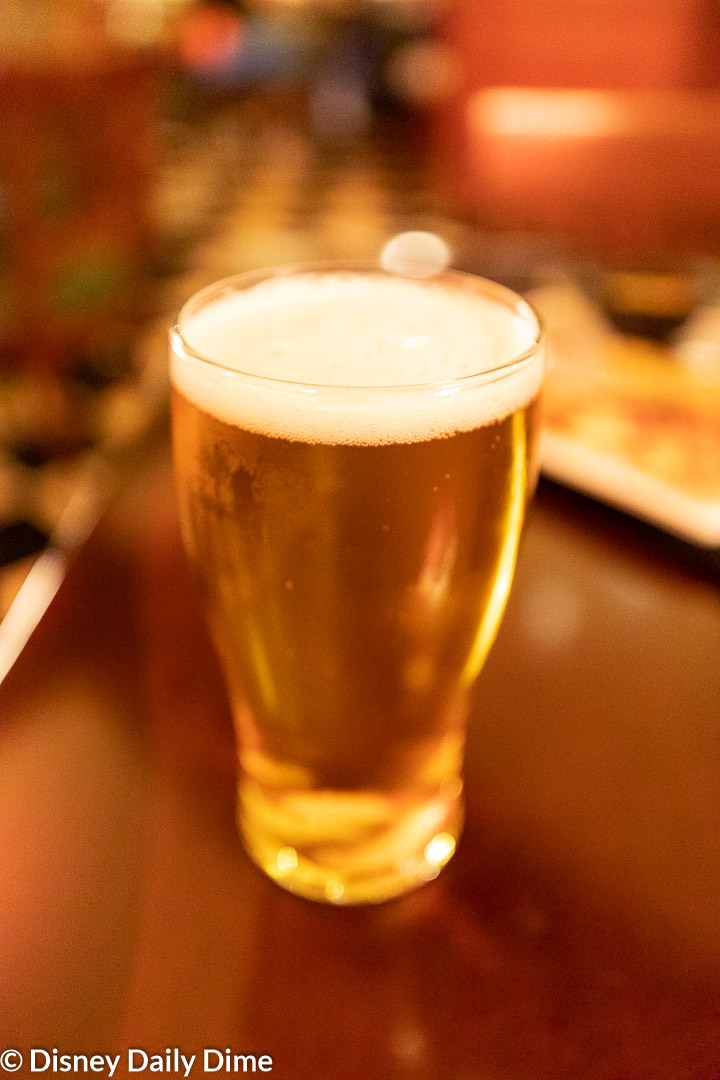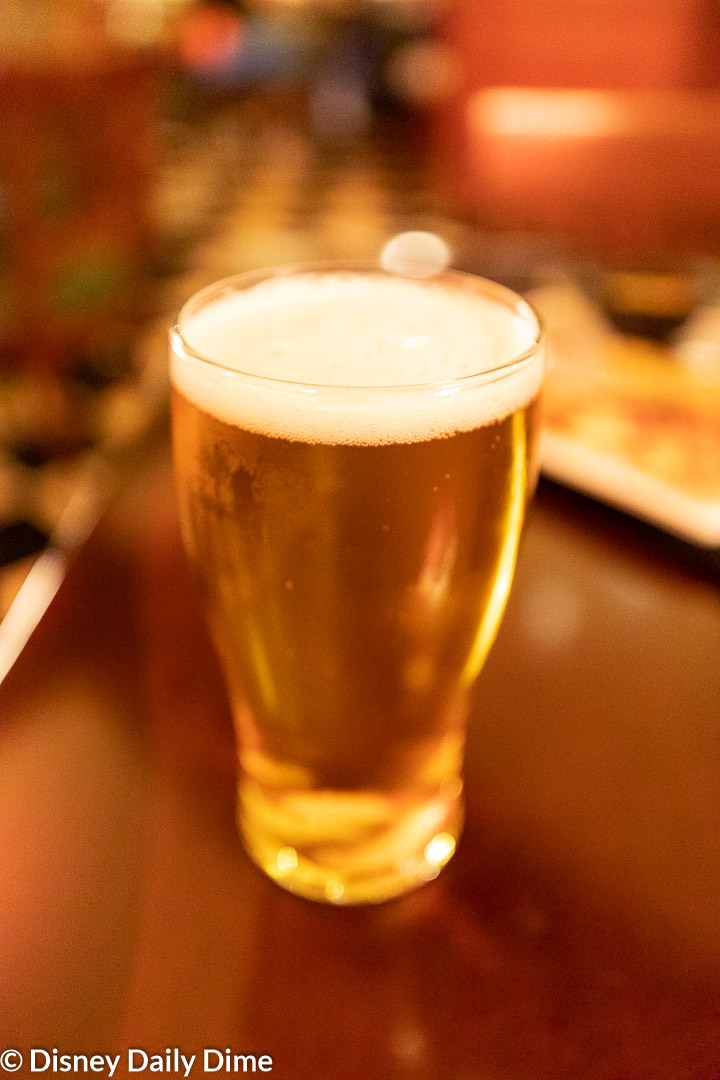 There is an Angry Orchard hard cider available, along with Peroni Beer.  I opted for the beer.
If your goal is to make this $99 event worth it from a financial investment, the bar is where you are going to have to do your damage.  But you're going to have to do a ton of drinking.  Maybe you want to be three sheets to the wind at midnight with your kids, but that was hard pass for me.  Given what you would likely pay for these drinks in the park, you will have to drink ten or so of them to make it financially worth it.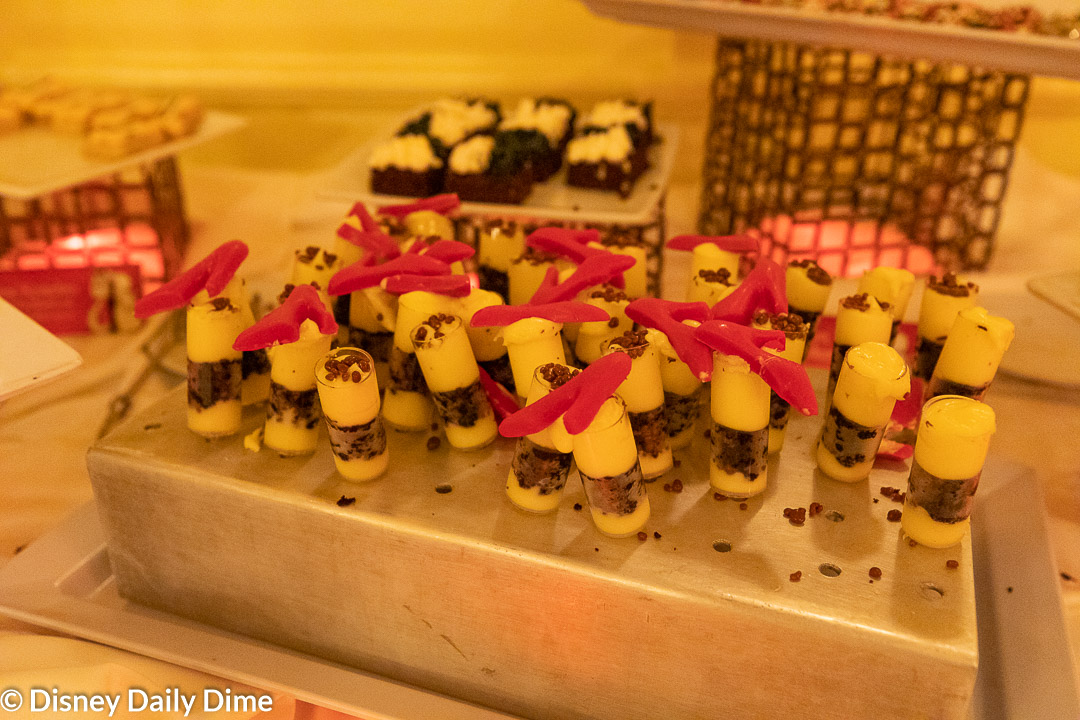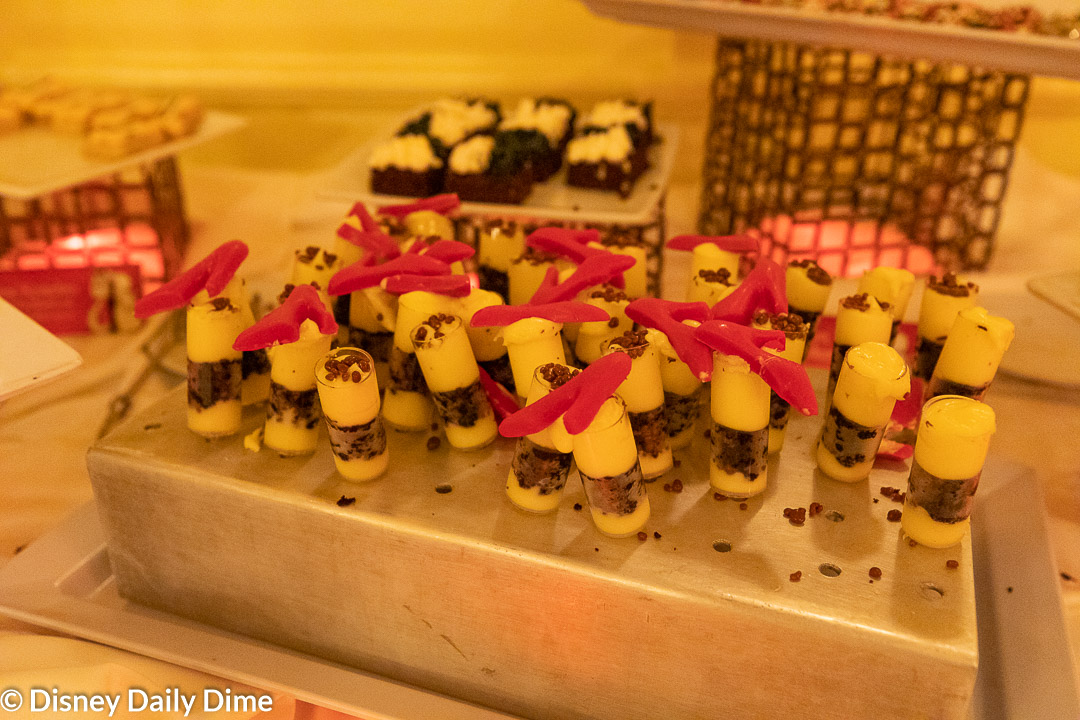 Lastly, Cruella's Halloween Hide-A-Way Party features a moderate assortment of desserts in the front area of Tony's Restaurant.  You can see several pictures of the desserts below.  There isn't an object in any of the photos to give you an idea of size and scale, but like the appetizers, these are relatively small bite-sized desserts.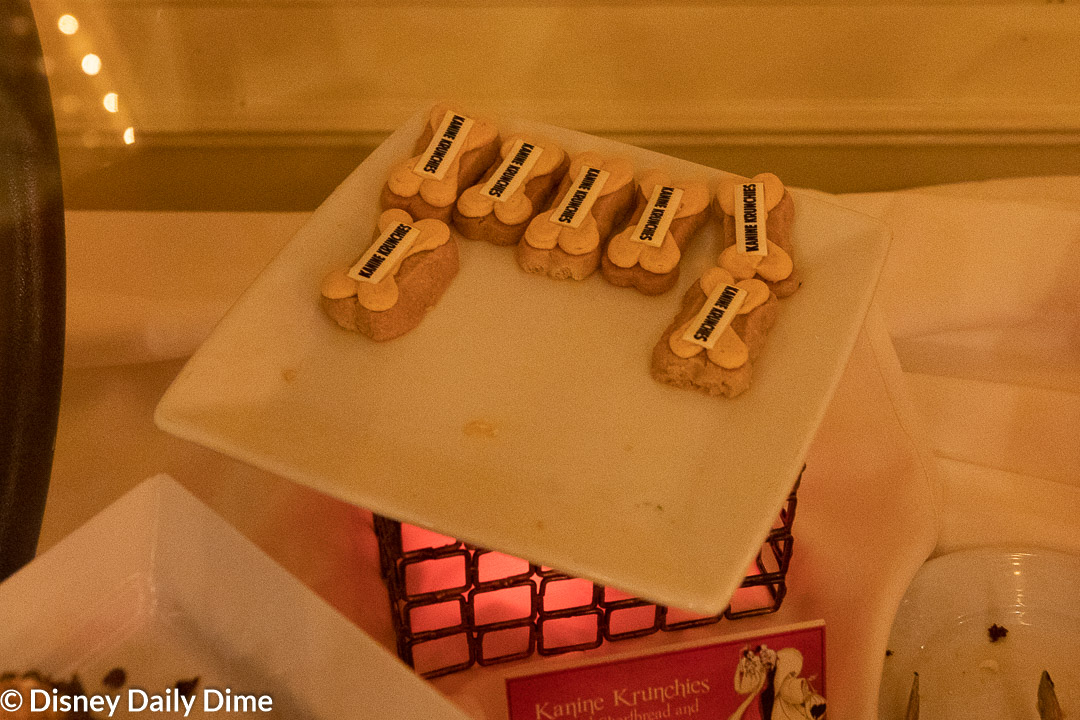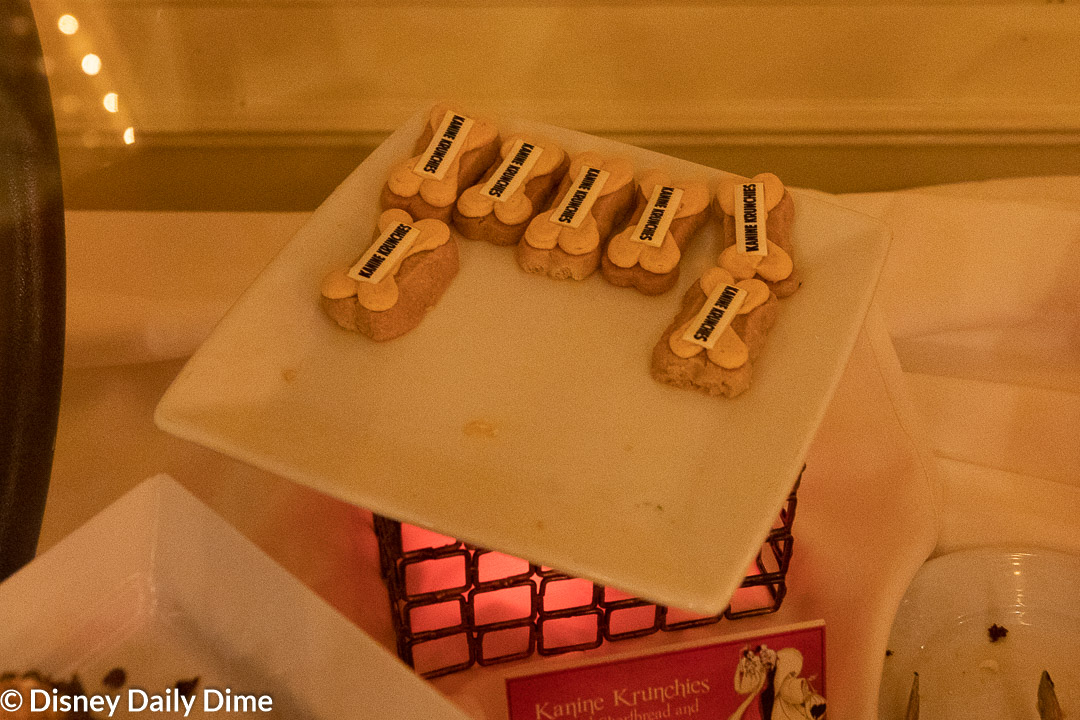 The red velvet cake was fairly good, but the icing on top was too much.  Take some icing off and it is a viable desssert.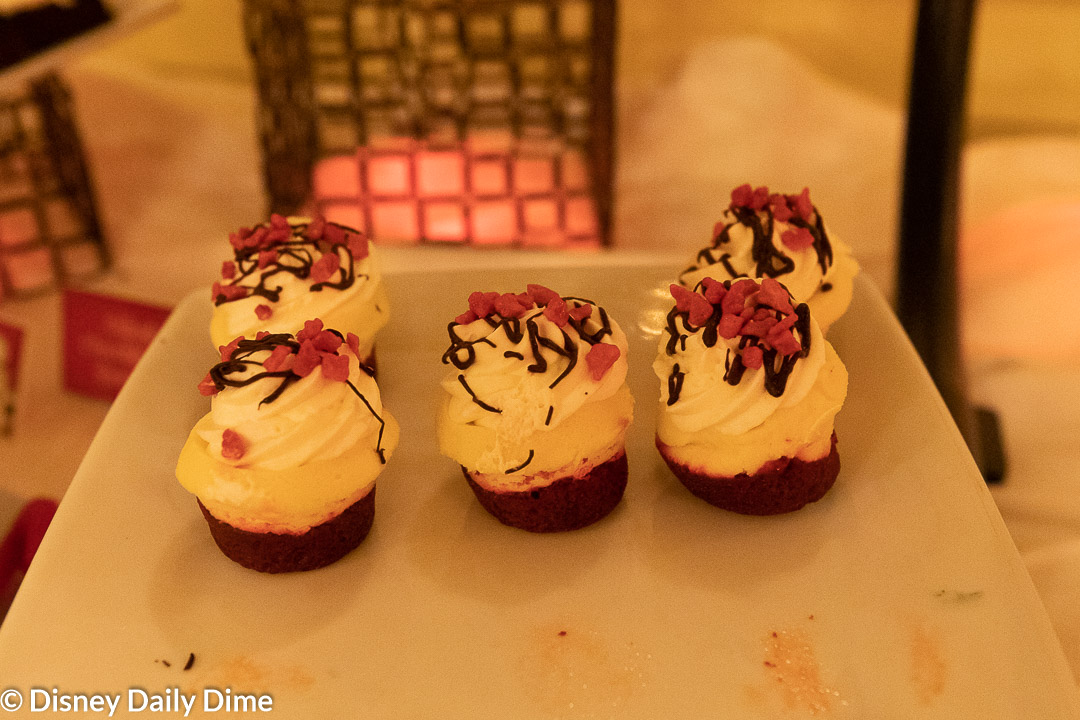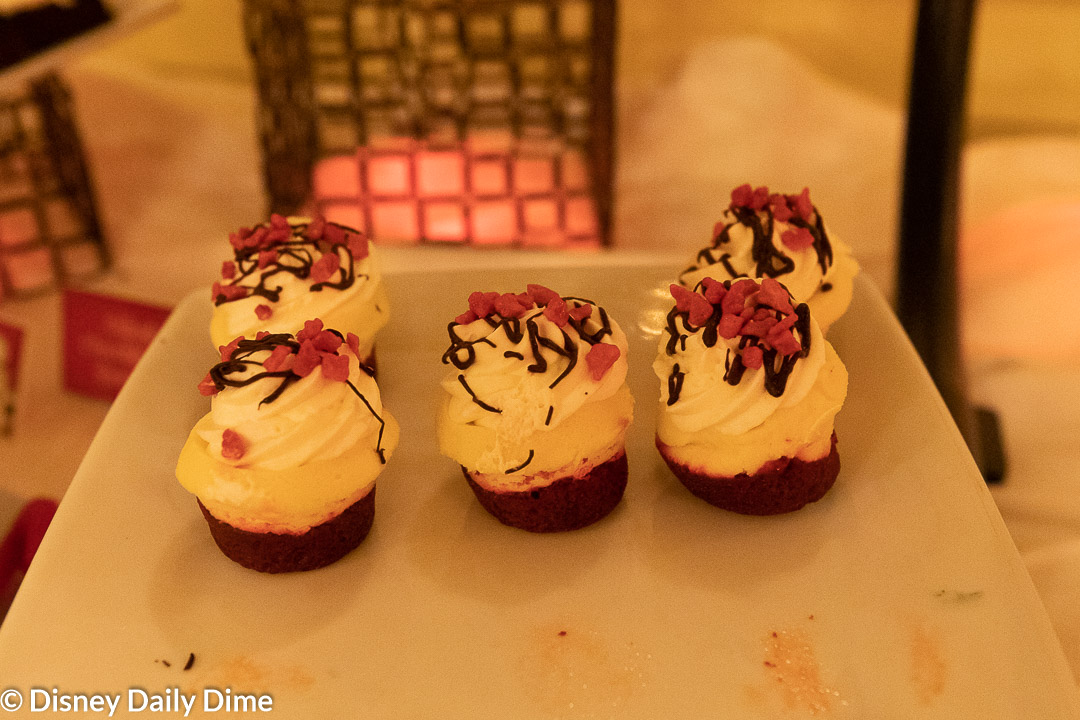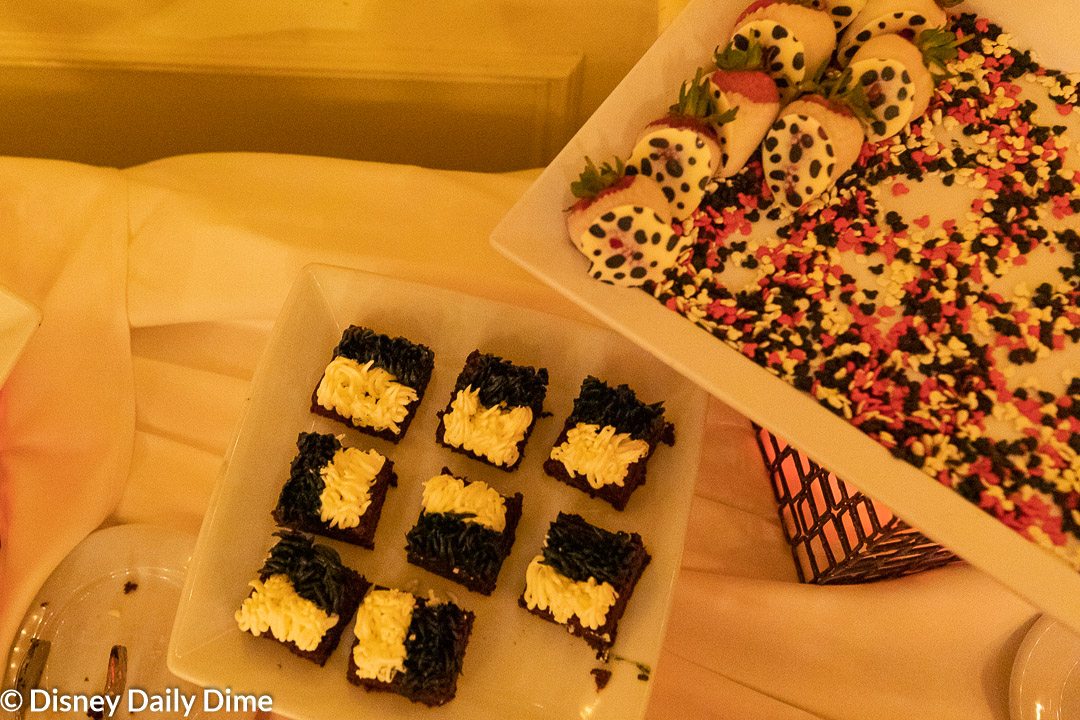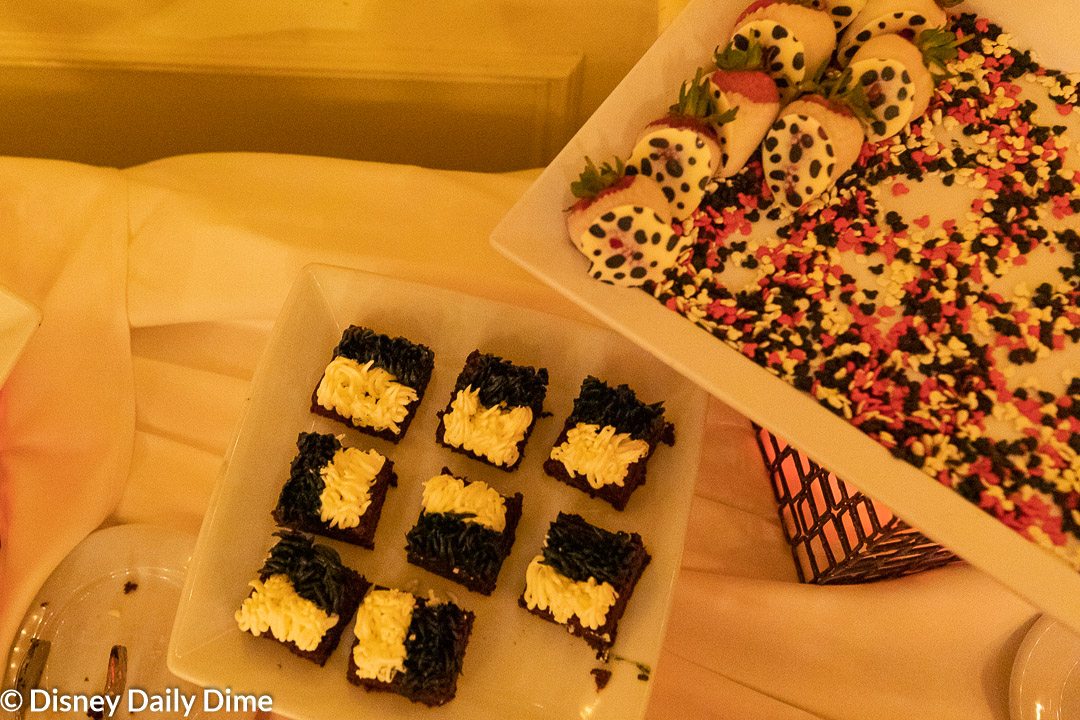 Among the desserts, I actually enjoyed the "Kanine Krunchies."  The frosting had a sweet pumpkin flavor to them, but I'm a big fan of anything pumpkin.  Beyond that, the rest of them were overly sweet to me and forgettable to me.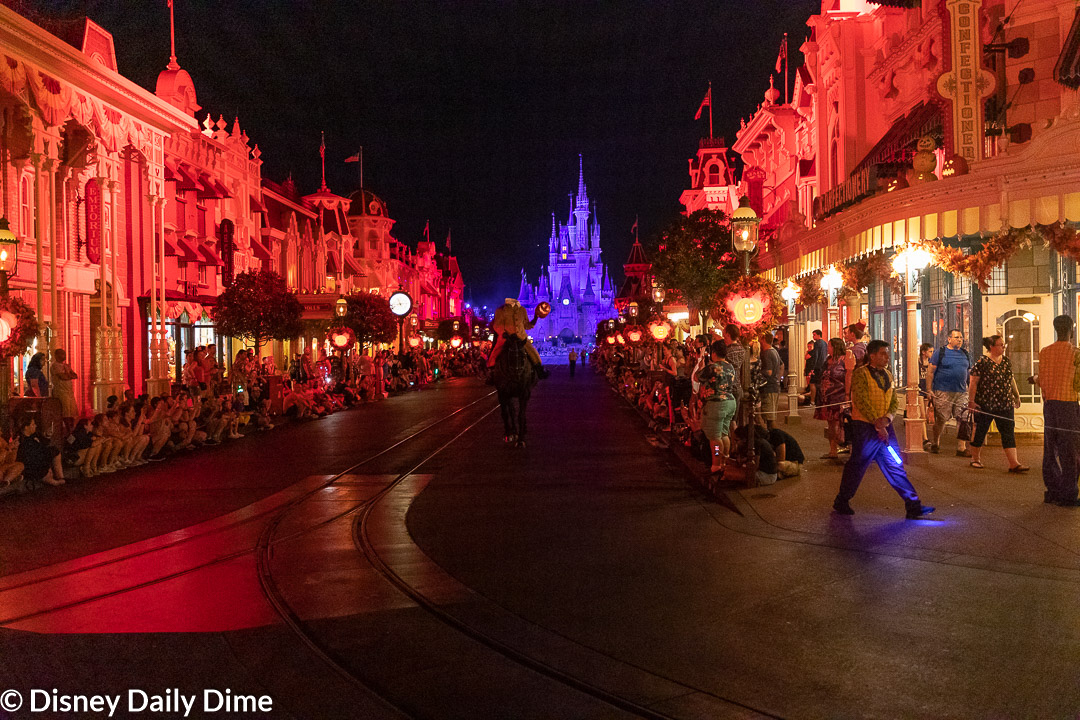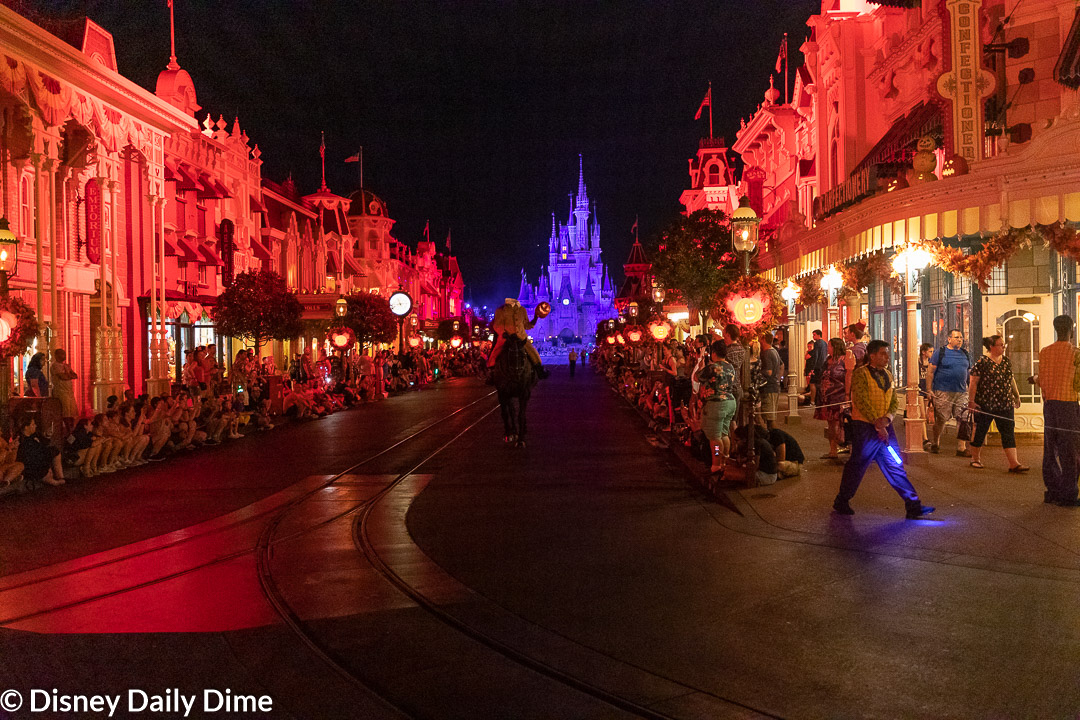 Cruella's Halloween Hide-A-Way Party Parade Viewing
In my particular case, I booked Cruella's Halloween Hide-A-Way Party because I wanted to watch the parade head-on in Town Square.  I got to the viewing area right at 11:15 PM, which was about 15 minutes too late.  As you can see in the picture of the headless horseman above, I am sort of off to the right.  I really wanted to be in position where I was looking straight down the tracks, but another family and several other bloggers beat me there.  Mark that as a lesson learned!  Nonetheless it was still a great view.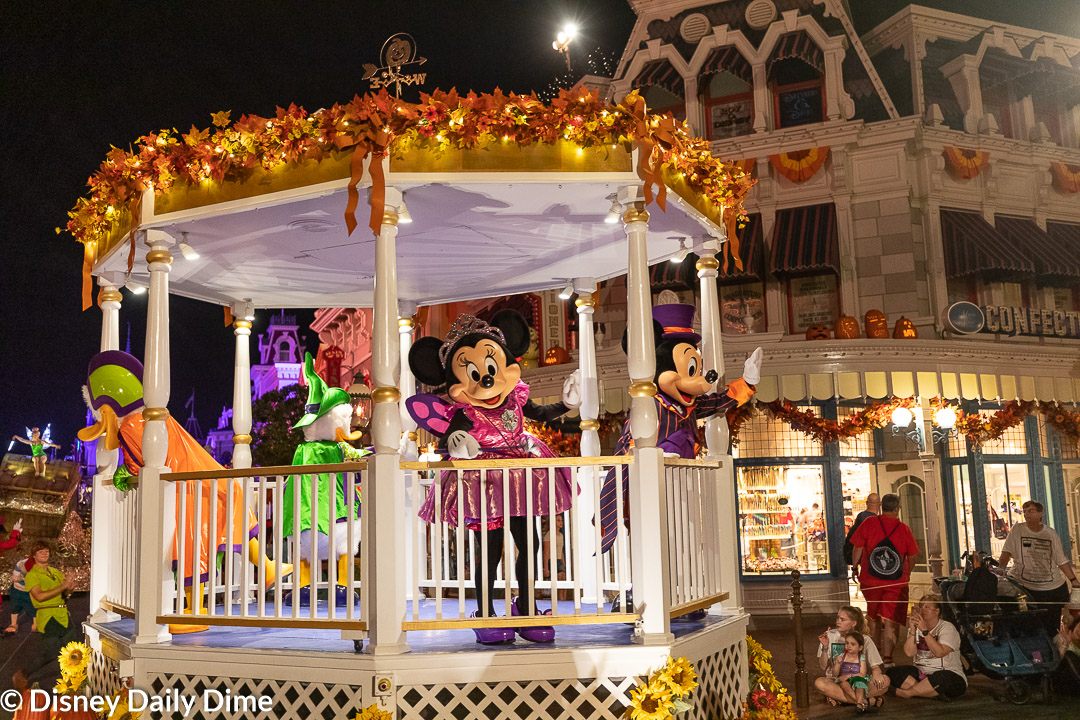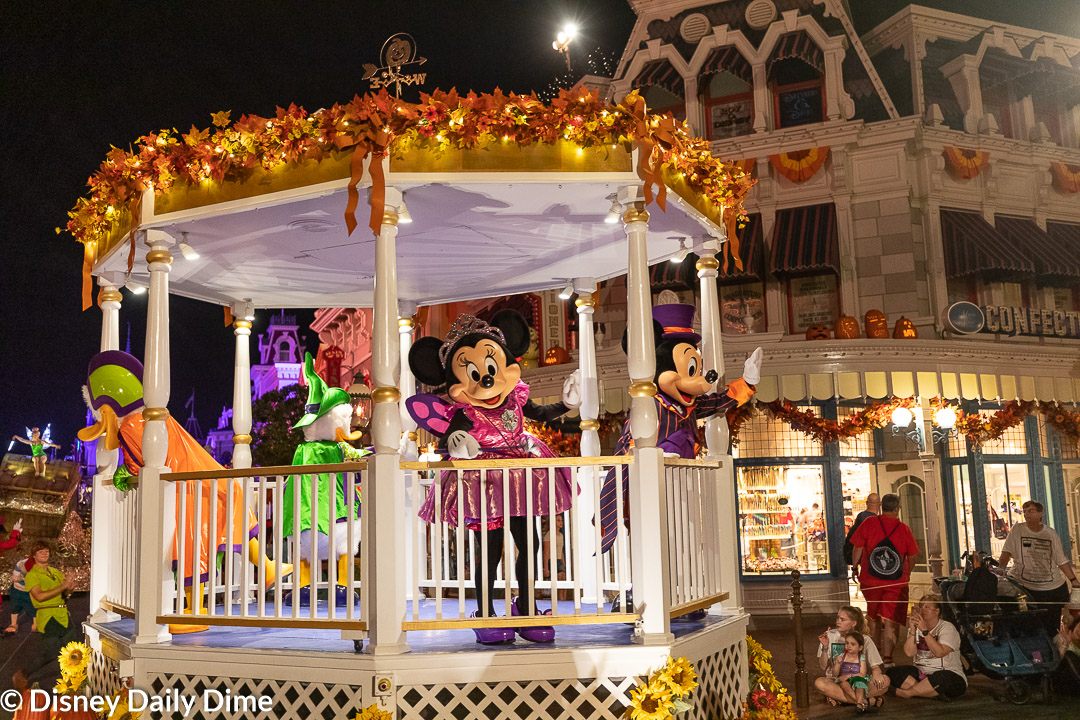 I will say, the Disney cast members did a relatively good job of shooing away anyone who tried to get into the reserved area.  There were several people who wanted to dip under the rope, and they were promptly asked to leave the area.  Right before the parade got to main street, a cast member came through the reserved seating area and asked to see everyone's Cruella's Halloween Hide-A-Way Party specific wrist bands.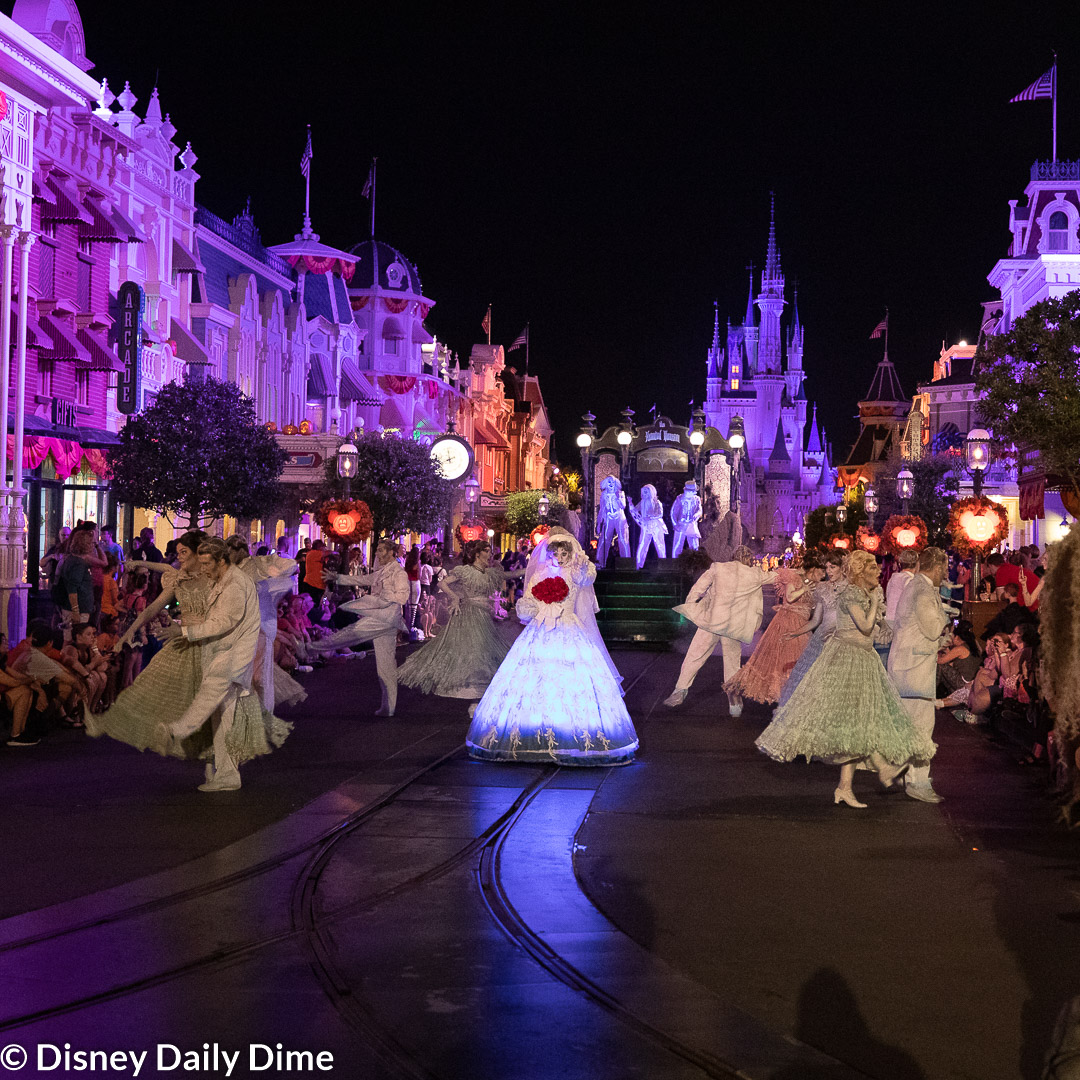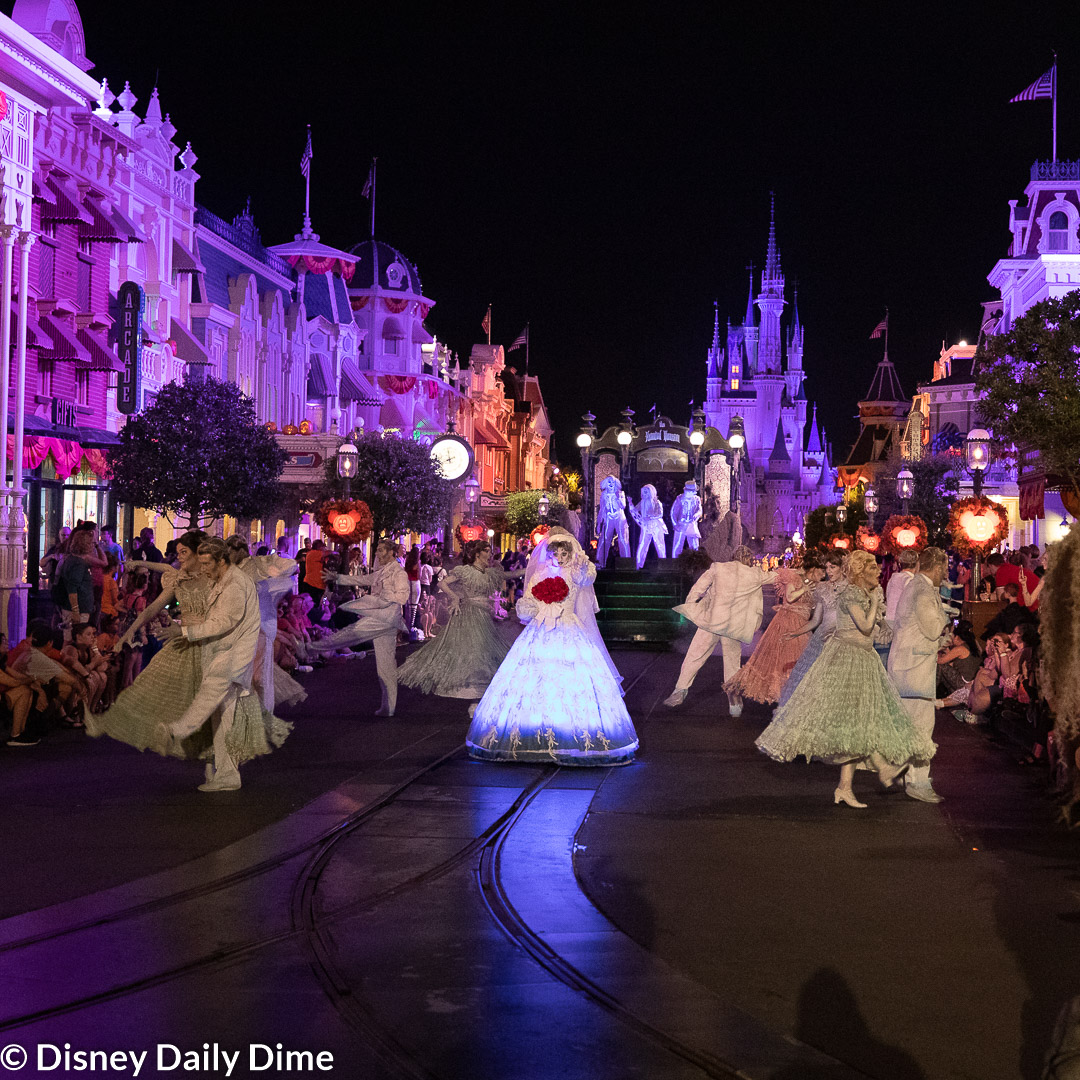 Once the parade started, the view was great.  Is it worth $99?  Hold that thought.  I will say that the viewing area is excellent and one of the best places to watch the parade from.
One final note on watching the parade from here.  Remember, the 11:15 PM parade start time is when it kicks off back in Fantasyland.  It will be another 20 minutes or so before it gets to Town Square.
Cruella's Halloween Hide-A-Way Party After the Parade
The parade cleared out of Town Square around midnight, which meant I had another 30 minutes of Cruella's Halloween Hide-A-Way Party.  I headed back into Tony's Town Square Restaurant to see what I would find.  In a pleasant surprise, the food was restocked.  I found the Witches' Cauldron and pizza reasonably well-stocked.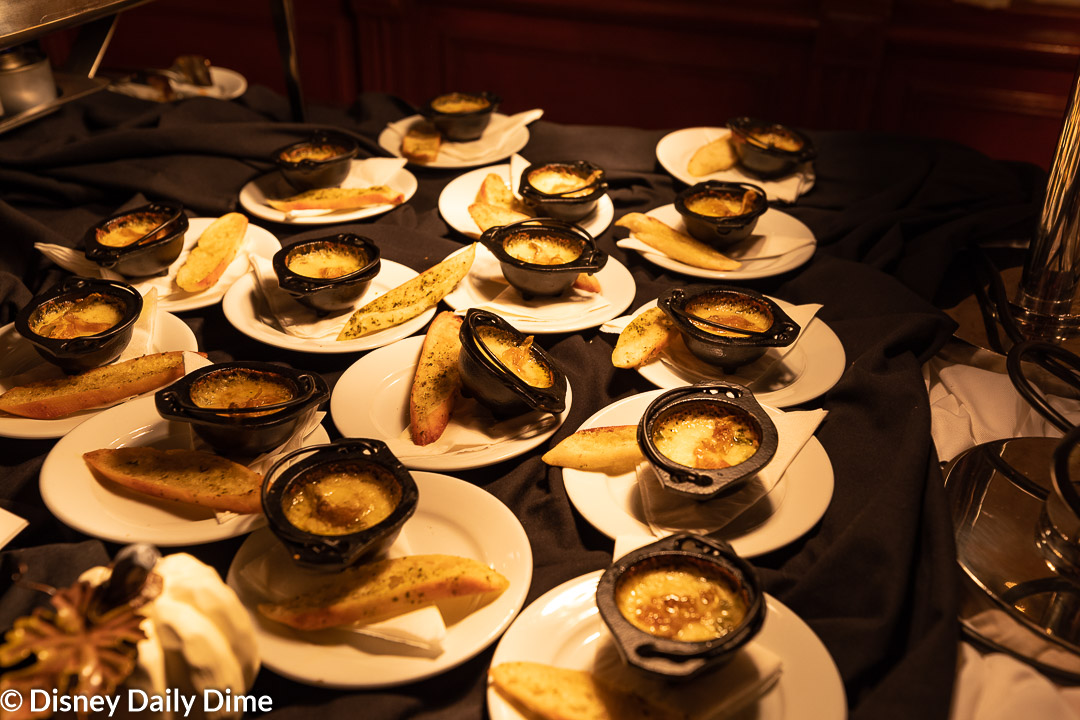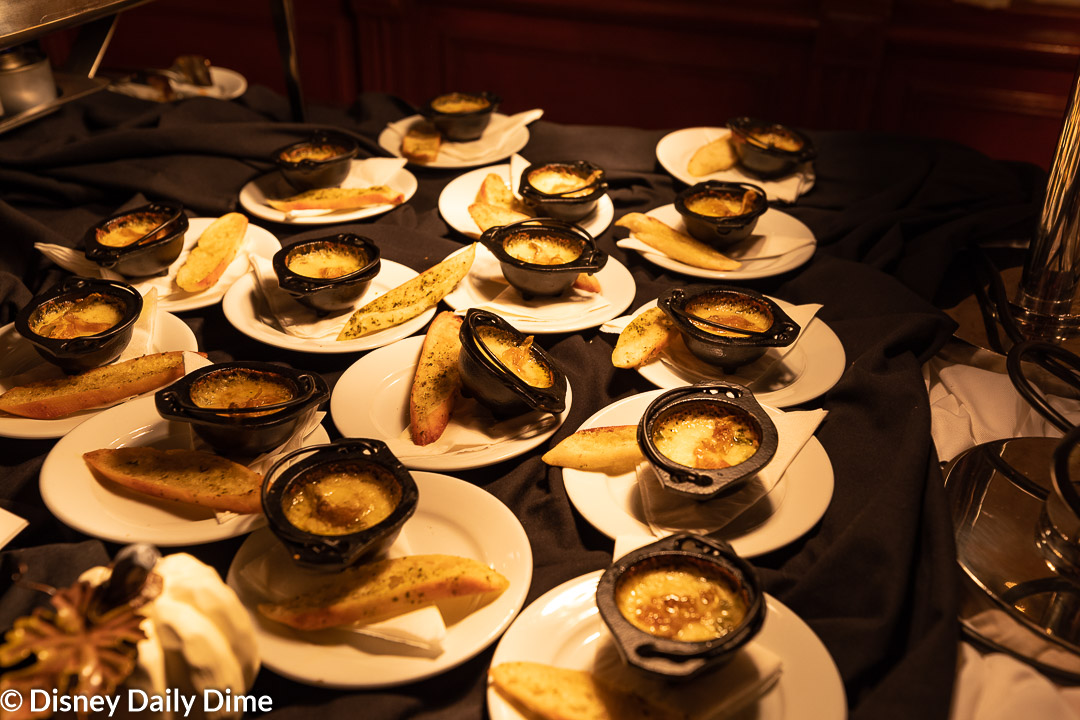 I tried the Witches' Cauldron spinach dip, which I found inedible.  I'm not sure what flavors merged together here, it struck me as eating sludge.  It was that bad.
I did take the opportunity to have some of the pizza, and it was much better than what I sampled earlier in the evening.  Not nearly as dried out and crispy or greasy.  Not sure it's worth $99, but that's a different question.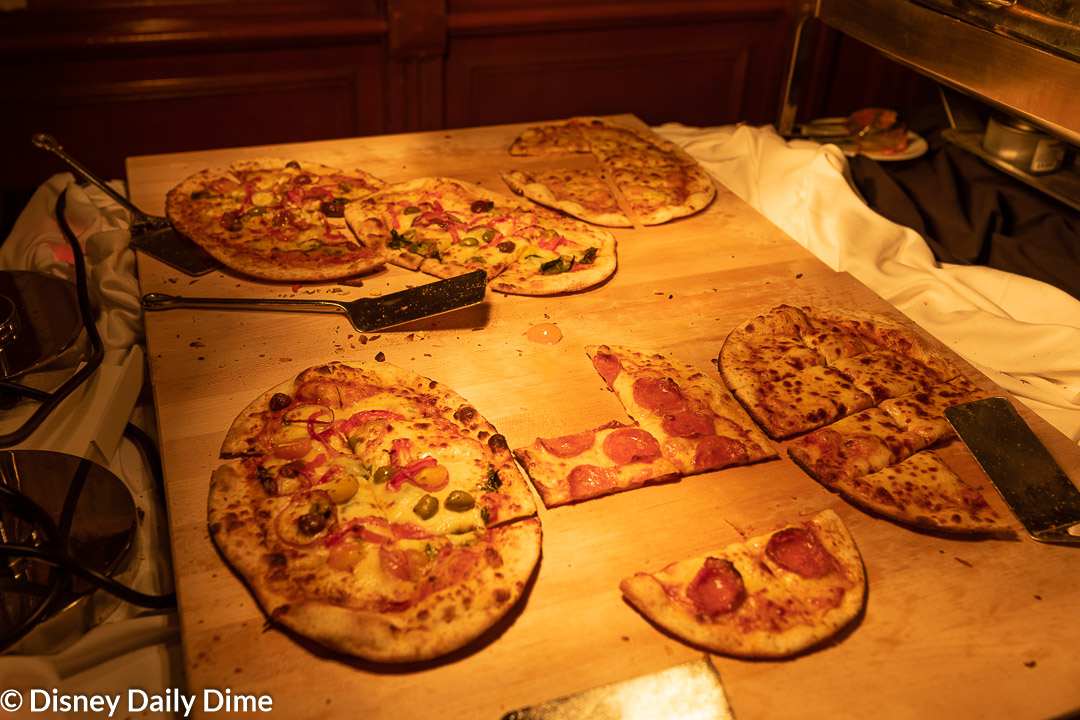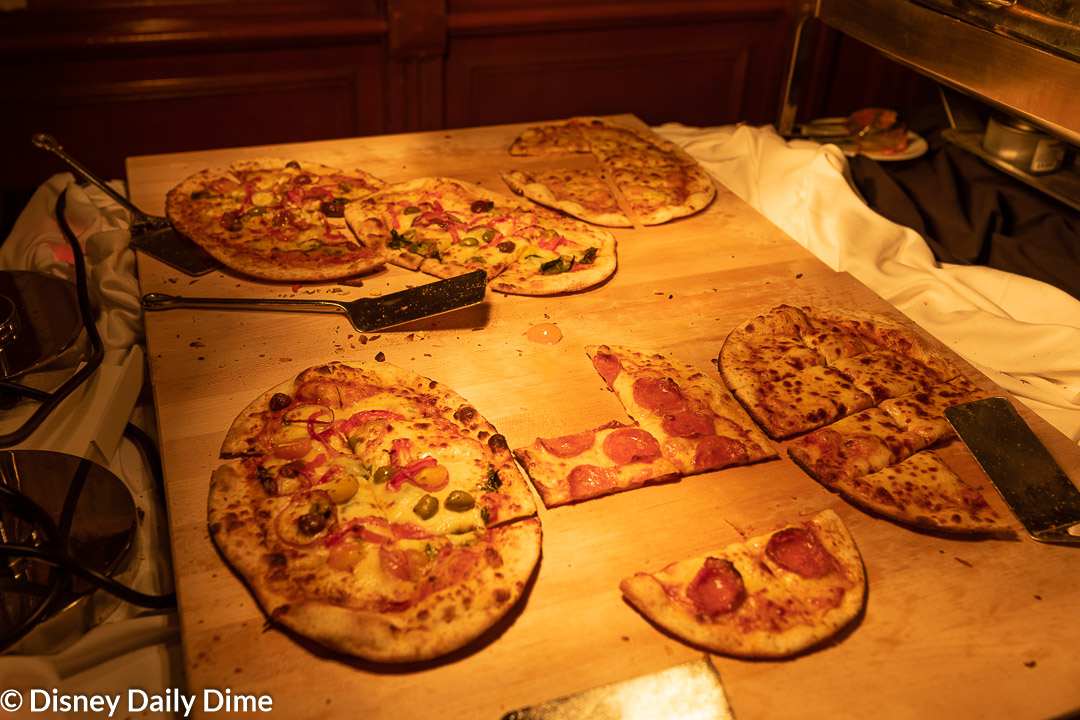 In addition to the food, I went to get more to drink and the cast member tending the bar said they were out of several drinks, including the bottled water.  This was a hot August evening, and all I wanted was a little hydration, and she said "No soup for you!"  Okay, she didn't say that, and she seemed to feel bad about it.  But still, no water at the end of the night?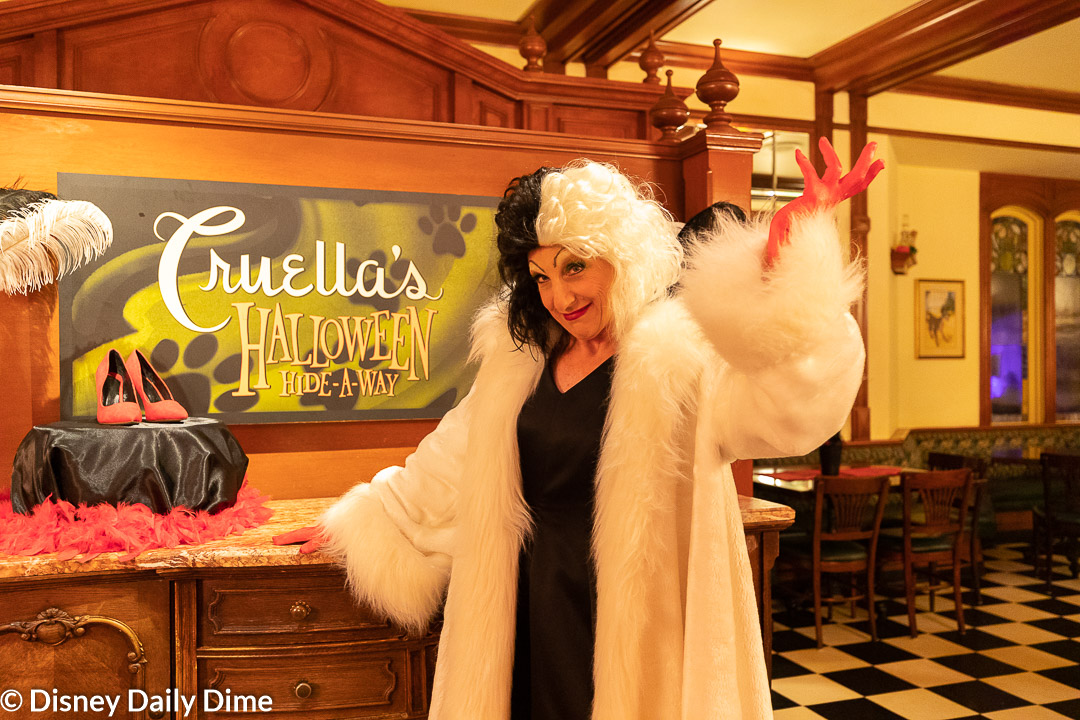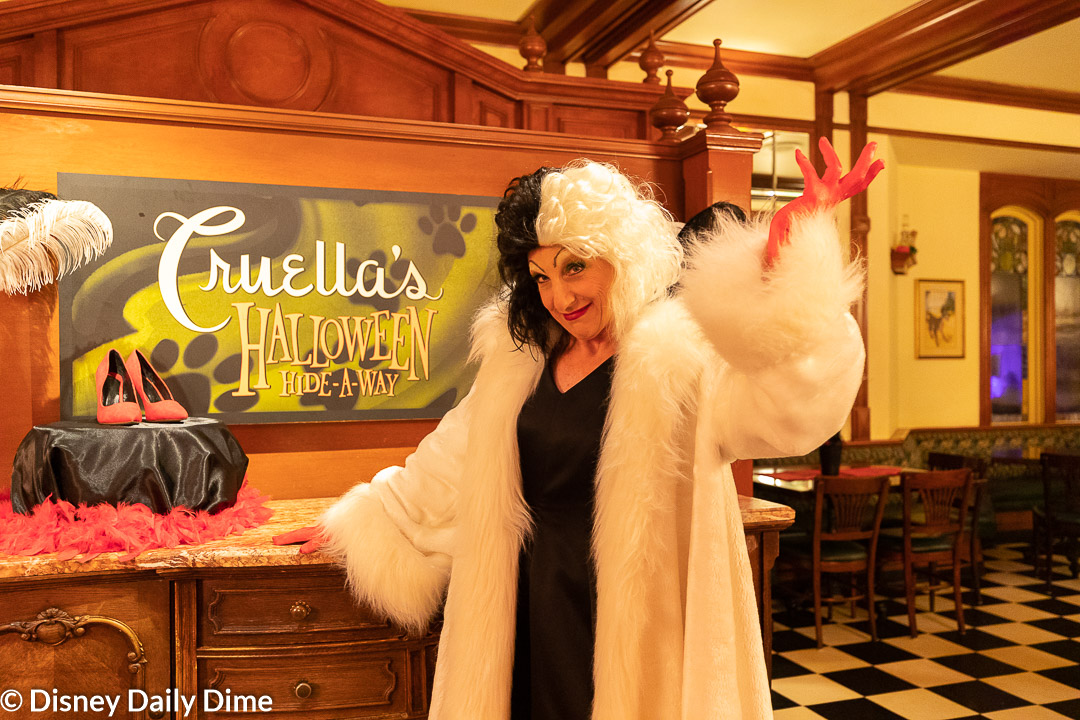 Meet and Greet with Cruella De Vil
When I went back, I did make time to meet Cruella.  I found her in the center of the restaurant, taking pictures with guests.  She was right in front of the sign you see in the background of the picture above.
Oddly, when I first got into the restaurant for the party, Cruella was out in the restaurant, going from table to table, mingling with guests.  I'm not sure why it changed while I was out at the parade.  Do note that Cruella will take regular breaks, so she won't be available from time to time.
One other thing that I do want to point out related to meeting Cruella.  If that is one of the primary reasons you are booking this party, you have a better (and free) option during the party.  While I was attending Cruella's Halloween Hide-A-Way Party, Carla took the kids and wandered the park.  During that she came across Cruella in Fantasyland.  She's just roaming around during the Halloween party, so it isn't a formal meet and greet.  This actually makes her easier to meet; you just have to find her in the park.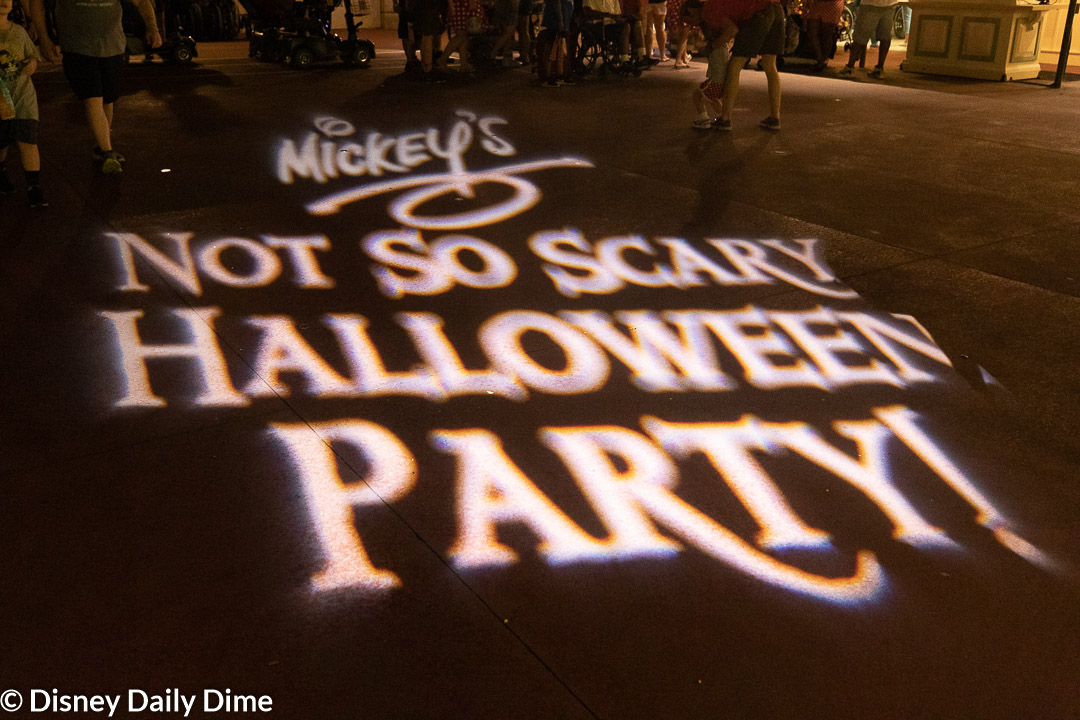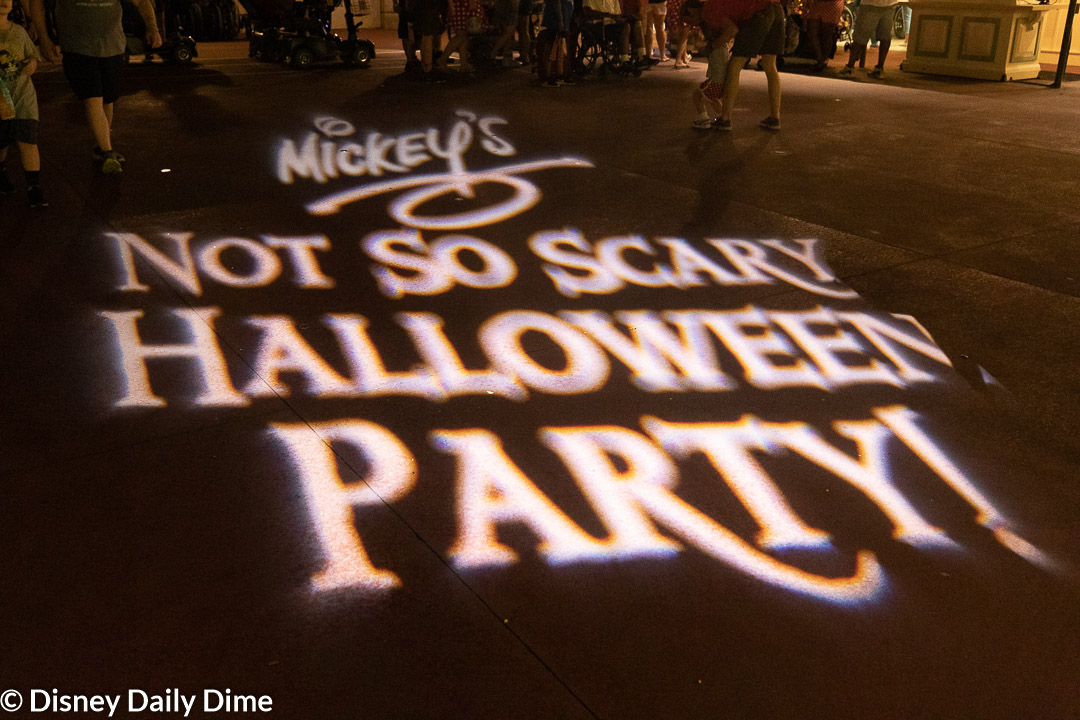 Is Cruella's Halloween Hide-A-Way Party Worth It?
So this is my experience with Cruella's Halloween Hide-A-Way Party, but you are probably asking yourself the question "Is it worth it?".
I think I can answer this with an unequivocal no.  I try to find middle ground on many things, but there is no great reason to do this party.  The only reason I would tell you to do it is the excellent parade viewing, but that's an expensive reason to drop $99.  Save your money and do something else on your trip.
And to put a slightly finer point on it, you should in no way shape or form do this if you are bringing kids.  That's just crazy in our minds.  They can't drink, and the food is not what I would consider overly kid-friendly.  The only thing I think kids would take to would be the pizza and desserts.  Maybe they would be okay with the cold meats and cheeses, but that's an expensive meal of cheese and pizza for $99.
Wrapping Up
So there you have it, our Cruella's Halloween Hide-A-Way Party review.  It's an expensive party that doesn't provide a lot of value in our minds.  That is especially the case with kids.  We hope you found our review helpful.  If you did, we'd greatly appreciate it if you would share it on social media with anyone else you think it might help.  Also, if you've done Cruella's Halloween Hide-A-Way Party, we'd love to hear your thoughts.  Drop down in the comments and tell us what you thought of it.