​The busiest day of the year at Disney World is probably New Year's Eve.  Now granted, the entire week between Christmas and New Year's Day is crazy busy, but we really think New Year's Eve takes the cake.  In this post, we're going to focus on one park, in particular, Magic Kingdom.  This post will serve two purposes.  The first part is a guide to New Year's Eve at Magic Kingdom which will focus on basics like park hours, activities, happenings and more.  The second part of this post is more a review or trip report of our own experience at Magic Kingdom New Year's Eve.  That part will include some tips and advice we think might be helpful if you are heading to Magic Kingdom on New Year's Eve. We'll also sprinkle in our thoughts on New Year's Eve at Magic Kingdom with kids, as we had Anna and Elsa with us for this particular day.
New Year's Eve at Magic Kingdom
New Year's Eve Park Hours
Before you set out for your Magic Kingdom New Year's Eve day, you'll want to do a bit of planning.  The first thing you need to know is what the park hours are for New Year's Eve.  In general, Magic Kingdom's regularly posted hours are from 8:00 AM to 1:00 AM on New Year's Eve.  However, if you are staying on property, there will be Extra Magic Hours available that can start as early as 6:00 AM.
The 1:00 AM close is an important point because you can ride attractions after the midnight fireworks show.  Depending on your situation, this may be better than fighting the mass of people exiting the park after the fireworks.  Stand in the mass of people or kill an hour hitting more attractions???  You decide.  We'll talk more about this when we get the port of our Magic Kingdom New Year's Eve Guide that talks about our experience.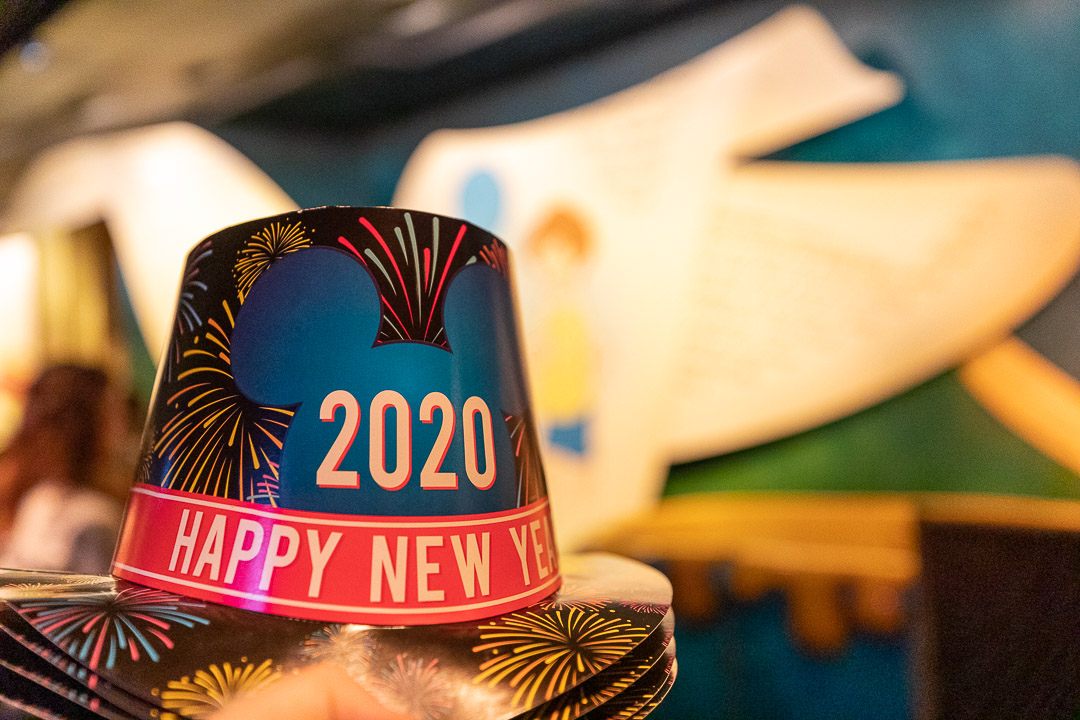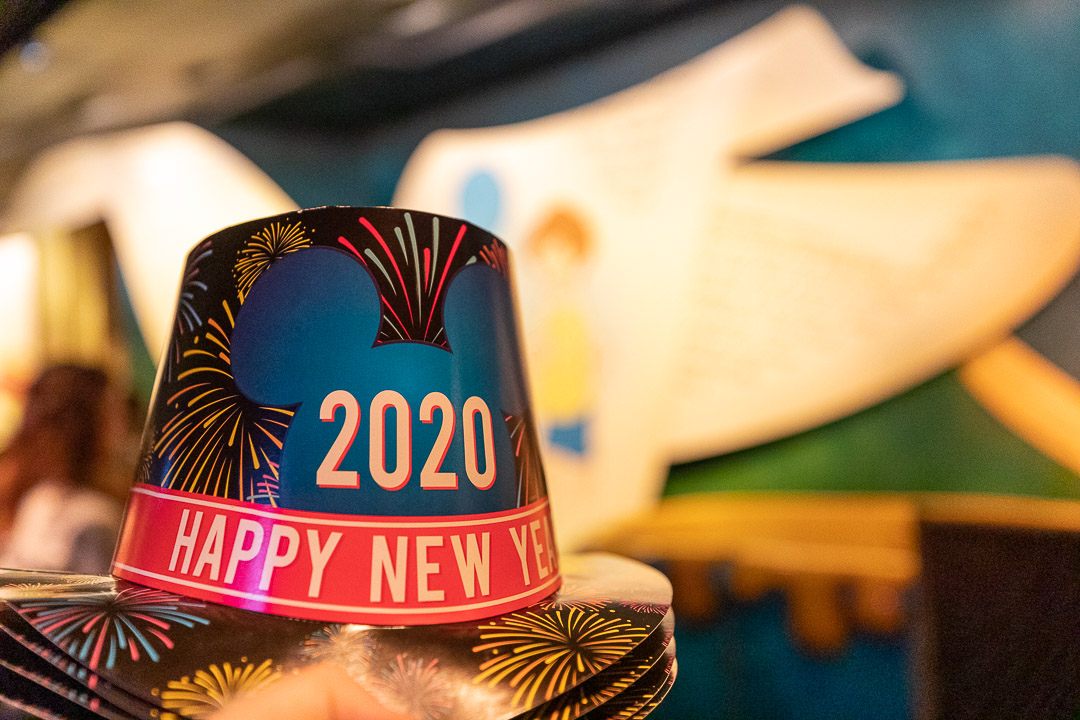 Magic Kingdom New Year's Eve Fireworks Show – Fantasy in The Sky
Each year Magic Kingdom puts on a special fireworks show called Fantasy in The Sky.  There are a couple of unique things about this show that you must know about!
First off, the show actually takes place on both December 30th and 31st.  Yes, it takes place on the two days leading up to New Year's Day.  You should also know that the show happens two times on these days.  There is an early show that starts at 6:30 PM and then the typical midnight show that begins around 11:50 PM.  The earlier show is still the full show.  You aren't getting a "light" or a scaled-down version of Fantasy in The Sky.  This is a good option if you want to experience the New Year's Eve fireworks and then bail out long before midnight, maybe because you have small kids or other considerations like the crowd.
If you go to the show on December 30th you will miss out on the New Year's Eve hats and party favors that they give out at Magic Kingdom.  Not sure that's a big thing, but we do want to give you the complete picture.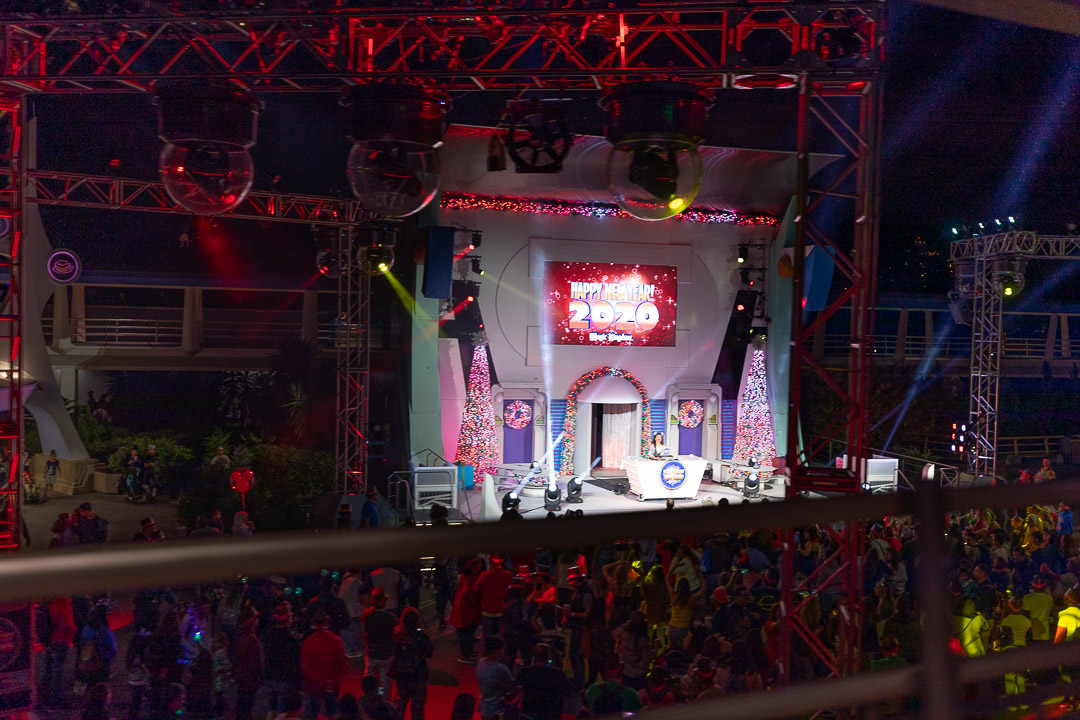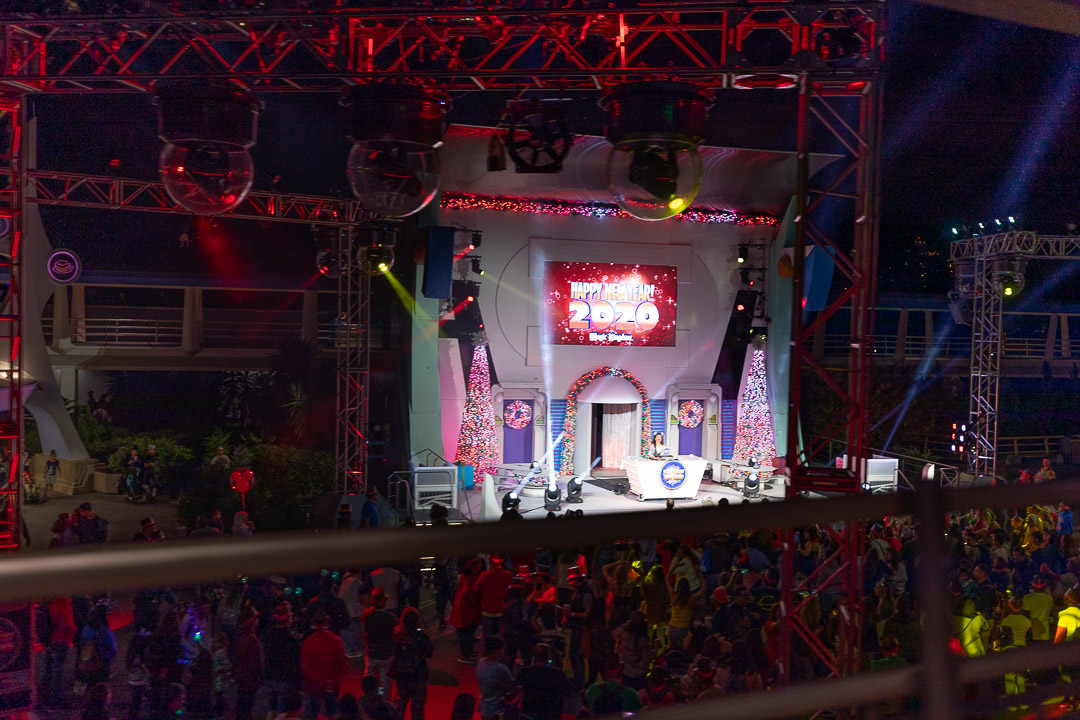 New Year's Celebration Dance Parties
In addition to the fireworks show, the only truly unique thing you'll find at Magic Kingdom on New Year's Eve is dance parties.  There are two parties that you can find.  One of them takes place in Tomorrowland and the other in Frontierland.  Both dance parties start at 6:45 PM and go until 1:00 AM.
We have seen reports of the Country Bears along with Brer Rabbit and friends out and about at the Frontierland dance party.  We didn't actually witness this when we stopped by the party.
Christmas Activities Are Still Going at Magic Kingdom
While not a New Year's Eve specific activity, you should note that most of the regular Christmas related shows, ride overlays, and other fun does continue on to this day.  The shows that take place are as follows:
Mickey's Most Merriest Celebration
Mickey's Once Upon a Christmas Parade
A Frozen Holiday Wish
In addition to this, there are ride overlays that give them a unique little twist.  Rides that featured a Christmas overlay in 2019 include Space Mountain, Mad Tea Party, and Monsters Inc.  This may change from year to year, so make sure to always check current park information for the holiday offerings.
The Christmas related concerts that take place in Tomorrowland continue on through the day.
You can also find Cinderella's carriage out on display where you can take a photograph in front of it.  There is a Photopass photographer here.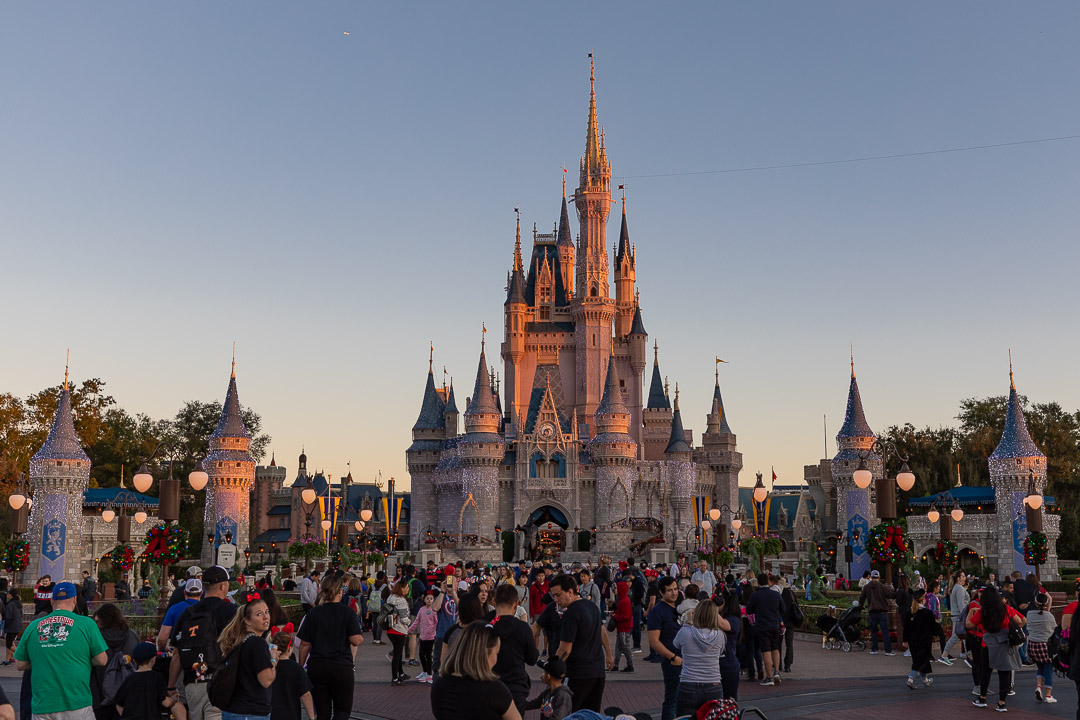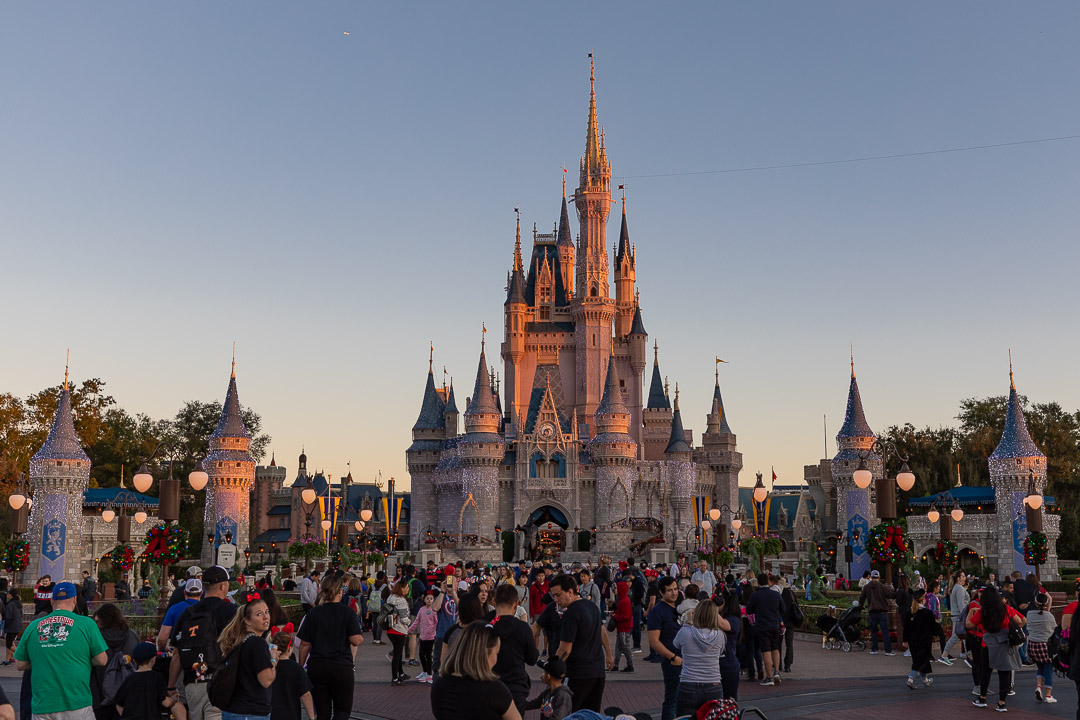 Our New Year's Eve Experience at Magic Kingdom
New Year's Eve Morning
Okay, so that's all of the factual stuff around New Year's Eve at Magic Kingdom.  The next part is going to recount our day at the park.  For a point of reference, this day was New Year's Eve 2020 or December 31, 2019.
Before we get into the day, it is probably worthwhile noting what rides we had FastPasses for at Magic Kingdom this day.  They were Seven Dwarfs Mine Train, Pirates of the Caribbean, and Buzz Lightyear's Space Ranger Spin.
We were staying on property during this trip, and it was the last day of our holiday vacation, so we wanted to soak it up.  We intended to be at the park by 6:30 AM, but our bus driver from Disney's Riviera Resort got lost getting off the resort grounds.  No, I am not kidding!  Our driver said it was her first time at the resort and she wasn't sure where to go.  She got stuck back in the construction trailer area and had to execute a fairly impressive 3-point turn to reverse direction.  So unfortunately, we didn't get to the park until about 7:00 AM and we were through Main Street by about 7:15 AM.
Nonetheless, we were at the park early.  I took advantage of this to get some sunrise photos while Carla took the girls to get a few rides in.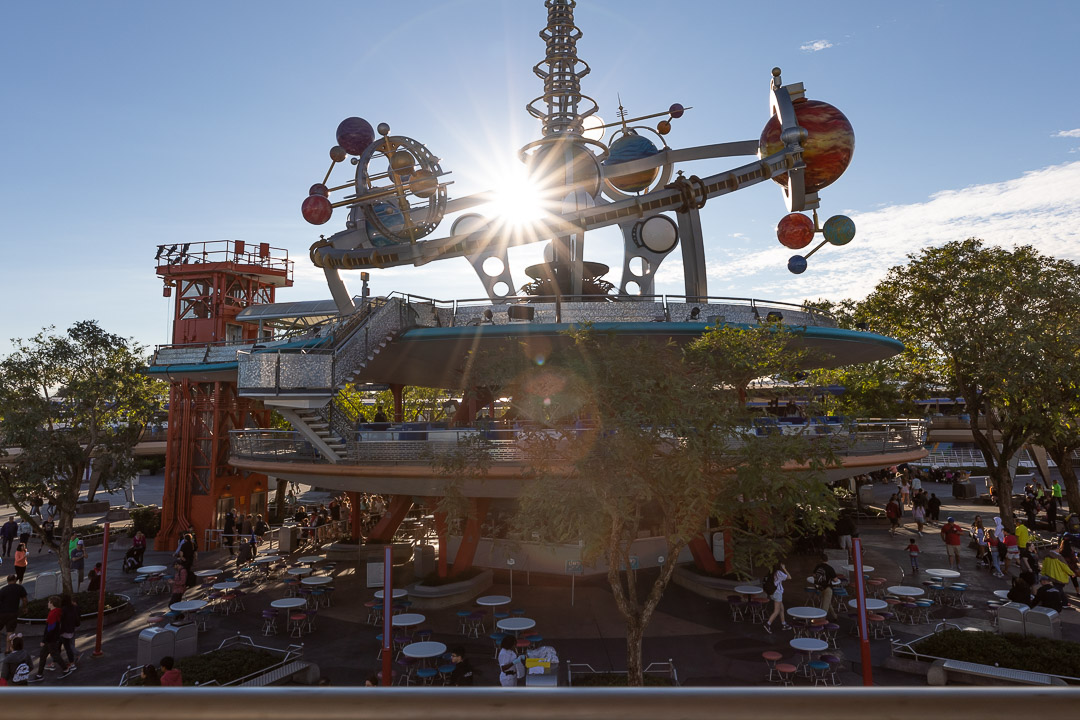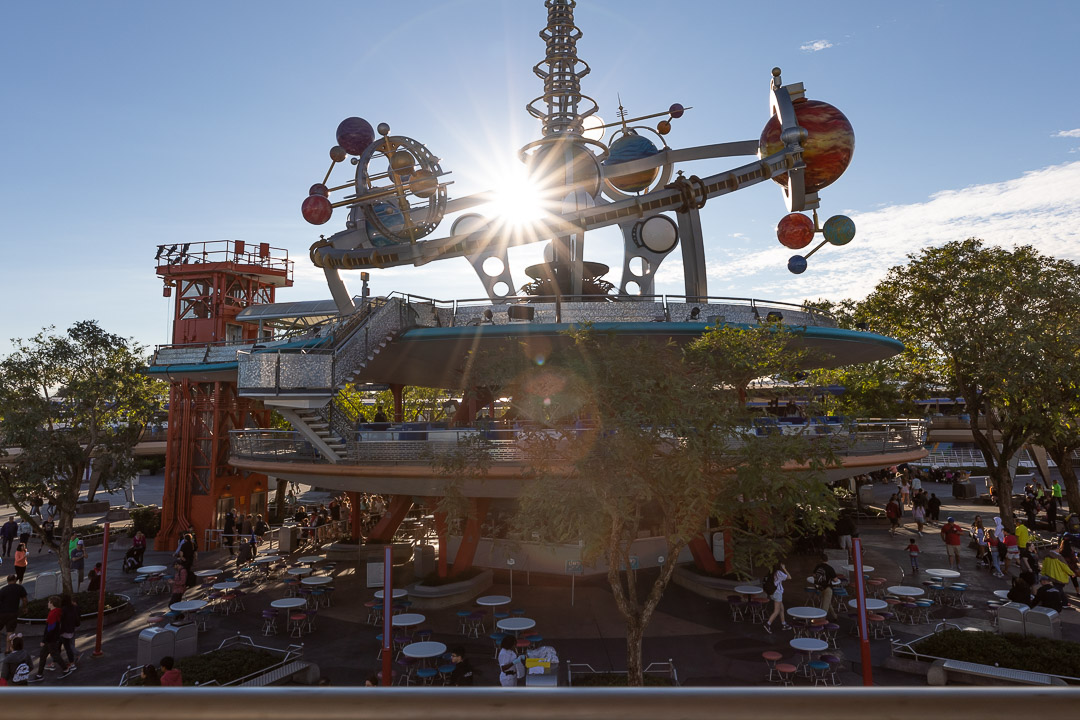 Our original idea was for the girls to ride Space Mountain since we didn't have a FastPass for it this day.  We knew the stand-by line was only going to get longer.  By the time they got to Space Mountain, it was already a 45-minute wait and we had an 8:00 AM breakfast reservation at The Plaza restaurant, so that was a no-go.  They high tailed it over to Peter Pan's Flight but had the same issue.  Unfortunately, that meant they settled for riding, "it's a small world."  By the time that was done, they headed to The Plaza and we ate breakfast there.
After that, we decided to head back to Space Mountain, where the wait was still a 45-minutes at 9:00 AM on New Year's Eve.  This was the shortest wait we would see for the ride the rest of our day at Magic Kingdom.  While Carla and the girls did that, I made the loop on the PeopleMover.
After that, I walked around Tomorrowland and took a few pictures and the girls were done with the Space Mountain.  It was 9:40 AM and we had already done one of the three roller coasters in the park.
We then made our way over the Seven Dwarfs Mine Train.  With the FastPass in hand, we were in and out in about 20 minutes.
Our next FastPass for Buzz Lightyear wasn't until 11:15, so we had about an hour to wait.  We opened up the MyDisneyExperience app and noticed that by 10:30, wait times had exploded.  Almost every attraction in the park was approaching 1+ hours and the three roller coasters were well over 2 hours.  We decided to head over to Haunted Mansion as it was right at an hour wait for the standby line.  We joined the standby line and enjoyed some of the interactive parts of it.  Anna and Elsa played nonstop with the books and the music wall.  It made the time pass quickly, but it was about an hour for us to get through the ride.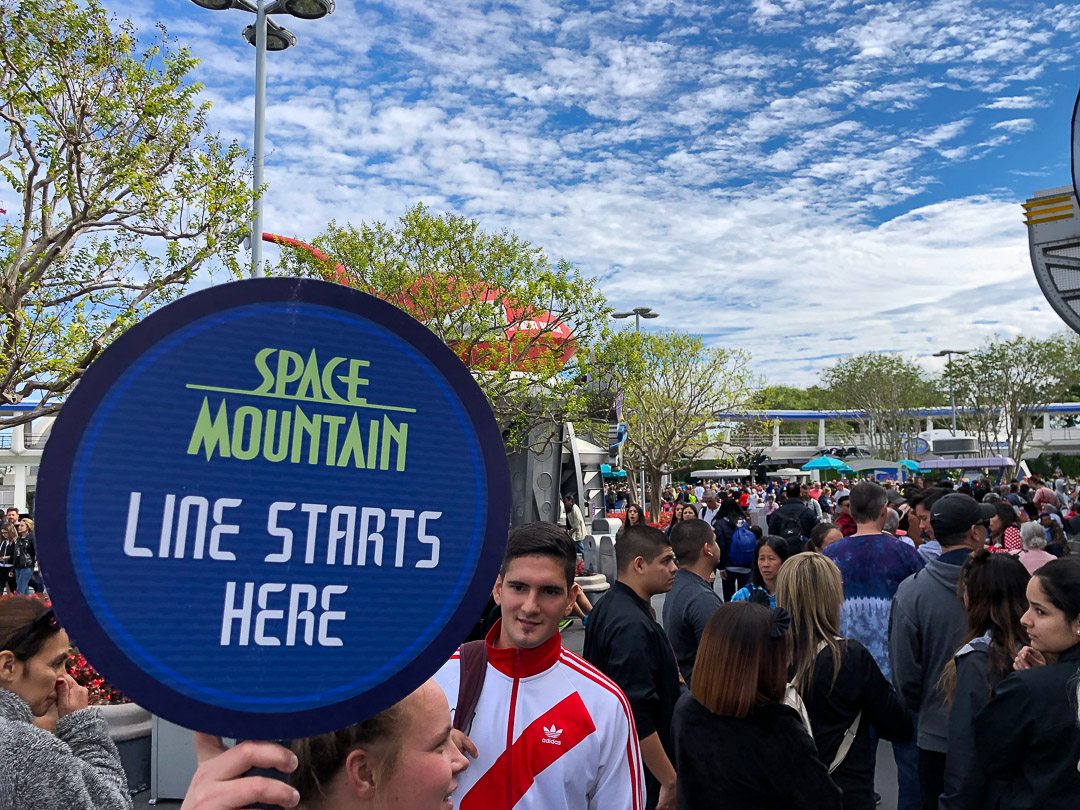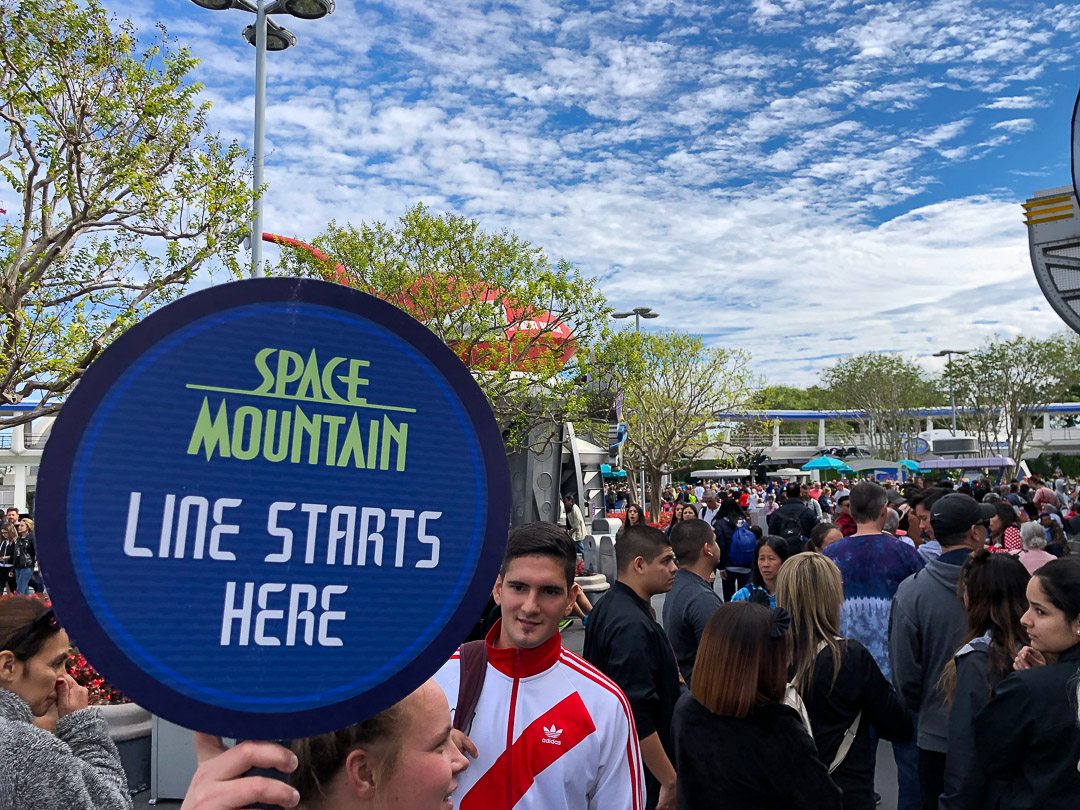 We made our way back over to Tomorrowland for our FastPass reservation on Buzz Lightyear.  On the way there, we walked by the line to Space Mountain.  That's not because we went out of our way to see it, but because the line extended out to the middle of Tomorrowland!  The picture that you see here is the end of the line.  What the sign doesn't tell you is that it is a three-hour wait.  Yes, this is what crowds are like on New Year's Eve at Magic Kingdom!  In fact, at this point, all the rollercoasters were sporting wait times around 3 hours.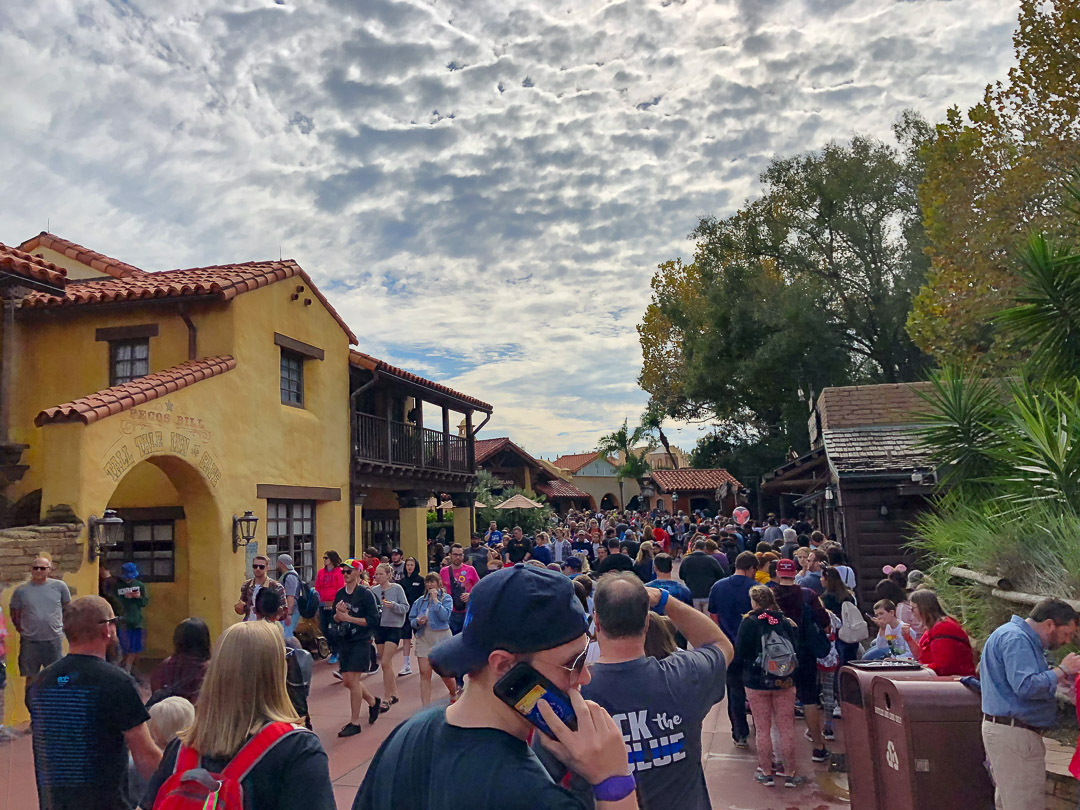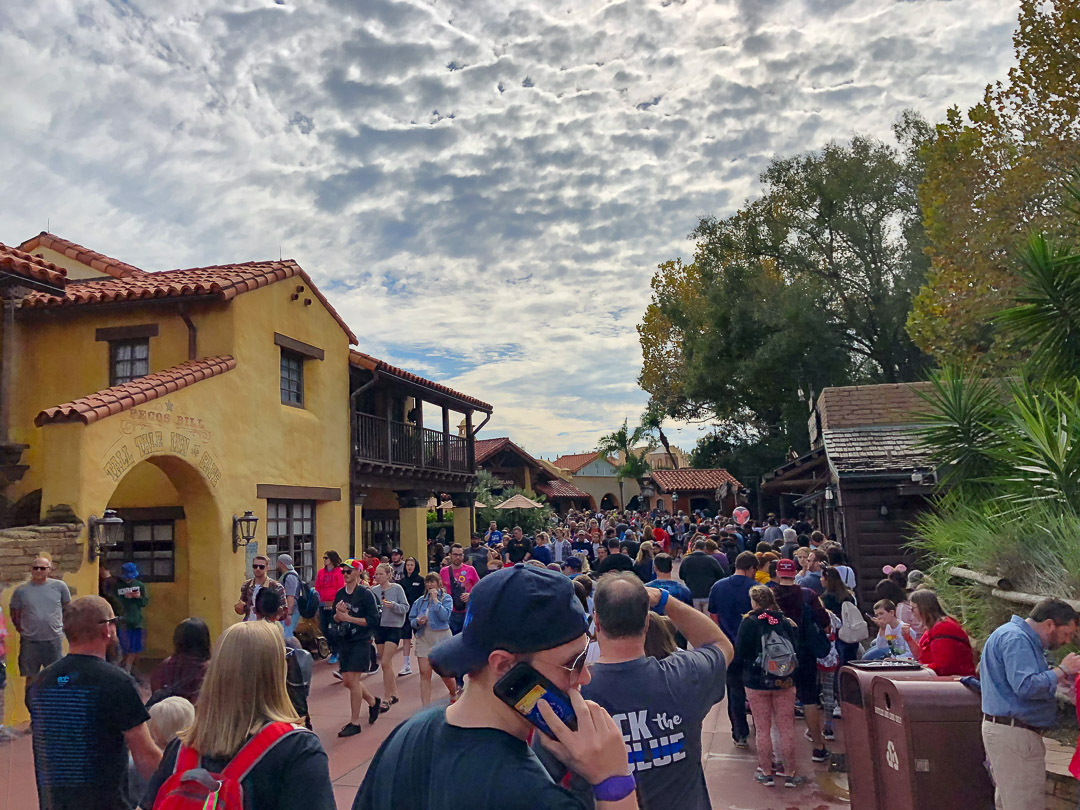 Once we were at Buzz Lightyear we quickly got in and out.  It was noon, and we felt like we made some good headway.  Next up, we headed over to use our third FastPass on Pirates of the Caribbean.  When we walked up to the queue, we were shocked to see the line.  We aren't surprised by crazy standby lines on New Year's Eve, but we almost had to walk into Frontierland to find the end of the FastPass line!  The picture above is where we entered the queue.  It was about a 15-minute wait from here to where the FastPass tap style was located.  Fortunately, the line moved reasonably quickly and we were out of Pirates shortly after 1:00 PM.
New Year's Eve Afternoon
I should mention that as soon as we scanned through the FastPass tap style, Carla was on her phone looking for another FastPass.  By some minor miracle, she was able to find a Winnie the Pooh FastPass at 4:30, so we went with that.  It would be tight with our 4:50 Be Our Guest dinner reservation, but we thought it would work.
At this point, breakfast was long gone, so we decided to get a light lunch because we had an early dinner ADR.  We headed over to the castle arches in Fantasyland because we wanted to get in line to see Anastasia and Drizella.  If you are interested in meeting characters, you can check out our Magic Kingdom Character Guide.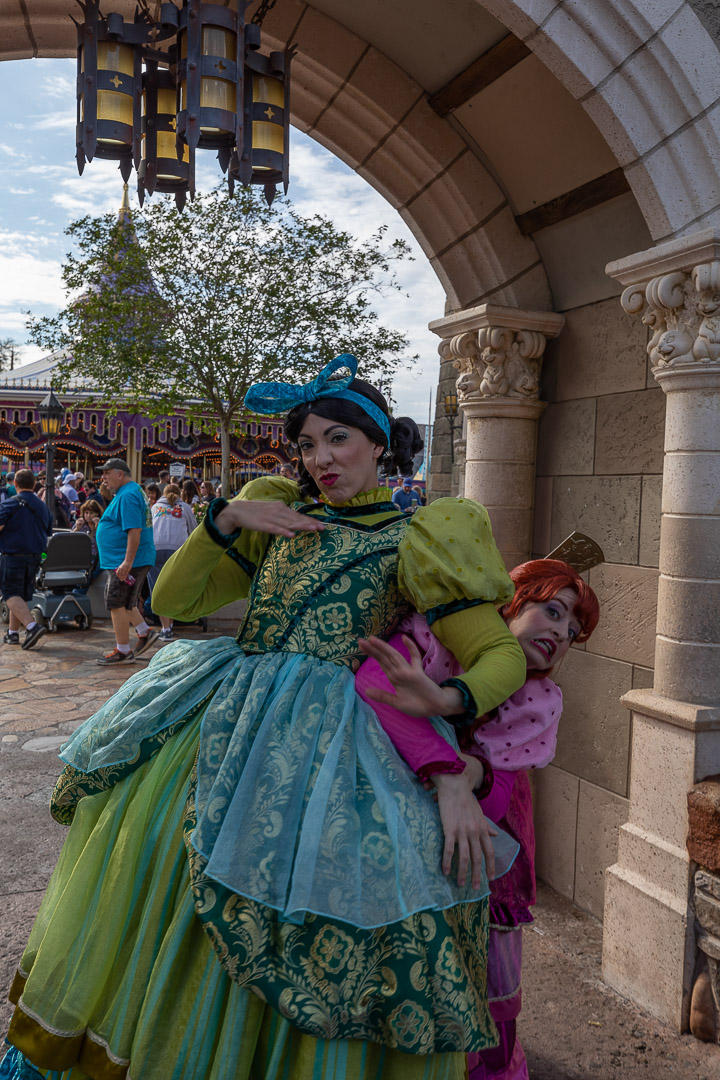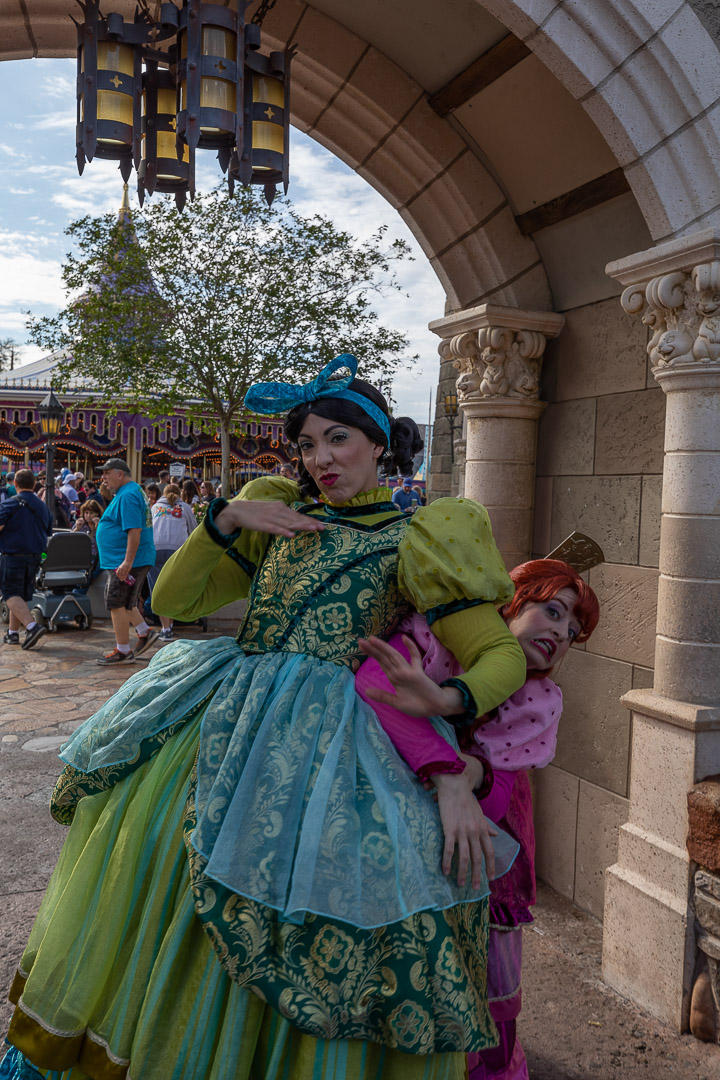 We grabbed some popcorn and a pretzel for some quick grub, and then it happened.  Disney World closed Magic Kingdom on New Year's Eve!  With a small little popup on my phone, they pushed out the following notification.  Just like that, we were one of an exclusive group of people that could party in the Magic Kingdom that night.  Whether that is a blessing or a curse may be in the eye of the beholder.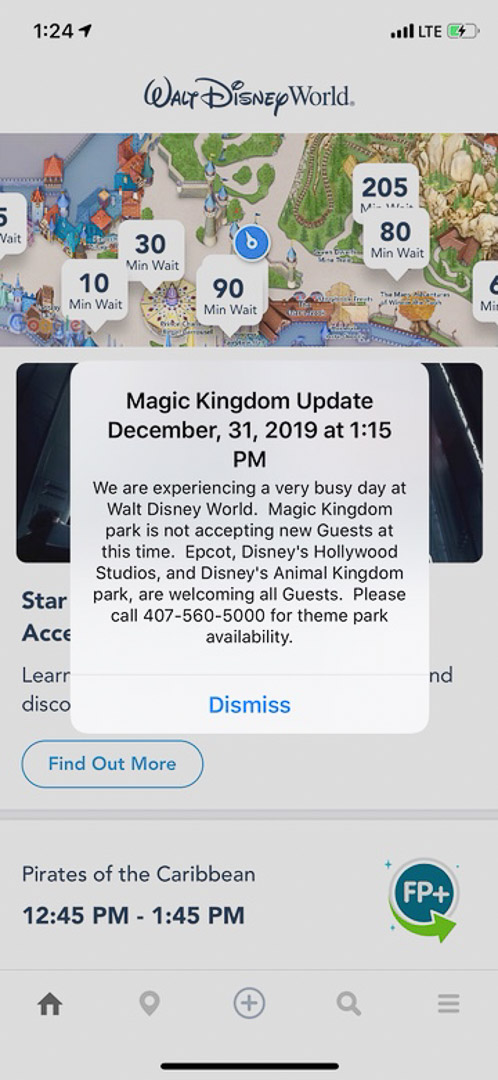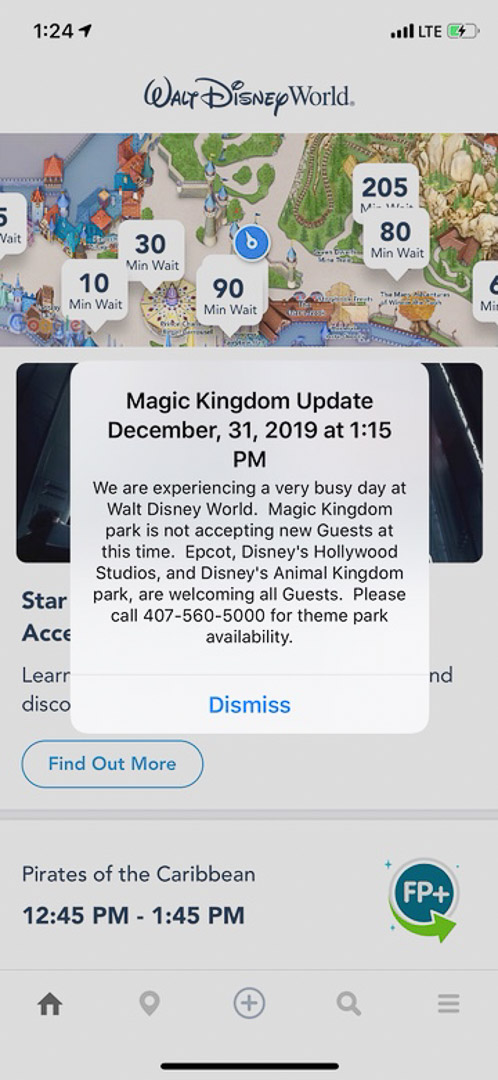 Anastasia and Drizella returned from their break, and we were about 4 groups deep in the line.  The girls loved meeting them (it was the second time they've met them).  There is something about two sisters meeting two other sisters that seems to make sparks fly.
We decided to check MyDisneyExperience about this time to see what we would do next.  The two screengrabs below show you what wait times in the park were like mid-day.  I think you can call it insane.  That four-hour wait for Space Mountain was…impressive?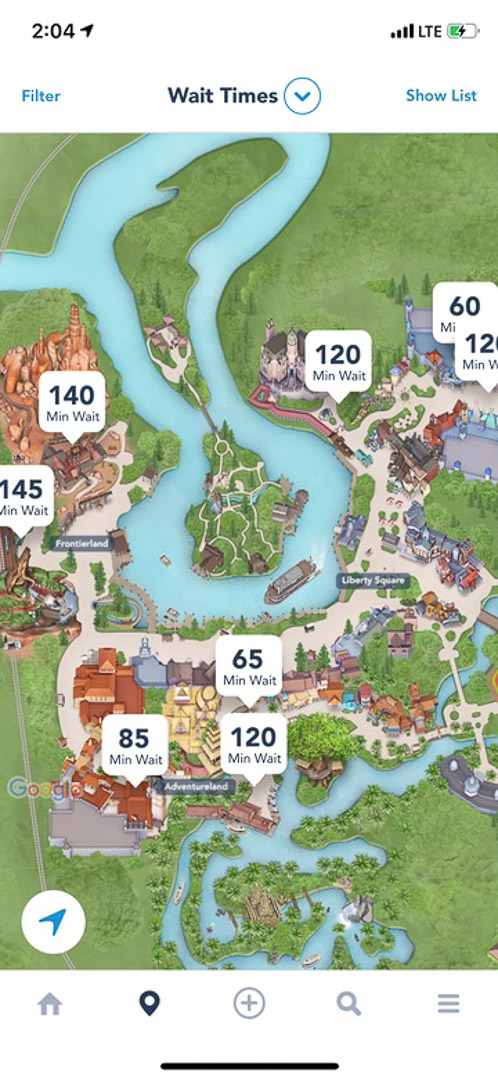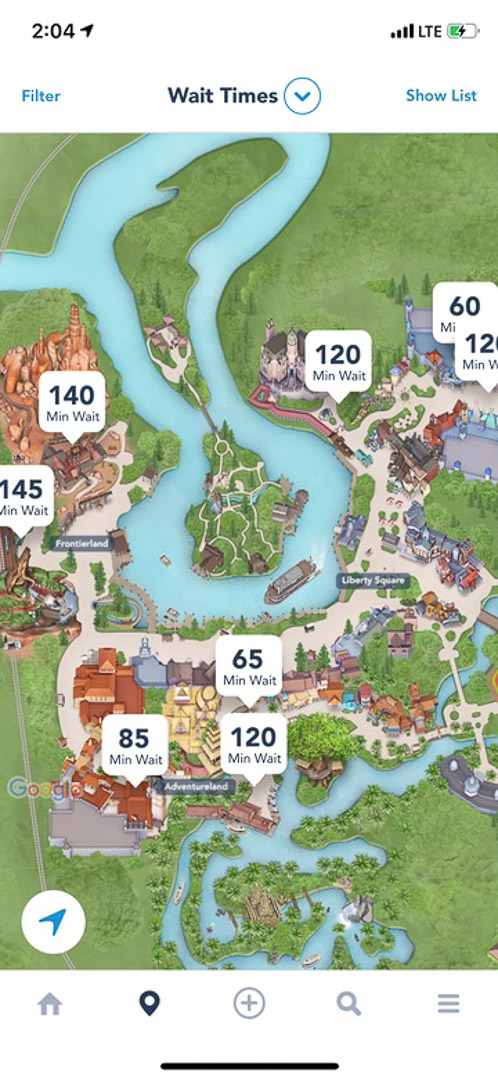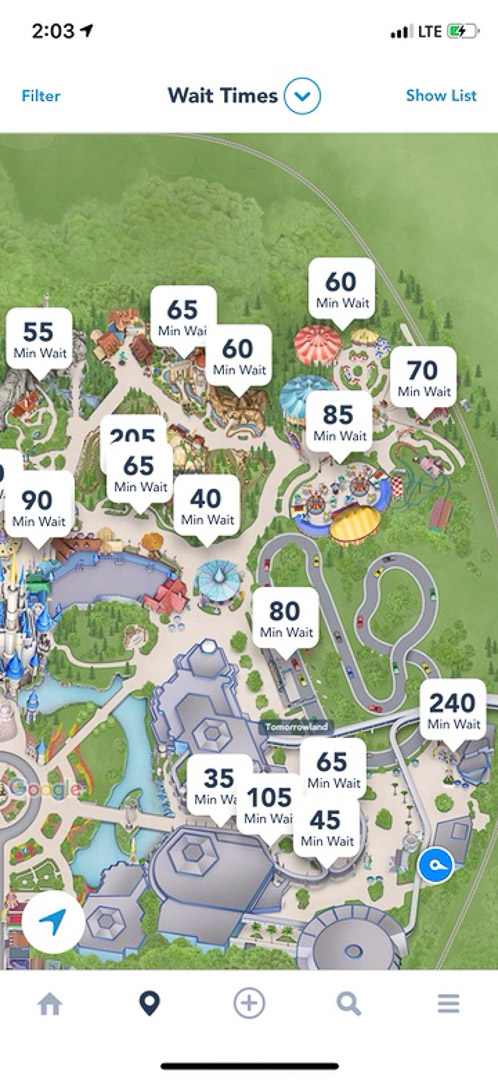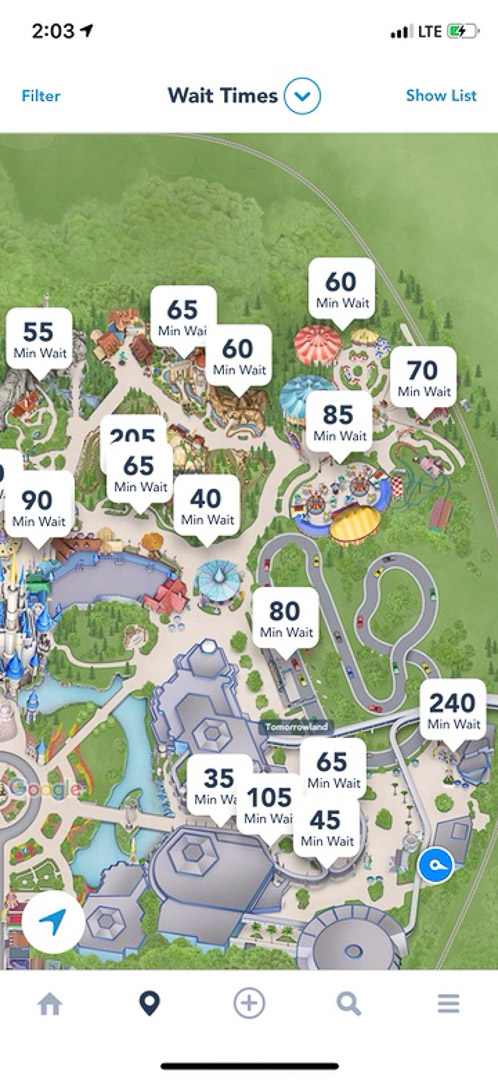 With the wait times running high, we decided to do some more obscure things and kill some time.  We made our way back over into Tomorrowland, where the girls wanted to have their faces painted.  After that, we went over to see Stitch and then road Carousel of Progress.  We then walked over to Liberty Square to see the Hall of Presidents.
At that point, I checked the MDE app and noticed our FastPass for Winnie the Pooh was canceled due to the ride going down.  While a bit of a bummer, we were rewarded with a FastPass that we could use on almost any ride in the park.  There was never a question about where we would head.  Thunder Mountain was the last roller coaster we needed to ride, but it was going to have to wait until after dinner.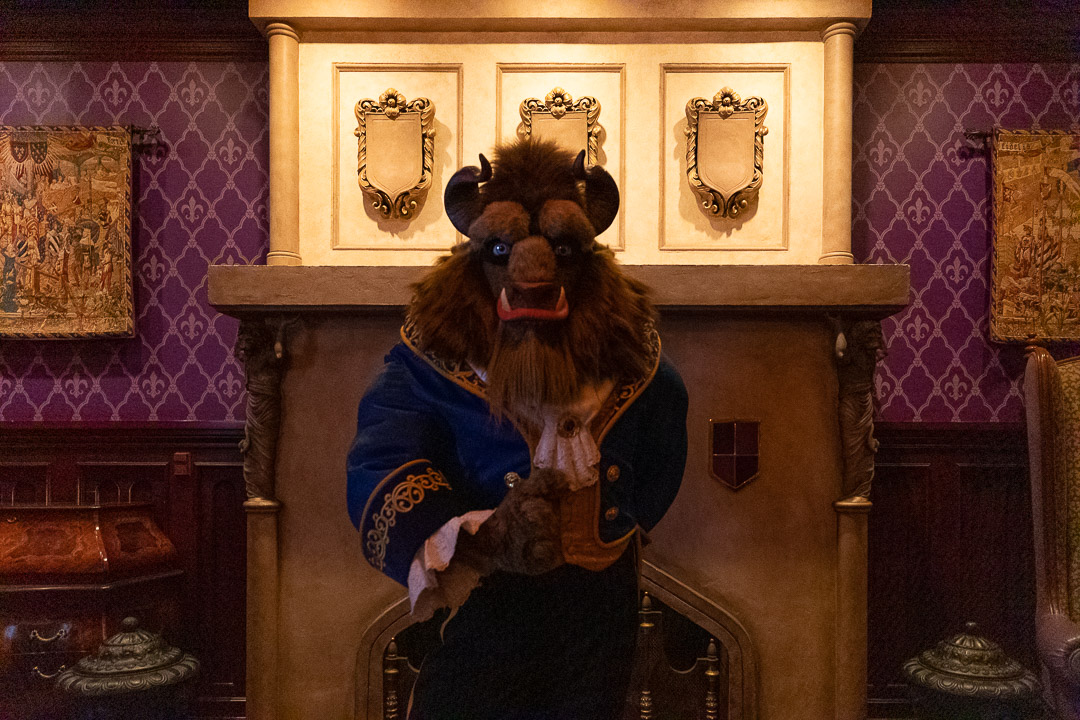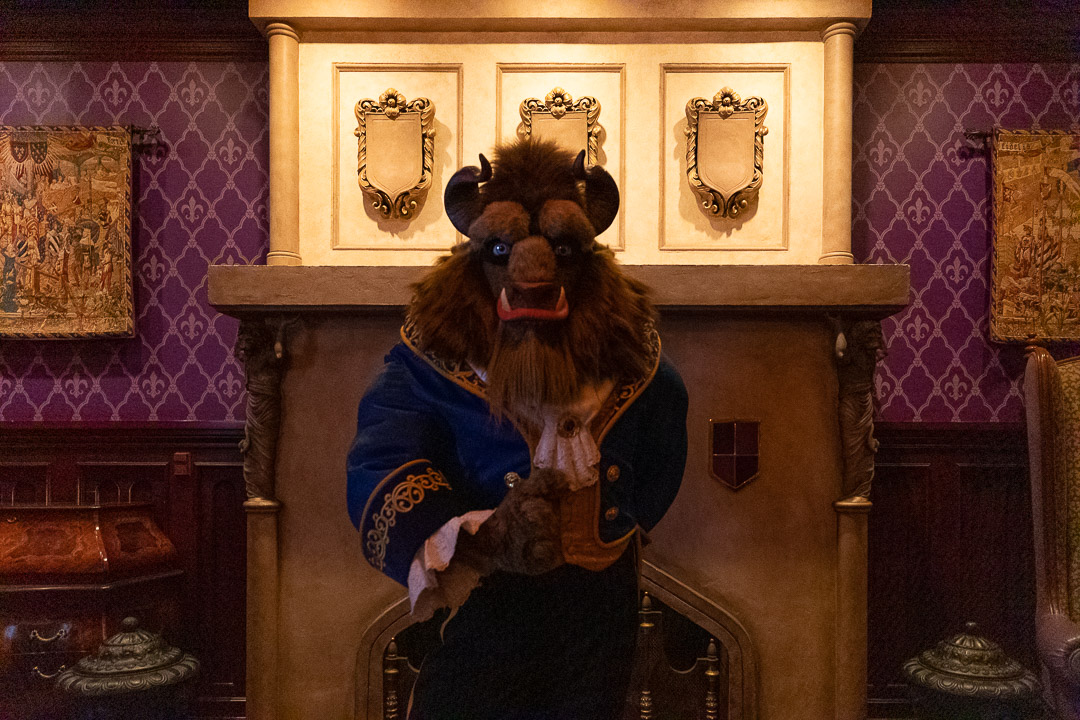 Like I mentioned earlier, we had a 4:50 reservation for Be Our Guest dinner.  It wasn't ideal, but it was a meal we wanted to try and thought it would be a fun way to celebrate in New Year's Eve at Magic Kingdom.  The time was all that was available unless we wanted dinner at 8:00 PM, which is due to us making the call well inside the 180-day window for dining reservations.  We also wanted to be able to watch the fireworks show at 6:30.
We ate dinner, and I snuck out to see the first fireworks show of the night.  Carla took the girls to meet the host for dinner, the Beast.  We will have a Be Our Guest dinner review in the coming weeks.
New Year's Eve Night
After the fireworks were over, we decided it was time to make hay.  We immediately headed over to Big Thunder Mountain to use our FastPass and get another one.  This would kick off a great run of snagging FastPass after FastPass, while the crowd built up on Main Street for the midnight showing of Fantasy in The Sky.
We rode Big Thunder Mountain relatively quickly and, in the process, got another FastPass for what else but Winnie The Pooh (the ride was back up).  Our Thunder Mountain ride was done around 7:30 PM.  The Pooh FastPass wasn't until 9:00 PM, but we were okay with that as we wanted to check out some of the Magic Kingdom New Year's Eve dance parties.  To get to the dance party in Tomorrowland, we cut through Adventureland to see Main Street and the area around Cinderella Castle.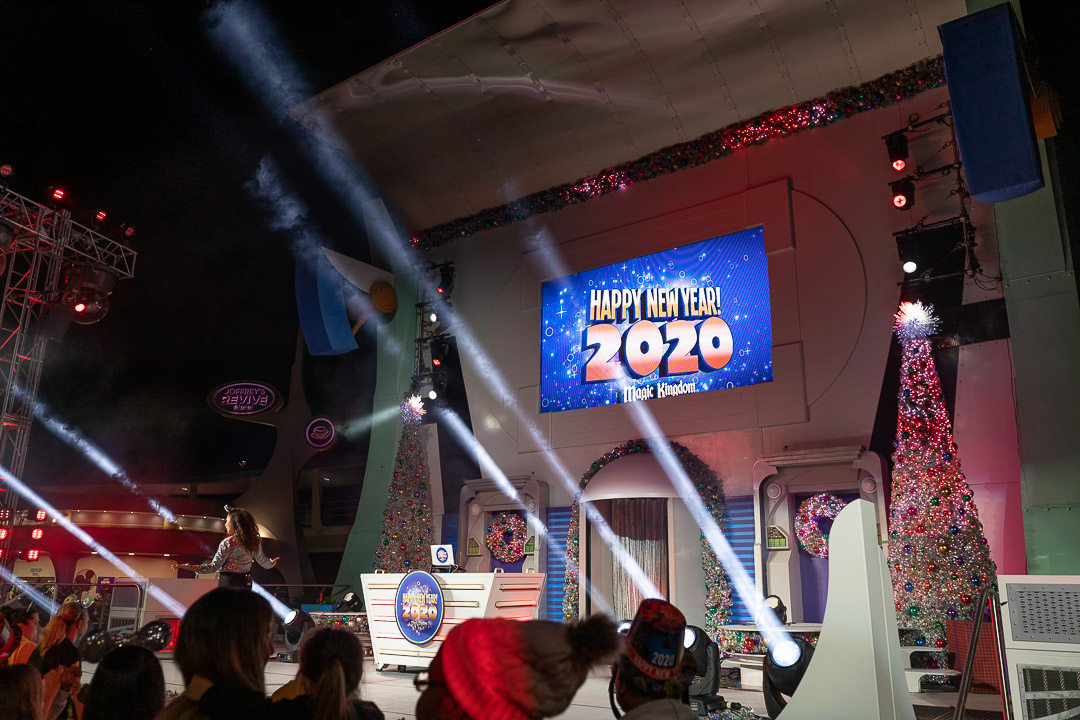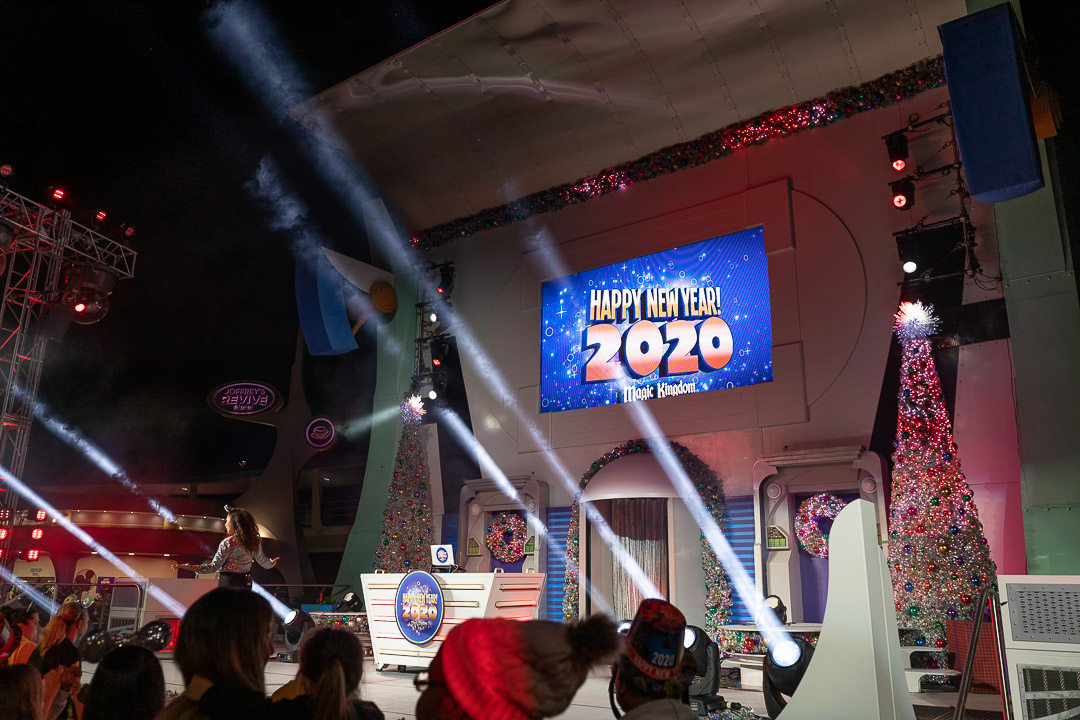 While walking through Adventureland, we saw these blue blowup signs that said, "Exit."  Because of how crowded Main Street was, Disney opened up two temporary exists.  In addition to this one, we would later see something similar in Tomorrowland.  If you are looking for them, you'll find the Adventureland exit between Pirates and Jungle Cruise.  The temporary exit in Tomorrowland was to the left of Buzz Lightyear.  Both of the exits take you backstage, a fact one cast member really tried to sell us on.
As we moved through that area at 7:45, it was clear we were not going to get a seat on Main Street for the midnight fireworks.  It was already a sea of people, which Disney clearly knew were coming as they were controlling the crowd.  The cast members politely asked guests cutting through to keep moving and that there was no seating available where we were walking near Casey's Corner.  At this point, Main Street was pretty full all the way back to Town Square.  Everyone was sitting on the ground, knowing they still had a roughly four-hour wait for the fireworks.  It seems like a lot of wasted time, considering there are no castle projections to see in the show, but that's just our opinion.
If you do want Main Street viewing of the fireworks, make sure you get a spot early.  At about 10:00 PM, Disney sent out a notice via the MDE app that Main Street was close to additional guests.  That's right, a full two hours before the show.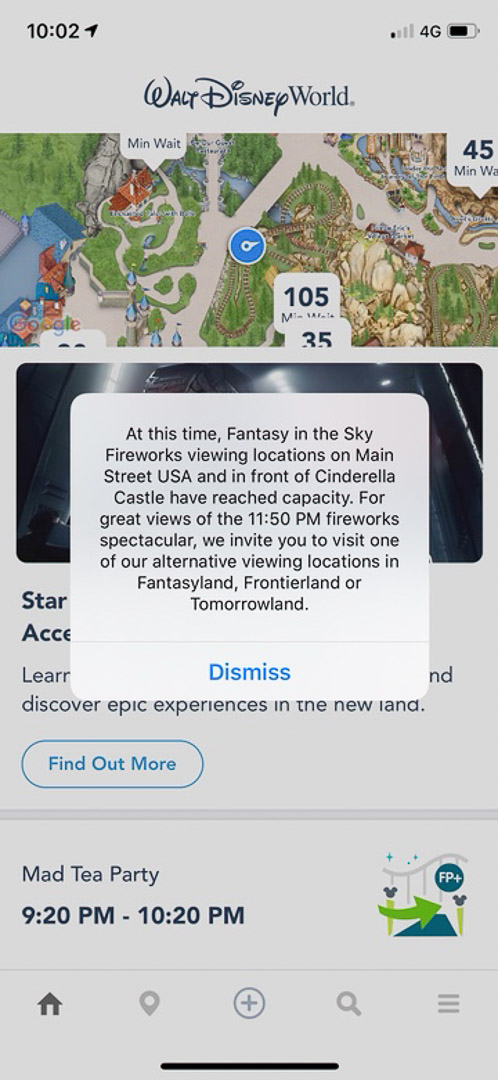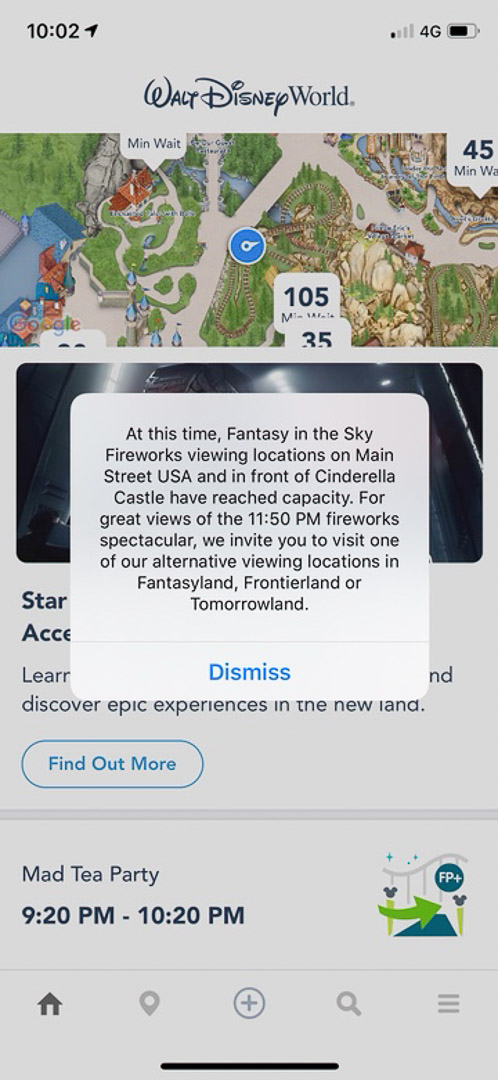 We made our way into Tomorrowland and noticed the PeopleMover had a reasonably short line, so we decided to hop aboard.  A relatively short wait and ride, and we were off the PeopleMover by 8:20 PM.  Next, we decided to take in the dance party.  The girls enjoyed the DJ and music.  There was a Photopass photographer near the party, and we got in the short line to have a Magic Kingdom New Year's Eve picture taken.  Anna and Elsa even had one of just themselves done and then were disgusted when dad and mom had a photo taken with us kissing on New Year's Eve.  The horror!
After this, we walked over to Winnie the Pooh to use our FastPass.  From here were scored FastPasses for the following rides over the course of the next two hours:
Mad Tea Party
Dumbo
Enchanted Tales with Belle
Barnstormer
If you are keeping score at home, that is nine total FastPasses we were able to use on the day.
At this point, the crowds were really thinning out.  Not that people were leaving the park, instead they were setting up to watch the fireworks.  When we did Enchanted Tales with Belle, there were probably only 10 families in the show.  They barely had enough kids for all the parts.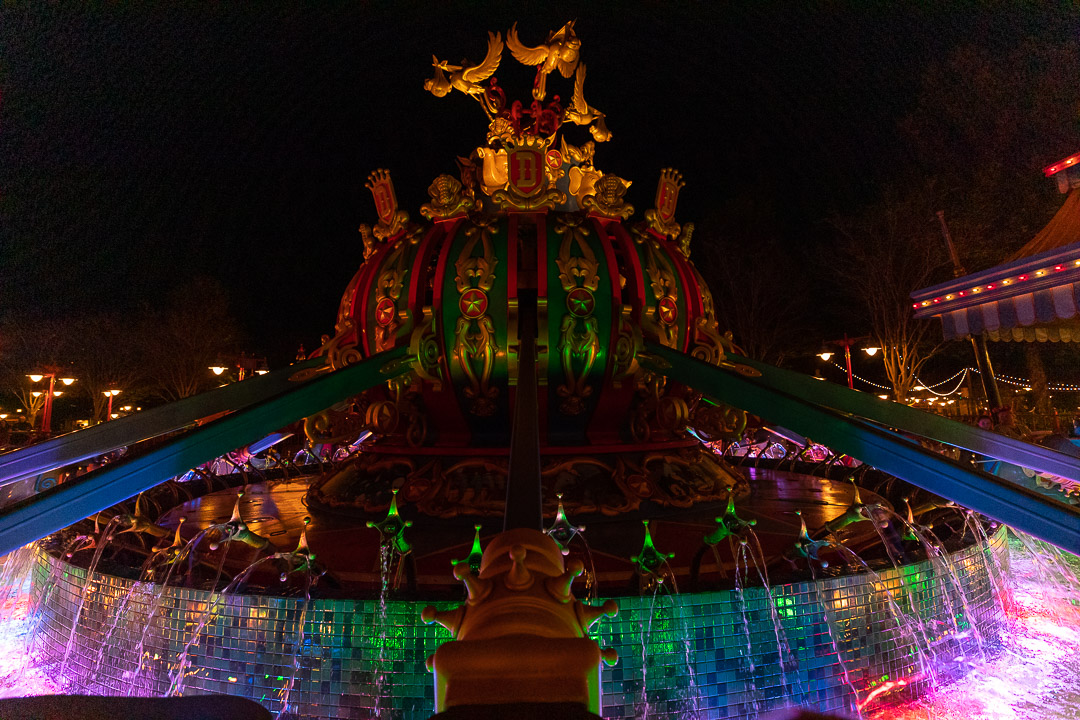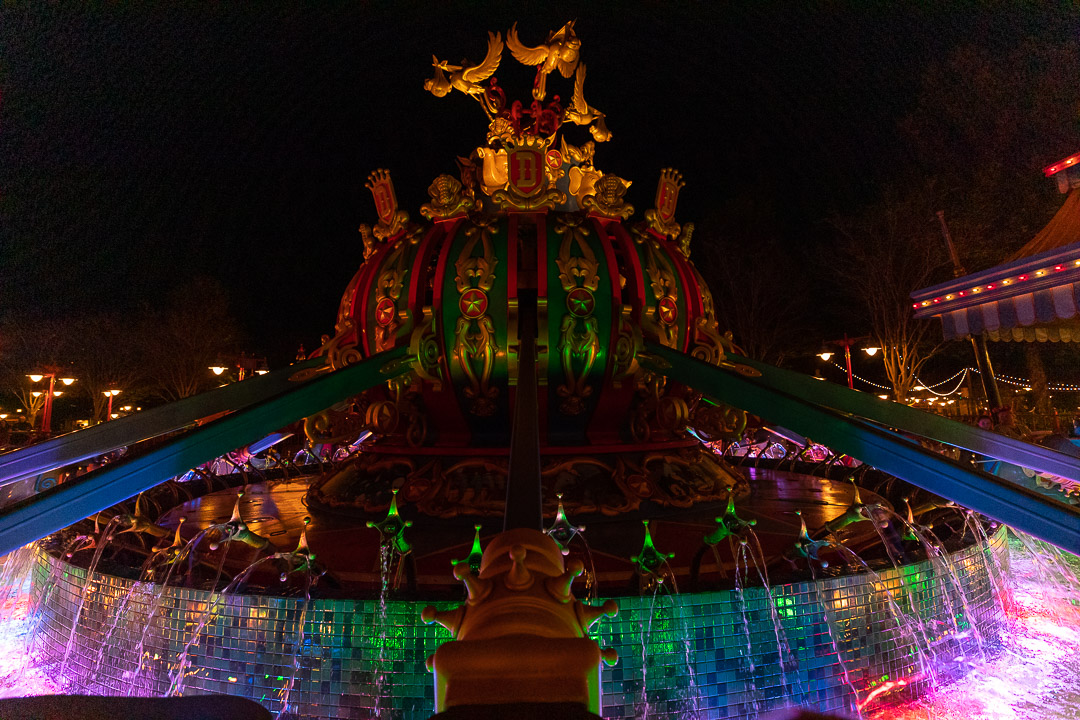 Around 10:15 PM, I decided to go find a place to watch the Magic Kingdom New Year's Eve fireworks.  Earlier in the day, I scoped out a place in Frontierland that I haven't ever done fireworks photos from and headed there.  Since there are no castle projections, it seemed like a logical opportunity to check them out.  Carla took the girls to use the last FastPass on Barnstormer and then met me in Frontierland.  They arrived around 11:20, and we all sat and waited for the show to begin.  At this point, Anna was worn out and actually took a nap.  Even Carla took one, using her backpack as a pillow.
Fantasy in The Sky started promptly at 11:50 PM.  We have a few pictures of the show and view in this post, so you can see what the view was like.  The one thing I will say about the show is that it is a 360-degree fireworks show in parts.  You can look in all directions and see fireworks; however, the trees in the area do obscure the view of parts of them.  That is especially true of the fireworks going off to the south (our right in the pictures).  It didn't take away from our enjoyment of the show.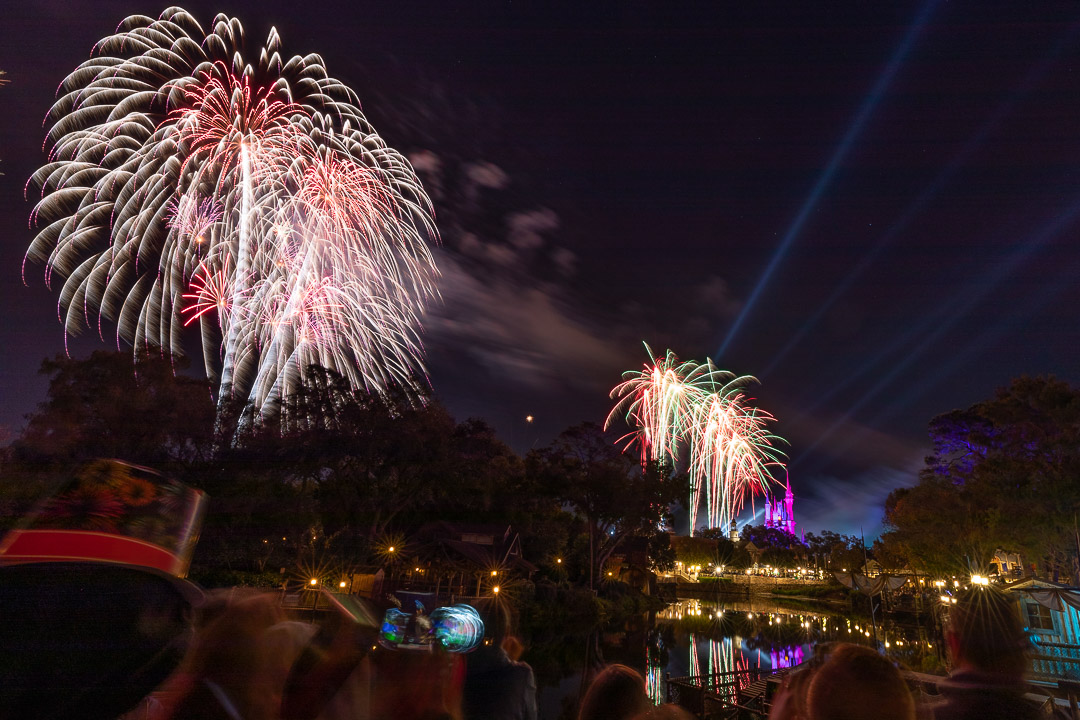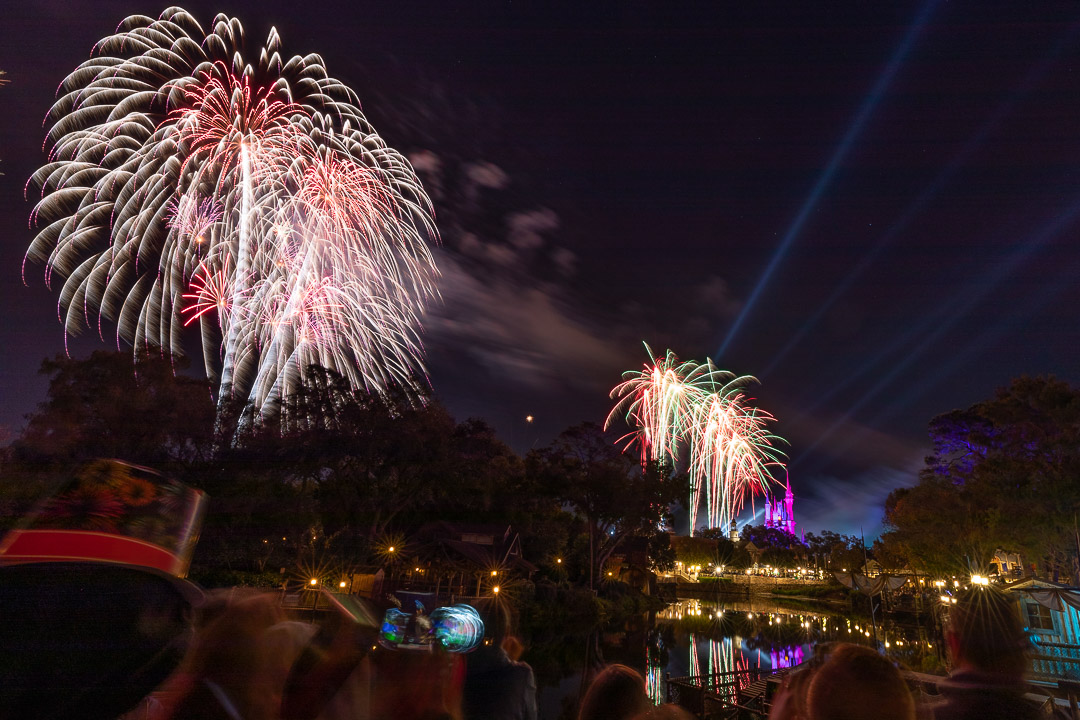 If you want to take advantage of the fireworks show, below is a comparison point of ride wait times right at midnight.  Much shorter, for sure!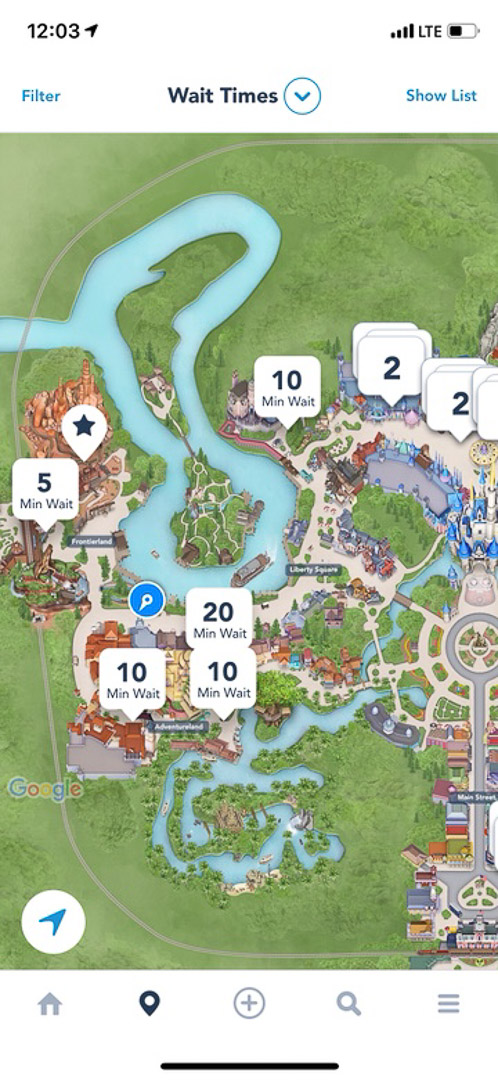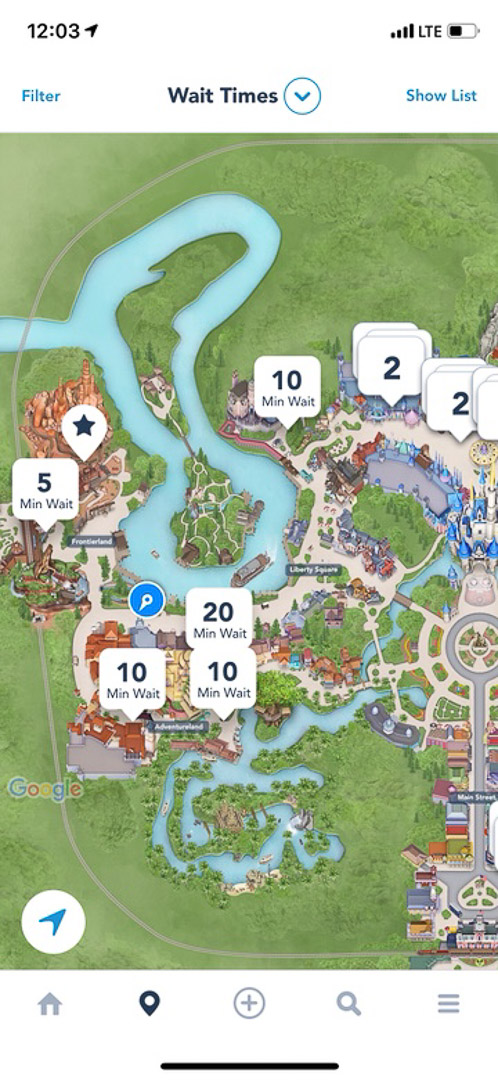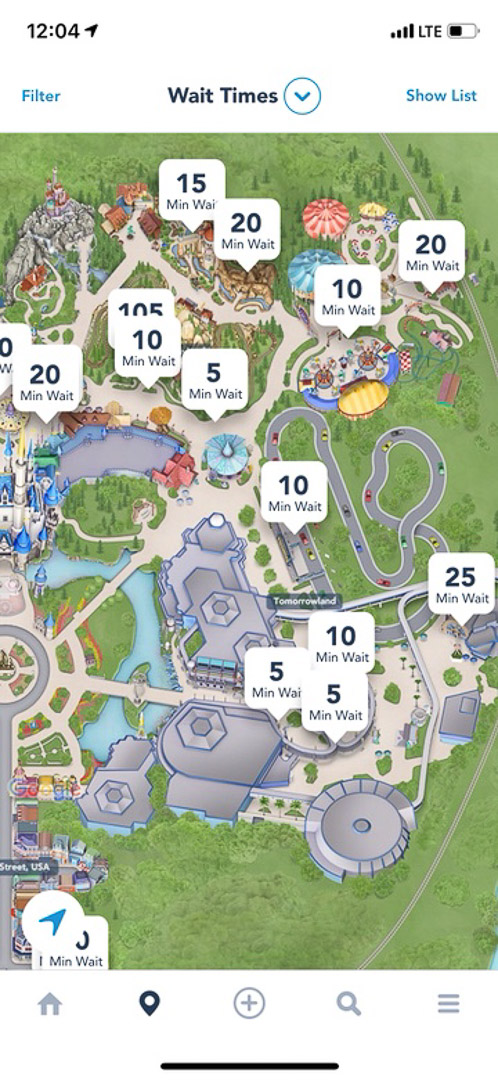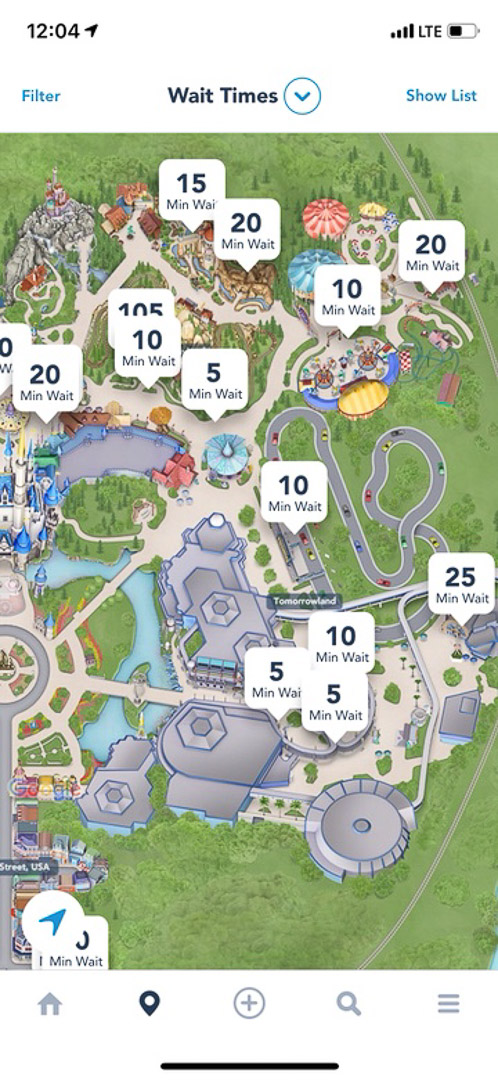 With the show over and all the girls worn out, we decided not to ride more rides until the official close time of 1:00 AM.  We started walking through Adventureland towards the hub, hoping those temporary exits would still be open.  Unfortunately, they were not.  So we had to wade our way through the mass of people leaving the park.  This was the only time during New Year's Eve at Magic Kingdom, where Anna and Elsa got uneasy with the crowds.  Elsa clutched my hand tightly as we slowly shuffled to the exits.
Despite the massive crowd of people, it was extremely well controller and we spotted security continuously scanning the crowd from vantage points like the Main Street train station.
I'm not going to lie; it took forever and was a bit of a downer way to end our New Year's Eve experience at Magic Kingdom.  But it is what it is.  You can see what the crowd looked like in the picture below.  Sorry for the quality.  I had packed up all my camera gear, so I snapped this with my iPhone, and clearly, it struggled.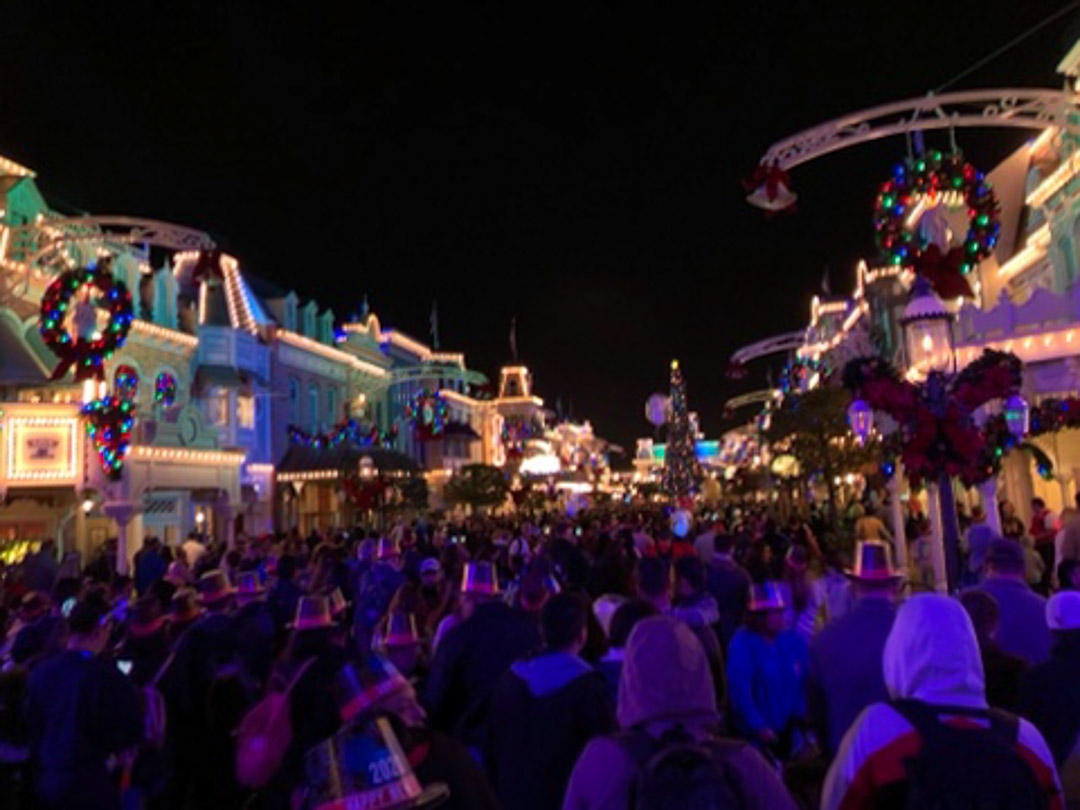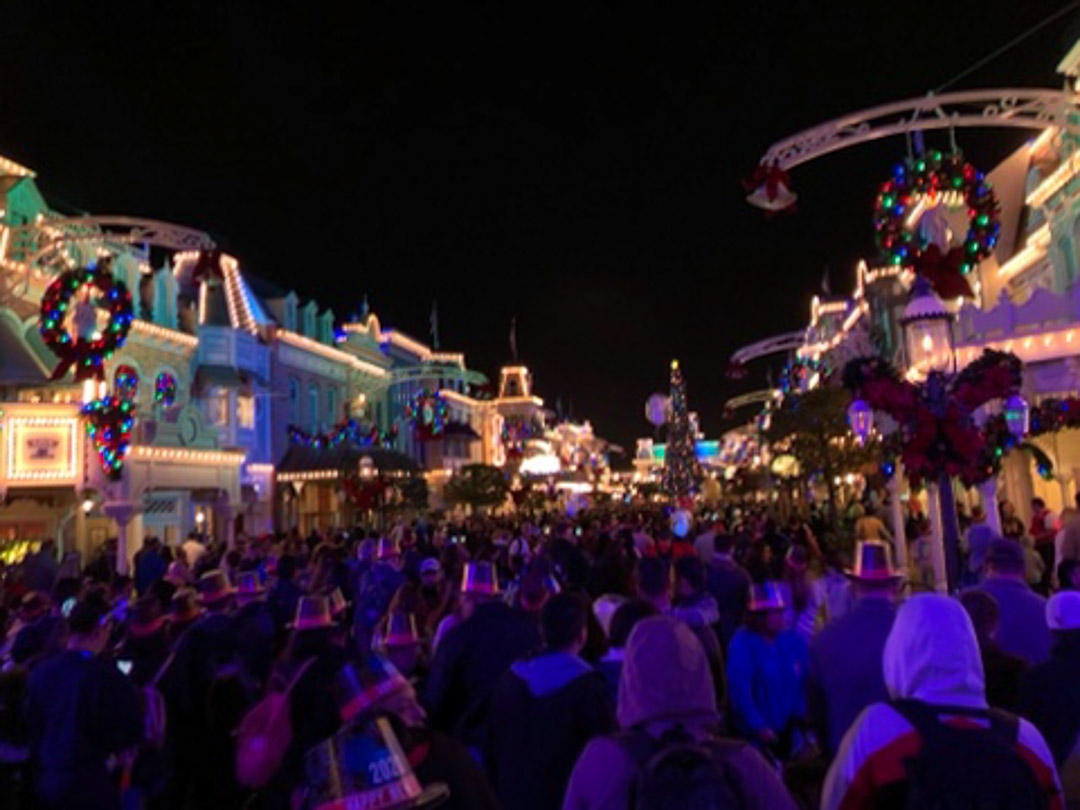 Once we got under the train station, the crowd moved, and we were out of the park.  We did not get to the bus stop until almost 1:00 AM.  Maybe we should have stayed and ridden more attractions…
So that was our experience with New Year's Eve at Magic Kingdom.  The energy and atmosphere that evening was very cool, and for a one-time experience, it was probably worth it.  if we do New Year's Eve again, Anna and Elsa will need to be older.
New Year's Eve at Magic Kingdom Tips
If you are going to go to Magic Kingdom on New Year's Eve, we think we have some tips that will help you navigate the park and hopefully have a better experience.  Below are our tops ones:
Book your FastPass Reservations for Early in the Day
Like you read in our experience, get your initial three FastPasses out of the way quickly and start grabbing those additional ones.  It will save you the most time.
It's Going to Be Busy, Accept It or Don't Go
If our post here hasn't convinced you that everyone and their family are going to be at Magic Kingdom on New Year's Eve, I'm not sure what else will.  If you don't want to deal with crowds or long wait times, don't come to Magic Kingdom this day.  You will be miserable.  And if you do go, make sure you roll with the punches.  Crowds are a fact, just soak up the atmosphere and enjoy the experience.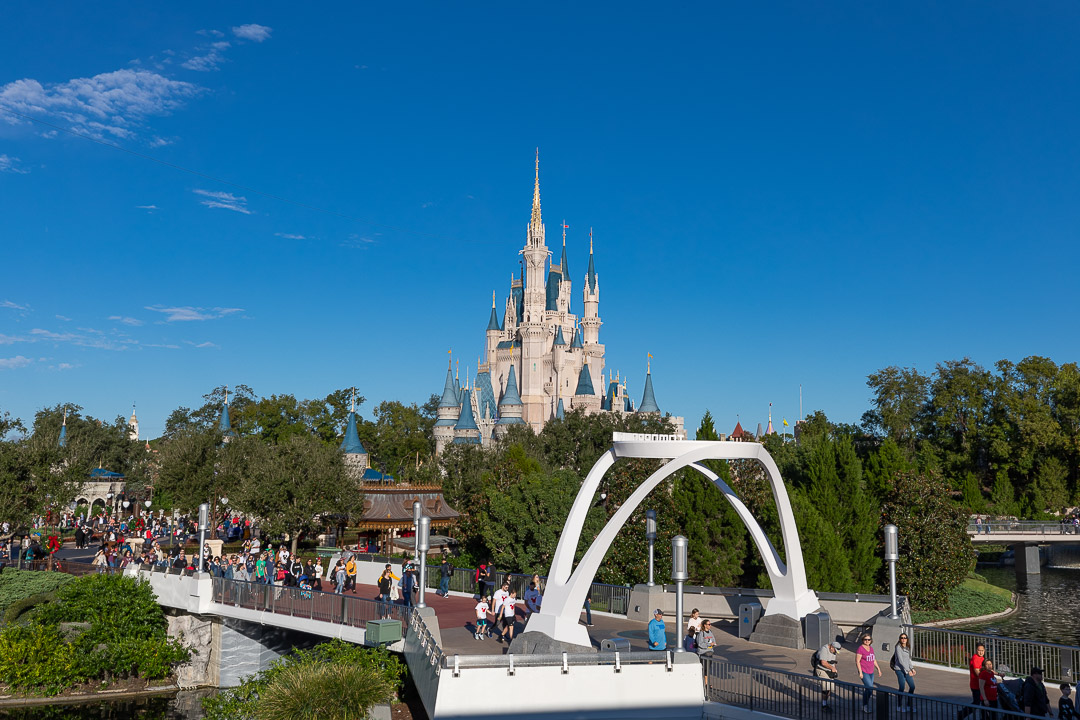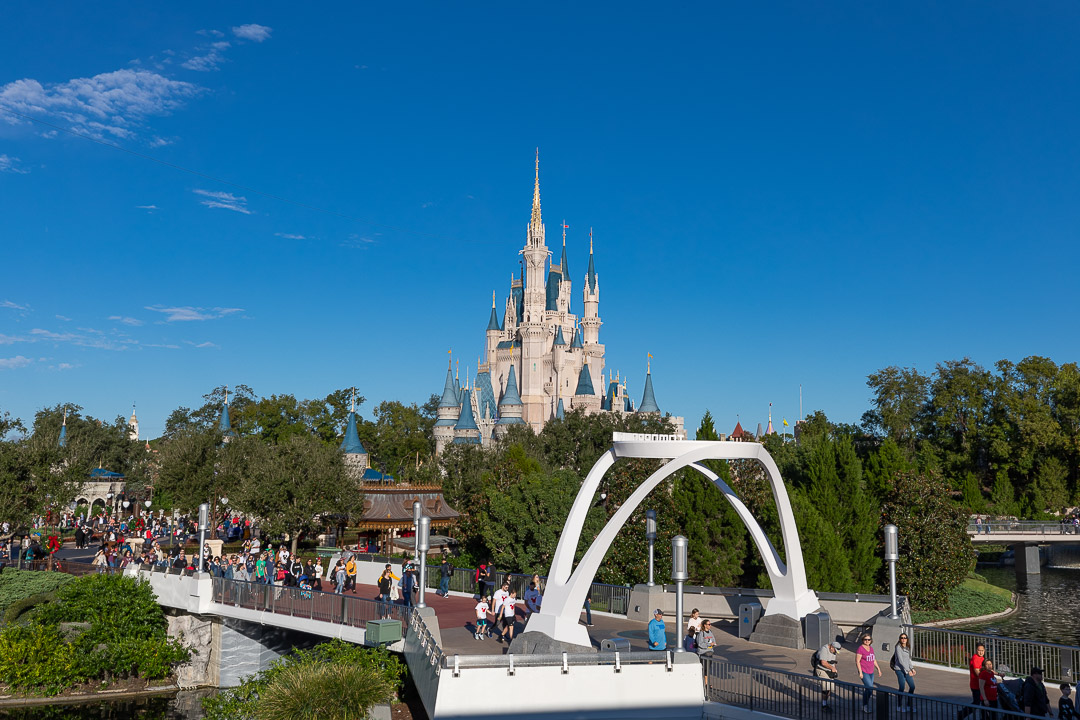 Book Your ADR's Early
If you have a time-sensitive ADR because of something you want to do, make sure you book it as close to 180-days prior to your trip as possible.  This will give you the most flexibility.
Get to Magic Kingdom at Park Open
While it makes for a long day, you should get to Magic Kingdom on New Year's Eve right at park open.  You'll be able to do several rides with the shortest wait times of the day.  Take advantage of all the other people that are sleeping in!
Do Not Leave Magic Kingdom on New Year's Eve
We have seen others advocate a mid-day break from the park to help you regroup before the late-night begins.  That may be feasible for the other Disney World parks, but not for Magic Kingdom.  As you can read above, you run the risk of the park closing.  You don't want to leave and then not be able to get back in!
We should note that Disney does use a tiering system for closing the parks (i.e. one day ticket guests are the first to be restricted).  The notification did not disclose what access was available so we did not want to take any chances of not being able to re-enter the park.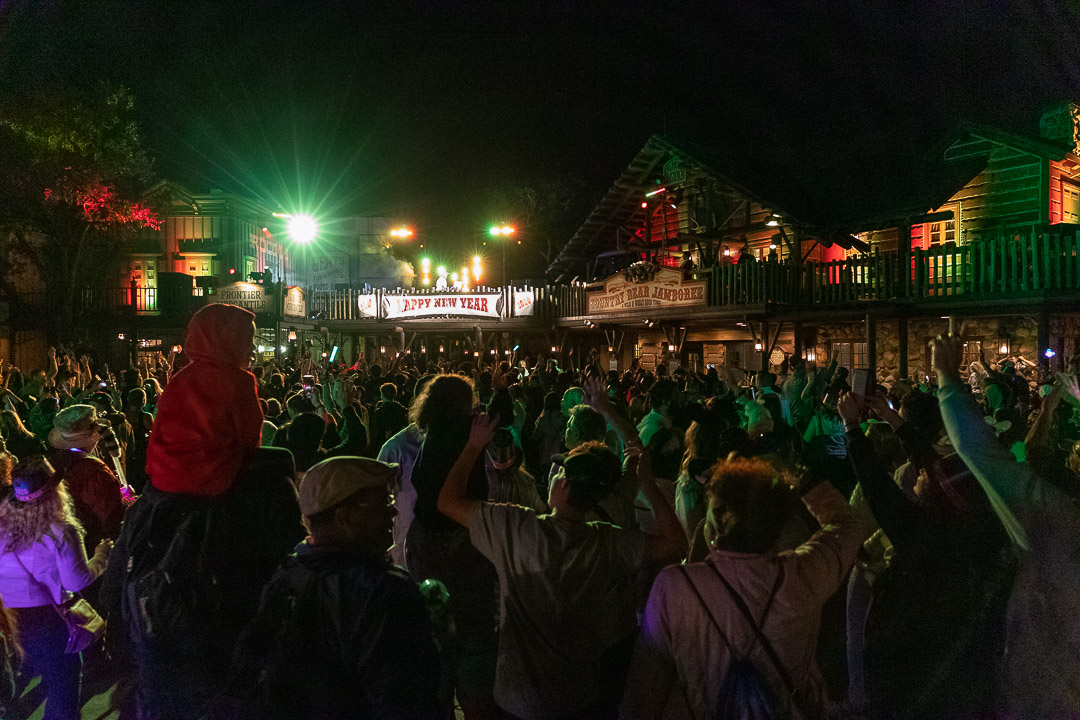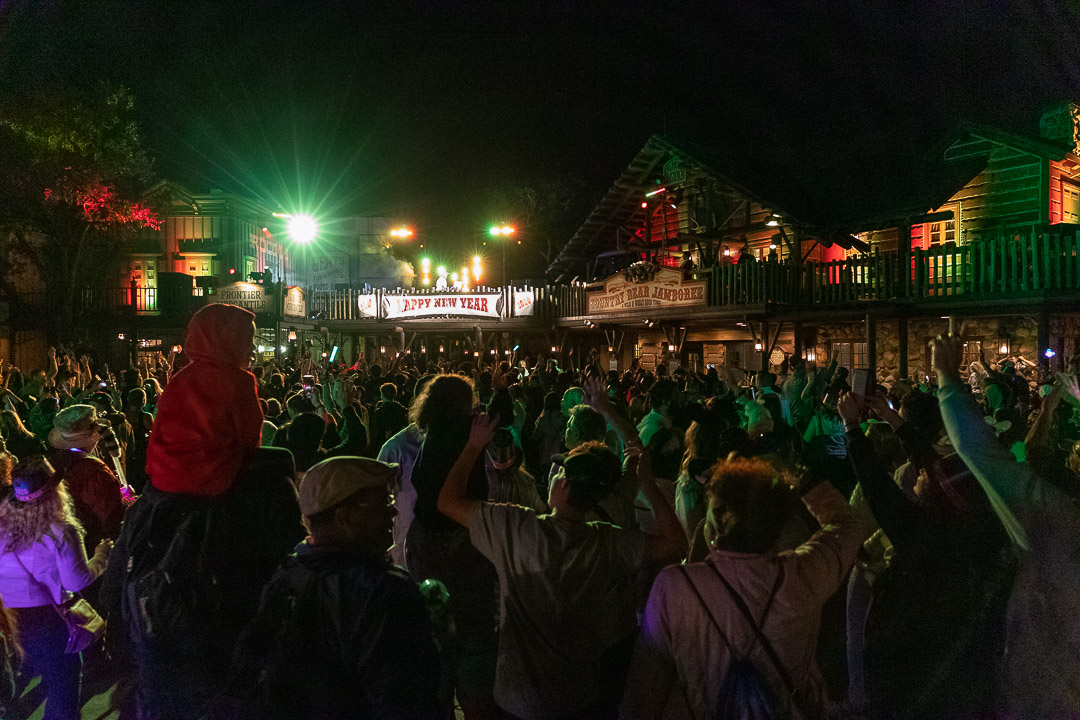 See the Fireworks on December 30th
As we said, the fireworks show Fantasy in The Sky takes place on both December 30th and December 31st.  You can experience it without as massive a crowd on the 30th.  Not that there is no crowd, but it won't be as crazy
Alternatively, you can see the 6:30 PM show and then leave the park if you want to avoid the late night.
Bring Games to Kill Time While Waiting
We use our phones with the girls while waiting in standby lines to help kill time.  You can read our post covering the Best Apps for Disney World if you need some ideas.
Pick Your Priorities for Fireworks Viewing
There isn't a right or wrong answer when it comes to watching the fireworks.  However, you do need to know what your priority is for the evening.  If you consider it a must to be in front of Cinderella Castle at midnight on New Year's Eve, then you need to plan accordingly.  You need to find a spot no later than 8:00 PM.  If you're more interested in riding rides and don't care where you watch the fireworks from you can pretty much ride attractions as late as you want.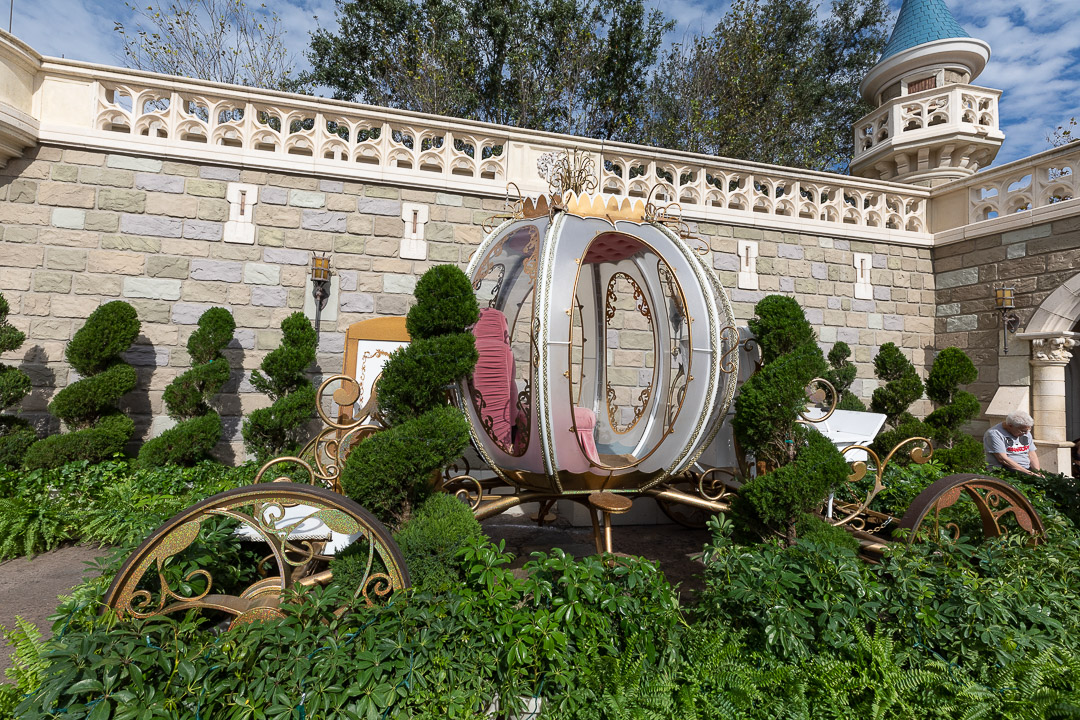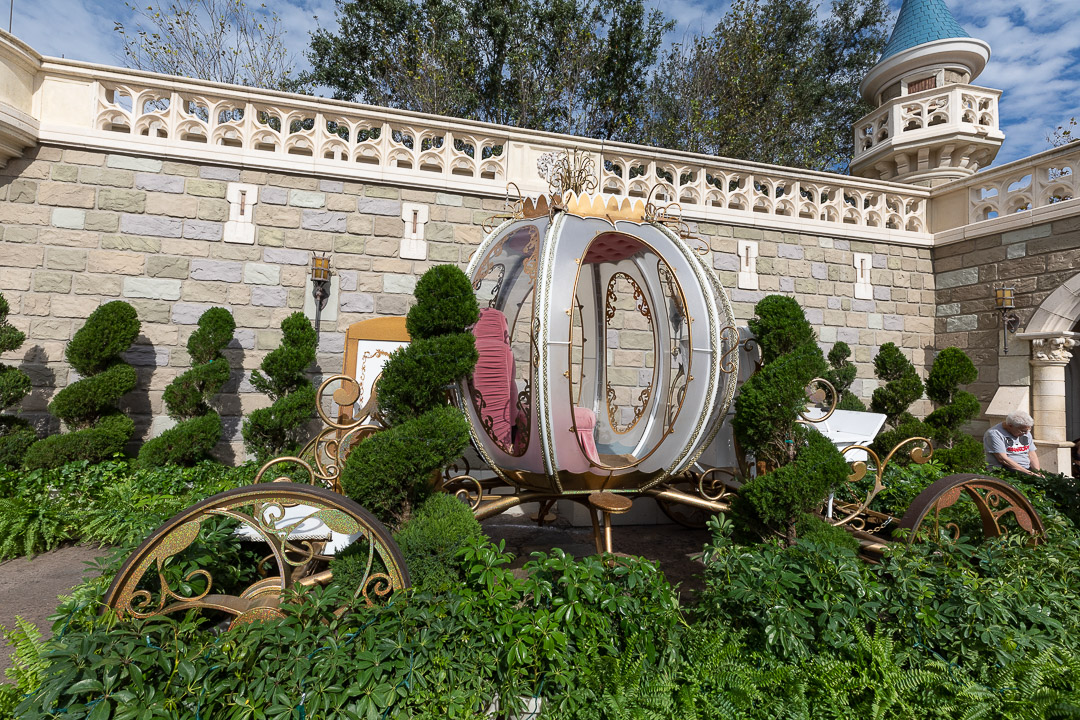 Take Advantage of the Other Attractions
So many people, including us, get caught up in how many rides we can get in and forgo many of the shows and character interactions that can be just as fun and enhance you Magic Kingdom day.  Attractions like Carousel of Progress, Mickey's Phillharmagic, and Hall of Presidents were still walk-ons, or a wait of only a single show.  The castle forecourt shows and the special New Year's Eve shows and dance parties are an entertaining way to spend time too.
Wrapping Up Our Guide to New Year's Eve at Magic Kingdom
With that, we'll wrap up our Guide to New Year's Eve at Magic Kingdom.  We hope you found reading our experiences helpful.  It is undoubtedly a busy time at Disney World, probably the busiest day of the year.  While you can't do anything about the crowds, with some planning and patience, you can make it a good time.