Hawai'i is a booth at the Epcot Food and Wine Festival that we definitely looked forward to eating at again.  The 2019 Epcot Food & Wine Festival incarnation of the Hawai'i booth is mostly like last year.  The only change from is the addition of the Aulani Sunrise.  Here in our Hawai'i review from the Food and Wine Festival, we'll review the items we ate, including our thoughts on those dishes.  If you want more details on the Food & Wine Festival, you can check out our Ultimate Guide to the Food & Wine Festival.
As we said, the Hawai'i marketplace returns with basically the same lineup.  That probably tells you that Disney sees lots of people lining up for the plates here, or that the margins on the food are so large they are okay with moderate demand.  We think it is the former, not the latter.  You can see the full menu down below this paragraph.


The booth is a fun little thatched-roof building that makes it feel ever so slightly like the Polynesian Village Resort.  If you've been to prior Food & Wine Festivals you won't find the Hawai'i booth in the same location it has been in previous years.  It has been relocated to the pathway near the Cheese Studio, Wine & Dine Studio, and Chocolate Studio.
Okay, enough with the booth basics, let's talk about the food in our Hawai'i review for Food & Wine!


Kalua Pork Slider with Sweet-and-Sour DOLE Pineapple Chutney and Spicy Mayonnaise (Kid-Approved) – $5.25
The Kalua Pork Slider is back in the same form as last year.  Featuring flavorful pork, topped with chutney and spicy mayonnaise, the slider is always a hit at the Food & Wine Festival and this year is no exception.  The flavors of the pork and spicy mayonnaise are excellent.  The pineapple chutney adds a subtle hint of sweet to ever so slightly cut the savory nature of the pork.  All in all, we loved the slider.  We just wish that they would put it on a Hawaiian roll as opposed to the basic roll they use.
Don't let the "spicy" in the name fool you.  It isn't all that spicy in reality.  That is evidenced by the fact that Anna and Elsa tried to devour the entire slider before I could get a couple of bites of it.  Fortunately, I was able to stop them before I had to buy another one.
At $5.25, it's a bit pricey for the size of what you get, but we think it's still worth a try.


Grilled Tuna Tataki with Seaweed Salad, Pickled Cucumbers, and Wasabi Cream – $5.25
The Grilled Tuna Tataki is another dish that we could eat several of.  Unfortunately (or fortunately depending on your perspective) given the portion size, you may have to, if you want to feel remotely full.  The tuna is accompanied by a pickled cucumber and wasabi cream.  The wasabi cream was an excellent pairing with the tuna.  It adds just a little kick to complement the perfectly cooked tuna.  I will say, I didn't get much flavor from the tuna itself.  I could see spices on the outside of it, but didn't detect anything when I tasted it.
The other thing that I like about this dish is the seaweed salad.  I'm a sucker for these salads, and I enjoyed this one.  The seaweed has a nice crunch and the tasty dressing on it rounded out the meal well.
This is another item that Anna and Elsa wanted to eat for all their own.  We, of course, didn't tell them that the "sauce" was wasabi.  That would have freaked them out.  Instead they happily enjoyed the Tuna.  Of course, they wanted nothing to do with the seaweed salad.
It's a solid tuna that I would get again, but I'm not sure everyone should.  The portion is somewhat small, and the tuna does lack flavor.  If you know you'll like the flavors it is worth buying, but in a place with so many items to choose, this one may not quite stack up.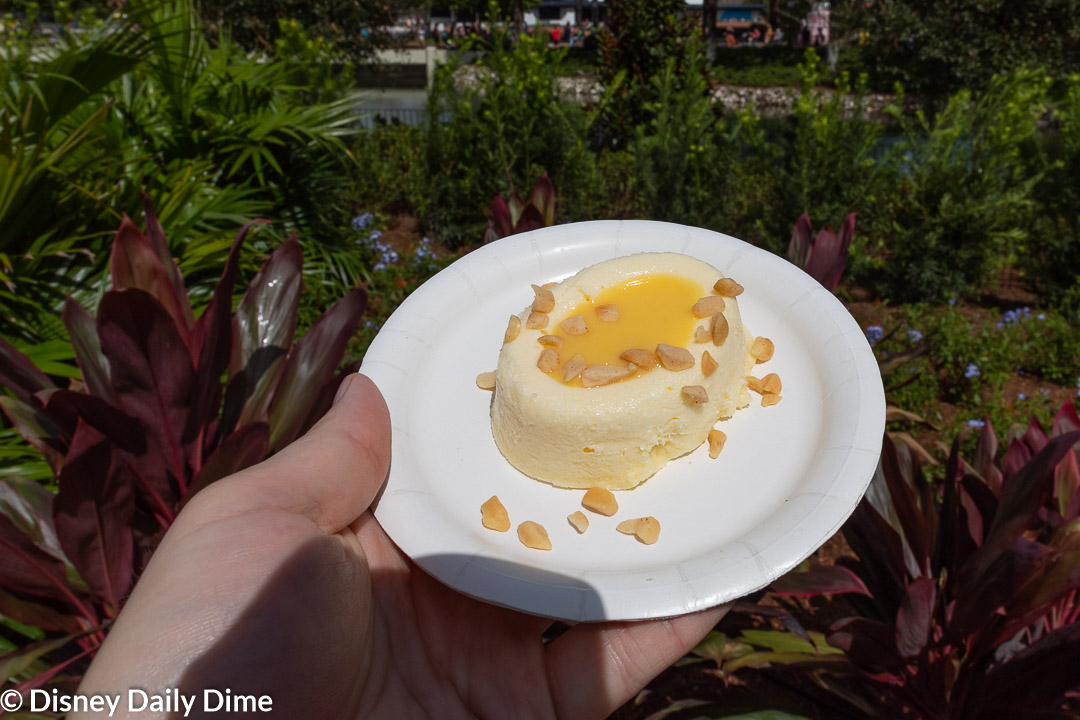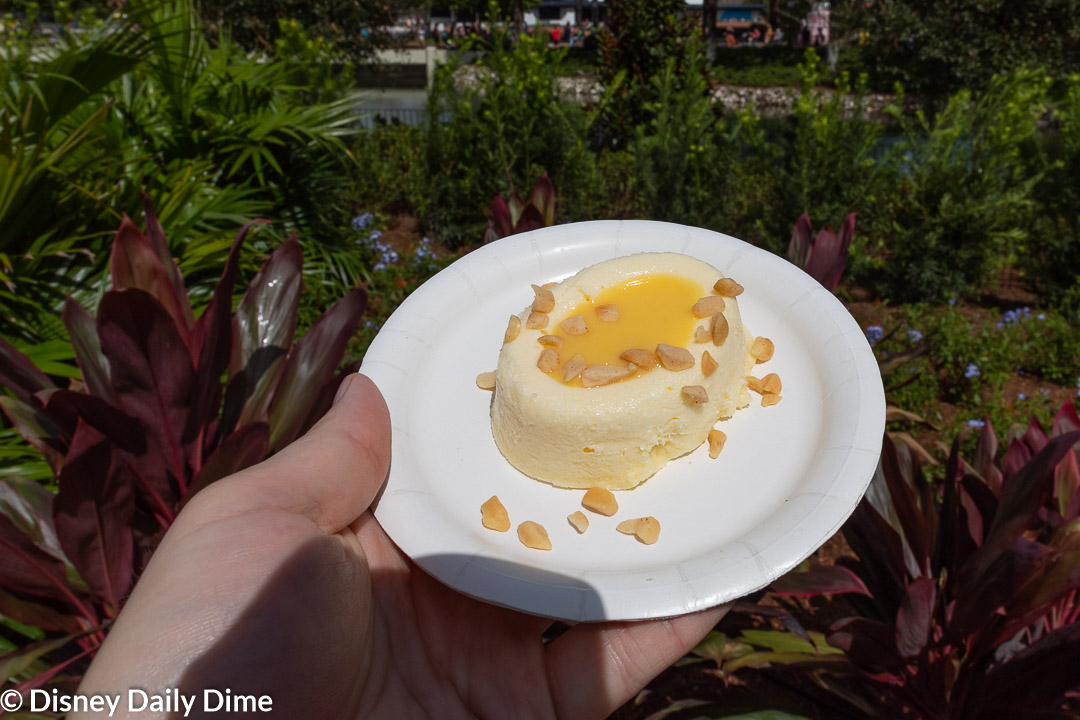 Passion Fruit Cheesecake with Toasted Macadamia Nuts (Gluten Free, Kid Approved, Vegan) – $4.00
For dessert at the Hawai'i booth, we decided to have the Passion Fruit Cheesecake.  This is one of those dishes that we've talked about since last year's Food and Wine Festival.  It's a lighter cheesecake, which we actually like because, on a hot summer day, I don't need a brick of a cheesecake sitting in my stomach.
What really makes this dessert for us is the passion fruit flavor.  We love pretty much anything passion fruit, so this strikes a chord with us.  If you like that flavor, this will probably be a hit with you too.  The toasted macadamia nuts add a little crunch, but sort of feel like filler.  They don't add much to the cheesecake other than a little texture.
Given that, I'm not sure that I would recommend this to everyone, but if you love passion fruit, you really must get this dessert.
Anna and Elsa love this dessert so much that the almost insisted that we get another order of it, but unfortunately Dad said no.  They were very disappointed.
Wrapping Up
With that, we'll wrap up our Hawai'i review from the 2019 Epcot Food & Wine Festival.  A staple booth that has been around for nine years now, we think you'll find something to love here.  We have heard good things about the SPAM Hash, but we will have to try that next time.  You may want to consider giving that a try as well.
If you're looking for more of our 2019 Food & Wine Festival booth reviews, feel free to check out our Appleseed Orchard or Australia reviews too.