One of the new global marketplaces at the 2019 Epcot Food & Wine is the Appleseed Orchard.  In this post, we'll review the items we sampled at Appleseed Orchard, including our thoughts on some specific dishes and drinks and the "booth" in general.  If you want more details on the Food & Wine Festival, you can check out our Ultimate Guide to the Food & Wine Festival.
The reason I say "booth" with the quotes is that Appleseed Orchard is not actually a booth at all. Instead, it is the largest marketplace in all of the Food & Wine Festival.  It is located in the Canada pavilion within the Circle-Vision theater.  The theater was closed as they are reworking the movie.  This is a plus as it relates to the global market places because it has air-conditioning!  Appleseed Orchard provides a respite from the blistering sun.  This makes for an excellent mid-day stop if you've been out in the heat for a while.  That's the good news on the location and setup.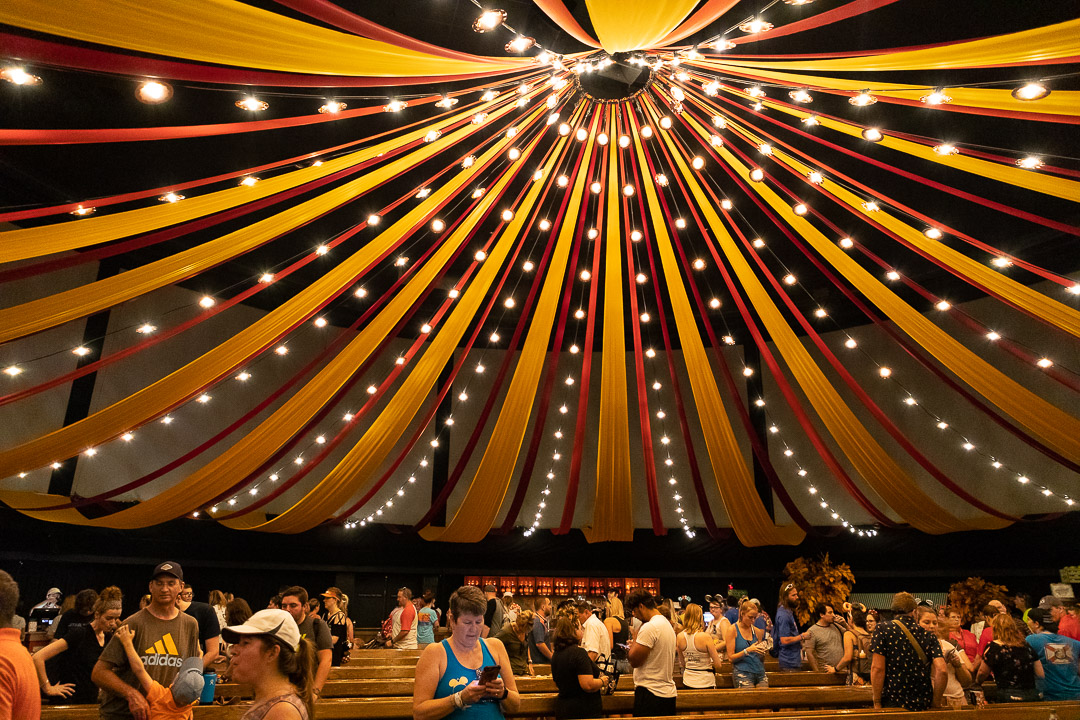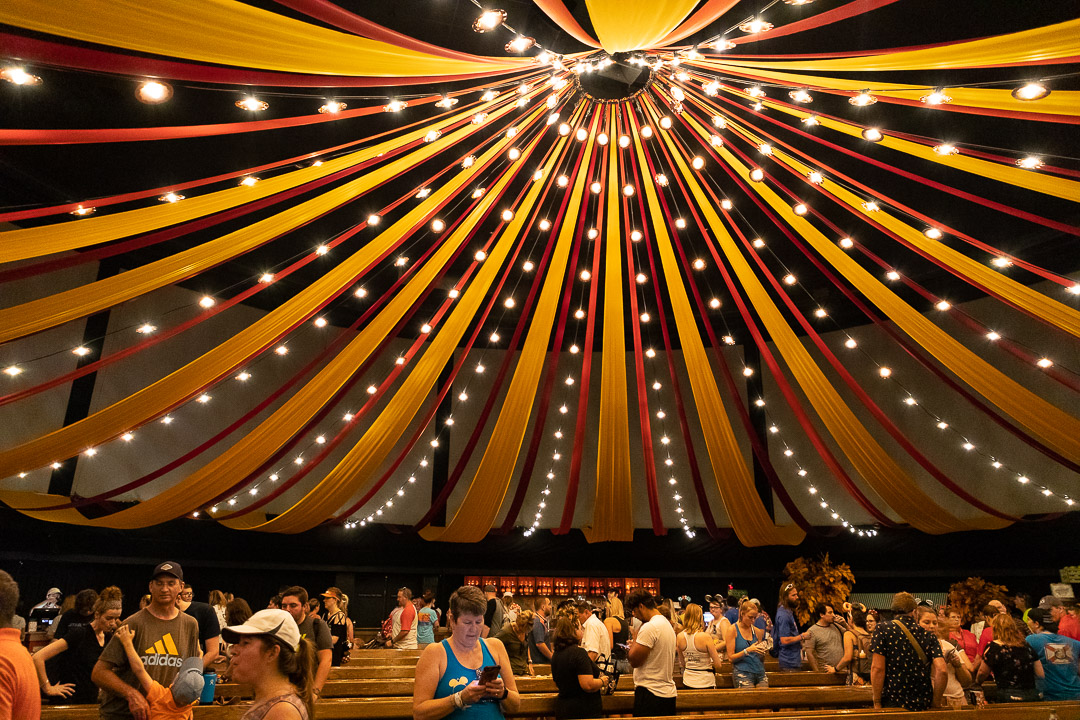 The bad news is that there is no place to sit, outside of just plopping down on the floor.  The old wood railings that lined the Circle Vision theater are still present and are used by guests to set their food down and then awkwardly stare at other guests to their left, right and directly in front of them.
Those same wood railings also made it a bit confusing and challenging to get around within the theater.  The area between the railings is jammed with people trying to eat and drink their purchases.  So, you have to sneak by them ever so slightly to find a small space that might be open.  When we did this, we also found food crumbs and spilled drinks.  It wasn't that appetizing of a setup to us.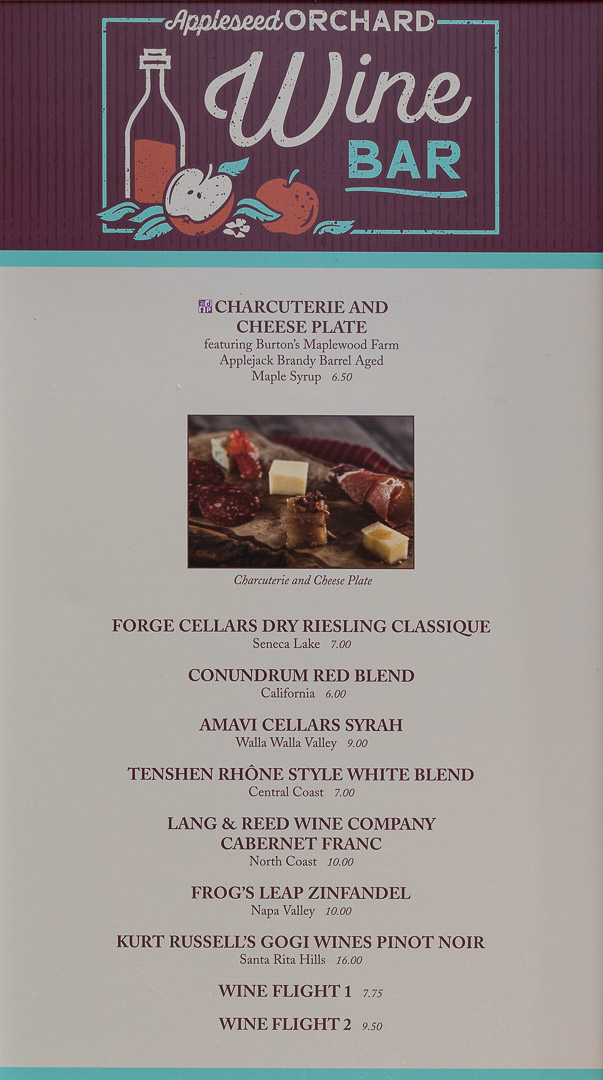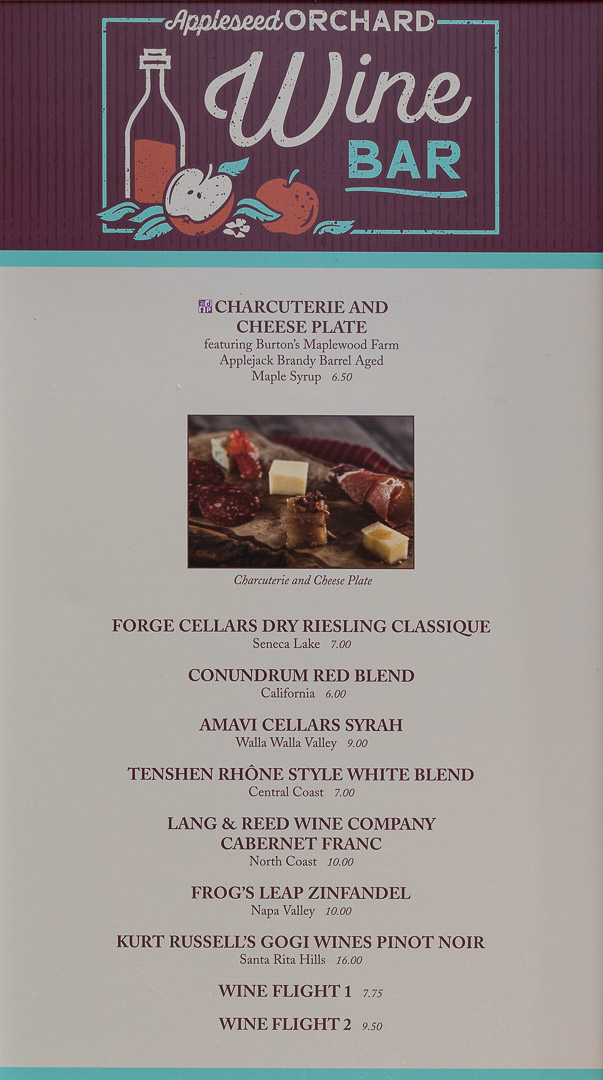 Beyond that, the room is set up with two different bars.  As you walk in, the Appleseed Orchard Wine bar will be on your left.  You can see the menu for it in the picture above.  You'll notice that there is only one food item on it.  The rest of the menu features various wines.  Outside of the Applejack Brandy maple syrup, I'm honestly not sure what this part of the booth has to do with apples?  Do we really care that much?  No, but it is just odd to me.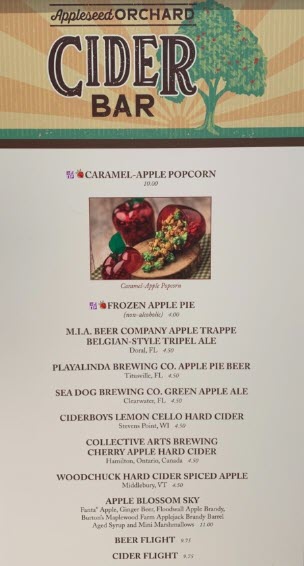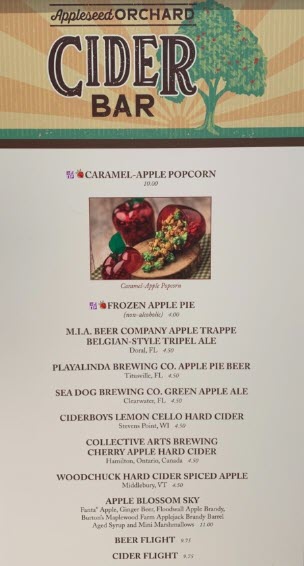 If you want something from the Appleseed Orchard Cider Bar, you'll have to make your way to the opposite side of the theater (on your right as you enter).  You can see the menu for the cider bar above.  Again, you'll notice only one food item available.  This time is it Caramel-Apple popcorn.  The rest of the menu is again comprised of drinks.  This time it's a mixture of ciders, beer, a cocktail, and a fun non-alcoholic drink.  At least all of this has some sort of apple theme to it.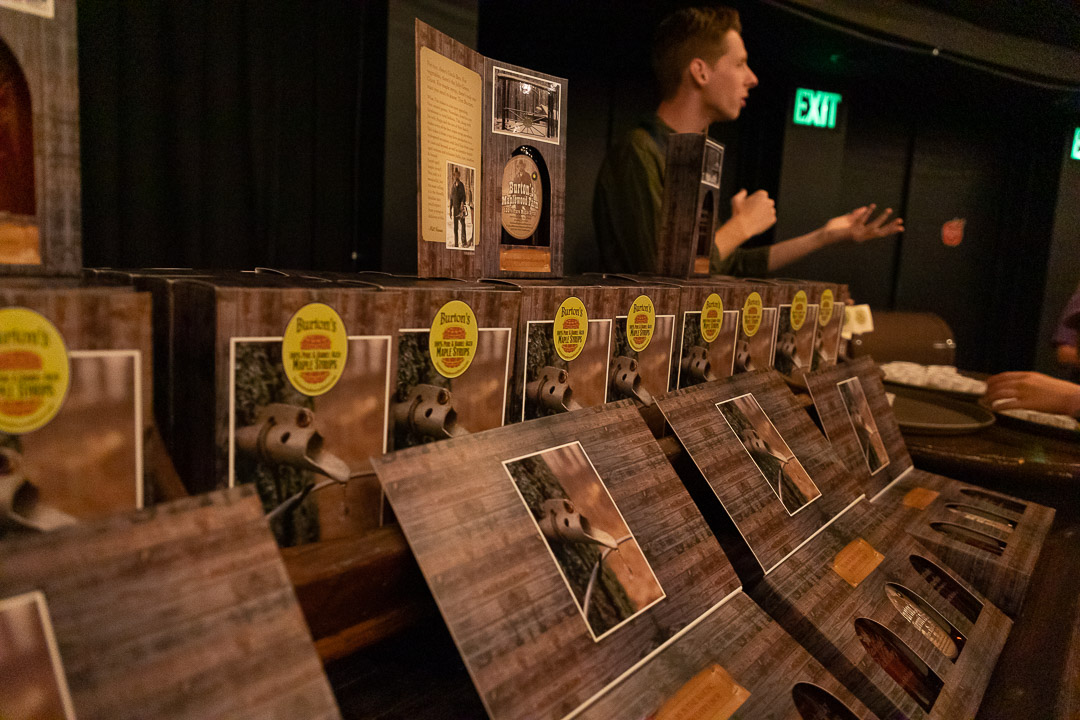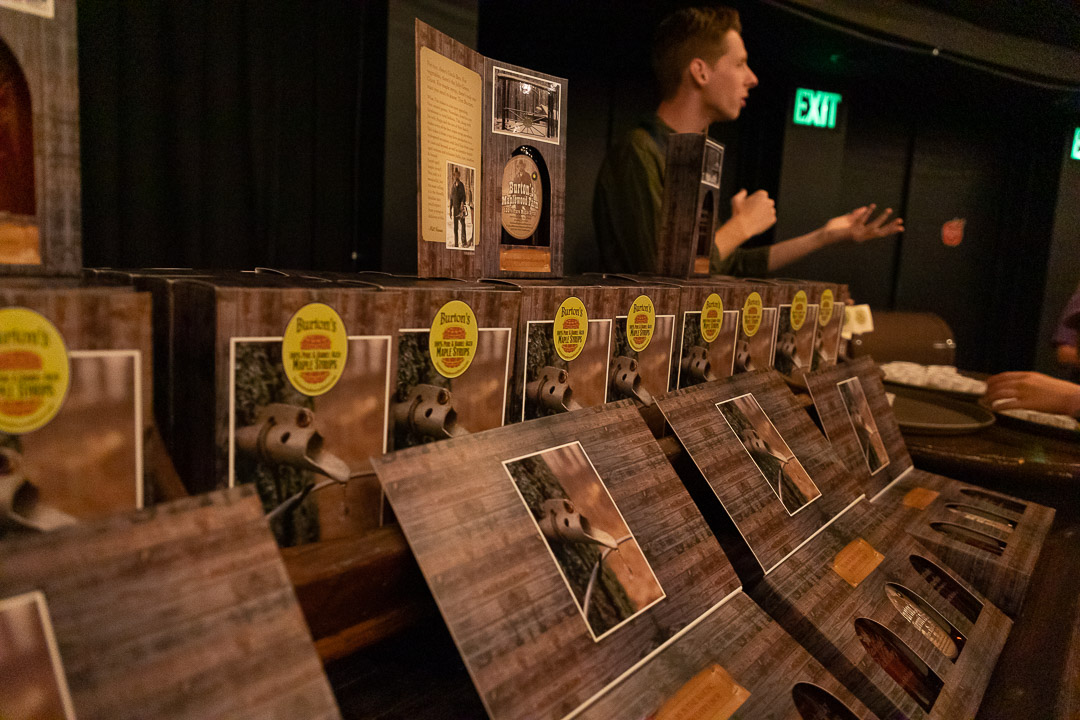 Before we get to the food/drinks we sampled as part of our Appleseed Orchard review, I want to point out something that we found to be a hidden gem.  It's also something we haven't seen mentioned in many reviews.  That would be the Burton's Barrel-Aged Maple Syrups.  Not that you would want to buy a $25-$40 bottle of syrup, many might think that is crazy.  However, they do a free sampling of their varieties, and we have to say two of them were fantastic.  These syrups taste like some of your favorite spirits, without the alcohol.  You don't have to buy anything, just sample and walk away.  We think you should stop by and give them a taste.
Okay, now on to the food.  We'll take it item by item.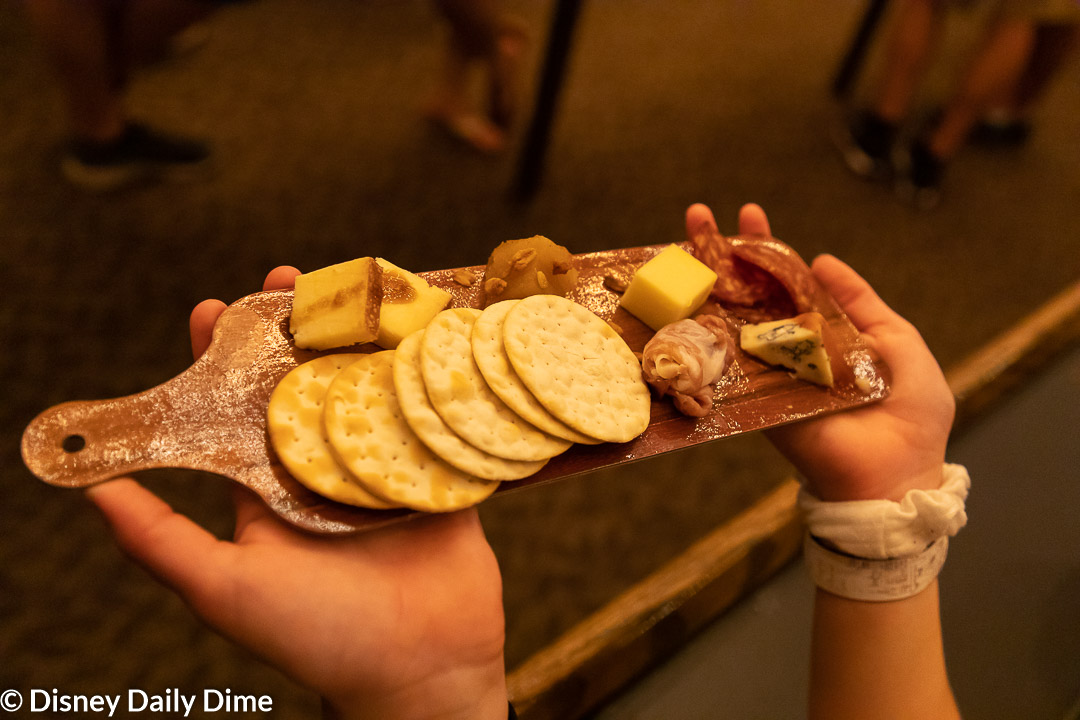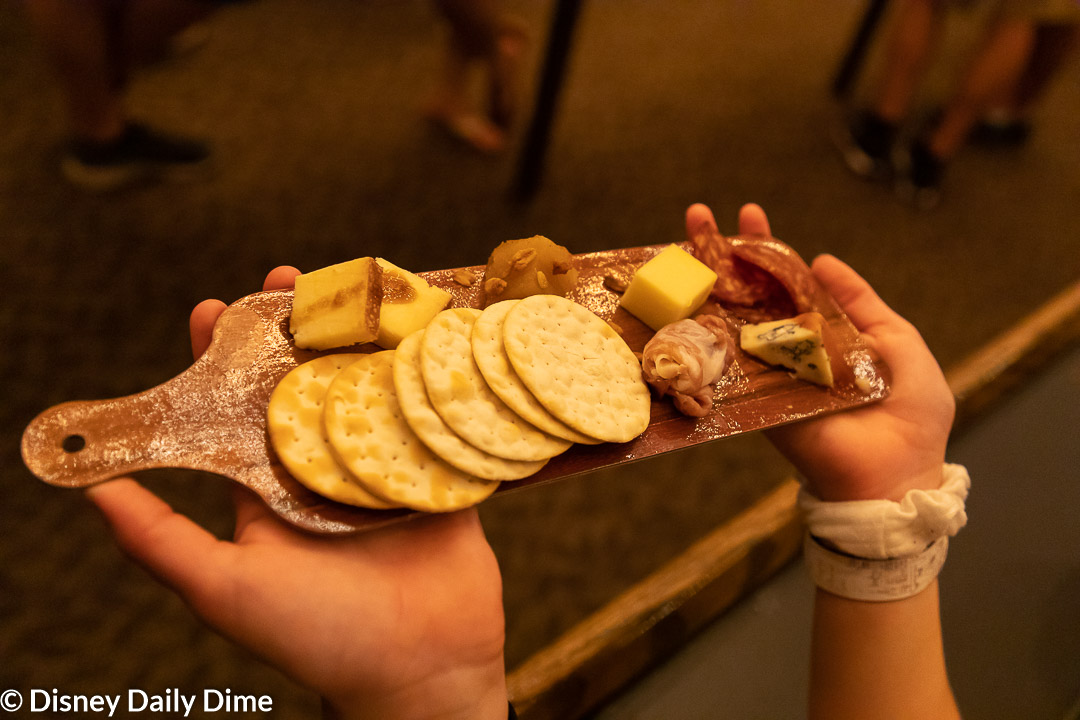 Charcuterie and Cheese Plate featuring Burton's Maplewood Farm Applejack Brandy Barrel Aged Maple Syrup – $6.50
This charcuterie plate features an assortment of meats and cheeses to sample, along with water crackers.  The crackers are basic, but what makes this plate shine is the meats and cheeses.  Especially the ones where the syrup pairs well with it.  I ordered a pour of the Conundrum Red Blend with this plate and thought it was an excellent pairing.  The wine cost $6, which feels a little pricey for a small pour, but as I said, it paired so well with the plate I can justify it.
I should note that if you are going to get wine with this or just in general, you get more value by ordering a wine flight.  Yes, they are smaller pours, but you get three different wines for effectively a couple of bucks more.  That's a better good value and in retrospect, something I should have ordered.
As far as kids go, Anna and Elsa both surprisingly enjoyed eating the meats on the plate.  The cheeses were hit and miss, however.  The more adventurous the flavors were, the less apt the kids were to eat it.
At $6.50, I thought the charcuterie plate at Appleseed Orchard was definitely worth the price and is something I would eat again. I'd also say the same thing about the Conundrum Red Blend.  I'm not a wine aficionado, I just know what tastes good to me.  The wine tasted sweet, but not overly sweet, with pleasant hints of fruit.  I didn't find it to be as heavy as a cabernet or other reds.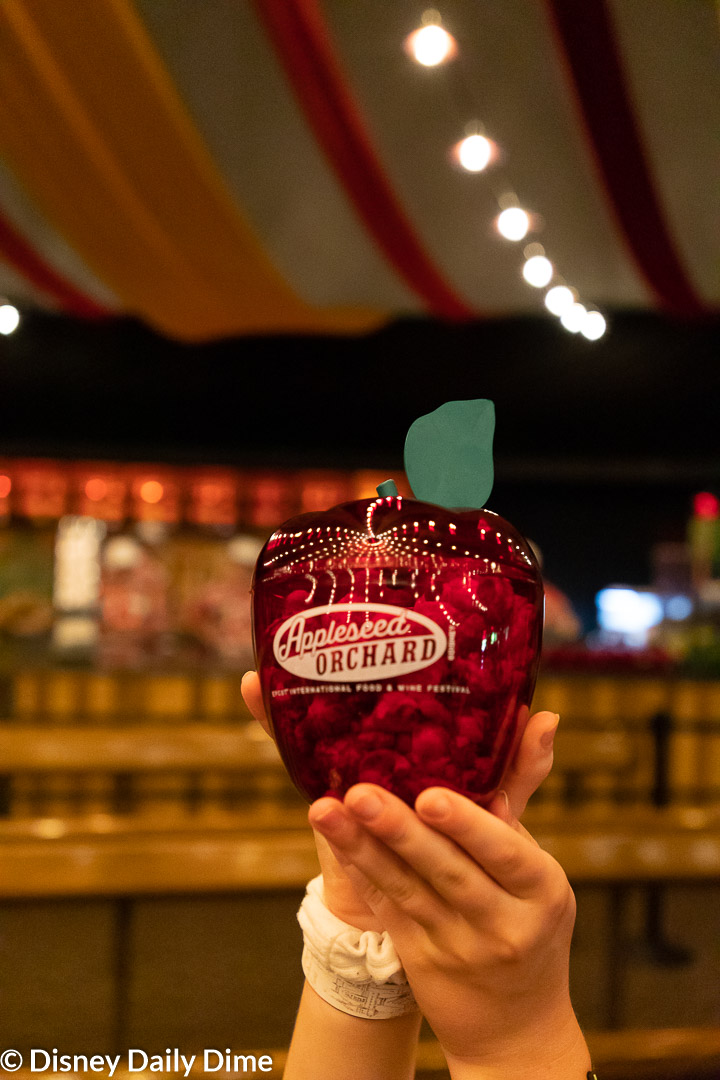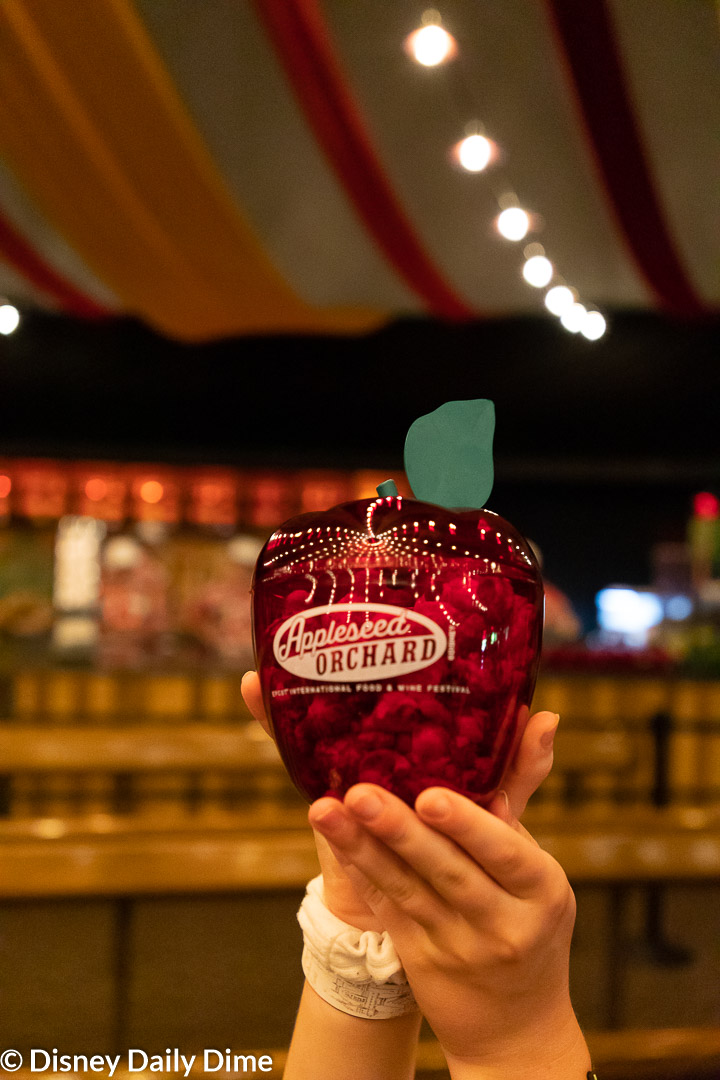 Caramel-Apple Popcorn – $10.00
Next, we made our way over to the Apple Orchard Cider Bar.  Here we ordered the lone food item, which is the Caramel-Apple Popcorn.  You might be saying to yourself, $10.00 for popcorn?  Let alone what amounts to two good handfuls of popcorn.  Fair question.  We will say that the popcorn comes in the fun little apple container you see above.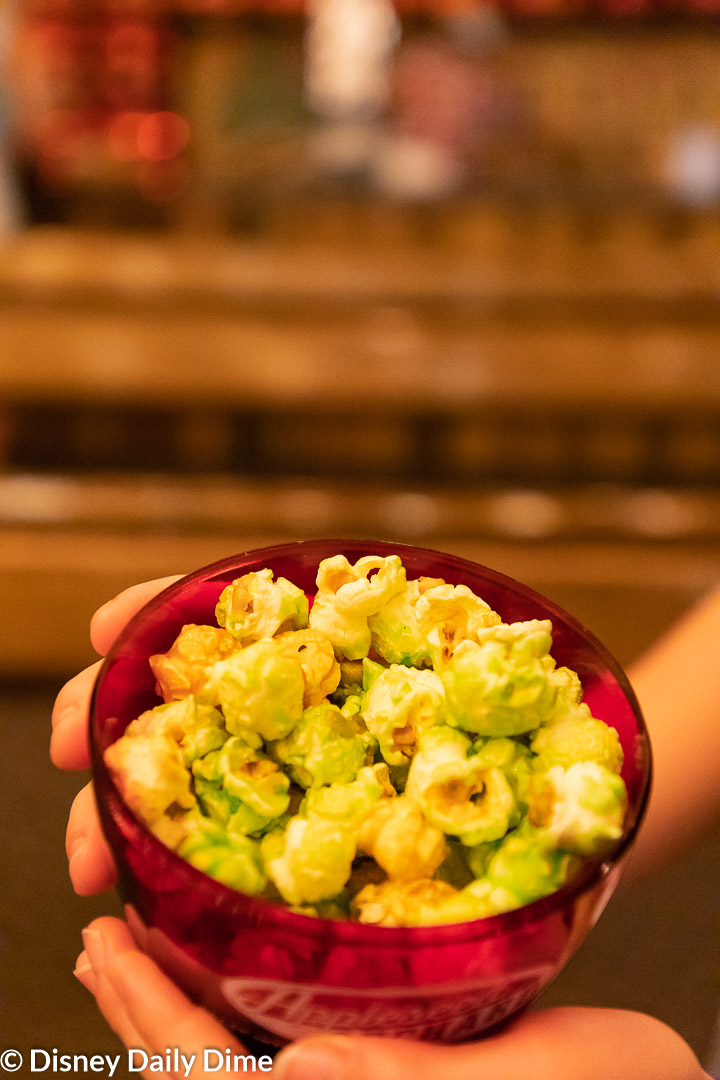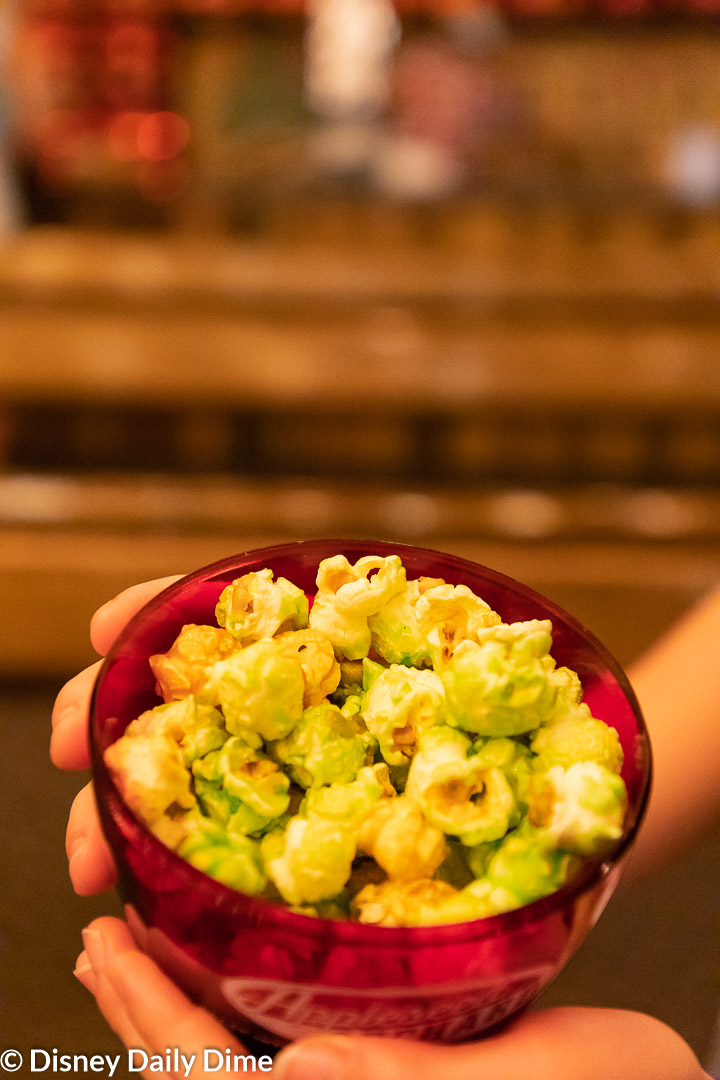 Now, while the popcorn was good, it's nothing more than a mixture of caramel and apple-flavored popcorn.  And while the apple container is a fun novelty, it's one more thing to cram into your park bag and keep up with or to throw away.
In either case, we have a hard time justifying this item.  I will say that Anna and Elsa loved the popcorn, but they don't get that $10 popcorn is a bit crazy.  I'd say if you want something like this you should head over to the Germany pavilion and get some caramel popcorn at Karamell-Küche.  It will cost you less, and you don't have to mess with the souvenir cup.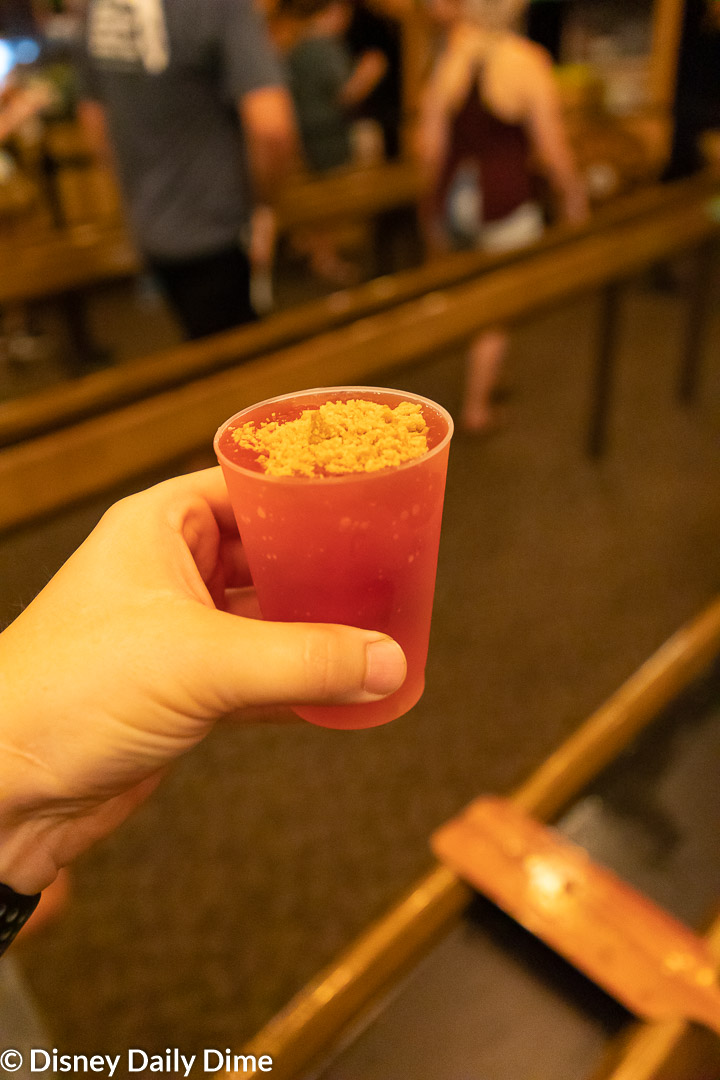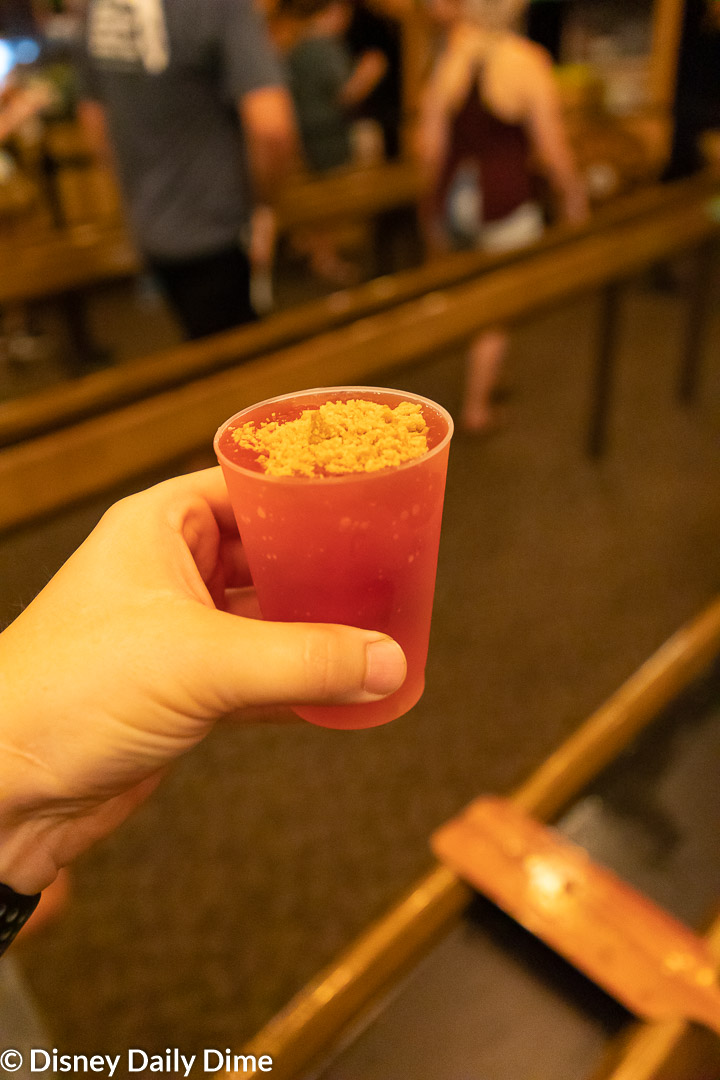 Frozen Apple Pie – $4.00
The frozen apple pie drink at Appleseed Orchard is something that I have to say grew on me as I drank it.  With my first drink, I got a hefty dusting of the graham cracker topping stuck in the back of my throat, which caused me to cough quite a bit.  After that, I was a little more careful about how I drank the "pie."  As I drank more of it, I liked the flavor more, but it didn't really hit a high note for me until I got near the bottom.  Why?  Well because there is a healthy dose of apple pie filling in the bottom of the glass.  I was able to take the last few drinks with the pie filling, and I thought it was excellent.
So, the real question is, why aren't they serving this with a spoon or straw?  I genuinely think it needs a spoon so you can scoop up the apple filling and eat all of it together.  The filling strikes me as too big to suck up through a straw.
Surprisingly, Anna and Elsa didn't like the drink.  Neither of them liked the graham cracker topping and were out on it before we got to the apple pie filling.
This fun drink is something I would get again for sure.  How does it work for your kids (or you)?  Well, their enjoyment may vary.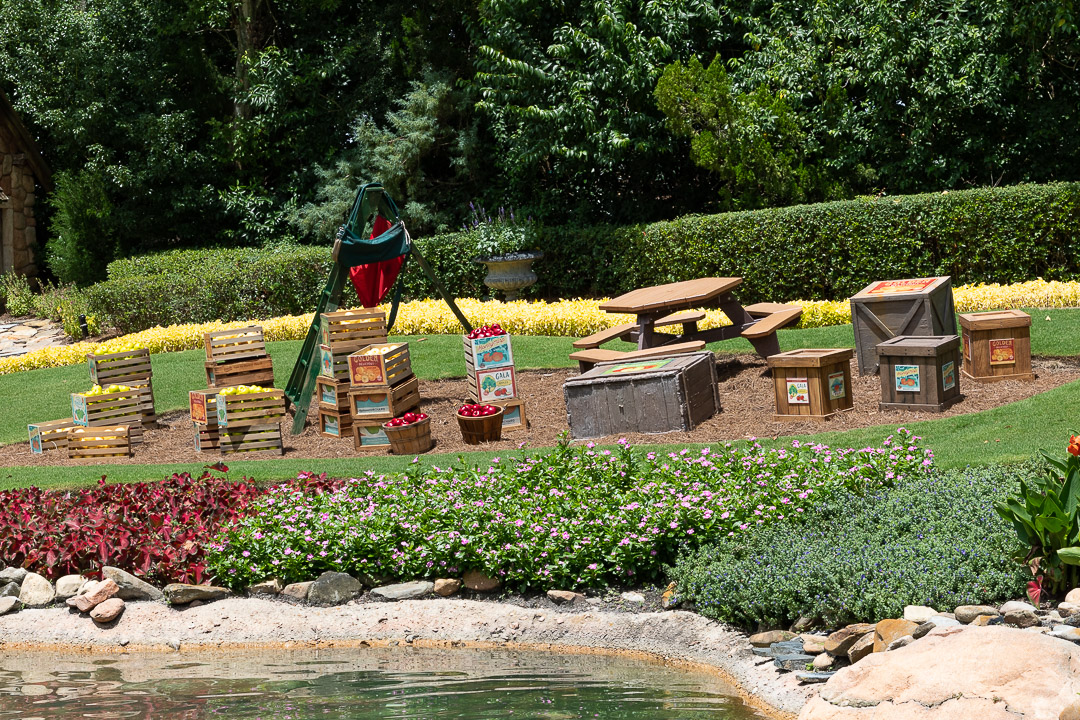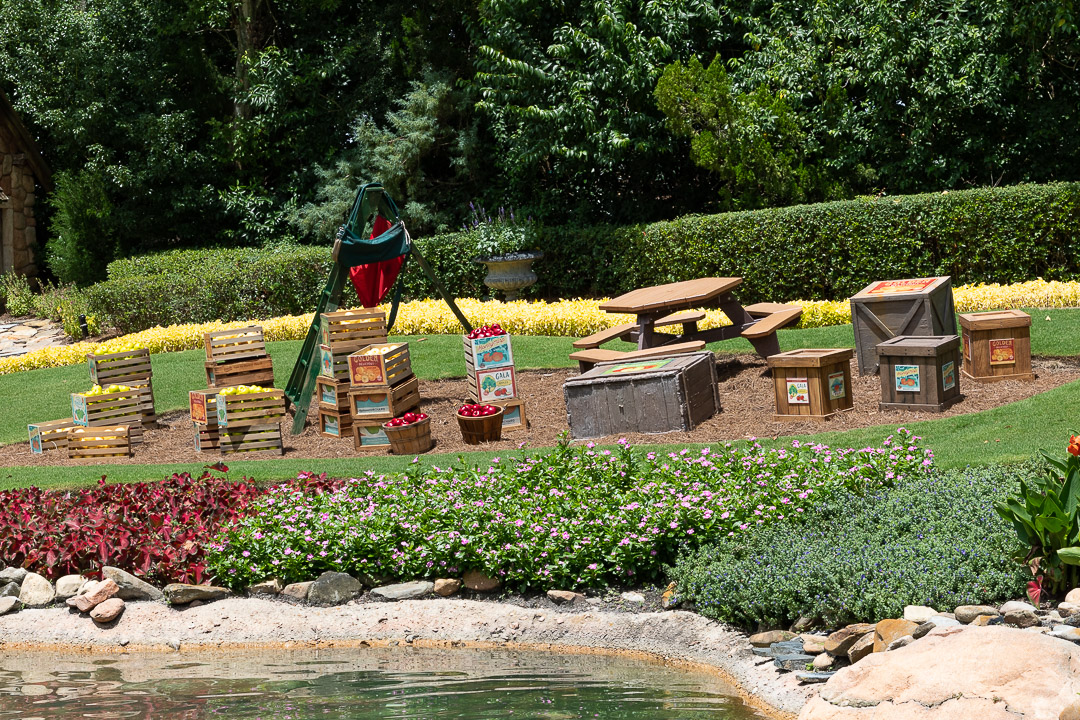 Wrapping Up
And with that, we'll wrap up our Appleseed Orchard Review.  It's a new booth with some promise for sure, but I'd like to see more out of it as it relates to apples since that is supposedly the premise of the booth.  That said, the wine bar side offers some compelling options that are worth your consideration, even if they don't feature much apple.  And oh, do make sure you sample some of those maple syrups if that's your sort of thing.  They were a unique experience that was a pleasant surprise for Carla and me.