Active Eats is a returning booth located in the "Next Eats" area of the festival.  The three booths that make up "Next Eats" are Active Eats, Earth Eats and Coastal Eats.  They are located in Future World West, near the walkway behind Innoventions West heading towards World Showcase Plaza.  If you want to know more about the festival, check out our Ultimate Guide to the Epcot Food and Wine Festival.
Active Eats, given its name, invokes thoughts of light and healthy fare that support an active and healthy lifestyle.  Well, two out of the three dishes seem to work within this thought process…one not so much.  You can find the entire Active Eats menu in our picture below.


The items here were all excellent, albeit a bit polarizing within our family.   Here in our Active Eats review, we will discuss the three food offerings and give you our thoughts on each.


Loaded Macaroni and Cheese with Nueske's Pepper Bacon, Cheddar, and Leeks (Kid Approved) – $5.25
Hmmm.   While this sounds fabulous, this really isn't the first thing that comes to mind as something that would fit under "Active Eats."  To me, macaroni and cheese is one of the ultimate comfort foods, perfect for a cozy evening at home.  Nonetheless, this is an offering at Active Eats.
Mike and the girls were able to taste this dish, but I had to abstain due to my gluten sensitivity so we can only offer three opinions on this one.  Mike enjoyed this take on a classic dish.  He liked the contrast that the pepper bacon provided with both a bit of crunch and a subtle bacon flavor added to the mac and cheese.  He felt the leeks were lost in the dish even though they were visibly present.   It was not a "complex" grown-up mac and cheese though.  This wasn't Kraft's version straight out of the box, but it was clear there was only cheddar cheese present and not a blend of cheeses that would elevate the flavor profile.   He thought the portion size was generous, making it a decent value for the price but he wouldn't necessarily order this again.
The powers that be at Epcot labeled this as kid approved, but unfortunately, our kids did not approve.  Apparently, Anna is a macaroni and cheese purist and doesn't like anything added to hers.  Elsa liked it more than Anna, but it was worthy of only a shoulder shrug and a "meh" from her.    As we reiterate in our reviews, your mileage may vary with the little ones in your travel group.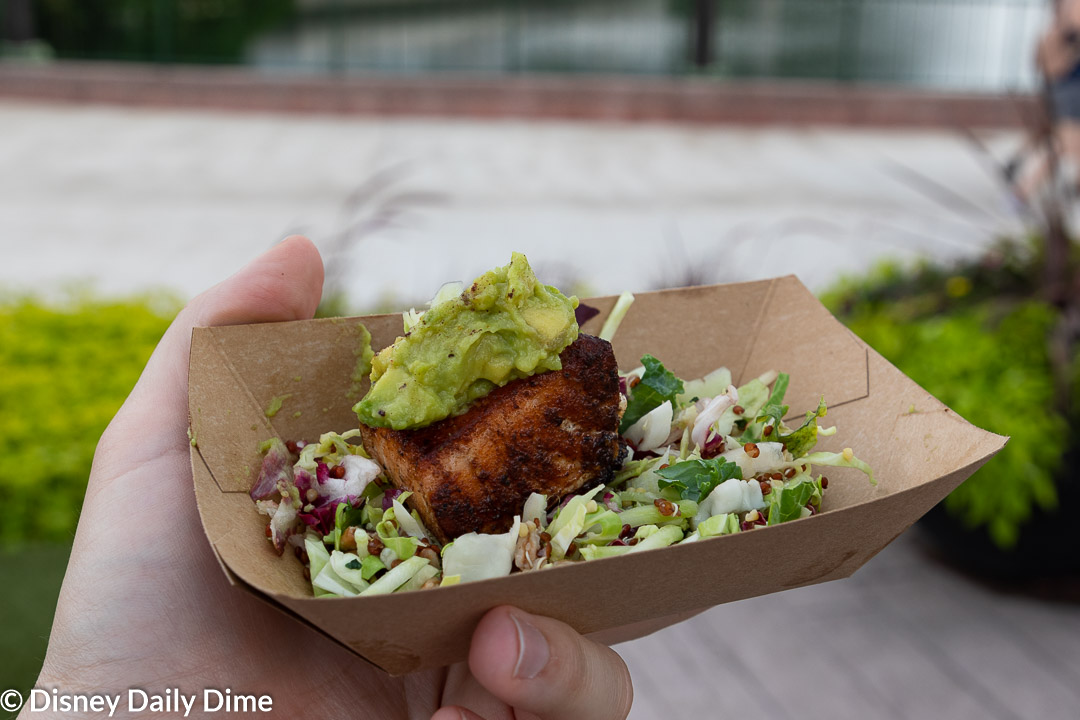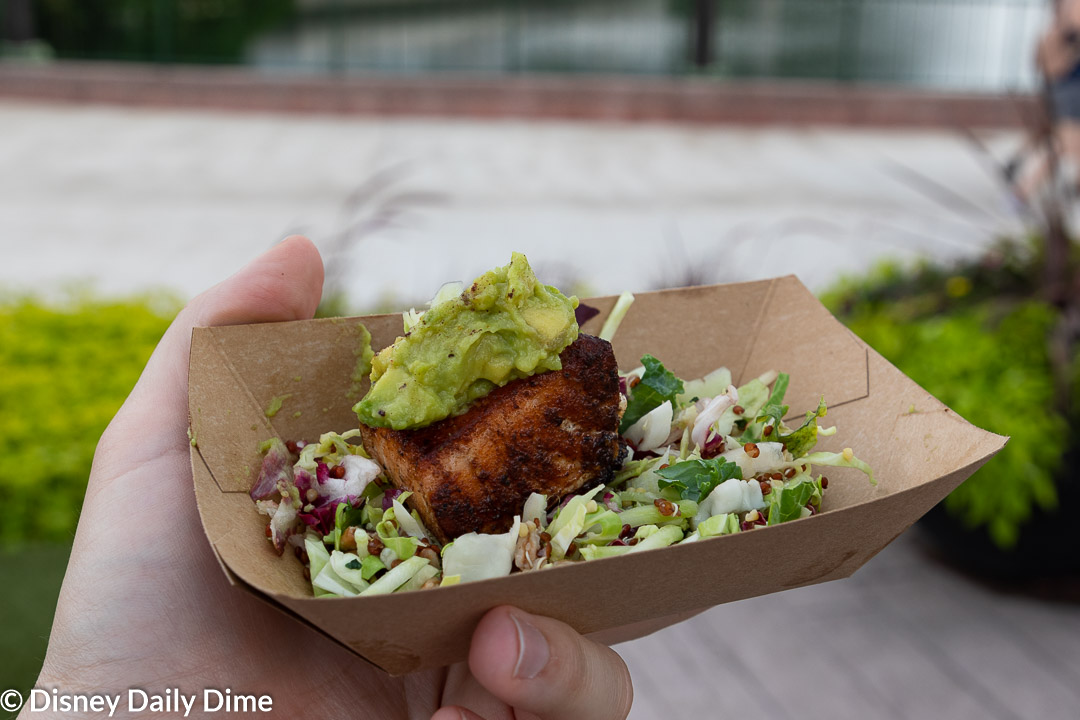 Spice-Crusted Verlasso Salmon with Uncle Ben's Quinoa and Ancient Grains Medley, Crushed Avocado and Sherry Vinegar (Gluten Free) – $5.75
Unlike the macaroni and cheese, this dish embodies what I would expect from "active eats."   The salmon is returning this year, however with a different base.  Last year it was served with a "warm lentil power salad" versus this year's quinoa medley. 
The salmon was cooked perfectly, and the spice crust added wonderful flavor.  The salmon flaked easily and had no off-putting fishy taste.   My only disappointment was that the serving was woefully small.  The crushed avocado served as a great accompaniment to the spices used with the salmon.
The quinoa and ancient grains medley weren't quite what I was expecting.   The grains blended into what was essentially a slaw.  The slaw was vinegary, crunchy and satisfying but I didn't feel like the description of the dish fit what was presented.  I don't have any complaints though as it balanced out the salmon nicely.  The slaw was a great side dish for the hot, humid Florida weather when you might not want something hot and heavy. 
The girls were both fans of the salmon, which was a pleasant surprise as Anna is not usually a seafood fan.  She is becoming more adventurous food-wise on our Disney World trips, even telling us she will try more foods here because "she trusts Disney!".   It cracks us up, but parents take note – you may be able to use a similar strategy to get your kids to try new foods while under the Disney umbrella!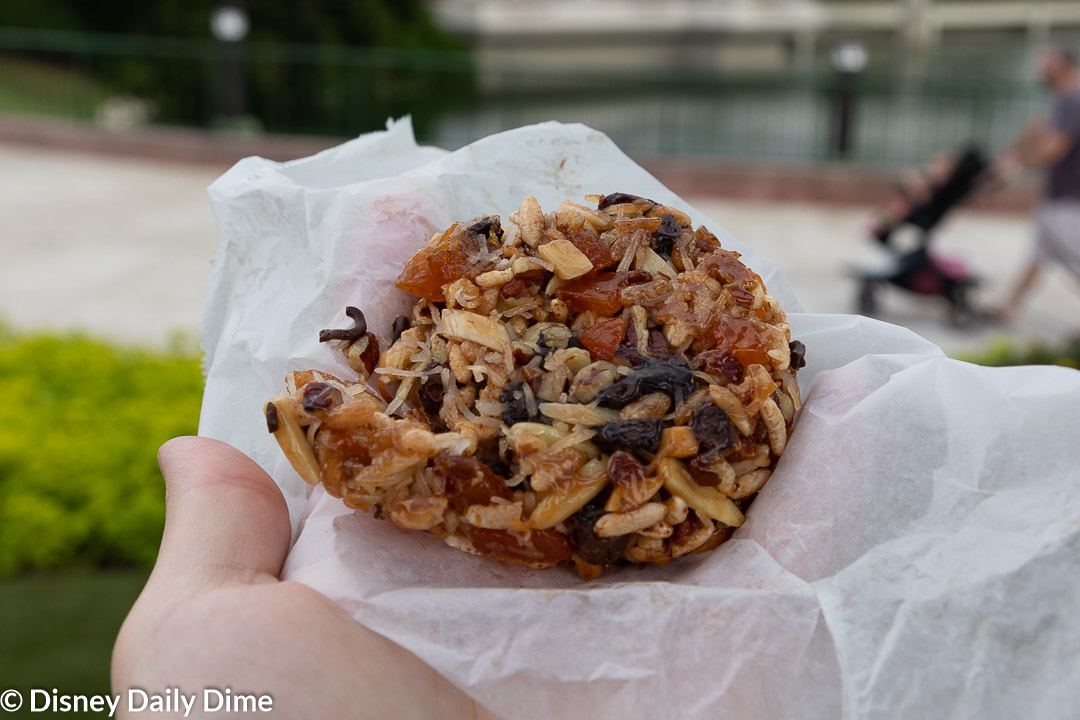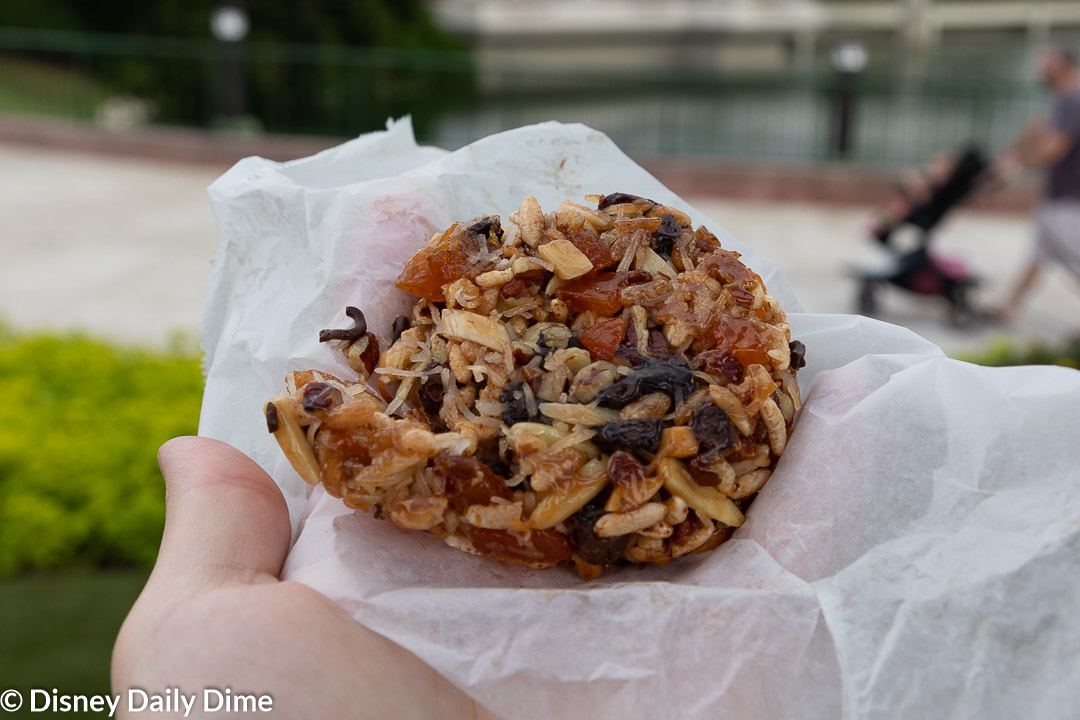 Fruit and Nut Energy Snack: Housemade Mixture of Apricots, Almonds, Pecans, Coconut, Puffed Rice and Chocolate Chips (Gluten Free, Vegan, Kid Approved) – $4.00
The fruit and nut energy snack can best be compared to a Kind Bar but round like a rice cake.  Chock full of the fresh ingredients above and a generous amount of chocolate chips, this was a filling but not heavy option.   The chocolate did overpower the other flavors a bit, but I did detect the almonds and pecans.  Unfortunately, the apricots and coconut got a little lost.  I was hoping to have a better balance of flavors, but I am being a little nitpicky.  I enjoyed this a lot.
Anna was a big fan of this one too and ate a good portion of it.  Elsa recently got braces on her top teeth so, in an abundance of caution, she only ate a bite that I broke off for her.  She didn't hate it but didn't love it.  Mike is not a fan of Kind bars and the like (even though he likes all the ingredients individually) so it wasn't his cup of tea.  Despite the split opinions in our family, I encourage you to try it if you are looking for something sweet but aren't wanting one of the sweeter desserts.  The value is hard to justify when comparing it to a Kind bar or a protein bar, but within the confines of the Food and Wine Festival, I thought it was a good value for the price as the serving was pretty large and very shareable.
Wrapping Up
And with that, we'll wrap up our Active Eats Review for the 2019 Epcot Food and Wine Festival.   The offerings were clearly a little polarizing within my family, but if this kind of food is your jam (as it is mine), I think you will enjoy the salmon and the energy snack.
If you're interested in some of our other Food and Wine Festival booth reviews, you can read our Hawai'i review or our Australia review.