When Halloween approaches at Magic Kingdom, you can rest assured of two things.  That would be the start of Mickey's Not So Scary Halloween Party and some fun Halloween snacks and desserts.  I'd say that you can also count on increased prices from the prior years, but that would be a bit of a bummer view on things…oops.  Here in our guide to Halloween Snacks and Desserts at Magic Kingdom, we'll cover all the different Halloween treats you will find.
This post is mostly a review, but a bit informative, as we didn't have a chance to eat every single Halloween treat served at Magic Kingdom.  However, we will review all the treats we had, including the good and not so good.  On our fall trip to Magic Kingdom and MNSSHP this year, we brought Anna and Elsa with us, so we'll provide their kids view on the snacks and desserts too!  Oh, and we'll tell you where you can get all these treats.  If you want to skip to our view on each Halloween snack and dessert, skip to the end of each section.  We'll give a verdict on each item we sampled.  The things we like will be called treats, and the things we didn't like will be tricks!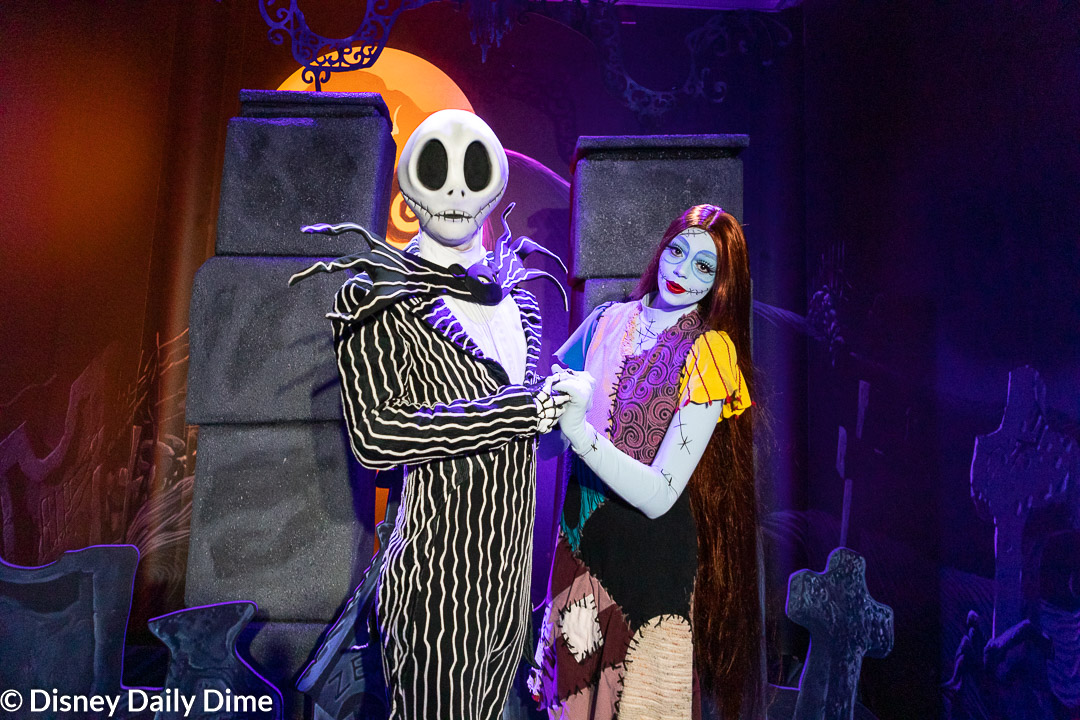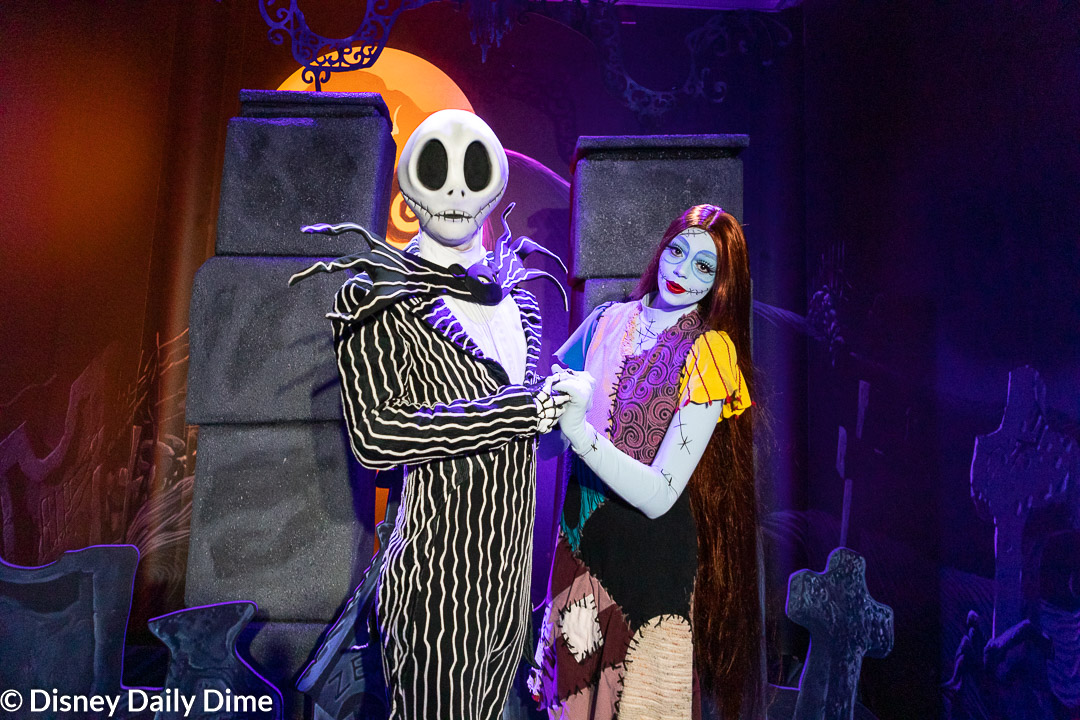 You'll note that this Halloween Snack and Dessert Guide is specific to Magic Kingdom.  That's because Disney World doesn't really do anything that acknowledges the day at any of the other parks.  Epcot is consumed with the Food and Wine Festival, and the other parks aren't as logical a fit for this, in our opinion.
We've generally been more interested in the Halloween desserts, so we'll start with those first.  We sampled more of them too, so that we can give our opinion on more items.  After that, we'll turn our attention to the more savory snacks and Halloween specific drinks.
Before we get to the Halloween treats, do note that some of these treats are served exclusively during Mickey's Not So Scary Halloween Party, while others can be had during regular operating hours and on non-party days.
Halloween Desserts at Magic Kingdom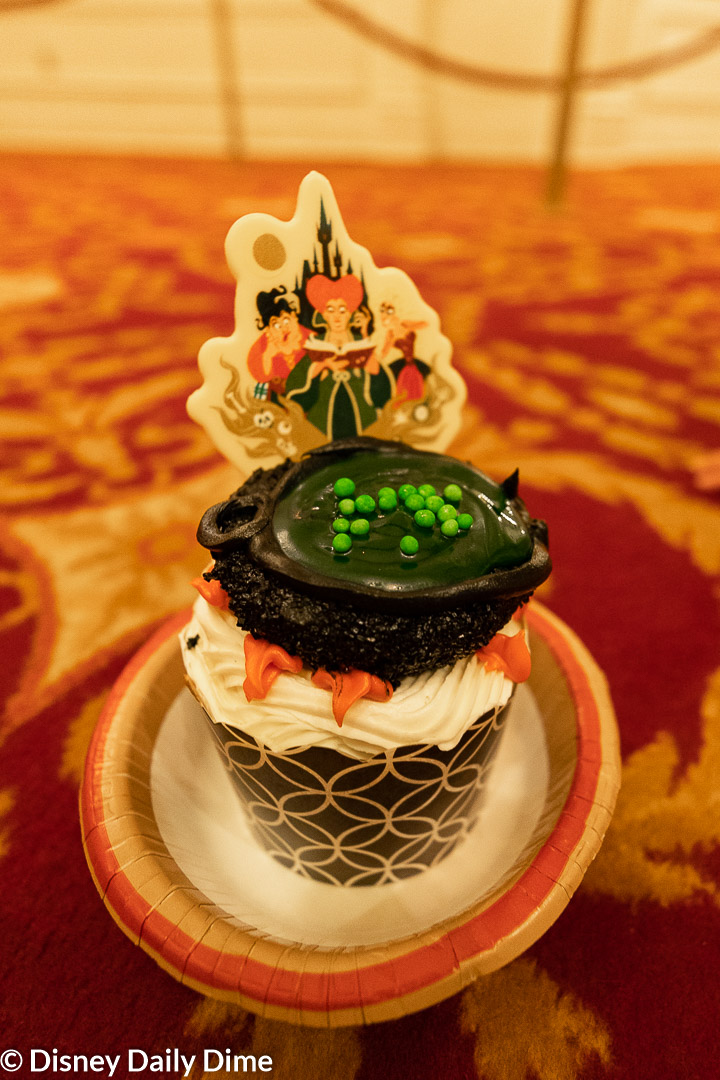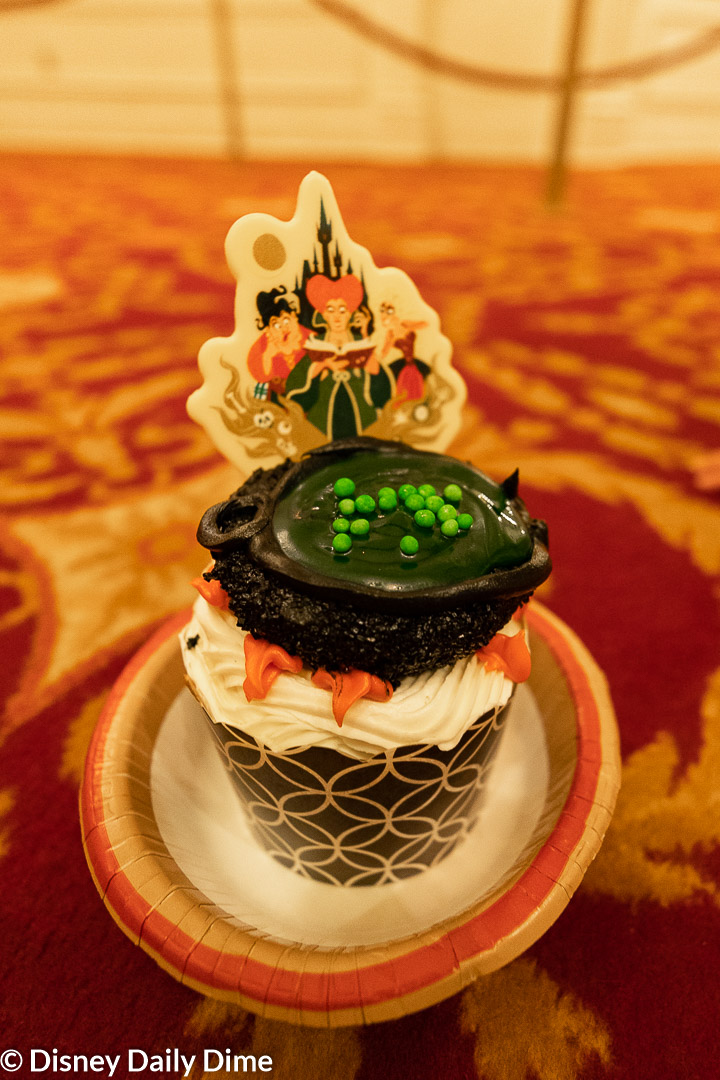 Amuck, Amuck, Amuck Cupcake – Available All Day at Main Street Bakery
This giant cupcake is something we think will need to be shared.  A great problem to have if you are with a group.  Just make sure you get a few forks and knives when you pick it up at Main Street Bakery.
Beyond the size, the Amuck, Amuck, Amuck Cupcake was surprisingly good but very rich.  The amount of icing here is impressive.  The cupcake is made of a base yellow cake with what looks like confetti sprinkles in it, but it is actually a mixture of peanut butter chips, chocolate candy bits, and toffee.  The cupcake is filled with caramel sauce and topped with buttercream icing.  To take it over the top, the cupcake is then topped with an edible cake "cauldron" iced with chocolate buttercream.  The massive Halloween dessert is finished off with a piece of white chocolate featuring the Sanderson sisters.  This thing is HUGE.
We loved this cupcake, and for the size, there's some good value here.  There are a couple of things we should point out.  The cauldron does have cake in it.  The very first bite I took of it was 100% icing, and it was a bit too sweet.  Once I got some of the cake in the middle, it was much better.  As someone who isn't a huge chocolate fan, the bottom layer was my preference, but the combination of the chocolate on top and the non-chocolate flavors gave it a balance I appreciated.
Do note that the chocolate cauldron will stain just about anything, including your teeth.  It isn't anything permanent, but the kids were a little weirded out by our teeth turning black.  This treat definitely needs to be eaten with a knife and fork.  If you eat it will little kids, you may want to help them, or you could wind up with a sticky, chocolatey mess.  At one point Elsa was going to try and shove the whole cauldron in her mouth, but fortunately we prevented that disaster.
One little touring tip here.  We went and got in line for the Jack and Sally meet and greet, and then Carla went and got the cupcake.  Sitting on the floor, while we waited, made eating this large dessert much easier.
Our verdict is: TREAT
We think this Halloween dessert is worth grabbing, just bring a friend or five.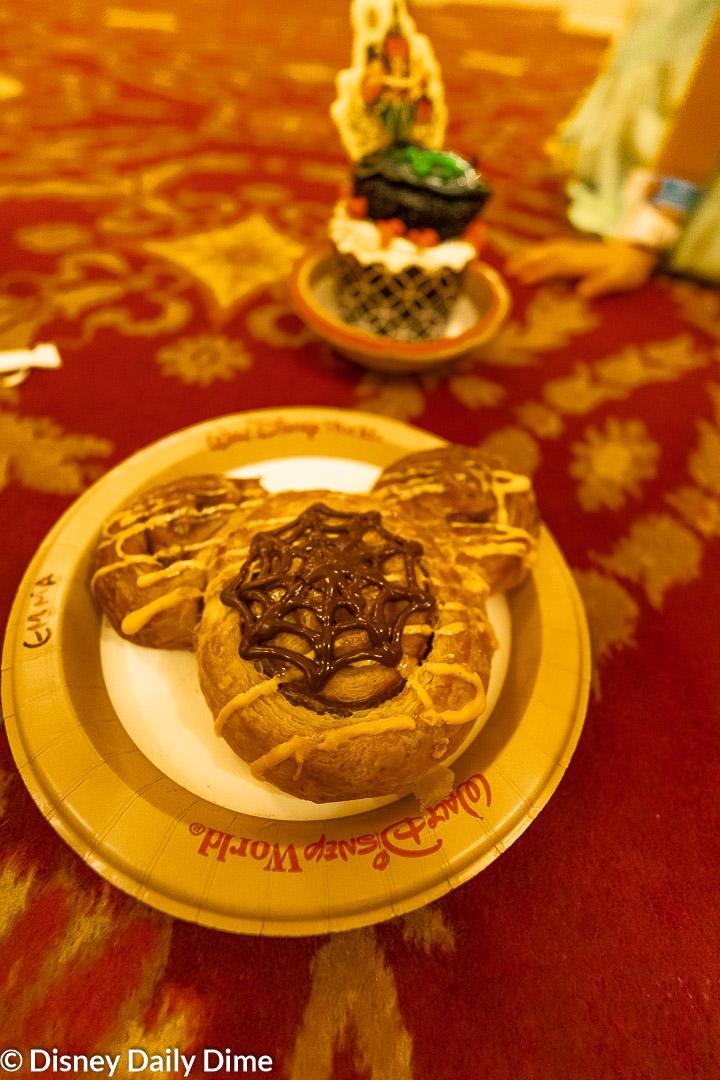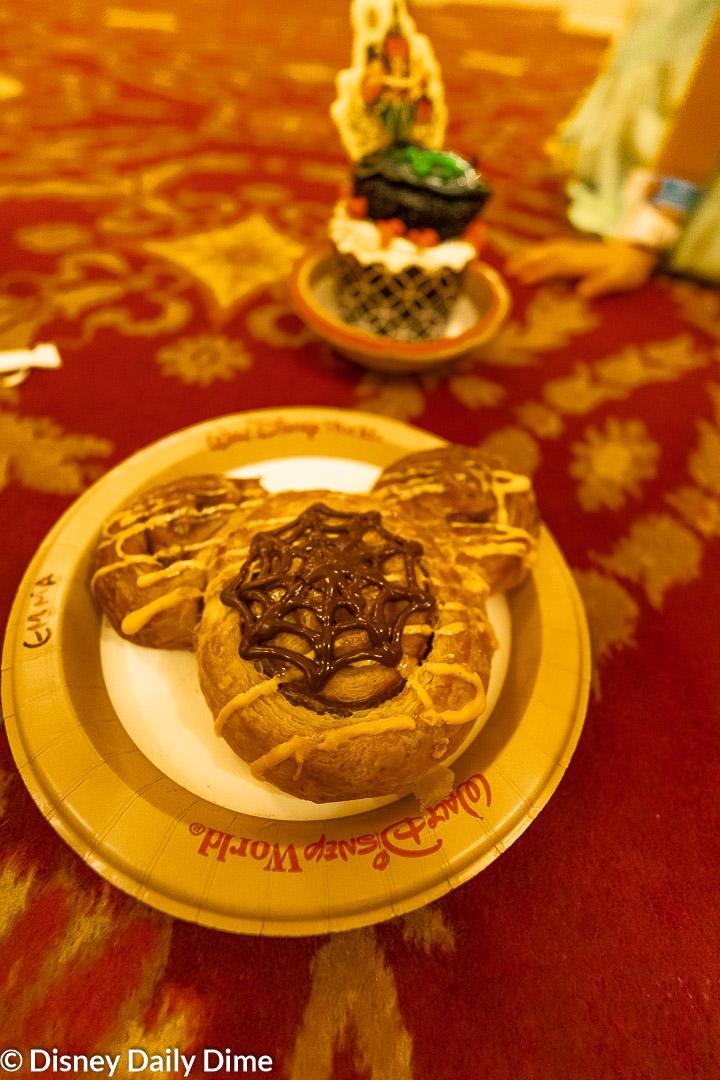 Halloween Cinnamon Roll – Available All Day at Main Street Bakery
This was the second year I've had the Halloween Cinnamon Roll.  Unless Disney ups their game, it will possibly be the last.  This visual appeal of the cinnamon roll is undeniable.  A Mickey-shaped cinnamon roll, topped with an orange and black icing made to look like a spider web, is amusing.
Unfortunately, that's the end of my praise.  The icing was bland and didn't provide much flavor…and that's the good part of the taste.  The cinnamon roll itself was dry as could be and devoid of any real flavor.  It makes me wonder if they make them somewhere else and ship them into Magic Kingdom to serve.  Somewhere along the way, they dry out.
This Halloween treat at Magic Kingdom is a hard pass in our eyes.  If you want a cinnamon roll, head to Gaston's Tavern and get the one there.
Our verdict is: TRICK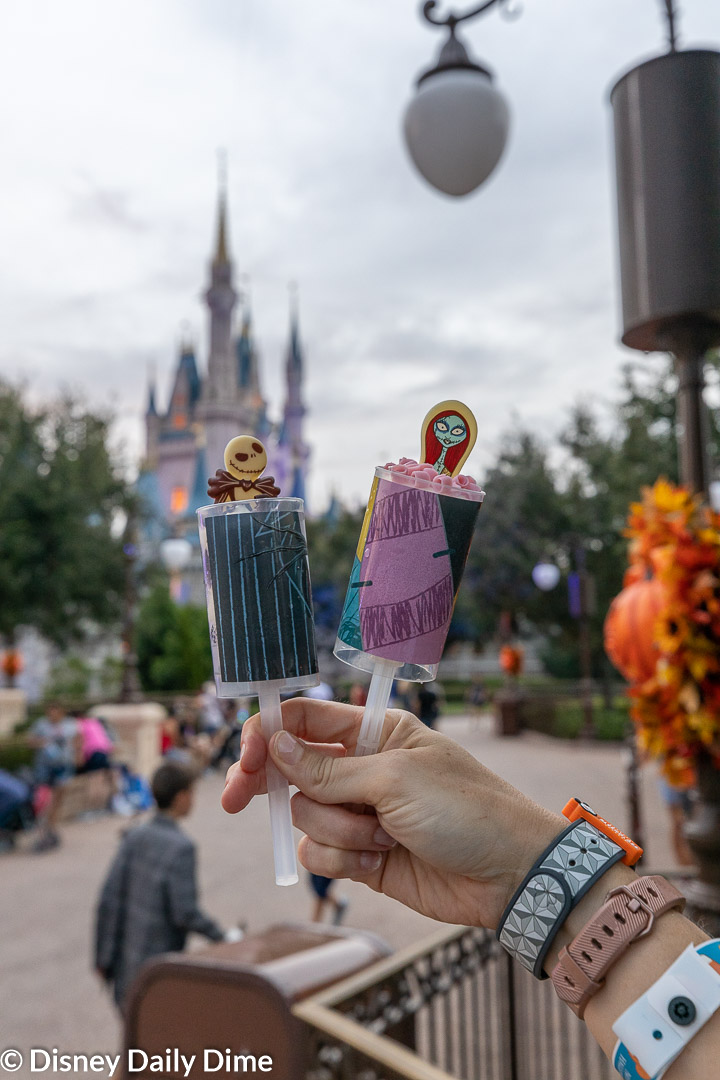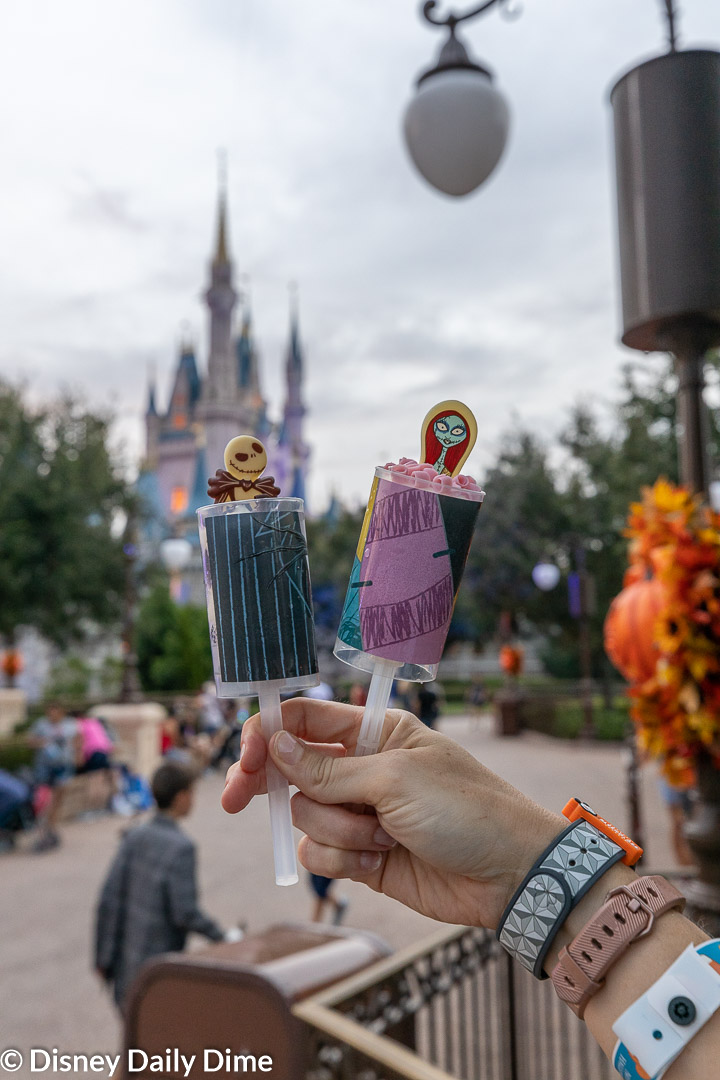 Jack and Sally Push Cake Pops – Only Available During MNSSHP at Carts near Cinderella Castle
These are two different push pops that you can find during MNSSHP.  The Sally cake pop is actually gluten free, which made Carla happy.  The gluten free cake is topped by buttercream, crispy strawberry pearls, and a white chocolate Sally.
The Jack cake pop features chocolate cake, vanilla buttercream, white chocolate, and dark chocolate crispy pearls, dark chocolate curls, and a white chocolate Jack Skellington.
There was a split decision on these Halloween desserts, with Anna and Elsa liking them, while Carla and I were not fans.  The icing was boring and too much, while the cake was dry and didn't have much flavor.  They need to make the push pops in a fashion where you can get half a bit of cake and half a bit of icing at the same time.  Not sure that will fix the problems, but it's a start.
Our verdict is: TRICK
Unfortunately, this is another Halloween dessert that's a hard pass to us.


Billy's Worms & Dirt – Only Available During MNSSHP at Pecos Bill Tall Tale Inn and Café
The worms and dirt Halloween dessert features chocolate pudding topped with gluten-friendly cake crumbs, gummy worms, and a white chocolate decoration featuring a zombie.  This treat is tailor-made for kids.  The chocolate is sweet and yummy for them, while the gummy worms provide a fun little bit of candy to eat.
Anna said she liked the cake crumbs, but didn't enjoy the pudding.  Elsa only liked the gummy worms.
Our verdict is: TRICK
For kids, this is something they will likely want.  As adults, we'll pass on this.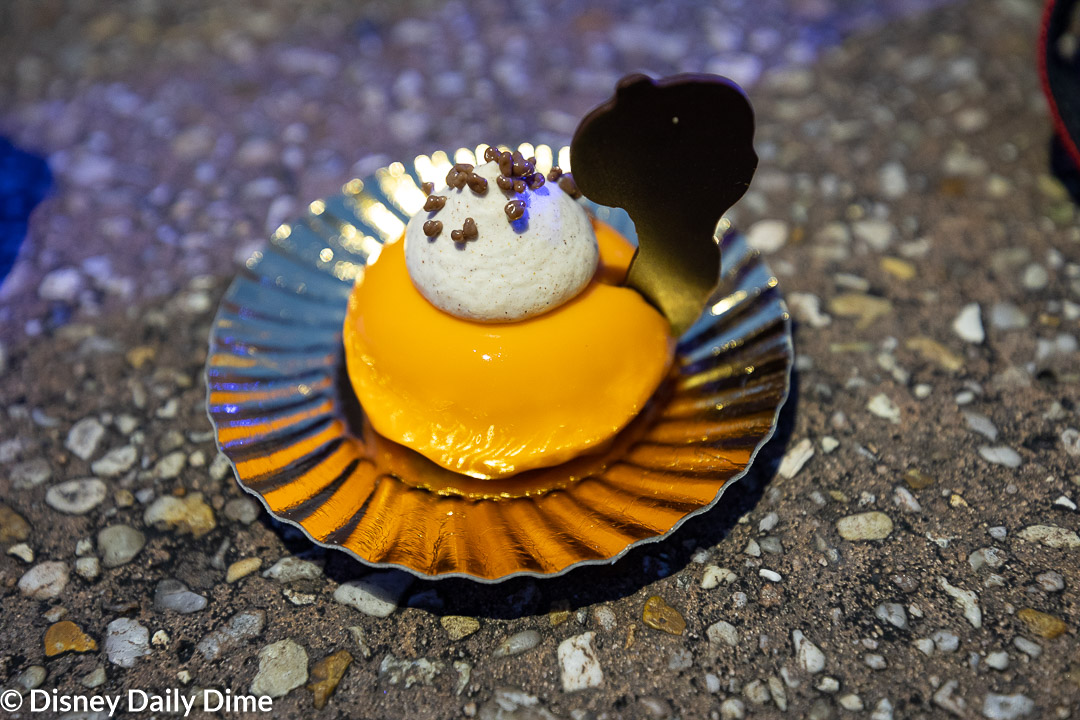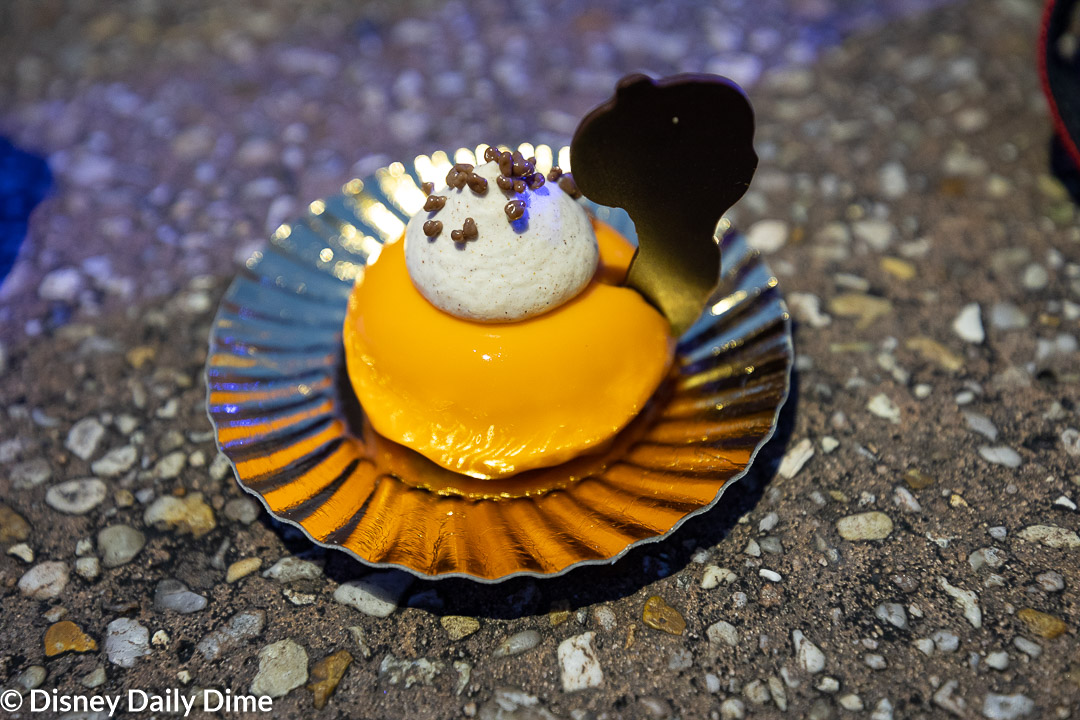 Headless Horseman Cheesecake – Only Available During MNSSHP at Sleepy Hollow
This is a pumpkin cheesecake layered with gluten-friendly chocolate cake, chocolate crunchies, orange glaze, and a Headless Horseman chocolate piece.  As a family that generally loves the pumpkin flavor, this was destined to be a hit with us.  This is easily one of the better party exclusives.
If you set up to watch some of the shows around Cinderella Castle, you can send someone in your party to get this dessert and bring it back while you wait.  We think it is worth your time.  While you are at Sleepy Hollow, you may want to pick up our next Halloween dessert…
Our verdict is: TREAT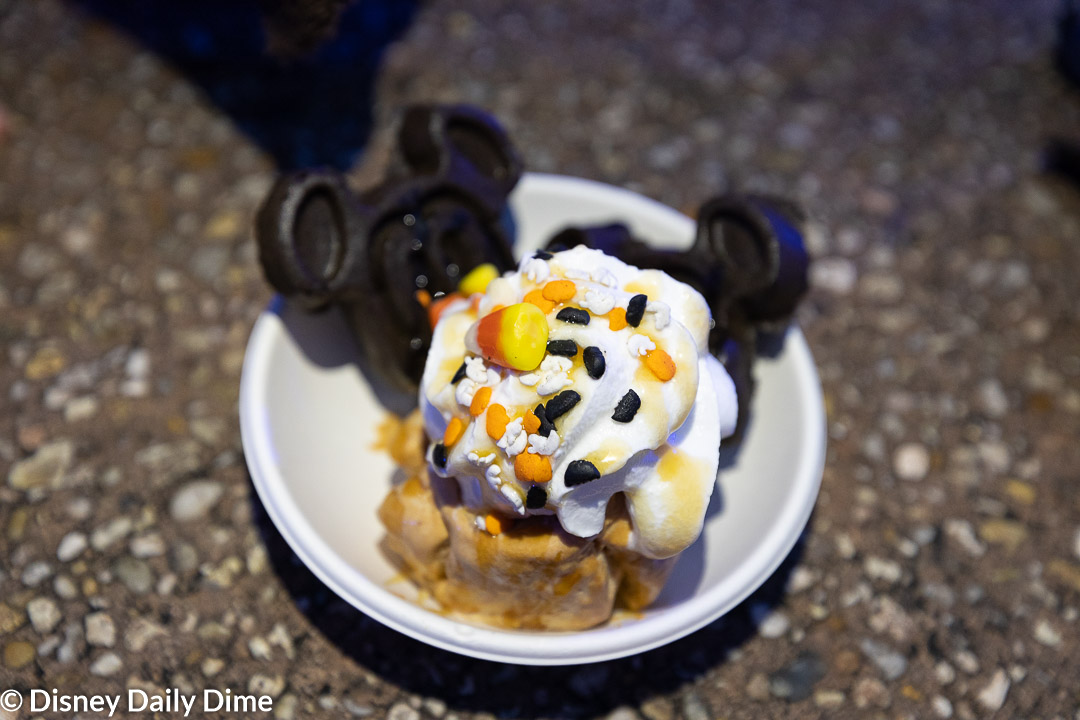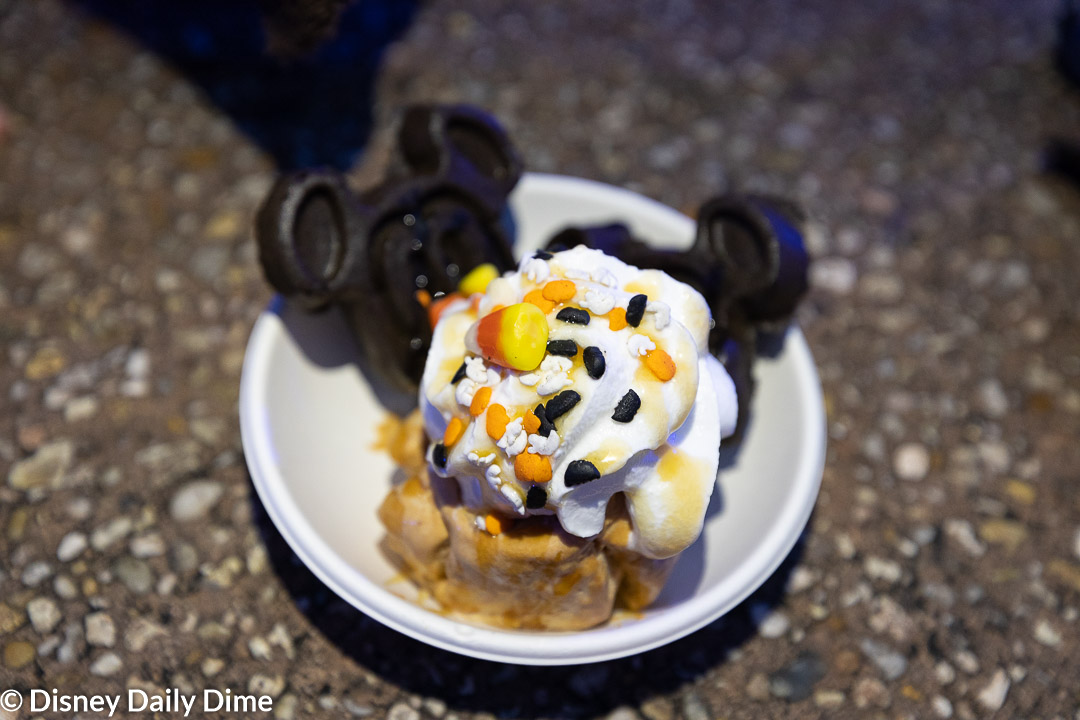 Chocolate Mickey Waffle Sundae – Only Available During MNSSHP at Sleepy Hollow
This Magic Kingdom Halloween dessert features black chocolate waffles, topped with pumpkin gelato, candy corn, caramel sauce, and sprinkles.  If you like chocolate waffles, you will probably love this dessert.  If you don't, like me, you may "only" really like it. That's because the pumpkin gelato and caramel sauce were delicious.  I could eat a ton of that.
I wasn't a huge fan of the waffles and did find them a little overcooked.  They may be cooked perfectly fine when you order; we assume ours was an isolated incident.  That said, Anna and Elsa liked the waffles a lot from a flavor perspective.  However they too complained about them bring overcooked.
I think this is a dessert worth ordering, assuming you like those chocolate waffles.  If you don't, I would probably pass.  Or you can make sure you have a 6-year-old and a 9-year-old to eat that part of the dessert.
Our verdict is: TREAT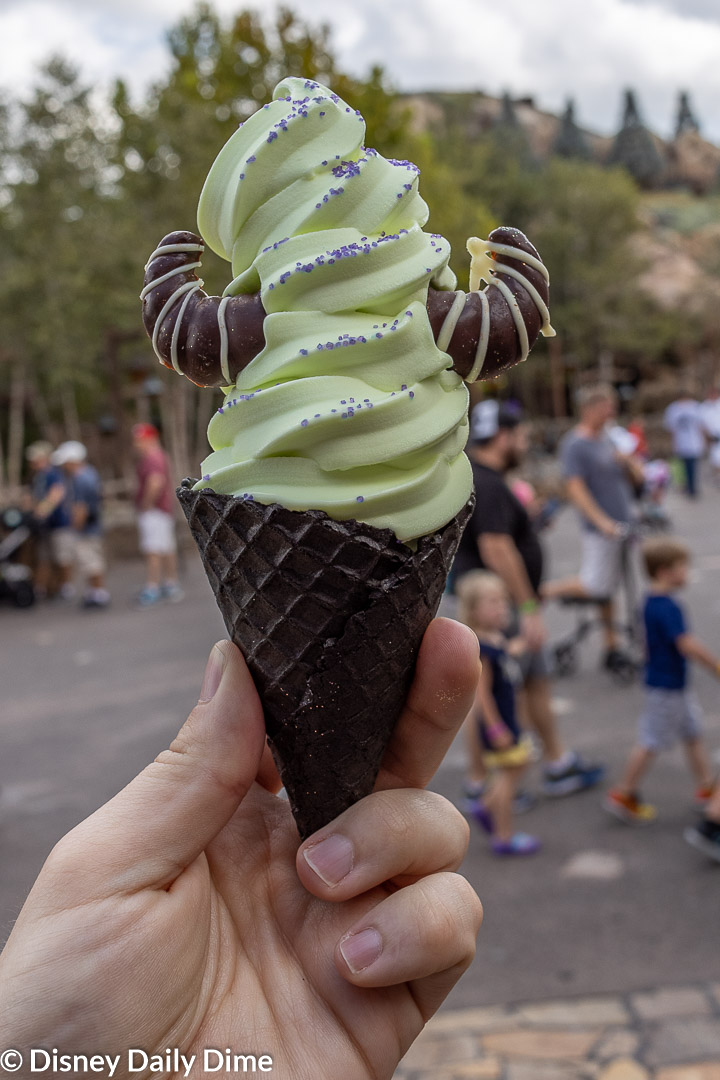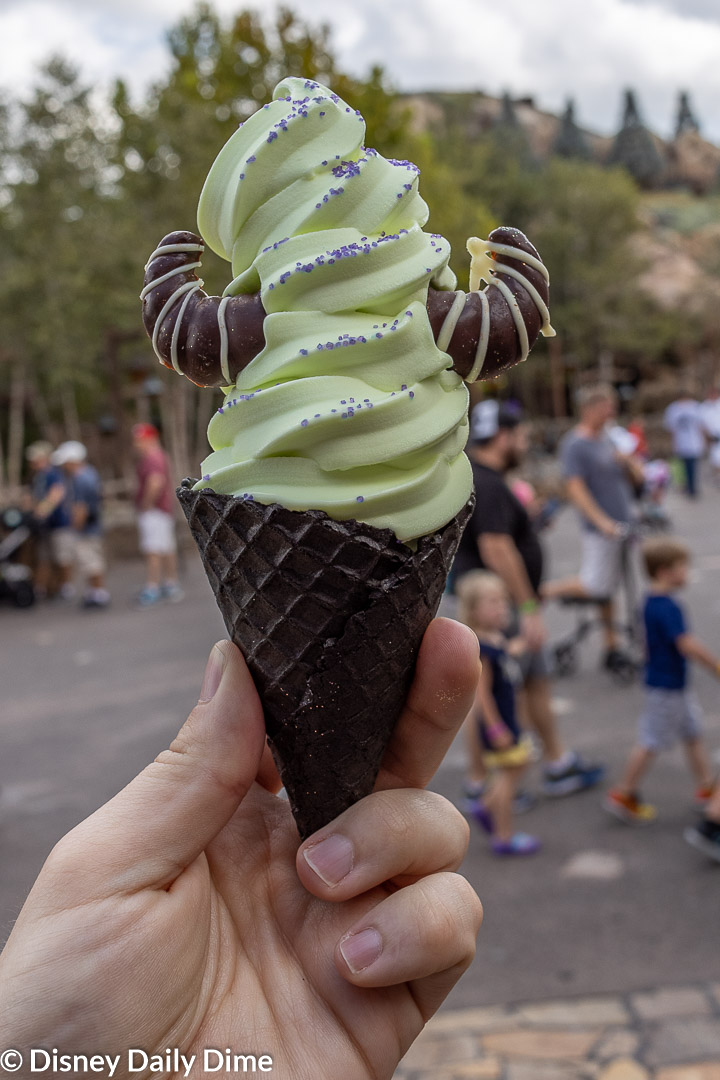 Maleficent Cone – Available All Day at Storybook Treats
The Maleficent cone is a black waffle cone filled with lime soft-serve and topped with chocolate horns and purple sugar.  When they say lime soft-serve, they mean it.  From the very first bite that I took, there was no doubting what the flavor was.  It was unbelievably strong.  So much, that I had to stop eating it, which was excellent for the girls.  Anna and Elsa loved the Maleficent Cone and devoured it.
So, it's a mixed bag.  I'd pass on it, but I wouldn't criticize you for trying it or getting it for your kids.
Our verdict is: TRICK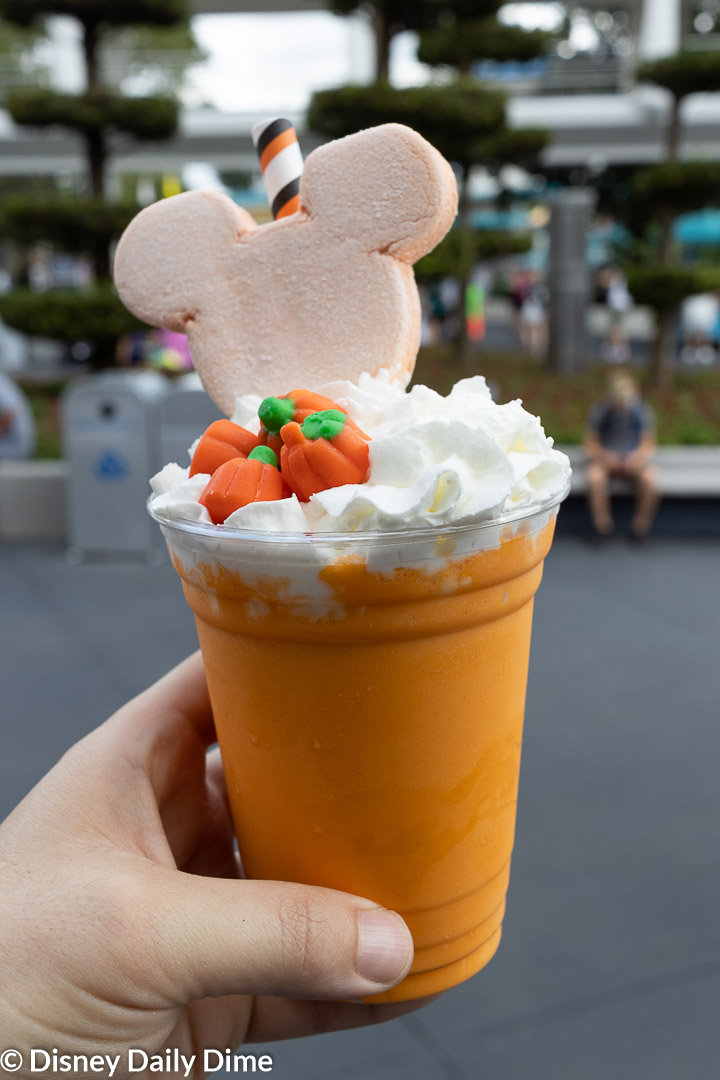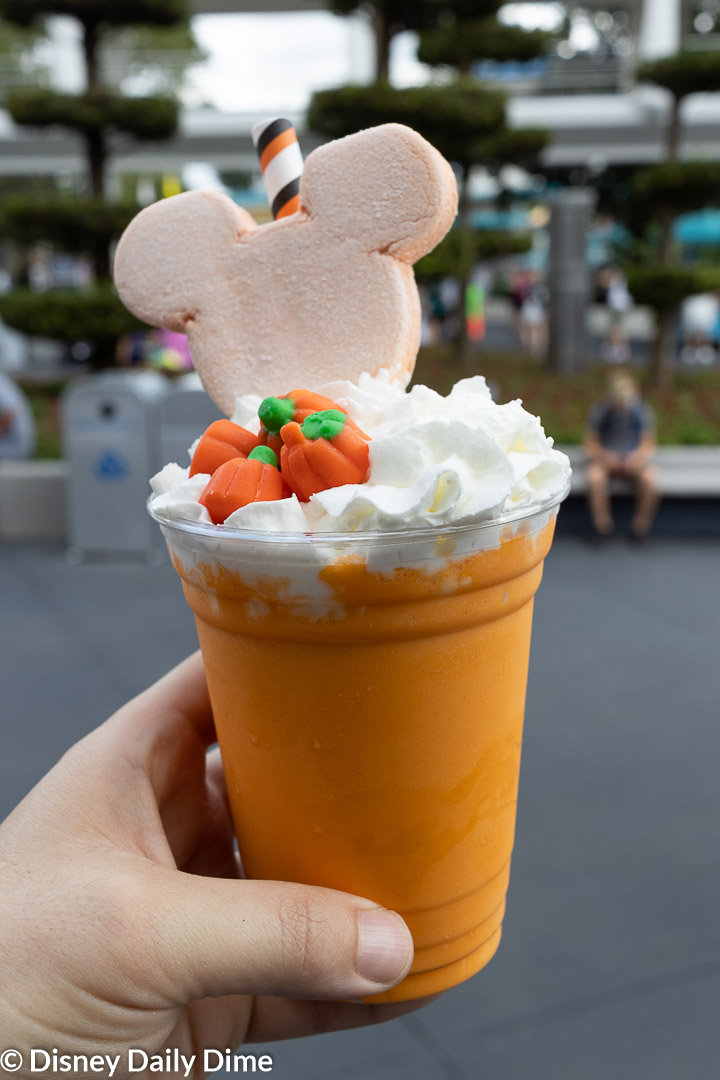 Pumpkin Spice Milkshake – Available All Day at Auntie Gravity's Galactic Goodies
The Pumpkin Spice Milkshake is one of my favorite Halloween desserts at Magic Kingdom.  That made it especially sad for me when I set it down after taking the picture above, only to have it tip over and have half of it spill on the ground.  Very sad.  But you can rest assured, I tried sucking down every last bit of this milkshake.  The milkshake is gluten free, which made it something Carla could try.
As a family, we all enjoyed this, but I would say to varying degrees.  I preferred this Halloween treat.  Carla and the kids said that if they had to choose one of the desserts at Auntie Gravity's, they would actually go with our next Halloween treat…
Our verdict is: TREAT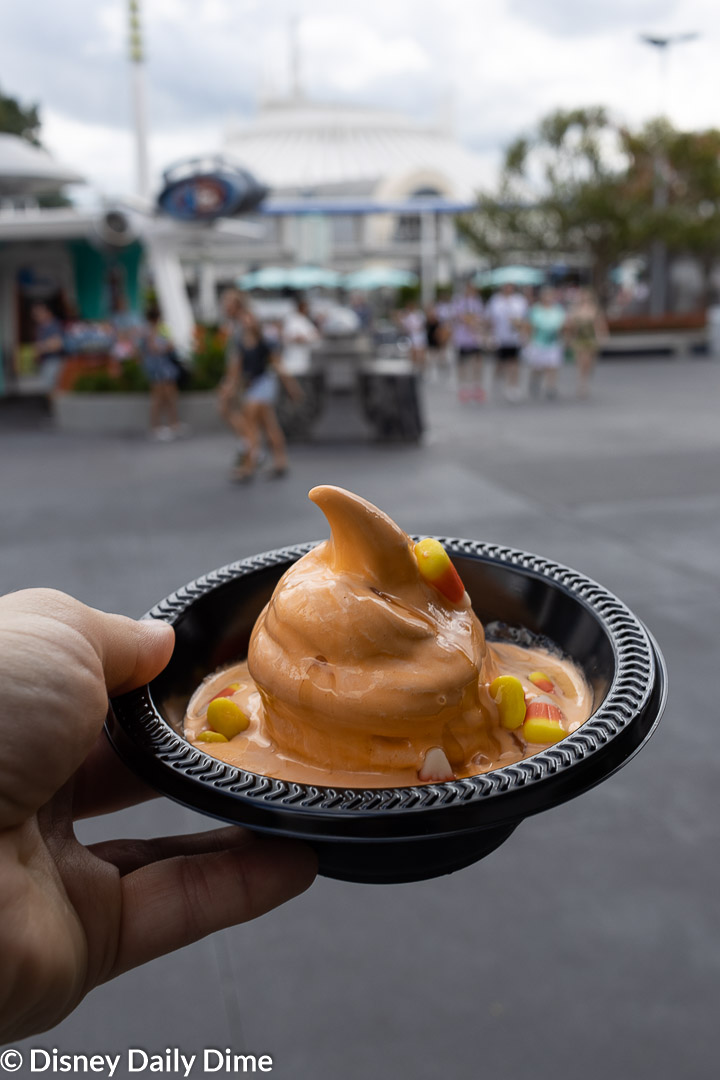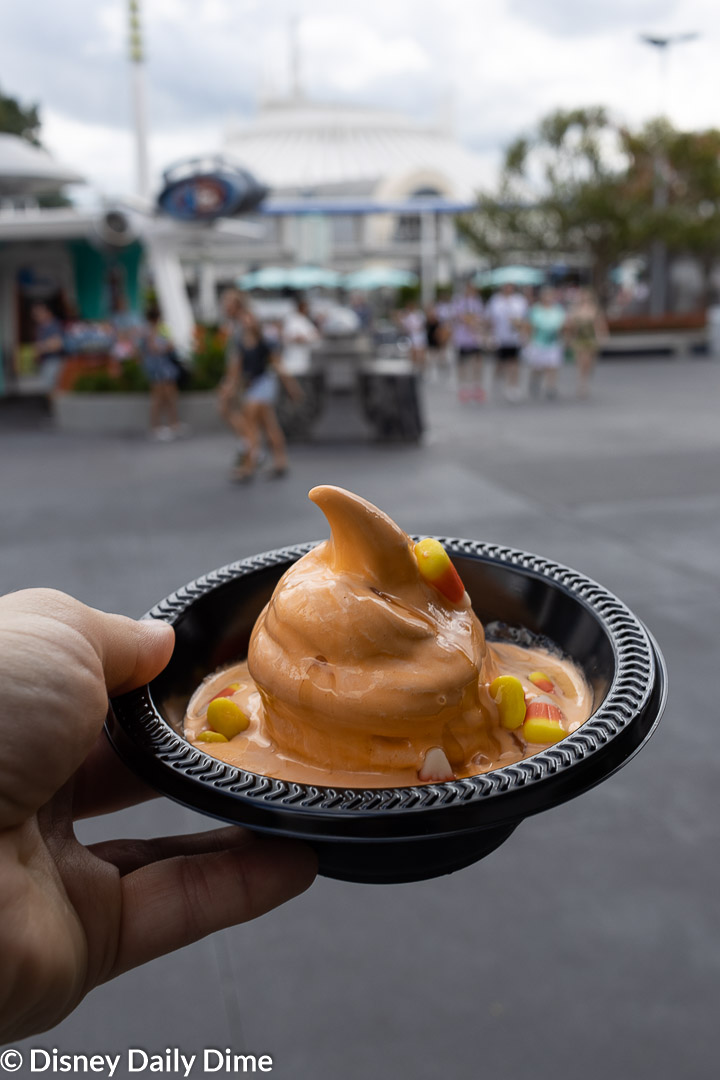 Pumpkin Spice Soft Serve Sundae – Available All Day at Auntie Gravity's Galactic Goodies
The pumpkin spice soft serve is a soft-serve version of the milkshake, topped with caramel and candy corn.  One thing you should note here is how quick this thing will melt!  The picture above was taken about 4 minutes after we got our bowl.  Now, this was late August, and it was oppressively hot, but it turned into pumpkin spice soft-serve soup pretty quickly.  Eat fast.
As we said above, the kids and Carla liked this dessert better than the milkshake.  It's all a matter of preference.  We recommend both of these Halloween treats at Magic Kingdom.
Our verdict is: TREAT
Other Halloween Treats at Magic Kingdom
Okay, that's all the Halloween treats we had.  Below is the list of fun desserts that are at Magic Kingdom that you can check out.  We don't have a view on them since we didn't have a chance to try it, so we'll mostly stick to the facts or some nuggets we have read elsewhere.
Constance's for Better or For Worse Wedding Cake – Only Available During MNSSHP the Liberty Square Popcorn Cart
This wedding cake features a citrus-scented cake with raspberry Bavarian cream, white chocolate glaze, icing pearls, flowers, and a chocolate axe.
Not getting this is my only regret of the Halloween desserts we didn't get to try at Magic Kingdom.  Other reviews have been very positive, and I think it looks cool.  The only problem is the line to get this dessert tends to be very long, and it takes away time to do other things at MNSSHP.
Caramel Pretzel, Cinnamon Donuts, and Frozen Apple Cider – Only Available During MNSSHP at Golden Oak Outpost
The names speak for themselves.  We were only interested in the caramel pretzel but didn't get by to try it.  The others seem pretty basic and not something we would consider Halloween specific treats.
Donald Duck Brownie – Available All Day at Casey's Corner
It's a brownie topped with a piece of white chocolate featuring Donald Duck in a pumpkin costume.  This seemed pretty boring to us and not very unique, so we passed on it.
Halloween Snacks at Magic Kingdom
That's quite the list of desserts, but there are a few other Halloween snacks at Magic Kingdom that are of the savory variety.  We'll hit the highlights on those below.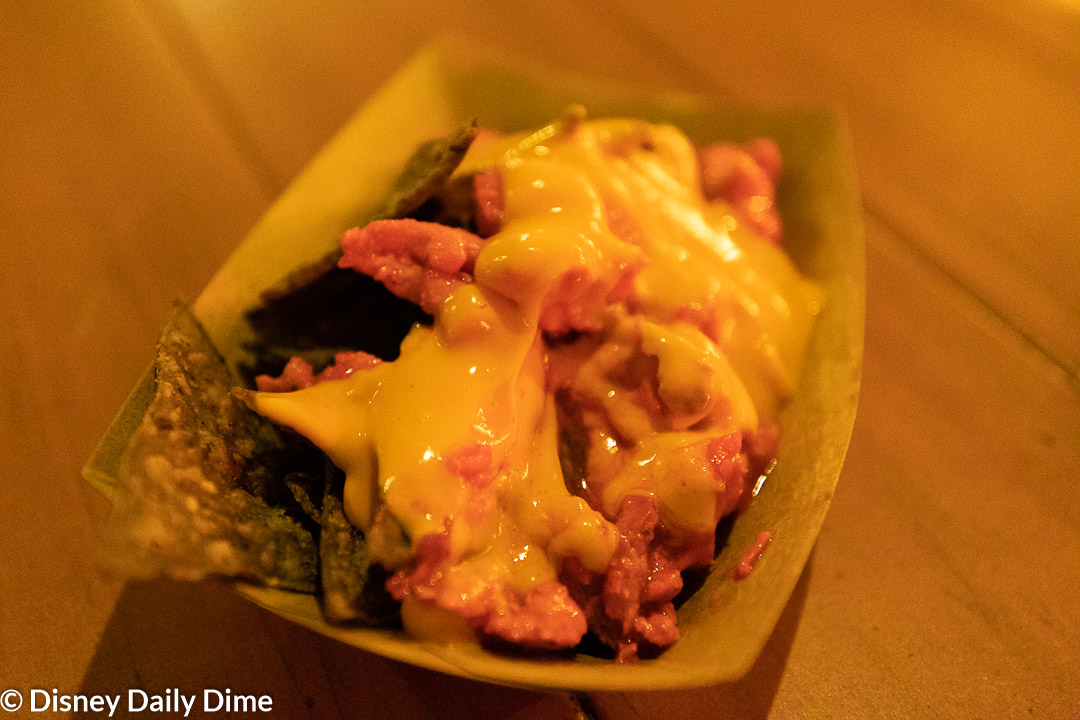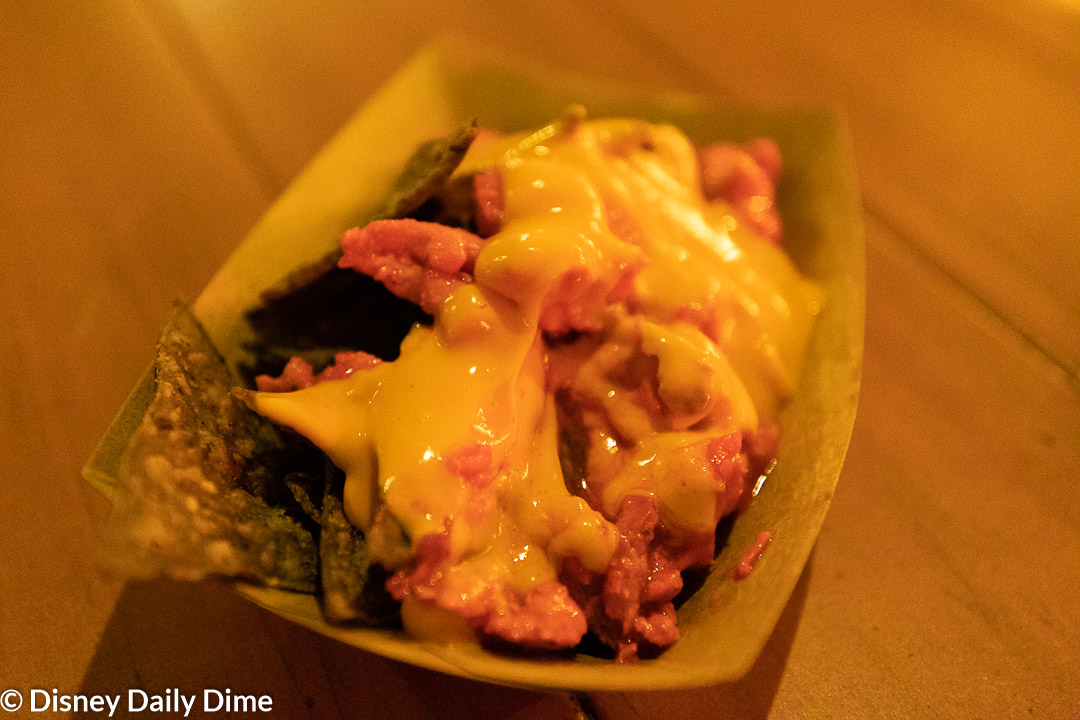 Hades Nachos – Only Available During MNSSHP at Pecos Bill Tall Tale Inn and Café
These black bean nacho chips topped with "fiery" buffalo chicken and your choice of items from the toppings bar.  I'm a big fan of buffalo sauce, so these were something I enjoyed.  I do wish the buffalo sauce had a bit more kick to it.  The flavor seemed a bit muted, maybe to make them have more mass appeal.  At least that's my guess.  The toppings bar has some great items you can add to spice it up if you like.
If you have to prioritize your money, I would begrudgingly have to say pass on these and try some of the desserts.  Unless your kids like buffalo sauce, you may want to pass on these.
Our verdict is: TRICK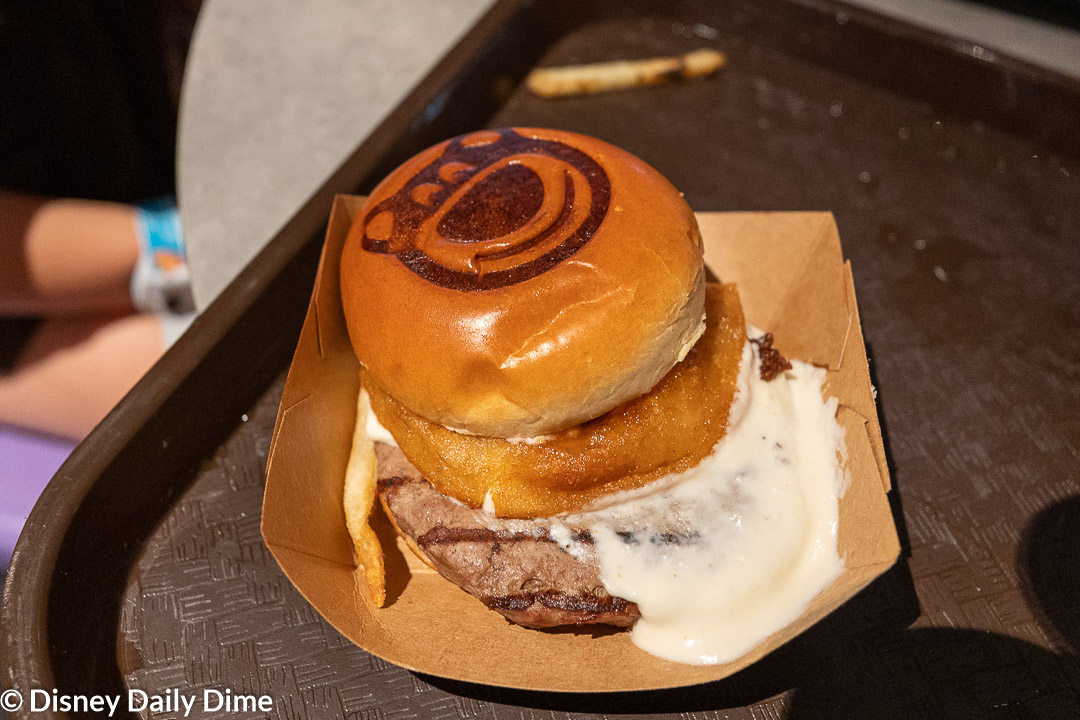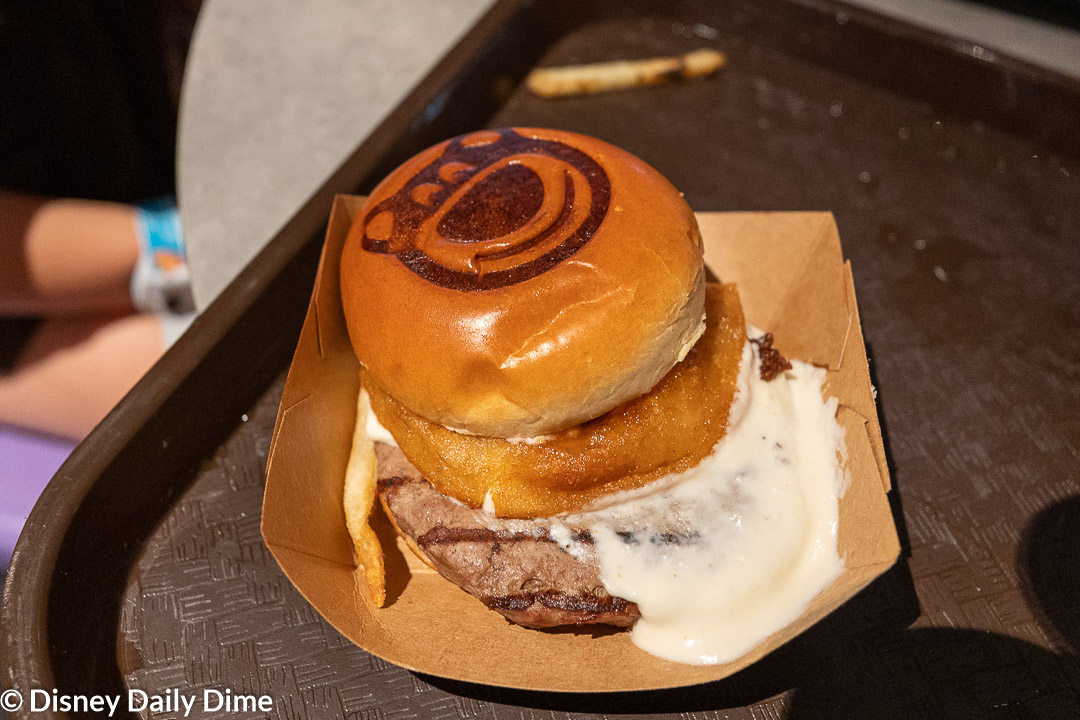 Lots-O-Burger – Only Available During MNSSHP at Cosmic Ray's Starlight Café
When I saw this burger on the list from Disney World, I imagined the worst.  And while the meat itself was as bad as any standard hockey puck patty you'll find on the regular Magic Kingdom burgers; it was the only thing I didn't like.  I was shocked, to be honest.
The hamburger patty is topped with a brie fondue, strawberry-bacon jam, an onion ring, and a Lots-O bun.  These flavors all worked together tremendously and drowned out the bland beef.  My favorite combination was the brie fondue and strawberry-bacon jam.  They were fabulous together.  The onion ring gave it a nice crispy texture in the very soft brie fondue.
This is something I would recommend if you're looking for a heartier meal while at Magic Kingdom.
Our verdict is: TREAT
Halloween Drinks at Magic Kingdom
Of course, it wouldn't be Halloween at Magic Kingdom without some Halloween specific drinks.  Unfortunately, we only tried one of these…the budget only goes so far.  We'll review that one and list out the rest.  Then you'll have to make your own call.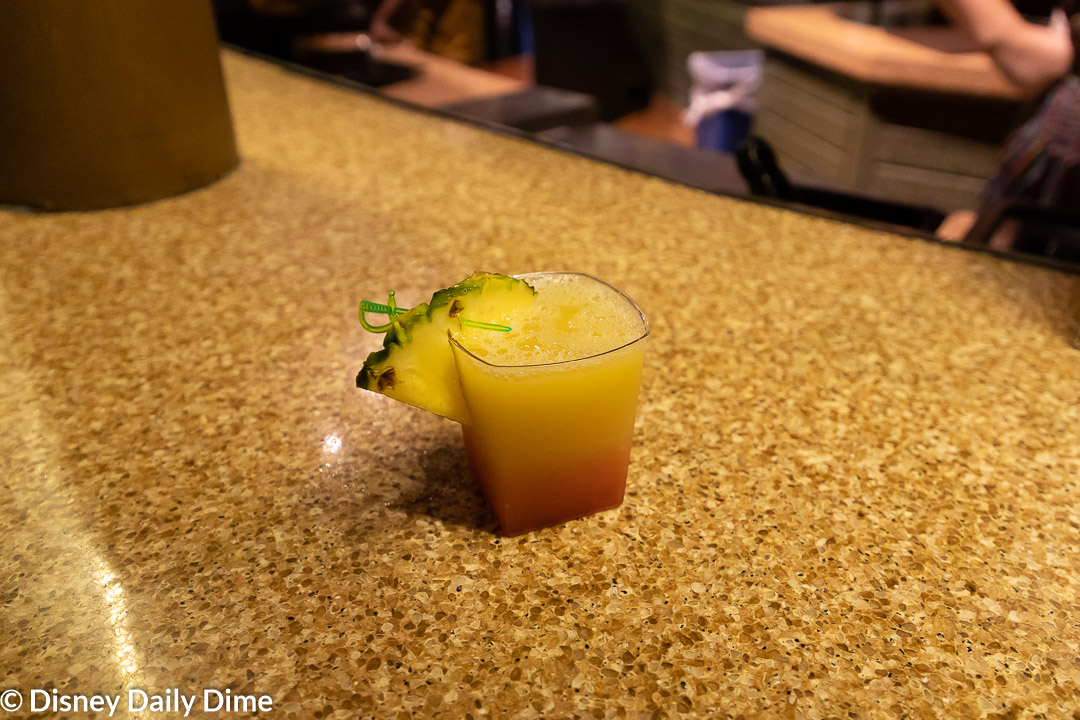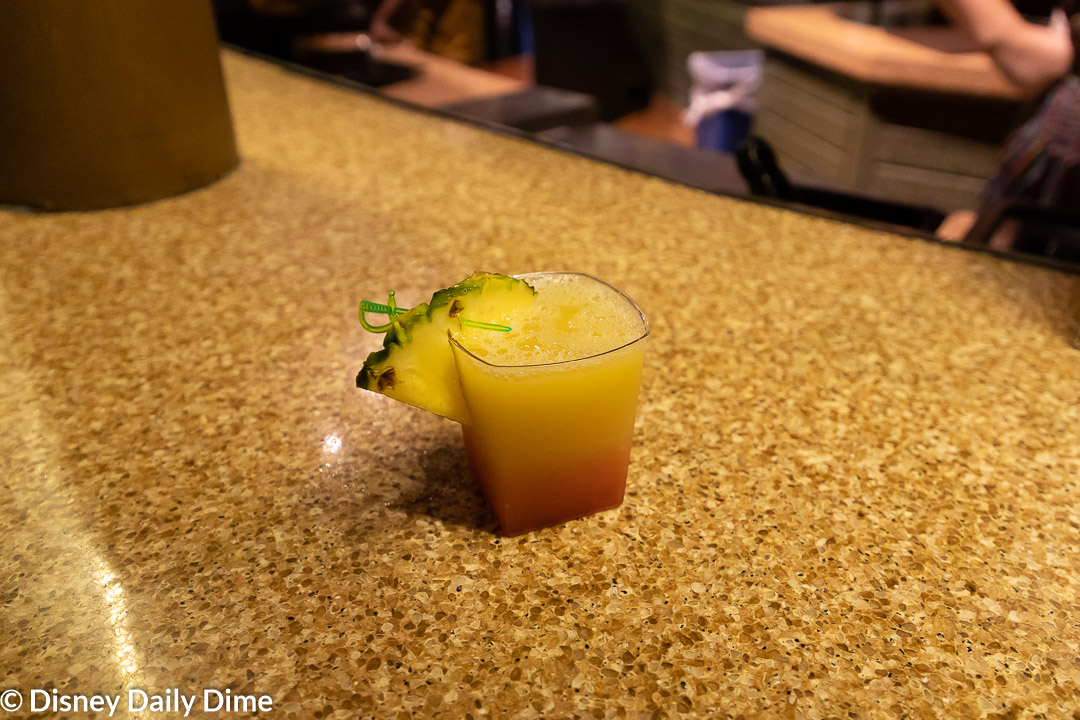 Pirates Horizon – Only Available During MNSSHP at Aloha Isle
Carla had this drink while making her way over to Pirates of the Caribbean.  Featuring orange juice, passion fruit, and pineapple juice garnished with a pineapple wedge on a pirate sword skewer, I'd say this was made with her in mind.  She did note that the passion fruit syrup didn't blend well with the orange juice.  It sort of sank to the bottom of the glass.  Notice how the bottom of the drink is darker than the top.  Still you can stir it together to get it to mix.
If you like these flavors, this will be a drink that you must stop by to try.  And you can get some Dole Whip while you are there!
Our verdict is: TREAT
Berry Blaster – Only Available During MNSSHP at Cosmic Ray's Starlight Café
The Berry Blaster is comprised of blue curaçao syrup, cherry lemonade, and Sprite garnished with a lemon wheel and raspberries.
Hades Hatred – Only Available During MNSSHP at Cool Ship
Hades Hatred features lemonade, blue curaçao syrup, and blueberry popping pearls topped with blue cotton candy.
Snake Eyes – Only Available During MNSSHP at Storybook Treats
This drink comes with Sprite, green apple, and lemonade garnished with gummy worms and light up dice.
Wrapping Up
With that, we'll wrap up our guide to Halloween Snacks and Desserts at Magic Kingdom.  There are several excellent Halloween treats this year and a few terrible ones.  There are even some surprisingly good items.
We hope you enjoyed our review of the Halloween snacks and desserts at Magic Kingdom.  If you did, please share it on social media with anyone you think might benefit from it.  We always appreciate your support!