As we discuss in our "About Us" page, I have developed a gluten sensitivity, probably due to my chronic health issues.  As a result, I eat entirely gluten free.   Disney World Dining handles food allergies and sensitivities amazingly well for how many people they are feeding every day.  Here in our Epcot Food and Wine Festival Gluten Free Food review, we'll give you our thoughts on all the gluten free dishes we ate at the festival.  If you want complete coverage of the festival, check out our ultimate guide to the Epcot Food and Wine Festival!
For the Food and Wine Festival, certain food items are designated as "gluten friendly."  Unfortunately, they do not assign any other classifications like nuts or dairy, but each booth has a binder that you can consult that lists all of the ingredients.
Given the nature of the Food and Wine Festival with some of the food preparation happening in small booths, there is always a risk of cross-contamination.  Please use your best judgment, and don't hesitate to ask a cast member questions.   More than likely, the ones taking your order won't have the answer, but they are more than happy to call the chefs or speak to the booth managers to help you out.
I wanted to recap my experience at the 2019 Epcot Food and Wine Food Festival eating gluten free.  My tips are to pack your patience if you ask questions, prepare to see a lot of food that you may want and can't enjoy and also be prepared to have some excellent food that you CAN enjoy!
AUSTRALIA
I wanted to start with this booth since all three foods offered are gluten friendly!  It was a joy to be able to order all the items at this booth.  I highly recommend all three!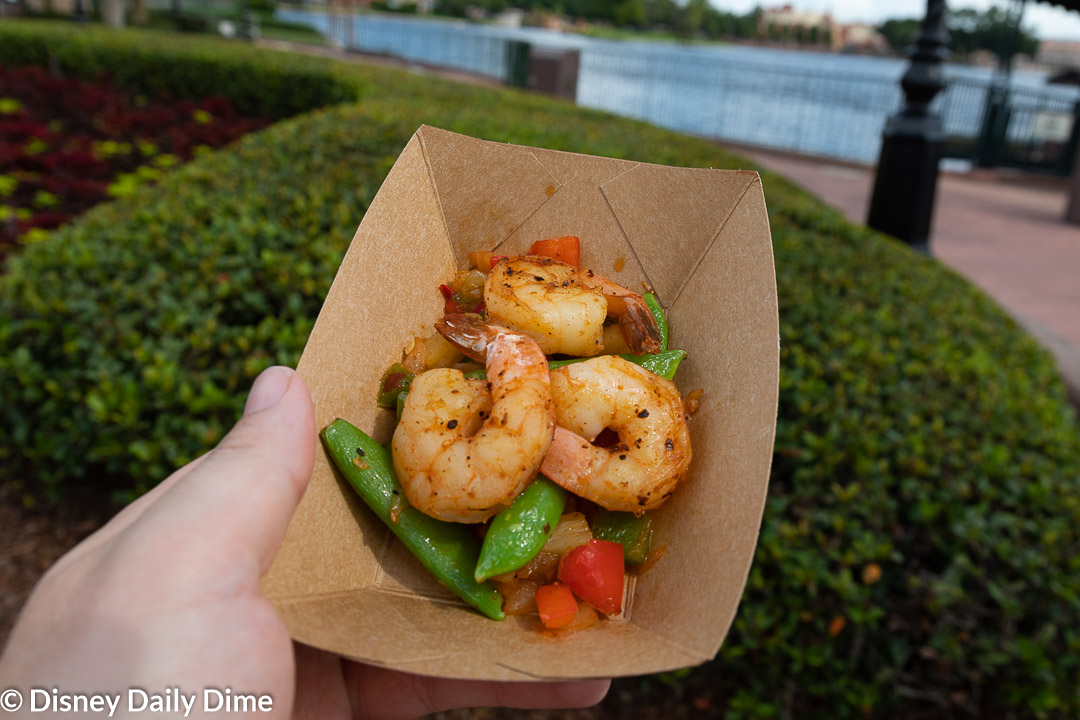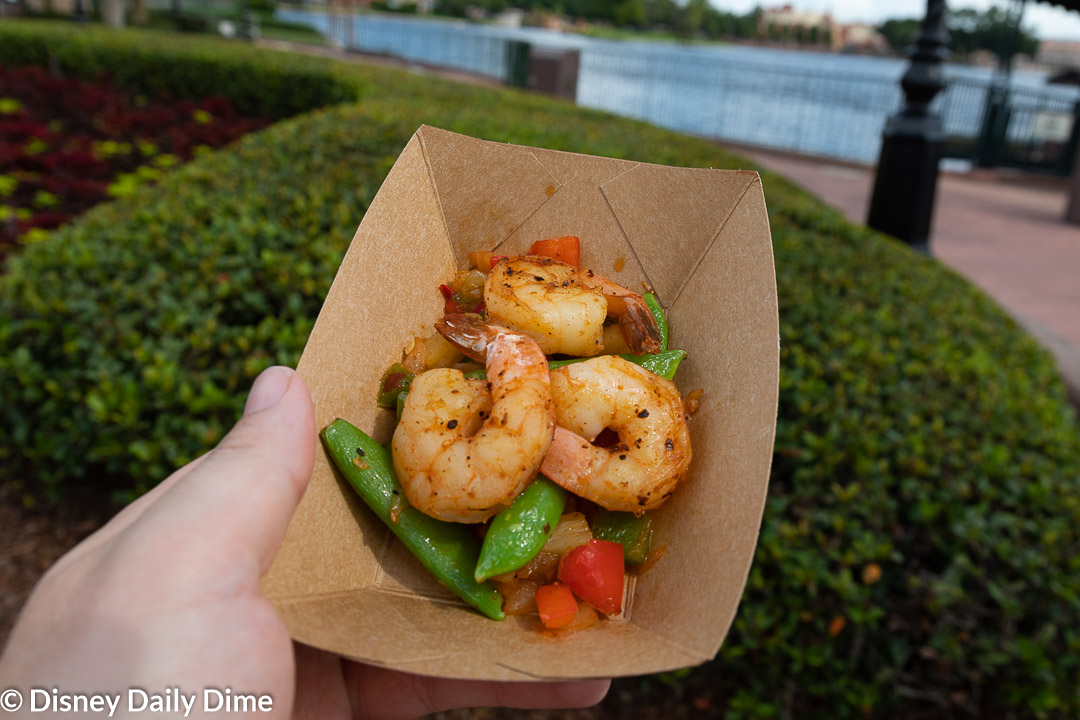 Grilled Sweet and Spicy Bush Berry Shrimp with Pineapple, Pepper, Onion, and Snap Peas (Gluten Free) – $6.00
This dish offers three medium-sized shrimp and a good-sized portion of the vegetables.   The shrimp were well-cooked and not rubbery or chewy.   The spice profile was not too strong but was prevalent enough to give the shrimp a great flavor.   We enjoyed the snap peas the best of all the parts of the vegetable blend.  They were crisp and refreshing.  The pepper/onion/pineapple blend was crisp-tender and not soggy at all.  We do wish there were more shrimp to balance out the amount of vegetables and pineapple, but the fruit and vegetable combo tasted great on its own.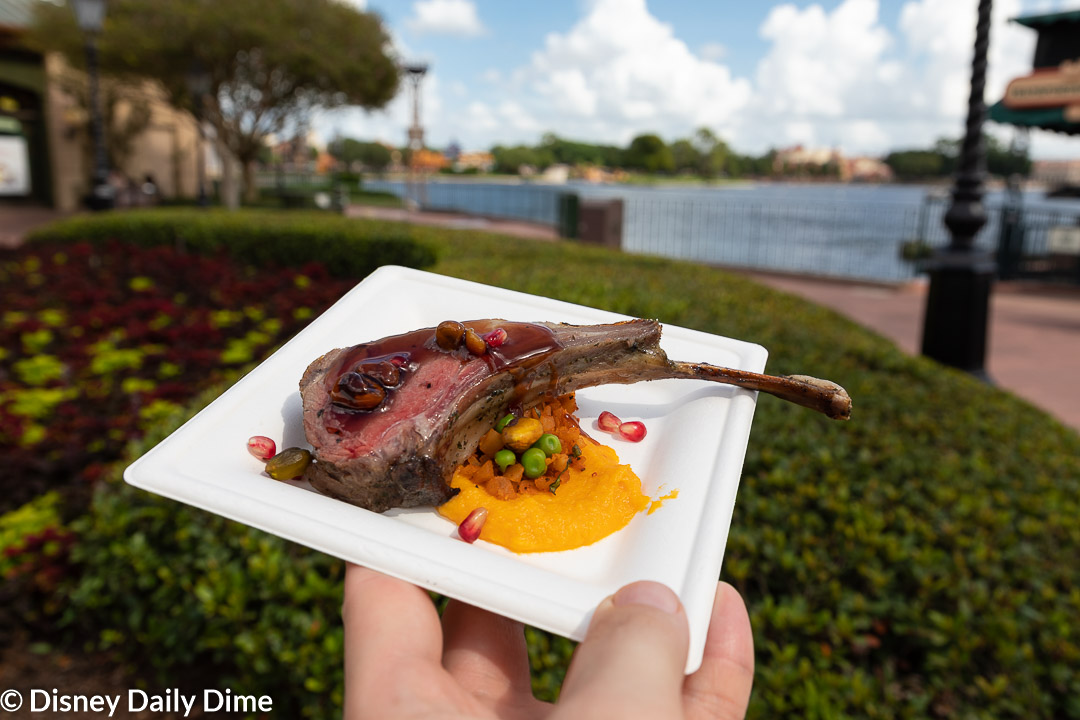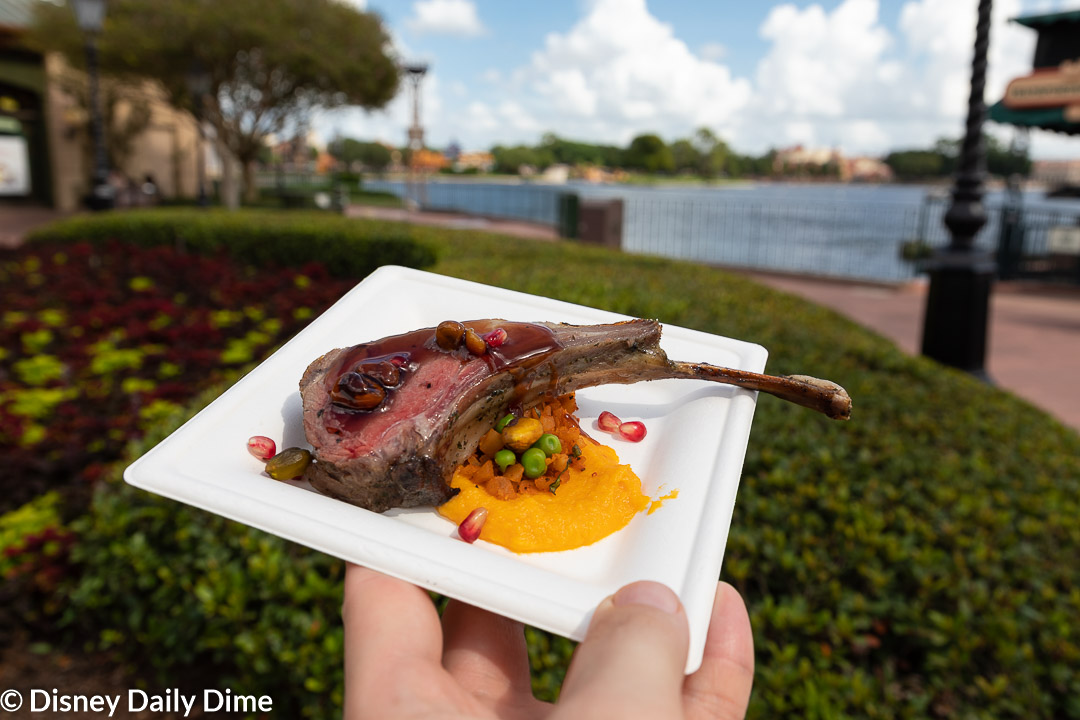 Roasted Lamb Chop with Sweet Potato Puree, Bush Berry Pea Salad, and Pistachio-Pomegranate Gremolata (Gluten Free) – $7.75
We found the lamb chop cooked perfectly lovely pink center.  The cut of meat we had was not overly fatty and offered a reasonably generous portion for the price.  It was also very tender and melted in your mouth.  We thought the meat had a good flavor and that the sides enhanced the dish overall.
The sweet potato puree was authentic puree – very smooth and not any texture from the potato left.  Its sweetness was the perfect balance to the lamb.   The pistachio-pomegranate gremolata offered some crunchy texture and a little kick of flavor to the dish.  Honestly, the bush berry pea salad got lost in the dish for me, as the flavors of sweet potato and pomegranate stood out of the most.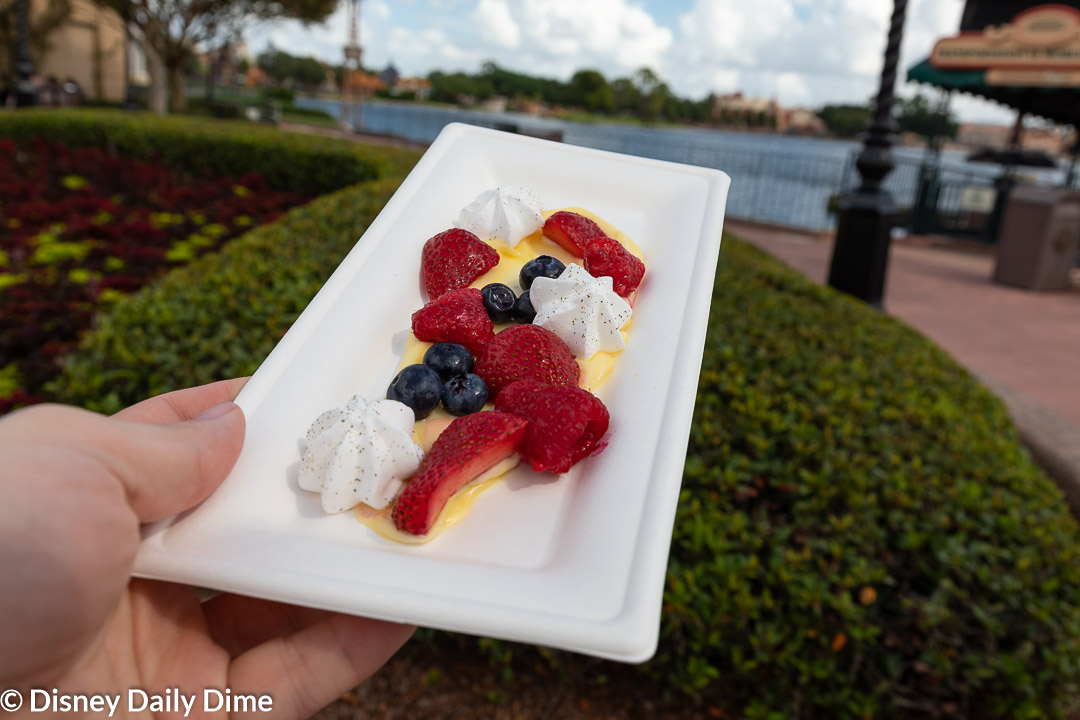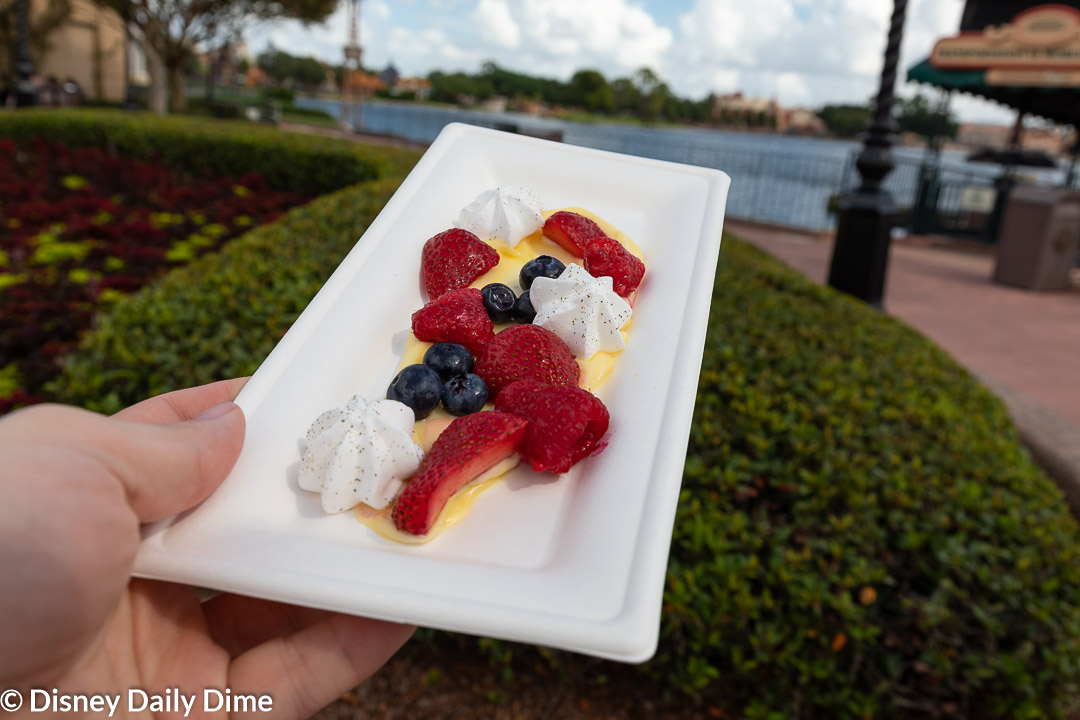 Deconstructed Pavlova with Pastry Cream, Citrus-Macerated Berries and Lemon Myrtle Meringue (Gluten Free, Kid Approved, Vegan) – $4.00
The berries were fresh and flavorful, while the pastry cream was delicately sweet but not too sweet.   The berries and cream combo was perfection, and the four of us were fighting over it!  The meringue added some fun texture but was not overly notable. The light fruit dessert was the perfect ending to balance out the intense flavors from the shrimp and lamb dishes. 
ACTIVE EATS
This is my next favorite booth for gluten free dining choices! The salmon was one of my favorite dishes both this year and last, and the new protein bar offering was a great new addition.   Due to the lack of choices and sharing the dishes with my family, I did find myself often getting very hungry as we made our way through the booths.  This was a filling but not heavy selection that will sustain you if your travel group will be hitting a lot of booths where you won't be able to eat.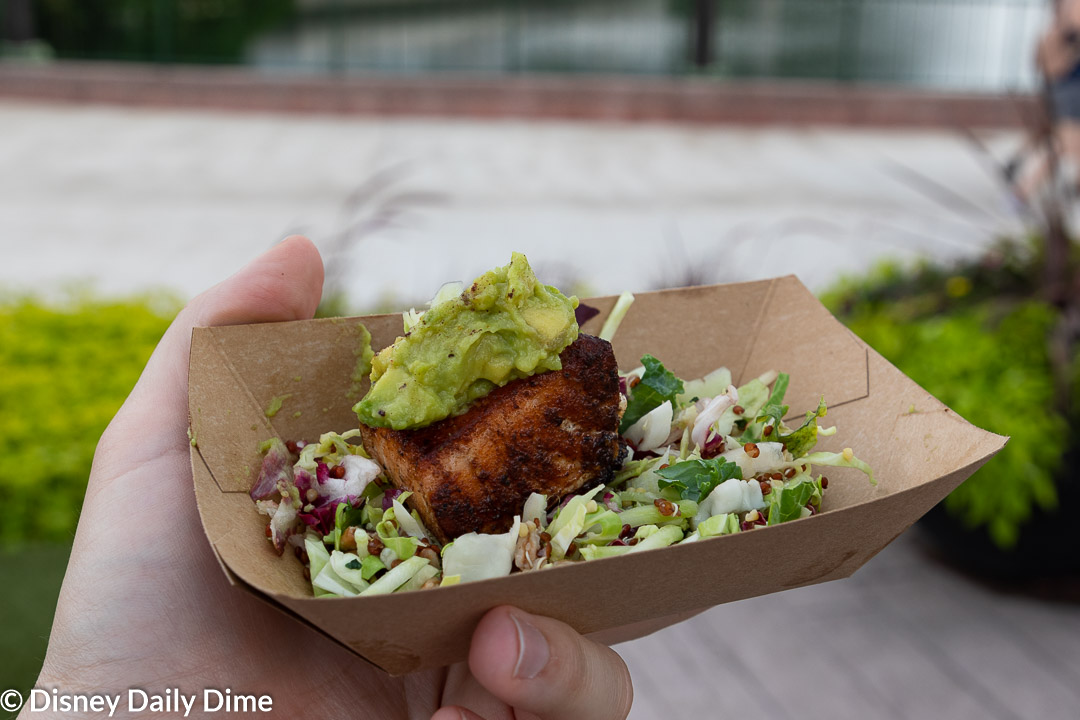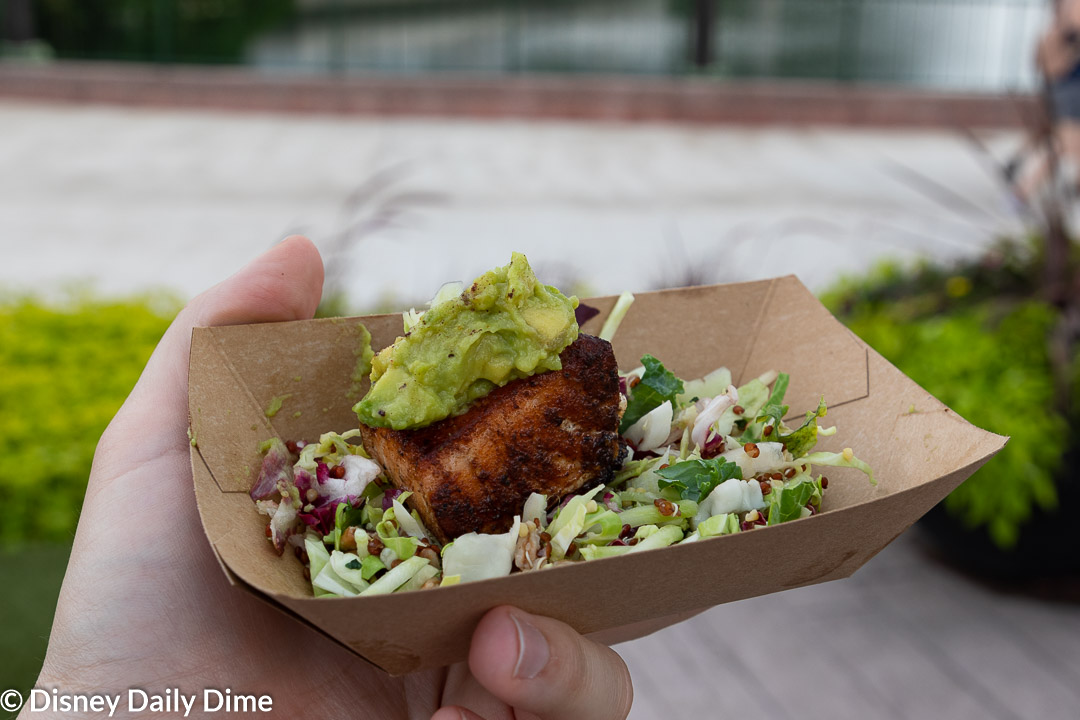 Spice-Crusted Verlasso Salmon with Uncle Ben's Quinoa and Ancient Grains Medley, Crushed Avocado and Sherry Vinegar (Gluten Free) – $5.75 ******
IMPORTANT NOTE:  Gluten Free And Dairy Free at WDW recently reported on Facebook that this dish is not, in fact, gluten free.   Disney has since updated the dish by taking out the quinoa and ancient grains medley and replacing it with Basmati Rice, Lentils and Quinoa.   This is a rare and somewhat scary example of the diligence each of us must have at the Epcot Festivals.   I admit I was perplexed with the "ancient grains" but I assumed blindly that it was safe.     It is a good reminder to ask questions, listen to your gut instinct (I really should have questioned the ancient grains), and exercise extreme caution in these Festival settings.    I am only going to include my thoughts on the salmon itself as the base has now changed.
The salmon was cooked perfectly, and the spice crust added wonderful flavor.  The salmon flaked easily and had no off-putting fishy taste.   My only disappointment was that the serving was woefully small.  The crushed avocado served as a great accompaniment to the spices used with the salmon.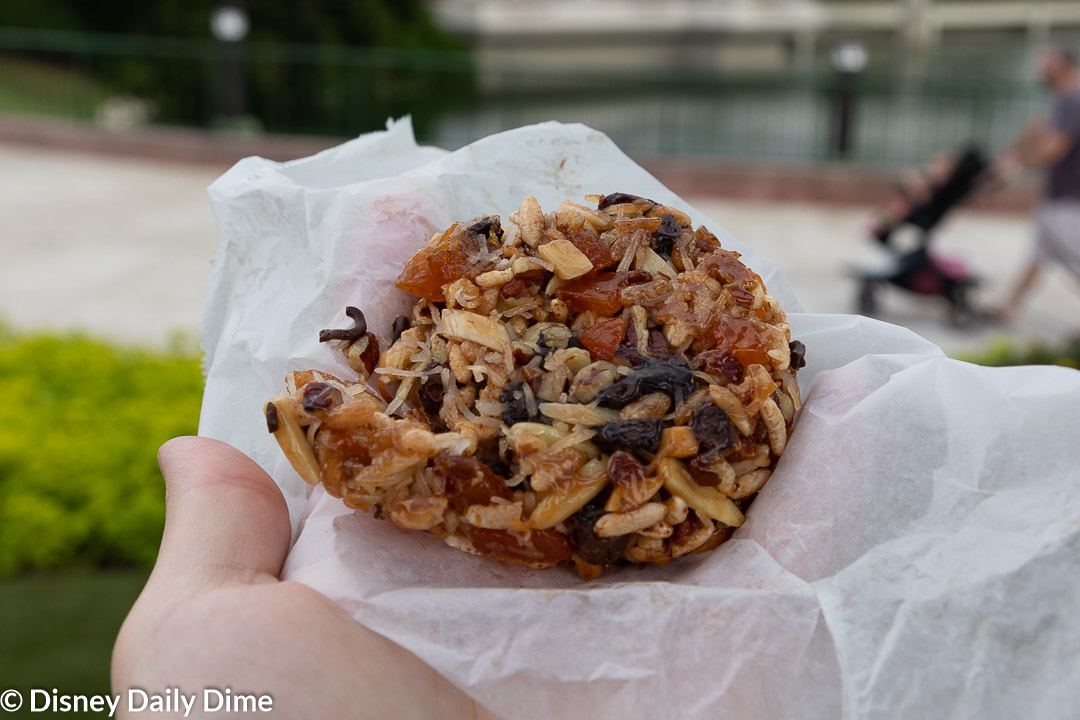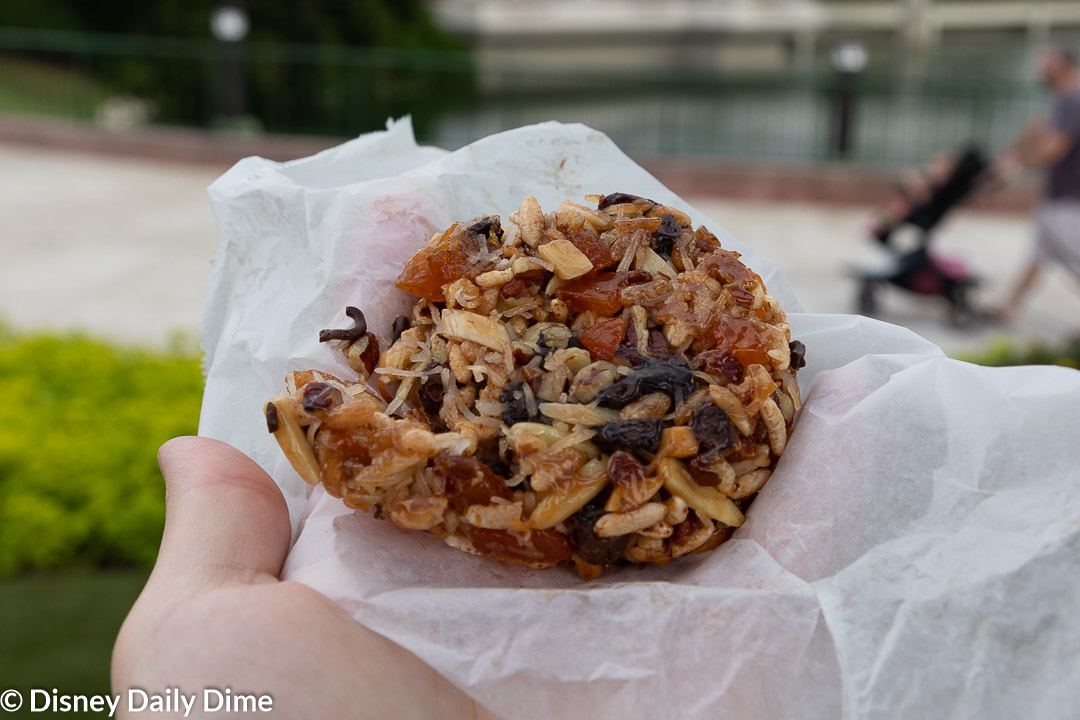 Fruit and Nut Energy Snack: Housemade Mixture of Apricots, Almonds, Pecans, Coconut, Puffed Rice and Chocolate Chips (Gluten Free, Vegan, Kid Approved) – $4.00
The fruit and nut energy snack can best be compared to a Kind Bar but round like a rice cake.  Chock full of the fresh ingredients above and a generous amount of chocolate chips, this was a filling but not a heavy option.   The chocolate did overpower the other flavors a bit, but I did detect the almonds and pecans.  Unfortunately, the apricots and coconut got a little lost.  I was hoping to have a better balance of flavors, but I am being a little nitpicky.  I enjoyed this a lot.
THE CHOCOLATE STUDIO
While there is only one gluten free item here, it is absolutely worth stopping here.  This is hands down one of the best dishes at the entire Festival.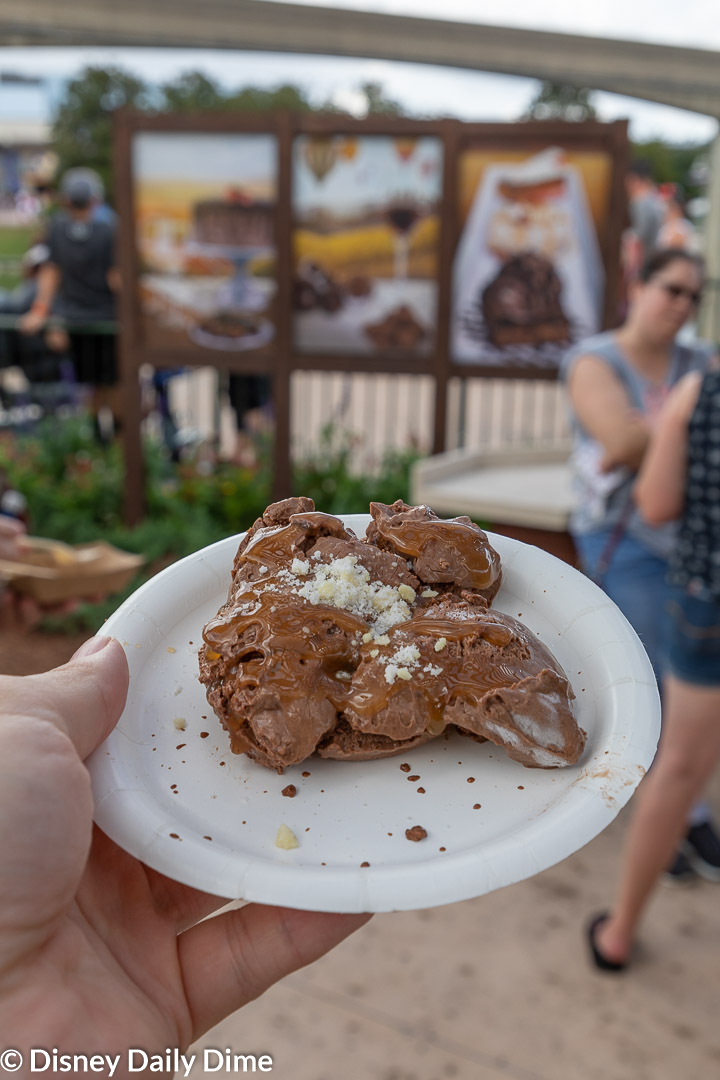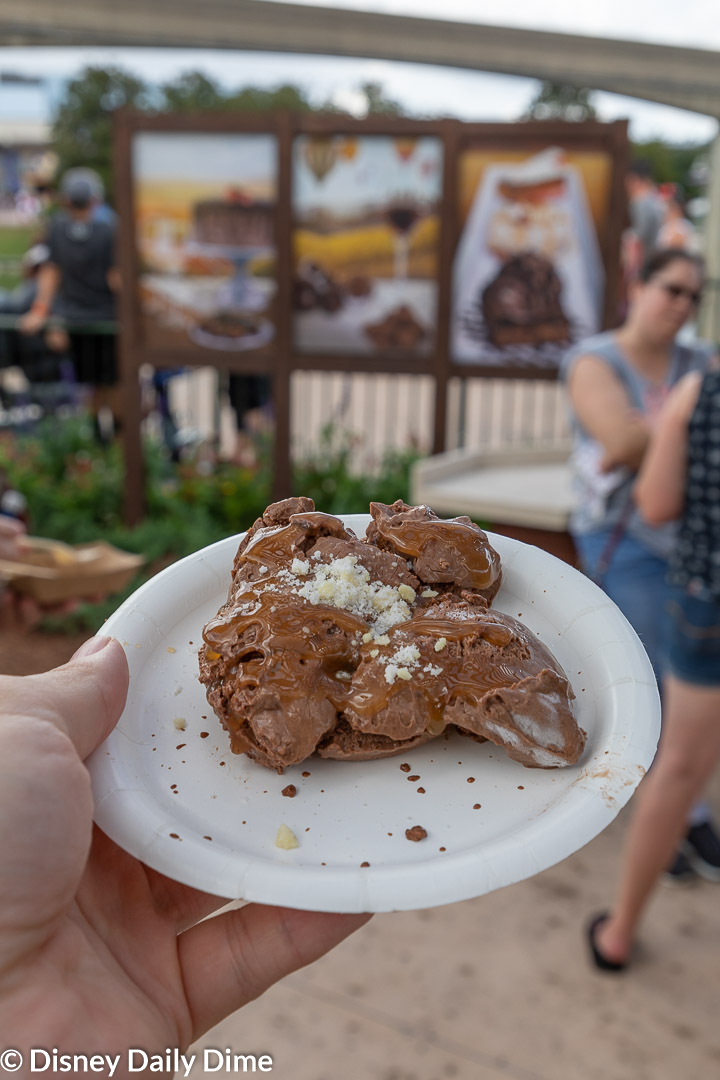 Liquid Nitro Chocolate-Almond Truffle with Warm Whiskey-Caramel (Gluten Free) – $5.00
This dish is a plate of chocolatey greatness.   If you love chocolate and caramel, do not miss this dessert.   The truffle itself has a smooth milk chocolate flavor to it, similar to a quality chocolate ice cream.   The warm whiskey-caramel sauce has a rich caramel flavor.  We couldn't detect the whiskey notes, but we felt that it must have contributed to the deep and pleasantly strong caramel flavor that stands up well with the chocolate.
Watching the chefs prepare this dessert is an opportunity to watch some fun food-science right before your eyes. The chefs dip a scoop of the truffle into a large container of "smoking" liquid nitrogen.  After it has frozen solid, they place it on a plate and hit it gently with a rubber mallet to crack it open.  It is then topped with crunchies and the warm caramel sauce. 
INDIA
This booth has one of the best vegetarian and gluten friendly dishes at the entire Festival.  I will admit I am usually not a huge fan of Indian food, but this curry is excellent.   I would eat this on the regular at home if I could.  I wish more healthy options like this were available, and now that Disney World is offering more plant-based dishes, the tides seem to be turning towards more options available for a variety of palates and diets.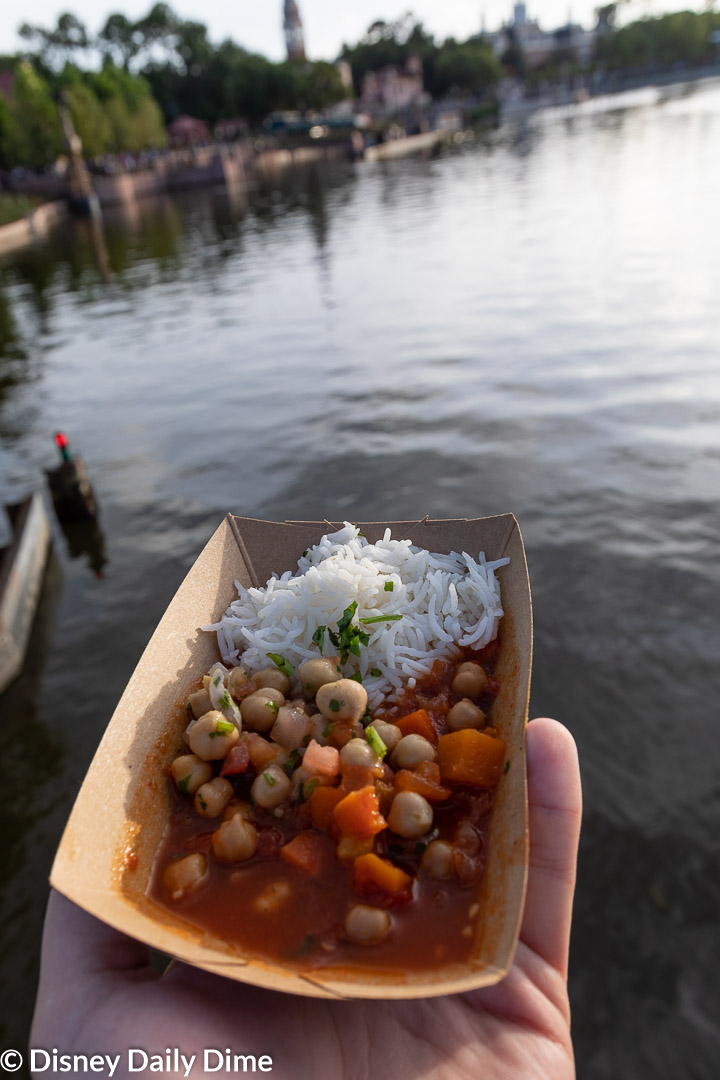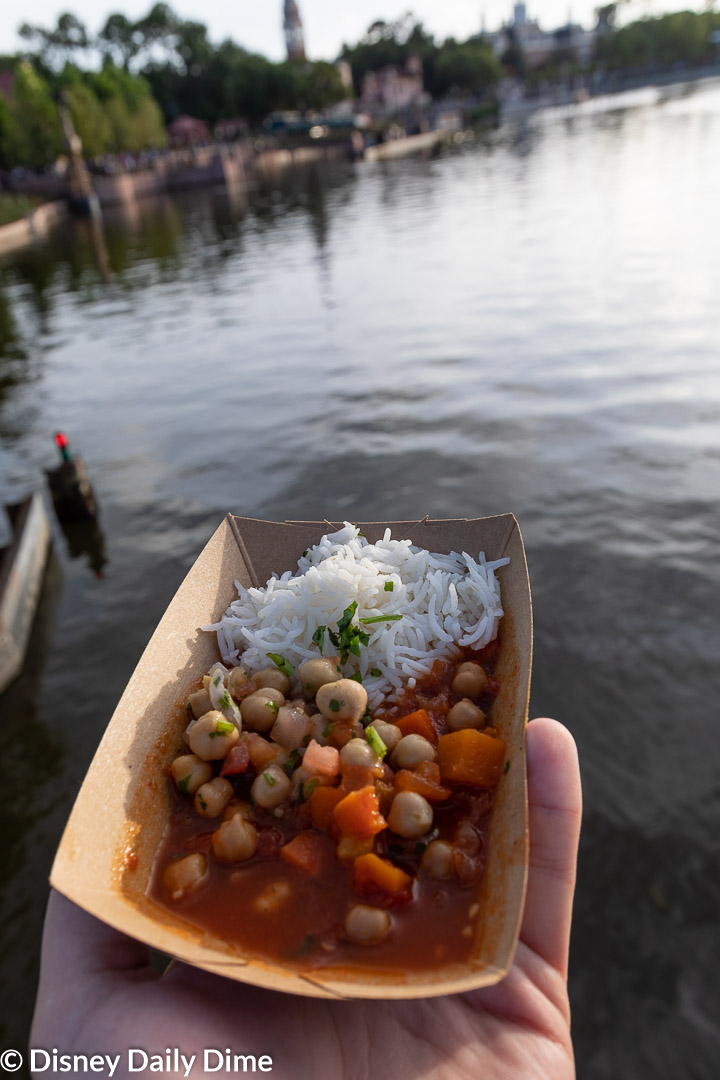 Madras Red Curry with Roasted Cauliflower, Baby Carrots, Chickpeas, and Uncle Ben's Basmati Rice – $5.00
For the price, this is one of the best values we encountered at the Festival due to the sheer size of the portion given.  Granted, a good part of this rice, but the complexity of the curry and the quality of the dish more than justifies the price, in my opinion.
This dish is a welcome relief for me due to my gluten sensitivity.  While I can enjoy quite a few dishes, I do find myself having a hard time getting "full" or "satisfied" as I am usually only able to enjoy one item from a few booths.  The Australia booth was fabulous as I could enjoy all three dishes there. Of course, I am sharing with my family, so I am not eating all of it.  In any case, Mike and the girls were eating a lot more than I was!   I looked forward to this dish, not only because it was delicious, but it provided some substance and helped sustain me as we kept working our way through the festival.
The curry has an incredibly rich flavor and a pleasant kick of spice.  In fact, I believe it was one of the spiciest dishes we tried at the Festival.   I like spicy food and find that what the Disney World chefs deem as "spicy" still isn't really all that spicy (of course, that is totally an individual preference and assessment!).   The curry has an excellent mild heat and is loaded with fresh vegetables.   The roaster cauliflower stands out in a good way.  I am not a huge cauliflower fan but love what the roasting does to the flavor. I wished there was even more in the dish.  The chickpeas are ladled in separately when the dish is served, so they don't get mushy.  I loved this as it gave the dish even more texture.  
I also loved that while this dish is filling, I knew I was eating something healthy.  Outside of the excellent Spiced Verlasso Salmon at the Active Eats booth, this was more than likely one of the more balanced and nutrient-packed dishes at the Festival.  If you are trying to maintain your "real-life" approach to eating and not just have all "vacation indulgences," this is an excellent dish to enjoy from the Food and Wine Festival.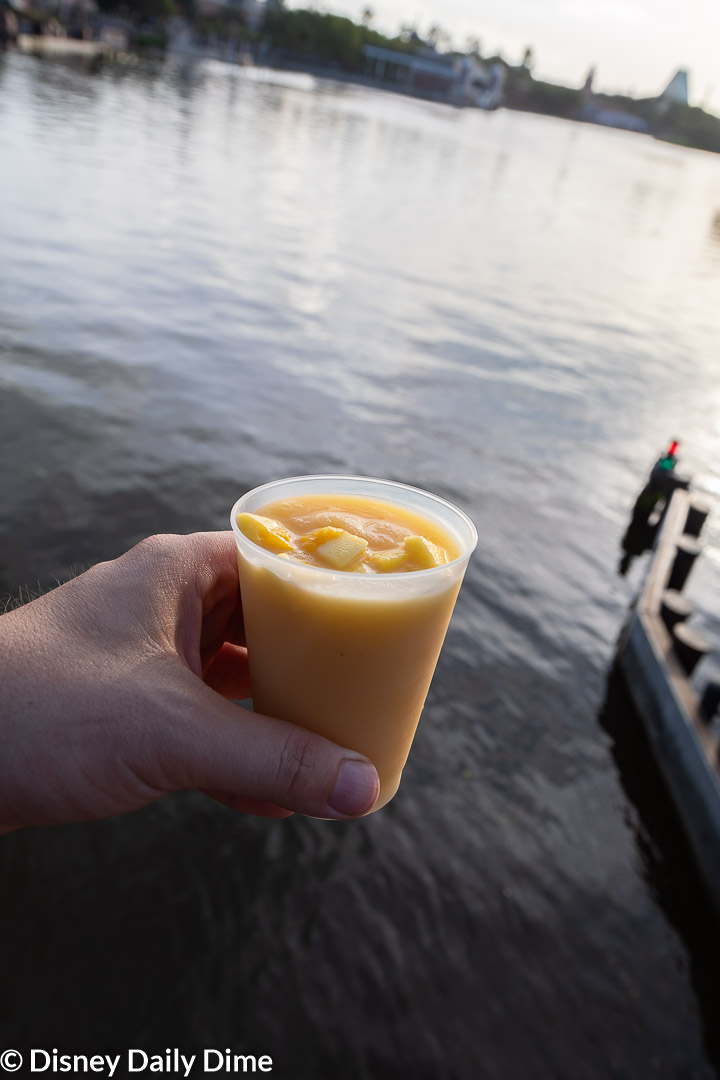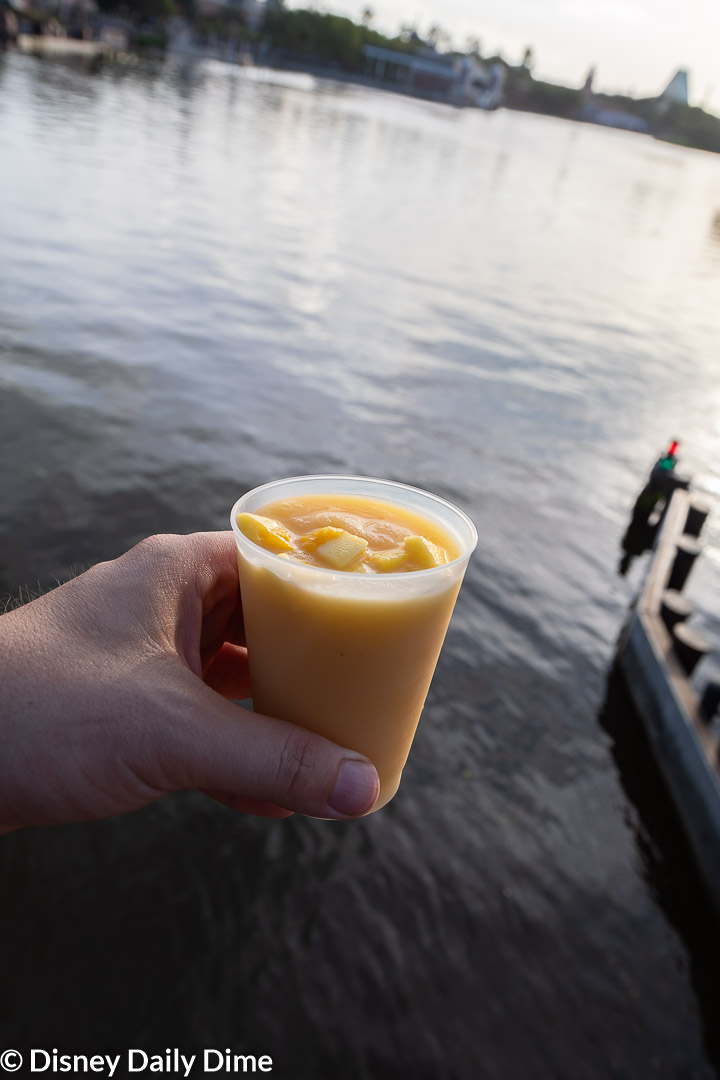 Mango Lassi (Non-Alcoholic, Kid Approved) – $5.00
Since I enjoyed the Curry last year and remembered the pleasant kick of spice, I wanted to have something sweet to balance out the heat.   I also thought the girls would enjoy this drink.   I wanted to be safe in regard to my gluten sensitivity, so I asked the cast member who was taking my order if the Mango Lassi was gluten-friendly.  She didn't know, and the binder they keep did not have any info on the drinks.  She happily called one of the chefs, and they confirmed that it was safe.  If you plan on having the Mago Lassie and need it gluten free, you need to confirm this yourself with a cast member.
The mango lassi was a thick, refreshing yogurt-based drink, with chunks of fresh mango.   All four of us enjoyed this, especially paired with the spicy curry.  It was not overly sweet at all, and the mango flavor was strong but not overpowering.  I definitely see why this is marked as Kid Approved, and I feel like this was also one of the "healthier" options offered at the Festival.  Mike does wish it was a more substantial drink, given the $5.00 price.
SPAIN
The gluten friendly Seafood Salad ended up being my sleeper hit of this Festival.  I wasn't expecting much from this dish and was pleasantly surprised at how delicious, fresh, and refreshing this salad was.   I lamented having to share with the family, as I could have easily eaten this by myself.   After watching my family enjoy their dishes at Coastal Eats, I was thrilled to be able to enjoy a seafood dish at the Festival.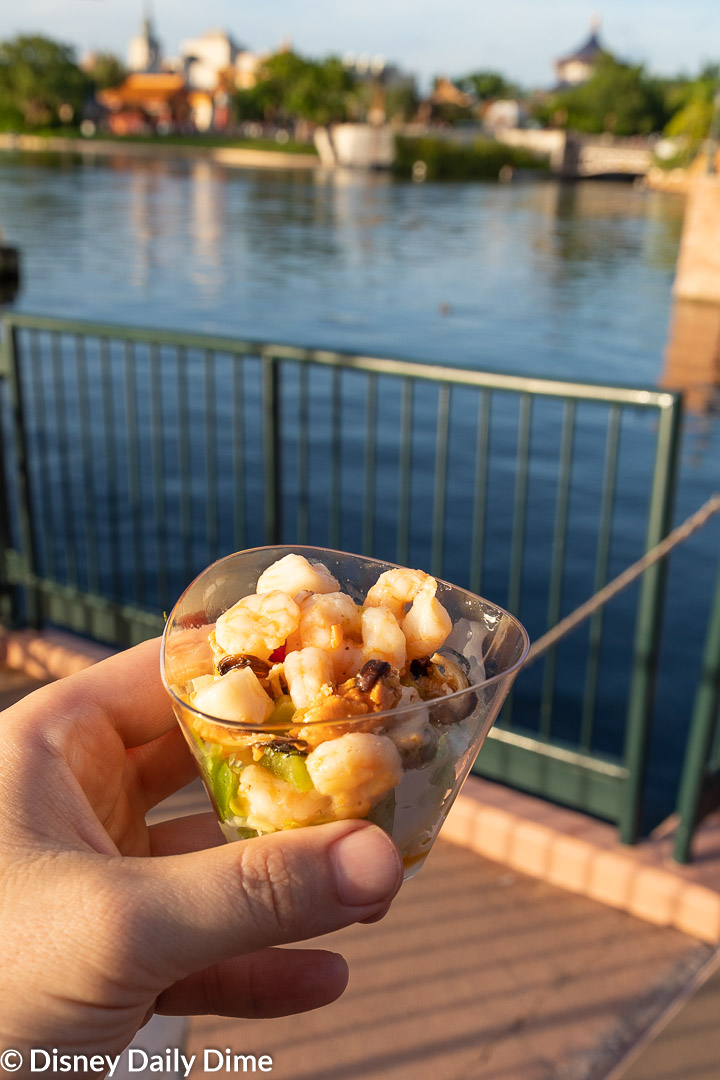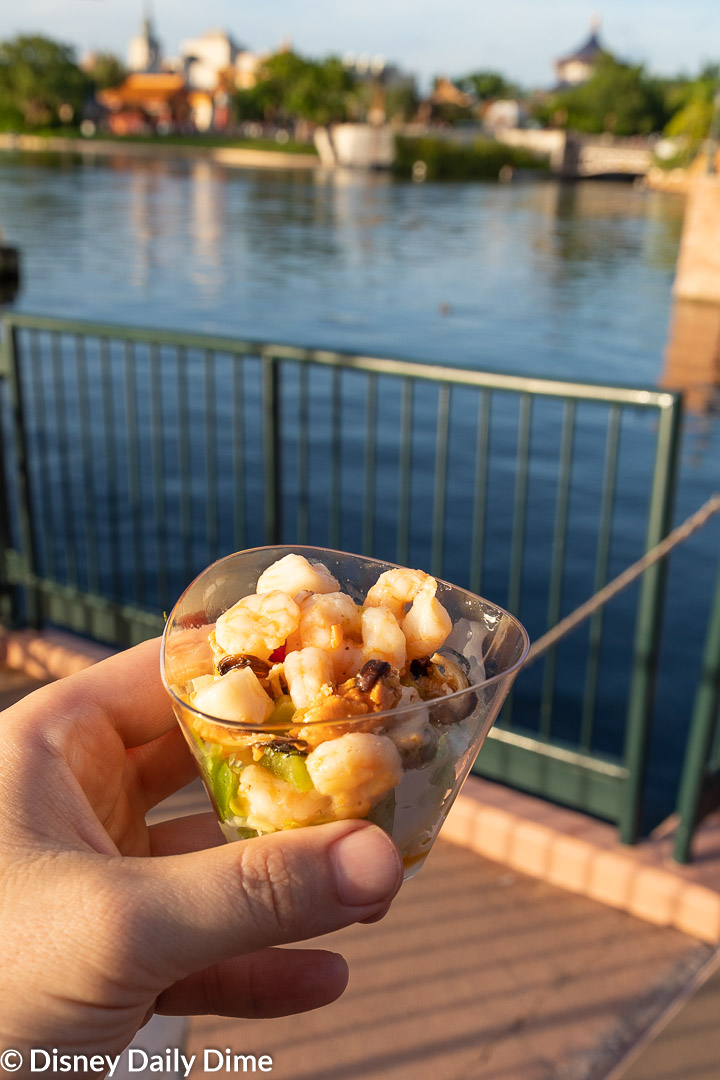 Seafood Salad with Shrimp, Bay Scallops, Mussels, Extra Virgin Olive Oil, White Balsamic Vinegar, and Smoked Paprika (Gluten Free) – $6.00
I love seafood, especially shellfish, so I don't know why I initially wasn't overly excited to try this salad.  As soon as I took my first bite though, I was immediately overwhelmed with the deliciousness of fresh flavors from the seafood salad.
The portion was plentiful, especially for this price, but we could have enjoyed another serving.  As you can see in the picture above, the ratio of real seafood components to non-seafood components is well balanced.  We didn't get two measly little shrimp, and that's it.
This is the perfect dish to enjoy in the hot Florida weather.   I was still trying to maintain my healthy, clean eating style somewhat on vacation, and this dish fit that bill perfectly.    If you are a shellfish fan, then don't miss the dish.
HAWAII
Ahhh,  Hawaii.  Near and dear to my heart.  I loved that they featured a gluten free dessert, and wow, it was impressive.  The cheesecake was light and airy, and as a massive fan of passion fruit, I loved the sauce that topped the cake.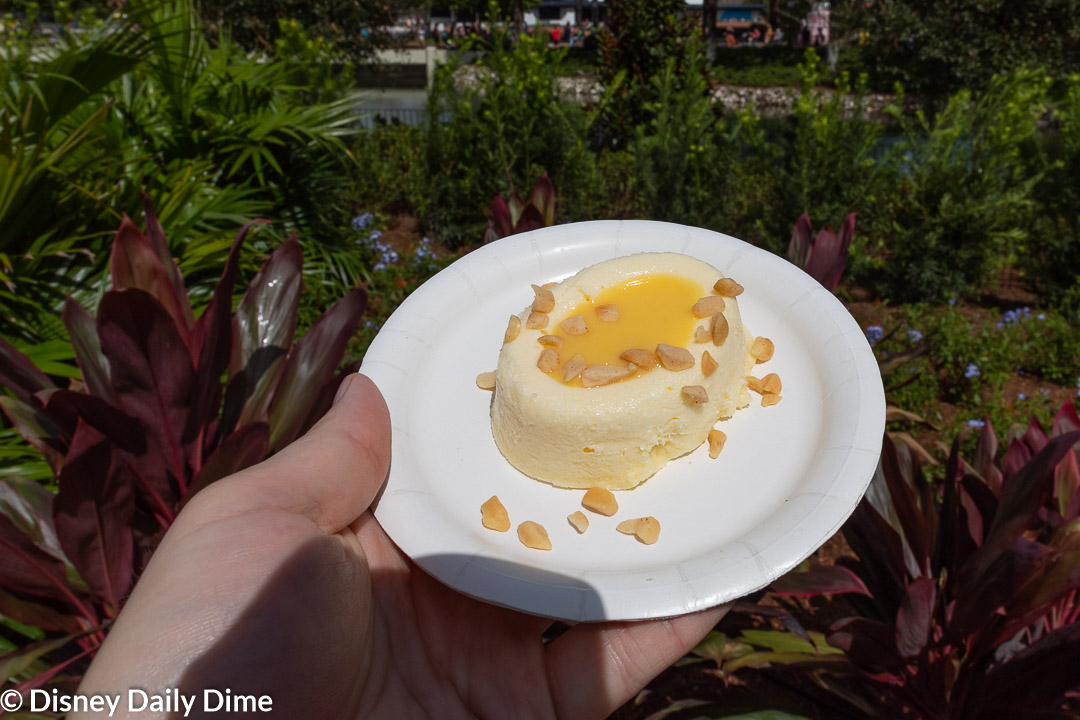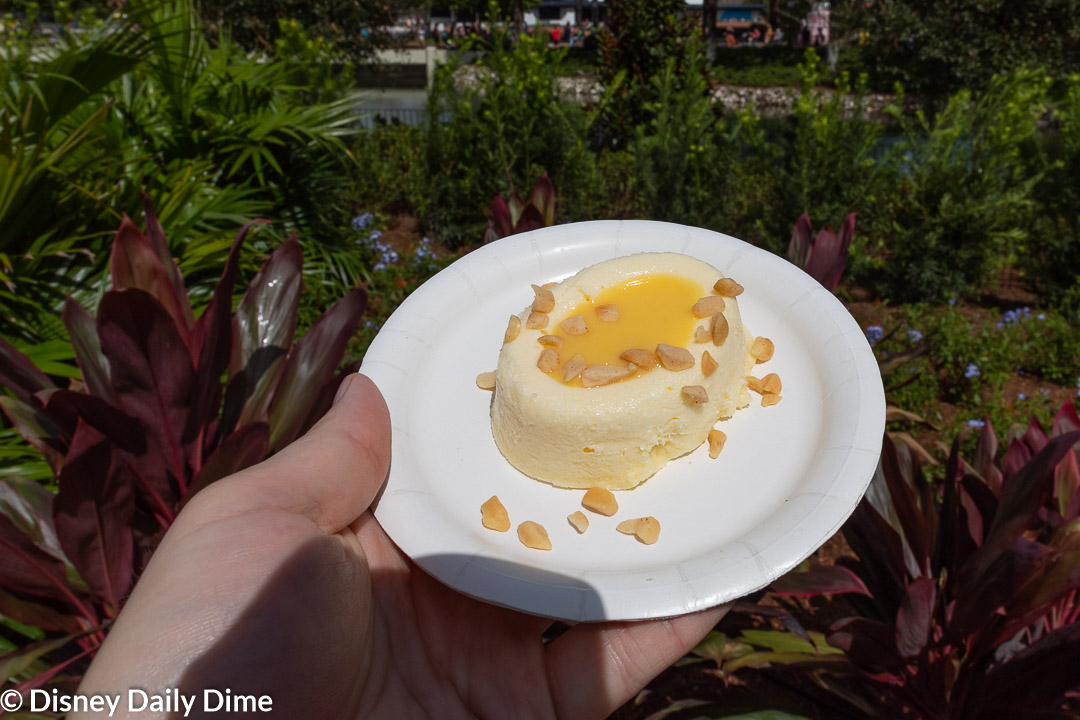 Passion Fruit Cheesecake with Toasted Macadamia Nuts (Gluten Free, Kid Approved, Vegan) – $4.00
For dessert at the Hawai'i booth, we decided to have the Passion Fruit Cheesecake.  This is one of those dishes that we've talked about since last year's Food and Wine Festival.  It's a lighter cheesecake, which we like because, on a hot summer day, I don't need a brick of a cheesecake sitting in my stomach.
What makes this dessert for us is the passion fruit flavor.  We love pretty much anything passion fruit, so this strikes a chord with us.  If you like that flavor, this will probably be a hit with you too.  The toasted macadamia nuts add a little crunch, but sort of feel like filler.  They don't add much to the cheesecake other than a bit of texture.
Given that, I'm not sure that I would recommend this to everyone, but if you love passion fruit, you really must get this dessert.
MEXICO
DISCLAIMER:  This is not advertised as gluten friendly, but I confirmed at the booth that it is indeed safe.   Given the Active Eats situation, it does make me cautious, but there has been a pattern of the past few years that Disney doesn't always advertise all dishes that are, in fact, gluten friendly.  I highly recommend asking before you order to confirm that the Taco de Puerco is, in fact, still gluten friendly.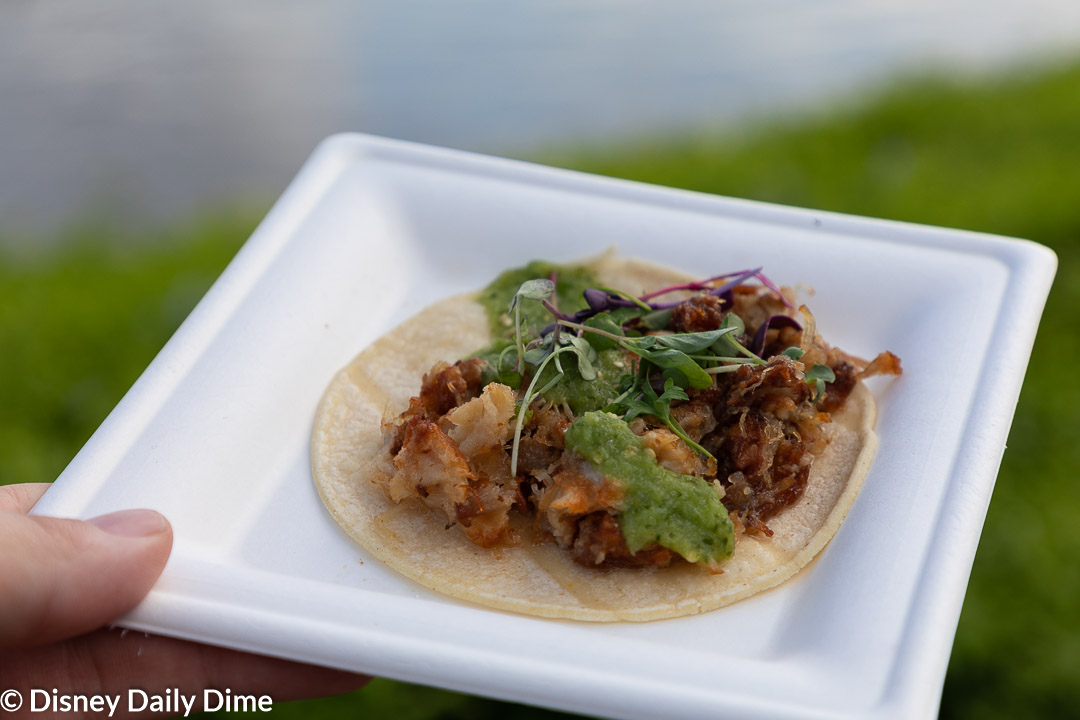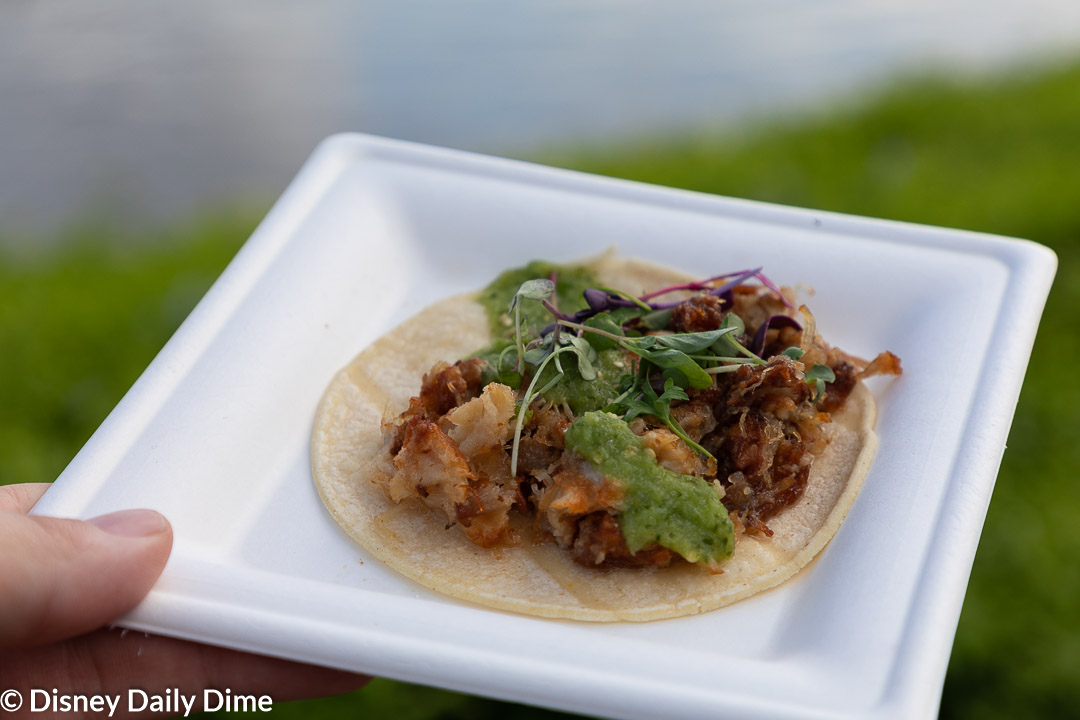 Taco de Puerco: Shredded Pork Belly on a Corn Tortilla with Salsa Verde – $6.50
The Taco de Puerco features shredded pork that appears to be all over the place from a quality perspective.  We found the pork flavorful and moist.  We've seen other reviews saying that their pork was dry, which makes sense to us.  If it isn't made fresh and just sitting out waiting on a plate, I get how that happens.  So be aware of that potential.
Outside of the pork itself, the taco is topped with a fabulous Salsa Verde.  It adds an excellent spice to the pork, and potentially some moisture if you get dry pork on your taco.  All of this sits on a small corn tortilla, which feels like it was straight out of a package.
The taco as a whole is something I enjoyed a lot.  I just wish there was more to it.  The portion size was entirely, and at $6.50 per taco, it is not a great or even good value.  That said, I would still get it again.  You could draw a different conclusion, and I wouldn't say you are wrong.
WRAPPING UP
If you are gluten free and attending the Food and Wine Festival, hopefully, our Epcot Food and Wine Festival Gluten Free Food Review will be helpful as you navigate the Festival yourself.   While the overall number of gluten friend dishes offered isn't high, the ones that I tried were high quality and delicious.    As with any dining experience, it is definitely helpful to plan ahead and research your options, and most importantly, do not hesitate to ask questions before you order any food item.   Enjoy the Festival!