The Chocolate Studio returns for another year of serving decadent chocolate delights at the 2019 Epcot Food and Wine Festival.  If you want more details on the Food & Wine Festival, you can check out our Ultimate Guide to the Food & Wine Festival.
This booth is located in the "Culinary Corridor" in Future World West along the walkway into World Showcase.    This is a high traffic area with a few great booths nearby.  They include The Cheese Studio and the Wine and Dine Studio.  Hawaii is not far away either.   There are several high-top tables set up in the garden area between the booths.  This is a picturesque area that we really enjoy during the Festival.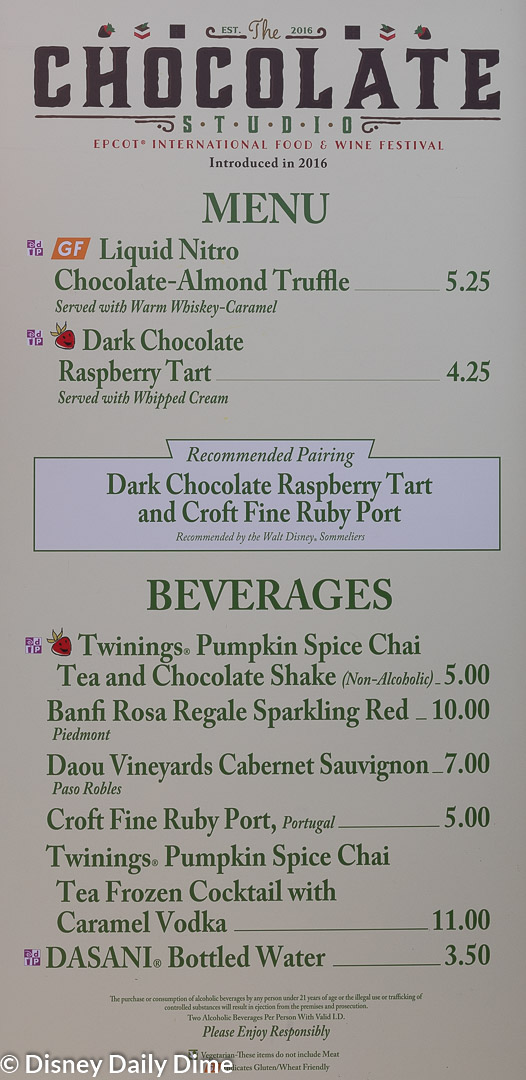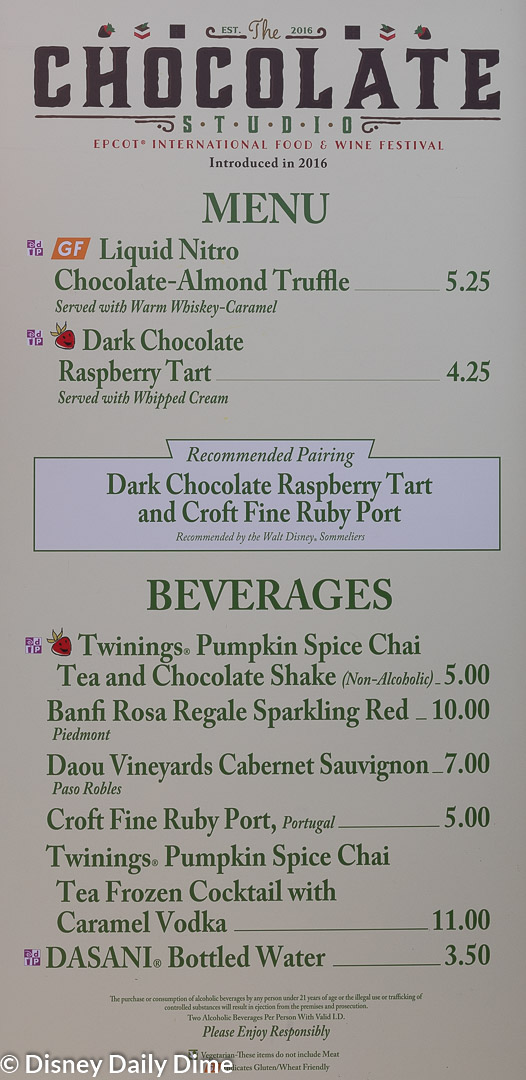 This booth holds what is hands down our favorite dessert, and we can make a strong argument as our favorite dish of the entire Festival (if we were forced to choose one!).   The menu is power-packed, but only features two desserts.  The full Chocolate Studio menu is above.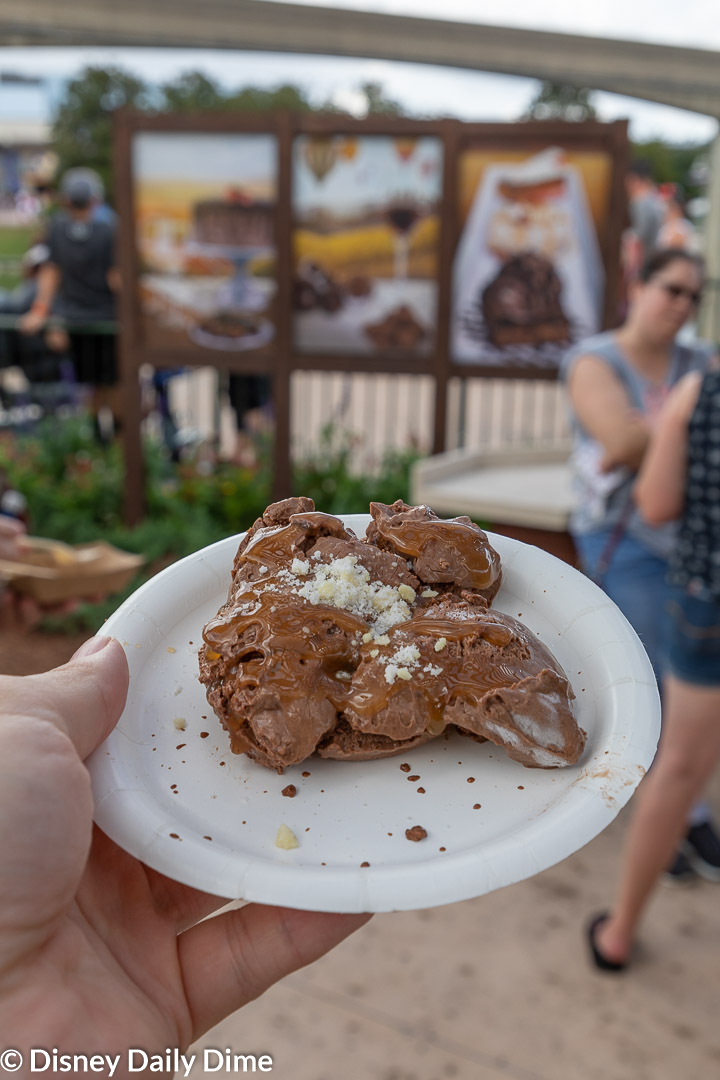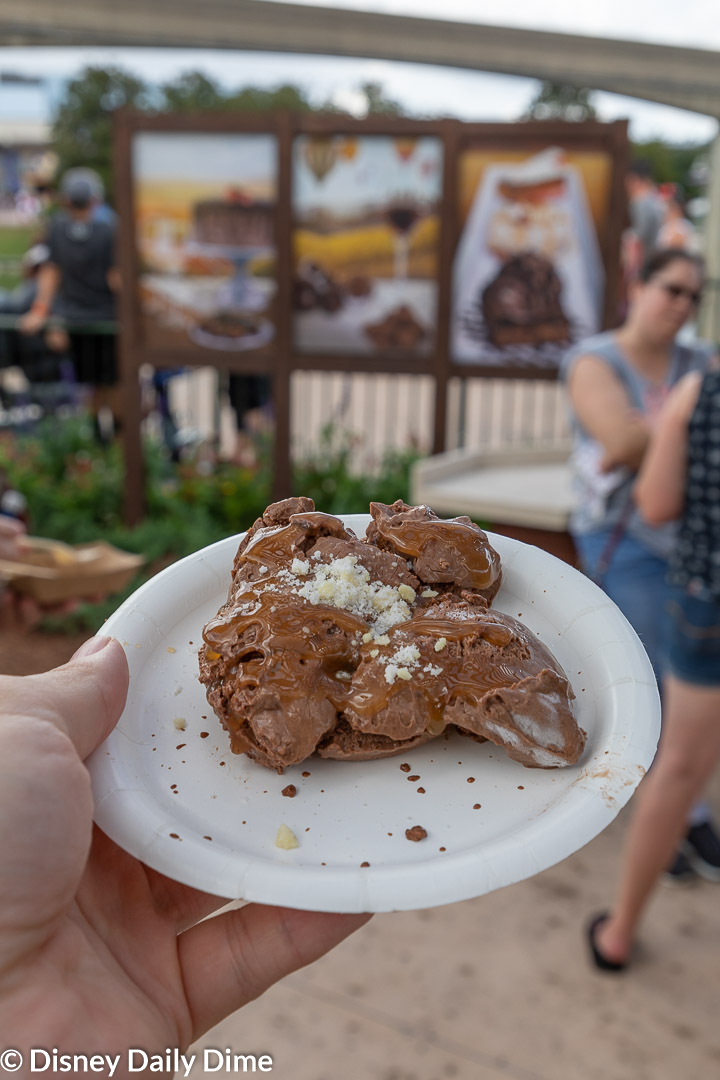 Liquid Nitro Chocolate-Almond Truffle with Warm Whiskey-Caramel (Gluten Free) – $5.00
This dish is a plate of chocolatey greatness.   If you love chocolate and caramel, do not miss this dessert.   The truffle itself has a smooth milk chocolate flavor to it, similar to a quality chocolate ice cream.   The warm whiskey-caramel sauce has a rich caramel flavor.  We couldn't detect the whiskey notes, but we felt that it must have contributed to the deep and pleasantly strong caramel flavor that stands up well with the chocolate.
Watching the chefs prepare this dessert is an opportunity to watch some fun food-science right before your eyes. The chefs dip a scoop of the truffle into a large container of "smoking" liquid nitrogen.  After it has frozen solid, they place it on a plate and hit it gently with a rubber mallet to crack it open.  It is then topped with crunchies and the warm caramel sauce. 
All four of us savored every bite of this delicious dessert.  While we each could have probably had our own, it is extremely rich, so splitting it was definitely wise.  Mike thinks he would be fine with a plate for himself.  We didn't resort to licking the plate clean, but we were all scraping our spoons along the plate to get every last bite.  This is a dessert we can't recommend highly enough!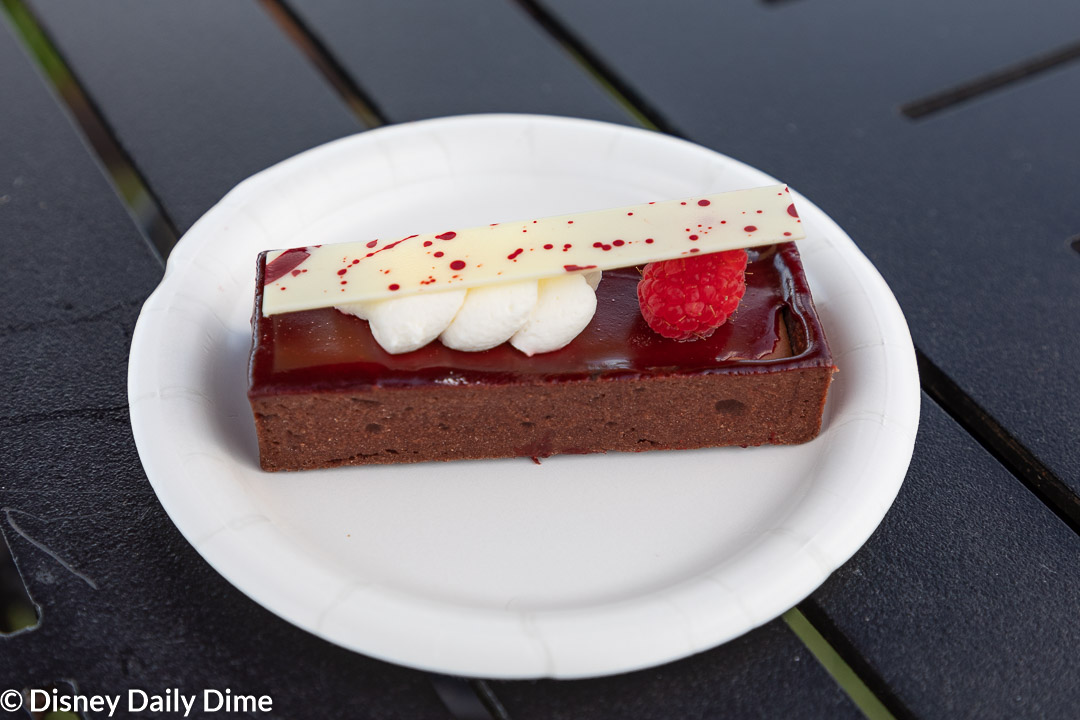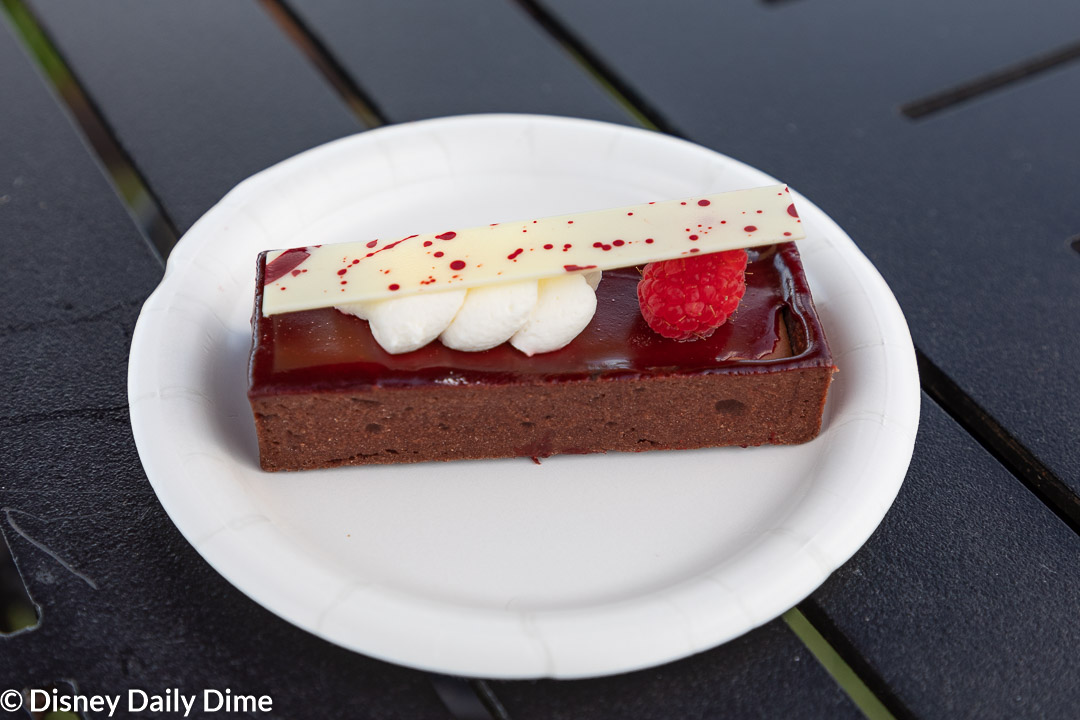 Dark Chocolate Raspberry Tart with Whipped Cream (Kid Approved) – $4.25
This dessert features the excellent flavor pairing of dark chocolate with raspberry.  If you are a fan of this flavor combination, you will thoroughly enjoy this dense chocolate tart.  The tart is a bit of a culinary work of art with a whipped cream surrounded raspberry propping up a piece of decorative white chocolate.
Mike ordered this treat last year, and I despaired that I couldn't enjoy it as it is not designated gluten friendly.  I love the dark chocolate/raspberry pairing, but Mike does not.   Therefore, he wasn't a huge fan of this dessert.  That is strictly based on his preferences and palate. Despite not liking those flavors, he said it was a high-quality dessert that he felt many would enjoy.
Wrapping Up
And with that, we'll wrap up our Chocolate Studio Review for the 2019 Epcot Food and Wine Festival.  No doubt one of the best stops for desserts of the Festival, particularly for the truffle.   We didn't get to try any of the beverage offerings, but there are many delicious sounding options that would be worth your perusal as well.