Situated in the back of the Italy pavilion in Epcot's World Showcase, you'll find a pizza shop that we think you absolutely need to visit.  Via Napoli serves up traditional Neapolitan pizzas that are as authentic Italian as you will find in all of Disney World, if not much of the United States.  Disney World literally goes the extra mile to make Via Napoli authentic by importing ingredients directly from Italy.  Not to spoil it, but here in our Via Napoli review, we'll tell you all about our experience dining here and why we think it is the must-eat pizza joint at Disney World.  As usual, you'll find our review comes with thoughts on the food, ambiance, and pictures!
Via Napoli requires the use of one table service credit on the Disney Dining Plan.  If you look at the Via Napoli menu, you'll notice that pizza's for your group present a fairly poor value on the dining plan.  If you order pasta or one of the other individual entrées, the value can be better, but it isn't a guarantee.  Always look at the menu before you eat here to see what it might cost.
If you use Tables in Wonderland, you'll be glad to know it is accepted here. 
Let's start our Via Napoli review by talking about the ambiance of the restaurant.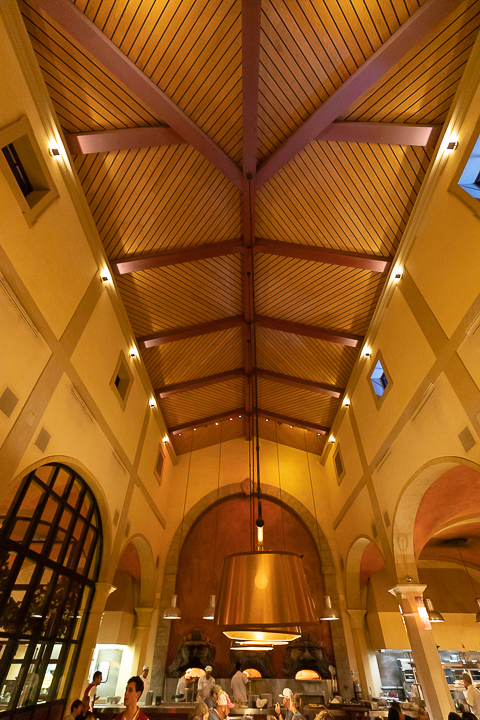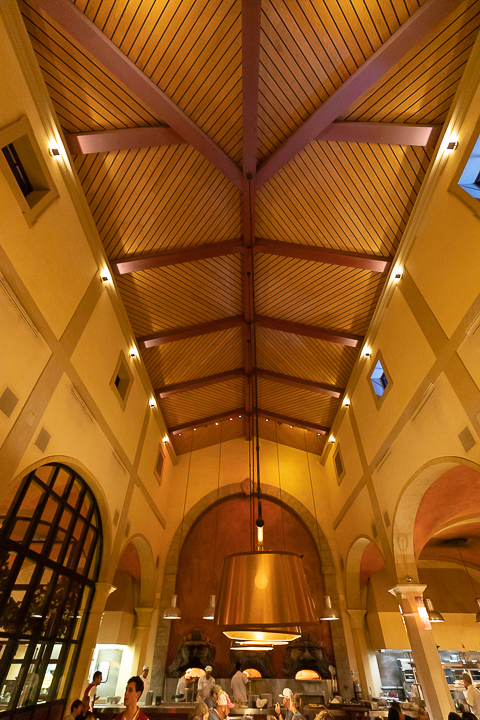 Via Napoli Feels Like a High-End Old-World Pizza Joint
When it comes to the ambiance of Via Napoli, we were surprised by how nice it was inside.  We've seen many pictures of the interior of the restaurant, but sometimes you just don't get the sense of what it is like until you see it for yourself.  The use of hard materials, like wood and stucco, fits well with some of our dining experiences in Italy.  The paint applied to the restaurant adds a much needed and welcome splash of color to give it a sense of vibrance and life.  They pair with several elegant-looking light fixtures that provide the restaurant with a more opulent feel that we didn't expect.  Don't get us wrong, this isn't a signature restaurant at Disney World, but it's just a well put together table service restaurant.
Beyond the materials, you'll find a combination of high ceilings, some of which stretch up into the air 40+ feet.  It adds an airiness to the restaurant that we liked, but I will say that it also makes the restaurant very noisy.  The way sounds bounce around in here may make you think that it is in dire need of some softer touches to help the acoustics.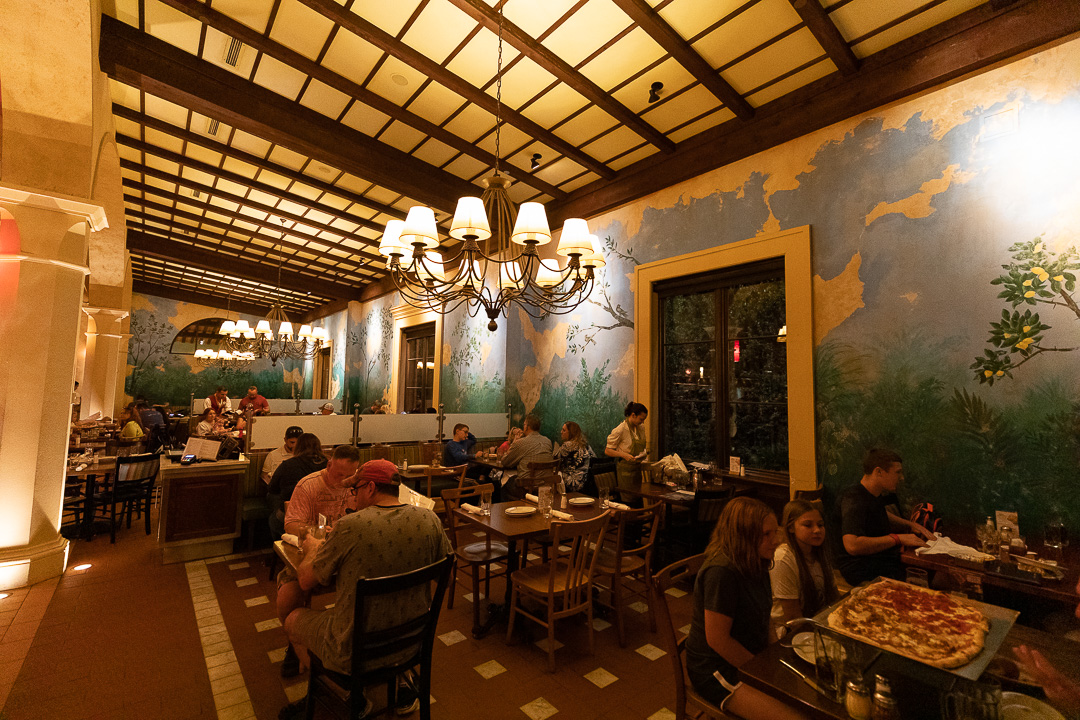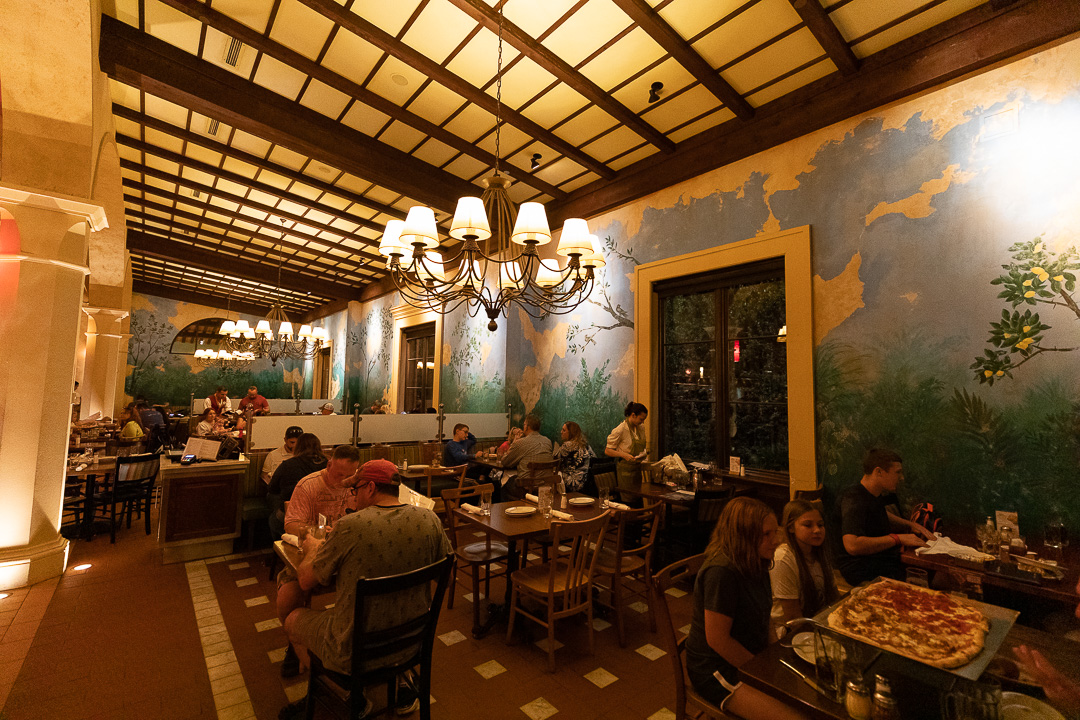 Beyond the décor and stylings, the centerpiece of this restaurant has to be the three large wood-burning ovens.  Each oven even has a name!  They go by Etna, Vesuvius, and Stromboli.  But the ovens aren't the only thing of interest here. Instead, the open-air kitchen makes for a fun aesthetic where you can watch chefs make each pie individually.  Feel free to take a stroll by the kitchen area and see the chefs show off their expert pizza-making skills.  I really enjoyed it.
Two side rooms are available at Via Napoli that you may want to request to sit in or avoid, depending on what dining experience you want.  If you want a more intimate dining experience, you probably shouldn't be in the main dining area.  In our case, we ate our dinner in the main dining area, where we sat next to an older family that frequents Disney World.  When the family saw Anna and Elsa, they were smitten and happy to engage in conversation.  Considering how our tables were set up, it was almost like they were part of our table.  This proximity made conversation very easy.  I say all of that to illustrate how cozy things can be in the main dining area.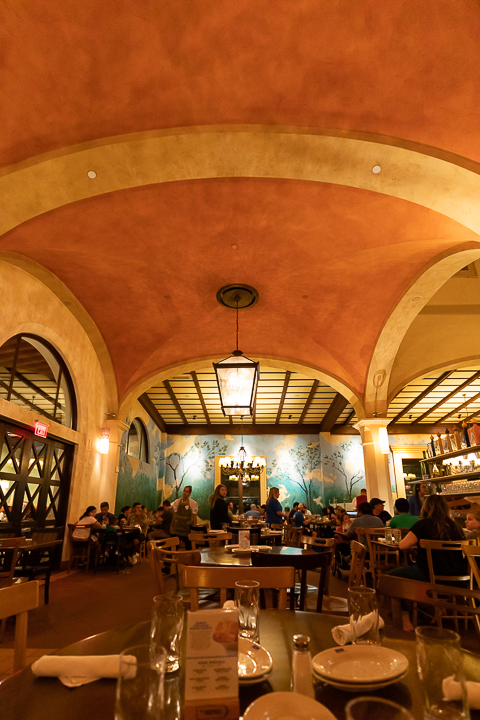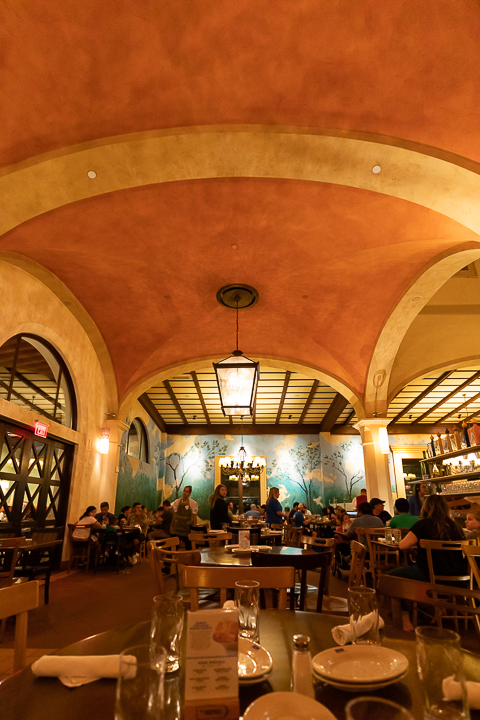 All told the restaurant atmosphere is excellent.  It's alive and hopping, giving it a sense of vibrance that we loved.  But at the end of the day, we know it is all about the food.  Let's get to that part of our Via Napoli review!
Via Napoli Has the Best Pizza at Disney World
We sort of spoiled this part of the review early on, but I guess we can add some details to it.  We loved the food at Via Napoli.
However, there was one important lesson we learned along the way.  That lesson involves ordering pizza and pasta in the same meal.  As you'll see shortly, Carla order pasta, while the girls and I ordered pizza.  Our pizza was served promptly, while Carla's pasta arrived at the table about 15 minutes after our pizza.  We finished eating our food by the time her pasta arrived.  In discussing with our server and reading more reviews, this appears to be a fairly common occurrence.  Our server told us that the pasta comes out of a separate kitchen, so it could come out at different times.  We didn't think they meant that different of times.  If you have someone order pasta, you may want to ask your server to put the pasta order in first, with hopes that the past and pizza come out together.  Now, let's talk about the food itself.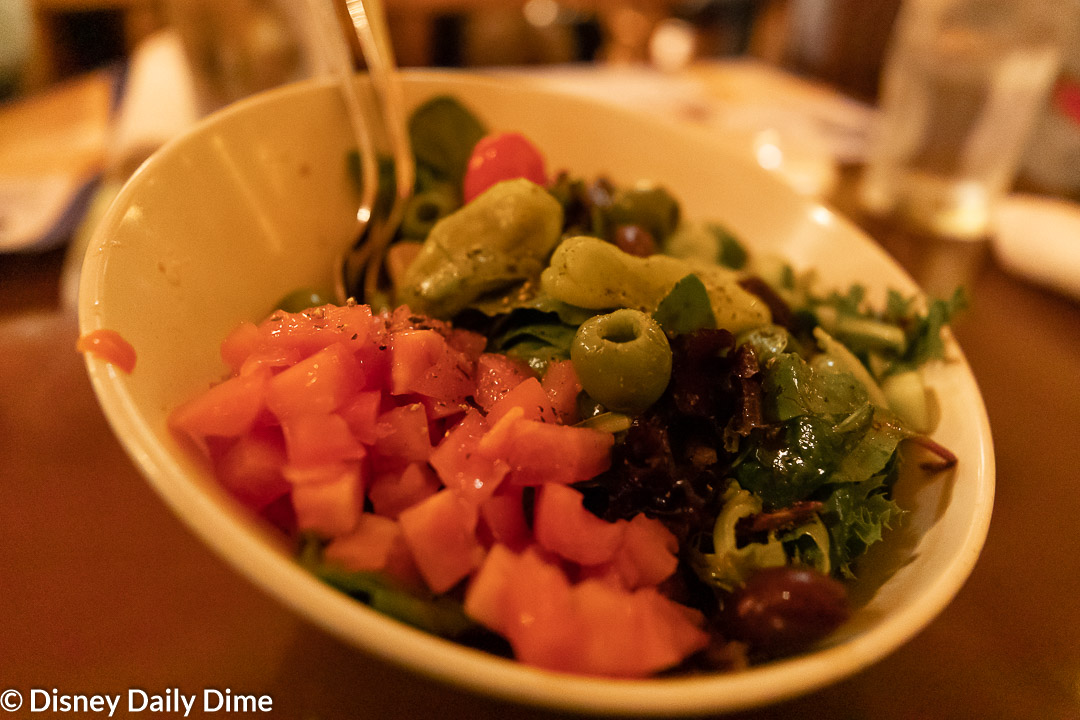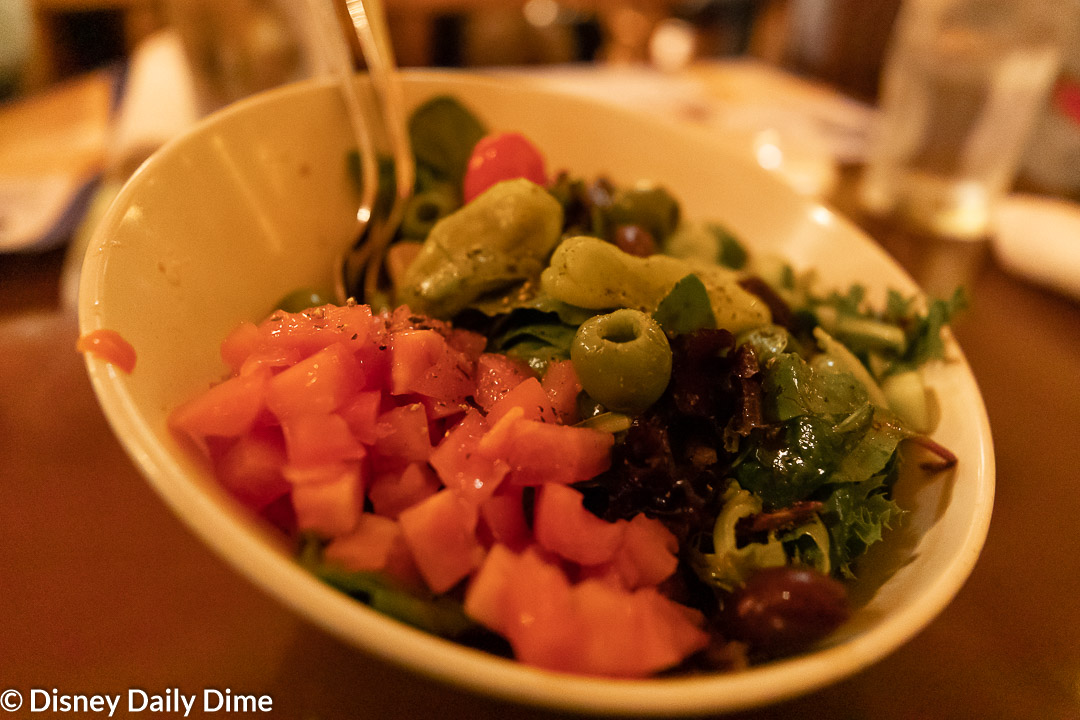 Appetizer
To start, we ordered the house salad for the table.  This salad features mixed greens, vine-ripened tomato, black and green olives, and cucumbers.  Carla and I loved this salad!  Well, maybe everything except for the olives in it, but I could pick around those.  All of it was fresh, crisp, and tasty.  It was a great way to start the food portion of our Via Napoli review.
Adult Entrées
When it came to ordering something here, there was never a doubt about what I was getting.  Pizza!  Now which type of pizza was a little less clear.  If you look through the Via Napoli menu, you'll see over ten different types of pizza to choose from.  Ultimately, I decided to order the Piccante Pizza.  It's simple but effective as it is made of tomato sauce, Italian spicy sausage, mozzarella.  This reminded me of the excellent pizza that Carla and I enjoyed when we went to Italy several years ago.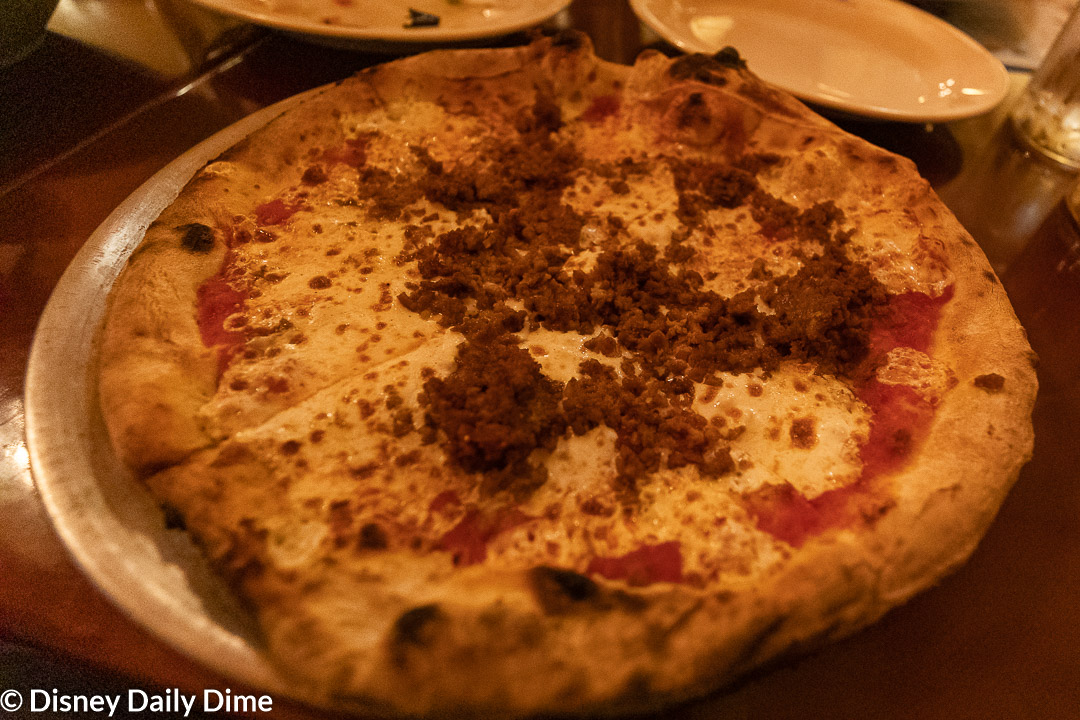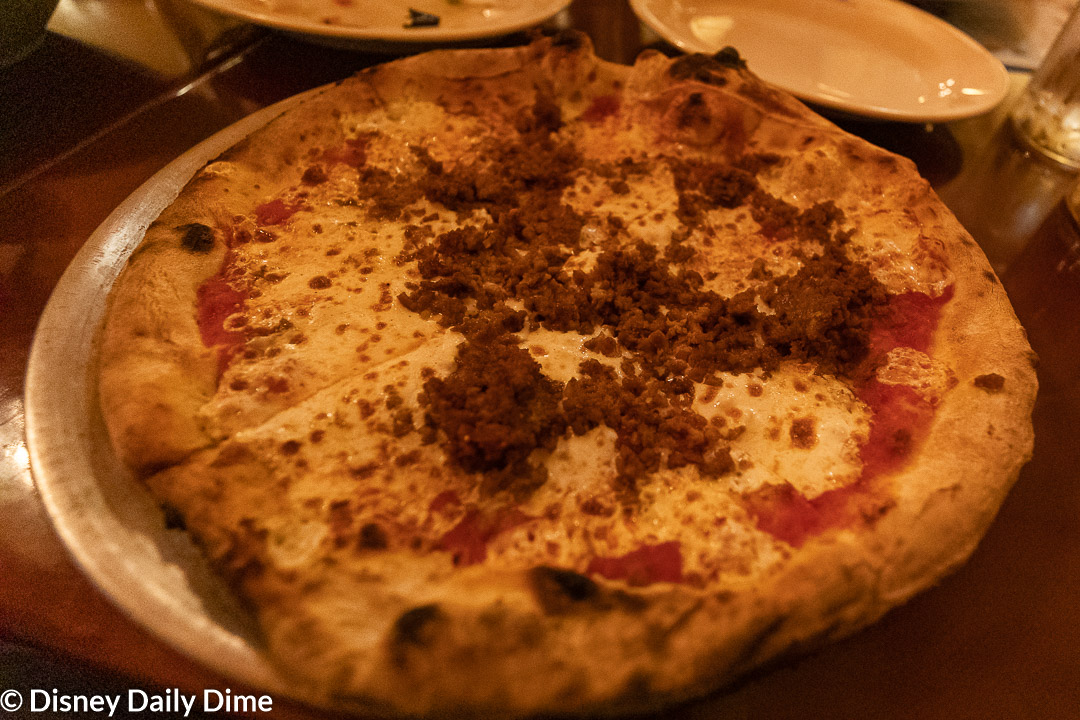 The thin crust, coupled with the spicy sausage and mozzarella were perfection.  While not something I would consider amazing, the tomato sauce was pretty good too!  The sausage was not too spicy if you are concerned about that, but the flavor was excellent.  This is a pizza that I could eat every time we go to Disney World.
Now, one thing you may have to consider here I the price of the pizza.  Individual sized pizzas will cost $20 and up, with larger sized pizzas running even more.  However, what you can't see in these prices is how large the pizza is.  In my case, the individual portion that I ordered was large enough that two people could split it.  While $10 per person for a pizza is expensive, it isn't crazy by Disney World standards.  When you couple that with the quality of pizza you get at Via Napoli, we think this is a no brainer place to get pizza.
We did see several larger parties of 4-8 people splitting some of the large size pizzas.  If you have those you should be able to keep your cost per person in that $10 range.  While we didn't eat one of the larger pizza's at Via Napoli, they looked every bit as good as ours.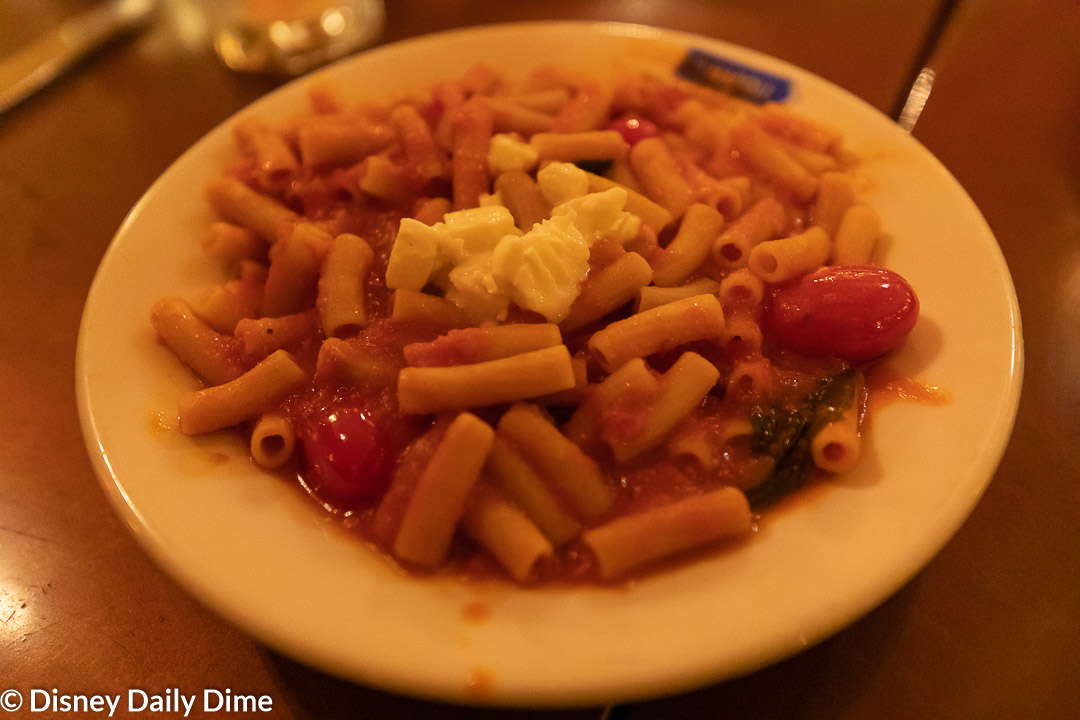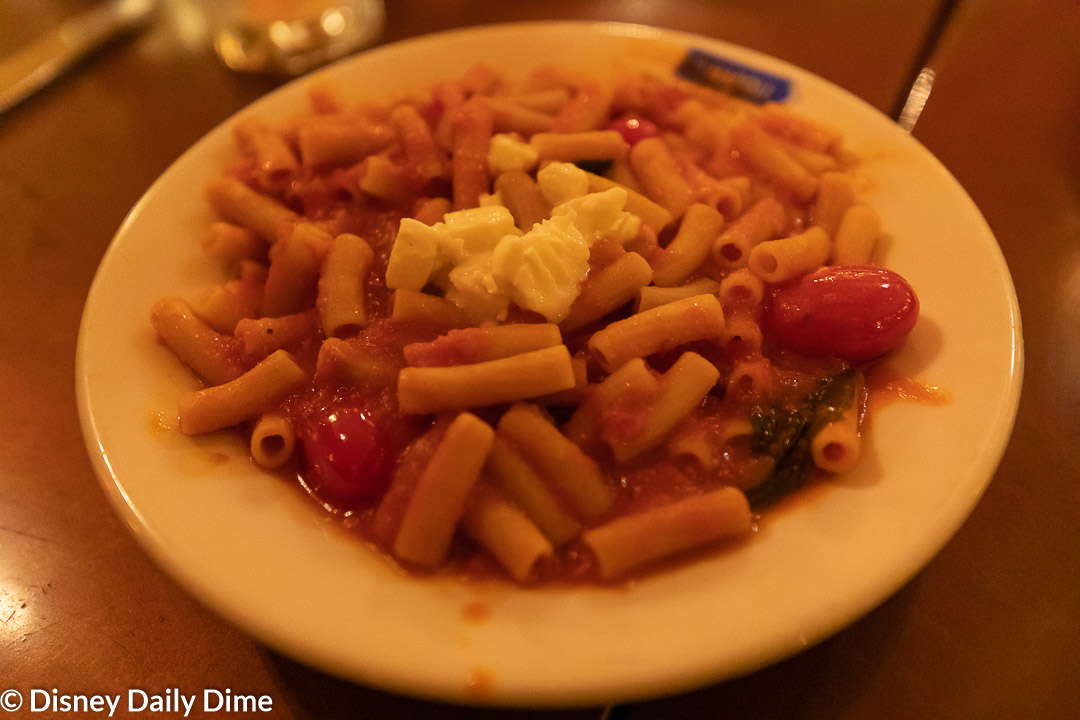 As for Carla, she ordered the gluten free Penne Caprese.  The pasta is covered with a spicy tomato sauce, garlic, basil, and fresh mozzarella.  Carla found the gluten free pasta excellent.  It wasn't mushy like you may encounter with certain versions of gluten free pasta.  The spicy tomato sauce had a great kick that added depth to the pasta.  When topped by an excellent mozzarella, Carla loved this dish.
If you aren't looking for a gluten free pasta, but are interested in this dish, there is a non-gluten free version of it on the menu.  Just look for the Penne Arrabiata.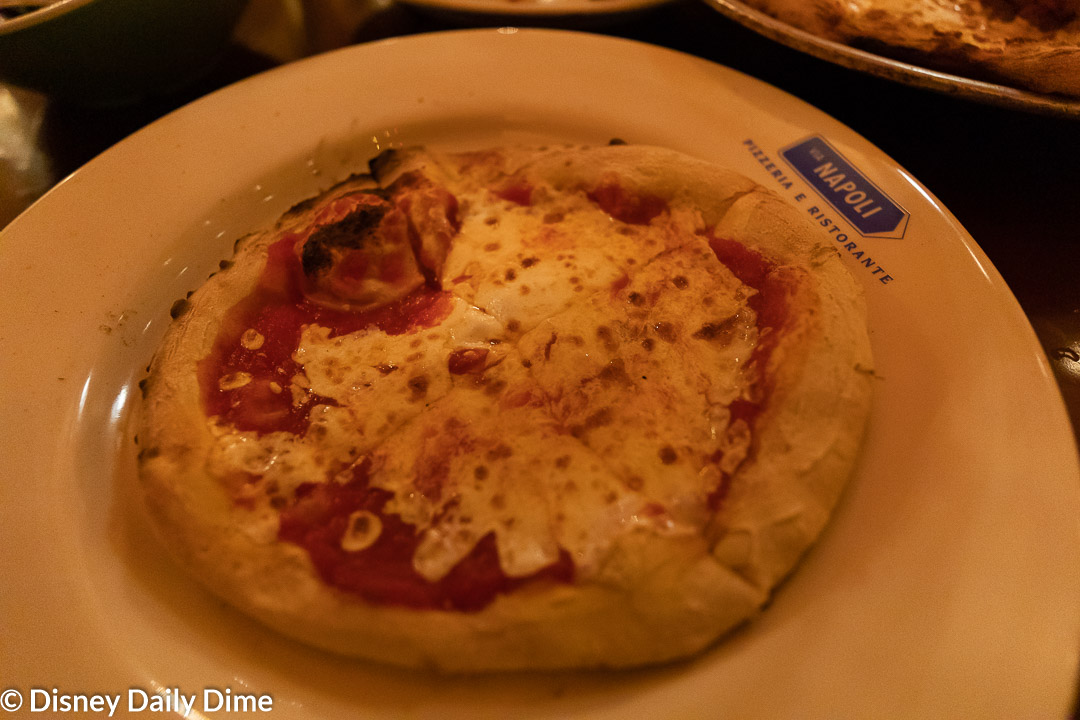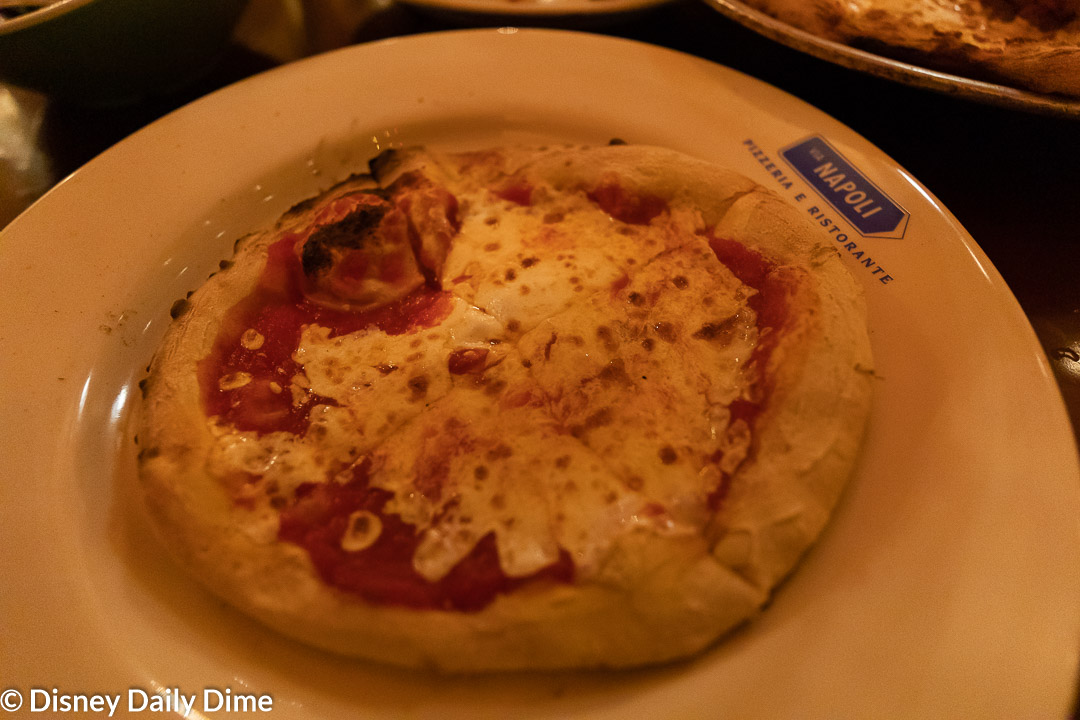 Kids Entrées
Anna and Elsa both went the same route by ordering the kid's cheese pizza.  As opposed to the puffy pizzas that are prevalent around Disney World, this pizza was another thin-crust Neapolitan pizza.  Taste-wise, both of the girls like it.  Their issue was typical of their thoughts on any thin crust pizza that we get them.  They don't like it.  Our girls are very consistent on this point.  They like thicker, puffy style pizzas.  Because of that, they thought the pizza was just okay.  I tasted it and thought it was excellent.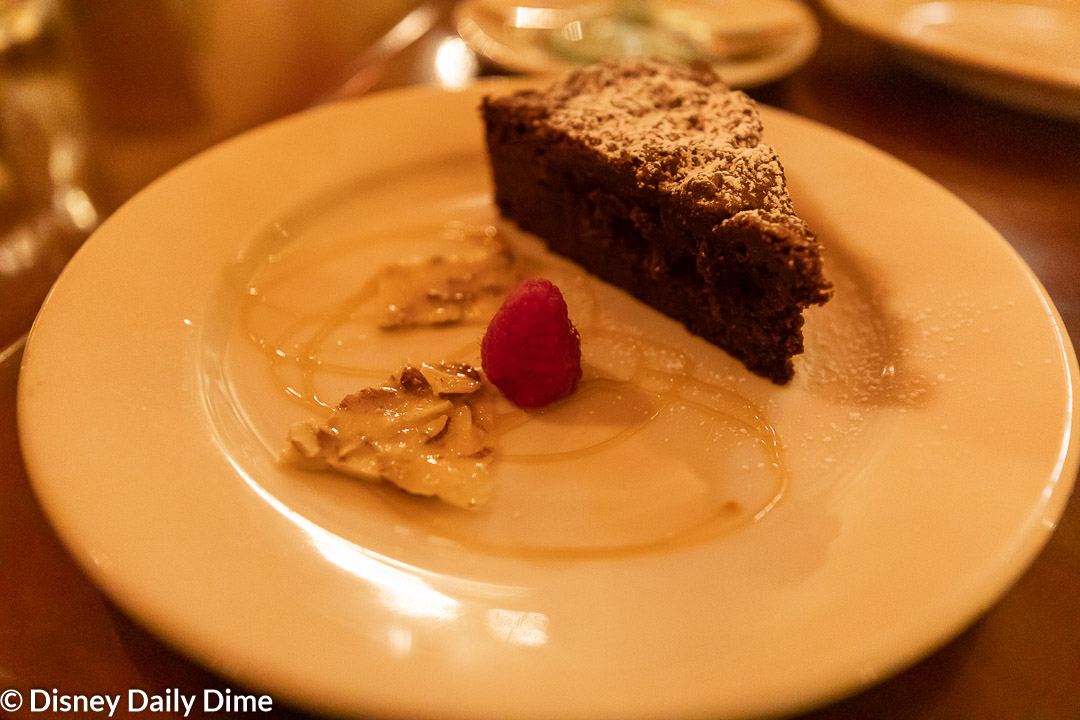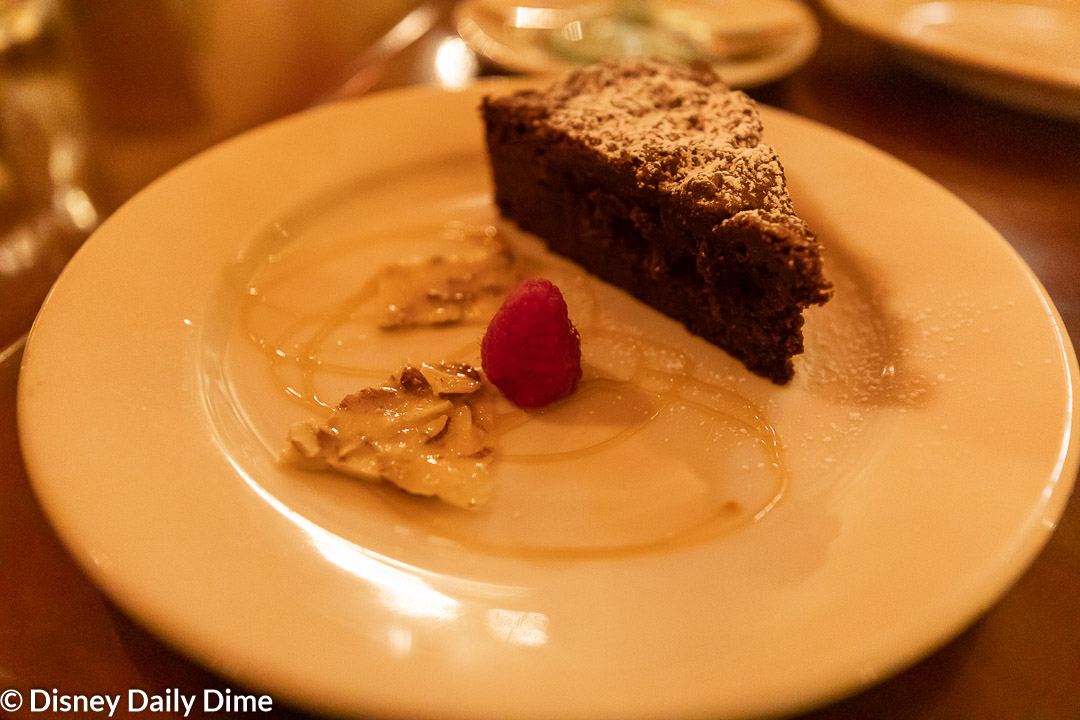 Desserts
We ordered two desserts for the table.  Carla selected the Torta Caprese for her dessert.  This is a traditional Neopolitan chocolate-hazelnut and almond cake, which also happens to be gluten free.  If you like chocolate-hazelnut flavors, you will like this dessert.  I don't, so it was a bit of a dud for me.  However, Carla loved this sweet treat.  She found the cake dense, almost like a brownie.  If we go to Via Napoli again, she would get this a second time.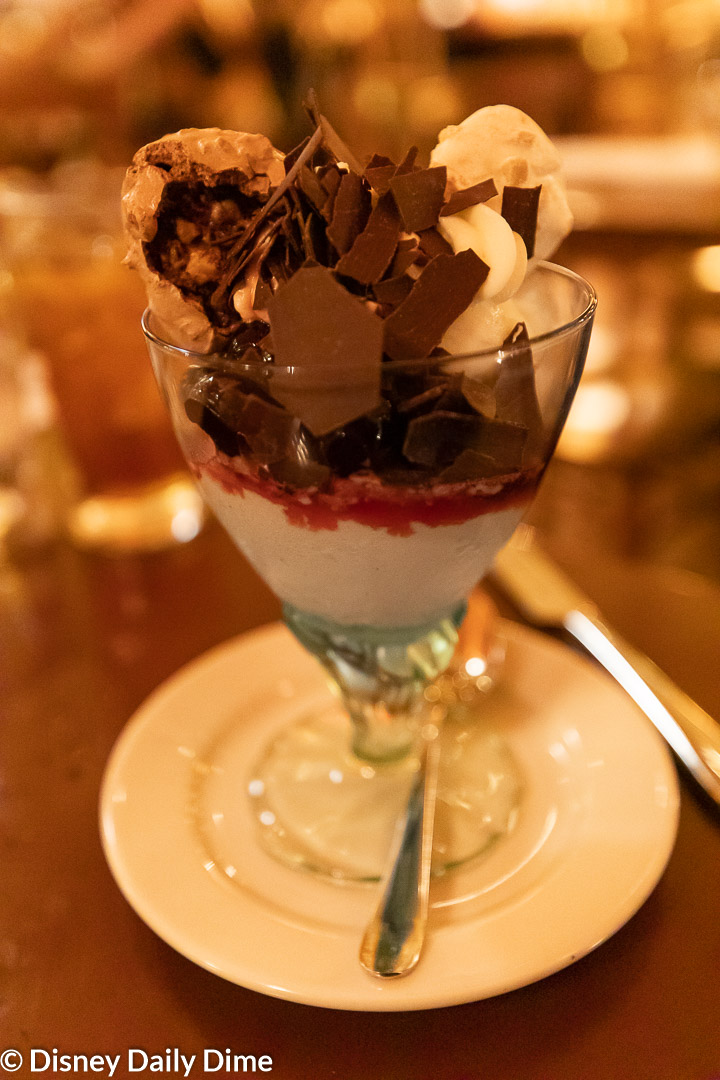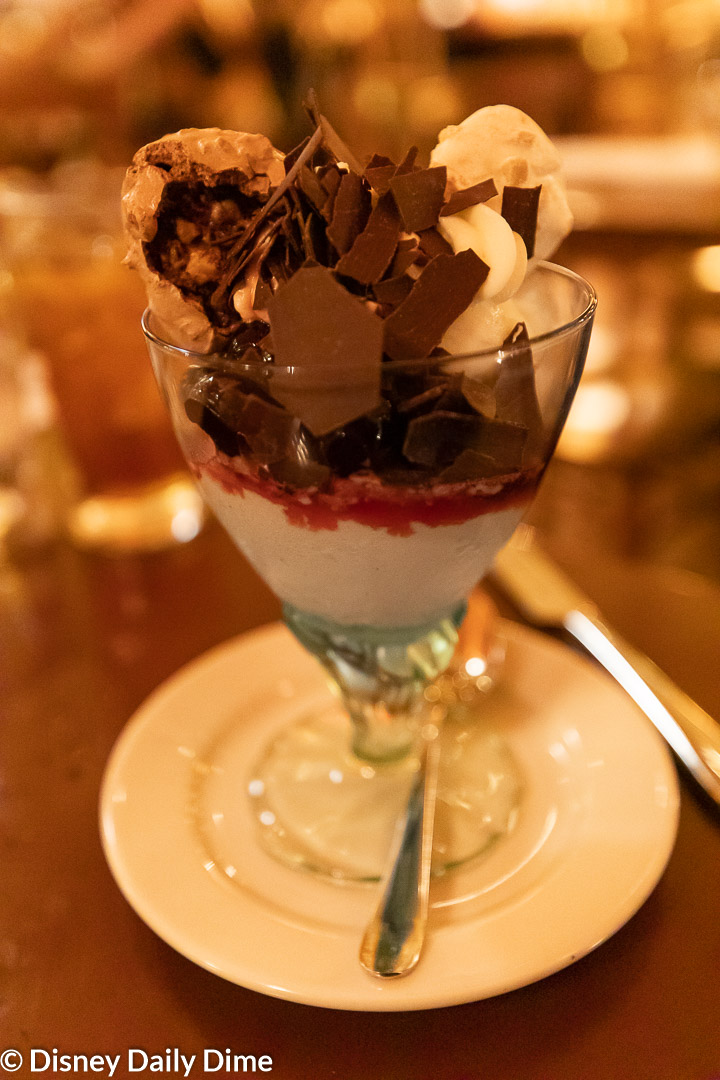 I ordered the Coppa di Brutti Ma Buoni for my dessert, which Via Napoli celebrates as "ugly, but good."  This dessert is an amarena cherry and vanilla gelato sundae.  Unfortunately, I had to share this dessert with Anna and Elsa, because I could have eaten this all on my own.  The amerana cherry mixed with the chocolate and vanilla components of the sundae wonderfully.  There was nothing left when we polished off this dessert.
Wrapping Up Our Via Napoli Review
All in all, Via Napoli was an excellent experience.  We like the décor and feel of the restaurant.  Watching the chefs make the pizza and cook them in the wood-burning ovens is fun and something you should walk up and see for a minute or two.
However, the pizza was the big hit of the review.  I am looking forward to our next meal here, where I can try a different style of pizza.  Beyond the pizza, the pasta, appetizers, and desserts were excellent at Via Napoli.  This is a restaurant we can't recommend enough.  Is it a little pricey for pizza?  Sure, but pretty much anything at Disney World is.  This is one of those restaurants that are worth it!
If our Via Napoli review was helpful or at least entertaining, please like and share this with your friends or anyone you think will find it useful.  Just use the sharing buttons on the page.  If you're interested in more of our dining reviews, we have a complete list on our Disney World Restaurant Reviews page.
We always appreciate it when you share our posts, as it allows us to spread the word about our blog and hopefully will enable us to help others.