If you are interested in high-end dining at Disney World, you are usually well served by eating at what Disney calls their Signature Dining restaurants.  With the opening of Disney's Riviera Resort, we gained another one of these top tier restaurants.  The restaurant is called Topolino's Terrace and features "fresh, delicious seafood and meat dishes, handmade pasta and decadent desserts infused with French and Italian flavors."  But there is a lot more to Topolino's than just the food.  We'll cover all of the food, atmosphere, and more here in our Topolino's Terrace Dinner Review.
Right now, Topolino's Terrace does not take Tables in Wonderland.  However, every cast member we spoke to said they think it will at some point in the future.  It's unclear when that will happen, but given the fact that it is a new and hot destination for dining, it may be a little while.
Since it is a signature dining restaurant, Topolino's requires two table service credits if you're eating dinner here.  A quick tour through the Topolino's Terrace dinner menu shows a variety of price points for entrées.  If you get an entrée of the meat or seafood variety, plus an alcoholic drink and dessert, then you will likely recoup the value of your table service credits, but it isn't a guarantee.  However, if you order one of the pasta dishes, then you are probably better off paying out of pocket.
Do note that Topolino's Terrace is only open for breakfast/brunch and dinner.  They do not serve lunch.  However, breakfast is the Breakfast à la Art with Mickey & Friends character meal.  We cover that meal in our Topolino's Terrace character breakfast review.
Okay, I think that's enough of the preamble, let's get on with our Topolino's Terrace dinner review!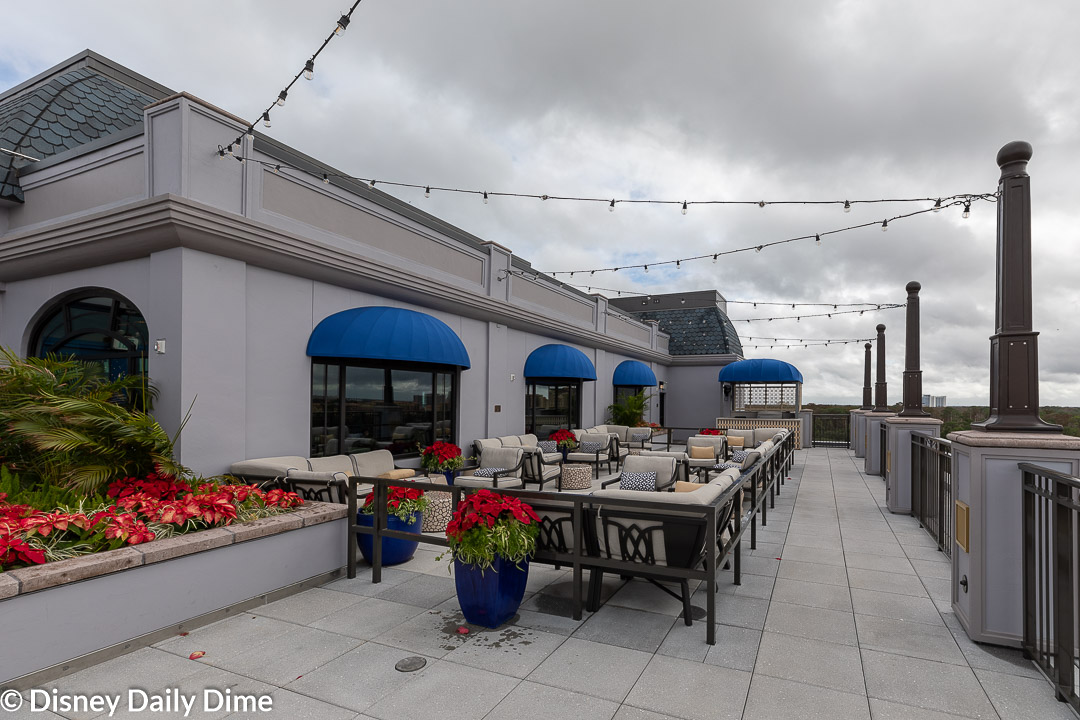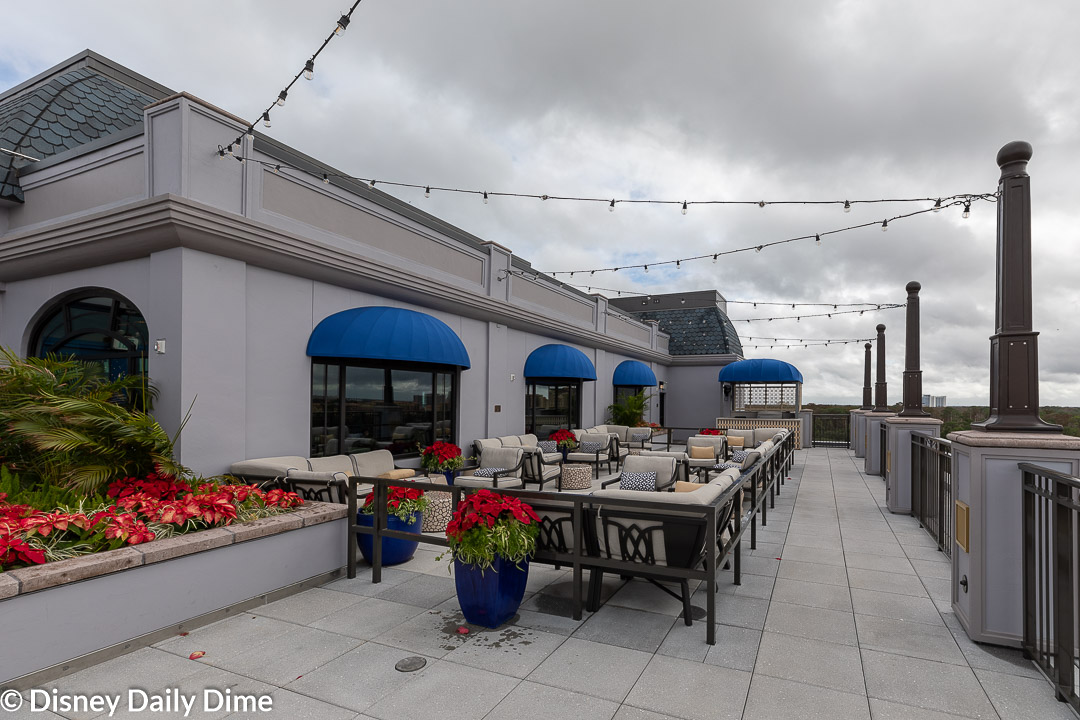 The Styling of Topolino's Terrace are Mediterranean Inspired and With a Beautiful View
As a little background, Topolino is Italian for Mickey Mouse.  That's where the first part of the restaurant's name comes from.  The second part of the name comes from the terrace area of the restaurant that provides for some exquisite views of the resort and of the fireworks that take place nightly over at Epcot and Hollywood Studios.
The terrace area of the restaurant features more seating than we expected, and it was relatively calm on the night we visited the resort.  There were guests out and about on the terrace, but everyone seemed to be relaxing and enjoying the evening.  It wasn't a frat party on the balcony or anything crazy like that.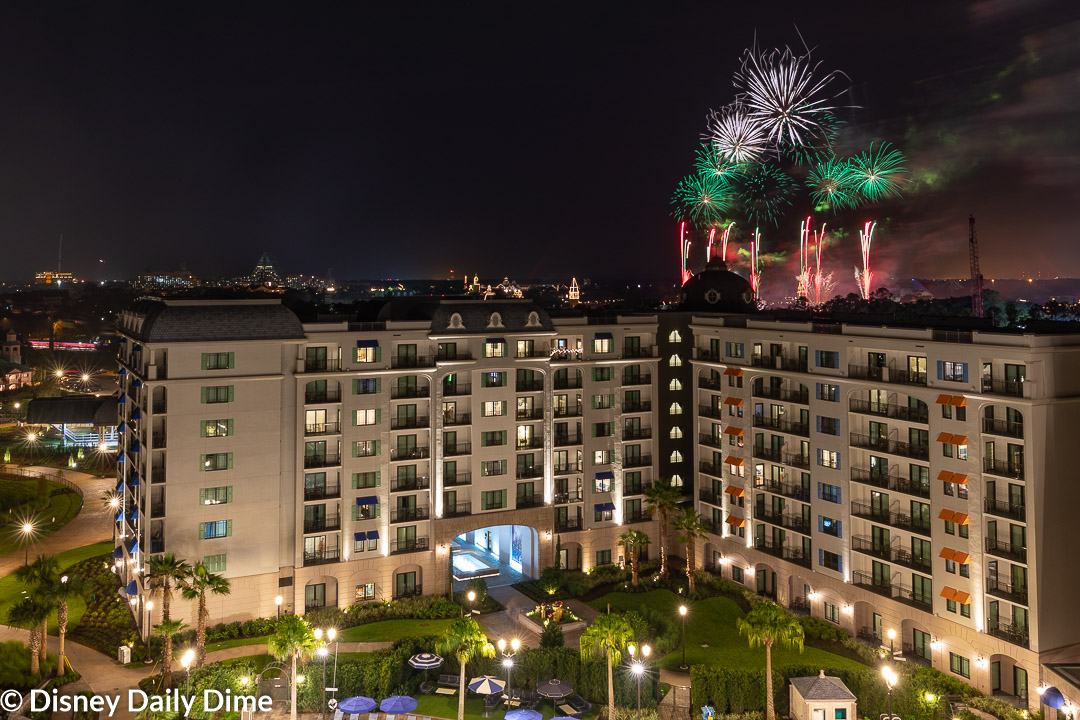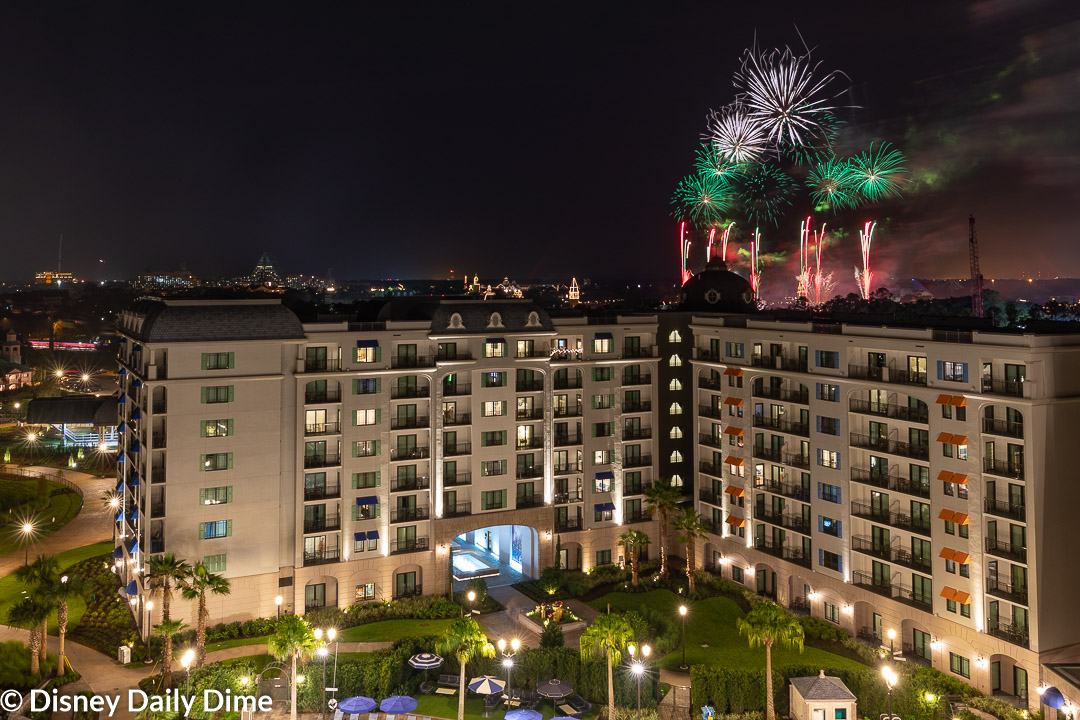 Most guests appeared to be on the terrace, waiting for their table inside to be prepared.  I would say the terrace, which has its own bar, is a great place to chill and just relax before or after your meal.  When people cleared out and I was one of three groups watching the Epcot fireworks, I was stunned.
As the fireworks were going off, I thought to myself how peaceful and calm it was, but then I realized it was a little too peaceful.  How can that be?  Well, they don't pipe in the music from the fireworks show, which is a bit odd to me.  They have the capability to do it, as a cast member told me they were doing it the following night for their New Year's Eve party at the restaurant.  It's disappointing that they don't do it on a regular basis.  Maybe beyond disappointing, it's just wrong.  If you're interested in what the fireworks viewing looks like from Topolino's Terrace, we have a complete video of it on our YouTube channel. 
Unfortunately, the terrace is only available to guests who are eating dinner.  You can't just pop in for a drink and to watch the fireworks show.
One final thought on the terrace, the string lights that adorn the area add a lovely romantic touch to the area when the sun goes down.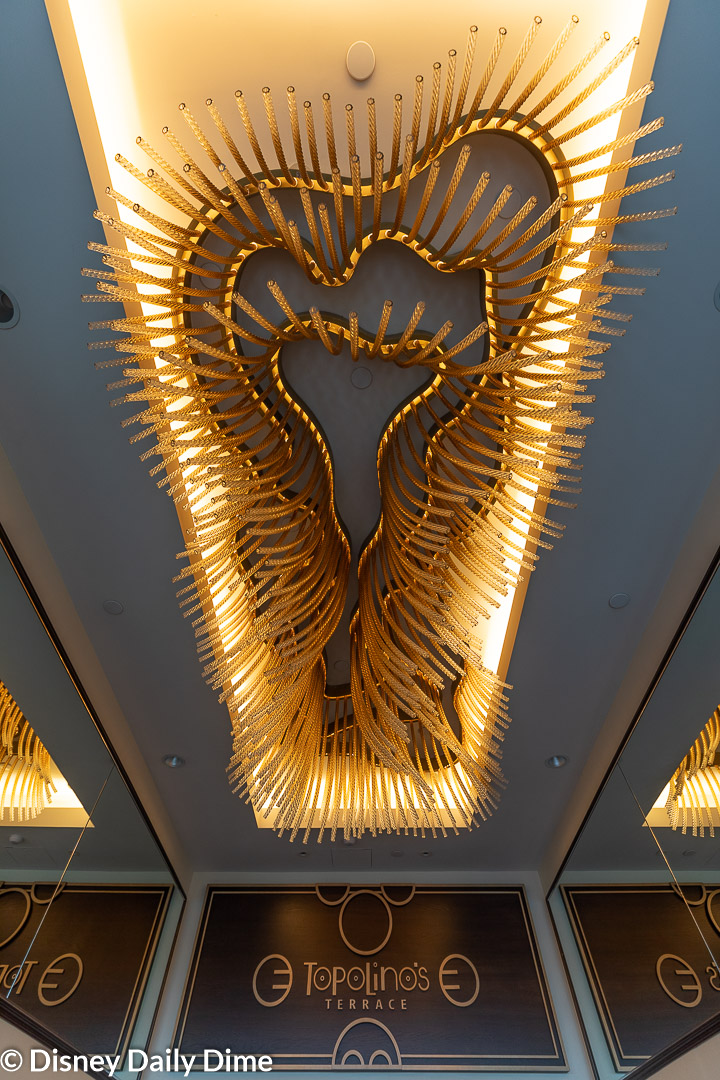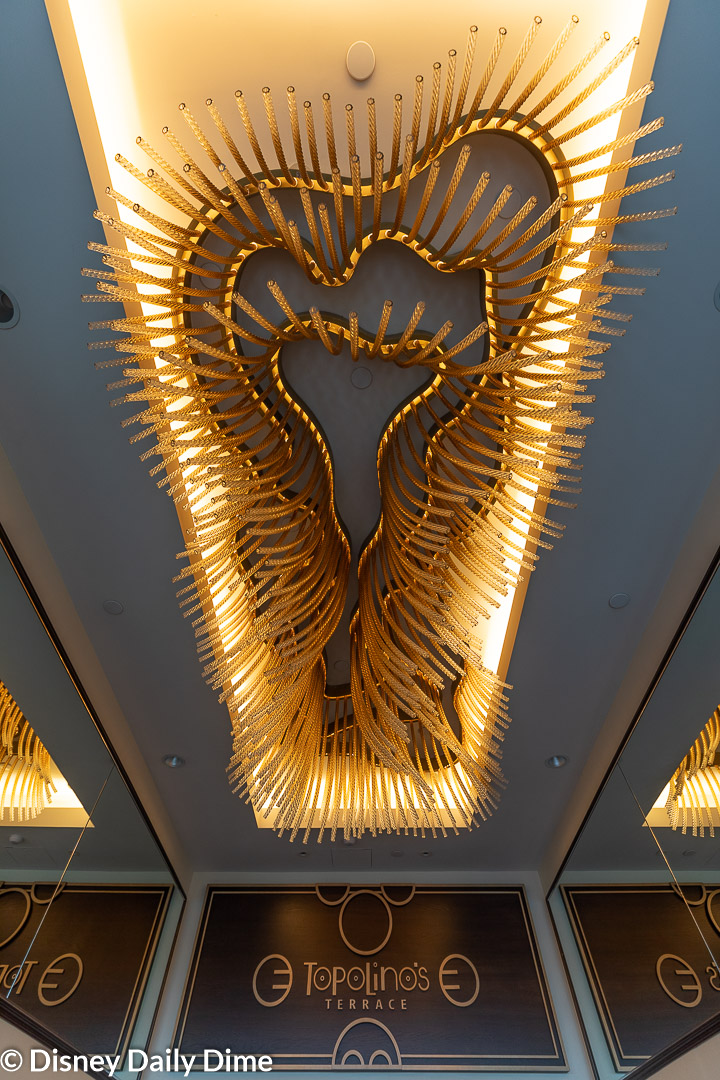 As for the interior of the restaurant, Disney's own website describes Topolino's Terrace as "a modern interpretation of the textures, colors, carved details, and stonework found in ancient villages along the Riviera."  It might be up to your knowledge of the Riviera for you to decide if this holds true.
When you come up the elevator to the 10th floor of the Riviera Resort, where Topolino's is located, you are immediately greeted by a large chandelier that feels like it is more artwork and less light fixture.  It's indicative of the style and design that you'll find throughout the interior of the restaurant.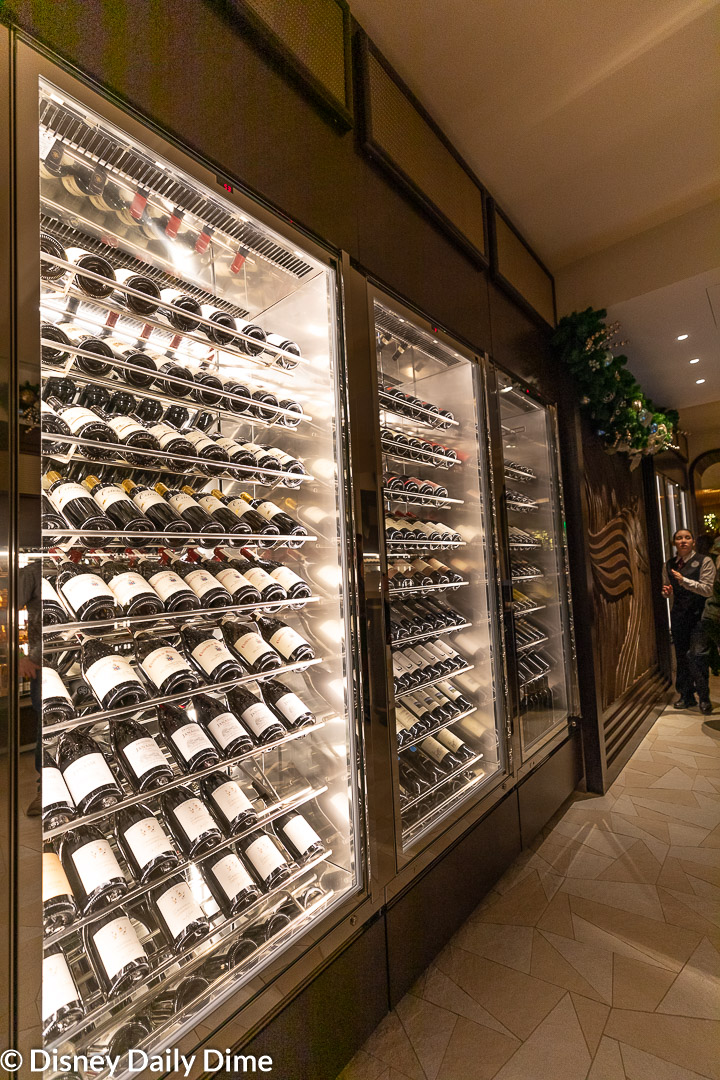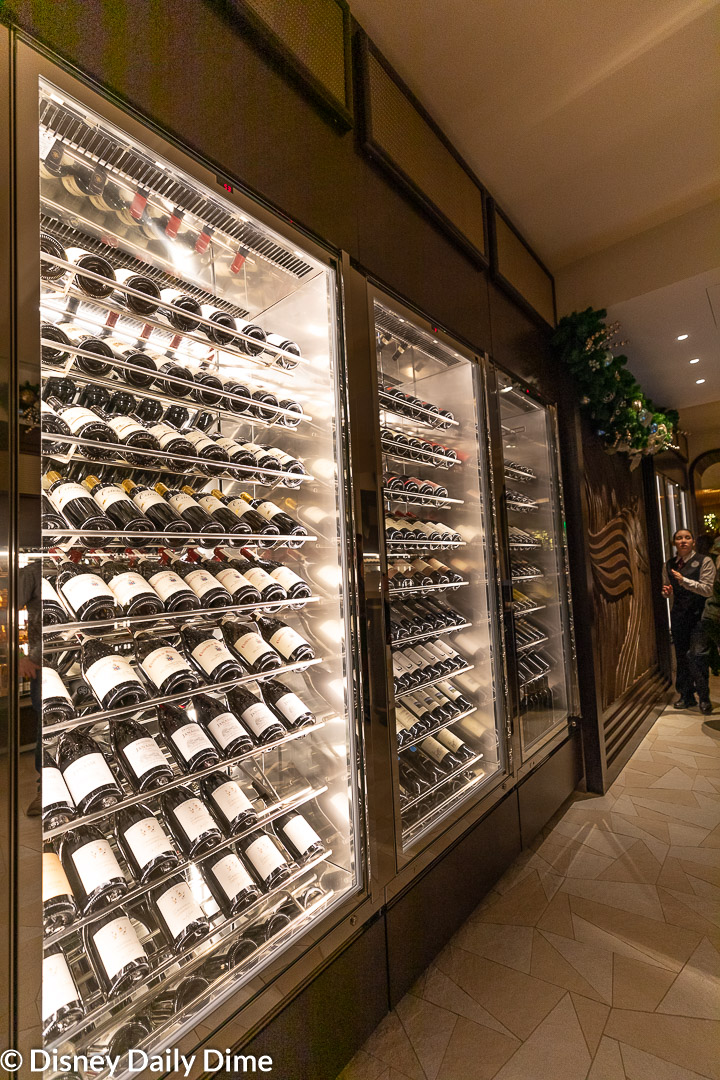 As you check-in at the front, you'll find display cases on each side of the check-in stand.  One side displays the various French and Italian wines than you might encounter while the other shows off pastas and cheeses.  It's a nice touch that lets you know fairly quickly that this isn't your garden variety table service restaurant.  Between the terrace and the wine on display, there are a few of similarities with California Grill over at the Contemporary Resort.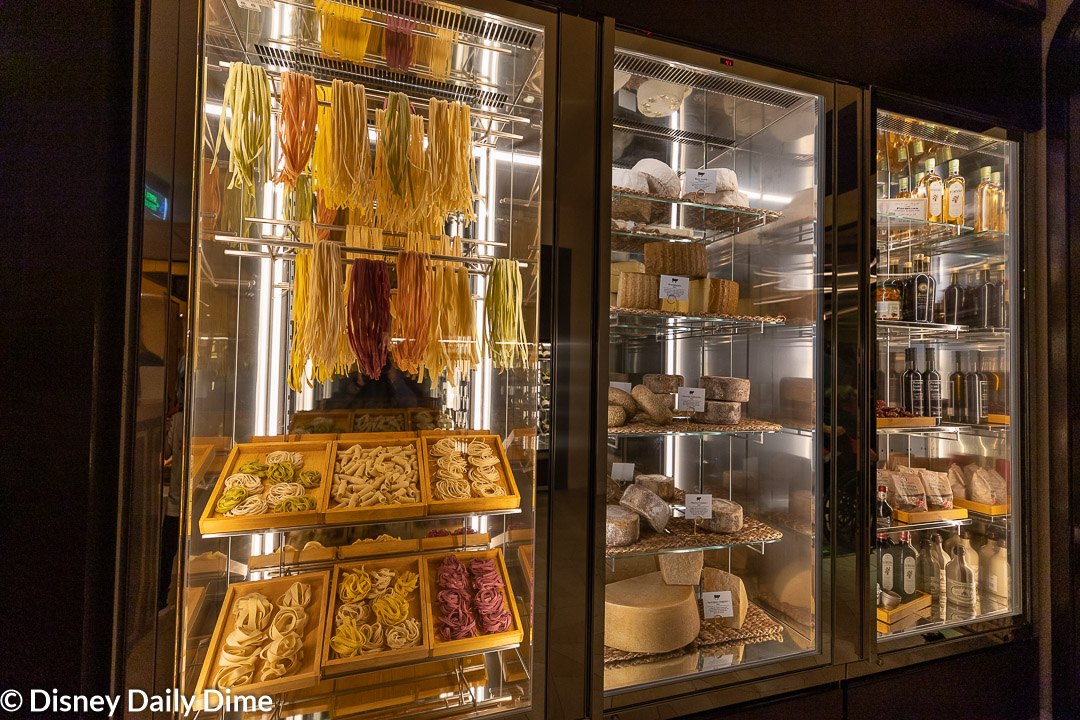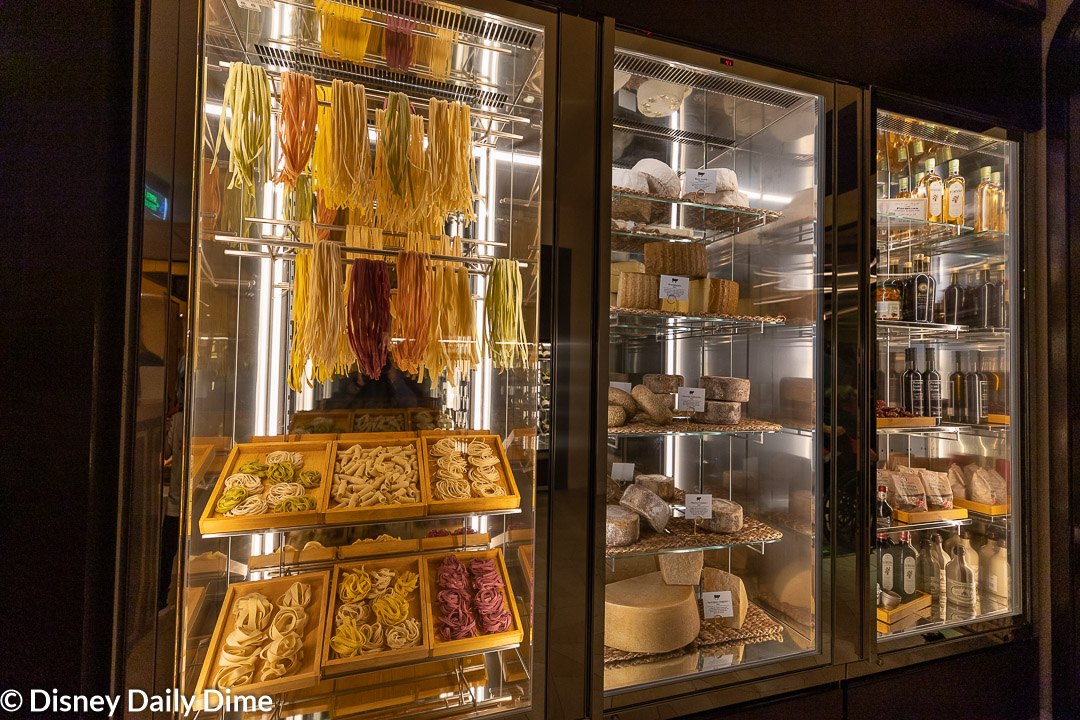 The bar area is right inside as you enter Topolino's Terrace.  It features a light fixture that looks very similar to the one in the lobby of the resort.  It's fun and elegant at the same time.  The indoor bar is reminiscent of the aforementioned California Grill.  Seating at it is first come first serve, and you can order from the menu here.  If you don't have a reservation, this may be a way for you to get into the restaurant.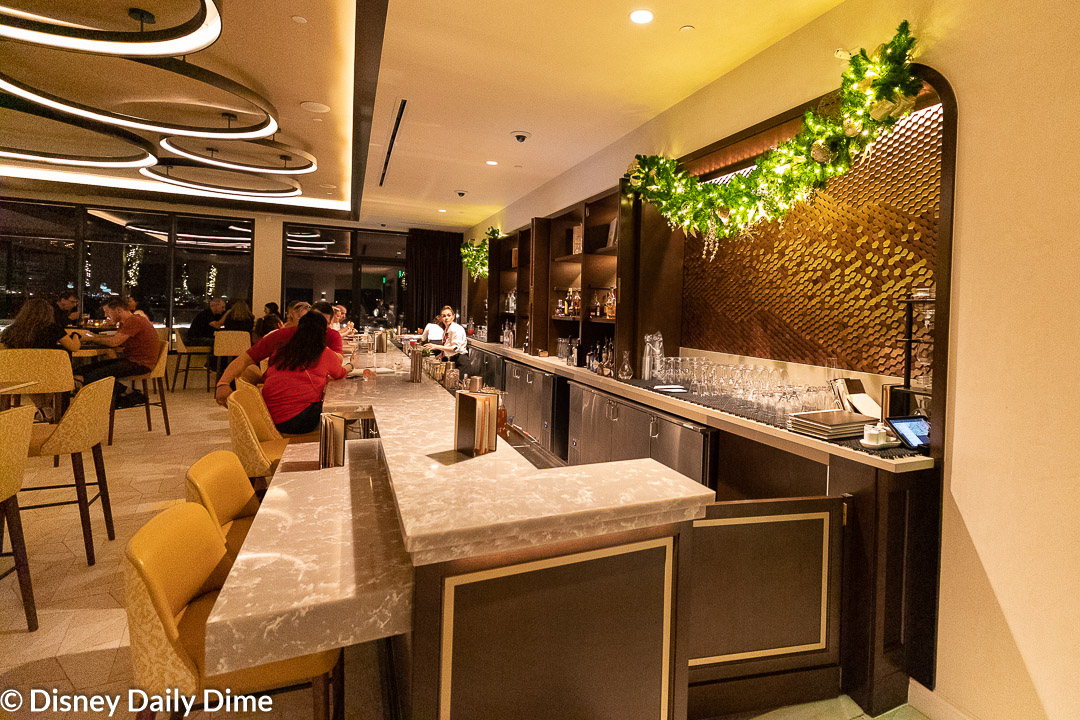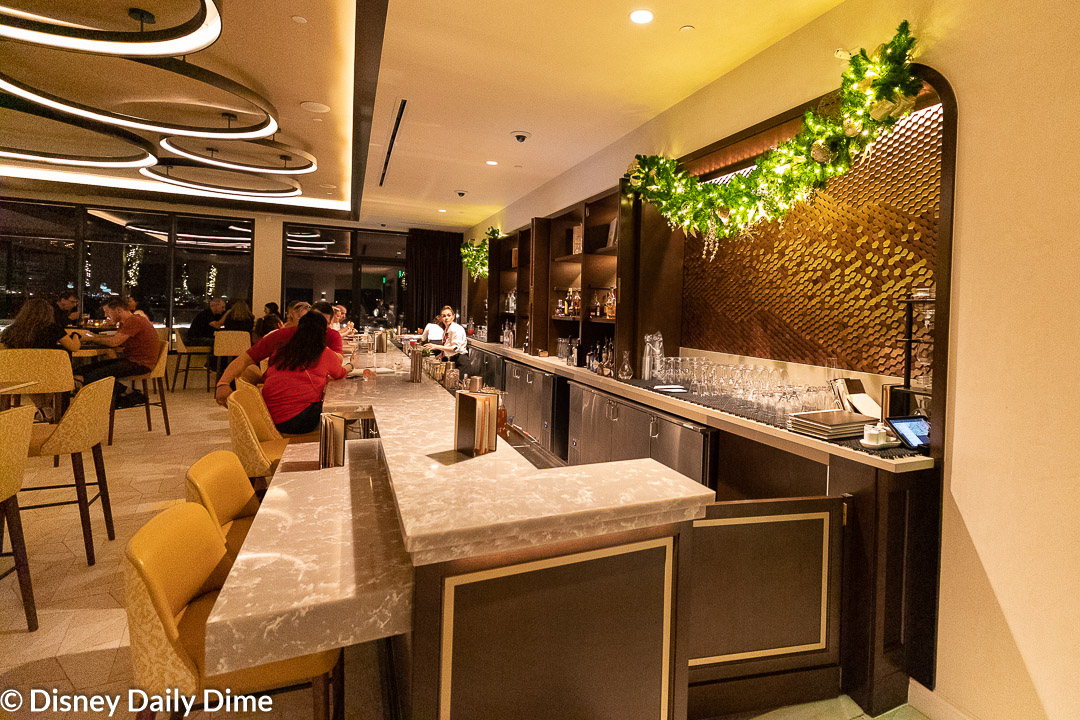 If you do eat at the bar, you can stay for the fireworks shows at night.  Just keep your receipt handy to show you ate here.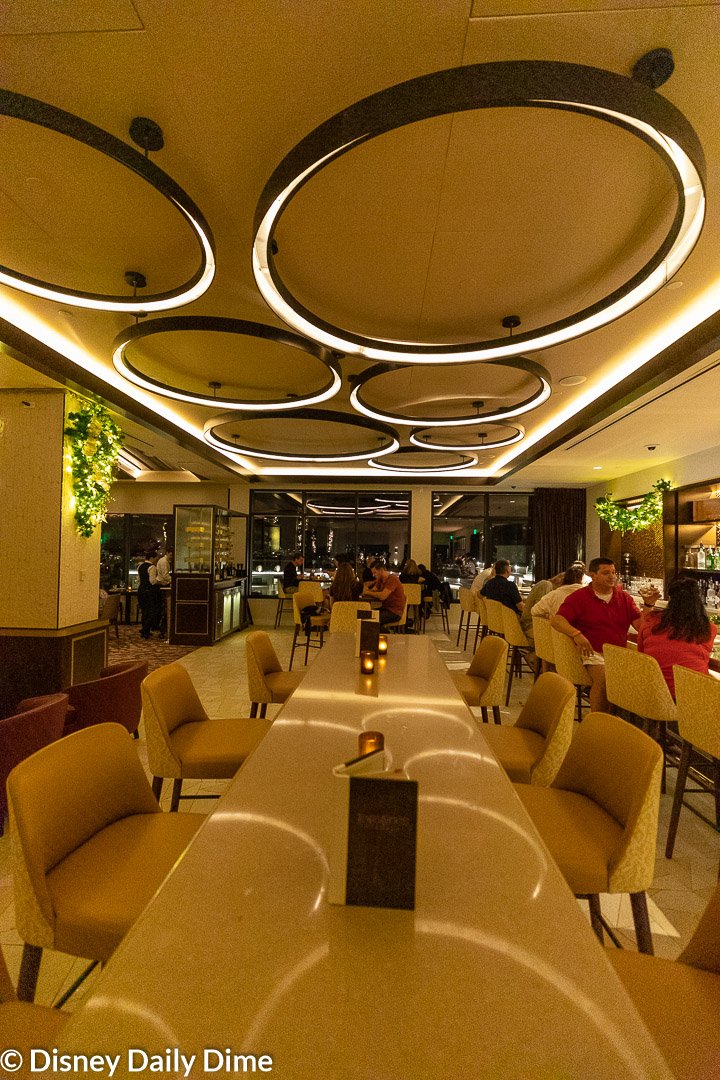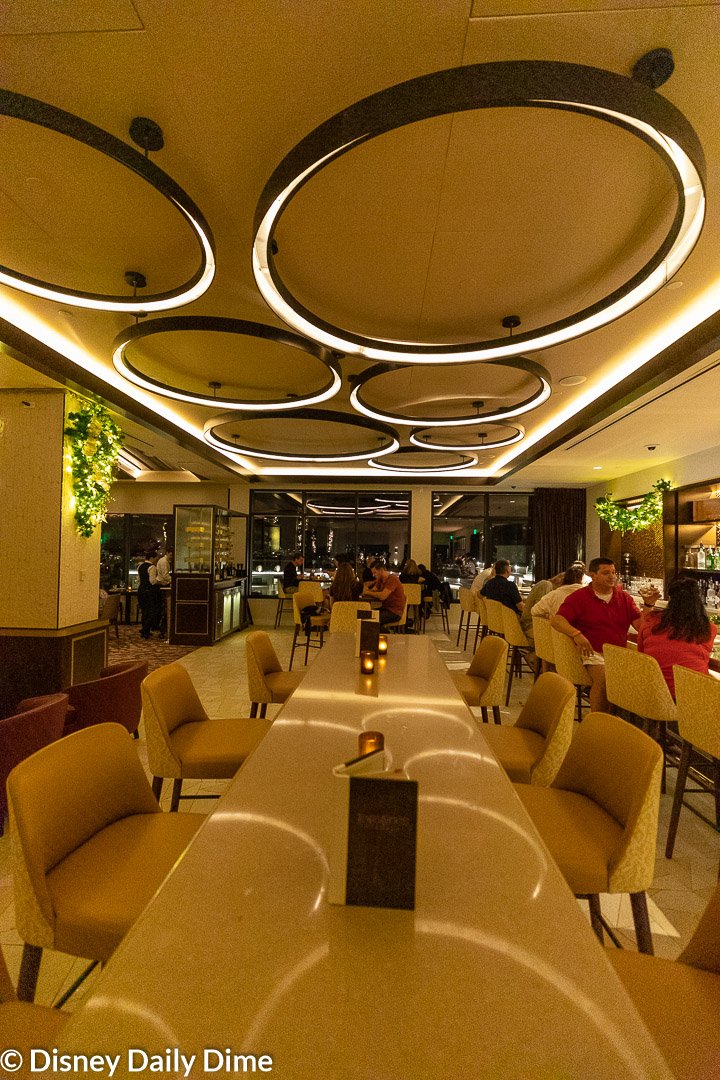 In the main dining area itself, you'll find more ornate light fixtures, complementing a very simple, but elegant dining set up.  The tables feature dark wood tones and feature a clean simple place setting.  We actually appreciated the simplicity.  Juxtaposing the table settings and the celebration happening on the ceiling actually worked for us.  We found it to be a good balance of class, with unique touches.  Is it very Mediterranean?  To be honest, we aren't sure.  Is it elegant and worthy of a signature restaurant?  Definitely!
Some may complain that the restaurant doesn't feature anything that makes it truly "Disney," which is frankly right.  It will strike you like a nice restaurant, but it could be anywhere.  Now, what generic non-Disney restaurant gives you views of Epcot and Hollywood Studios fireworks?  I can't think of one.  However, we do acknowledge that some light Disney touches would have been nice.  Even something as simple as the black and white pictures of Walt Disney and Lillian, like what you find in Primo Piatto, would have been a good touch.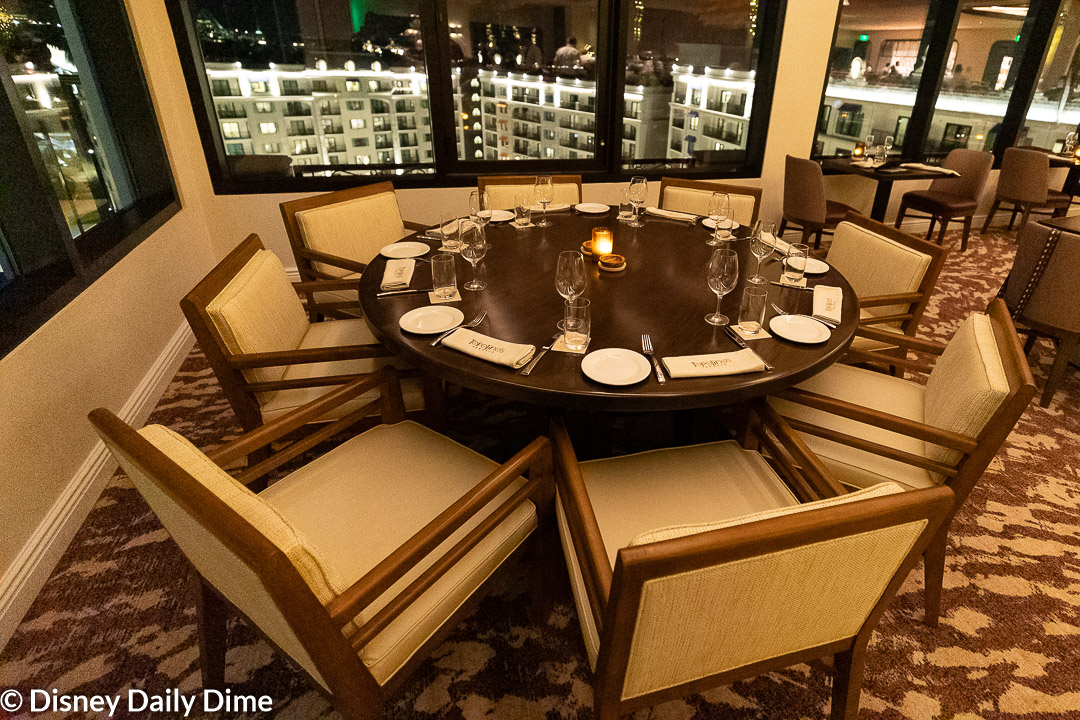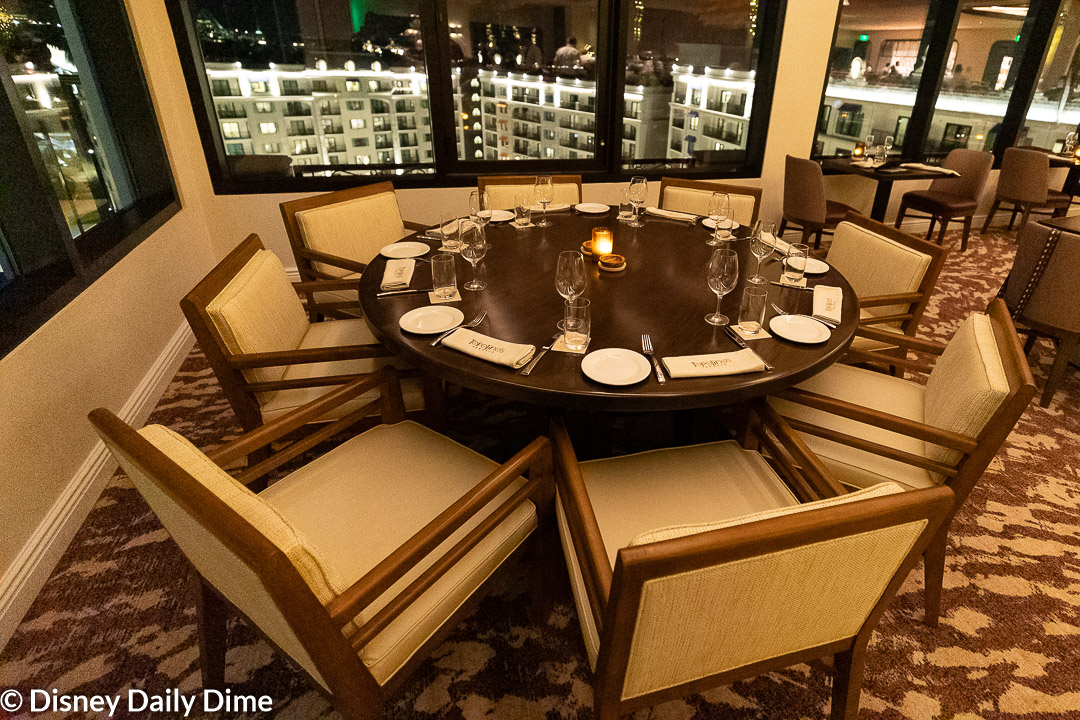 We're off to a good start in our Topolino's Terrace dinner review; however, we all know that the food is what matters!  Let's get to that!
Topolino's Terrace Dinner Delivers All-Around
When you're shelling out the amount of money that Topolino's Terrace dinner will cost, the food has to be excellent.  If it isn't, there is no way to view the restaurant other than as a failure.  Fortunately, that wasn't the case for us!
Your food is prepared in the expo-style kitchen or on the wood-burning grill.  We would love it if the kitchen was a bit more visible, but it's a minor criticism.  The food and drink here are inspired by what you will find along the Mediterranean coast of France and Italy.  That lends itself to anything from pasta to steak and seafood.  Let's go through everything we had here!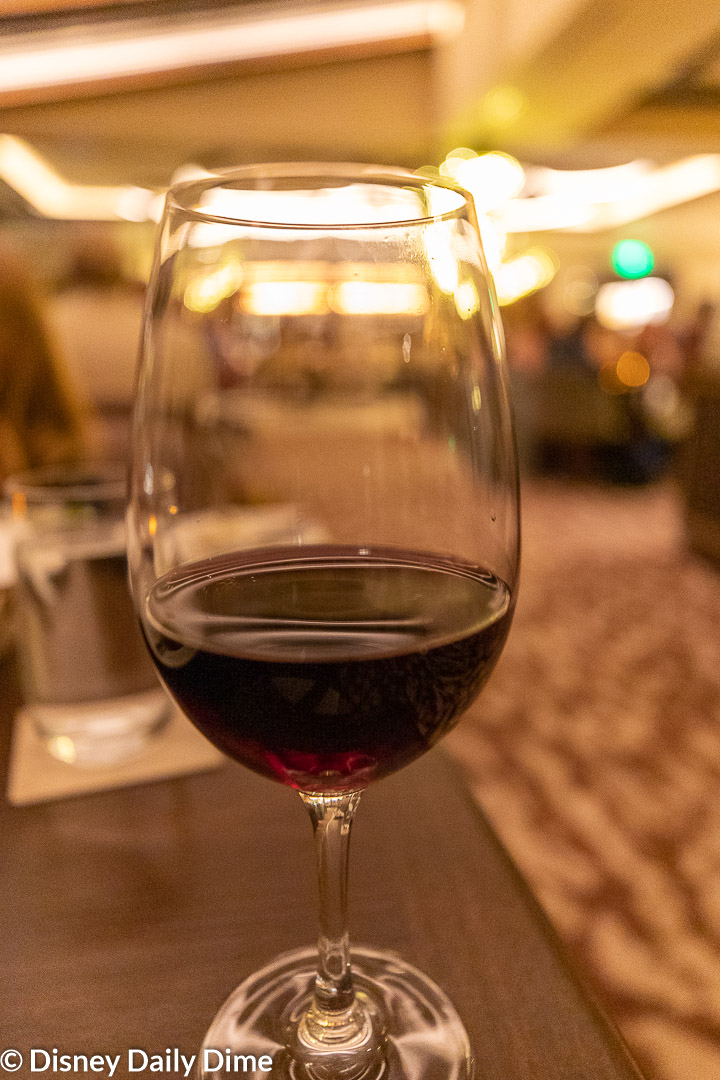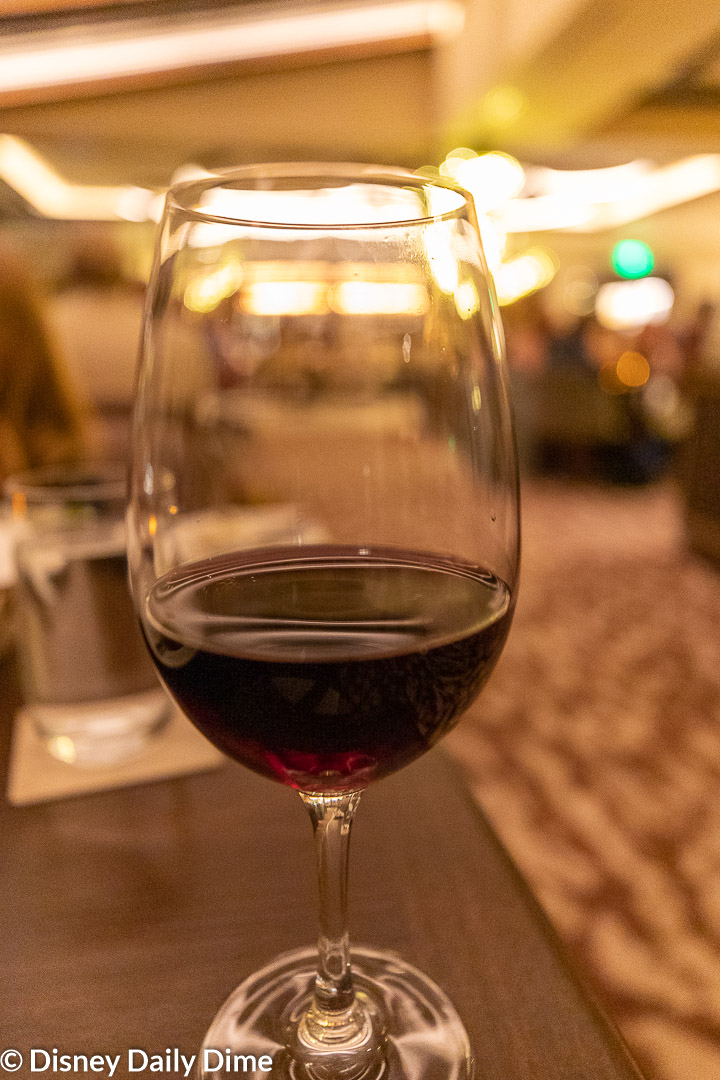 Drinks
Topolino's Terrace has a fairly extensive menu of drinks for dinner.  You will, of course, find plenty of wines, but they also have several house-made specialty cocktails.  In my case, I had a glass of wine that I asked our waiter to pair with the Bouillabaisse I ordered for dinner.  I wasn't disappointed, as it was smooth and flavorful.
If you aren't looking to have alcoholic drinks, they also have several non-alcoholic beverages available.  Carla opted to have the Strawberry-Cucumber Spritzer, which was light and bubbly but had more flavor than just having a glass of sparkling water.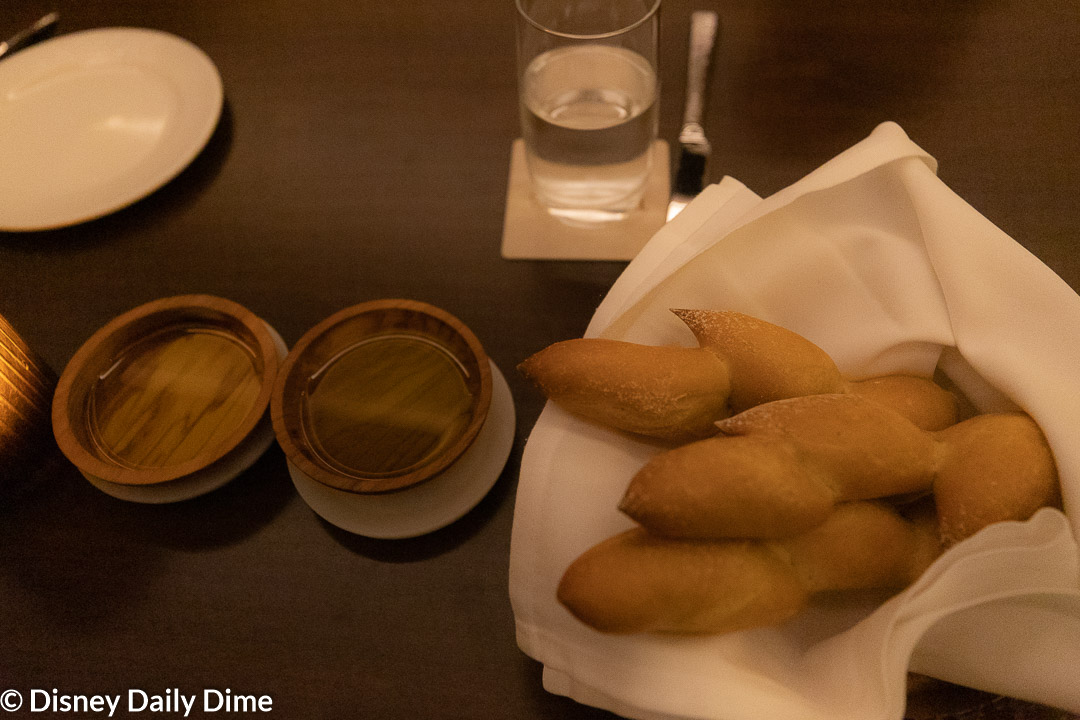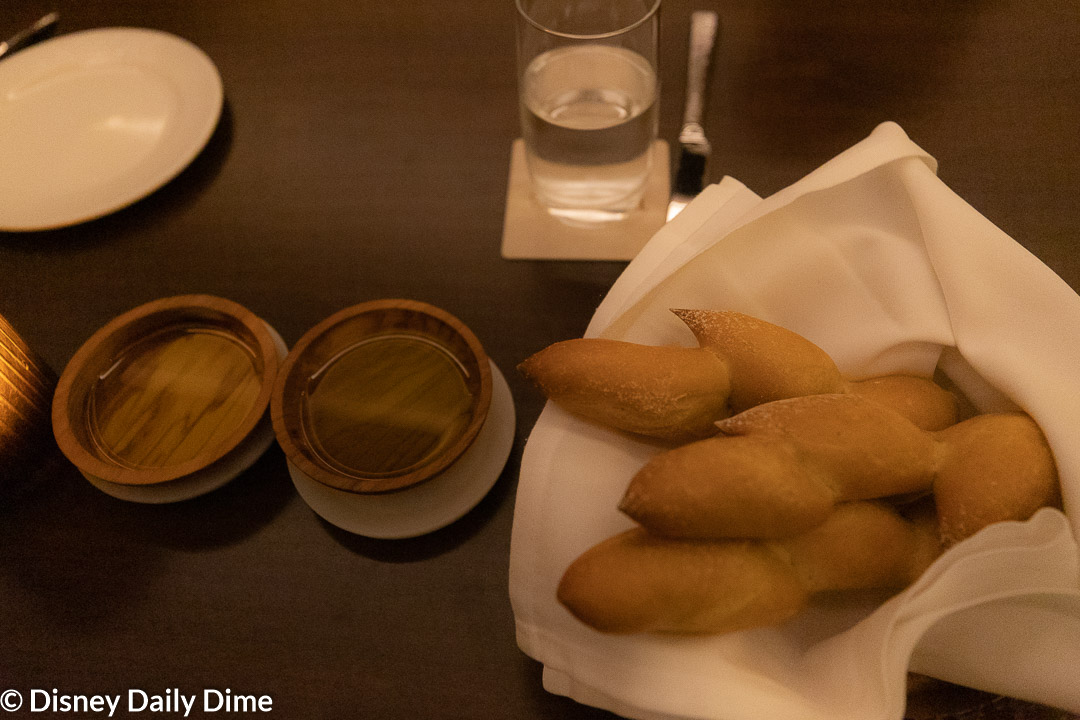 Appetizers
Our Topolino's Terrace dinner started with complimentary bread service.  The bread is called Epi Bread, which is is a French baguette, but the dough is cut so that it resembles a grain of wheat when baked.  I told the girls they looked like flames!  This made the presentation unique and fun.  The bread itself was excellent.  It has a firm outer crust, but the interior of the bread was chewy and delicious.
Served with the bread were two different olive oils, one French and one Italian.  The French one had a darker flavor and more complexity to us.  It was also the one that I liked least.  I preferred the lighter Italian olive oil.  However, I will say that opinions varied around our table.  Elsa liked the darker olive oil, while Anna and Carla also preferred the lighter Italian version.  The good thing is, you have choices.
We tried several appetizers tonight because we held off on eating a big lunch and ate dinner late.  To say we were hungry would be an understatement!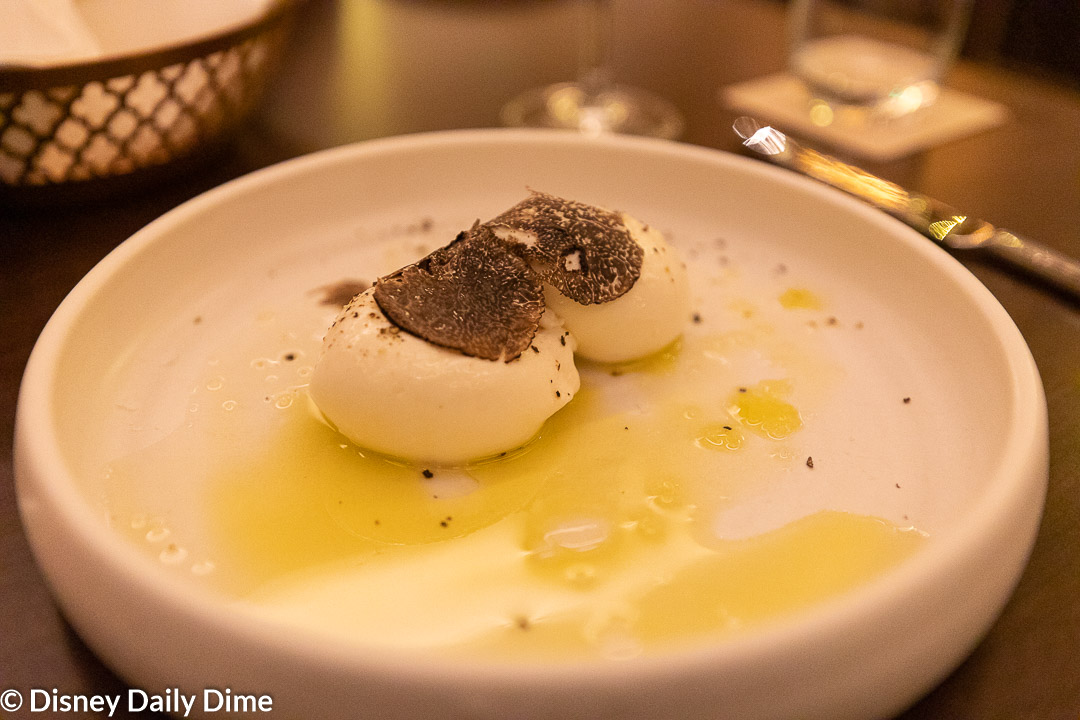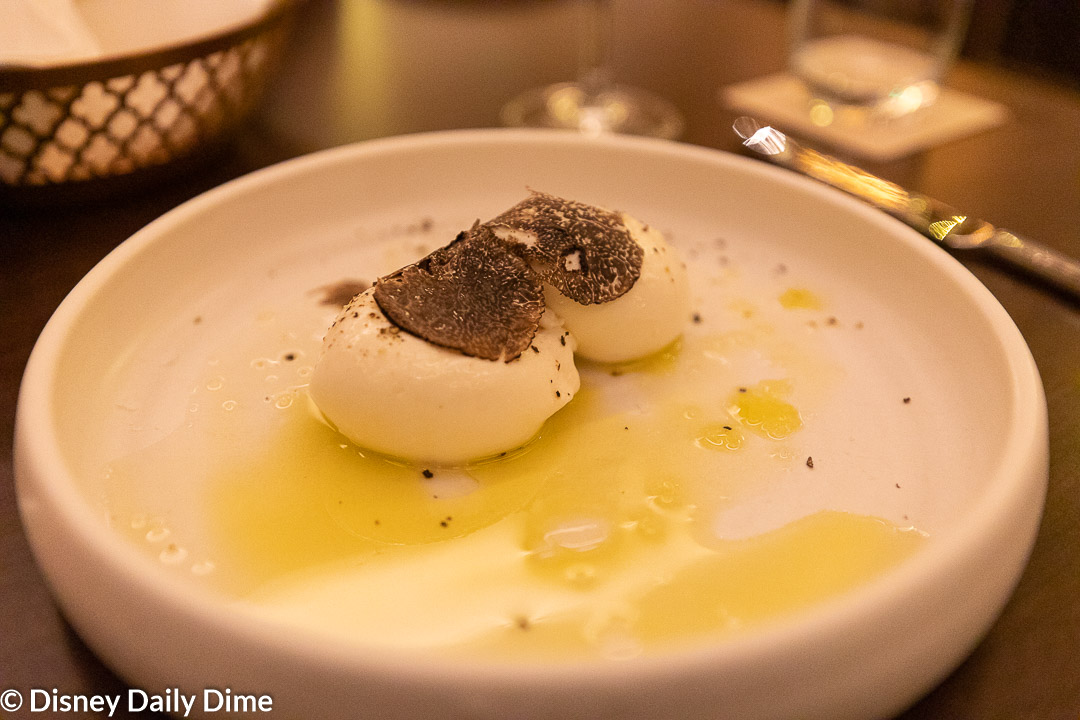 We decided to share the Burrata con Panna to start.  The Burrata is a cow's milk cheese that is topped by a Black Winter Truffle and Italian Olive Oil and sea salt.  While not pictured here, the Burrata is served with a seed lavosh.  It was served on the side to keep it gluten free for Carla.  The Burrata was fabulous, with a creamy texture to the cheese.  The truffle and olive oil were great additions to give the dish some depth.  I did find the lavosh slightly salty, but nothing terrible.  We all agreed this was a great starter!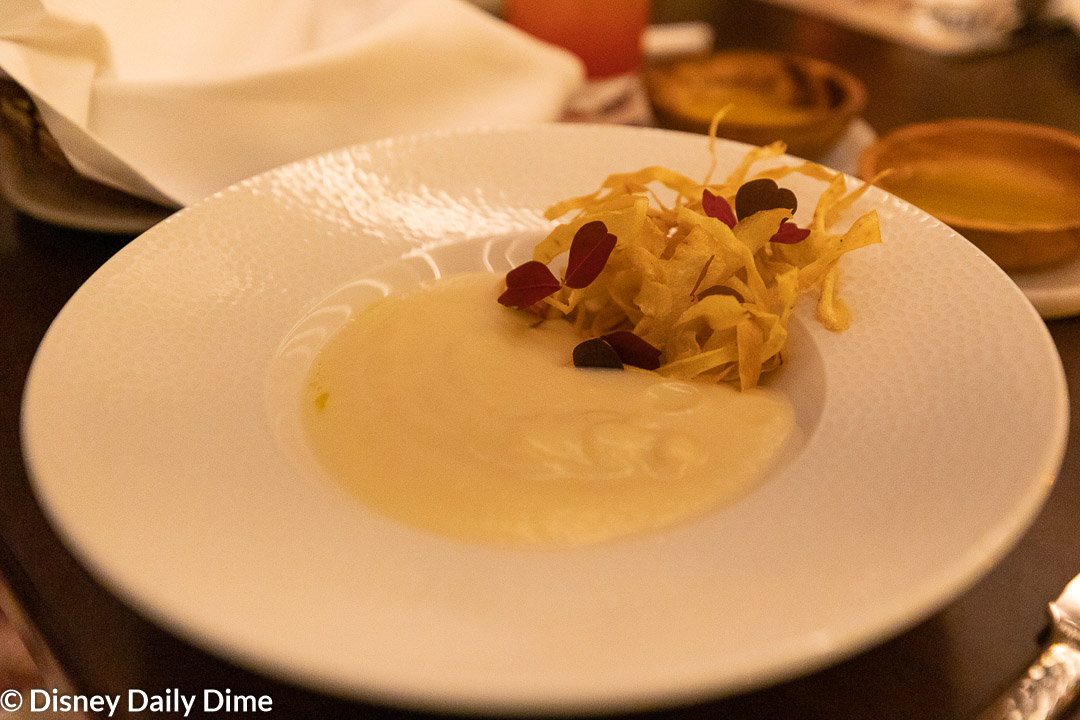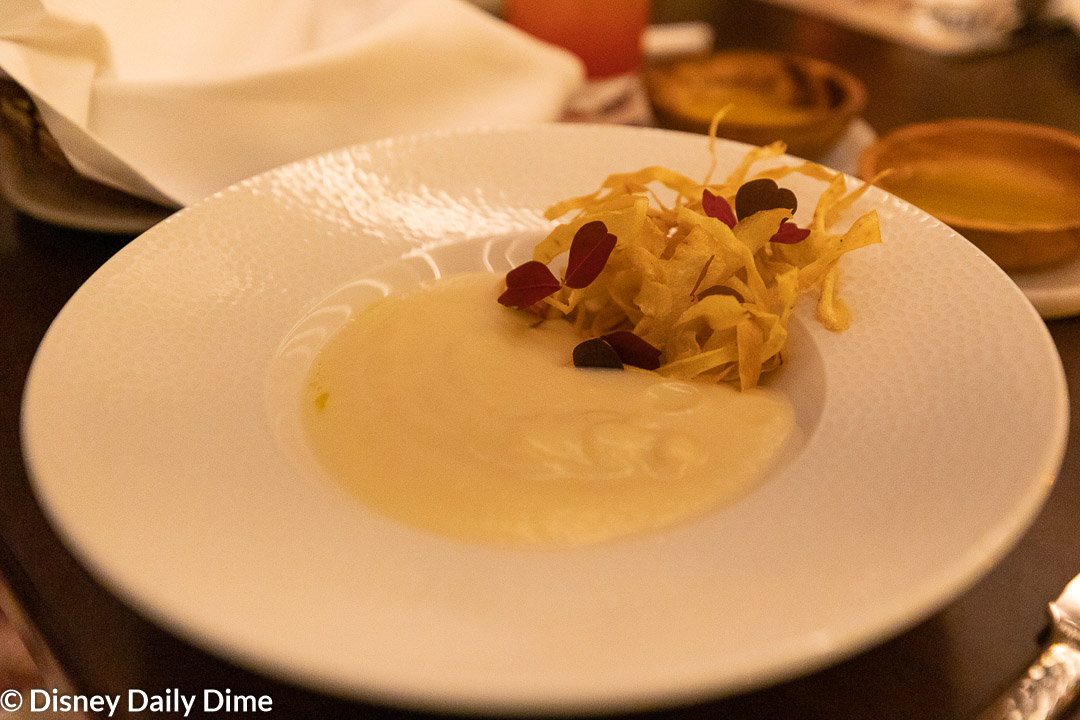 For her own appetizer, Carla ordered the Root Bisque.  The bisque is made up of parsnip, celery root, heirloom apple, cocoa nibs, and sorrel.  Carla found the bisque creamy and flavorful.  The fried vegetable strips served with it gave the soup some much-needed texture.  With the mixture of components, the bisque had a more robust flavor than she expected.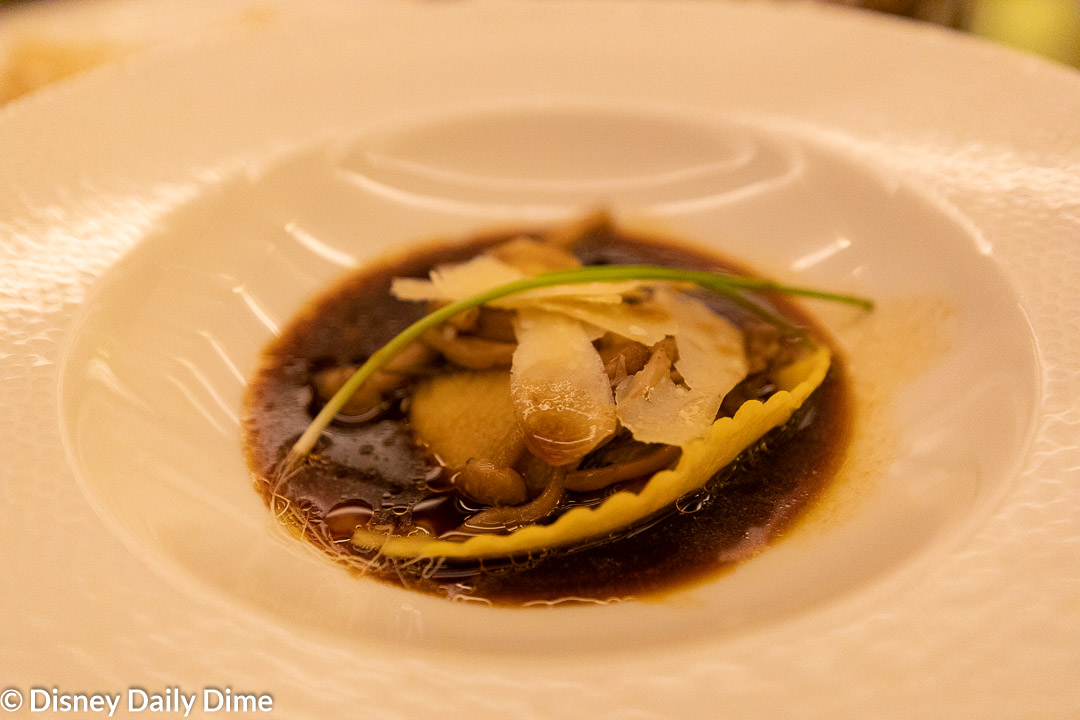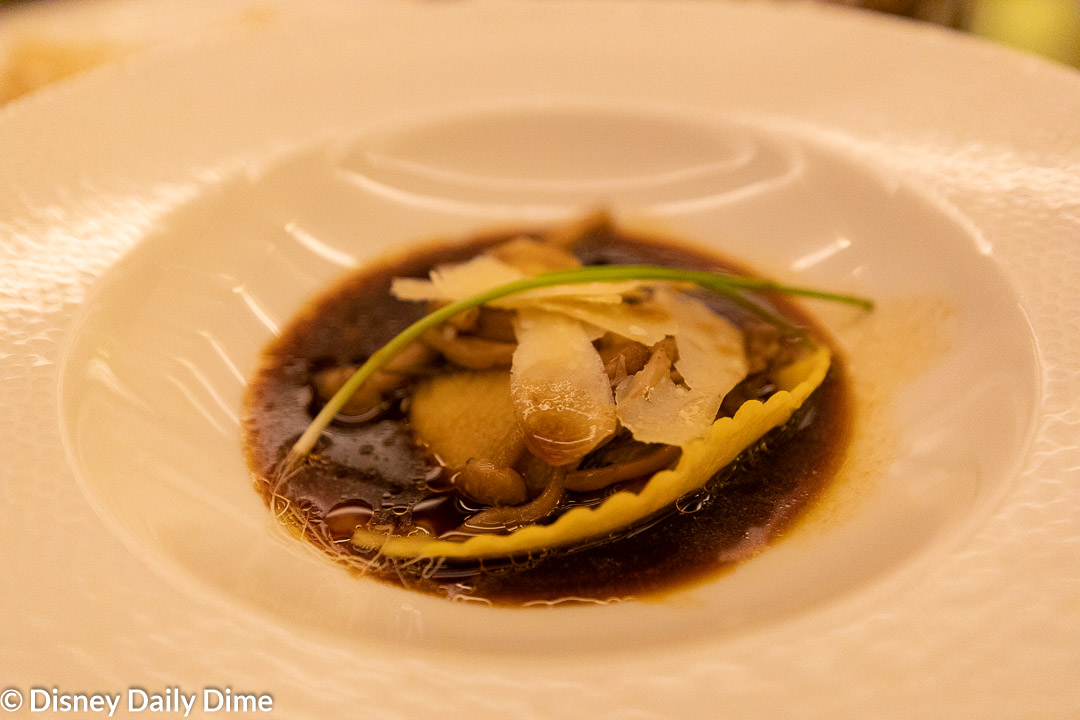 I selected the Winter Pumpkin Ravioli as my starter.  Featuring a wild mushroom conserva, brodo, and pumpkin seed oil, this ravioli was excellent.  The presentation was fun because they poured the brodo over the ravioli at the table.  Even better is that the flavors were excellent, and the ravioli was cooked perfectly.  I would get this again in a heartbeat.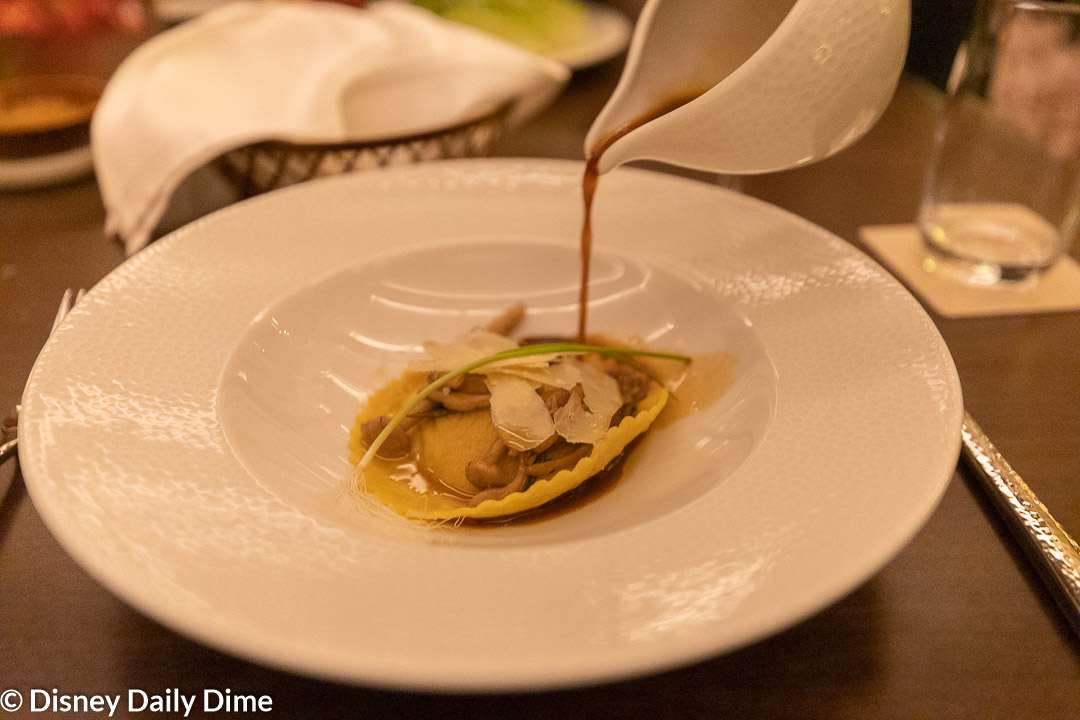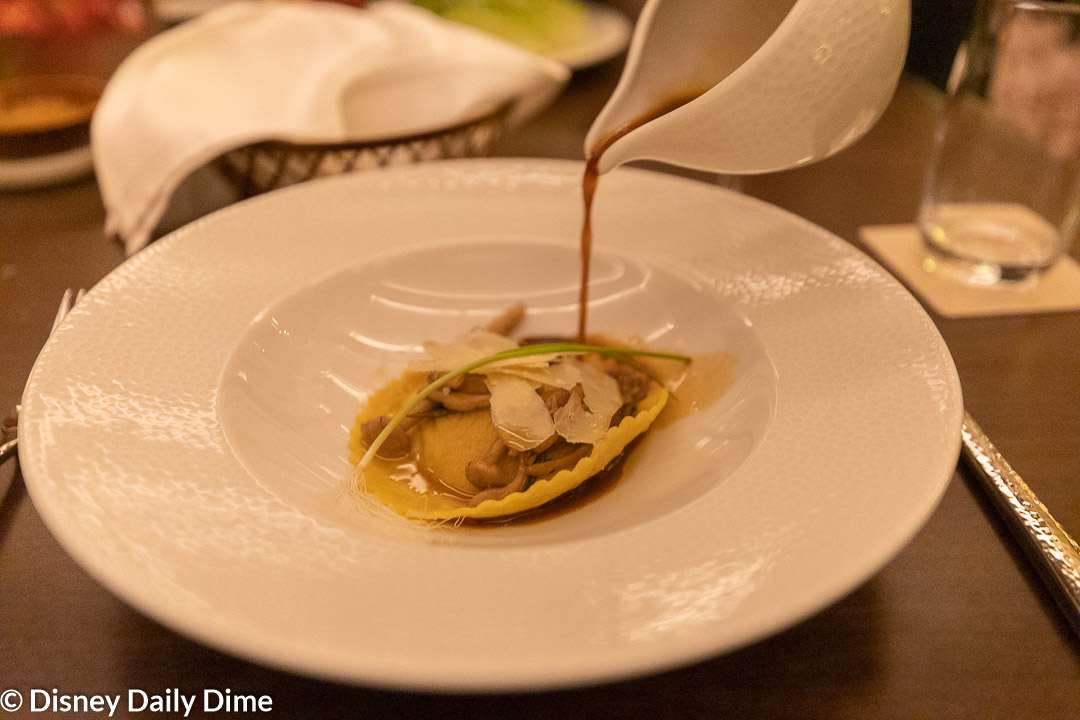 Anna and Elsa both ordered the Kid's Petite Romaine Salad.  As you can see in the picture above, it wasn't really "petite," which is not a bad thing.  We're used to some of these kid's salad being tiny, so it was a nice change.  Unfortunately, that is where the praise ends for the kids.  Elsa said the salad was terrible.  It didn't have enough dressing for her and the breadcrumb dusting and pine nuts were not something she liked.  I think this is a case of the salad being more adult-like and less kid-friendly.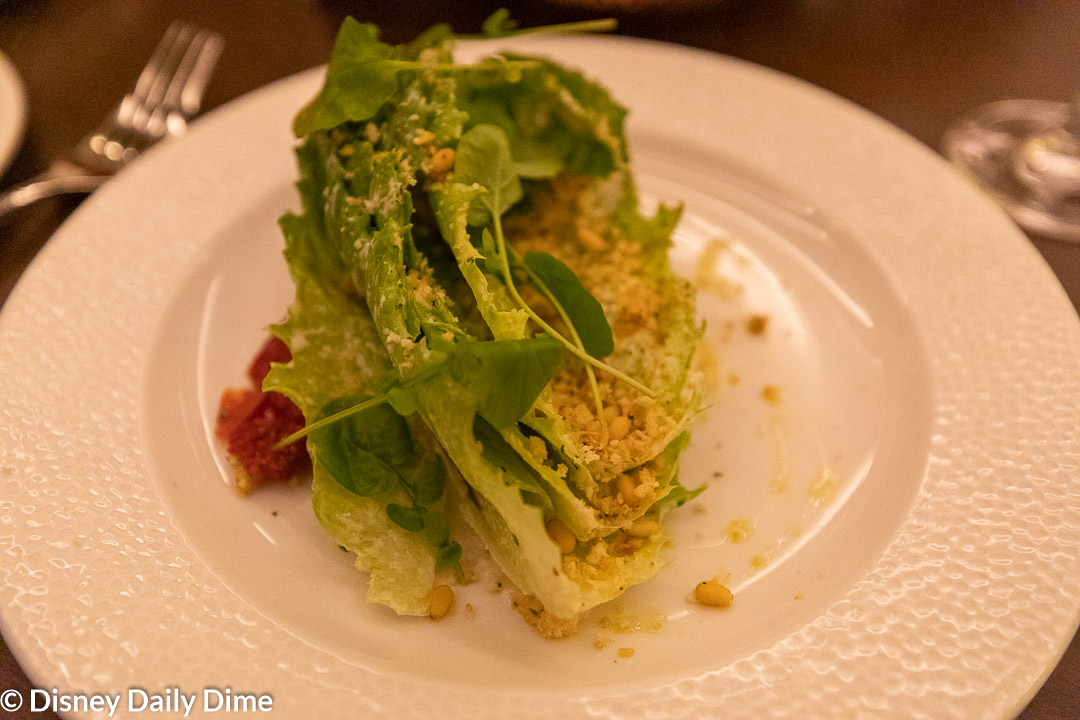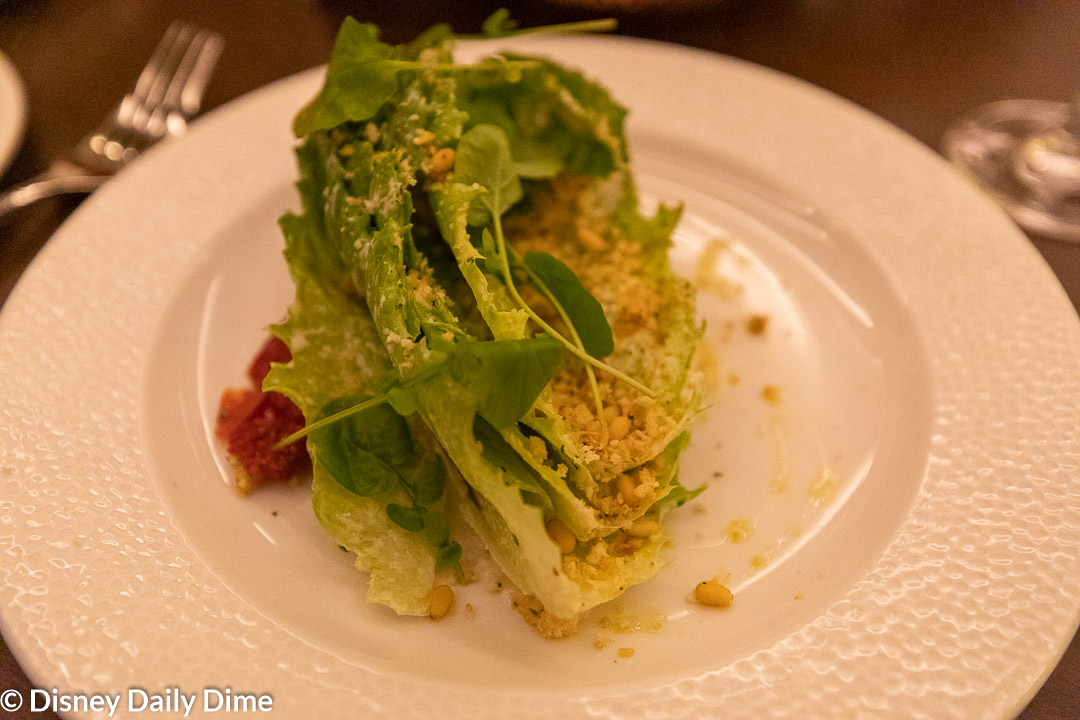 While the salad was a miss for the kids, all of the adult appetizers were a great way to start our Topolino's Terrace dinner review.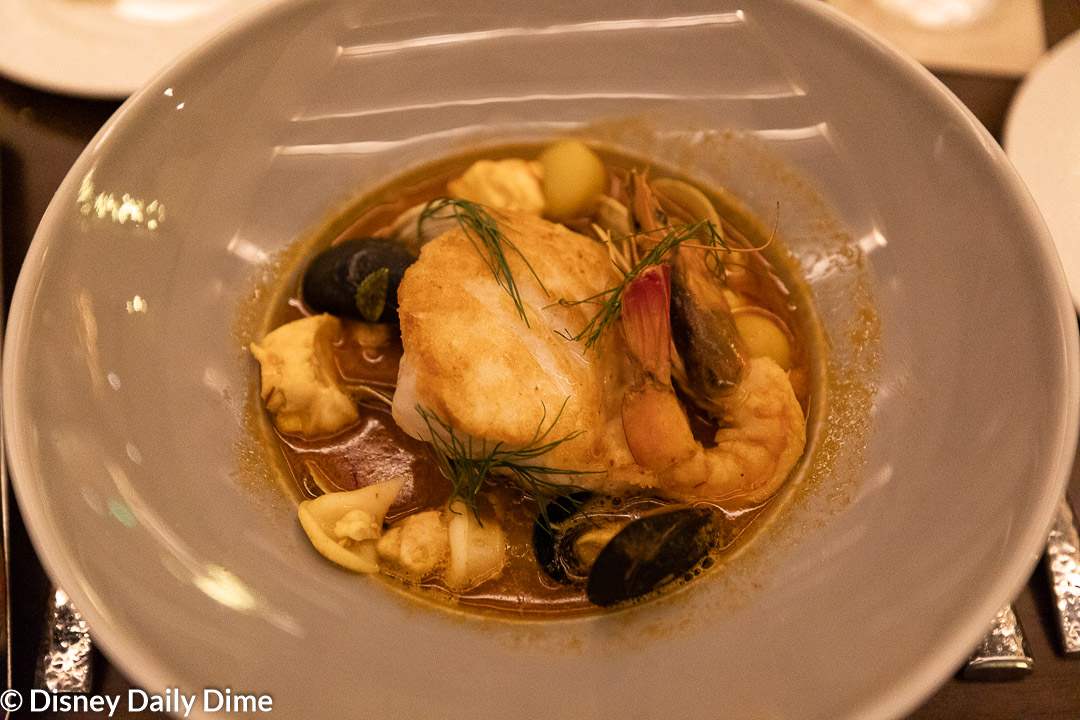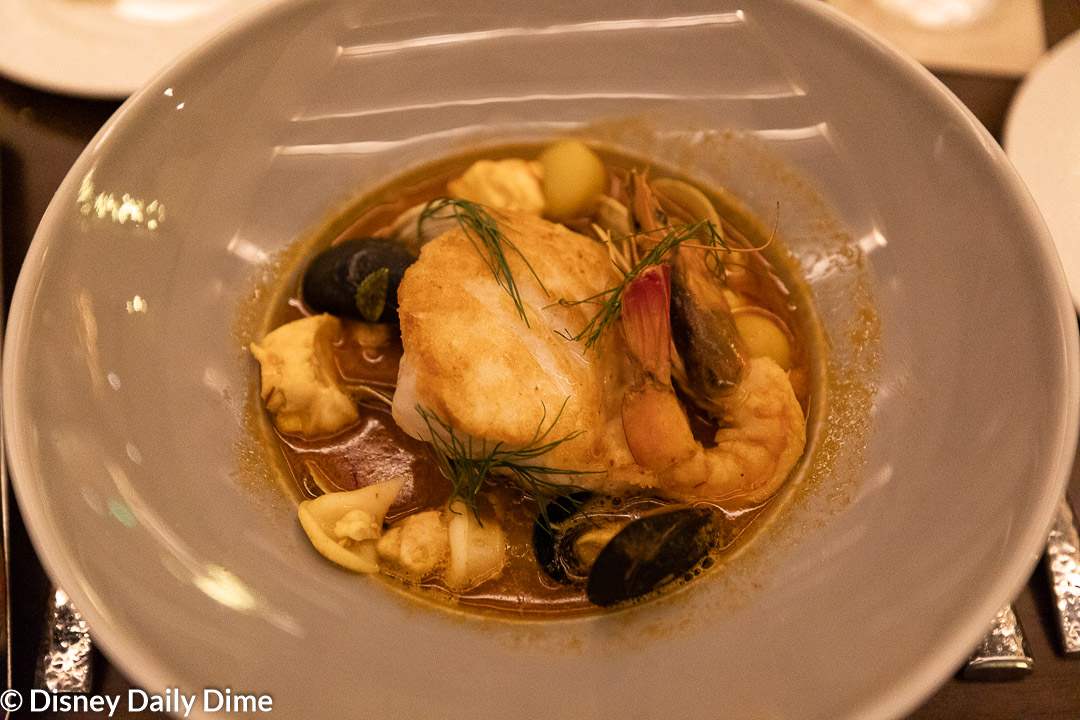 Adult Entrees
We then moved on to our entrées.  I ordered the Bouillabaisse, which is a rich fish and shellfish stew.  It features Seared Red Snapper, Branzino, Manilla Clams, Mussels, and Fennel. It comes with a side of Saffron Rouille for dipping.  The flavors blended together wonderfully, and the fish was light and tender.  If you are looking for a dish with a depth of flavor that won't make you feel stuffed when you eat it, the Bouillabaisse is for you.  The Saffron Rouille was excellent too!  You could have brought the bowl of that and bread to me and I might have been just fine.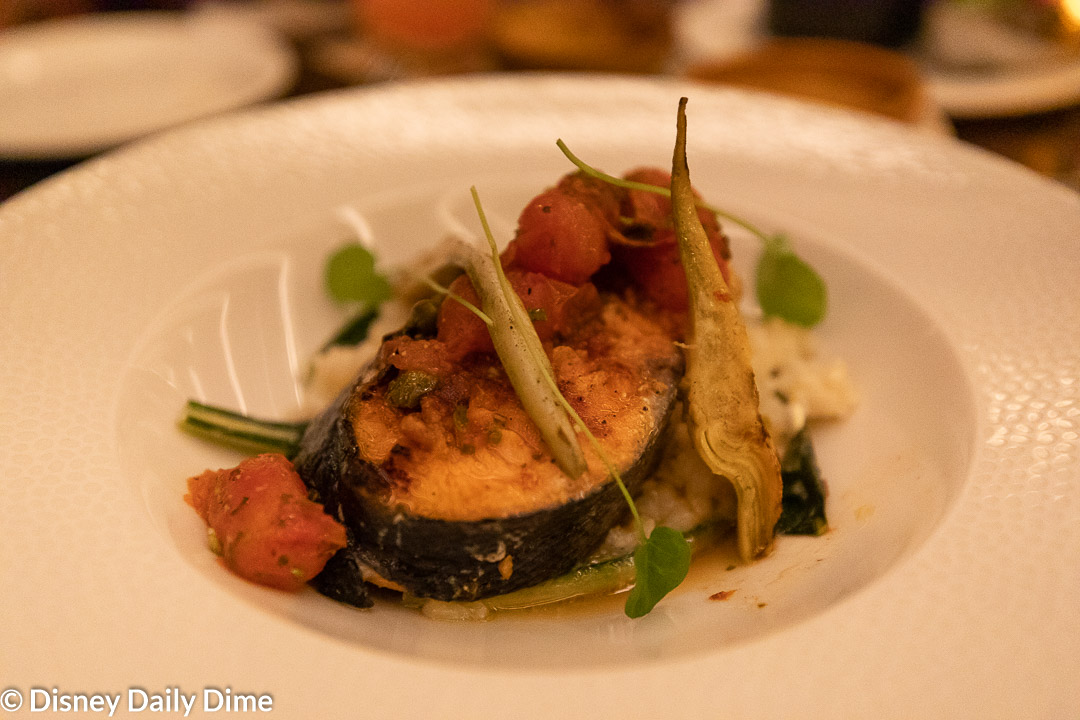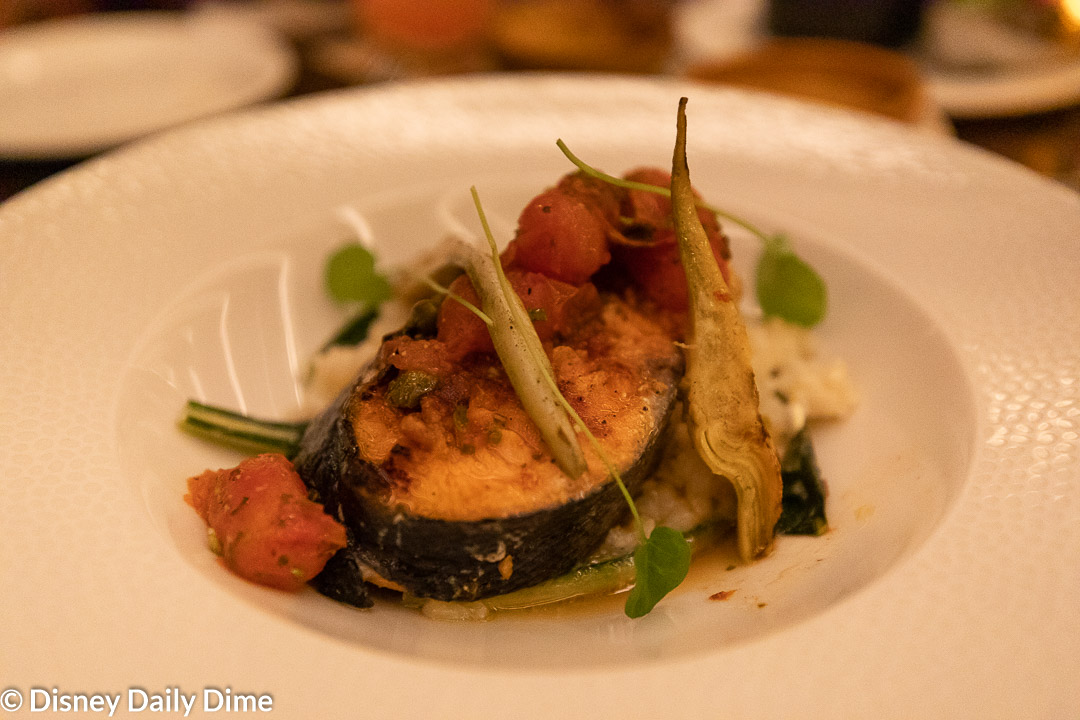 For her meal, Carla ordered the King Salmon Mi-Cuit.  The salmon sits on a bed of artichoke risotto and is accompanied by sauce Vierge, upland cress, and French olive oil.  Our server did point out that the salmon is prepared by a Sous Vide technique, which can lead to the salmon appearing undercooked.  He assured us that it is not undercooked and Carla's meal bore that out.  Carla loved this preparation and found the dish excellent.  The salmon was cooked perfectly, light and flakey.  The risotto had a great flavor to it that was elevated by the touch of French olive oil.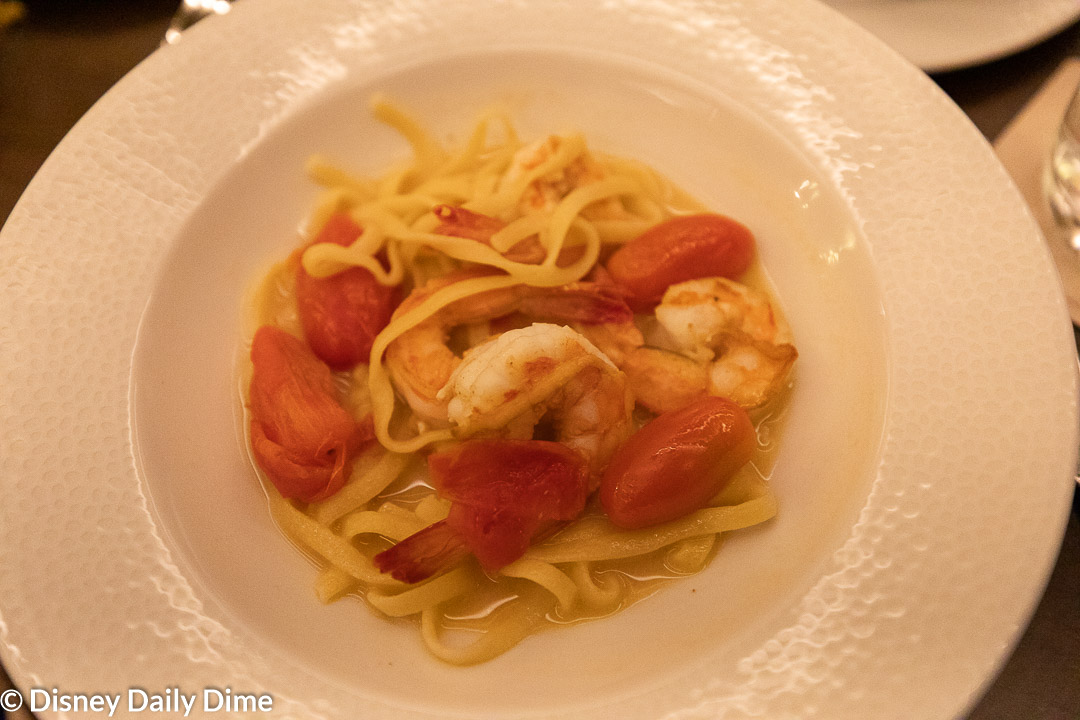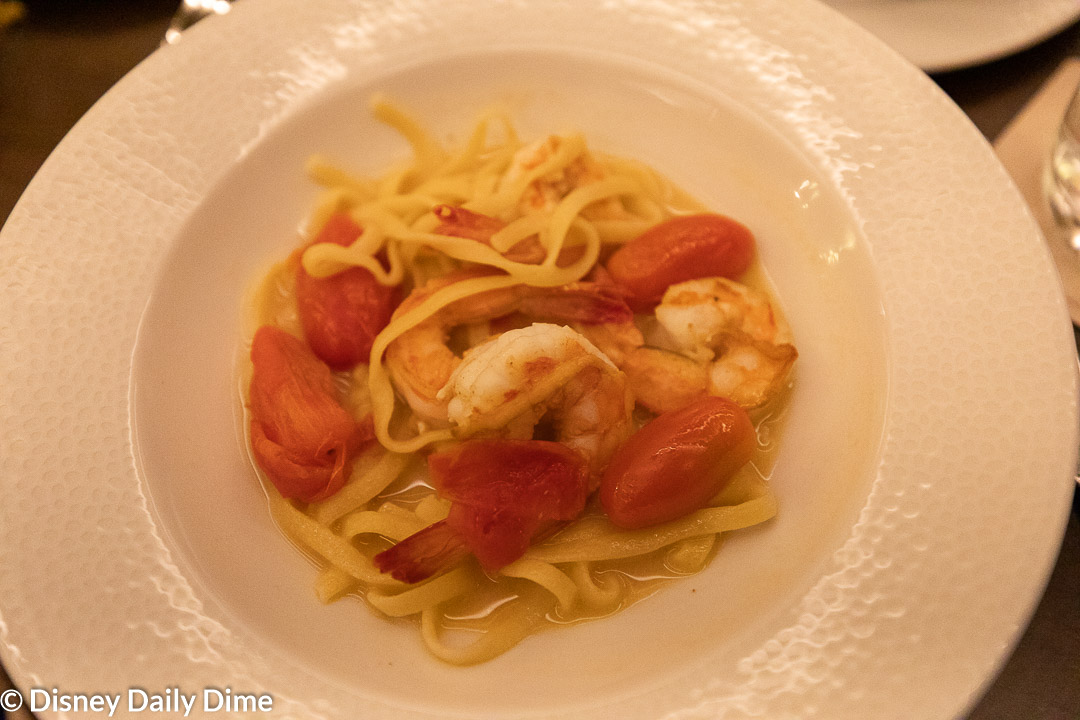 Kid Entrees
As per usual, Elsa opted for a dish with shrimp in it.  At our Topolino's Terrace dinner, it was the Kid's Linguini with Sautéed Shrimp.  This dish resembles the adult entrée called Linguine Scampi, but without the heads on the shrimp and a less complicated sauce on the linguini.  The latter part of that statement isn't a good thing for adults but is probably perfect for kids.  Elsa enjoyed the shrimp, saying that she loved the flavor of it.  She proclaimed it the best shrimp she's ever had at Disney World, but I'm not sure how much she really remembers from trip to trip.  So, take that comment with a grain of salt.  I did try the pasta and thought it was cooked well, but slightly bland for my liking.  That said, it is a dish for kids.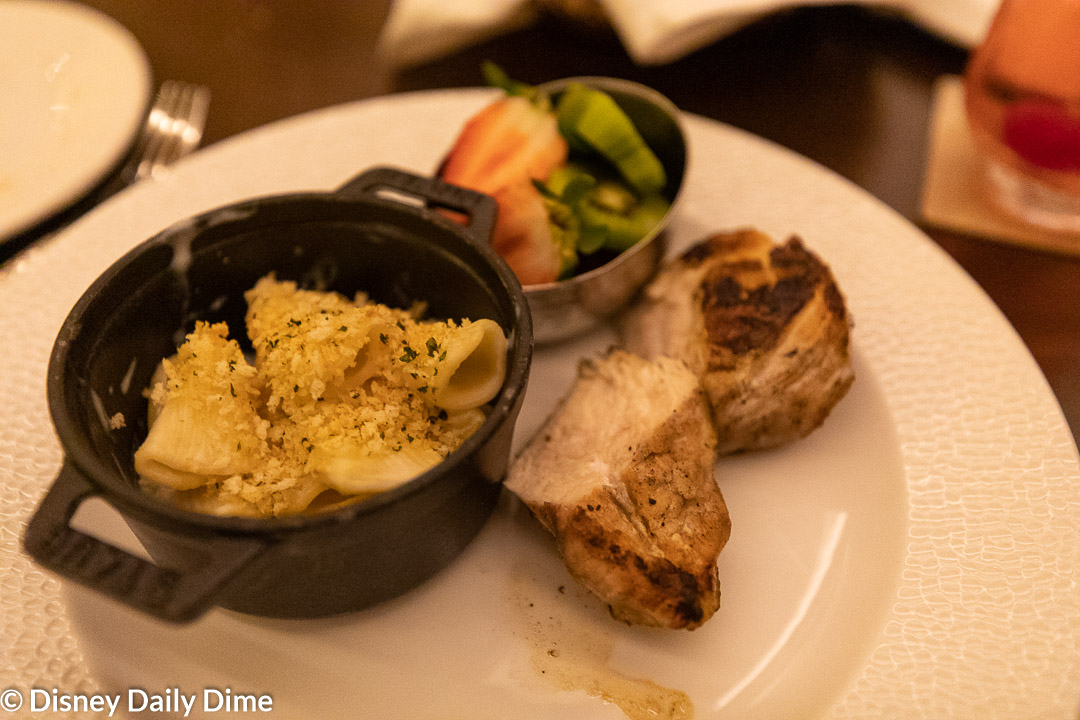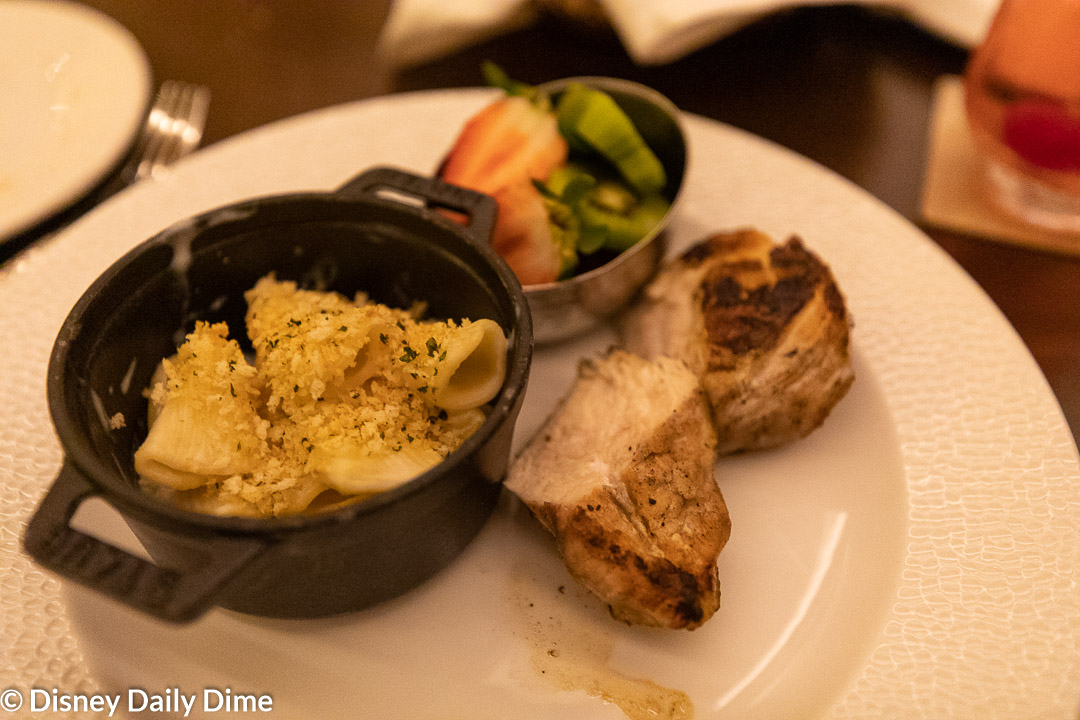 When it comes to the entrees we had here, Anna's meal was probably the lone miss from our Topolino's Terrace dinner review.  I'd say that this "miss" is more of Anna's view than mine.  She ordered the Kid's Grilled Chicken Breast.  To say she didn't like it would be a massive understatement.  She disliked the chicken because of the impact the grilling process had on the flavor.  As you can see, the exterior of the chicken was slightly charred from the wood-burning grill, which gave the chicken a smoky charred flavor.  I loved it, and Anna did not.  We even tried putting ketchup on it and she whined the whole time about it. 
The mac and cheese didn't get a much better reception.  She actually liked the flavors of the mac and cheese but didn't like the breadcrumbs on it.  Once again, trying to make a kid's meal a little more adult-like doesn't play well with our pickiest eater.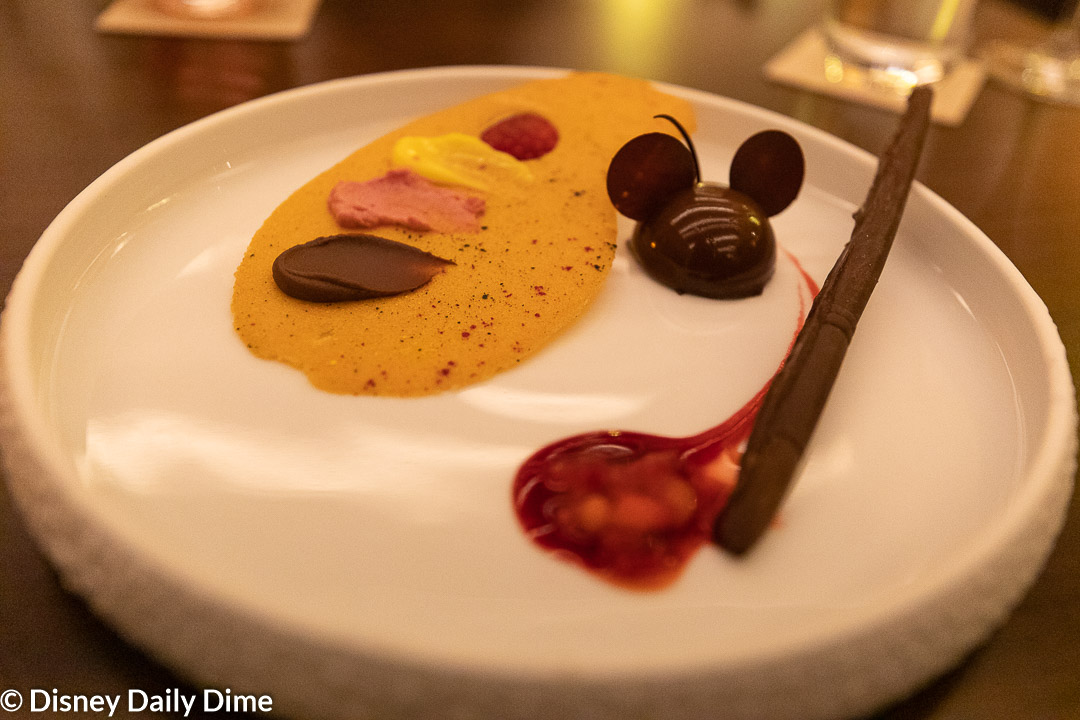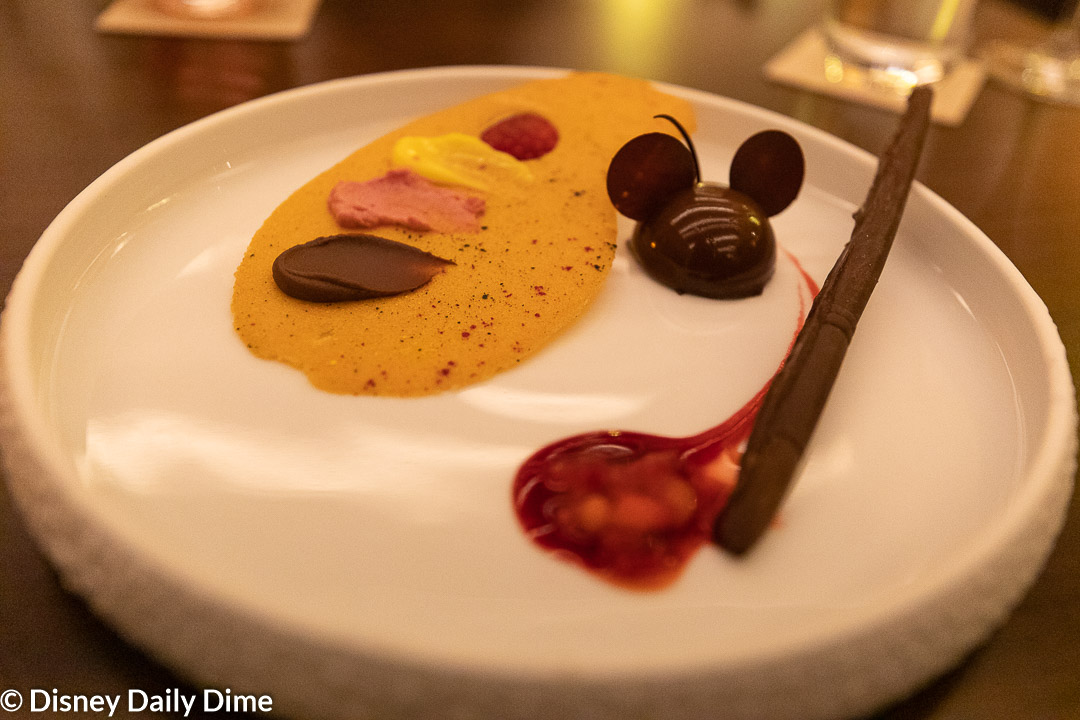 Desserts
For dessert, the kids both went with the Painter's Palette.  Visually, it was entertaining with the painter's palette look and Mickey Mouse mousse that comes with it.  The girls started strong here and devoured the chocolate paintbrush with the "paint" flavors; however they ran out of steam.  It's a fun dessert for kids, but actually rudimentary in its components.  In any case, the kids loved it.  We think most kids will too, just for the visual appeal.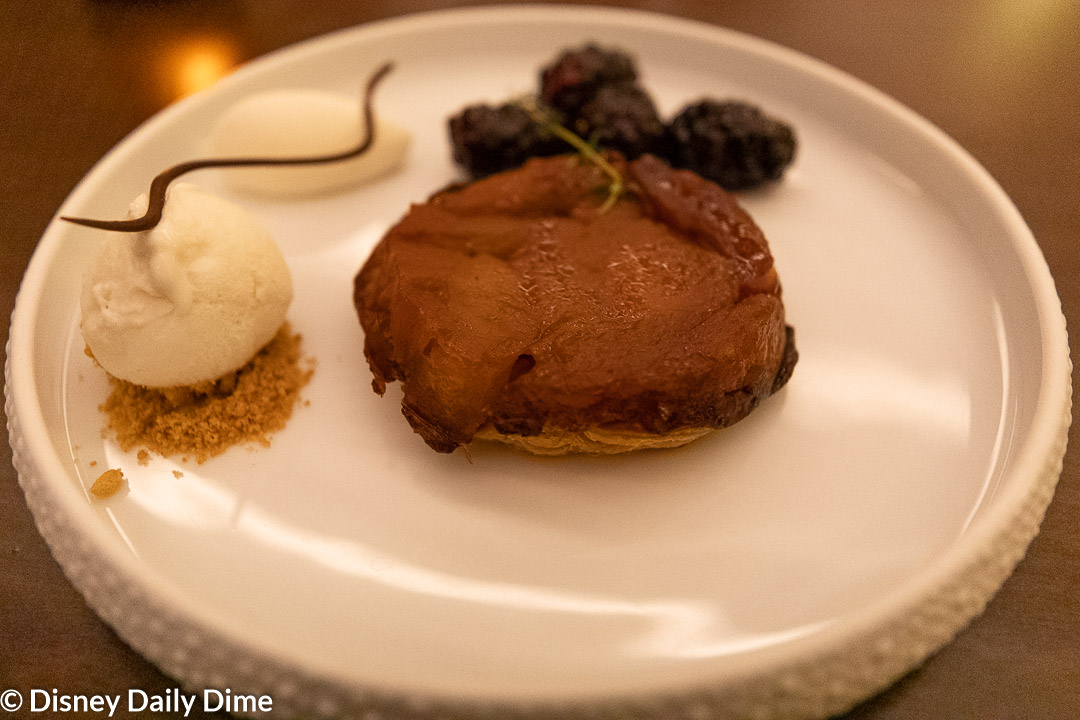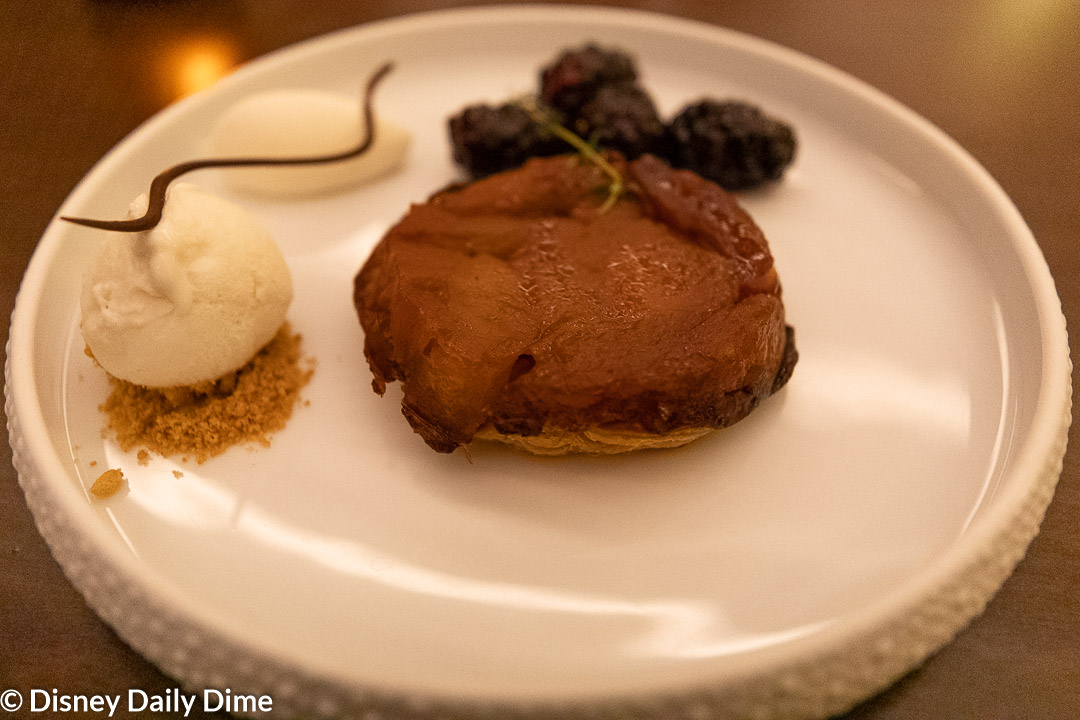 As for the adult desserts, I opted for the Apple Tarte Tartin.  The Tarte is accompanied by Vanilla Gelato, Chantilly, and Blackberries.  I'd be lying if I said that the Chantilly wasn't what drew me to this dish.  It was on my Sour Cream Waffles at breakfast and I loved it then.  I wasn't going to pass up a chance to have it again.  Fortunately, this dessert did not disappoint.  The apple flavor, coupled with the gelato and Chantilly, were all excellent.  I could have done without the Blackberries, but that is just my personal preference.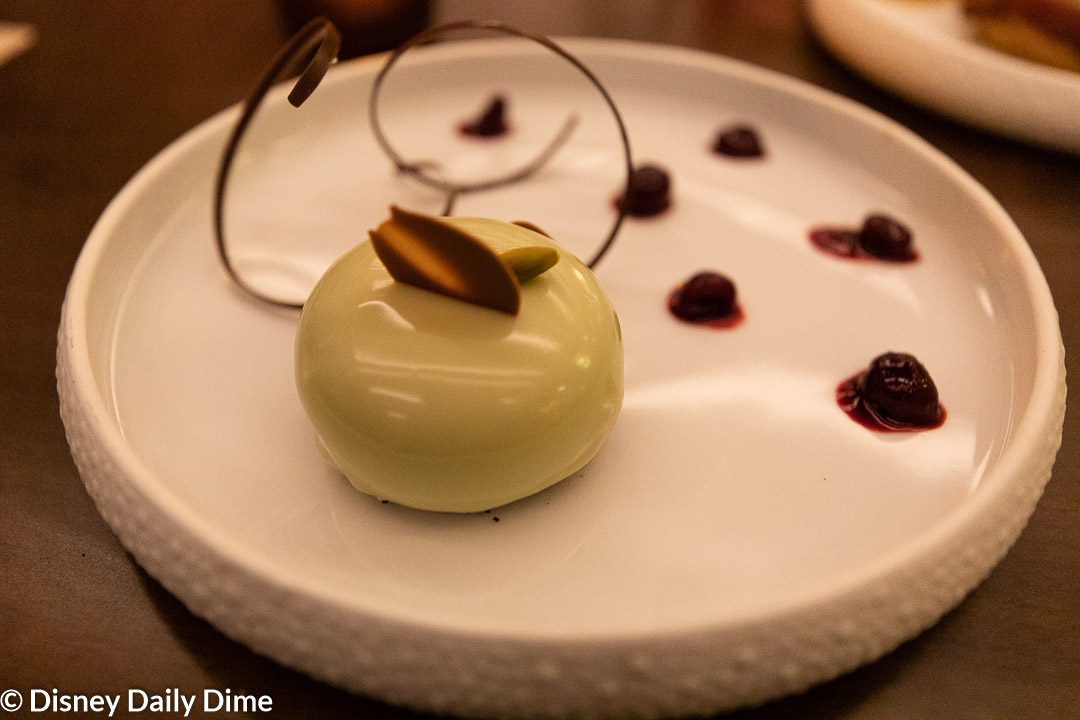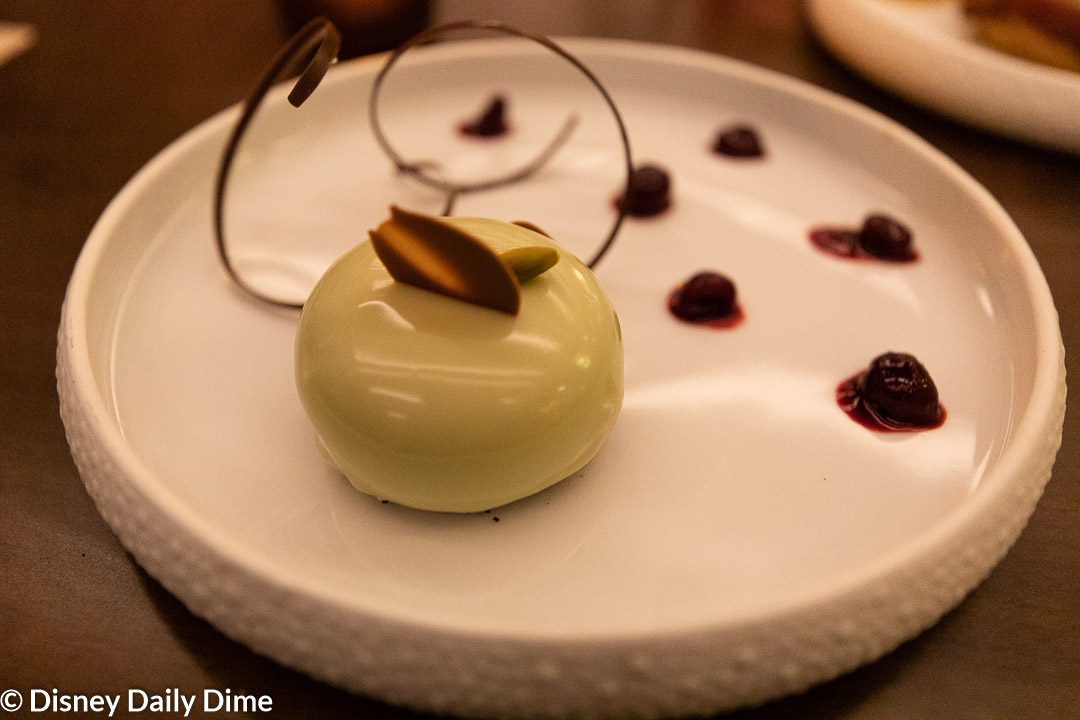 When it comes to the dessert section of our Topolino's Terrace dinner review, Carla won the prize for the best dessert.  She ordered the Pistachio Mousse, which sits on a small layer of chocolate cake, with lemon curd.  The plate is then dotted with little Morello cherries.  The flavor here was so unexpected for me.  I was a little ambivalent when Carla ordered this, but quickly realized I was too dismissive.  The flavor was excellent.
Overall Thoughts on Our Topolino's Terrace Dinner
Topolino's Terrace is now one of our favorite signature dining restaurants at Disney World.  It features some great food that was unique compared to other restaurants on property.  Top-notch food is a requirement in our mind if you are going to be part of the Disney high-end dining scene.  Topolino's gets checkmarks there.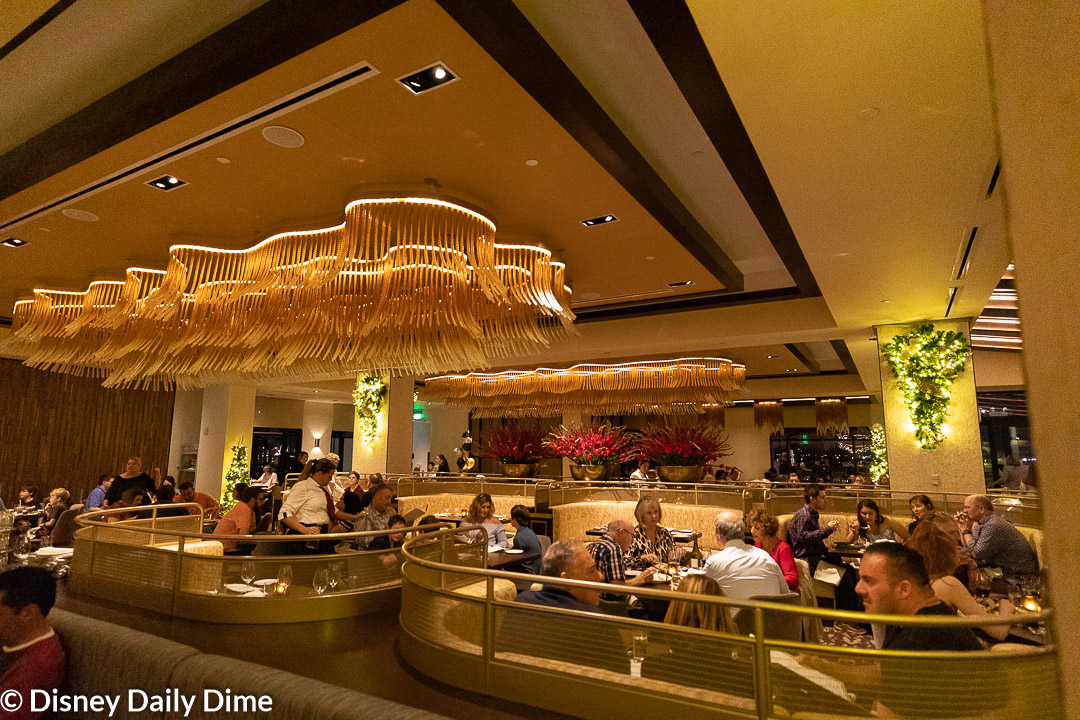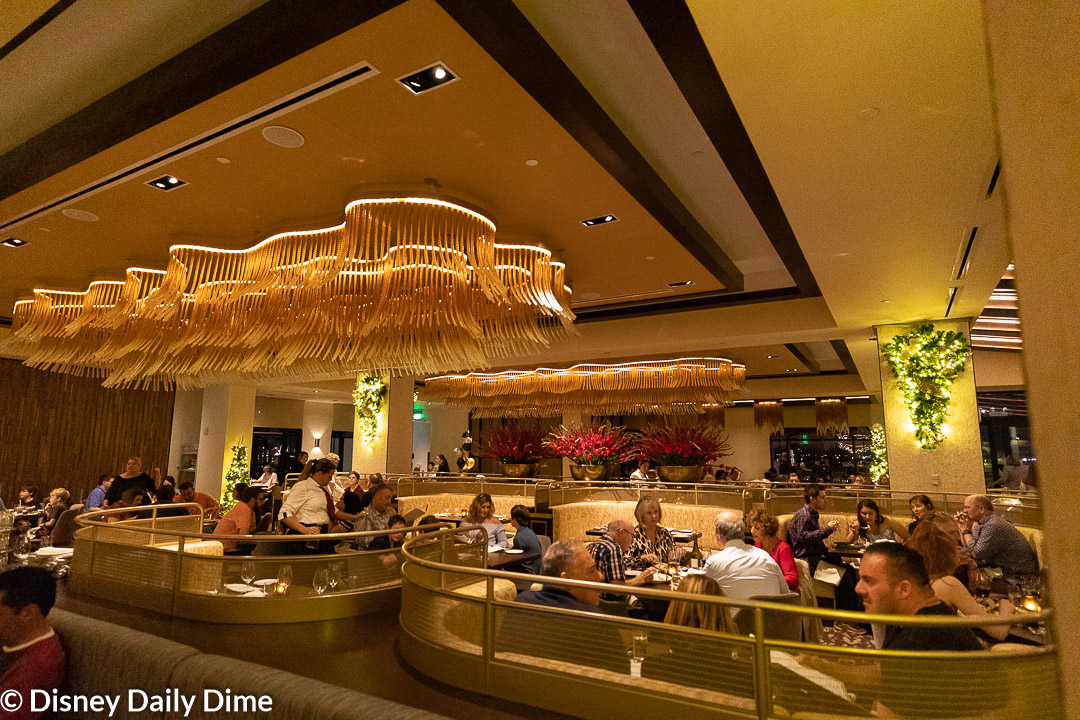 When it comes to the atmosphere, there are numerous pluses.  The view, both inside and outside the restaurant, is excellent.  Whether you are looking down on Barefoot Bay and Caribbean Beach or checking out the fireworks shows, there's a lot to take in.  The décor is lovely and shows a simple elegance, outside of the chandeliers throughout the restaurant.  The major minus is that they don't play the fireworks show music at the restaurant.  It still boggles my mind.  Hopefully, they revisit that decision.
All in all, I'd say we still prefer California Grill better than Topolino's Terrace, but it is close.  Is it worth your time and money to eat dinner at Topolino's Terrace?  Definitely!
Wrapping Up Our Topolino's Terrace Dinner Review
With that, we'll wrap up our Topolino's Terrace dinner review.  It's a great signature dining location at Disney World and is well worth your time to try out.
If our Topolino's Terrace dinner review was helpful or at least entertaining, please like and share this with your friends or anyone you think will find it useful.  Just use the sharing buttons on the page.  If you're interested in more of our dining reviews, we have a complete list on our Disney World Restaurant Reviews page.
We always appreciate it when you share our posts, as it allows us to spread the word about our blog and hopefully will enable us to help others.