You've planned out your Disney World vacation and it turns out the best time of the year for you to go is the summer.  Maybe it's the heat of the summer in late July and August.  If that's when you are going, you'll need to make sure you can cool yourself and your group down.  These can be sweltering days, where keeping your cool will help improve the quality of your trip.  And if you're like us, it may help you keep your cool when dealing with your kids or maybe your spouse!  Here are our top tips to stay cool at Disney World.
1.  Bring Items to Help You Stay Cool at Disney World
There's no reason to not be prepared for the heat.  In our "What to Pack for Disney World" page, we list some of the most important items to bring.  Included are three items we think are essential to helping beat the heat.  They are:
In addition to these items, we suggest a hat of some kind to keep the sun off you.
2.  Try Some Indoor Attractions
This is one of the top tips to stay cool at Disney World that people often don't think of.  Maybe it's because they are trying to push through and hit as many of the headliner rides as they can?  But trust us, indoor attractions will help you cool down.  The longer they go, the more time you spend in air-conditioned bliss.  Here are some attractions to check out:
Magic Kingdom
Carousel of Progress – This ride lasts for a solid 21 minutes and usually doesn't come with a gigantic wait time during the heat of the day. It's a great option to duck into for some cooling down time if you are in Tomorrowland.
Pirates of the Caribbean – A shorter ride at about 9 minutes, the cue line makes this a good option. Almost all indoors and air conditioned, you can easily get out of the heat for 20 to 30 minutes here.
The Hall of Presidents – Another attraction that goes for a little over 20 minutes and it usually has a limited wait time. It's a great option to get out of the heat if you are back by Liberty Square.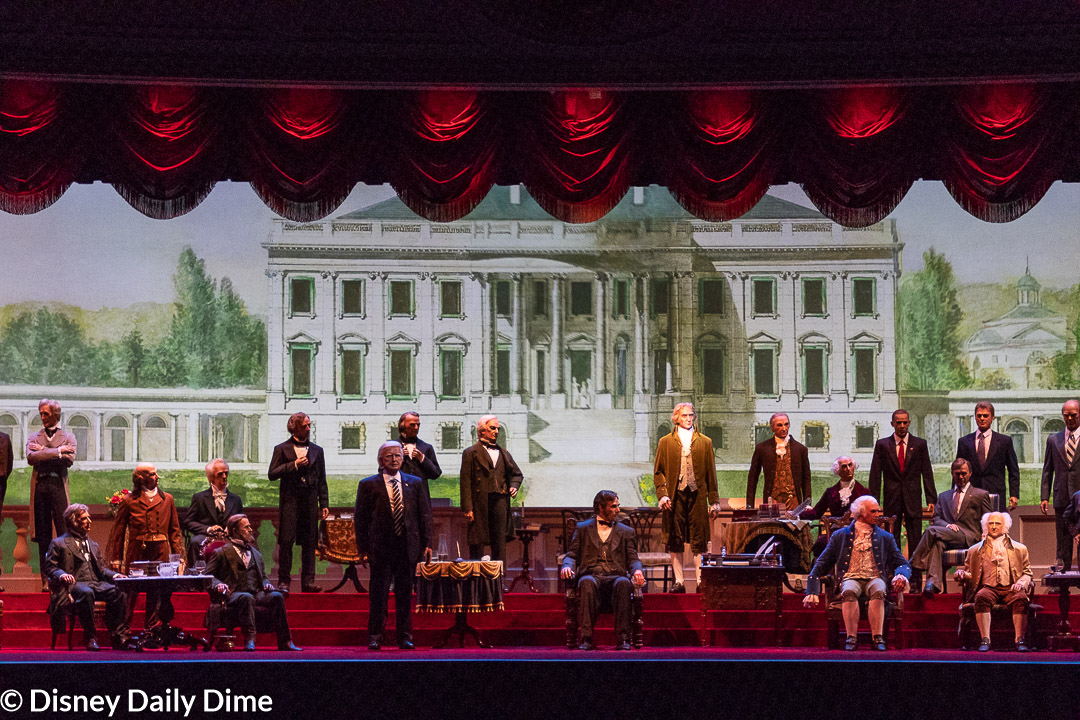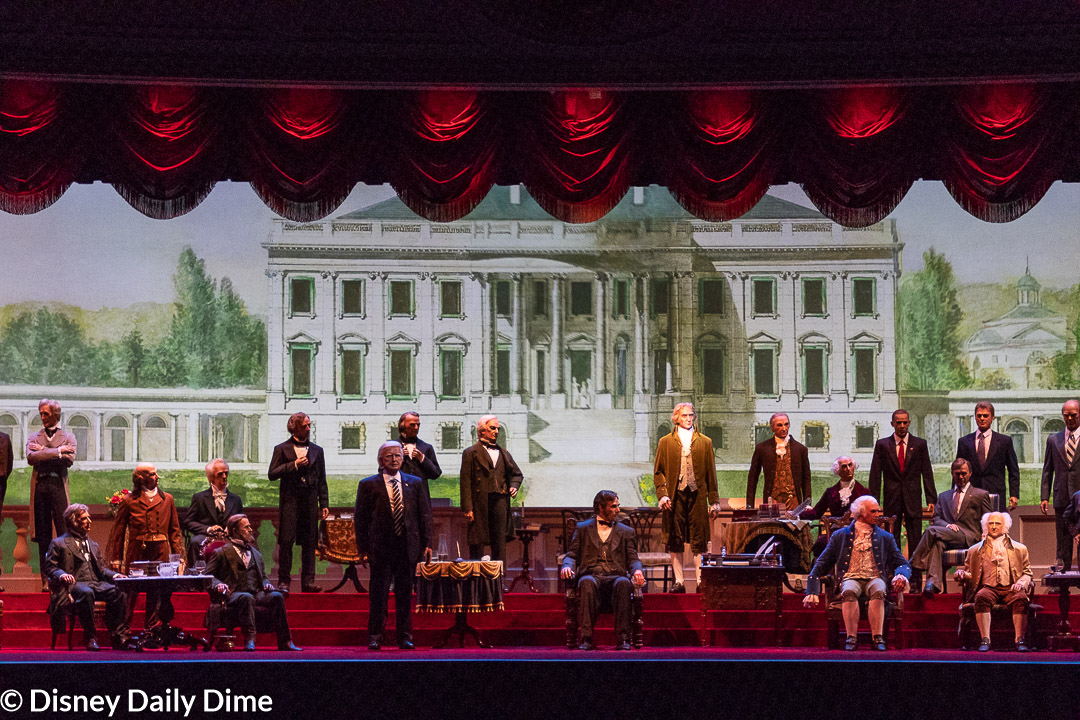 Epcot
The Land – Okay, so this is not quite an attraction, but rather a group of them. Duck into The Land Pavilion and you can grab something to eat and then try to catch Soarin' and Living with the Land attractions.  Depending on FastPass+ and wait times you could easily be indoors and out of the heat for an hour or two.  Make sure you have Soarin's FastPass+ reservations though, or it could be 3+ hours here.
The Seas Pavilion – Again, not just one attraction, but lots of air-conditioned things to do here. Turtle Talk with Crush is a 15-minute-long interactive experience with Crush from Finding Nemo. This attraction is awesome.  Crush is funny and the technology used here lends itself to the show being different every time.  Also check out the Finding Nemo ride and tour through the large aquarium here.  You could use up another hour here during the heat of the day rest your weary feet.
The American Adventure – If you're in World Showcase and need a break, this is a good option. The show runs almost 30 minutes and is located in the American Adventure Pavilion.  A nice long air-conditioned break and some time off your feet, and wait times generally aren't long.  The show runs every 45 minutes.  Before the show you can catch the Voices of Liberty, a singing group, that puts on a performance in the rotunda inside the pavilion.
 Animal Kingdom
Festival of the Lion King – Located in the Africa section of Animal Kingdom, Festival of the Lion King is a great stage production. Even better, it lasts 30 minutes.  That's 30 minutes of indoor air-conditioned bliss.
Hollywood Studios
For the First Time in Forever: A Frozen Sing-Along Celebration – At almost 30 minutes long, this sing along will help you stay cooler at Disney World.
Voyage of The Little Mermaid – This 17-minute-long show is fun for the little ones. Relatively low wait times, the show goes on every 25 minutes or so.  It's a great way to get out of the heat for a bit.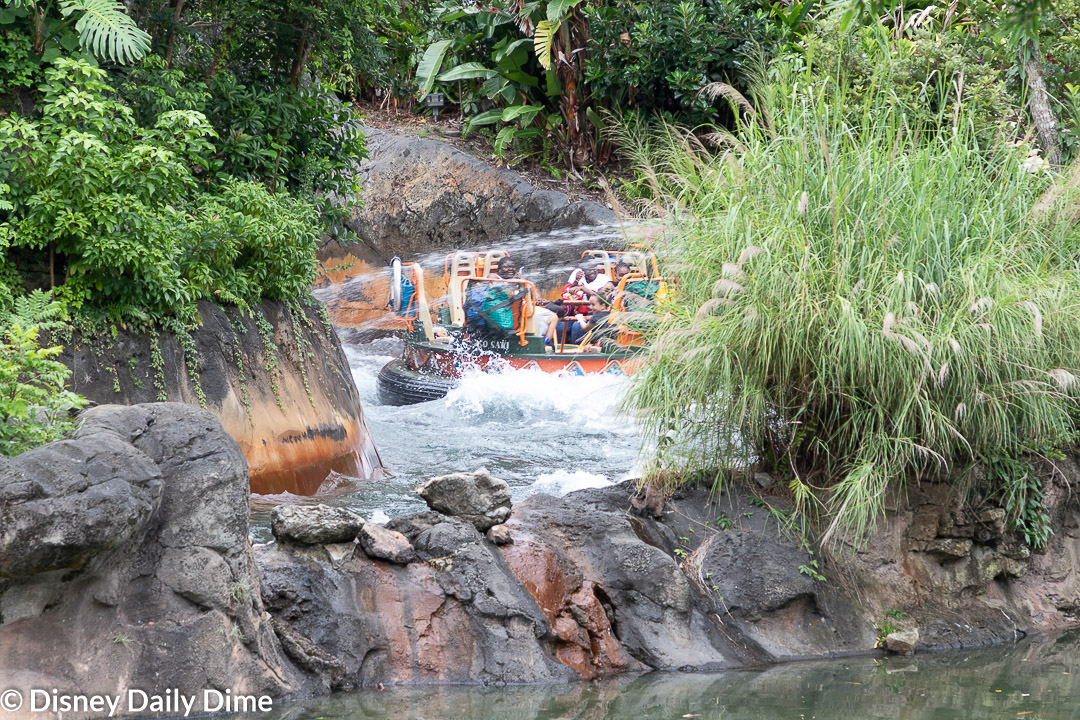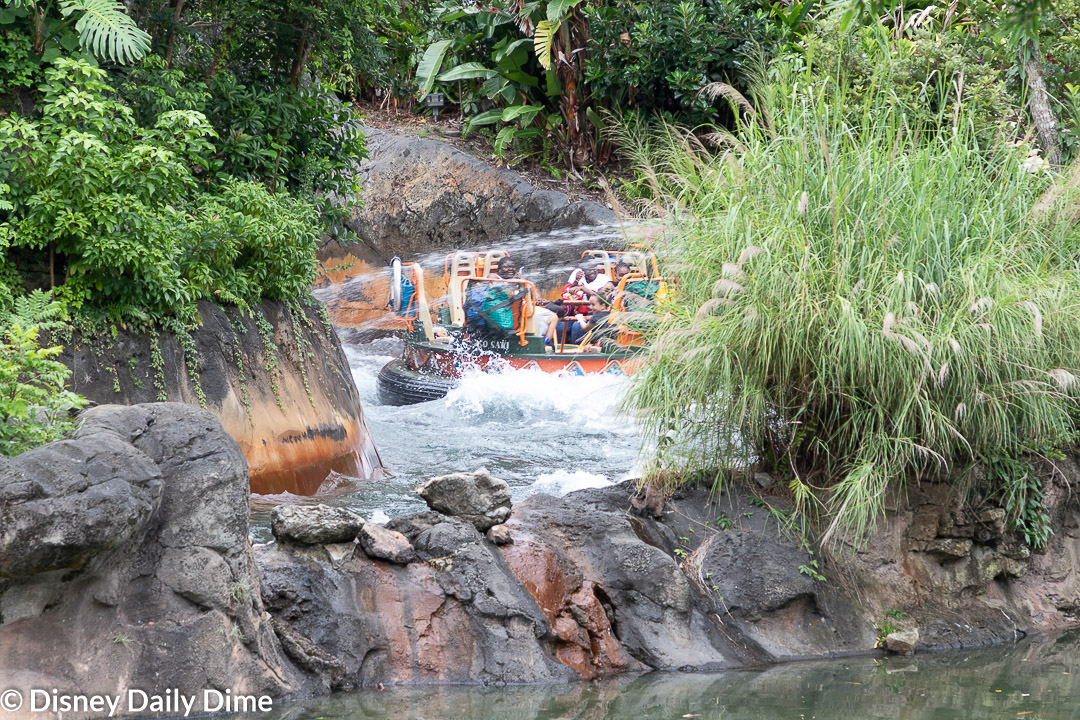 3.  Ride the Wet Attractions in the Parks
Plenty of the parks have attractions that can get you a little (or a lot) wet, so they are customer made to help you stay cool at Disney World.  Here are attractions you should check out.
Magic Kingdom – Splash Mountain (the closer to the front you are, the wetter you will get); Pirates of the Caribbean (only if you're seated at the front of the boat); Magic Carpets of Aladdin (the camels will spit at you, but you aren't guaranteed to get wet)
Epcot – Believe it or not, Epcot doesn't have an attraction that will get you wet.
Animal Kingdom – Kali River Rapids (fair warning, you will likely get soaked here); It's Tough to Be a Bug (a brief shot of water)
Hollywood Studios – Muppet Vision 3D (its just a quick shot of water); Voyage of The Little Mermaid (again, just a little water from the sky)
4.  Find the Wet Zones of the Parks
Each of the parks has a place or two that serves as a place to help get you a little wet and stay cool.  Which one you go to determines how wet you can get.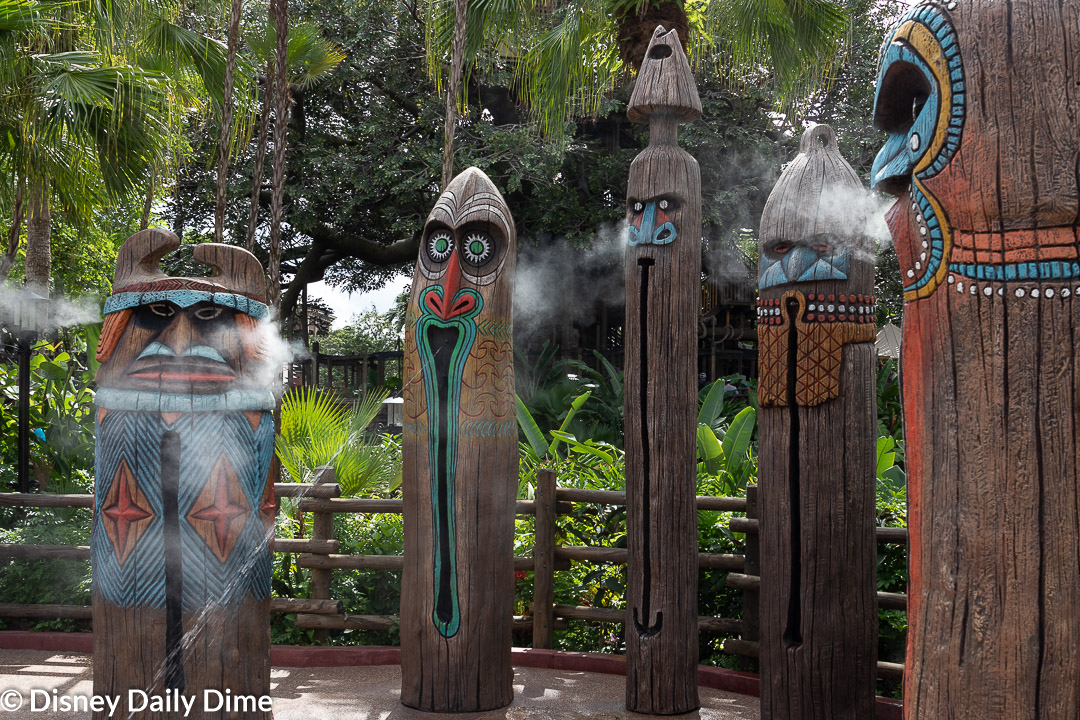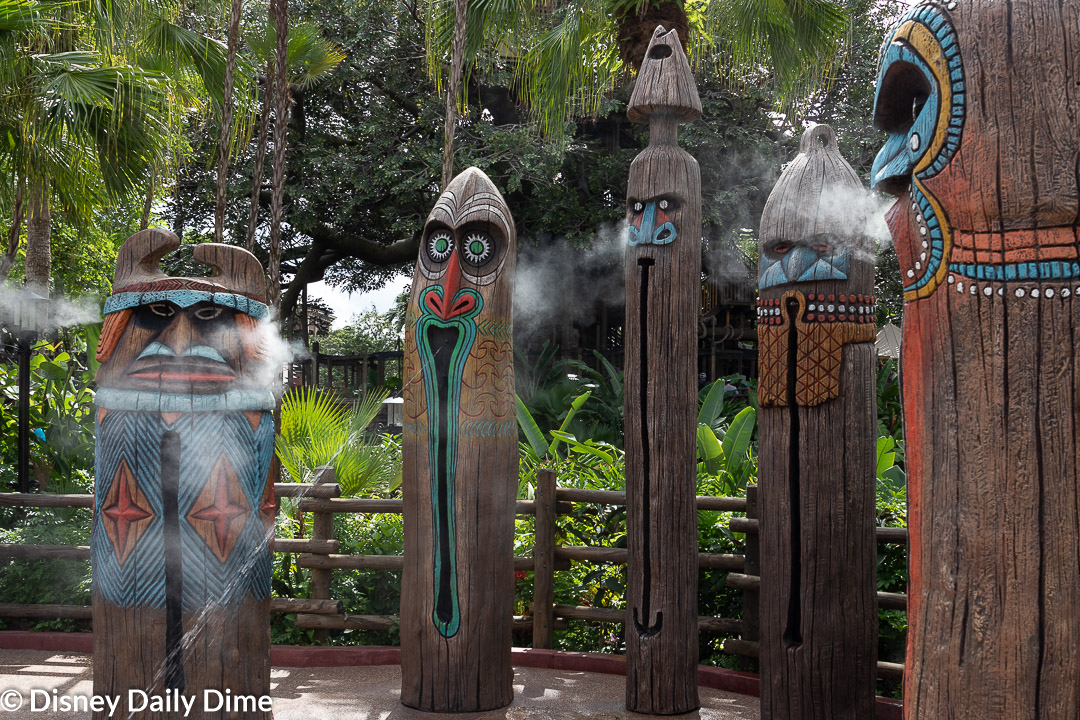 Magic Kingdom
Adventureland Liki Tikis – These fun Polynesian inspired Tikis will squirt water and sometimes blow their tops, providing a nice gentle mist. You can get as wet as you like here.  The Liki Tikis area located in Adventureland right across from The Magic Carpets of Aladdin.
Casey Jr. Splash 'N' Soak Station – Like the Liki Tikis you can hang out and get lightly misted on your body or stand in the solid streams of water that all the circus animals spray from atop Casey the train. This cool down spot is located in the back of Fantasyland just past Dumbo and right in front of the train station.  Hop over next door to Big Top Souvenirs for an ICEE as a cool treat.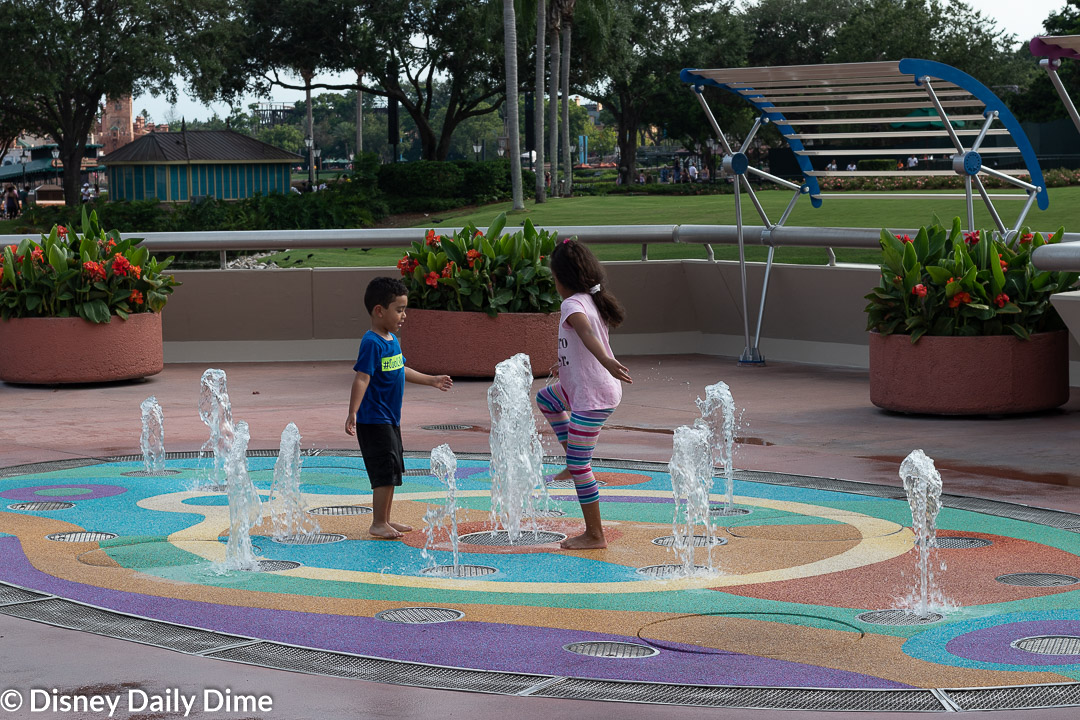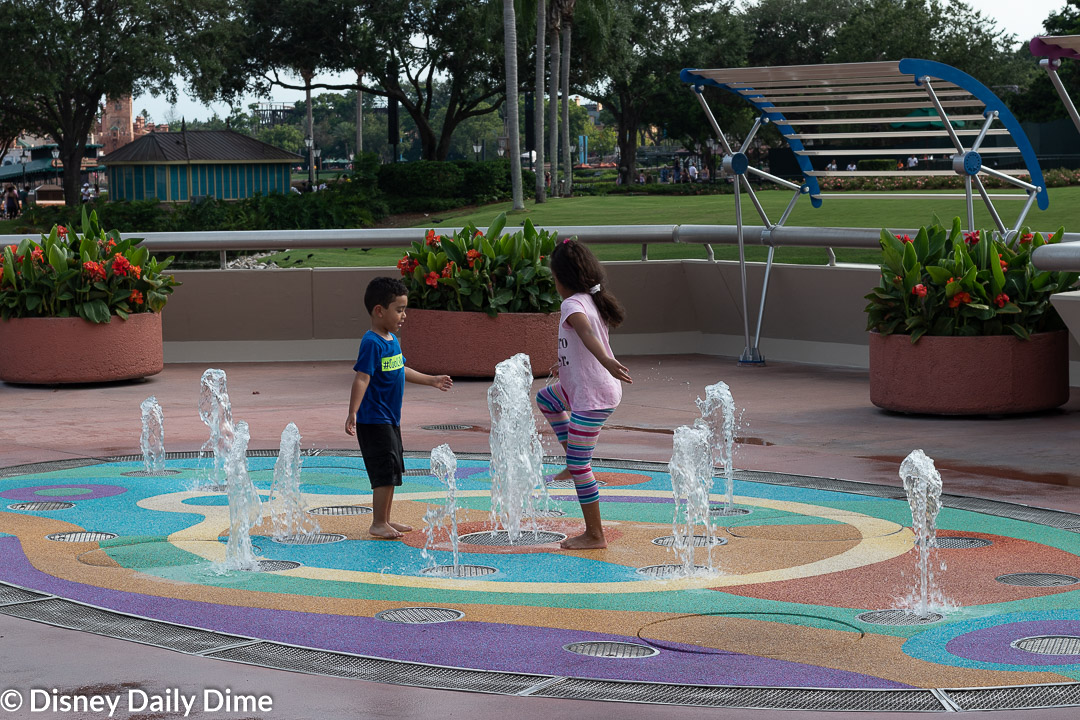 Epcot
Epcot Splash Pads – There are two splash pads in Epcot to help you stay cool at Disney World. One splash pad area is on the main bridge that connects Future World with World Showcase.  The other is just along the walk from Innoventions to MISSION: Space.  These colorful play areas shoot little streams of water in the air for kids to run through.  Be prepared though, your kids (or you) could get soaked here.
Test Track Cool Wash – This is part refreshment stand and part a misting area. Its located just to the west of the Test Track entrance.
Animal Kingdom
Tamu Tamu Misters – Located near Tamu Tamu refreshments in Africa (captain obvious, I know), there are some misters to help you cool down.
Other Misters – There are actually other misting stations located throughout the park.
 Hollywood Studios
With all the construction going on at Hollywood Studio's there is no splash pad or any type of misting area for you to cool down in. We're hoping that when Star Wars: Galaxy's Edge opens up, we'll get some cool down space back.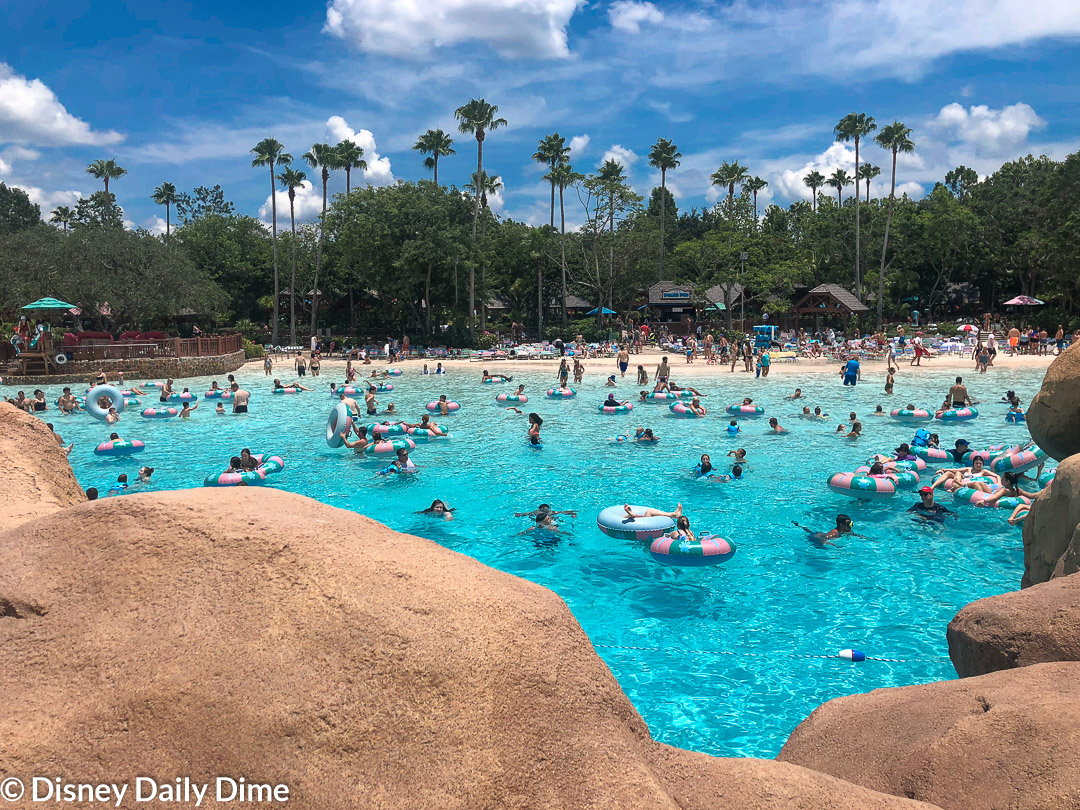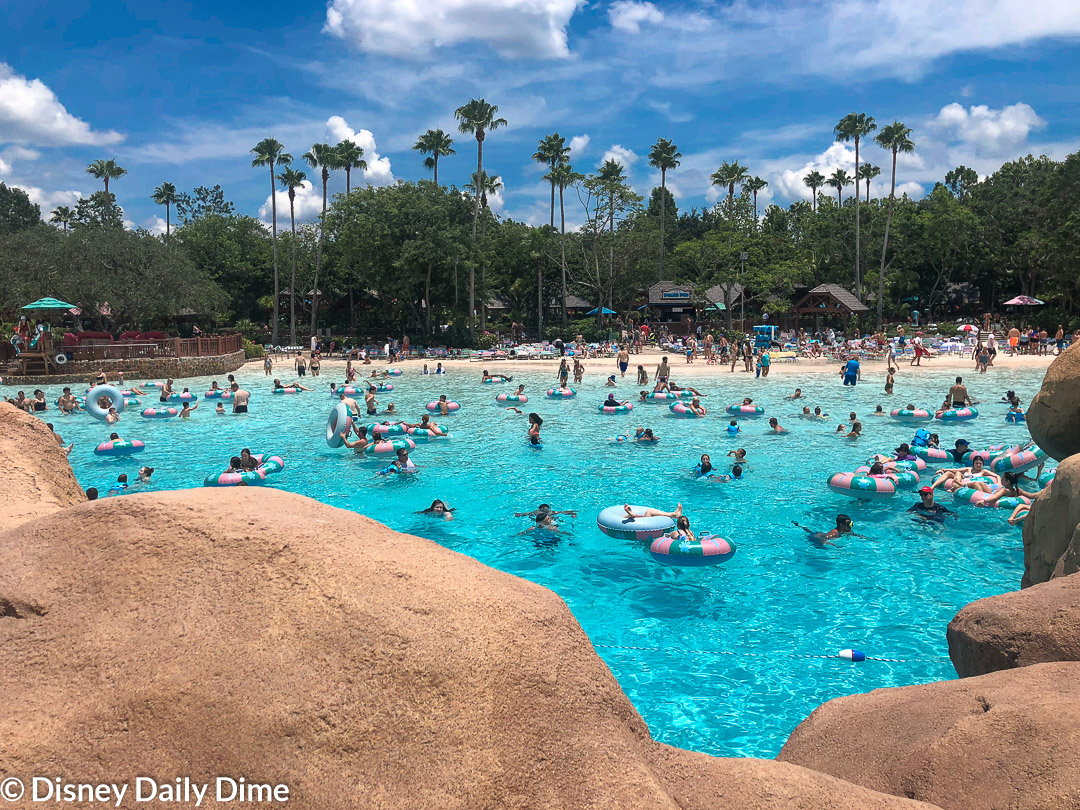 5.  Go to the Water Parks
In the middle of your vacation, you may want to consider heading to one of Disney World's water parks.  Typhoon Lagoon and Blizzard Beach offer the ultimate in cooling off!  We also find it a good way to break up a trip to Disney World in the summer and relax.  Hit up one of the parks, even if for half the day to cool down.
6.  Hit the Shops
If you need a brief break during the day, take a stroll through the myriad of shops that dot the Disney World landscape.  They're pretty hard to miss and they are all nice and cool.  Just don't go crazy blowing your vacation budget in there.  This can be a dangerous strategy with kids!
7.  Stay Hydrated
This is the most important tip to stay cool at Disney World.  You've got to drink plenty of water.  Hence why we recommend you bring a water bottle with you in our very first section of this page.
It's also why you don't see Club Cool listed anywhere on this page.  It's a popular recommendation by other bloggers, we know.  However, all you can get here is sugary, caffeinated coke products from around the world.  It's nice that it's air-conditioned, but all that caffeine is sure to dehydrate you in the summer heat.  If you do go here, don't go crazy on the drinks.
Don't forget that each of the quick service restaurants in the park have free ice water stations.  Pop on in and grab a quick drink or use it to refill your water bottle and keep going.
8.  Get Some Dole Whip!
Get yourself a cold or frozen treat.  For us, we love the Dole Whip.  Take the fun up a little with the Dole Float.  You can find Dole Whip at the following locations:
Aloha Isle in Adventureland at Magic Kingdom
Pineapple Lanai at the Polynesian Resort
Tamu Tamu Refreshments in Africa at Animal Kingdom
If you haven't had the Dole Whip before, you can thank us in the comments below!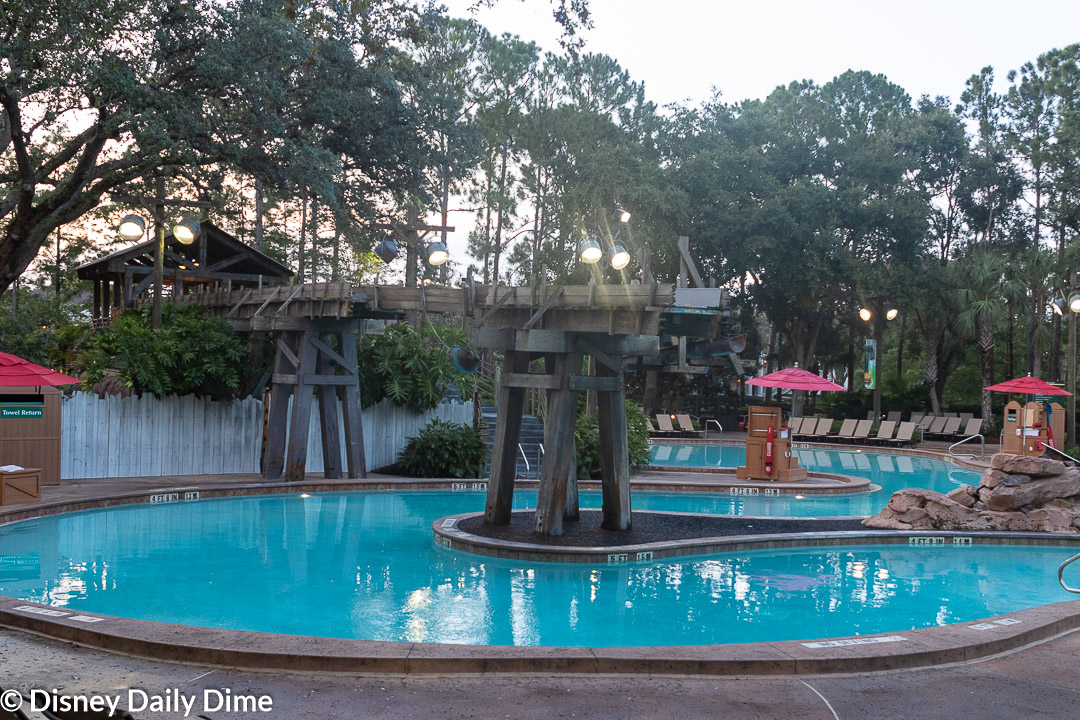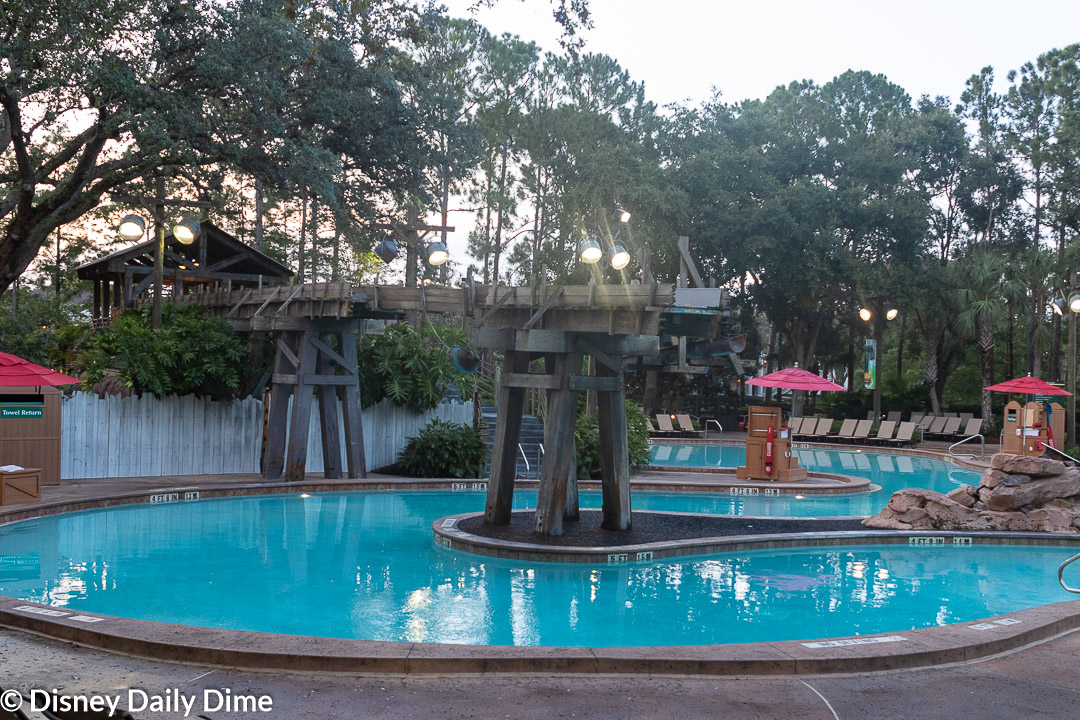 9.  Enjoy Your Resort Pool
Whether you are staying at a Disney World resort or not, you can stay cool while having a day away from the parks.  If you're staying at some of the moderate or deluxe resorts, you'll find some very entertaining pools.  Lots to do for kids and adults alike.
Wrapping Up
There are lots of ways to beat the heat.  Getting out of the sun throughout the day and drinking plenty of water will be your greatest allies on your vacation.  Take advantage of the numerous options you have available to you.  While this is our list of top tips to stay cool at Disney World, there may be other ways out there.  Did we miss something?  Drop down in the comments box and let us know how you stay cool at Disney World!