Up to this point, we've laid out the general building blocks of how to plan a Disney World trip and hit on some things that you want to think about when getting ready for the trip.  But you may want some tips on how to create your own Disney World touring plan.  We've touched on how you might want to go about planning your park days, but at a pretty high level.  In this part of the guide we want to boil down planning a day at the parks into a very practical and real-world example.
Our Disney World Touring Plan Philosophy
For this process you should know a few things on our philosophy.  We don't try to plan things down to the minute.  We believe you should try to get a good sense of the things you want to do and the rough order you want to do them.  Having a concept of time to do things is helpful but scheduling your bathroom breaks is probably not.  Think of this as building a logical sequence of progression through the park.  This way you try and cluster together attractions in a way that keeps you from backtracking through the park constantly, wasting time walking instead of enjoying attractions.
There are lots of canned Disney World touring plans available on the internet.  They can shortcut this process to some degree.  However, we've generally found that there isn't a one size fits all plan out there.  You may want to look at some of these touring plans to get ideas of how to work through a park on a given day.  You will need to customize it for your particular trip goals.  If you want something that is more interactive, touringplans.com is probably your best bet.  This does cost money.
To us part of the fun of going to Disney World is planning it yourself.  Getting to engage your kids and other family members as you lay out where to go and what to do.  It helps build more anticipation and excitement for the trip as opposed to just pulling up some canned Disney World touring plan and hitting print.  But we also get that some of you may not have the time or interest in doing this.
The process I am laying out below is not theoretical.  This is the actual way we planned out an upcoming trip to Disney World.  Let's get into how we plan a day.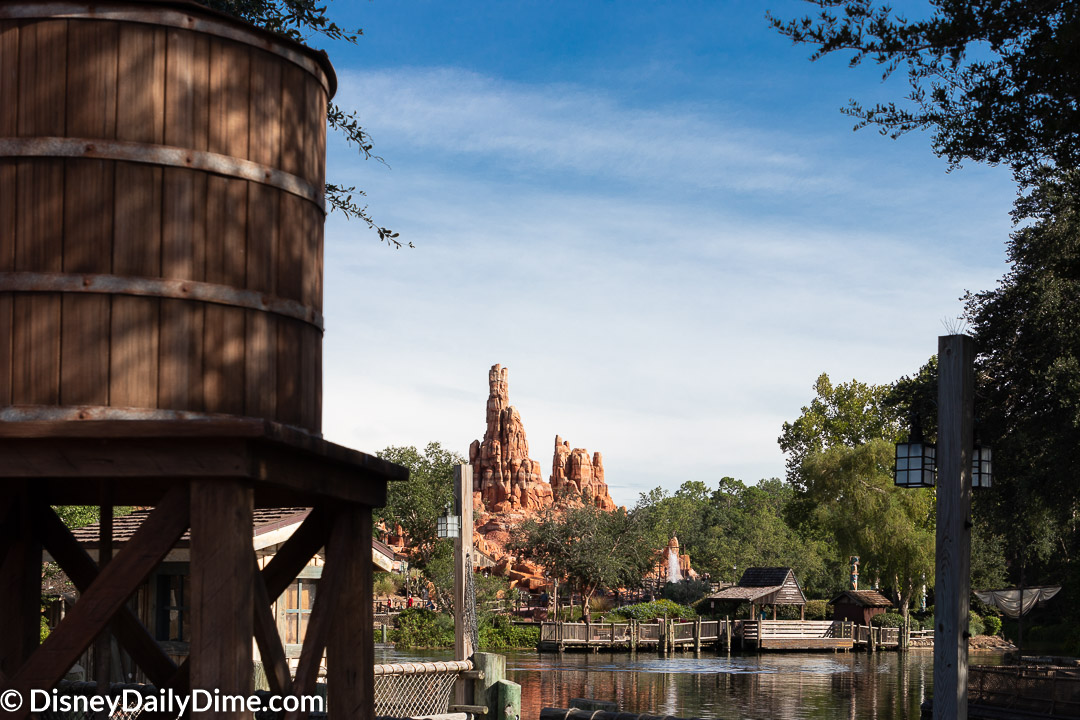 What You Will Need
Before you get started with this process, here are the things we find it helpful to have at your fingertips.  You can print them out and have hard copies if you like, or just having them up on your computer can work as well.
Times and locations of any dining reservations
Your targeted list of FastPass+ Reservations or the actual times if you have them
A list of the other attractions you want to take in that day
Other reservations you may have, like Bibbidi Bobbidi Boutique or Back Stage Tours
Times of parades or fireworks shows you want to see
If you plan to take breaks through the day or even return to your hotel for some downtime, when you want to target those breaks
Maps of the parks – we like to have these printed out
If you're wanting to have an extra level or preparedness, you can go to touringplans.com and look at their projected wait times. I'd use it as a guide, but that's it.
We try to also use an excel spreadsheet to keep up with the outline of the touring plan we create.  If you don't want to use excel, just writing notes on a piece of paper works perfectly fine.
Parameters of the Day at Disney World
Before we get into our actual process of laying out a Disney World Touring Plan I want to lay out some of the constraints we have to work within.  Some of these tie to the items we listed above.
Park Information
For this particular example, we are planning a trip to the Magic Kingdom on July 15th.  Looking at the calendar on Disney's Magic Kingdom page, we can see that park hours are from 9AM – 10PM.  See the image to the right in the green box.  You can change the date by clicking on it and see this information for whatever date you want.  However, what you will notice for this date is that there is a ticketed event for this day from 7:45 – 9:00AM.  In this case the ticketed event is Disney Early Morning Magic – Fantasyland.  You can read more about what it is at the link, but we already have other plans for the morning and we don't find great value in this up-charge, so we pass on it.  Also note that there are no Extra Magic Hours this day.
Dining Reservations
We have the following Dining Reservations:

Breakfast – Be Our Guest – 8:00AM
Lunch – None, we'll do a counter service meal
Dinner – Cinderella's Royal Table 6:45PM
FastPass+ Plans
The rides we want to get a FastPass+ for are Space Mountain, Splash Mountain, and Buzz Lightyear's Space Ranger Spin.  Notice we did not get FastPass+ reservations for Seven Dwarf's Mine Train, Thunder Mountain or Peter Pan's Flight, despite them being on our recommended FastPass+ list for Magic Kingdom.  We'll talk about why in a bit.
Attractions We Want to See
We have built our priority list of what we want to see this day.  You should too, as you prepare to create your own Disney World touring plan.  It's a bit longer than is probably doable, so we won't get to all of them, but we'll see what we think we can fit in.  Generally, on our trips, we have two days allotted for the Magic Kingdom, so if we don't get to a ride this day, we'll do it on our other day in the park.  Here are the rides.   You may want to include what "land" they are part of in your list.  23 of them in all.
Splash Mountain
Thunder Mountain
Tom Sawyer Island
Haunted Mansion
Seven Dwarfs Mine Train
Carrousel
Peter Pan
Small World
Winnie The Pooh
Dumbo
Barnstormer
Enchanted Tales with Belle
Under the Sea
Ariel's Grotto
Princess Hall
Buzz Lightyear's SRS
Space Mountain
Carousel of Progress
Astro Orbiter
Aladdin
Jungle Cruise
Tiki Room
Pirates of the Caribbean
Other Considerations
In laying out our plan we want to see Happily Ever After, the Magic Kingdom fireworks show.  We'll need to get there early to get a pretty good spot.  We probably want to be there around 8:30PM.  The show starts at 9:15PM.
Create Your Own Disney World Touring Plan – Morning
Breakfast
We start the morning at Be Our Guest for breakfast at 8:00.  In this case, the Be Our Guest reservation is accomplishing two things for us.  This gets us into the park early because we want to take some photos with lower crowd levels.  But really we want to hit Seven Dwarfs Mine Train right at 9:00, immediately followed by Peter Pan.  This is why we didn't get FastPass+ reservations for these two rides.  Be Our Guest is conveniently located right between Seven Dwarfs and Peter Pan and deep enough into the park, it gives us a head start on everyone waiting back at the front of the park.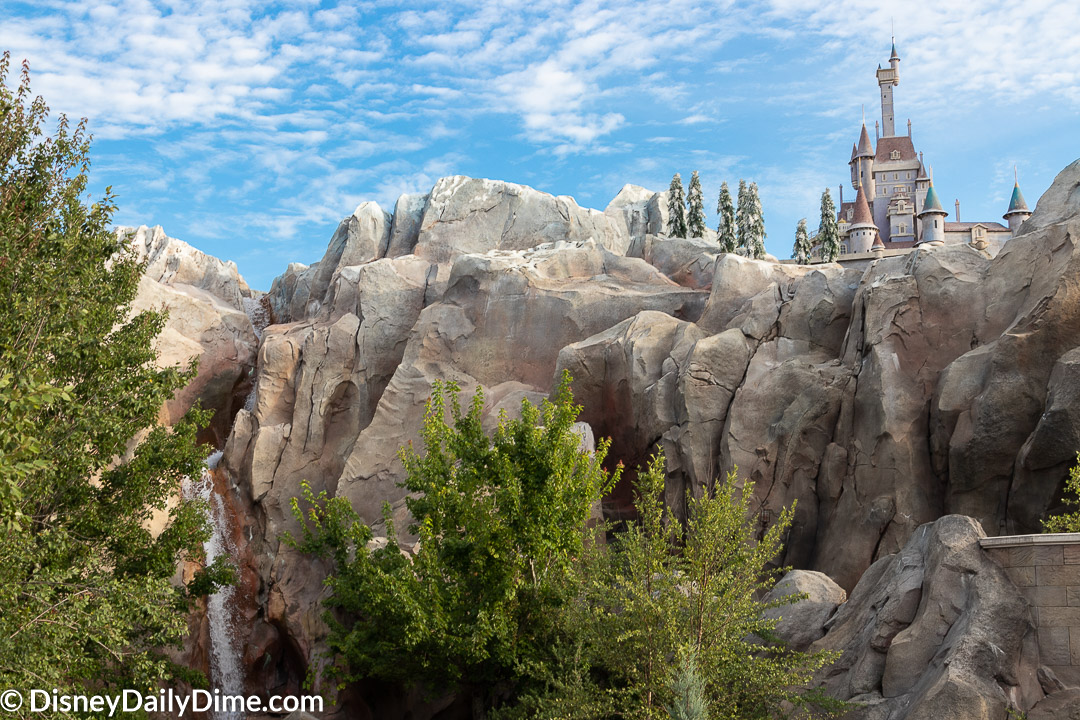 Seven Dwarf's Mine Train and Peter Pan
We'll finish up breakfast relatively quickly, say by 8:30 – 8:45 and head out to get in the standby line for Seven Dwarfs first and then we'll head to Peter Pan next.  This will get us in prime position to get through these two attractions within the first 30 minutes to one hour after the park opens.  Sometimes they let standby riders onto the rides 5-10 minutes early.  If that happens, all the better.  The Early Morning Magic hours they have going could impact this, but generally it isn't enough to concern us too much.
Thunder Mountain and Splash Mountain
We should have two high demand rides done by no later than 9:30.  Next up, we'll head to Frontierland and burn through a couple of our FastPass+ reservations.  First up will be Thunder Mountain.
Remember, we didn't get a FastPass+ reservation for Thunder because we should still be able to get there relatively early in the day.  The wait time should be 30 minutes give or take.  At that short of a wait, it's not worth burning a FastPass.  We'll save it for later in the day when wait times peak.  We'll get a FastPass+ reservation for Splash Mountain in the 11:00-12:00 time-frame.
If all goes according to plan, we will probably have some time to kill after riding Thunder Mountain before we hit the Splash Mountain FastPass+ window, so we'll make a stop at Tom Sawyer's Island.  Spend some time there and then head over to Splash and we should be done by 11:15 to 11:30.
Haunted Mansion
It will be getting close to lunch but we still have some time to do one more thing.  In our case, we know we want to hit Columbia Harbor House for lunch, which is back over in Liberty Square.  So, it will make most sense to try and hit an attraction somewhere on the way there.
We'll try to hit Haunted Mansion.  Ride wait times are going to start escalating about this time of day, but we're still saving our last two FastPass+ reservations for the peak of the afternoon.  It's a bit of a risk as Haunted Mansion wait times can sometimes be well over an hour, but more likely they should be around 45 minutes.  We should finish up this ride right in the heart of the lunch hour.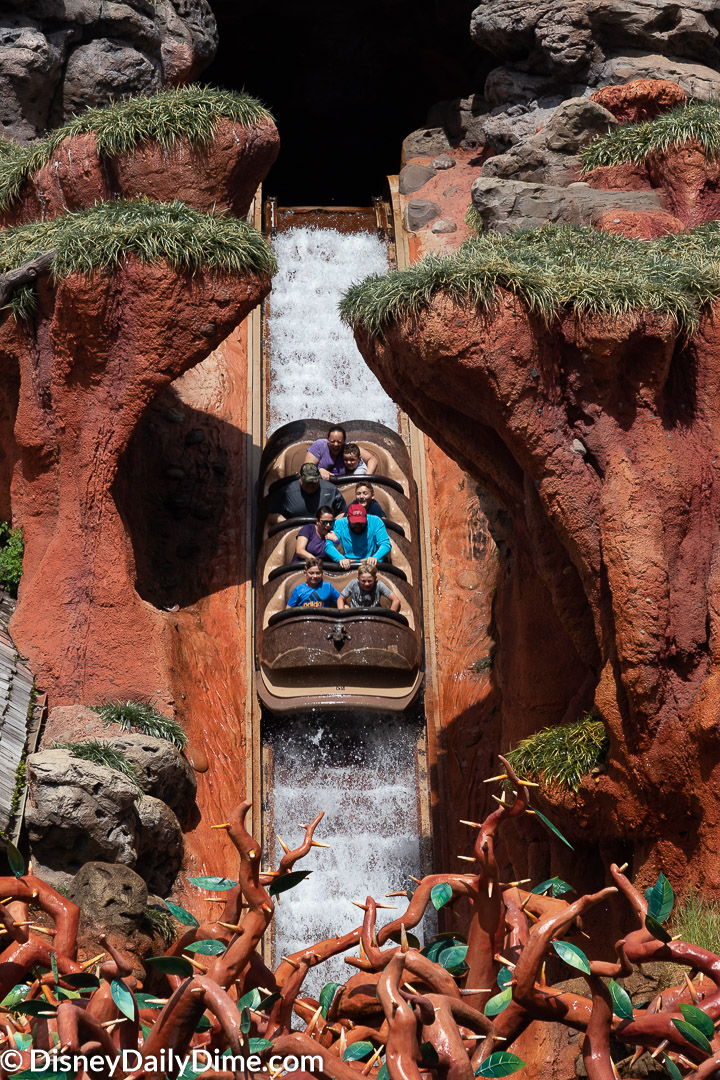 If the wait is longer than that, we may skip Haunted Mansion for now and come back later in the day if we can get a 4th FastPass here.  No FastPass and we will likely save it for our 2nd day in Magic Kingdom.  Logical places to go see instead would be Small World or Mickey's Philharmagic.  We want something that will keep us close to Columbia Harbor House.
Lunch – Columbia Harbor House
On to lunch at Columbia Harbor House, which is a stone's throw from the Haunted Mansion entrance.  Now, we know that some of the best touring plan advice involves eating meals at off times so you can keep riding attractions while everyone else is eating.  However, our girls are all about routine and schedule and pushing them to eat much past noon will not go well for any of us.  We chose to do what's best for our family and ignore that advice.  And it is really sound advice.  You should do what's best for your situation too.  It's okay!
Before we get to the afternoon, take a look at the park map below.  It shows you the rough path we would take through the park in the morning.  Notice we stay in the back of the park and really only spend time in three of the lands.  Forgive the crude drawing.  We'd say that Anna helped draw it, but sadly she is a far better artist than her parents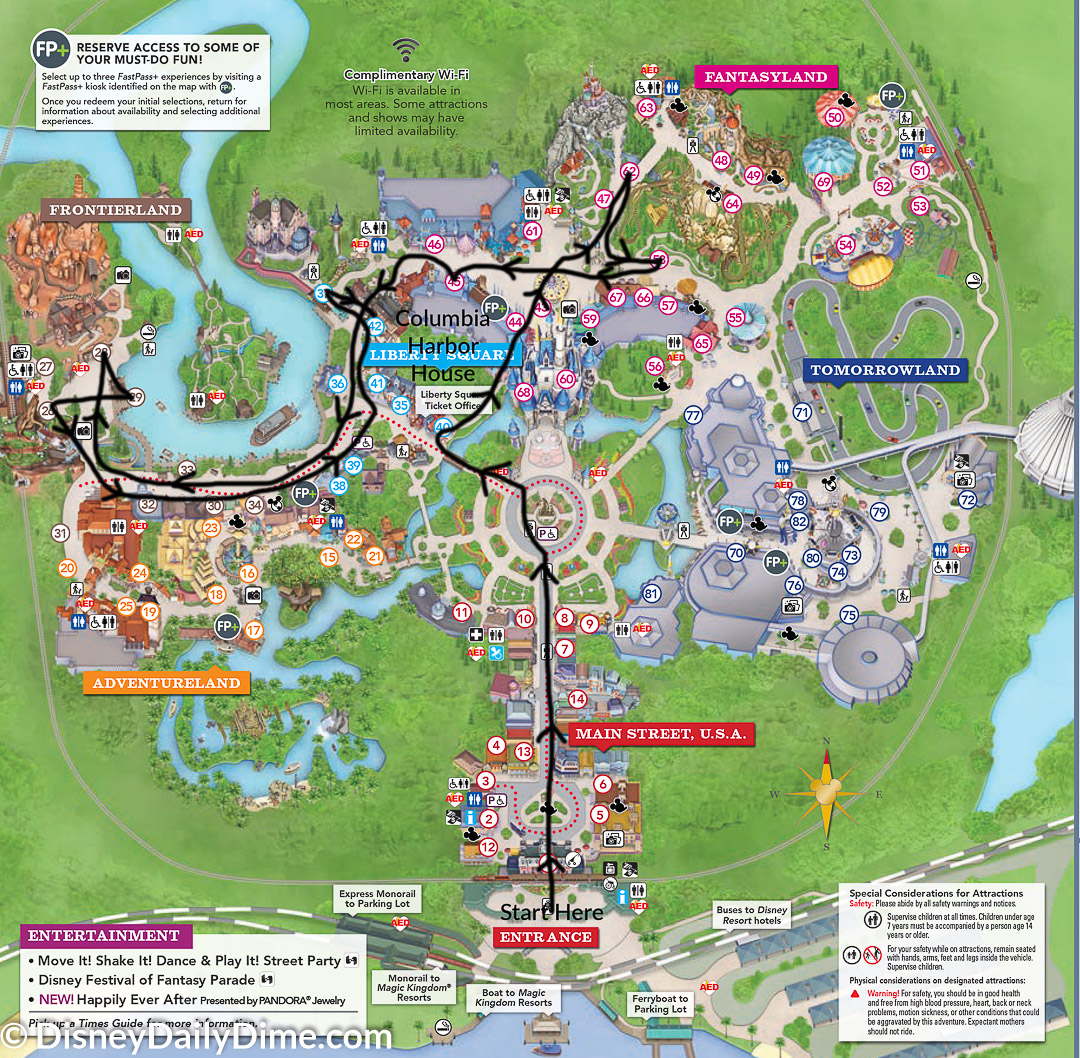 Create Your Own Disney World Touring Plan – Afternoon
Ariel, Ariel, and Space Mountain
After what should be a relatively quick meal, we should be done with lunch somewhere between 12:30 and 1:00.  We've got FastPass+ reservations for Space Mountain and Buzz Lightyear at 2:00 and 3:00 respectively.  On our way there, we'll stop in for some adventures with our favorite mermaids, Ariel.
We'll try to hit Under the Sea and Ariel's Grotto for a double dose.  This pleases Anna greatly.  We want to be done and out of there before our 2:00 FastPass+ window opens up for Space Mountain.  Depending on the wait time, we may have to skip Ariel's Grotto.  This is a place where you may have to adjust.
After getting done we head over to Space Mountain.  We should be right in the heart of our FastPass+ window.  Hopefully that means it only takes 15-30 minutes to get the ride in.
Carousel of Progress and Buzz Lightyear
If everything goes acording to plan, we should have some time to kill before our Buzz Lightyear FastPass+ reservation.  To burn that up we'll head to Carousel of Progress.  That should take enough time to open up the Buzz Lightyear window, so we head there next.
Time to be Opportunistic
Once we're done with Buzz and his friends, the real adjusting begins.  Before we talk about potential adjustments, we'll finish out the plan idea up to dinner.  We'll head over to Astro Orbiter.  At this point, we'll want to start gradually making our way towards Cinderella's Castle to be close to it for our dinner reservation.  We should have plenty of time, but we'll take our show back to Fantasyland.  We'll try to hit up Princess Hall for a quick meet and greet with two princesses, followed by going to see Enchanted Tales with Belle.  This should roughly get us to dinner time.  If we have some more time available, we'd likely look to Small World or Pooh for another attraction.  Maybe the Carousel if we're a little shorter on time.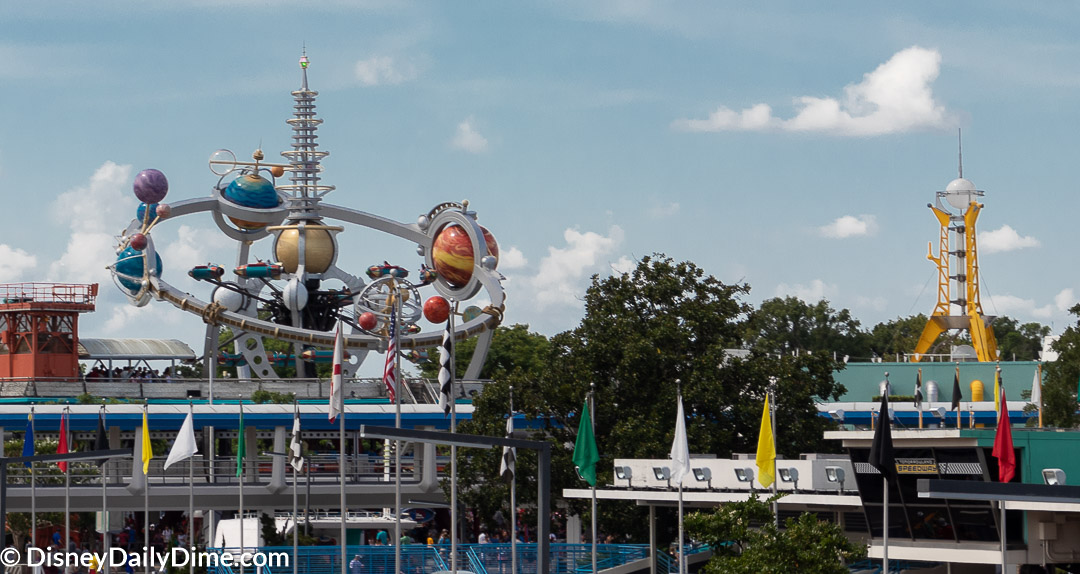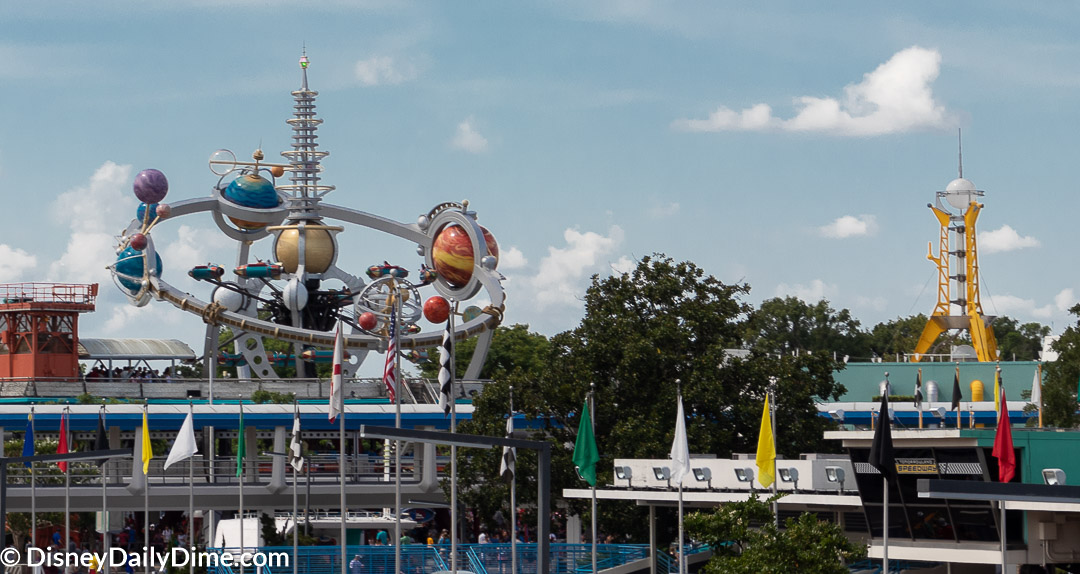 If the wait is longer than that, we may skip Haunted Mansion for now and come back later in the day if we can get a 4th FastPass here.  No FastPass and we will likely save it for our 2nd day in Magic Kingdom.  Logical places to go see instead would be Small World or Mickey's Philharmagic.  We want something that will keep us close to Columbia Harbor House.
Take a look at the walking path of our afternoon Disney World Touring Plan below.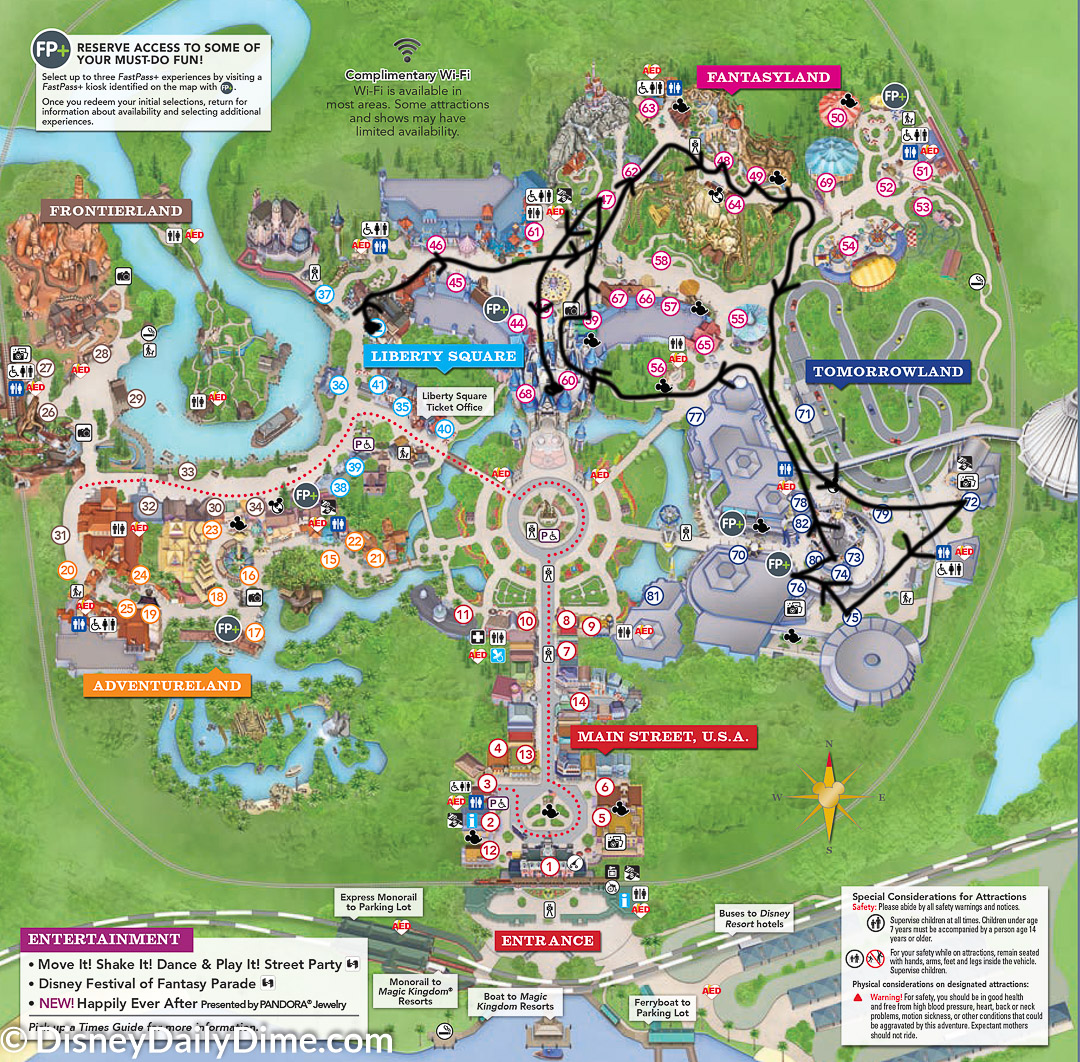 Create Your Own Disney World Touring Plan – Dinner and Nighttime
Cinderella's Royal Table
In any case, we'll make sure we get to Cinderella's Royal Table in time for our 6:45 reservation.  This dinner will likely go till 8:00 or 8:15PM.  Waiting for all the princesses to make the rounds here is a bit of a wild card.  If we do get out around that time, we'll check the My Disney Experience App again to see if there are any attractions close by that have short wait times.  This may be a return trip to the Carrousel if we were able to hit it before dinner, or the first trip if we didn't.
Happily Ever After
Whatever we do it will be quick as we want to start staking out a place for Happily Ever After.  Ideally, we'll have our spot lined out by 8:30.  It will be 45 minutes of largely standing around, which won't please the kids, but it's the only way you get a good spot.
Once the fireworks show is over, we'll do a quick survey of ride wait times on the MDE app.  Maybe we can sneak one in.  Given that we're in the middle of the park, we'll have lots of options.  Ideally, we will try to get to Pirates of the Caribbean, but this will be dependent on what the wait time situation looks like.  After this, we'll likely call it a night unless we luck into two attractions with short wait times.
The Importance of Being Flexible and Adjusting
It's a solid plan for us and we should accomplish a lot of what we want to do, but you should know something.  We rarely do everything we lay out.  And we almost never stick to the plan exactly.  We adjust on the fly, once in the park, as opportunities to hit attractions present themselves.  You should be ready to do the same.  Most of the adjusting occurs in the afternoon, as wait times escalate.
Say we are walking past something like Winnie The Pooh and eureka, it's only a 15-minute wait.  Not on our pre-planned ideas for the day, but we'll take advantage of that great wait time and detour to it.  Or what happens if you get to an attraction and it is closed because it broke down?  You have got to be ready to adjust.  And maybe more importantly, you have to be okay with that.
Too often we read stories of how people declare their trip to Disney World a disaster.  Why?  Because they didn't get to do every ride they wanted to or because they had a false expectation created by downloading some preset touring plan, only to have all sorts of different circumstances change their plans.
The reality is every day in the park is different.  Different crowd levels, different weather, different rides breaking down, different special events and magic hours, you name it.  If you build up expectations in your head that you are going to do x,y and z and if that doesn't happen it will be a disaster we are sorry to say, you will be sorely disappointed.  Be flexible and be ready to adjust your plans.  And be okay with that.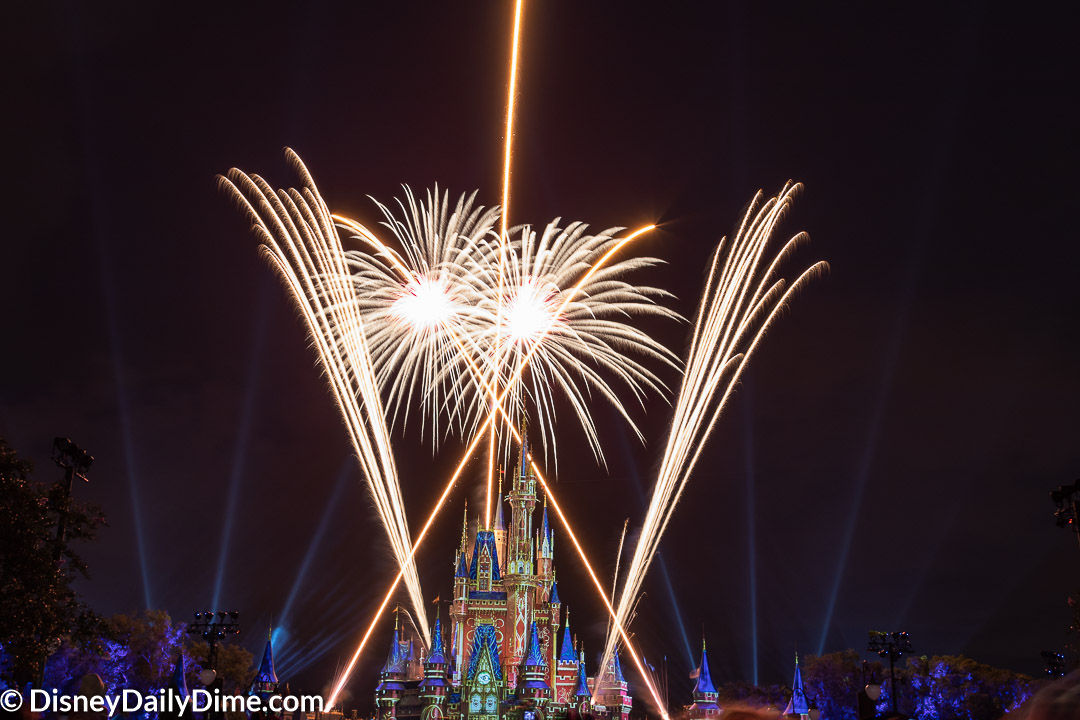 Don't go crazy with your flexibility.  Do it within reason.  If you bring up the My Disney Experience App and notice that Pirates of the Caribbean only has a 20-minute wait, but you're on the complete other side of the park, it's probably not worth adjusting for that.  Try to keep on your general touring path through the park and take advantage of near opportunities.
Bringing It All Together
So, there it is, our plan for a day and the thought process on how we lined it up.  If you stick to these principles, your day at any given park will be just fine.
Don't wait until you get to the park to lay out what you want to accomplish that day. You'll be behind the 8 ball quickly if you do
Book your FastPass+ reservations in advance
Get to the park early
Group attractions together in logical groups to minimize walk time
Try to get to some of the higher demand rides immediately and save FastPass+ reservations for the higher wait time periods, usually around mid-day
Be okay with having things not go to plan
Be ready to adjust on the fly
Hopefully you found this useful.  If you have any other principles or ways you think about touring a park, we'd love to hear from you.  There is no one size fits all answer on how to create your Disney World touring plan.  Do what works for you, just make sure you have a general plan laid out.