We continue our coverage of the various food booths at Epcot's Food & Wine Festival.  In this post, we have our Coastal Eats review.  As the name probably suggests, this booth focuses on food from the sea.  If you want more details on the Food & Wine Festival, you can check out our Ultimate Guide to the Food & Wine Festival.
The Coastal Eats booth is located in the Next Eats area, just behind the southern Innoventions West (until they start demolishing it soon).  In case you aren't aware, the Next Eats area includes Coastal Eats, Earth Eats and Active Eats.  We have already done an Active Eats review if you are interested in that Food and Wine Festival booth.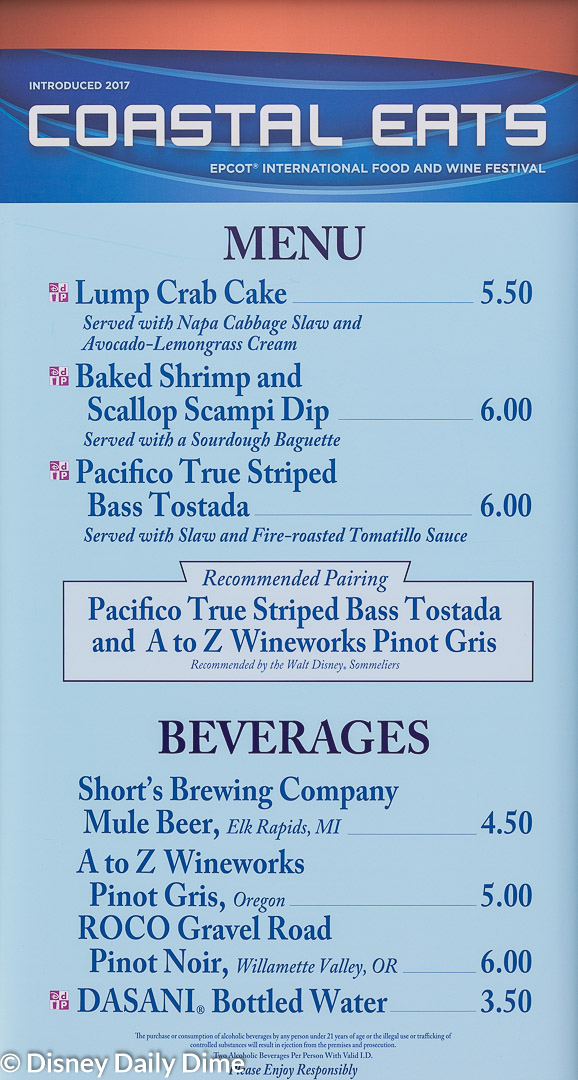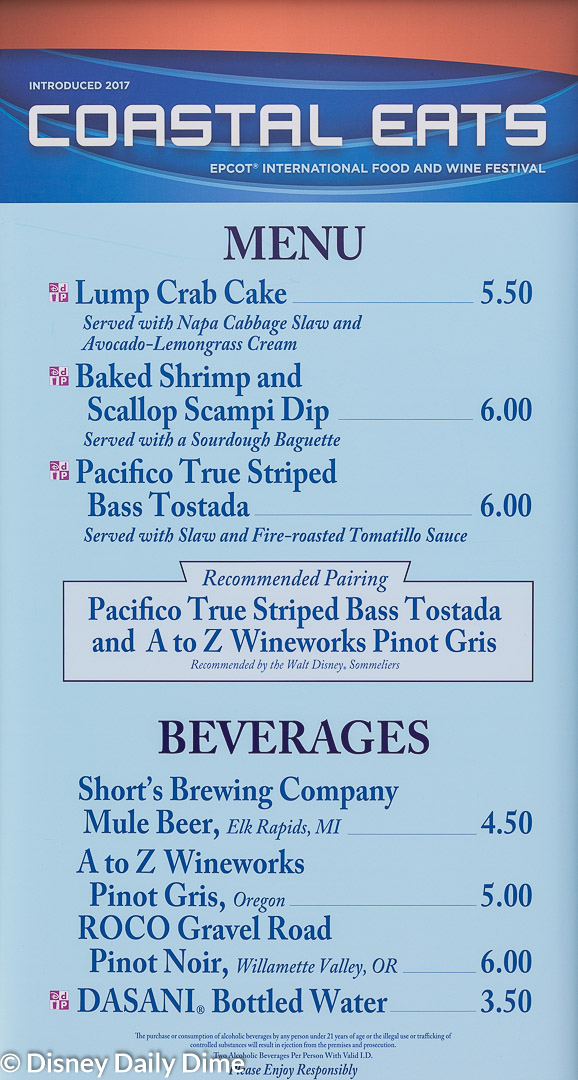 As far as the Coastal Eats menu goes, the Lump Crab Cake returns from last year.  So does the Baked Shrimp Scampi Dip, but with the addition of two scallops.  With the addition of the scallops to that dish, they decided to remove the scallop dish from last year.  It is replaced by a True Striped Bass Tostada.  Not going to lie, I didn't know what a "True Striped Bass" was.  I googled it, and apparently, they are raised in the ocean, as opposed to hybrid versions of bass that are raised in freshwater lake.  Go figure.  If you want to see the full Coastal Eats menu with drinks and everything you can see the image above.
Let's get to the food at Coastal Eats!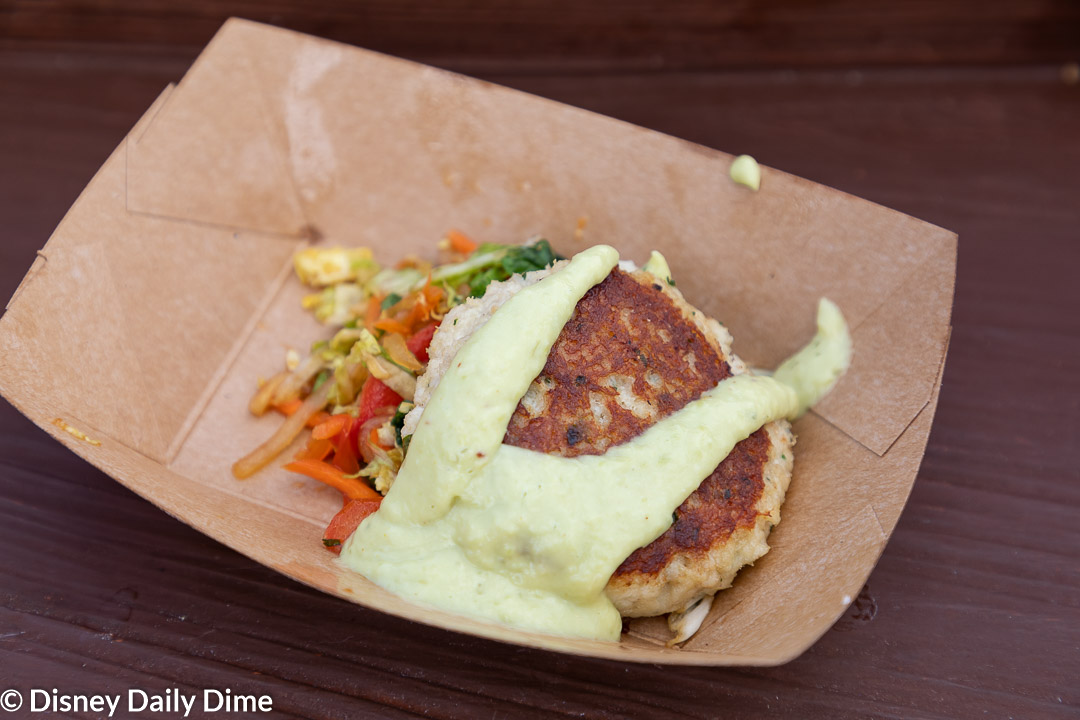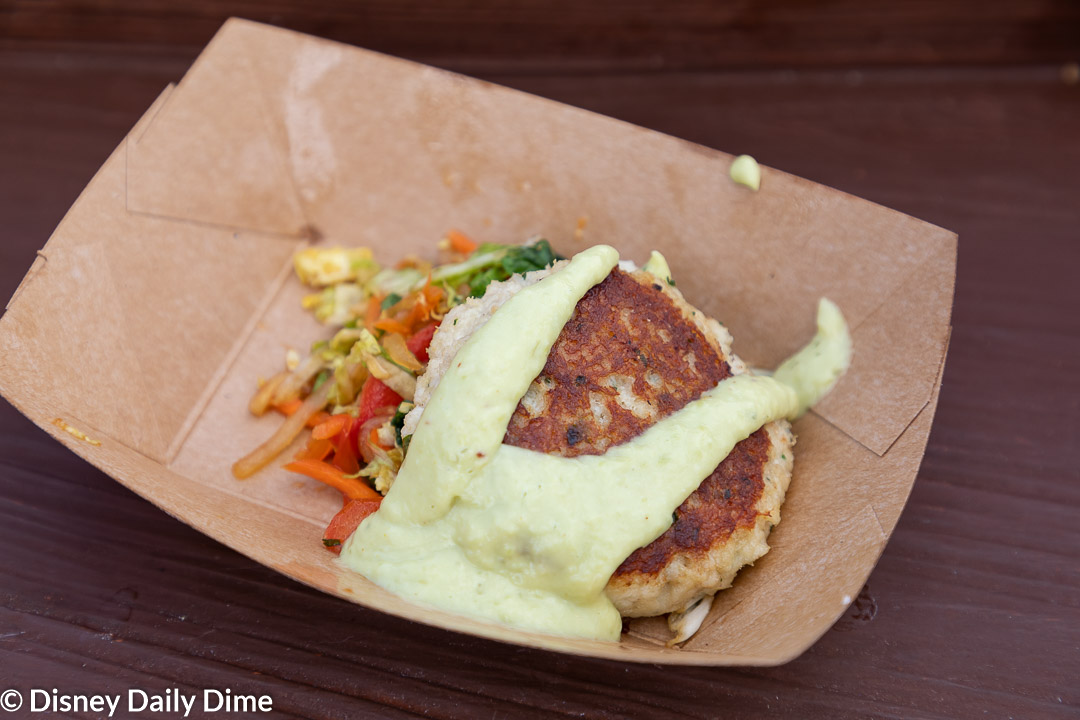 Lump Crab Cake with Napa Cabbage Slaw and Avocado Lemongrass Cream – $5.50
The Lump Crab Cake is unchanged from last year.  The crab cake sits on a bed of cabbage slaw, which adds a great bit of texture and crunch.  I also liked the vinegary taste that it added to the dish.  Of course, I'm a big fan of vinegar, so that's all a matter of personal preference.  The crab cake itself was surprisingly filling and hearty.  It wasn't light and full of filler; instead, there were real sizable chunks of crab in the cake.  I will say, the crab cake was slightly dry to me, but nothing terrible.  The crab cake is topped with an avocado lemongrass cream that I thought was delightful.  It had a nice light avocado flavor to it and helped cover up some of the dryness of the crab cake.
If you're looking to make a meal out of a few booths, this crab cake can make a good part of a grouping of dishes.  It's not our favorite item in the Coastal Eats booth, but I definitely enjoyed it and would get it again.
Anna and Elsa were not big fans of this item.  That is not unique to the crab cake at Disney World; they generally aren't fans of them anywhere.  So, don't take that as a rebuke of the dish, just more their personal preference.  Of course, I was okay with that, as it left more for me.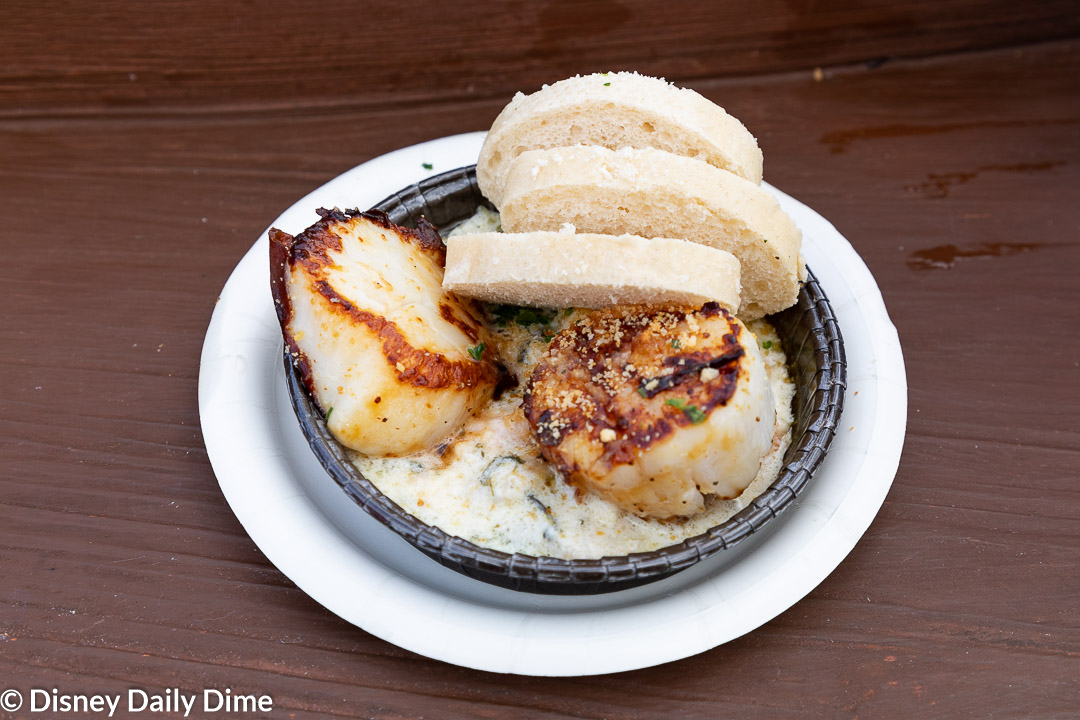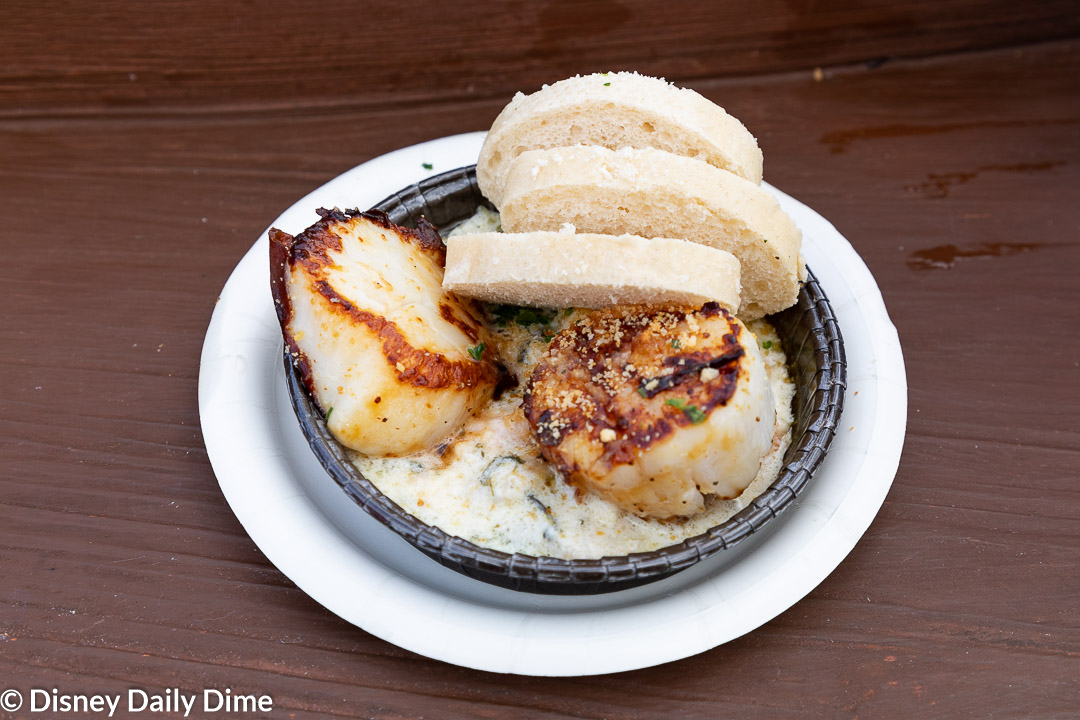 Baked Shrimp and Scallop Scampi Dip with Sourdough Baguette — $6.00
The Baked Shrimp and Scallop Scampi Dip is a dish that we universally loved amongst the three of us (Carla couldn't have it).  The scallops are new to this item this year, and they are grilled to perfection.  They have a nice sear to make the outside crisp, but the inside is tender.  I would tell you they were so good you should eat them without the scampi dip.  Just enjoy them as they are.  They were that good.  The other noticeable part is they were good-sized scallops.  You don't get two tiny scallops; rather they were both somewhere between a quarter and 50 cent piece in size.
As for the baked shrimp part of this item, I'd say it was good but not as good as the scallops.  The shrimp themselves were fine.  I found several of them in the dip, so I didn't feel like I was getting shortchanged.  My only issue with the scampi dip was that it was almost too buttery in certain bites.  So much I thought I was drinking straight butter one time.  When I didn't get these concentrated bites of butter, the scampi was fabulous.  Garlic and herb flavors were present throughout the dish.
The real disappointment of this item was the bread.  I love sourdough bread, and if the menu didn't say that it was sourdough, I'm not sure I would have known it.  The bread was bland, boring, dried out and just not good.  I suggest saving your stomach room for some of the other great dishes at the Epcot Food and Wine Festival and maybe pass on the bread.
For the kids, Anna and Elsa devoured this item.  Elsa didn't even want to share.  What's even better is that Elsa had never eaten a scallop before.  Now she's a scallop fan.  This dish is highly likely to be a hit with kid due to the creamy nature of it.
We will get this again for sure and think you will likely enjoy it too!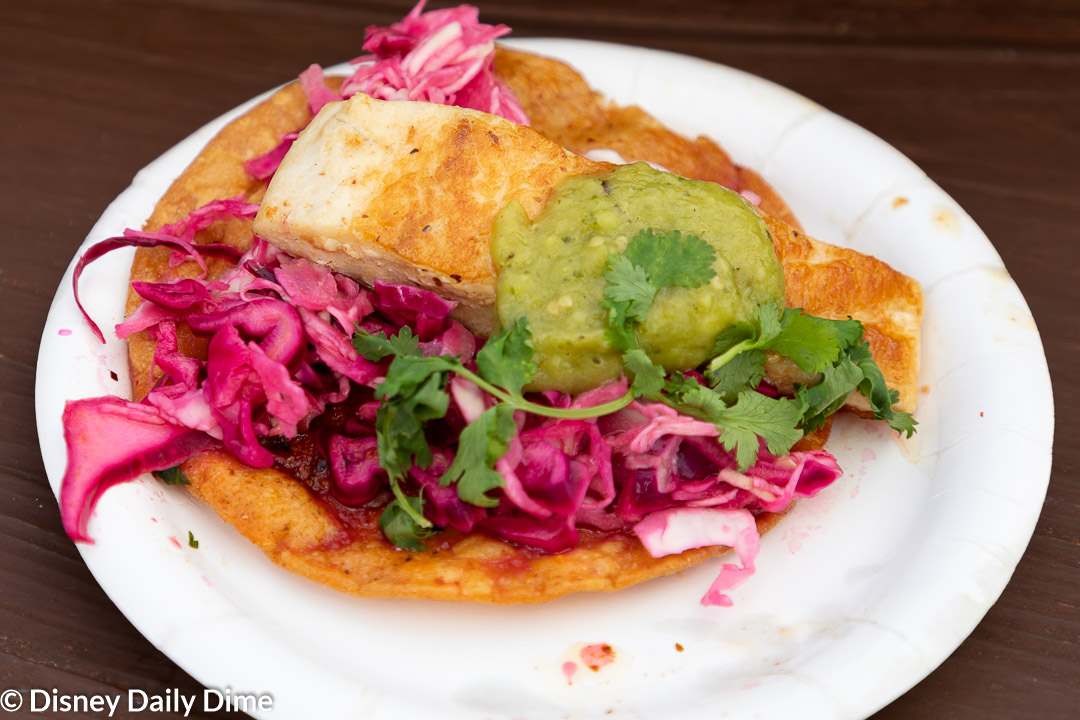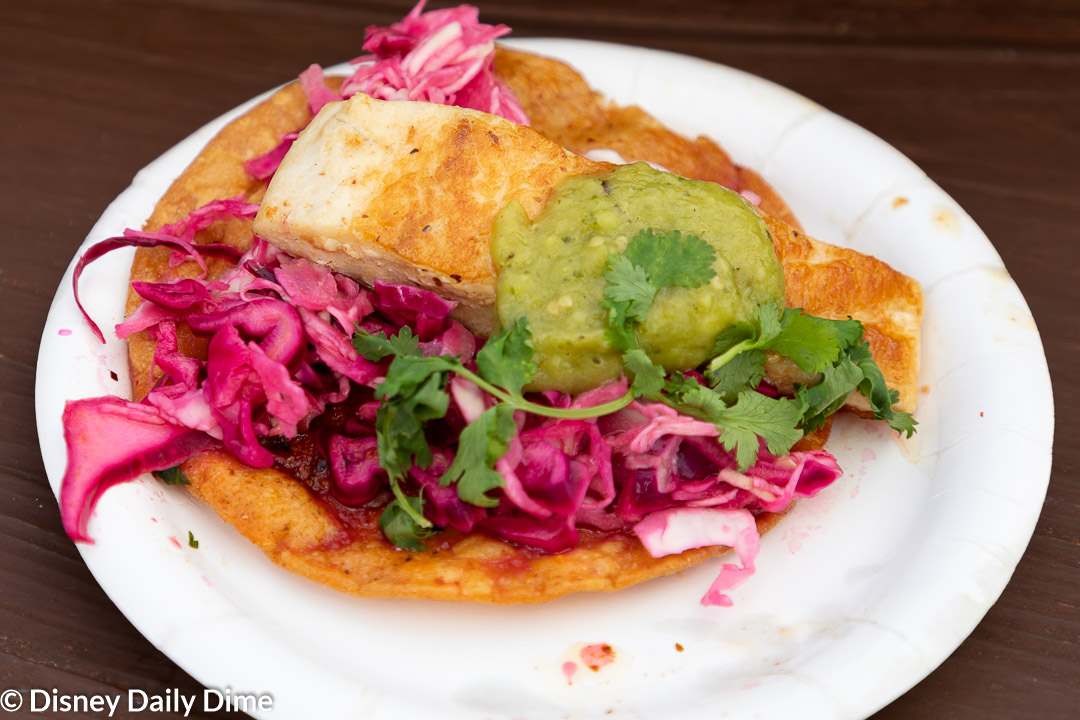 Pacifico True Striped Bass Tostada with Slaw and Fire-roasted Tomatillo Sauce — $6.00
We won't belabor what True Striped Bass is since we covered it earlier.  The fish here is flakey, and is a good-sized portion served right down the middle of the tostada.  It had great flavor and was cooked well.  I think the use of the tostada was ingenious.  It gives the dish a much-needed crunchy texture.  The only issue I had with the tostada was that the slaw and tomatillo sauce made it slightly soggy in the very center of the tostada.  Not majorly, but just slightly.  The tostada also is seasoned so that you can eat it on its own.  That's helpful because the fish doesn't completely cover the tostada.
The toppings on the fish feature a tomatillo sauce that adds a slight amount of heat and a smoky flavor that gives the dish some depth.  The slaw adds a pop of color and flavor that I enjoyed too.
Anna and Elsa were not fans of this item.  They were okay with the fish itself but did not like the tomatillo sauce on it.  As Anna said "It's spicy."  Now you can feed her bacon, and she might say it's spicy, so take that comment with a grain of salt.
While it may or may not be for kids, I will say it is definitely for adults.  The bass was a great item that I would encourage you to try.
Wrapping Up
That will wrap up our Coastal Eats review from the 2019 Epcot Food & Wine Festival.  Just like Flavors From Fire, this is another booth you need to stop by.  Of course, assuming you like seafood.
If you're looking for more of our 2019 Food & Wine Festival booth reviews, feel free to check out our Appleseed Orchard review or our Australia review!