Today, Disney issued a press release followed up with a post on Disney Parks Blog announcing that Riviera Resort will begin accepting reservations immediately.
But Disney didn't just stop there!  They also shared some additional concept art of Riviera Resort, and provided more information on dining options and the different resort rooms available.  We also stumbled upon some room rate information on the Disney resort website page.
We'll break it all down in this post, giving you the basic facts on what they announced about Riviera Resort and our thoughts on what it means.
Let's get to it.
Riviera Resort Opening Date Announced
Disney had previously announced that Riviera Resort would open in the fall of 2019.  And by fall they apparently meant the very end of fall.  Disney announced that Riviera Resort's opening date will be December 16.  Just in time for the opening of Galaxy's Edge or shortly thereafter.  Now the resort could technically open before this, but they are taking reservations for this date.
Riviera Resort Room Types and Pricing
Riviera Resort Room Types
Disney also gave us information on the different room types that will be available at Riviera Resort.  All in all, there are five different room types, although some will come with standard vs preferred view options.  The room types are as follows:
Tower Studio
Deluxe Studio
1 Bedroom Villa
2 Bedroom Villa
3 Bedroom Grand Villa
It isn't completely clear if the preferred view will get you something more than a view of the pool or greenery.  We wonder if it also means a view of the fireworks shows that can be seen at Hollywood Studios or Epcot.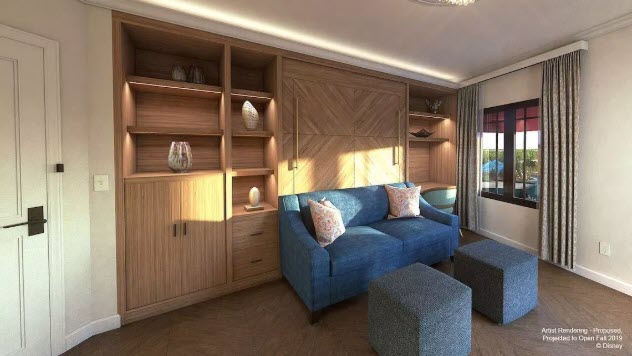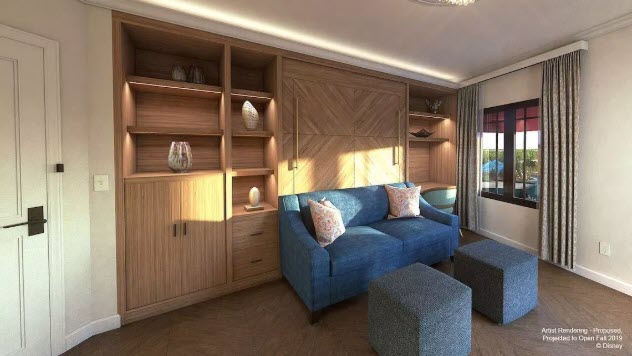 The most notable thing is the introduction of what Disney calls a new category of room.  That category is the Tower Studio.  The twist with the Tower Studio is that it only accommodates two people.  Disney says "Each charming, bright tower studio will include a private balcony with scenic views and seating for two, offering a more intimate setting."  As shown in the concept art, it appears that the Tower Studio will have a fold down bed as it's main bed.  As you can see below, it folds out where the seating area is.
The use of the words "intimate setting" is also interesting.  This likely means these rooms will be small.  Like real small.  It wouldn't surprise us if they were less than 275 sq ft.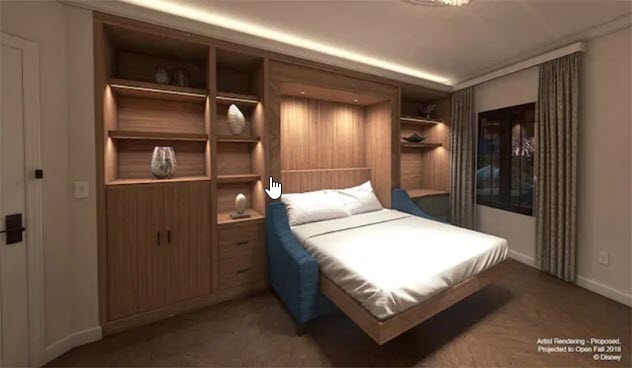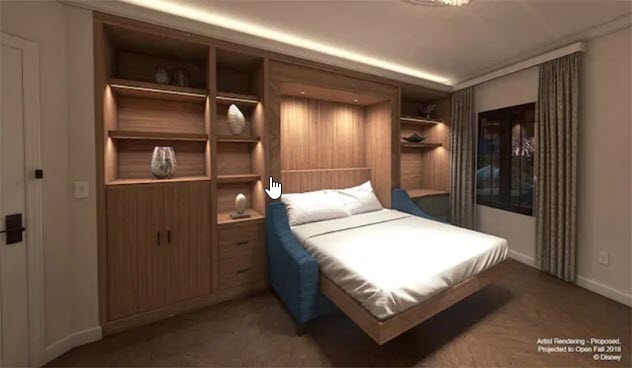 Beyond that, the Deluxe Studio and 1 Bedroom Villas will accommodate up to 5 people.  The main differentiator appears to be that the Deluxe Studio will feature a kitchenette, while the 1 Bedroom Villa will have a fully equipped kitchen and dining space.
For the 1 Bedroom Villa, the sleeping arrangements will be 1 king bed, 1 queen-size pull-down bed and 1 single pull-down bed
The 2 Bedroom Villa will sleep up to 9 adults.  Like the 1 Bedroom Villa, it features a full kitchen and dining area.  The sleeping setup is 1 king bed, 2 queen beds, 1 queen-size pull-down bed and 1 single pull down bed.
Lastly, the 3 Bedroom Villa sleeps up to 12 adults along with the full kitchen and dining area setup. The bed situation features 1 king bed, 4 queen Beds and 1 queen-size sleeper sofa.
Riviera Resort Room Pricing
While room rates for Riviera Resort weren't part of their official blog post, you can find them on the Disney website.
Given that the resort is only open for 15 days in 2019, you would think that the amount of pricing information available would be relatively finite.  However, as we looked through the resort pricing information, we found pricing loaded on the website for all of 2019.  It contains months of data, well before the official opening date of the resort.  I've included an example screen shot of what I found below.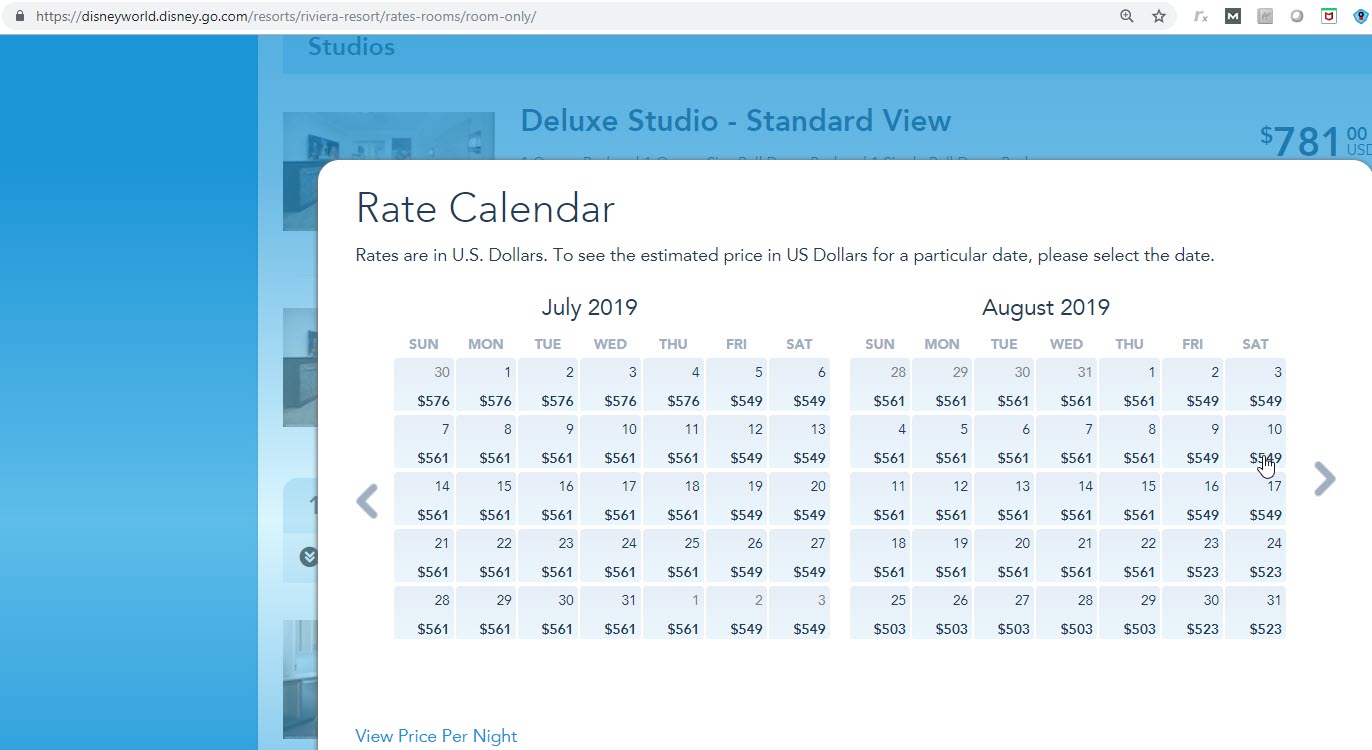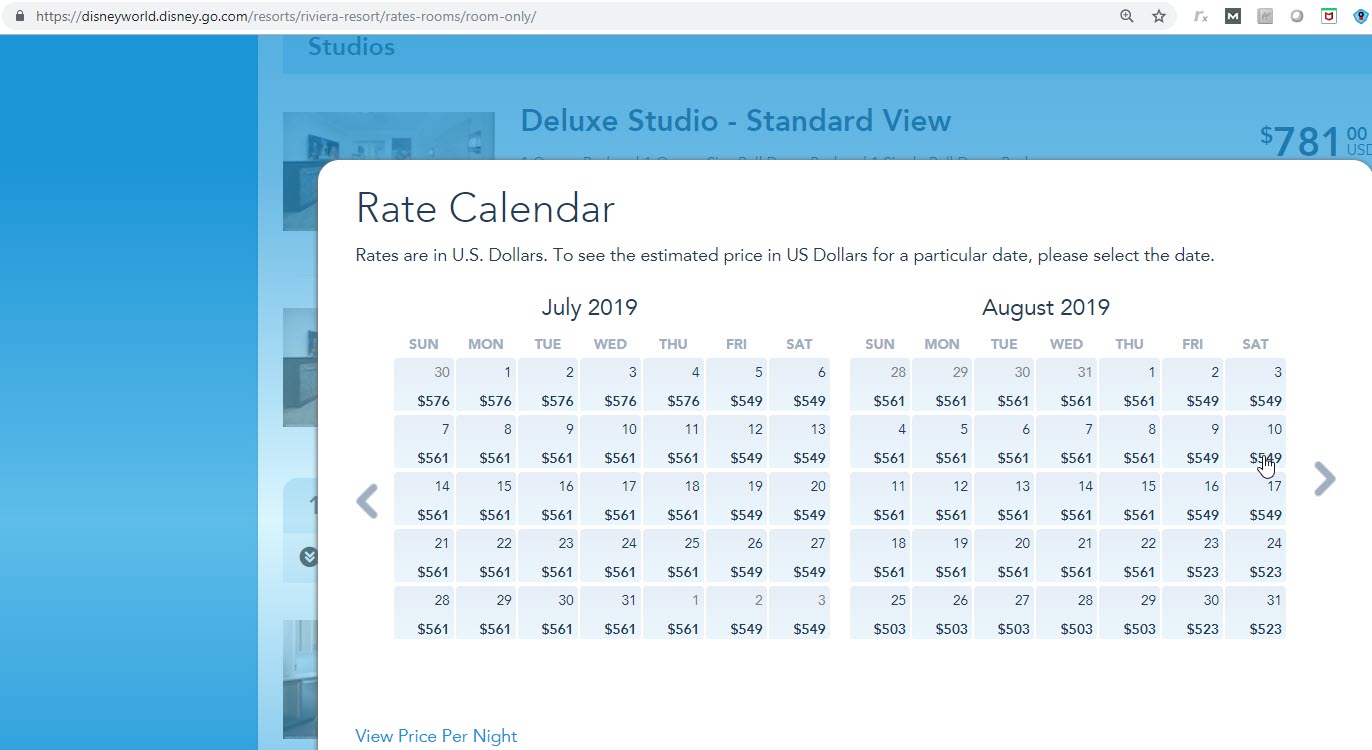 Given that the resort opens right around Christmas, it is not surprising that prices are astronomical.  But like we said, there is pricing published on the Disney World website, so we'll delve into what we see here.  We'll focus on the Tower Studio and Deluxe Studio rooms to keep this from being a 4,000 word article.  This is all rack rate pricing.  We'd put the odds of finding a deal here around resort opening time at about zero.
For the Tower Studio Room, pricing the week of Christmas through New Years is $561 per night.  When looking at all the January 2019 through December 2019 pricing, we can see lows of around $335 per night, mostly revolving around the end of August and early September.
We took a simple average of the year's pricing data for the Tower Studio that we pulled off the Disney website and it averages out to around $435/ night.  For the same full year average, that puts this room in comparable territory to an Animal Kingdom Lodge standard view room ($411/night) or a Wilderness Lodge standard view room ($412/per night).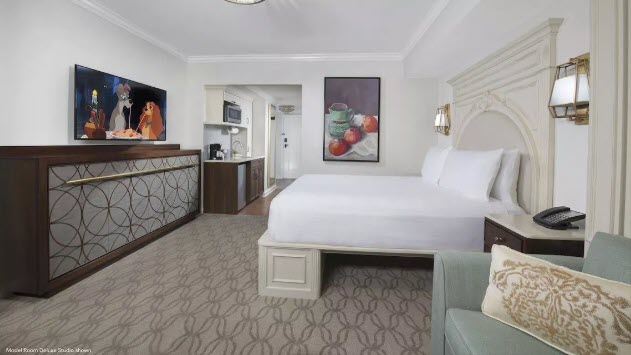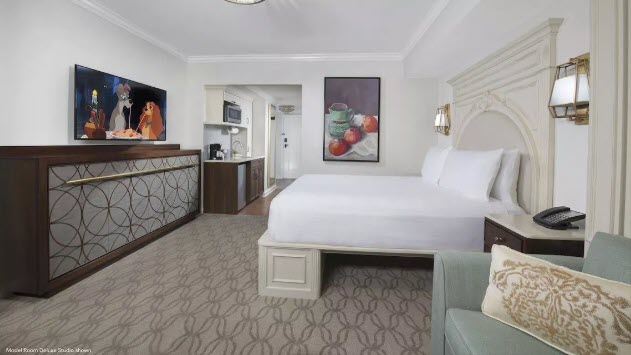 When you move up to the Deluxe Studio at Riviera Resort with a standard view, the price escalates by around $160 per night.  The low point in pricing again occurs in the late August/early Sept time-frame.  Pricing for a Deluxe Studio room here showed as $503/night during this time of year.
The full year average price is $592/night.  Christmas prices are $781/night for this room type.  These prices are in line with a Savannah View room at Animal Kingdom Lodge ($577/night) or a standard view room at The Polynesian ($567/night).
So how much credibility do we give the pricing posted on the Disney Website for times when the resort isn't open?  I actually think I'd give it a good bit of credibility.  At least credibility for what pricing will directionally look like as we head into 2020.  Don't take it as a sign the resort is going to open up in August or anything crazy like that.
As I looked through the pricing, I compared it to rooms at other deluxe resorts.  Price spreads between what I saw for the other deluxe resorts were fairly consistent with what I saw in the Riviera Resort data.  I looked both from the peak to the trough of pricing, changes by days, weekend vs weekday, and more.  Each time, the resort's pricing changes were fairly consistent in size of change across all of these data points.
This appears to be data that was created by someone and loaded to the website for an unknown reason.  And it should give us some degree of insight into what the rooms will ultimately be priced at in 2020.  Although I highly doubt the prices for 2020 will be exactly like what is shown on the Disney website.
Riviera Resort Dining Options
On the dining front, Disney gave us more information on the table service and counter service locations coming to Riviera Resort.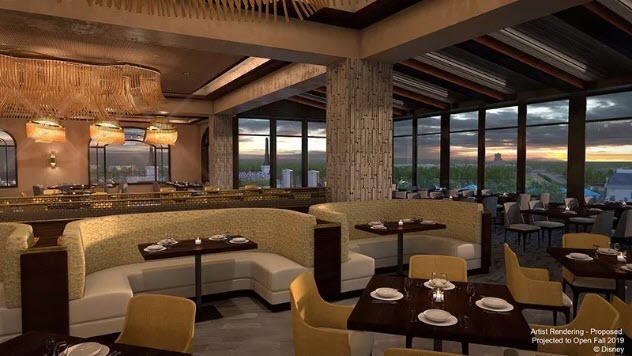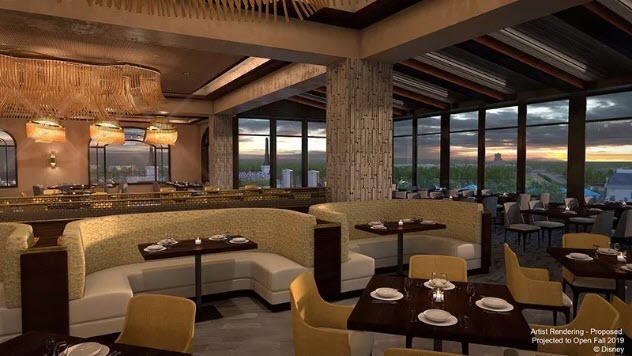 Topolino's Terrace
For table service, you'll be dining at Topolino's Terrace – Flavors of the Riviera.  Topolino is the Italian name for Mickey Mouse.  You'll dine at the top of the resort, with views of everything around you.  Much like California Grill, this will include views of the fireworks shows at Epcot and Hollywood Studios.  Give that Terrace is in the name, we're assuming there will be a terrace that you can walk out onto to watch the show.
Disney says that Topolino's Terrace will "featuring authentic dishes infused with French and Italian flavors".  Both countries serve as the inspiration for the resort as a whole.
Disney did announce that Topolino's Terrace will feature a character meal during breakfast in the mornings.  In thinking about it now, this actually isn't too surprising given that The Contemporary, Polynesian, and Grand Floridian have some form of a character meal in their resorts.
Primo Piatto
Primo Piatto is the counter service location within Riviera Resort.  Designed to be "reminiscent of chic dining venues found along Riviera promenades", Primo Piatto will be out near the pool.  It's not completely clear what they will serve yet.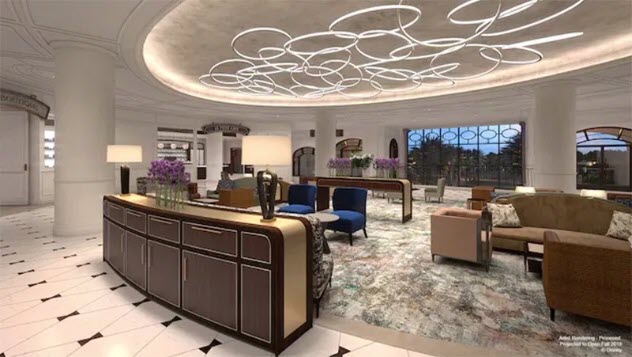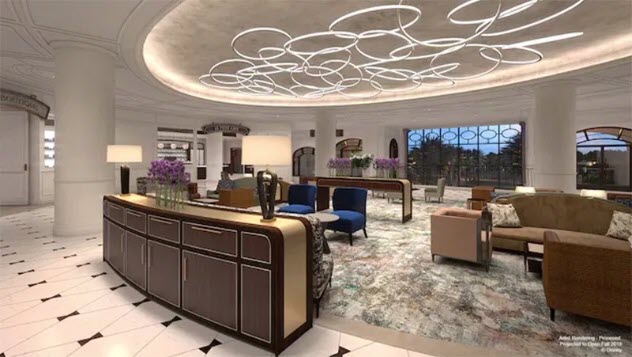 Le Petit Café
You can get a drink from Le Petit Café.  As Disney describes, it is an "inviting lobby locale with fresh-brewed coffee aromas by day and a bustling wine bar by night".  The Disney website further says the menu will feature "scrumptious treats and sweets, which you could enjoy alfresco under the stars."
Bar Riva
This will be the pool side bar "with a seaside vibe featuring crisp white tiles and cool blue accents".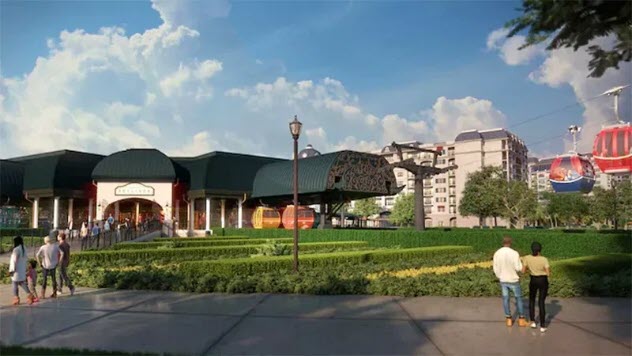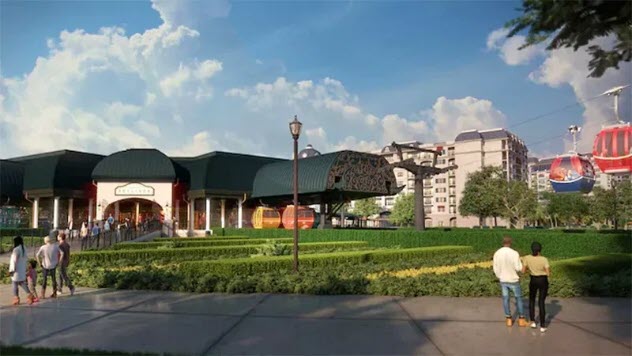 Resort Transportation
The last new nugget gleaned is not new, rather just a new image.  Disney touted the way you can get to Hollywood Studios and Epcot via the Skyliner.  The new image is just above, showing the station that is going to serve the Riviera Resort.
If you're going to be here around Christmas, this may be a preferred way to get to Hollywood Studios in your mad dash to Galaxy's Edge.  At least for you and thousands of your closest friends.
Riviera Resort Décor
Okay, so that's most of the facts.  Now let's delve into a little bit of what we took away from it.
We'll actually start with something Disney didn't actually have a lot say about.  The décor.  In the artist renderings, you start to get more of a sense of where Disney is going with this resort.
Clean lines, chic looks, and no discernable theme.  Unless high end, generic resort is a theme now?  This resort screams high end hotel, but not a Disney hotel.  You might not even know it was a Disney hotel unless you drove onto Disney property.  And that leads us to our second observation…
Riviera Isn't a Resort for Kids
Now, we say this as a statement of fact, but its really more our impression.  Time will ultimately tell what it is or isn't.  Sure, the pool has a really nice-looking slide, but there isn't really much to draw kids in.
Yes, there is the character meal, but it almost feels like a bone thrown to parents who may want to stay here with their kids.  This just gives them something to appeals to the kids.  Beyond that though, there isn't any clear reason for kids (or parents with kids) to stay here.
The other sign is the introduction of the Tower Studio.  A room for only 2 adults.  If there was ever a message saying that we are going for a different clientele, this is it.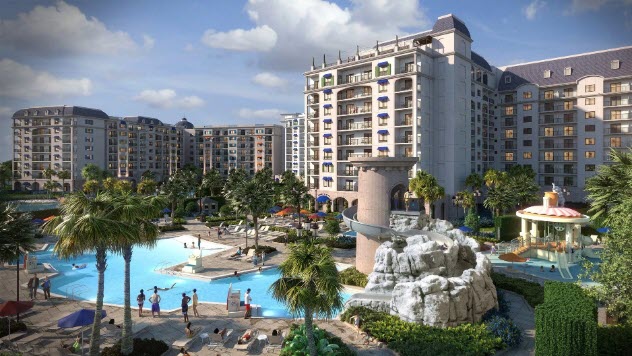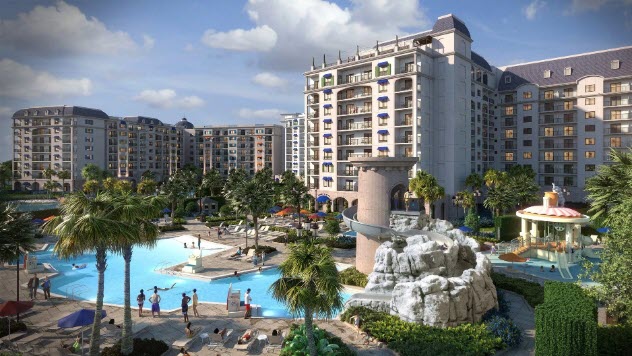 Maybe Disney realizes that there are plenty of people that come to Disney World sans kids.   When they do, they're looking for a more mature experience.  That makes sense to us, as that WAS actually us not too many years ago.
The dining also feels like it reinforces this direction.  At least when you exclude the character meal.  French and Italian cuisine isn't what we would consider overly kid friendly, even if they have some basic kids' meals.  The high-end finishes and touches again scream mom and dad without the kids or professionals on a business trip.
The Resort Caters to a Different Demographic
And I guess that all point to this one thing.  This resort caters to a different demographic.  Just like many of the existing resorts are designed to cater to certain demographics, this one is no different.  Even if that demo isn't what many people associate with or attribute to Disney World.
The one thing we can all agree is Disney doesn't make investments like these without doing their homework.  They no doubt know that this type of higher-end look, toned down theme is something that the consumer is looking (and willing to pay) for.
Just because it doesn't fit our demo doesn't mean it's a bad thing.  Disney World is about being a place for all.  Who all that is continues to evolve and the resorts will continue to evolve with it.
Wrapping Up
So that wraps up our post on the new Riviera Resort opening date news.  We hope you found it useful and enlightening.  If you did, we'd appreciate it if you would share it with other that might find it of interest on social media.  Just us the social sharing buttons on the page.  We can't tell you how much we appreciate it when you do this.  It helps us know that we'd doing something right and spreads the word about our blog.  Thank you so much!