Given my family's overall love for Mexican (okay maybe Tex-Mex) food, you can rest assured we were going to stop by the Mexico booth at the 2019 Epcot Food & Wine Festival.  Tacos, enchiladas, mole, margaritas?  Yes, sign us up, please!  The Mexico booth had plenty that we wanted to try.  Before we get to the review, if you're looking for complete coverage of the festival then take a moment to read over our Ultimate Guide to the Epcot Food & Wine Festival.
As we stop by the Mexico booth, we noticed one unique thing about the menu.  That would be that the menu is entirely new this year.  Not a single entrée from last year returns.  I think Carla was particularly disappointed that the Coconut Rice Pudding did not return.  You can see the full Mexico booth menu below.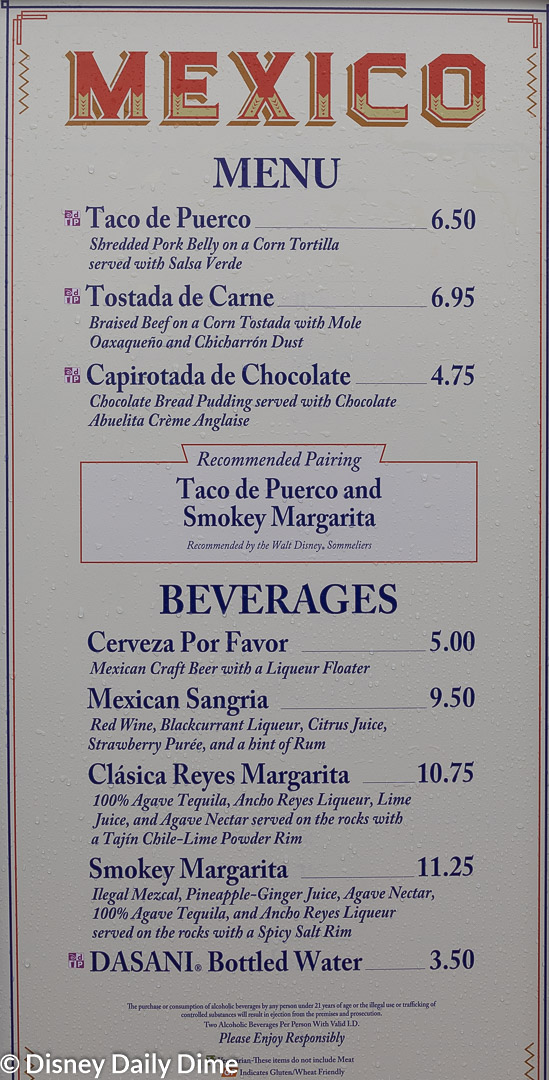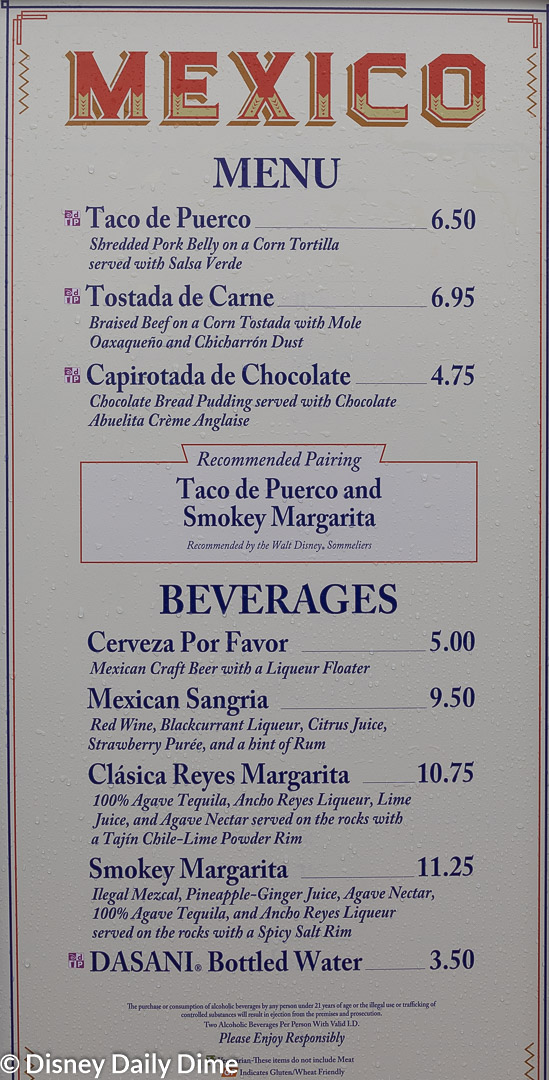 The Mexico booth is located right on World Showcase Lagoon, as you make your way from Future World towards the Temple in the Mexico pavilion.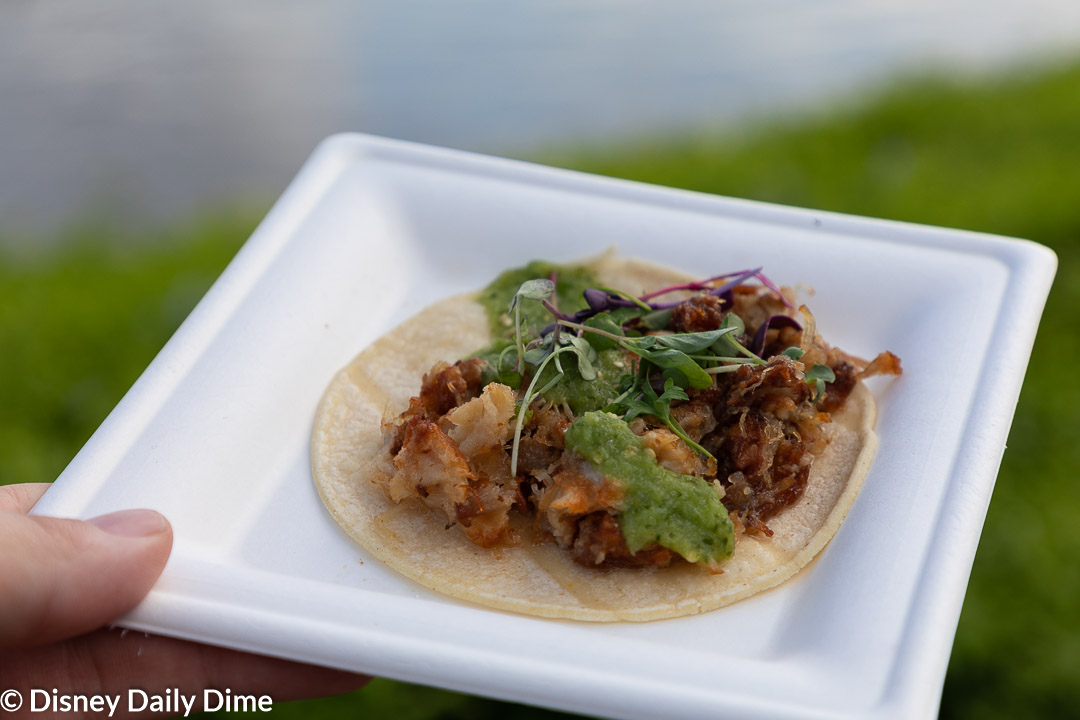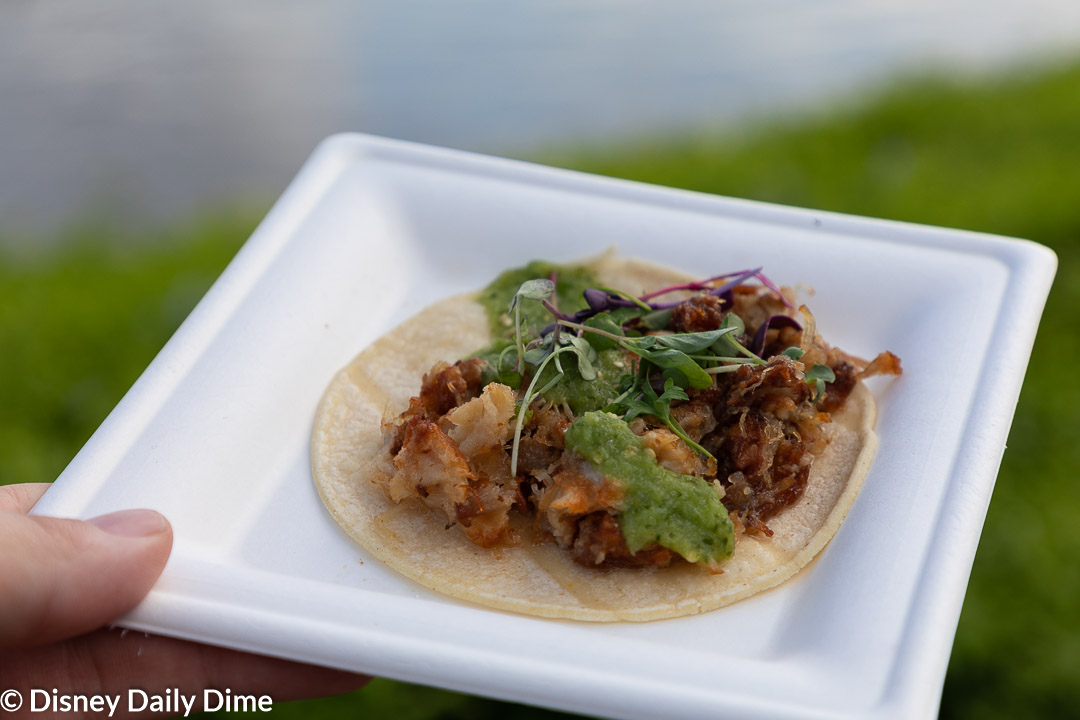 Taco de Puerco: Shredded Pork Belly on a Corn Tortilla with Salsa Verde – $6.50
The Taco de Puerco features shredded pork that appears to be all over the place from a quality perspective.  We found the pork flavorful and moist.  We've seen other reviews saying that their pork was dry, which makes sense to us.  If it isn't made fresh and just sitting out waiting on a plate, I get how that happens.  So be aware of that potential.
Outside of the pork itself, the taco is topped with a fabulous Salsa Verde.  It adds an excellent spice to the pork, and potentially some moisture if you get dry pork on your taco.  All of this sits on a small corn tortilla, which feels like it was straight out of a package.
The taco as a whole is something I enjoyed a lot.  I just wish there was more to it.  The portion size was entirely, and at $6.50 per taco, it is not a great or even good value.  That said, I would still get it again.  You could draw a different conclusion, and I wouldn't say you are wrong.
Surprisingly, Anna and Elsa loved the Taco de Puerco.  I thought they would find the Salsa Verde too "hot."  However, we were surprised when the girls tried to devour the entire taco without sharing.  I wasn't sure Carla or I would get a bite of it.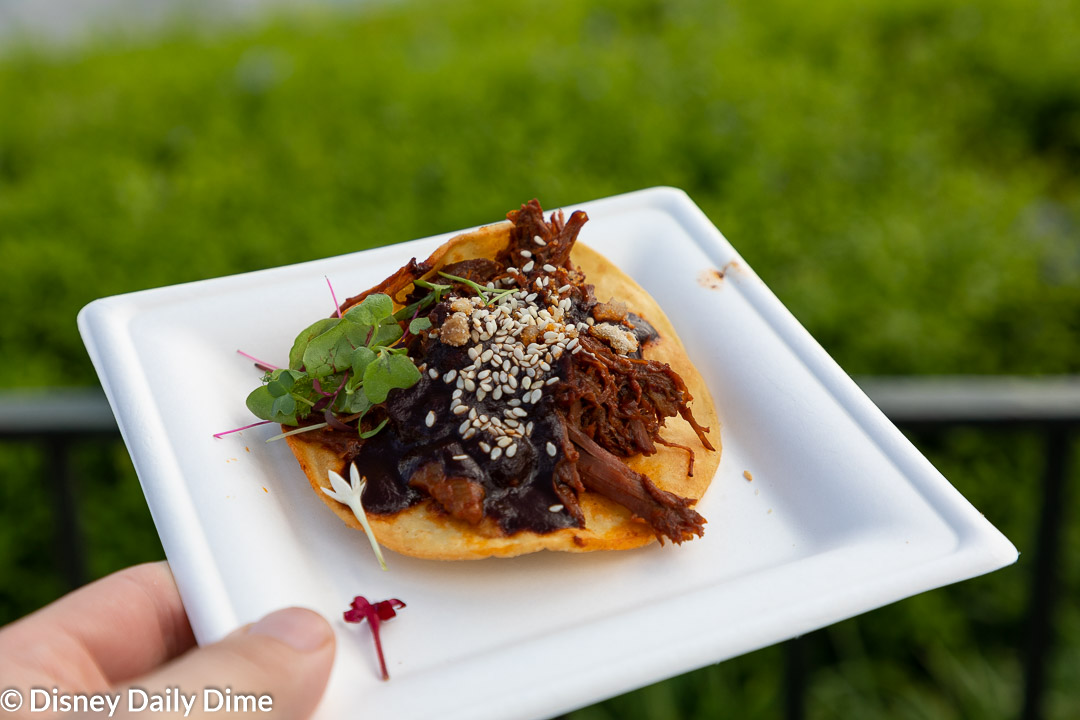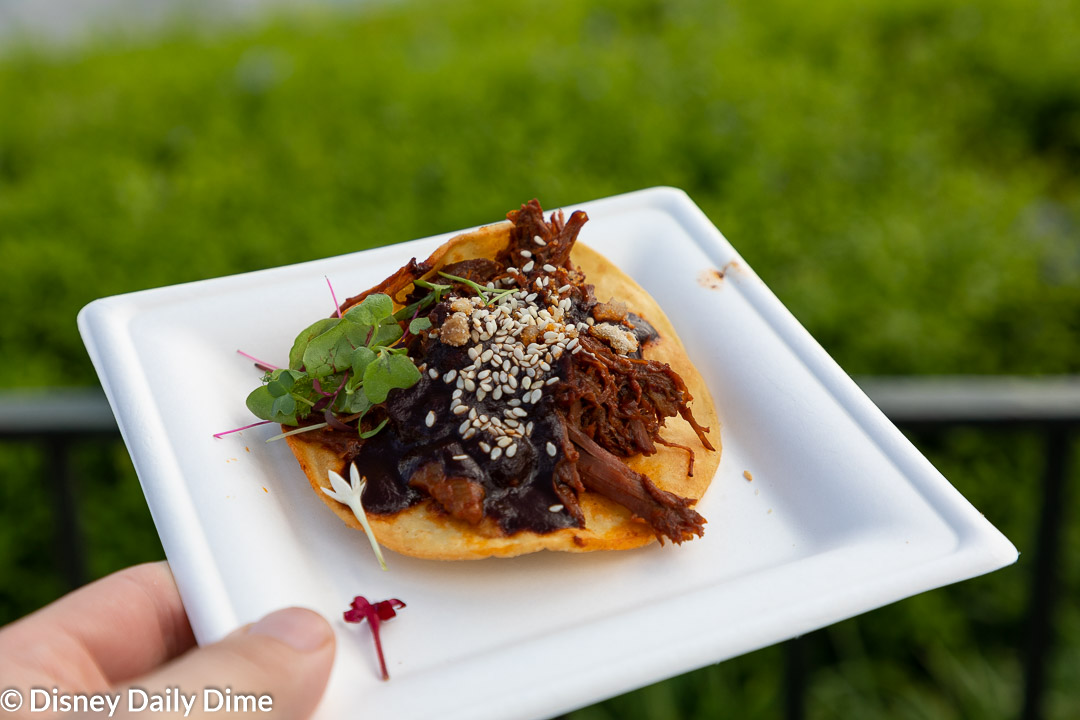 Tostada de Carne: Braised Beef on a Corn Tostada with Mole Oaxaqueño and Chicharrón Dust – $6.95
The Tostada de Carne that is featured at the Mexico booth this year comes with a Mole Sauce.  If you've read our San Angel Inn review, you know I'm a fan of a good mole sauce.  However, I do recognize that mole is a bit of an acquired taste.  But we'll get to the sauce in a second.
As the name implies, the base of this dish is a tostada, which was crunchy and great base for the toppings.  What I appreciated most about the tostada is that it didn't disintegrate as I ate it.  It held its form well and didn't turn the dish into nachos after a few bites.
The braised beef was moist and had a great flavor to it, from the braising process I assume.  The braised beef is topped by the mole sauce that I mentioned.  I will say that the mole sauce was a bit stronger than I like, which made my enjoyment of it less than the mole I mention in our San Angel Inn review.  It wasn't bad, just a bit stronger than I like.
Overall, I'd say this is a dish to try only if you're a fan of mole.  The braised beef is probably worth it on its own, but the mole kind of overtakes it.
Like the Tacos de Puerco, this dish is a poor value due to the size vs. price.
Anna and Elsa both took a bit of the Tostada de Carne and were one and done with it.  Neither could get past the intense flavors of the mole.  Unless your kid is adventurous with food, this is probably not a dish for them.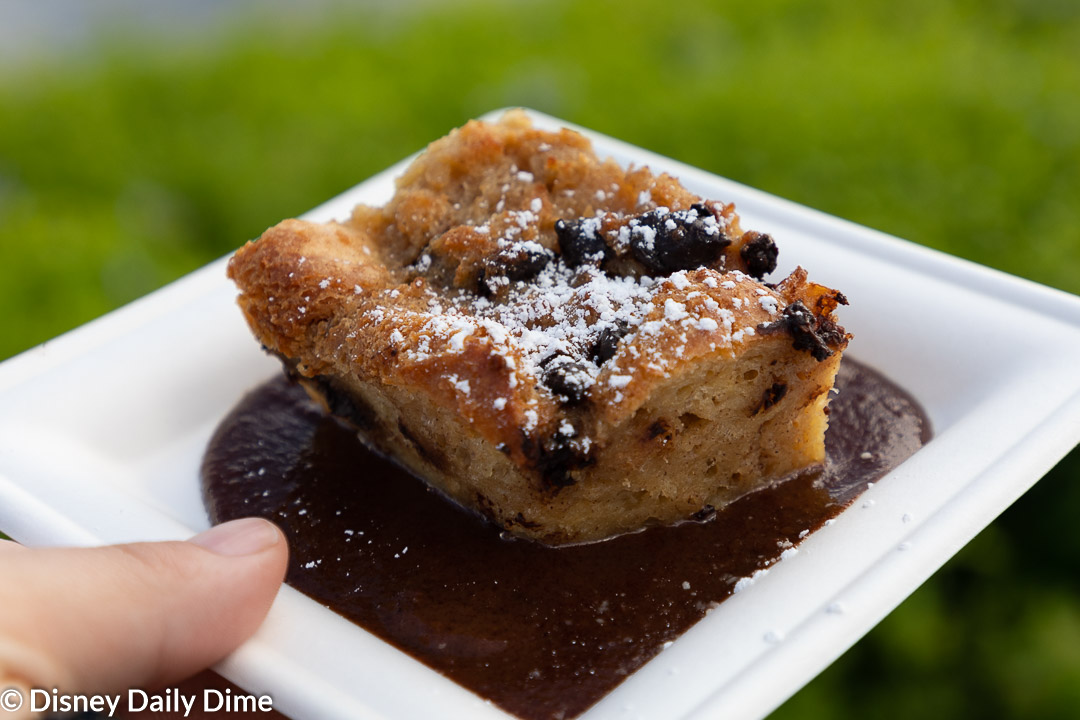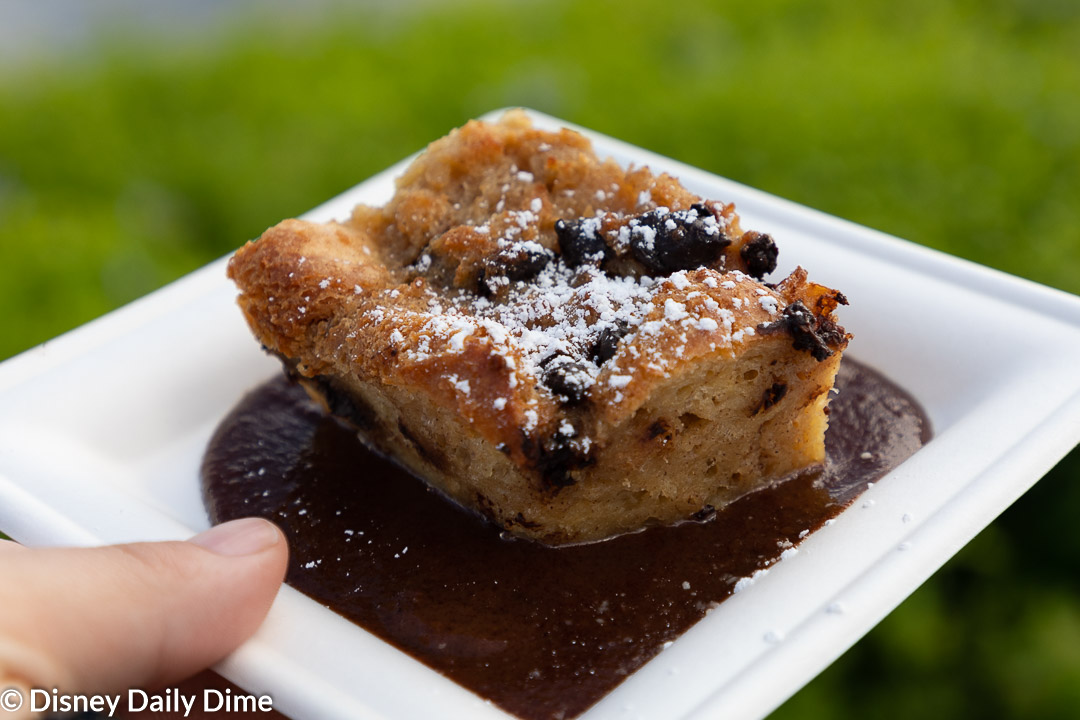 Capirotada de Chocolate: Chocolate Bread Pudding served with Chocolate Abuelita Crème Anglaise – $4.75
The Mexico booth at the Food & Wine Festival does have a sweet option to offset the strong savory flavors.  It comes in the form of the Capirotada de Chocolate.  This is a bread pudding with a Chocolate Abuelita Crème.  This is not just a chocolate sauce; it is much more complicated than that.
The bread pudding was unbelievably moist, featuring a soft texture that I loved.  The topping of powdered sugar kicks it over the top!  If this were all about the bread pudding, I would get this every time.  However, I found the Chocolate Abuelita Crème to be overly chocolatey.  I was hoping for something more along the lines of milk chocolate but didn't get that.  Because of this, it isn't a dessert I would get for just myself.  I do recognize my own peculiarities around chocolate, so if you like more complex chocolate flavors, my guess is you will love this bread pudding.  Definitely get it!
Now, if you have two little girls that would love to eat the bread pudding and chocolate, leaving you to just bread pudding…then I'm all in!  And thankfully, Anna and Elsa both tried to make short work of this dessert in Mexico.  They love it.  This was the best of both worlds, as they got to load up on the Chocolate Abuelita Crème Anglaise and some bread pudding, while I had several bites of just the pudding.
Surprisingly, this is a dish at the Mexico booth that doesn't suffer from a small portion size.  It's actually quite large, and at $4.75 I'd say it presents a good value.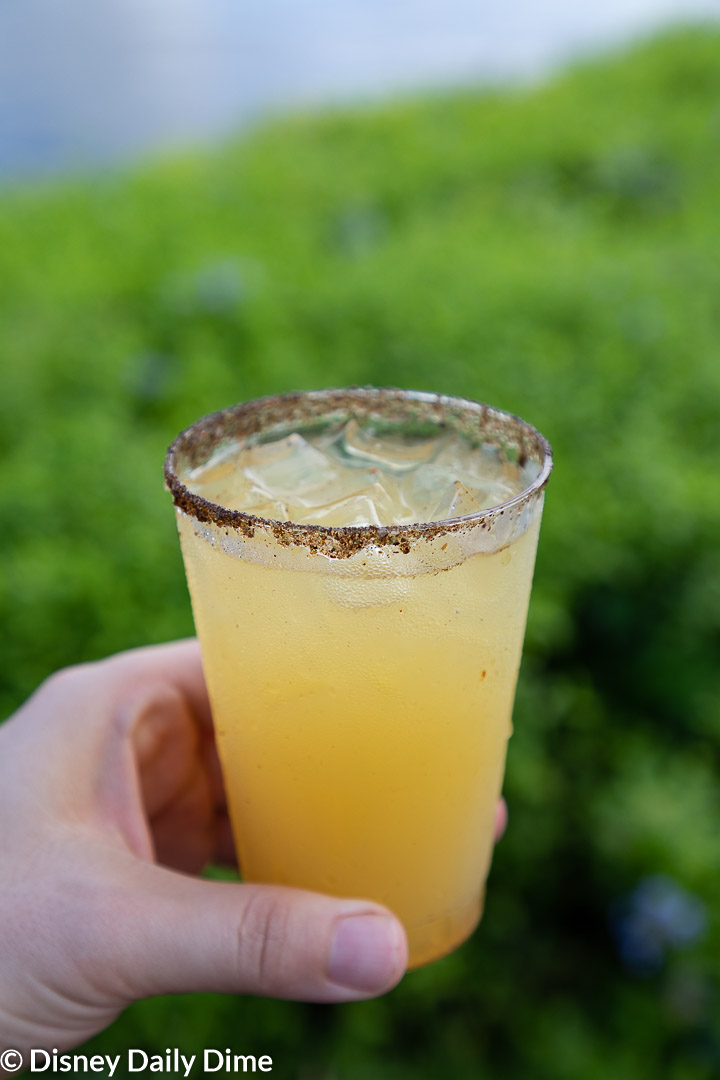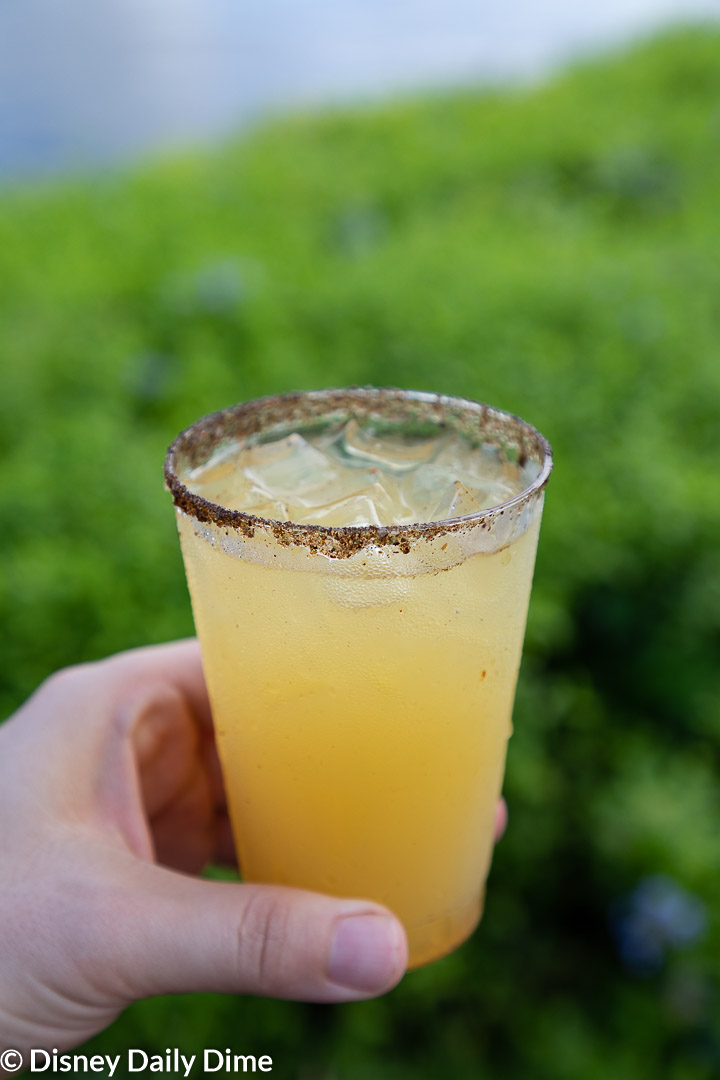 Smokey Margarita: Mezcal Ilegal, Pineapple-Ginger Juice, Agave Nectar, 100% Agave Tequila and Ancho Reyes Liqueur served on the rocks with a spicy Salt Rim – $11.25
I had to have a margarita to go with my food at the Mexico booth.  I decided to go a little non-traditional and get the Smokey Margarita.  I've never had something called smoky, but do like fun takes on margaritas like a jalapeno version.  Well, that didn't entirely pay off here as the spicy salt overtook the actual margarita.  To say it was off-putting, would be an understatement.  It was all I could taste.
I will say that Carla and I have different takes on this drink.  She took a couple of sips and really liked the Smokey Margarita.  The fruit juices included in the drink were appealing to her, and she didn't have nearly the issue I did with the spicy salt.
Wrapping Up
With that, we'll wrap up our review of the Mexico marketplace at the Epcot Food & Wine Festival is helpful.  This is a booth with a few items you might like, but you need to be open to intense flavors. 
If you're looking for more of our 2019 Food & Wine Festival booth reviews, feel free to check out our review of The Alps or India review!  Of course, you can find all of them in the blog feed too.  We've been reeling them off the last couple of weeks.