Disney World special events happen throughout the course of the year.  In this part of our guide we'll talk about the ones that don't happen during the November and December holidays.
We're not going to lie, there are a boat load of special events that happen at Disney World.  More than you probably even know or care to know of.  That means this part of our guide will be predominately focused on the more popular and sought-after events.  Sorry "Minnie Rocks the Dots", you're just a little too obscure for this guide.
There are some tremendous special events to be taken in at Disney World.  There is something for almost anyone.  Festivals.  Arts.  Food and Dining.  Musical and Athletic Events.  And that only covers the month of March!
When you are thinking about booking a trip to come to one of these Disney World special events, remember this.  The reason that Disney is putting these vents on is to drive foot traffic through the turnstiles at the parks.  That means the events will come with their own crowds.  However, not all crowds are the same.
We'll group the Disney World special events by the months they occur so you can have a sense of event by time of year.
January
Christmas Wind Down
This isn't so much a Disney World special event, but just something to remember and take advantage of.  If you aren't all that into Disney Christmas time parties or the price but would like to take in the décor and lights, this may be a time of year to go.  You can go the week or two after New Year's and take in all the ambiance, at a fraction of the cost.  Disney will be in the process of taking decorations down, but that's the trade off you make to same some big dough!
Epcot International Festival of the Arts
Debuting in 2017, the Epcot International Festival of the Arts is a six-week-long festival celebrating…art.  Kind of obvious, I know.  Now, don't just think about paintings and sculptures.  This is a broader set of the arts, including culinary arts and performing arts.  But just in case you are focused on it, there are plenty of paintings and the like if that is your thing.
Much of this Disney World special event is included in your park admission, with only some add on costs for certain hands-on events.  Some of these hands-on events consist of workshops where you can actually work on your artistic craft or try to learn something new.
One of the highlights is the Disney on Broadway Concert Series, where the music from Disney Broadway plays come to the parks.  Performed by some of the biggest Broadway stars, this is a can't miss show.  Disney does offer a dining package that will give you a meal and reserved seats for this show.  There are three showing a night, but there aren't shows on all nights.  Shows generally run Monday through Friday.
Walt Disney World Marathon Weekend
During the first full weekend in January after New Year's, runners from around the world descend up Disney World to get there running fix.  However, the weekend has turned into so much more than just a marathon.  It's certainly not the New York or Boston marathons, but in a good way we think.  The series of events includes:
Multiple races geared toward kids of all ages. These events are held at ESPN's Wide World of Sports Complex.
Goofy's Race and a Half Challenge
A 5K and 10k run
A half marathon
The big full marathon
An after party
Disney's Health & Fitness Expo also goes throughout the weekend.  This even brings 50,000+ runners and all their fans to Disney World.  Because the races run throughout Disney World it also brings lots of traffic pattern oddities.  Make sure you allow yourself extra time to get to and in the parks if you go on this weekend.  Check out RunDisney.com for more details and to sign up.
February
Disney Princess Half Marathon Weekend
This Disney World special event is especially designed with women in mind.  The event is centered around celebrating and shining a spotlight on women's health and fitness.  Like the Disney Marathon weekend we mentioned above, it is more than a single race.  There are multiple races and events geared for all ages and abilities.
Atlanta Braves Spring Training
Major League Baseball's Atlanta Braves make their way to ESPN's Wide World of Sports Complex every February for their preseason spring training stint.  The first few weeks in February are pretty uneventful, with the team largely just working out and scrimmaging.  Beginning in early March, they will begin games against other major league clubs in the area.  If you want to catch a game, make sure they are playing at Disney while you a there, as they do take road trips during camp.  For more information and for tickets, you can go to the Atlanta Braves website.
March
Epcot International Flower & Garden Festival
Held annually each spring, Epcot's International Flower and Garden Festival is a signature Disney World special event.  It's also a sure sign that warmer temperatures and spring is just around the corner.  The festival starts in March and goes through May.  During the festival, the Disney landscaping crew and Imagineers gets to flex their muscle by designing and building Disney character-based topiaries.  With almost 100 topiaries, butterflies galore, floating gardens all over the place, Epcot becomes a gardener's blank canvas to paint on.  And they paint on it marvelously!  Color explodes across all of Epcot with these wonderful creations.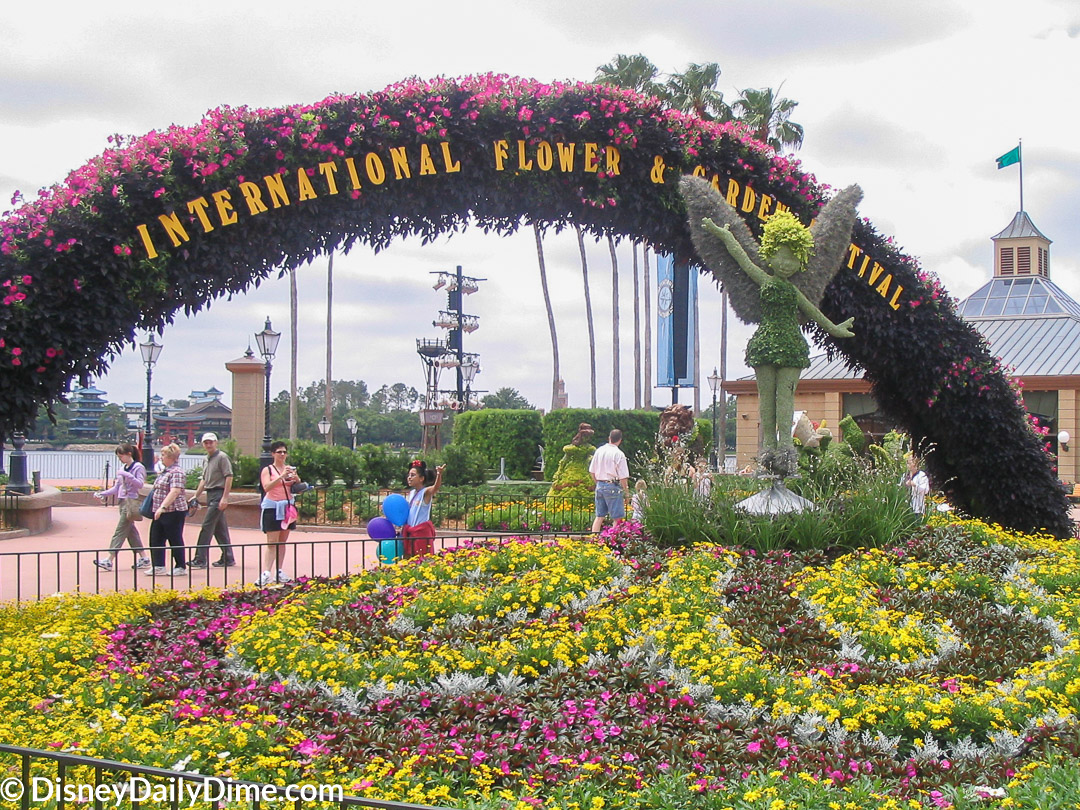 In addition to the beautiful color brought into the park, Disney brings in several outdoor kitchens.  Positioned around World Showcase, these kitchens allow you a chance to dine on all types of delightful meals.
As part of the festival, Disney also lines up a concert series featuring some great bands from the 1970's.  Known as the Garden Rocks Concert Series, past performers have included Survivor, Village People, Rick Springfield, and more.  The concert series goes throughout the festival, however there aren't concerts every night, so make sure to check the concert schedule.
April
Star Wars Half Marathon Weekend – The Dark Side
A Dark Side inspired and themed race, Disney gives runners another chance to run Disney World.  Like the other races we have mentioned, this is a weekend long even, not just a singular race.  The weekend activities look a lot like what we mentioned in Disney World Marathon weekend in the month of January, so we won't rehash that here.  If you like to run and are a Star Wars fan, this race is for you!
May
Star Wars Weekends
Up until 2016, Disney used to have Star Wars Weekend events from mid-May through mid-June.  However, Disney has not done those events for the last 3 years now.  Disney never clearly said if they stopped them just because of the construction in Hollywood Studios or that they were permanently cancelled.  These weekends were very fun in our opinion and we hope they get brought back at some point.  Until then, Disney has introduced a smaller limited event in its place….
Star Wars: Galactic Nights
That replacement being "Star Wars: Galactic Nights".  A one night only event in May, Disney brings the Star Wars films to life in the park.  Bring your lightsaber, x-wing uniform or whatever your favorite costume might be along with your cash.  This is a hard ticket event that costs $129 per adult and $124 per child.
If you want to know more about the coming Star Wars: Galaxy's Edge expansion, there is a special panel as part of this night.  You can listen to Imagineers discuss how they will bring the big screen universe to life.  You'll also get updates on construction.  We're hoping they will also touch on the new Star Wars resort that Disney recently announced.
During the event, you will be able to have unique Star Wars character encounters.  Some are characters that there aren't regular meet and greet events for, while others will have custom built sets.
June
Gay Days
While not an officially sanctioned Disney World special event, it is still a heavily attended one.  Taking place, the first weekend in June (depending on how the calendar falls, it could star in May and end in June), there are events around all of Disney World.  The events are usually focused on one park each day.
July
Independence Day (July 4th)
One of the busiest park days of the year, Disney World brings an Independence Day celebration to be seen.  Magic Kingdom presents a special Independence Day fireworks show on both the 3rd and 4th of July.  At the same time as the fireworks show, there are dance parties taking place in Tomorrowland and Frontierland.
Epcot has a special patriotic Independence Day presentation.  This show only occurs on July 4th.  The presentation includes a special version of IllumiNations and you will find characters throughout the park dressed in patriotic gear.
These parts of the event are included with park admission.
August
Mickey's Not-So-Scary Halloween Party
Yes, you are reading that correctly, Disney has a Halloween party starting in August.  The parties run all the way through the end of October.  What says Halloween more than 90+ degree temperatures and high humidity!  They seriously keep moving this party up earlier and earlier in the year.  But enough about that, what is this party?
This party is actually very popular, but more so as you get closer to you know…Halloween.  There are still plenty of people there for the earlier dates.  This is another hard ticket event, which will run you between $80 and $90 per person.  Tickets are cheaper in advance.  Parties are not every night, so make sure you check the MNSSHP calendar.  The event starts at 7:00PM and goes until midnight.  Your ticket will actually get you into the park starting at 4:00PM.
This kid friendly party takes place in the Magic Kingdom and your ticket to the park gets you gobs and gobs of candy, if you want it.  They literally have barrels of candy all over the park and they will be stuffing it wherever they can to give it away.  There are some special meet and greets with the likes of Jack Skellington, along with a Halloween fireworks show.  You can catch the Boo to You Halloween parade, have your fortune told by a fortuneteller, or take your kids to a costume party.
If dressing up in costume is your thing, you are more than welcome.   Just make sure you adhere to the Disney guidelines on your costume.  It would be a shame to get all dressed up only for a Disney cast member to tell you that you can't come into the park.  Do not wear something that covers your face.
And if all the Halloween fund isn't really your thing, but you just want to ride the ride with much shorter lines, you can do that too.  Most rides continue to operate during the party.
September
Epcot International Food and Wine Festival
Starting at the very beginning of September, the Epcot International Food and Wine Festival is a culinary treat for everyone.  The event goes through most of the fall, usually ending before mid-November.  Getting into the event itself is free, with your regular park ticket, however you do have to pay for any food you want to eat, as well some special events.
World Showcase is inundated with marketplaces that serve smaller portion sizes of some great regional cuisine.  Each plate will usually go for $3-$9.  Each of the food items come with recommended beer and wine pairings, which you of course have to pay for.  There are over 20 different marketplaces, each representing a region of the world, out with different flavors for you to sample.
The additional paid for experience comprise events such as wine tastings, signature dining events, cooking seminars, wine seminars, and food and wine pairing classes.
October
October is pretty busy with the continuing runs of the Food and Wine Festival and Mickey's Not So Scary Halloween Party.
November/December
The months of November and December are jam packed with all the great holiday events.  We did whole other article on Disney World holiday events that will tell you everything you need to know.
As you can see, Disney World special events offer many options that can appeal to a wide variety of guests.  With something going on year-round, make sure you look into any special events that are going on when you are at Disney World.